Mercedes-Benz S-Class Review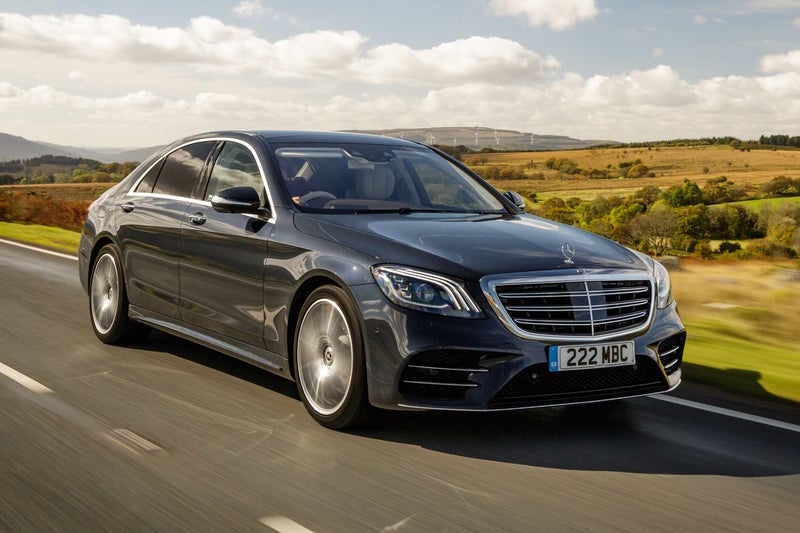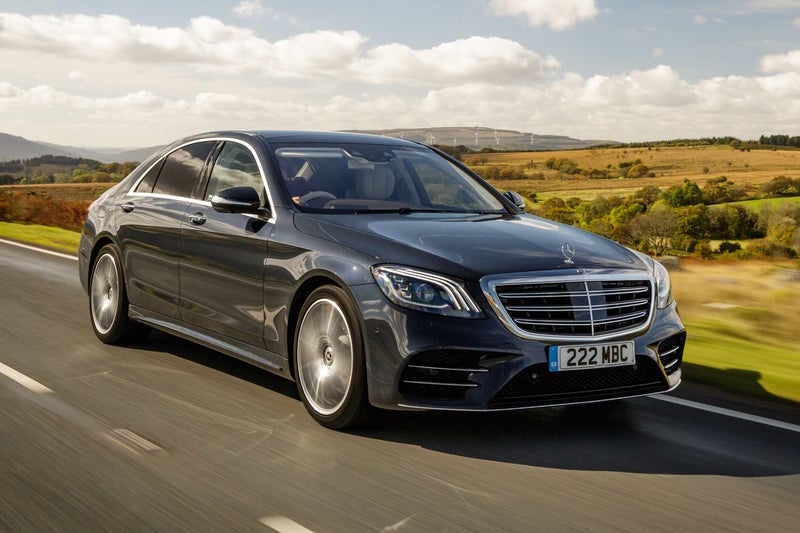 1/10
heycar rating
" S-Class retains the luxury crown"
Launched: 2014

Luxury

Petrol, Diesel, PHEV
Quick overview
Pros
Elegance and style
Top drawer comfort
PHEV model
Cons
Infotainment ease of use
Fussy steering wheel buttons
Expensive AMG models
Overall verdict
On the inside
Driving
Cost to run
Prices and Specs
Overall verdict
"The old chestnut of who builds the best luxury saloon in the world is somewhat moot nowadays when there are some that go so far beyond anything the mainstream Mercedes S-Class can offer. Even Mercedes does this with its Maybach model, yet the S-Class still has a claim on this title, especially if you introduce rational decisions such as value for money and running costs into the equation."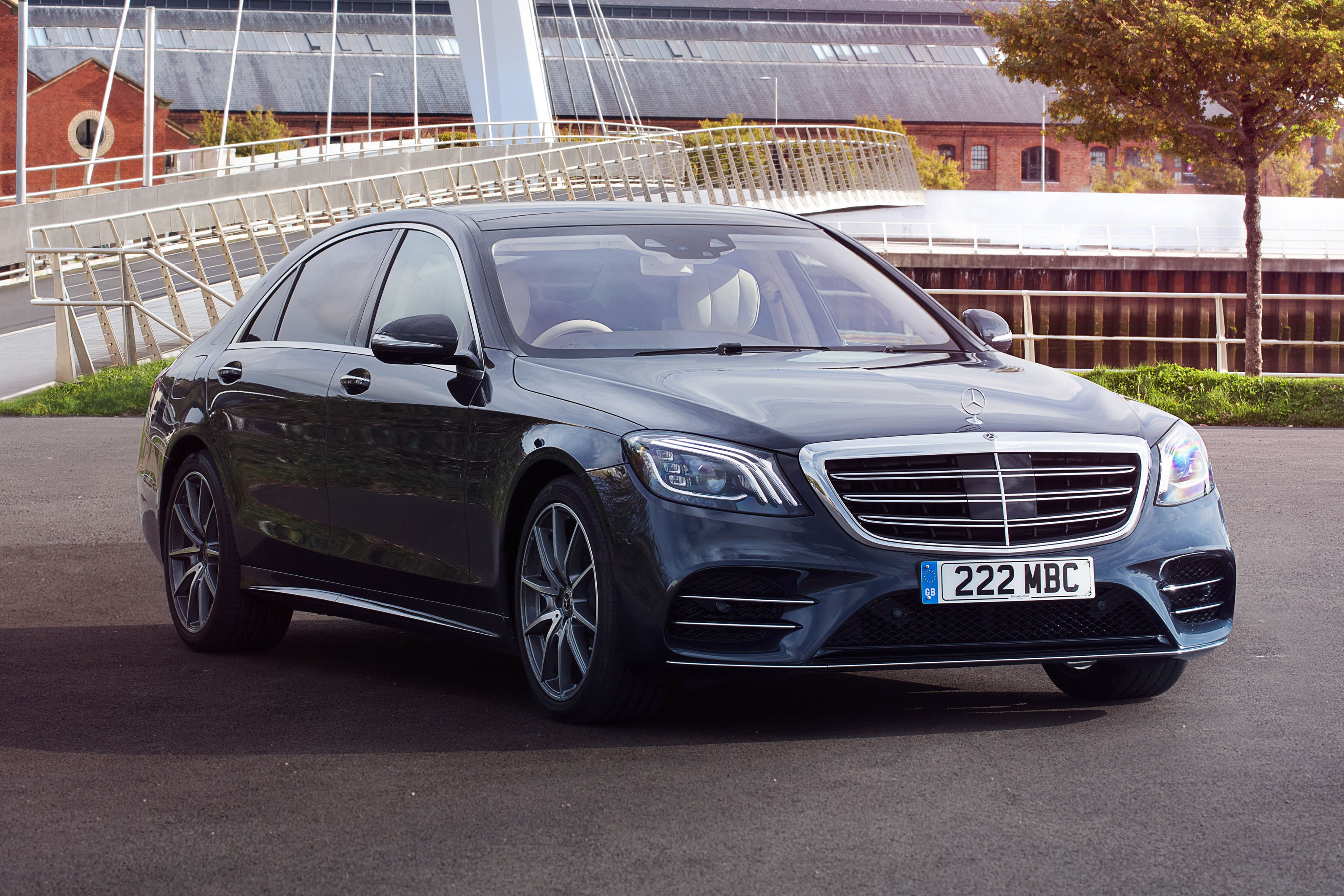 So, the latest S-Class offers luxury car buyers all they could ever want in a discreetly stylish package. For some owners, it will be their only means of transport as it covers so many bases, while for others the S-Class will be one of many choices of car at their disposal. Either way, you are in for a treat with one of the most comfortable and capable cars every made.
However, many of the S-Class models you will see on UK roads will be plying their trade as upmarket cabs. This is a role to which the Merc is superbly well suited thanks to a range of fuel-efficient engines and lower carbon-dioxide emissions than you would think possible for such a large car. There is also the option of a plug-in hybrid model that means even this large saloon can provide economy and emissions to shame most superminis.
At the other end of the scale, Mercedes has not forgotten about its customers who are not concerned in the slightest about running costs. For them, the S63 AMG that only comes in long-wheelbase form provides the ultimate in luxury and performance thanks to its 612PS twin-turbo 4.0-litre V8 engine.
Inside every S-Class offers masses of space for four or five passengers, depending on which seating configuration you prefer. The driver is just as well looked after with an ideal driving position, clear-cut controls and the chance to enjoy the S-Class' wonderful handling.
This is one of the most surprising facets of the S-Class, that it can be so cosseting yet still be fun to drive. Every S-Class has pulled off this clever trick and the latest model is helped by Magic Body Control that scans the road ahead for bumps and potholes to adjust the suspension in anticipation to ensure the smoothest ride possible.
There's plenty of other tech inside the S-Class and it uses Mercedes' large widescreen infotainment set-up as standard. This puts the S-Class ahead of most rivals straight away as it's easy to read and use, as well as suiting the prestige of the car whether you're sat in the front or back seats.
So, the S-Class is world class. Of that, there's no doubt. Some might find its approach misses a bit of the drama of a Maserati Quattroporte or heft of a Bentley, but the S-Class earns its accolades through being relentlessly good at everything it does.
Is the Mercedes S-Class right for you?
Regardless of whether you enjoy the Mercedes S-Class from the driver's seat or the back seat, this is a luxury saloon that more than lives up to that title. Its draped in the finest materials, is built like a bank vault, and comes with plenty of tech to make life easier that is also simple to use.
This is underpinned by those most important of luxury car attributes: a supreme ride and top-class refinement. Using a computer-controlled suspension set-up means the S-Class glides along on a seemingly never-ending bed of smooth tarmac, even if the outside world is rutted and ragged. It also fends off all exterior noise from the cabin with diligent ease to make it a hushed, calming place to spend any journey.
There's also a good spread of engines, from the blaringly fast AMG 63L to the popular diesel models. There's also a petrol-electric hybrid that makes a whole lot of sense for anyone who travels in town most of the time thanks to its electric range of up to 27 miles.
What's the best Mercedes S-Class model/engine to choose?
All Mercedes S-Class models – with the exception of the AMG versions – come in the single Grand Edition trim, so picking the best version is more down to how you specify the car to your needs. Only the popular S350 d comes with the choice of standard or long wheelbase forms as all the others have the longer gap between front and rear wheels for greater rear seat space.
If you drive yourself most of the time, the normal S350 will meet all of your needs with aplomb. It's quiet, powerful, smooth and efficient for a car of this size. For those who spend a lot of time driving in town, the 560 e petrol-electric hybrid makes a great deal of sense thanks to its 56g/km carbon dioxide emissions and ability to drive up to 27 miles on battery power alone. Only its list price at £20,000 more than the S350 d might put you off.
As for speccing the S-Class, those with a chauffeur to take care of driving may well prefer the Rear Lounge seats with electrically adjusted back rests. In the AMG models, this can be further upgraded to the Individual Rear Seats pack with aircraft-style separate chairs and fold-out tables.
What other cars are similar to the Mercedes S-Class?
The German triptych of luxury cars has the Mercedes S-Class faced by the Audi A8 and BMW 7 Series. The BMW is the one for keen drivers thanks to handling that makes it feel smaller than it really is, while the Audi is every bit as able when it comes to wafting along is near silent comfort.
There's also the Jaguar XJ and Maserati Quattroporte for those who want something sporting as an alternative to the AMG S63. Or, you could spend a bit more and have a Bentley Flying Spur for greater exclusivity and bragging rights.
Comfort and design
"Anyone who finds themselves behind the wheel of a Mercedes S-Class is a very fortunate individual. For starters, the leather-clad seat is hugely supportive and has more than enough electrically worked adjustment for anyone to find the right seating position. Heated front seats are also standard."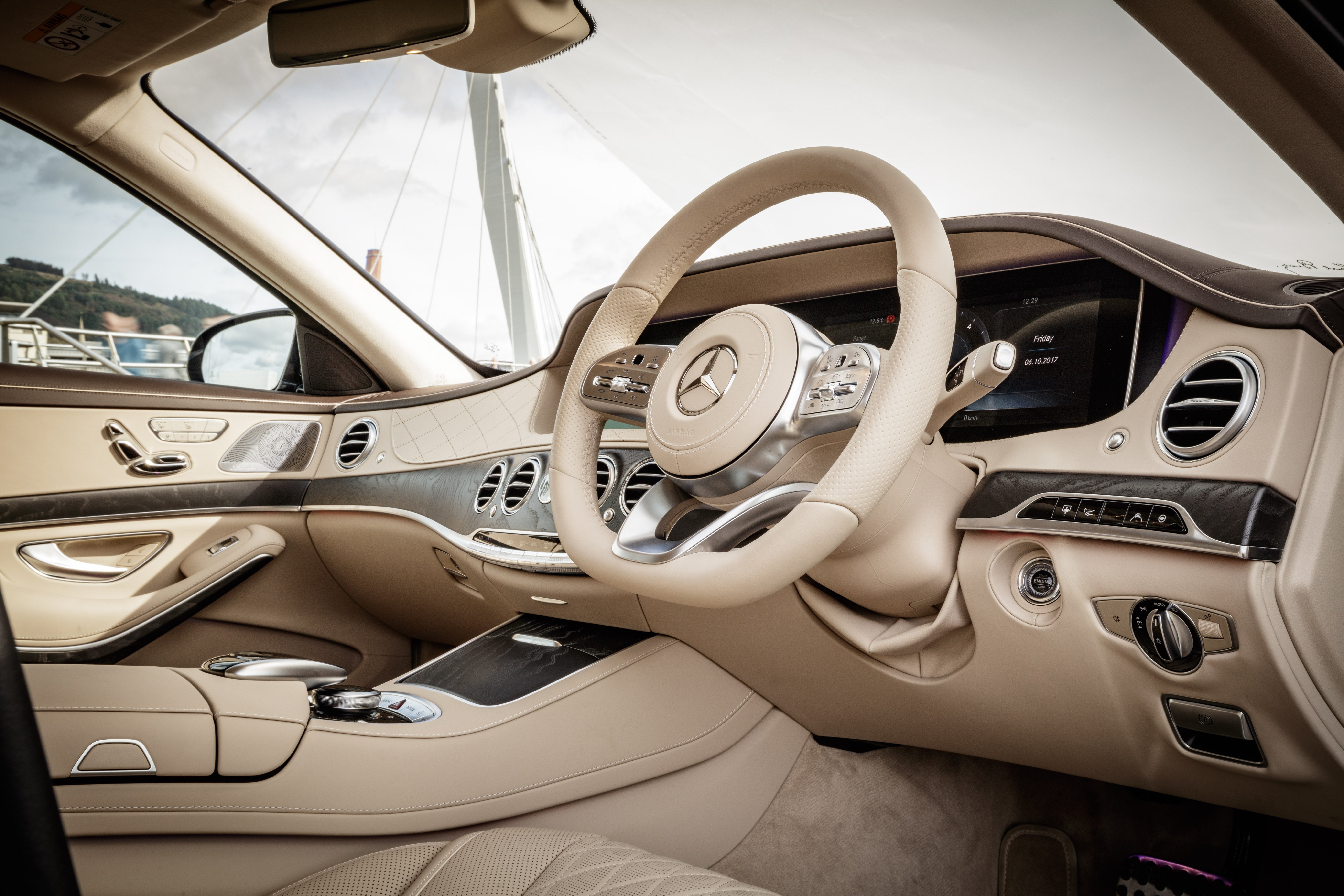 As you would expect of a car of this scale, there's an elegant sufficiency of space for your head, legs and shoulders. In fact, it's the width of the S-Class' cabin that leaves the most lasting impression here as its breadth gives a real sense of the car's scale and comfort.
Mercedes has done away with normal dials in the S-Class in favour of a digitally created screen the driver can configure in various ways. It mirrors the satellite navigation screen that is in the centre of the dash and helps to give the Mercedes' dash a clean, uncluttered look. It also doubles as a reversing camera to augment the parking sensors, which is just as well when parking a car of this size and cost.
Most of the functions on the dash screens are worked by a rotary control in the centre console, so you scroll through various menus to get the information or system you need. It's simple to work, intuitive and Mercedes has now positioned the shortcut buttons for your favourite functions next to the dial in the centre console to be within easier reach than in the previous model.
Quality and finish
Mercedes has spent the past couple of decades living down a minor blip in its build quality standards. As a consequence, they have almost over-compensated ever since and the S-Class is a prime example of this as every surface, joint and detail has clearly been addressed with infinitesimal attention.
The result is a car that is put together with obsessive care and it shows in everything from the way the doors pull shut with a gentle but firm action to the touch of every button. As much as anything, all of this combines to give the S-Class its impressive sense of luxury and class, and it also demonstrates where your hefty outlay of cash has been spent.
There are other areas where the S-Class shows off its quality in discreet manners, such as just the right amount of yield in the leather seat cushions, the depth of sheen on the polished trim inserts and the shine from the exterior paint. There really isn't a detail out of place in this luxury saloon.
Infotainment
Every Mercedes S-Class comes with the imposing 12.3-inch COMAND infotainment screen in the middle of the dash. It's one of the most prominent systems in any luxury car and makes it very easy to read while driving. It's also fairly easy to operate using the rotary controller down between the front seats. There are also touchpads on the steering wheel, but we find these spoil the interaction with the car as they are too sensitive and too easy to brush accidentally as you're turning the wheel.
There is also the option to use Mercedes Linguatronic voice control, though this is not as intuitive or seamless as the Hey Mercedes system found in the A-Class hatch. However, the S-Class does come with an internet connection onboard and is easy to pair with your smartphone and its apps with Apple CarPlay. There's also wireless charging for smart devices with this function.
The main dash binnacle is also a digital screen and can be configured in a variety of ways to suit the driver. All of the important information is clearly presented and there's the option of a head-up display, which is standard on the AMG S63 Premium.
Space and practicality
Slide into the back seat of the S-Class and you instantly feel like a million dollars. If it happens to be the long-wheelbase model, you'll also enjoy the sort of the legroom even those with the longest inside leg measurement would regard as generous. Back here, the S-Class is every inch the luxury limo and it goes a long way, pun intended, to explain why this car has been at the top of its class for so many years.The sumptuous seats have padding where it counts and offer ideal support.
Life can get even more opulent with the host of optional extras Mercedes offers, including its Executive Rear Package that brings reclining rear seats, electrically operated blinds and individual air conditioning controls. You can also add the Individual Rear Seat Package that turns the S-Class into a four-seater and the rear compartment into something more akin to first-class luxury air travel.
Other options include rear privacy glass, panoramic glass roof, ambient lighting and upgraded stereo system, as well a wide variety of trim colours and finishes to make your S-Class your own.
When it comes to carrying luggage, the Mercedes S-Class has it covered with the same Jeeves-like efficiency and calm. The boot offers 530-litres of capacity, which is actually slightly less than an E-Class saloon but you're not going to complain as it's still plenty generous enough. However, if you opt for the 560 e hybrid model, you have to accept a smaller 395-litre boot volume as the battery pack and electric motor eat into the luggage space.
That does not impact on how easy it is to fit in large cases or bags to the boot of the S-Class thanks to its wide-opening lid. The rear light design slopes in slightly at the sides, but access is good and the boot itself is unimpeded by any interruptions on the floor or sides.
Handling and ride quality
"Whichever Mercedes S-Class you choose, they all come with Airmatic suspension that uses cushions of air in place of the more usual steel springs and dampers. This gives a much smoother, more pliant ride in most situations, though you can feel the occasional small ripple in the road at town speeds. This isn't unique to the S-Class' air suspension system as it affects most of its luxury saloon rivals too."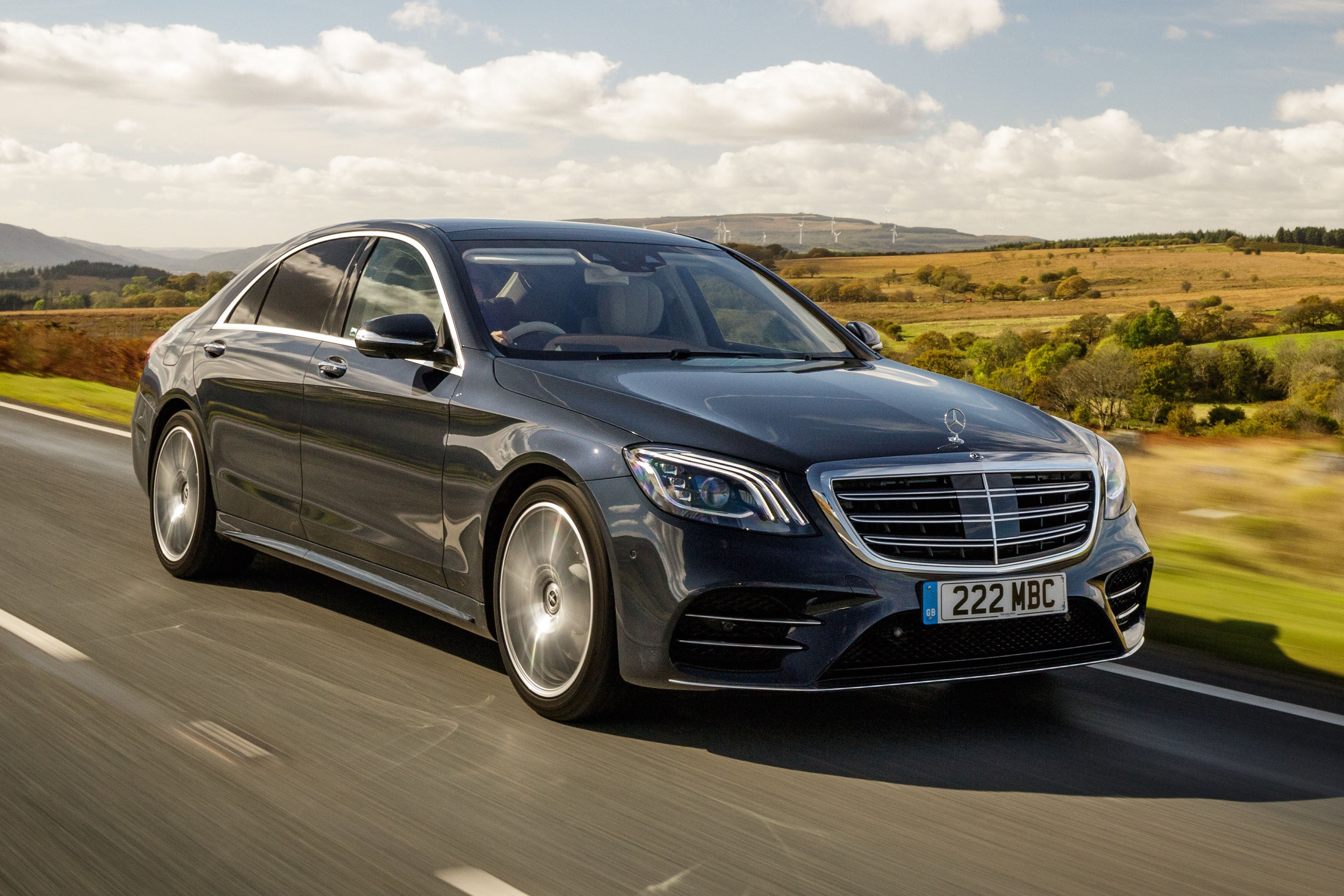 Airmatic has Comfort and Sport settings to let you choose which suits the road ahead best. In the AMG S63 models, this set-up is tuned with a focus more on handling to make the most of the car's huge power.
The S-Class also comes with Mercedes' Magic Body Control that uses sensors to read the road as it passes under the car and minutely adjust the suspension to give the best possible ride comfort. It can also tilt the car into a bend by up to 2.65-degrees, which gives the feel of a much flatter and more controlled cornering.
On the motorway, the S-Class is as stable as an aircraft carrier thanks to its two-tonne heft. It soaks up any undulations with ease.
Head down a country road and the S-Class is just as unfazed by uneven roads, yet it also manages to handle bends, dips and crests in a way that makes you wonder if you've slipped behind the wheel of a much more overtly sporting saloon. It's an impressive feat of the Mercedes that it can handle as well as it does when its prime focus is comfort. Admittedly, the steering doesn't have quite the same degree of feedback as a BMW 7 Series or Jaguar XJ, but that's splitting hairs and the S-Class is far more precise than an Audi A8 or Range Rover at responding to your steering inputs.
Engines and gearboxes
Mercedes' S350 d remains the most popular S-Class model and it's easy to see why when it comes with 286PS and muscly 600Nm of low- and mid-rev shove. You rarely have to extend this engine beyond the mid-way point of the rev counter to make rapid progress and, if you do, it's only to get up to motorway speed swiftly.
The 400 d version of the S-Class' 3.0-litre six-cylinder diesel engine has even more power and punch, so it's really a case of just more of the same as the S350m d.
The S450, S500 or the S560 e all share the same 3.0-litre six-cylinder turbo petrol engine. The S500 has 435PS compared to the 367PS of the other two models', but the hybrid 560 e also has a 122PS electric motor. Take the AMG S63 and you get a 612PS twin-turbo 4.0-litre V8 shared with the AMG GT coupe.
All drive through a nine-speed automatic gearbox that whirrs seamlessly from one ratio to the next. In the AMG models, this transmission is uprated to a Speedshift version for quicker, sportier changes to suit the engine's huge power output. When driven with a heavy right foot, the changes can be more abrupt than you might expect, but keep the S63 in Comfort mode and it settles back into being a luxury saloon with considerable grace.
Refinement and noise levels
In town, the 560 e version of the Mercedes S-Class enjoys an almost complete absence of any noise as it can travel for up to 27 miles on a single charge of its battery. This is more than enough range for most urban needs and makes it the ideal silent luxury express.
Take the popular S350 d and it's also very subdued in the way it makes progress and keeps engine noise from entering the cabin. Even when worked hard, the six-cylinder motor in this model and the S400 d is whisper quiet. It's the same for the petrol cars, unless you unleash the full potential of the S63's wonderful twin-turbo 4.0-litre V8 to reveal a glorious bark.
Other sources of noise, such as wind and road noise, are all filtered out of the S-Class' cabin with Teutonic efficiency. This is one of the areas where the S-Class eases itself ahead of the likes of the Jaguar XJ and Range Rover as its interior is an oasis of soothing silence, which is a much underrated quality in luxury cars.
Safety equipment
The Mercedes S-Class is packed with standard safety systems, starting with twin front, side and curtain airbags. There are three-point seat belts for every occupant, as well as Isofix child seat mounts for the two outer rear seats.
Every S-Class comes with ESP, tyre pressure monitor, traffic sign recognition, and automatic headlights and wipers. There's also ESP Curve Dynamic Assist to help the car lean into bends to help with cornering.
Autonomous emergency braking helps avoid collisions, while Pre-Safe works to put the car's occupants into the safest position in the event of an impact by moving the seat and tightening the seat belts in anticipation of the collision.
The AMG S63 model has the Driving Assistance Package included as standard and this can be added as an option to the others in the range for £1695. It comes with active cruise control to maintain a safe distance to the car in front even as speeds vary. There's also Active Steering Assist to keep the car in the correct lane, while route-based speed adaptation will automatically slow the car as it approaches a corner or junction based on GPS sat-nav information.
Maximum EV range
The Mercedes S560 e comes with a 367PS 3.0-litre turbo petrol engine and a 122PS electric motor. This electrically powered motor can run for up to 27.3 miles on battery power alone depending on which wheels are fitted and weather and traffic conditions.
Recharging the battery using a normal public charging point will take around two hours and the plug-in socket is hidden behind a flap to the right of the back bumper. A fast charger can do the same in around half an hour and Mercedes will sell you a BPO Chargemaster Homecharge kit for £499 that includes a wallbox.
MPG and fuel costs
"Use the Mercedes S560 e petrol-electric hybrid to its full potential in city driving and you could, perhaps, never have to fill up with fossil fuel. More likely is a mix of the two energy sources and Mercedes claims a combined average of up to 128.4mpg, or as low as 104.6mpg on bigger wheels."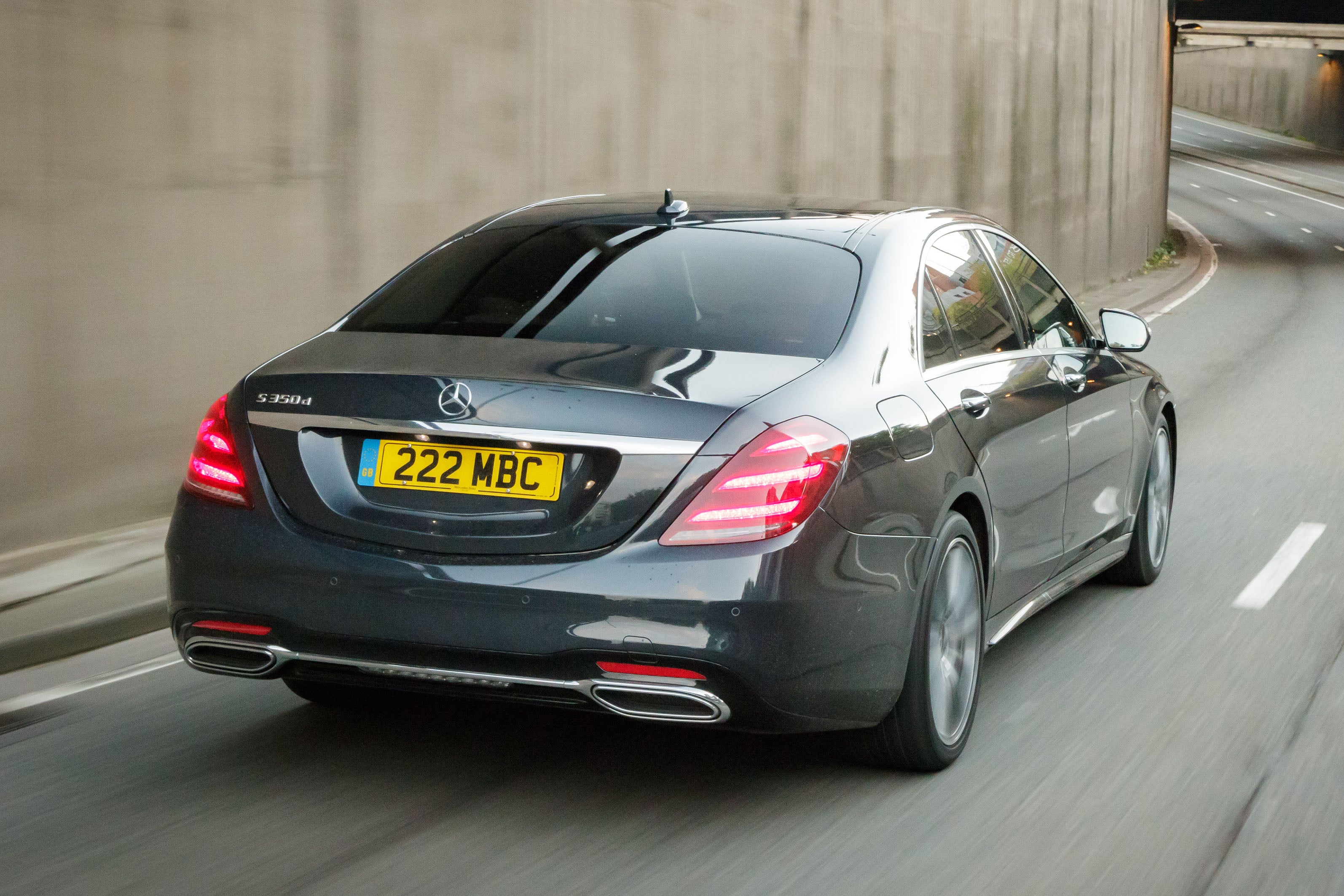 All three diesel-powered models of the S-Class can deliver a claimed combined economy best of 44.1mpg. In Real MPG conditions, that turns out to be more like 34.4mpg, which is just about tolerable for a car of this size.
Insurance groups and costs
The S350 versions of the Mercedes S-Class are the cheapest to get insurance cover for, though this is all relative as they still sit in group 47 – just three groups down from highest. Add the Executive equipment pack to either S350 and they jump to group 49.

That's the same group 49 as the S450, but specify the Executive pack and this model jumps into the highest group 50 banding alongside all the other S-Class variants.
VED car tax
The S560 e model of Mercedes S-Class takes on considerable appeal when it comes to calculating Vehicle Excise Duty. Thanks to it being classed as an Alternative Fuel Vehicle for tax purposes and producing just 56g/km of carbon dioxide emissions, its new buyer will pay only £15 for first-year road tax. Like every other S-Class, that will become £475 in the years that follow.
Next cheapest for road tax are the S450 and S500 petrol models that attract a payment of £870 in the first year. They have slightly higher emissions than the S350 d and 400 d models, but these cars have diesel engines that don't meet the RDE2 standard, so their owners shell out £1305 in the first year.
For the AMG S63, you'll fork out £2175 for the initial year's road tax.
How much should you be paying for a used Mercedes S-Class?
"There's not such thing as a cheap used Mercedes S-Class from this generation. However, look out for a five-year S350d with around 60,000 miles on the clock and you will find plenty for around £20,000."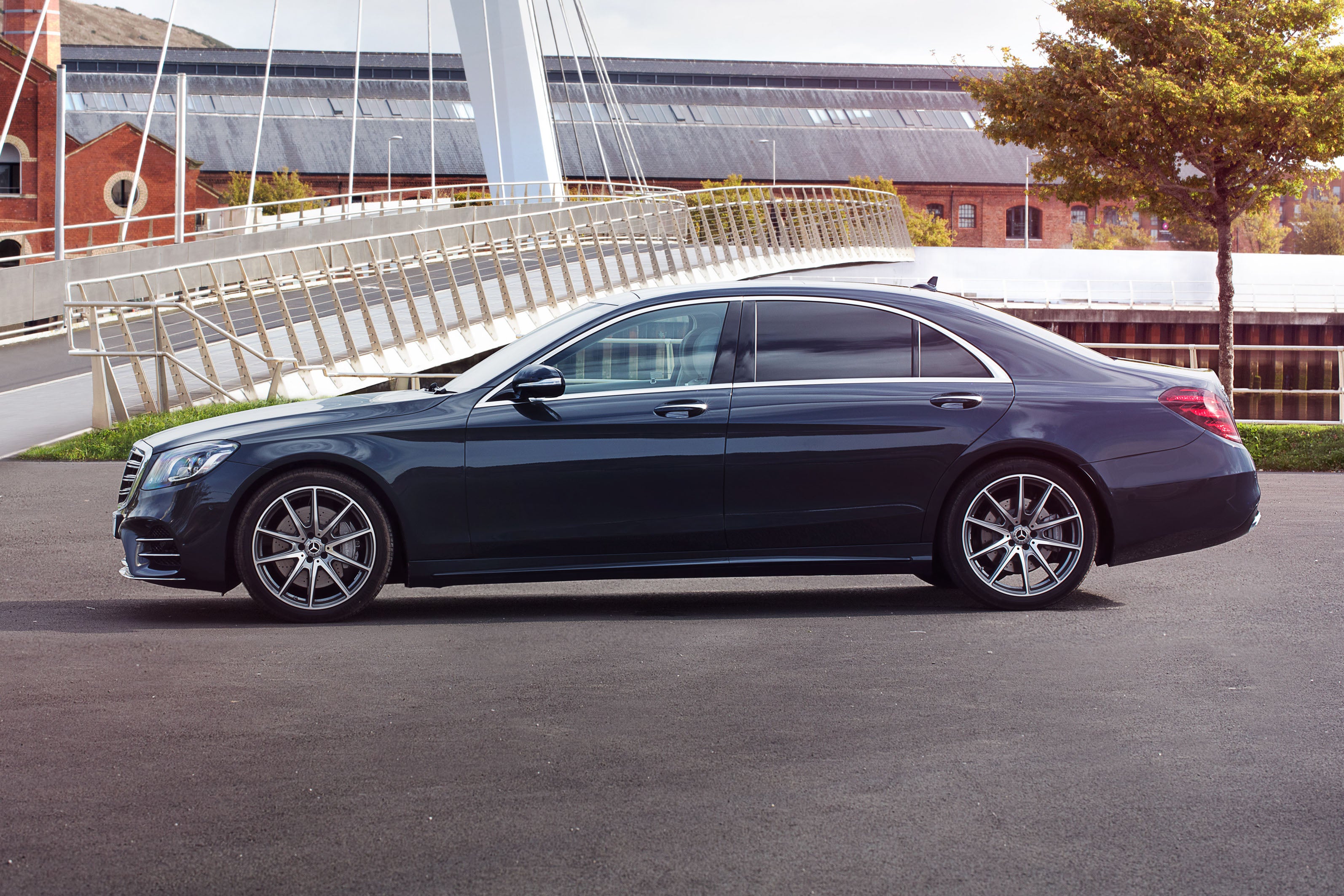 Bring that forward to a pre-registered model with the same diesel engine and you can find them with only 100 miles under the wheel for £63,000. That's a saving of £13,500 on the list price.
Look for the mighty AMG S63 model and price start at £40,000 for a five-year old example with 40,000 miles to its name.
Turn your search towards a petrol-electric hybrid version of the S-Class and you'll be looking at the earlier S500e model for £35,000 for a 20,000-mile five-year old.
Trim levels and standard equipment
The Grand Edition is the standard trim for all bar the AMG models of the Mercedes S-Class. It may be the starting point for the range, but it's far from basic as it includes 20-inch alloy wheels and some AMG body styling for the front, side and rear aprons. There are also soft-close doors, panoramic glass sunroof, all-round parking sensors and reversing camera, keyless entry, and Magic Vision Control adaptive windscreen wipers. This trim also has Multibeam LED headlights and Airmatic suspension with Magic Body Control.
On the inside, you get Nappa leather upholstery in a choice of colours, electrically adjusted steering column and front seats with position memory, massage function for the front chairs, ambient lighting, and Air-Balance to waft your chosen fragrance around the cabin. There's climate control, wireless phone charging, heated and ventilated front seats, Burmester stereo system, and the 12.3-inch COMAND infotainment screen.
The optional Executive equipment line brings electric adjustment for the rear seat backs and back window blinds. Go for the Rear Luxury Lounge pack and you enjoy twin entertainment screens and wireless headphones, massaging seats and a wireless phone charging point.
The AMG S63 has its own wheel design and Active Parking Assist, while inside there are sports front seats. It also comes with the Driving Assistance Package as standard, which is an option for the other S-Class models. You can upgrade the S63 with the Premium model that gains Magic Sky Control to darken the glass roof's tint at the touch of a button, red-painted brake calipers, rear blinds, improved stereo, and heated front armrests. It also has a heated steering wheel and head-up display for the driver.
Mercedes-Benz S-Class cars for sale on heycar
3,927
Number of cars available
£28K - £100K
Price bracket of these cars
Colours available on heycar
Keep me updated by email with the latest advice, news and offers from heycar
By submitting, you agree to our
privacy policy
.