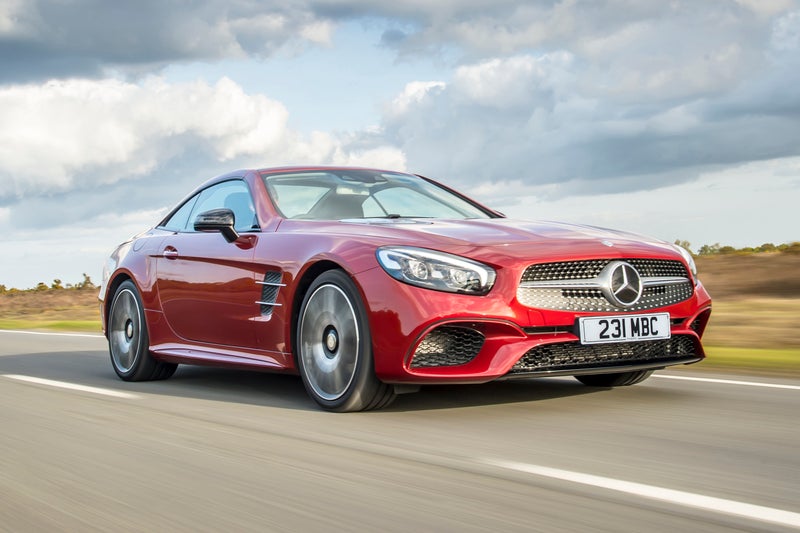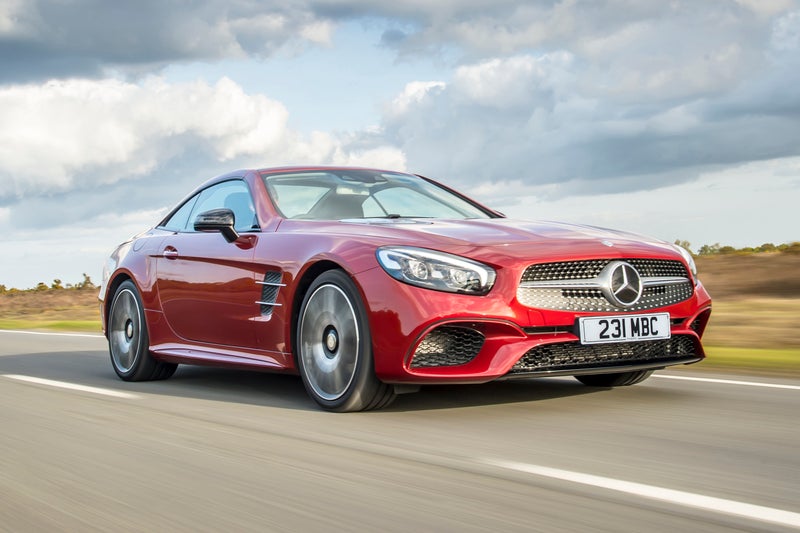 1/10
heycar rating
"Famous icon is ageing gracefully"
Launched: 2012

Convertible

Petrol
Quick overview
Pros
Luxurious and powerful
Do-it-all AMG variants
Long-running history
Cons
Getting on a bit now
Others are more exciting to drive
Could feel more of an 'event'
Overall verdict
On the inside
Driving
Cost to run
Prices and Specs
Overall verdict
"The SL is getting on a bit now, and is no longer at the top of its game. But as a motoring event, it still has plenty going for it – and on the secondhand market, it delivers a surprising amount of high-end car for the money."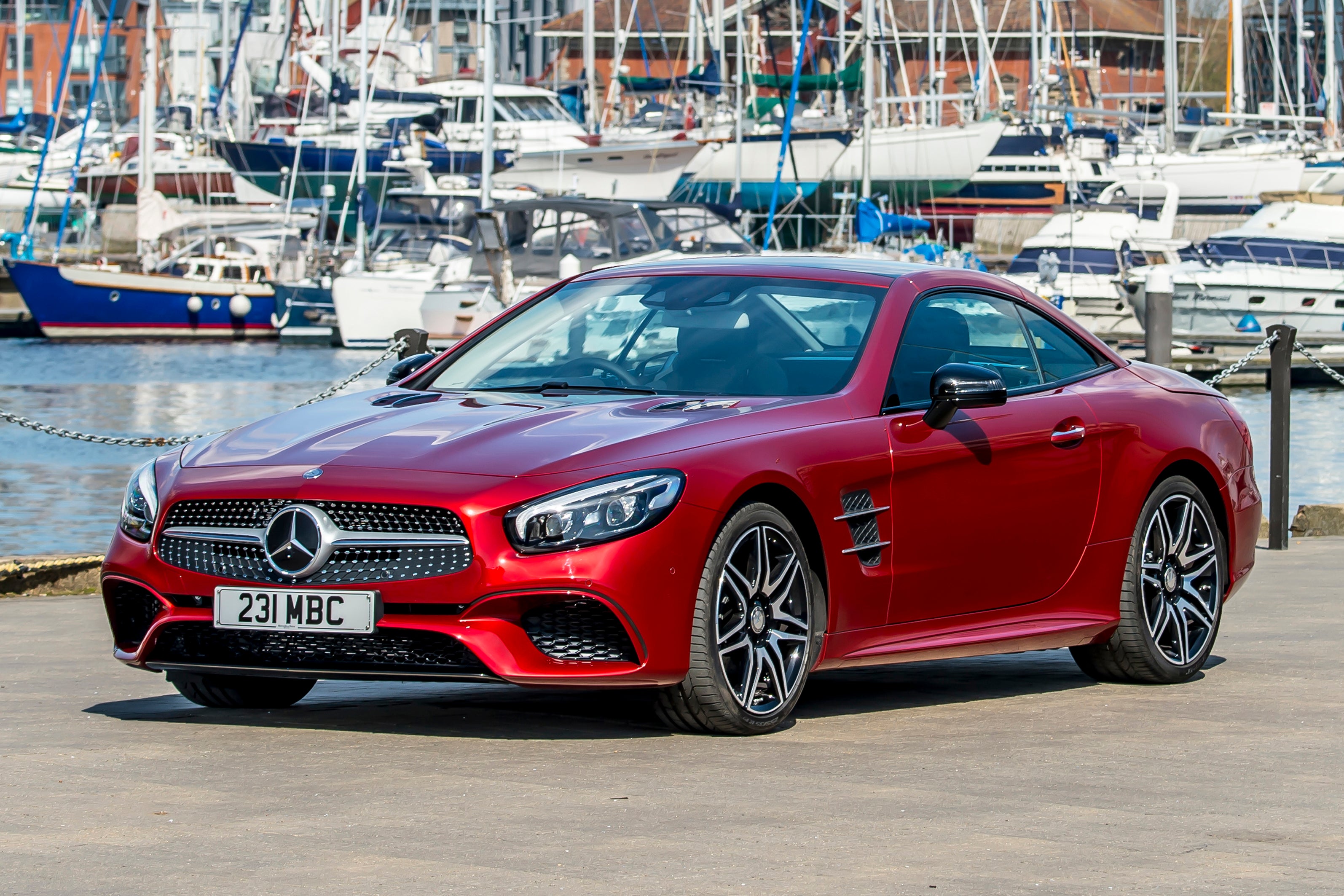 The Mercedes-Benz SL is a motoring icon that has been around in umpteen different guises since 1954 (and there's a new one on the way in 2021). In that time, it has been driven by many celebrities and some of the world's wealthiest people. While it isn't quite the status symbol it once was, it's still a desirable high-end sports car that shows the world you've arrived.
This latest model, wearing new lightweight aluminium bodywork, was introduced in 2012. It's coming up for replacement, but cars of this calibre are more timeless than ordinary models, so firms tend not to rush their replacements. As with its predecessor, the SL uses a clever folding hard-top roof, giving the best of coupe and convertible worlds in one. It's a dedicated two-seater, despite being over 4.6 metres long. And although it has a surprisingly roomy boot, most of the space is given over to the luxurious cabin and, of course, that long bonnet.
Mercedes-Benz doesn't particularly need to worry about fuel economy or CO2 emissions with the SL. It doesn't sell in large enough numbers to have much effect on the company's environmental balance sheet. So, you won't find any downsized turbo petrol engines here, and you certainly won't find a diesel. Even the entry-level V6 has over 300PS – and quite right, too.
Moving through the range sees power levels jump up – the next model at launch gained 130PS and two more cylinders. A later 3.0-litre V6 straddled the gap, but Mercedes-Benz couldn't resist fitting two turbochargers to take the 0-62mph time down to barely five seconds.
Then there are the AMG range-toppers, a remarkable pair of machines with colossal power from their V8 and V12 engines. They have Porsche levels of power and thrilling acceleration, yet are also surprisingly supple and smooth when you don't want to move at warp speed. An SL is fast, but it should never be uncouth.
Inside, the SL feels like a bit of an event. The seating position is of the laid-back sort, with lots of legs-stretched-ahead space, plus the massive bonnet far ahead. You feel positioned well back in the car, which gives a powerful sense of superiority. Folding the roof takes around 20 seconds at the press of a button and opens the cabin up for sunseeking when conditions allow. Needless to say, lots are sold in the sunshine states of North America.
As the sports car equivalent of a Mercedes-Benz S-Class, plenty of cutting-edge technology features within the SL. It has a tremendous amount of assistance systems, the option of active suspension, a body made fully from aluminium and some of the finest audio systems you'll find in any two-seat car – the Harman Kardon systems are outstanding.
The SL was given a mild facelift in 2016, but you'll struggle to tell the difference. There were under-the-skin changes, a new front bumper and subtle changes to the switchgear. Nothing major, though, because of that focus on timelessness.
With relatively small numbers of annual sales, the lack of familiarity with the graceful SL also helps it still stand out. It's maybe not the default choice in this sector, but as a piece of motoring royalty, there's still plenty that appeals here.
Is the Mercedes-Benz SL right for you?
If you're after a genuine out-and-out two-seat sports car, the focus of something like a Jaguar F-Type might leave you more satisfied than the SL. Meanwhile, if you just want a brilliant all-rounder with a rewarding drive and jump-seat space in the rear for two, the appeal of the Porsche 911 Cabriolet is undeniable. The Porsche is such a go-to car, the Mercedes is almost forgotten, even in this rarefied sector. And that's a shame.
Arguably, the SL could get away with being even more luxurious, to take it closer to rivals from Bentley and Aston Martin. Maybe such a repositioning is coming with the next one (it wouldn't be the first time in the SL's long and varied life). For now, consider it a bit of a hidden secret – the thinking person's luxury two-seater. If that sounds like you, you'll discover a lot to like.
What's the best Mercedes-Benz SL model/engine to choose?
The entry-level SL 350 V6 engine is fine, with a charismatic growl and, in SL 400 guise, the support of two turbochargers to effortlessly haul it up to speed. But we're traditionalists, and think the SL is at its best with a V8: it's hard to ignore the allure of an SL 500.
The AMG models are also very tempting. The 63 AMG gets a 5.5-litre V8 good for up to 585PS, while the daddy of the range is the incredible SL 65 AMG, with an outrageous 6.0-litre V12 putting out a staggering 630PS. If you can afford the fuel bills and eye-watering purchase price, it's hugely tempting.
What other cars are similar to the Mercedes-Benz SL?
There are other some standout alternatives in this sector. The Porsche 911 Cabriolet is one, and easily outsells the SL year after year. BMW offers the 8 Series Convertible, but Audi doesn't yet have a sporting alternative.
Jaguar no longer sells the XK, but does offer the F-Type in open-top guise – and has some throaty V8 engines to rival the Merc (plus a more leftfield 2.0-litre turbo). Other than that, there's not a huge amount of competition in this sector. Genuine luxury alternatives such as the Bentley Continental GTC and Aston Martin DB11 have moved ever upmarket into pricier territory.
Comfort and design
"Comfort is very much the name of the game with the Mercedes-Benz SL. In something like a Porsche 911, it's much more about feeling excited and involved. The SL takes a more laid-back approach; it wants you to relax and enjoy the ride."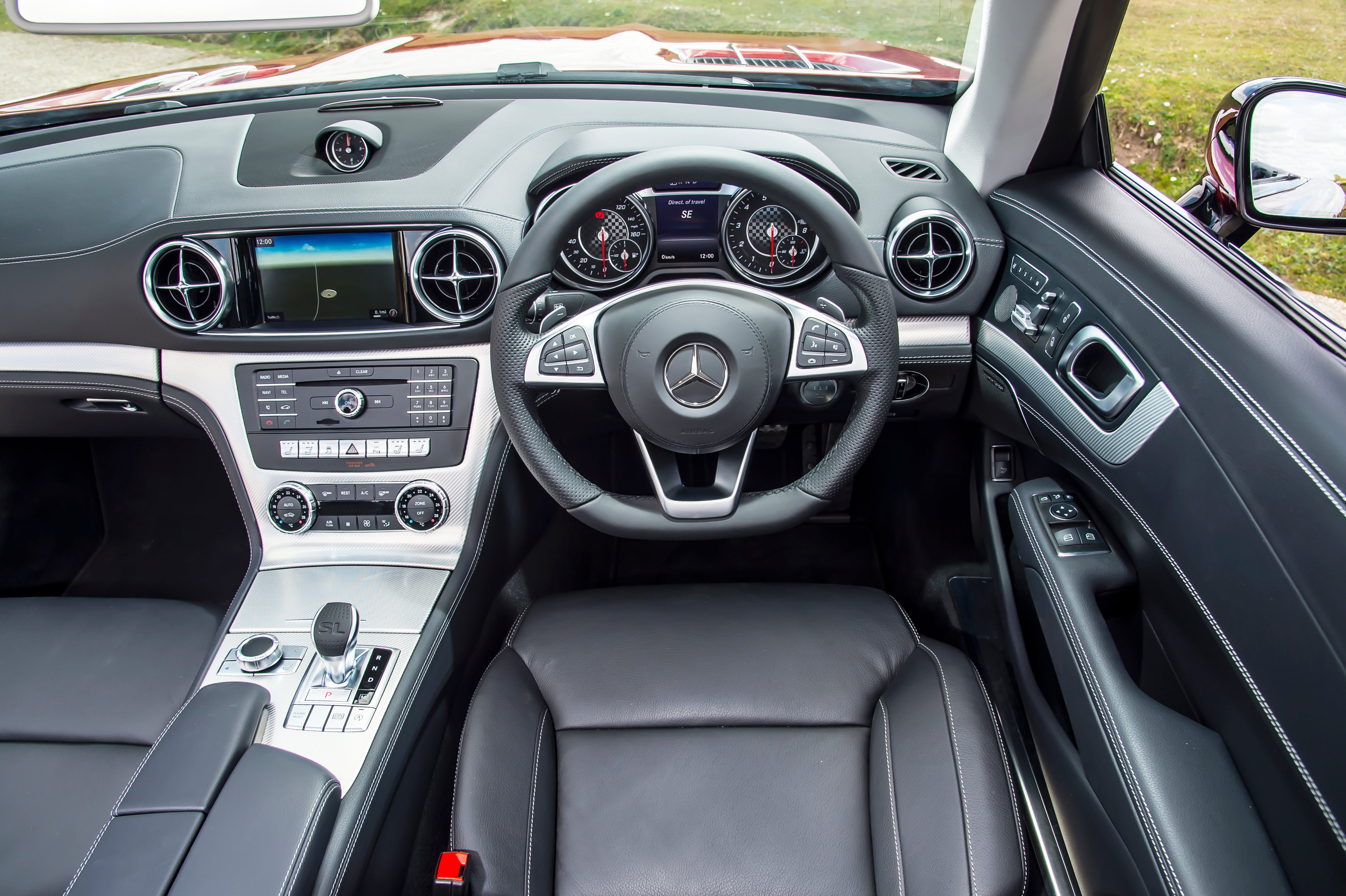 There is an abundance of opulence and luxury. Leather-covered surfaces abound – and aren't simply restricted to the seats and steering wheel. Hide covers most of the dashboard, too, and pops up in places you wouldn't expect to be so lavishly trimmed.
It's all very tactile in other places as well. We love the minute attention to detail with features such as the cool metal aluminium inlays and 'SL' logo embossed into the leather gear lever. The stitched leather covering the dash is more boutique store than automotive, while even the buttons on the door panel for adjusting the electric seats are finished in silver.
For all its tactility, the design of the SL's interior is also showing its age. The infotainment screen is built into the dash rather than standing proud, for example, and the audio system is packed with buttons instead of a modern touchscreen setup. The climate control is fiddly and the instruments, buried within dual cowls, don't look expensive or sophisticated enough for a car at this price level – they're the same as you get in the much cheaper Mercedes-Benz SLC.
The SL is, of course, an open-top car, so comfort roof-down is important. It's pretty good in this respect, particularly if you leave the windows up and raise the optional wind deflector. Bluster is kept at bay and the standard Airscarf system, which blows warm air through vents in the seats, helps keep you nice and toasty, even in winter.
An option worth looking out for is the Magic Sky Control roof, which switches from light to dark glass at the press of a button. It's a bit of a show-stopper and also ensures the interior of the car doesn't heat up too much when parked, while still allowing you to see the sky with the roof up.
Quality and finish
Naturally, the SL is a very well-finished car. Mercedes-Benz may well assemble it in lower volumes than its mainstream models, but you sense it also lets only its most experienced technicians work on the car at the factory. Like building a Rolls-Royce, making an SL is a career goal you strive towards.
Certainly, it's impeccably finished outside, with arrow-straight lines and deep paint quality. Inside, it feels gorgeous, with the materials you touch most often seemingly notched up a grade or two compared to normal Mercedes-Benz. The leather seats feel wonderful and nudging the gear lever back and forth is a deeply satisfying process.
Even washing the windscreen is a quality affair. The SL was the first Mercedes-Benz to come with the Magic Vision Control system, which saw the washer jets built into the windscreen wipers. Result: no splashing and spray, just a 'magically clean' windscreen.
What Mercedes-Benz can't do so adeptly is fully conceal the bits shared with other models. If you've ever been in a 10-year-old E-Class taxi, you'll recognise the buttons on the centre console. The steering wheel controls are shared with the elderly A-Class. And the infotainment screen lacks the clarity of more modern systems. This pecks away at the impression of quality, and will certainly be obvious to someone who's sat in, say, a BMW 8 Series.
Infotainment
The infotainment system is built into the dashboard, rather than using a freestanding screen. This does limit the size of the display to 7.0 inches, and that's not the only disappointment in store. Icons and graphics are also dated, looking from a previous era rather than following the brilliant new MBUX layout found in more modern Mercs.
It's not touchscreen, so you have to use the swivel wheel in the centre console, just like company car drivers used to do in their C-Class diesels a decade ago. It all feels rather old-fashioned – even if the latest touchpad used by newer Comand Online systems is hardly the most intuitive of user interfaces, either.
It does have modern Google Maps though, plus Mercedes-Benz's own 3D mapping. Rarely for a new car, it also has a CD slot, plus hard disc navigation and an extra SD memory card slot. Apple CarPlay is standard on facelifted cars from 2016, too.
There's an optional Harman Kardon Logic 7 11-speaker sound system, which is pretty impressive. It's certainly powerful enough to overcome background noise from travelling roof-down.
Space and practicality
There are only two of you, but the driver and passenger are extremely well catered for within the Mercedes-Benz SL. We love the legs-stretched driving position, which feels very powerful and 'classical', like you used to get in a retro SL from the 1950s and 60s. There's a tremendous amount of adjustment for the seats and the trademark Mercedes door-mounted controllers are child's play to use.
As you'd hope, the seats are less vice-like than in something like a Porsche 911, trading racetrack pretensions for supple comfort over long distances. Combine this with all the lounging space on offer and the SL perfectly lives up to its grand tourer aspirations.
Saying that, for all its size, the SL is a bit short on oddments space. This car was designed in the era before today's large-format smartphones, and there's not exactly generous room on offer for things such as water bottles and sunglasses cases. You'll have to make use of the cubbies on and behind the centre console instead of having them all easily to hand.
With the roof up, the boot is cavernous. It has a mammoth 504 litres of space, which is 33 percent bigger than even a Volkswagen Golf hatchback – it's so hard to believe, we had to triple-check the stats.
That folding hard-top roof has to go somewhere, though: Mercedes-Benz obliges you to pull forward a hard cover and lock it into place, onto which the roof folds down. This reduces capacity to 364 litres – which, frankly, is still pretty good, and not far shy of a Golf. The only annoyance is that it's a bit awkward to get things in and out with the cover in place.
The SL has Isofix child car seat mounts on the front passenger seat, plus an airbag that automatically turns itself off when it detects a child seat.
Handling and ride quality
"The SL is very much a cruiser, focused on soaking up long distances with an absolute lack of fuss or discomfort. Its adaptive damping is cushioned and absorbent, removing road jars, bump and thump with effortless ease."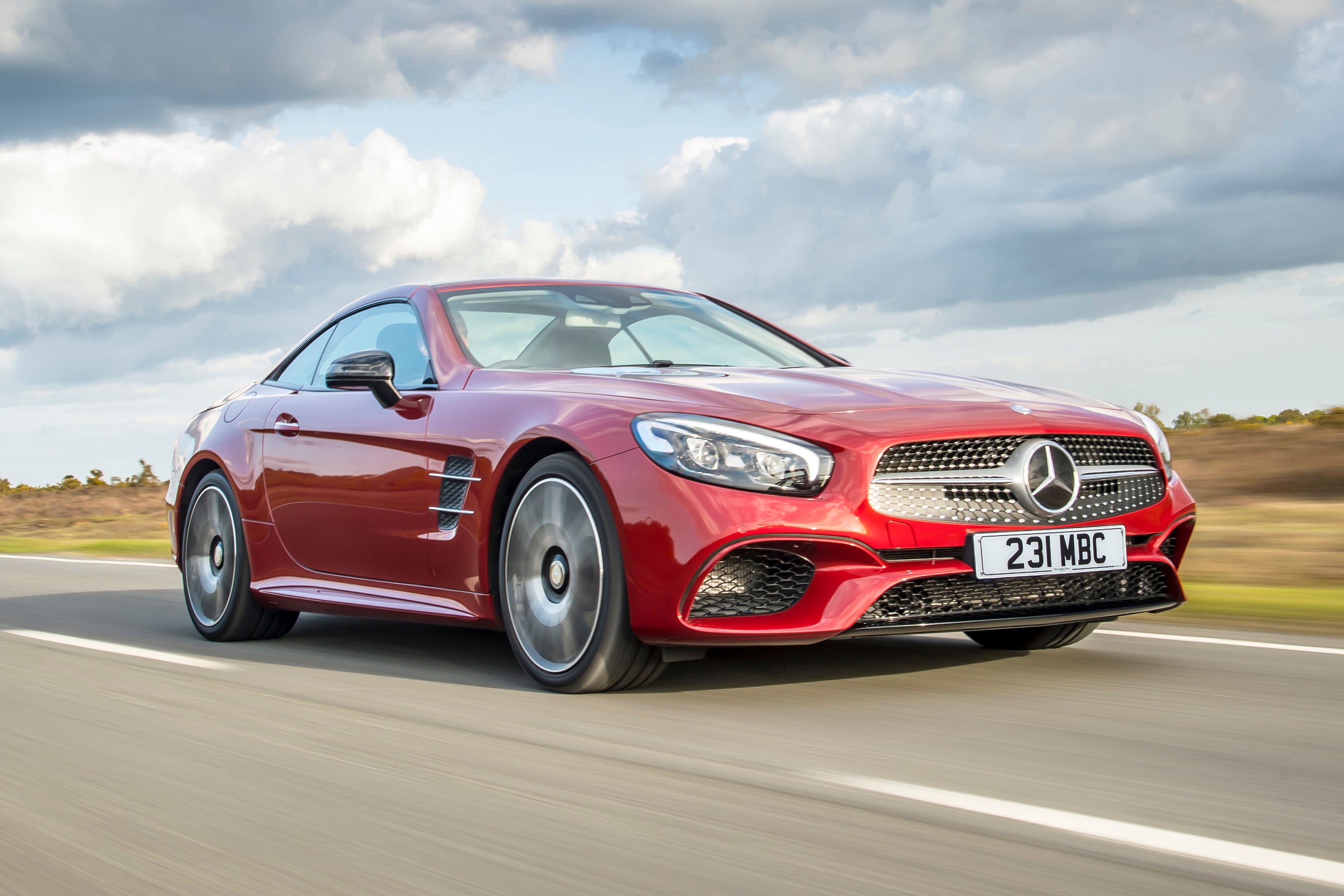 It's also stable too, with the long body settling down beautifully at high speeds to waft you to your destination in consummate comfort.
But it's not a sports car in the way a Porsche 911 is. It's nowhere near as dynamic or chuckable, and you won't necessarily feel inspired to turn off the motorway, where you're being treated to such decadence, in favour of taking a snaking B-road instead.
The steering is too slow, body control too soft and the SL generally feels too nose-heavy and sensible for such treatment. Yes, the AMG versions are tightened up considerably over the standard cars, with on obvious feeling of meatier control and extra tenacity, but they are in no way a match for a 911. That's not the point of them, however. The most outrageous fun you'll likely have is turning off the stability control and lighting up the rear tyres, hooligan-style.
The sheer size of the SL is another factor here. It's nice to be sat so far back, staring over a massive bonnet, but it doesn't do much for the feeling of lithe and nimble threadability. The SL may not encourage you to take it by the scruff of the neck, but its intimidating size may well slow some drivers down before they start to think about such things.
Engines and gearboxes
From launch in 2012, the Mercedes-Benz SL offered a choice of 3.5-litre V6 producing 306PS or 4.7-litre V8 producing 435PS. Both had a seven-speed automatic gearbox and our pick is the V8 SL 500. Later, the SL 400 replaced the SL 350, taking power up to 333PS, while the ferocious 585PS SL63 AMG V8 and 630PS SL65 AMG V12 joined the range.
Post-facelift, the SL 400 was up to 367PS and the SL 500 produced 455PS. The seven-speed gearbox also gained two more gears, becoming the 9G-Tronic.
No engine is short on power, but you might have to work the earlier SL 350 a bit more than you expect. This was sorted with the arrival of the SL 400, thanks to the addition of twin turbochargers giving it extra low-down shove and the feeling of a bigger-engined car.
The noise it makes is a bit more SLC than genuine SL, though. That's why we prefer the V8 and (indulge us!) the V12 engines.
The SL 500 V8 is fantastic, all the car you might ever want, with an authentic engine note and a rapid 0-62mph time of 4.7 seconds. The AMG versions are ludicrous, doing 0-62mph in 4.3 seconds and 4.1 seconds respectively, with breathtaking amounts of engine torque. It's quite an event in a car this big, particularly with the roof down and that exhaust note flooding the cabin…
Refinement and noise levels
What a smooth-running machine the Mercedes-Benz SL is. With no engine sporting fewer than six cylinders, the noise from beneath the bonnet is guaranteed to be rich and sonorous. What you can hear is beautiful – and in full-on Sport mode, you can hear a lot more than you might expect with the AMG models, which border on thunderous with the roof down.
You need the wind deflector in place to take the snap and crackle out of roof-down wind noise, but it's just about perfect with it up. You can enjoy the sounds of the outdoors (and your exhausts) without being deafened. Then you can pop it up – the operation takes 20 seconds at the press of a button – to silence the world again.
The climate control works with a hushed whirr, while the Airscarf heaters are not very intrusive. We'd be very tempted to pick the premium Harman Kardon audio system, then make the most of the quiet two-seat interior with the power of 11 speakers.
Safety equipment
The Mercedes-Benz SL has an active bonnet, which pops up in a collision with a pedestrian to protect their head from hitting the engine below. Active brake assist, however, should hopefully avoid that in the first place, by automatically slowing the car if an obstacle ahead is detected. Front and side airbags are standard, there's a driver-monitoring attention assist system and Mercedes even fits a standard first aid kit and warning triangle.
The Neck Pro system is clever. Active head restraints push forward by 40mm and upwards by 30mm, supporting the head and reducing the risk of whiplash. There's a rollover protection system, while Pre-Safe will tension the seatbelts during emergency manoeuvres, again to stop passengers from moving around.
Another clever feature is ESP Curve Dynamic Assist. This helps cut understeer (running wide) when accelerating through bends through subtle use of individual wheel braking. It also contributes to the stable and confident feeling you get when cornering.
You don't get a spare wheel, though. Instead, Mercedes-Benz fits a tyre sealant kit called Tirefit. The boot may be big, but it's not big enough to take the huge wheels fitted as standard to the SL.
MPG and fuel costs
"The most fuel-efficient Mercedes-Benz SL is actually the older SL 350, which officially returned more than 39mpg – pretty incredible for a big luxury GT car like this."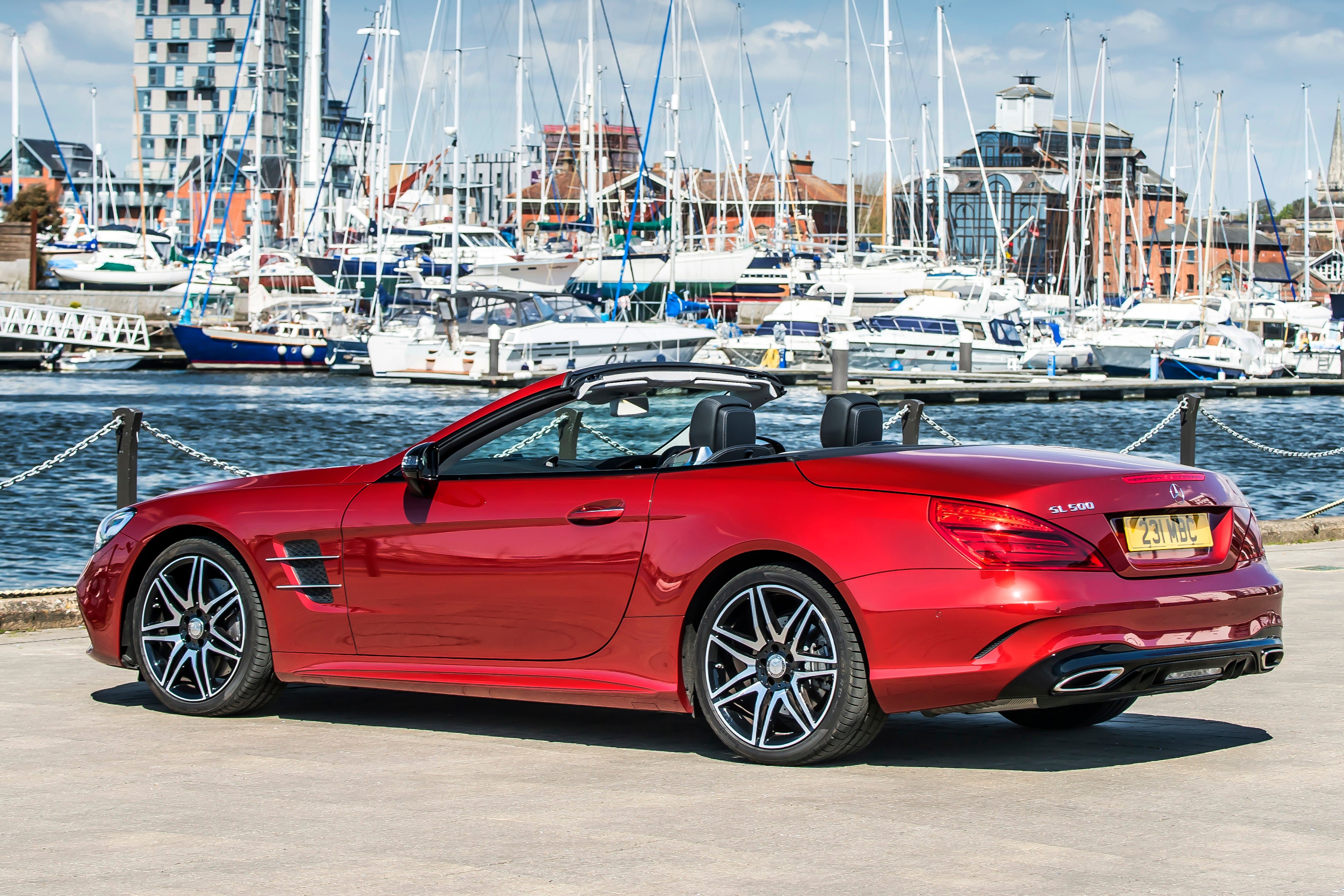 The SL 400 saw this drop to less than 37mpg, although its extra muscle and response to the accelerator means that in the real world, there's little difference between the two.
All other SL models are not very economical at all, with hefty fuel costs to match. The early SL 500 did 30.7mpg, which the SL 63 and SL 65 dropped down to 28.8mpg and 24.4mpg respectively. This is a thirsty car, particularly if driven at the high speeds it's suited to (and with the enthusiasm the AMG soundtrack encourages). At least there's a decent 75-litre fuel tank as standard.
Insurance groups and costs
All Mercedes-Benz SL models sit in the highest group 50 insurance band. Needless to say, they will be expensive to insure – the AMG models, ferociously so. The complex aluminium bodywork doesn't help, as it requires a degree of specialist attention, while the fact this is an expensive, exclusive and highly desirable car also works against it.
At least it's secure, with a comprehensive alarm system and other anti-theft tech. It's also more secure than some other convertibles, simply because of the fact it has a hard-top roof, rather than a fabric hood.
VED car tax
Big fuel consumption and high CO2 emissions mean sobering VED (road tax) bills. Older V6s arguably aren't too bad, costing £240 a year, but the bigger-engined versions took bills right up to the top-band M rating of £580 a year.
First-year road tax for newer models is even more colossal. You'll be obliged to fork out £1,305 for the SL 400 and £1,850 for the SL 500. Thank goodness it's included in the list price – not that the 'expensive car' premium for years two to six will be…
How much should you be paying for a used Mercedes-Benz SL-Class?
"Temptingly, prices for this generation of Mercedes-Benz SL have now dropped down to £25,000 for 2012 cars. For a model that's still current, this represents terrific value for money, particularly when you factor the new car costs from nearly £79,000."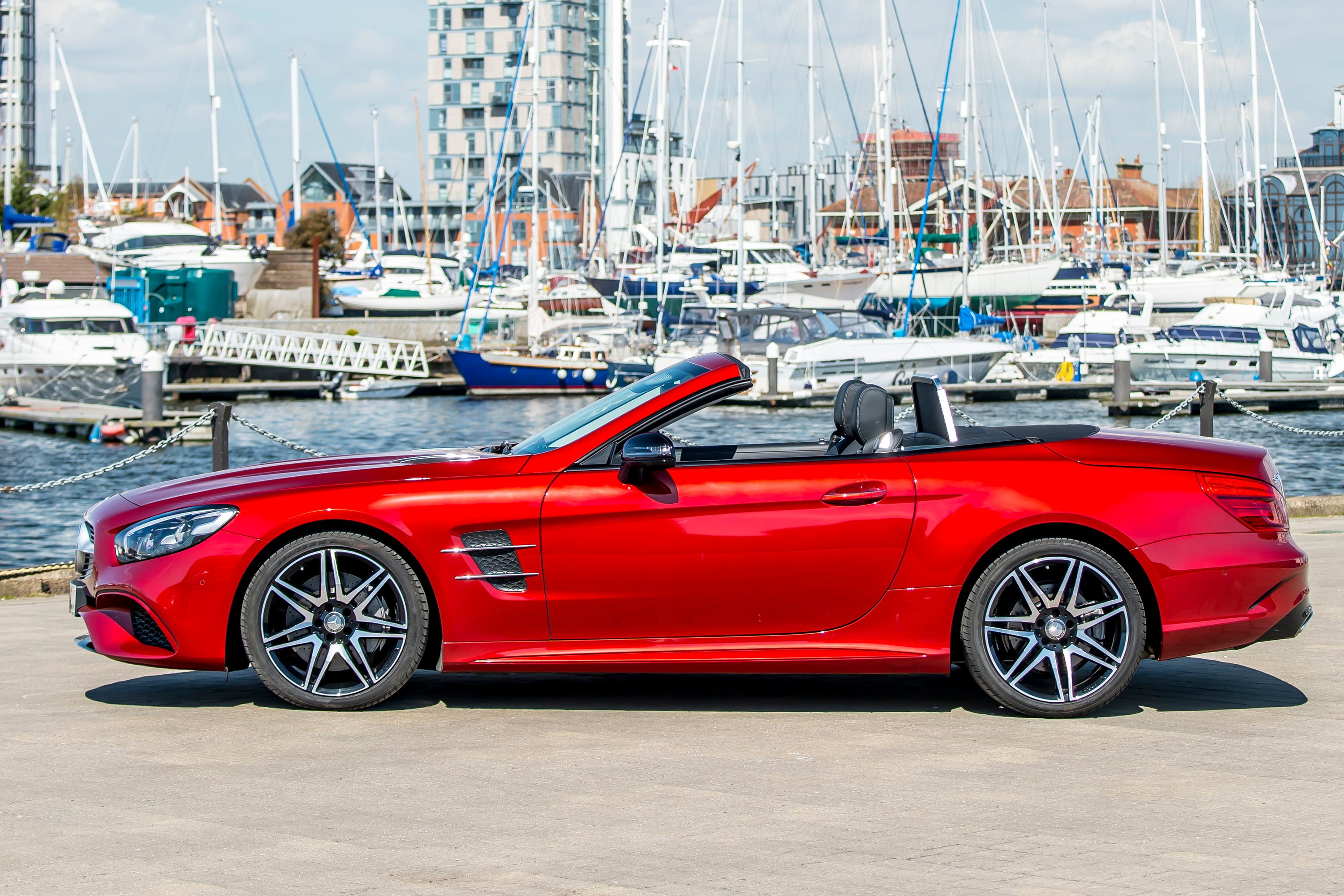 Models at this lower level will almost universally be SL 350s. To get an SL 500, you'll need to budget more like £30,000, which is also roughly what you'll be spending on an SL 400.
As for SL 63 AMG and SL 65 AMG, these are rare and coveted cars, with the price tags to match. Generally, you'll struggle to find one for less than £50,000, even five-year old versions. The V12 is particularly rare, as you may expect, so be patient if you have your heart set on one.
Trim levels and standard equipment
As a general rule of thumb, the Mercedes-Benz includes pretty much everything you could wish for as standard. The panoramic glass Vario Roof is fitted to all models, along with metallic paint, Bluetooth, engine stop-start (for what difference it makes to overall economy), LED running lights, bi-xenon headlights and Parktronic with active park assist.
AMG models get bigger wheels, sports seats, AMG-specific upholstery and lavish detailing outside and in, including unique radiator grilles and side air outlet detailing.
Currently, the SL is sold in Grand Edition and Grand Edition Premium guises. All get 19-inch AMG alloys, LED headlights, AMG body styling and a clever electrically-operated wind deflector. Premium versions add active multi-contour massage seats, a closing aid for the doors, ventilated front seats and the Harman Kardon surround-sound audio system.
Mercedes-Benz SL-Class cars for sale on heycar
3,918
Number of cars available
£25K - £60K
Price bracket of these cars
Colours available on heycar
Keep me updated by email with the latest advice, news and offers from heycar
By submitting, you agree to our
privacy policy
.