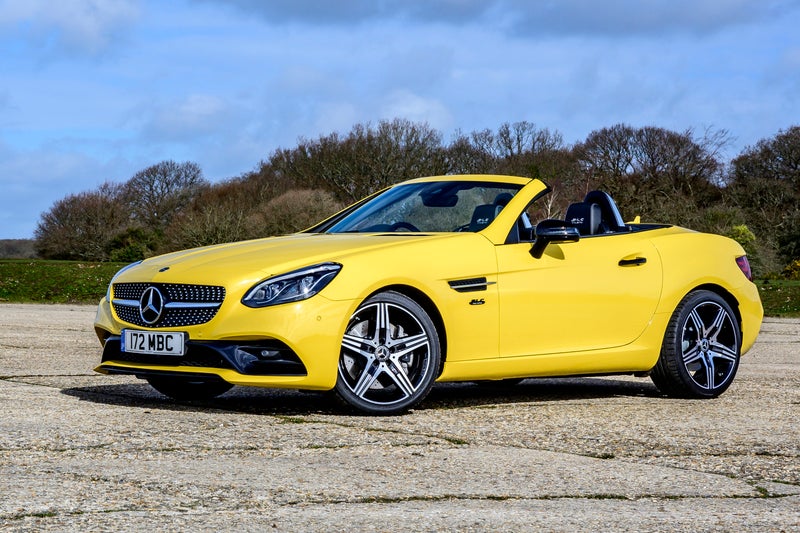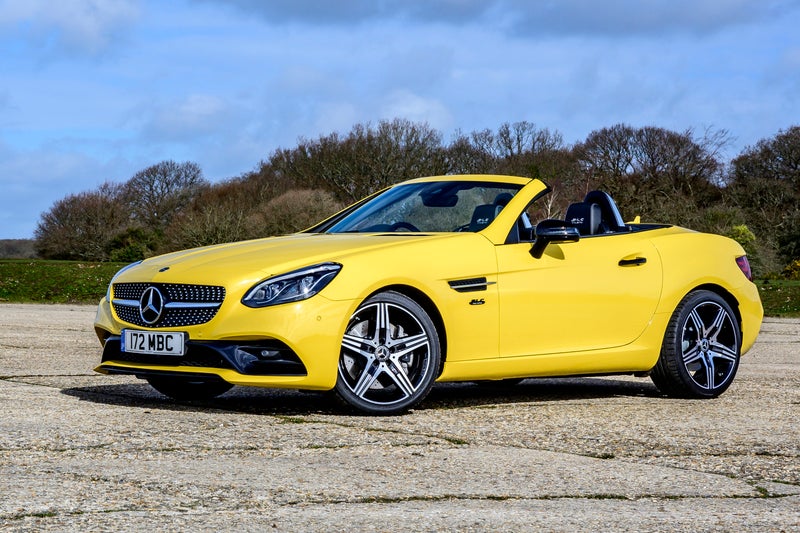 1/10
heycar rating
"Quality roadster with a hard-top"
Launched: 2016

Convertible

Petrol, diesel
Quick overview
Pros
Folding metal roof offers best of both worlds
Impressive nine-speed automatic gearbox
Plenty of standard equipment
Cons
Small boot reduces in size when the roof is lowered
Dashboard looks dated now
Driving experience not as fun as styling suggests
Overall verdict
On the inside
Driving
Cost to run
Prices and Specs
Common questions
Overall verdict
"The Mercedes-Benz SLC offers a rare combination of compact size, reasonably affordable price and a folding metal roof. A strong range of engines, along with the excellent nine-speed automatic gearbox, add to the overall package. However, a dated interior design and small boot hold the SLC back against other rivals."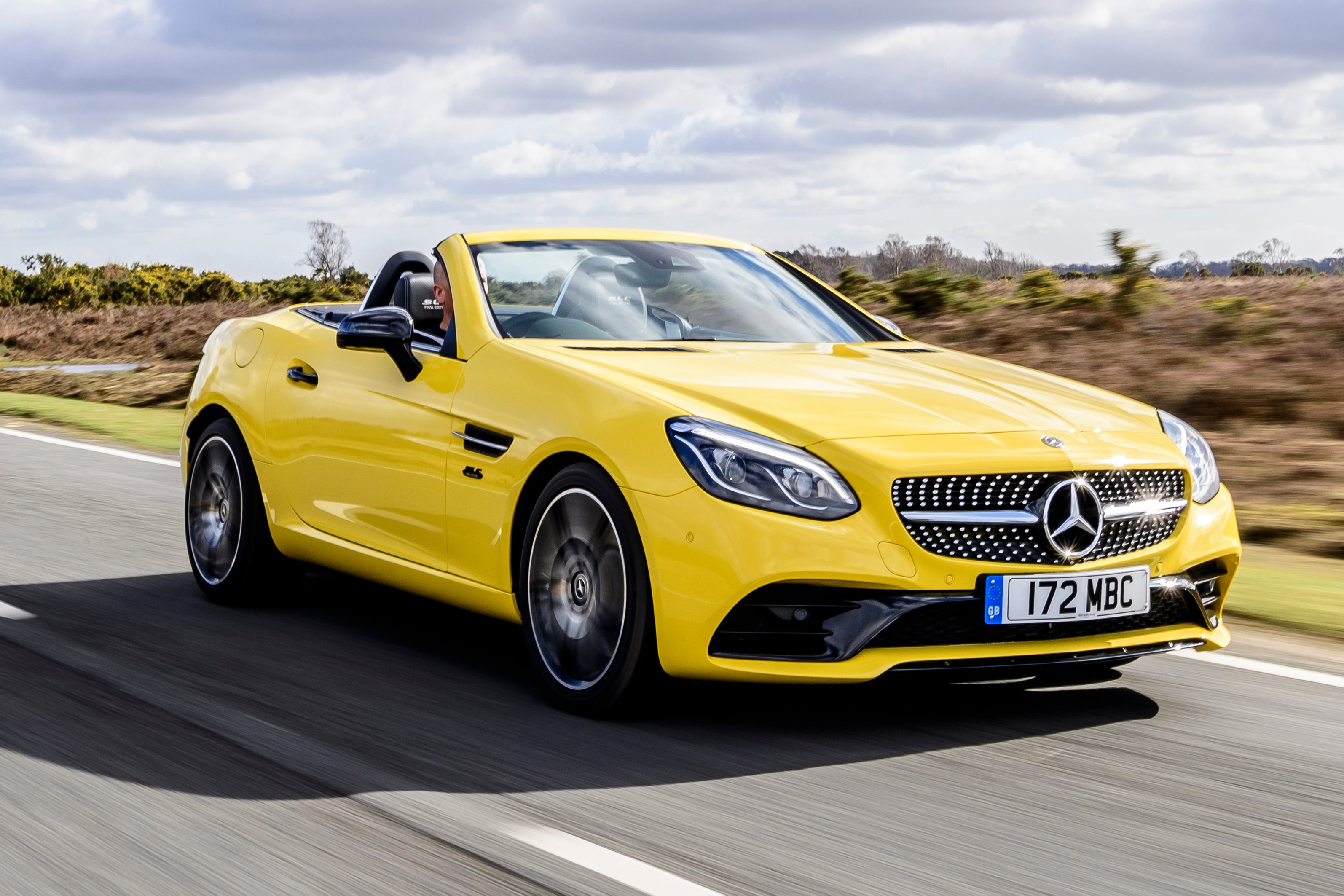 Mercedes-Benz created a major trend for convertibles with folding metal roofs when it launched the original SLK in 1996. Fast-forward to 2016 and the company had a new name for its latest version of the two-seat roadster: SLC.
Updated styling brought the SLC into line with pricier models in the Mercedes-Benz range. Its big chrome grille looks imposing and wears the three-pointed star with pride. Inside, the SLC does show its age, with an interior that lags behind modern rivals.
The ultimate party piece is the electrically operated folding metal Vario-roof. It fully opens or closes in just 20 seconds, and even works on the move at speeds up to 25 mph.
Looking at the cars the SLC competes with, the metal roof will have big appeal to buyers. Solid metal (or glass on panoramic versions) has a security advantage over fabric soft-tops. It also means extra insulation against noise, and adds to the all-weather credentials of the SLC. Even with the roof down, the level of wind noise in the SLC's cabin is well suppressed.
Such a complex folding roof does have downsides. In particular, it affects the luggage space on offer in the SLC's boot. Dropping the top sees the car lose 110 litres of carrying capacity, taking it down to just 225 litres. That's less space than some city cars, meaning you will have to pack carefully.
The payoff for the compact dimensions is a car that feels genuinely sporty whatever roads you happen to be on. A low driving position adds to the special feeling; there's no doubt that you are behind the wheel of a genuine sports car. Looking out across the bonnet, even a trip to the shops is likely to feel slightly exotic.
Hitting the country lanes will bring out the best in the SLC. Precise steering allows you to place the car easily on the road, with the relatively compact dimensions adding to the experience. It may not be the sportiest car in its class, but the SLC offers just enough to entertain. The only downside is a ride that can become uncouth on models fitted with bigger wheels.
Engine options include a number of four-cylinder turbo petrols, along with a high-performance turbocharged V6 in the range-topping AMG SLC 43. There is also a single diesel engine offered, which may make sense for cruising long distances. An impressive nine-speed automatic gearbox came as standard for many models in the SLC range.
Mercedes-Benz was generous with equipment across all versions of the SLC, helping justify the higher list price compared with key rivals. Cruise control, sports seats, air conditioning and a wind deflector were all standard equipment. An extensive options list means there is plenty of opportunity for personalisation, too.
Although there may be younger rivals on offer, the Mercedes-Benz SLC still offers a compact and classy two-seat roadster experience. For some, the badge on the grille will be all that matters, while others will enjoy making the most of the folding metal roof.
Is the Mercedes-Benz SLC right for you?
Roadsters with a retractable hard-top have a specific appeal to those who want a convertible, but the added protection of a metal roof. Popular in the early 2000s, cars like the SLC have fallen from the spotlight lately.
For those who want a relatively affordable premium sports car with the security of a folding metal roof, the SLC is essentially the only option. It offers an engaging driving experience, although is best suited to relaxed cruising than outright speed.
Anyone considering an SLC needs to take the limitations of the interior and relatively small boot into account. However, the Mercedes-Benz badge could be enough to persuade many buyers.
What's the best Mercedes-Benz SLC model/engine to choose?
We would skip past the entry-level SLC 180 and jump to the SLC 200 petrol as the best engine option in the range. It offers a blend of decent performance and economy, and keeps purchase costs to a reasonable level.
Plumping for an SLC 200 with the optional nine-speed 9G-Tronic automatic gearbox is also recommended. It suits the nature of the SLC better than the standard six-speed manual and comes with steering wheel-mounted paddles, should you want to change gear yourself.
Trim levels on the SLC are few in number, and the basic Sport model offers all the equipment you reasonably need. Unless you are particularly keen on the bigger wheels and bodykit of the AMG Line version, it's not worth the extra money.
What other cars are similar to the Mercedes-Benz SLC?
The SLC has two main rivals, both of which also come from German manufacturers. Closest in spirit is the Audi TT, which brings sharp styling and a minimalist interior to the convertible party. Unlike the SLC, it has a fabric convertible roof, but it does offer a wide range of engines. With a mid-engined layout and a strong focus on the driving experience, the Porsche 718 Boxster is SLC's other arch rival.
Mazda sells the affordable Mazda MX-5 in an RF version, which features a simpler retractable metal hard-top roof. The Mazda badge might lack cachet for some, though.
Comfort and design
"The basic interior design of the Mercedes-Benz SLC comes from the earlier SLK. That car was first introduced in 2011, meaning the SLC looks slightly dated compared with more modern cars."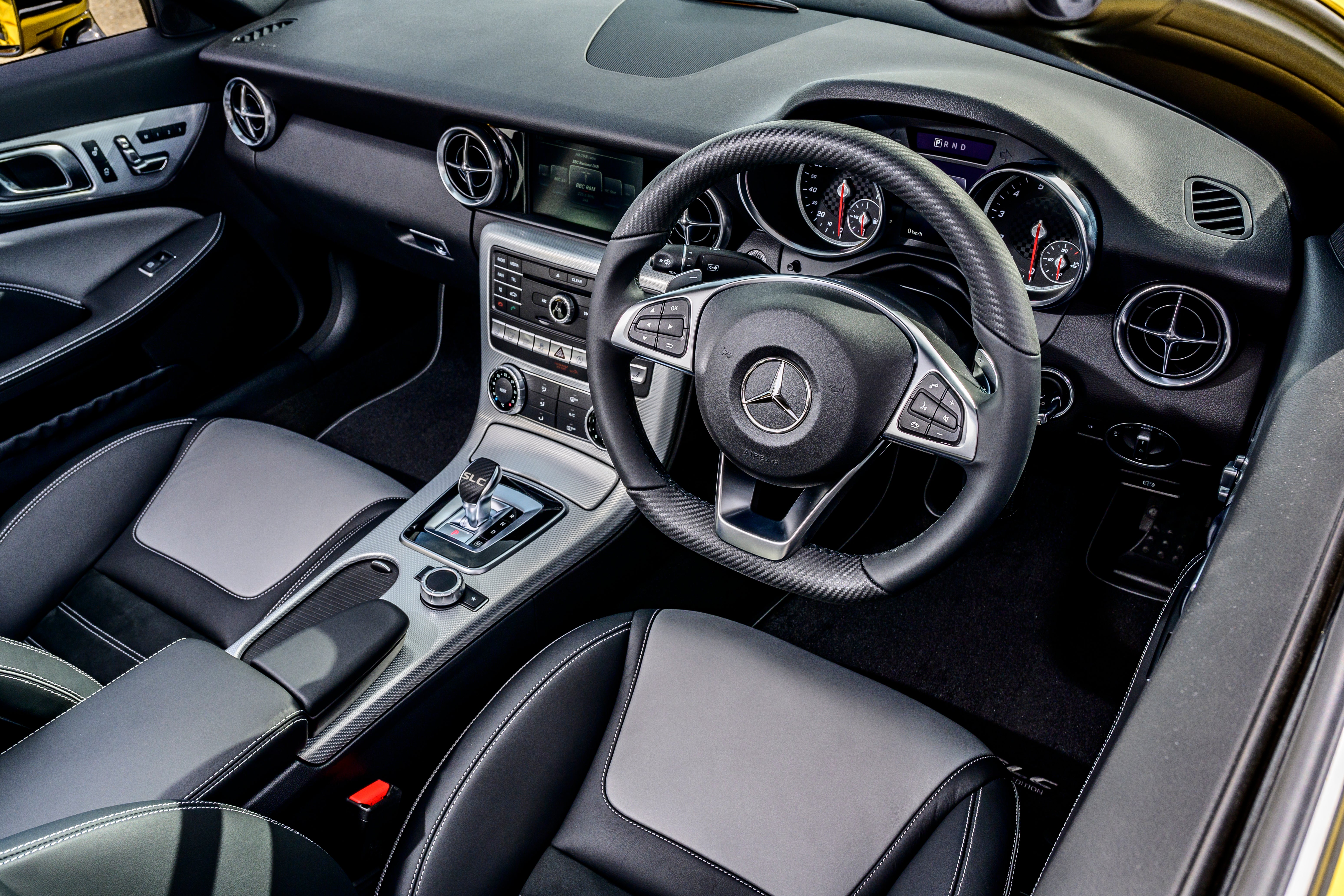 Being strictly a two-seater means occupants of the SLC don't have to worry about leaving legroom for those behind. All should be able to stretch out once inside. The standard sports seats offer a good combination of comfort and support, preventing too much sliding around should you indulge the SLC on country roads.
Height adjustment is included as standard on all versions, which should help taller drivers hunker down into the cabin. With the roof up, headroom is more than sufficient for all, while dropping the top obviously results in limitless fresh air above. The steering wheel also adjusts for both reach and rake, adding extra options to help you find the perfect seating position.
All models of SLC come as standard with some form of air deflector. This is important for topless motoring, as it avoids excess air buffeting that can spoil the experience. Cars fitted with the impressive Airscarf system are worth seeking out, too, should you want to drive with the roof down in winter. It uses vents built into the seats to blow warm air at neck level, keeping occupants cosy with the roof off.
Quality and finish
Mercedes-Benz has a reputation for timeless design.The SLC isn't as impressive as some historic models, but it feels built to last. Overall solidity is aided by the metal roof, which helps occupants feel cocooned with the top up. The doors also shut with a reassuring clunk, adding to the overall impression of quality.
Round chrome air vents are a subtle nod to classic Mercedes-Benz SL roadsters, and act as the focal point in the SLC's cabin. Light carbon-grain aluminium is used in the majority of SLC models as decorative trim, with gloss black wood or dark carbon fibre available as options.
All models benefit from a steering wheel wrapped in leather, which has a flat-bottomed D-shape design. Move up through the model range and the leather trim is perforated on AMG Line cars, and paired with grippy faux suede on the AMG 43 model.
Infotainment
Being based on an older car, the SLC carries over the basic multimedia system from its predecessor. In a world where almost everything has a giant touchscreen, the button-fest that is the SLC's dashboard may come as a shock to some.
All versions do at least gain an upgraded, high-definition 7-inch display screen. It nestles between the air vents at the top of the dashboard. This is not a touchscreen, however, so don't try jabbing it with your fingers. Instead, it's operated via a small rotary controller located lower down the centre console. A smaller 4.5-inch screen can also be found between the main instrument dials.
All models come with DAB radio, a single CD player and four speakers as standard. Higher-grade cars like the AMG SLC 43 use a 10-speaker Harman Kardon surround-sound system.
Bluetooth connectivity for phone calls and music streaming is included on all cars. Later Final Edition models also benefit from standard Apple CarPlay and Android Auto smartphone connectivity. Two USB ports and a connection for iPod music players are also fitted.
Sport and AMG Line cars did not come with satellite navigation as standard. However, the AMG SLC 43 does have this, as do the various Final Edition models.
Space and practicality
Being a two-seat roadster means that space and practicality are not top of the agenda for the SLC. That's not to say the smallest Mercedes-Benz convertible is impractical, but what it offers has to be taken in context.
While the overall dimensions of the SLC are compact, this does not overly affect the space offered for passengers. Two will be able to fit neatly inside, with plenty of adjustment offered by the seats and steering wheel. You might notice how high the centre console is. This adds to an overall impression of sportiness, making the driver and passenger feel more enclosed within the car. It also includes a built-in armrest, which helps when using the controller for the multimedia system.
Interior storage space is limited, with a lockable glovebox the main option for hiding items away. It is relatively large, and supplemented by smaller cubby spaces. Sport and AMG Line cars do not come with cupholders as standard, but Final Edition and AMG 43 versions do. Dropping the roof of the SLC has a notable impact on boot space. The folding mechanism and roof sections eat up room, reducing storage space from 335 litres to 225 litres. Mercedes fits a standard luggage protector that acts as a guide to how boot you can use, while still being able to enjoy topless motoring.
For longer trips away, it may be best to travel to your destination with the roof up, in order to maximise storage space. Once there, feel free to unload and enjoy dropping the top.
With its limited boot space, the SLC does not come fitted with a spare wheel. Instead, all versions feature an emergency tyre repair kit. It's designed purely to help you reach a garage, where replacement rubber can be fitted.
A child car seat can also be installed on the passenger seat of the SLC. Standard equipment on all models includes a sensor for child seat detection. The car does not have Isofix fittings as standard, however.
Handling and ride quality
"Many of those looking to buy a Mercedes-Benz SLC will be thinking of driving beyond simple commuting. Compared to some rivals, it isn't the sportiest roadster to drive, but it should offer enough excitement for most."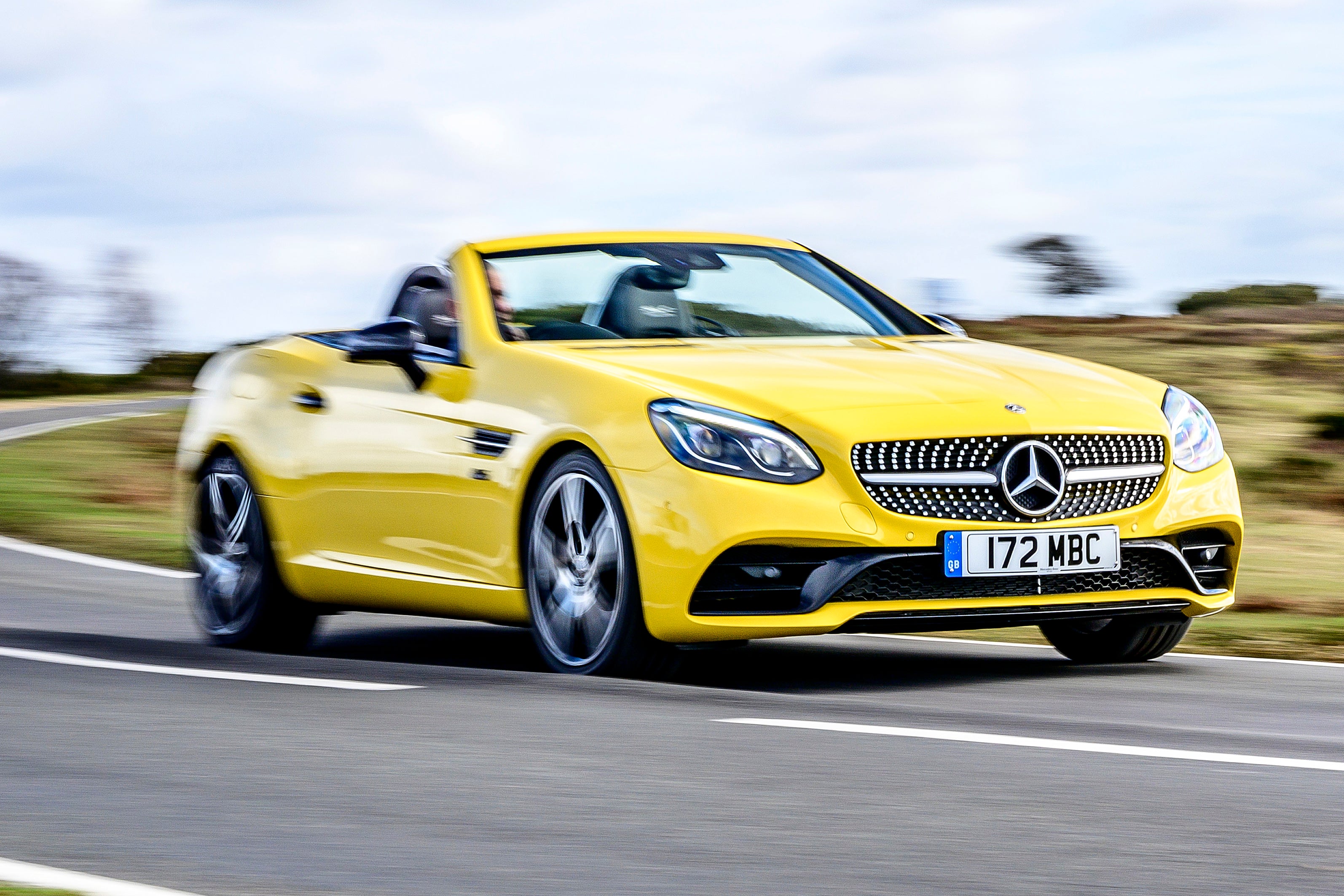 The main thing that holds the SLC back from motoring greatness is its steering. While it may feel relatively precise to thread through a series of bends, it does not return much feedback. The SLC will handle twists and turns with ease, yet it never feels fun. Roadsters are typically bought with the heart, not the head, but the SLC maintains an emotional distance from its driver.
Around town the steering of the Mercedes-Benz is light enough to make parking straightforward. Motorway cruising is also handled with ease, with the SLC able to eat up many miles without fuss. Ride quality in the SLC borders on firm, regardless of your choice of wheels or trim level. Sport cars with their smaller 17-inch alloys have the best ride, but even these are prone to amplifying imperfections in the road surface.
AMG Line and Final Edition models feature sports suspension lowered by 10mm and gain bigger 18-inch alloy wheels. Accordingly, the ride on these is even stiffer. Sport and AMG Line cars could be ordered with the Dynamic Handling package for keener drivers. This added adaptive suspension, allowing drivers to choose between three levels of stiffness. Sensors monitor each individual wheel, with the suspension automatically adjusting to maintain the desired setting.
The AMG SLC 43 gains its own bespoke AMG suspension, designed to reduce body-roll and improve cornering ability. It also has upgraded speed-sensitive steering, intended to improve feedback. AMG SLC 43 buyers could also specify adjustable suspension, called AMG Ride Control.
Engines and gearboxes
Three petrol engines and a single diesel were the initial choices when Mercedes-Benz launched the SLC in 2016. The SLC 200 and SLC 300 both use turbocharged four-cylinder 2.0-litre petrol engines. The SLC 200 produces 184PS, putting it on par with smaller hot hatchbacks in terms of performance.
A six-speed manual gearbox is standard, with a nine-speed automatic optional. Choosing the auto results in speedy shifts, plus a slightly quicker 0-62mph time of 6.9 seconds. Upping the ante is the SLC 300, which has an output of 245PS. This comes with the 9G-Tronic automatic as standard, and can accelerate from 0-62mph in 5.8 seconds.
The AMG SLC 43 is a real powerhouse, using a twin-turbocharged 3.0-litre V6. This produces a zesty 367PS, and allows the SLC 43 to rocket from 0-62mph in just 4.7 seconds. It will also reach a limited top speed of 155 mph.
In 2017, Mercedes introduced an entry-level SLC 180. Using a 1.6-litre four-cylinder turbocharged petrol engine, it has a power output of 156PS. The six-speed manual gearbox is standard, with the automatic an option.
Diesel devotees could pick the SLC 250d, which combined a standard auto gearbox with an output of 204PS. A 0-62mph time of 6.6 seconds means this version is no slouch.
Of the range, the SLC 200 offers the best blend of performance and price, but we would recommend finding one with the nine-speed automatic gearbox. Those covering big miles will be happy with the diesel SLC 250d.
Refinement and noise levels
That folding metal roof may eat into boot space, but it pays off when it comes to refinement. Wind and road noise are well contained with the roof up, making the SLC a relatively relaxing vehicle to cruise long distances.
As with many convertibles, the lack of a fixed roof can result in squeaks and rattles inside the cabin. Although the SLC isn't bad in this respect, they canl be noticeable when driving on rough tarmac. Cars with stiffer suspension are more likely to suffer here, of course.
Wind noise with the roof lowered is generally well contained, with the standard wind deflector playing a big part. It also means very little air blasts the cabin, so you can avoid an impromptu blow dry when out driving.
All SLCs have a sports exhaust as standard, even the diesel SLC 250d. The AMG SLC 43 has its own AMG-tuned system for extra aural aggression. SLC 200 and 300 models with the automatic gearbox have driver-controlled settings for how much noise the tailpipes make.
Safety equipment
The Mercedes-Benz SLC has not been crash-tested by Euro NCAP, and neither was its SLK predecessor. That means it does not have an official star rating for safety. Nonetheless, it is packed with various features to protect occupants.
Head and side airbags are standard for both driver and passenger, along with crash-responsive headrests. The SLC benefits from chassis bracing should it roll over, and the bonnet will automatically pop up to protect pedestrians in a crash. Electronic stability control and traction control are standard. Autonomous brake assist is also fitted, helping the SLC slow down (or stop altogether) should it detect hazards in the road.
Mercedes-Benz does fit all SLC models with attention assist from the factory. This monitors driving behaviour, and warns you if you become drowsy. On cars fitted with navigation, the SLC will set a route towards the nearest place to take a break.
Sport and AMG Line cars do not come with either parking sensors or a reversing camera as standard. Final Edition cars benefit from parking sensors, while the Final Edition Premium gained a rear-view camera as well. The AMG SLC 43 has both as standard.
The small boot of the SLC means there is no standard spare wheel. A temporary tyre repair kit is included, with tyre pressure monitoring fitted to all models.
MPG and fuel costs
"Fuel economy might not be the main concern for a sports car buyer, but the SLC returns respectable running costs."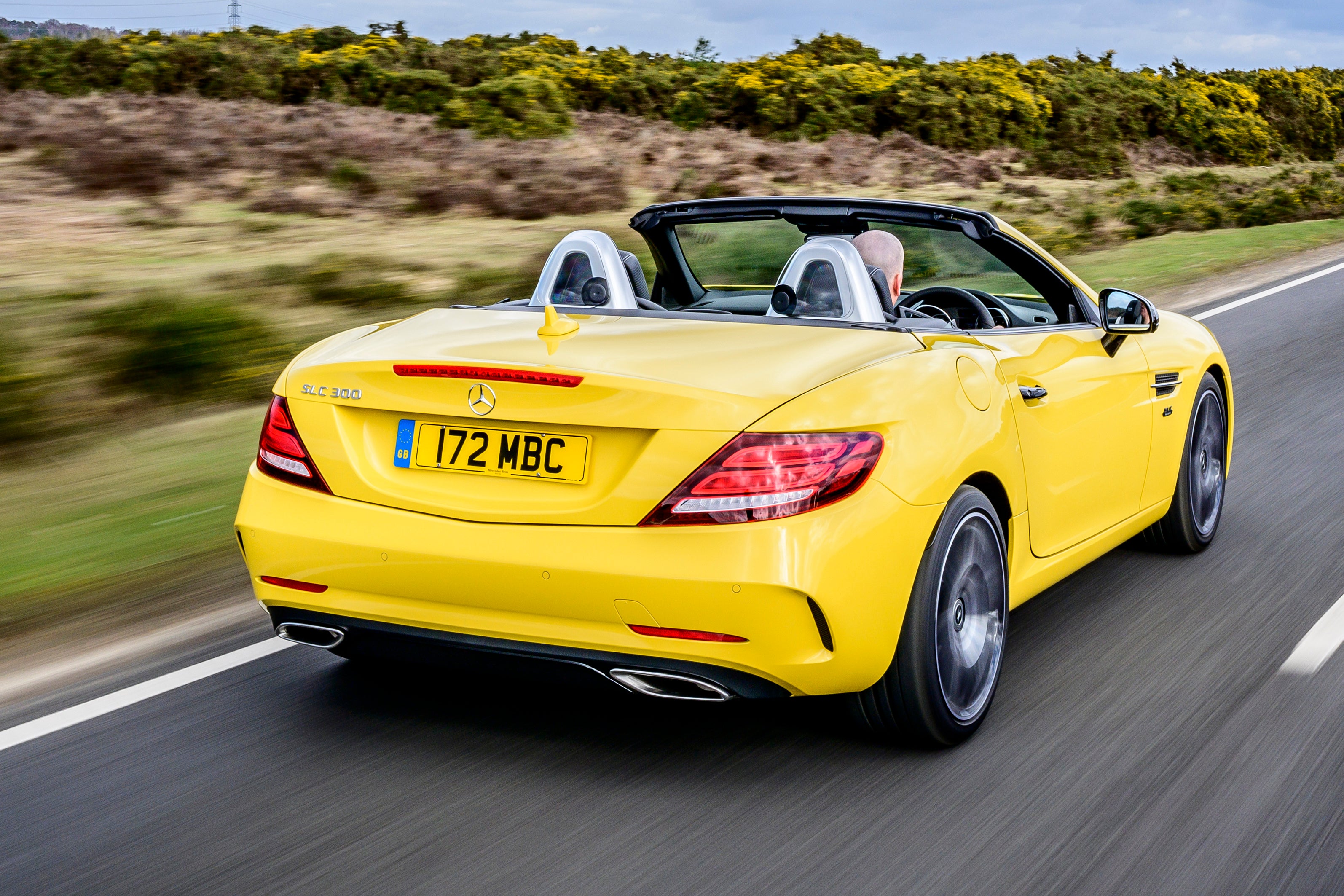 With the smallest engine of the range, the SLC 180 is the most economical petrol model. Officially capable of 48.7mpg, that puts it marginally ahead of the SLC 200. Equipped with the 9G-Tronic automatic 'box, the SLC 200 can achieve 47.9mpg.
The diesel SLC 250d is the most economical of all, and a worthwhile contender should you be using your SLC for regular long journeys. Despite the performance on offer, the SLC 250d is capable of an impressive 70.6mpg in official tests.
Somewhat predictably, the performance AMG SLC 43 is the thirstiest model, with combined fuel economy of 36.2mpg.
Insurance groups and costs
Being an upmarket sports car with performance engine options means the SLC ranks highly for insurance. Given it's likely to be chosen by experienced drivers, though, this should be less of a problem.
The SLC 180 has the lowest insurance group, being rated as 41. Following on from this is the SLC 200 in group 42, whilst the quicker SLC 300 is in insurance group 43 – along with the SLC 250d.
The AMG SLC 43 is the highest-rated of all, in group 46.
VED car tax
Changes in VED rates mean similar models of Mercedes-Benz SLC can attract different rates of road tax dependent on when they were first registered.
Cheapest across the board is the SLC 250d, with those registered between May 2016 and March 2017 costing just £30 per year. Later versions of the diesel SLC will see this increase to £150.
All cars with a list price above £40,000 will pay an additional £325 per year - £475 in total - for five years in which the standard rate is paid (from the second year the vehicle is taxed). After this time frame, when the car is six years old, the VED reverts back to the £150 flat rate.
How much should you be paying for a used Mercedes-Benz SLC
"The earliest used SLC models are on the market for around £13,000, with SLC 200 Sport models most likely to fall into this bracket."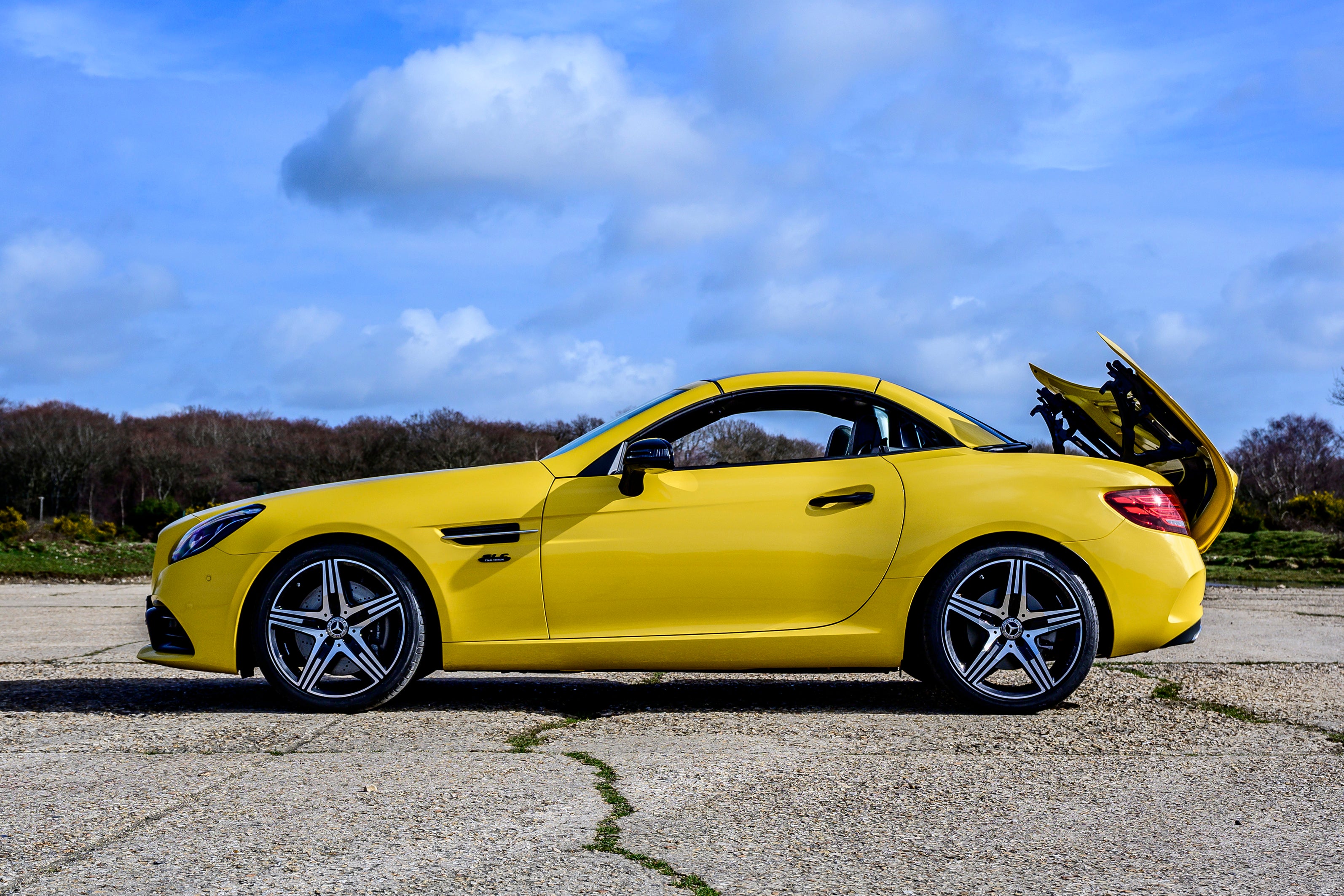 At the other end of the market, nearly-new examples of the SLC 300 Final Edition can be found at Mercedes-Benz dealers from £39,000.
AMG Line specification makes up the overwhelming majority of the cars on the used market, followed by Sport trim. We would not recommend paying a premium for AMG Line, unless you are particularly keen on the AMG body kit and larger wheels.
Those in search of an AMG SLC 43 will need to be prepared to hunt further afield. A relatively low number of sales means they are harder to come by, with prices for nearly-new examples starting at around £34,000.
Trim levels and standard equipment
Sport specification for the Mercedes SLC means 17-inch alloy wheels, sports seats finished in cloth upholstery, cruise control and air conditioning as standard. Halogen headlamps with LED daytime running lights are included, as is a removable wind deflector.
AMG Line trim brings 18-inch wheels, a special AMG body kit, sports suspension and a different chrome front grille. Leather seats are also fitted to the AMG Line, along with performance brakes.
Those buying the AMG SLC 43 gain the powerful V6 engine, along with a host of extra AMG performance goodies. This means bigger brakes, an upgraded exhaust and even an analogue IWC clock on the dashboard.
Designed to celebrate the end of SLC production, the Final Edition models are loaded with equipment. This includes an AMG bodykit, 18-inch wheels, the Airscarf system and part-leather seats. Final Edition Premium models gain LED headlights and a reversing camera, too.
Sport trim has more than enough equipment for most drivers, but AMG Line may appeal to those who prefer the sportier bodykit and larger alloy wheels.
Ask the heycar experts:
common questions
Has the Mercedes-Benz SLC been discontinued?
Yes. Production of the Mercedes-Benz SLC ended in early 2020. To mark this, the firm produced a "Final Edition" SLC. This was available with the choice of three petrol engines: a 181bhp 2.0-litre four-cylinder in the SLC 200 and a 242bhp 2.0-litre four-cylinder in the SLC 300, plus the flagship 387bhp AMG SLC43.

What is the difference between the Mercedes-Benz SLK and Mercedes-Benz SLC?
The two cars are essentially the same. The SLK was renamed SLC when it was facelifted in 2016, to fit in with the new way that Mercedes-Benz names its cars. Th SLC got some new updates -including new headlamps - but was essentially unchanged from the old SLK.

What replaced the Mercedes-Benz SLC?
The Mercedes-Benz SLC was not directly replaced, ending a run that started back in 1996. Roadsters of this size have fallen out of favour in recent years and there's not the demand for them that there once was.

Answered by
heycar editorial team
What does AMG mean?
AMG is the performance division of Mercedes-Benz. The company started in Germany with the original name AMG Engine Production and Development Ltd. It was started by two ex-Mercedes-Benz mechanics known as Hans Werner Aufrecht and Erhard Melcher. Aufrecht's birthplace was Grossaspach, and if you take a look at all of the first letters, you'll get A (Aufrecht) M (Melcher) and G (Grossaspach).

Mercedes-Benz SLC cars for sale on heycar
3,934
Number of cars available
£18K - £32K
Price bracket of these cars
Colours available on heycar
Keep me updated by email with the latest advice, news and offers from heycar
By submitting, you agree to our
privacy policy
.