Mercedes-Benz T-Class Review 2022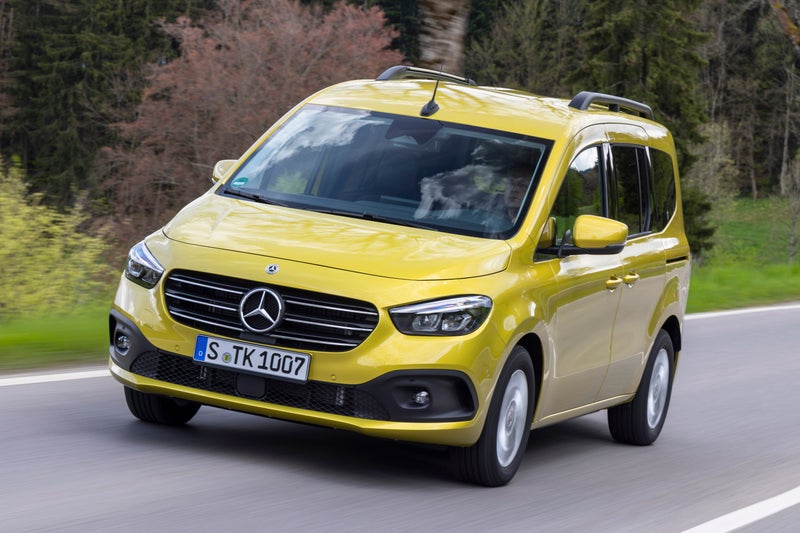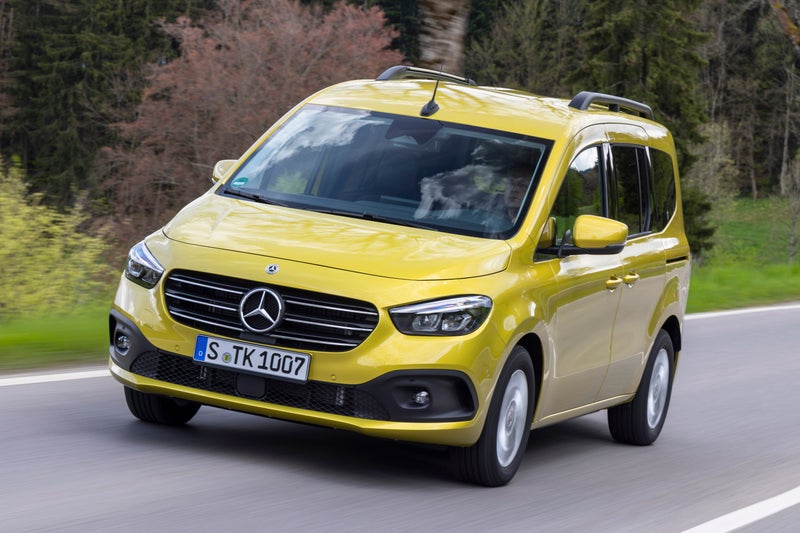 1/10
heycar rating
"Posher than other van-based MPVs"
Quick overview
Pros
Versatile van-based people carrier
Efficient diesel engine
Feels more car-like than a Mercedes Citan van
Cons
Likely to be more expensive than a Volkswagen Caddy
Limited engine line-up (for now)
Lacks the cachet of an SUV
Overall verdict
On the inside
Driving
Cost to run
Prices and Specs
Common questions
Overall verdict on the Mercedes-Benz T-Class
"The Mercedes-Benz T-Class is pretty uncool by the German brand's standards. It's based on a van, prides itself on its versatility and it isn't even slightly sporty. Most buyers will overlook it in favour of SUV alternatives – but we reckon there's a core market who'll appreciate the T-Class's extra premiumness over rivals like the Citroen e-Berlingo."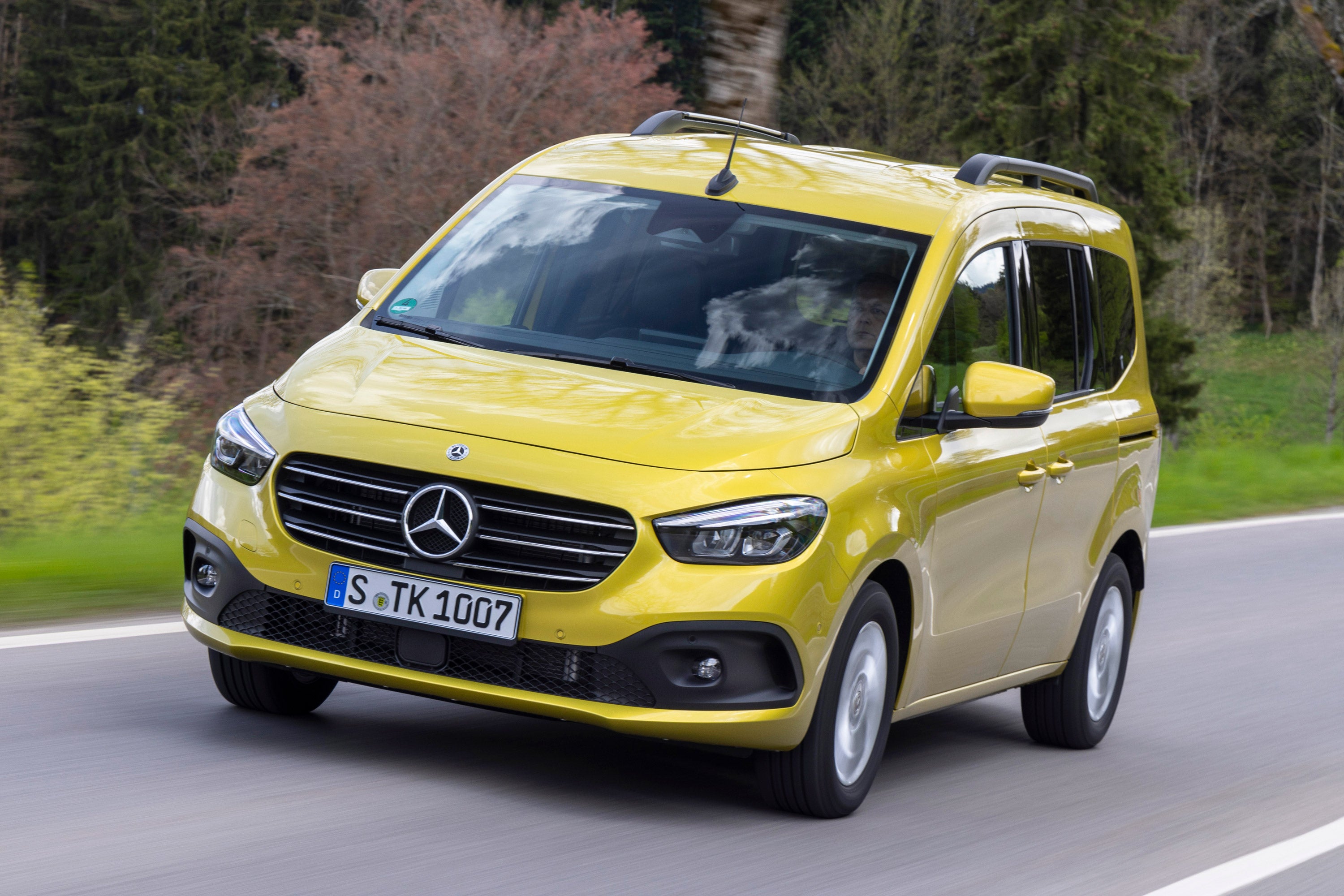 Even Mercedes doesn't seem entirely sure there's going to be much demand for the T-Class. Van-based people carriers tend to sell to a rather niche audience – usually families who value versatility over everything else, or customers who want a commercial vehicle that can occasionally carry people. Anyone who cares about such things as a premium badge or a moderately upmarket interior don't usually give cars like the Vauxhall Combo-e Life or Ford Tourneo Connect a second thought.
Treading carefully after having its fingers burnt by the Mercedes X-Class (a Navara-based pick-up that proved truck buyers didn't want to pay more for a premium badge), the new T-Class is set to feature a rather limited line-up. But then, Volkswagen is proving that vans (and van-based cars) can be cool. Look at the Caddy – a versatile multitool of a vehicle available in a wide range of configurations including short- and long-wheelbase van variants, passenger car models and even the factory-converted Caddy California micro camper.
So, here we have it, the 2022 Mercedes-Benz T-Class. Based on the new Mercedes Citan, the brand's smallest van (which itself is based on the latest Renault Kangoo), the T-Class promises a blend of car-like refinement, low running costs and the kind of versatility you won't even get in much larger SUVs. The ultimate all-rounder, then.
The brand could have made the bold move of launching the T-Class as an electric-only people carrier and, indeed, the Mercedes EQT will be just that when it arrives in 2023. For now, though, it's sticking with petrol and diesel power, using a range of petrol and diesel engines co-developed with Renault and borrowed from Mercedes-Benz's small passenger models.
The big seller in the T-Class is likely to be the 1.5-litre diesel which, in T180d form, produces 116PS and can be paired with a six-speed manual or seven-speed dual-clutch automatic gearbox. Our experience with this engine suggests it's pretty well suited to the T-Class – not fast, but punchy enough for driving in or out of town (wait for the electric version if you do more of the former, though). It impresses with its refinement, too – engineers have clearly revelled in their task to hide the T-Class's Kangoo underpinnings and it's much quieter than you'd expect from a diesel commercial vehicle.
Surprisingly, the Mercedes T-Class rides impressively well, while there's a long list of safety and driver-assistance tech on hand (the kind you'd expect to find in pricier Mercedes-Benz passenger cars). The steering is light while visibility is excellent – no, you don't tower over other road users like you might in a family SUV, but it's far from intimidating to drive.
It almost goes without saying that the T-Class is incredibly versatile, but the interior is much more upmarket than you might expect from a staid people carrier. Let down slightly by the diddy seven-inch infotainment screen and a few hard plastics here and there, we reckon it's a small price to pay for the practicality on offer.
We're waiting with bated breath to find out final prices and specifications as they'll decide just how much chance the new Mercedes T-Class has against established stalwarts like the Volkswagen Caddy. It's certainly not going to be a budget option, we know that, but if Mercedes goes in too strongly in price the T-Class might be difficult to recommend. But first impressions suggest it's an extremely competent and practical family car – even if most buyers will just go for an SUV alternative like the Mercedes GLB instead.
Is the Mercedes-Benz T-Class right for you?
If you're looking for van-based practicality and want something a little posher than alternatives like the Vauxhall Combo-e Life, the Mercedes T-Class could be a great choice. The fact that many rivals have gone electric-only and the T-Class is strictly petrol or diesel (for now) might influence your decision either way.
What's the best Mercedes-Benz T-Class model/engine to choose?
We're yet to see confirmed prices and specifications for the new Mercedes T-Class but it's likely that you won't have a great deal of choice in terms of engines and trim levels. All Mercedes-Benz T-Class models are likely to be pretty well-equipped, while the higher-powered diesel is probably the one to go for – it might be worth waiting for the electric Mercedes EQT if you cover a lot of short journeys or rarely venture outside of the city centre.
What other cars are similar to the Mercedes-Benz T-Class?
Comfort and design: Mercedes-Benz T-Class interior
"The interior of the Mercedes-Benz T-Class is a bit of a hotchpotch of flimsy van parts and bits lifted directly from passenger cars. It's smarter than you might expect for a van-based people carrier, though, and it feels more premium than many mainstream competitors."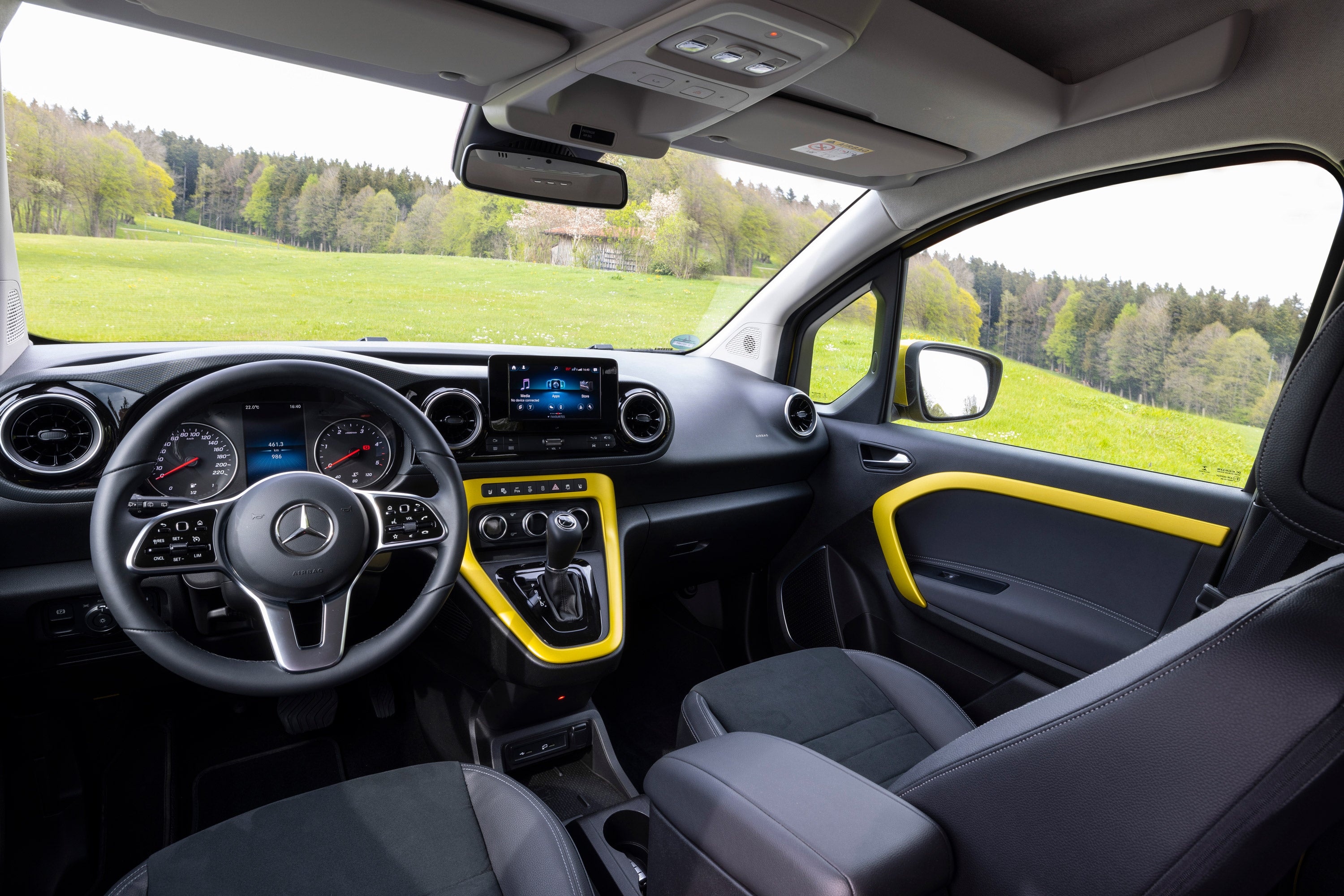 The steering wheel, for example, has been lifted straight from the Mercedes A-Class, while the layout of the dashboard with its circular vents will look familiar to anyone who's sat in recent small Mercedes models.
It's a bit old school in some ways – the analogue dials, for example, and the physical controls for adjusting the temperature of the climate. We don't hate that, though, it some ways it's a welcome change from the latest fad for touch-sensitive controls or lumping everything into the media system.
Talking of which, the seven-inch MBUX infotainment display looks a bit diddy compared to what you might expect in a more conventional passenger car, but it's a welcome change from the blast-from-the-past DAB radios you might get in a van.
The seats are comfortable and supportive, while access is easy (especially in the rear where sliding doors are an absolute treat for anyone strapping in a child when parked in a tight space).
Quality and finish
Again, the finish of the interior in the Mercedes T-Class comes down a little to your expectations. It's not quite as plush as you'd get in a Mercedes GLB, for example, but it does feel a bit more luxurious than a Vauxhall Combo-e Life.
That passenger car steering wheel we touched on above adds to the classy vibe, while we quite like the colourful inserts fitted to our European-spec test car (time will tell whether they make it across to the UK). Start poking about low down in the cabin and you will find a few harder finishes but, in a car that'd designed to carry everything from children to Labradors and mountain bikes, that's probably preferable to deep-pile carpet.
Infotainment: Touchscreen, USB, nav and stereo in the Mercedes-Benz T-Class
The Mercedes T-Class comes with a seven-inch version of the MBUX navigation system, which features phone integration (in the form of Apple CarPlay and Android Auto), as well as the brand's own 'hey Mercedes' intelligent voice assistant.
As we touched on above, it's quite a small screen, but it's intuitive to operate and at least you get the same slick graphics as you'd find in much more expensive Mercedes models. Its positioning, perched high up on the dashboard as per the current trend, might make it look a little aftermarket – but it is safer to look at on the move than glancing down unnecessarily.
Space and practicality: Mercedes-Benz T-Class boot space
For now, you can only get the Mercedes T-Class in one length and with space for five passengers. A longer seven-seat version is on its way, but we're unlikely to see that before 2023.
Still, unless you really need a long-wheelbase Mercedes T-Class, the five-seat model is more spacious than a lot of conventional family SUVs. For a start, the 520-litre boot is easily accessed with a low load lip (ideal for Fido jumping in and out of the car – although you'll need to leave a fair amount of room to actually open the rather large boot lid).
That 520-litre figure is up to the parcel shelf... whip that out and you can squeeze a huge amount of luggage into the back of the T-Class. Drop the rear seats flat and it's like a van back there (funny that) with space for dog cages, mountain bikes, mobility scooters... whatever you want to carry, the T-Class will take it in its stride.
When you're not making the most of its van origins, the Mercedes T-Class feels like a very spacious family car. There's a huge amount of headroom (even the tallest of teenagers won't be upsetting their 'Meet Me at McDonald's' haircuts) and an acceptable amount of legroom for rear-seat passengers.
There are Isofix points on the outer rear seats while even the middle rear seat is wide enough for an older (or a child on a booster seat).
There's plenty of space in the front, too, including plenty of areas for accumulating detritus from family life – a cubby under the central armrest, for example, as well as reasonably large door bins and even an overhead shelf.
Handling and ride quality: What is the Mercedes-Benz T-Class like to drive?
"Large windows provide an exceptional all-round view, while light steering makes the Mercedes T-Class a doddle to drive around town."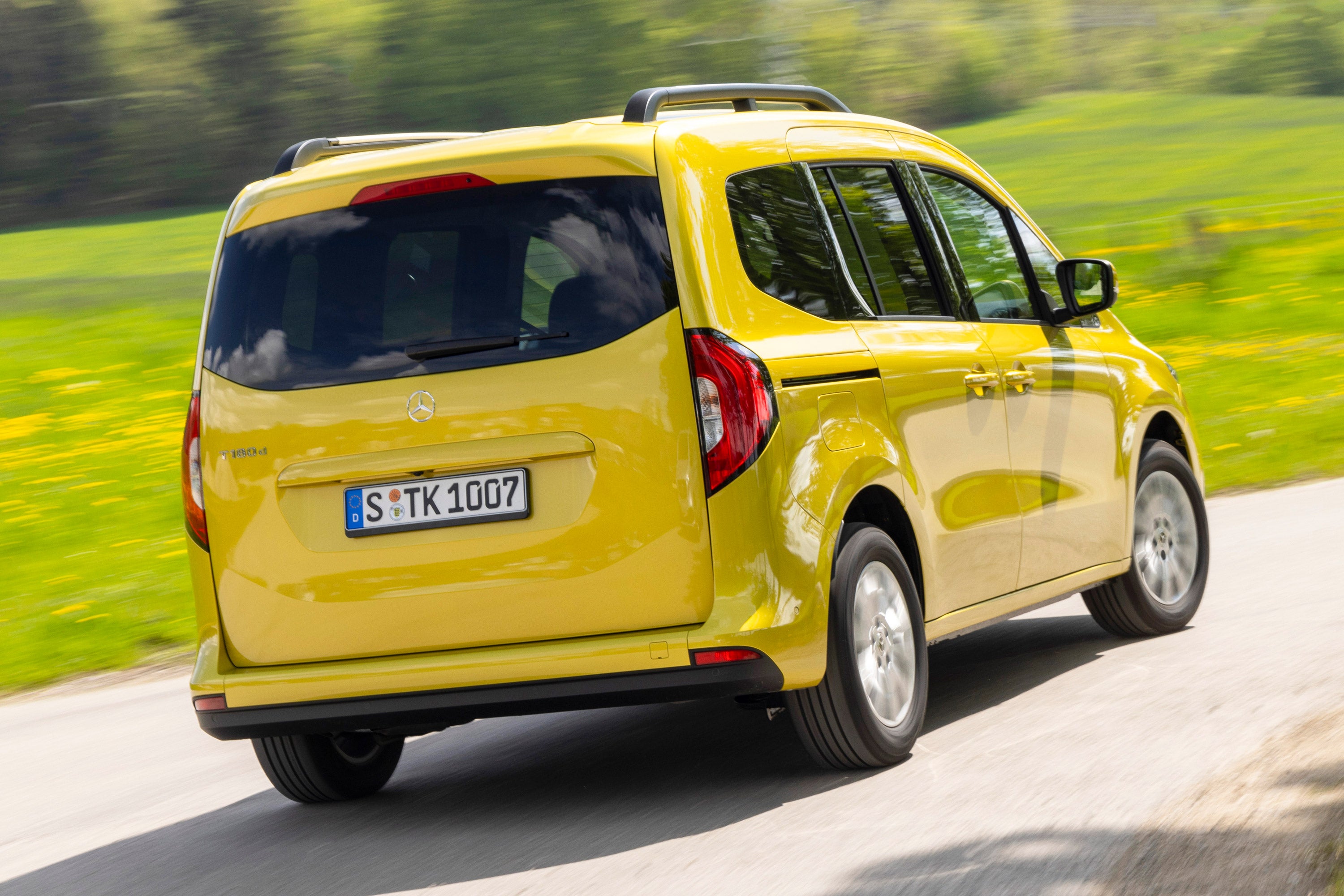 The suspension is one area in which Mercedes says its engineers have worked hard to differentiate the T-Class from the Citan van (and, indeed, the Renault Kangoo). As a result, it's surprisingly comfortable for a van-based people carrier. Sure, it doesn't have any of the electronic wizardry of the Mercedes S-Class, but it certainly doesn't crash over uneven road surfaces.
That light steering and comfort-biased suspension mean it's not particularly agile at higher speeds, but it's no worse than similar van-based alternatives like the Volkswagen Caddy. It certainly doesn't give the impression it's about to tip over, either, while there are lots of systems on hand to keep your family safe.
What engines and gearboxes are available in the Mercedes-Benz T-Class?
There are a total of four engines available in the T-Class: two petrols and two diesels. The diesel engine is a four-cylinder 1.5-litre unit, available with 95PS and 260Nm torque (badged the Mercedes T160d) or 116PS and 270Nm of torque (the Mercedes T180d).
So far, we've driven the more powerful T180d with the seven-speed dual-clutch transmission. It feels moderately more urgent than its 13.2-second 0-62mph second time suggests, although speed freaks should probably look elsewhere. The T160d takes more than 15.0 seconds to reach 62mph – while you might not think you want hot hatch performance, wait until you're attempting to join a motorway with a T-Class full of people and luggage and you might wish you'd gone for one of the more powerful variants.
Although we're yet to try the Mercedes T-Class with a manual transmission, the automatic gearbox suits its relaxed, slightly upmarket vibe. It responds quickly, changes gears fairly seamlessly and allows you to rest your left leg after a hard day mountain biking, dog walking or chasing kids around the park.
Refinement and noise levels
You might expect a van-based people carrier like the Mercedes T-Class to be a little lacking in high-speed refinement, but it's actually pretty good. You can tell that the brand's engineers have been tasked with making the T-Class as car-like as possible; extra sound deadening and a relatively civilised engine to begin with means things actually feel pretty relaxed in the cabin.
Safety equipment: How safe is the Mercedes-Benz T-Class?
The Mercedes T-Class is available with a host of driver-assistance technology you'd ordinarily expect to find in pricier models. This includes Active Brake Assist (which can automatically apply the brakes if required to avoid a collision) and the same Crosswind Assist we've seen on Mercedes vans, on hand to help you keep on the straight and narrow in gusty weather.
The optional Driving Assistance Package adds features like Active Distance Assist Distronic (which can match your speed with the vehicle in front in traffic) as well as Active Steering Assist (which can nudge your steering to keep you in your lane on the motorway).
There are seven airbags, including a central airbag which can be deployed to prevent a collision between the driver and front-seat passenger. iSize child seat fixings are provided as well as Isofix anchor points.
MPG and fuel costs: What does a Mercedes-Benz T-Class cost to run?
"According to official WLTP fuel economy tests, the Mercedes T180d returns up to 51.4mpg, meaning you won't be having to visit the petrol station too regularly."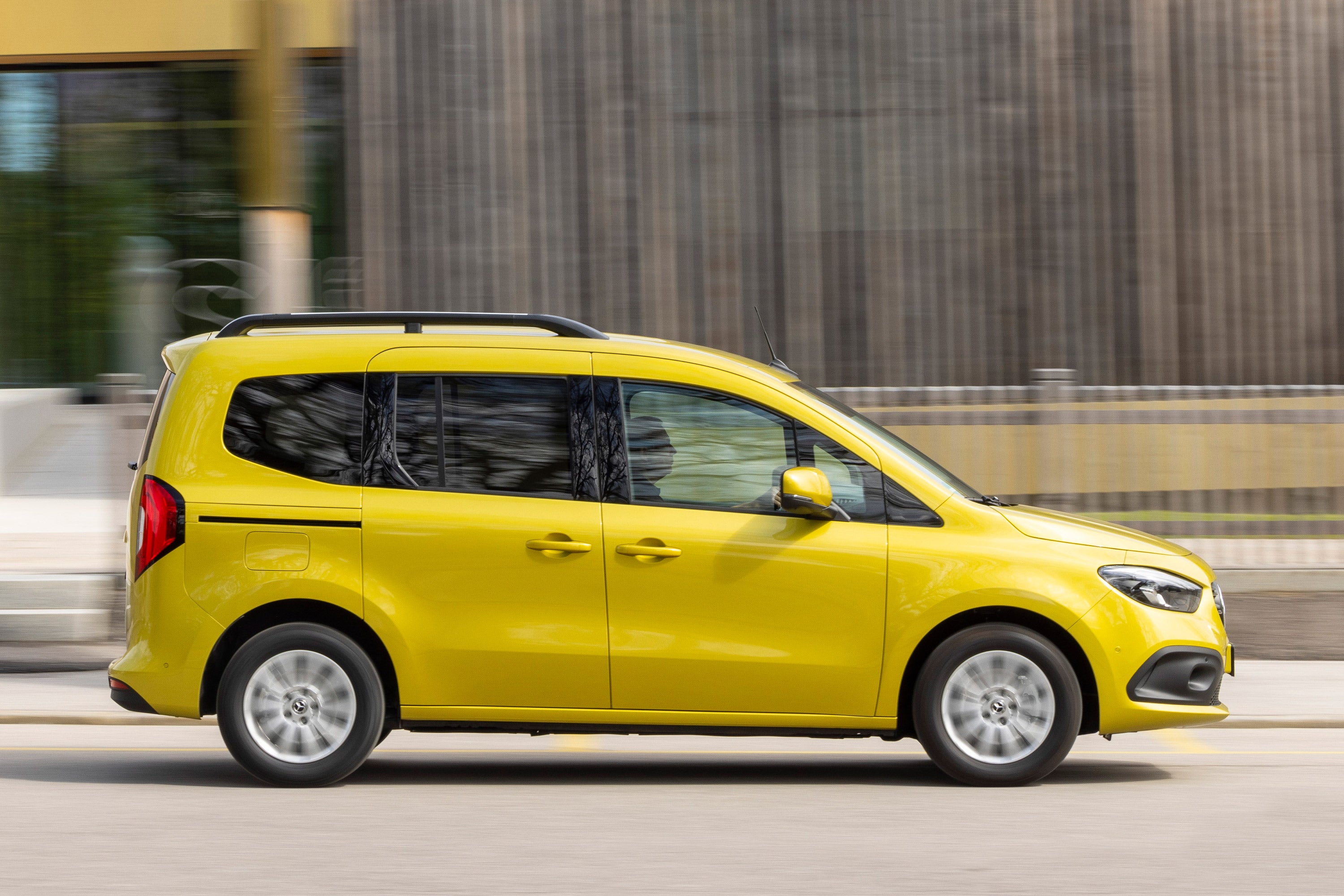 We'll have to wait until we test the new Mercedes T-Class for a longer period to get a sense of how efficient it is in the real world but, provided you're not using it for a lot of short journeys, we'd expect the 1.5-litre diesel to be pretty frugal day-to-day.
Both the T160 and T180 petrol models return around 42.0mpg in official tests. An all-electric version, badged the Mercedes EQT, is also on its way with an expected range of around 160 miles.
How reliable is the Mercedes-Benz T-Class?
While the Mercedes T-Class is a very new model, the engines are proven Renault-sourced units that are already widely used elsewhere in the Mercedes-Benz passenger car range (including the Mercedes A-Class, B-Class and CLA).
That should be a good thing for reliability. And, while the Mercedes T-Class is likely to be cheaper than posh SUVs like the Mercedes GLC, don't think that the brand's scrimped on the development budget. Van drivers are perhaps the most demanding of customers, after all, so you can bet a pretty penny that both the Citan and T-Class have been thoroughly put through their paces before hitting the market.
Insurance groups and costs
Insurance groups for the Mercedes-Benz T-Class are yet to be confirmed.
VED car tax: What is the annual road tax on a Mercedes-Benz T-Class?
The Mercedes T-Class is taxed the same as any conventional petrol or diesel car. That means you'll pay a CO2-based figure for the first payment (included in the on-the-road price when it's first registered) followed by a flat fee of £165/year (provided it doesn't have a list price of more than £40,000).
If you're looking for a people carrier with free road tax, you'll need to look at electric alternatives like the Citroen e-Berlingo or Vauxhall Combo-e Life (or wait for the upcoming Mercedes EQT).
How much should you be paying for a used Mercedes-Benz T-Class?
"UK prices and specifications are yet to be announced for the new Mercedes-Benz T-Class. A Volkswagen Caddy starts in the region of £25,000, though, while the electric-only Vauxhall Combo-e Life is closer to £30,000."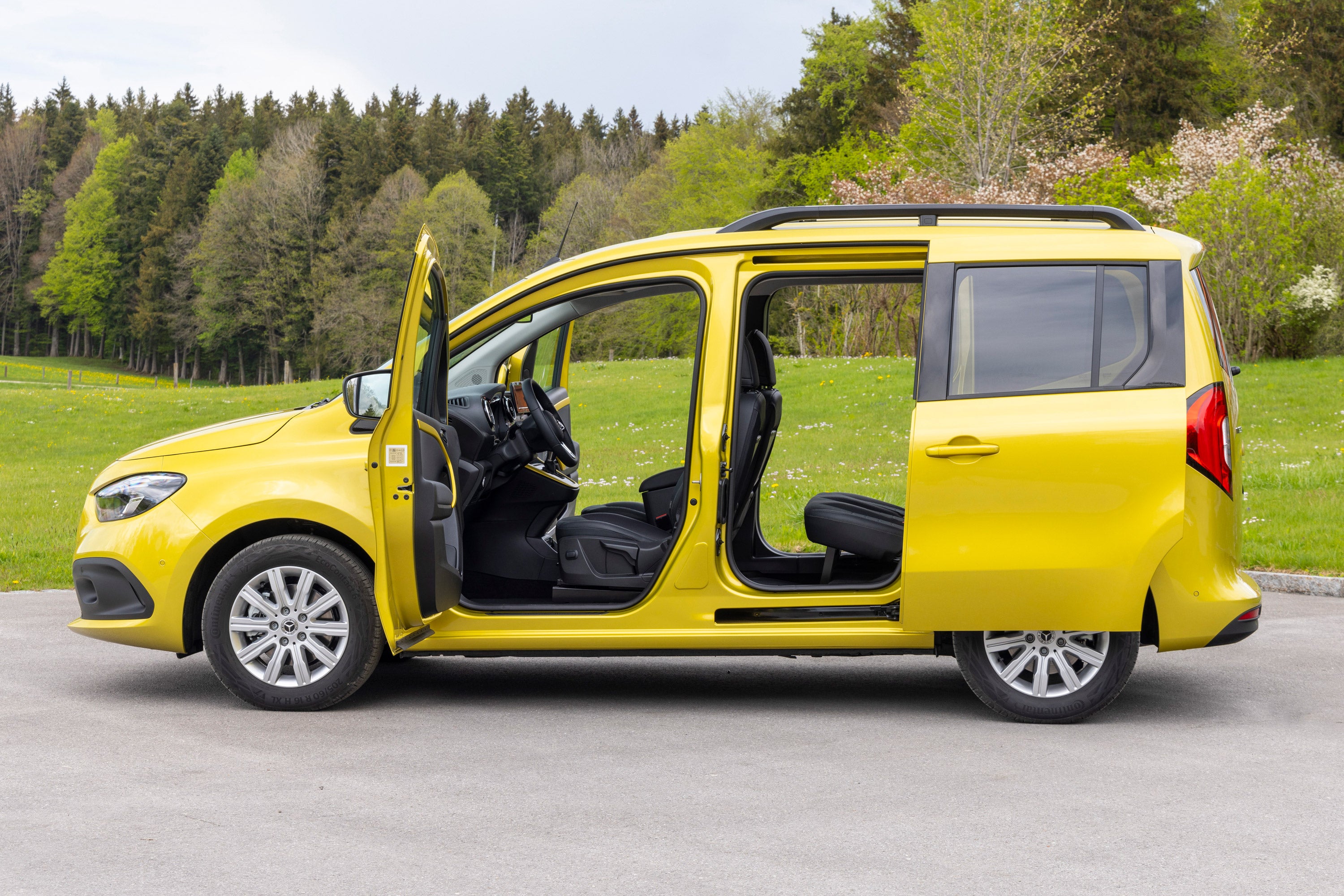 Naturally, you'll have to pay more for that three-pointed star and, as the Mercedes T-Class is likely to be offered solely in one high-spec derivative in the UK, prices are likely to exceed £30,000.
As far as used examples go, it'll be a while before we see a flood of nearly-new Mercedes T-Class people carriers on the market. There could be some ex-demonstrator and pre-registered examples available with savings off the list price by the end of the year, though. Give it a few years and there could be a glut of ex-Motability cars hitting the market.
Trim levels and standard equipment
UK trim levels and standard equipment are yet to be confirmed.
Ask the heycar experts:
common questions
What is a Mercedes-Benz T-Class?
The new Mercedes-Benz T-Class is a five-seat people carrier based on the Mercedes Citan van. It's set to rival other van-based MPVs like the Volkswagen Caddy, Ford Tourneo Connect, Citroen Berlingo and Vauxhall Combo Life.

How much is a Mercedes-Benz T-Class?
Mercedes-Benz T-Class prices are yet to be confirmed but expect it to start from around £25,000 in order to rival the Volkswagen Caddy MPV.

Answered by
Lawrence Allan
Is the Mercedes-Benz T-Class a van?
Like many of its rivals, the Mercedes T-Class is a people carrier that's based on a van – in this case, the Mercedes Citan (which itself is based on the Renault Kangoo). That means it shares engines and mechanical parts with the Citan van, although designers and engineers have tried to make it look and feel more like a passenger car.

Keep me updated by email with the latest advice, news and offers from heycar
By submitting, you agree to our
privacy policy
.