Mercedes-Benz V-Class Review

Written by
heycar editorial team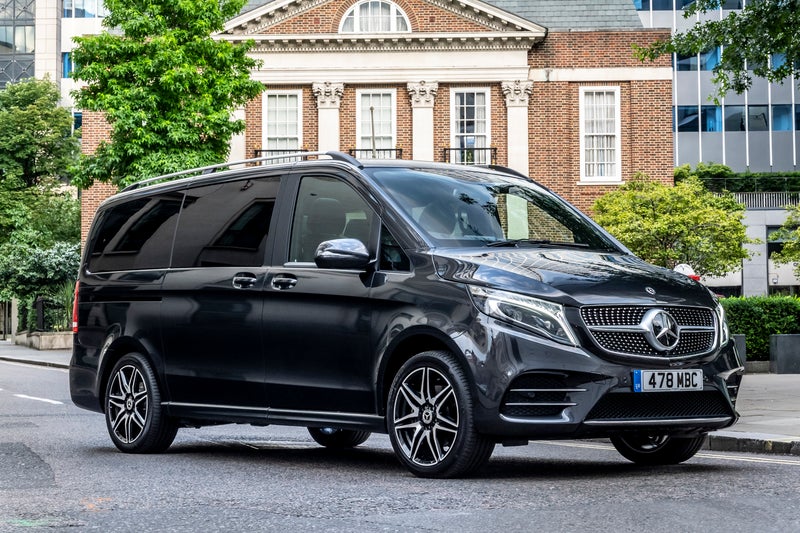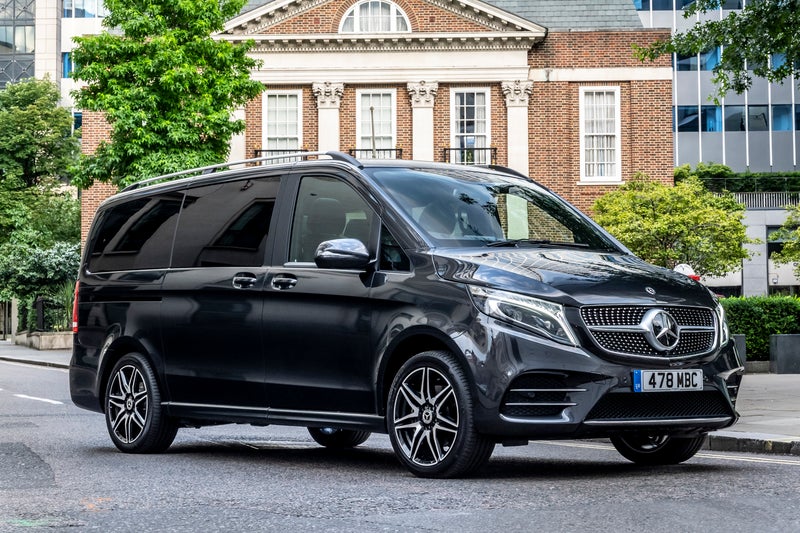 1/10
heycar rating
"Big and plush, but pricey"
Quick overview
Pros
Good looks and high image
Loads of space for eight in cabin
Smooth driving manners
Cons
Even entry model is expensive
Diesel engines can be gruff
Seats are heavy to move around
Overall verdict
On the inside
Driving
Cost to run
Prices and Specs
Overall verdict
"While there's no denying the Mercedes V-Class owes its roots to the company's van side of the business, this luxury MPV is a great deal more than just a box with some seats bolted in. The cabin of the V-Class has more in common with a luxury saloon than a van or MPV, with plush materials, a high-quality dashboard and excellent refinement even at motorway speeds."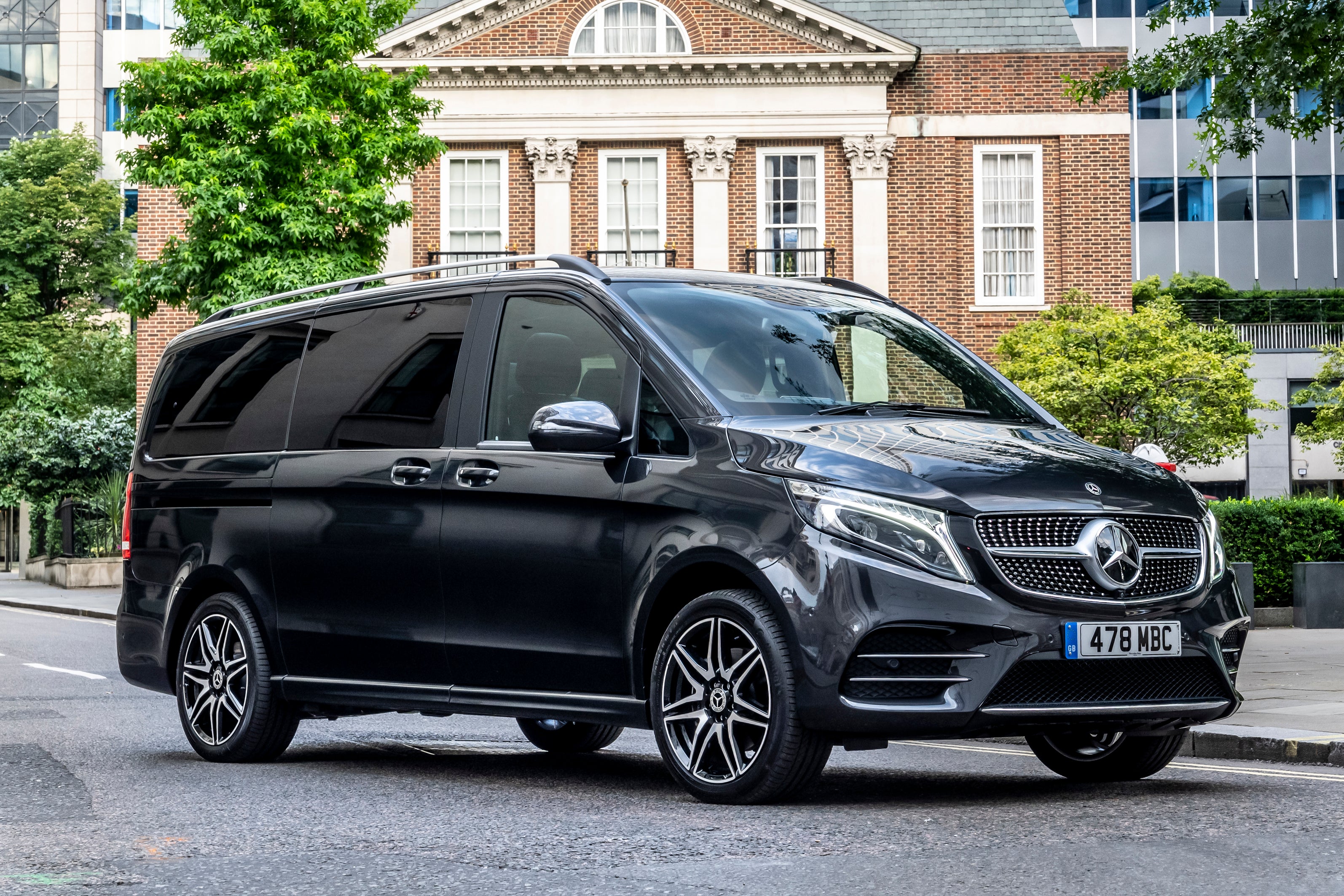 There are eight seats as standard or seven if you opt for one of the more luxurious variants. The rear seats can be slid back and forth or turned around, so passengers can face one another or the direction of travel. The layout can be adjusted to maximise load space or passenger space, depending on how the V-Class is being used. You can also choose to have as few as four seats to turn the V-Class into an office or limousine.
Electric sliding rear doors are standard and make for easy passenger access, plus there is an electric tailgate. This can be configured to stop at a pre-set height, which is useful in multi-storey car parks. Handily, the glass section can be opened separately for loading small items in really tight spaces.
Comfort levels are very good both in the front and rear, thanks to standard leather upholstery and, in Extra Long variants, rear climate control. The front seats are heated as standard and there is good standard equipment, including an infotainment system lifted from the latest A-Class with MBUX to allow voice control and comprehensive connectivity.
Most V-Class models will be powered by the 2.0-litre turbodiesel engine, which produces 163PS and 380Nm of torque. It's capable enough to haul the vehicle along fully-loaded at motorway speeds, plus it's reasonably quiet and refined unless pushed hard. It's relaxing to drive thanks to the standard-fit nine-speed automatic transmission as the more potent V300d model.
The 300d is still a 2.0-litre but boasts a much more substantial 239PS plus a hefty 500Nm of shove. Together, they see this V-Class swish past 62mph from rest in as little as 7.8 seconds in the standard wheelbase model. Impressive stuff and the V-Class can also turn in up to 37.7mpg combined economy.
Just as relevantly as this turn of speed and decent efficiency is the way the V-Class conducts itself along any road. There's no point having a luxurious cabin if the suspension crashes at every bump. Thankfully, the Mercedes is adept at smoothing its way down any length of road and the engines are pleasingly quiet unless worked close to their rev limits.
The V-Class might not be as cheap as a Ford Tourneo Custom or Volkswagen Caravelle, but if you need a genuinely luxurious, upmarket people carrier, it's well worth the extra. The luxury saloon-like cabin, excellent refinement, generous levels of space, quality finish, versatility and high specification make the V-Class feel a cut above the competition.
 Is the Mercedes V-Class right for you?
If you have a big family to carry around a lot of the time or you're a captain of industry too busy to waste travelling time, the Mercedes V-Class is the MPV for you. In standard form, it comes with seven seats, so you can pack in the kids and granny in plenty of comfort.
The higher spec models come with seven seats or you can opt for fewer seats again to create more space to lounge around in, while longer body versions have eight seats as standard. There's a plethora of options to make the cabin more opulent, as well as three body lengths to help accommodate people and luggage to huge degree.
There's only one engine option in the V-Class, but the 2.0-litre turbo diesel is available in higher and lower power outputs. The less potent version is ideal for most needs, while the higher powered version is a bit of a closet hot hatch thanks to its turn of speed. Both come with a slick nine-speed auto as standard.
What's the best Mercedes V-Class model/engine to choose?
Let's be blunt here: which V-Class model you choose will have a lot to do with the depth of your pockets. Prices start high for the standard length Sport model and go up considerably from there. We'd take the Sport version as it has eight seats as standard, giving the maximum seating and luggage versatility.
For body length, the Extra Long model is the one to have as it offers up more space for luggage and for the seats to arranged for the most legroom. However, if you spend more time driving in town and need to park in compact space, the standard wheelbase model will make more sense.
For the drivetrain, the V220d is all you really need and has the slick nine-speed automatic gearbox as standard. While it would be enjoyable to have the extra pace of the V300d, its £4000 premium for the extra power is hard to justify for most drivers.
What other cars are similar to the Mercedes V-Class?
Volkswagen's Caravelle is the natural rival for the Mercedes V-Class as not only does it have the seating to match the Merc, it has the badge appeal. Like the V-Class, the Volkswagen is expensive to buy, but offsets this with strong residual values and a very comfortable cabin.
The Citroen SpaceTourer and Peugeot Traveller are more affordable alternatives to the Mercedes and both drive very well. The Toyota Proace Verso is another one to consider, though it does not quite hide its van origins as well as the Mercedes in the way it drives.
Ford's Tourneo Custom is the other big player in this equally big MPV sector. It's good to drive and more affordable than the Mercedes, but it doesn't have the same classy feel.
Comfort and design
"Up front, the Mercedes V-Class dashboard layout is similar to recent Mercedes-Benz passenger cars like the S-Class or C-Class, with a nicely sculpted design housing clear, classy instruments and a colour infotainment system."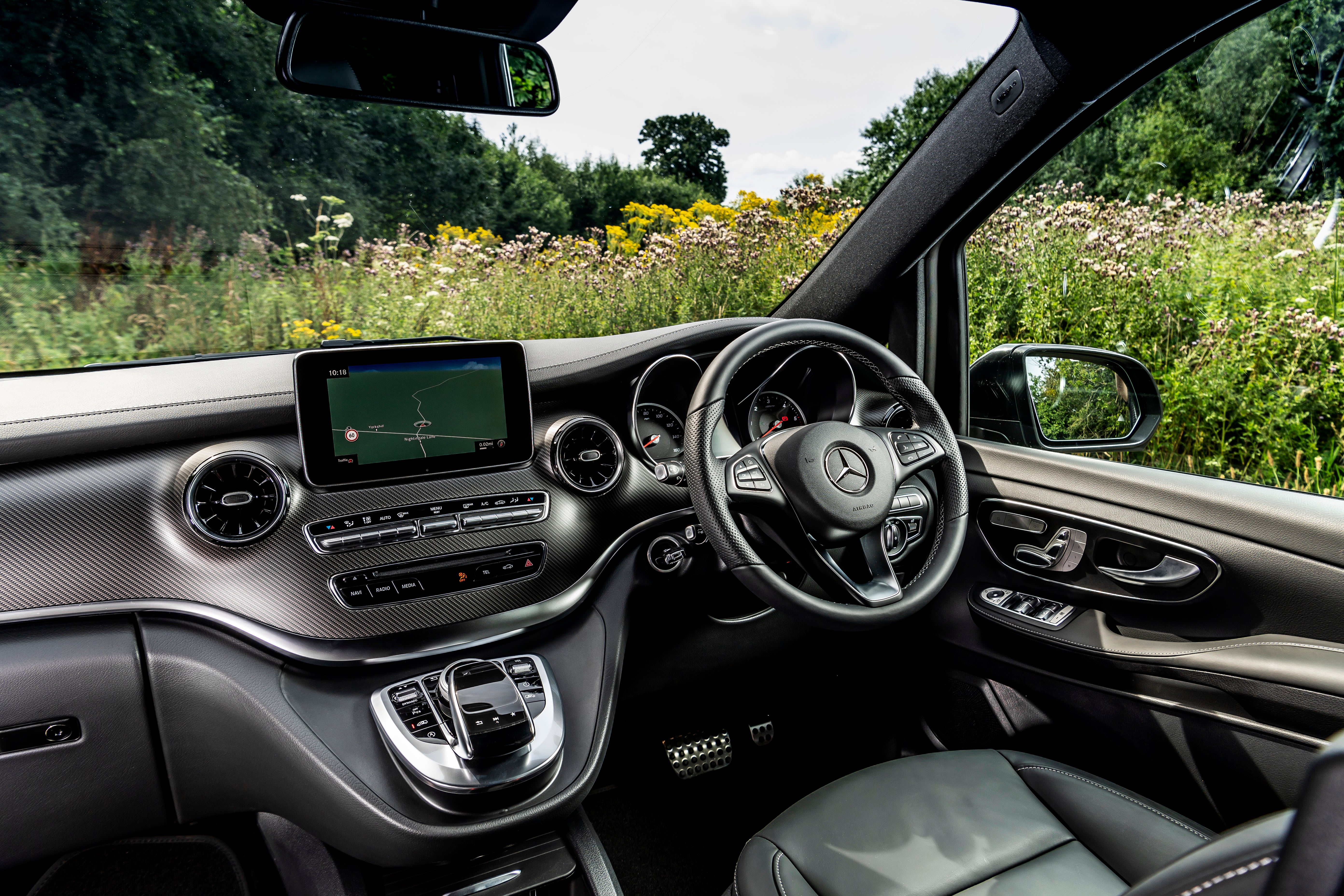 This is used to control navigation, audio and Bluetooth, as well as the air-conditioning system for the front and rear of the vehicle.
The driver gets one of the best seats in the house thanks to the raised driving position that affords good all-round vision and excellent comfort. Flat cushions may not seem too supportive at first, but they do a great job of supporting you on long trips. There's also plenty of adjustment to fine tune the seating to your preferences. Add in the steering wheel that moves for height and depth and you have a recipe for all-day comfort.
While it might be derived from a van, the V-Class gives no hint of this from the driver's seat thanks to pedals that are mounted ideally. Unlike some van-based MPVs, you don't have to lift your feet up and on to the pedals. Instead, you simply roll on the heel of your foot to work the accelerator or brake.
Mercedes also provides other neat touches such as the adjustable arm-rests for the front passengers, while large door mirrors make it easy to slot the V-Class into lanes or parking spots. The gear lever is on a stalk to the right of the steering column, so it's a finger tip job to use it.
Quality and finish
Mercedes has taken the quality of the V-Class very seriously, as you would hope with an MPV that has asking prices akin to its luxury saloon models. As a result, all of the materials and the way they are put together are much the same as you would find in an S-Class limo and there are barely any traces of the V-Class' van roots.
This impression of high quality is underlined by the design of the main instruments, dash and centre console. The dials in the dash binnacle are simple and easy to read, while the usual multi-function column stalk found in most Mercedes is easy to use with very little familiarity. On the right side of the steering column is the gear lever, which helps declutter the centre area of the dash.
The infotainment screen sits proud of the dash in the modern style and is easy to view and use. There is a mouse-style controller for this in the centre of the raised console with shortcut buttons and, again, it's one of the simplest to use out of any car we've tried.
Infotainment
Mercedes now provides its MBUX 7-inch infotainment screen in every V-Class model. It's a very simple system to get to grips with and can be operated using the touchscreen or voice commands with the 'Hey Mercedes' inputs. Functions that can be used in this way include the hands-free phone, music and satellite navigation destinations.
Another clever feature with the infotainment is you can simply say to it that you feel a bit cold and it will automatically increase the temperature of the climate control. It also learns your handwriting when you use the screen so the system becomes more personalised to you.
In a similar fashion, the MBUX also recognises regular routes on the sat-nav, which radio stations you prefer and popular music choices. As a result, it predicts what you want and makes suggestions based on this. It also lets you know when the V-Class is due a service and how long it is until this is needed.
Space and practicality
This is the Mercedes V-Class' area of expertise and much of it is thanks to the generous size of this MPV regardless of whether you choose the standard, long or extra long models. If you choose the standard body, you get seven seats arranged in a 2-2-3 format which allows for plenty of legroom for all in the car.
The Long and Extra-Long models have eight seats as standard, set out in a 2-3-3 pattern, again with loads of space for passengers to spread out. Even with a full complement of adults, the V-Class offers up more than enough room for everyone to sit without feeling squished up next to their neighbour.
It's possible to remove any or all of the rear seats of the V-Class and also to reposition them to configure the back part of the cabin to suit your own needs. This is a great option, but it comes with the caveat that its rear chairs are heavy to move or remove, so make sure you have some help on hand when doing this.
Getting in and out of the V-Class passenger compartment is simplicity itself through the electrically sliding side doors. They leave a big gap for you to walk through and into the car, while gaining entry to the third row is easy too thanks to the outer middle chairs tipping forward more than enough to create a generous corridor to walk past.
Head round to the boot and the V-Class has the ability to cope with passengers' luggage even when all of the seats are in use. In this way, the standard model offers up 610-litres of load capacity, which is more than most large estate cars. Opt for the Extra-Long model and that number goes up to 1410-litres. Or, you could remove the seats and have anything from 4200-litres all the way up to 5010-litres of cargo carrying ability.
One word of caution when using the V-Class' boot, though. Due to the length of the tailgate, you need a fair amount of clear space behind the car to open the boot safely. Still, you can access the boot through the opening rear screen and, with the full hatch open, the opening is huge.
Handling and ride quality
"The Mercedes-Benz V-Class might have the dashboard from a saloon car, but once on the move there's no getting away from its hefty size and bulk."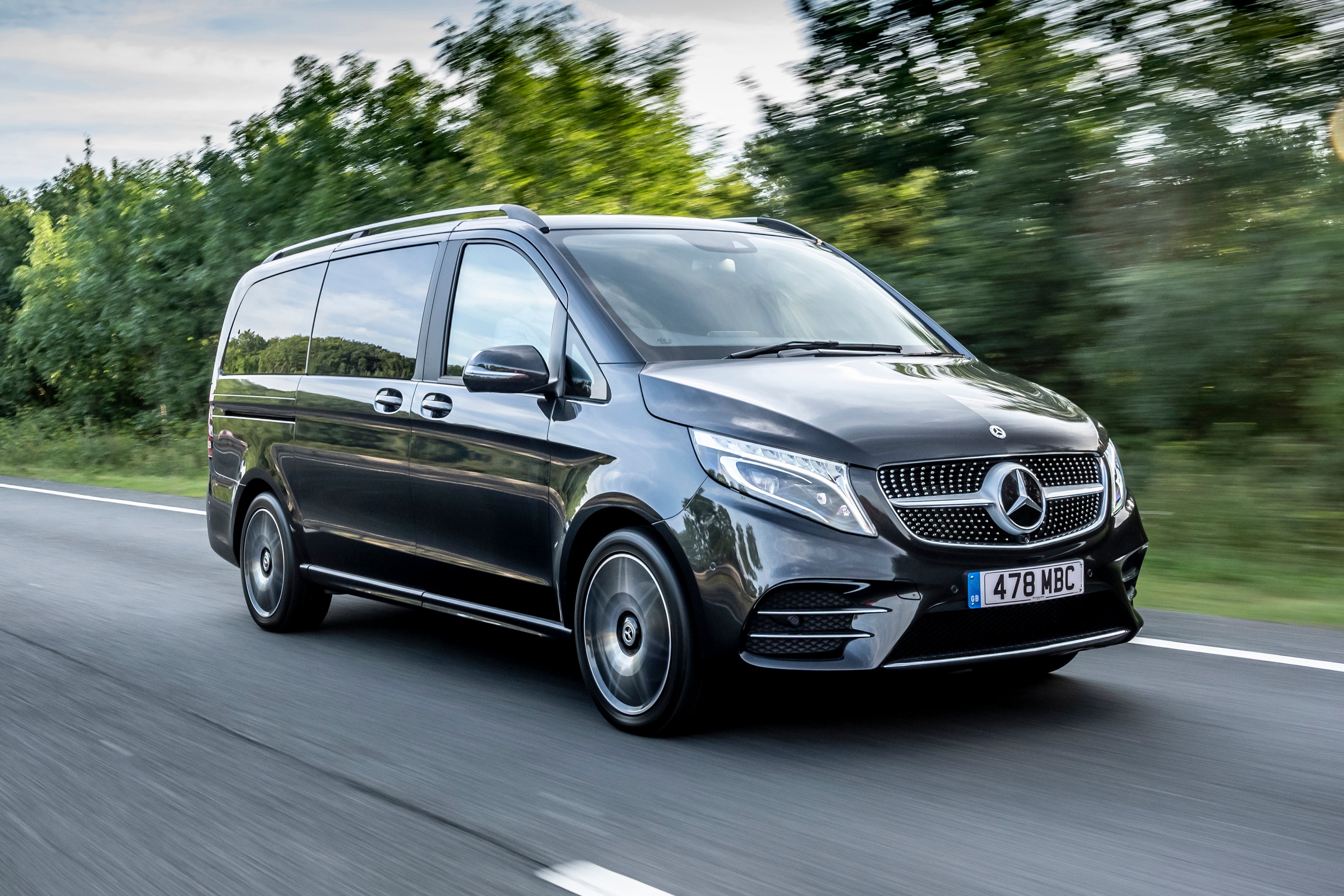 Town driving and tight car parks are not its natural environment, though the turning circle is tight enough for them not to be a worry when you do enter these arenas. It's more the sheer length of the V-Class compared to most saloon and hatches that can intimidate the driver first time out.
Luckily, the V-Class is no wider than most large SUVs and, like them, it has a raised driving position that makes it easy to place the Mercedes on the road. It also offers good all-round vision thanks to its square-rigged styling, so swapping lanes and pulling out of urban junctions is no hassle.
Ride quality is good on the whole, though the suspension does sometimes make a racket over potholes. Even so, the V-Class makes a much better fist of this than all of its key rivals bar the Volkswagen Transporter Shuttle. Choose the Extra-Long version of the Mercedes and its ride is smoother as the extra length helps tamp out the dimples of most roads.
The handling is fairly neat through twists and turns but it's here the V-Class suffers for its size and weight. That is to be expected, of course - body roll is more apparent and steering less precise than in a small, nimble car, but it's no worse than other van-based MPVs and large people carriers.
Head on to the motorway, however, and the V-Class is in its element, loping along with excellent ride comfort and stability. It makes an ideal way to travel long distances and there's an easy gait to the way the Mercedes ticks off miles that makes it very relaxing to drive.
Engines and gearboxes
Mercedes replaced the previous 2.1-litre turbodiesel engine in the V-Class at the beginning of 2019 with the much smoother and more refined 2.0-litre unit as found in the company's saloon range. This motor is a big step on in every respect and comes in 163- and 239PS forms, giving buyers the choice between very acceptable pace and something really quite surprising.
With the 163PS unit, the V-Class feels perfectly able to deal with town, country and motorway work without ever feeling strained. There's ample lowdown shove and it works up to higher speeds with an assured sense of purpose. It's only if you really floor the accelerator pedal that this engine takes on a slightly dowdy nature, but you're unlikely to drive the V-Class in this manner.
Choose the 239PS version of the 2.0-litre turbodiesel engine and the V-Class becomes an unexpectedly quick machine. It will cover off 0-62mph in as little as 7.8 seconds, which is nigh on hot hatch pace and will give most executive and luxury saloons a good run for their money. It's every bit as smooth as the lower power unit, so the only real downside to picking this engine is the additional cost, though some might reckon it's money well spent in the Extra-Long model when fully laden with people and luggage.
Both engines come with a nine-speed 9G-Tronic automatic gearbox as standard, and this is the only transmission choice. It's a very slick transmission that slips from one gear to the next with no noticeable hesitation.
Refinement and noise levels
It may be an MPV but the Mercedes V-Class is also a car with luxury travel in mind, so it's a good thing that its engines are both very hushed in everyday driving conditions. Press them to give maximum acceleration and there's a tell-tale hint of diesel gruffness to their sound, but it's far from a deal-breaker.
In town and on the motorway, both engine options in the V-Class are refined and easy to live with. There are no vibrations from the engine felt inside the cabin or through the driver's controls. Also, the steering and pedals work with well-judged weight and heft to their actions.
At higher speeds, the V-Class is impressively quiet as wind and road noise are both kept to a minimum inside the car. This is doubly impressive given the size of the V-Class cabin and its van origins given that some rivals with a similar basis can suffer from reverberations that can make conversation between those in the front and rear seats difficult.
The V-Class also has dials and buttons that all work with a panache that's not found in any other MPV, which is a fair expectation given the Mercedes' prices.
Safety equipment
The Mercedes V-Class comes with twin front, side and curtain airbags, but it must be remembered that these are for the front two occupants only. However, the V-Class still scores an impressive 93 per cent mark for adult occupant safety and 87 per cent for child safety, contributing to a five-star rating when it was tested by Euro NCAP in 2015.
As well as ESP traction and stability control, the V-Class comes with Active Brake Assist as standard on all UK-supplied cars. This detects a possible hazard ahead and applies the brakes for an emergency stop if it senses the driver has not reacted. All but the Exclusive trim also come with Active Parking Assist to help slot the Mercedes into a parking bay. The Exclusive makes up for this with the Parking Package plus Blind Spot Assist, Distance Pilot Distronic, Lane Keeping Assist and Pre-Safe. All of that helps the Exclusive avoid coming into contact with other vehicles.
Every V-Class has Attention Assist to warn the driver of possible fatigue and you also get Hill Start Assist to stop the car from rolling backwards on inclines. A tyre pressure monitor is included and Mercedes also fits Sidewind Assist to help with stability at higher speeds in crosswinds.
MPG and fuel costs
"It won't come as a surprise to learn the most efficient Mercedes V-Class is the lightest, which is the standard length model. Whether you choose the 163- or 239PS version, it can return an official combined economy of up to 37.7mpg."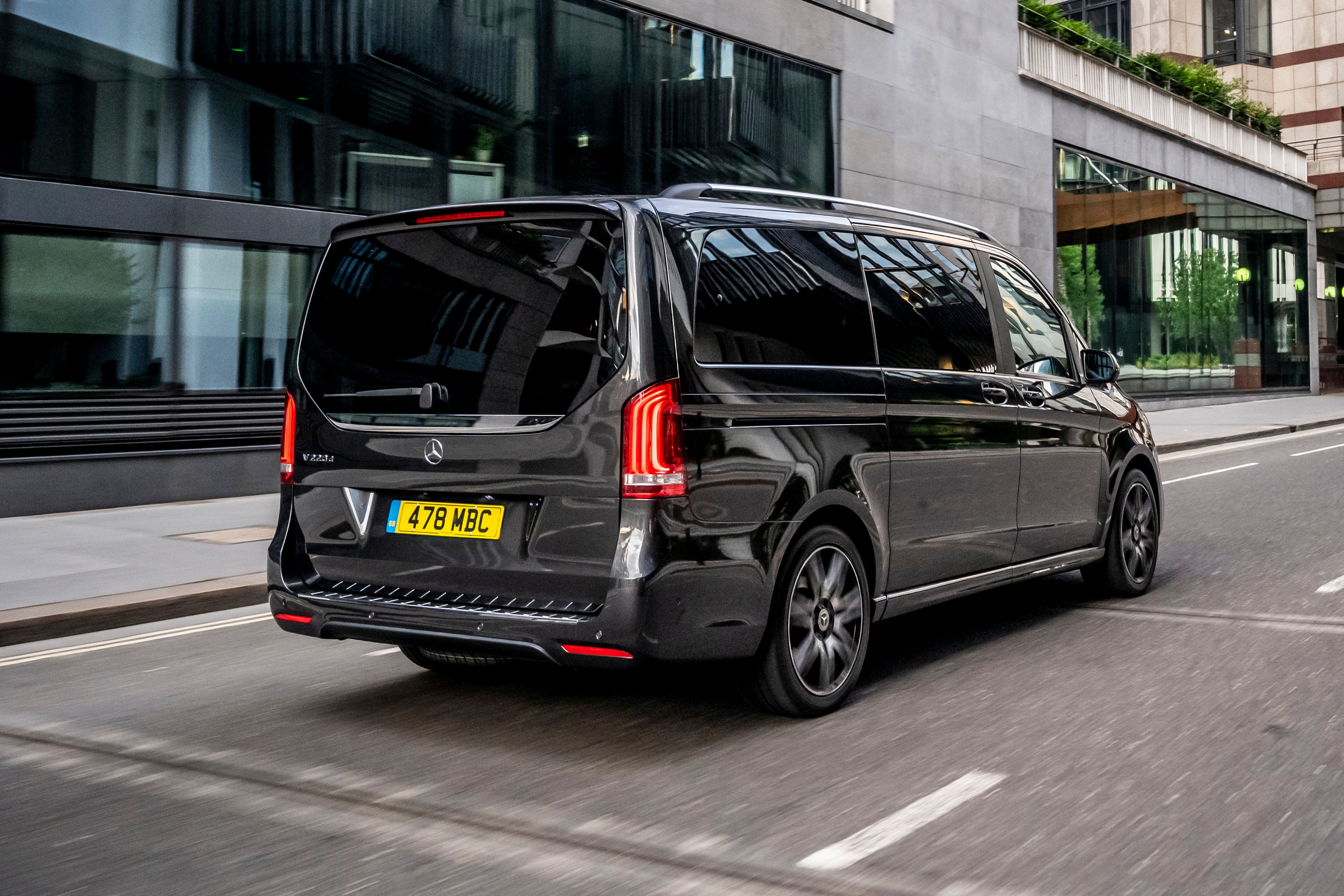 The Long version of the V-Class is 1mpg behind this in V220d form on 36.7mpg, while the more powerful version is actually slightly better at 37.2mpg.
Go for the Extra-Long model and both the V220d and V300d offer 36.7mpg. A look at Real MPG figures shows this is more likely to be around 31.6mpg in everyday use.
Insurance groups and costs
Given its size, price and opulent specification, the Mercedes V-Class is not ever going to be a cheap car to get cover for. The V220d Sport in standard length sits in group 38, which is similar to a Mercedes E300d estate.
If you'd rather head upmarket with the V-Class on your driveway, the V300d Exclusive Extra-Long falls into group 43 for insurance. This puts it on a par with a number of luxury saloons and adds to the high running costs of this model.
 VED car tax
The Mercedes V-Class had its carbon dioxide emissions reassessed in April 2020 for UK Vehicle Excise Duty. This saw a V220d's CO2 figure rise from 158g/km to 197g/km under WLTP testing. As a consequence, the cost of road tax also leapt up and was not helped by the V-Class costing over the £40,000 threshold. So, a V220d Sport will set you back £1815 for first-year VED.
For the five years following this first payment, the V-Class will be charged £474 per year for road tax.
How much should you be paying for a used Mercedes V-Class?
"A five-year old Mercedes V-Class will cost you from around £25,000 for a V220d Sport in standard length."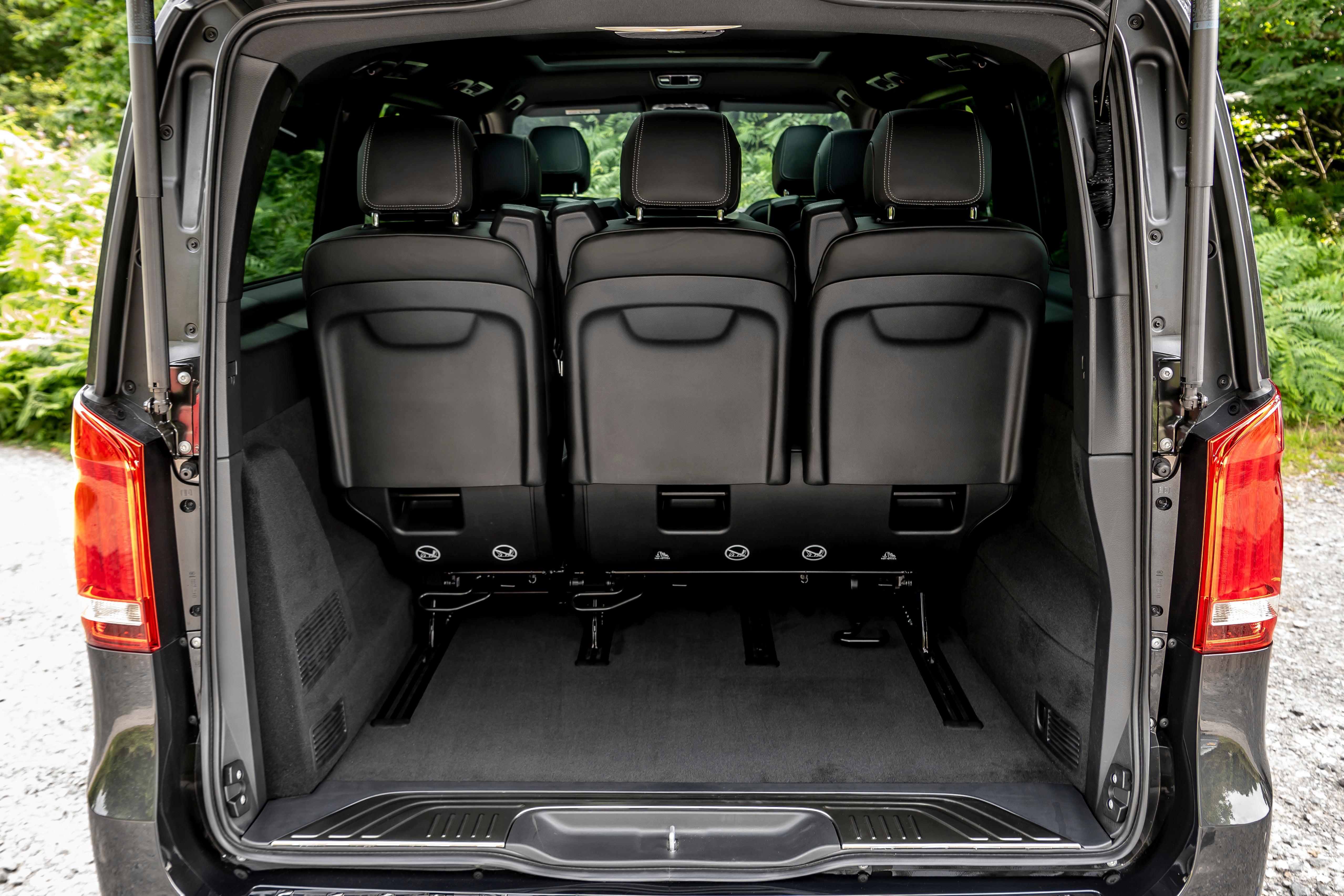 You will find cheaper examples, but this price is for one with around 60,000 miles on the clock. Less expensive ones will have much higher mileages as they are likely to be ex-private hire cars.
A nearly new or pre-registered V-Class represents a good saving over the list price and can be had for £52,000 for a V220d Long. That's a saving of £4500. It's also worth looking at lease deals with the V-Class as its strong residual values make these options more affordable.
Trim levels and standard equipment
Mercedes kicks off the V-Class range with the Sport that comes with 18-inch alloy wheels, LED lights and Agility Control suspension. There's a reverse parking camera with the Active Parking Assist, powered tailgate, rear privacy glass and, for the Long model, a panoramic glass sunroof. Electric sliding side rear doors are standard, while inside there are heated front seats, Nappa leather upholstery for its seven seats, climate control, and the MBUX multimedia infotainment system with Hey Mercedes voice recognition. Long and Extra-Long models have eight seats.
The AMG Line model adds bigger 19-inch wheels and a sporty body kit, metallic paint and a 'diamond' grille. AMG sports seats are fitted in the front, along with carbon fibre-effect dash trim inserts.
Opt for the top level Exclusive and you benefit from the Driving Assistance pack with its 360-degree camera. Front occupants enjoy seats with a massage function, and there's also a fridge in the centre console and Burmester surround sound stereo.
Mercedes-Benz V-Class cars for sale on heycar
4,617
Number of cars available
£35K - £56K
Price bracket of these cars
Colours available on heycar
Keep me updated by email with the latest advice, news and offers from heycar
By submitting, you agree to our
privacy policy
.