Mercedes-Benz Vito Review 2022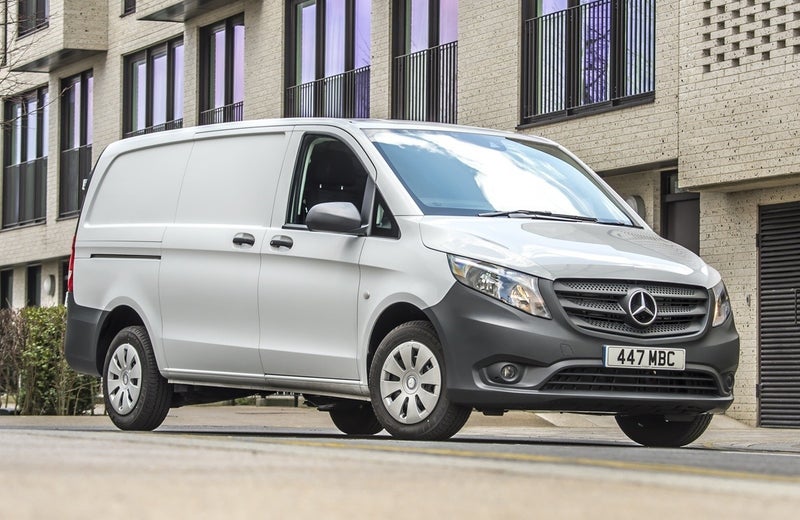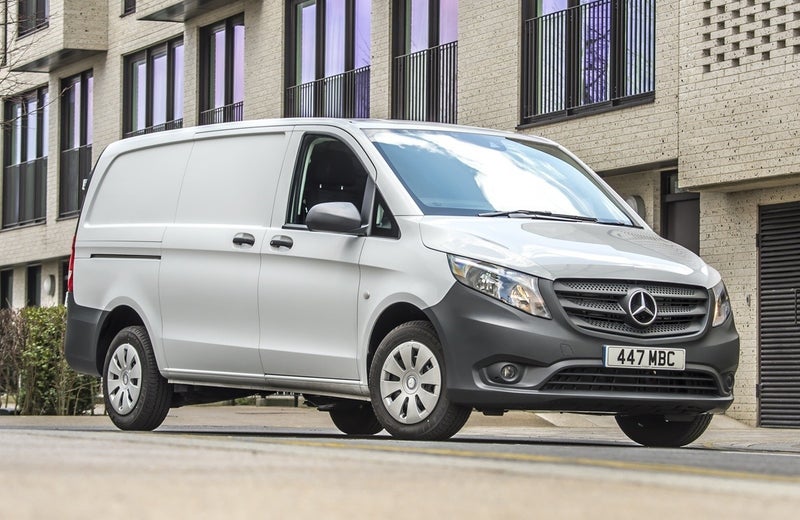 1/9
heycar rating
"Worth paying the extra for"
Launched: 2015

Van

Diesel, petrol
Quick overview
Pros
Excellent quality and great to drive
Car-like refinement and quiet engines
Good standard equipment levels.
Cons
Foot-operated parking brake is a pain
No high roof option
Lack of cabin stowage.
Overall verdict
On the inside
Driving
Cost to run
Prices and Specs
Common questions
Overall verdict on the Mercedes-Benz Vito
"Mercedes-Benz chose not to start with a clean slate when it launched this Vito. But with new styling, a car-like cabin, lower running costs and a reduced price, there's plenty that appeals in the new model."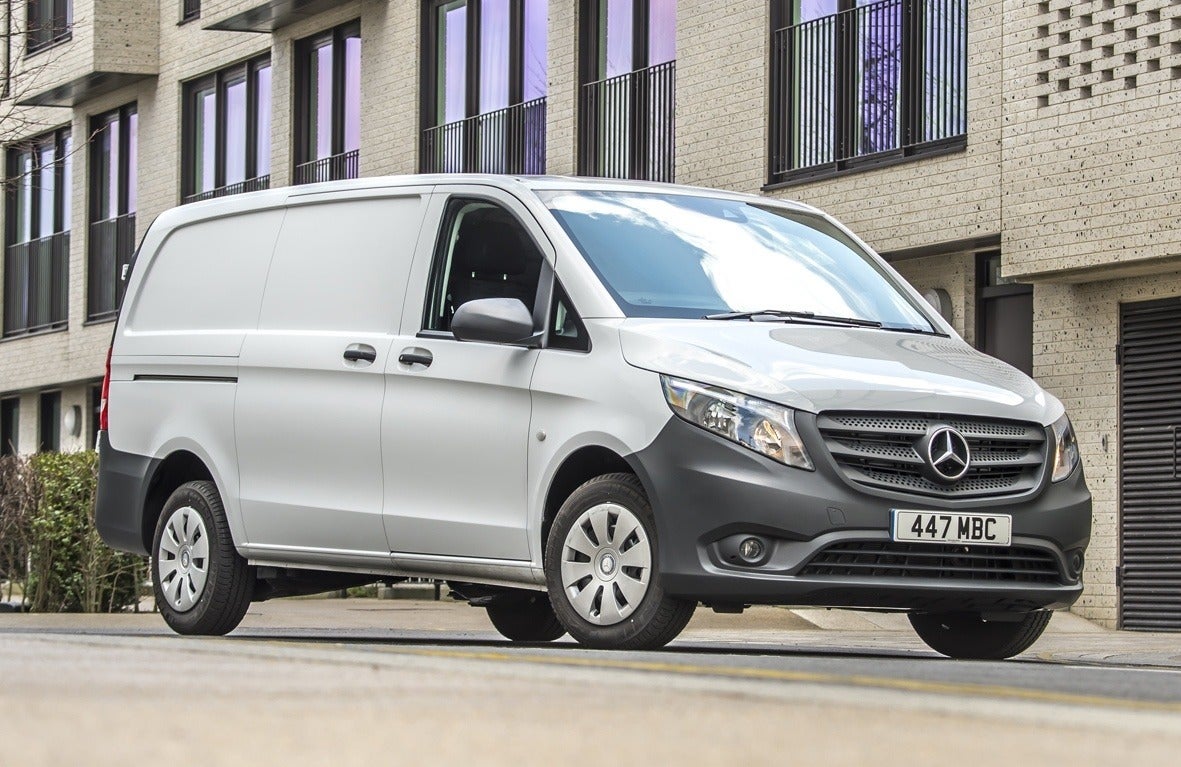 The Mercedes-Benz Vito retains the impressive handling and performance of its predecessor, although there are a few caveats like the lack of a high-roof variant.
One of the biggest changes is the addition of a 1.6-litre diesel engine, shared with the Renault Trafic. The new engine is offered with front-wheel drive only and comes in two versions – 88PS and 114PS. It means a lower price for the Vito. The other engine is the 2.1-litre diesel, available with between 136PS and 190PS, in rear-wheel drive only.
The Vito is offered in three lengths, all of which are 140mm longer than the equivalent variant of the old Vito. The maximum gross vehicle weight ranges from 2500kg to 3200kg depending on configuration, with the most capable model rated to carry a payload of up to 1350kg. Maximum cargo volumes range from 5.5m3 to 6.6m3.
The new Vito is very refined and quiet on the move thanks to quality engines and good noise insulation. The basic 1.6-litre engine in the 109 CDI can feel strained with a full load on board, but it's fine around town. The Vito also handles well with good steering weight and impressive body control. It's a vert comfortable van for long motorway journeys.
Aside from panel van there is also a crew cab variant and an eight-seat Tourer, the latter of which is offered in two grades – Pro and Select. Pro variants are geared towards more basic tasks, like transport for schools, while the Select is aimed at the taxi industry and benefits from a more car-like cabin, with luxuries including air conditioning. The Vito also provides the basis for the plush V-Class, which has a completely different cabin.
There's plenty of useful technology on offer including crosswind assistance, hill start assist, load adaptive control and an anti-rollover system. Furthermore there are two airbags as standard, with up to eight in the Tourer. Those who specify a trailer coupling will also get trailer stability control as standard – and can benefit from an optional reversing camera which has a special setting designed to help with hooking up unassisted.
Similar vans include the Ford Transit Custom, the Volkswagen Transporter and the Vauxhall Vivaro, while we also reckon the Vito is one of the best used vans you can buy.
Comfort and design: Mercedes-Benz Vito interior
"A good interior, but starting to show its age."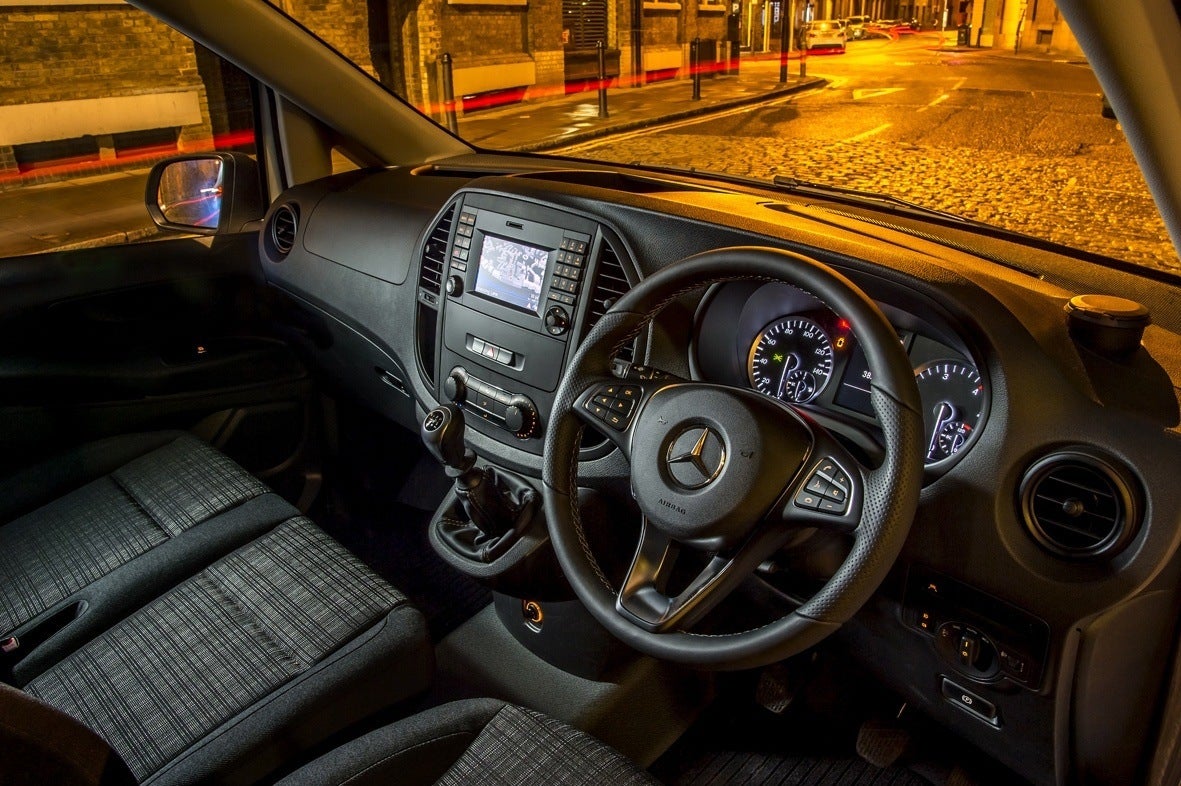 Up front the Mercedes Vito feels every bit as solid and as durable as you'd expect of a Mercedes-Benz van. The dash is finished in a robust plastic and all of the controls are chunky and hard-wearing. Visibility is good and there's plenty of adjustment in the seat and wheel, making it easy to get comfortable.
That said, there are some problems. The Renault Trafic and Vauxhall Vivaro both offer a more useful cabin, with areas for using laptops, plus built in phone cradles and a few extra cubby holes. The Vito has a few storage areas but they're not very handy. There are some niggling issues too, like a 12v outlet down near the floor, instead of on the dashboard top where it would be well placed for charging a phone or powering a navigation system.
The foot-operated parking brake from the old Vito has made its way into the new model and it takes some getting used to - but on the plus side there is a hill-hold function as part of the standard safety equipment. On that front, the Mercedes Vito impresses.
Engines, gearboxes and handling: What is the Mercedes-Benz Vito like to drive?
"Wide range of power outputs."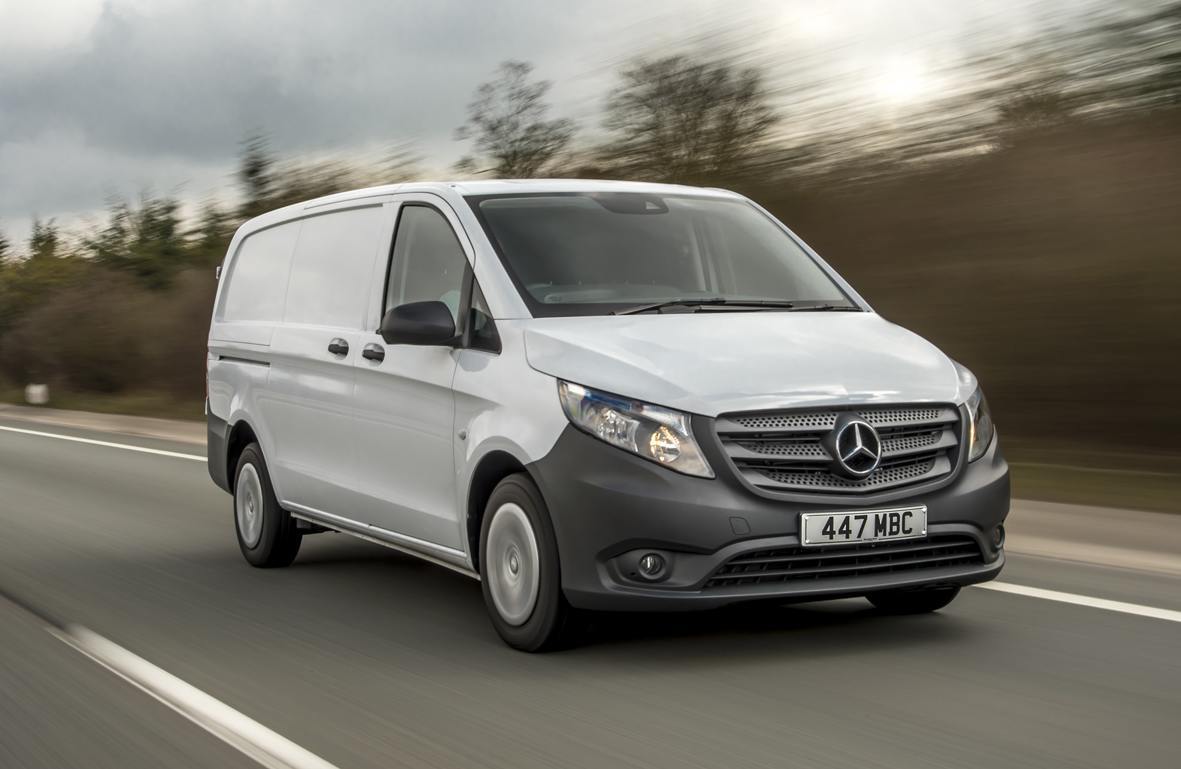 The smaller 1.6-litre diesel engine is shared with Renault. This is offered with power outputs of 88PS (in the 109 CDI) or 114PS (in the 111 CDI) and comes in front-wheel drive only – a first for the Mercedes Vito. The engine promises a friendlier entry-level price.
Alongside the 1.6 there are three 2.1-litre diesel options with power outputs of 136PS (114 CDI), 163PS (116 CDI) and 190PS (119 CDI). These all come with rear-drive as standard and are better suited to heavier or longer distance work, thanks to increased payload ratings.
The 1.6-litre versions drive well enough – the steering is neat and well weighted while the gear change is precise. However, it needs to be worked harder than the 2.1-litre to deliver useful torque, especially when laden or joining a fast flowing motorway.
That's not to say the entry-level engines are poor. For courier work or short hops, the front-wheel drive 1.6-litre engines are more than capable and, even though the rear-wheel drive Vito is a little more accomplished, the differences are small, especially at lower speeds.
However, out of town the 2.1-litre diesel engine is a better all round choice, regardless of power output. It's quieter and feels more planted on the road, giving a greater sense of confidence and security. Furthermore, the additional power and torque give better acceleration and overtaking ability, plus quieter and safer performance on the motorway.
The 2.1-litre version is, surprisingly, more efficient than the 1.6-litre engine - at least in 116 CDI BlueEfficiency form. This is the eco variant, which manages an impressive official economy figure of 46.9mpg. Emissions and economy have been improved across the range, thanks to aerodynamic tweaks and other changes like a move to electric power steering, in place of the old hydraulic system.
The standard transmission across all engines is a six-speed manual, which is perfectly easy to use and has well-spaced gear ratios, but there is also a 7G-Tronic automatic gearbox option offered with the 114 CDI and 116 CDI, or as standard with the top 119 CDI. Service intervals across all versions are 25,000 miles or two years.
What does a Mercedes-Benz Vito cost to run?
"Fuel consumption is good, but not great"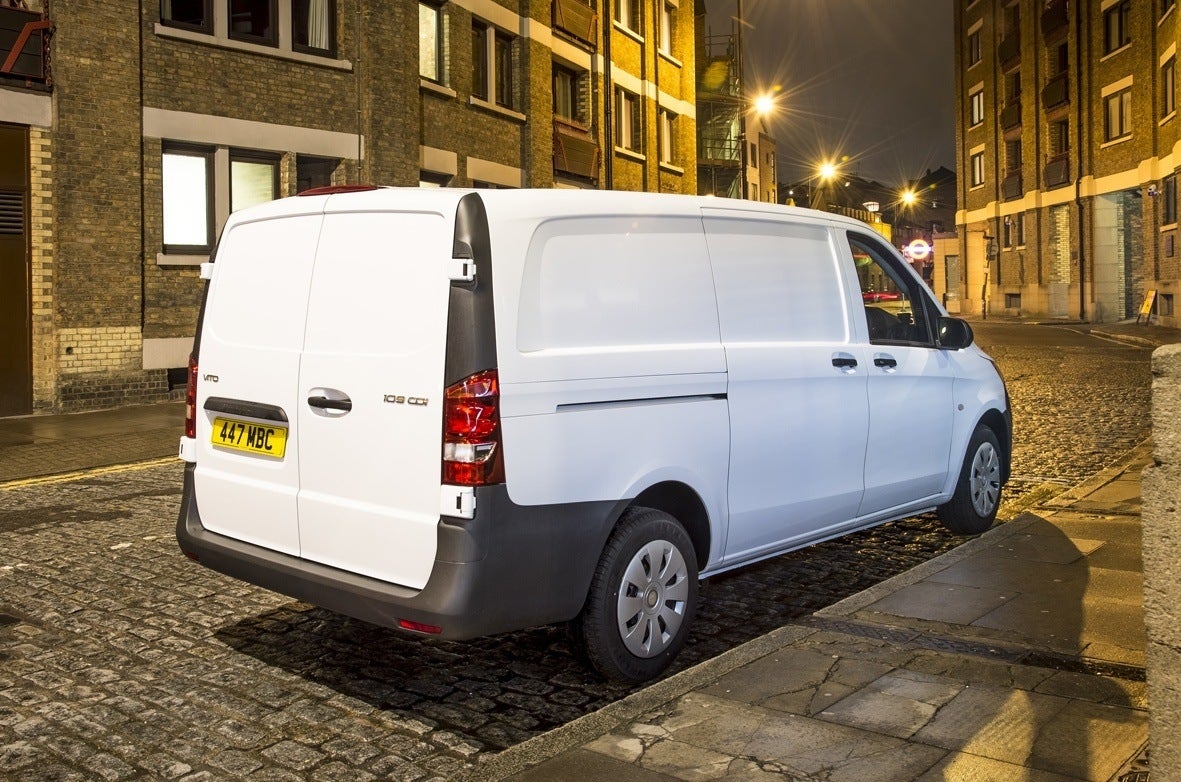 Opt for the 116 CDI model if you're looking for the most economical option, as its official fuel consumption is 49.6mpg. The 111 CDI returns a still highly commendable 45.6mpg.
Trim levels and standard equipment
"The Vito is offered in three lengths. In cross section the load area is the same as the older pre-2015 van, but it has been lengthened by 140mm – so lengths are now 4895mm, 5140mm and 5370mm."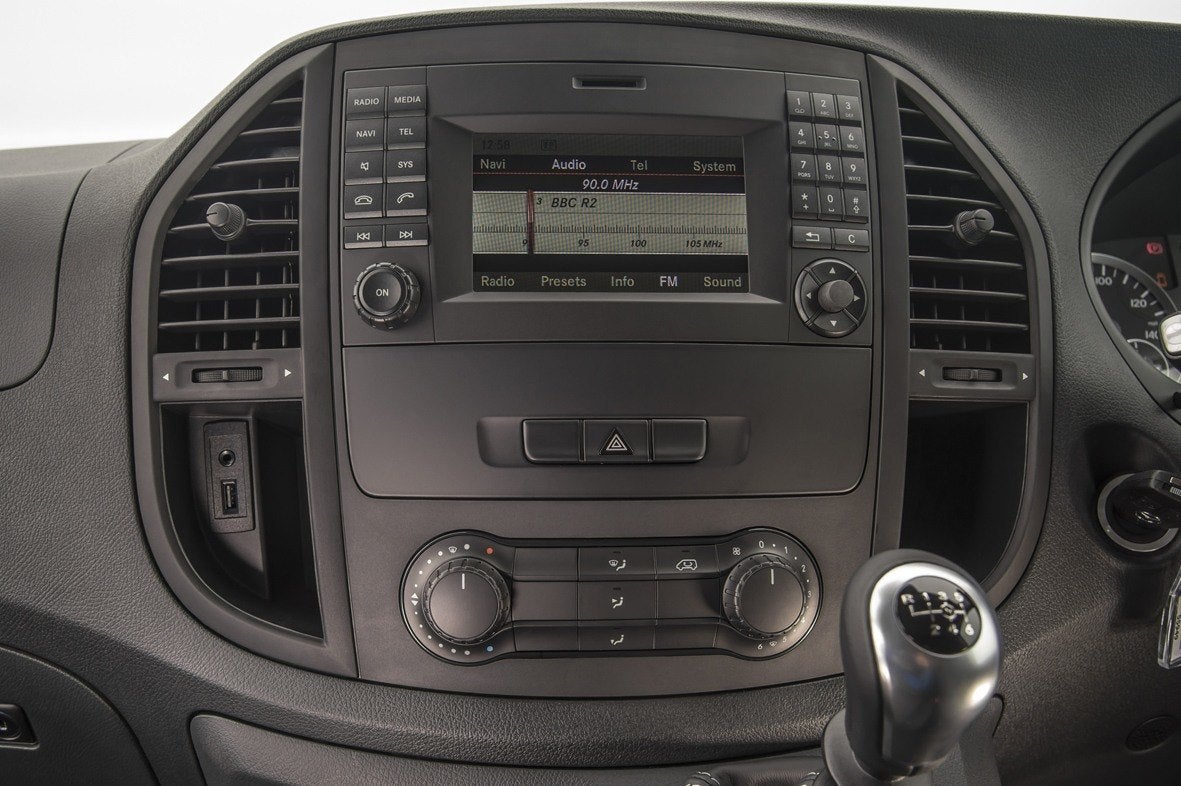 Rather unusually there is only one height on offer, however this has the benefit of being under 2m – useful for car washes and multi-storey car parks. The downside is that taller drivers may find they knock their head on the roof when getting in the back.
Load volumes range from 5.5m3 to 6.6m3, with maximum permitted gross vehicle weights of between 2500kg and 3200kg. Getting cargo in and out is fairly easy – impressively there are sliding side doors offered on both sides as standard, while access to the rear is via a tailgate or the more traditional split barn doors.
The sides of the load area are protected up to half height with plywood, but this can be extended to roof height if buyers require it. Another practical optional extra is a non-slip floor coating and a grid for the floor with lashing eyes spaced at 25mm. There is also an optional LED lighting strip for illuminating the load area.
Alongside the panel van, Mercedes-Benz offers a crew cab version and a minibus. The latter comes in two forms – a more basic Select model with a no-frills passenger area and a Pro version, which has sliding seats, a more comfortable and well-finished passenger area and luxuries like air con. It's ideal for taxi firms and can be arranged with various configurations so, for example, passengers can face one another. The rear seats can also be folded to form a basic overnight bed.
Ask the heycar experts:
common questions
What s the length of the Mercedes-Benz Vito?
The Mercedes-Benz Vito is available in a variety of lengths and can be anything up to 5223cm long.

What is the payload of a Mercedes-Benz Vito?
The Mercedes-Benz Vito has a maximum permitted gross vehicle weight of between 2500kg and 3200kg, depending on the version you choose.

How many seats does the Mercedes-Benz Vito have?
The standard panel van version of the Mercedes-Benz Vito has three seats up front. Depending on the version you choose, it wil seat up to nine in a minibus configuration.

Mercedes-Benz Vito cars for sale on heycar
3,937
Number of cars available
£12K - £40K
Price bracket of these cars
Colours available on heycar
Keep me updated by email with the latest advice, news and offers from heycar
By submitting, you agree to our
privacy policy
.