Mercedes-Benz X-Class Review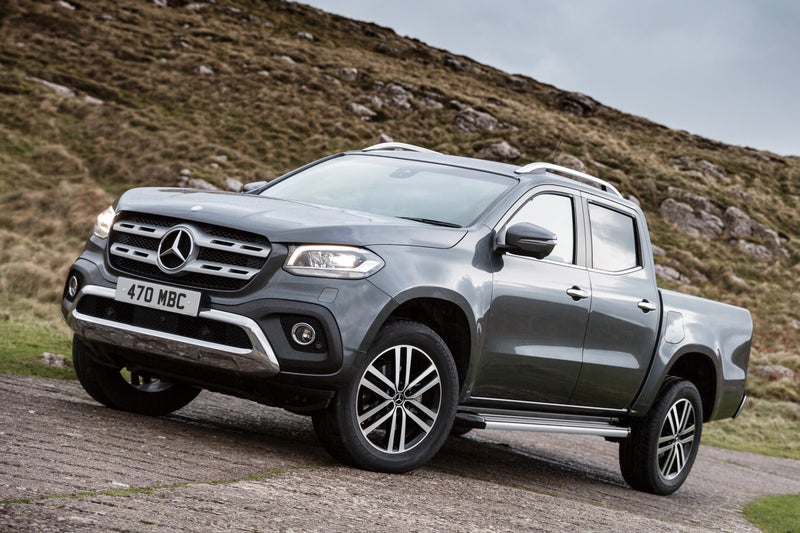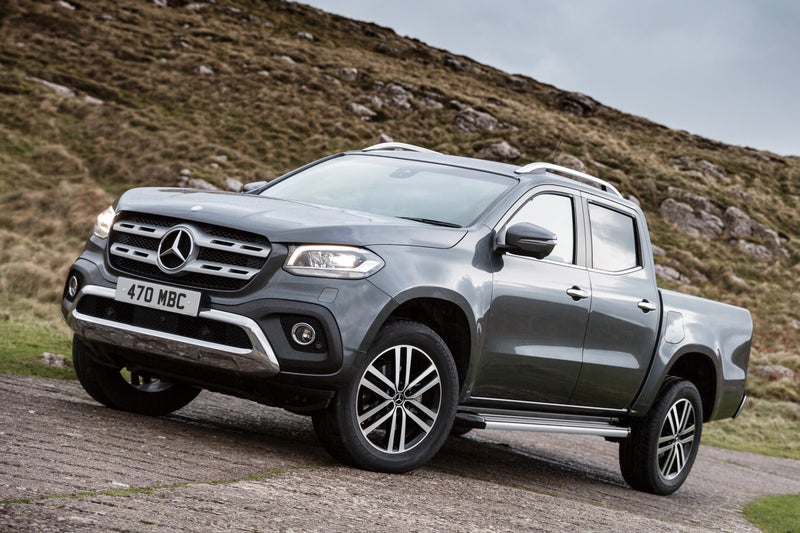 1/10
heycar rating
"The Mercedes-Benz of pickups"
Launched: 2017

Pick-up

Diesel
Quick overview
Pros
Mercedes-Benz image
Attractive styling
Smart interior combined with practical load deck
Cons
Expensive to buy
Only higher trims give the full Mercedes-Benz experience
Nissan roots shine through
Overall verdict
On the inside
Driving
Cost to run
Prices and Specs
Overall verdict
"The X-Class is a desirable premium pickup with good looks, a nice cabin and a lovely V6 engine option. Trouble is, it's so expensive, and this is in a sector where watching the pennies really matters. It's an appealing vehicle, but for many buyers, it might just be a step too far."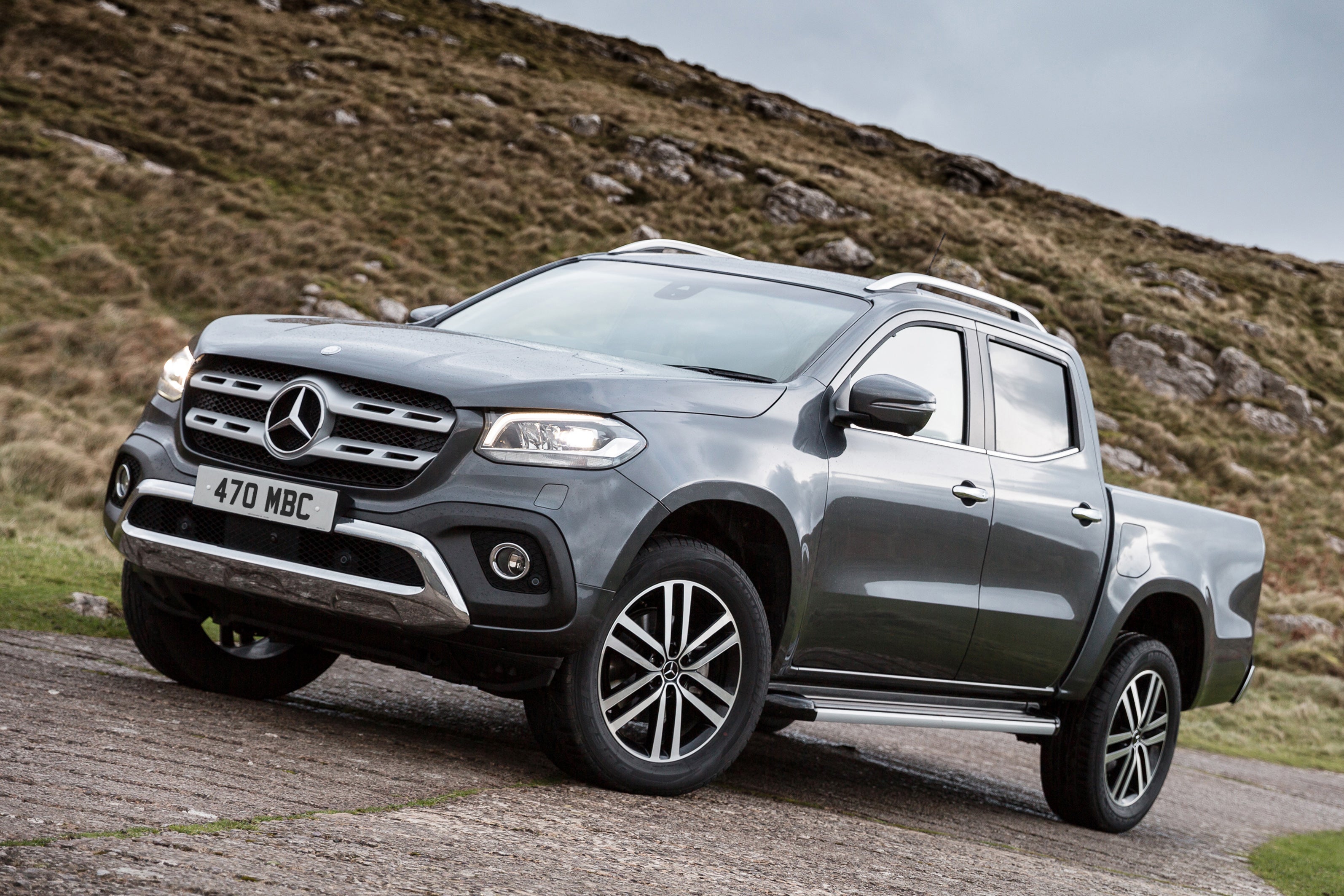 Mercedes-Benz is a giant global carmaker represented in almost every vehicle sector. Except, for many years, the pickup market. Through an alliance with Renault-Nissan, Mercedes finally rectified this in 2017 with the launch of the X-Class – a 'posh pickup'. It was just the thing for upwardly mobile builders everywhere.
It's not immediately apparent this is a pickup based on a Nissan Navara. There's a lot of differentiation, particularly at the front, where the big Mercedes-Benz three-pointed star dominates the grille. It's a sporty, more aggressive look than some of the firm's regular cars, reflecting the preferences of its target buyers.
The interior is extremely well decked out, too. It looks like a proper Mercedes-Benz, with the dials, infotainment screen and even air vents likely to prove familiar to those who have driven an E-Class or even an S-Class. There are also some lovely design details, including a very attractive wood-look trim option.
Saying that, those who have driven another Mercedes-Benz will also find interior quality isn't quite up to the firm's usual standards. Yet this is arguably a positive: the materials aren't so soft-touch, but they're more likely to withstand heavy-duty use.
Practicality hasn't been compromised, either. The X-Class still has a 3.5-tonne towing capacity and a large rear deck, and even spacious rear seats accessed via their own doors. The Nissan Navara is an exemplar in terms of practicality and the X-Class follows suit.
Engines are – no surprise – entirely diesel: a 2.3-litre four-cylinder motor producing either 163PS (in X 220 d form) or 190PS (called X 250 d). It's an effective engine, particularly the torquey 190PS version, but not a very memorable one. It feels a bit too 'Nissan'. That's why the X 350 d V6 engine is very much the preferred choice. It produced 258PS and even more pulling power.
The V6 costs much more, however, and this further accentuates a major X-Class failing: very expensive prices. Even excluding VAT, it is costly, and as you move up the range to get the features you'd expect from the Mercedes-Benz brand, it becomes pricier still. For a machine that goes up against mainstream rivals, this is a bit of a culture shock.
The three-pointed star is desirable, but is it really that desirable? Not least because running costs are also heady. The counter-argument is that this really is, well, the Mercedes-Benz of pickups, and it's undeniable that the vehicle cuts quite a dash. It offers far more status than, for example, a Nissan, Mitsubishi or Isuzu.
As a working vehicle, the Mercedes-Benz X-Class is very eager to get stuck in. It has a well-specced all-wheel drive system, which has even more electronic support as you go up through the range. If you're looking for a premium SUV alternative that you can put to good use during the working week, the X-Class is worth considering. If you can afford it...
Is the Mercedes-Benz X-Class right for you?
For ultimate bragging rights at the builder's yard trade counter, nothing beats chucking down a set of Mercedes-Benz keys. It'll mean instant respect from your colleagues driving Fords and Mitsubishis – and proof positive that your business is doing well enough to afford the hefty step-up in purchase price or monthly lease costs.
The X-Class doesn't call for any compromises in terms of usability, though. It takes all the Nissan Navara's robustness and, well, keeps it fully intact. If anything, the powerful V6 version is even more useful still, simply because of the surfeit of pulling power it possesses.
However, if your business is on a budget, you'll either have to take a back-to-basics X-Class, or trade the three-pointed star badge for something more mainstream. Even pickups can carry a premium price tag, it seems.
What's the best Mercedes-Benz X-Class model/engine to choose?
We love the X 350 d V6. It is a super engine, producing 258PS, and gives the double cab pickup a fittingly rich and premium feel. Trouble is, list prices reflect this, so while it's the most desirable version, it's not necessarily the best for real-world pickup buyers.
This is where the 190PS four-cylinder diesel comes in. No, it's not as smooth, but it's punchy enough in its own right, and costs a lot less. It also delivers better fuel economy, so will be cheaper to run – important when your working vehicle is being put through the small business accounts.
There are three trim grades, but Pure is just a bit too basic. It doesn't even get painted bumpers or alloys. Best value is Progressive, while Power comes with a lot of fancy extras that look great on your driveway but won't necessarily withstand heavy-duty use on the building site.
What other cars are similar to the Mercedes-Benz X-Class?
The most obvious alternative to the Mercedes-Benz X-Class is the vehicle it's loosely derived from: the Nissan Navara. This machine has built a formidable reputation for toughness over the years, and itself has quite a following.
The Mitsubishi L200 is another popular pickup, as is the Isuzu D-Max. A semi-premium competitor comes in the shape of the Volkswagen Amarok – the German brand even offers its own V6 version – and the Ford Ranger has an expensive, outlandish range-topper called the Raptor, which those with X-Class money might be swayed by.
Then there's the legendary Toyota Hilux, a pickup icon that cannot be ignored. In terms of reliability, ability and reassuring reputation, it's unsurpassed.
Comfort and design
"The X-Class has a very Mercedes-like front end, drawing from the firm's sporty coupe models with its centrally-located three-pointed star and twin-bar grille. The rear end is less adventurous – there's only so much you can do with a pickup tail without compromising practicality – but it still has that all-important badge in the centre."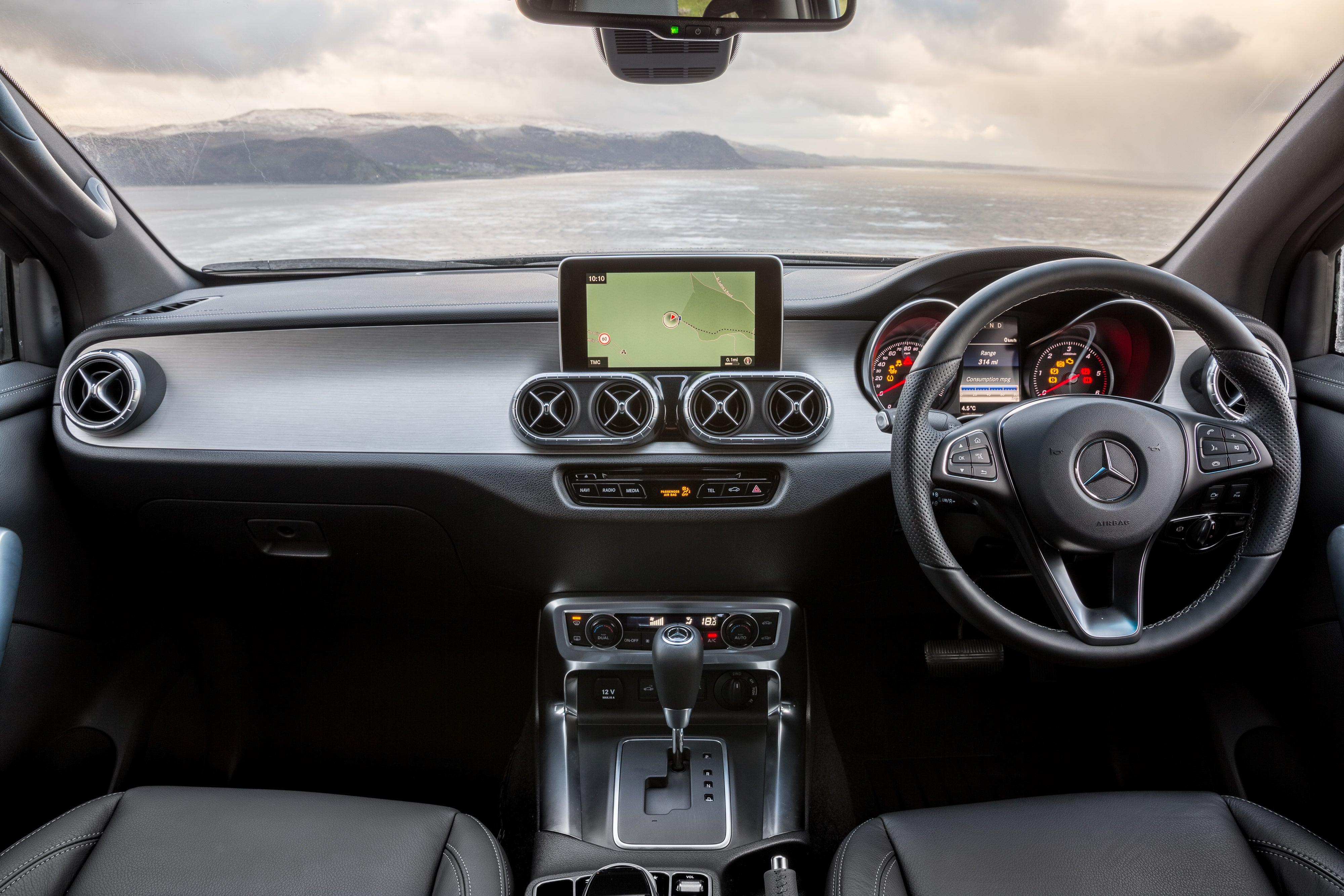 The interior looks authentically Mercedes-Benz as well. It has an immediate wow-factor, with a tasteful, elegant design boasting the firm's trademark jet engine-style metal air vents, instruments set within two deep cowls, and a freestanding infotainment screen in the middle. The stitched dashboard top looks smart and the steering wheel is good to hold.
It's all quite unexpected in a conventional pickup, and its more commercial roots do gradually start to show through. For starters, it's a real step up into there, almost requiring a heave on the steering wheel to help you clamber in. The floor feels unusually shallow (because of the heavy-duty running gear below) and as your eyes fall from the gorgeous Mercedes-Benz top half, you'll start to notice the more Nissan-spec bits and pieces.
Those who love Merc's neat stalk-style auto gearshifter will be appalled by the 1980s-spec lever in the centre of the cabin, for example. And, yes, those switches nearby are also seen on a Nissan Qashqai.
It is comfortable, though. No Mercedes-Benz would be complete without firm, supportive seats. They make the X-Class a great place to spend all day – welcome new for those lucrative last-minute jobs you have on the other side of the country.
Quality and finish
Quality is a tale of two halves. The top half of the dashboard is good, particularly in high-spec form where it gets a lovely stitched covering. It's not quite 'proper' Mercedes-Benz standard, but it's a pretty convincing, workmanlike-take. Some of the materials have a beautiful finish, particularly the modern open-pore wood-style trim. We also like the stock aluminium-look panel, which wouldn't look out of place in a C-Class.
It starts to become less convincing as your eyes move down. That's when you see the Nissan bits. Now, the Nissan Navara is a very robust and well-assembled pickup, guaranteed to offer decades of service straight out the box. But it is not a premium vehicle, and the leftovers in the X-Class highlight this all too starkly.
Lower-down plastics in the cabin are scratchy and hard. The controls lack sophistication. It all looks a bit too much like Mercedes-Benz has, where possible, thrown out a Nissan control and stuck in one of its own buttons, while leaving everything else surrounding it the same.
Unfortunately, it's this sort of stuff that you notice when you live with a machine. The X-Class has loads of showroom appeal, but the impression of quality becomes tarnished the more you live with it.
Infotainment
As standard, the Mercedes-Benz X-Class comes with a 7.0-inch touchscreen. This is quite a nice feature to find within the rather austere-looking Pure variant – you don't expect such sophistication from a machine wearing unpainted black plastic bumpers. It follows the familiar Mercedes-Benz logic via a touchpad controller on the centre console.
Some find the touchpad absolutely infuriating, as it's far from easy to use, particularly when you're bumping along at speed over rough roads. Turning the rotary wheel below is most people's favoured way of interacting with it, simply using the touchpad as a hand rest.
The upgraded system is much more comprehensive. With an 8.4-inch HD screen, the Comand Online system adds 3D sat-nav, life traffic information and all sorts of other goodies. At a price, mind, which is why not all X-Class models have it. A more basic form of sat-nav was included, though, along with DAB and Bluetooth.
Another neat add-on is a 360-degree parking camera beamed through the central screen. For a big vehicle with a deck as long as the X-Class, this is a very useful feature indeed. But it's relatively rare, due to a heady £1,000 option cost when new.
Space and practicality
Pickups are big machines (the X-Class is a whopping 5.3 metres long), but they sometimes don't feel quite so large on the inside. Luckily, the Mercedes-Benz X-Class is able to benefit from the roomy platform it inherits from the Nissan Navara, which generally caters quite well for the driver and their passengers.
The seating position has the usual 'high floor' feel of a pickup, so you feel particularly raised up high. There's lots of legroom and, of course, that tall driving position makes pickup drivers feel like kings of the road. The X-Class is particularly good here, because the seats are so supportive. Disappointingly, though, the steering wheel doesn't have any reach adjustment, ultimately compromising the driving position for many.
In the rear, another old-school pickup grumble was making those in the back feel like second-class citizens. Bench seats were spongy and uncomfortable, and the backrests were much too upright to be remotely comfortable. Again, the X-Class goes against the grain here, with a well-padded bench and nothing like the discomfort of some others. Still, the floor is high, which gives a knees-perched feel, and the big transmission tunnel also eats into space for the middle-seat passenger. It suits four people, not five.
Then there's the rear deck: the reason people buy pickups (well, apart from the VAT element and tax savings). The bed length of the X-Class is almost 1.6 metres long, and the width is not far shy of that, either. Depth is nearly 0.5 metres, and the maximum payload (again, mindful of tax-friendliness) is 1,042kg, breaking the one-tonne mark that allows the X-Class to be classified as a commercial vehicle by HMRC. What does this mean in practice? A standard-sized Euro pallet can be plonked down straight between the wheelarches. All that's left is to wind down your window and take the high-fives all the way out of the builder's yard.
The standard tailgate drops down 90 degrees, but you can order the X-Class without a rear bumper, enabling the tailgate to swing down a full 180 degrees. Mercedes-Benz also fits LED load bay lighting as standard; it's activated by a switch in the centre console.
The X-Class can tow a minimum of 1,650kg, but you really want the muscular V6 turbodiesel. This can haul a full 3.5 tonnes, so will be able to drag almost any form of plant you need to hire – and quickly get to the site before the men have to down-tools.
Handling and ride quality
"Pickups, even Mercedes-Benz pickups, are not SUV imitators in disguise. They are less sophisticated machines, with more rudimentary suspension, and so neither ride nor handle as well as a regular vehicle."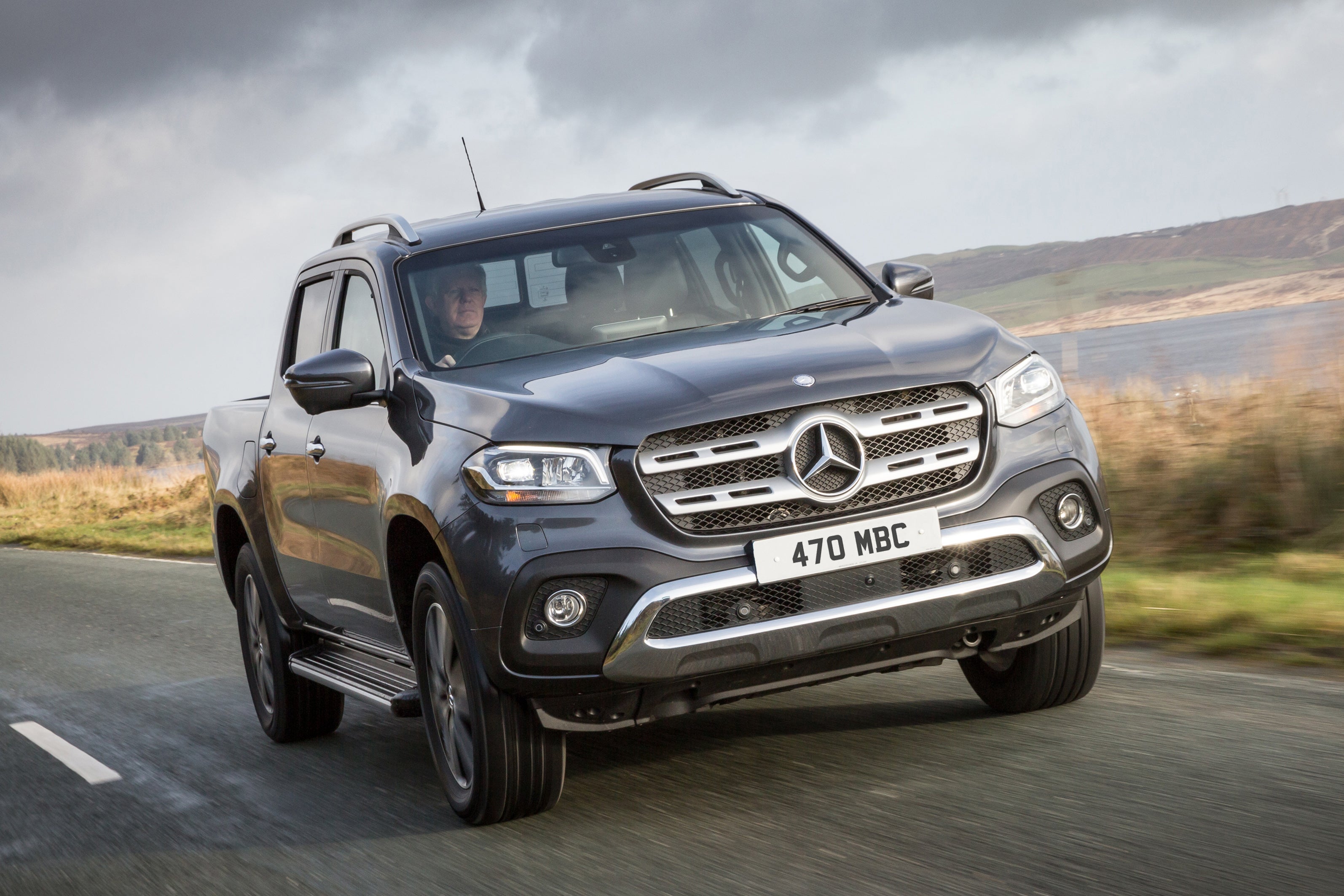 You'll notice this from the lifeless steering, which requires too many turns lock-to-lock and doesn't have the easygoing feel of a car. The X-Class also heaves heavily over twisting, undulating roads, and rolls into corners, as a consequence of its 2.3-tonne weight and relatively unsophisticated suspension.
However, by pickup standards, it's still pretty good. Ride quality has greater sophistication than the comparable Nissan Navara, and handing will remain robust at higher speeds – you won't feel like the vehicle is running away from you, and it's possible to drive the X-Class in a surprisingly lively manner across quite challenging roads. It's not quite as much fun as a Ford Ranger, but it makes a decent fist of things (and is better than a Navara).
You won't really do this if you have heavy loads in the back, of course, but in such circumstances, the truck's ride quality remains generally robust, and the damping doesn't degenerate into crashy harshness. Higher-spec X-Class are a bit jigglier, due to their larger wheels – but they do have more grip, because the tyres are wider.
As standard, the four-cylinder X-Class runs in two-wheel-drive mode, with only the rear wheels driven. Buttons on the dashboard engage all-wheel drive, which gives more traction, but it's not a setting you'll want to use on the open road unless conditions are bad. Hooking up front and rear wheels makes the X-Class feel more lethargic – best reserve it for the muddy building site at the end of the trip.
The V6 X 350 d has a permanent all-wheel drive system called 4Matic, which is much more sophisticated and tenacious. You pay more for it, but you'll feel the benefits out on the road, particularly when conditions get tricky.
Engines and gearboxes
The clattery four-cylinder diesels that form the core X-Class range are the same as those used in the Nissan Navara. Mercedes-Benz has been able to quieten them down a little, but you'll still prefer to surge forward on the wave of turbocharged torque, rather than painfully revving to the redline and leaving your passengers on tenterhooks that something may explode.
The 163PS version isn't really powerful enough. It's a budget option that's OK for urban use, but as soon as you start putting the X-Class to hard, heavy-duty work, you'll want the more powerful 190PS version (and its substantially improved pulling power).
Ths same goes for the gearbox: basic models come with a manual, but this is almost anathema for a Mercedes-Benz. An automatic is essential, even if the shift lever is something of a relic from the past.
By far the nicest option is the 3.0-litre V6 diesel. The X 350 d has 258PS of power, great swathes of torque, and a much more harmonious engine note. It fully delivers the experience promised by the badge on the bonnet. Even the seven-speed automatic is slick and swift. What a pity it carries such a hefty price premium.
Refinement and noise levels
Pickups are not as refined as SUVs, and certainly not as quiet as conventional premium saloons. For the breed, though, the X-Class is pretty good. Noise levels get a bit high at speed due to wind and road roar, but it's better at normal speeds and quite acceptable in town. A surprising aspect of the X-Class is the suspension's ability to dampen down the sound of bumps and thumps from the road – if you have standard-sized wheels, that is. Models with larger alloys (that is, the majority) are less impressive in this respect.
The four-cylinder diesel engines are generally rather gruff, and you won't relish the prospect of revving them hard. The V6 diesel, however, is lovely, and makes a rich rumble that feels decidedly premium SUV-like.
For best refinement, it's advisable to get a load cover for the rear deck. This both improves aerodynamics and reduces the wind noise from the rear end.
Safety equipment
Safety perhaps isn't a major concern for pickup drivers, but it certainly is for Mercedes-Benz. The X-Class was never going to lag in this regard. Unusually, it was tested by Euro NCAP – and scored a maximum five-star rating, which is almost unheard of for a commercially-oriented vehicle.
The safety organisation scored adult occupant protection at 90 percent and child occupant protection at 87 percent. Even pedestrian safety was given an 80 percent score, with 77 percent for safety assist. The X-Class comes as standard with a full suite of airbags including a driver's knee airbag, seatbelt reminders for all five seats and, impressively, autonomous emergency braking that detects (and stops for) pedestrians.
Premium-grade features were available, too – such as a speed assistance system that highlights the speed limit on a particular road and limits your speed if necessary. Lane-keep assist was also available, to warn drivers when they are drifting out of lane. This is a feature normally found in the Mercedes-Benz E-Class, and is a major safety bonus in something that's likely to be used intensively by tired workers.
MPG and fuel costs
"Pickups are heavy and have blunt shapes that are hardly wind-cheating. So even with a diesel engine, the X-Class isn't very fuel-efficient. The 163PS engine averages 37.1mpg, which drops down to 35.7mpg for the 190PS variant. Many of its direct rivals can beat 40mpg, so fuel costs will be higher for the X-Class."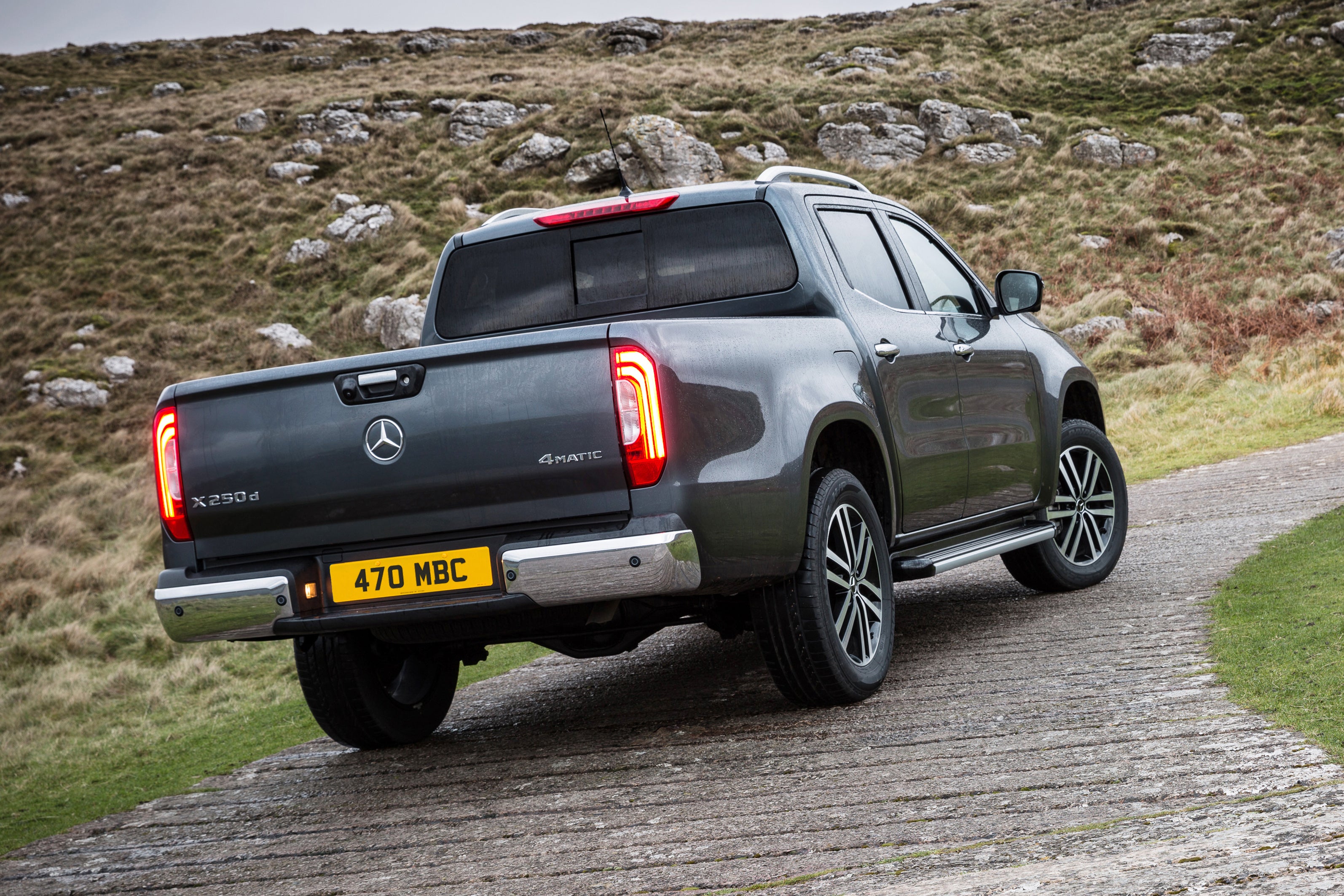 The V6 X 350 d takes things down a further notch. It averages 33.6mpg, or barely 30mpg if you're making the most of its heavy-duty payload.
Insurance groups and costs
Insurance costs are surprisingly high, even for the base-spec X 220 d Pure variant with the 163PS diesel engine. This falls into group 34. The X 250 d is group 38, or group 39 for the top-spec Power version.
The V6 is even pricier, with an insurance rating into the 40s. This will have a knock-on effect for overall running costs.
VED car tax
The X-Class was launched in 2017, so it benefits from the flat-rate £150 a year VED (road tax) rate. Be careful with the V6, though, because expensive list prices when new mean it may still be eligible for the £475 a year 'expensive car' premium in years two to six.
There are other tax benefits for choosing a pickup, such as flat-rate benefit-in-kind company car tax, reclaimable VAT for VAT-registered benefits and other money-saving deals that make the Mercedes-Benz of pickups a particularly appealing proposition.
How much should you be paying for a used Mercedes-Benz X-Class?
"Prices for the X-Class will be advertised ex-VAT, as it is a commercial vehicle. They start from around £20,000 for 2018 Pure variants, while more appealing Progressive models cost from £23,000. Some have covered surprisingly high mileages, too – upwards of 50,000."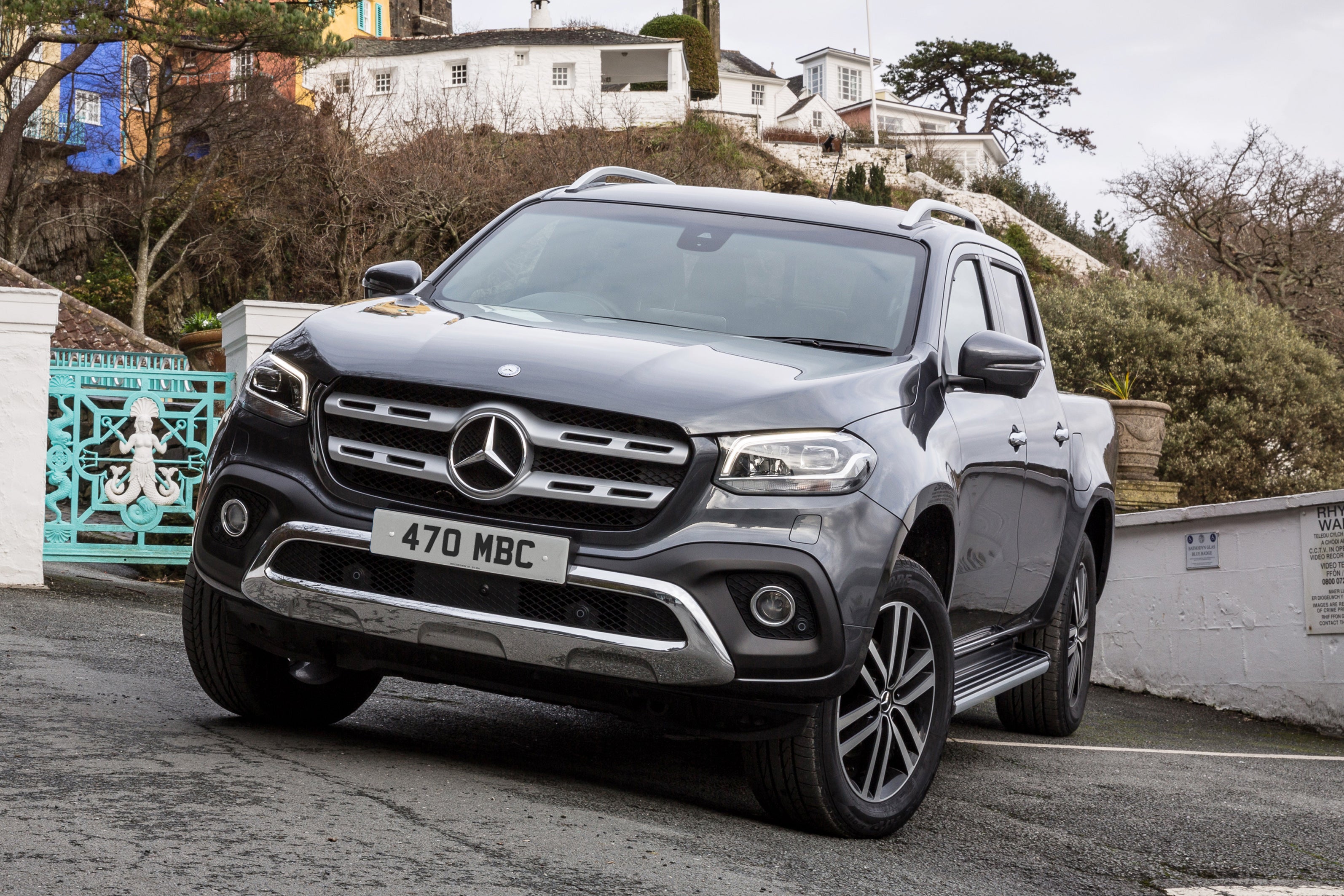 Core territory for a second-hand X-Class, including the most appealing Power versions, starts from £27,500. You'll be lucky to find a 350 d V6 for less than £30,000, and you'll ideally need to up your budget to £35,000. That's still excluding VAT, remember.
Trim levels and standard equipment
You'll find it easy to spot the base-spec Pure by its black plastic bumpers and rather austere seat upholstery. Steel wheels are standard, too. Seats are manually adjustable, although it does get semi-automatic air conditioning.
We prefer Progressive, which comes with painted bumpers, chrome door handles, silver finish for the radiator grille and heated electric door mirrors. Plus, thank goodness, 17-inch alloys. The black fabric upholstery and aluminium trim are easier on the eye and other luxuries include chrome-look air vents, footwell lighting and an auto-dim rear-view mirror.
Power is the top spec. It has more chrome on the outside, LED headlights, keyless go, folding door mirrors, electric seats with Artico leather, a stitched dashboard top and high-gloss interior trim. Alloy wheels grow to 18 inches, too. All V6 models only came in top-spec Pure trim.
Mercedes-Benz X-Class cars for sale on heycar
3,913
Number of cars available
£27K - £34K
Price bracket of these cars
Colours available on heycar
Keep me updated by email with the latest advice, news and offers from heycar
By submitting, you agree to our
privacy policy
.