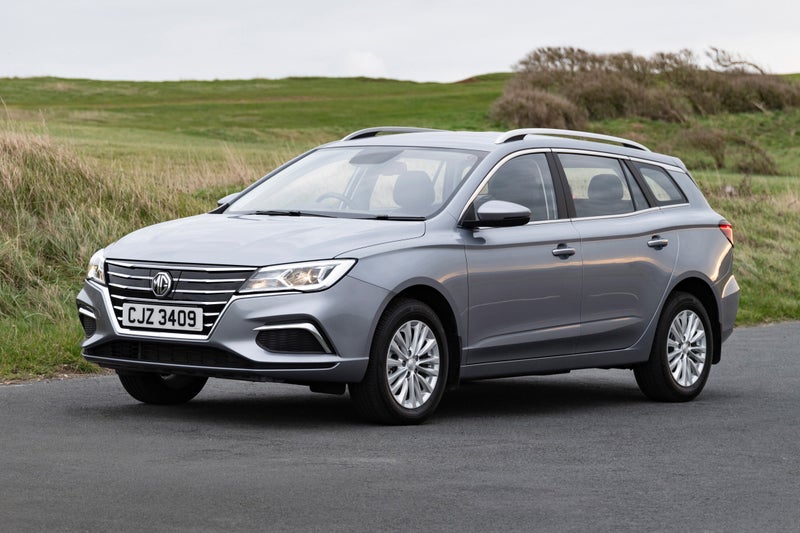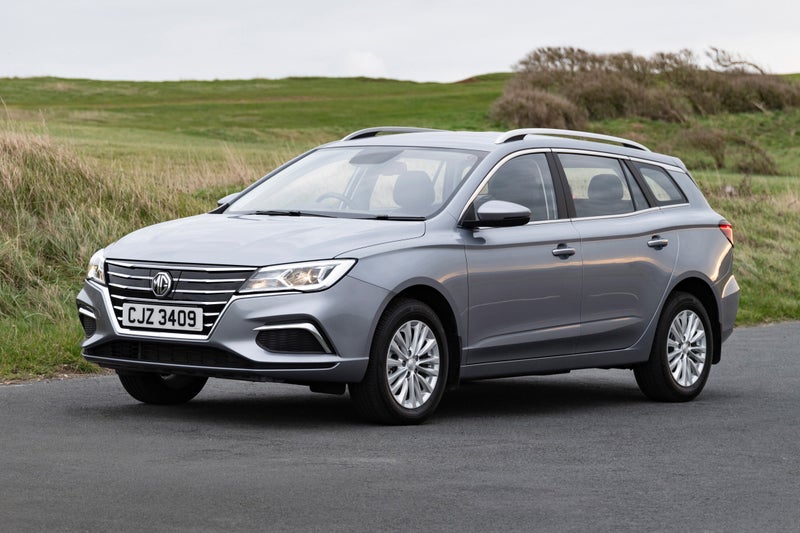 1/10
heycar rating
"Electric estate is surprisingly affordable"
Quick overview
Pros
A genuinely affordable and practical electric car
Electric range of up to 250 miles
Comfortable ride quality
Cons
Driver assistance tech not available on standard MG 5 EV
Don't expect to be surprised by the plushness of the interior
It looks a bit bland...
Overall verdict
On the inside
Driving
Cost to run
Prices and Specs
Common questions
Overall verdict on the MG 5 EV
"As you'll find out in this MG 5 EV review, the MG is an electric estate car with a big boot, long warranty and affordable price tag. There's nothing else quite like it on the market – it's priced about the same as a Fiat 500 Electric, yet it's practical enough to be your main family transport, while its 250-mile range ought to be enough to make buyers think twice about petrol alternatives."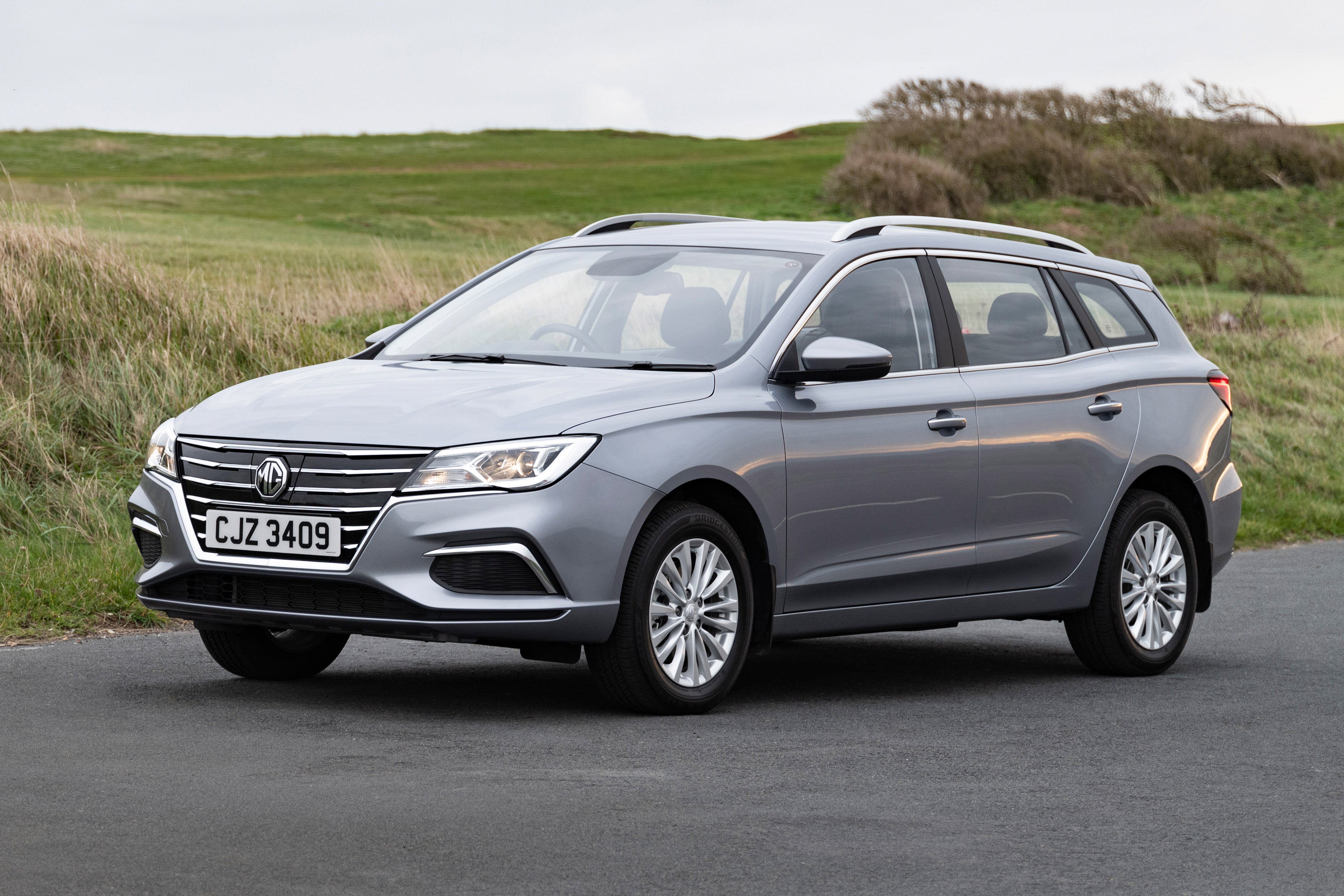 If you're thinking about making your first step into electric motoring, the MG 5 EV represents few compromises. It's cheaper than the hybrid Toyota Corolla Touring Sports, and it'll cost significantly less to run than a petrol Skoda Octavia Estate. It's better than the electric Nissan Leaf in almost every conceivable way, while you get more for your money than a Volkswagen ID.3. Arguably, the closest competition comes from the MG ZS EV – an equally affordable electric car, albeit one wrapped up in an oh-so-desirable small SUV body.
It's essentially a rebadged Roewe Ei5 – a Chinese electric estate car, sold in the UK as an MG through the budget brand's rapidly expanding dealer network. Any doubt you have in your mind about the MG 5's longevity should be laid to rest by the manufacturer's seven-year warranty, while its claim to be the UK's fourth biggest seller of electric cars means it's serious about the EV market.
There are just two trim levels to choose from (Excite and Exclusive), while buyers get a choice of two different battery sizes: 52kWh or 61kWh. Only the smaller battery was initially offered, which explains why it dominates the used market, but we reckon the bigger battery's the one to go for. This can officially cover 250 miles between charges, while the smaller battery can manage a still respectable 214 miles.
It's easy to drive, with the usual instant acceleration we've come to expect from electric cars. This makes darting around town a boon, while there's enough oomph for building speed on a motorway slip road. There are faster alternatives on the market but the MG 5 EV has more than enough power to fluster the front wheels if you're heavy with the accelerator.
Pacey(ish) acceleration aside, there's not much sporty about the MG 5 EV. It actually puts the emphasis on comfort, with surprisingly compliant suspension (helped by the standard-fit 16-inch wheels and chunky tyres). That means it'll wallow about a bit during cornering and the steering feels a bit on the light side, but it's a small price to pay for a car that rides better than some much more expensive alternatives.
The interior is spacious and feels well made, although it's not quite as flashy as something like a Hyundai Ioniq 5. But that's much more expensive. We'd recommend looking for a top-spec Exclusive model for things like faux-leather seats (heated in the front), keyless entry and navigation. Talking of which, the eight-inch touchscreen media system (with Apple CarPlay/Android Auto) looks smart and is easy to use even if, like the rest of the car, it's without fanfare.
In terms of value for money, we don't think there's another electric car that comes close. A new MG 5 EV could be yours from as little as £25,095 (after the plug-in car grant), while the range tops out at £28,995. There are some real bargains about on the nearly-new market, though – a little more than £20,000 will bag you a pre-reg model with delivery miles on the clock. Who says electric cars are expensive?
What's the best MG 5 EV model/engine to choose?
The price difference between the smaller and the bigger battery is so minimal that we'd recommend splashing the cash on the 61kWh version. Equally, we'd look for a top-spec Exclusive model – it's worth it for the faux-leather trim and heated seats.
What other cars are similar to the MG 5 EV?
Comfort and design: MG 5 EV interior
"Just like the MG 5 EV's exterior, the cabin is functional rather than fancy. It all looks a bit 1990s, with a generic dashboard and a digital infotainment screen plonked frustratingly out of the driver's eyeline."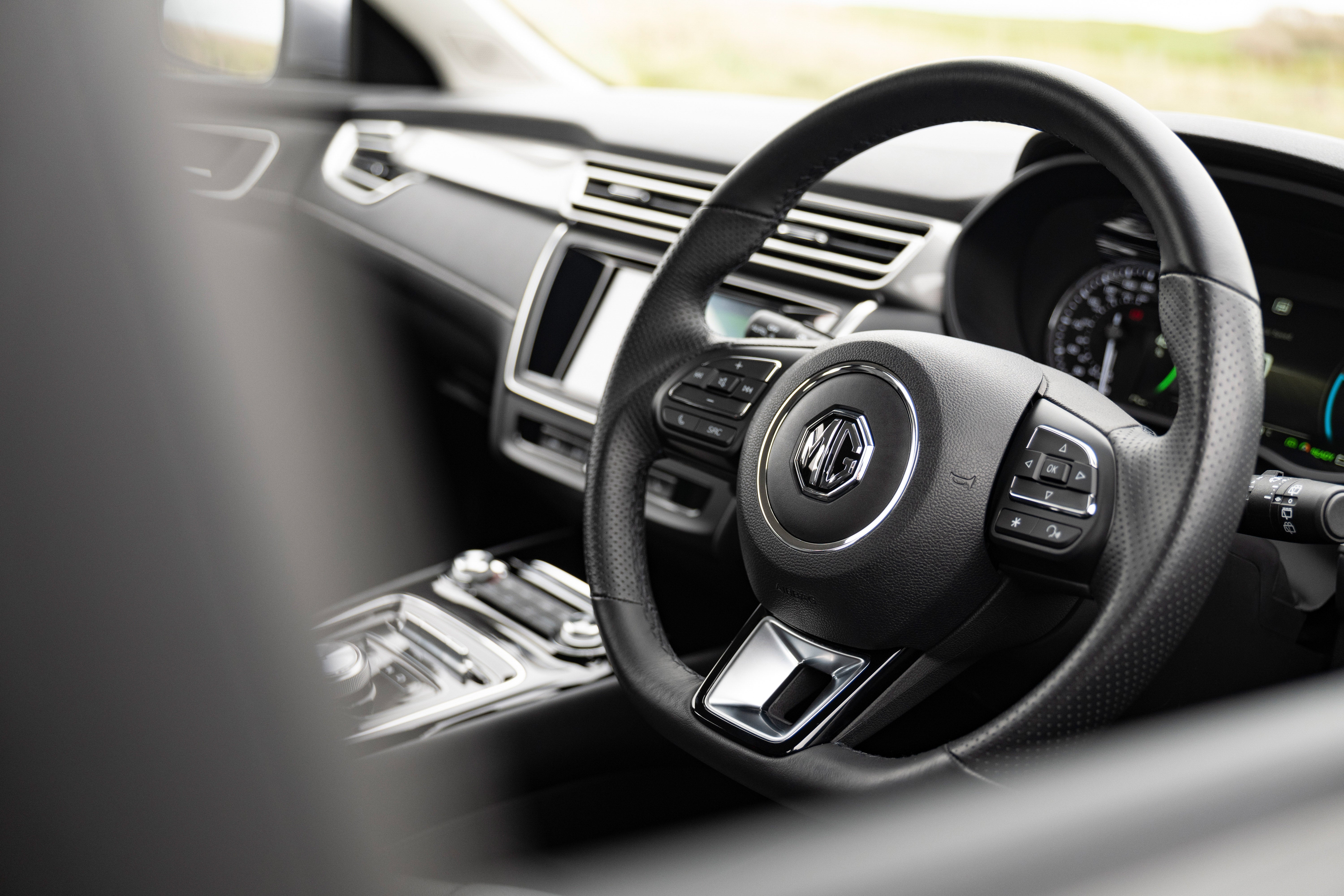 There are a few features that'll stand out if you're used to conventional petrol cars, though. There's obviously no gear stick – instead, there's a rotary controller that allows you to select drive. And there are some toggle switches that let you flick between drive modes or ramp up the regenerative braking (this is labelled 'KERS' – or kinetic energy recovery system).
You won't find a fancy digital display behind the steering wheel. Instead, there are old-fashioned analogue dials and a simple TFT screen providing information like your current speed and how much power is left in the battery.
There are just two trim levels available in the MG 5 EV – Excite and Exclusive. You'll need the top-spec Exclusive for some of the more desirable interior features – it adds things like leather-style upholstery, heated front seats and electric seat adjustment for the driver.
Quality and finish
You'll have to manage your expectations a bit, here. You get what you pay for, to an extent, and the top-spec Exclusive model (with its faux-leather trim) is plusher than entry-level models.
There are a few clunky feeling buttons and flimsy finishes here and there, but the MG 5 EV's interior feels respectable for a car of this price. Indeed, we'd say it's better than the Nissan Leaf's – although it doesn't feel like it'll age quite as well as the Toyota Corolla Touring Sports'.
Infotainment: Touchscreen, USB, nav and stereo in the MG 5 EV
There's an eight-inch touchscreen media system which is fitted across the range. Navigation is standard on Exclusive models but we'd recommend using your phone instead – Apple CarPlay and Android Auto provide easy access to apps on your phone.
Don't expect slick graphics or particularly rapid responses, but it works well enough. There are some physical shortcut buttons, too, as well as an actual volume control. Refreshingly, there are buttons for the climate control system, too – none of this 'buried in the infotainment' nonsense.
Space and practicality: MG 5 EV boot space
The MG 5 EV is in a different league in terms of interior space when compared like-for-like with similarly priced electric cars. You could easily use it as your main family car, the MG 5 EV boot space is enough for weekend camping trips (and you get roof rails on Exclusive models should you need a bit more space). It's not quite as versatile as the hybrid Toyota Corolla Touring Sports, while the petrol (or diesel) Skoda Octavia Estate trumps it for overall luggage capacity, but it's impressive nonetheless.
A pair of adults will fit comfortably in the rear seats (we reckon the MG 5 EV could be a hit with taxi drivers), while a flat floor mean passengers won't be tussling for foot space if you do squeeze three in the back. There's loads of room in the front, making it easy to find a suitable driving position. And big door bins and generous cup holders will make lift easier.
MG 5 EV has dimensions of 4544mm long, 1818mm wide and 1509mm tall.
Handling and ride quality: What is the MG 5 EV like to drive?
"The MG 5 EV drives like a car from an era before we became obsessed with big alloy wheels and overly firm suspension. That's bad news for wannabe Lewis Hamiltons but, for the rest of us, it's surprisingly comfortable and compliant."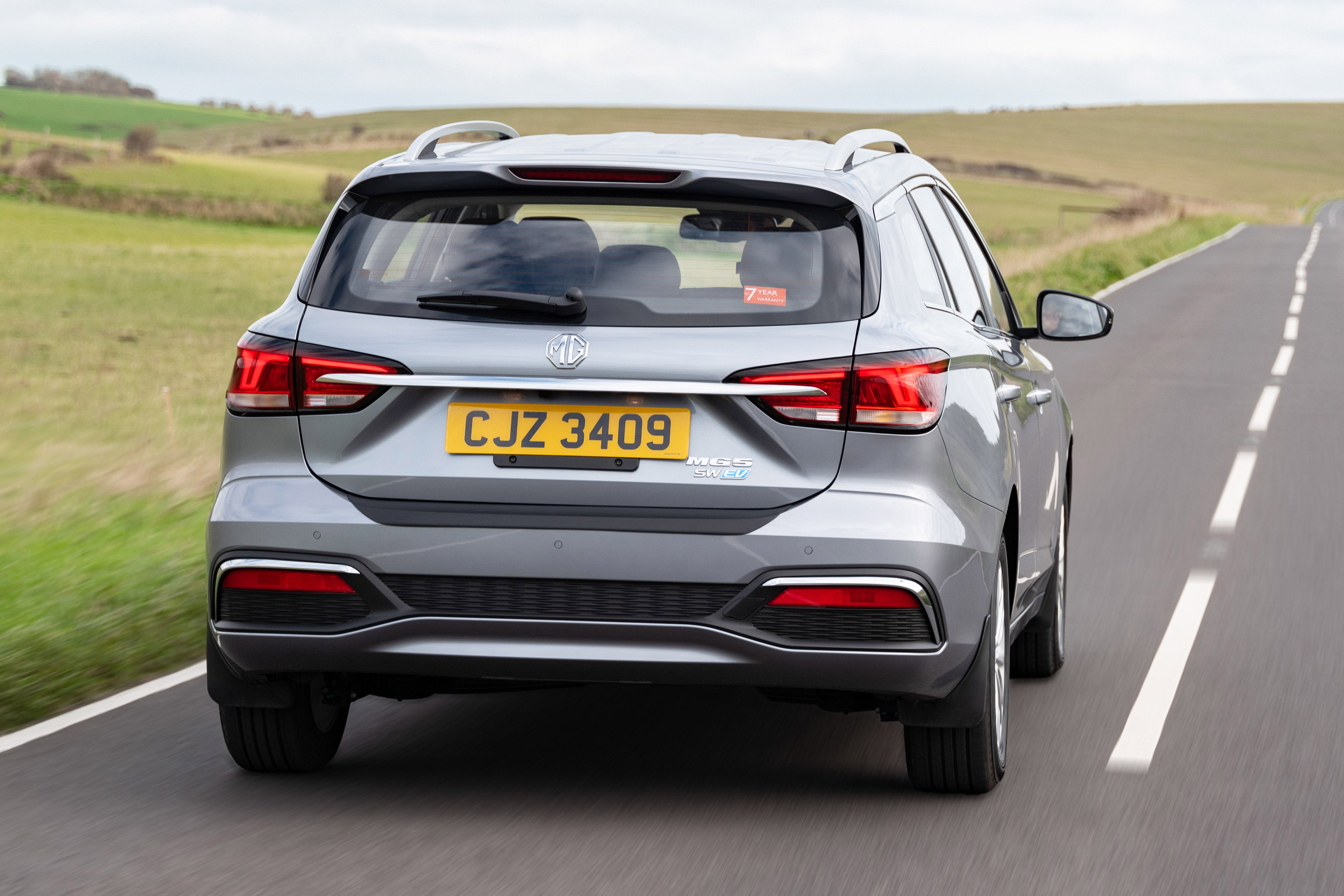 It'll lollop over broken road surfaces much more gracefully than a Nissan Leaf, helped by the 16-inch alloy wheels and chunky tyres which are standard across the range. Sure, you're always going to be aware that it's a heavy electric vehicle, but it's far from crashy.
Chuck it into a bend and the light steering and roly-poly body control won't inspire confidence, but there's a reasonable amount of grip. It's easy to drive, too, helped by decent visibility and standard-fit rear parking sensors.
What engines and gearboxes are available in the MG 5 EV?
Although there are two battery sizes available, all MG 5 EV models are powered by the same 115kW electric motor. That equates to around 156PS, which is enough to accelerate the estate car to 62mph in 7.7 seconds. Rapid enough for a family vehicle, but it's not going to beat a Tesla away from the traffic lights.
There's enough power to require the traction control light to flicker if you're heavy footed, though, and it's rapid enough to filter in and out of traffic when driving around town. As usual, power tails off at higher speeds, but it's not going to leave you out for cold on a motorway slip road.
Maximum EV range in the MG 5 EV
The MG 5 EV is available with two different battery sizes: 52kWh or 61kWh. The smaller battery can officially travel up to 214 miles between charges, while the longer-range version is good for up to 250 miles.
Refinement and noise levels
Without a conventional engine, the MG 5 EV is very refined – whether you're pottering around town or eating up motorway miles. You'll notice a bit of tyre noise but nothing too disconcerting, while there's less wind noise than the MG ZS EV.
Refreshingly, we didn't notice any creaks or clonks from the MG ZS EV. We've driven much pricier electric cars that have failed in this regard when they haven't had a combustion engine masking any untoward noises.
Safety equipment: How safe is the MG 5 EV?
An array of driver-assist technology forms part of the MG Pilot pack. Disappointingly, this isn't offered on the standard MG 5 EV, but it is provided on both versions of the Long Range model. Features include adaptive cruise control, autonomous emergency braking and lane-keep assist.
The MG 5 EV is yet to be crash tested by Euro NCAP.
Charging times: How much does it cost to charge the MG 5 EV?
"If you're planning to use the MG 5 EV for longer trips, a 50kW charger (like you'll find at motorway service stations) will add 80% range in around 50 minutes for the standard car or a little over an hour for the long-range model."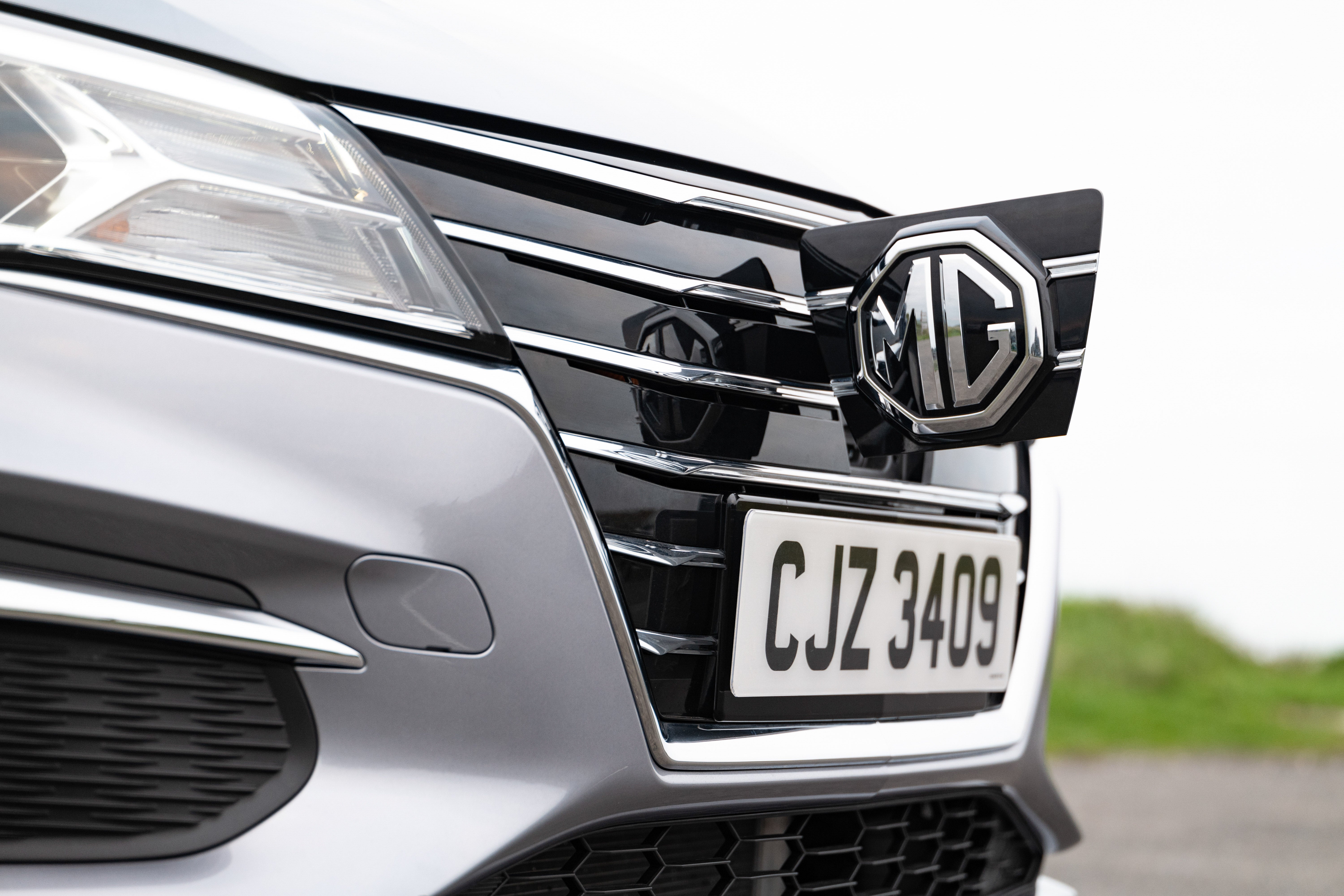 Charging at home using a typical 7kW home wallbox will take about 8.5 hours for the 52kWh MG 5 or 9.5 hours for the 61kWh version – perfect for topping up overnight. Depending on your electricity tariff, a full charge will cost you somewhere between £7 and £9. That's a lot cheaper than petrol.
How reliable is the MG 5 EV?
MG came 16th out of 34 manufacturers in our sister website, Honest John's, owner satisfaction survey, which doesn't sound amazing, but does mean it finished ahead of the likes of Ford, Volkswagen and Vauxhall. As an electric car with fewer moving parts, the MG 5 EV should be more reliable than a petrol or diesel competitor and it'll be easier on its brake discs and pads thanks to its regenerative brakes. The MG5 EV comes with a seven-year/80,000-mile warranty, which covers the motive battery's capacity to 70 per cent.
Insurance groups and costs
Oddly, the MG 5 EV with the bigger 61kWh battery is in a lower insurance group than the smaller 52kWh version. That means it should be cheaper to insure but, as always, we'd recommend shopping around for insurance quotes before handing over any money. Electric cars are often more expensive to insure than petrol or diesel alternatives – bear this in mind, particularly if you're a young driver. You can also take a look at our guide to the cheapest electric cars to insure.
VED car tax: What is the annual road tax on an MG 5 EV?
You won't pay a penny in car tax (also known as VED) for the MG 5 EV as it's a pure-electric car, so it's exempt.
How much should you be paying for a used MG 5 EV?
"With nearly-new prices starting from as little as £20,000, the MG 5 EV represents remarkable value for money. Here's an electric estate car you can buy for around the same price as a petrol hatchback like the Ford Fiesta."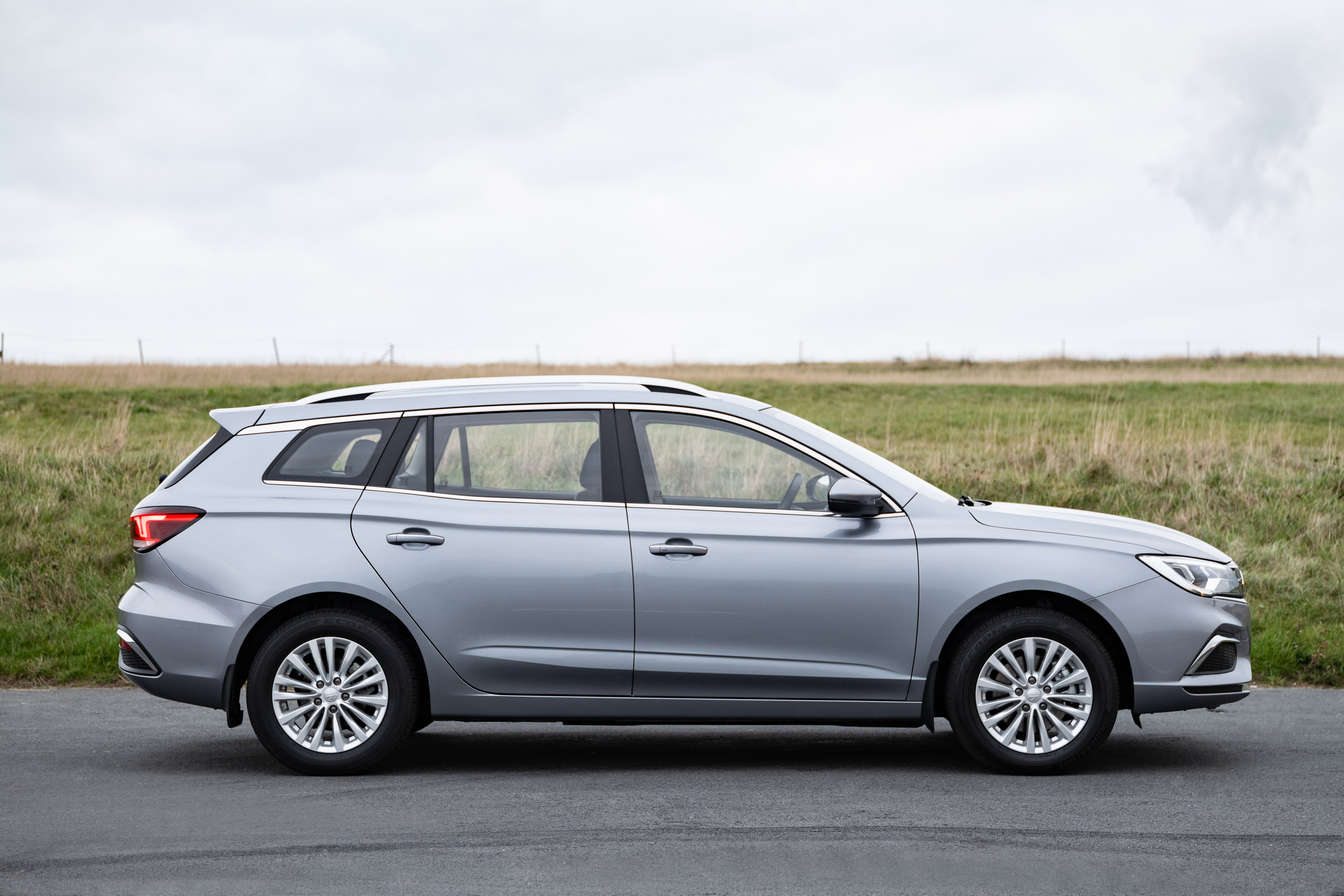 All MG 5 EVs qualify for the government's plug-in car grant, meaning you'll save £2500 off the price of a new one. That means an entry-level MG 5 EV Excite is yours for £25,095, while the list price of a top-spec Exclusive is £27,595.
The bigger battery model is marginally more expensive, with the Excite trim priced from £26,495. A Long Range Exclusive will cost you £28,995.
Trim levels and standard equipment
The MG 5 EV is available in two trim levels: Excite and Exclusive. Standard equipment on the entry-level Excite includes an eight-inch touchscreen media system (with Apple CarPlay/Android Auto and DAB radio), a rear parking camera and cruise control. Air conditioning is standard, as well as fabric seats and a leather steering wheel. Electric windows are standard in the front and rear, while there's a 12v power socket and four USB ports.
The top-spec Exclusive adds smart keyless entry (with push button engine start), navigation and leather-like seat coverings. Heated front seats are standard, with six-way electric adjustment for the driver (as well as adjustable lumbar support). You'll find rain-sensing wipers as standard, as well as an auto-dimming rear-view mirror and silver roof rails.
Ask the heycar experts:
common questions
Is the MG 5 EV a good electric car?
We rate the MG 5 EV highly. It's more spacious than other electric cars for the same money, although it perhaps isn't as stylish as something like a Peugeot e-208. It's comfortable and easy to drive, and you get a lot of equipment for your cash. MG's seven-year warranty is excellent, too.

Where is the MG 5 EV made?
The MG 5 EV is made at SAIC Motor's Zhengzhou Plant in China. Previously, MG models were assembled at the firm's UK facility in Longbridge, Birmingham.

What is the range of the MG 5 EV?
The electric MG 5 EV is available with two battery sizes. The smaller 52.5kW battery pack provides an official range of 214 miles, while the bigger 61.1kWh unit can cover 250 miles between charges.

MG MG5 cars for sale on heycar
422
Number of cars available
£25K - £39K
Price bracket of these cars
Colours available on heycar
Keep me updated by email with the latest advice, news and offers from heycar
By submitting, you agree to our
privacy policy
.