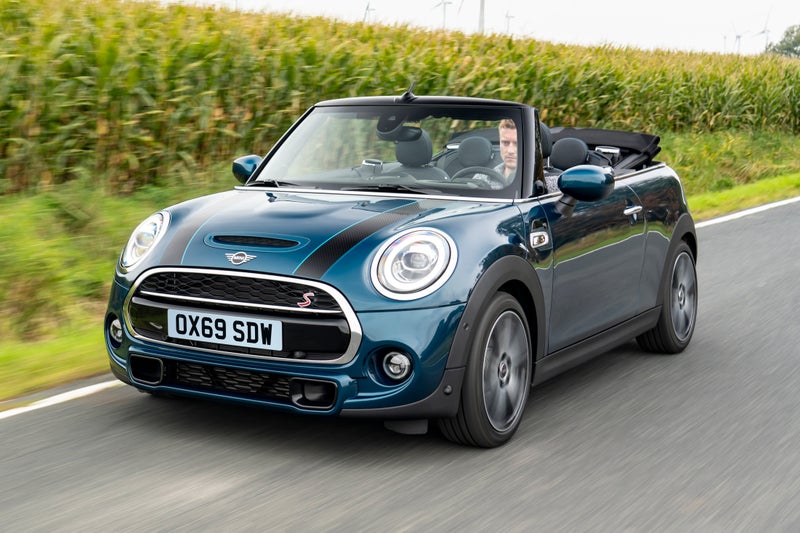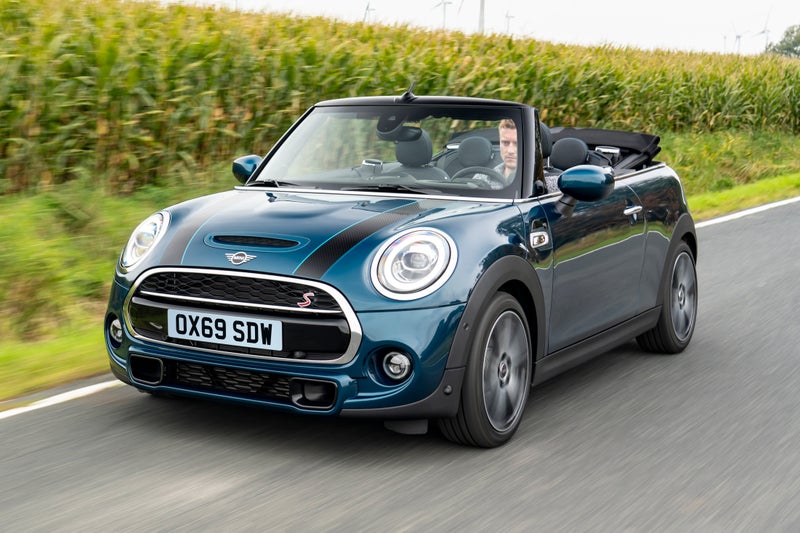 1/9
Launched: 2016

Convertible

Petrol, Diesel
Quick overview
Pros
Great fun to drive, regardless of the engine/trim
Excellent electric roof
Relatively practical, with space for four
Cons
Gets expensive with a few choice options
Harsh ride, especially on the John Cooper Works
Small boot, so you have to pack light
Overall verdict
On the inside
Driving
Cost to run
Prices and Specs
Overall verdict
"There will be many occasions when you'll be overjoyed you chose the MINI Convertible over the regular tin-top version. Crucially, there will be few, if any, occasions when you regret the decision. It's good with the roof up and great with the roof down, with space for four and an image that's a match for cars costing twice as much."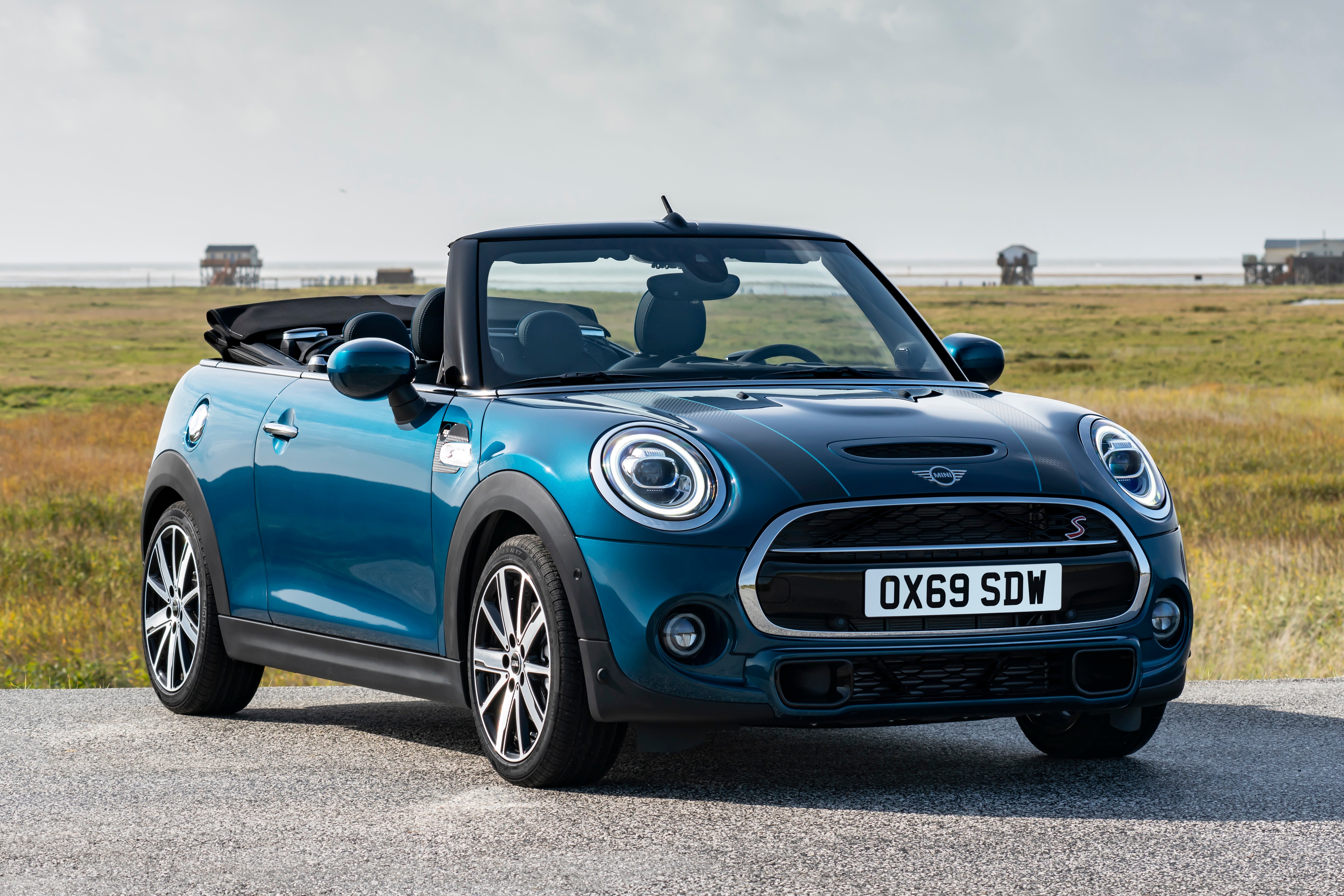 The MINI Convertible is a classic case of 'less is more'. In return for less metal on the roof, you get access to the fresh air, which elevates the MINI ownership experience to another level.
Normally, when you remove the roof on a car designed to be a tin-top, you're left with a driving experience best described by words like 'flexible' and 'blancmange'. Not so in the MINI Convertible, which feels every bit as fun to drive as its regular sibling and is one of the best convertible cars going.
In fact, because you can lower the roof, the MINI Convertible offers something the MINI Hatch can't deliver. No, not just a messed-up hairdo and a few grumbles from anyone travelling in the back.
The diesel was recently deleted from the range, so you're left with a choice of two petrol engines: a 1.5-litre three-cylinder in the Cooper and a 2.0-litre four-cylinder in the Cooper S. The latter is also available with more power in the hardcore John Cooper Works edition.
There are also three trim levels: Classic, Sport and Exclusive. However, that's where the refreshing simplicity ends, because there's a myriad of options and accessories to choose from, meaning few MINI Convertibles will leave the showroom in standard trim.
This could be a mistake, because the MINI Convertible is arguably at its best in basic Cooper Classic form. The three-cylinder engine is characterful and punchy, while Classic trim is the ideal starting point before you lose yourself in the maze of option packs, colours, wheels and goodness knows what else MINI can find to sell you.
Today, you can even personalise your MINI using 3D printing and laser lettering. We'd say the only limit is your imagination, but having seen what footballers do to their Bentleys and Range Rovers, we'd rather people stopped somewhere before that.
It's not the cheapest new car you can buy – you'll pay a premium over the standard MINI Hatch, for a start. However, rivals are few and far between, and we can't think of many cars that offer this much glamour at this end of the market.
There are one or two drawbacks. Despite what MINI claims, the rear seats are best reserved for children and small adults, and there's very little boot space when the roof is folded down.
We'd also point to the harsh ride, which is especially noticeable on the Sport and John Cooper Works models. Our advice would be to opt for the smaller wheels and save the money you would have spent on back pain treatments.
If you can live with these minor niggles, you'll enjoy one of the most desirable and image-enhancing small cars on the planet. Good luck trawling through the options list…
Is the MINI Convertible right for you?
Of course the MINI Convertible is right for you. The fact that you're reading this review suggests that you quite fancy a topless MINI, and nothing we say will change your mind. You're here for reassurance and little else.
Well, be reassured: there are no nasty secrets hiding in the MINI Convertible's closet. Its best friend won't text you to reveal some sordid details of what it did last summer. Go forth and enjoy a long and fruitful relationship – this one's a keeper.
Sure, you'll have to make one or two sacrifices, but the MINI Convertible will have to put up with you leaving the cap off the toothpaste and spending too long on Instagram. In other words, nobody's perfect.
Just remember, a MINI Convertible is for life, not just for a summer romance, although you're free to play the field once the finance contract is settled.
What's the best MINI Convertible model/engine to choose?
Forget the model and engine for a moment, because in true MINI fashion, it's all about the options and accessories. Two-thirds of the MINI Convertible brochure is pages on the various personalisation options open to you. You'll be like a kid in a sweet shop when greeted with the tasty (and expensive) treats on offer.
The core range is refreshingly simple: Cooper, Cooper S and John Cooper Works. After that, it comes down to the choice of trim: Classic, Sport and Exclusive.
The 'basic' Cooper Classic could be all the MINI Convertible you need. The 1.5-litre three-cylinder has a characterful note that seems in-tune with the fun-loving nature of the car. Add a few choice options and you could create your perfect match.
For some racier fun, the 2.0-litre engine in the Cooper S delivers quite a punch, while the John Cooper Works is for fans of hardcore action. Our advice: keep it simple.
What other cars are similar to the MINI Convertible?
'It remains the only premium soft-top four-seater convertible in the small car segment.' That was MINI's claim at the Convertible's launch in 2016. While it's true that you can claim the 'only' of anything if you add enough words to the sentence, MINI might have a point.
Rivals are few and far between. The Fiat 500C competes in terms of image, but will disappoint when the top comes off. It's a similar story with the discontinued DS 3 Cabrio – another car that effectively has a giant sunroof. If you're not prepared to go the whole way, are you even a convertible?
Beyond that, you're looking at convertibles with an Audi, BMW or Mercedes-Benz badge on the front. You'll pay significantly more for the privilege of owning these premium players. The other obvious rival is the excellent Mazda MX-5.
Comfort and design
"Research suggests that you'll form an impression of someone within seven seconds of meeting them. Which is roughly the time it will take for you to fall in love with the interior of the MINI Convertible."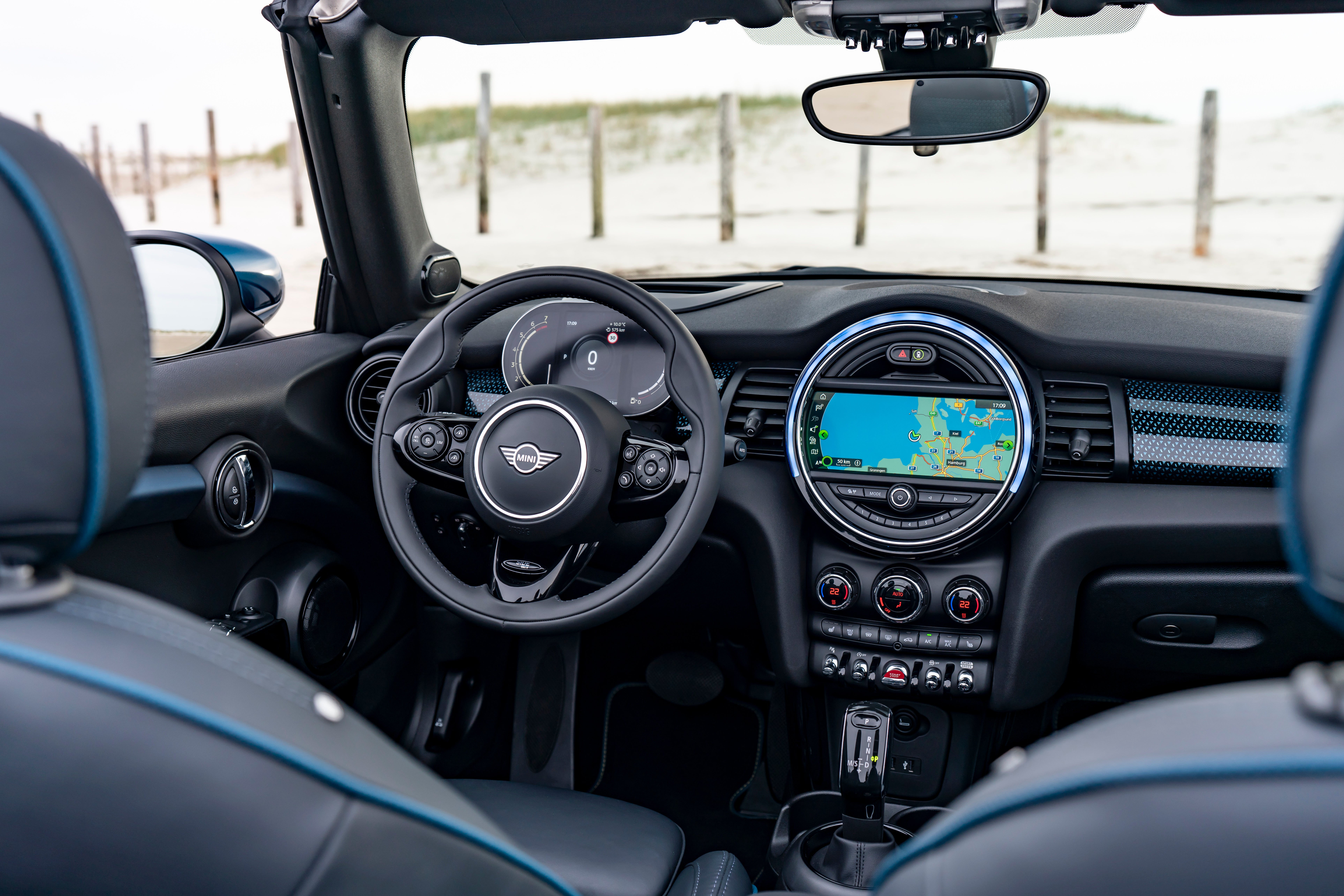 The circular centre display dominates the dashboard and houses the widescreen infotainment system. Over three generations, MINI has evolved the cabin and dashboard to where it is today.
It's not perfect. There's a mismatch of different shapes and buttons, which creates a cluttered and busy effect. Take the centre console, which features circular controls for the climate control, a row of standard buttons, plus a line of rocker-style switches. There are also circular vents either side of the dashboard, with plain items in the centre.
MINI could learn a few lessons from Audi in this respect, with the TT Roadster delivering a masterclass in fit, finish and ergonomics.
We don't think you'll mind too much. The design of the MINI interior is part of the car's appeal and there are countless ways you can make it your own. Today, this even extends to 3D printing and laser lettering, so you can, quite literally, put your name on the car. It's like having the name of a loved one tattooed on your arm, but don't worry, the personalisation can be removed when the love affair comes to an end. If only it were so simple to remove that tattoo you had after drinking one too many tequilas in Magaluf…
The seats are comfortable, regardless of the trim level, with cloth seats on the Classic trim, leather on the Exclusive and sport seats on the Sport and John Cooper Works.
Quality and finish
The MINI Convertible commands a premium price, so it's no surprise to discover that quality is top-notch. It feels special right out of the box, with the 'naked' Cooper Classic feeling good, even before it has been preened, pampered and glammed up.
Since the 2018 update, all versions boast LED headlights and LED rear lights, along with a multi-function steering wheel, interior lights pack, illuminated door handles and manual air conditioning, plus artificial leather gearshift lever and handbrake gaiters. Moving up from the Classic trim adds leather for the seats and steering wheel, for that extra touch of class.
All models share the same insulated fabric roof, which opens in 18 seconds at speeds of up to 19mph. You can even opt for a Union Jack finish, if you want to fly the British flag. MINI might be a German company, but the Convertible is built in Oxford.
Splashing the cash on some optional extras will enhance the perceived quality. For example, a Comfort pack adds automatic air conditioning, heated seats, floor mats, a centre armrest and passenger seat height adjustment. It's a costly upgrade, but you might consider it to be a must-have.
Infotainment
Since its launch in 2016, all versions of the MINI Convertible have featured a 6.5-inch infotainment screen as standard. Some other versions of the MINI had to wait until 2018 for this to be a standard feature.
The widescreen looks a little odd in the circular unit, but this minor nitpicking is as far as our complaints go, because the display is clear and crisp. Alternatively, you can upgrade to the 8.8-inch display that forms part of the Navigation Plus pack. It features an upgraded satellite navigation system and a host of additional features.
Navigation Plus is a costly upgrade – you may sensed a theme developing here – so for around half the price, the standard Navigation pack offers Apple CarPlay, a 'Visual Boost' radio and the MINI Connected smartphone connectivity.
The central screen can also be used as a rear-view camera if you upgrade to the Comfort Plus Pack. Be warned: you're unlikely to drive away from a MINI showroom without ticking at least one option box.
Music fans should consider adding the Harman Kardon premium audio system, which features a digital amplifier and 12 speakers. We're sure your neighbours would love to hear your S Club 7 playlist. Don't stop movin', etc.
Space and practicality
MINI went to great lengths to make the current Convertible more practical than its predecessor, but there's only so much you can do before a MINI becomes a 'Maxi'. Who cares? We suspect practicality is way down on your list of priorities.
You get a 215-litre boot, which is actually four litres more than you'll find in the MINI Hatch. However, with the roof down, you're left with 160 litres, which is barely enough for a couple of soft bags. We'd recommend using the rear seats for additional storage – just make sure there isn't anyone sitting there before you lob a suitcase in the back.
The boot opening is a little on the narrow side, but at least this prepares you for the inevitable sinking feeling when you realise you can't pack for a seven-day holiday. Because the boot lid folds down, you've got somewhere to store your luggage while you scratch your head and consider some Tetris-style packing moves.
With the roof down, visibility out of the back is severely restricted, so parkers of a nervous disposition should consider fitting the rear-view camera. Either that or ask your back seat passengers to help with your onerous manoeuvres in the (car) park.
Your passengers will be grateful for the opportunity to stretch, because while the MINI Convertible is a genuine four-seater, there's not a huge amount of room in the back for adults. It's fine on short journeys, but the back seats are best reserved for children, Kylie Minogue and Danny DeVito.
Minogue and DeVito will have to fight over the single cupholder in the rear, but there are a pair of side pockets and two Isofix points. Good luck trying to convince DeVito to sit in a child seat.
Up front, aside from a pair of cupholders, a couple of compartments and a small glovebox, there isn't much in the way of storage for your odds and ends. We're sure Kylie will be happy to hold on to your smartphone and handbag.
Everything has to be viewed in context – the MINI Convertible is far more spacious than the Fiat 500C and DS 3 Cabrio.
Handling and ride quality
"The highest praise we can give to the MINI Convertible is to say that you're unlikely to notice a discernible difference between the driving experience in this and the regular MINI Hatch. It's that good."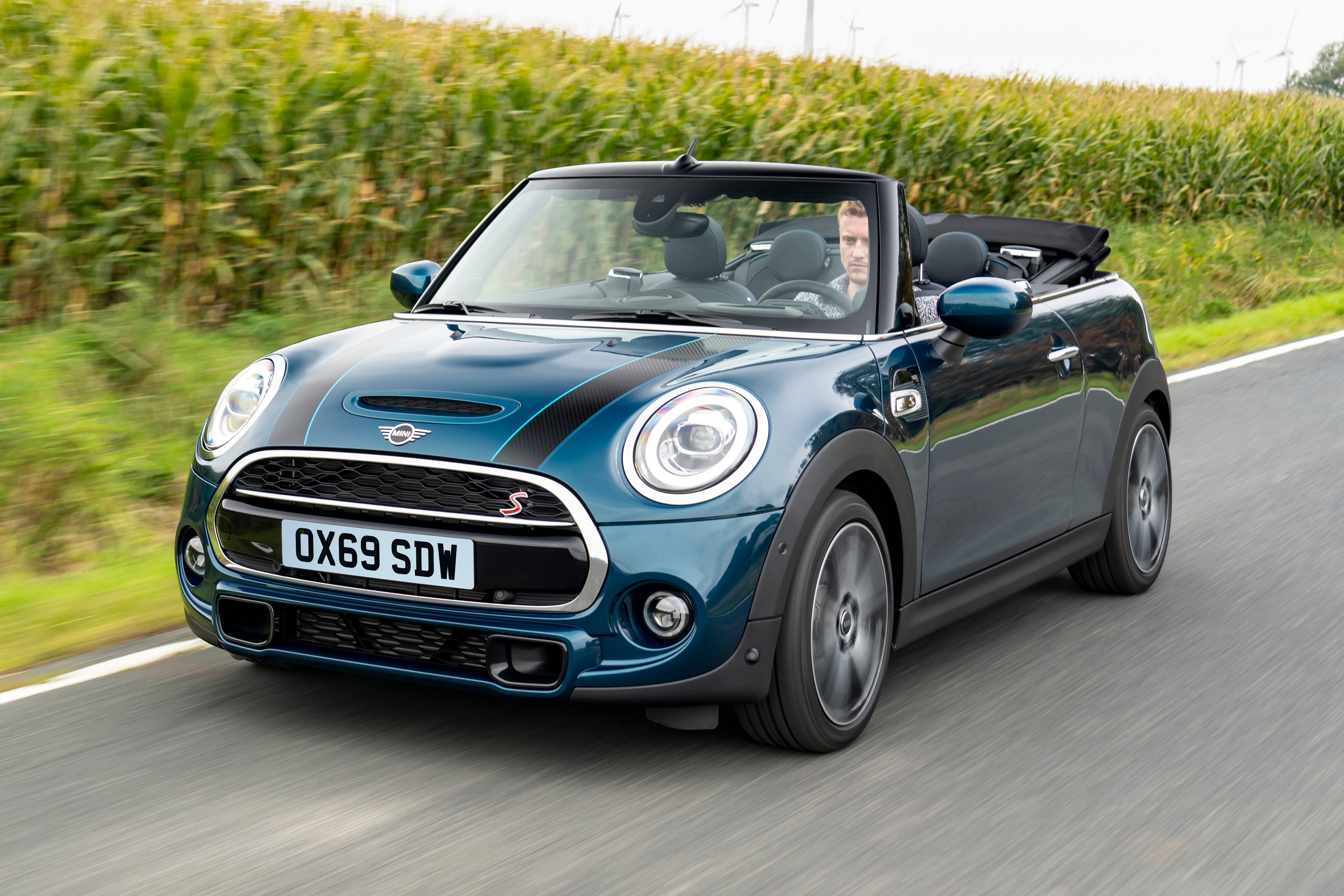 MINI has claimed the clichéd 'go-kart' handling as its own, and it really is the best way to describe the way the Mini Convertible takes corners. We'd like to say that the MINI handles like it's on rails, but that would send the cliché-o-meter into self-destruct mode.
There's loads of grip, a near-absence of body-roll, and steering that's sharp and direct. Everything about the MINI Convertible inspires confidence, even if most drivers are likely to take it easier than they would in the MINI Hatch.
A word of warning: the ride can get a little uncomfortable. The sport suspension, which is standard on the John Cooper Works and optional on the Sport, isn't great on pockmarked surfaces, with shockwaves sent into the cabin. This is made all the worse if you're running on 17-inch alloy wheels.
The ride is far more comfortable on the standard 15-inch wheels on the Cooper and 16-inch rims on the Cooper S. We'd avoid the supersize 18-inch alloy wheels at all costs, unless you have 24/7 access to a masseuse specialising in the lower back region.
The standard seats on the Classic trim offer a reasonable amount of support, but the sport seats on the Cooper S are a worthy upgrade if you intend to 'drive it like you stole it'.
Engines and gearboxes
The Cooper D is no longer available, leaving the MINI Convertible with two petrol engines. The 136PS 1.5-litre three-cylinder in the Cooper is a little gem, offering a characterful engine note, a punchy 220Nm of torque and a decent turn of pace.
It'll sprint to 62mph in 8.8 seconds with a manual gearbox, or 8.7 seconds in the automatic. Top speed is 128mph or 127mph for the manual and automatic respectively.
You might be tempted to upgrade to the 192PS 2.0-litre four-cylinder found in the Cooper S. The 0-62mph dash is polished off in as little as 7.1 seconds, with a top speed of 143mph, regardless of the transmission.
We'd urge caution on this, as we're not sure it warrants the additional expense. The three-cylinder unit seems to suit the characterful and playful nature of the MINI Convertible, although you might miss the pop-popping exhaust in the Cooper S.
The John Cooper Works is the most hardcore of the range, with the 2.0-litre engine tuned to deliver 231PS. A host of mechanical upgrades and aerodynamic enhancements transform the MINI Convertible into a sports car-chasing monster, with the 0-62mph time dropping as low as 6.5 seconds.
A seven-speed dual-clutch transmission replaced the old six-speed automatic 'box at the end of December. It's a brilliant system, offering lightning-quick changes and improved efficiency. However, for all its brilliance, we'd opt for the satisfying six-speed manual gearbox.
Refinement and noise levels
With the roof up, the MINI Convertible feels every bit as refined as the MINI Hatch. You're well insulated from the outside world, with loads of space throughout the cabin. If you intend to use your MINI Convertible in the winter, you won't be pining for the MINI Hatch. This is an all-season and all-weather convertible.
Things are a little different with the roof down. Anyone travelling in the front will have few complaints when travelling at low speeds, but there's a lot of wind noise when driving on the motorway.
Fitting a wind deflector will reduce the buffering at high speeds, but you'll be unable to carry any rear-seat passengers when this is fitted. The deflector comes as part of an optional Convertible Pack, which also includes an 'Always Open Timer'. This tells how long you've been driving with the roof down. 'Because MINI'…
Things are more uncomfortable in the back, with a fair amount of buffeting and wind noise, even at lower speeds. Still, at least you can't hear Danny and Kylie arguing over who can put their can of Fanta into the solitary cupholder.
Safety equipment
The MINI Hatch was crash-tested in 2014 when it was awarded a four-star safety rating. The Euro NCAP scores were 79% for adult occupant protection, 73% for child occupant protection, 66% for pedestrian safety and 56% for safety assist systems.
Although the MINI Convertible hasn't been tested by Euro NCAP, there's every reason to believe that it would achieve a similar rating to the regular hatchback.
All models get a roll-over protection system, a total of six airbags, a crash sensor for airbag development and activating the hazard lights, hill assist, dynamic traction control and a tyre pressure warning system. You also get a twin horn on Cooper S and John Cooper Works models.
The roll-over system comprises a pair of hoops that deploy from behind the rear seats if the computers detect the MINI Convertible is going into a roll. They deploy in just 150 milliseconds.
MPG and fuel costs
"The 1.5-litre engine in the MINI Convertible Cooper has the potential to return between 41.5mpg and 44.8mpg on a combined cycle. The 2.0-litre engine in the Cooper S offers a claimed 39.2mpg to 43.5mpg, but this drops to 37.2mpg to 39.2mpg in the John Cooper Works."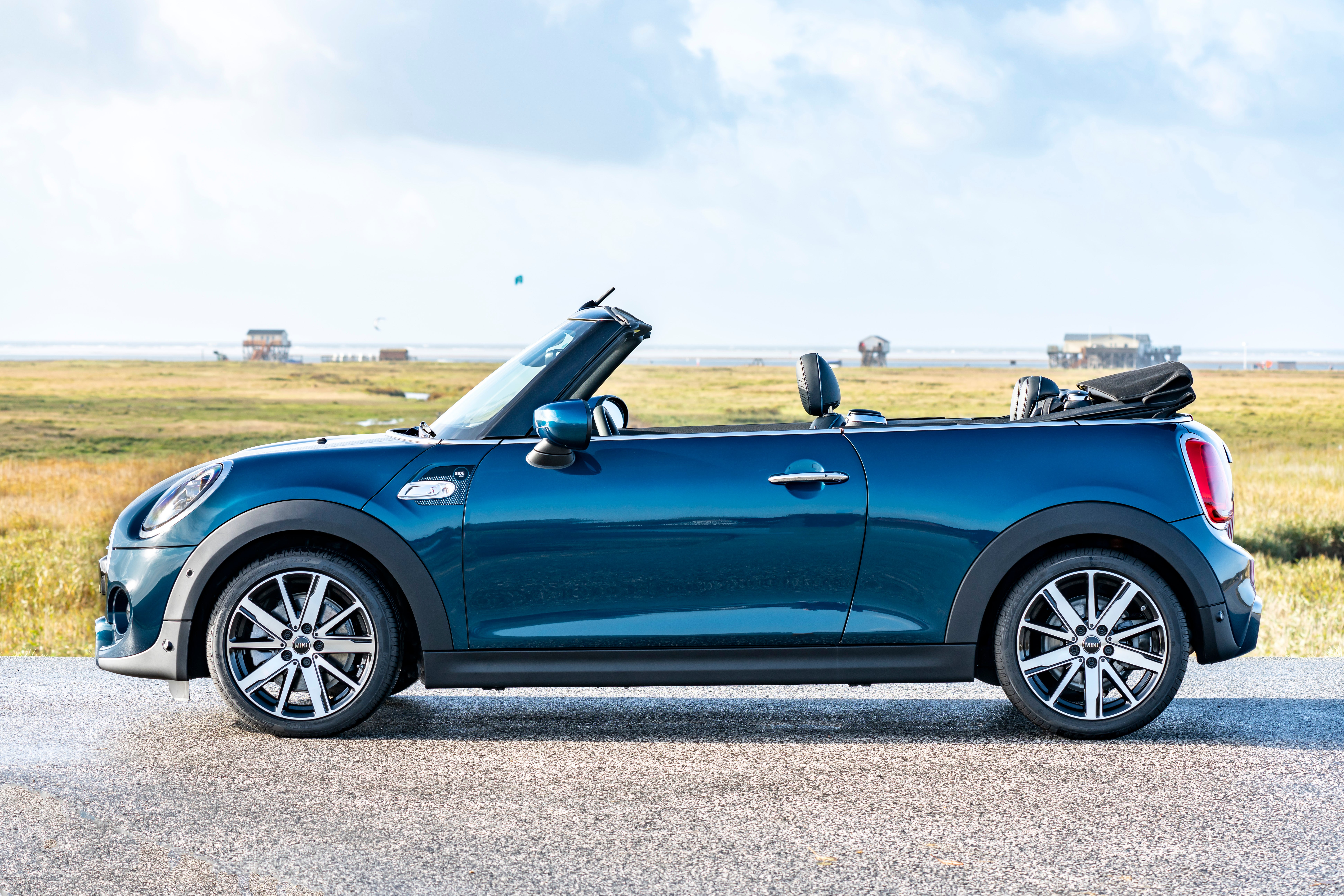 In all cases, the seven-speed automatic transmission offers the best fuel efficiency and the lowest CO2 emissions. According to Honest John Real MPG figures, you can expect to see close to 40mpg in the Cooper and around 35mpg in the Cooper S.
Buying the discontinued Cooper D will deliver the greatest economy, with the potential to return up to 70.6mpg using the old NEDC test procedure.
Insurance groups and costs
Insurance groups range from 21 for the Cooper Classic to 33 for the John Cooper Works. Predictably, the Cooper S and John Cooper Works are the most expensive versions to insure.
It works out cheaper to insure a MINI Hatch, with groups ranging from 13 to 29, but the difference is likely to be no more than a few quid a year. Worth it for the wind-in-your-hair motoring, right?
Keeping the MINI Convertible in a garage and moving to a postcode with a lower crime rate will help. Oh, and you could try ageing a few years – young drivers tend to get a raw deal from insurance companies.
VED car tax
Buy a new MINI Convertible in 2020 and you'll pay £175 in Vehicle Excise Duty 'showroom tax' for seven of the 14 configurations available. The exceptions are: £215 for the Cooper S Classic (manual), Cooper S Sport (automatic), Cooper S Exclusive (automatic) and John Cooper Works (automatic).
Manual versions of the Cooper S Sport, Cooper S Exclusive and John Cooper Works incur a first-year rate of £540. From year two, all MINI Convertibles drop to the flat rate of £150.
For cars registered before April 2020, but after 1 April 2017, you'll pay £150 a year in VED. Buy a discontinued Cooper D with a manual gearbox registered on or before 31 March 2017 and you'll pay nothing. The rate for the automatic version is £20 a year, while others range from £30 to £150 a year.
How much should you be paying for a used MINI Convertible?
"It's possible to find a few examples of the MINI Convertible for less than £9,000, but these tend to be a little rough around the edges or an insurance write-off. You should budget on spending at least £10,000, but even then you could be looking at a car that's a little short on glamour and toys."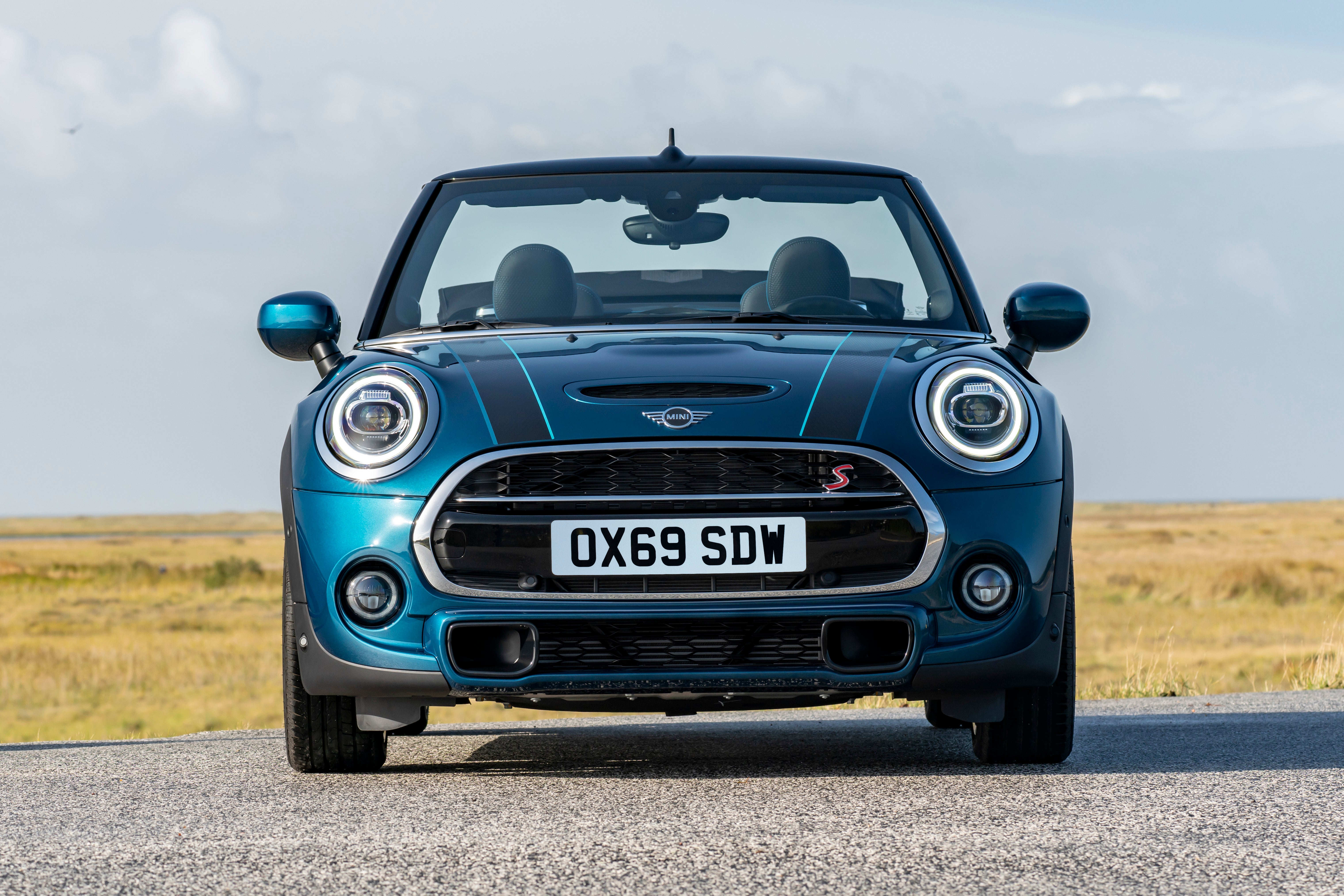 Remember, MINI enhanced the standard specification and added an improved seven-speed automatic transmission in 2018, so this might be the earliest you want to go. Bank on spending upwards of £13,000 for the new and improved MINI Convertible.
If you're after a MINI Convertible John Cooper Works, you'll need at least £17,000 in your pocket, along with the number of a good chiropractor. Pre-registered John Cooper Works are available with discounts of up to £3500.
Trim levels and standard equipment
MINI simplified the range in October 2018, making it easier to identify the right trim level for you. Classic is the entry-level model, Sport does exactly what it says, while Exclusive offers a more luxurious approach.
Each trim can be paired with your engine of choice, so you can have a Cooper Exclusive or a Cooper S Classic – whatever takes your fancy. The John Cooper Works is a little more route one – it's the hot version of the range and the specification reflects this.
Because the level of standard equipment is good, if not generous, we'd recommend starting with the Cooper Classic, selecting some of your favourite options, then deciding if it's worth upgrading to something different.
In other words, don't be swayed by the fancy dealer demonstrator and brochure images. Take your time to browse through the War and Peace brochure before taking the plunge.
MINI Convertible cars for sale on heycar
1,057
Number of cars available
£9.4K - £46K
Price bracket of these cars
Colours available on heycar
Keep me updated by email with the latest advice, news and offers from heycar
By submitting, you agree to our
privacy policy
.