MINI Countryman Review 2022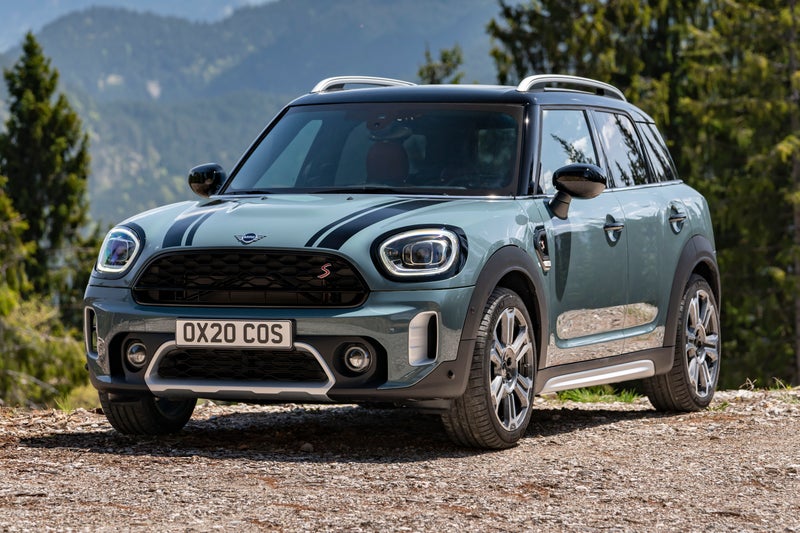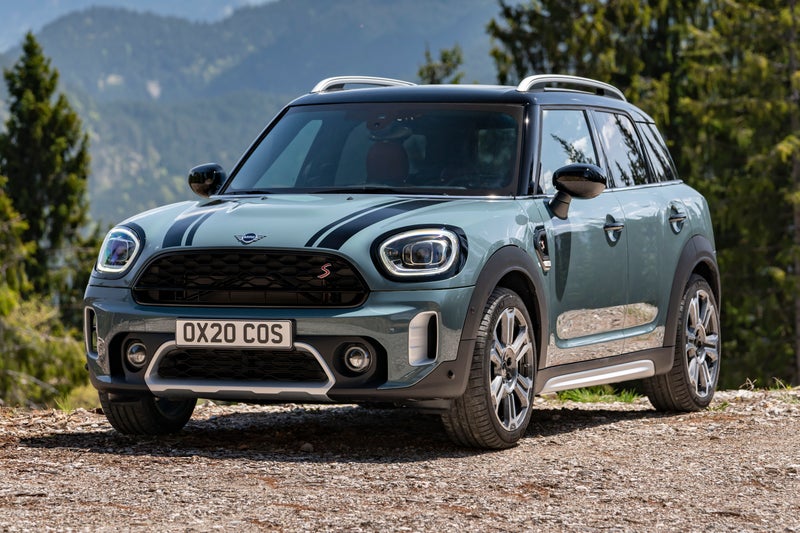 1/10
heycar rating
"Small SUV done the MINI way"
Launched: 2017

Small SUV

Petrol, PHEV
Quick overview
Pros
Good to drive for a crossover
PHEV version is ideal for around town
High quality interior
Cons
Not everyone will be taken by the styling
Expensive to buy new
Firm ride compared to rivals
Overall verdict
On the inside
Driving
Cost to run
Prices and Specs
Common questions
Overall verdict on the MINI Countryman
"We know the MINI Countryman is the least mini-like MINI you can buy, but it is difficult not to be taken by its quirky styling, plush interior and rewarding drive. It's easy to see the appeal of a MINI SUV."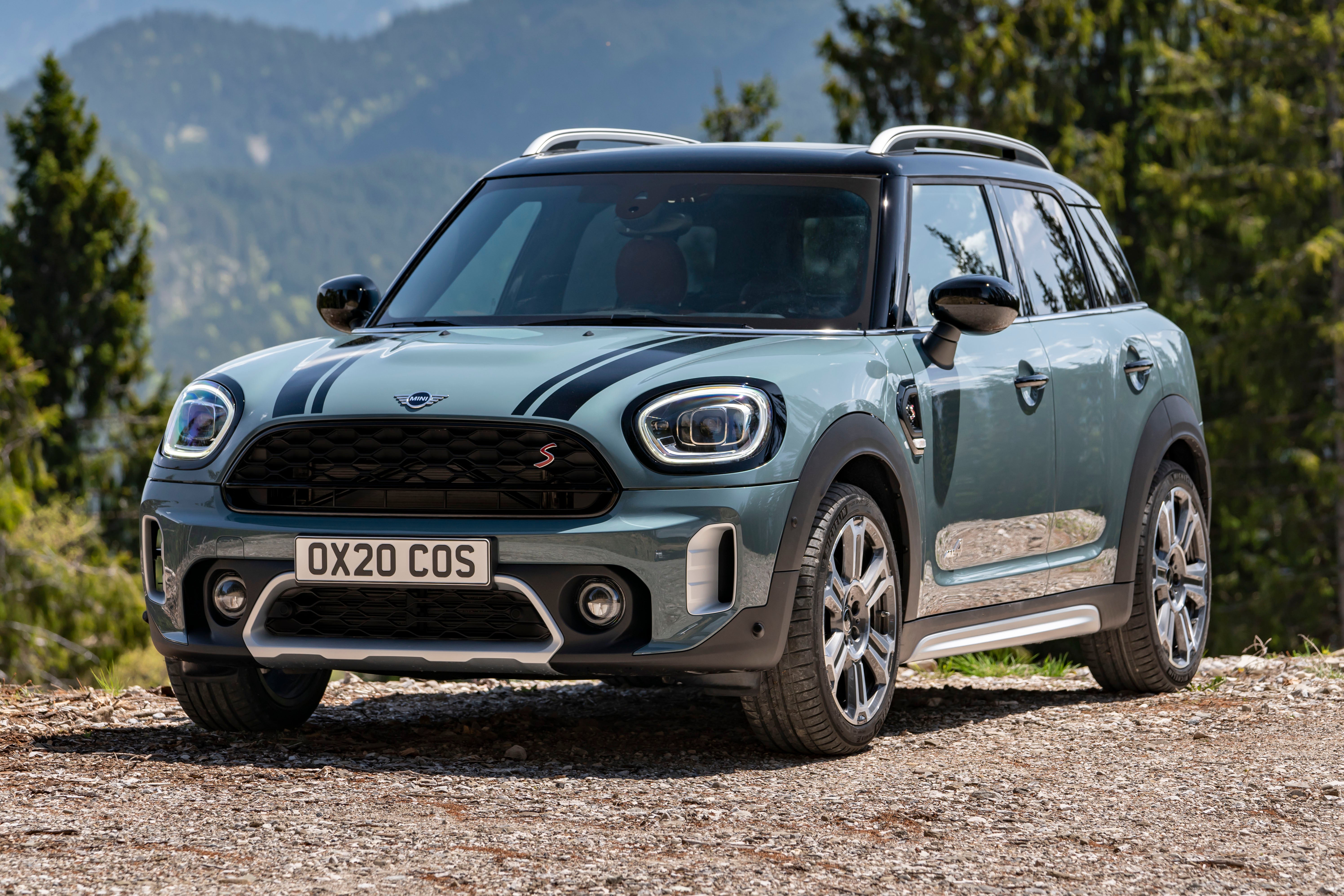 The MINI Countryman has always split opinion. However, with more than half a million sold since its launch, even the most devoted MINI purist would struggle to deny that it has been anything but a runaway success. Let's take a closer look with our 2022 MINI Countryman review.
Given its goldmine status, it's perhaps understandable that this MINI Countryman looks, drives and feels very much like the original model that was launched back in 2010. As before, the design is retro, yet bulbous, while the interior is family friendly and spacious, with a good-sized boot, room for four and lots of kit as standard.
MINI has made some changes to the Countryman though, with the most notable one being the size. The Countryman is now the biggest production car MINI has ever built. In fact, at 4.3 metres long and 1.6 metres high, it's roughly the same size as the Nissan Qashqai. The price has grown too - this is not a cheap family car by any stretch of the imagination.
To be fair to the MINI Countryman, it does look and feel very much like a premium car. Admittedly, not everyone will be taken by the stocky design, but climb inside and you'll find a smart interior with lots of high quality and soft touch materials. Standard equipment levels are good, with all models getting DAB, navigation, Bluetooth connectivity and cruise control.
The two petrol engines available are strong performers, while MINI's dropped diesel engines in favour of a plug-in hybrid option that gives the MINI Countryman PHEV an electric-only range of 26 miles, perfect for short trips round town. Follow the link to find out if it's one of the best hybrid cars you can buy.
While it's not for everyone, but it's hard to ignore the MINI Countryman's charms and if you can afford it, you'll be rewarded with one of the best small SUVs going.
Is the 2022 MINI Countryman right for you?
If you've outgrown the MINI Hatchback but still want something stylish and fun to whisk the family round in, then the MINI Countryman ticks a lot of boxes. The handling's great, while the 450 litres of space in the boot makes the MINI Countryman a very practical option. It's an even more appealing proposition now that there's a plug-in hybrid (PHEV) option.
There are some compromises to be made though - you'll certainly pay a premium for one, while the ride is a bit too firm compared to mainstream rivals. However, if you're after a funky small SUV that's got a plush interior and will put a smile on your face when you drive it, then you'll love the MINI Countryman.
What's the best MINI Countryman model/engine to choose?
If you're going to be doing lots of short trips and are able to charge it easily, then the MINI Countryman Plug-in Hybrid (PHEV) is the one to go for. It's got an official electric-only range of 26 miles (though in real-world use this is likely to be less), while there's a three-cylinder petrol engine to kick when needed, delivering 220PS and a 0-62mph time of 6.8 seconds.
Otherwise, the smaller three-cylinder 1.5-litre petrol engine is our pick. Badged Cooper, this is a gutsy little engine that punches above its weight.
There are only three trim levels to choose from (Classic, Sport and Exclusive). We'd be tempted to pick the more affordable Classic trim as it comes with most of the features you'll need and you've got the option of adding on one of MINI's option packs to help tailor the Countryman to suit your requirements. If you're looking for something a little more luxurious, you won't be disappointed by the Countryman in Exclusive trim, though you'll certainly pay for the privilege.
What other cars are similar to the MINI Countryman?
One of the MINI Countryman's closest rivals has to be the Audi Q2. It's another premium small SUV, but does things a little differently, with a more conservative design and a more traditional (but slightly more upmarket) cabin.
There's also the Volkswagen T-Roc, though if you're looking to spend a little less, then the brilliant Ford Puma is certainly worth looking at in more detail. Representing even better value are the SEAT Ateca and Skoda Kamiq, though they lack the trendy design of the MINI Countryman. There's also the MINI Clubman to consider. It might lack the SUV looks of the Countryman, but it's just as practical.
Comfort and design: MINI Countryman interior
"As with other models in the MINI range, the dashboard in the Countryman is dominated by an oversized central speedo, which displays media, radio and navigation data via a bright colour screen that is placed within the dial."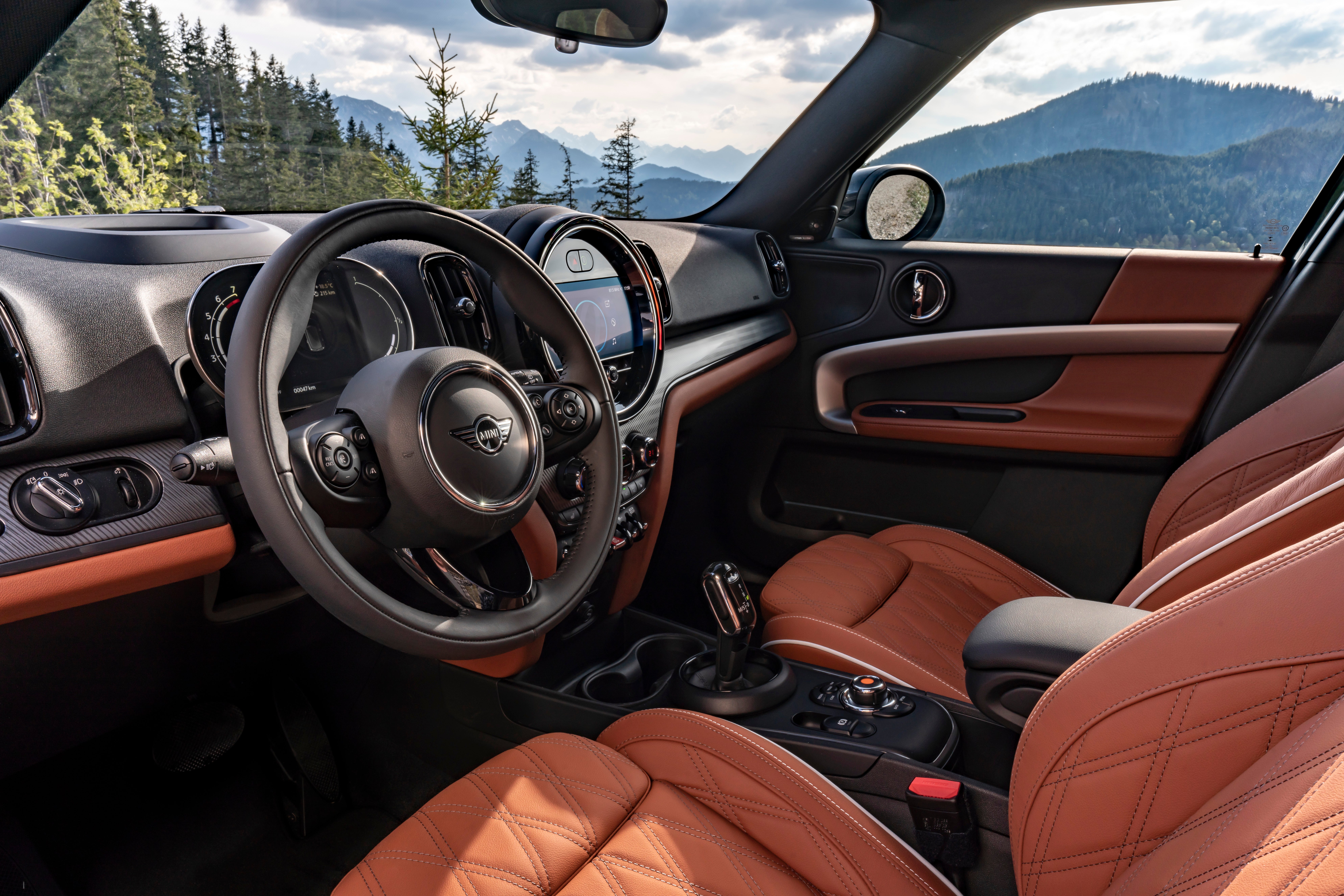 The interior of the MINI Countryman is just as distinctive as the exterior, with one of the most stylish interiors you'll find in a small SUV, and certainly a nice change from the majority of offerings out there.
It follows a similar recipe to other MINIs in the range. Behind the steering wheel is a large speedometer that's positioned centrally, that's complemented by a large circular infotainment touchscreen. This is supported by a rotary controller and multi-function controls on the steering wheel.
The dashboard layout in the MINI Countryman is a bit too cluttered and awkward for our liking though, especially when you're on the move. Indeed, many of the controls are clustered together below the central dial and this makes it easy to become frustrated as you mis-hit a succession of buttons as you attempt to alter the air con or similar. The toggle switches are a nice touch, but again, they're positioned quite low down on the dashboard, which isn't great when you're driving along.
You'll find it pretty easy to get comfy in the MINI Countryman, with the driver's seat enjoying height adjustment as standard, though the choice of a lever rather than a rotary knob to adjust the seat back doesn't offer quite the level of precision as we'd like. The windscreen pillars are a bit too thick too, but on the whole visibility is good. Rear parking sensors are standard, though if you want a built-in reversing camera you'll have to invest in the Comfort Plus Pack.
Quality and finish
Despite some of the clumsy design choices that hinder access to some of the car's controls, the MINI Countryman's cabin is very well finished and high in quality. It's certainly one of the best finished and put together interiors in a small SUV.
The materials used in the MINI Countryman all add to that quality feel, while ambient lighting is standard across the range to further enhance that impression you're in a premium car. And no matter how hard we pressed or pulled the trim, we couldn't motivate it to make any creaks or squeaks. Everything just feels solid in the MINI Countryman.
There are also lots of personalisation options with the MINI Countryman, which means you can add things like wood inserts and coloured sports seats, while there are some high-end leathers available to really enhance the luxury feel.
Infotainment: Touchscreen, USB, nav and stereo in the MINI Countryman
Which ever trim level of the MINI Countryman you choose, all models enjoy a 8.8-inch touchscreen. Based on BMW's iDrive operating system, it's one of the most intuitive systems to use. That means that you can happily use the touchscreen interface, you'll find it's much easier using the rotary dial controller that's positioned between the front seats to navigate round the system, especially if you're driving. It's not just easy to use, but the controls are nice and responsive, while the definition of the display is also very good.
The MINI Countryman comes with Apple CarPlay as standard, but rather annoyingly for a lot of potential buyers, there's no Android Auto, not even as an option. All versions come with DAB radio, built-in sat-nav, Bluetooth and various connected services. Opt for the Navigation Plus Pack and you not only get a 5.5-inch digital dash, but also a head-up display that projects key driving info onto the front windscreen.
Space and practicality: MINI Countryman boot space
Despite it's MINI name, the Countryman is actually pretty large inside with an impressive interior space for a small SUV. The MINI Countryman measures 4299mm long and 1822mm, while it's 1577mm high. This results in a high roof and wide body, making the Countryman a comfortable and practical family car.
Getting in and out is easy, thanks to the raised seating position and wide doors, while there's lots of leg and head room. You don't feel cramped up front, though we'd recommend looking out for cars with the Comfort Pack as these get armrest to make those longer journeys a little more comfy.
In the back and the rear bench should squeeze in three adults, though in reality it's more suited to two. As a family car for shuttling two kids around in the back, it's more than up to the job.
The MINI Countryman enjoys a 450-litre boot capacity and is actually bigger than you'll find in most small SUVs - it's bigger than the Nissan Qashqai's 430-litre boot for example, and will easily be able to carry a couple of suitcases or a large child's buggy.
The rear seats of the MINI Countryman can be folded down to increase luggage space to 1,390 litres, though if you're looking at the MINI Countryman PHEV, you do loose some boot space. This sees you sacrifice some 45 litres of stowage that sees the boot capacity drop to 405 litres, while with the rear seats folded down its 1275 litres.
Handling and ride quality: What is the MINI Countryman like to drive?
"In our view the Countryman is one of the better small SUVs to drive, with its responsive steering and pokey engine making it fun on a twisty B road."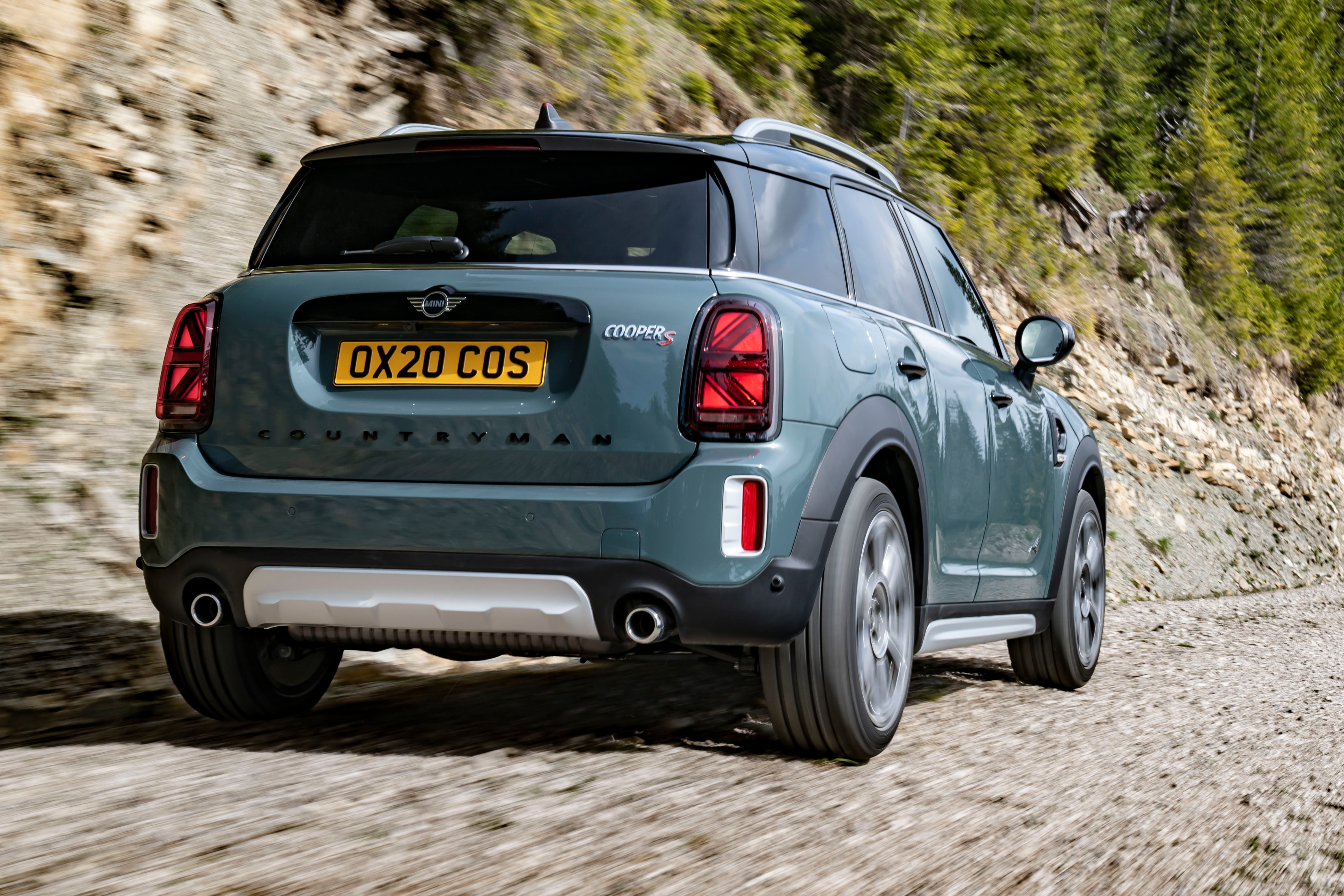 Given the upright stance of the MINI Countryman, you might think that the ride might be a little soft in corners, but it's surprisingly composed and flat. However, things can get a little bumpy if you specify 18 or 19-inch wheels.
It'll come as no surprise to discover that the Countryman PHEV is that bit heavier than the standard car thanks to the addition of batteries and motors to power the rear wheels, but the handling is still nicely balanced thanks to the way MINI's packaged the PHEV gubbins evenly under the car.
The larger wheels do improve the handling though. Activate Sport mode in the Cooper S and the auto 'box will carry the revs all the way to the red line, while an artificial engine note will give you the sensation that you're rattling along in a classic Cooper. The Countryman PHEV is quicker still, but just as importantly, the braking hasn't been compromised during the initial regenerative phase, something that a lot of hybrids can suffer from. Press your foot down and the brakes feel nice and progressive.
Opt for a Countryman with All4 all-wheel drive (standard on the PHEV model) and not only does it aid traction on the road, but it also provides some scope for venturing off the beaten track, although the lack of ground clearance prevents the MINI Countryman from tackling anything too extreme.
What engines and gearboxes are available in the MINI Countryman?
The original engine line-up for the MINI Countryman included a couple diesels, but these have since been dropped from the range in favour of a plug-in petrol hybrid.
Starting with the petrol engines and there's a turbocharged 1.5-litre three-cylinder that's badged as Cooper. With 136PS this will get to 62mph in 9.7 seconds, while those looking for something a little quicker will want the MINI Countryman in Cooper S spec. These enjoys a more powerful four-cylinder 2.0-litre engine with 178PS and a 0-62mph time of 7.5 seconds.
The MINI Countryman Plug-in Hybrid takes the 1.5-litre three-cylinder engine in the Cooper and pairs it with an electric motor. With the front wheels driven by the petrol engine, the electric motor powers the rears. This combined power delivers 220PS and a 0-62mph time of 6.8 seconds.
There's manual options for both the Cooper and Cooper S if you wish, while it's automatics for the rest, including the All4 all-wheel drive Copper and Cooper S models.
Refinement and noise levels
The four-cylinder engine is extremely refined and moves along with good pace, while engine noise is kept low thanks to the excellent six-speed auto gearbox that changes up at 2500rpm.
In the MINI Countryman PHEV, things are very quiet when moving round town under electric power (though it can run under electric-power alone up to 77mph). There's just the faint hum of the electric motor pushing the car forward, and the times when the motor is working in unison with the three-cylinder engine, there's a pleasing thrum to it that is rather engaging.
While the MINI Countryman is certainly one of the better handling small SUVs, it does come at the expense of ride comfort. We found it to be a little too firm, especially in the PHEV, not helped by the extra weight of the batteries. This is amplified the larger the wheels get, so it's certainly something to think about if you're looking for a more sedate driving experience.
Safety equipment: How safe is the MINI Countryman?
The MINI Countryman was tested by Euro NCAP back in 2017 and was awarded the full five stars. This included a very high score of 90 per cent for adult occupant protection, and while not quite as impressive, it still scored a very strong 80 per cent for child occupant protection. On top of this it was also awarded a 64 per cent score for pedestrian mitigation and a disappointing score of 51 per cent for safety assist.
This relatively low score can be attributed to the lack of lane assist system (even as an extra), though all versions of the MINI Countryman come with automatic emergency braking (AEB) and MINI's Emergency E-call is also included. This means the car will automatically call the emergency services in the event of an accident, while the Countryman is fitted with six airbags to protect both the driver and passengers (both front and rear), though a knee airbag is not available as standard or as an option.
The MINI Countryman comes with seat belt pre-tensioners and load-limiters, while there are ISOFIX fittings for child seats for the rear outer seats.
MPG and fuel costs: What does a MINI Countryman cost to run?
"The Countryman PHEV is the model to go for if you're looking to cut fuel costs."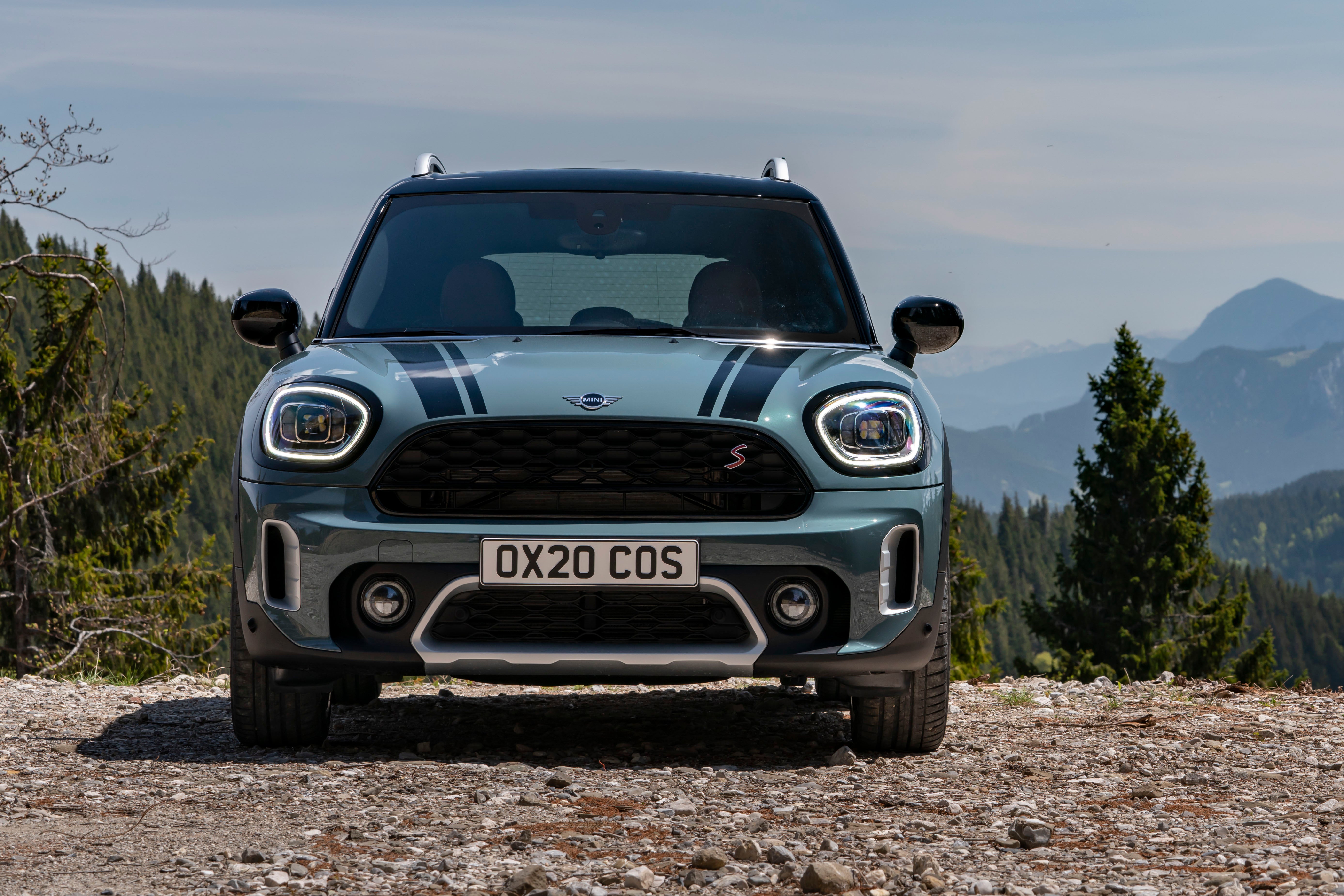 The MINI Countryman PHEV's 26 mile range under electric power means that it can deliver a claimed MPG of 140mpg+. The PHEV certainly looks good on paper, but remember that you'll only be getting this if you regularly use the EV power. Once the battery runs out you're on engine power alone - plus you have a heavy battery to carry around. If you're going to spend most of your time in town and will regularly charge it (every night or so depending on how much you use it), then it certainly makes sense.
The MINI Countryman Cooper with its three-cylinder 1.5-litre engine has a decent 38.7-44.8mpg, while the large four-cylinder 2.0-litre Cooper S can manage 39.2- 44.1mpg.
How reliable is the MINI Countryman?
The new MINI Countryman arrived in 2017, so some examples have been on the road a few years now. While we've heard of some isolated issues, the good news is that there doesn't appear to be any major faults that affect the range.
MINI as a manufacturer came in 27th out of 34 in Honest John's Car Satisfaction survey in 2020, beaten by the likes of Dacia, MG and Alfa Romeo.
Insurance groups and costs
The MINI Countryman is a premium small crossover SUV, so you're going to have to dig a little deeper for insurance than you would more mainstream rivals.
The lowest insurance group rating for a MINI Countryman is 15 for the Cooper, while the starting insurance group for the Cooper S is 23, with premiums rising depending on what add-on packs are included on the car. If you're after the MINI Countryman PHEV, insurance starts at group 26.
VED car tax: What is the annual road tax on a MINI Countryman?
VED rates for most MINI Countryman models fall between £145-155 per year, though if you're getting a high-spec car that's had a number of options bolted on, keep an eye on the price. If the list price goes over £40,000, it will be hit with a £325/year premium car tax for five years (from the second time the car is taxed).
How much should you be paying for a used MINI Countryman?
"With prices starting at £25,305 for a new car, the Countryman is not cheap - especially as that's the Classic model. Move up to the Sport and the price ups to almost £30k."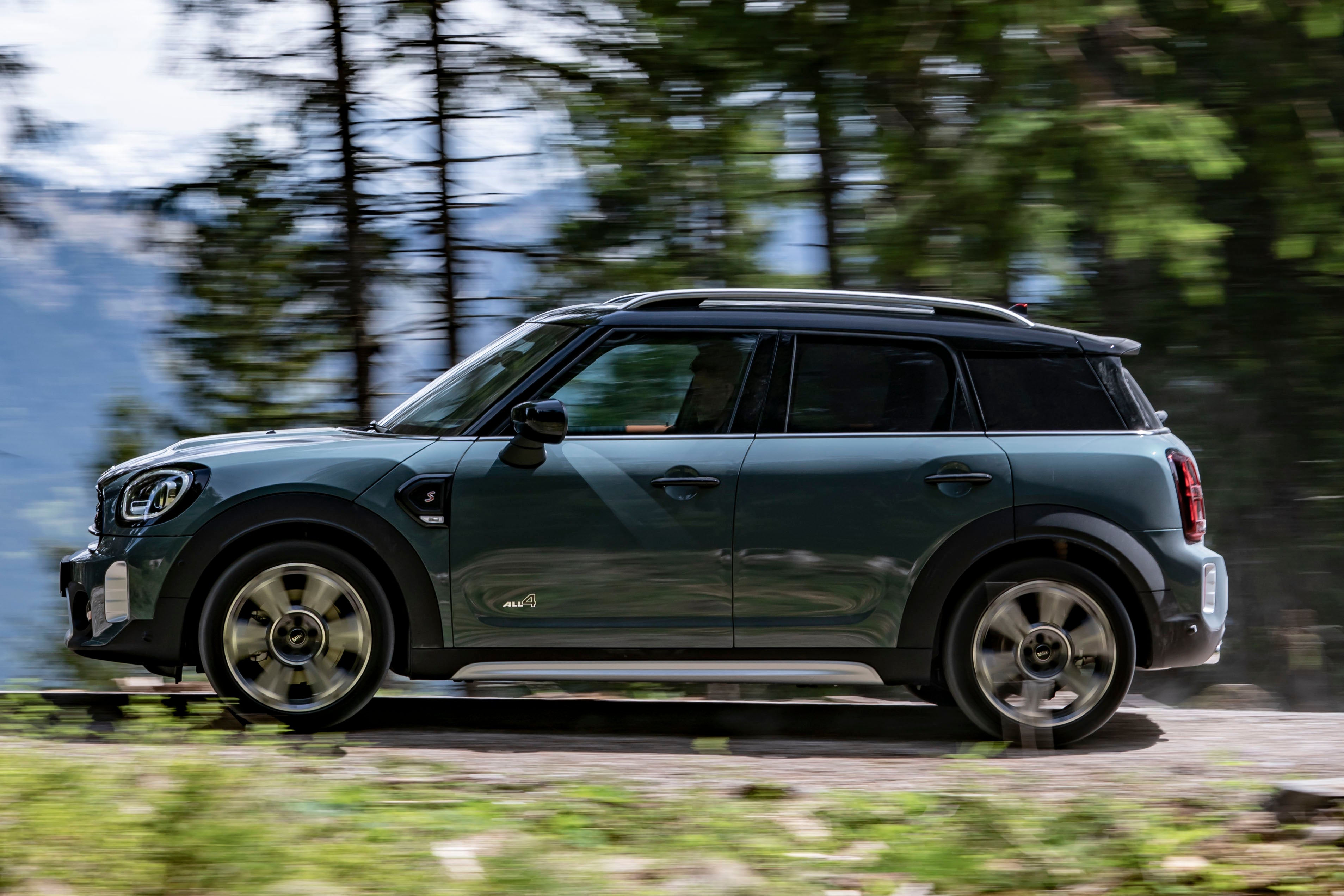 If you're looking at used, a budget of around £10,000 will get you an older-generation 2014 MINI Countryman with around 50,000 miles on the clock. You'll have to dig a little deeper for a used example of the latest car, with prices starting at just over £17,000 for one of the earlier cars. A budget of over £25,000 will get you a two year old Cooper S with around 10,000 miles covered.
Trim levels and standard equipment
There are three trim levels to choose from with the MINI Countryman - Classic, Sport and Exclusive.
The MINI Countryman in Classic trim is the entry-level trim and comes with 16-inch alloy wheels as standard (though they grow to 17-inch rims if you opt for the Cooper S or PHEV). Elsewhere and there's a pretty extensive list of features that includes LED front and rear lights, ambient lighting, 8.8-inch touchscreen, sat nav, Apple CarPlay (no Android Auto), rear parking sensors and cruise control.
The MINI Countryman Sport builds on the Classic with 18-inch alloy wheels, John Cooper Works sports seats, sports suspension, aero kit and spoiler the highlights.
Finally there's the MINI Countryman Exclusive. The top of the range trim level benefits from either 18 or 19-inch alloy wheels and leather sports seats, as well as some posh exterior badging.
If you're looking for things like rear parking cameras and heated seats, you'll need to budget for one of MINI's extra packs of goodies (and these can be added to any of the three trims). The Comfort Pack for £900 includes automatic air conditioning and heated seats, while the £1600 Comfort Plus builds on this with extras like a rear camera, folding (and auto-dimming mirrors) and front park sensors.
The £1300 Navigation Plus Pack includes a digital dashboard, a head-up display and wireless charging. Still no Android Auto though. Finally, the £800 Activity Pack on the MINI Countryman includes a bigger fuel tank, rear sliding seats, automatic boot release and a picnic bench.
Ask the heycar experts:
common questions
What's the range of the MINI Countryman PHEV?
The plug-in hybrid version of the MINI Countryman has an official electric-only range of 26 miles (according to WLTP). Once you've used up this range the three-cylinder petrol engine with kick in to keep you going.

Is the MINI Countryman a good car?
The biggest car in the MINI range, the Countryman is a premium small SUV with a price to match. The interior is very smart, while the confident exterior design certainly looks the part. There are more practical and more affordable cars in this sector, but it's easy to see the appeal of the MINI Countryman.

Is the MINI Countryman a 4x4?
The MINI Countryman is available in both front-wheel and four-wheel drive (badged All4) flavours, though if you're looking for a small 4x4, then you're better looking at something like the Suzuki Jimny or Dacia Duster.

MINI Countryman cars for sale on heycar
1,057
Number of cars available
£10K - £36K
Price bracket of these cars
Colours available on heycar
Keep me updated by email with the latest advice, news and offers from heycar
By submitting, you agree to our
privacy policy
.