MINI Electric Review 2022

Written by
heycar editorial team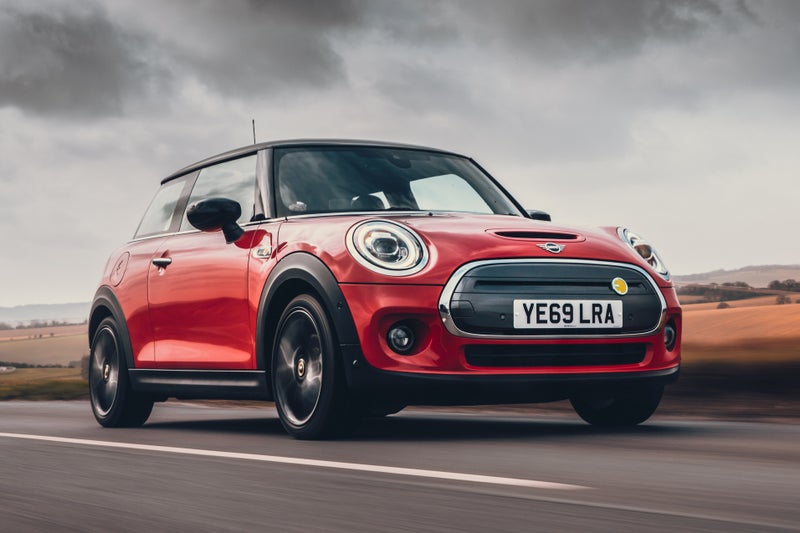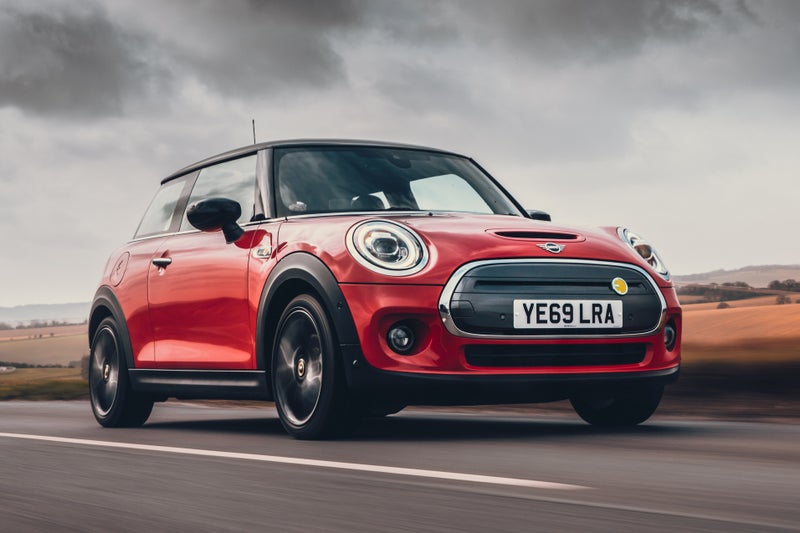 1/10
heycar rating
"Retro classic with futuristic drivetrain"
Launched: 2020

Small hatch

EV
Quick overview
Pros
Fast and fun to drive
Feels very posh and stylish inside
Really intuitive infotainment system
Cons
Rear space is very tight and a small boot
Limited range, even compared with other EVs
Ride is rather firm
Overall verdict
On the inside
Driving
Cost to run
Prices and Specs
Common questions
Overall verdict on the MINI Electric
"They say that with great power comes great responsibility, but is it possible to have great power, and to generate it in a really responsible way? Well, with an electric car, or EV for short, it sure is."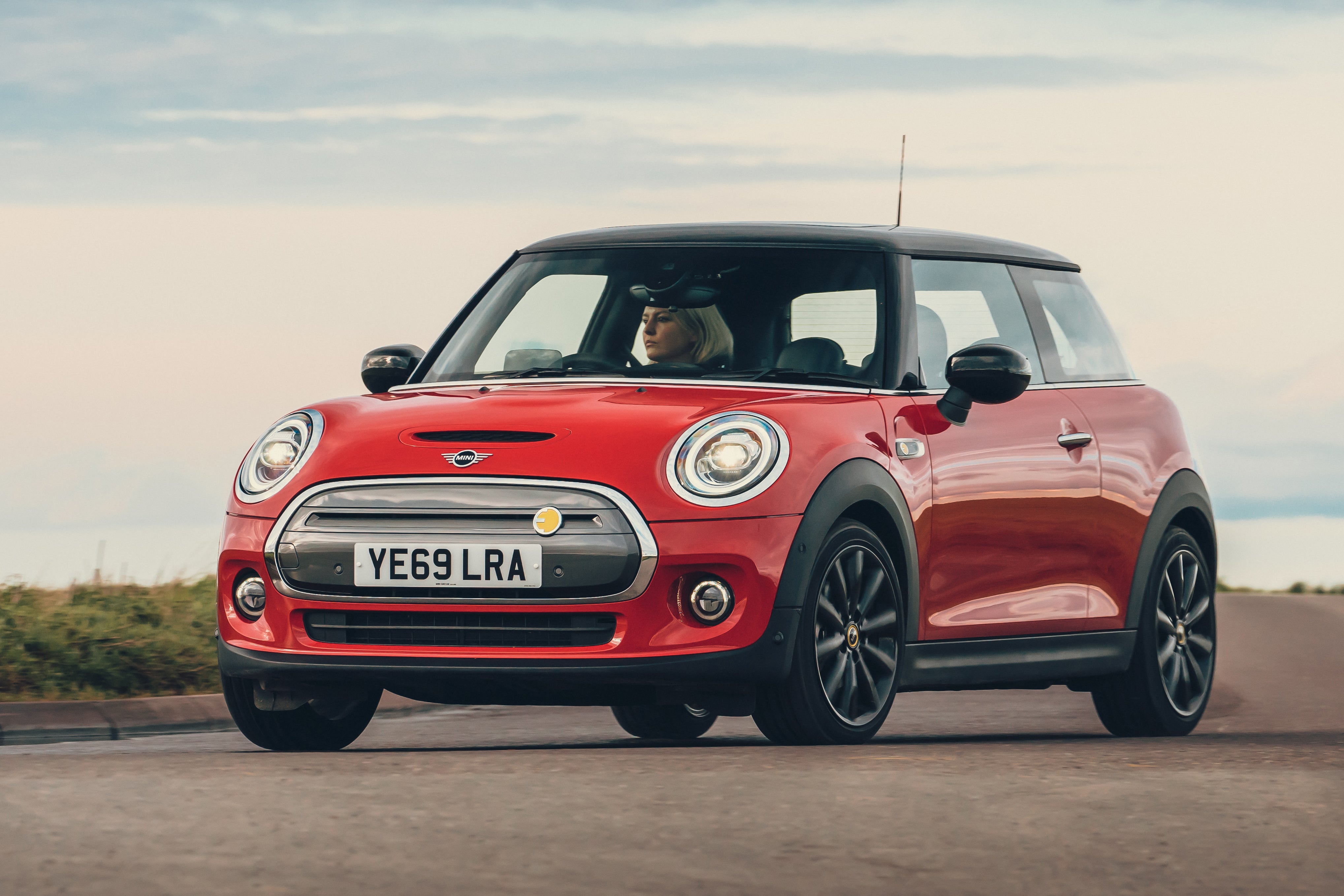 Like all pure electric cars, the MINI Electric puts out zero tailpipe emissions: what could be more responsible than that? However, while most small electric cars feel faster than their modest power and acceleration figures suggest, MINI's offering has the performance figures to match, making it the fun choice in the class. Find out all in our MINI Electric review.
Yep, the MINI Electric's straight-line speed is seriously impressive, its 184PS electric motor hauling it from 0-62mph in 7.3 seconds, and with the generous all-at-once torque you get from an electric motor, the car feels a whole lot brisker than that. It's not simply speed that makes the MINI Electric fun, either. MINIs are famed for their go-kart-like handling, and while the switch from combustion to batteries has dented that a fraction, it's still a very enjoyable car to drive, with tight body control and quick steering. It's certainly a lot more agile than any other small EV we've tried, although at the same time, it's also less comfortable.
The interior of the MINI Electric is standard MINI fare, with hugely impressive quality, attractive design, strong ergonomics and plenty of luxury toys. The big difference you'll notice in the MINI Electric is the digital instrument display behind the steering wheel in place of the regular dials, and this looks great and works well.
There's another difference between regular MINIs and the MINI Electric, too, but this one's less positive. No MINI is the last word in practicality, sure, but because the car's batteries are stored under the rear seats, rear space is even more cramped, while the boot space is just as tiny at 211 litres.
If you're planning to regularly carry people or cargo, then rivals such as the Renault Zoe or Peugeot e-208 will suit you much, much better. Those rivals also have a considerably longer electric range compared to the MINI Electric's range of up to 145 miles, so if you're planning to use your car for anything more than short-hop weekday commutes, then again, they'll be a better bet than the MINI Electric.
Other gripes? Well, it's pretty rubbish that the entry-level MINI Electric misses out on automatic emergency braking - a must-have safety feature in this day and age - and Android users won't like the fact that they can't integrate their smartphones with no Android Auto available. However, the MINI Electric is like any other MINI in that it's desirable, charming and likeable, and if anything, the fact that it's electric makes it even more likeable. It's also relatively affordable, making the MINI Electric one of the cheapest electric cars you can buy.
If you're looking for the standard version, you need our MINI Hatch review.
Is the 2022 MINI Electric right for you?
We can see the MINI Electric being really popular with people who are looking for a stylish, luxurious and fun way to undertake their (extremely short) daily commute, and for either financial or environmental reasons, fancy doing it on electric-only power. Let's get this straight from the get-go: for most people, this won't work as your family's only car.
The 145 mile range of the MINI Electric is far too limited for that, and so is interior space, and there are lots of electric hatches that do a lot better on both scores. However, if your commute is only a short hop, and you also have access to a bigger, more practical combustion-engined car at weekends, then the MINI Electric could make a very appealing weekday runabout.
What's the best MINI Electric model/engine to choose?
Well, there are no choices to make on engine, obviously, because the MINI Electric doesn't have one. What's more, all versions have exactly the same 184PS power output and a (theoretical) range of around 140-145 miles.
Breaking with MINI tradition, there's no dizzying array of trim levels, special editions, optional extras and option packs, either, just a mercifully straightforward choice of three equipment grades, named 1, 2 and 3. For us, it's the mid-range 2 version that strikes the best balance between kit and cost, so that's the one we recommend if you plump for a MINI Electric.
What other cars are similar to the MINI Electric?
Arguably the most direct EV rival to the MINI Electric is the Honda e. It's similarly stylish, similarly sized, similarly priced, and has a similarly limited range. If you're considering buying either then also look at the Fiat 500 Electric, which undercuts both on price.
Other small hatchback-sized electric cars on your radar will include the Renault Zoe and Peugeot e-208, not to mention the Vauxhall Corsa-e and DS3 Crossback e-Tense, both of which share their underpinnings with the Peugeot. Meanwhile, the Nissan Leaf is a bit bigger, while the Volkswagen e-Up is a bit smaller.
Comfort and design: MINI Electric interior
"The cheerful retro interior design found in MINIs has always been appealing, but there was a time when the style had a negative effect on ergonomics. MINI has learned the lessons of the past, though, and this is no longer the case with the MINI Electric."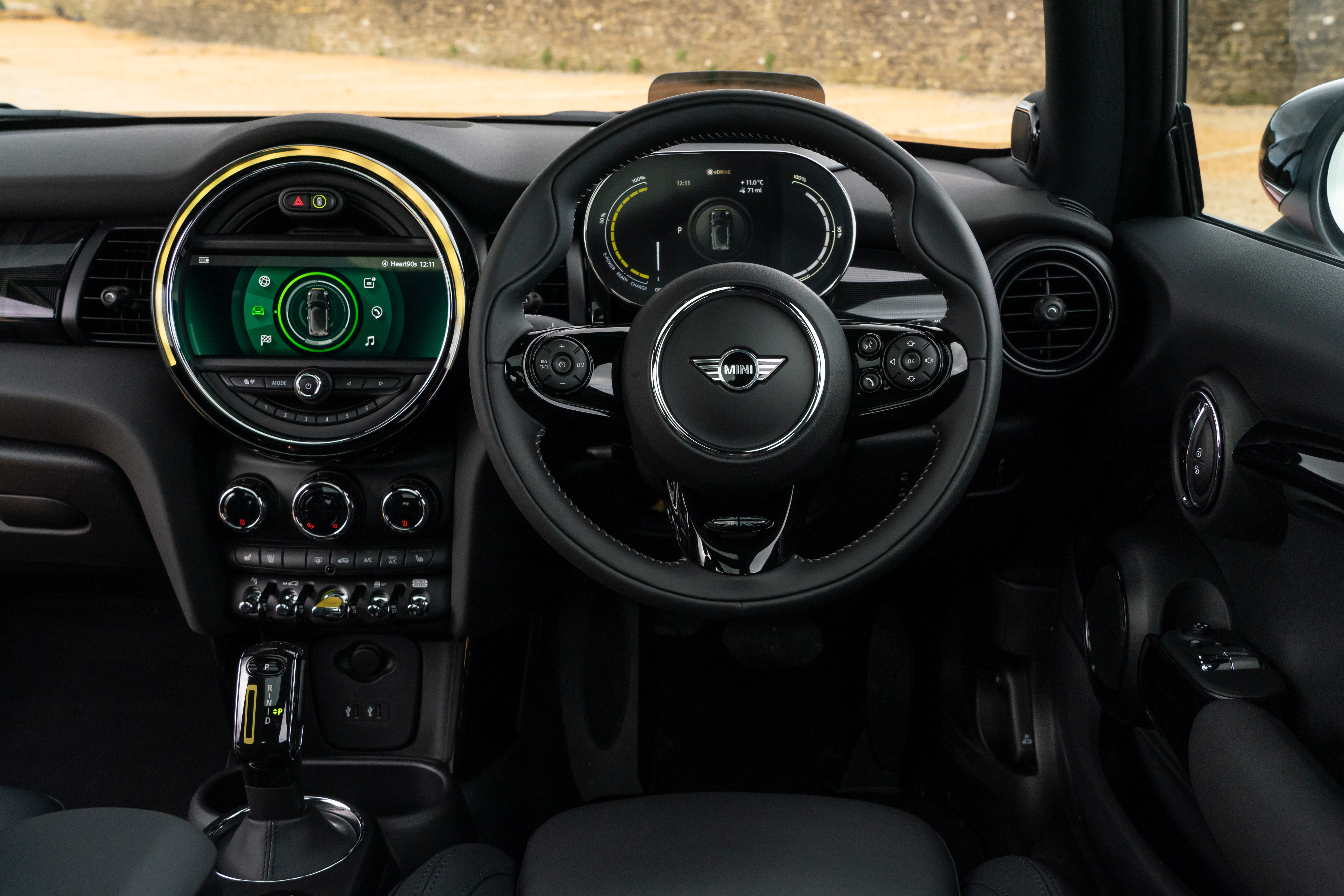 All the various switches on the MINI Electric - of which there are quite a few, but not too many - are well marked, fairly logically placed and easy to use. Physical controls for the ventilation system also mean you can make adjustments without having to delve into numerous infotainment menus.
The scrolling wheel for the infotainment system feels like it's set further back on the centre console than your left hand would ideally like, but it's still easy to reach and a doddle to use. Even the smaller buttons on the steering wheel are straightforward to operate.
The seats on the MINI Electric are very supportive, and thanks to bags of adjustment for both the driver's seat and steering column, finding a comfortable driving position will be possible for folk of all shapes and sizes.
Visibility is good all around the car, even at the back thanks to relatively large rear windows on the MINI Electric separated by fairly thin pillars. What's more the car's compact dimensions and easy-to-judge extremities make it even easier to park. If you want more help, avoid 1 trim because it does without rear parking sensors or a reversing camera. Those items come with 2 trim, while 3 also gets a system that'll steer the car into a parking space for you.
Quality and finish
Among hatchbacks, the MINI is a relatively expensive product, but happily, it feels it here with the MINI Electric. Everywhere you look there are soft-touch materials, chrome trims and glossy finishes, and these really inject a feeling of class and style. The variety of the textures and finishes on show also helps the interior design look even more interesting.
What's more, all the chunky switches and knobs work with satisfying slickness and accuracy. You will find more functional plastics lower down in the footwells, but these are well hidden away and the feeling of quality you get is still greater than in pretty much any other small hatch.
The entry-level 1 trim on the MINI Electric has cloth seats, while the 2 gets part-leatherette upholstery that looks and feels very convincing. The 3 gets full leather, which hikes the feeling of poshness even more.
Infotainment: touchscreen, USB, nav and stereo in the MINI Electric
The biggest difference you'll notice between a MINI Electric and a regular one sits behind the steering wheel. While most MINIs have physical instrument dials, the MINI Electric gets a 5.5-inch digital screen instead that surfaces the major driving information, plus all sorts of other EV-related data.
The data on offer isn't as exhaustive or as detailed as it is in some rivals, and you might find that however you set up your driving position, a small part of the screen is obscured by the steering wheel. However, all the information is clearly presented and it all looks very swish.
Happily, the main infotainment system on the MINI Electric is one of the best of its type. The standard 6.5-inch screen is rather small, and the graphics could be a wee bit sharper, but it's based on BMW's iDrive operating system, so it's fantastically easy to use.
It does offer touchscreen functionality, but you won't bother using it because it's much easier to scroll through on-screen menus using the rotary dial controller located between the front seats, and there are shortcut buttons to make life even easier. The MINI Electric's menus are clear and logical, too, so finding your way around a system with such a lot of functionality is impressively simple.
All versions have DAB radio, built-in sat-nav, Bluetooth and various connected services, including a range of EV-specific ones that allow you to do things like remotely check your car's range, or search for nearby charging stations, through your smartphone. Talking of smartphones, though, iPhone-phobes might be rather disgruntled that Apple CarPlay is supported, but Android Auto is not. Upgrade to 3 trim on the MINI Electric, and you get a larger 8.8-inch screen, Amazon Alexa, wireless phone charging and an upgraded Harman Kardon sound system.
Space and practicality: MINI Electric boot space
First off, it's worth bearing in mind that the MINI Electric is only offered in three-door form, and not as a five-door. It's also worth bearing in mind that MINIs - especially the three-door ones - aren't exactly famed for their commodious passenger space to begin with, and that things are even tighter in the electric version. The MINI Electric measures just 3.8m long and a little over 1.7m wide (that's not taking into account the wing mirrors, adding another 20cm to the width).
Space is fine up front, and although there's enough legroom for an adult to fit in the back, they'll find their knees wedged into the seat in front, and their feet crammed underneath it. However, while that's the case in any MINI, rear headroom is worse in the MINI Electric. The batteries live under the rear seats, requiring them to be mounted higher, and this restricts the (already limited) amount of headroom you get.
A six-footer will fit, but with a fair amount of hairdo interference from the headlining, and anyone taller than that will really struggle. Similarly, child seats and boosters will fit, but kids will be forced to sit with their feet touching the backs of the front seats, so you'll be forever wiping away mucky footprints. A Renault Zoe, Honda E or Peugeot e-208 are all much roomier in the back, and they all have five seats as well, while the MINI only has four.
MINI's aren't exactly famed for their boot space, either, and while the MINI Electric's boot capacity is similarly teeny at 211 litres, at least it's no worse. It's bigger than a Honda E's, but you still won't fit more than a few shopping bags in, and a Renault Zoe and Peugeot e-208 have a lot more space. The charging cables are stored underneath a handy false floor to keep them out of the way, though. The rear bench also drops down in a 60-40 split to let you boost the cargo space available, but you're left with a step in the load floor.
Handling and ride quality: What is the MINI Electric like to drive?
"If there's one MINI characteristic that the Electric version simply has to preserve, it's that famous go-kart handling. And to a degree, it's successful. Quick steering makes the nose of the car very keen to turn in, and there's very little body lean as you change direction."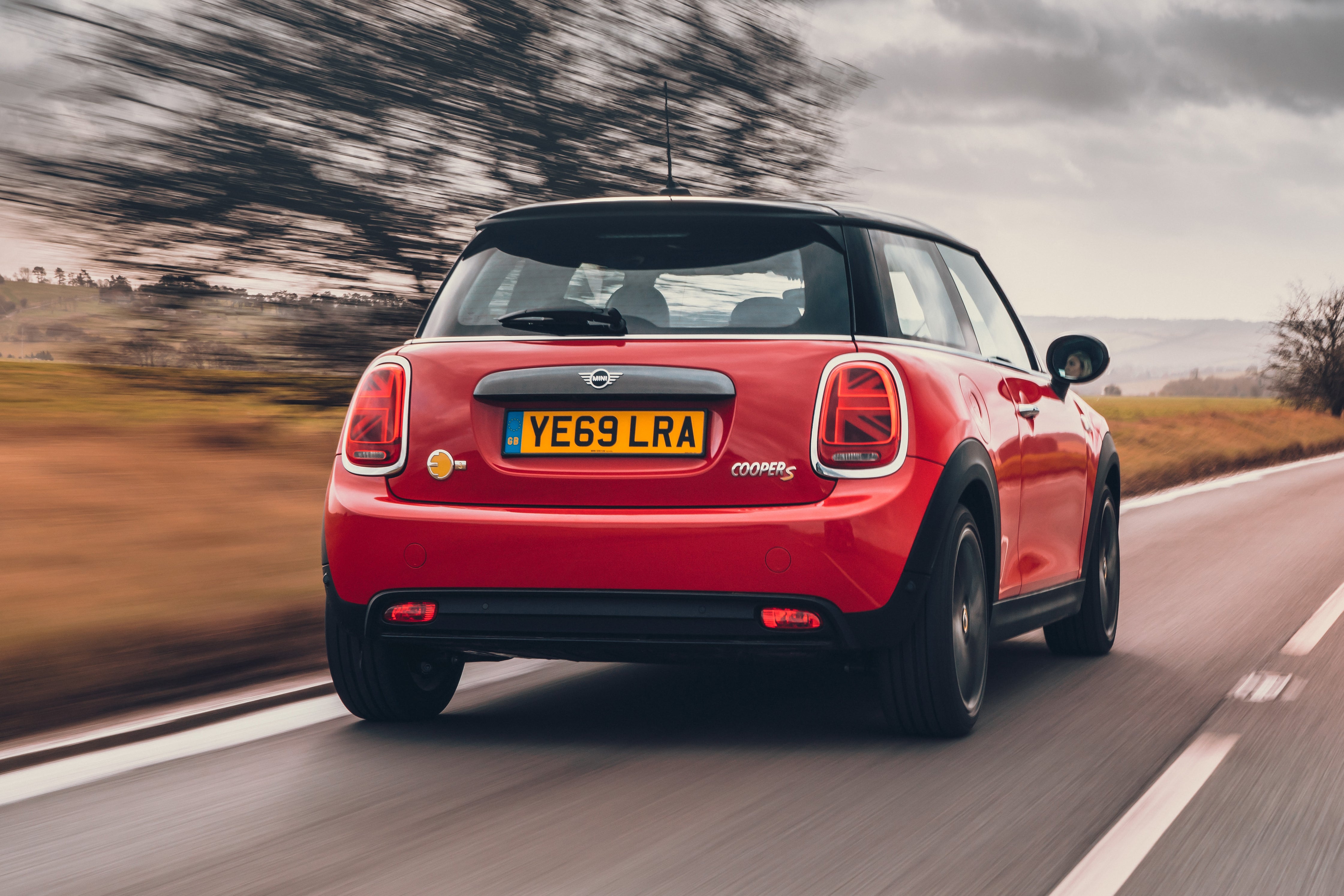 That gives you the darty feel that you associate with a MINI. By the standards of other small electric cars, it feels very nimble indeed. By the standards of other MINIs, though, there is a difference. Push a bit harder, and you'll find that the MINI Electric doesn't have as much grip as its combustion-engined colleagues: you can feel the laws of physics in action as the tyres struggle to keep all that extra weight from sliding sideways.
What's more, the steering doesn't give you as much feedback, so the action is slightly more diluted. Having said all that, though, the handling is still safe, well-balanced and lots of fun.
Ride comfort has never been an area of particular strength for MINIs, and so it proves with the MINI Electric. It's fine, and nothing most people won't be able to cope with, but you do get jostled around in your seat along pockmarked urban streets, while potholes can give you a fair old jolt. Rivals are more settled on the motorway, too.
What engines and gearboxes are available in the MINI Electric?
There's a reason the Electric MINI wears the Cooper S badge: because with 184PS from its electric motor, it has very nearly as much power.
Plant the accelerator, and if anything, it feels even quicker than the petrol-guzzling hot hatch, thanks to strong torque that's available the very instant that the motor starts spinning. The stopwatch tells a different story, with the MINI Electric being about half a second slower in the benchmark 0-62mph sprint, but it still feels seriously quick, and is significantly brisker than rivals such as the Renault Zoe. And because electric cars have a single gear, the strong acceleration remains uninterrupted by pesky gearchanges.
However, the way in which this prodigious power is unfurled depends on which driving mode you select. There are four: Sport, Mid, Green and Green Plus. At the sportiest end of the scale, the slightest brush of the right-hand pedal results in a strong, instantaneous pick-up in speed. At the greener end of the gauge, you have to push the pedal much farther for strong acceleration, and your performance is much gentler until you do, encouraging you to drive more placidly.
There are two more settings to play with, and these are for the regenerative braking system. In its default mode, the car slows down significantly the instant you lift off the accelerator, a lot more than if you did the same in a combustion-engined car. This is so that the energy that would otherwise be lost in deceleration can be fed back into the battery as electricity. Get used to it, and you can learn to drive using one pedal most of the time, barely ever needing to touch the brake pedal at all. Some will find the action too aggressive, though, and for those people, there's a less vigorous mode that slows you down in a far more gentle fashion.
Maximum EV range in the MINI Electric
Depending on which spec of car you go for, the official figures state that your maximum range will be somewhere between 140 and 145 miles on a full charge of the batteries. That's a shade more than quoted by the Honda E, but significantly less than the equivalent figures of the Peugeot e-208 and Renault Zoe.
However, bear in mind that these are laboratory figures, and what you'll get in the real world will be significantly less, particularly if you're doing mainly motorway miles or you encounter heavy traffic. The range gauge in our test car showed around 95 miles on a full juice-up, and that was on a very warm day: batteries hold charge a lot less effectively when it's cold. Not that you'll often juice up your battery fully anyway, because charging to only 80% is advised to prolong the useable life of your battery.
Refinement and noise levels
With no big grubby combustion engine chuntering away up front, this is a traditional area of strength for electric cars, and so it proves with the MINI Electric.
Open the windows, and you'll hear a strange futuristic chirping noise that's designed to warn pedestrians that you're coming, but with your fenêtre firmly fermée, your progress occurs in near-silence, and with no vibration whatsoever. You do hear the suspension clonking occasionally, and there's a bit of wind and road noise at higher speed, but the only reason you notice it is because there's so little else in the way of noise. This is an incredibly quiet way to get around.
Safety equipment: How safe is the MINI Electric?
All versions of the electric MINI come with the usual collection of airbags and electronic stability and traction aids, along with super-bright LED lights front and back, front-and rear ISOFIX child seat mounting points and an automatic emergency calling system.
However, the base-level 1 trim misses out on automatic emergency braking, which is a safety measure we deem to be essential in this day and age, and it should really be provided as standard, especially at this money. The 2 trim checks that important box, while 3 trim adds a head-up display, which beams key driving information onto the windscreen so you don't have to look away from the road as much, and clever adaptive LED headlamps that bend their beams around oncoming cars so as not to dazzle fellow drivers. Neither the Electric MINI nor the regular MINI Hatch have been crash-tested by Euro NCAP yet.
Charging times: How much does it cost to charge the MINI Electric?
"An 80% charge takes 12 hours on a three-pin domestic socket (which we wouldn't recommend doing on a regular basis as it's bad for your house's electrics), a little over three hours on a 7kW wallbox charger, or around half an hour on a 50kW public rapid charger."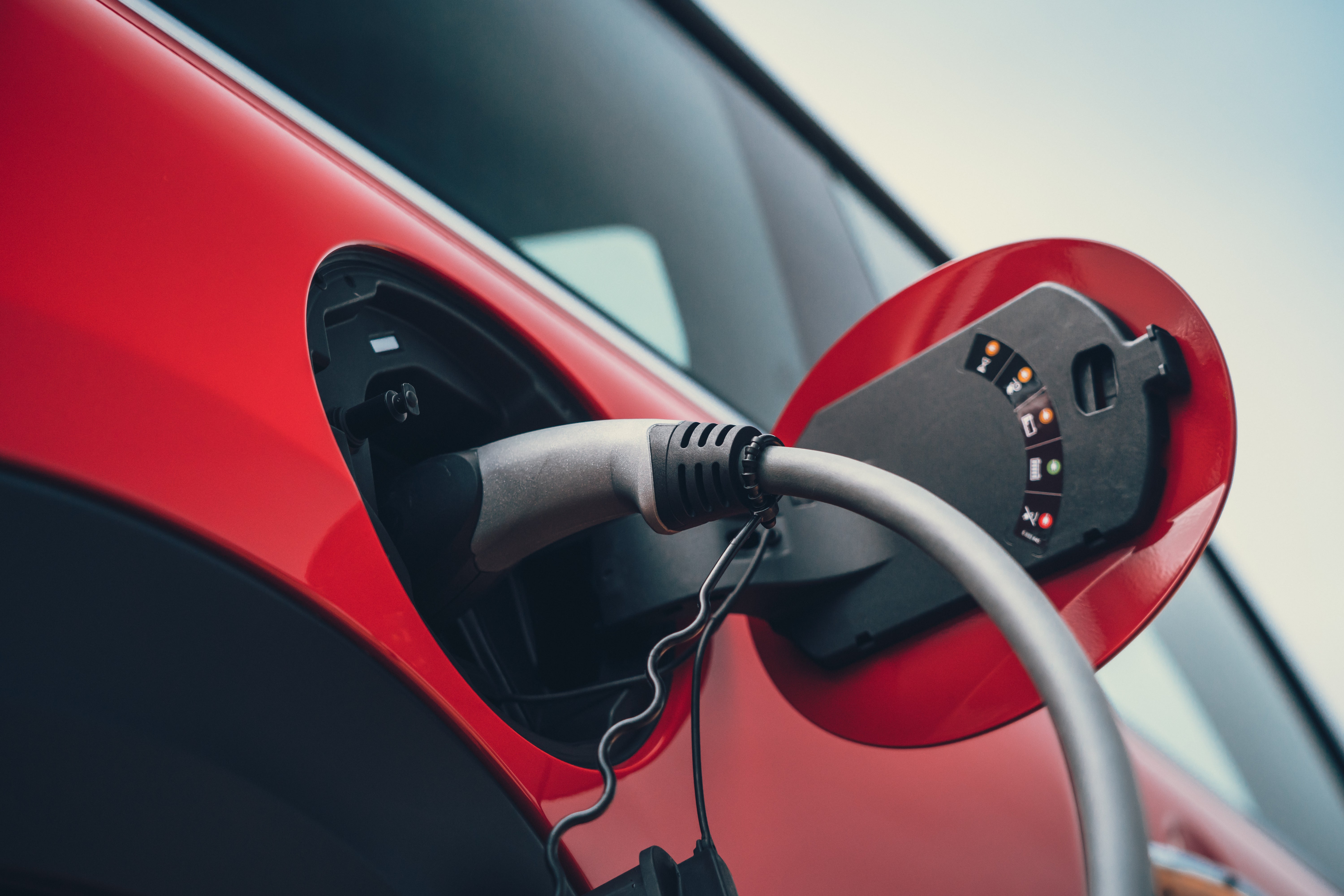 MINI reckons it'll cost you about a fiver to charge the MINI Electric. Two charging cables are provided as standard, a three-pin domestic one for emergencies and a Type 2 cable for untethered AC public chargers. The car also has a CCS (Combined Charging System) socket for DC charging, meaning it's compatible with most public rapid chargers.
How reliable is the MINI Electric?
With the MINI Electric still pretty new, it's hard to say how reliable this car is going to be. Looking at MINI as a whole and the manufacturer came in 27th out of 34 in Honest John's Car Satisfaction survey in 2020, beaten by the likes of Dacia, MG and Alfa Romeo.
Insurance groups and costs
If you want to know which insurance group your MINI Electric falls into, just take the version you bought, and add 17. You won't need to be Carol Vorderman to figure out that this means the 1 version sits in group 18, the 2 sits in 19, while the 3 sits in 20. Considering that insurance groups run from one to 50, 50 being the most expensive, that puts the MINI Electric in the lower half of the spectrum. These groups are about the same as those of the Renault Zoe, and lower than those of a Honda E.
VED car tax: What is the annual road tax on a MINI Electric?
If you're one of those people who resents giving cash of any type to the Exchequer, then you'll love the MINI Electric. As it's an EV, and it costs less that £40,000 when new, you pay no road tax whatsoever. Take that, Chancellor. And while going electric will save private buyers £150 per year, it'll also save company car drivers a whole stack more. You'll pay no benefit-in-kind tax on electric cars during the 2020-2021 tax year, and you'll only pay tax on 1% of the car's value the year after, and on 2% the year after that. That'll result in truly spectacular savings.
How much should you be paying for a used MINI Electric?
"At the time of writing, prices for brand new examples of the MINI Electric sat at around £28,000 for the 1, £30,000 for the 2 and £34,000 for the 3. That's a bit less than the Honda E and roughly similar to the Renault Zoe. New car buyers also get a £3000 Government grant towards that cost, trimming down what they'll pay, but the grant isn't available to used car buyers."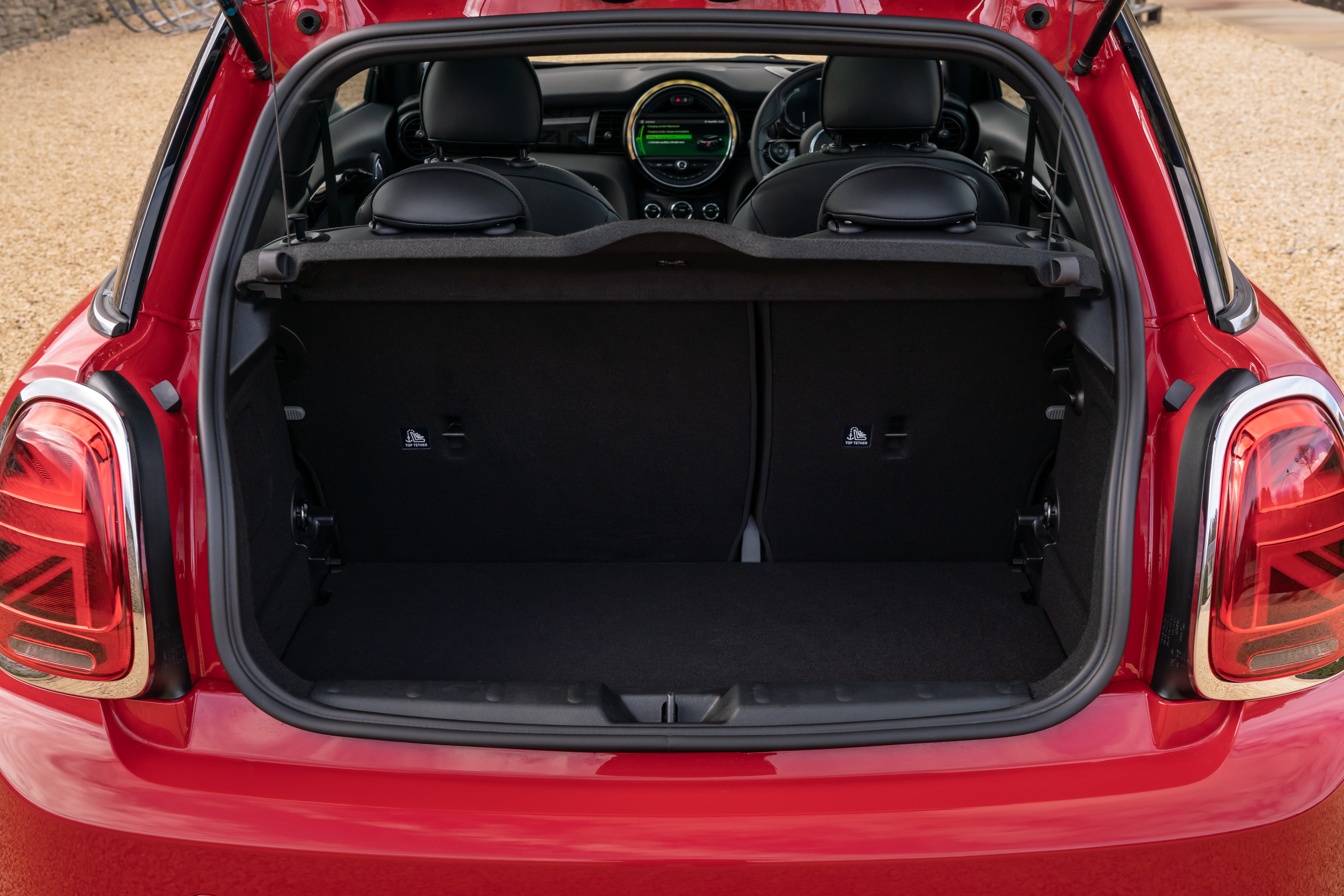 So, if you're considering an almost-new pre-reg example of a MINI Electric, it's entirely possible you could end up paying more than buyers of brand new versions do. And, because the car was only released in 2020, prices of used versions haven't had a chance to drop much yet. Be warned, too, that even when it does, prices will drop relatively slowly due to the MINI's strong residual values. It's fair to say, then, that buying a MINI Electric will probably cost you a pretty penny for a good while yet.
Trim levels and standard equipment
Choosing between the various versions of the MINI Electric is as easy as 1, 2, 3, not least because that's exactly what the trims are called. The 1 comes with a good amount of standard kit, including two-zone climate control, automatic lights and wipers, cruise control with stopping function, all-round exterior LED lighting, a leather steering wheel, digital instruments and the navigation-enabled infotainment system.
We'd probably still make the step up to 2 trim, though, as it comes with some very handy bits and pieces including rear parking sensors, a reversing camera, automatic emergency braking, heated front seats, part-leatherette upholstery and ambient lighting. The 3 trim adds front parking sensors, a self-parking function, a panoramic roof, full leather upholstery, a head-up display and an uprated infotainment and sound system.
Ask the heycar experts:
common questions
Is the MINI Electric a good car?
The MINI Electric is a great small electric car, but it does come with its compromises, namely a limited range and a pretty small boot. It's great fun to drive though and if it can fit in with your lifestyle, the MINI Electric is worth serious consideration.

Will there 5 door MINI Electric?
At the moment, it looks like the MINI Electric will continue to be available as a 3 door only option, but we could see a 5 door variant when MINI decides to update the MINI Electric.

What is the range of the MINI Electric
The claimed range of the MINI Electric is only up to 145 miles, though expect this to be less under real-world circumstances.

Keep me updated by email with the latest advice, news and offers from heycar
By submitting, you agree to our
privacy policy
.