MINI John Cooper Works Review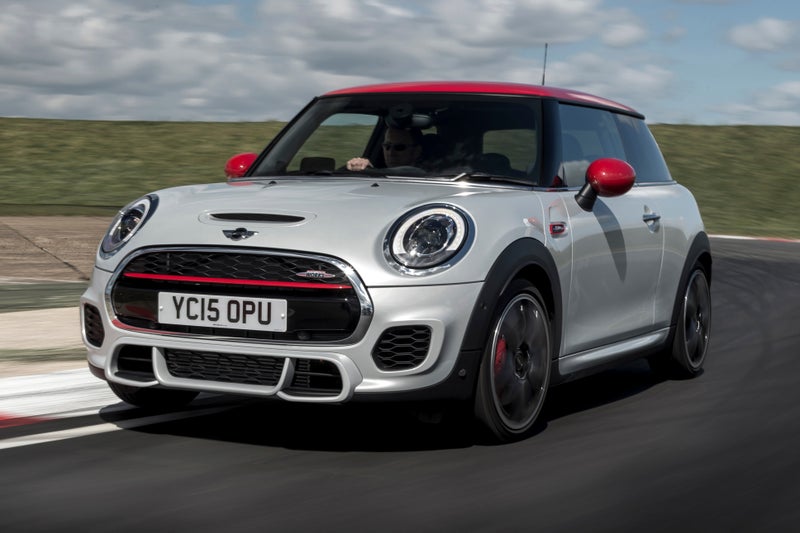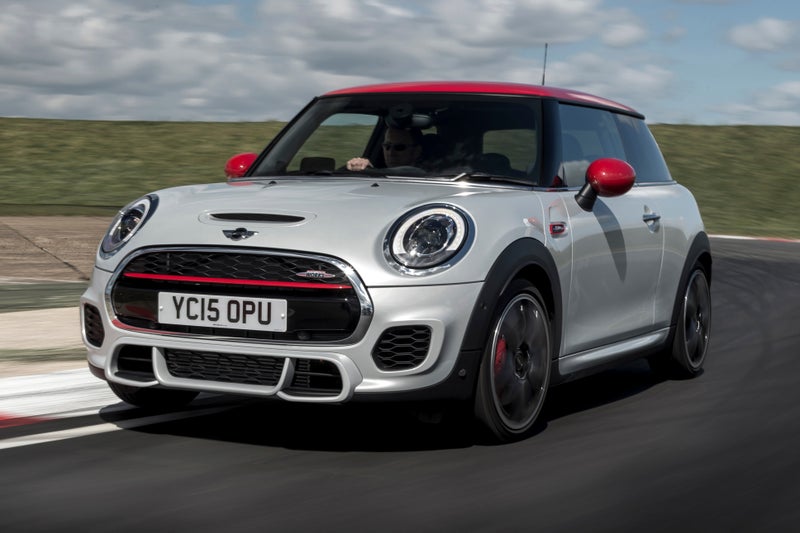 1/10
heycar rating
"Huge fun in MINI packaging"
Launched: 2015

Hot hatch

Petrol
Quick overview
Pros
Quick pace and great engine sound
Available in different bodystyles including Clubman
Nifty handling
Cons
Cramped rear seats in hatch
Firm low-speed ride
Pricey options mean it's hard to price used models
Overall verdict
On the inside
Driving
Cost to run
Prices and Specs
Overall verdict
"The MINI John Cooper Works is officially the most powerful MINI hatch ever, which is a fact that might be enough to win it admirers all on its own. Yet even with its 231PS power output set to one side, the JCW is still one of the most entertaining, characterful and well-made hot hatches on sale, let down only by its high price and less than impressive practicality."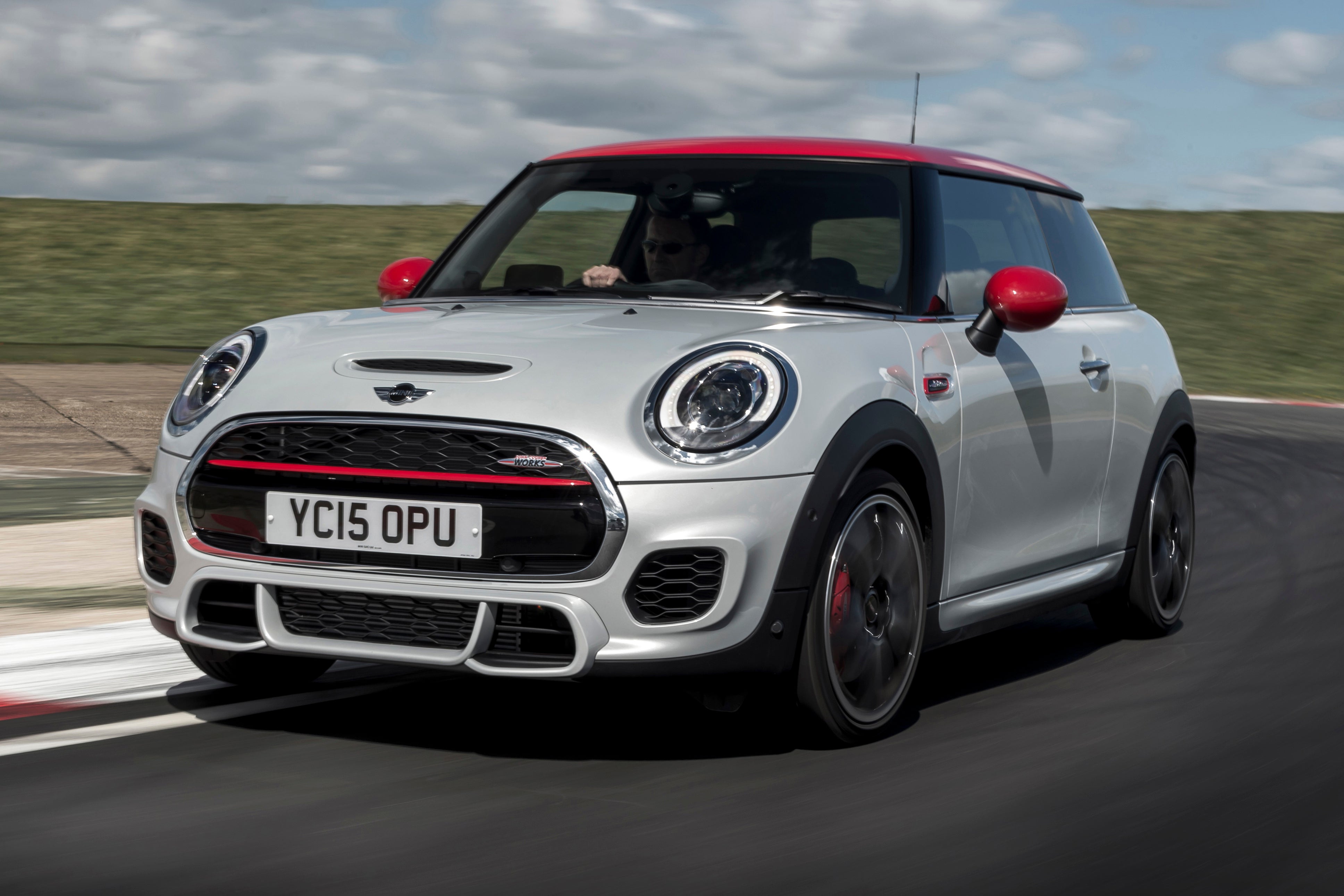 The JCW is differentiated from the lesser Cooper S by its bolder, more aggressive styling. There are unique alloy wheels, large red brake calipers, plus a big roof spoiler and a JCW-specific front bumper. At the rear there's a new twin-exit exhaust tuned to deliver a characterful exhaust note, complete with a crackling, popping overrun.
A mild update in 2018 introduced some emissions-improving technology to keep the JCW as clean and green as possible. It didn't affect engine power or performance, which remain the same as before, but there were some cosmetic upgrades. They included new 17-inch Track Spoke alloy wheels and Dinamica faux suede and leather for the seats. You can also have the JCW as a Convertible, Clubman or Countryman, though it's the hatch that works best for those keen on the sharpest handling and driving fun.
Performance is impressive in any of the JCW models thanks to its power and turbocharged shove. Acceleration from 0-62mph takes just 6.3 seconds and top speed is 153mph, but it's not all about straight line pace as the Cooper JCW enjoys great handling and feels perfectly at home on a twisting B-road. The steering is nicely weighted and, while definitely on the firm side, the suspension treads the line between ride quality and a fun drive very well.
Fun though it may be, the MINI Cooper JCW isn't without its flaws. The cabin, while very well-finished and attractive, is somewhat cramped. This is particularly true in the back, which is too tight to be comfortable for adults or teenagers. The boot is on the small side too, though it is still enough for shopping trips.
But the biggest problem of all is the price. £23,050 is steep and that's before anything has been picked out of a huge options list. It's more than a Ford Fiesta ST costs, which is every bit the dynamic equivalent of the MINI and comes with a roomier cabin. However, there is so much fun to be had, delivered in such a charming way, that the MINI Cooper JCW is still very easy to recommend if your budget stretches far enough. And it also has the cache of that John Cooper association and heritage that no other hot hatch can call on.
If you're looking for the standard non JCW version, you need our MINI Hatch review while if you want the Clubman, that's covered in our MINI Clubman review.
Is the MINI John Cooper Works right for you?
For many, the MINI Cooper S will be just the right balance between cost and performance blended with the usual charms of a MINI. However, for anyone who gets out of the Cooper S and thinks 'I wish it was a bit quicker… ', then this is exactly where the John Cooper Works version comes into the equation.
The JCW upgrade option goes back to the first Cooper S model under BMW's revitalised MINI range. With this latest generation, it now squeezes 231PS from the 2.0-litre turbo petrol engine, which is more than a Ford Fiesta ST or Volkswagen Polo GTI can muster. There's also a GP version with a whopping 306PS if you really feel the need to get a shift on.
Choosing the MINI does mean making some sacrifices, such as rear seats that are only able to cope with young children because they are very cramped. You also need to be prepared for a ride quality that is very much on the firm side of sporting. And you will have to tick a few options to make the JCW as natty and fun as you would like it to be.
What's the best MINI John Cooper Works model/engine to choose?
MINI makes it simple with the John Cooper Works because there is one engine and that's your lot. It's a 2.0-litre turbo petrol with 231PS, though you can opt for the GP pack that ups that to a breath-taking 306PS. Either way, the JCW comes with sports suspension and big alloy wheels.
You do get a say in which transmission is fitted to the JCW, so you can stick with the standard six-speed manual or opt for the eight-speed automatic. The auto 'box helps knock 0.2 seconds off the 0-62mph sprint, so it needs only 6.1 seconds to the manual's 6.3 seconds. However, the auto adds £1700 to the final price and is not as much fun to use as the manual.
There's no five-door body available with the JCW specification, but you can have it as a Convertible. Fresh air fiends will appreciate this, but anyone who places handling prowess above all else will be better served by the hatch.
What other cars are similar to the MINI John Cooper Works?
While the Volkswagen Polo GTI has what it takes to meet the MINI John Cooper Works head-on in the quality stakes, the Volkswagen is just a bit too staid in the way it drives. Where the JCW is nimble and brims with fun, the GTI is a bit too, well, sensible.
For a much finer balance between driving sense and sensitivity, the Ford Fiesta ST is the biggest threat to the MINI.
Comfort and design
"Inside, the MINI John Cooper Works is differentiated from other MINI models by the unique bucket seats trimmed in artificial suede and leather, along with various JCW badges and details. There are also stainless steel pedals and an anthracite roof liner, plus numerous red details and unique instrument faces."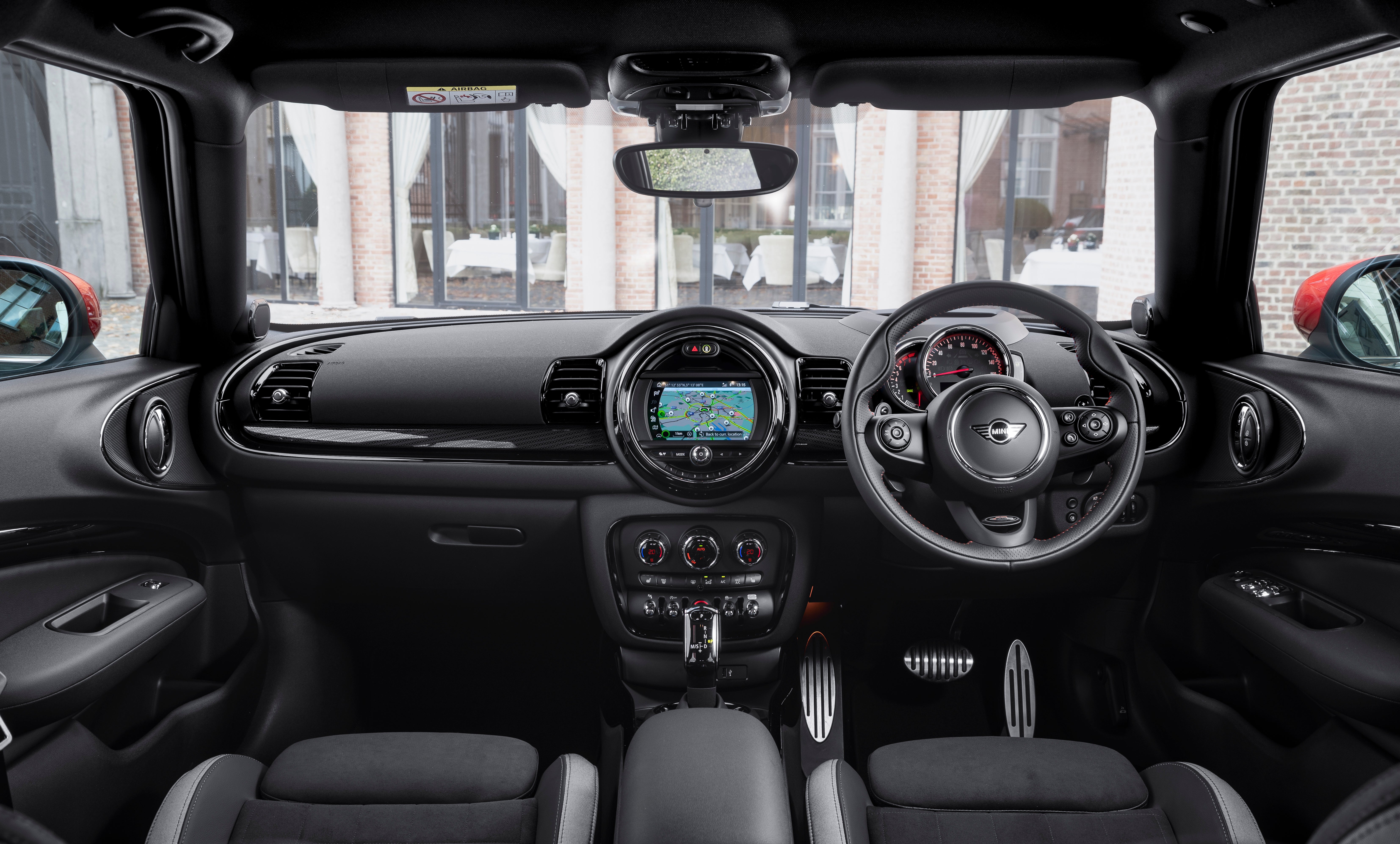 Aside from that it is very much the same as the regular MINI hatch, meaning impressive material quality and plenty of quirky details, including the dinner plate-sized, illuminated circular infotainment screen surround in the centre stack. You also get various aircraft style switches for starting the engine or operating minor functions like start/stop and the electric windows.
This is all impressive eye candy and the JCW gets the basics right too as those bucket seats are very supportive and place the driver in a low-set driving position that's ideal for a hot hatch. You also have plenty of space for heads, legs and shoulders in the front of the JCW, as well as several places to store your phone and other odds and ends.
Another advantage of the MINI shape is the driver gets better all-round vision than in many other hot hatches. The generous glass area and upright styling of the car make it easy to judge where the corners are for parking as well as when pressing on down a country road. One other point to mention is the thickness of the JCW's steering wheel is spot on, giving just the right sporting sensation the moment you step into the car.
Quality and finish
MINI has long had a very strong grip on how to make its cars look and feel far more premium than most of their rivals. So it is with the MINI JCW, which ups this impression with its standard front sports bucket seats covered in leather and man-made suede material. They look spot on for a hot hatch and are very well constructed.

The same can be said for the rest of the MINI's cabin, which mixes high grade materials with dutiful attention to detail. It's a good thing too as there are quite a lot of curves, joins and separate panels that make up the MINI's interior, so if any one of them was out of kilter it would spoil the overall effect.
The rest of the JCW is finished to the same high standard and we'd expect it to serve its driver very well for as long as you own it. Even the doors of this compact car shut with the solid thunk of something much bigger, which tells you a lot about MINI's approach to small cars in its design and build.
Infotainment
The infotainment system is an adaption of the BMW iDrive system and it's one of the most intuitive on offer. The rotary controller can be easily and quickly operated while on the move and there are shortcut buttons incorporated into the circular surround of the 6.5-inch colour touchscreen. There's also a simple rotary dial to adjust the stereo volume or you can use the remote controls on the steering wheel.
The infotainment screen is easy to see from the driver's seat and the display has good resolution. You can also add the Digital Cockpit option that brings a 5-inch digital screen with black panel design in place of the usual dial on top of the steering column. This can be used to show information such as speed, sat-nav instructions and driver assistance data. It also shows revs and fuel data either side of the main screen. This is certainly an option worth considering as it adds to the look and practicality of the JCW's interior and driving environment.
Space and practicality
As a three-door hatch or Convertible, the MINI John Cooper Works is never going to be as practical or versatile as the larger models in the MINI range. It is bigger than previous generations of MINIs, though, so it does make some attempt to offer a bit of rear seat space.
The gap between the door pillar and front seat, which tips and slides forward, means there's a decent space to get through and into the back of the MINI. However, the problems start when the front occupants put their seats back into place. Anyone other than small children will find their knees coming into contact with the back of the front chairs and there's not much room underneath for your feet either.
Headroom is not such an issue thanks to the long, upright roof line of the MINI in hatch or convertible forms. The window line is quite high for kids though, so it can seem a little hemmed in for children not sat on a kiddy seat to give them a vital lift to see out. Still, there is a pair of three-point belts and ISOFIX seat mounts as standard, but it's strictly for two back here and the raised centre cushion puts paid to any notion of carrying a third rear passenger.
The biggest, or smallest, problem the MINI has is the size of its boot. It musters a maximum of 211-litres with the rear seats in their usual position, which is about the same as a city car rather than the supermini hot hatches the MINI is up against. Yes, you can fit in a few shopping bags, but it will soon be taxed by a couple of aircraft carry-on cases.
This means you need the 60-40 split and fold back seat to come into action. It can free up to 731-litres of load space, but it's still on the small side and there's a large step in the cargo floor. At least the tailgate opens to reveal a big, square aperture.
Handling and ride quality
"MINI has built its entire brand on the element of fun its cars supply to drivers and the John Cooper Works is testament to this ethos. It comes sitting on 17-inch alloy wheels as standard and they are attached to sports suspension. There's also a Performance Braking System with red-painted calipers."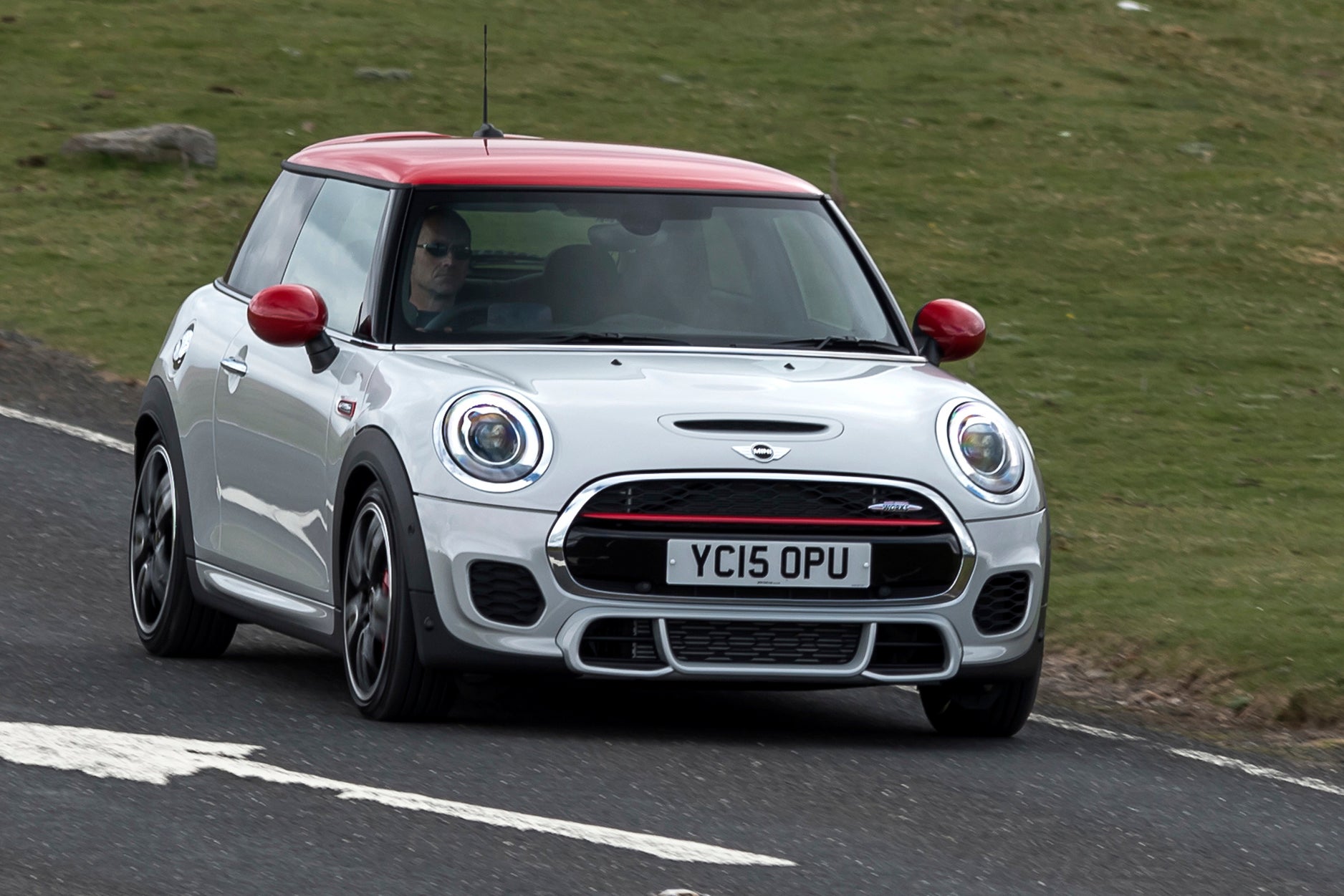 All of this combines into a driving experience that puts the JCW in the top tier of hot hatches regardless of size or price, and it helps make the cost of this car far easier to stomach.
Point the JCW down the sort of road hot hatch drivers dream about and this car is alive with feel through the steering and suspension. It has superb body control that lets the wheels and tyres get on with their job undeflected by bumps in the road's surface. You can adjust the car's line easily with the steering that tells you what's going on yet never becomes jittery on even the roughest bits of tarmac.
All of this shows the MINI JCW has been developed on British roads, which are uniquely challenging. So, what you get is a hot hatch with handling that lets it power out of corners to use its full 231PS punch to best effect to make unhindered progress. There is always plenty of grip too thanks to the way the suspension works.

When it comes to stopping the JCW, its brakes are strong and reassuring, even when used hard and often from higher speeds on a flowing back road.
Head back to town, though, and the ride of the JCW is definitely among the firmest you'll find on any hot hatch. Some of this is due to the car's compact wheelbase, while the rest is simply down to the car's set-up. If you spend most of your time driving around the city, a Cooper S may be a cushier option.
On the motorway, the JCW's suspension is compliant enough. If you opt for the variable dampers as an extra, they have little use here, but on country lanes they further sharpen the car's reactions, while the selectable driving modes tailor the MINI's steering between normal, eco Green setting and Sport for more fun and feedback.
Engines and gearboxes
The MINI John Cooper Works uses a 2.0-litre twin-scroll turbocharged engine shared with the Cooper S, but it has been heavily reworked to improve power to 231PS. 320Nm of torque is available from 1450rpm, giving swift acceleration of 0-62mph in 6.3 seconds with the manual transmission or 6.1 seconds with the automatic. There's also a limited run GP model with 306PS that covers the same dash in a mere 5.2 seconds.
The engine really does dominate the character of the car. The exhaust note has been tuned to deliver a meaningful growl when accelerating, accompanied by a parp on gear changes and a spitting, popping overrun. In fact, the engine has even dictated the styling with extra cooling requirements meaning the fog lights have been replaced by additional vents.
There are three driving modes, comprising Green, Mid and Sport. These change the throttle response, engine sound and steering weight plus, if owners have opted for variable dampers, the suspension stiffness. The different modes also change the shift timings for the automatic transmission.
MINI offers the Cooper JCW with a choice of six-speed manual or eight-speed automatic and, while the manual might be a default choice, the automatic is genuinely impressive. It is smooth and relaxed, but when the paddles are set to manual mode the car doesn't steal any of the driver's thunder, staying in whatever gear has been chosen unless the engine is about to stall. That automatic also has marginally lower official emissions and better economy – 157g/km and 40.9mpg versus 159g/km and 40.4mpg for the manual.
Refinement and noise levels
On longer journeys on the motorway, the MINI John Cooper Works is capable of keeping engine noise to a background hum. It also has an easy gear shift action in manual or automatic versions, so it's quite an easy hot hatch to live with in this respect.
However, there's a lot of noise drummed up from the tyres and allowed to enter the cabin. You'll also hear quite a whistle from the wind passing around the windscreen and door mirrors at higher speeds.
We suspect anyone choosing the MINI JCW will be able to forgive all of this because of the car's focused hot hatch nature. That comes to the fore when the engine crackles and fizzes when being driven enthusiastically and it's this sound that will stay with you long after the hubbub of motorway driving is forgotten and forgiven.
In town, the deep engine not only lets you know this is a potent small hot hatch all the time, but it doesn't err into boy racer noisiness, thankfully.
Safety equipment
Every MINI including the John Cooper Work comes with eight airbags as standard. That covers twin front, side and four head 'bags. All four occupants have a three-point seat belt and there are ISOFIX child seat mounts in the two rear chairs.
You get autonomous emergency braking included that also comes with Forward Collision Warning and City Collision Mitigation. MINI fits E-Call to all of its cars and this automatically contacts the emergency services in the event of an accident.
There's also Dynamic Traction Control with an electronic differential lock that acts to limit wheel spin on greasy corners. A Hill Assist function stops the car rolling backwards as you pull away up a slope, while a tyre pressure monitor warns if any tyre is under- or over-inflated.
You could also improve the JCW's safety count by adding the Driving Assistant Pack. It comes with cameras that spot other vehicles in the driver's blind spot and give an alert, and it will warn of possible hazards as they approach from the front.
MPG and fuel costs
"Hot hatches may not be noted for their frugal approach to life, but the MINI John Cooper Works can offer reasonable economy. With the manual gearbox, the hatch has a combined consumption under WLTP tests of 40.4mpg on its standard 17-inch alloy wheels. That drops to 38.7mpg with the optional 18-inch Cup Spoke wheels."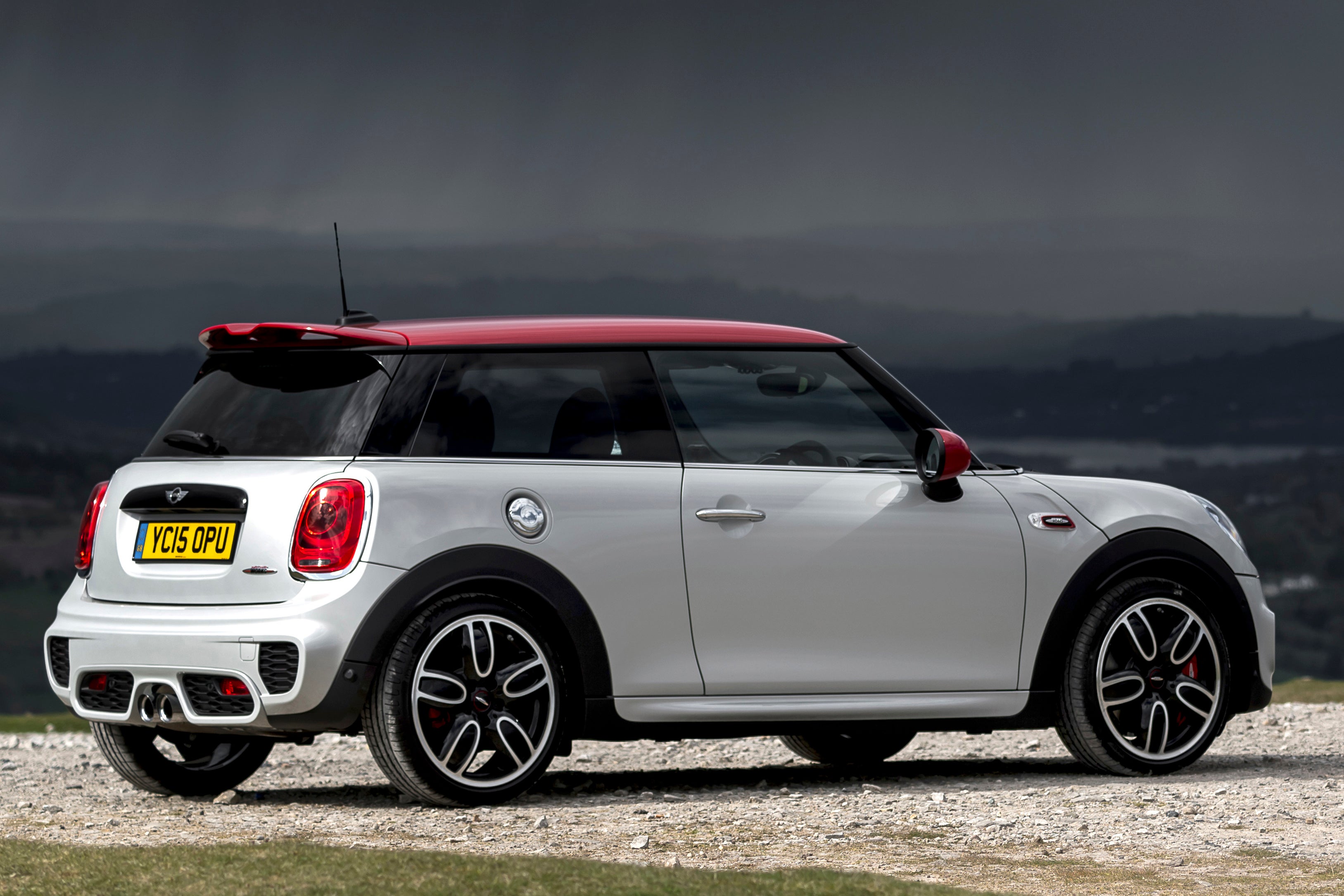 If you order the JCW with the automatic gearbox, it offers a best economy of 40.9mpg, or the same 38.7mpg on the larger optional wheels. Real MPG figures show the JCW owner can expect everyday fuel consumption of 36.7mpg, which is not far off the official numbers.
Insurance and group costs
The MINI John Cooper Works may have plenty of style and charisma, but that doesn't mean you'll be forking out large sums when it comes to insurance cover. It sits in group 29 as a hatch, which is only one group higher than the Ford Fiesta ST, so don't expect premiums for the MINI to be much different than the Ford.
VED car tax
Whether you decide on the manual or automatic gearbox for your MINI John Cooper Works, or if you choose the larger optional 18-inch wheels, all models sit in the same band for Vehicle Excise Duty. As a result, you will pay £540 for the first year's road tax for this MINI model and then £150 in the following years.
How much should you be paying for a used MINI John Cooper Works?
"The popularity of the MINI and the John Cooper Works model means this is a car that hangs on to its value in the used market. So, a five-year old model in good condition and with 30,000 miles under its nose will cost from around £14,000. That will get you a car with a few choice extras fitted from new."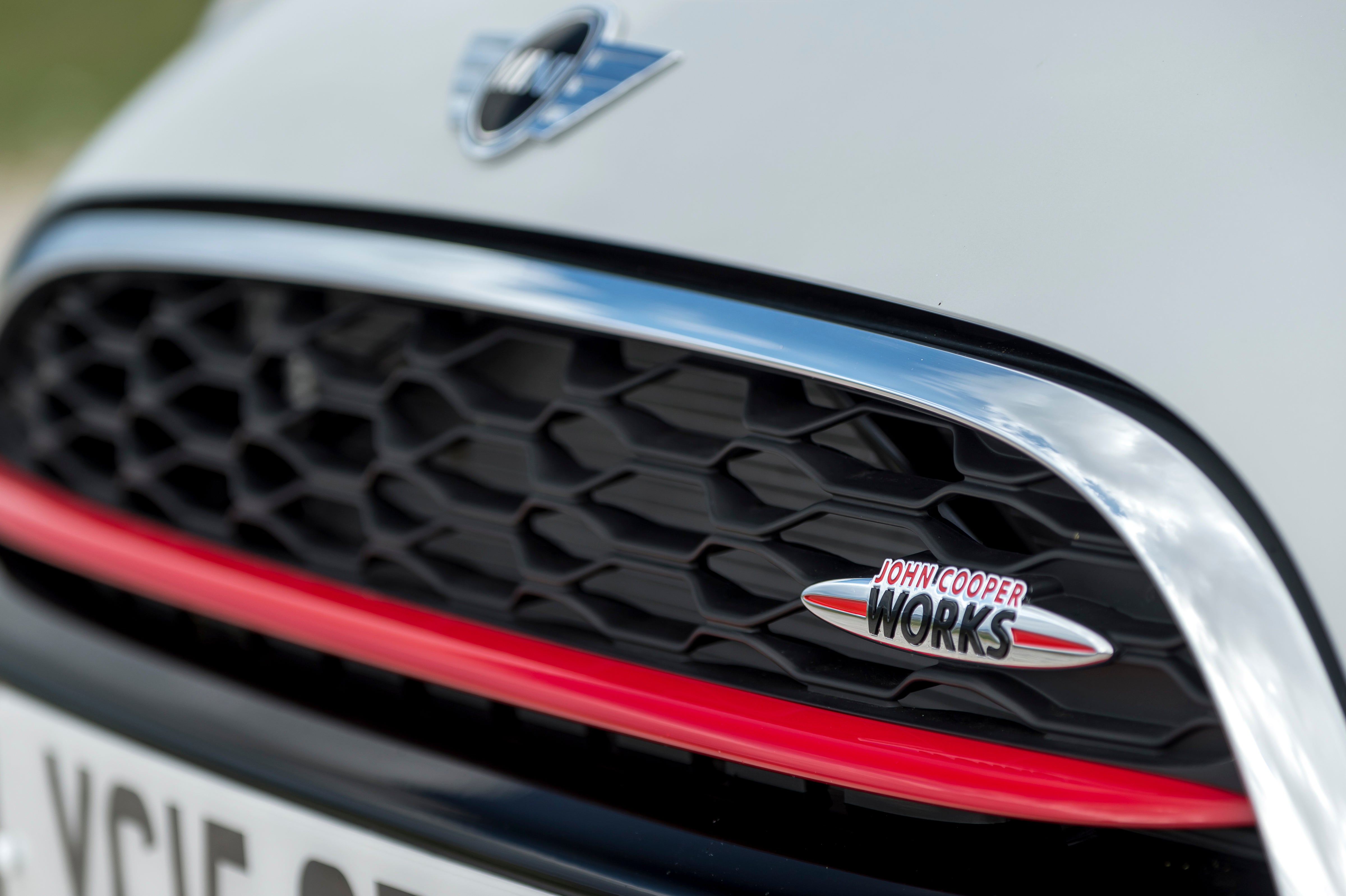 For a newer car, a pre-registered model will save you £1000 on the list price, while a one-year old JCW could be yours from £20,000. That bags you a car with less than 5000 miles on this clock and saves you £6000 on the list price of a new model.
Trim levels and standard equipment
MINI is more generous than it used to be with its level of standard equipment on its cars. So, the John Cooper Works comes with 17-inch alloy wheels, sports exhaust and body kit, red-painted brake calipers, and LED lights front and rear. MINI Driving Modes offers three settings for how the car behaves, with a choice of Green, normal Mid, or dynamic Sport variations. You also get cruise control and the Performance Control electronic limited slip front differential to prevent wheel spin.
On the inside, the JCW has sports front seats, and part-leather and part-Dinamica man-made suede upholstery. It also has piano black trim inserts, JCW sill finishers, and an anthracite headlining. The JCW also comes as standard with the Excitement Pack with illuminated door handles, ambient cabin lighting and puddles lights with the MINI logo.
Infotainment is taken care of by the 6.5-inch central touchscreen that works in tandem with Bluetooth and a USB connection.
As usual with MINI, there are various packs you can add, such as a Navigation Pack for the infotainment system. Or you might like the Comfort Pack with heated front seats and rear parking sensors. There are also plenty of other options to personalise the MINI JCW to your tastes.
Keep me updated by email with the latest advice, news and offers from heycar
By submitting, you agree to our
privacy policy
.