Written by
heycar editorial team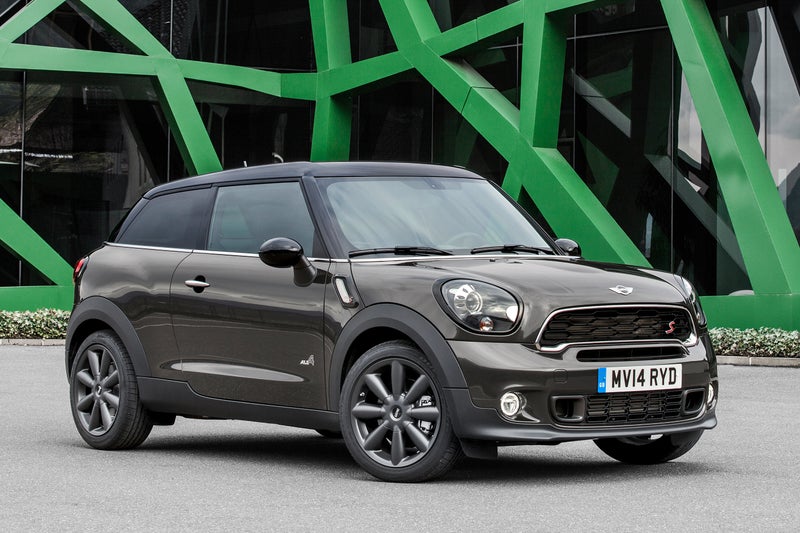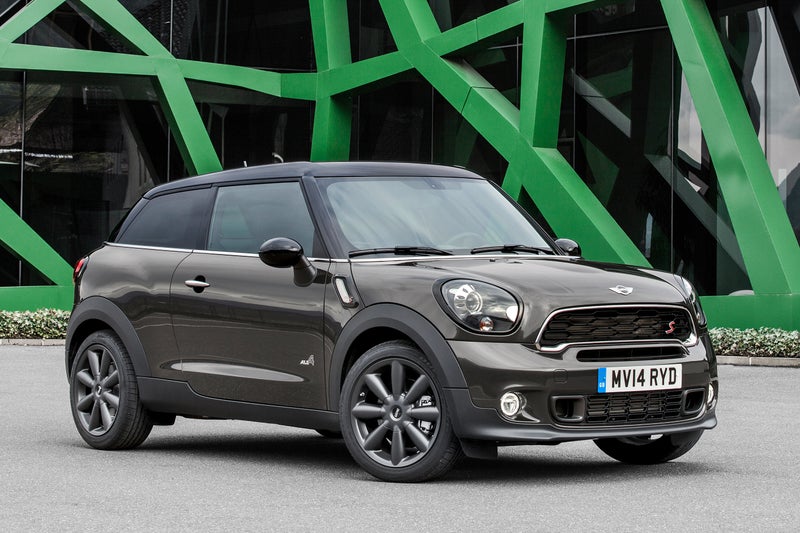 1/10
heycar rating
"Pointless new, but interesting second-hand"
Launched: 2013

Crossover

Petrol, Diesel
Quick overview
Pros
Distinctive design
Fun to drive
Second-hand value enhances its appeal
Cons
So-so interior quality
Still hardly roomy in the rear
Weak non-turbo engine
Overall verdict
On the inside
Driving
Cost to run
Prices and Specs
Overall verdict
"So why go for a MINI Paceman? Simply because it's a distinctive and leftfield car. It's not for everyone, which is why there aren't many on the used market."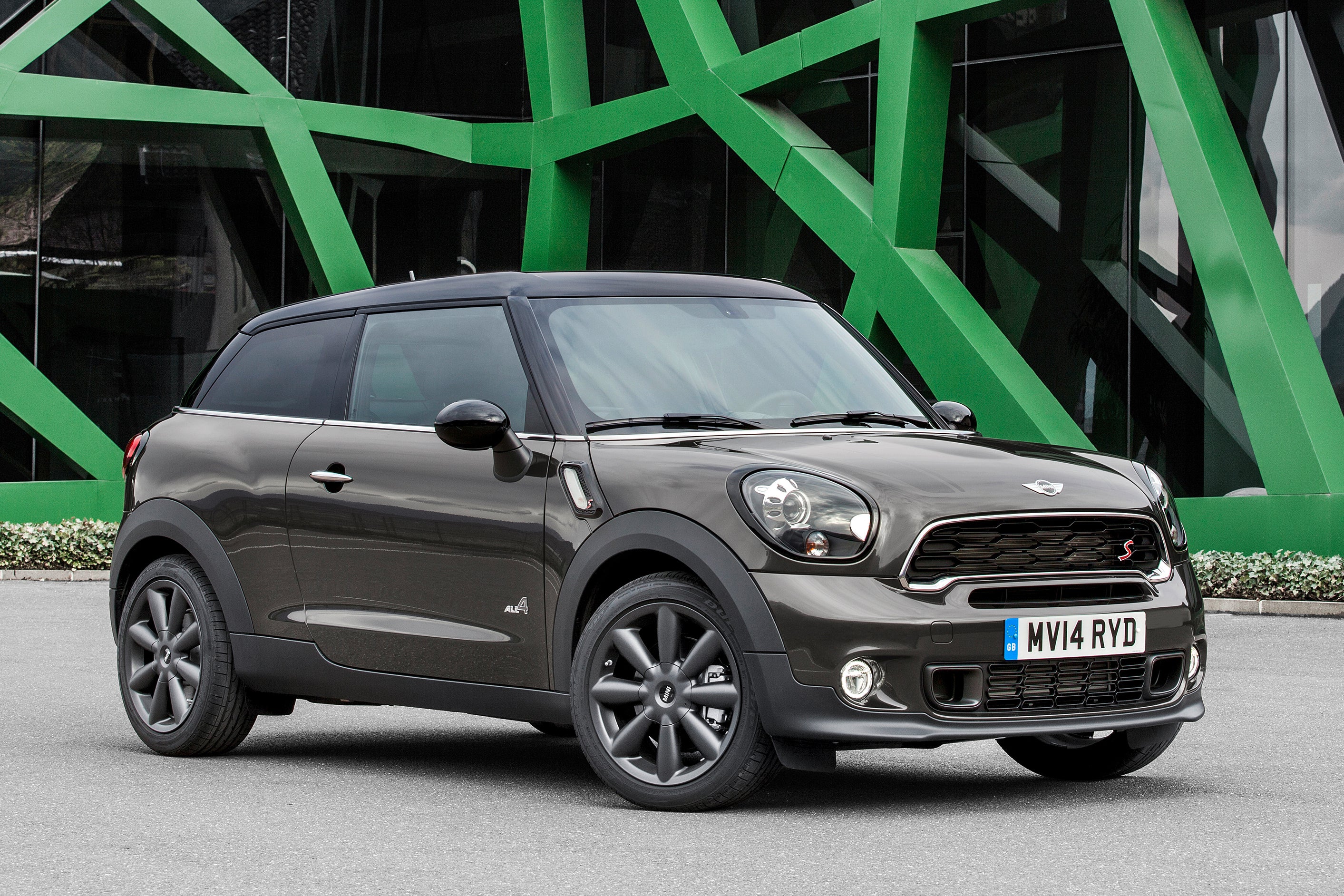 But if you're bored of the normal fare, it might just be worth checking out. MINI's logic was reasonable. For many, the regular three-door MINI hatchback was simply too compact, particularly in the rear and boot.
The Paceman was intended to be a three-door step up, one with distinctive looks of its own, and with vital extra capacity for passengers and luggage. It was given a sporty slant with some punchy engines and firm suspension.
The Paceman also inherited the higher-up driving position of the Countryman, and the same more feature-packed interior. So far, so good. Sadly, the lack of obvious focus proved its downfall. It wasn't clear exactly who the Paceman was aimed at, and even more open-minded people were soon deterred by the high list prices.
So, why might you want one? Well, love it or loathe it, you can't deny the Paceman is a distinctive-looking thing, with its blunt nose and curving rear end. It's not classically pretty, sure, but there's nothing else quite like it in this sector. It does indeed also offer more practicality, with a 330-litre boot capacity placing it between a small hatch and a medium-sized family car for load space – not bad at all.
It's good fun to drive, in that typical MINI way. Handling is prioritised, with tight body control and firm, roll-free suspension making it chuckable and hot hatch-like through bends. There are even all-wheel-drive versions, called ALL4, giving extra capacity and confidence in inclement weather. The pay-off is stiff ride quality – yes, just like a smaller MINI. Sport suspension was standard, although MINI did offer a slightly softer set-up as an option.
The range opened with the more powerful Cooper engine, rather than as a basic MINI One. Due to the weight of the Paceman though, this isn't actually all that fast: 0-62mph takes more than 10 seconds, or 11.5 seconds for an automatic model. The Cooper D diesel is slow, too. Only the Cooper S delivers the hoped-for performance, while the John Cooper Works version is the only model to dip below seven seconds to 62mph. A Golf GTI will pull away with ease.
A curious car that never found a following when new, the MINI Paceman is still compromised as a used car – but it is also worthy of more interest now, as lower prices help buyers consider its strengths. These include interesting styling, good handling and BMW build quality.
Is the MINI Paceman right for you?
Have you been a happy MINI hatch owner, but are now finding your beloved car a bit too small? Do you wish the boot were bigger or there was at least some semblance of rear-seat space? Then the MINI Paceman might just be for you.
It's also a different alternative to a three-door hot hatchback – i.e. something like a Golf GTI or a smaller Fiesta ST. The BMW-grade onboard equipment, including an excellent infotainment system, also helps set it apart from more mainstream cars.
Even the fact it comes in all-wheel-drive guise might be useful for some who want a sporty-feeling car but still need to guarantee winter-weather motoring. You need to keep an open mind as it wasn't right for many people when new. But that's the beauty of the used car market.
What's the best MINI Paceman model/engine to choose?
The Cooper version was the most popular when new, so it's the one you'll most easily find on the used car market. We just wish it were a bit quicker. The Cooper D diesel isn't very fast either, but it does have a bit more pulling power than the non-turbocharged Cooper petrol.
You're best picking a Cooper S, we reckon. This has the necessary performance to back up the Paceman's intriguing styling, and the turbo petrol engine is lots of fun in its own right. The Cooper SD is less convincing, although it is at least a proper BMW diesel, so has a sophisticated feel. The John Cooper Works is great fun, but expensive – and rare on the used market.
What other cars are similar to the MINI Paceman?
Part of the MINI Paceman's problem when new was that there's nothing else quite like it. Crossover coupes even now are hardly a booming sector and no rival offered an alternative.
There was one similarly-conceived car, perhaps: the Nissan Juke Nismo. Generally, though, the Paceman fell into the uncertain space between small and family-sized hot hatches. Perhaps the most viable alternative is actually the roomier, five-door version of the Paceman – MINI's own Countryman.
Comfort and design
"Circles, circles, circles. The MINI Paceman's cabin is full of them: the steering wheel, the rev counter behind it, the massive dinner-plate-sized speedo in the centre, the four air vents, the climate control display, the door handles, the gearlever surround… we could continue."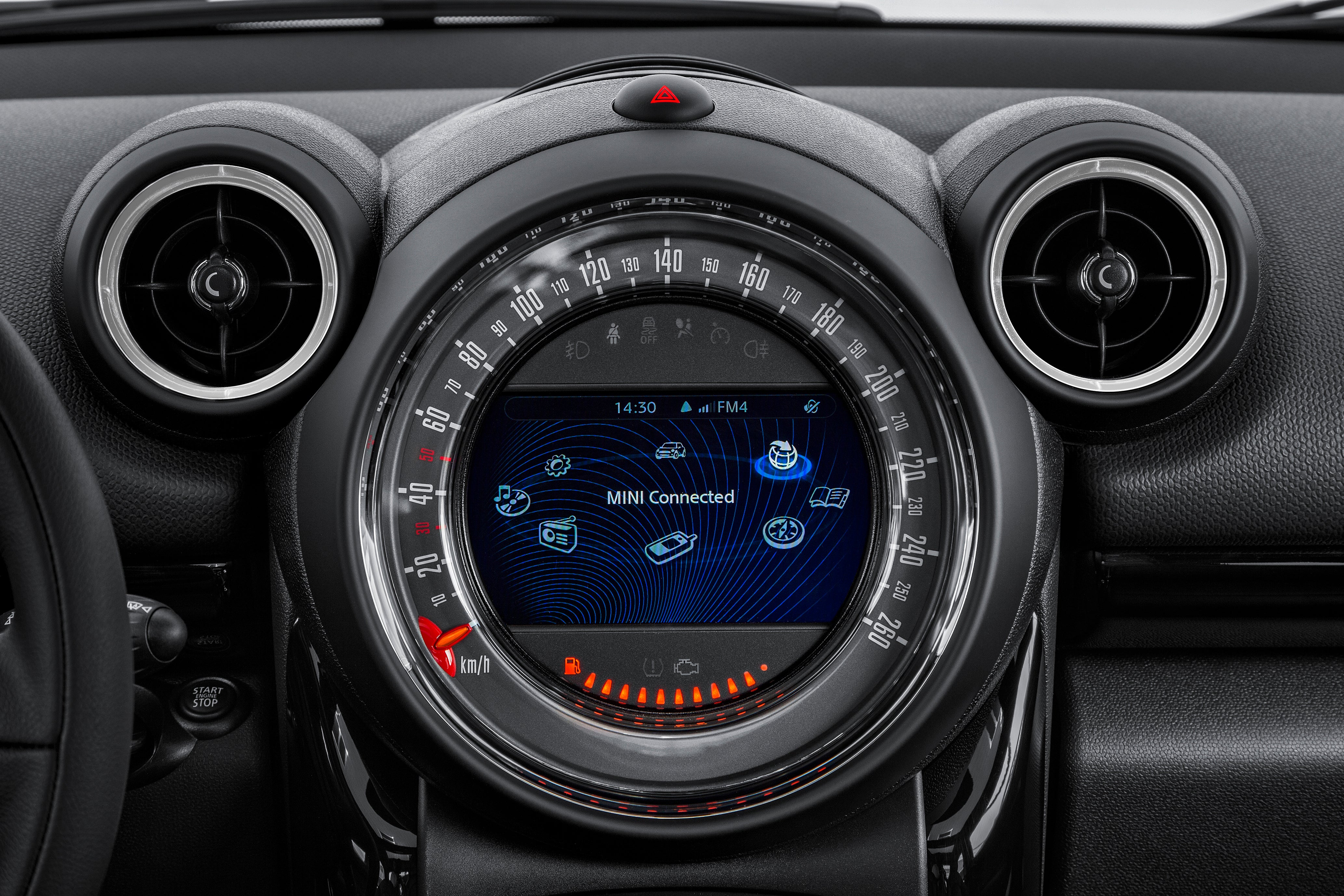 It's the theme of the original 1959 Mini, repeated over and over again. Frankly, it's a bit much, particularly as the overall structure of the dashboard is rather vertical and upright. This reinforces the more crossover-like setup of the Paceman, but also makes it feel a bit stark and high-rise within. It doesn't have the charm of the regular MINI.
There are still some neat details, though. We like the sporty-looking rev counter, which is like that on a 1960s racing car, and the central speedo has a clever 'hidden' needle so it shows speed without blocking the infotainment screen (where fitted) in the middle. It's a clever positioning of the screen, blending in nicely to the rather strained design theme: regular models simply get a gigantic round speedo. The chrome toggles are still there on the centre console and roof, too.
As the range starts with the Cooper, it means all Pacemans (Pacemen?) get a sporty set of seats, which are even more firmly bolstered in S and John Cooper Works versions. It's a slightly odd driving position, a curious sense of hunkered-down sportiness and high-up crossover vision.
It's roomy, much more so than a regular MINI, so is more comfortable for drivers of all shapes and sizes. Also, slightly upright-feeling pedals apart, there's lots of adjustment to hone it further, and ex-MINI drivers will particularly like the extra elbow room you get in the Paceman.
Quality and finish
Curiously, the Paceman doesn't quite have the same feeling of inbuilt quality that the smaller MINI hatchback does. The main dashboard structure looks a bit cheap and there are a few too many hard and shiny bits and pieces. Some areas are plain flimsy, such as the panel around the climate control buttons. It just doesn't feel like it has the same integrity as the normal MINI.
At least the BMW-grade bits work well – such as the infotainment, a few of the minor controls, and details such as the responsiveness of the trip computer located within the rev counter. And, on the outside, it has a good-quality finish, with thick paint and a solid thunk to the doors. It's the details that let the Paceman down, which is a surprise.
Infotainment
Regular models don't get any form of infotainment. They simply get a fiddly radio panel built into the bottom of the central speedo, which will likely prove infuriating to use.
Versions with navigation have a MINI-branded (but thoroughly BMW-grade) infotainment system. The central screen isn't a touchscreen, but is activated by a rotary iDrive controller located in the centre console. It isn't quite as easy to use as in a BMW, but is still intuitive and straightforward.
The infotainment screen layout and navigation logic are flawless. BMW systems are the best in the business and it gives the Paceman a sophisticated feel. Adding routes is easy, mapping is clear and owners can also access advanced infotainment features via the MINI Connected service.
While the hidden speedo needle is clever, it's not actually very easy to read. You'll be relying on the digital display in the rev counter instead.
Space and practicality
The MINI Paceman certainly feels roomy and airy for people up front. The more upright positioning behind the wheel makes good use of this extra spaciousness with a good view forwards, although the plunging roofline does restrict things when looking over your shoulder. At least it has a rear wiper.
It's very awkward climbing into the rear, as the front seats get in the way, and the roofline drops down. And, while it has more space back there than a MINI hatch, that's not saying much.
There is at least some semblance of legroom, particularly if those in the front don't mind sliding their seats forward, while headroom isn't bad despite the coupe kink to the roof. But it's far from spacious and still not competitive with a regular hot hatchback. The rear seats are quite cool, though. There's only two of them, and each is shaped like a mini bucket seat, giving more side support and better comfort.
The boot grows significantly over a regular MINI, to 330 litres with the seats up. The space is nice and deep (good job, given the rake of the rear screen), although it's a shame the opening is so narrow – blame those big rear lights eating into the space. Folding the seats down extends it to 1080 litres: not massive, but usefully larger than a normal MINI.
MINI made a big deal of its central rail system in the cabin at launch. This stretches front to rear, and lets occupants clip on things such as cupholders and sunglasses holders, and move them front to rear. It's not particularly practical and owners are unlikely to find it useful.
We don't like the handbrake. It's an inverse L-shaped lever, with the button underneath, and it's awkward and heavy to use and release. It's meant to be space-saving, but doesn't actually save that much room. A regular handbrake would be much more practical.
Handling and ride quality
"All MINIs are set up to deliver a sporty drive, even the large five-door Countryman crossover."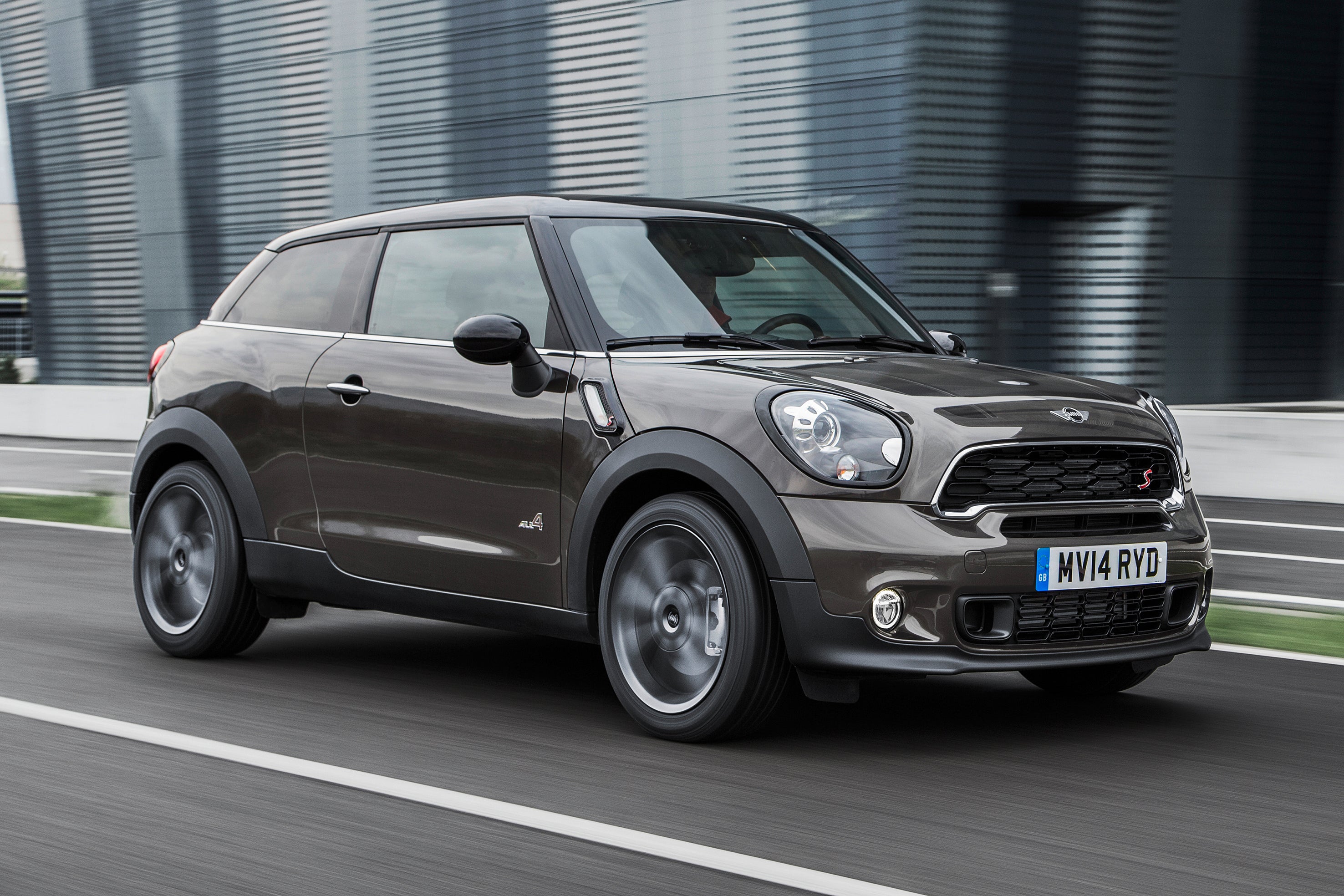 The Paceman is derived from this model, but has 10mm lower suspension with a firmer setup to give sharper body control and less roll during cornering – aided further by the sophisticated multi-link suspension set-up.
It largely works. The Paceman feels uncommonly chuckable for a car with a rather high seating position. It seems to have lots of grip, and the traction of turbocharged models with the ALL4 system out of corners is reassuring and amusing. There's good feedback through the steering, which has a more firmly-weighted and confidence-inspiring feel than you normally get in SUV-style vehicles.
It does all mean the Paceman also has a sporty ride, though. Those who are familiar with a MINI hatch will recognise the stiff, sometimes choppy ride. It is more tightly hunkered down so will pick out lumps and bumps in the road, particularly the sportiest Cooper S and John Cooper Works versions.
The occasionally unsettled ride is why MINI offered a 'comfort' suspension option when new. If ride quality is important to you, it's worth keeping an eye out for on the used market.
When new, the Paceman came with run-flat tyres, and these add an extra degree of firmness to the ride. They can be particularly unyielding in town. It's worth trying to find out what sort of tyres any second-hand car is using – despite the implications for ride quality, they should ideally be run-flats.
Engines and gearboxes
The regular MINI Cooper engine sounds like it should be sporty, but it doesn't have the grunt to offset the extra weight of the Paceman. It only has 122PS, so even the quickest version can't dip under 10 seconds for the 0-62mph dash. It also lacks torquey pulling power, so drivers have to make plentiful use of engine revs and the six-speed gearbox. All models have nice snappy gearshifts, but even so, it's a bit of a drag if you want to travel quickly.
The Cooper D has less power (just 113PS), but it does have a lot more torque. Thus, while it's slower against the clock, it might actually prove the more relaxed model to use day-to-day, needing less frequent use of the gearbox.
The Cooper S is the best all-rounder. It has a turbocharged 1.6-litre engine that produces 190PS. Zero to 62mph takes 7.4 seconds, which still isn't as fast as the best hot hatches, but makes it feel much livelier. You can press the accelerator and surge forward, rather than pressing it, not feeling any response, then having to change down a gear or two.
The Cooper SD has a 2.0-litre BMW diesel engine normally found in the 3 Series. It's a bit heavy for this sort of car, but does have an effortlessness lacking in the other versions. Meanwhile, the vibrant John Cooper Works is a lot of fun, and quicker against the clock, but we think the overall set-up of the Cooper S is better.
You can also get a MINI Paceman with an automatic gearbox, but it's a disappointing transmission that has an impact on both performance and fuel economy. Our advice is to stick with the manual, for that more authentic and MINI-like experience.
Refinement and noise levels
As it is a bigger car, the MINI Paceman is a bit more refined than a normal MINI. Noise from the road surface is better isolated and there's less suspension clatter over bumps. It's better in terms of wind noise at speed as well, helped by aerodynamics that are just a bit sleeker than the stubby and upright MINI.
It's on a par with sporty supermini hatches, but not as good as larger models such as the Volkswagen Golf GTI. The diesel engines make a bit of a clattery noise when revved and the Cooper engine sounds too hard-worked and strained most of the time. Perhaps the most refined overall will, surprisingly, be the Cooper S turbo.
The Paceman has cool frameless doors, just like the smaller MINI. These automatically wind the window down slightly when you open them, then go back up when you close it. Why? To ensure a tighter door seal, to keep wind noise at bay. Open the window slightly at speed and you'll realise how effective it is.
Safety equipment
Euro NCAP didn't test the Paceman for crash safety performance, because it is an iteration of the Countryman, which it assessed in 2010 – and awarded with five stars. Adult occupant protection was rated at 84% and child occupant protection 83%. Pedestrian protection scored 63% and Euro NCAP awarded 71% for safety assist features. It's worth noting, however, that these ratings are assessed to a 10-year-old standard: Euro NCAP is a lot stricter these days.
The Paceman has the regular haul of airbags and standard electronic stability control, plus rear Isofix mounts for those two sportily-shaped seats (we don't envy you squeezing in to lift children in and out, though). A tyre pressure monitoring system is standard, although there's no spare wheel, just a tyre repair kit – which, ideally, you wouldn't need to use because the run-flats would do their job.
MPG and fuel costs
"On paper, the MINI Paceman's fuel economy doesn't look bad – but remember, it's an older car assessed to the more lenient fuel economy standards."
You therefore probably won't achieve the claimed 48mpg for the standard Cooper, and certainly not the 67mpg for the Cooper D.
The Cooper S is rated 47mpg, which we think is optimistic, but it does at least suggest real-world fuel costs for the faster MINI won't be too much higher than the standard Cooper D. The John Cooper Works probably will be, however. Even according to the official stats, it averages less than 40mpg.
Insurance groups and costs
Insurance costs for the regular MINI Paceman shouldn't prove too prohibitive as insurance groups are surprisingly reasonable. They all range from group 13 to 15, with the ALL4 versions actually coming in lower than the regular front-wheel drive models – perhaps they're perceived as lower-risk thanks to their better traction?
Faster Cooper S and John Cooper Works versions represent quite a bit of a jump. Even a standard Cooper S is in group 27, reflecting the car's greater performance, desirability and overall risk. The most expensive John Cooper Works models are in insurance group 32.
VED car tax
Good fuel economy means low CO2 emissions which, thanks to pre-2017 VED (road tax) rules, means low costs. Our favoured Cooper S, for example, is exactly the same as 2017-on cars, with an £150 annual VED bill. The regular Cooper actually costs the same as it delivers almost identical fuel economy, helping you justify the S.
The cheapest to tax is the pre-2017 Cooper D diesel. CO2 emissions of 115g/km place it in band C, for a meagre annual car tax bill of just £30.
How much should you be paying for a used MINI Paceman?
"Early MINI Paceman prices illustrate why the model is so much more tempting as a used car proposition than when new."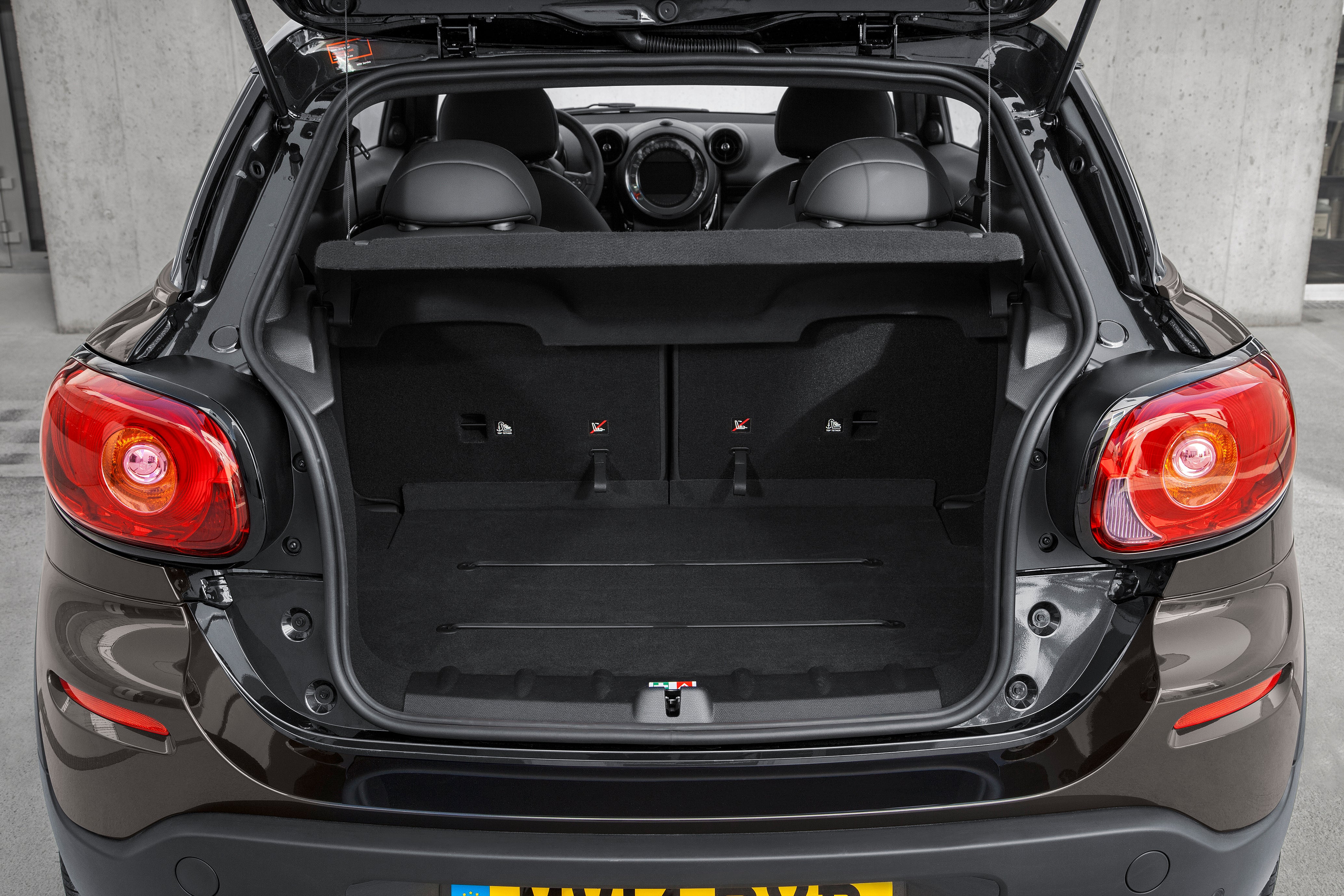 You can get into a 2014 car for less than £8000, and there's a huge amount of choice for those with a budget of less than £10,000 – including the high-performance Cooper S.
It makes the MINI Paceman a really interesting alternative to a budget-brand new car, particularly as its unique styling is guaranteed to turn heads. Many second-hand models also have rich standard specifications, including lots of the options MINI buyers like to add on new models.
There aren't a huge number of used MINI Pacemans on the market, but for the price of an entry-level new Dacia Duster, you'll have the pick of some beautifully-prepared 2016 models, which certainly keeps us see the oddball MINI in a better light.
Trim levels and standard equipment
The distinctive roof of the MINI Paceman came in either black, white or body colour - that's why you'll find a variety of choices on the used car market. All models feature air conditioning, electric door mirrors, a tyre pressure warning system and front sports seats.
The options list was long. It's worth searching the classifieds for desirable extras such as xenon headlights, parking sensors and MINI navigation with the central colour screen. An electrically operated glass roof was also available.
MINI offered the Paceman in a choice of eight colours and one of them was unique to the model: Starlight Blue.
MINI Paceman cars for sale on heycar
1,350
Number of cars available
£9.5K - £17K
Price bracket of these cars
Colours available on heycar
Keep me updated by email with the latest advice, news and offers from heycar
By submitting, you agree to our
privacy policy
.