Mitsubishi Eclipse Cross Review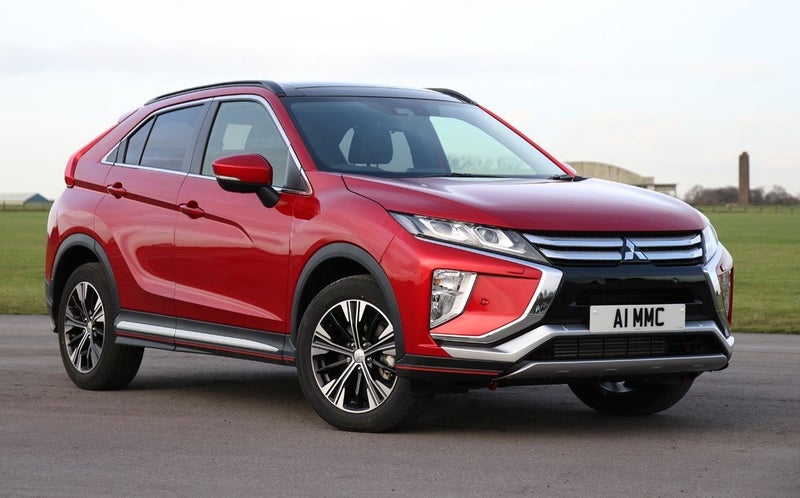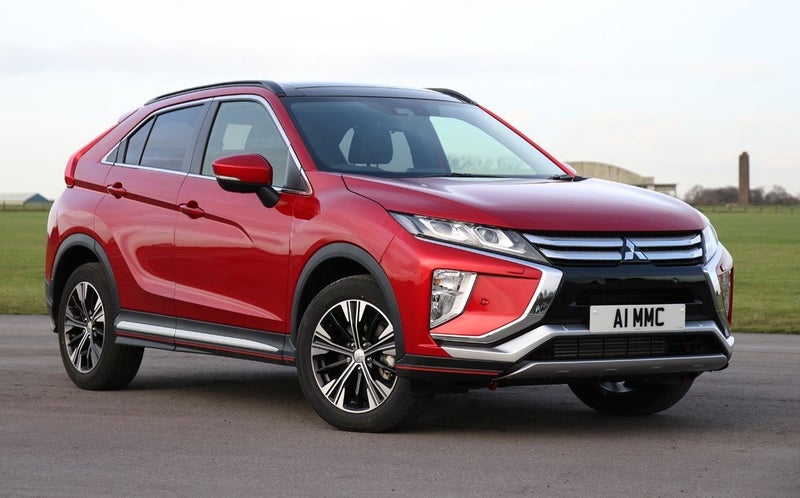 1/10
Launched: 2018

Crossover

Petrol
Quick overview
Pros
Four-wheel drive models are rugged
Quiet on the motorway
Apple CarPlay and Android Auto are standard
Cons
The interior isn't as spacious as in rivals
You only get one engine to choose from
CVT automatic gearbox dulls performance
Overall verdict
On the inside
Driving
Cost to run
Prices and Specs
Overall verdict
"The Mitsubishi Eclipse Cross is a reasonably stylish SUV with a rugged edge that helps it stand out from numerous rivals that include cars such as the Skoda Karoq, Volkswagen Tiguan, SEAT Ateca, Peugeot 3008 and Toyota CH-R. "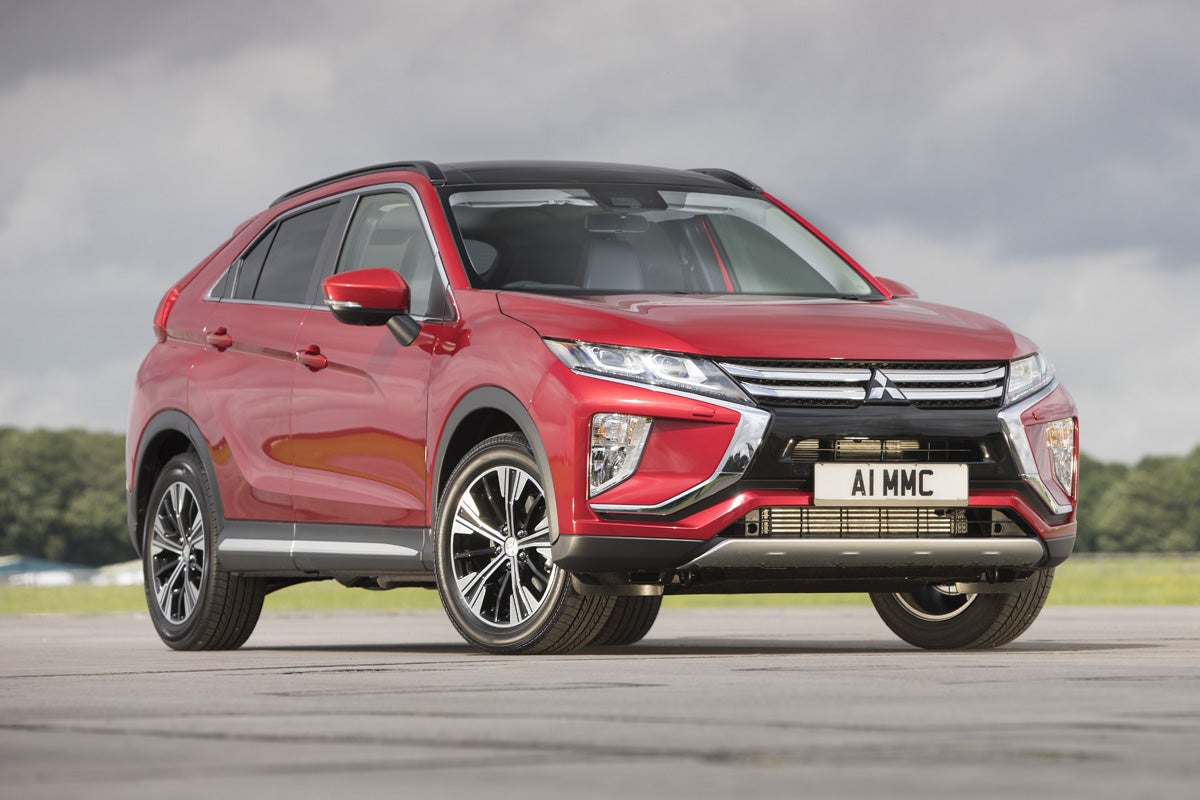 The competition's tough and one of the things that helps the Eclipse Cross stand out is its rugged nature. Fitted with the optional four-wheel-drive system, it'll keep going when softer SUVs give up.
You're more likely to care about how the Mitsubishi drives on-road, though, and in that respect, the news isn't so positive. Sure, its 163PS 1.5-litre petrol engine is spritely enough, but it's relatively expensive to run and doesn't feel all that quick if you opt for Mitsubishi's CVT automatic gearbox.
That said, the Eclipse Cross is a fine cruiser. All models get cruise control which takes the strain out of long drives on the motorway, the cabin is quiet and you get plenty of safety features fitted as standard. High-end models are even better because they get active cruise control and an acoustic windscreen that cuts down on wind noise even further.
In corners, the Eclipse Cross doesn't have the agility of its rivals, there's noticeable lean and it's light steering doesn't inspire a lot of confidence in bends.
You'll be happy for it in town though, where it makes the Eclipse easier to manoeuvre at low speeds. All models also get a reversing camera which makes backing into parking spaces easy.
Mind you, it's worth going for the Dynamic model which adds front and rear parking sensors, dual-zone climate control and keyless entry – very handy if you're a parent with their hands full.
In which case, practicality is likely to be a top priority for you. The Mitsubishi is a bit of a mixed bag on this front, sure it has loads of space up front, a versatile back seat and loads of interior storage, but it's let down by its boot. Its capacity is average at best and with the rear seats slid back as far they'll go, it's smaller than you'll find in most family hatchbacks.
Somewhere else the Eclipse Cross falls short on is its interior design. It looks okay, but it lacks the panache you'll find in the Peugeot 3008 or the consistently solid build quality offered by the Skoda Karoq. Both those cars also have larger and clearer infotainment screens, although the Mitsubishi does at least come with Apple CarPlay and Android Auto as standard.
So where does that leave us? Well, the Mitsubishi has its work cut out against a long list of accomplished rivals, but its sophisticated four-wheel-drive system means it is worth considering if you're looking for a family SUV with genuine off-road credentials.
Is the Mitsubishi Eclipse Cross right for you?
The Mitsubishi Eclipse Cross is the car for you if you want an SUV that's easy to drive every day, doesn't cost a fortune to run, yet can roll up its sleeves and deal with serious off-roading if it has to.
That said, it's far less utilitarian than Mitsubishi Shogun Sport. Inside, the cabin looks reasonably stylish, a sensibly specified infotainment system comes as standard and your passengers get a reasonable amount of space. Only the small boot lets the side down.
It's not so much that the Eclipse Cross isn't a good car, but it's weaknesses are readily exposed by the quality of the competition it is up against.
What's the best Mitsubishi Eclipse Cross model/engine to choose?
The Mitsubishi's Dynamic trim level is the one we'd go for. It's front and rear parking sensors make it even easier to park than the standard car, its wing mirrors fold away when it's parked and you also get luxuries such as dual-zone climate control and keyless entry.
Choosing an engine is easy – there's only one, a 163hp 1.5-litre petrol that is reasonably smooth and quiet but, relatively speaking, not that great on fuel. If you're only going to drive on-road, we'd stick with a manual model with two-wheel drive. Need extra grip? Then you'll want the four-wheel-drive version that comes with an automatic gearbox as standard.
What other cars are similar to the Mitsubishi Eclipse Cross?
There are many. One of the Mitubishi's biggest problems is that it's up against numerous rivals.
The Skoda Karoq feels better built inside and has noticeably more interior space. On the other hand, the Peugeot 3008 is truly desirable with smart looks and a space-age interior. Want a sporty drive? Then you'll be best served by the SEAT Ateca. Need excellent in-town fuel economy? Then have a look at the hybrid version of Toyota's C-HR.
Amongst this almost never-ending list of competitors, the Mitsubishi carves a niche for itself as an off-roader worthy of the name.
Comfort and design
"If you're used to Mitsubishis of old – or have even driven the current Shogun Sport – you might not have high hopes for the interior quality of the Mitsubishi Eclipse Cross, but you're in for a nice surprise."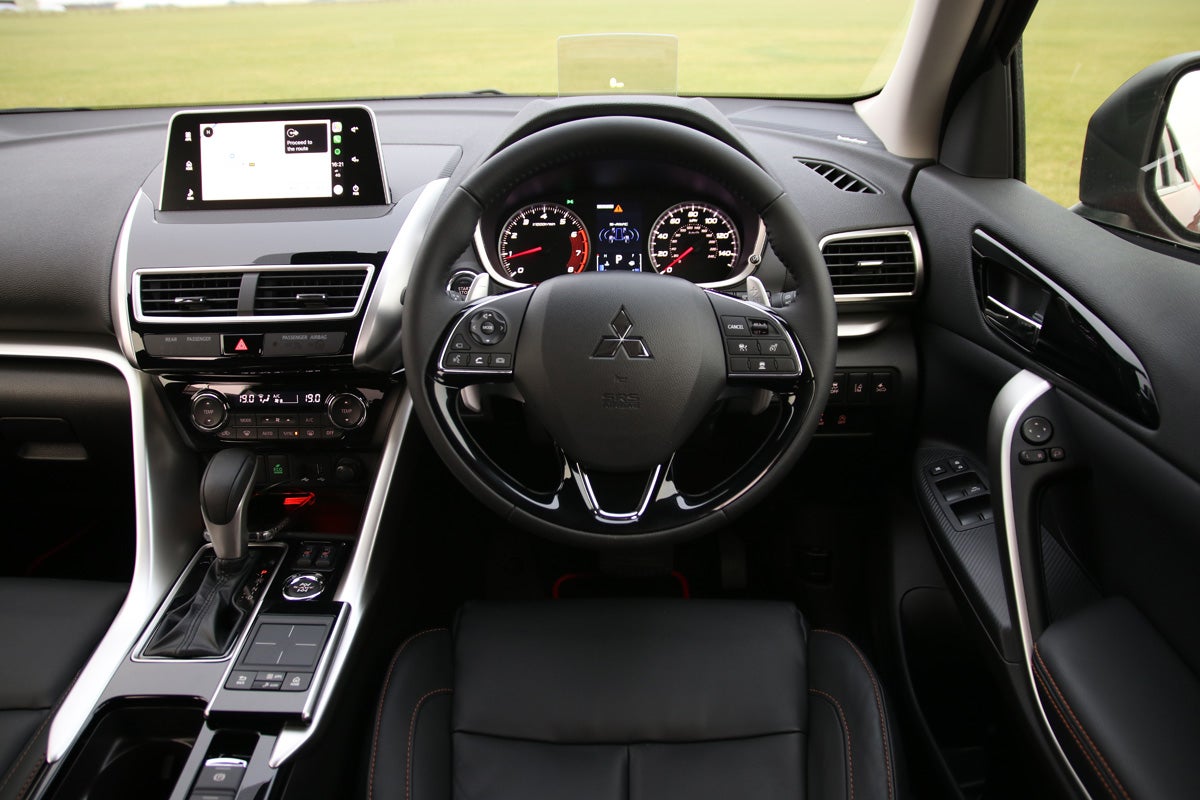 There's very little of the utilitarian feel you get from the company's other SUVs – you could even say there's been a genuine attempt to make it look stylish. The centre console is neatly sculpted with the middle portion of the dashboard jutting out above the ventilation controls below.
It all feels very driver-centric with the infotainment screen popped on top so you don't have to take your eyes off the road for more than a split second when you're driving.
Sure, the rows of buttons do look a little untidy, but at least the controls you use all the time are easy to find – the ventilation system's large knobs are instinctive to feel for and you can turn up the stereo using buttons on the steering wheel.
Getting comfortable behind the wheel shouldn't cause any problems. You get all the adjustment you need from the driver's seat and the leather-trimmed steering wheel, and the tall transmission tunnel that runs between you and your front-seat passenger means the gear knob is in easy reach of your left hand.
Go for a top-of-the-range Exceed model and you get eight-way electrically adjustable seats so you don't have to grapple around reaching for manual controls just to get comfortable.
Unfortunately, while this all adds up to a vast improvement for a Mitsubishi, other cars still do it better. A Skoda Karoq feels like a nicer quality product and is more intuitive to use, and if you want to know what a truly desirable interior looks like, just take a peek at a Peugeot 3008's cabin.
Quality and finish
There's been a similar improvement in the quality of the Mitsubishi Eclipse Cross' interior.
Many of the hard plastics found in the Shogun Sport make way for soft and spongy materials that feel expensive, although cheap plastics are still to be found on the tops of the doors and the instrument binnacle.
Metal-look plastics frame the instruments behind the steering wheel, flowing from the centre console to your passenger's side of the dashboard, breaking up the vast swathe of plastic that sits in front of them.
Despite this, though, the Eclipse still feels a bit dark and dingy and even moving up the model range doesn't allow you to inject some colour into the cabin plastics – that might put you off if you're the kind of young vibrant type who's looking to buy a trendy small SUV.
That's not to say there's no reason to upgrade from the basic Verve model. Go for a Dynamic version of the Eclipse Cross and you get Mitsubishi's 'high grade' fabric seats with silver stitching and chrome interior door handles, while its LED interior lighting gives a bright white light rather than the dull yellow emitted by the old-school filament bulbs.
Take another leap to the top-of-the-range Exceed trim and you get a full leather interior with orange stitching and twin glass sunroofs that shine some welcome light into the darkness of the Cross' cabin.
Infotainment
The Mitsubishi Eclipse Cross' infotainment system gets the job done rather than wowing you with its technical excellence.
Its seven-inch display is smaller than you'll find in rivals – even a basic Skoda Karoq has an 8-inch screen that can be upgraded to a 9.2-inch system.
In the Mitsubishi you can, unfortunately, also forget about getting a digital instrument binnacle like the one fitted as standard to the Peugeot 3008. It's pretty high-definition graphics and cool animations mark a stark contrast to the low-def, unimaginative display in the Eclipse Cross.
That said, it does get the fundamentals right. The screen's location right on top of the dash means it's easy to glance at when driving and, instead of having to operate a touchscreen as your index finger is bounced around the screen, you get a touchpad located between the front seats.
Okay, so the menus aren't the most logically laid out and no model gets factory-fit sat-nav but that's unlikely to matter to you. Why? Because Android Auto and Apple CarPlay are fitted as standard so you can skip the misery of the Eclipse's menus by using the more intuitive layout from your mirrored smartphone.
Doing this means you also get the live services offered by other manufacturer's high-end sat-nav systems – so you can route around congested traffic and find a parking space near your destination.
It also means it's easy to play iTunes or Spotify on the car's six-speaker stereo. Want more punch? Then you might want to upgrade to the Exceed model which comes with a nine-speaker Rockford Fosgate system.
Space and practicality
As you'd expect of an SUV this size, there's no shortage of room in the Eclipse Cross for two adults sitting up front. The large transmission tunnel running between the front seats means you won't be banging elbows with your front passenger and, even with the glass sunroofs, there's loads of headroom.
The back seat is more of a mixed bag. The Cross' sloping rear end eats into headroom so your tall rear-seat passengers might find their hair skimming the roof lining. That said, the floor is flat meaning there's plenty of space for three peoples' feet.
As well as reclining, the Mitsubishi's back seat also slides back on runners so your passengers can sit back and stretch out on longer journeys.
Do this, however, and the Mitsubishi's relatively small boot gets even tinier – shrinking from 448 to 341 litres, less than you get in a family hatchback such as the Volkswagen Golf. It's also miles off the 520 litres a Skoda Karoq offers while leaving plenty of room for adult rear-seat passengers.
It's not all bad for the Mitsubishi, though, the boot lid leaves a big opening to aim your luggage through, there's only a small lip to lift it over and, with the rear seats folded away, you get a flat, if slightly sloping boot floor.
There's more good news when you look at fitting a child seat. With the back seats slid back as far as they go there's plenty of room to get a child seat in, the Isofix points are marked and don't have the losable plastic covers fitted to other cars.
Interior storage is excellent with the Mitsubishi offering a large glovebox and front door bins, as well as a huge storage bin under the front centre armrest. Want a rear-centre armrest? Then you'll need to go for a high-end Dynamic or Exceed version.
Handling and ride quality
"Go for a four-wheel-drive Eclipse (available on Dynamic and Exceed models) and you'll get one of those rare things in life these days – an offroader that can go offroad. "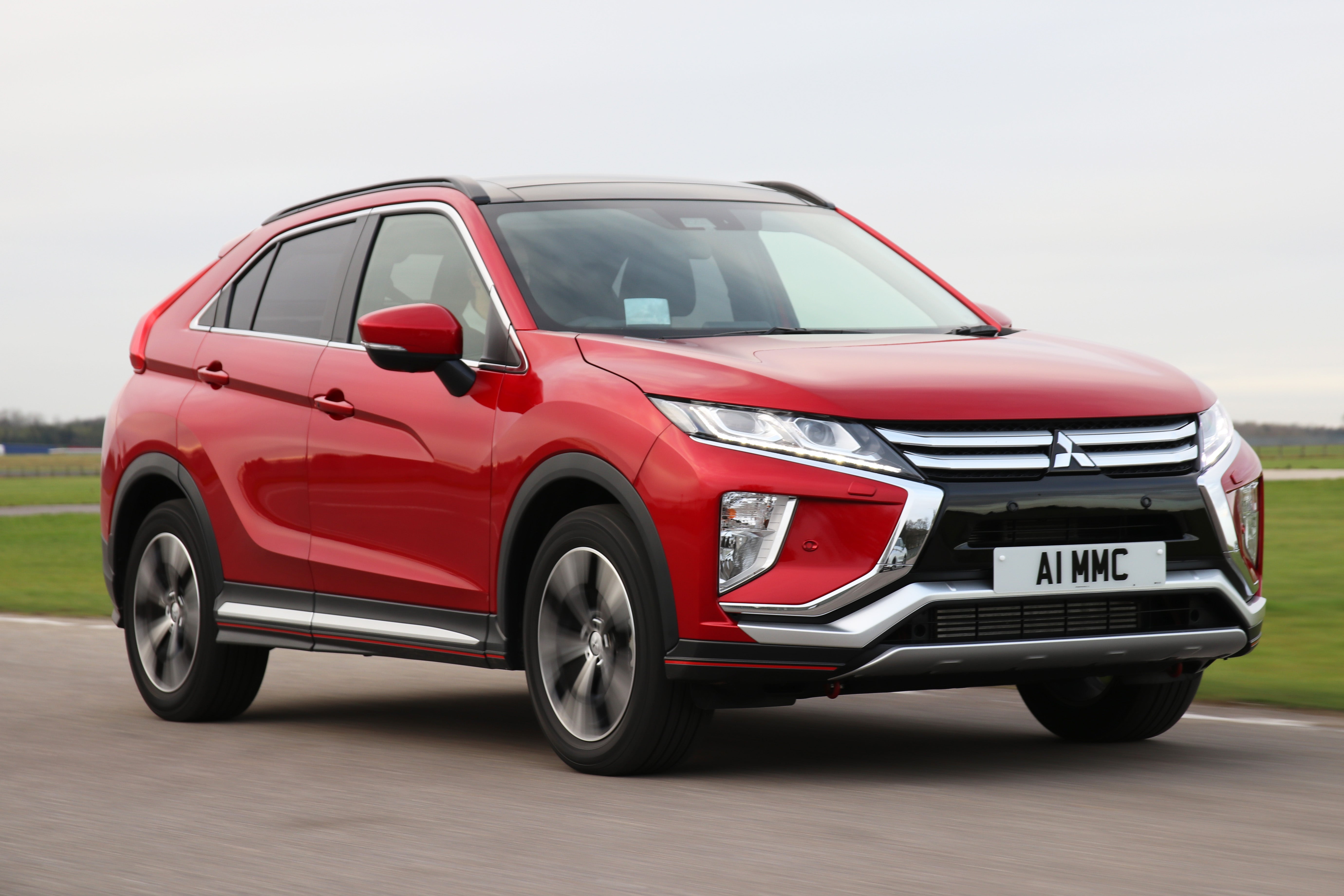 Called Super All Wheel Control or S-AWC for short, the Mitsubishi's four-wheel-drive system can send power to whichever wheel has the most grip – and up to 60% of it to the rear wheels.
It'll easily handle snow and slush, but also rough tracks that would leave rivals stranded, and the drive select's Auto, Snow and Gravel settings make it easy – just choose the terrain you're tackling and let the car's brain do the rest.
That said, if you're considering this as a family car that can also work for a living, it's worth noting that the Eclipse's 1,600kg towing capacity is 500kg less than a four-wheel-drive, diesel Skoda Karoq can manage.
Unfortunately, the Eclipse doesn't make such a good account of itself on the road.
Sure, it travels quietly on the motorway once you're up to speed. You also get cruise control as standard, so you don't have to modulate your foot on the accelerator for hours on end, and four-wheel-drive models feel planted to the road.
In town, though, the ride is firm, sniffing out bumps and surface changes like a veteran Bloodhound hunting its quarry. Verve models are the comfiest, coming with 16-inch alloy wheels that are two inches smaller than those on every other model.
At least the Mitusbishi's only engine – a 1.5-litre four-cylinder petrol – offers decent performance at slower speeds and the car's easy to get parked up because you get a reversing camera as standard.
Loathe parking? Then Dynamic models add front and rear parking sensors, while top-banana Exceed cars have a 360-degree view camera, handy for tall kerbs and hidden obstacles you can't see in your mirrors. That said, a full auto-park system – available with the Skoda Karoq – isn't even an option on the Mitsubishi.
Spread your wings to country roads and you'll find the Cross pays for its off-road ability in corners, where it rolls and pitches like a patron on their fifteenth pint.
It's not terrible by any means, but a SEAT Ateca feels a lot more nimble and the Mitsubishi's lifeless steering – which dampens snatchy wheel movements when you're off-roading – doesn't inspire confidence when you're aiming for a corner.
Engines and gearboxes
With only one engine available – a 163PS 1.5-litre four-cylinder petrol – engine ranges don't get simpler than the Mitsubishi Eclipse's.
It's a decent engine getting you from 0-62mph in 9.7 seconds and sounding quiet and smooth so long as you don't work it too hard. It has enough pace to keep up with town traffic and there's no issue getting up to faster speeds when you join the motorway.
The six-speed manual gearbox isn't so good. It can feel resistant as you move through the gears and the snatchy action of the clutch pedal makes it tricky to drive smoothly at slower speeds.
There is an automatic option – a CVT that's available on all but Verve models – but with it fitted the car's half a second slower to 62mph and, if anything, performance feels duller than that. Go for an overtake and it'll hold the engine at a constant speed, leading to a monotonous drone that you could do without.
Unfortunately, if you want four-wheel drive, you can only have it in combination with the automatic gearbox.
Refinement and noise levels
The Mitsubishi Eclipse Cross travels quietly on the motorway once you're up to speed, with limited road noise or wind whistle. The latter is particularly well suppressed in Dynamic versions and above which have an acoustic windscreen.
Cruise control, meanwhile, comes as standard so you don't have to modulate your foot on the accelerator for hours on end on long journeys.
At those sorts of speeds, the Mitsubishi's engine noise fades into the background but when accelerating to a cruise, it's purposeful tone turns to harshness if you give it the beans.
Accelerate hard to make an A-road overtake and you'll miss the effortlessness grunt offered by a diesel engine, something you can have in almost all the Mitsubishi's rivals.
Safety equipment
The Mitsubishi Eclipse Cross got a five-star crash rating when it was evaluated by safety body Euro NCAP in 2017.
A whole host of safety kit comes as standard. All models get seven airbags, automatic emergency brakes that work up to speeds of 50mph, a lane departure warning system and a warning buzzer that sounds if you get a flat tyre.
All models also get Active Yaw control on the front wheels, so the car remains easy to control even if you steam into a corner carrying too much speed.
If you want more safety kit then you'll have to go for the Exceed model, unfortunately, you can't add safety packs without spending big on the top-of-the-range car. Exceed trim adds active cruise control, which as well as holding you at a set cruising speed like the standard system, can also accelerate and brake, keeping a safe distance from the traffic in front.
You also get Lane Change Assist, so if you try to pull out in front of traffic hidden in your blind spot on the motorway, it will sound a buzzer as well as flashing up a warning on the corresponding wing mirror.
MPG fuel costs
"The Mitsubishi may only be available with one engine, but fuel economy varies depending on wheel size, and whether or not you go for the automatic gearbox or four-wheel drive, which adds the auto as standard."
So, while a basic Verve version with 16-inch wheels, two-wheel drive and a manual gearbox gets just under 40mpg officially, an Exceed model with 18-inch wheels, an auto 'box and four-wheel drive can't manage much better than 30mpg.
By comparison, Skoda reckons a 150PS petrol Karoq with four-wheel drive and an automatic gearbox should be good for more than 40mpg, while a diesel model will get more than 60mpg, officially.
If you're looking for a very fuel-efficient petrol alternative to the Mitsubishi then check out the Toyota CH-R, 115PS petrol models of it get more than 45mpg and Toyota claims the petrol-electric hybrid will get nearly 75mpg.
Insurance groups and costs
The Mitsubishi Eclipse Cross won't cost a fortune to insure. Basic Verve cars sit in insurance group 18 out of 50, while top-of-the-range Exceed cars are only placed one group higher.
That said a top-spec Skoda Karoq with a similar power output will be a little cheaper to insure. It qualifies for group 16 insurance owing to it having an autonomous driving aid that can steer the car in lane on the motorway, and automatic emergency brakes that detect people as well as cars.
VED
The Mitsubishi Eclipse Cross was launched in 2018, so all models qualify for the new tax regime.
Basic Verve models – with small wheels, two-wheel drive and a manual gearbox – produce 177g/km of CO2, which translates into first-year road tax of £870 with a more palatable £150 bill every year thereafter. Exceed version's cost the same after year one, but you'll pay a hefty £1,305 when you buy the car.
That said, a top-of-the-range Skoda Karoq diesel cost the same, although two-wheel-drive petrol Karoqs can be taxed for as little as £215 in the first year.
How much should you be paying for a Mitsubishi Eclipse Cross?
"The Mitsubishi Eclipse Cross is priced from £22,545 (in Q2 2020) for a basic Verve model, rising to £30,550 for an automatic Exceed with four-wheel drive. "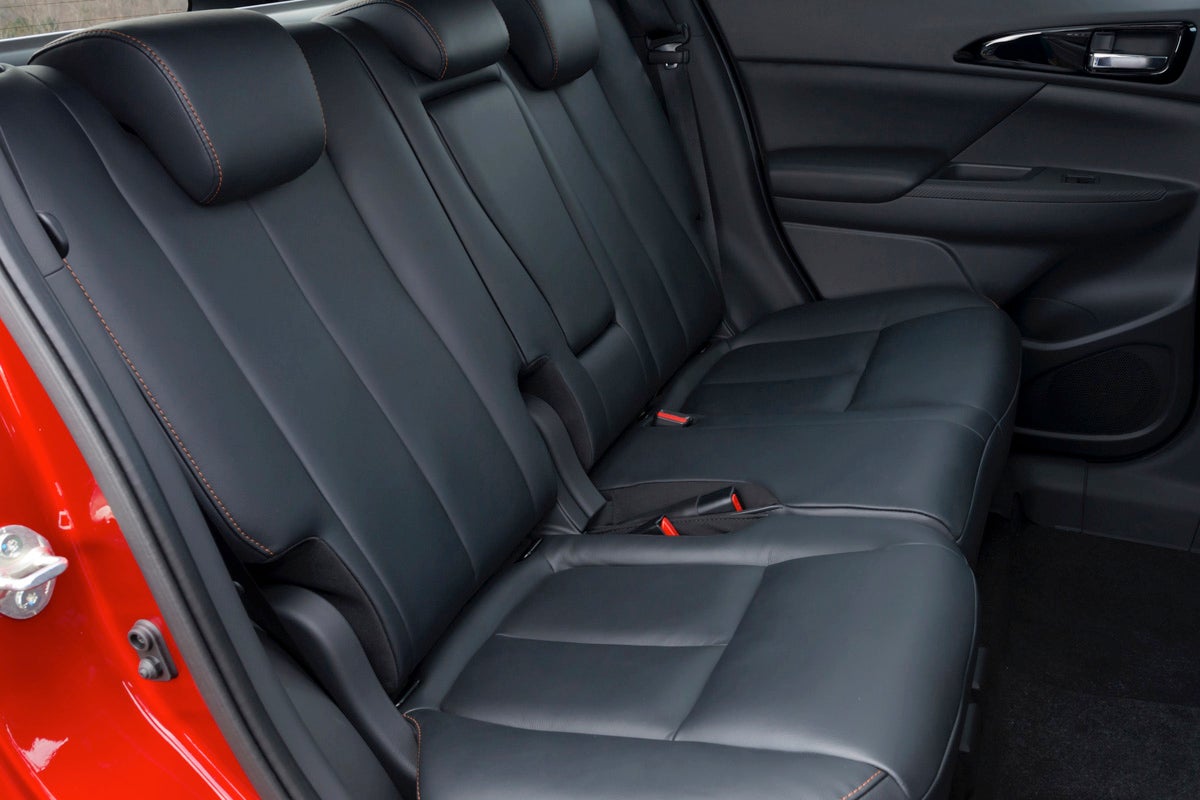 The most popular model is the mid-range Dynamic car (called the '3' at launch) with two-wheel drive. It starts from £24,480 and adds extra equipment such as dual-zone climate control – so you and your front-seat passenger can set your heater temperature – and heated front seats.
As ever, there are big savings to be made on pre-registered cars – we found a 2019 Exceed with just 15 miles on the clock for just £17,000, a huge saving on an identical car that's factory fresh.
Trim levels and standard equipment
Even basic Verve versions of the Mitsubishi Eclipse Cross get all the equipment you need.
You get climate control so the car will keep the cabin at the temperature you set, auto lights and wipers, cruise control and tinted rear windows. Also included is the car's seven-inch infotainment screen which has Apple CarPlay and Android Auto, and a rearview camera.
Design SE cars represent more of a styling pack than a standalone model. They get 18-inch wheels which don't look as lost in their arches as the 16-inch versions fitted to the basic car. Design SEs are limited to three colour choices – solid Frost White, metallic Atlantic Grey or pearlescent Lightning Blue – all of which are available on the rest of the range.
Level up to Dynamic and you get a noticeable hike in kit. You get an auto-dimming rearview mirror that cuts out dazzle, dual-zone climate control, wing mirrors that fold away when you park, front and rear parking sensors, a head-up display that projects information such as speed onto the windscreen, heated front seats and keyless entry.
Dynamic models also get extra flashes of chrome – on the grille and below the doors – which makes them look a little more premium.
Finally, at the top of the range, you get the Exceed. Inside, its twin glass sunroofs shine some welcome light on the Mitsubishi's dark interior though it's a shame you don't get a single, uninterrupted pane of glass as in rivals. You also get an uprated stereo, a leather interior and active cruise control.
Mitsubishi Eclipse Cross cars for sale on heycar
342
Number of cars available
£13K - £22K
Price bracket of these cars
Colours available on heycar
Keep me updated by email with the latest advice, news and offers from heycar
By submitting, you agree to our
privacy policy
.