Mitsubishi Shogun Sport Review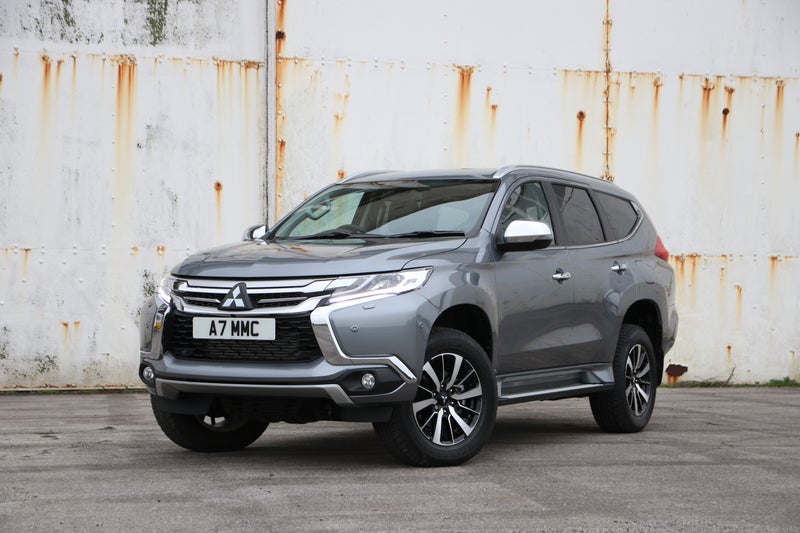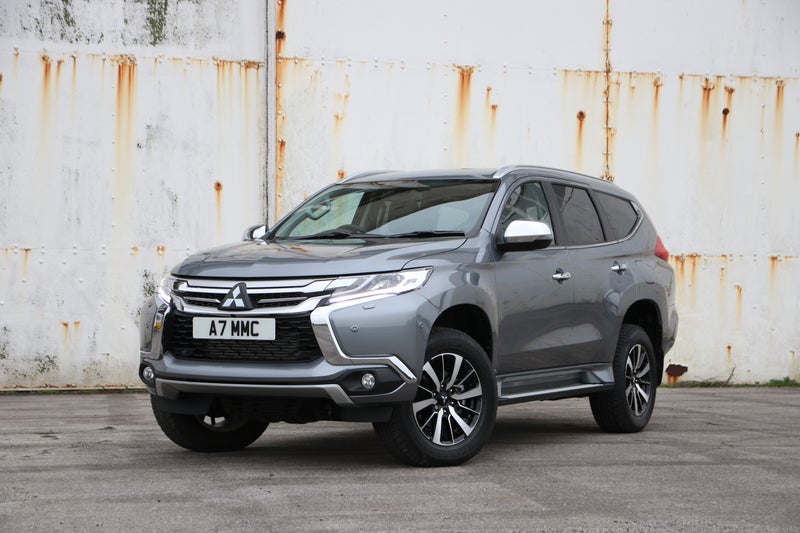 1/10
heycar rating
"Better off road than on"
Quick overview
Pros
Excellent off road
Lots of off-roading equipment as standard
Good space for seven adults
Cons
Boot space is limited
Poor on-road driving ability
Expensive to buy and run
Overall verdict
On the inside
Driving
Cost to run
Prices and Specs
Overall verdict
"The Mitsubishi Shogun Sport offers many elements that are popular with modern buyers – seven seats, rugged SUV styling and the ability to drive over all kinds of tricky surfaces."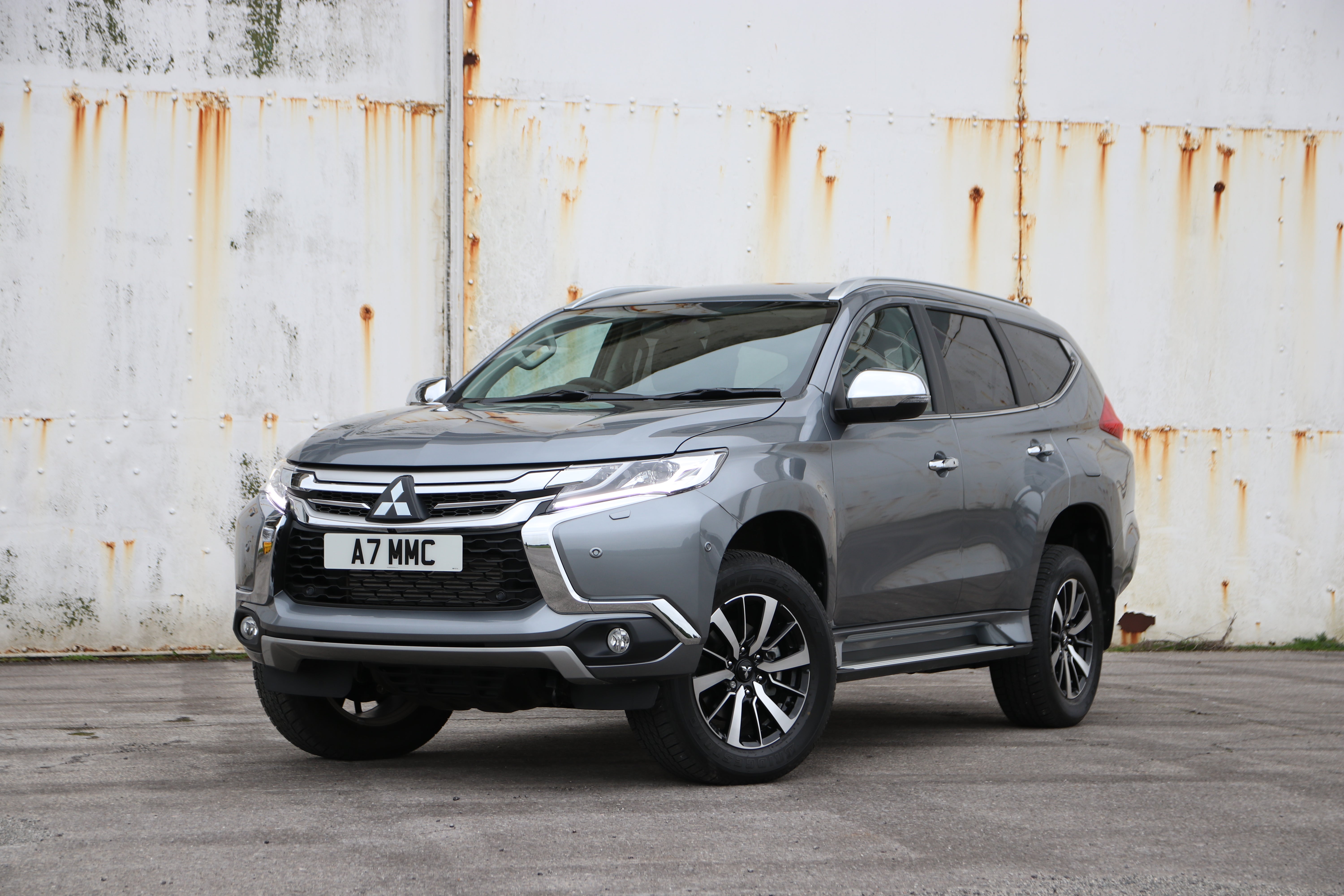 One oddity of the Shogun Sport is that it is based on the same underpinnings as the L200 pick-up truck. While lots of commercial vehicles are boasting about how car-like they are, this is a car that's based on a commercial vehicle.
This means that you can be pretty confident with the Shogun Sport's off-roading ability. This is not only because of how it's built but because of the various technology and systems it comes with.
These are all packaged up under the grand sounding Super Select II 4WD system. This includes a hill descent control, an off-road mode and trailer stability assist. You also get a locking rear differential.
The trade-off for the off-road ability is a less impressive on-road persona. It doesn't have the same rugged suspension as the L200 pick-up – it has a more sophisticated multi-link setup at the rear – but it is still less composed than more road-friendly rivals. There is a fair amount of body roll, for example, and it has a bumpy ride. The softness of the suspension also means that it has a tendency to pitch forward and backward under hard acceleration or braking.
The Shogun Sport comes with seven seats as standard, and the third row of seats come with a decent amount of space, although shorter adults will still be the ones who end up being volunteered to sit there. There is not much in the way of boot space with all the seats in place, but the Shogun Sport's sheer size means that the boot offers a good amount of room when the third row of seats are dropped.
There isn't much choosing to do when it comes to picking your Shogun Sport – there is just the one engine and two trim levels. Oddly the entry-level model is called the '3' while the other version is, unsurprisingly, the '4'. The standard model gets leather upholstery, electrically adjustable front seats, LED headlights and rear parking sensors. The 4 adds £2000 to the price and brings a 360-degree camera, blind spot warning, adaptive cruise control and heated seats among other kit.
That single engine is a 2.4-litre diesel with 181PS and a peak torque of 430Nm. This is another element that the Shogun Sport has in common with the L200. While this engine was a decent fit to the L200 when it was introduced in 2015, your average SUV driver demands a little more in the way of refinement and quietness. Although you may not buy an SUV for its raw pace, the 0-62mph time is slightly pedestrian versus rivals, taking 11.0 seconds.
Fuel economy lags behind rivals, too, with an official figure of just over 32mpg and a CO2 emissions rating of 227g/km, which means that company car drivers might be wincing when it comes to calculating their benefit-in-kind contributions.
The Shogun Sport has some really strong attributes in its favour, but many of those relate to its off-road ability and rivals offer a much more compelling prospect if you value on-road manners.
Is the Mitsubishi Shogun Sport right for you?
The Mitsubishi Shogun Sport is something of a rarity these days – an SUV that is more geared towards off-road work than cruising around town or up and down the motorway.
While that might be a downside to some, it will be a real boost to others as you don't have to upgrade to an expensive higher trim to get all-wheel drive and the off-road technology that helps you conquer tricky terrain. It's also got the added bonus of seven seats as standard, which means you can get more people out to the furthest field, or whichever hard-to-get-to spot you need to access – in one go.
If you are after an old-school workhorse, and don't want to worry about roughing up something that comes with vast amounts of expensive interior decoration, then this could be just the thing.
What's the best Mitsubishi Shogun Sport model/engine to choose?
The Mitsubishi Shogun Sport range is phenomenally easy to navigate. There is just one engine, one gearbox and two trims to choose between. It essentially comes down to whether you want to spend an extra £2000 to get some kit that includes heated seats, a blind-spot warning system and adaptive cruise control but not navigation.
Most, but not all, of that extra kit comes in handy on the road rather than down a muddy track, so we'd suggest saving the extra cash and sticking with the basic model.
What other cars are similar to the Mitsubishi Shogun Sport?
Comfort and design
"The Shogun Sport's driving position is aided by the car's high ride height, while the cabin itself will be familiar to those who have been in an L200 in recent years."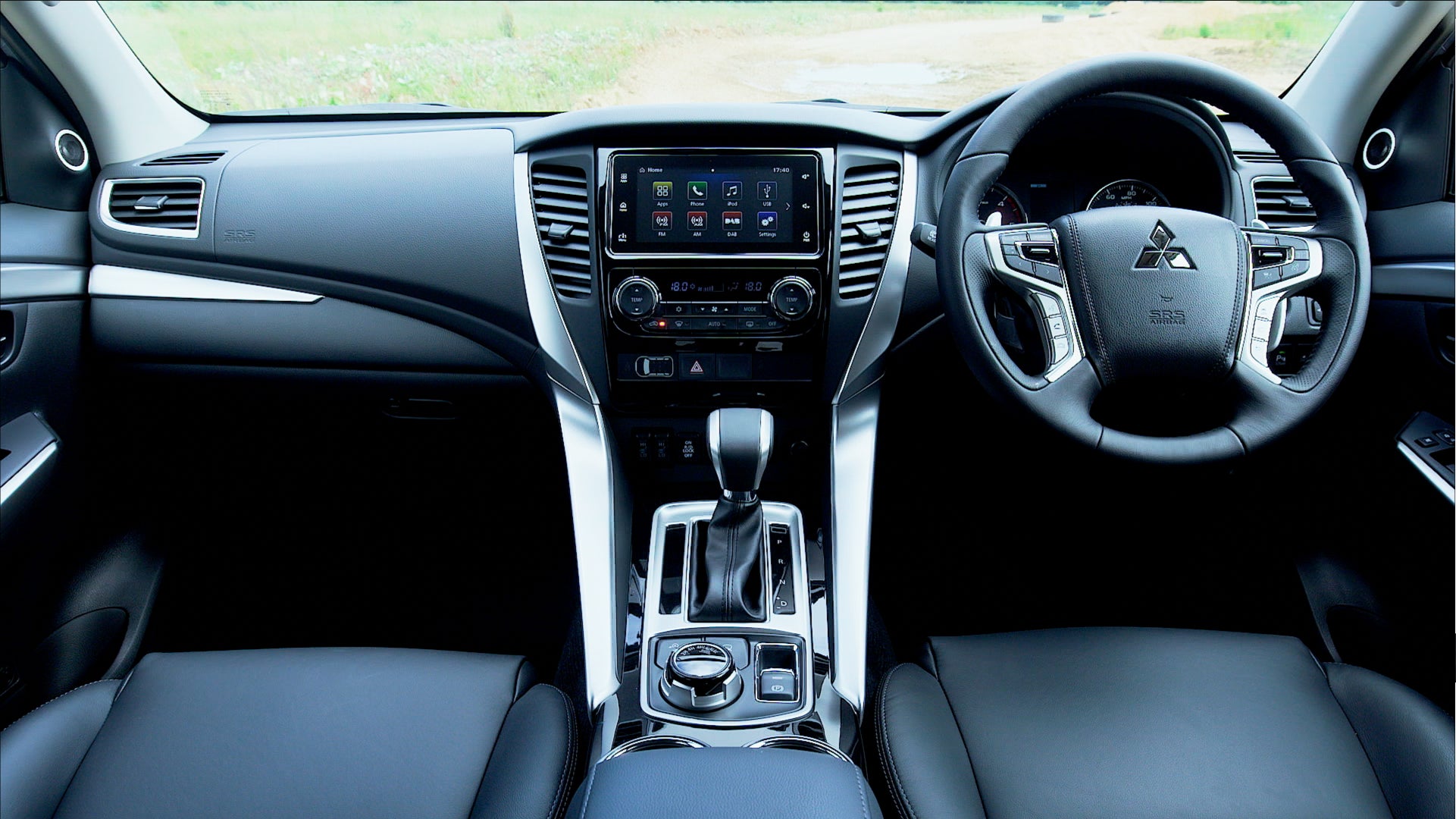 The SUV comes with a little more kit than the pick-up, though, and the seat comes with electric adjustment on every model, which allows you to tweak the position to minute details. The steering wheel could do with a little more scope for adjustment, but it should be possible for most drivers to get comfy.
The seats themselves are soft and comfy, but they don't have as much side support as they could, so you might find yourself being thrown around a little more if you take a corner with a bit too much enthusiasm.
The dashboard isn't as daring in its looks as the outside of the Shogun Sport. It is a relatively simple layout, with big buttons that are easy to prod on the move. The temperature buttons are kept separate from the touchscreen that is standard on every model, while the off-roading functions are set lower down still on the central console, so it's nigh-on impossible to hit the wrong button by mistake.
The gear lever for the automatic transmission is large and takes up a fair amount of room in the central area of the cabin, but the use of an electronic parking brake means some space is stolen back.
Quality and finish
Some of the materials in the Shogun Sport feel quite nice, with the standard leather seats a pleasing touch. They are a bit of an anomaly, though, with many of the other materials feeling cheap and hard to the touch. There isn't much in the way of soft-touch material throughout, and plenty of scratchy black and silver plastic, with the latter meant to give a metallic look.
The buttons and dials also feel fairly low rent, and they don't have the solidity that you would expect in a car that costs close to £40,000.
There is no difference between the two trims in terms of appearance, so you get the same layout for both, just with more features.
The bonus of those hard materials is that they should be relatively hard wearing. Smooth shiny plastics will be easier to wipe down than plush surfaces.
Infotainment
The Shogun Sport comes with a seven-inch touchscreen as standard, and it comes with a decent selection of features. As well as the usual Bluetooth and USB connections it also has an HDMI input. You can also use voice control to control some of the more basic functions.
The screen might be the same on both models, but the higher spec does get an upgraded eight-speaker system and an improved amplifier – the standard model gets six speakers.
Despite the features, the Mitsubishi system isn't the sharpest out there. It is a little slow to react and is not the newest on the market. Thankfully you can bypass all the main systems as the Shogun Sport comes with Apple Carplay and Android Auto as standard.
You'll be grateful for this if you want any form of satellite navigation, as there isn't any in-house system on offer, either on the top trim or the options list.
Space and practicality
There is a good amount of passenger space all through the Shogun Sport's cabin, which is thanks in part to the fact that this is a comparatively large car. The front seats get a decent amount of head and leg room, although the big central console might be a bit restrictive for some.
The middle seats offer plenty of head, leg and shoulder room, too. The floor for the middle seat is only slightly raised so there is no major restriction on getting three adults in there.
Those seats in the middle row are easily tumbled forward, which means getting into the third row is simple enough. There is enough room back there for another pair of adults, but it comes with a few restrictions as is almost always the case for cars in this class. The floor is relatively high up compared to the seat cushion, so passengers' legs will be bent a little. Headroom is a bit restricted too, so shorter adults will be happier back there.
If you keep all seven seats in place then the boot is not much good for anything other than a few small items – it's surprisingly small given the car's size at just 131 litres.
You have to drop the third row of seats to really get much in the way of space – with them both folded you get 502 litres. Lower all five of the rear seats and the total amount of room on offer is 1488 litres. Dropping the seats is relatively easy, with looped handles for the rearmost pair, but you do get a few lumps and bumps in the floor when the seats are down.
The cabin itself gets a fairly standard level of storage spaces, with a couple of door bins, a glovebox and a box in between the two front seats. There is a pair of cupholders up front and another two in the rear armrest.
There are ISOFIX fittings in the second row of seats, just in the outer two positions, and getting them in and out is made relatively simple thanks to the high ride height. Both versions come with a full-size spare wheel.
Handling and ride quality
"The Shogun Sport shares lots of its underpinnings with the L200 pick-up truck, which does it great favours off road. However, it doesn't help so much when it comes to on-road ability. The rear suspension is a more sophisticated multi-link coil setup, but the Mitsubishi still lags behind more composed rivals like the Skoda Kodiaq when it comes to ride and handling."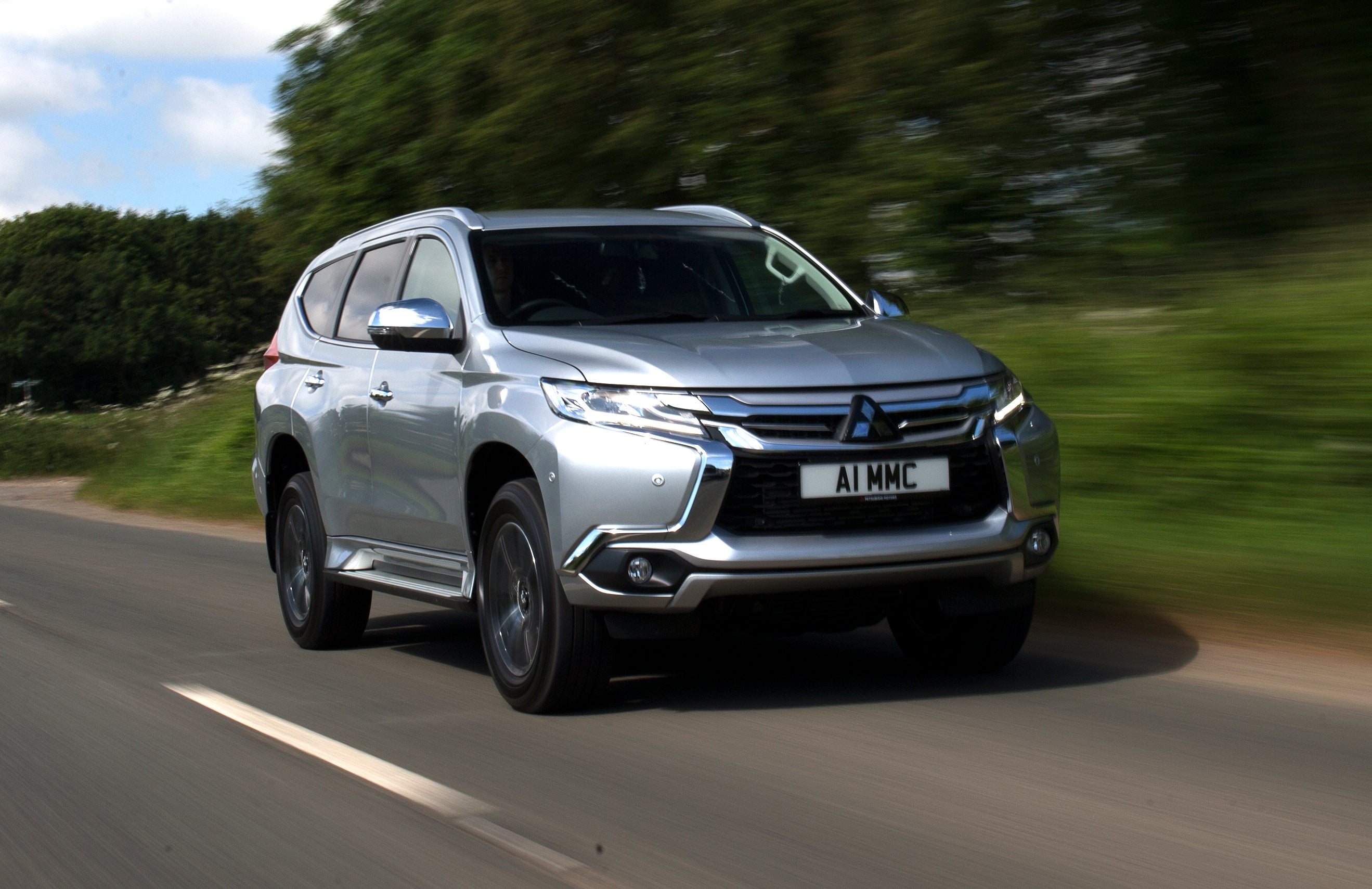 The ride is a bit fussy on poor road surfaces, despite being a bit soft. This softness means that the Shogun Sport rolls more than is preferable when you take a corner at any sort of speed. It's fine at lower speeds, but the vague steering doesn't help inspire vast amounts of confidence either. The other downside of the soft suspension is a tendency to pitch forwards and backwards under heavy braking or acceleration.
Off road things are a totally different matter, as this is where the Shogun Sport comes into its element. All models have a wide range of kit that let you get into places that many others wouldn't get close to. It comes with permanent four-wheel drive and four different terrain settings that means you should be able to deal with muddy, steep, gravelly, icy or wet surfaces easily. The fact that you can switch into these different modes just by twisting a dial means it is accessible and easy to understand too.
Beyond this, the ability to switch between low and normal ratio gearboxes, the hill descent control and the locking rear differential all help you get through and out of all manner of tricky spots.
If you are going to be spending more time off road, then the Shogun Sport is a really strong performer but it is a shame that it can't back this up on road.
Engines and gearboxes
There is just the one engine in the Shogun Sport and it, like many other elements, is shared with the L200. However, the 2.4-litre isn't the most modern of units, as the L200's 2019 update brought it a new 2.2-litre.
The Shogun Sport's engine comes with 181PS, but offers a hefty 430Nm of torque. The latter is more important to a vehicle like this and it means that you can load up the Mitsubishi with loads of kit and tow an impressive amount too – it has a maximum braked towing capacity of 3.1 tonnes.
This engine is one of the slowest of the SUVs out there, with 0-62mph coming in 11.0 seconds, but it does feel a little brisker than that at lower speeds so accelerating to get up to speed on the motorway and to pull off an overtake isn't too daunting.
There is just the one gearbox, too, with an eight-speed automatic the only option. This is a smooth-shifting 'box, although it can sometimes hold onto a gear a little longer than seems natural. It does come with paddle shifters, though, so if you ever feel like it is revving more than you would like then you can always encourage it to shift up. With eight ratios there is a high chance you'll have a spare gear to hand to.
Refinement and noise levels
The 2.4-litre engine is not a quiet one, and it's apparent that it is something more suited to a commercial vehicle. SUV buyers might hope for a quieter experience, though it makes its presence known at tick-over and on the move. It sounds quite agricultural, especially if you ask for an urgent burst of acceleration, although it does settle down once you get up to a cruising speed.
The engine isn't the only source of noise, though, with wind and road noise both making their way into the cabin – the former is especially apparent when you get up to motorway speeds, while the big tyres kick up a fair bit of a roar too.
However, it isn't as raucous an experience as the L200. Mitsubishi worked on the body mounts and the upgrade suspension means that there is less vibration on the whole.
Safety equipment
There is no official crash test for the Mitsubishi Shogun Sport, although the L200 on which it is based fared fairly well, scoring four stars in 2015. Although the tests have got stricter since then, the Shogun Sport also has more safety equipment than its pick-up sibling.
This equipment includes hill-start assist, active stability and traction control, rear parking sensors and brake assist. In a nod to its likely use, it comes with a trailer assist system, too, which detects when a trailer is starting to sway and controls individual wheels to bring it back in line. It will also flash the brake lights to warn any following drivers.
In addition to the standard kit, the 4 model gets more safety gear, like blind spot warning, a forward collision mitigation system, adaptive cruise control, front parking sensors and a 360-degree camera. The latter is handy for parking in town but also useful for picking your way through tricky terrain and spotting rocks or holes on the ground.
Given the lack of high-tech entertainment features on the Shogun Sport, the extra safety kit is the main reason to pick the higher trim. There aren't any additional features on the options list either.
MPG and fuel costs
"Fuel economy on the Shogun Sport is pretty poor at 32.8mpg, which is a fair way behind more road-biased vehicles like the Hyundai Santa Fe and Skoda Kodiaq – the 4x4 version of the latter manages close to 50mpg."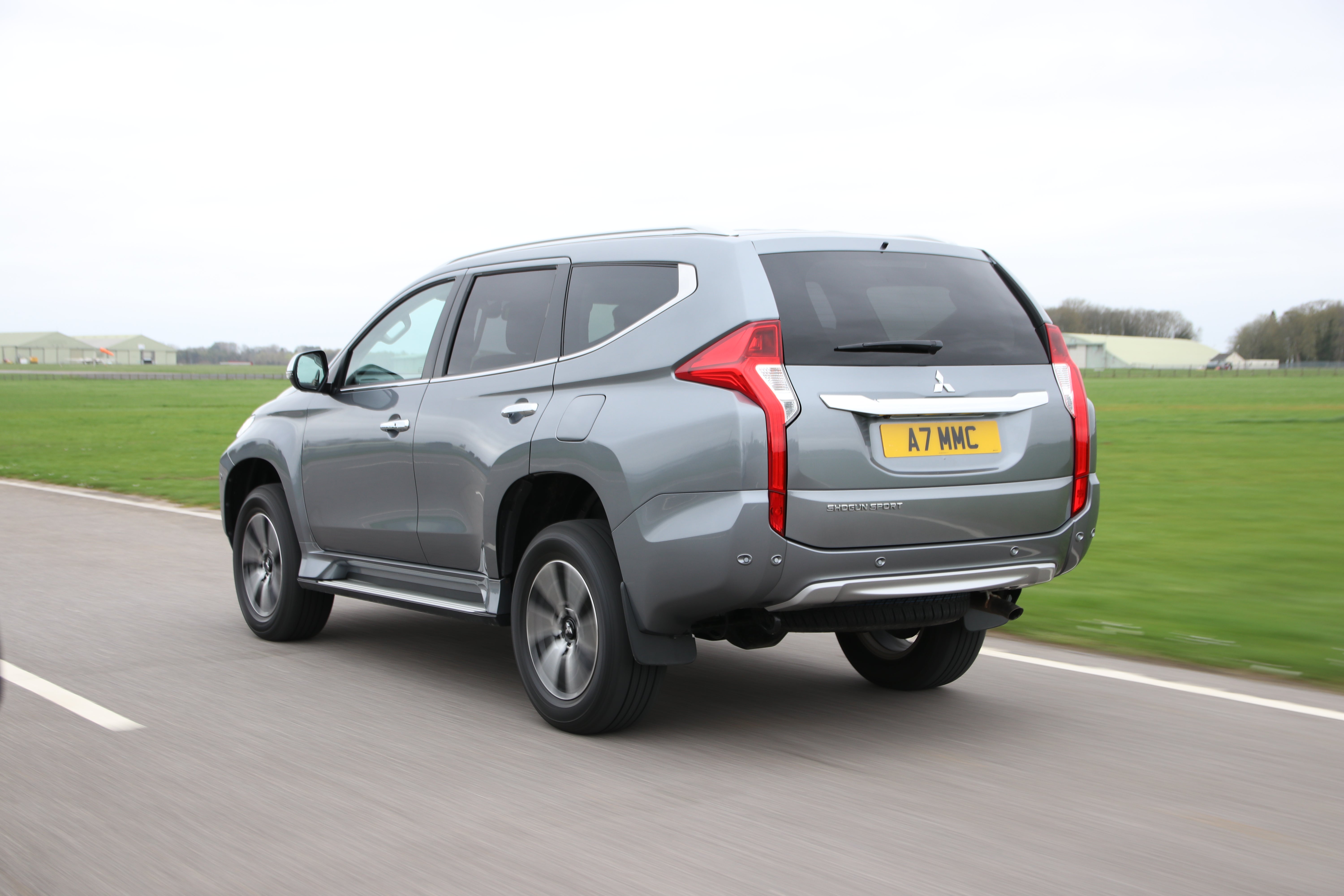 The Shogun Sport does have permanent four-wheel drive, and is a relatively heavy vehicle, but this is poor nonetheless. Spend time chugging around in sticky surfaces and this is likely to get worse, too.
Insurance groups and costs
Despite having the same engine and gearbox, the two models of Shogun Sport sit in different insurance groups.
The 3 is in group 43 while the higher-spec, more expensive 4 is actually the cheaper of the two to insure, sitting in group 38. This is down to the increased levels of safety kit. This puts the Shogun Sport on a similar level to the Hyundai Santa Fe, but the Skoda Kodiaq is significantly cheaper to cover.
VED car tax
The Shogun Sport is about as expensive as it can get to tax. It was launched after the pure CO2-based taxation system kicked in, but it sits in the second-to-top bracket for the showroom tax, which will add a hefty chunk to the first-year costs. Thankfully it is just below the £40,000 price point so doesn't qualify for the extra VED bills in the first five years of its life.
It is in the top band for company car tax, too, so will incur punishing benefit-in-kind bills.
How much should you be paying for a used Mitsubishi Shogun Sport?
"The Shogun Sport is a relatively new model so there isn't a vast amount of history to look at when it comes to sold values."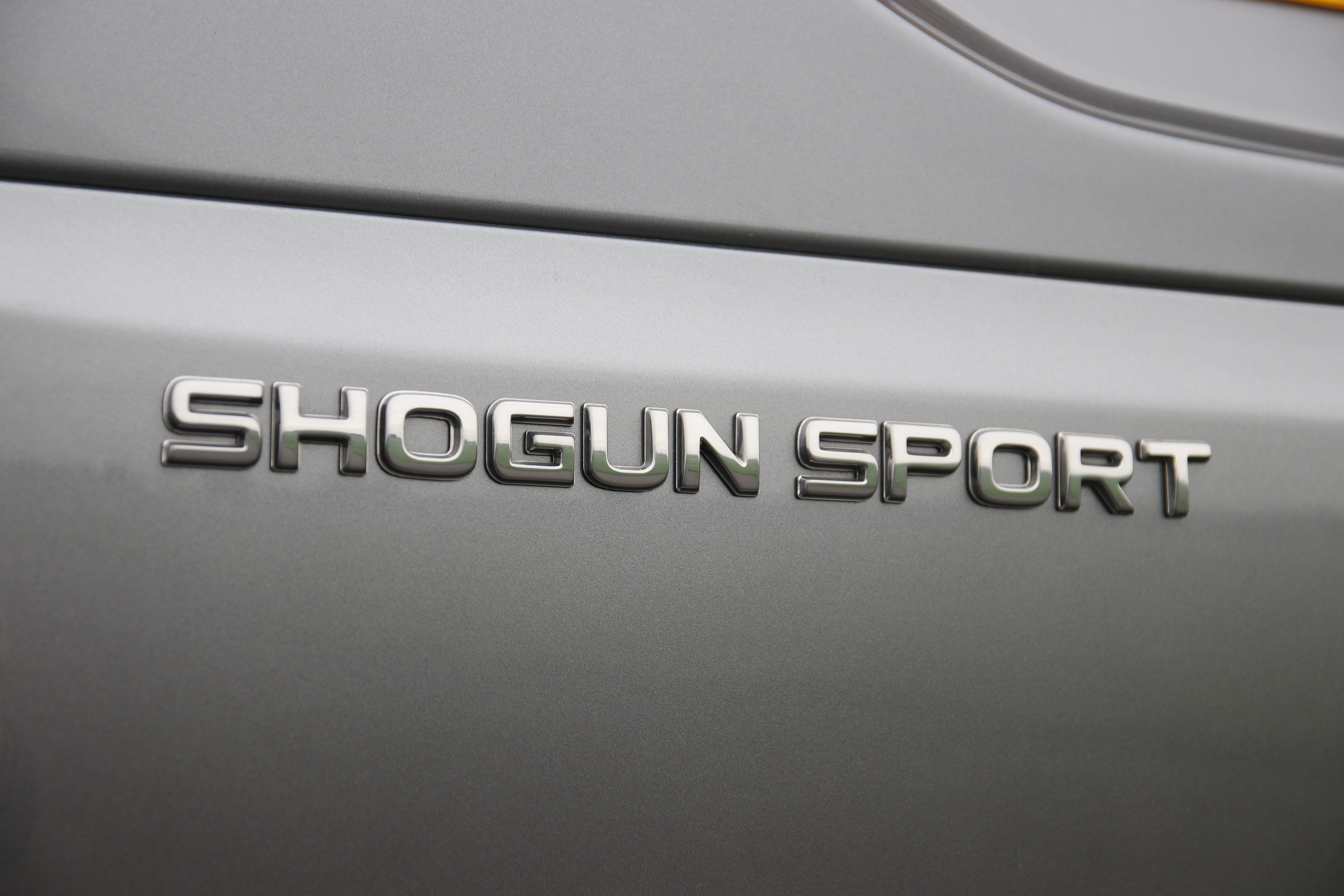 It is predicted to hold just over 40% of its original value, which means that it should come in at around £16,000 when it hits the three-year mark. Models around a year to 18 months old can be found for around £25,000, which represents a decent saving for a relatively new car.
Trim levels and standard equipment
There is little choosing to do when it comes to the Shogun Sport range, with just the two trims available and only the one engine and gearbox.
The 3 comes well-enough equipped that there seems little point stepping up to the 4, especially as most of the extra kit is aimed at on-road use. Stick with the 3 and save the £2000 increase. There is only the one option, and that is the paint, so that comes purely down to personal taste.
Mitsubishi Shogun Sport cars for sale on heycar
412
Number of cars available
£26K - £32K
Price bracket of these cars
Colours available on heycar
Keep me updated by email with the latest advice, news and offers from heycar
By submitting, you agree to our
privacy policy
.