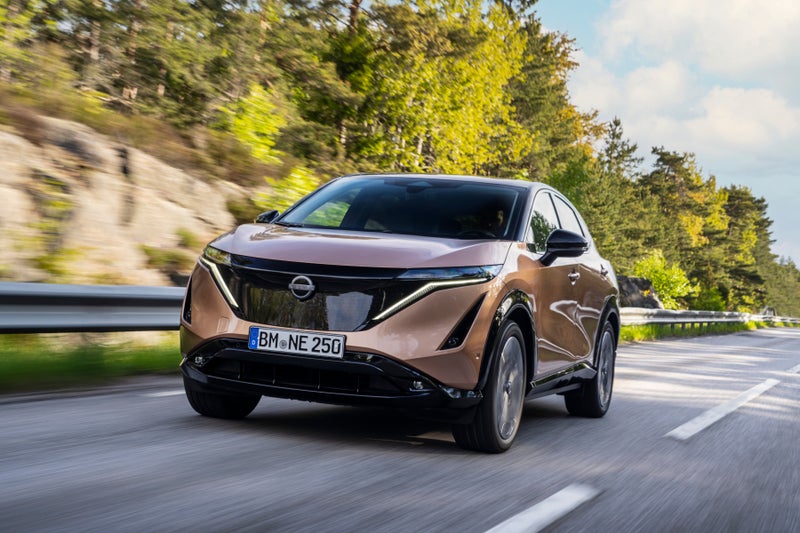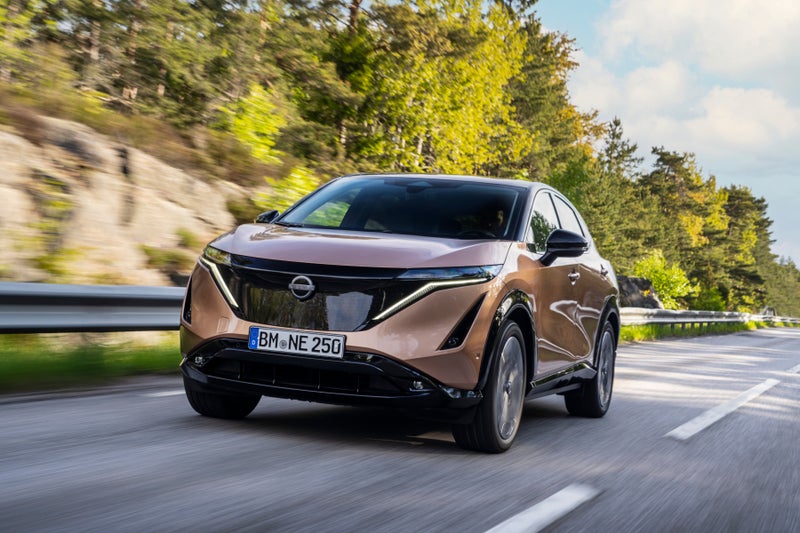 1/9
Quick overview
Pros
Distinctive design
High quality, spacious and well-equipped cabin
Good all-round driving experience
Cons
Rivals can be charged more quickly
Haptic controls are an acquired taste
Boot space isn't much to write home about
Overall verdict
On the inside
Driving
Cost to run
Prices and Specs
Common questions
Overall verdict on the Nissan Ariya
"The Nissan Ariya is a late arrival from a brand that helped kickstart the EV revolution. It's an electric SUV with plenty of rivals, then, but by taking its time Nissan has made the Ariya competitive and moved the game on a long way from the Leaf. As this review shows it's a strong all-rounder, but some key alternatives beat it in some areas."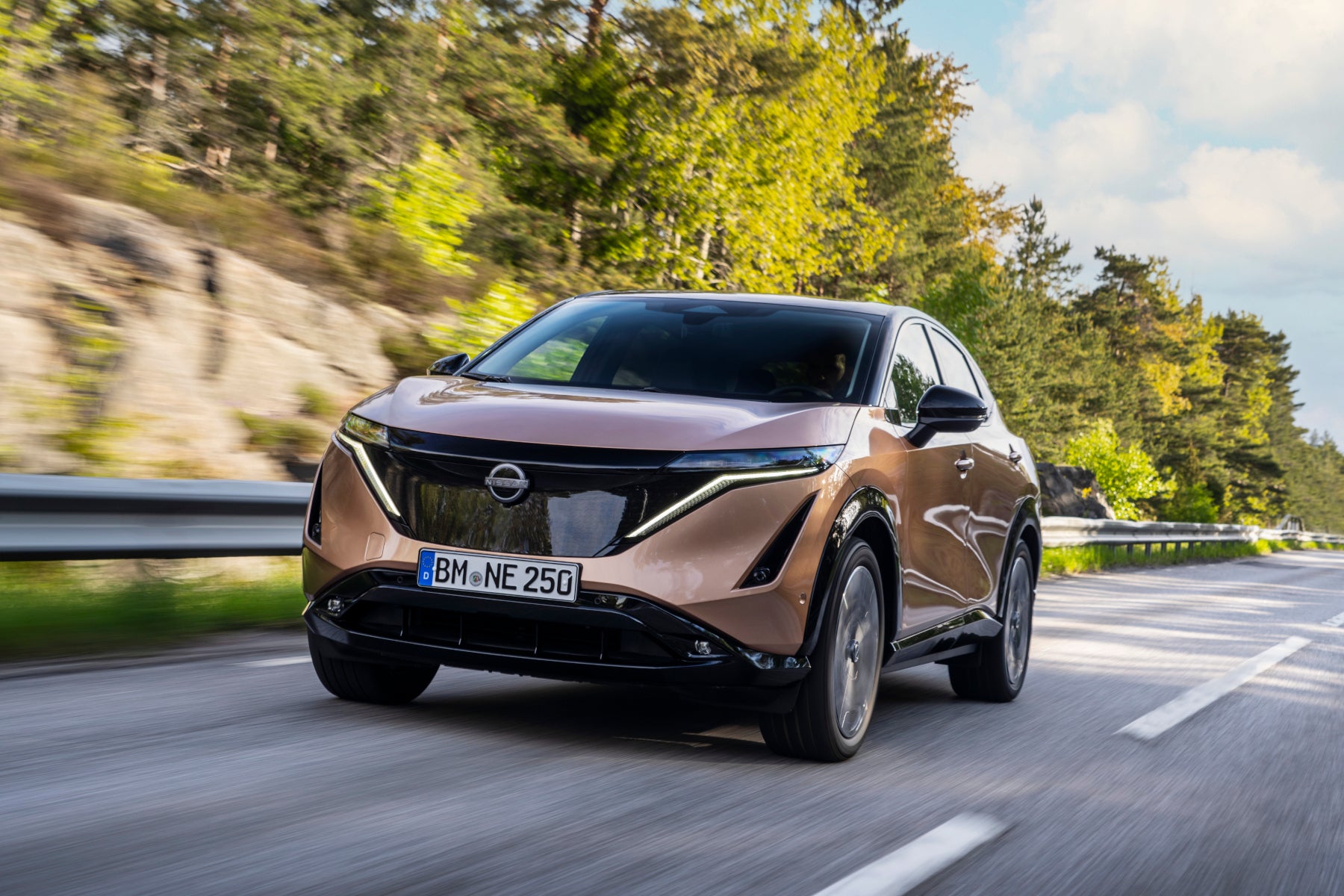 Nissan is very proud of its electric car heritage, and rightly so. The original Leaf will go down in history as one of the key pioneers of the EV market, being the first widely available and affordable mass-market electric model from an established brand.
That was over a decade ago, however, and the electric car market has matured very quickly. The current, second-generation Leaf is still popular but not nearly as desirable to buyers as the growing amount of glitzier, fresher alternatives from other brands (Tesla, for one). It's also distinctly not an SUV, and that's where the money is nowadays - the Qashqai has Nissan's best-seller for years. Enter the Nissan Ariya.
The Ariya is a family-sized electric SUV that's priced from just under £44,000, which means it has a good amount of competition. Our favourites include the Skoda Enyaq, the Kia EV6 and the Hyundai Ioniq 5, while there's also the Tesla Model Y, the Volvo XC40 Recharge and the Ford Mustang Mach-e - plus a glut of new arrivals on the way.
The Nissan Ariya has to be competitive and desirable, then, and on first impressions it does a pretty good job at the latter. The swoopy, modern design is a world away from the now dated-looking Leaf, with neat details such as the unique lighting signatures front and rear. Our only reservation is that plumping for an Ariya with smaller wheels makes it look a little ungainly in the side profile - quite a few large modern cars suffer from this, though.
But it's the cabin that's a real step forward for Nissan. This is far from just an electric Qashqai, with a noticeable step up in material quality, an attractive design, cool details and advanced technology including a new dual-screen infotainment system. It's also spacious, especially for passengers with long legs in the back. However, the boot is a letdown, with key rivals offering a fair bit more space back there.
You can get the Nissan Ariya with two battery sizes and three power outputs including a higher-performance 'e-4ORCE' model with dual motors. There's also two trim levels, but whichever version you go for there's plenty of kit. A range of up to 329 miles on a charge is very competitive, if not class-leading, while some rivals offer faster peak charging speeds too.
Nevertheless, the Ariya offers a good all-round driving experience on our first impressions, which were limited to driving around heavily speed-controlled and smooth Swedish roads. Nissan admits that it's "not trying to build a sports car, but find the sweet spot", and the Ariya manages to offer composed (if unexciting) handling and a ride that seemed comfortable - although we'll need to try it on rougher tarmac to know for sure.
Overall, while there are faster, quicker charging and more practical alternatives, the Nissan Ariya is a welcome addition to the class and a sign of Nissan returning to form with electric cars.
Is the 2022 Nissan Ariya right for you?
The Nissan Ariya is a good buy if you're looking for an electric car that offers desirability, technology and interior space, and don't mind paying a bit more outright to benefit from the running cost savings of an EV.
It's less suitable for those looking to carry very large loads of luggage due to the unremarkable boot space, and those on a budget may be better served by alternatives with more cheaper trim levels on offer, such as the Volkswagen ID.4.
What's the best Nissan Ariya model/engine to choose?
We've only driven the Nissan Ariya so far with the smaller 63kWh battery, which offers an official range of 250 miles. That should be sufficient for most people's needs, as will the pretty generous level of equipment offered in entry-level Advance form.
The entry-level car's performance should be sufficient for many, too, but keen drivers may want to look at the four-wheel drive models, both of which offer noticeably faster acceleration on paper.
What other cars are similar to the Nissan Ariya?
The Nissan Ariya's key competitors are the Volkswagen ID.4, Kia EV6 and Hyundai Ioniq 5. Both offer a similar blend of rational and emotional appeal, broadly similar pricing (although the ID.4 is the cheapest of those competitors) and a similar size.
The Kia and Hyundai aren't quite proper SUVs, though, more taller and longer hatchbacks. There's the Skoda Enyaq, which is probably less desirable than the Ariya but more practical. The Ford Mustang Mach-e is a little bit more expensive but offers the added desirability of its Mustang sports car-aping design and badge. The Volvo XC40 Recharge matches the Ariya with a taller, more SUV-like stance, but it doesn't offer the space of the Nissan, nor does the Mercedes EQA.
There's also the Tesla Model Y, which is much faster and more practical than the Ariya but also considerably more expensive to buy. Further competitors new to the scene include the Toyota bZ4X, the Renault Megane E-Tech Electric, the Genesis GV60 and the soon-to-arrive Polestar 3.
Comfort and design: Nissan Ariya interior
"The Ariya's cabin is probably the most impressive thing about it. This is new territory for Nissan - it looks and feels premium, the detailing is lovely, the tech is bang up-to-date and there's plenty of space, although there are some niggles."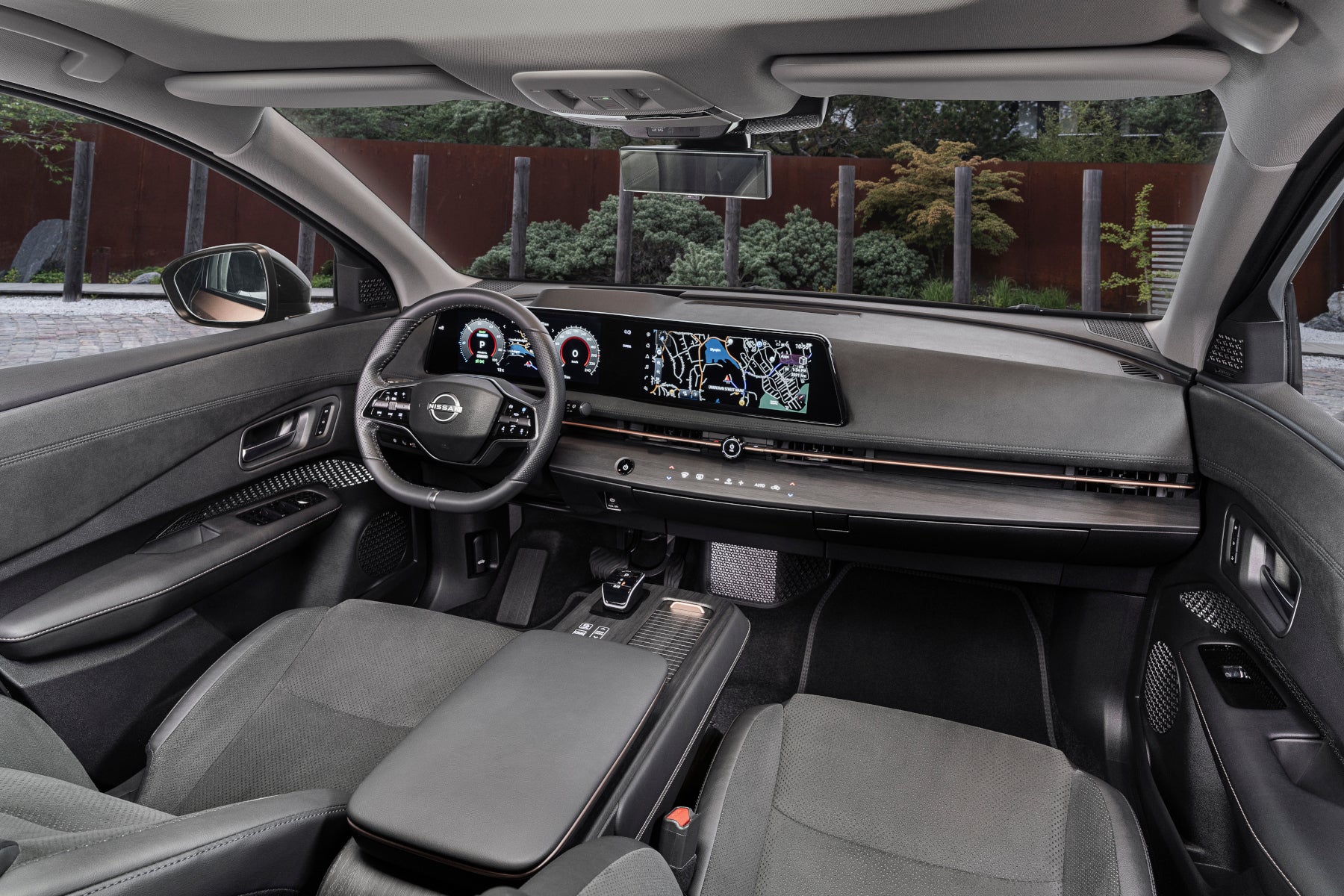 Nissan isn't known for particularly exciting and upmarket cabins, but after years of rather functional designs recent models such as the latest Qashqai and Juke have really upped the game. The Ariya is easily Nissan's best yet, however, and helps to justify its price.
Step in and the first thing you notice is the sheer quality. Whereas the Nissan Leaf is rather drab and dated inside, the Ariya looks modern and feels pretty plush. There's lashing of suede material on the door cards and on the dashboard, appealing wood finishes on the centre console and a neatly curved dual-screen display panel across the dash top. In fact, it reminds us of a cut-price BMW iX inside, which is a very good thing.
It certainly looks and feels like more of a premium product inside than efforts from VW and Skoda. There's more surprise and delight when you look closer: for example, the climate controls sit flush with the wood trim dash panel and are nicely backlit, with haptic feedback.
Evolve trim gets a motorised centre console that moves back and forth 15 degrees, and even an electrically opening and closing central cubby in the dash centre. All models get neat backlit dotted panels on the doors and in the footwell, too. None of that is strictly necessary but it helps give the Ariya a more special feel than many of its rivals.
You also get a very comfortable driving position, with a nice balance between sitting up higher to give a commanding view out but not feeling perched too aloft. Forward visibility is good, too, but the narrow rear window combined with the chunky rear spoiler means the view out the back could be better. At least even base models get a 360-degree around view camera system to help matters.
Quality and finish
The Ariya has easily the most high-quality cabin of any Nissan we've tried to date. We really like the wood trim strip across the dashboard and centre console, plus the suede touchpoints on the doors and dash. Unfortunately the latter is only standard on higher-spec Evolve trim, and we've yet to sample an Advance model without it to give you an idea of what that's like.
General fit and finish seems good, too, with no wobbly bits of trim or rattles. The glovebox lid and lower areas of the dash are made of harder, scratchier plastic, but the same is true of pretty much every rival. Options include Blue Nappa leather upholstery for the seats, part of which is synthetic for a more eco-friendly approach.
If we were being really picky, the switches between the central volume knob for skipping songs and the hazard warning lights - which are meant to be neatly integrated into the air vent trim - didn't quite line up straight on our car. But that's all we can really complain about.
Infotainment: Touchscreen, USB, nav and stereo in the Nissan Ariya
Every Nissan Ariya comes fitted with a pair of 12.3-inch displays combined into one smart-looking display panel. You get standard navigation, over-the-air updates, remote and connected services and a 'Virtual Personal Assistant'.
The sat-nav has intelligent route planning, using real-time information not just on the traffic level but the status of charging points along your routes. You also get Amazon Alexa integration that Nissan claims is unique in the class, although we weren't able to operate it in Sweden.
The infotainment screen is decent enough, with plenty of features and reasonably good touch response. The graphics aren't as premium as the rest of the interior, either, and the same applies to the instrument display which (while clear and multi-functional) isn't the best in the business.
Still, at least you get wireless Apple CarPlay and (sadly wired) Android Auto so you can bypass Nissan's software and run your own smartphone apps. There's a wireless charging pad below the centre armrest on every model, too, plus a few USB sockets and a 12V socket.
We have some reservations about the Ariya's use of haptic touch sensitive controls throughout the cabin. While they look great and make the car feel futuristic, and they do give you physical feedback to confirm your selection, the ones on the centre console require a committed stab to work and the steering wheel buttons are a little fiddly and confusing. Normal buttons for essential features would be easier to use on the move. We also couldn't work out how to turn off the mildly irritating lane departure warning - it should be an easily accessible button.
You also get a 10 speaker Bose sound system as standard on top Evolve trim, while this is optional on the entry-level Advance grade. Evolve trim also features a head-up display, too, plus an intelligent rear-view mirror which can become a camera display of the rear view at the flick of a switch - perfect if you have a loaded up boot blocking the rear screen.
Space and practicality: Nissan Ariya boot space
In terms of exterior dimensions the Nissan Ariya is 4,595mm long, 1,850mm wide and 1,660mm tall. That makes it roughly the same size as a Volkswagen ID.4, but shorter and taller than a Kia EV6 and Skoda Enyaq.
It's not as large an SUV as you might think on the outside, then, but there's still a very good amount of cabin space. Up front the lack of a central transmission tunnel (like you often get on a petrol or diesel car) gives loads of leg space and a central area you could store a rucksack in - although as there's no divider there's a risk it would slide under the pedals. Head space and cabin width up front means that drivers of all shapes and sizes can get comfortable, too.
You get electrically adjustable front seats on base Advance trim, while Evolve trim brings memory adjustment for the seats, mirrors and the (now electrically adjustable) steering wheel. There's loads of adjustment, while being able to electrically slide the centre console back and forth adds to the flexibility.
Rear legroom is very generous - up there with the Skoda Enyaq and possibly even more than in the Kia EV6 and Hyundai Ioniq 5, while a flat floor and wide cabin means three in the back isn't too much of a squeeze. The floor isn't too high like in some EVs either, although you still can't fully slide your feet under the front seats.
Headroom in the back is significantly less generous than legroom (more like the Kia in this respect) due to the sloping roofline, and the panoramic sunroof of Evolve grade hampers this further. Even with it fitted, though, six footers can just about get comfortable without feeling hemmed in.
The boot is the biggest disappointment when it comes to practicality, simply because its outright capacity is less than many rivals. At 466 litres for the two-wheel drive model it's already behind rivals from VW, Skoda, Kia and Hyundai, although it is at least bigger than in the Mustang Mach-e. Even worse is that the four-wheel drive model takes that capacity down to 408-litres by removing the underfloor storage. There's no front boot area, either.
And that's a pity, because the boot itself is a decent shape, plus front-wheel drive variants get an underfloor storage are that's plenty big enough for the charging cables. You also get an electric tailgate on every variant, while the opening itself is large, although as the Ariya is higher off the ground than some rivals you need to lift things up a bit more. The seats fold in a 60/40 split, with a central ski hatch, but no levers in the boot to fold the seats.
Handling and ride quality: What is the Nissan Ariya like to drive?
"The Nissan Ariya strikes a nice balance between comfort and refinement and composed handling, although it's not exactly exciting. We also need to try it in the UK to be definitive on ride comfort."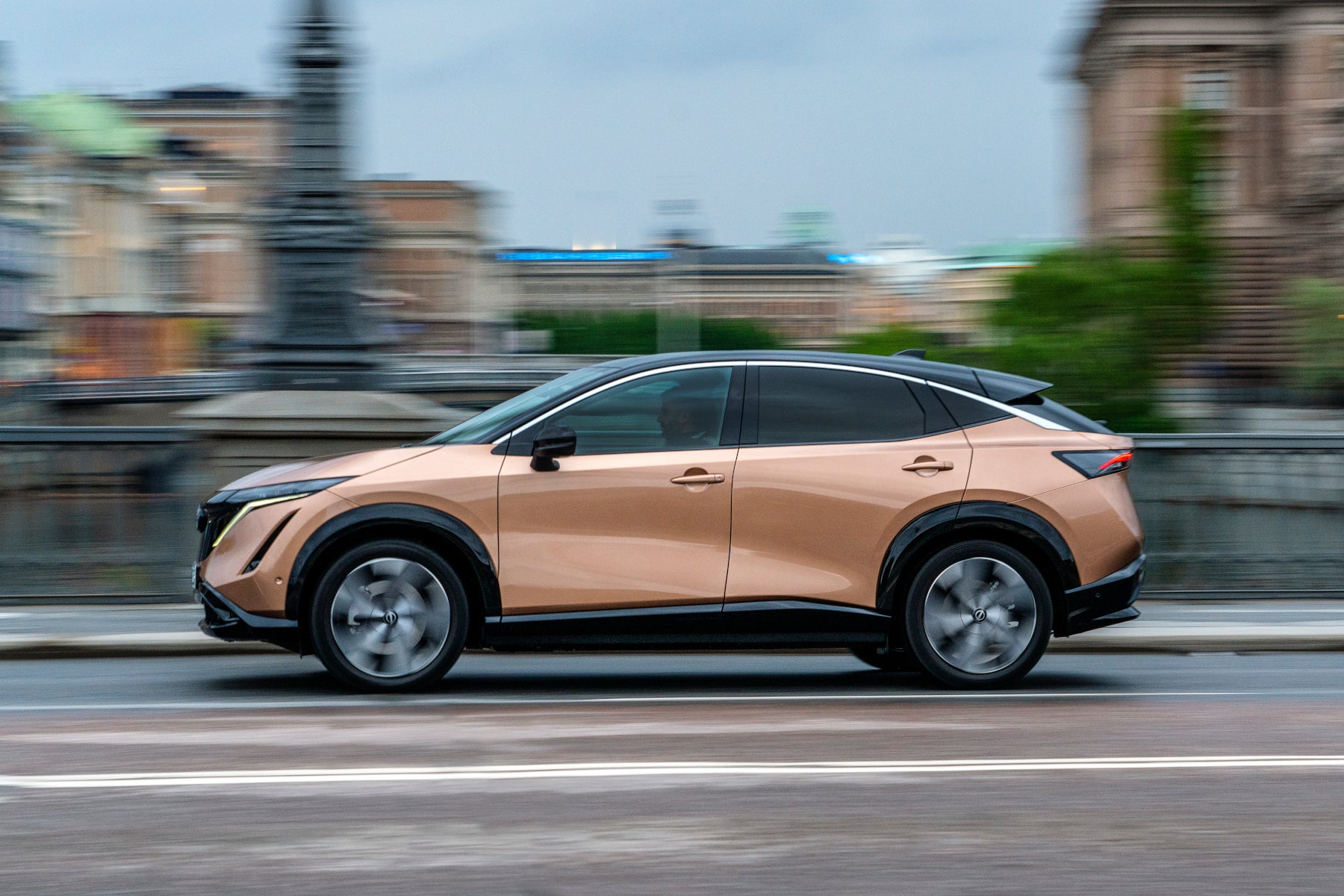 Nissan has focused on making the Ariya's driving experience work for the majority of buyers, balancing the need for handling that isn't too soft and wallowy with the ability to smooth over the worst bumps our roads can throw at it. And on initial impressions it's done a good job.
The Ariya's steering is nicely weighted, not too light and not too heavy, with a keen directness helping boost the feeling of agility. There's not too much body lean either, although the two-wheel drive model we drove weighs under two tonnes whereas heavier versions are nearly 2.3 tonnes, and that could affect how keen it feels to change direction. At least you get 50:50 weight distribution for balance.
Two-wheel drive models have plenty of grip most of the time, but as they are front-wheel drive and many rivals are rear-wheel drive it can struggle to get all of the instant torque down if you floor it without triggering the traction control.
Our biggest question mark remains over ride quality. Often electric cars can struggle to be truly smooth because the heavy batteries result in the suspension being stiffened up to cope. Our first impressions of the Ariya are favourable, but try as we might we couldn't find anything like the rough roads that you'll find in the UK on our Swedish test route. Still, it seemed refined and well-damped over the bumps we could find, helped by the smaller 19-inch wheels.
The Ariya's ground clearance of 185mm is more than key rivals, which may be a benefit for some who have rutted tracks instead of driveways. We don't expect it to rival the best 4x4s off-road, but it should get further than many electric SUVs as a result.
The Nissan Ariya's brakes are worth talking about, too. Some EVs and hybrid cars have odd brake feel because they are combining normal friction brakes with regenerative braking, making it really hard to smoothly come to a stop. The Ariya's are excellent, with a natural feeling pedal making it a doddle to slow down without being jerky.
What motors and batteries are available in the Nissan Ariya?
The Ariya can be had with two battery sizes and three power outputs. The entry-level version with a 63kWh battery puts out 218PS and 300Nm, which is enough for a perky but not rapid 0-62mph time of 7.5 seconds.
The bigger 87kWh battery comes as standard with 242PS and the same 300Nm of torque. Despite the extra power it's actually a tiny bit slower due to the heavier battery pack, managing 0-62mph in 7.6 seconds. It's worth noting that both of these variants top out at 100mph, although that only really matters if you're on a German Autobahn.
Finally, there's the all-wheel drive e-4ORCE model, which puts out a decent 306PS but a whopping 600Nm (double the torque of the standard car). It's much faster, then, with a 0-62mph time of 5.7 seconds and a top speed of 124mph. That's still some way off a dual-motor Volvo XC40 Recharge and even an entry-level Tesla Model Y, but really we reckon it would be more than enough in a family SUV.
So far we've only driven the entry-level model and even that is plenty potent enough for this type of car, particularly for zipping around town and up to speed on the motorway. Unless you're regularly engaging in the traffic light grand prix it'll be fine, and it feels quicker than petrol or diesel family SUVs because you get instant throttle response and power.
Maximum electric range in the Nissan Ariya
The Ariya manages a WLTP-certified range of 250 miles in 63kWh form, which rises to 329 miles with the 87kWh battery. Opting for the dual-motor e-4ORCE model drops the latter down to 310 miles. Expect all of those figures to be a little optimistic in real-world use.
Those figures are very competitive but not quite the best in this class, with the bigger battery broadly matching the Kia EV6 in front-wheel drive form and beating it in all-wheel drive form. It's similar to the Skoda Enyaq's range, too, for both versions, and even gets close to the Tesla Model Y.
If you want more range than this you'll need the Ford Mustang Mach-E Extended Range, which officially manages up to 379 miles on a single charge.
Refinement and noise levels
The Ariya is super quiet and smooth around town, with no motor whine to speak of and very little tyre noise on our (admittedly well-surfaced) test route. We'll have to wait and see if that's the same when we're on the UK's poorly-surfaced tarmac.
Wind noise is a little more noticeable than in some lower-down, more streamlined alternatives, but it's far from intrusive and is noticed more simply because of the lack of engine noise.
Safety equipment: How safe is the Nissan Ariya?
Euro NCAP hasn't given the Nissan Ariya the full crash test treatment, so we don't yet know for sure how safe it'll be.
There is plenty of safety kit as standard, however, including intelligent lane keep assist, blind spot intervention, rear cross-traffic alert, front and rear automatic emergency braking with pedestrian and cyclist detection and predictive forward collision warning.
You also get Nissan's 'ProPILOT with Navi Link' as standard, which is basically advanced adaptive cruise control with steering assistance to keep you in your lane. Automatic parking comes as standard too, while Advance grade gets 'ProPilot Park' which is even cleverer.
Charging times: how much does it cost to charge the Nissan Ariya?
"The Nissan Ariya isn't the fastest charging electric car out there, but it should pull a consistent speed from a rapid public charger."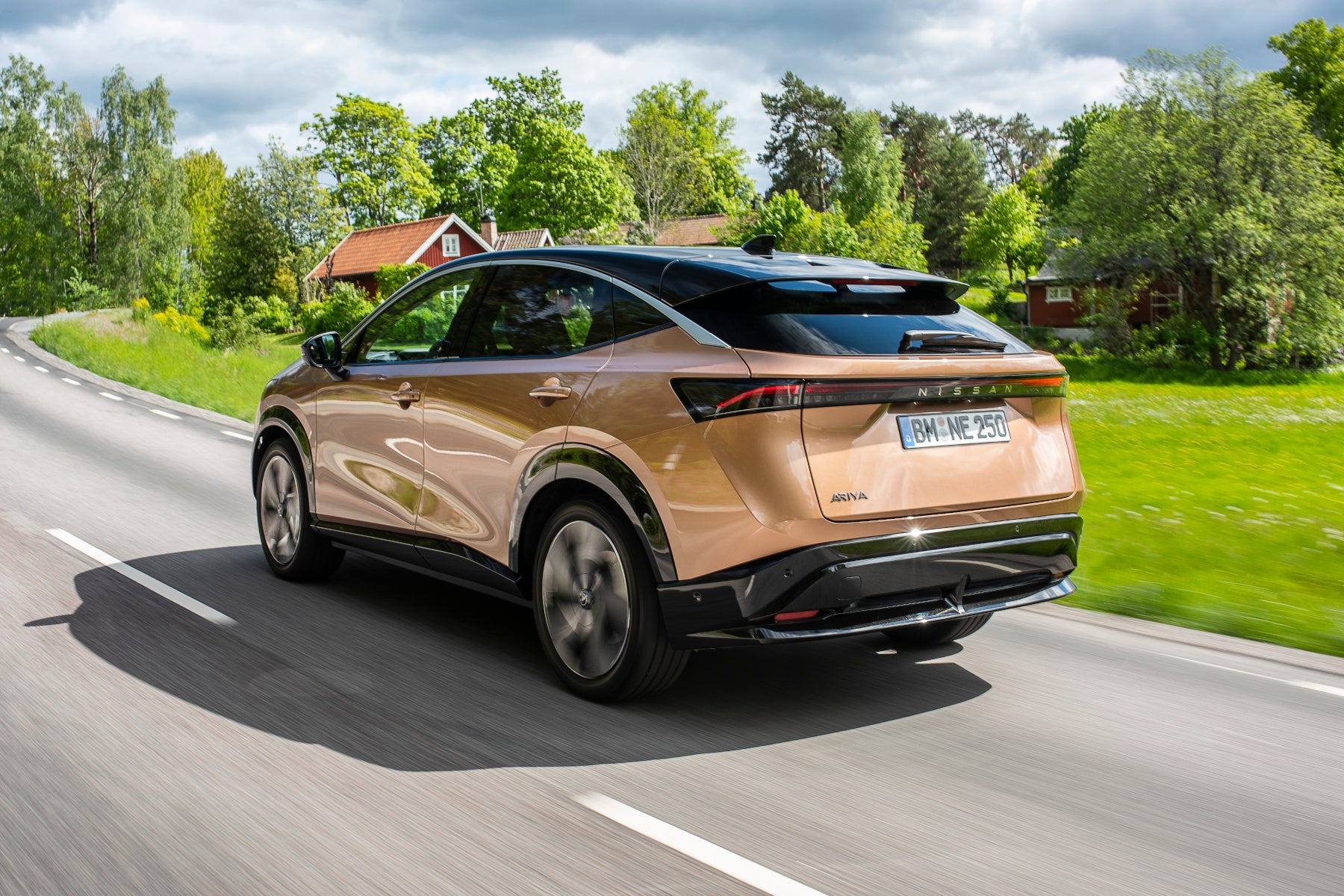 The Nissan Ariya will accept charge at a maximum speed of 130kW. That's not awful, but it's certainly not the fastest out there - rivals from Kia and Hyundai, along with Tesla, will peak at over 200kW.
However, Nissan claims that where rivals claim better peak speeds and drop off quite quickly, the Ariya is more consistently able to reach and maintain speeds while plugged into a suitable rapid charger. The 63kWh model can go from 20-80% charge in as low as 28 minutes, with the 87kWh model taking 30 minutes.
You'll need up to 10hrs for the smaller battery and 14hrs on the bigger battery for a full charge on a standard 7kW home charger. But Ariyas with the bigger 87kWh battery come as standard with a 22kW on-board charger, which with a suitable three-phase home wallbox will speed that up a fair bit.
In terms of the cost? The bigger battery model will cost around £7 with the cheapest home electricity tariff, but i'll be more like £35-40 on the fastest rapid chargers depending on supplier.
How reliable is the Nissan Ariya?
The Nissan Ariya is so new to the market that we can't give an accurate idea of how reliable it is. Nissan has a fair reputation for reliability as a brand, finishing in the middle of the table in the latest HonestJohn.co.uk Satisfaction Index.
Insurance groups and costs
The Nissan Ariya starts in insurance group 31 for the entry-level version, rising to group 35 for the bigger battery model and group 41 for the dual-motor variant. That certainly won't make it cheap to insure, but it's about par for the course for EVs at this size, performance and price point.
VED car tax: What is the annual road tax on a Nissan Ariya?
The Nissan Ariya is of course electric, which means you won't pay a dime in VED (road tax) at any point during its ownership - unless the government changes things in years to come. For now, though, it's a useful saving.
How much should you be paying for a Nissan Ariya?
"The Nissan Ariya is on a par with mainstream electric car rivals in terms of pricing, and is expected to hold its value well."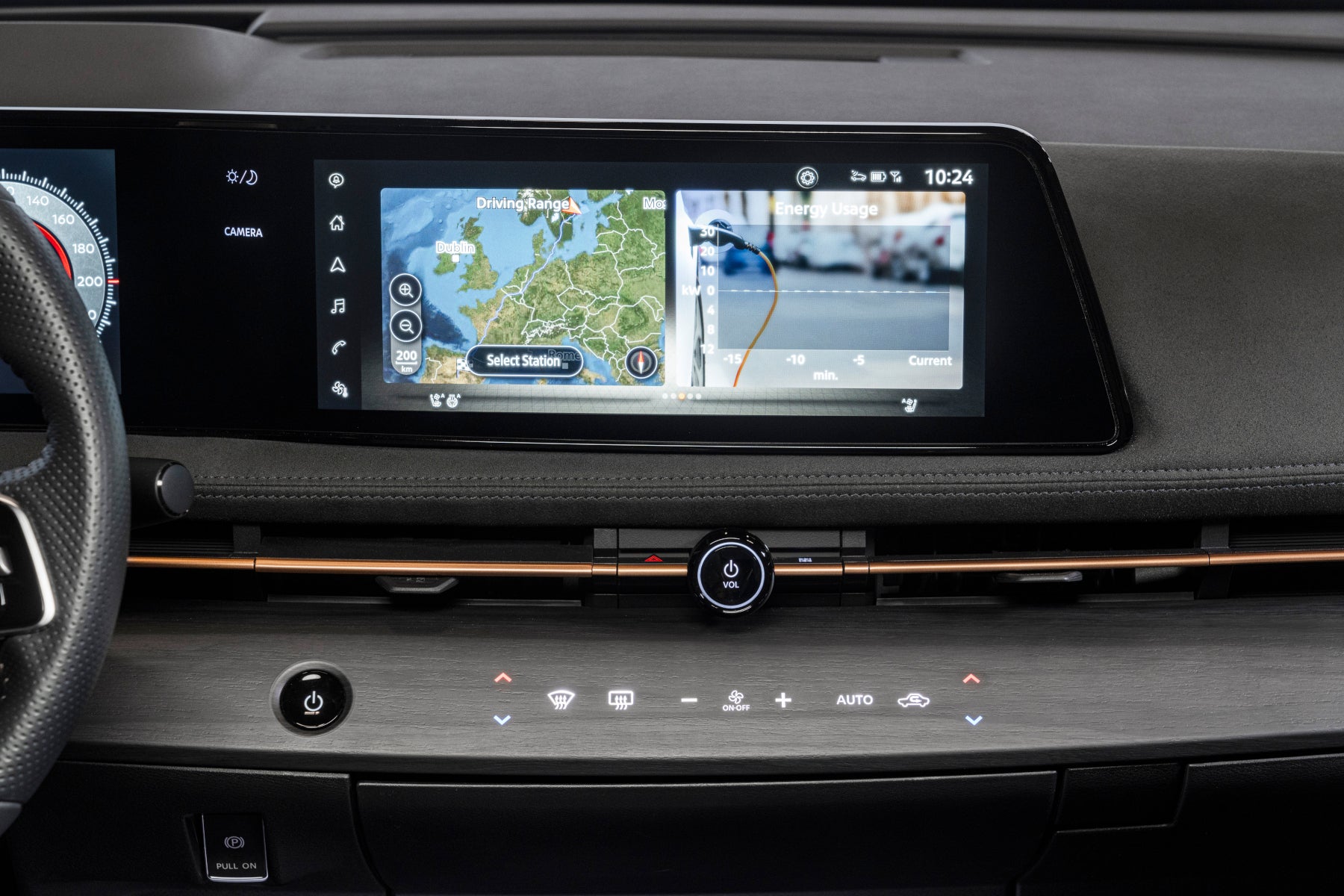 The new Nissan Ariya will be available to order from 5th July. To get yourself in the cheapest Advance 63kWh version you'll need £43,845.
That's a higher starting price than the ID.4 and Enyaq, but both of those cars have significantly less standard equipment at that level. The Ariya's entry point is on a par with the Kia EV6 and a few thousand less than a Ford Mustang Mach-e.
Stepping up to the bigger 87kWh battery in Advance trim commands a near £6,000 premium at £49,595. That's not cheap, so it's worth considering if you really need the extra 70 or so miles of range for your normal journeys.
Stepping up to Evolve grade with the 63kWh battery is £47,840, while the Evolve 87kWh battery is £53,590. The e-4ORCE dual-motor variant can be had in Advance or Evolve grades at £52,295 and £56,290 respectively.
Trim levels and standard equipment
The Nissan Ariya offers a very impressive level of standard equipment for an electric car of this price point. Take a deep breath before reading these...
The entry-level Nissan Ariya Advance comes with full LED lighting, 19-inch alloys, dual-zone climate control, electric and heated front seats, a heat pump, ambient lighting, an electric tailgate, a heated front windscreen, a suite of driver assist tech including adaptive cruise control and steering assist, dual 12.3-inch displays, sat-nav, a 360-degree camera system and wireless Apple CarPlay.
Stepping up to the Nissan Ariya Evolve brings 20-inch alloys, a panoramic sunroof, adaptive beam headlights, the motorised centre console and electrically opening dash cubby, the intelligent rear-view mirror, ventilated front seats and heated rear seats, electric memory wheel adjustment, synthetic leather upholstery, suede dash trim, a head-up display, an Advanced Intelligent Key, a Bose sound system and ProPILOT self-parking.
Ask the heycar experts:
common questions
Is the Nissan Ariya coming to the UK?
Yes, the Nissan Ariya will be on sale in the UK, and is available to order from 5th July at dealers or online.

How fast is the Nissan Ariya?
The standard single-motor, two-wheel drive Nissan Ariya does 0-62mph in 7.5 seconds, or 7.6 seconds with the bigger 87kWh battery. However there's also a dual-motor Ariya e-4ORCE which can go from 0-62mph in 5.7 seconds.

How much is the Nissan Ariya in the UK?
The Nissan Ariya is priced from £43,845 in the UK in Advance trim, with the range rising to £56,290 for the top-spec e-4ORCE Evolve model.

Answered by
Lawrence Allan
Nissan Ariya cars for sale on heycar
3,256
Number of cars available
£46K - £46K
Price bracket of these cars
Keep me updated by email with the latest advice, news and offers from heycar
By submitting, you agree to our
privacy policy
.