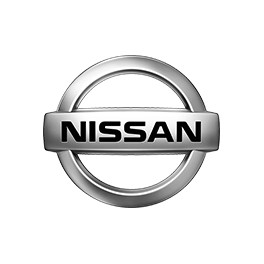 Nissan GT-R Review

Written by
heycar editorial team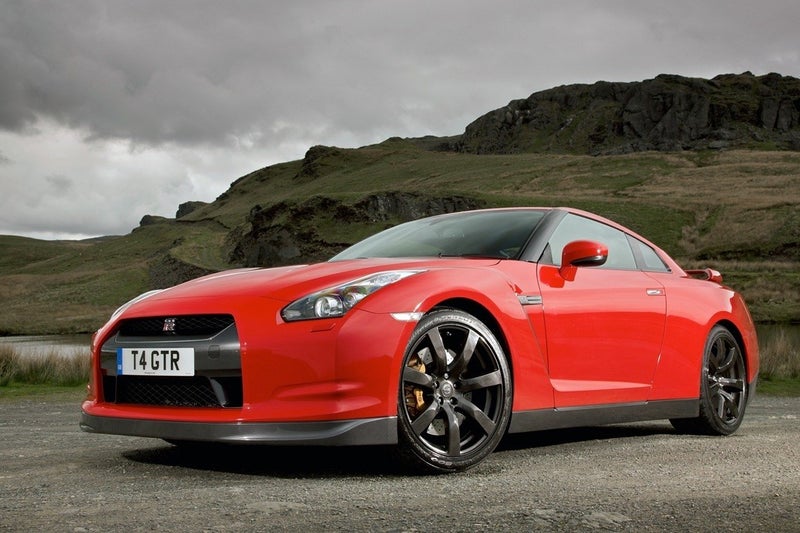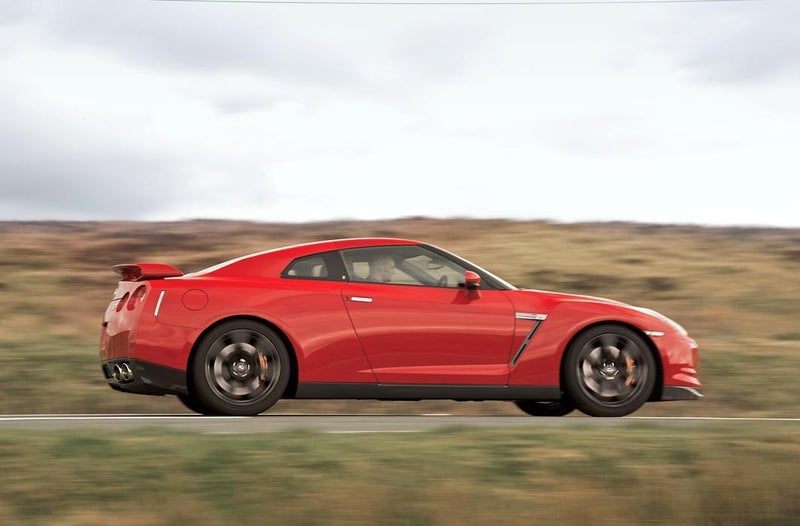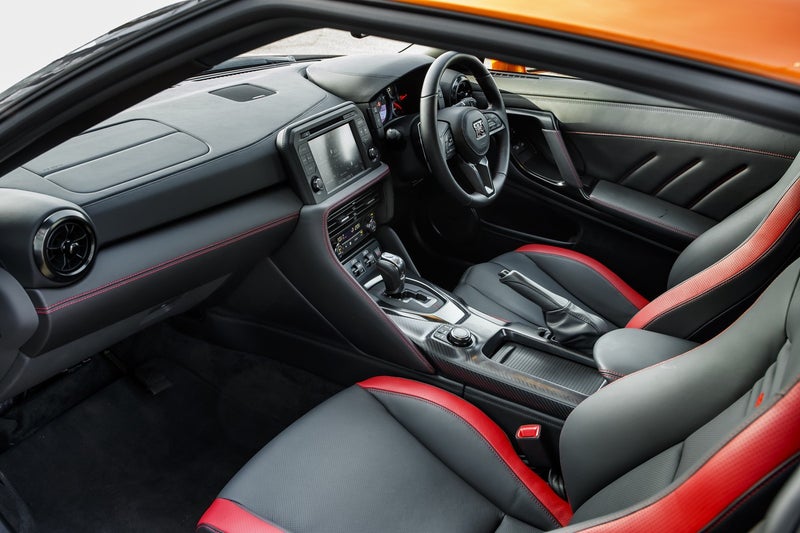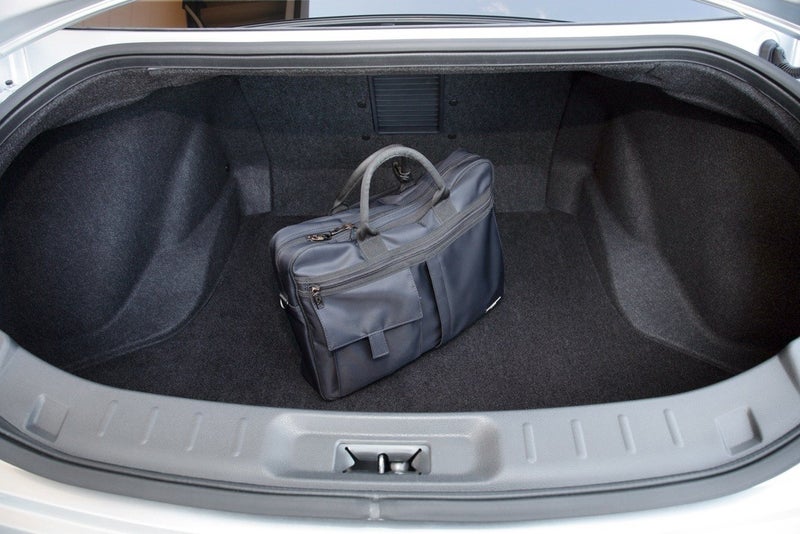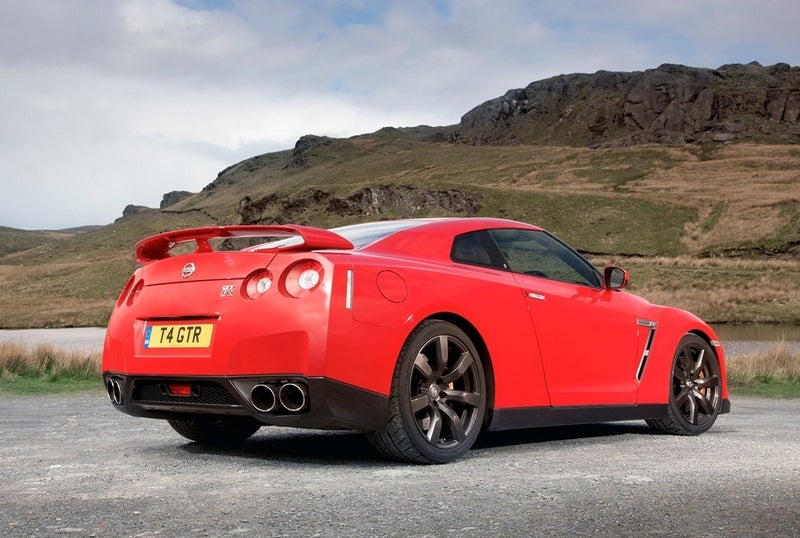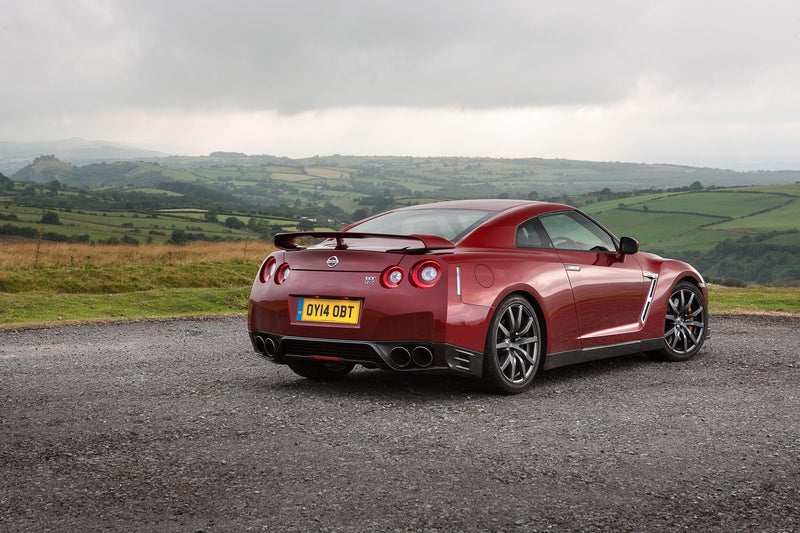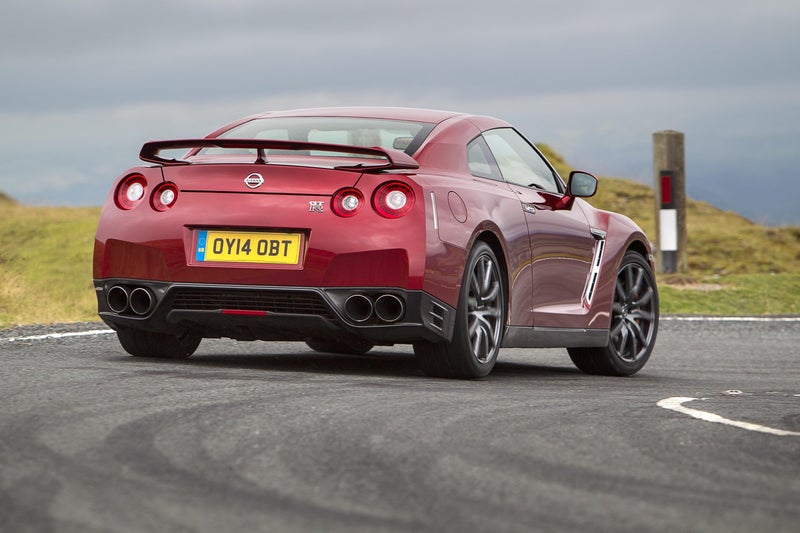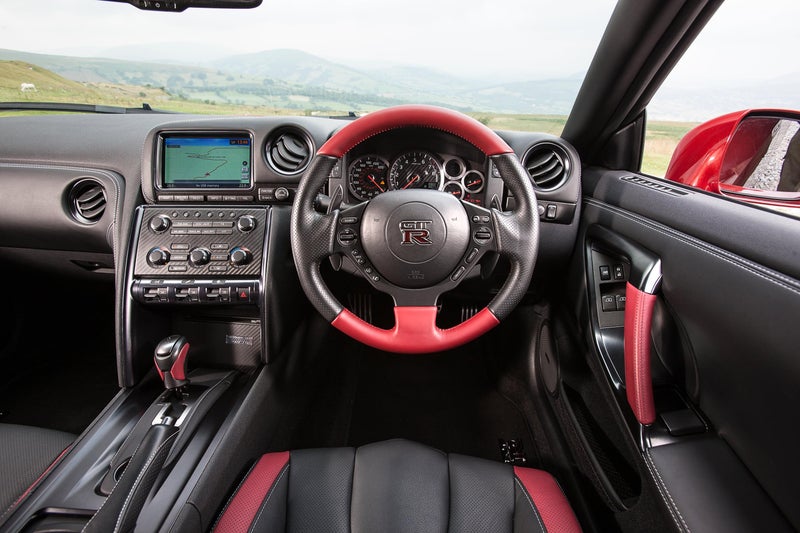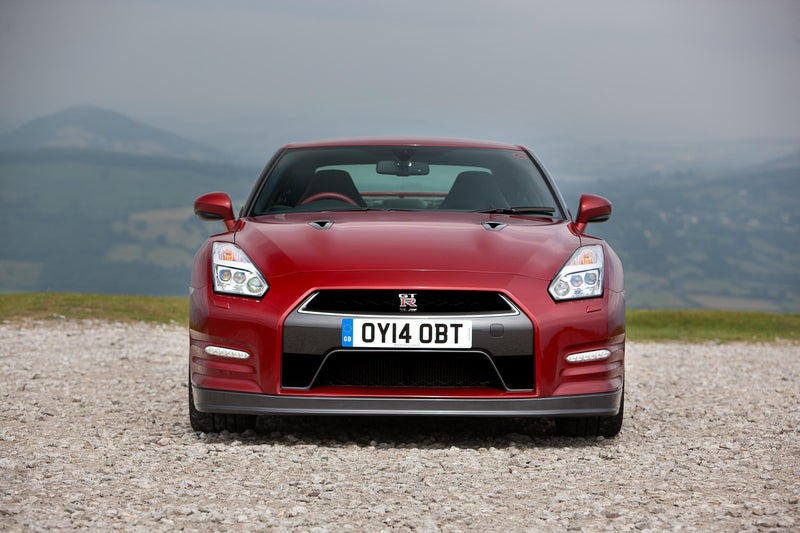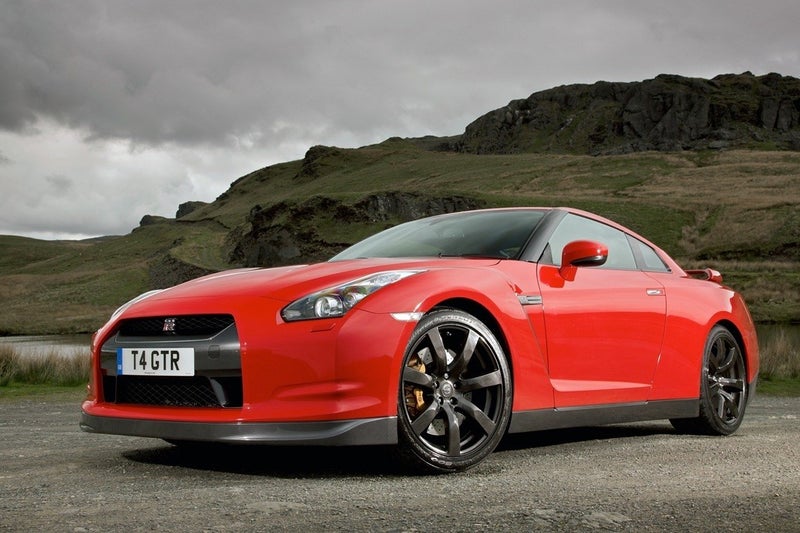 1/10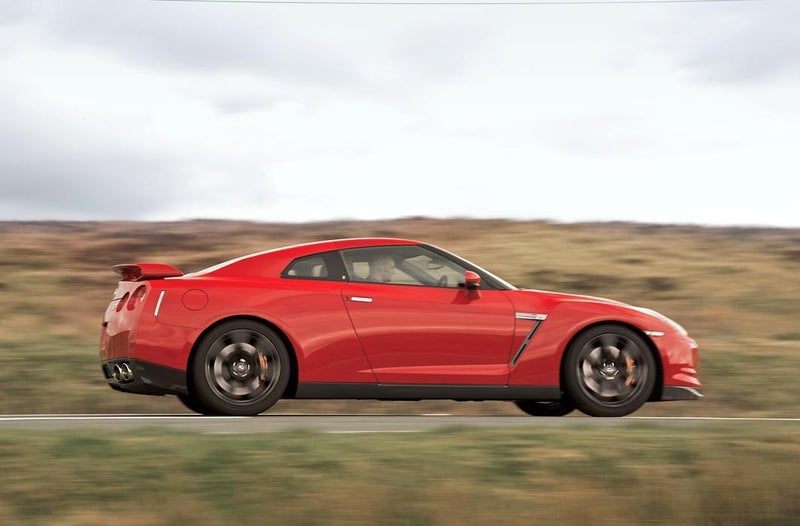 2/10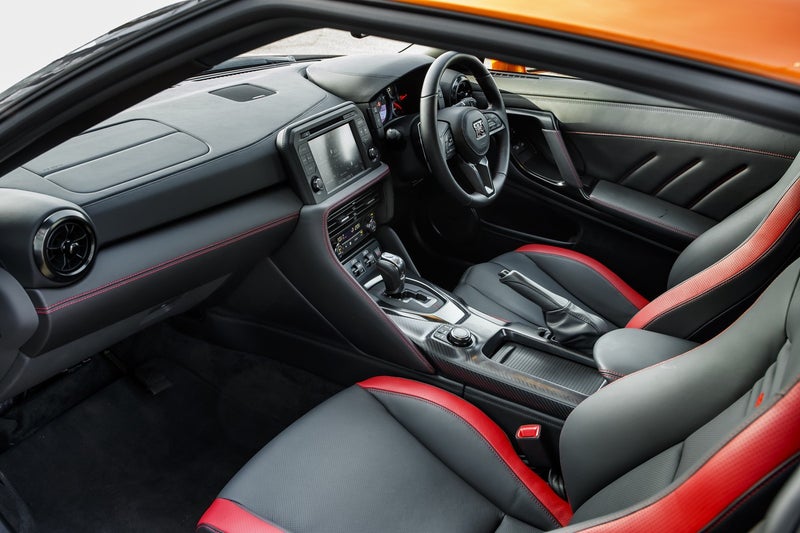 3/10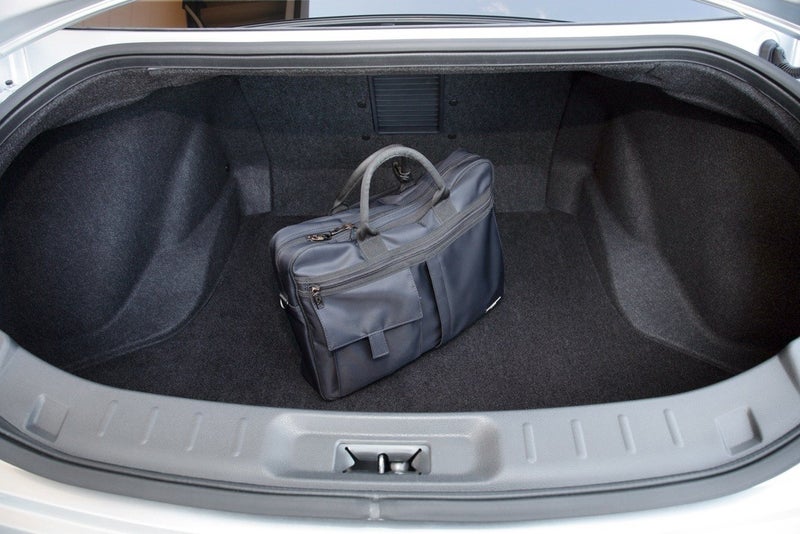 4/10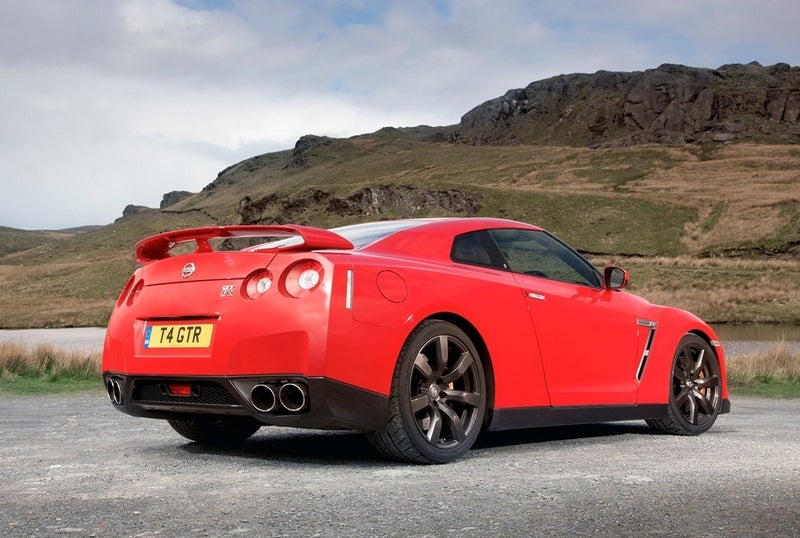 5/10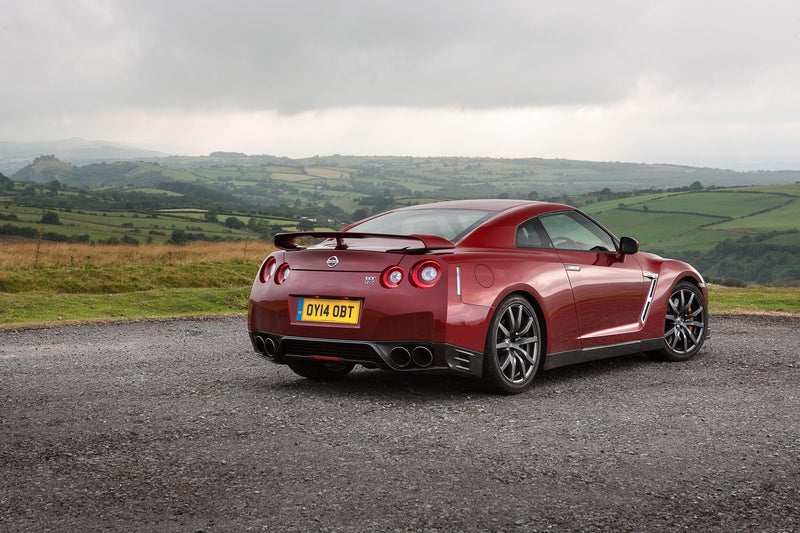 6/10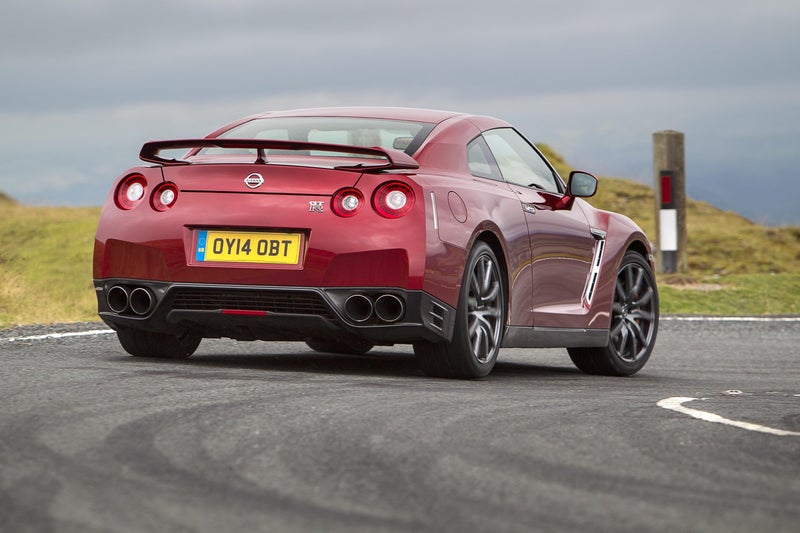 7/10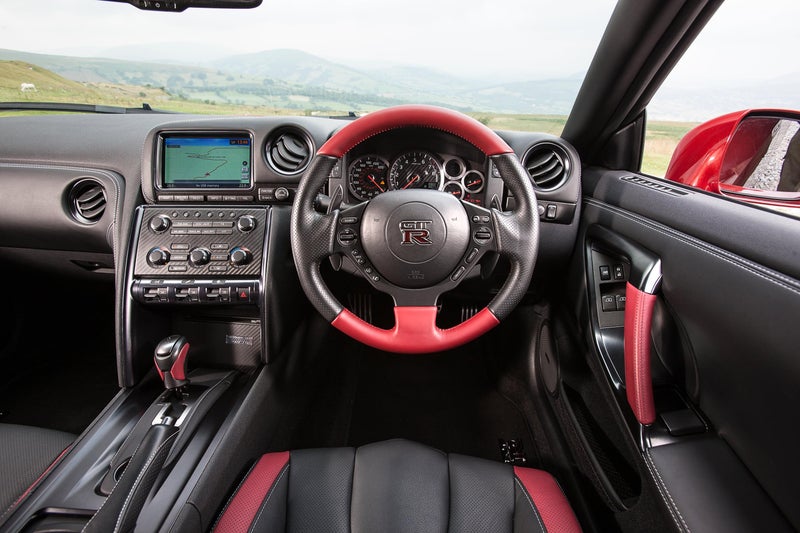 8/10
9/10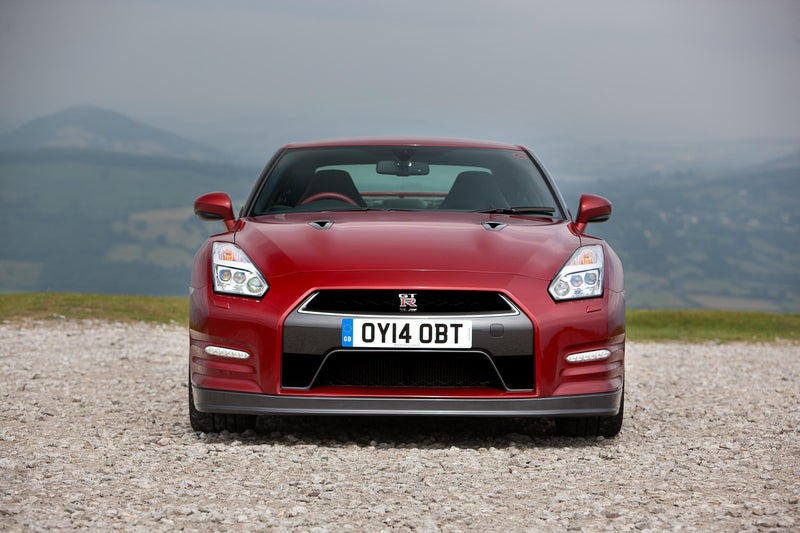 10/10

heycar rating
"'Godzilla' is a supercar sensation"
Launched: 2009

Performance

Petrol
Quick overview
Pros
Incendiary performance
Relative affordability
Highly bespoke nature
Cons
It's a Nissan, not a Ferrari
Very expensive running costs
Feels like an 11-year-old car in places
Nissan Gt R cars for sale on heycar
3
Number of cars available
£67K - £85K
Price bracket of these cars
Colours available on heycar
Read by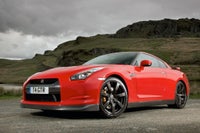 Overall verdict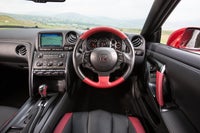 On the inside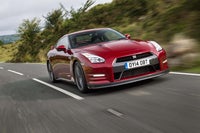 Driving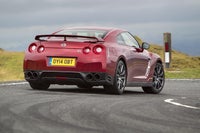 Cost to run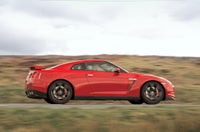 Prices and Specs
Overall Verdict
"The GT-R is one of Nissan's most legendary cars of all time. It even has a nickname – 'Godzilla' – and has been around in one form or another for more than 50 years. Throughout that time, it has stood for boundary-pushing performance and, in recent years, epic levels of handling ability and grip."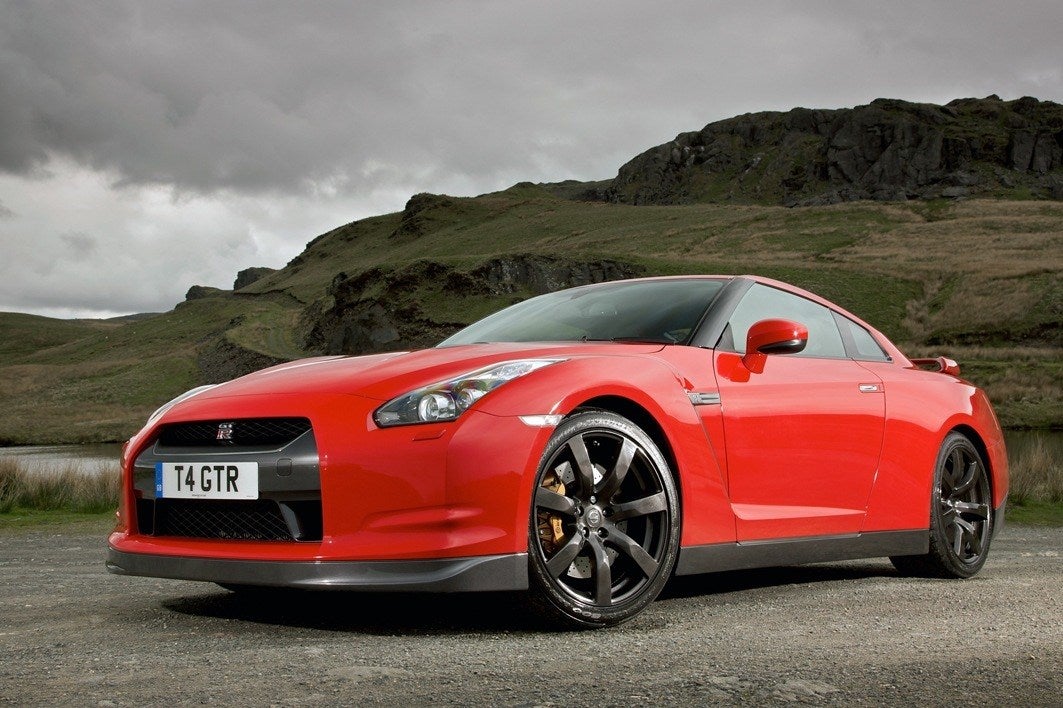 This version was launched in 2008, replacing the previous Skyline GT-R. Now simply called GT-R, it followed a similar formula, with a twin-turbo V6 engine and high-tech all-wheel-drive running gear. Even at launch, it put out 480PS. Today, the figure stands at 570PS basic, or 600PS peak.
In terms of sheer point-to-point speed, little can touch the Nissan GT-R – not even some supercars from Ferrari, Lamborghini and Porsche. It has an almost other-worldly ability to find grip and traction, and deliver the driver enough confidence to utilise it, while the engine is truly explosive. It's no wonder this car has such a cult following.
It's a surprisingly good daily-driver too – provided, that is, you can afford the fuel bills. The interior is roomy, the boot is big and such a clever all-wheel-drive system also aids high-speed stability. And, of course, there's power in reserve at the merest tickle of the accelerator pedal.
Nissan's range-topper is suitably loaded with equipment, and the infotainment system is particularly comprehensive. Buyers get the sort of access to on-board information normally reserved for Formula One engineers. You can enjoy a Bose 11-speaker sound system, although you may prefer the titanium exhaust instead.
Be in no doubt, this is a truly exotic high-end supercar. For a Nissan, it's very expensive, with a brand-new list price of over £80,000. However, you won't easily find a used one for less than £50,000, showing how sought-after it is. Consider it a half-price Ferrari, with the ability to embarrass many of Maranello's finest cars.
Although its core is the same, Nissan has continually updated the GT-R over the past decade. A team of engineers is dedicated to continual refinements, honing an already polished vehicle to ever-higher levels of ability. The latest changes include gearchanges that are 0.15 seconds faster, along with five per cent more efficient turbochargers and enhanced exhaust manifolds. That's the sort of minute detail engineering that goes into the GT-R.
Nissan offers an even more exotic and specialised range-topper called the GT-R Nismo. This has an extensive Nismo-themed styling package, a tuned engine with that full 600PS, plus a special onboard infotainment system with Nismo-specific features. You'd expect no less, mind, from a vehicle that costs £175,000.
The Nissan GT-R isn't for everyone. Some will err towards the broader appeal of a Porsche or Ferrari. Nissan doesn't mind: it's seeking a different customer base, one that relishes the heritage of this long-running, storied brand. It costs a fortune to run, but "So what?", they'll say. There's nothing quite like it, so it's a price worth paying.
Comfort and design
"Comfort is a surprisingly high priority for the Nissan GT-R. That's comfort as in interior space, practicality and flexibility. This has long been pitched as an everyday supercar, one that is accommodating and able to cover long distances without a second thought. Nissan is a real-world car brand and even its range-topping halo car still has to tick certain boxes."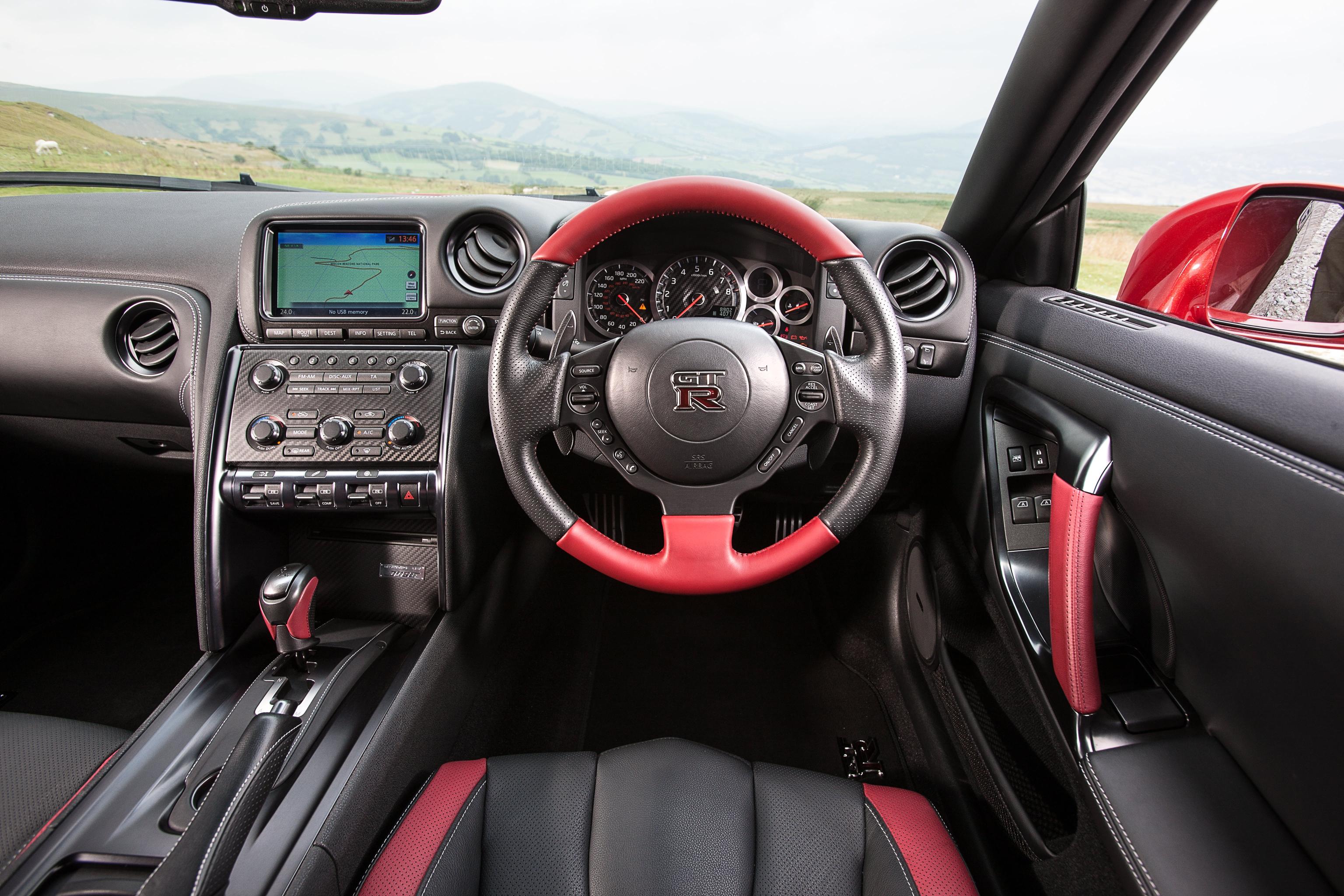 The GT-R has a great set of front seats and a perfect driving position. As a custom-built supercar, the engineers were able to define exactly what was required to create the hunkered-down feel they desired, and they achieved it brilliantly. We also love the gorgeous GT-R steering wheel, which is a joy to hold – more like something from a racing car than a road car. Custom-designed sports seats in Recaro models are more hip-hugging, while Prestige versions have richer and more indulgent leather that's even more comfortable.
The design is purposeful. The interior lacks the beauty of something like a Porsche 911. The dashboard is cliff-like and, undoubtedly, it's starting to age. But committed GT-R fans care less about this, because all the features they value so highly are still present and correct – not least the extremely comprehensive infotainment screen. This is an equal for anything you'll find on a Gran Turismo video game.
Despite the obvious presence of stock Nissan switchgear, the design still looks suitably different to something like a Qashqai. Once you're inside, you'll be in no doubt you are sitting in a supercar.
Handling and ride quality
"Here's the headline reason why you'll love the Nissan GT-R. Its cornering ability is staggering. The core engineering excellence goes right to the layout of the chassis itself."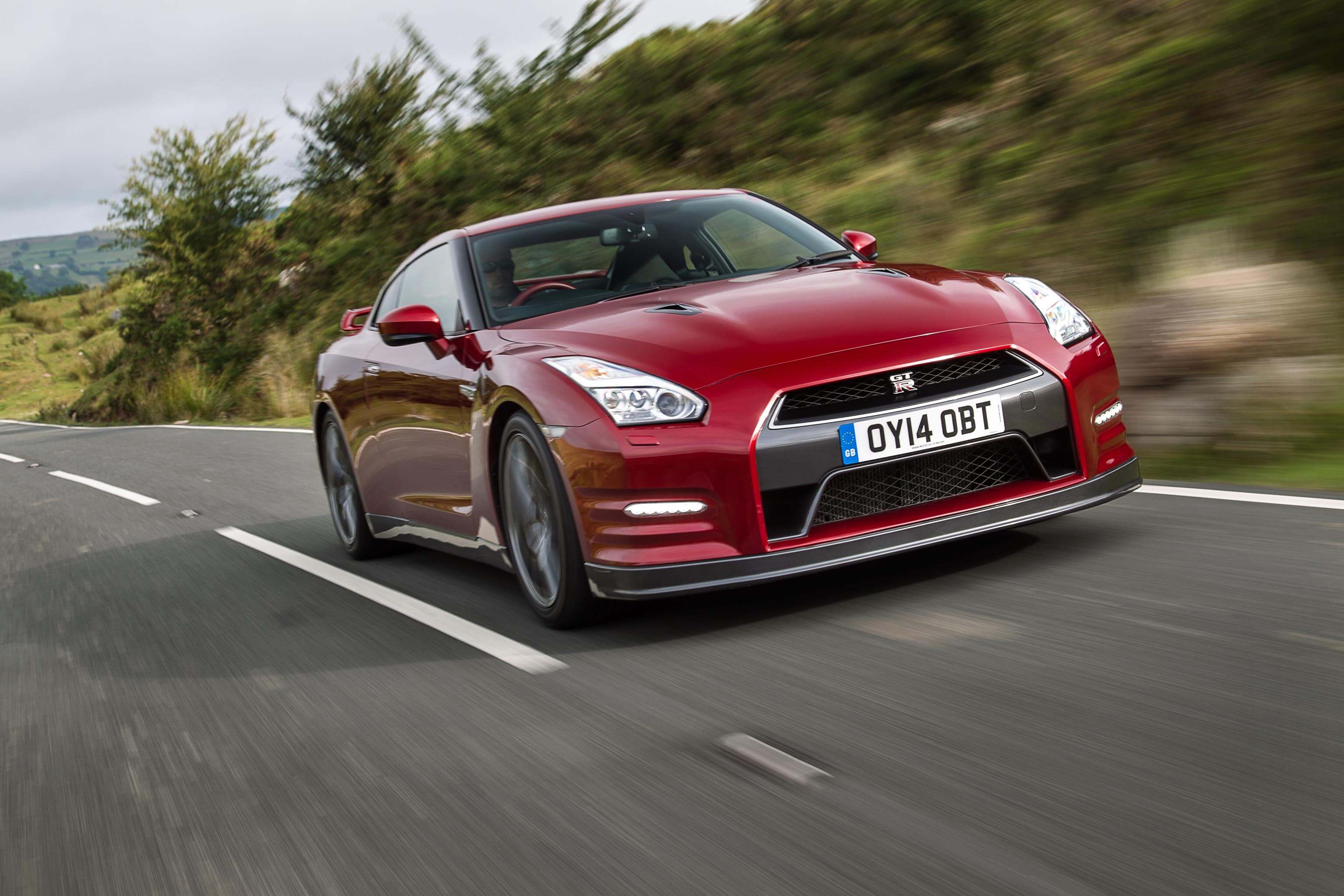 Nissan created a custom-built 4WD system with the dual-clutch transmission, transfer case and final drive ratio all mounted at the rear of the car. This was a world-first and gives Godzilla excellent weight distribution. Exotic Bilstein adaptive dampers and even bespoke tyres all add to the fanatically-engineered GT-R's abilities.
The mighty Nissan is best experienced on winding, challenging roads. This is when its colossal talents really become clear. You will be left dumbstruck by just how quickly it covers ground, thanks to the inherent balance and monumental abilities of its active suspension and 4WD system. The GT-R uses the sort of tech they had to ban in Formula One racing because it was making the cars too quick. Road cars, it seems, are not bound by the same restrictions.
Yet it's not remote or lifeless. Steering feel is brilliant and the sense of good old-fashioned interaction you get from the chassis is truly invigorating. Those who criticise the GT-R for being all a bit 'drive by wire' have clearly never driven one. Nobody who has would ever criticise this amazing car for being distant.
Nissan has gradually improved this GT-R over the years with the minute updates and alterations we previously mentioned. It basically means the later the car you can afford, the better it will drive. But be in no doubt, even the earliest cars are incredible.
MPG and fuel costs
"Ah, efficiency. We had to spoil it by mentioning MPG and fuel costs, didn't we? W"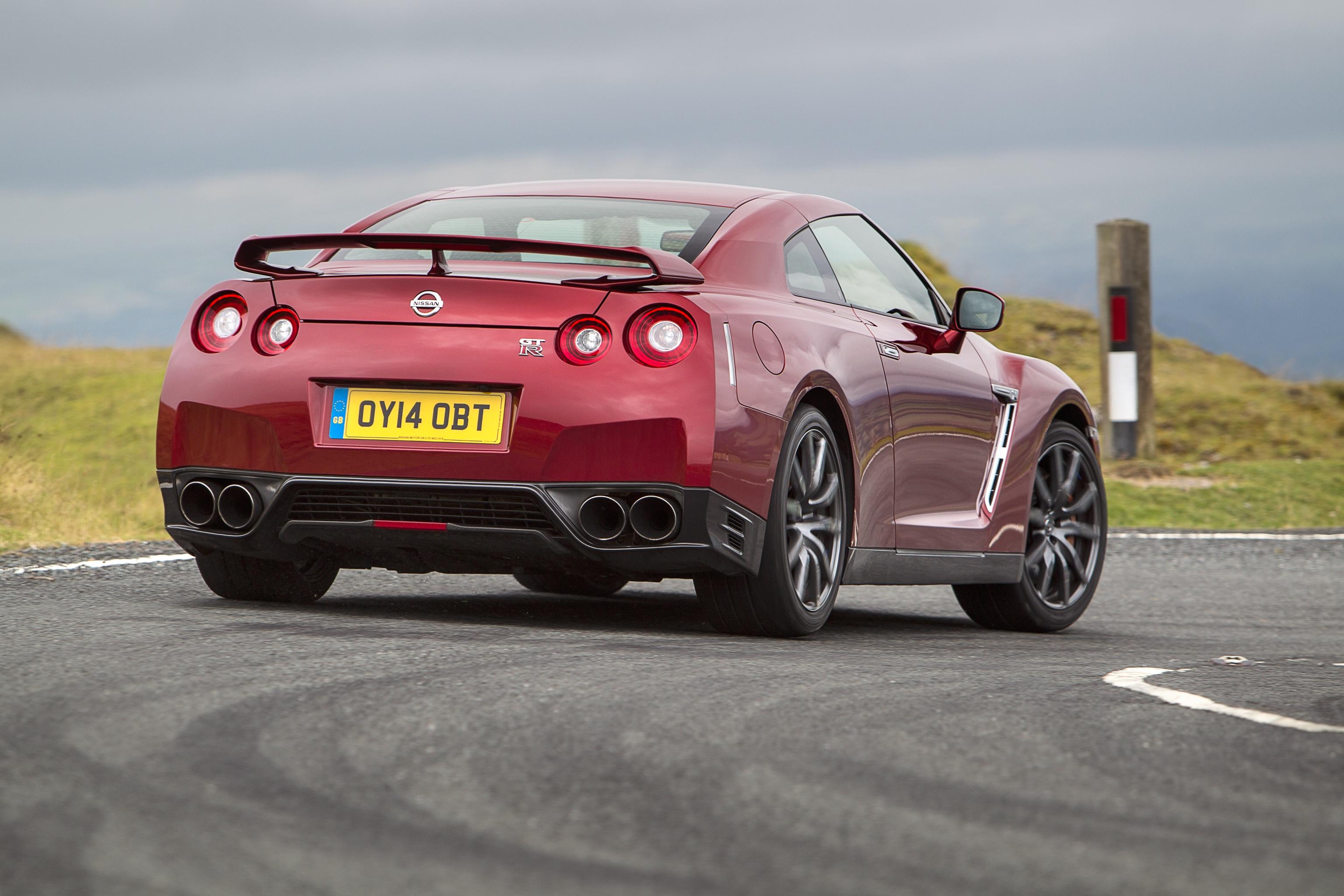 ant the bad news delivered straight? Combined economy of 19.7mpg. And that's likely to be as good as it gets. The in-town figure, according to WLTP testing, is just 12.7mpg. From experience, if you're driving quickly, you're likely to see single figures and watch the fuel gauge go down quicker than you can comprehend.
It gets worse. Nissan recommends 100-octane fuel, which is almost impossible to get in the UK. The best you'll be able to do is fill it with super unleaded petrol, forking out the hefty premium extra over regular petrol to push costs up yet further.
How much should you be paying for a used Nissan GT-R?
"You won't get this generation of Nissan GT-R from an approved dealer, with a fully-backed and comprehensive used car warranty, for less than £50,000."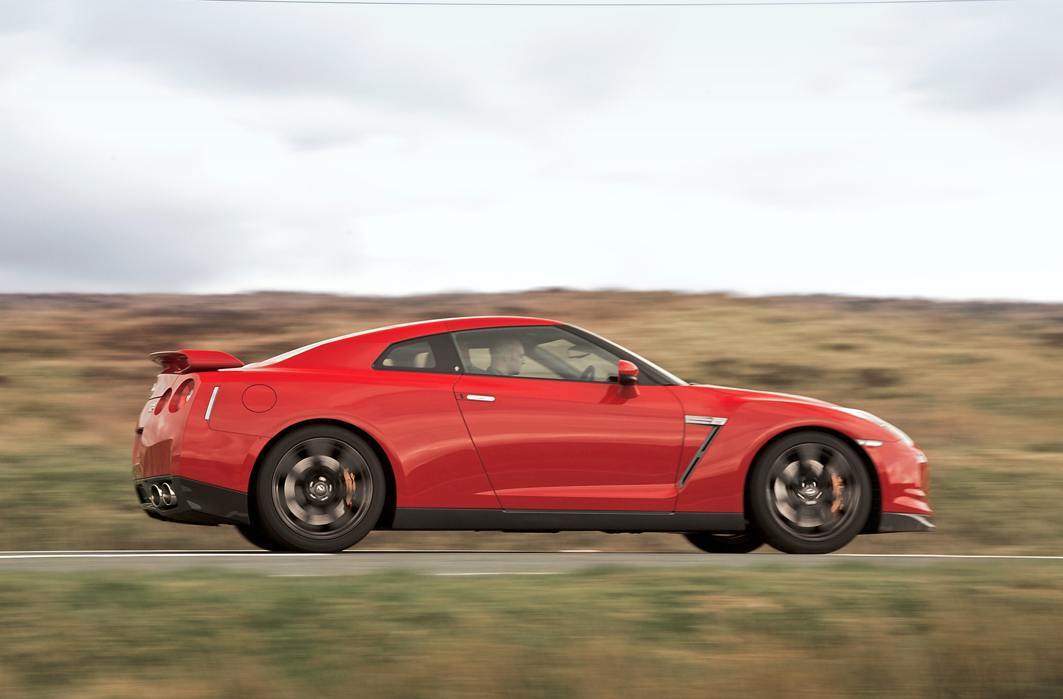 Our research showed you need to have upwards of £60,000 to hand, with the broadest choice of cars starting from just under £70,000. These will be full approved-used examples, passing the manufacturer's multi-point checks.
On the plus side, it's interesting to see how slowly the GT-R depreciates. Its peerless reputation helps keep prices high, for retained values that would make Ferrari proud.
Is the Nissan GT-R right for you?
If you want one of the most incendiary point-to-point new cars on sale, the Nissan GT-R should be high up your shopping list. It's an unashamed driver's car, one with huge focus and intensity, which delivers thrills you almost certainly will never have experienced before.
The thing is, it does all this for a price well below the supercar norm. This is a core part of the GT-R's brilliance – it's the blue-collar supercar, of sorts, delivering highs that really shouldn't be possible for this kind of money.
Then there's the practicality. It has loads of onboard creature comforts. It's roomy, with a big boot. There's even passable space in the comfortable, individually-bolstered rear seats. It's an uncommonly well-rounded supercar you could use every day.
What's the best Nissan GT-R model/engine to choose?
With the new GT-R, we really like the appeal of the entry-level Pure model. For less than £85,000, it offers all the performance you could ever want, and an exotic spec including 20-inch alloys and a titanium exhaust. Do you really need to spend £3,000 more on the Recaro version just to get an upgraded interior? Or £4,000 more on the Prestige to get posh leather?
But then your eyes will clock the Track Edition. Yes, it's £100,000, but it has ultra-lightweight wheels, Bilstein suspension and a special reinforced body for better on-track performance. Bargain, no? Certainly more so than the Nismo version. This has 600PS and Nismo body styling, but is it really worth £175,000? No, we think the sweet-spot is either base Pure or honed Track Edition.
As for used GT-R, you can now buy 2016 models from £50k. That's still a lot of money, but wait until you experience the 550PS performance first-hand…
What other cars are similar to the Nissan GT-R?
Few cars are quite like the Nissan GT-R. The Porsche 911 is a famously capable everyday rival, and with prices from £82,000, it's a fiercely appealing GT-R alternative. But 385PS pales compared to the Nissan's 570PS, and if you want all-wheel drive, you'll need to spend over £88,000.
Super saloons and estates are other alternatives. Think of cars such as the BMW M5 and Audi RS6. Even these make the Nissan look like a bargain, mind – and that's before you consider exotica such as the Ferrari F8 Tributo and Lamborghini Huracan Evo. Maybe the Honda NSX might also take your fancy?
Really, though, there's nothing similar to the Nissan GT-R, which is why it has such unique appeal. Long may it continue so.
Quality and finish
Build quality is extremely high. This is virtually a hand-built machine crafted by Nissan's most senior craftspeople, who employ an obsessive level of detail engineering when creating the GT-R. There are some wonderful details such as the GT-R logo on the steering wheel, and the wheel itself, while the toggle buttons for the various suspension controls are very tactile. We like the aluminium-effect trim panels, too.
The trouble is, the main trim materials are more Nissan-grade than luxury-grade. They're certainly robust, but lack the sort of rich finish you'll find in a Porsche. The difference really is stark if you're switching from one to another.
You'll notice this in particular if you focus on the switches. You get bespoke controls in a Porsche, whereas those in a GT-R are shared with a 10-year old Juke. And some of the minor buttons were the same as once seen in the 350Z, which today is becoming a retro classic. It's not really what you expect of a car that's competing against such esteemed rivals. However, it still has a hand-finished sense of being a bit special, and this counts more highly than parts-bin sharing for its specialist fans.
We must also give special mention here to the Nismo version. All of the above applies, but it also gets a unique Alcantara-wrapped dashboard and steering wheel that we're sure will prove highly collectable in decades to come. It makes the interior feel that bit posher as well.
Infotainment
Infotainment is a real feature of the Nissan GT-R. And not necessarily for the features you normally associate with it, either. Owners love the GT-R's 8.0-inch central screen for its gadget-packed performance car functionality, particularly the ability to monitor a whole host of metrics from turbocharger intake temperature to cornering G-force. There's even a comprehensive telemetry recorder for those who want to pretend they're Lewis Hamilton.
Other features include SD sat-nav, two USB ports, DAB radio, Bluetooth, a colour reversing camera and, for traditionalists, an aux-in socket.
Nissan offers a standard Bose audio system with 11 speakers and, curiously, it builds in both active noise cancellation and active sound enhancement. It means the stuff you don't want to hear is filtered out, and more of what you really do want to hear – particularly the engine and exhausts – is beamed in with brilliant clarity.
Nismo models get an enhanced NissanConnect system with Nismo IT, with even more focus on performance and detailed analysis.
Space and practicality
The Nissan GT-R is a genuinely roomy car inside. There's a good amount of space up front, with occupants enjoying a bit more lounging room than normally associated with this type of car. The seats are set that bit higher off the ground, too, in contrast to a low-slung supercar. This gives a better view out – you'll no longer be left staring at the tyres of lorries on motorways (or gazing at the engine of a bus in traffic).
In the rear, it's less impressive by regular car standards – but still a lot better than the supercar norm. Legroom is tight, but there is more room than something like a Porsche 911, plus a fair bit more comfort and support. You won't necessarily want adults sitting back there – unless they're after a thrill-seeking ride they'll never forget – but for kids, it's surprisingly accommodating. It certainly bolsters the GT-R's credentials for those with young families.
The boot is another positive aspect. There are 315 litres of space in there: not quite family hatchback-sized, but bigger than a more compact supermini. It's large enough to swallow a couple of sets of golf clubs.
The GT-R also gets Isofix mountings for child car seats in the rear. While you might find accessing them to be a bit awkward, it's nevertheless a positive to have them, and again underlines the car's everyday practicality and usability.
Other details that make all the difference include cupholders in the rear, a front centre console that includes an armrest, stowage cubby and two more cupholders, plenty of 12v power sockets plus – and we really like this – a lovely leather strap in the boot to help you close the lid.
Engines and gearboxes
The Nissan GT-R uses a 3.8-litre twin-turbo V6 engine created just for this vehicle. It's even built on a special production line in Japan by Nissan's most experienced master craftsmen – the same sort of hand-built precision you usually see with something like an Aston Martin engine.
The spec sheet includes plasma-sprayed cylinder bores and a secondary air management system that feeds a dedicated charge to the engine at lower revs, so it is still responsive while meeting strict emissions regulations. The engine requires servicing every 6,000 miles, which sees the maintenance bills quickly start to spiral, but it's such a unique and specialist powerplant, it's easy to understand why once you experience it.
Performance is ridiculous. Explosive doesn't even begin to describe it. The latest cars will do 0-62mph in just 2.7 seconds – and such colossal acceleration is easily repeatable thanks to the car's launch control and fast-shifting dual-clutch gearbox. Nismo models go one better, with 0-62mph in 2.6 seconds. This really is just about as fast as you can get in a production car. Even earlier cars still did 0-62mph in under 3.0 seconds.
The intensity is frightening. The GT-R just hurtles to the horizon at barely-abating speed. If you have a long enough piece of tarmac away from inconveniences such as speed limits, it will do 196mph. And it's not only the overall performance – the Nissan has wild levels of pulling power even at everyday engine revs. It is ever-ready to surge forward with wild electricity.
The six-speed gearbox is fast-shifting and dependable. There are paddle shifters behind the steering wheel, but you're probably best leaving the car to sort it all out, so quickly will the need to shift gears arise. You can ramp up the intensity yet further by engaging R-mode, which gives even crisper upshifts and more sudden downshifts. You select this via one of the three toggles on the centre console.
Refinement and noise levels
We've mentioned the GT-R has both sound enhancement and noise cancellation. This does as it suggests – delivers both refinement when you really want it, and concert-hall performance car sound when you're in the mood for some fun.
When you're not trying to lose your licence, it's surprisingly refined and quiet. Road noise is well isolated and wind noise is kept out of the picture even at motorway speeds. The engine is reasonably subdued, and the noise that it does make is, as you'd expect, lovely.
Dial up 'R' mode and its character changes. The engine starts howling and the exotic, super-expensive titanium exhausts howl. Later GT-Rs were better than earlier versions in this regard, and the latest Track Edition and Nismo versions are mouth-watering. It all adds up to a car that, unusually for a supercar, really does serve up the best of both worlds.
Safety equipment
The Nissan GT-R comes as standard with front, side and curtain airbags. The front seats have both seatbelt pre-tensioners and load limiters to better distribute forces in a collision. And the bonnet has a special pop-up function to help protect pedestrians in an impact.
We've mentioned the Isofix mounts in the rear, and Nissan also makes life easier during hill-starts with an anti-roll-back hold function. As you'd hope for such a desirable car, there's a Nissan alarm and immobiliser as standard.
Cruise control includes a speed limiter and rain-sensing windscreen wipers are an everyday safety boost. Really, though, it's the GT-R's incredibly high limits that deliver the most effective everyday safety boon – in the right hands, of course. Drivers should never breach its grip limits on the public highway, the engine is always responsive enough to get you out of trouble, and standard Brembo carbon-ceramic brakes will stop on a sixpence.
It's the lesser abilities of other cars that you need to worry about here, rather than any active safety shortcomings with the GT-R.
Insurance groups and costs
It won't surprise you to learn the GT-R comes in at the highest-possible insurance group 50. Basically, it's going to cost a fortune to insure, and some companies won't even touch it because they deem it too much of a risk.
Prepare to be patient when trying to insure a Nissan GT-R – both to get cover in the first place, then to ensure you're not spending many, many thousands on it.
VED car tax
It's a triple knockout in terms of VED (road tax). The GT-R emits a hefty 316g/km CO2 – three times the figure of a standard Nissan Juke crossover – which means, wait for it, a £2175 first-year VED bill.
Also, because it costs more than £40,000, owners then have to pay £475 a year for the next five years, before costs finally drop to £150 a year. The GT-R is an extremely costly car to run, and that's before you factor in the eye-watering servicing bills.
Trim levels and standard equipment
As Nissan's range-topper, all GT-Rs come with a very high level of standard equipment.
Performance car features include exotic 20-inch Rays forged alloy wheels, a titanium exhaust and Bose audio system. All get leather and Alcantara upholstery, electric heated seats, dual-zone climate control and keyless go.
Recaro models feature special Recaro front seats in black and red, while Prestige versions have bespoke black, red, ivory or tan 'Touring' leather.
The Track Edition, our favourite, adds bespoke lightweight alloy wheels to Recaro grade, along with an exclusive Nismo Bilstein Damptronic suspension system and increased body rigidity.
The ultra-exotic Nismo has a range of Nismo-specific features and that even more potent 600PS V6.
Even the earliest secondhand GT-Rs get the comprehensive touchscreen media system, along with other technology that sets it apart from a normal Nissan.
Learn more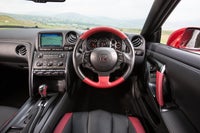 On the inside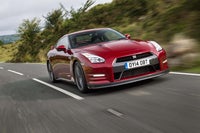 Driving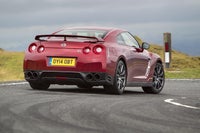 Cost to run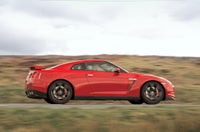 Prices and Specs
Reviews of similar cars
Quality checked, all cars less than 8 years old and warranty included
Looking for other Nissan cars?
Quality checked, all cars less than 8 years old and warranty included
Keep me updated by email with the latest advice, news and offers from heycar
By submitting, you agree to our
privacy policy
.