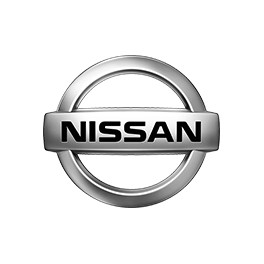 Nissan Juke Review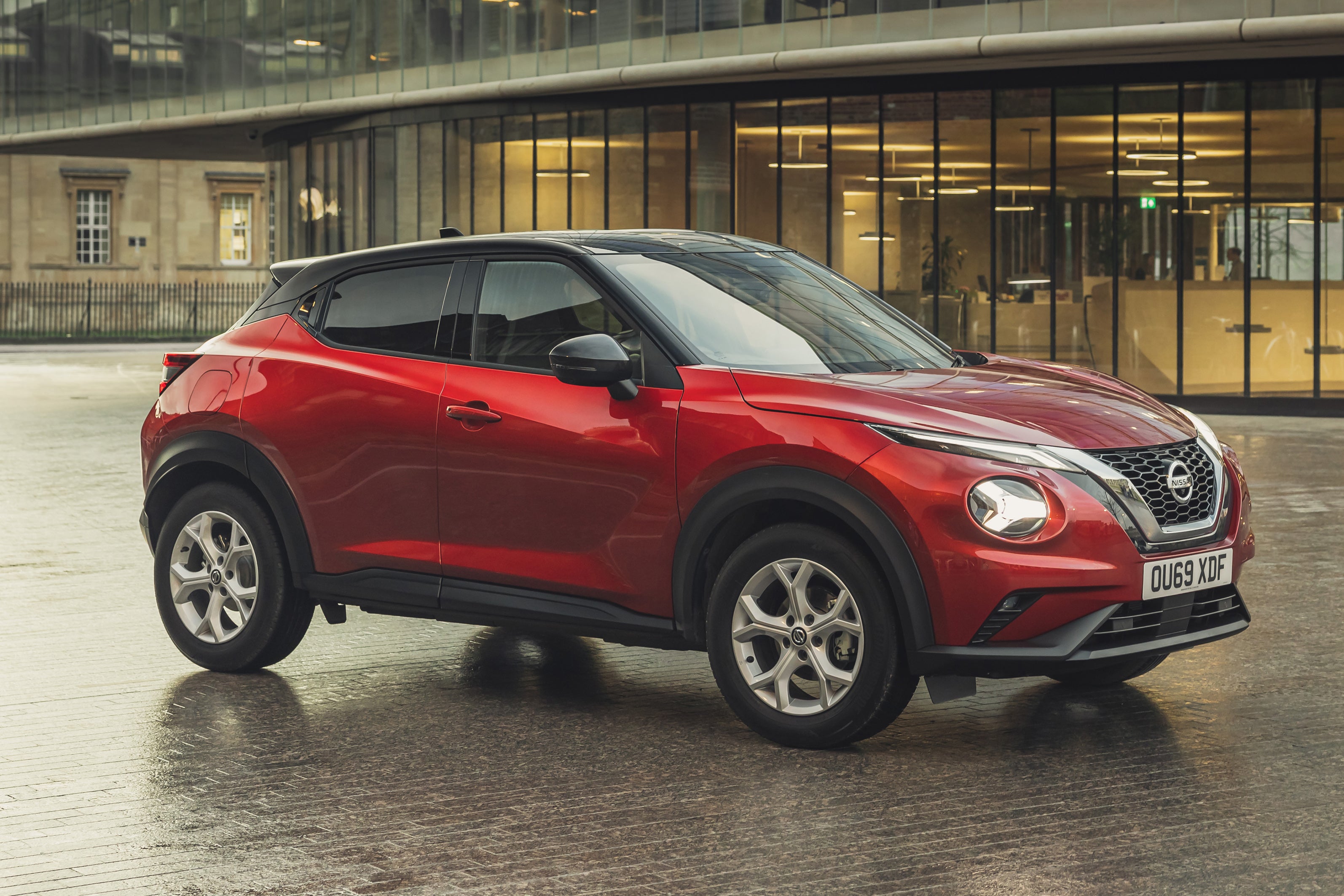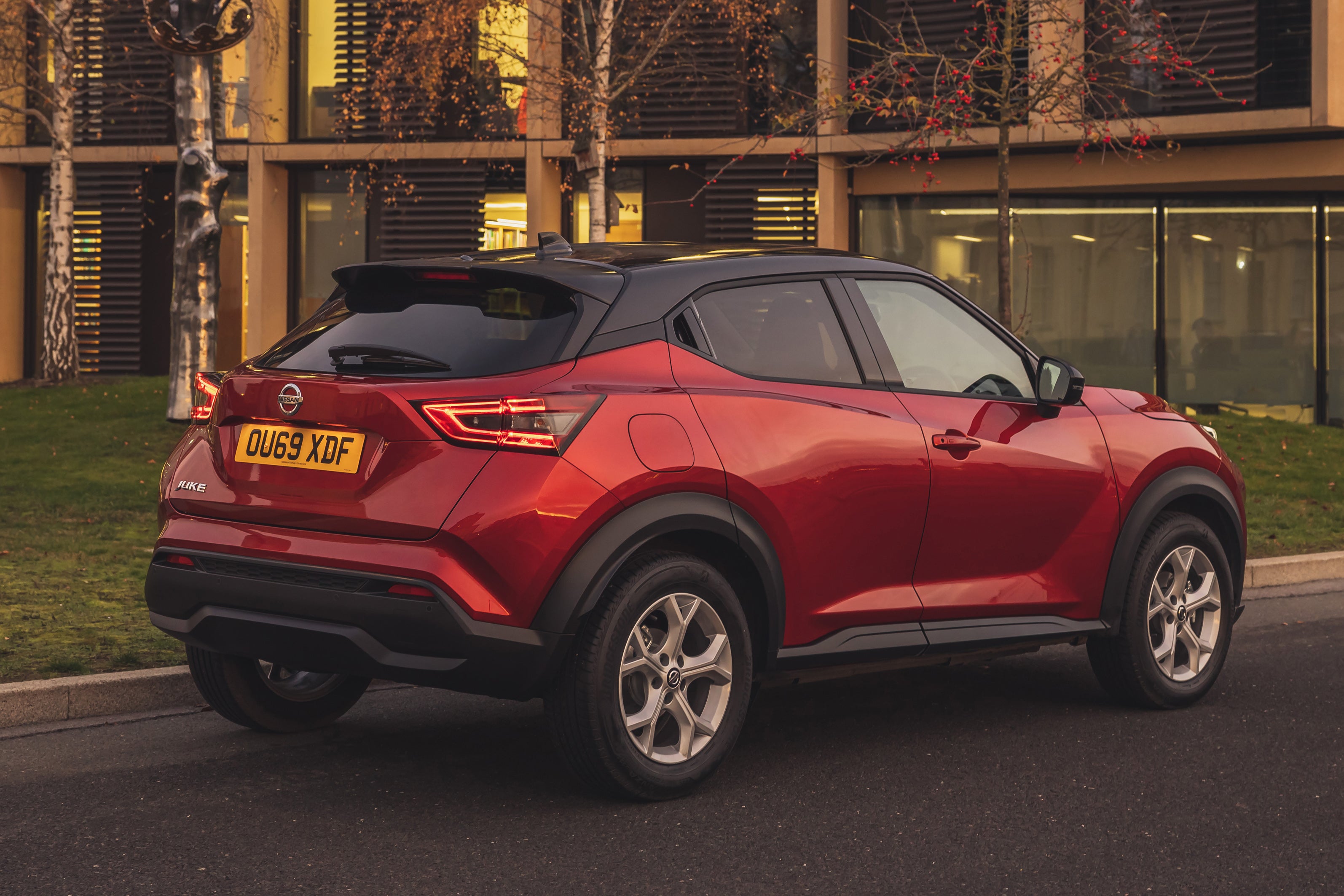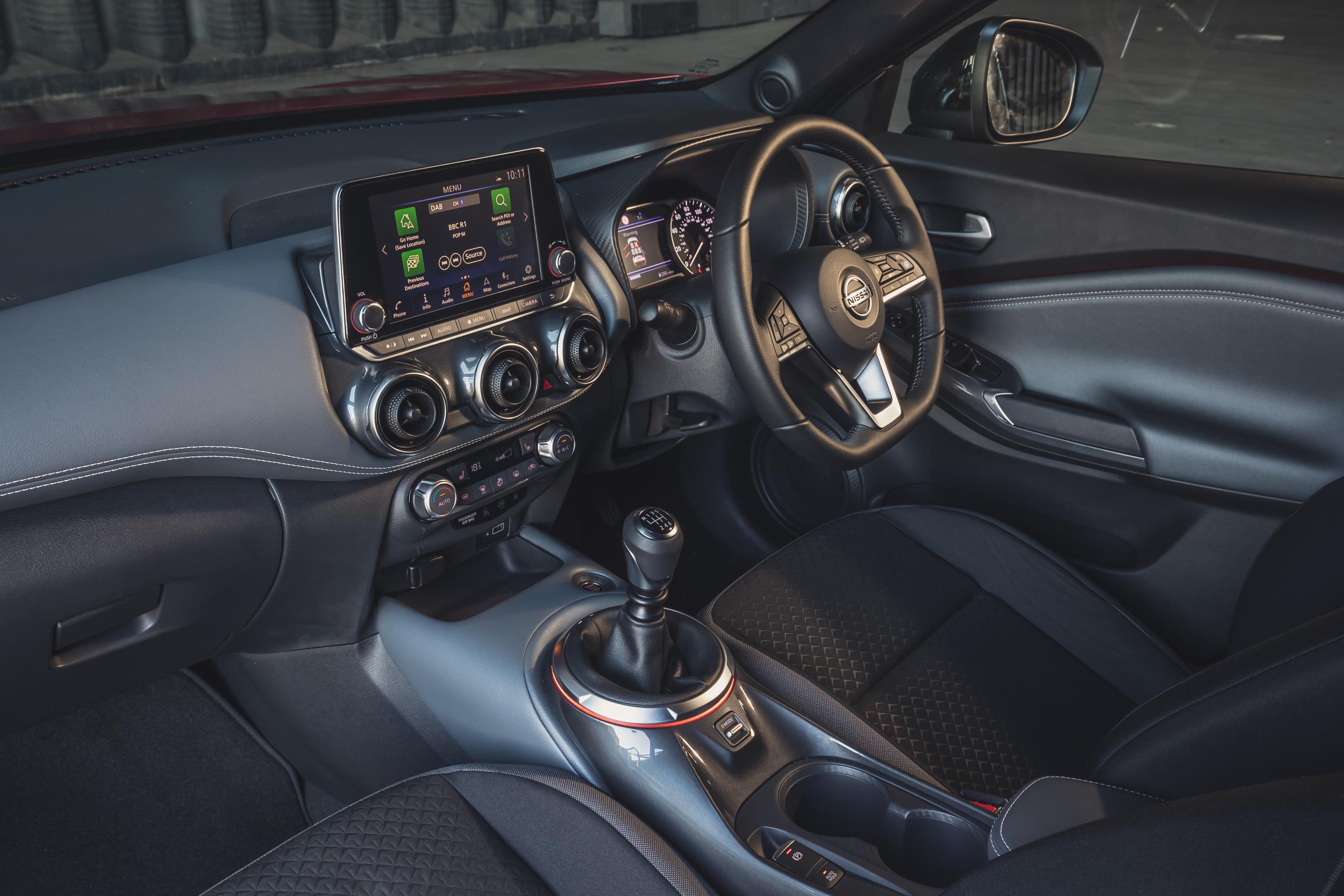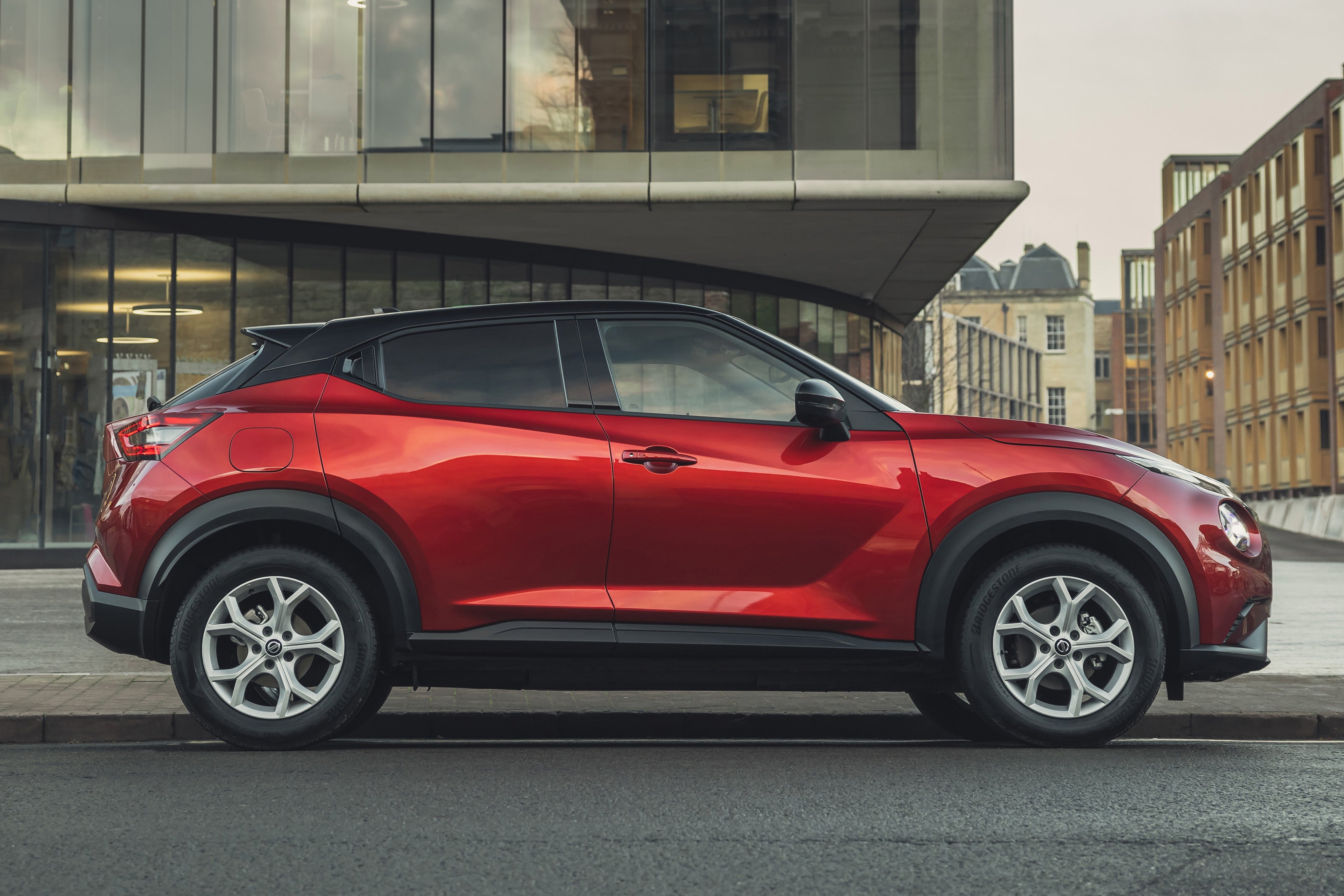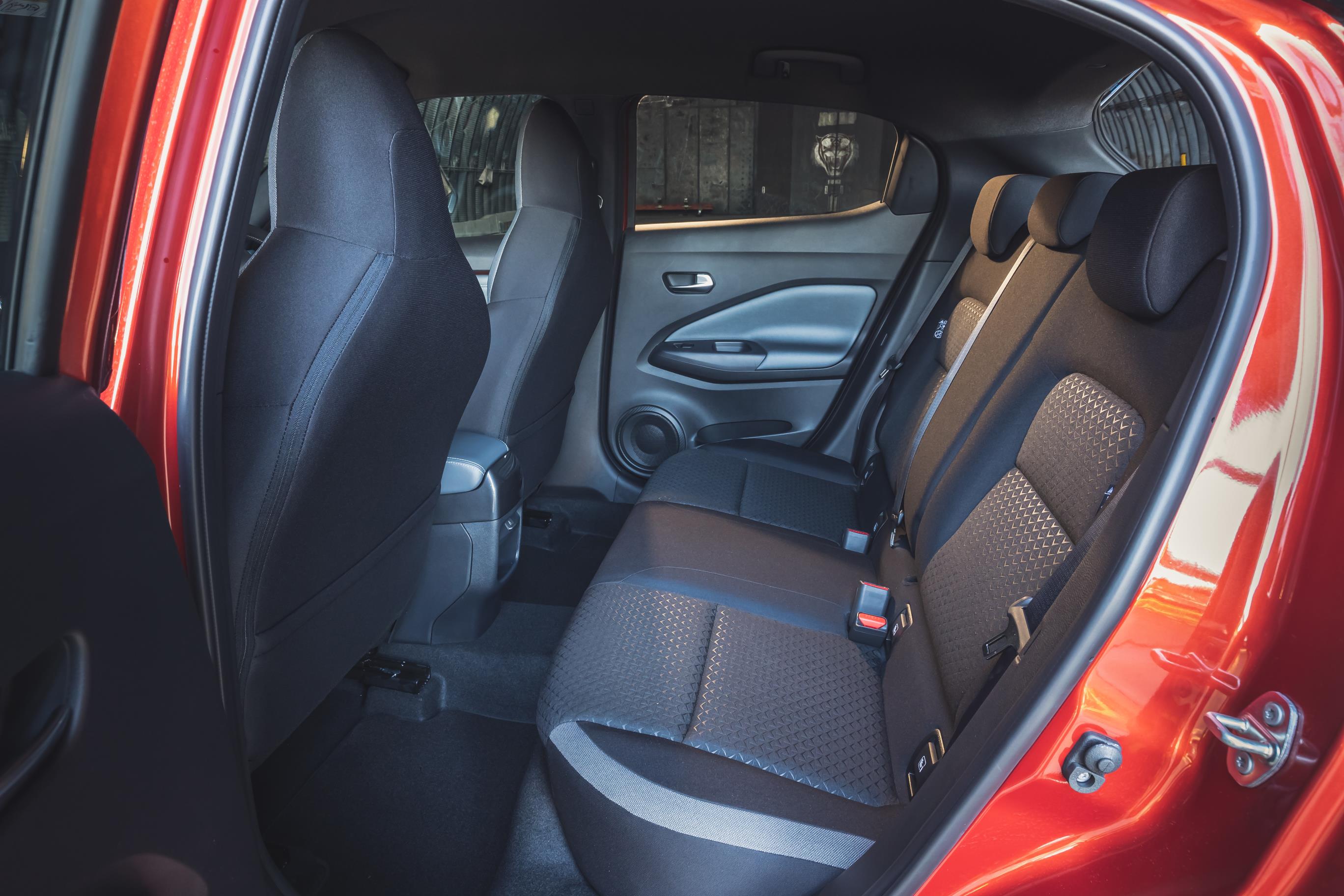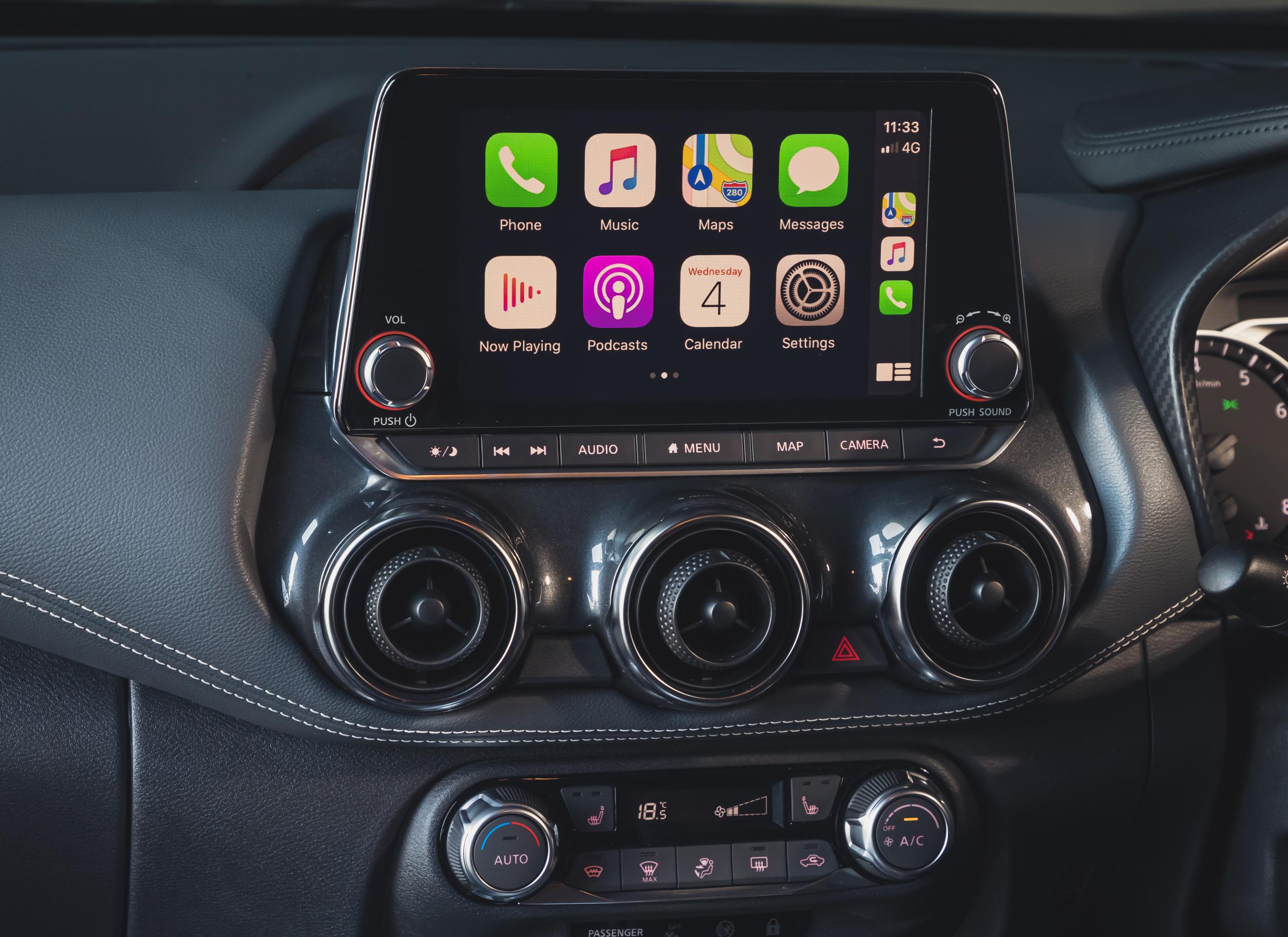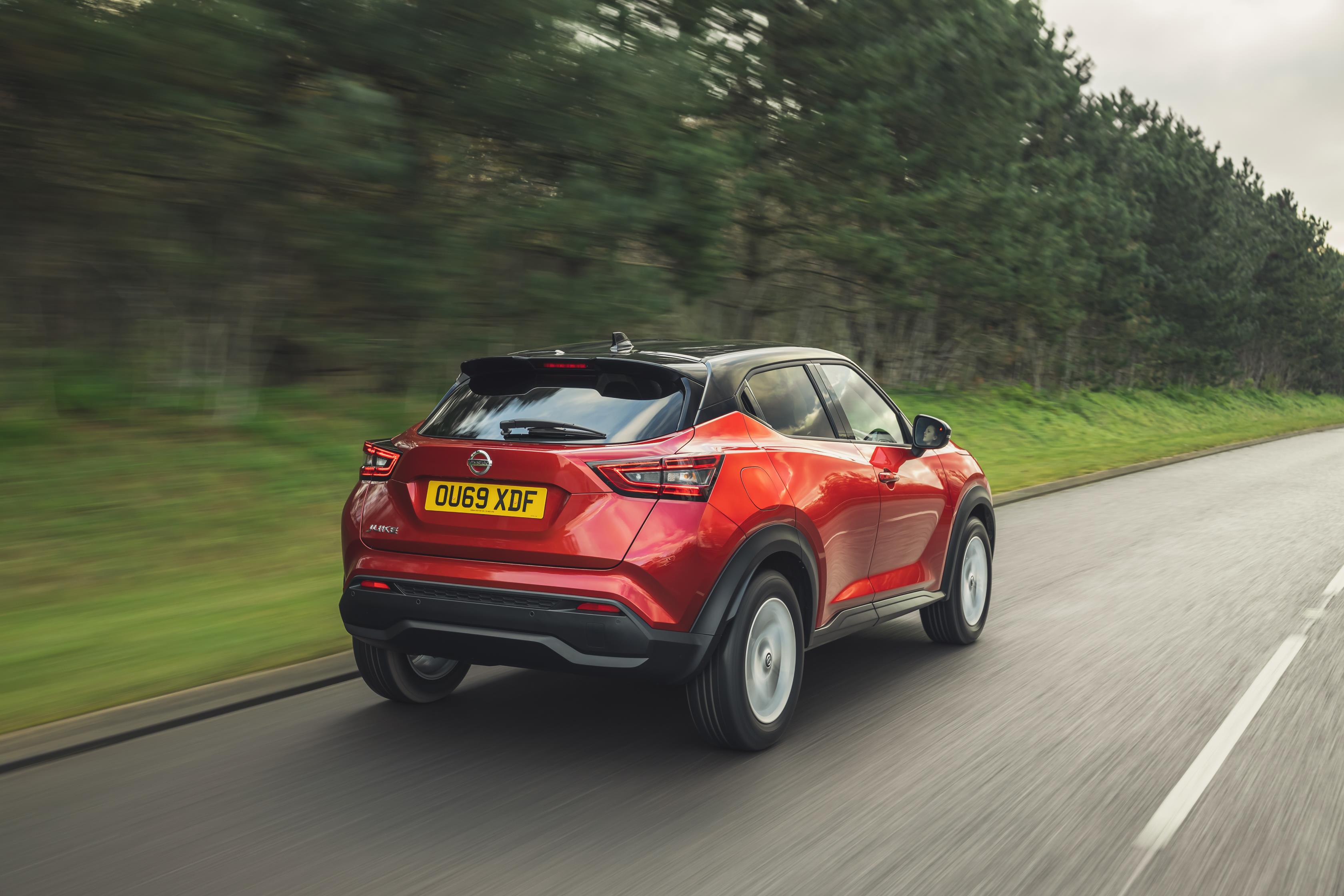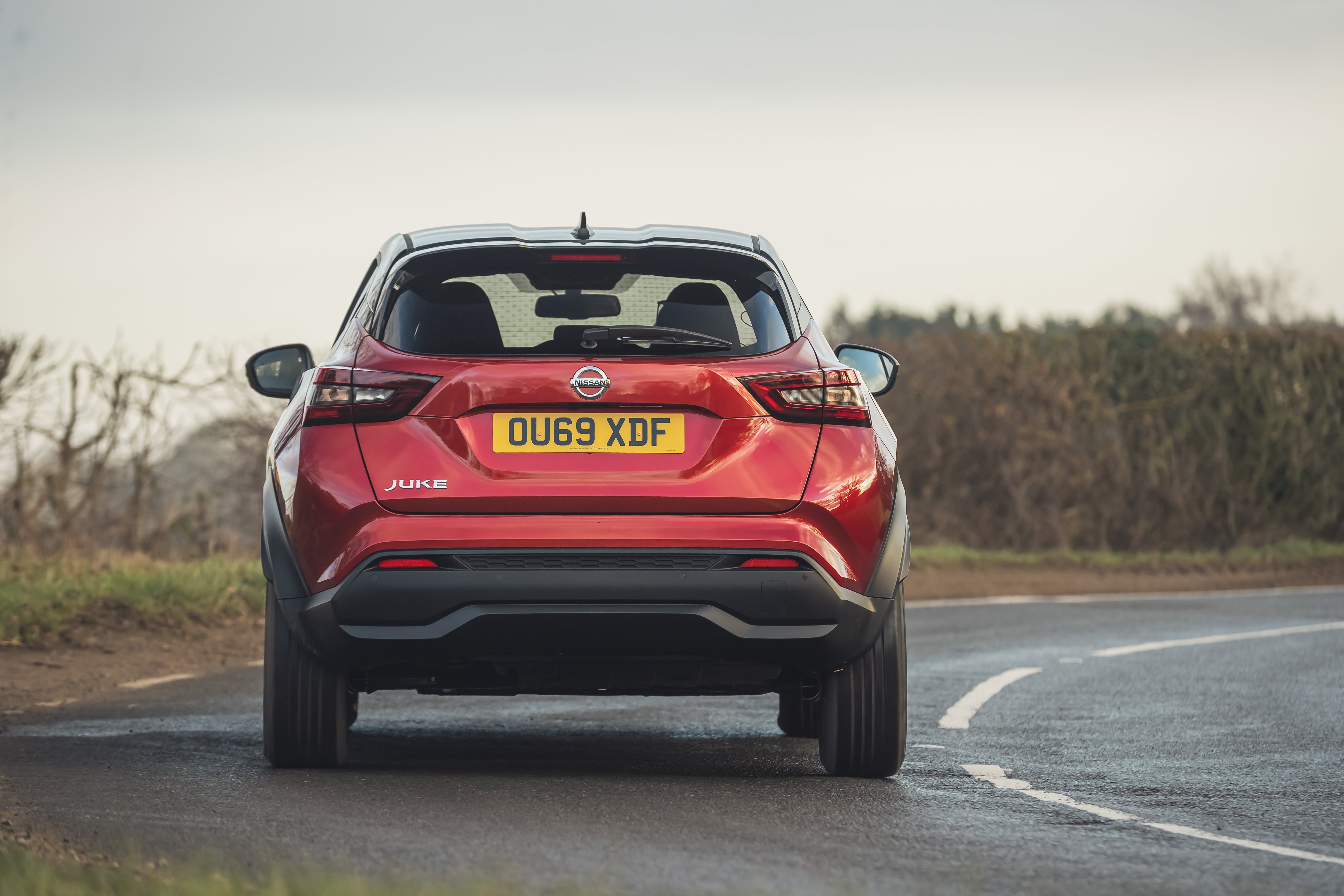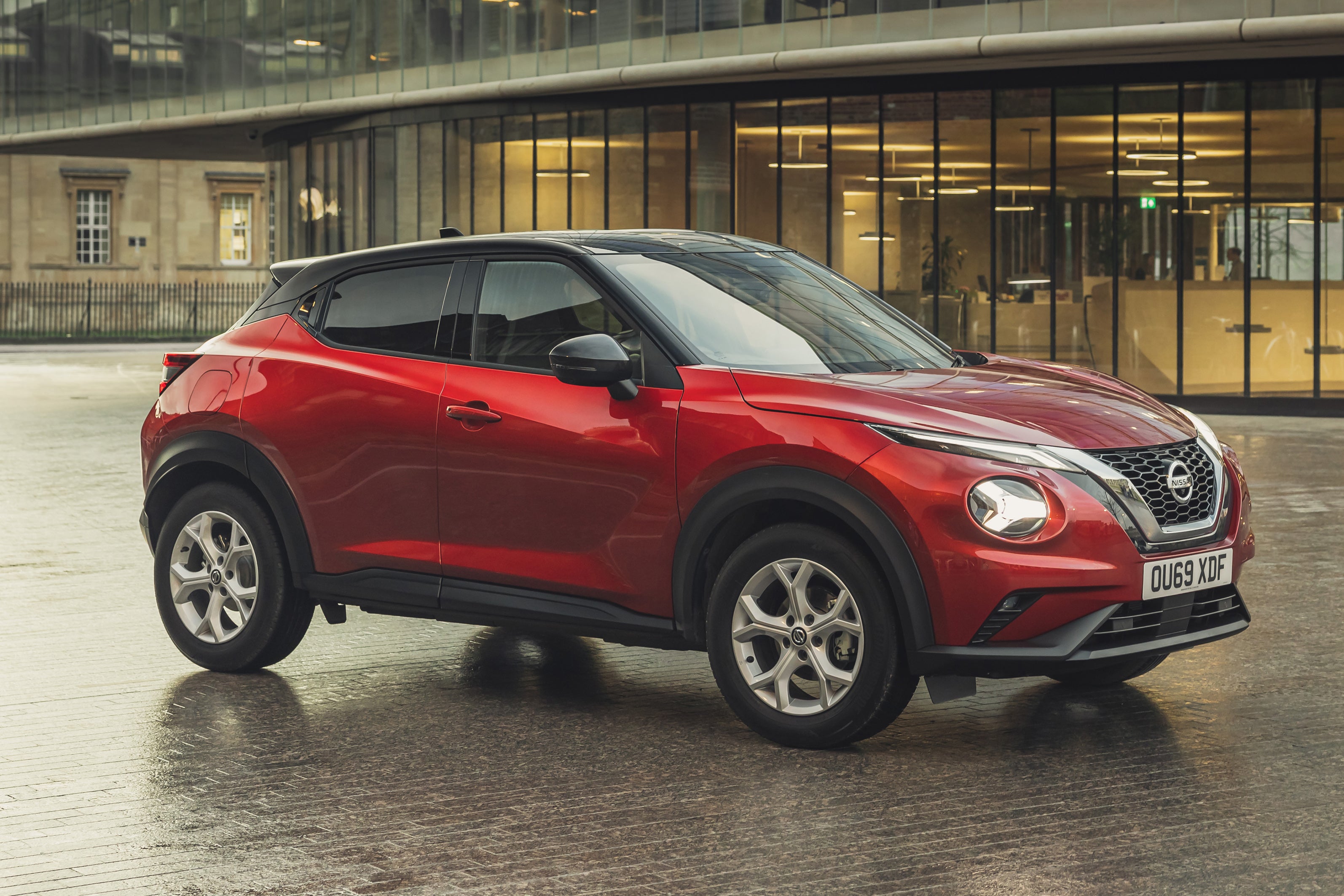 1/10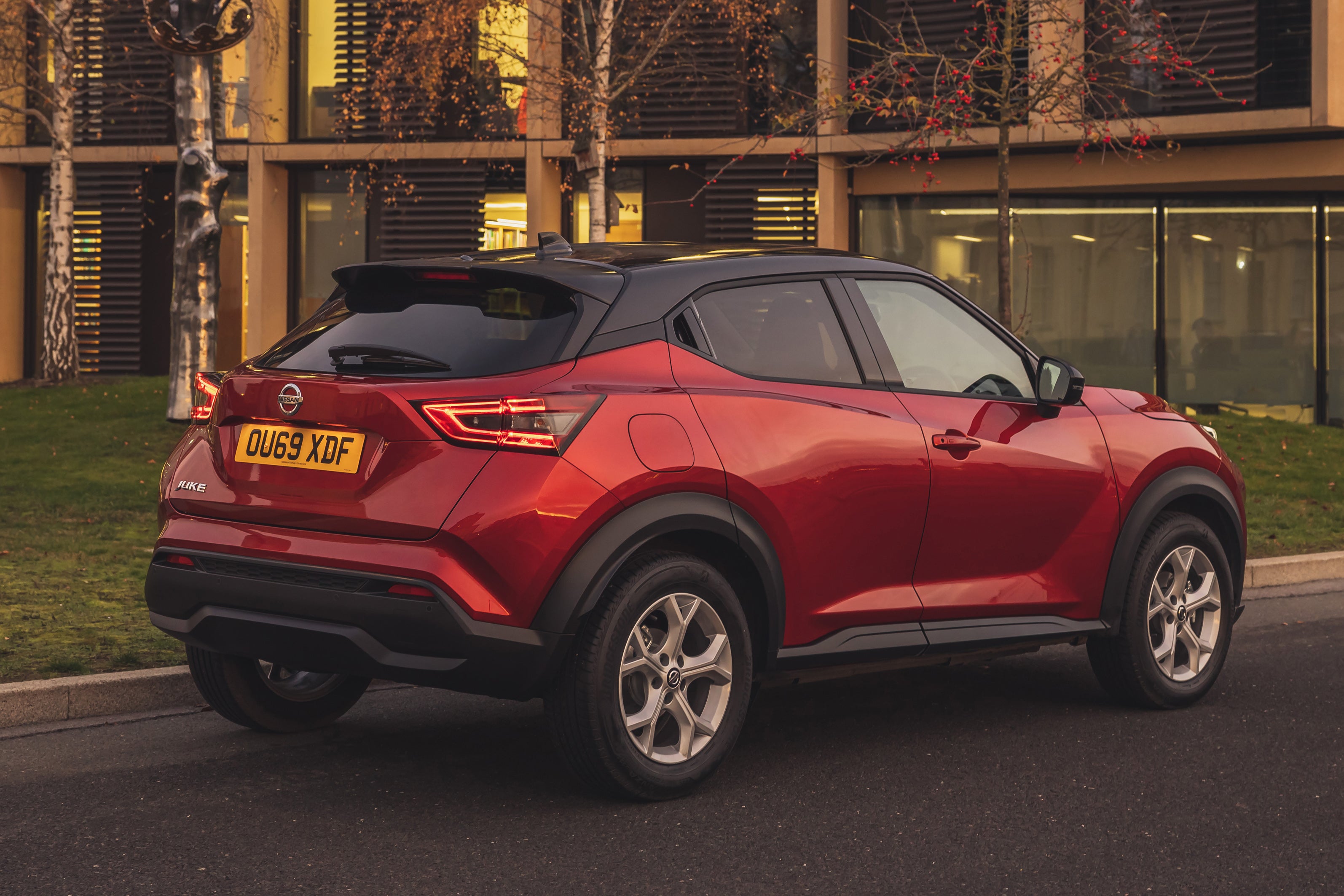 2/10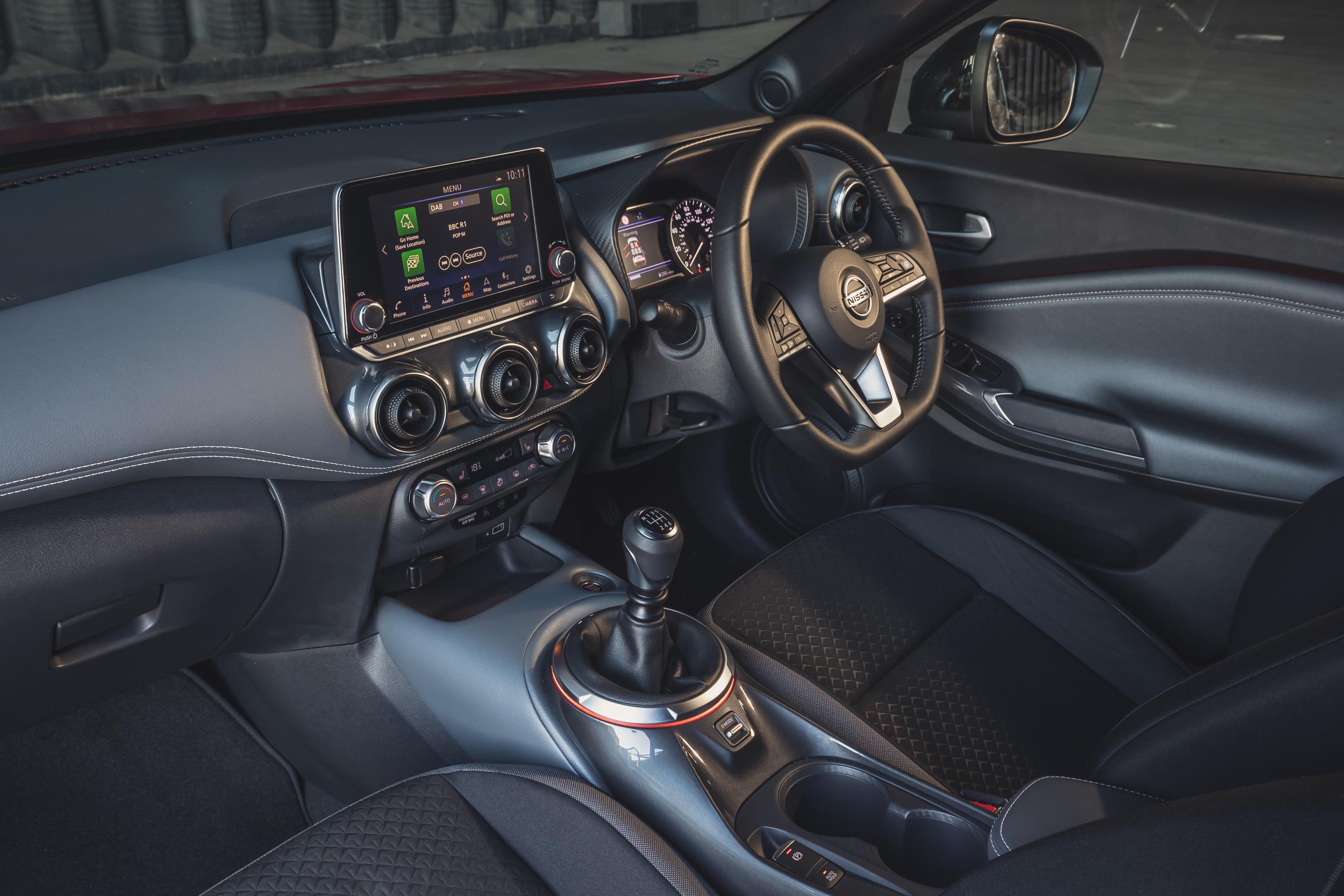 3/10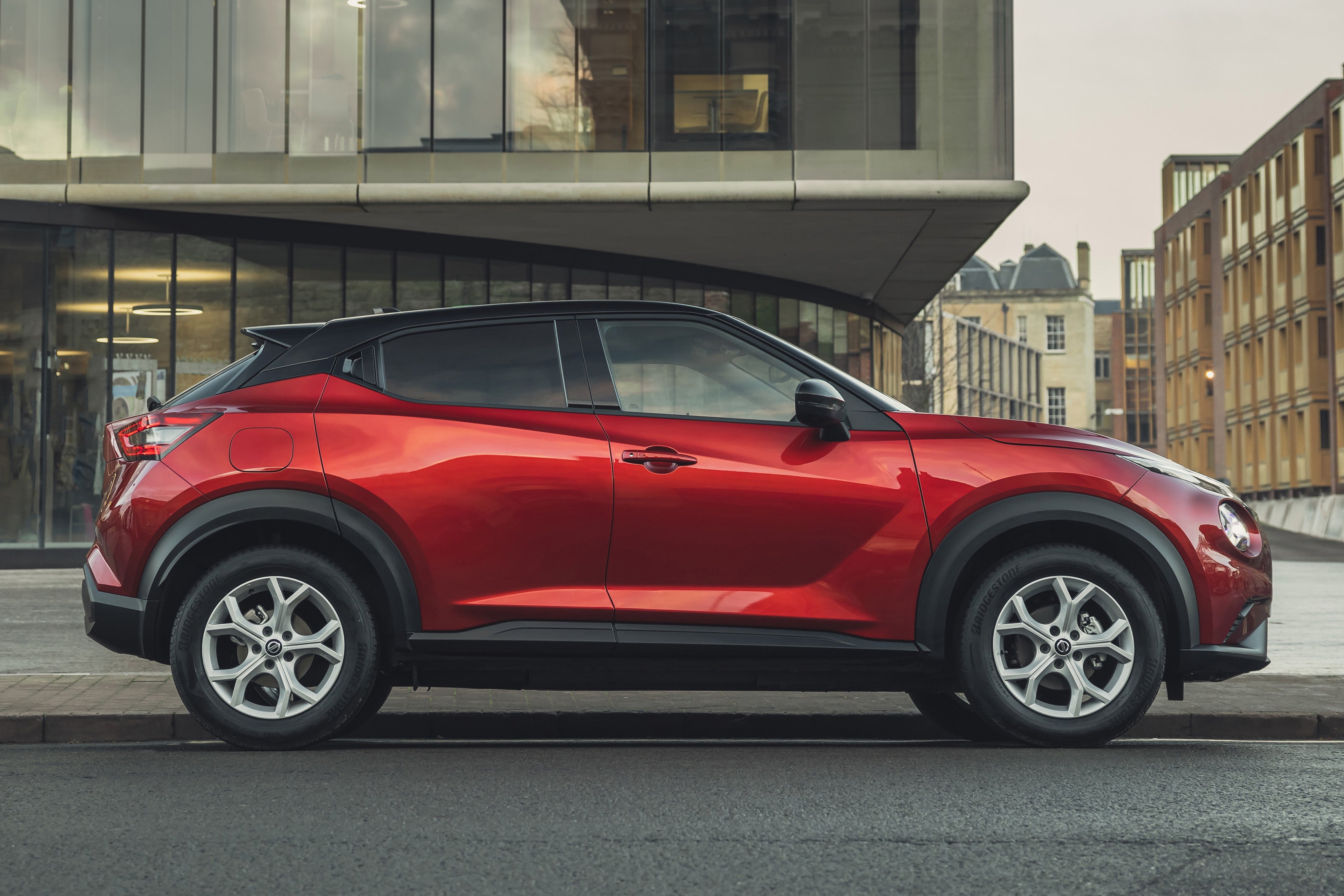 4/10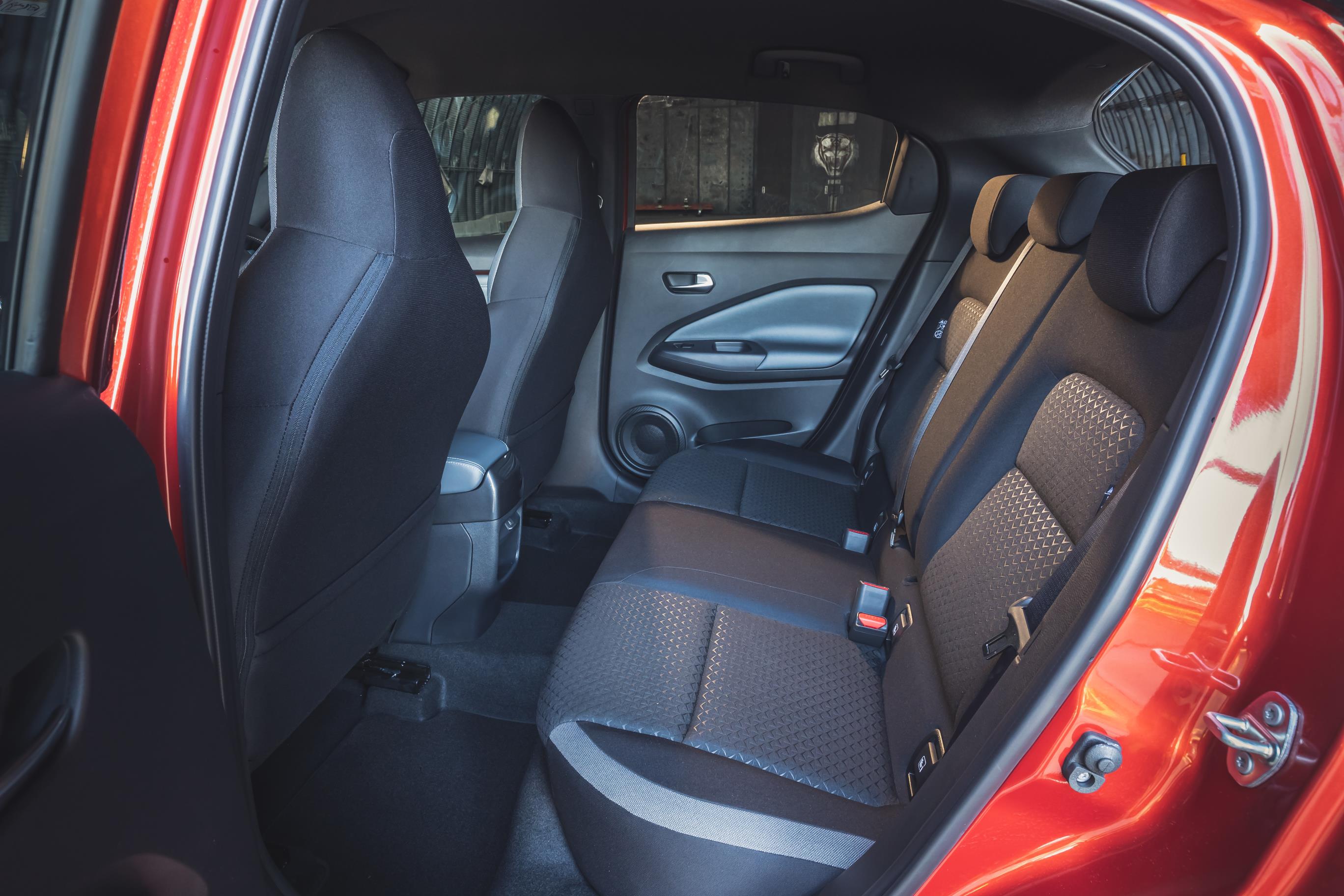 5/10
6/10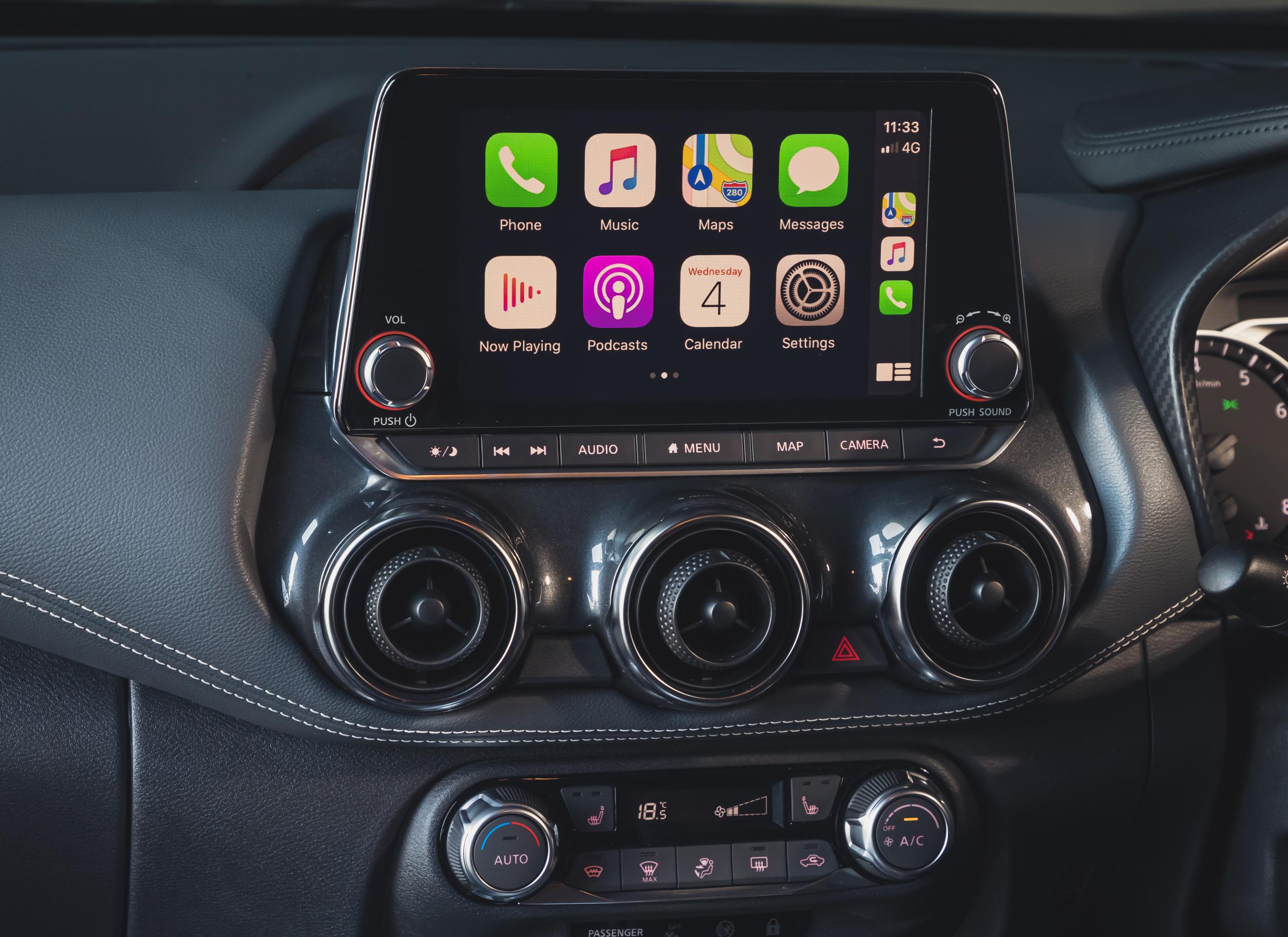 7/10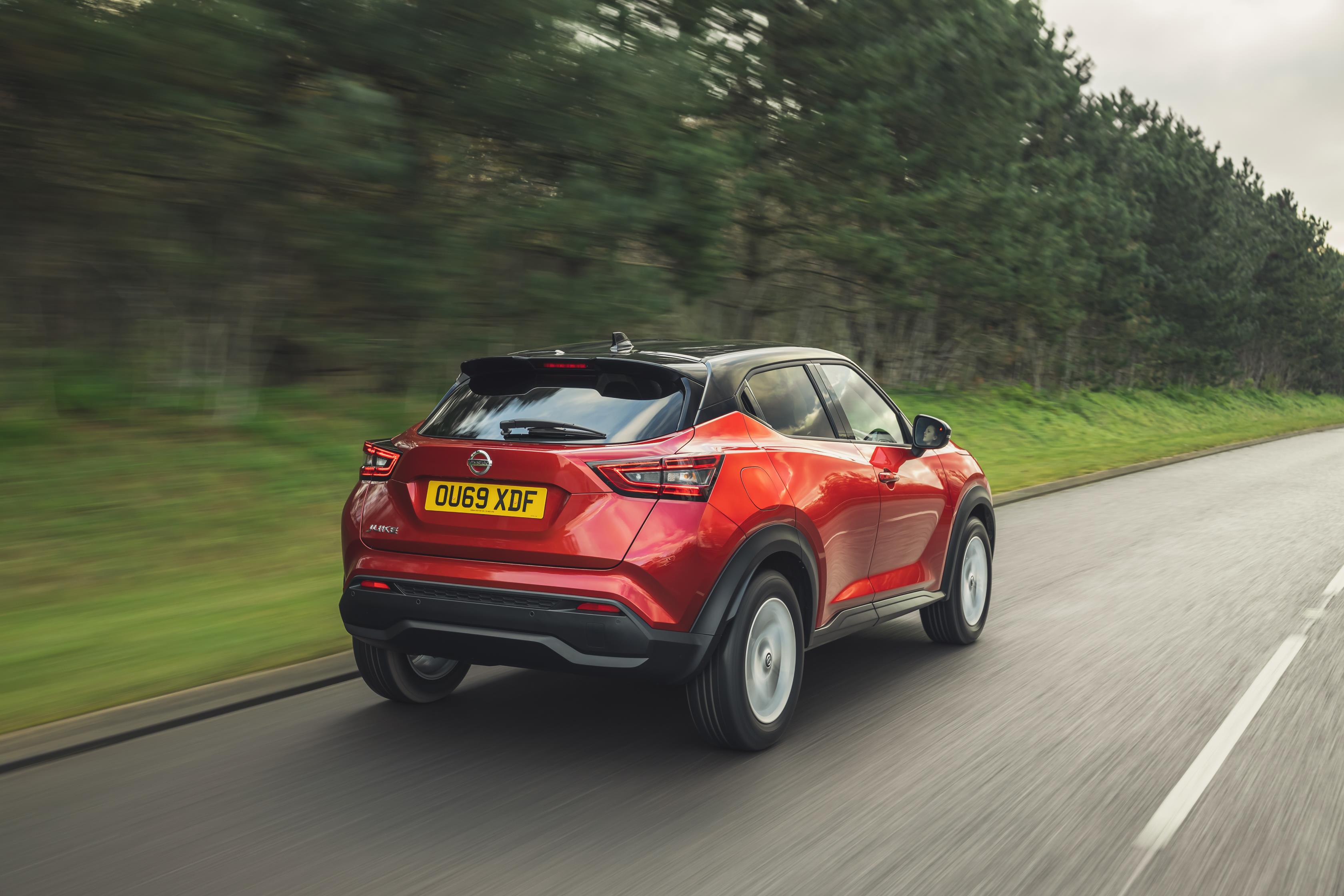 8/10
9/10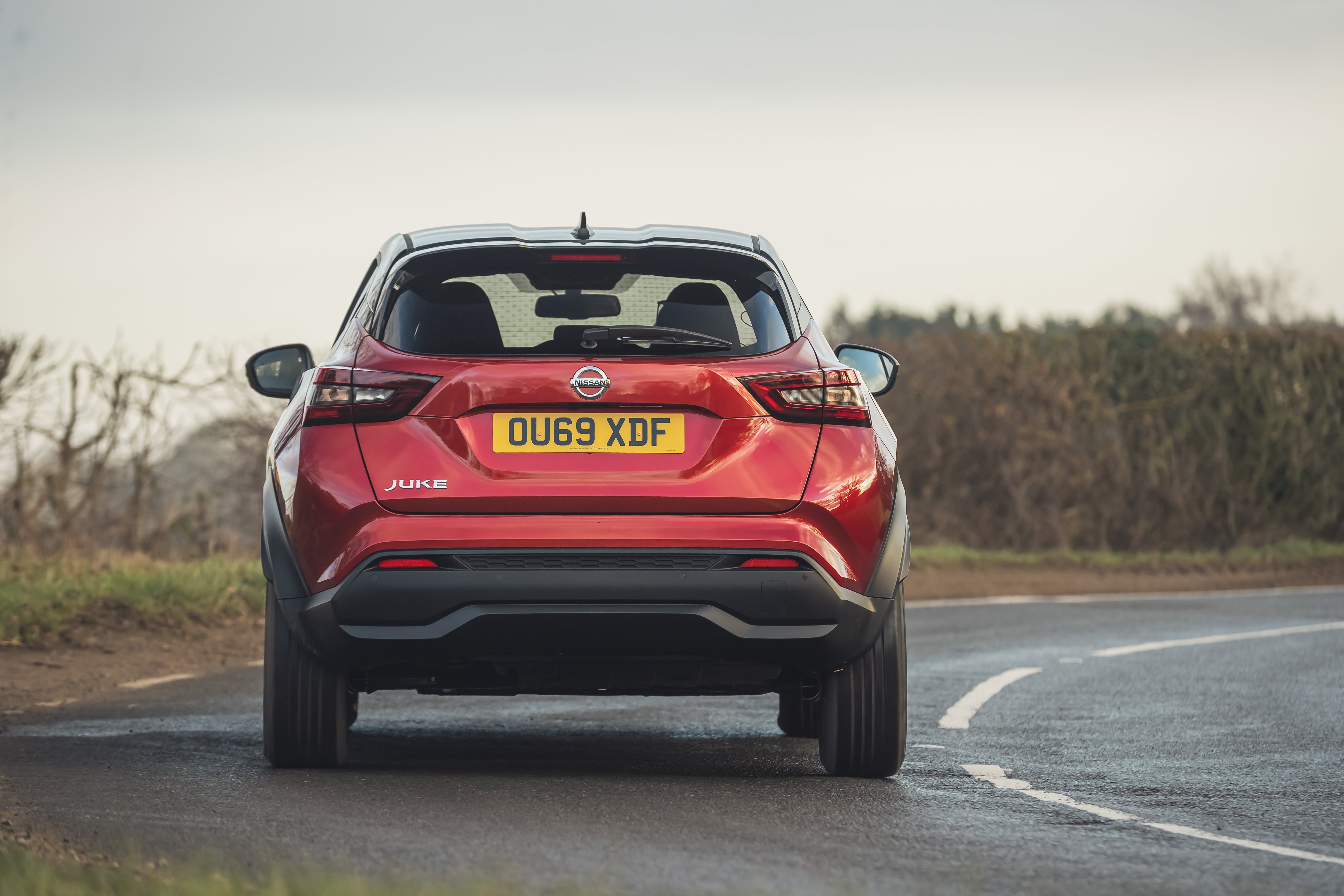 10/10
Launched in 2020

Crossover

Petrol
Launch year

2020

Body type

Crossover

Fuel type

Petrol

Written by
heycar editorial team

Best bits
Smart interior
Loaded with clever safety technology
Good value for money
Not so great
Just the one engine available (and it's not that great)
Still not the most spacious choice
The most affordable models are very basic
Read by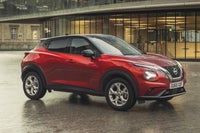 Overall verdict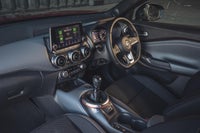 On the inside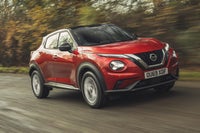 Driving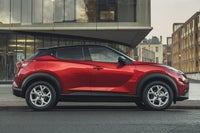 How much does it cost to run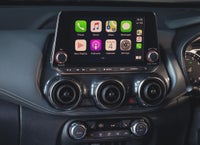 Prices, versions and specification
Overall verdict on the Nissan Juke
"The old Nissan Juke was distinctly average yet still sold very well, so it almost doesn't matter how good the latest model is. Fortunately, it's pretty good. The interior feels well-finished, and it's more practical than ever. It's better than the old Juke to drive, too, although its appeal is limited by only being offered with just one engine choice."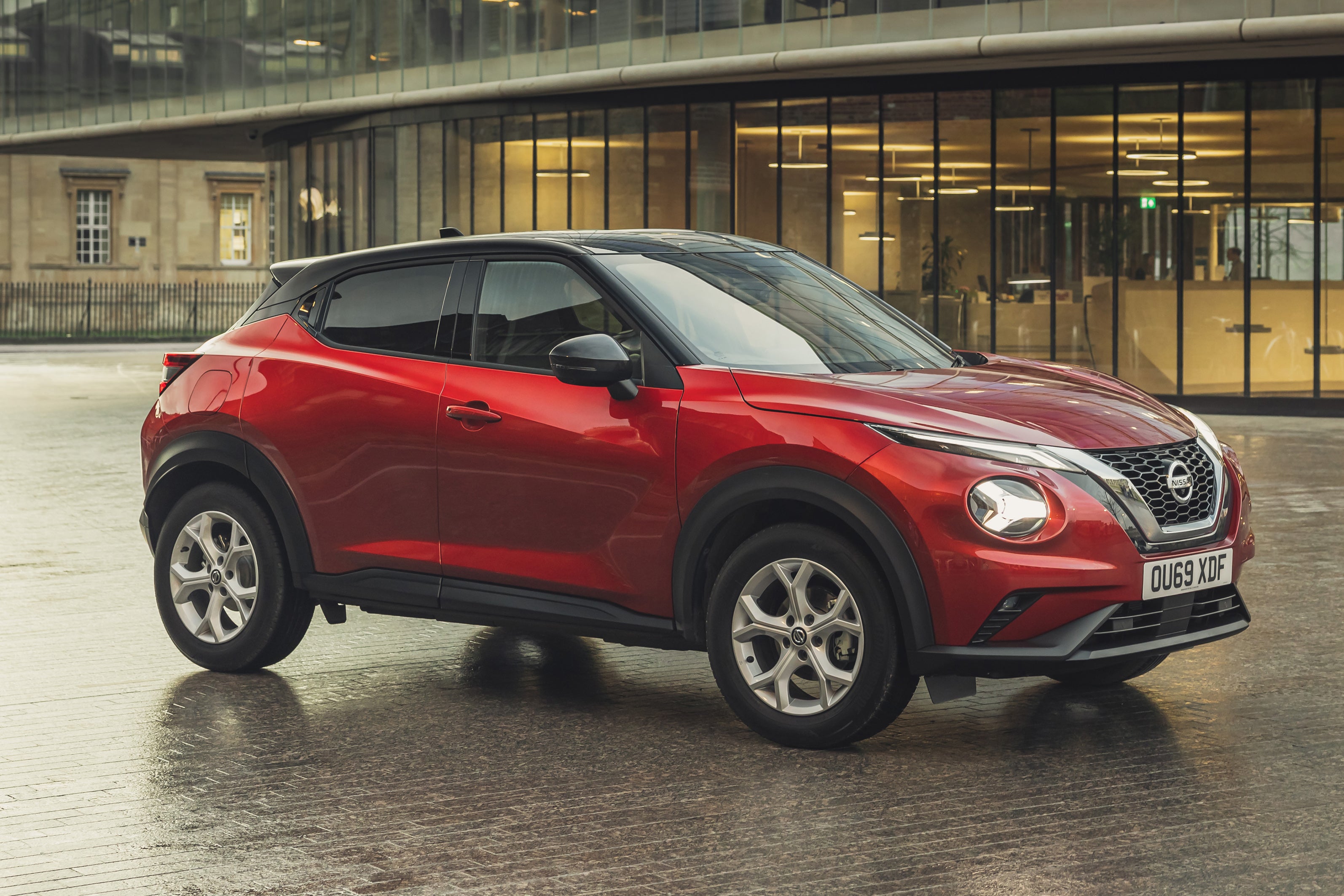 The old Nissan Juke sold by the bucketload despite having looks only a mother could love and an interior like a reverse Tardis. After 10 years on sale and with an increasing amount of competition, Nissan finally introduced the second-generation model.
The next-gen Nissan Juke is better. Much better. It still looks a bit quirky (you can decide if that's a good or bad thing), but the interior is more spacious and it's taken a significant step up in terms of quality. No more does the Juke's cabin look woefully plasticky and clumsily designed - it now feels relatively plush and looks pretty stylish too.
It's also easy to get comfortable in the latest Juke. Not everyone could get comfy in the old model, thanks to a steering wheel that only moved up and down (rather than in and out). There's plenty of adjustment in both the wheel and driver's seat, now, so most people will be able to find a driving position that suits.
There's significantly more space for rear-seat passengers, although the Juke's curvaceous design means you'd be better looking elsewhere if you regularly carry people in the back. This is intended as a stylish city car, not a replacement for your family Ford Focus. Still, the boot's pretty big - 20% larger than the old model, in fact.
At the time of writing, Nissan only offers the Juke with one engine. That's a little three-cylinder 1.0-litre petrol unit providing 117PS - similar to the 115PS 1.0-litre engine used in the likes of the SEAT Arona. Don't dismiss it based on its size, as it's up to the job of dragging the Juke up to speed. It's not particularly refined, though, and soon starts to feel out of its depth on the motorway.
Nissan's dismissed the idea of introducing a diesel engine to the Juke range. There isn't going to be a four-wheel-drive version, either, so if you plan on taking your crossover further than the local supermarket, you'll need to look elsewhere.
There will be a hybrid at some point. For now, the only choice you get is whether you want a manual or automatic gearbox. Both are fine, although the manual gear change doesn't feel as slick as some competitors. The automatic's a dual-clutch transmission, which is infinitely better than the CVT gearbox used in the old Juke.
It's an easy car to drive around town, helped by a high seating position which gives you a clear view of the road ahead. High-spec models come with a 360-degree camera which helps when parking, too. On the open road, rivals are more refined, and the Ford Puma and SEAT Arona both feel more agile.
So, if you're wondering about buying a first- or second-generation Juke, the answer is clear. The latest model is considerably better in almost every way, with a more practical and upmarket interior. It's a shame, though, that the initial engine line-up is very limited and it's pretty average to drive.
If you're looking for the older version, you need our Nissan Juke (2011-2019) review.
Comfort and design: Nissan Juke interior
"While the old Nissan Juke was pretty cramped and claustrophobic inside, the latest model is much better."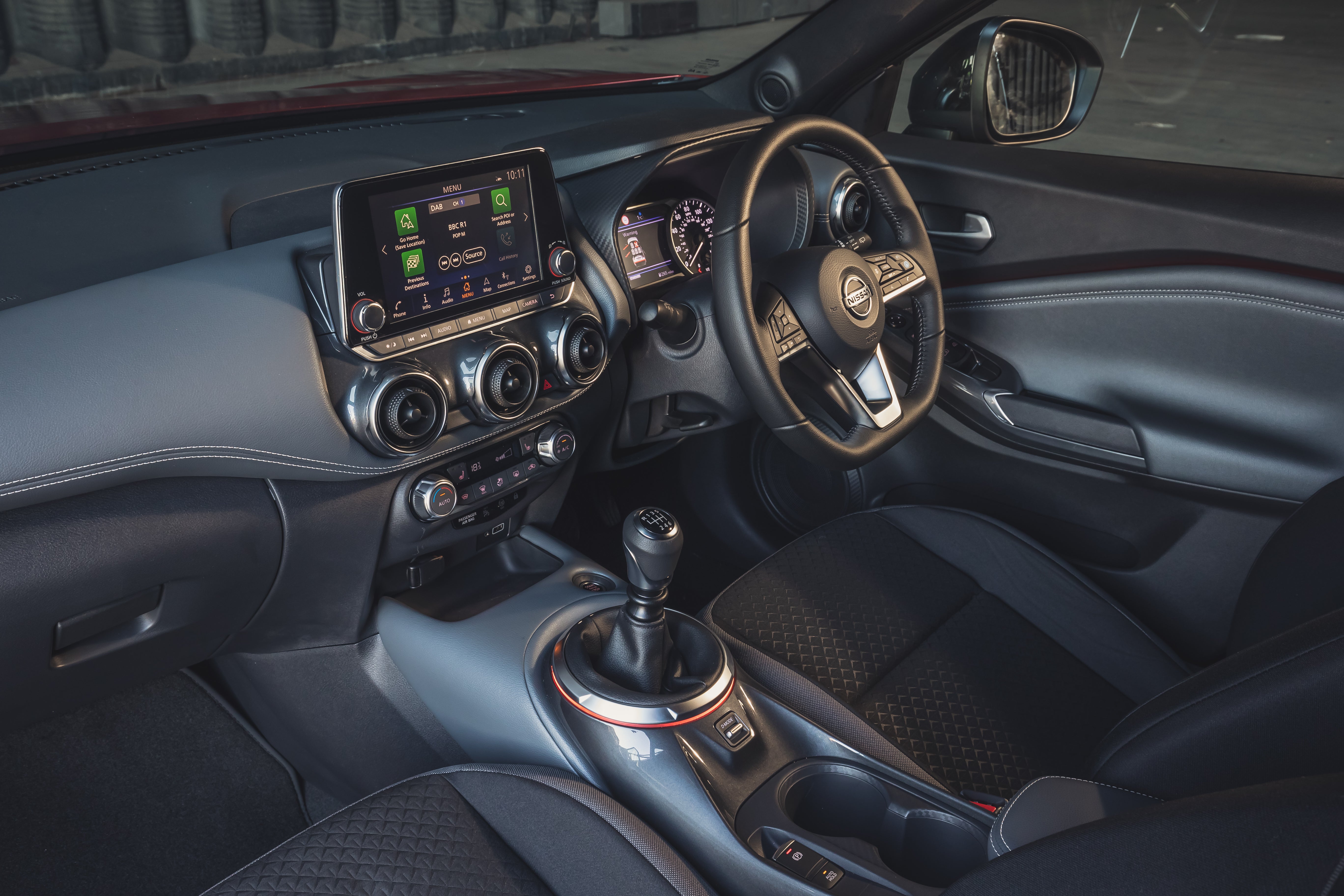 Rear-seat passengers benefit from these improvements the most, as they'll get nearly 60mm of extra legroom and another centimetre of headroom. Every little helps - but it still doesn't feel like the most spacious choice.
Things are better in the front. You sit high up (not to be taken granted in a compact crossover, see the Skoda Kamiq's hatchback-like driving position), while there's plenty of adjustment in the seats and steering wheel. Unfortunately, adjustable lumbar support isn't available, but we've found the seats to be fairly supportive over long journeys. The boot can carry up to 422 litres of luggage, which compares well against the SEAT Arona (400 litres) and the 455 litres you get in the Renault Captur.
Most Nissan Jukes come with an 8-inch infotainment system, which also comes with navigation on higher-spec models. This is an easy system to use, although its graphics aren't as sharp as you'd find in the Skoda Kamiq or Volkswagen T-Roc. Apple CarPlay and Android Auto are standard, though, which is useful.
Handling and ride quality: What is the Nissan Juke like to drive?
"The Nissan Juke has raised suspension that gives you a feeling of safety that you don't get from a small car the same size."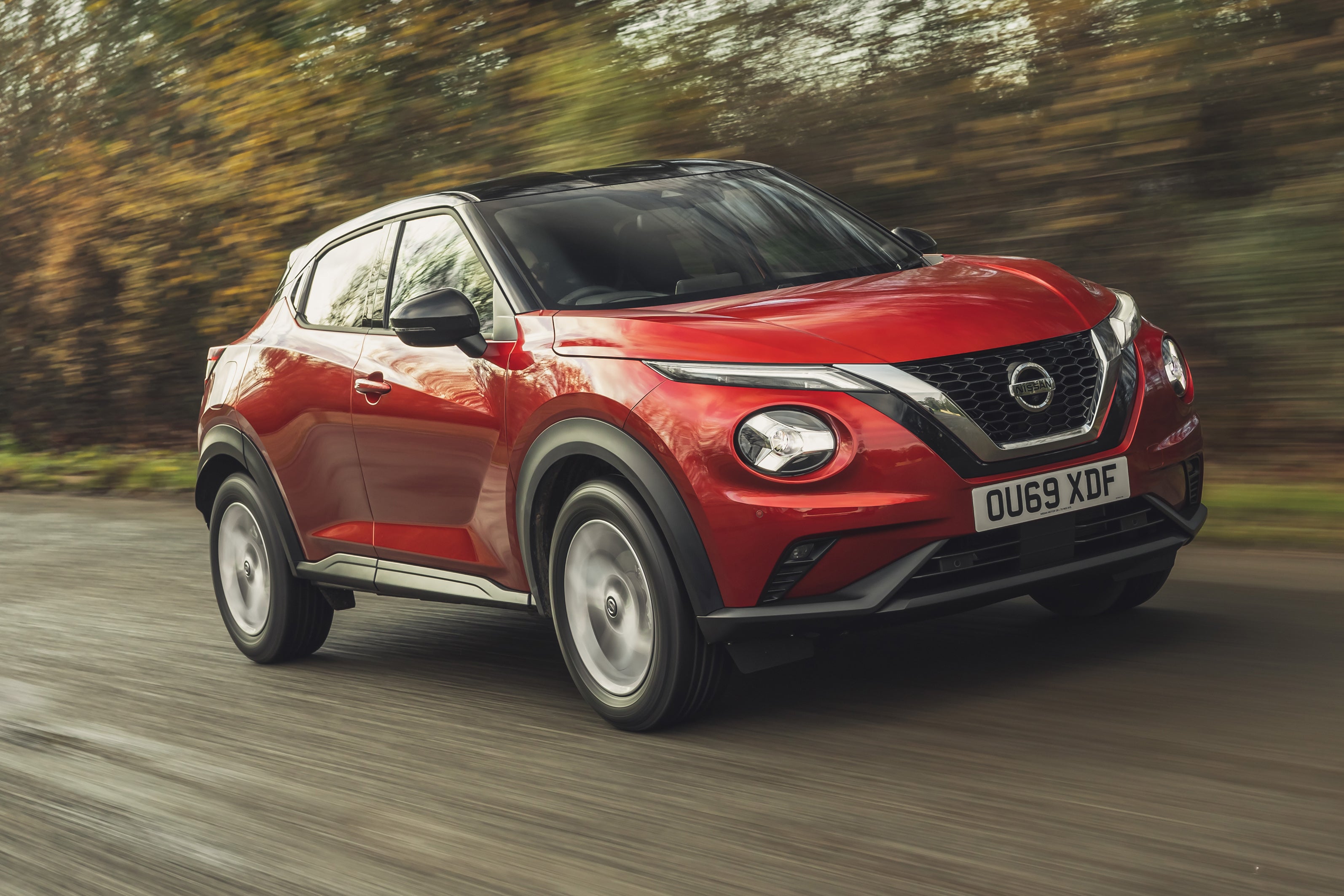 That's handy when you're trying to negotiate a route through bustling city streets, although the Juke's sloping nose and the restricted view out the back means it's not the easiest SUV to park. That said, only the basic model does without a reversing camera and Tekna versions go a step further with a 360-degree camera.
That camera comes as part of a safety pack that means the Juke can more or less drive itself on the motorway – accelerating, braking and steering you in lane. But even if you go for a high-spec car, the Juke isn't at its best on the motorway where it suffers from wind and tyre noise. The ride can also be jostly on poor surfaces especially if you go for a car with 19-inch alloy wheels.
The pay off for that ride is that the Nissan is safe and predictable in corners with little of pronounced body lean that you might expect from a taller car like this. Truth be told, though, it isn't a huge amount of fun, if you want a small SUV that can have you grinning like a Cheshire cat, you'll want the Ford Puma.
MPG and fuel costs: What does a Nissan Juke cost to run?
"The 1.0-litre petrol engine is pretty efficient on paper. In combined WLTP fuel economy tests, the Juke returns up to 47.9mpg with the manual gearbox and 46.3mpg with the auto transmission. "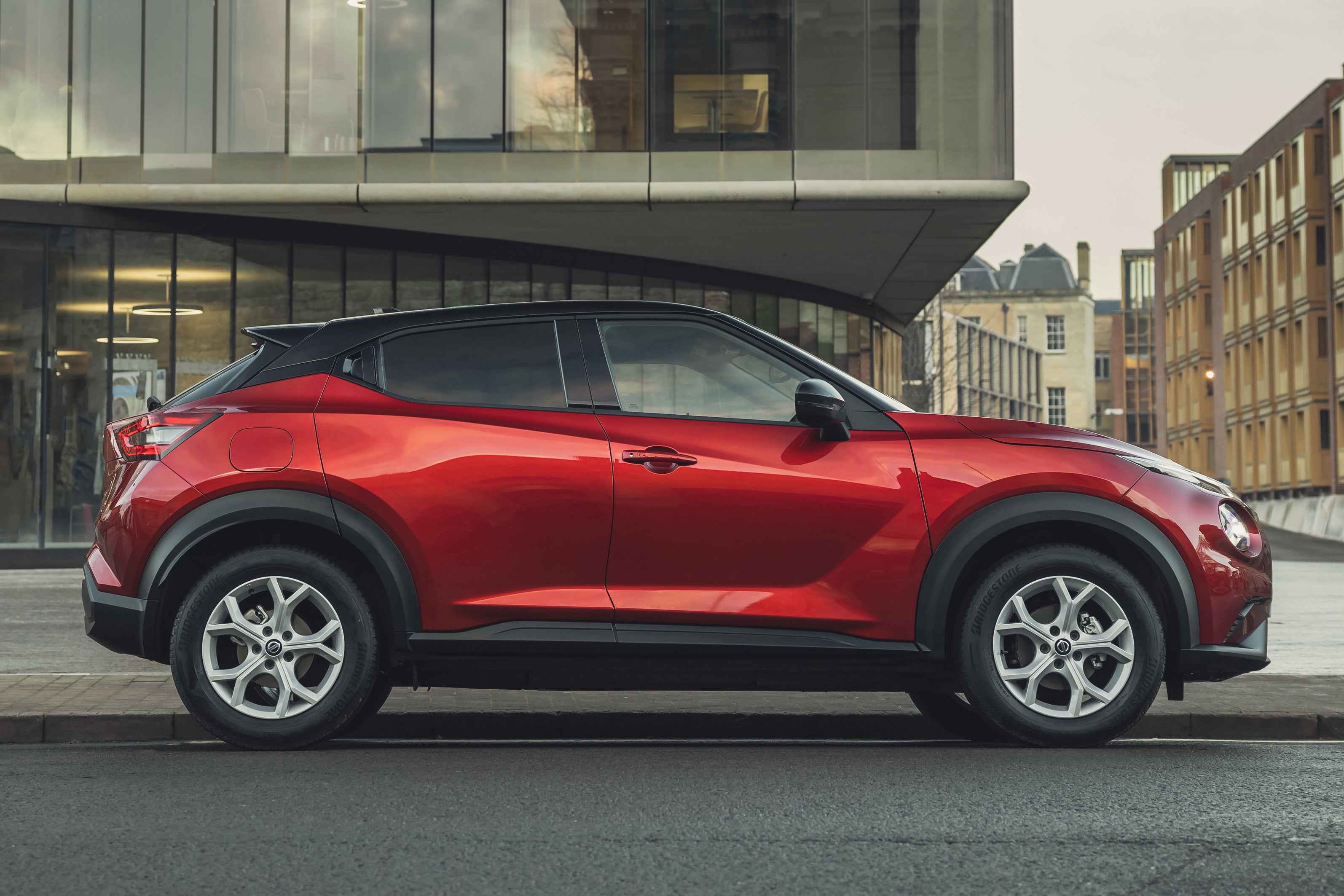 Although WLTP tests are meant to be reflective of the real world, small three-cylinder engines like this need working hard and might not be so frugal in reality. Under the latest VED (car tax) rules, you'll pay a flat rate of £150 a year in tax after the first year (which is based on CO2 emissions).
How much should you be paying for a used Nissan Juke?
"The Nissan Juke only went on sale last year, but its popularity means you'll still have plenty of examples to choose from"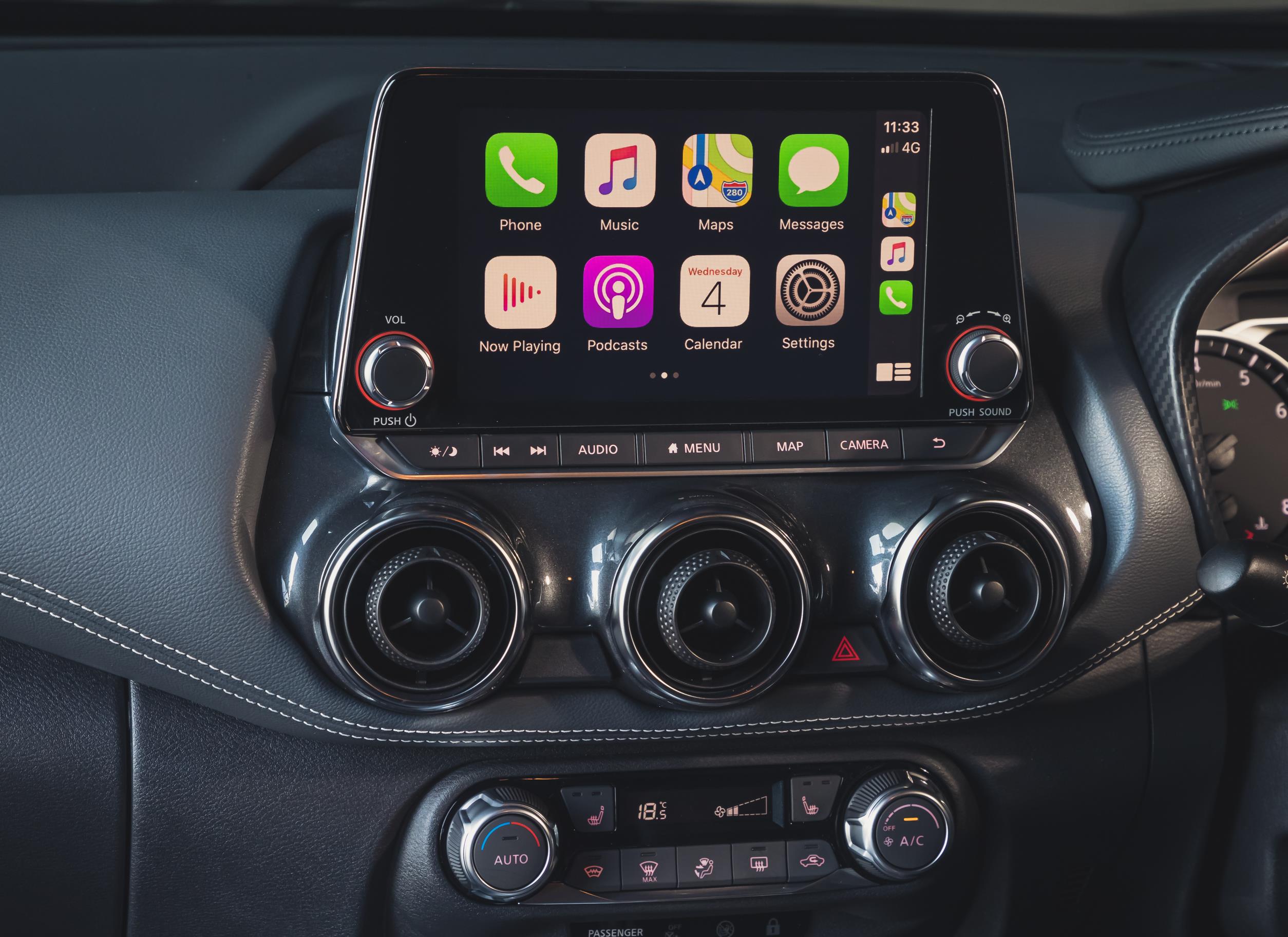 You can expect to pay as little as £15,500 for an Acenta model – which was £19,000 new – with 5000 miles on the clock and while a Visia model will be about £500 cheaper, its basic spec means it is best avoided.
Tekna+ cars sit at the top of the range and will set you back nearly £25,000, but you stand to make a £4000 saving on an ex demonstrator carrying a few hundred miles.
Ready to get your top quality Nissan Juke?
All cars come with a warranty
Selected dealers only
All quality checked
Is the Nissan Juke right for you?
If you want a stylish crossover, the Nissan Juke is a pretty good choice. It's an easier car to justify than before thanks to its improved interior, but its (very) limited engine line-up limits its appeal. Still, if you mainly drive around town or you're not fussed about effortless performance, you could certainly do worse. You could buy the old model.
What's the best Nissan Juke model/engine to choose?
There's only one engine to choose from. The automatic gearbox makes for more relaxed driving, although the manual's fine if you're on a budget or prefer to be in control. We'd avoid the cheapest Visia model as it's very basic, while higher-spec models start to get quite expensive. An Acenta or N-Connecta model is probably the sweet spot in the range.
What other cars are similar to the Nissan Juke?
While the Nissan Juke was a pioneer of the small crossover market, the segment is now flooded with some very competent competition. If you're considering the Juke, you should also look at the latest Renault Captur. It shares a platform with the Juke, but has less divisive styling and a wider selection of engines to choose from.
The latest Peugeot 2008 is another really good alternative, with a bold interior, while the Ford Puma is the compact crossover of choice for people who enjoy driving. Volkswagen Group has some very strong rivals in the form of the Skoda Kamiq, Volkswagen T-Roc (and smaller T-Cross), and the SEAT Arona. The Citroen C3 Aircross is a comfortable choice, meanwhile, while the Honda HR-V is a very versatile option - although it feels a bit dated alongside newer alternatives.
Quality and finish
While the old Nissan Juke offered a catalogue of hard plastics, the only hard materials you'll find in the new one are on the tops of the doors and in the lower reaches of the cabin – hardly unheard of at this price point. The main sections of the dashboard, though, are made from expensive squidgy materials.
Mid-range N-Connecta models feel a bit posher thanks to their leather-trimmed steering wheel and gear knob, plus their ambient interior lighting. Top-spec Tekna+ models give you the option to choose from interior colour packs including Engima Black, Energy Orange or Light Grey with half-leather seats.
Infotainment: Touchscreen, USB, nav and stereo in the Nissan Juke
The Nissan Juke range kicks off with Visia model easily spotted by its old-school stereo. It's got a tiny, monocolour screen and lacks most of the useful features fitted to the infotainment screens on the rest of the range, although you do get a small TFT display between the dials on the instrument binnacle.
Acenta models are a lot more like it. They have a proper eight-inch infotainment screen and it comes fitted with Apple CarPlay and Android Auto so you can use your phone's apps on the car's big screen – instantly giving you access to things like Google Maps, Waze and Spotify. N-Connecta models add to that with a seven-inch TFT between the dials on the dashboard.
Tekna models keep the same infotainment, but add a Bose stereo which has eight speakers including two in the front seat head rests that are designed to envelope you in sound.
Space and practicality: Nissan Juke boot space
The Nissan Juke's seat gets lots of adjustment, as does the steering wheel, so you'll find it easy to get a comfortable driving position and there's loads of room for another tall adult on the front passenger seat.
Where this new model marks itself out from the old car is in rear-seat space. Its longer wheelbase means tall adults get more knee room – two six-footers will fit in the back seat – although the Juke's sporty roofline means they won't have loads of headroom. There are three seats in the back, but you'll struggle to fit three adults abreast without wedging them in permanently.
When it comes to fitting a child seat, you get Isofix point on the two outer rear seats so it's easy to get a seat locked in place, although if it's bulky, you may need to slide the front seat forward. High-end versions of the Juke also get Isofix mounts on the front passenger seat.
If you have a baby, you'll appreciate the Juke's sizeable 422 litre – which is bigger than you get in a Volkswagen Golf. Its high load lip makes it a bit of a pain to load, but you do get an adjustable boot floor to make up for this and, with it in its highest setting, you have space to hide the parcel shelf underneath. Fold the back seats down – they split 60:40 – and you'll have room to carry an adults bike.
In terms of smaller storage space, you get big door pockets up front and a place to put your phone, but the glove box is small and so are the pockets in the rear doors. All in all, a VW T-Cross' interior is easier to keep tidy.
What engines and gearboxes are available in the Nissan Juke?
The Nissan Juke is initially offered with just one engine: a little 1.0-litre three-cylinder petrol unit with 117PS. It can be combined with a six-speed manual or a seven-speed dual-clutch automatic gearbox.
The manual gearbox in the Juke is fine, although the gear change doesn't feel as precise as you'd get in a Ford Puma, for example. The dual-clutch gearbox is much better than the CVT transmission that was used in the old Juke, although it does hamper performance (on paper, at least).
With the manual gearbox, the 1.0-litre engine can hustle the Juke to 62mph in 10.4 seconds. That's quick enough, if far from ground-breaking (the equivalent Skoda Kamiq is around half a second quicker). This extends to 11.1 seconds with the automatic gearbox. For comparison, a Skoda Kamiq 1.0 DSG accelerates to 62mph more than a second quicker.
More engines are expected to follow including hybrid variants, although we're unlikely to see a diesel Juke.
Refinement and noise levels
As we mentioned earlier, the Nissan Juke can get quite noisy on the motorway so if you'll do a lot of long drives, you might want to avoid cars with 19-inch wheels which project the most noise into the cabin. The 16 and 17-inch wheels are quieter and, for the matter, a little bit more comfortable. You'll also have to contend with some wind whistle but at least the Nissan's tiny 1.0-litre engine is barely noticeable over the din of the wind and road.
Safety equipment: How safe is the Nissan Juke?
The Nissan Juke scored five stars when it was tested for safety by Euro NCAP under 2019's tough test conditions and it's one of the safest small SUVs you can buy as a result. Even the basic model comes with lane departure warning, traffic-sign recognition, lane assist and emergency call, which will call help if the car's involved in an accident.
Tekna models add a host of big car features including active cruise control, rear cross traffic alert – which will stop you reversing into oncoming traffic – and driver alertness detection that'll warn you when you need to take a break.
Insurance groups and costs
Because the Nissan Juke is only available with 117PS 1.0-litre petrol engine, insurance ranges from Group 13-14 that's a few groups lower than in some rivals with more powerful engines, so the Nissan shouldn't cost a fortune to insure.
VED car tax: What is the annual road tax on a Nissan Juke?
All versions of the Nissan Juke pay road tax of £215 in year one and £150 is every year thereafter.
Trim levels and standard equipment
The Nissan Juke range starts with the Visia model. This is pretty basic, with its 16-inch steel wheels, cloth seats and DAB radio with four speakers. It also gets a 4.2-inch digital instrument display and LED headlights (with daytime running lights). Driver-assistance tech includes cruise control (with a speed limiter), a lane-departure warning system and traffic sign recognition.
The Nissan Juke Acenta starts from around £19,000 when new and adds desirable features like 17-inch alloy wheels, an 8-inch touchscreen media system (with Apple CarPlay and Android Auto) and a rear-view camera.
For those after a more premium choice, the N-Connecta trim level features a bigger seven-inch digital instrument display as well as a navigation system. It comes with keyless entry and start as well as an electric handbrake with auto-hold function. Automatic climate control is a nice feature, as is a leather steering wheel and shift knob - not to mention interior ambient lighting.
A new Nissan Juke Tekna starts in the region of £22,500 when new. It comes with 19-inch alloy wheels, heated front seats, a heated windscreen and a fancy Bose audio system. It also comes with the Advanced Safety Shield Pack, with a 360-degree camera, Intelligent Driver Alertness, Blind Spot Intervention, Rear Cross-Traffic alert, Intelligent Cruise Control, Lane Keep Assist and Moving Object Detection.
Topping the range, Tekna+ models look a bit more special, with two-tone paint and various contrasting body inserts (on the front and rear bumpers and side skirts). Interior finishes are also available in a variety of colours (Enigma Black, Energy Orange or Light Grey).
For a limited period, there's also a Premiere Edition. This comes with 19-inch alloy wheels, two-tone paint (Pearl Black with Fuji Sunset Red roof and door mirrors), the exterior personalisation pack (Fuji Sunset Red inserts on front bumper, rear bumper and side skirts), interior personalisation pack (Enigma Black leather & Alcantara seats). The Bose surround sound system is standard, too.
Learn more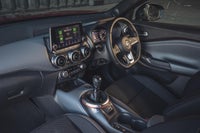 On the inside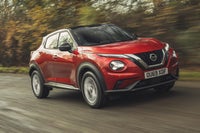 Driving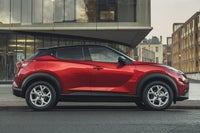 How much does it cost to run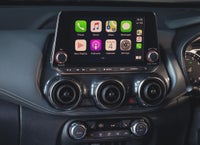 Prices, versions and specification
Ask the heycar experts:
common questions
When did they stop making the Nissan Juke?
The original Nissan Juke was replaced in 2019.

Are Nissan Jukes good on fuel?
The Nissan Juke is good on fuel for an SUV, but a small car will be even cheaper to run.

Answered by
heycar editorial team
Does a Nissan Juke hold its value?
The Nissan Juke will hold it's value better than a normal small car thanks to its desirable SUV body style

Answered by
Russell Campbell
Reviews of similar cars
Quality checked, all cars less than 8 years old and warranty included
Looking for other Nissan cars?
Quality checked, all cars less than 8 years old and warranty included