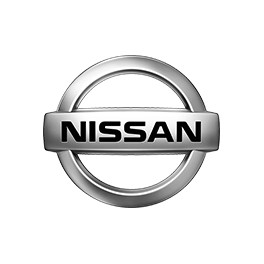 Nissan Leaf Review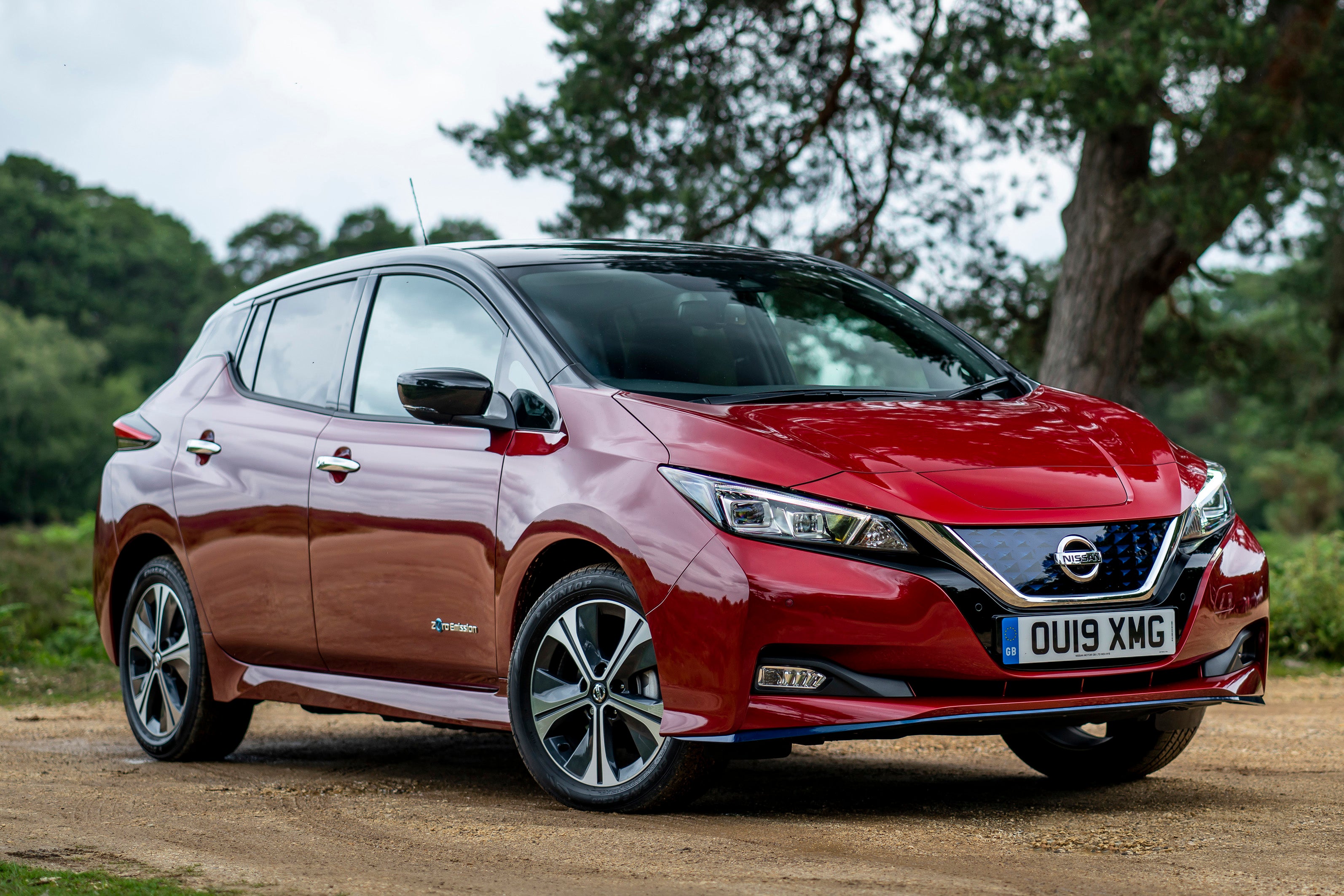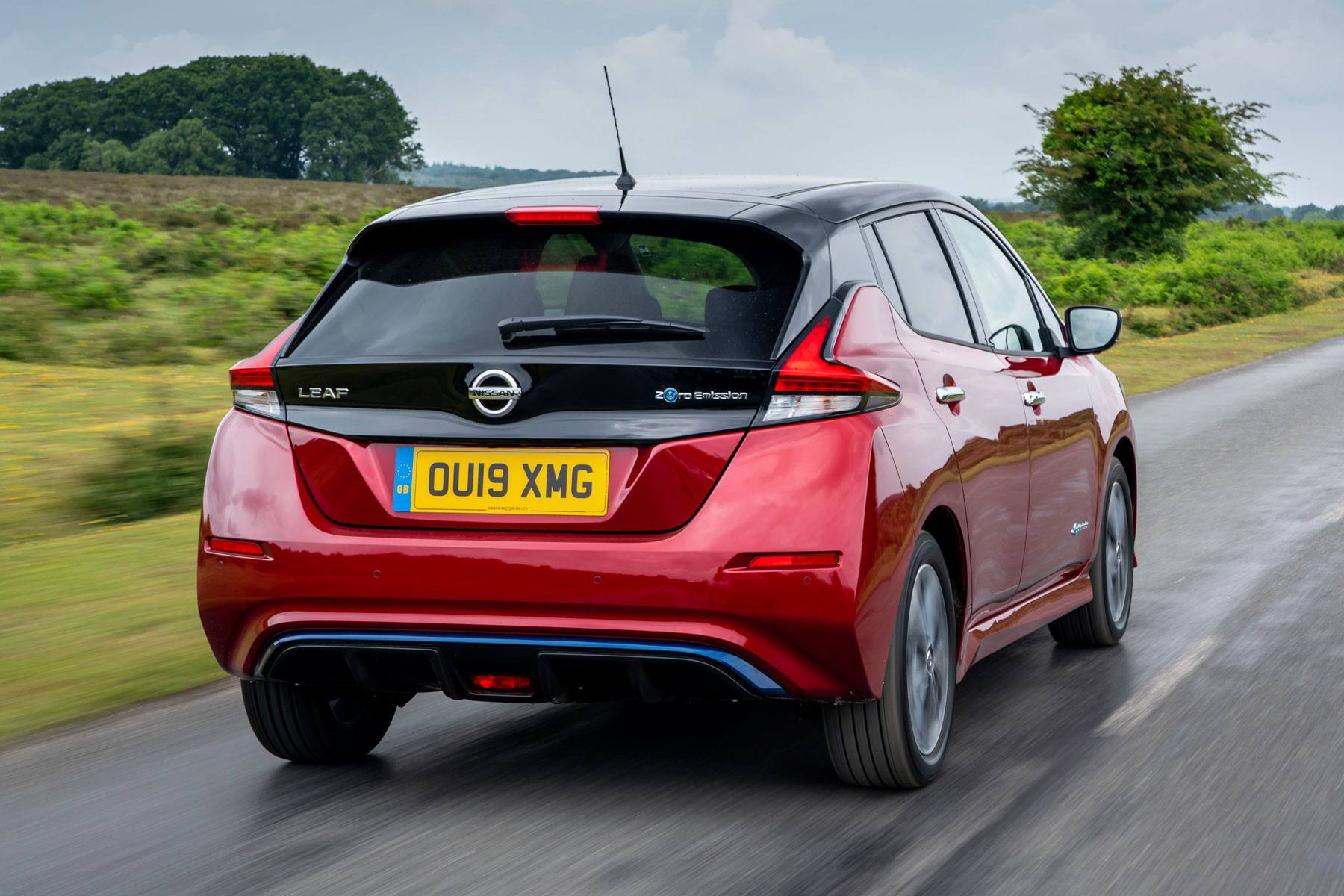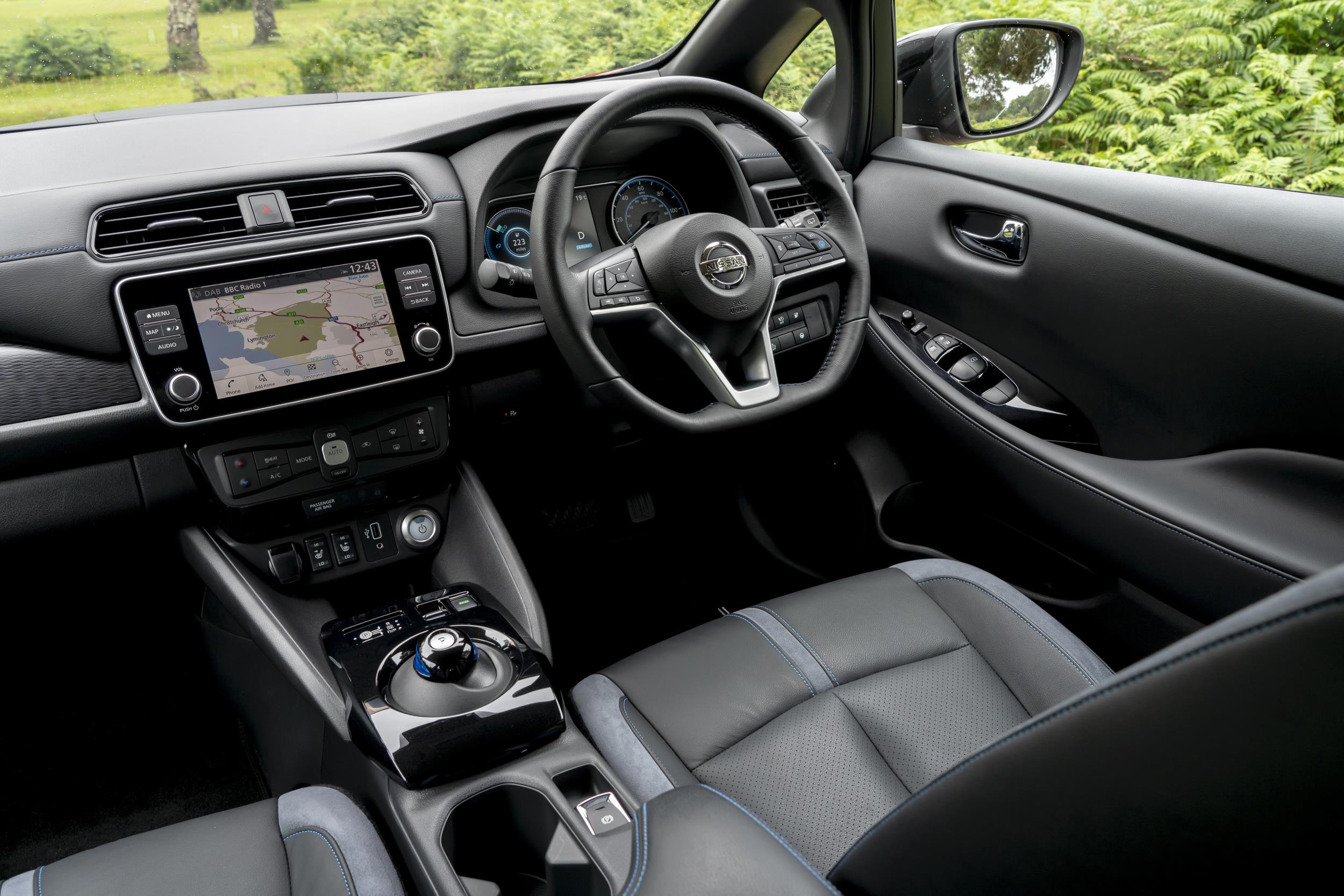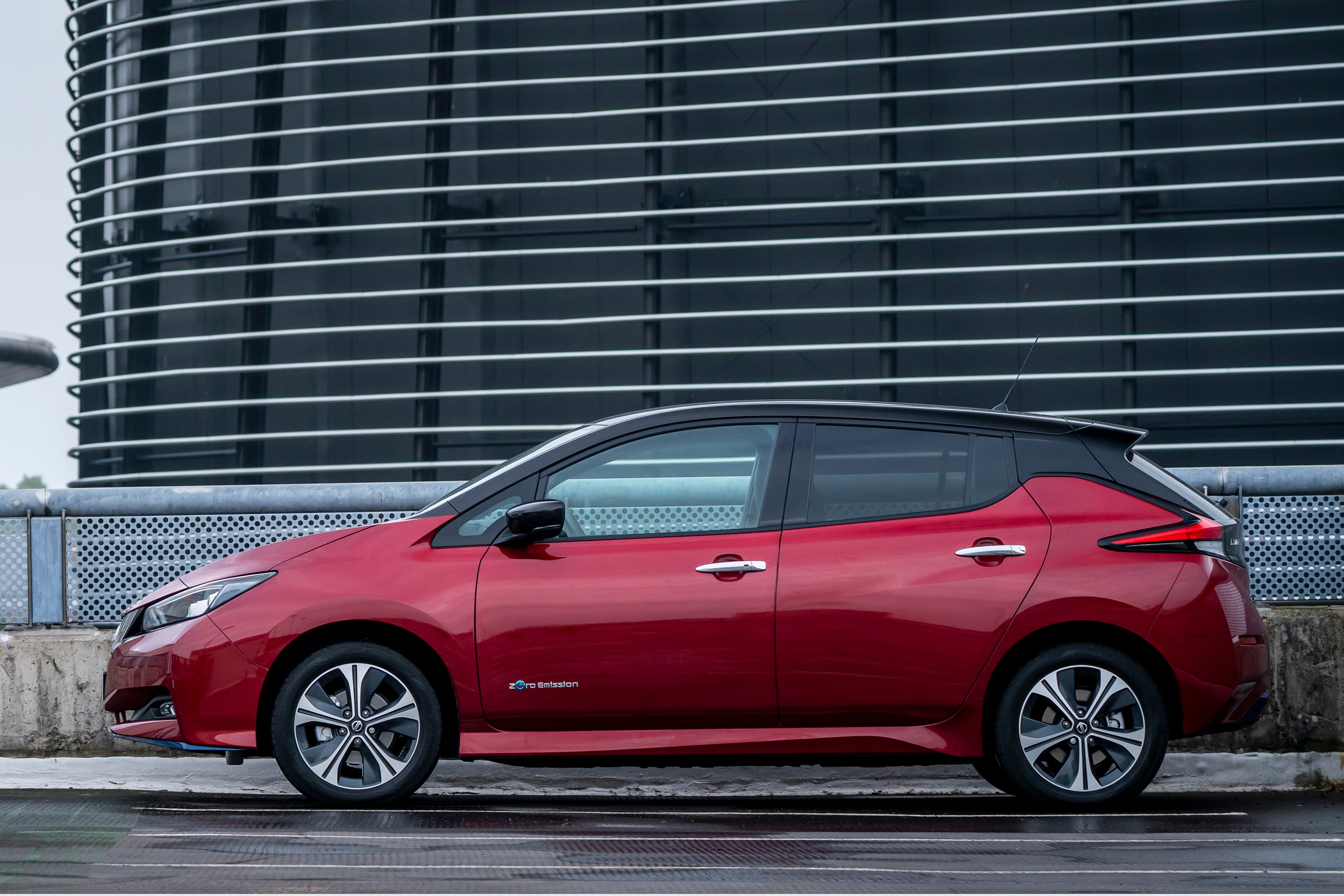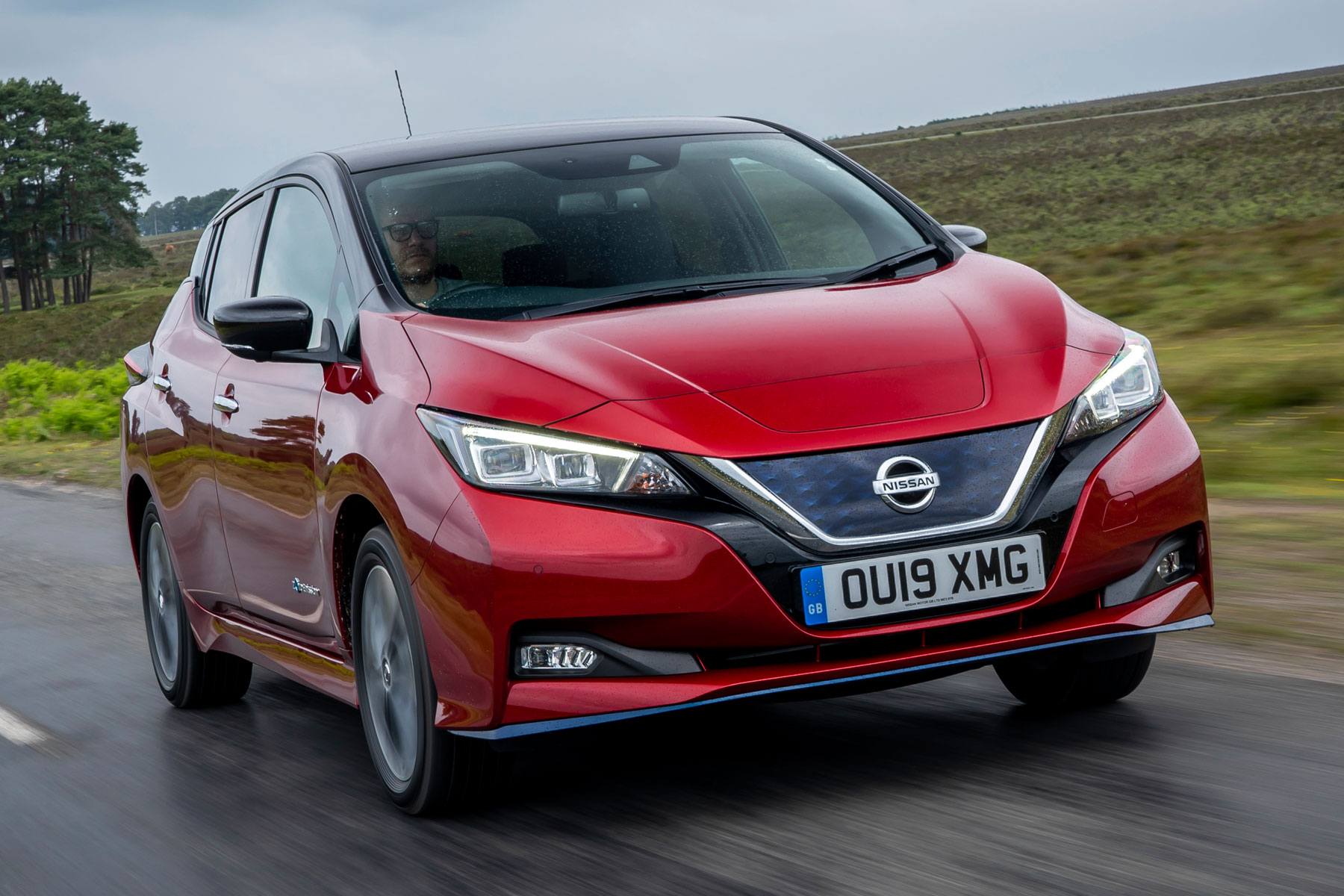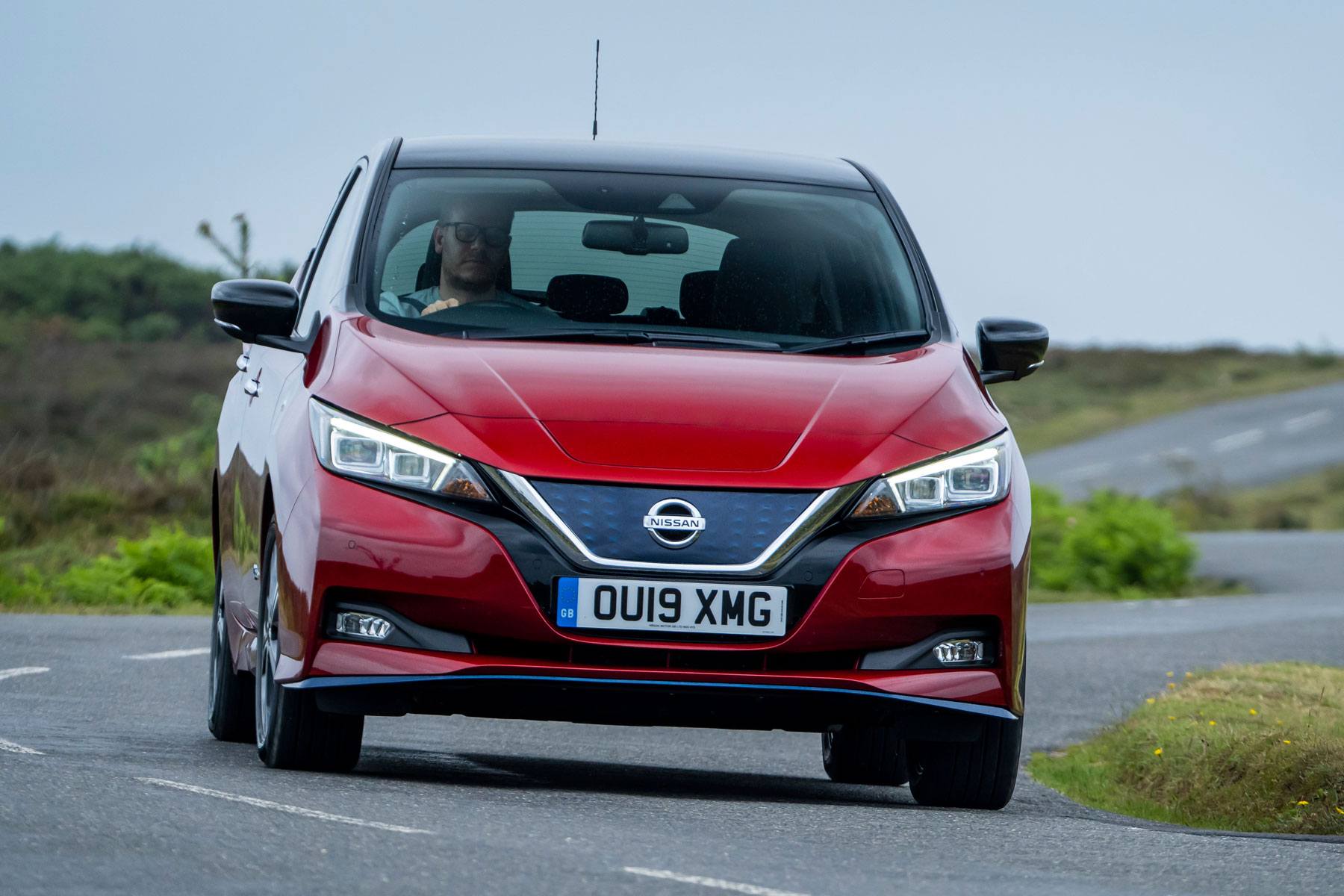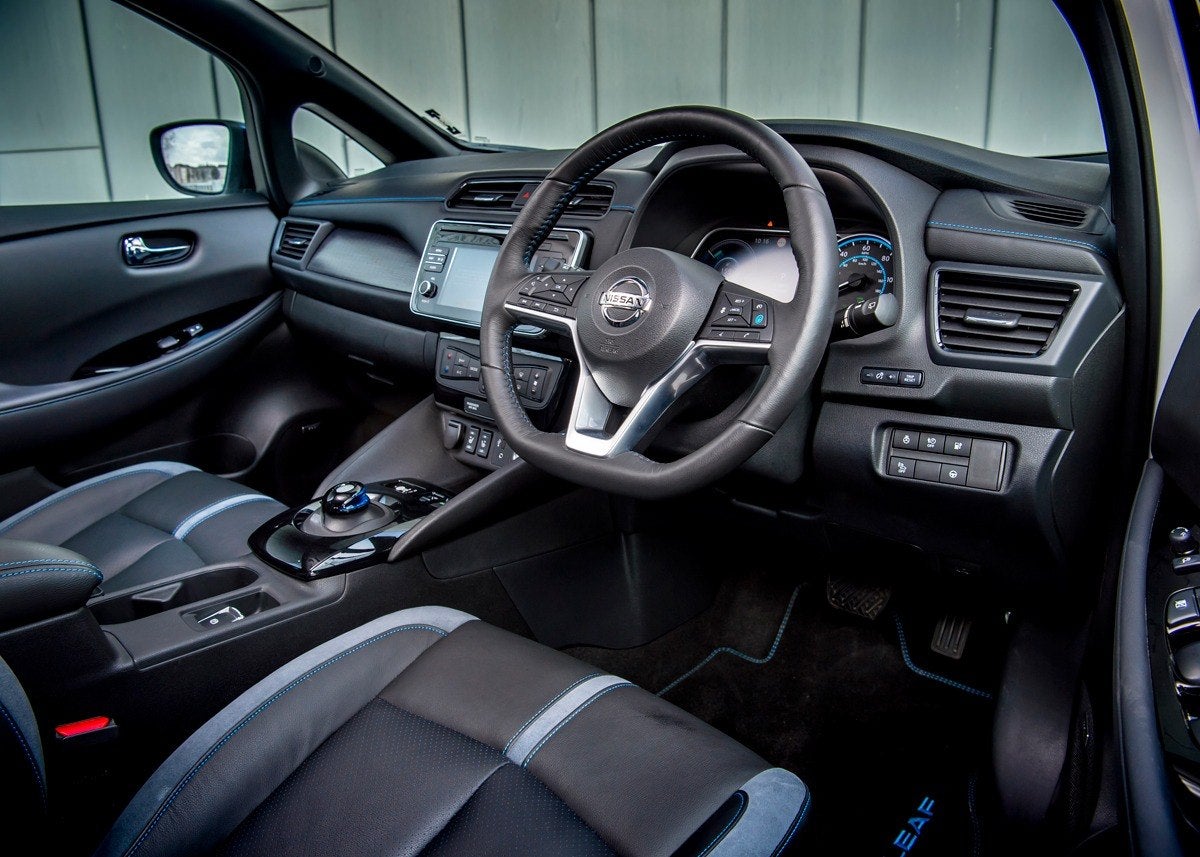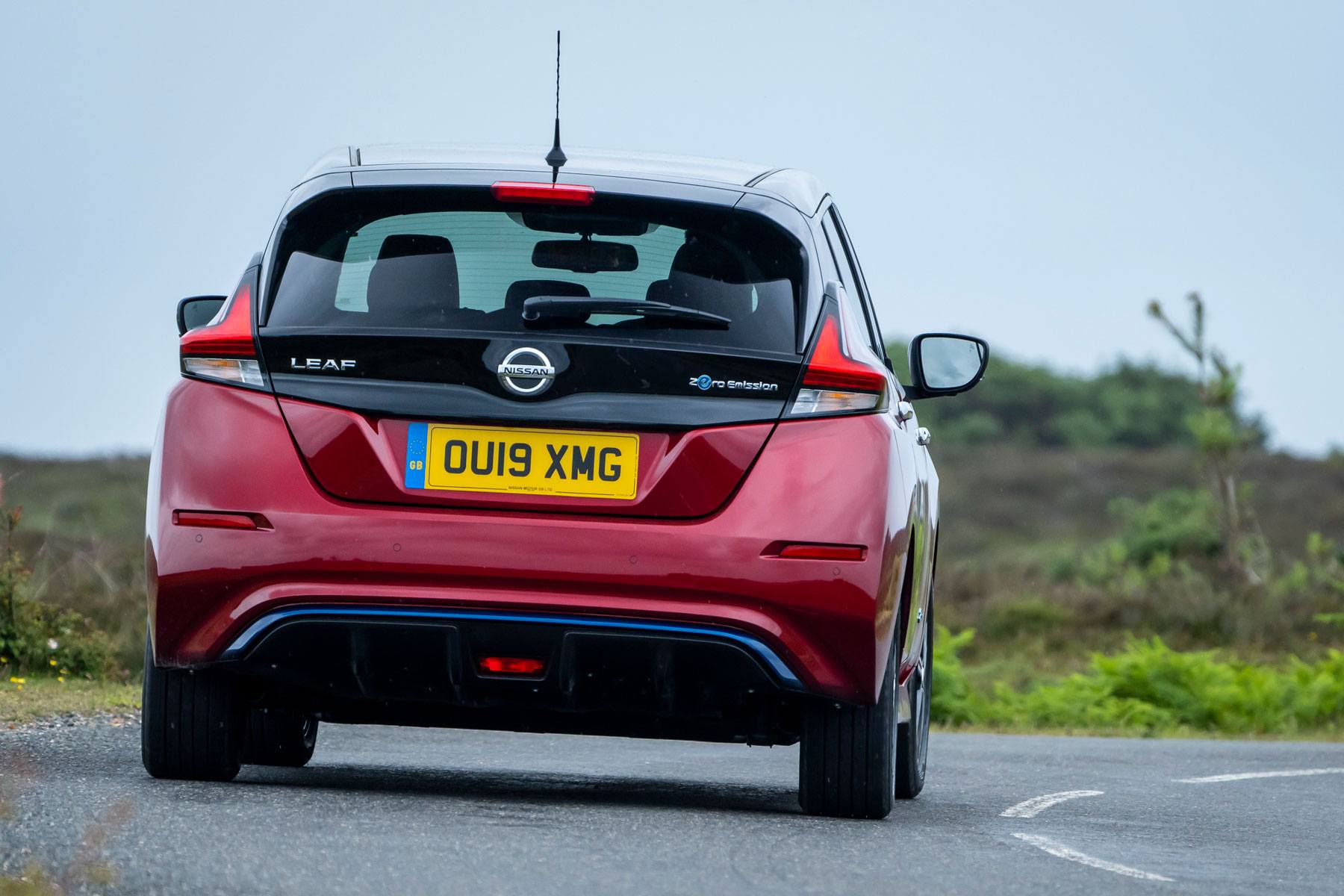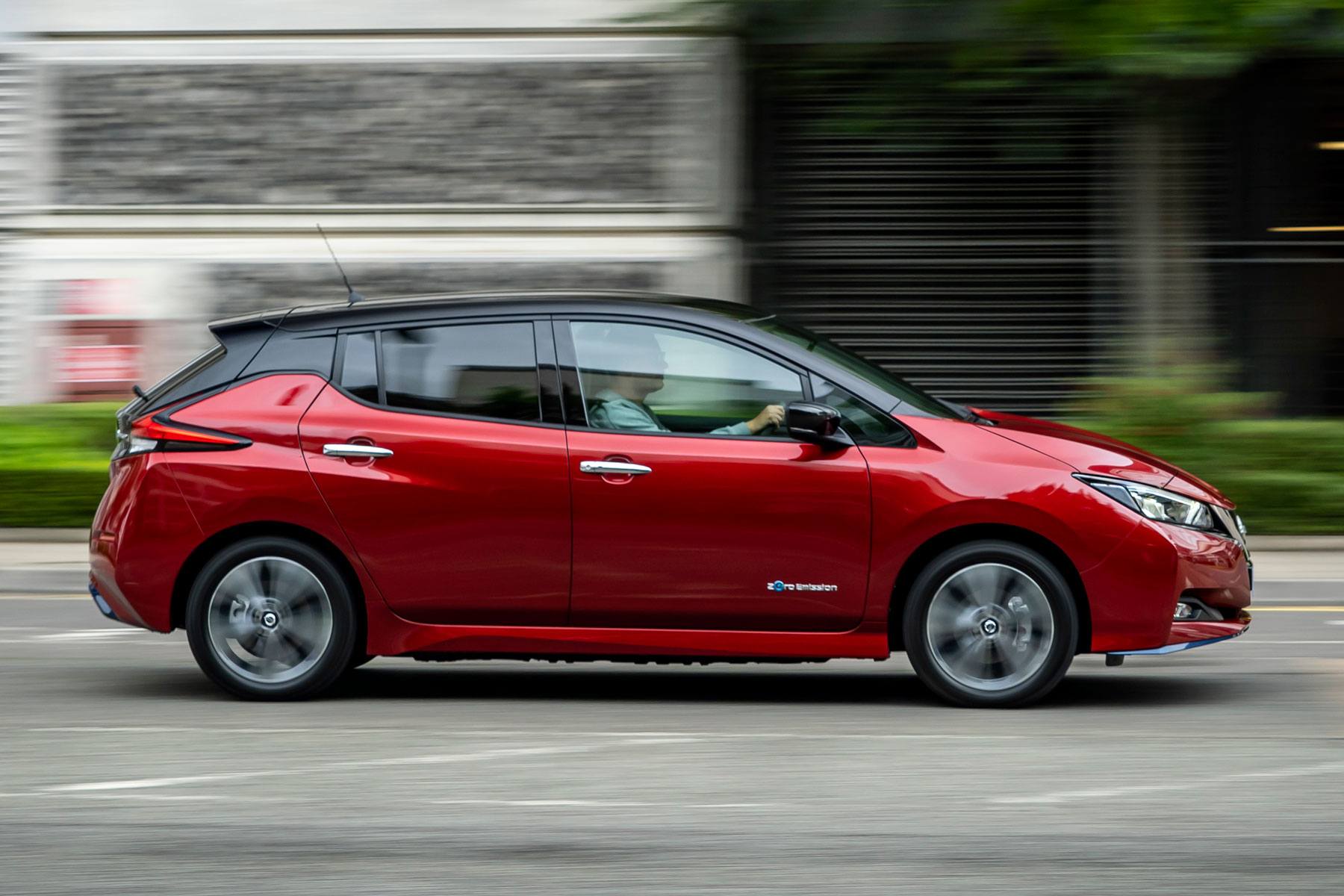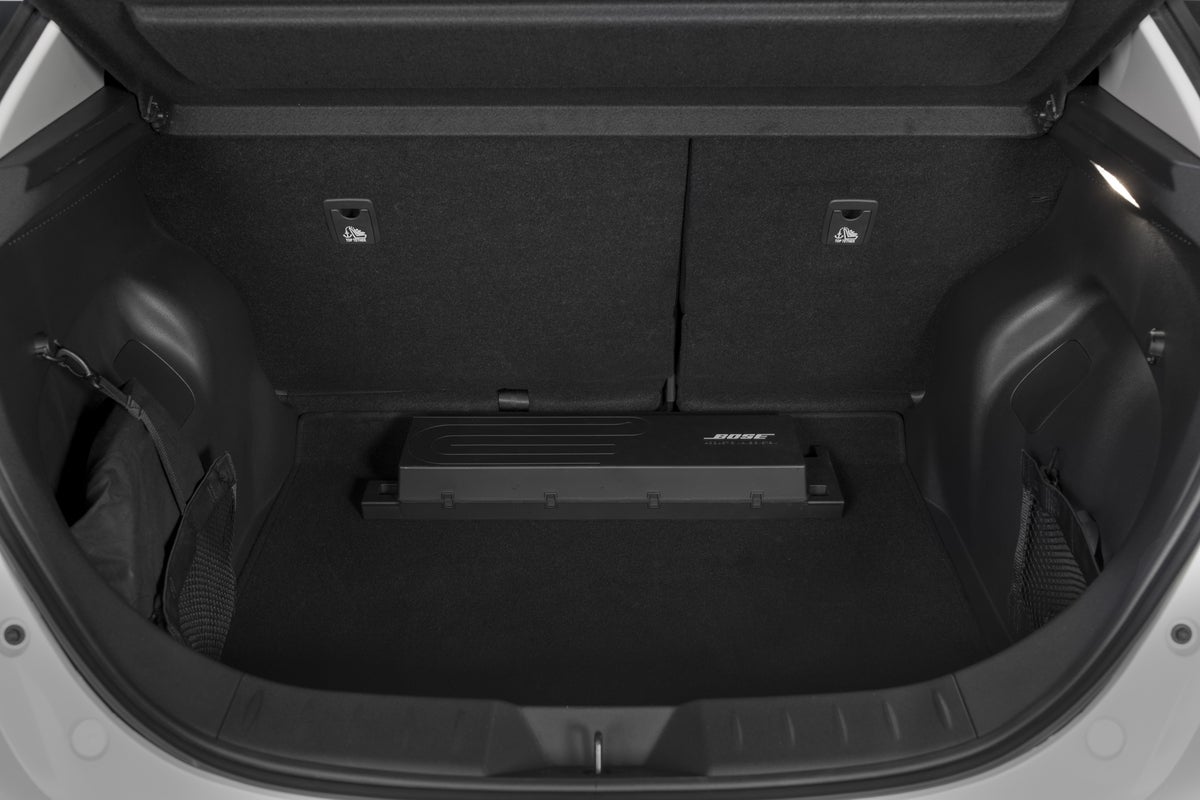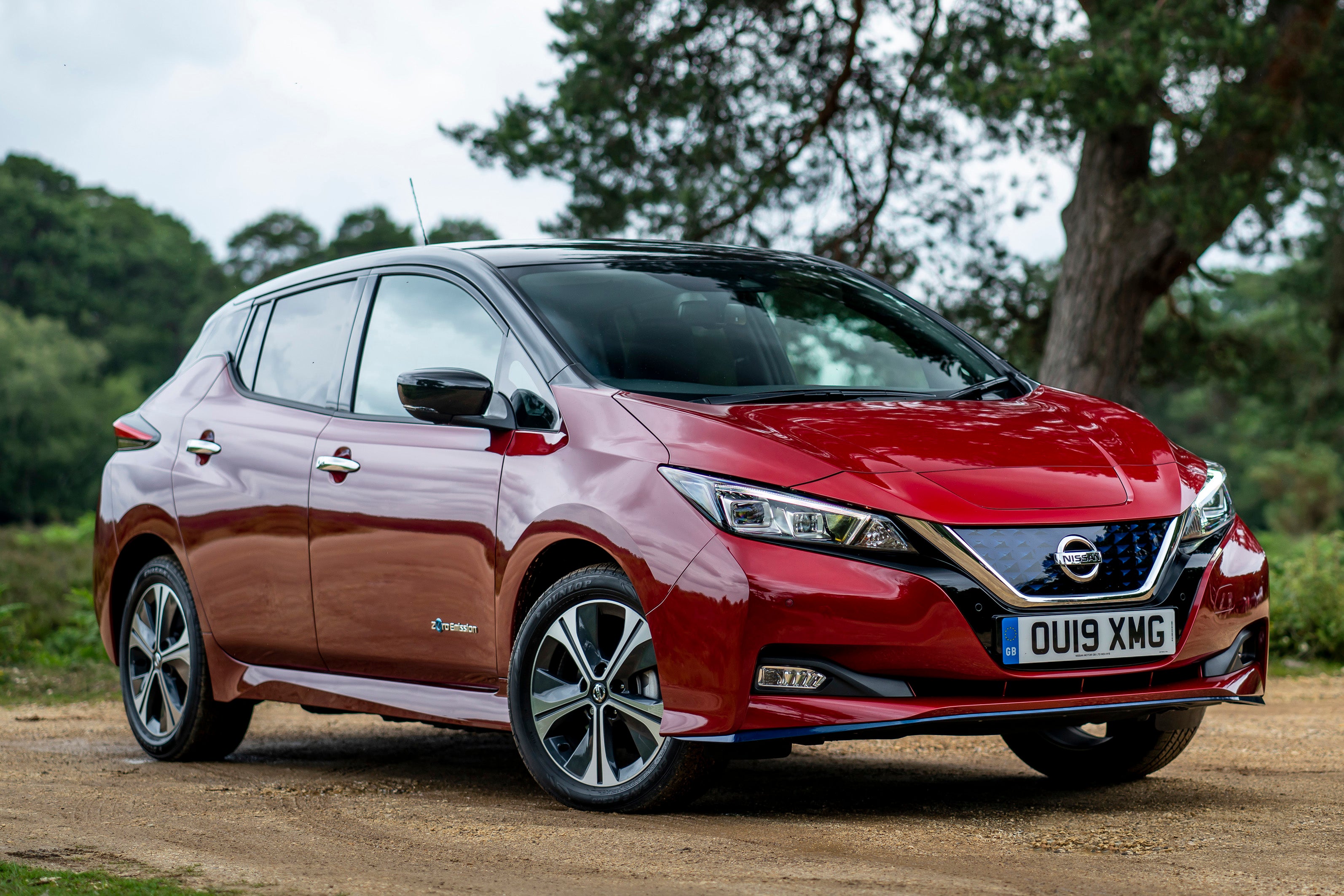 1/10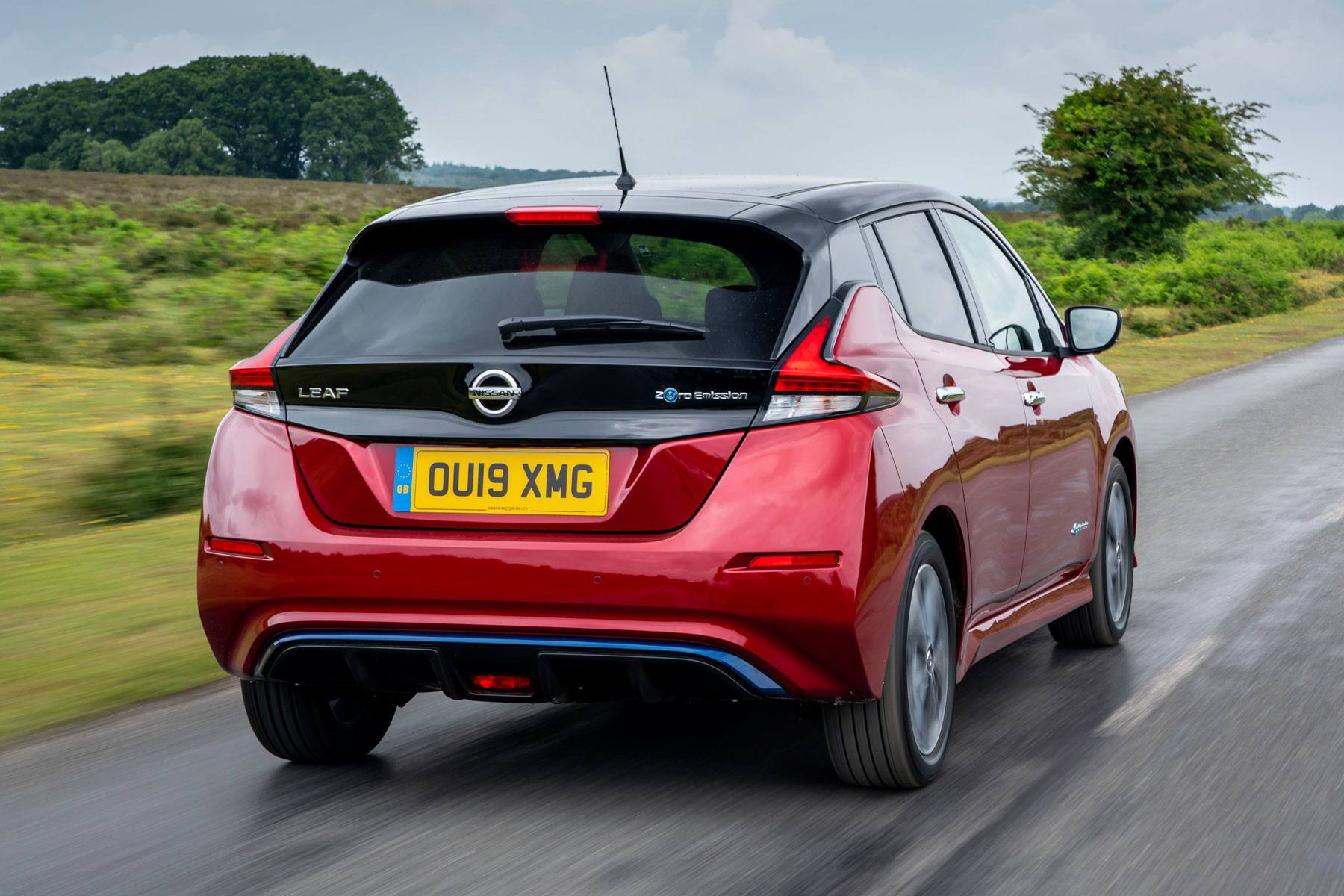 2/10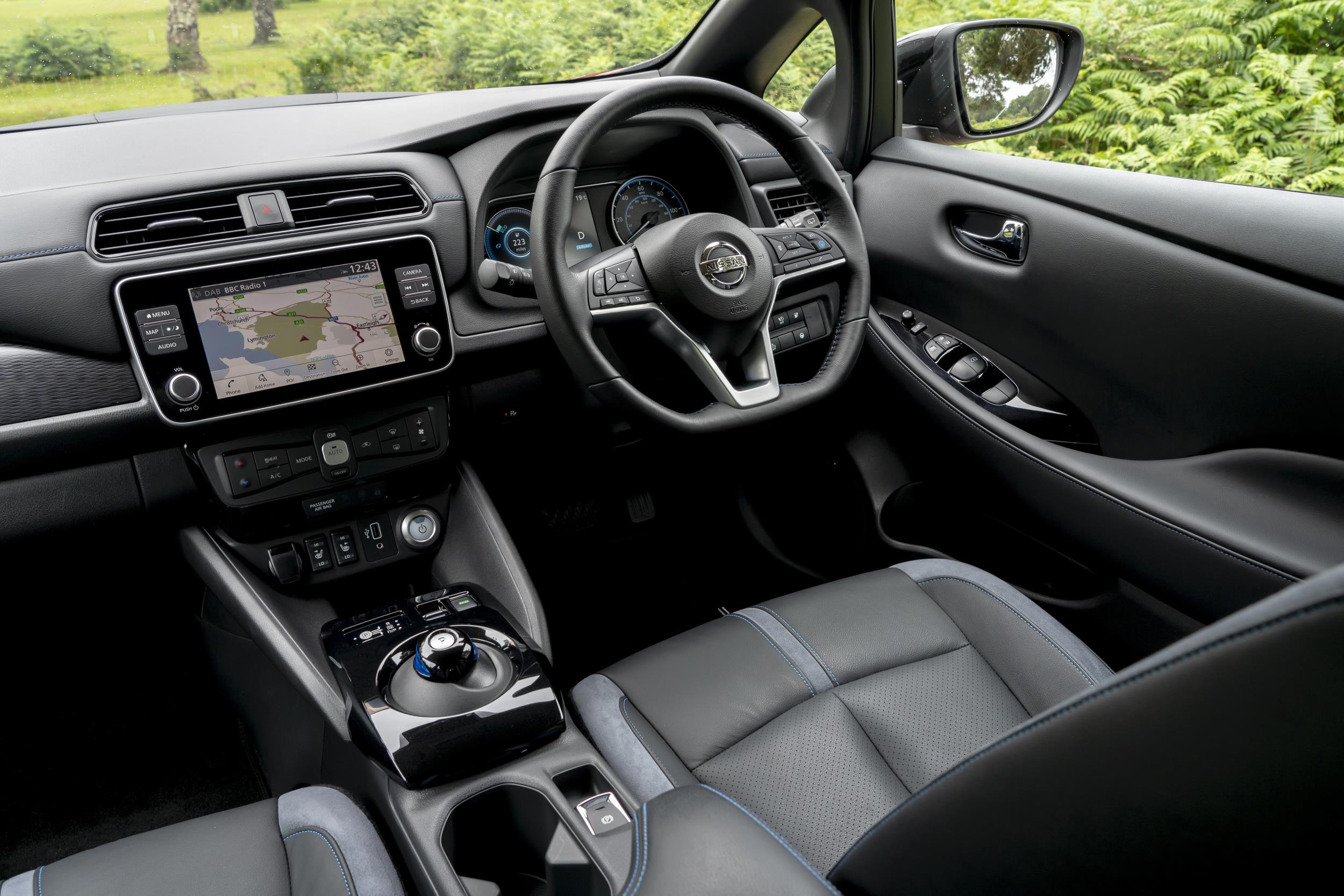 3/10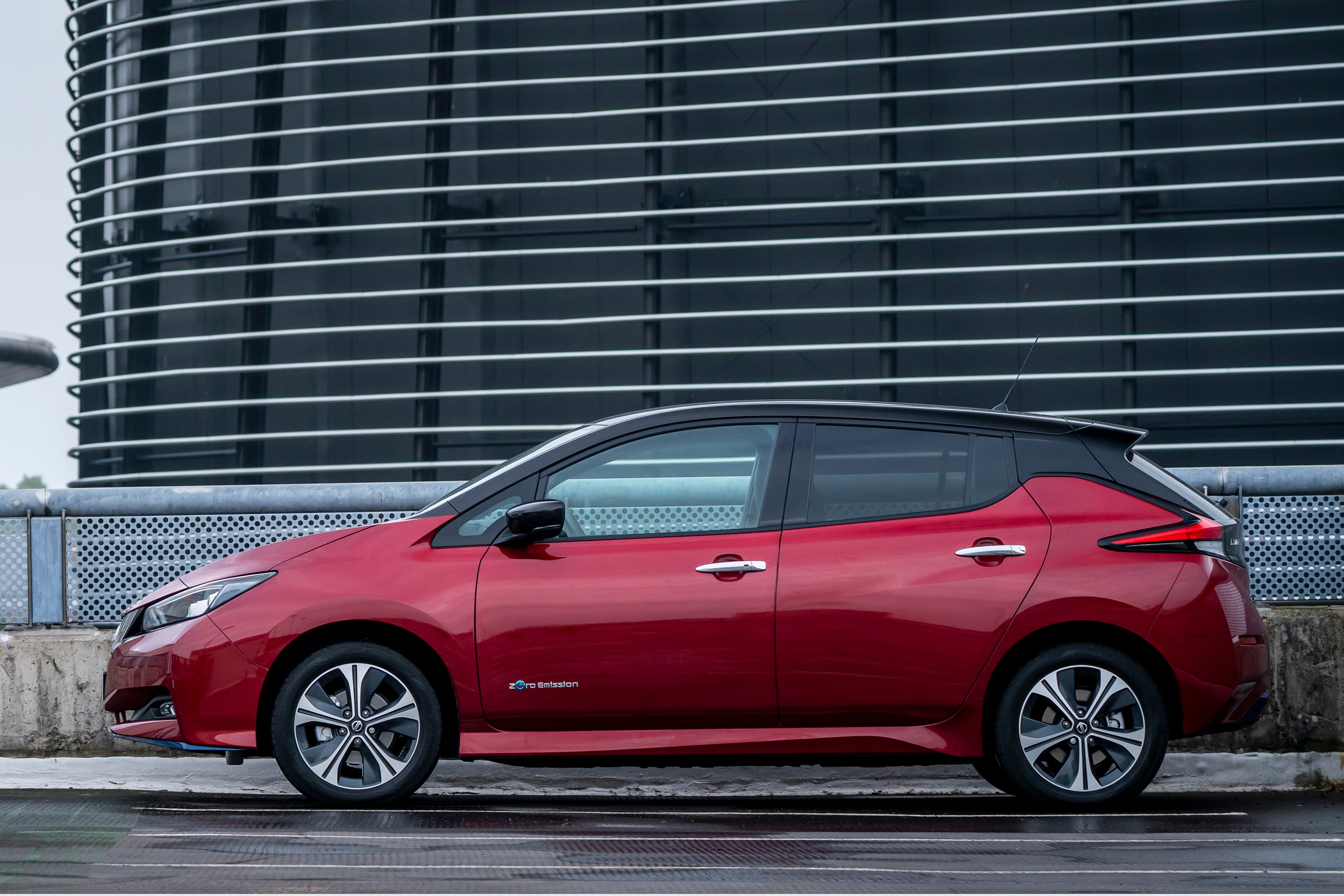 4/10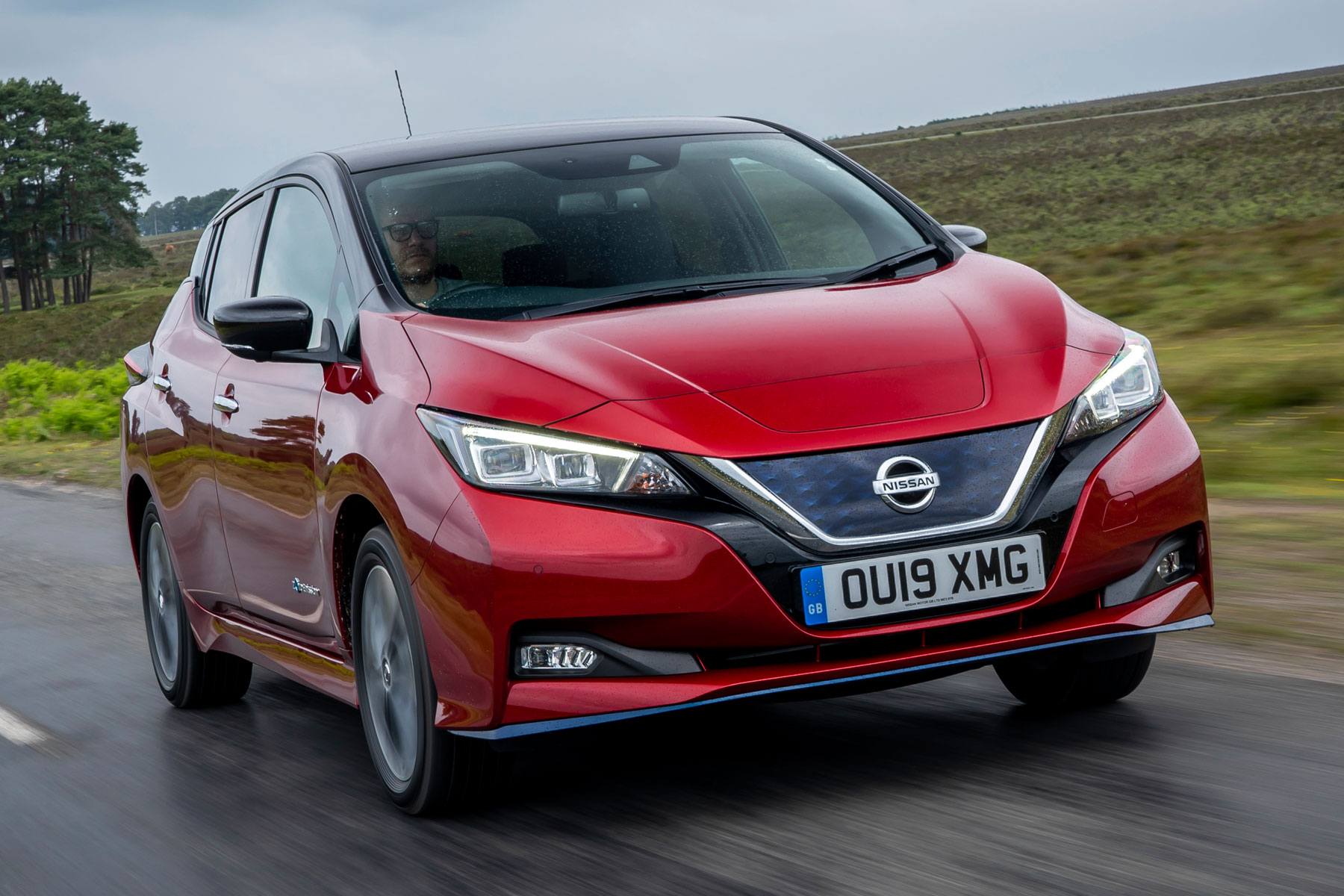 5/10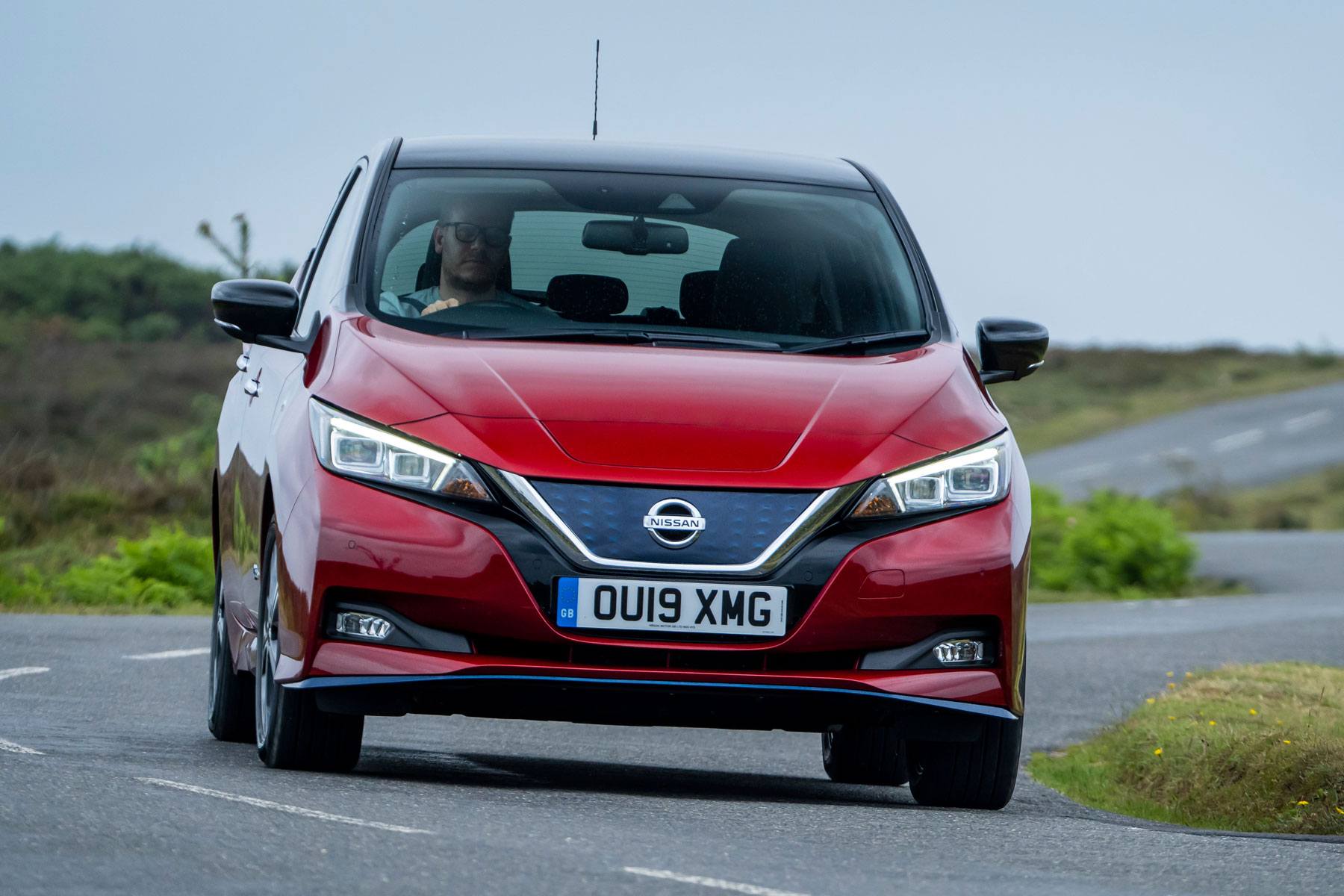 6/10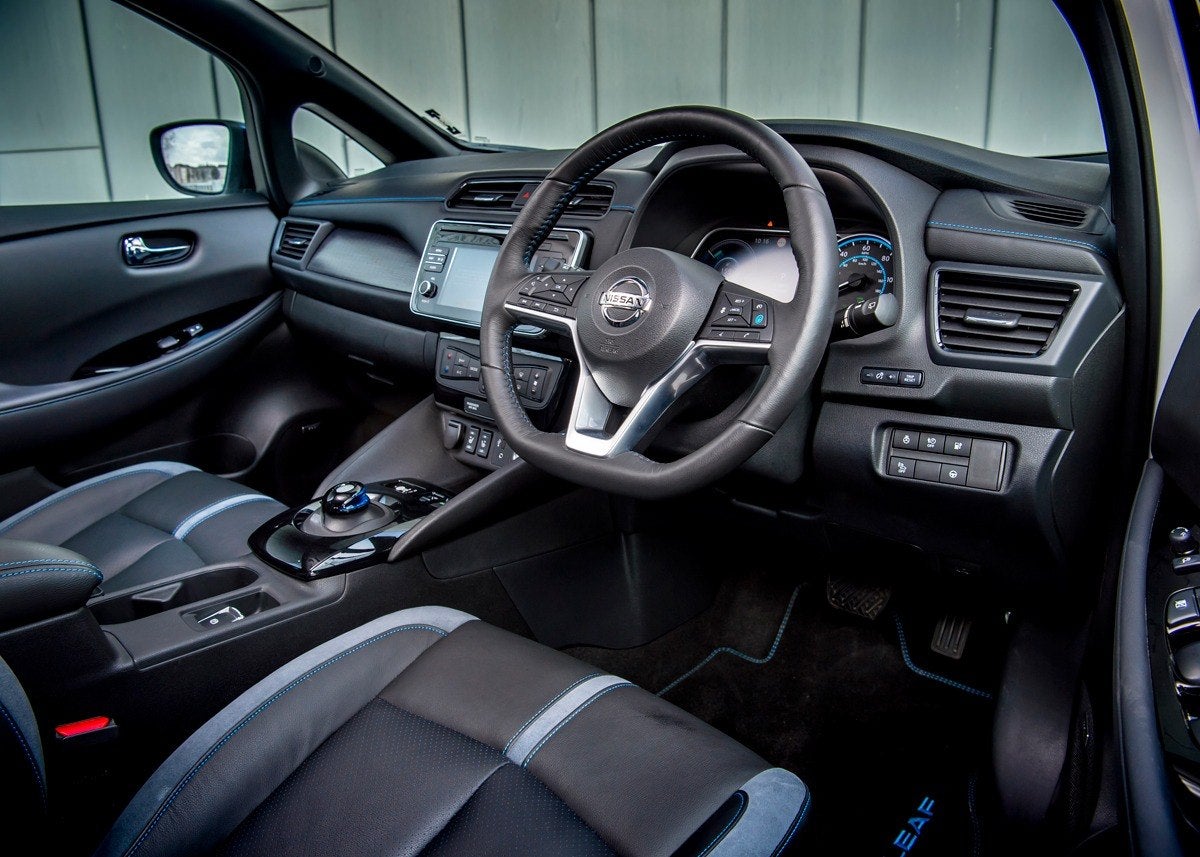 7/10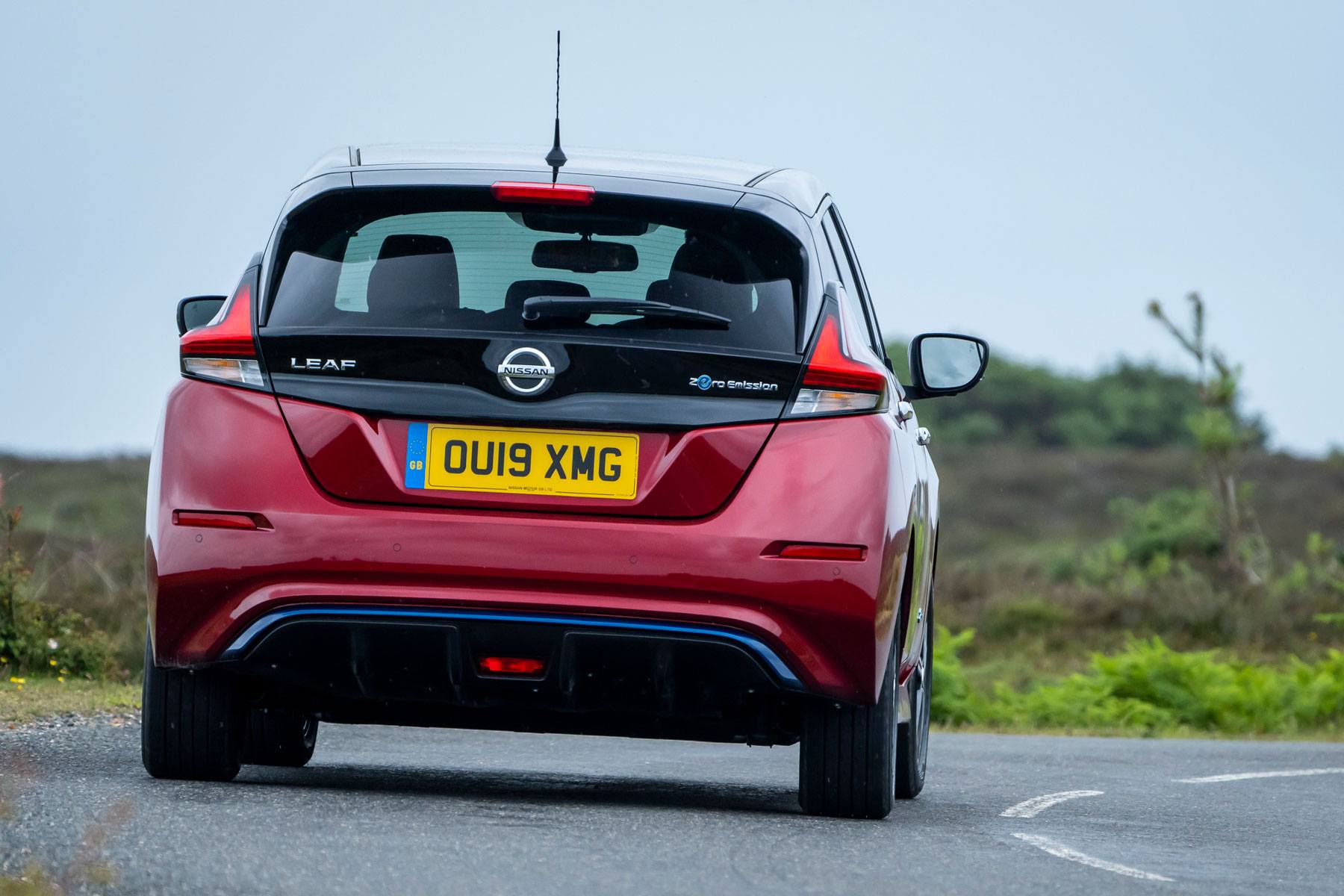 8/10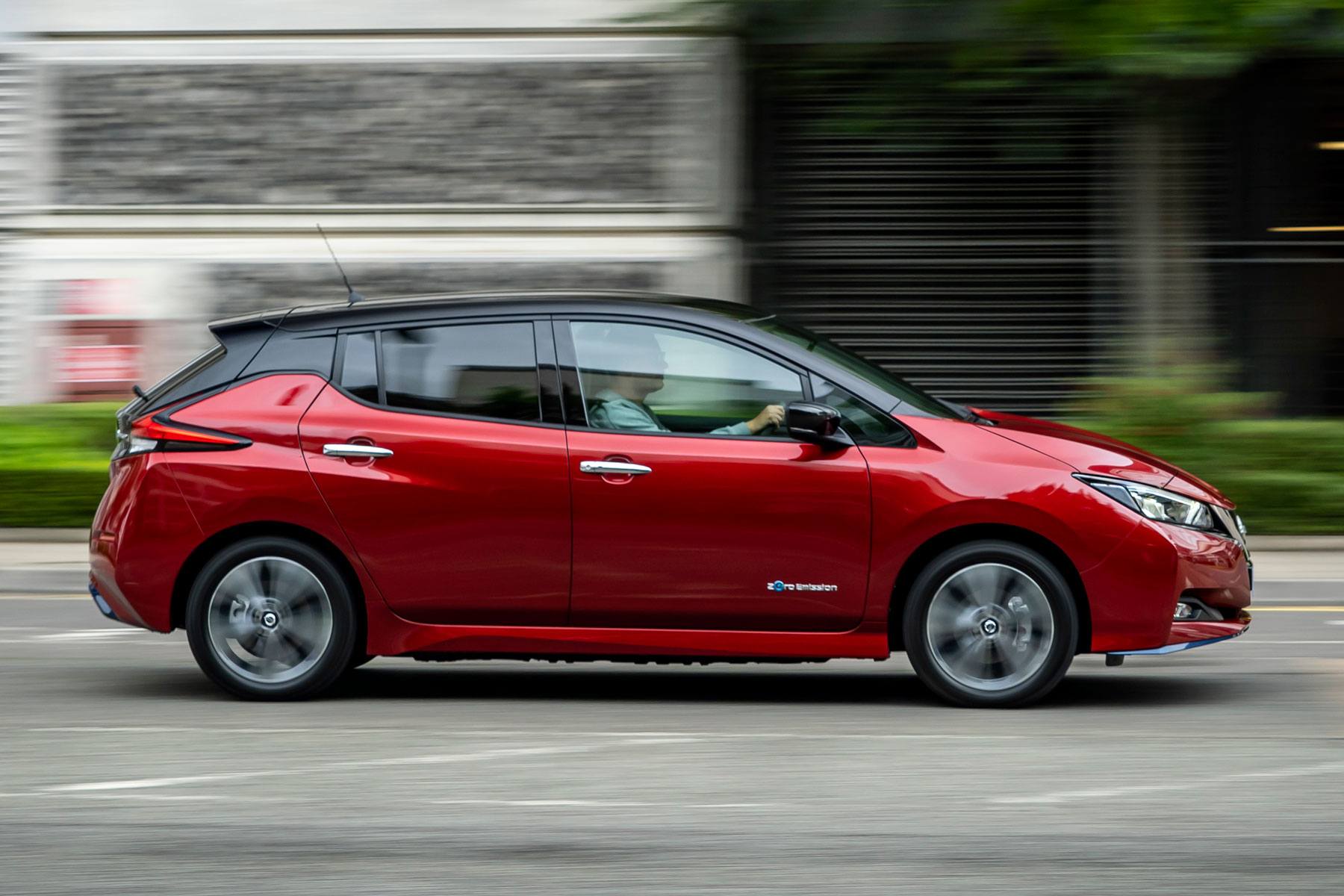 9/10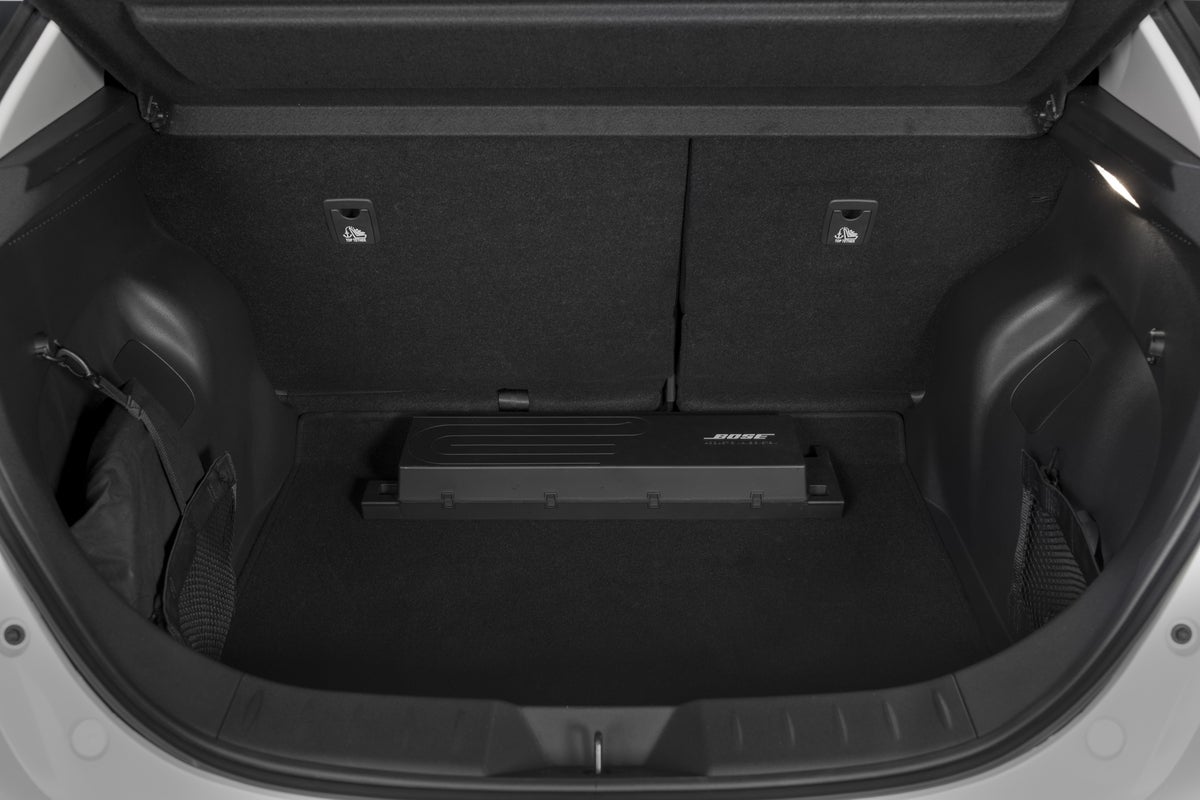 10/10
Launched in 2018

Family hatch

EV
Launch year

2018

Body type

Family hatch

Fuel type

EV

Written by
heycar editorial team

heycar rating
An easy-going electric pioneer
Best bits
Punchy electric acceleration
Composed handling
Generous safety equipment
Not so great
Dated infotainment system
Standard Leaf has short range
E+ versions are quite expensive
Read by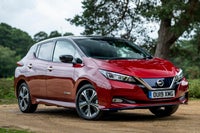 Overall verdict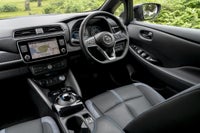 On the inside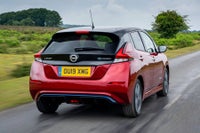 Driving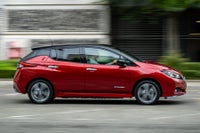 How much does it cost to run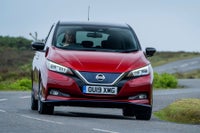 Prices, versions and specification
Overall verdict on the Nissan Leaf
"The Leaf is a great entry to the electric car world. It demands few compromises, has punchy acceleration, comes well equipped, and drives better than many rivals, while undercutting them on price. True, the range isn't class-leading, but it's a great all-rounder that makes it a viable alternative to many fossil-fuelled rivals."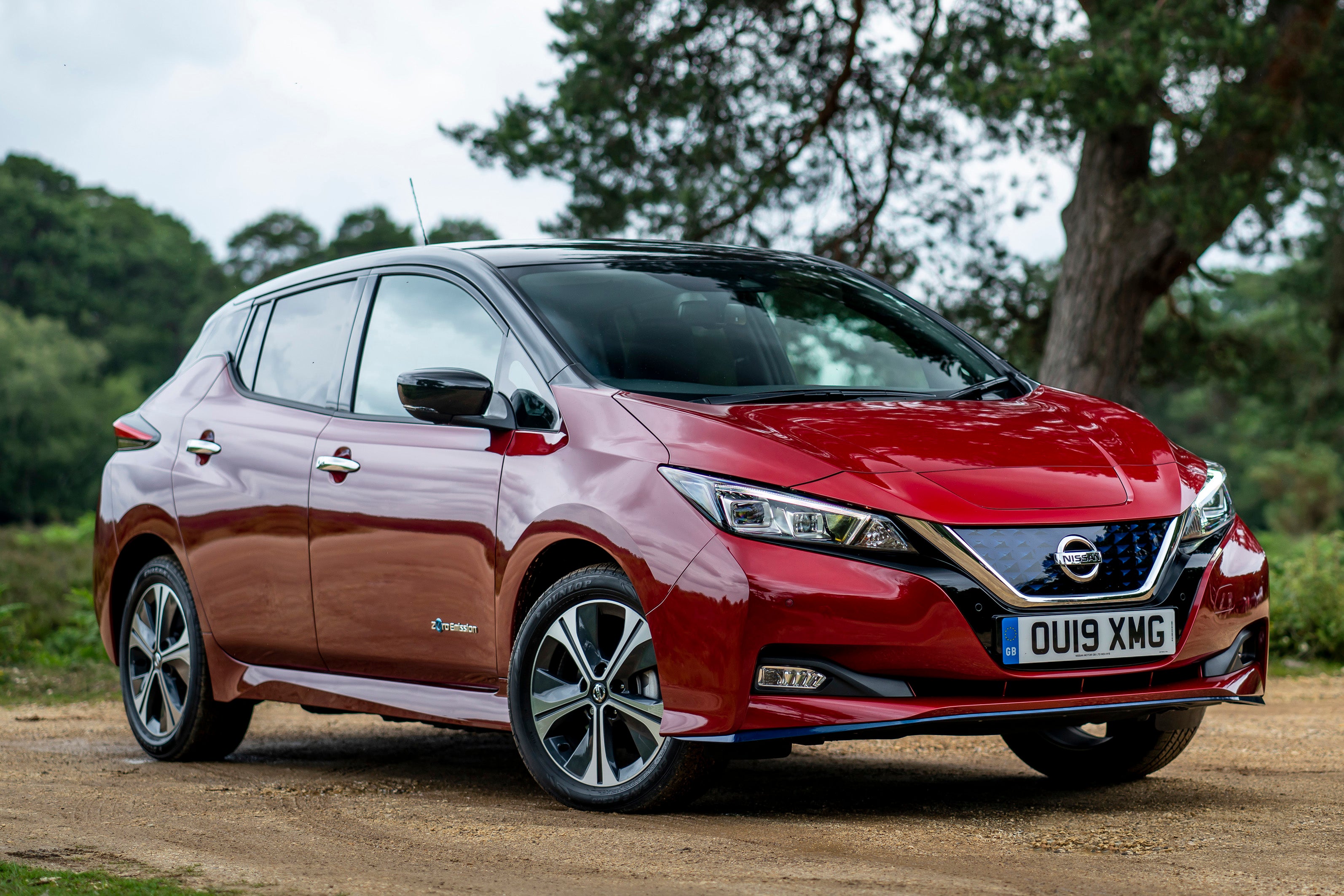 The Nissan Leaf was one of the first electric cars to break into the mainstream. When it launched back in 2011, it had few rivals - but the current car arrived at a time when the market for EVs is growing exponentially.
Nissan wanted the Leaf to be an ordinary family hatchback that just so happened to have a ground-breaking zero tailpipe emissions powertrain, and its relatively sedate design has been a part of its success. Despite it looking quite reserved, it's a very strong all-rounder, with fewer compromises than many battery-powered electric cars.
The cabin is roomy enough for four (and five at a push) the boot is above average for a crossover, let alone a five-door family hatch, and as long as you plan your charging carefully, it should be a hassle-free car to own.
It now comes with a choice of battery sizes too, each with different power outputs and range. As standard, the Leaf gets a 40kWh (kilowatt hour) battery with a 150PS motor and an official 168 miles of range (real-world mileage may vary). This is on the lower end of what's possible from the latest electric cars, but should be enough for any urban drivers.
Pay a fair wedge more for an e+ model, and you get a larger capacity 62kWh battery, a 217PS electric motor that makes the Leaf feel seriously quick, and that cruising range increases to an impressive 240 miles or so. Floor the throttle and its remarkably rapid, pinning you to your seat from a standstill. It'll keep shifting itself at a rate of knots as you build up to motorway speeds, only tailing off at the top end, helping conserve battery.
Very few rivals feel as punchy, but many do claim a longer range, especially compared to the entry-level car. A Kia Soul EV, Hyundai Kona EV, BMW i3, Renault Zoe, Peugeot e-208 will all travel further on a charge, in some cases by far enough that it could make a real difference to your daily routine. It's the one drawback.
In other respects, the Leaf stacks up very well with these rivals. It's wonderfully refined, with a comfortable suspension setup, tidy handling and impressive traction, to go with its laidback manners and light controls. The 'e-pedal' regenerative braking system is one of the best implementations we've tried, and it's smooth.
The standard car comes in three trim levels: Acenta, N-Connecta, and Tekna, but unless you want the high-capacity model, we would stick to the first rung of the ladder. It's the best value (undercutting several of the cars we mentioned above) but still comes equipped with almost everything most buyers will need day-to-day.
If you want an electric car to feel like a cutting edge step into a shining future, then the Leaf is not for you. It delivers a competent, capable driving experience that holds no unpleasant surprises, except a lowish range. A wilfully sensible cabin has a foot rooted in the past, but that makes it a perfect entry into electric ownership.
If you're looking for the older version, you need our Nissan Leaf (2011-2018) review.
Comfort and design: Nissan Leaf interior
"Nissan played things safe with the interior of this car. It's conservatively styled and conventional in its layout so that anyone stepping from a traditional family car will feel instantly at home with where all the controls sit."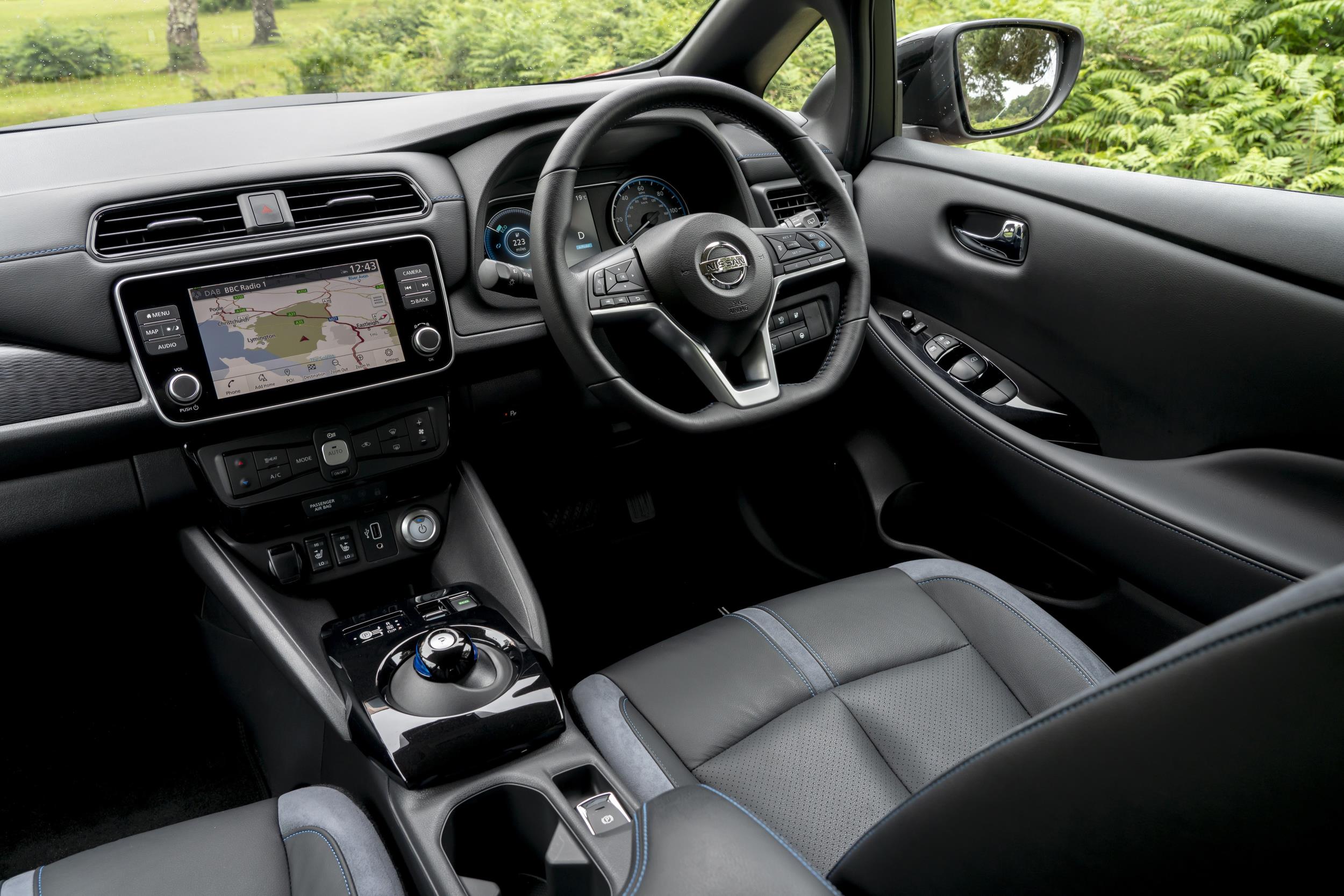 The media screen is a regular size and shape, so sits neatly within the dash rather than dominating the cabin like some kind of technological monolith, and there are separate controls for setting the temperature. Its odd bean-shaped gear selector is rather unusual, but intuitive enough to use, and the ana-digi dials are clear too.
The driving position is quite high, which is great for visibility, but the fact that the steering wheel only move up and down (and not in and out) means there is likely to be some trial and error involved in finding an ideal fit. Seeing things over your shoulder can be trickier, so on Acenta models it's worth investing in parking sensors.
At least the seats in all models adjust for height, and you can manually tweak the backrest angle if to find the right posture, but there's no electric adjustment or lumbar support offered, even on the highest trim levels. It should be ok though, as the seats are supportive, and you'll get a break from driving after around 200 miles, at which point you'll be looking for a charging point - potentially a fair bit less in the cheaper 40kWh version.
Handling and ride quality: What is the Nissan Leaf like to drive?
"All electric cars have to deal with the challenge of combatting the negative effects of weighty battery packs. It is clear within just a few hundred metres of driving a Leaf that Nissan has plenty of experience in this regard."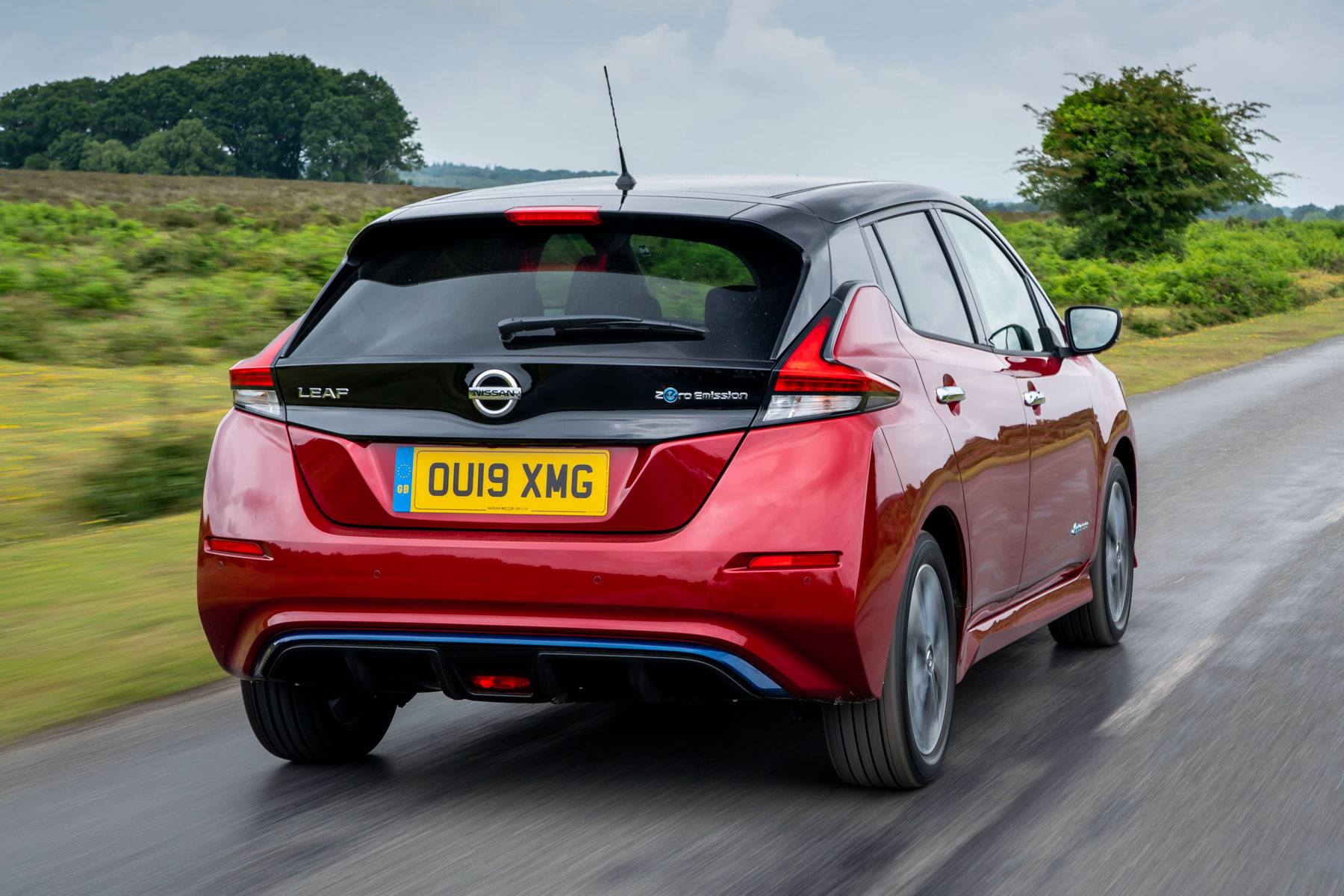 The standard model is really comfortable, dealing with poor road surfaces well. Better actually, then plenty of its all-electric peers, especially at faster speeds, where it cushions out bumps while maintaining body control.
Understandably, the setup is softer than you might expect from a normal family car, but still very composed.
At low speed, you might feel the odd clunk from the suspension as the car rides over a deeper pothole. It's a trait that you won't find in an e-Golf for example, but it never upsets the suspension to the point of discomfort.
So far, so predictable then. What might surprise you though, is the tidy way that the Leaf handles corners. It steers with neat precision, isn't fazed by tackling bumpy or challenging roads, and even grips pretty well too. It's capable rather than fun, but with some electric cars feeling quite compromised in this area, it's a big plus.
Combine this admirable agility on country roads with incredibly light, easy to modulate controls, and the Leaf is unbelievably simple to drive, which is obviously part of its appeal, it's one of the best electric all-rounders.
However, there is a penalty to pay for choosing the 62kWh e+ model with its increased range. It's a good 120kgs heavier than the standard car, with a raised ride height to accommodate the larger batteries. This affects the ride on the motorway, where the Leaf rolls about more, and you can feel that weight in corners.
Charging times: How much does it cost to charge the Nissan Leaf?
"There are two ways to charge an electric car; either at home using a conventional three-pin socket (or higher discharge wall-box charger), or at a public charging station."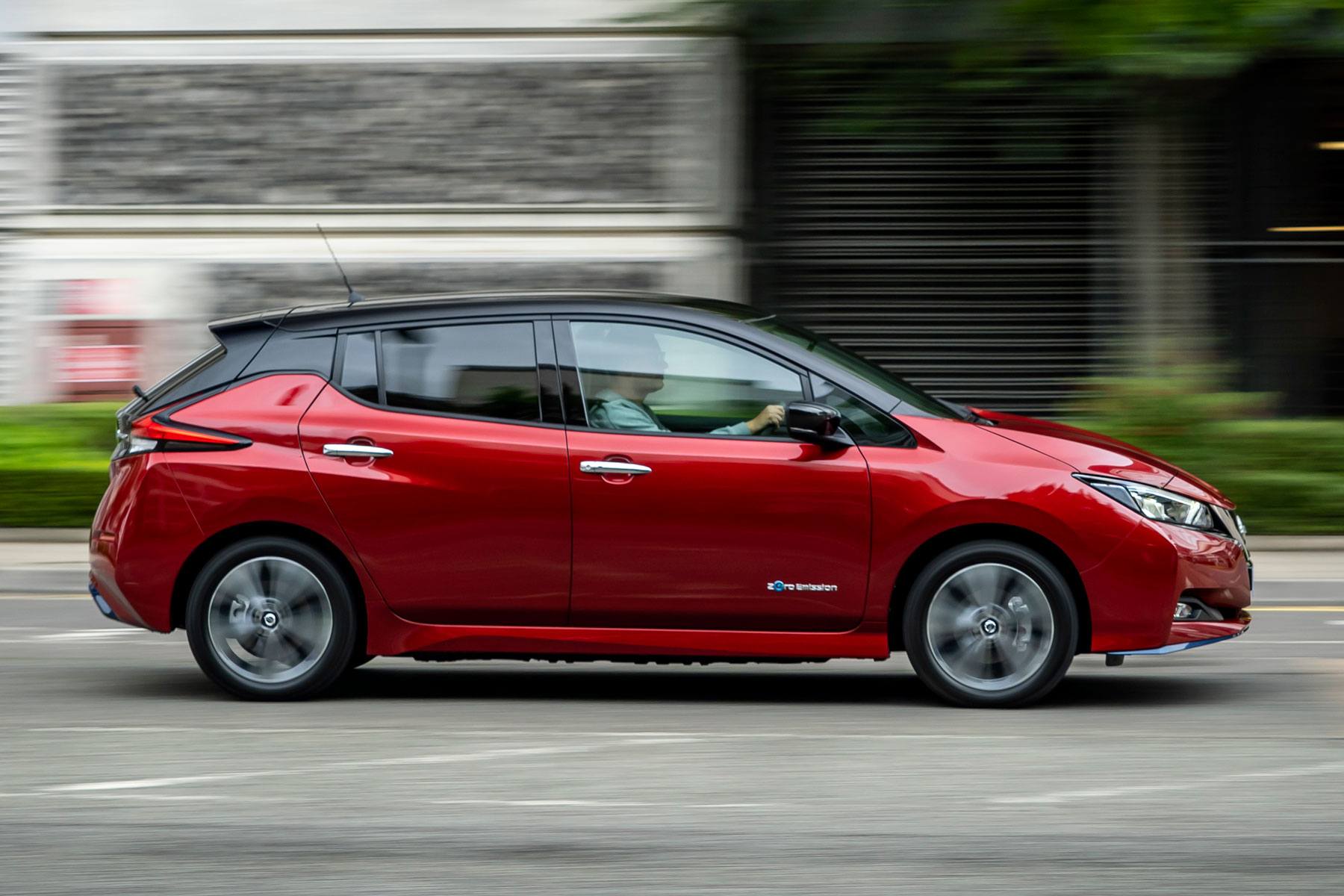 Charging the 40kWh Leaf to full at home overnight will add roughly £4 to your electricity bill - depending on your supplier - so much less than a tank of petrol.
This process takes 21 hours from a domestic plug, or seven and a half hours using a wallbox and the higher capacity Type 2 charging cable supplied with the car. However, the Leaf also has a CHAdeMO rapid charging port that can take up to 50kW of juice - speeding things up and taking the battery pack from 20% to 80% in under an hour.
With the 62kWh Leaf, you'll need to factor in a seriously inconvenient 32 hours if charging from a domestic three-pin plug, and over ten hours from a 7.5kW wall-box, which we'd recommend installing where possible.
How much should you be paying for a used Nissan Leaf?
"The latest generation of Leaf hasn't been on sale all that long, but you'll still be able to save yourself around £10,000 off the list price by picking one up on the used market. Most come with the cheaper 40kWh battery."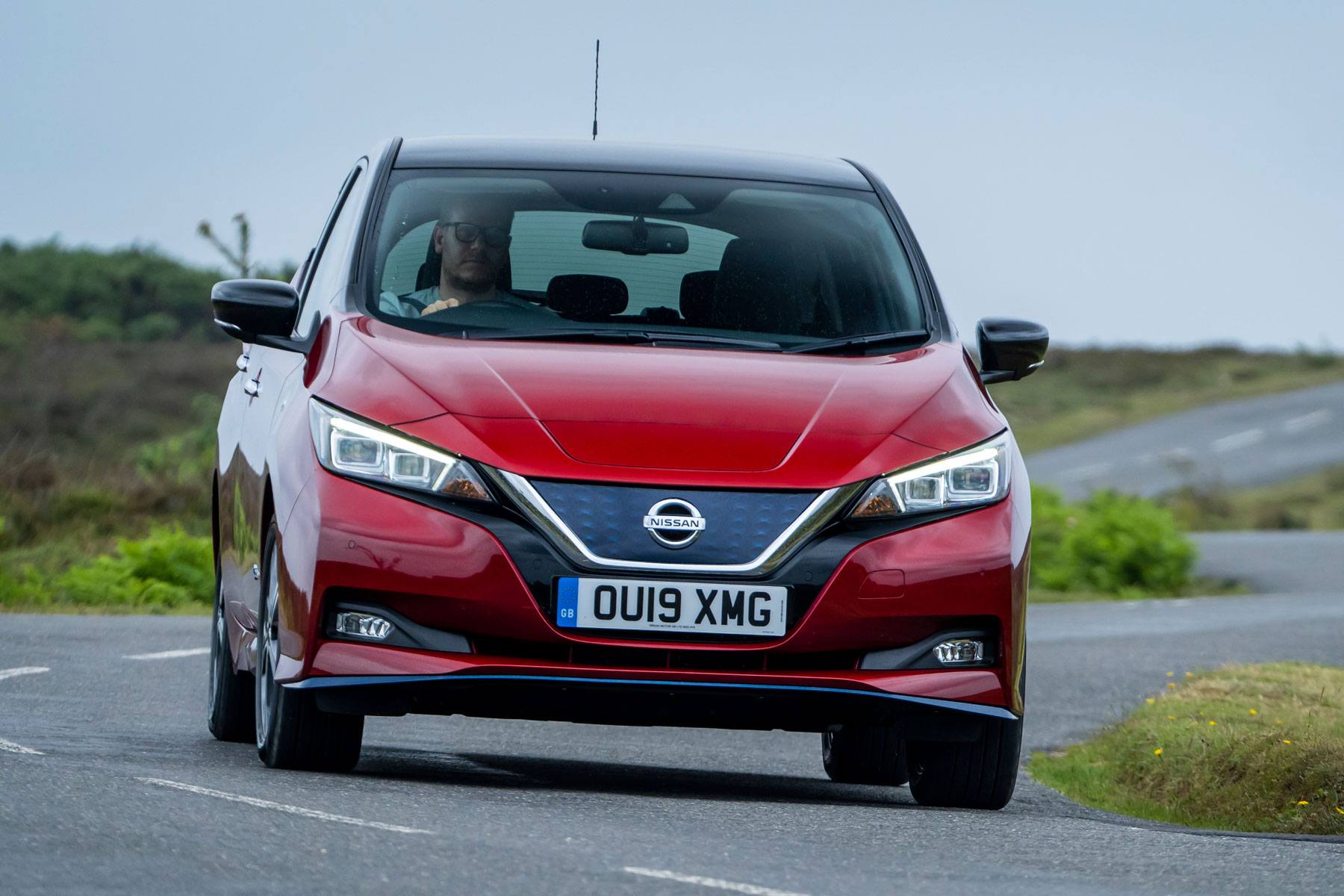 A 2018 model year with above-average mileage and a fully stamped service book starts from about £17,500. Spend more than £20,000 and you'll be driving a plush N-Connecta or Tekna model with fewer miles on the clock.
Jumping up to the 62kWh e+ model is a serious investment though, with even fairly well-used demonstrators changing hands for just over the £28,000 mark, and more like £30,000 for a nearly-new model in Tekna trim.
Remember though that brand new Leafs are still eligible for a £3000 government discount on the purchase price, so even the highest spec model is a lot cheaper than a new car in the same spec would be without it.
Ready to get your top quality Nissan Leaf?
All cars come with a warranty
Selected dealers only
All quality checked
Nissan Leaf
110kW Tekna 40kWh 5dr Auto
Manufacturer Approved
West Way Nissan Hanwell

Middlesex, W73SB
PCP: £290.53/mo
Deposit cont. £395
Representative example: Contract Length: 37 months, 36 Monthly Payments: £290.53, Customer Deposit: £3,000.00, Total Deposit: £3,395.00, Manufacturer Deposit Contribution: £150.00, Retailer Deposit Contribution: £245.00, Optional Final Payment: £10,074.00, Total Charge For Credit: £3,928.08, Total Amount Payable: £23,928.08, Representative APR: 9.9%, Interest Rate (Fixed): 5.09%, Excess Mileage Charge: 8ppm, Mileage Per Annum: 10,000
Nissan Leaf
160kW e+ Tekna 62kWh 5dr Auto
Bristol Street Nissan Halifax

Yorkshire, HX12ND
PCP: £519.62/mo
Representative example: Contract Length: 36 months, 35 Monthly Payments: £519.62, Customer Deposit: £4,348.00, Total Deposit: £4,348.50, Optional Final Payment: £11,689.00, Total Charge For Credit: £5,234.20, Total Amount Payable: £34,224.20, Representative APR: 9.9%, Interest Rate (Fixed): 9.48%, Excess Mileage Charge: 8ppm, Mileage Per Annum: 10,000
Is the Nissan Leaf right for you?
Electric cars will not be for everyone, and charging does require more planning than a fill-up, but if you're interested in cutting your transport costs and helping cut pollution, the Leaf is an excellent place to start.
It's as roomy and practical as a normal family car, easier to drive, with surprisingly brisk performance. The restrained design means it won't seem to your neighbours like you've landed a spaceship on your driveway, and with the standard battery size and in Acenta trim, it's reasonably priced and very generously kitted out.
The biggest limiting factor will be the range. Will 168 miles be enough for your needs? How often are you able to charge it or top up the battery? You'll need the answers to these questions before you buy, to help you make an informed choice of which is best, and whether to upgrade to the rather expensive e+ model.
What's the best Nissan Leaf model/engine to choose?
Trim-wise, we doubt many buyers will feel the need to upgrade beyond the entry-level Acenta. It comes with all the features you're likely to need, and the few omissions (such as heated seats and parking sensors) can simply be added by ticking a few option boxes, all while costing less than the next-step up N-Connecta trim.
If the Leaf is going to be your only car, then it's definitely worth considering the long-range e+ version. Nissan recently introduced a cheaper N-Tec edition of this model to lower the purchase price. Having a high-capacity battery will really come in handy on a longer commute involving a lot of motorway, on if you live quite far out.
For most buyers though, the standard car provides ample performance, decent (if not exactly class-leading) electric range, and the same smooth, responsive driving experience as the pricier Leaf, and charges quicker. It's also significantly cheaper, and better value as a result, since the premium over a petrol car is a lot lower.
What other cars are similar to the Nissan Leaf?
Nissan was one of the first mainstream brands to launch a relatively affordable electric car with the original Leaf back in 2011. It's taken rivals the best part of a decade to catch-up, but now it has plenty of competition.
For something a little smaller, the Renault Zoe is a proven electric city car with decent range, and the newer Peugeot e-208 or Vauxhall Corsa-e can go even further. The former in a more stylish and premium package.
If you want something less practical but more charismatic, the funky Honda e or BMW i3 could be right up your street, while the MINI Electric is one of the most entertaining zero-emissions cars to drive at this price.
The futuristic Volkswagen ID.3 offers a similar footprint to the Leaf, larger standard battery pack, and a range of 340 miles on the top-spec model.
Finally, if you are considering an electric car but would prefer an SUV, the Peugeot e-2008, Kia Soul EV, or Hyundai Kona Electric all offer the raised driving position and chunky styling you seek, but smaller boots.
Quality and finish
The Leaf is a pleasant place to spend time, but its interior is middle-of-the-road. The build quality is a clear cut above the cheaper Renault Zoe, but nowhere near as plush or well finished as an e-Golf or even e-208's.
Things you'll regularly interact with are finished to a good standard, including the sculpted steering wheel, the rounded nub that acts as a gear selector, and the shortcut buttons around the infotainment screen. However, big swathes of the dash, door tops and transmission tunnel are hard, industrial plastics that mark too easily.
Of course, we could be describing any number of family hatchbacks in that last sentence, but the high price of the Leaf (compared with conventional rivals) has you hoping for something that feels a bit more special.
There are nods to its zero-emission status, with lots of blue accent colours and stitching to brighten up what is a fairly gloomy environment, while in pricier cars the leather seats help. Still, the switchgear feels more 'parts bin' than premium. We've no doubt it'll all prove durable, but there are certainly nicer ways to spend £36k.
Infotainment: Touchscreen, USB, nav and stereo in the Nissan Leaf
While every Leaf comes with an 8.0-inch touchscreen display, plus a smaller digital screen that takes up one side of the instrument cluster, technophiles might be disappointed because it's not very futuristic looking inside at all.
The system is decently equipped, with sat-nav, DAB radio, Bluetooth connectivity, and the ability to take over the screen with your favourite phone apps via Apple CarPlay and Android Auto. Just plug your phone in with a normal USB cable and you'll be able to use navigation tools like Waze or stream your finest Spotify playlist.
However, you will find the system a bit ponderous to use. It really slows down when plumbing a route into the sat-nav, and sometimes you have to press the screen quite firmly for it to register your inputs. The graphics are not as sharp (and the display won't get as bright) as the gorgeous 10.25-inch screen you get in the Kia Soul.
Sound quality from the standard six-speaker setup is pretty good. For keener listeners who want to make the most of the Leaf's hushed road manners and turn their car in into a mobile concert hall, the optional BOSE stereo that comes standard on Tekna models will be the way to go, but its big subwoofer does take up space in the boot.
Space and practicality: Nissan Leaf boot space
The Leaf stashes its batteries underneath the rear seats, so it has a much larger boot than you might expect. At 435 litres (without the parcel shelf) is has more luggage capacity than some of Nissan's crossover SUVs.
That is easily enough to carry several suitcases on the airport run, with room to spare for the pair of charging cables that are supplied with the car, which sit in netted pockets on either side of the loading bay. Spec the BOSE stereo and you lose 15 litres, but we can't see many Leaf owners complaining about a lack of boot space.
At least with the seats up. Folding the rear chairs down is no chore, but they don't sit flush with the boot floor, leaving a large hump that makes it harder to push heavy items right to the back of the car in two-seat mode. The 60:40 seating configuration does mean you can carry people and bulky objects at the same time though.
Passengers are well catered for, too. Those in the back do sit slightly higher than normal (due to the battery) but should be able to get settled in, with reasonable amounts of knee, head and shoulder room to play with. Taller adults might feel their hairdo brushing the roof, though, unlike in the much taller Kia Soul EV or e-Niro.
Carrying three is more of a challenge though. Space in the narrow plinth-like middle seat is pretty tight, while foot space is taken up by another sizeable bump in the floor. No one is going to want to sit there for too long.
Finding the ISOFIX anchors for fitting a child seat is simple. They're clearly marked, and provided in the front and the back, but the doors don't open quite as wide as they do in an e-Golf, so you have less room to work.
Cubby space onboard is pretty average, with little provision for storing loose items beyond the usual spots in the door pockets, under the central armrest and in the two cupholders up front, but at least all trims provide a pair of rear USB charging points to keep the kids as quiet as the smooth electric powertrain on the motorway.
Remember when charging your Leaf the access port is at the front, not on the sides in the usual spot for a filler cap. You'll only get caught out once or twice reversing into a charging bay before learning your lesson.
What engines and gearboxes are available in the Nissan Leaf?
The Leaf's alternative power source places no limits on its performance; quite the opposite in fact. Drive the 40kWh version, and you'll have 150PS and similar torque to a punchy 2.0-litre diesel in a normal family car. Power is sent to the front wheels via an automatic transmission that is smooth and incredibly responsive.
The biggest difference is that while in the latter you have to wait for the right engine speed and turbo to spool up before it picks up, in a battery-powered car all of that shove is available as soon as you push the throttle.
That makes the Leaf feel really quite quick off the line. It'll surprise plenty of other drivers when surging away from the lights or nipping into gaps. It feels usefully swifter than either a Volkswagen e-Golf or Hyundai Ioniq in town.
However, full-power high-speed driving depletes the batteries very quickly, which is why its top speed is limited to just 90mph. You won't want to be driving anywhere near that to arrive at your destination with any charge left in it.
For buyers planning mostly short suburban trips, this is probably all the Leaf you're going to need. Anyone in the market for a bit more performance, or requiring a longer range should go for the higher-output 62kWh e+.
This has a 217PS electric motor so it feels even speedier off the line, seeing off some hot hatches. Apart from this party trick, it doesn't feel much more potent in normal driving, like when overtaking above 50mph. The other important boost you get from this model is range - you'll be able to travel around 80 miles further.
Refinement and noise levels
Electric cars are very different to drive than conventionally powered hatchbacks. One of the major benefits is just how quiet, calm and relaxing they are to drive, whether you're in the city or venturing out further afield.
Without an engine under the bonnet, there is little to disturb you inside the car, apart from a very faint whine from the electric motor as it spools up. This does mean that you can hear the tyres rumbling and wind noise more than normal. Not because they're any louder in the Leaf, just that there is nothing to mask the sounds.
It's quieter than any combustion-engined family hatch, and with an automatic gearbox and the instant oomph available from the batteries, this is pretty much as relaxing as motoring gets, in fact, you don't need to brake. Like many zero-emissions cars, it features regenerative braking to harvest energy and improve the range.
In the Leaf, Nissan engineered this into a feature that it calls an 'e-pedal' which slows the car down as soon as you lift your foot off the throttle. It feels counter-intuitive at first, but you'll soon be making smoother stops.
Safety equipment: How safe is the Nissan Leaf?
Every Leaf comes packed with safety equipment. Not just mandatory stuff like airbags and a tyre pressure monitoring system (it has those, too) but stuff premium brands will charge you thousands for in safety packs.
There is a high-beam assist to automatically dip your lights for oncoming traffic, lane departure warning to let you when you start to wander, and blind-spot monitors that flash orange if someone is hiding in your mirrors.
City driving should be less stressful too, knowing that the car is always watching out for pedestrians, cyclists and other traffic, and will warn you if it senses a collision, stepping on the brakes for you if necessary. This system is called auto-emergency braking (AEB) and comes included on every single trim in the entire range.
Small wonder then, that it achieved a five-star rating from the crash testing experts at Euro NCAP. In fact, the Nissan achieved a 93% rating for adult protection and an equally impressive 86% for safeguarding children.
All models come with radar-guided cruise that can maintain a set distance from the car in front, but the Tekna models benefit from Nissan's ProPILOT self-driving technology. This can follow your set speed, steer to keep you in your lane, and even brake to a full stop while in traffic - all you need to do is keep your hands on the wheel.
You can get an equally cutting-edge system to help with parking manoeuvres. Most of these gadgets require you to control the speed, but in the Leaf it's a hands-and-feet off, fully automated (quite spooky) experience. It's quite an expensive option though, costing over a grand, and only available on the most expensive trims.
In the standard model, you'll need to be a bit more careful - especially as parking sensors are not included on the spec sheet unless you buy an N-Connecta model or higher. Adding them costs £450, coming bundled up with a 360-degree set of cameras that should make keeping your alloys and bumpers pristine a total breeze.
Maximum EV range in the Nissan Leaf
The Leaf's range depends on a number of factors, but drive it gently in warmer conditions and expect the Leaf to return very close to its predicted range; so 168 miles for the standard car and 240 miles or so for the e+ version.
Insurance groups and costs
Insuring a Leaf costs a little more than a conventional family car, but it's broadly in-step with other EVs. For example, a petrol-powered 150PS Volkswagen Golf automatic sits in insurance Group 18, where a Leaf is Group 21.
Things are reversed if you go for the pricier e+ version though, which has similar power and performance to a hot hatch GTI - but only rises five brackets to Group 26, where the pumped-up Golf is way up in Group 32.
As for Nissan's all-electric rivals, only the Hyundai Ioniq EV will be significantly cheaper to cover for the year. If you are keeping a careful eye on your yearly outgoings or have a few points, since it's down in Group 16.
VED car tax: What is the annual road tax on a Nissan Leaf?
Like all zero-emissions vehicles, the Leaf is road tax exempt. The government has promised that this status is guaranteed to last until 31 March 2025, so during that time you'll be saving yourself quite a tidy little sum.
If you live in London, the Leaf will also be Congestion Charge and Ultra-Low Emissions Zone exempt, so you can drive it freely into the heart of the city without needing to pay (as long as you've registered the car first).
It's similarly kind to your wallet as a company car. It'll cost you nothing in salary contributions for 2020/21 and rise to the 1% bracket for the following year, making it one of the cheapest ways to handle daily commuting.
Trim levels and standard equipment
On the outside, the all-electric Nissan tries quite hard to hide its light under a bushel. Nothing about the looks suggest that this is anything other than a normal family car - especially compared to a Volkswagen ID.3 or BMW i3.
There are three standard trim specifications and a separate rung for the e+ high capacity 62kWh version. As standard, the Leaf has a set of 16-inch alloys, LED running lights and chrome door handles, but as you go higher up the range you add larger wheels, privacy glass, and a striking two-tone paint job with a black roof.
Inside, even the entry-level Acenta is nicely equipped, helping to offset its higher purchase price than a petrol or diesel powered hatch. There's an 8.0-inch touchscreen media setup, with DAB, Bluetooth, Apple CarPlay, and Android Auto connectivity, plus navigation. Creature comforts like climate and cruise control, keyless entry and start, auto lights and wipers, and an extensive roster of active safety kit are all present and correct.
Stepping up to the N-Connecta will cost you £1300 but brings with it all-round parking sensors, a clever 360-degree camera setup, part faux leather heated seats front and back, and a heated wheel, plus larger 17-inch alloys.
Top of the range Tekna strays towards luxury, with a full leather interior, premium BOSE sound system, and Nissan's ProPilot semi-autonomous driving gadgets. The e+ versions have a similar spec sheet, and the rise in price is mainly just you paying for the larger battery, increase in performance and range, not more goodies.
Luckily, if you want to dip your toe into the electric car world without investing too much, you can add the seat heaters, driving aids or parking cameras from the options list, and unlike in some rivals, they're well priced.
Learn more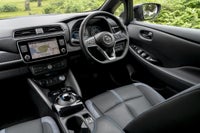 On the inside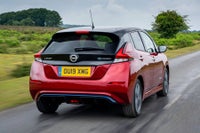 Driving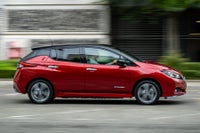 How much does it cost to run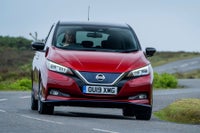 Prices, versions and specification
Ask the heycar experts:
common questions
How much does it cost to charge a Leaf?
There are two ways to charge an electric car; either at home using a conventional three-pin socket (or higher discharge wall-box charger), or a public charging station. Charging the 40kWh Leaf to full at home and overnight will add roughly £4 to your electricity bill - depending on your supplier of course - so certainly much less than a tank of petrol would.

Answered by
heycar editorial team
How long do the batteries last in the Nissan Leaf?
Industry experts predict the lifespan of lithium-ion batteries (like the ones in the Leaf) to be roughly 100,000 miles. Nissan will cover any issues with the EV powertrain (including any lost capacity) you encounter up to that distance, or in the first eight years of ownership.

Is the Leaf all-electric?
Yes. Pure electric technology has been around for a while, but Nissan was among the first brands to offer a Battery Electric Vehicle (BEV) to consumers at an affordable price, since its rivals launched plug-in hybrids (PHEVs) with the security of a small petrol engine instead.

What is the range like in everyday use?
Electric range depends on a number of factors, including outside temperatures and driving style, but you can expect the Leaf to return around 85% of its predicted range, so 140 miles for the standard model and around 200 miles for the e+ Tekna version with the larger battery.

Reviews of similar cars
Quality checked, all cars less than 8 years old and warranty included
Looking for other Nissan cars?
Quality checked, all cars less than 8 years old and warranty included