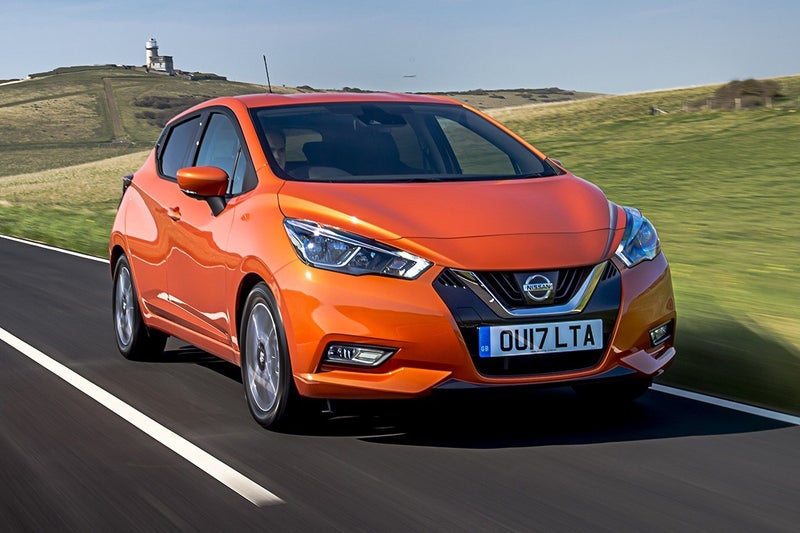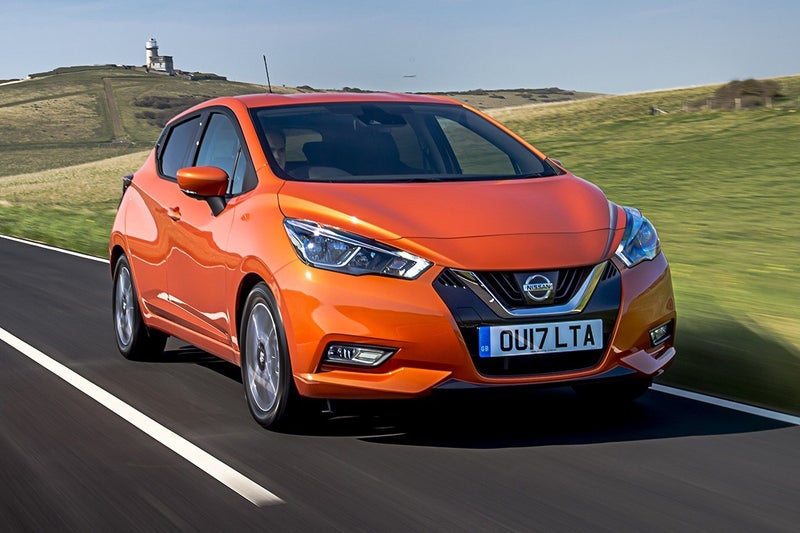 1/10
heycar rating
"Comfy, smart but flawed hatch"
Launched: 2017

Small hatch

Petrol, Diesel
Quick overview
Pros
Perky three-cylinder engines
Generous safety equipment
Modern, attractive interior
Cons
Not the most economical
Poor rear headroom
Fidgety ride in N-Sport trim
Overall verdict
On the inside
Driving
Cost to run
Prices and Specs
Common questions
Overall verdict on the Nissan Micra
"The Nissan Micra is a huge improvement over its predecessor. It has a stylish design, smart looking interior, and is stuffed with every imaginable safety gizmo. Unfortunately though, it still lags behind the competition in a number of key areas, especially practicality and comfort, and the jittery low-speed ride could be a turn off."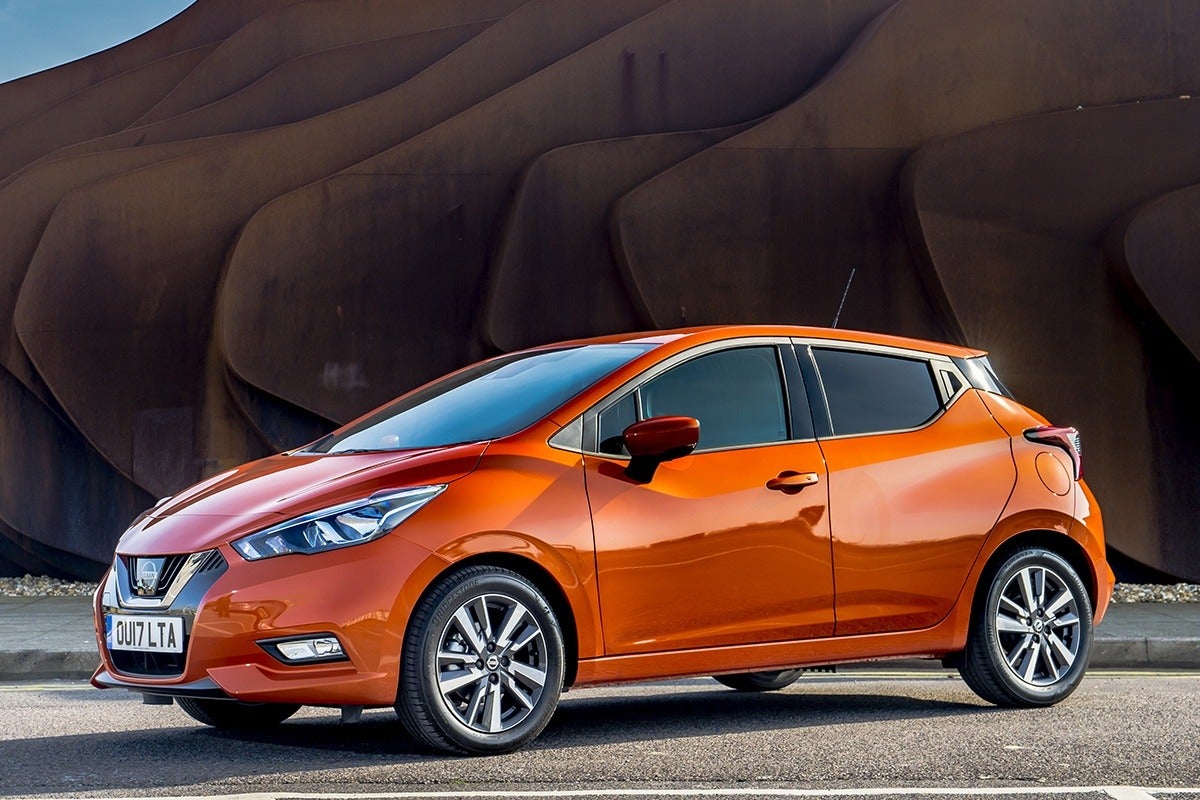 The Nissan Micra could stake its claim as the brand's best known car - especially in the UK. Over the years it's been a budget option, often popular as a first car for new drivers and prized for its easy, approachable driving character. However it lost its way, and the previous generation Micra was one of the least competitive small cars. We'll find out who the new one stacks up in our 2022 Nissan Micra review.
Luckily, that changed with the arrival of the current model. New from the ground up, it is better than the old car in every possible respect, but naturally the prices have risen to match this new upmarket approach. It has a generous level of safety equipment, welcoming interior and strong petrol engines, all boosting its appeal.
The current shape Nissan Micra used to be offered with a 1.5-litre diesel and a (rather sluggish) 71PS petrol. Now the choice is simpler. A 1.0-litre petrol three-cylinder turbo engine, with two states of tune; 100PS or 117PS.
It was refreshed in 2019, with the efficient diesel version and glacial entry-level car were dropped from the range, as small car shoppers shift towards, electric cars and hybrids, although Nissan doesn't offer the latter.
That means it's not the most efficient of superminis. Official economy hovers just above 50mpg if you go for the 100PS car with a manual gearbox, which trails many of its rivals, including the Ford Fiesta mild-hybrid. Still, performance and refinement are both strong, so much so that the quicker engine feels a bit redundant.
When it launched there was no auto version of the latest Micra, but it's an important option for many small car buyers, so a CVT auto for the 100PS petrol has been introduced. The standard car gets a five-speed manual gearbox, while the quickest model gains an extra ratio to make the most of the added oomph.
Nissan has tried to make the Nissan Micra feel sporty, and while it does tackle corners in a tidy fashion, the jiggly ride on uneven roads in town detracts from this car's otherwise sophisticated demeanour. It settles down on faster roads, and in fact it's an excellent cruiser, we just wish it felt as composed in suburban situations.
This mixture of good and bad faithfully sums up the whole experience in this car. The interior looks great, it uses some posh materials and feels solid, but is let down by some obvious cost-cutting in important areas.
Passengers in the front get loads of space and some thoughtful details, in the back it's cramped and dingy.
There are a confusing number of trim levels to choose from too, and the choices you make can have a big impact on the exterior styling and technology on board. In its most basic forms the Nissan Micra feels stripped out and dated, where high-spec models have decent integrated infotainment hardware and lots of equipment.
We think the mid-range Nissan Micra Acenta with a 100PS engine is your best bet. The higher trims are too expensive, but we would add a few options (reversing sensors are a must) to ensure getting the best ownership experience. Still, the Micra is right back on the shopping list for anyone searching for a small car with a spring in its step.
Is the Nissan Micra right for you?
The previous Micra was an ugly, cheap and soulless disaster. That's not just our opinion either, Nissan sold far fewer of them, losing ground to its rivals in the process. This new model is a much better product.
Its eye-popping list of safety equipment and low insurance ratings make it a perfect first car for nervous new drivers (or worried parents) and it now has the style and technology to contend with the class front runners.
Weirdly, this is one small car that feels more at home on the motorway than it does in town. That makes it great for people who do a lot of miles, but don't fancy the steeper running costs of owning a larger model.
Still, its jittery town ride means there are better options for anyone seeking a suburban runabout. Cramped rear seats and an average boot mean that practically-minded folks are likely to prefer something roomier.
That group might be the same one that is considering a small SUV, but the Nissan Micra has zero off-road capability.
What's the best Nissan Micra model/engine to choose?
To get the best value for money out of your Nissan Micra, we would pick the Acenta trim, and splash out the extra £770 to kit it out with sat-nav, a reversing camera, and parking sensors. You'll still be missing a few key items, but the prices rises too steeply on the highest trims to justify going any higher, unless you're buying a used car.
Both the older 90PS petrol and newer 100PS model have sufficient flexibility to work in town and on the open road, but pick the latter if you have the choice. It's can stretch its legs on the motorway and overtake quicker.
While we're well aware that most supermini buyers do not cover high enough mileages to need a diesel, for those that do, the Micra is one of the best of the breed. It's quiet and smooth, requires less encouragement than any of the petrols, and can do 70mpg in real world conditions. For a tiny niche though, it'll be a perfect fit.
What other cars are similar to the Nissan Micra?
With a starting price from just over £14,000 the Nissan Micra lines up nicely against budget-friendly rivals such as the Hyundai i20, Skoda Fabia and Kia Rio. Still, each of this trio has a bit more room inside than the Nissan.
Yet its sharp styling and generous safety kit could tempt buyers away from sophisticated and chic small cars, including the Peugeot 208, Renault Clio, and more grown-up Volkswagen Polo. All are fine all-rounders that feature some of the nicest interiors in this class, with plush materials and slickly integrated on-board gadgets.
Buyers looking for a bit of excitement behind the wheel should check out the Ford Fiesta. It remains the best small car to drive, with supple suspension, agile responses, and tidy body control. If comfort is a priority the Citroen C3 has low running costs, armchair-like seats and a spongey ride for soaking up bumps in the road.
Comfort and design: Nissan Micra interior
"What once was the Micra's biggest weakness is now one of its strengths. The cabin feels very European, which means it was designed to impress buyers in a competitive market, not just built down to a low price."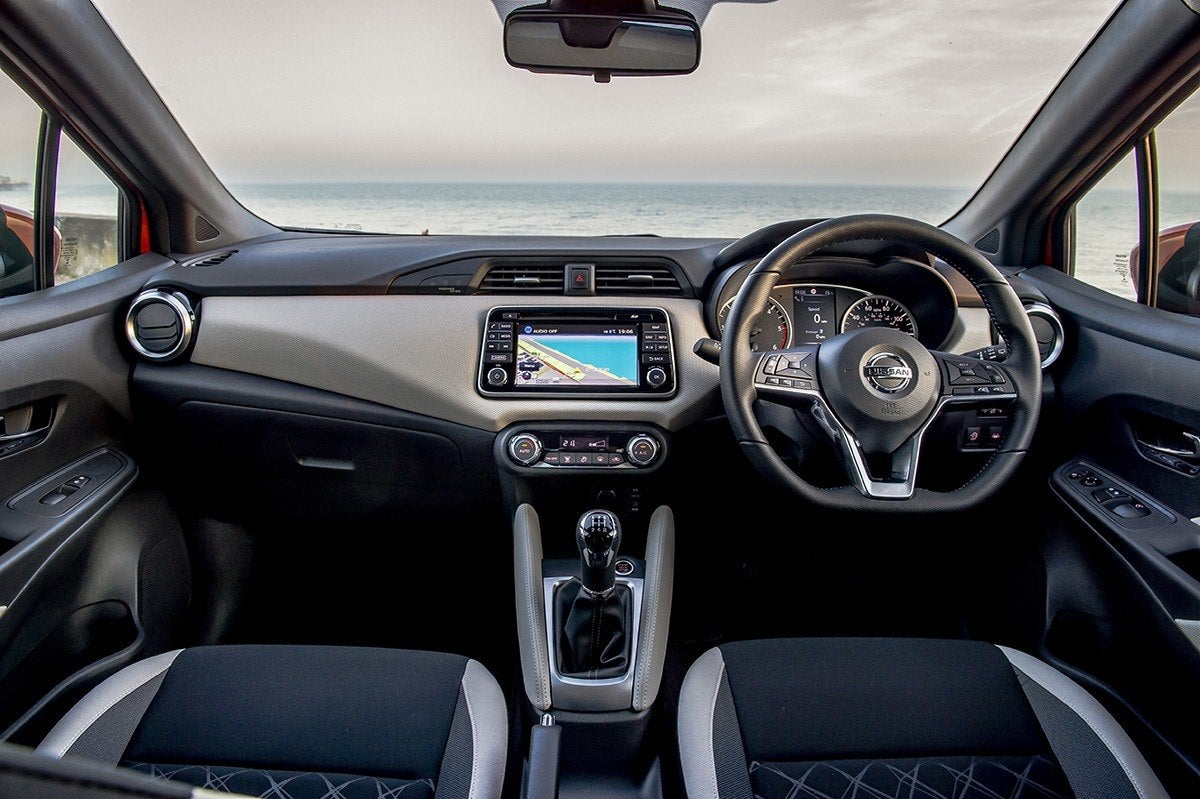 That means it now looks attractive and modern, with a lot of styling cues borrowed from the brand's hugely successful SUVs like the Qashqai. The large set of clear dials are simple to take in with a glance, and (on Acenta trim and upwards) the Micra has a touchscreen infotainment system integrated neatly into the centre of dashboard.
This connects to your smartphone but unlike in some rivals, there are still physical buttons for stuff that you need quick access to, like the air-con or stereo volume. Some important switches (including the bonnet and fuel filler cap release) are down by the driver's right leg, but once you're learned where they are you won't forget.
The use of bright, light colours gives the Nissan Micra's cabin a lot of appeal when many other small cars feel dingy and drab, but Nissan hasn't overlooked the important stuff. The driving position is good, as all cars come with a height adjustable seat and a steering wheel that can be moved towards you, not just up and down. Perfect.
Only the N-Sport model gets an armrest, and you can't fit lumbar support, but the standard chairs are grippy and supportive, and we can't imagine having too many complaints, even after spending a few hours driving.
One word of warning though, the swoopy rear doors and thick window pillars conspire to make rear visibility pretty poor. You'll want to add those rear parking sensors if you're buying a trim where they're not standard.
Quality and finish
No one can deny that this generation of Micra made a quantum leap upmarket compared to its predecessor.
Soft-touch materials cover most of the upper dash surfaces, and the appealing design is refreshingly bright.
The controls feel robust and weighty, the doors close with a satisfyingly deep thud, and it all seems very well constructed, free from creaking panels or flimsy feeling trim. On the priciest versions, you can add a stitched faux-leather panel to cover the centre console (in a variety of colours) to liven up the looks, for a small price.
Yet just when things were starting to look really rosy, Nissan brings you back down to earth with a bang. We praised the nice materials in the Nissan Micra's cabin, but only the most expensive Tekna models gives you a soft leather finish for the steering wheel, gear knob and handbrake (and they still have manual winding rear windows).
You will touch these three areas every single time you go for a drive, so it would be nice if they weren't hard plastic and rubber. It cheapens the whole experience of sitting in the cabin, especially when almost all of its competitors offer this on mid-range versions.
Infotainment: Touchscreen, USB, nav and stereo in the Nissan Micra
If you like staying connected behind the wheel, then avoid the Visia+ trim. It comes with a tinny two-speaker stereo, Bluetooth and a USB port, but not much else, and is good for little more than tuning into local radio.
Stepping up to the Acenta feels like skipping forward a decade in time. Suddenly your Micra will have a nice 7.0-inch colour touchscreen, four speakers, and Apple CarPlay and Android Auto smartphone compatibility.
This means that you can use your mobile's mapping apps, so you're unlikely to need to add the built-in nav.
The display itself is bright, but doesn't have the sharpest graphics. The touch response can be ponderous, especially on cars fitted with sat-nav, as it takes ages to plan a route or pinch into a specific part of the map.
Some of the icons are rather small, but it has a handy set of shortcut buttons so you can bypass the screen.
On top spec models, you get a TomTom-based nav that's less intuitive than just using your phone, and a BOSE stereo that includes speakers built into the driver's headrest to create a convincing surround sound.
Music lovers who want to fit this to an Acenta trim can do so for just £550; it's better value than the sat-nav.
Space and practicality: Nissan Micra boot space
Roominess inside the Nissan Micra is a classic tale of two halves; generous up front, but decidedly mean in the rear.
Let's start with the good stuff. Whoever sits upfront gets loads of head and legroom, and it feels wide inside.
The glovebox is really deep (Nissan reckons it'll carry ten litres worth), and there are nice touches like the big tray in front of the gearstick that is wide enough for a modern smartphone, and illuminated by LEDs at night.
You'll find a pair of shallow cupholders between the front seats, and door pockets large enough to hold a big sports bottle and a few snacks with room to spare. You might need the extra stowage though, as those in the back get nowhere to put their personal items apart from the thin map pockets, and a small cubby to share.
Unfortunately, things continue to go downhill from those in the rear. Headroom is tight, so taller friends may not thank you for giving them a lift, and small windows make it feel claustrophobic. Legroom is also at a premium, and rivals such as the Skoda Fabia and Hyundai i20 provide quite a lot more.
If you often need to carry more than one adult, the lack of room will be a major issue, but with three seats fitted with ISOFIX anchors (two in the back, one in the front) at least the Micra is quite good for carrying kids.
Trouble is, the mounting points are hidden far back in the seat base, and the rear doors are quite narrow, so it can be a wrestling match to get a bulky rear-facing seat manoeuvred into place and securely tightened.
The boot is also a disappointment. While it can fit a reasonable amount (300 litres is average for the class) it has a high loading lip to heave stuff over, and you don't get an adjustable floor to minimise the drop in height.
You can fold the seats down in a two-way split to increase the capacity, but they leave an awkward step that stops you being able to slide stuff straight in. If load-lugging is a priority, get a Honda Jazz or Fabia Estate.
Handling and ride quality: What is the Nissan Micra like to drive?
"On the road, the Micra has a grown-up feel that belies its small size. The standard car has light controls that make it undemanding to drive in town, and easy to navigate into tight parking spaces or squeeze into gaps."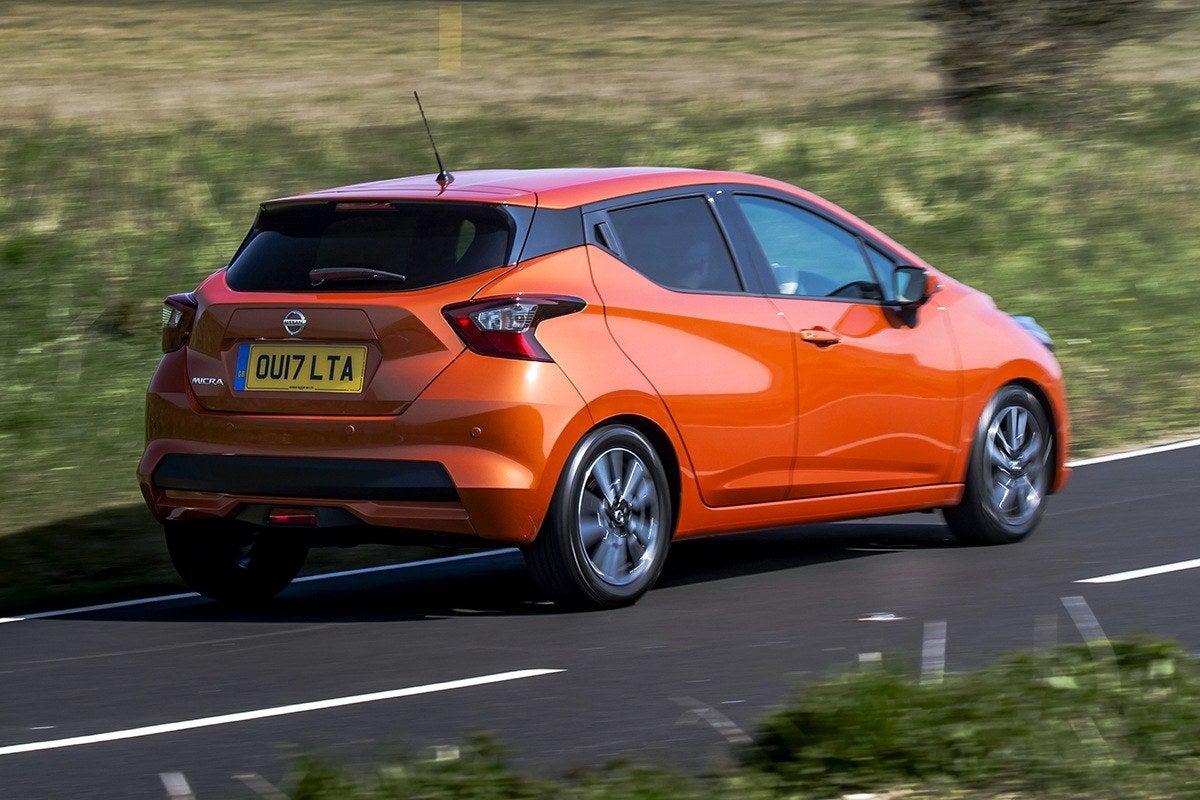 So far, so normal then. It's when you leave the city that its mature character starts to impress. The ride has a firm edge on broken Tarmac that disappears on the motorway, where the Micra settles into a stable, planted cruise that gives it the feeling of reassuring security that is normally the sole reserve of bigger, heavier cars.
Once you find yourself on more twisty roads, the steering doesn't weight up with the same consistency as some rivals (especially the Ford Fiesta) so you'll sometimes need to adjust your steering angle going into a corner.
Body control is good though, with lean kept to a minimum and no unwelcome float or bob over bigger bumps.
What's less ideal is that its stiff setup doesn't deal especially well with potholes and other, sharper ruts. It fidgets on patchy surfaces, and the wheels will occasionally thud into imperfections that its rivals could glide across.
It's not uncomfortable, but it's less composed than the best small cars, and it gets worse in the 117PS model.
That's because this car has a lowered ride height and 17-inch wheels as standard, plus quicker steering. It's a set of changes designed to inject some sportiness into the mix, but does more harm than good to the ride.
While you do get more communication through the steering wheel from this setup, it takes the Nissan Micra's road manners from a bit firm to downright unsettled. That's why we'd avoid this engine, and also N-Sport trim.
What engines and gearboxes are available in the Nissan Micra?
Changing consumer tastes and tightening emissions regulations have been a double-whammy that has left the Nissan Micra with just two engines. Both are turbocharged three-cylinder petrols, coming with 100PS or 117PS.
The good news is that they are both decent performers. Either engine can easily handle motorway duties or overtaking, and are urgent enough in-gear that they demand little effort from the driver. The old non-turbo with 71PS was dangerously slow and woefully underpowered, so we're glad that it has now been dropped.
There was also a 1.5-litre diesel that was the strongest engine in the line-up, with a lot of mid-range shove and surprisingly good refinement. The dwindling popularity of this fuel (and sky high PCP costs) killed it off.
With just a 1.0-litre capacity, the response at low revs can bit a little flat, but once it gets into its stride this is a peppy, responsive motor that has more than enough grunt to get moving, even in its lowered-power form.
The standard engine is paired up with a five-speed manual, while the quicker car has a six-speed gearbox. Neither is especially precise, with a long shift that can feel vague or have you searching for the right gear.
Buyers have the option of fitting an automatic gearbox to the 100PS model, but unlike the slick dual-clutch systems in the Hyundai i20 and Volkswagen Polo it uses what's called a continuously variable transmission (CVT).
This type of gearbox is not known for its refinement or precision, and suits driving at steady speeds instead. In the Nissan it's actually surprisingly smooth, but it strangles performance somewhat, making this Micra a whole two seconds slower going from 0-62mph than the manual version with the exact same 100PS engine.
We think the manual 100PS motor is the one to get. It's a fair bit cheaper and only a little slower than the DiG-T 117PS version, which in turn is not as powerful as a Renault Clio or Ford Fiesta in similar spec.
Refinement and noise levels
Normally small cars excel in typical urban environments like multi-storey car parks and congested streets, but feel out of their depth and tiring once you find yourself on faster A-roads and long dual-carriageways.
In the Micra, the opposite is true. Its three-cylinder engines, which can feel flat and a bit thrummy at low revs and send vibrations through the pedals, settle down into a more relaxed gait, and the ride smoothes out too.
As long as you stick with a sensible wheel size (this means below 17-inches) then road noise is quite nicely isolated from the cabin. The Micra also has an acoustic windscreen to help filter out wind noise at speed. It's not the most tranquil supermini - that title still goes to the Polo - but feels mature and relaxing, which we like.
The discontinued 1.5-litre diesel was also a hushed performer, with a six-speed gearbox to keep the revs low on the motorway, and none of the idle clatter that people sometime expect from this type of fuel. The gearbox is not very precise or positive, but with a light clutch, it's relatively easy to drive smoothly in stop-start traffic.
Choose the CVT, and it won't blare or drone as often as the same type of gearbox in say, a Toyota Yaris (in fact that car feels like a tin can compared to the Micra at 70mph) but we wouldn't choose it over the manual.
Safety equipment: How safe is the Nissan Micra?
One of the Nissan Micra's biggest assets is its vast array of standard safety gear. It was one of the first small cars to feature automatic emergency braking on every single model in the line-up, just one of its many driving aids.
This vital piece of equipment uses a forward-facing camera to scan the road ahead, detecting other traffic. If the driver gets distracted or fails to spot an obstacle, the car will flash a warning, and can even stop the car.
It can stop you running into careless pedestrians or parked cars at low speed, and could save you thousands of pounds by helping you avoid costly repairs. That's just the tip of the iceberg though. Nissan also provides a road sign reader, auto-dipping headlights, and lane departure warning.
If you do start to drift out of line, the Micra has the ability to gently nip the brakes to steer you back into your lane. You can turn this system off it you want though, as it can feel a bit unnatural the first few times it intervenes.
Some of this equipment was previously optional (as part of a safety pack) which explains why the Nissan got just four out of five stars from Euro NCAP when it was crash tested in 2017. When it was retested with the kit that is now standard, it gained the extra star back, with strong ratings in most of the individual categories too.
Every model comes with six airbags, cruise control with a speed limiter, a hill start assistant that gives you a second to build the revs up to make clean getaways uphill, and of course stability control and ISOFIX points.
From N-Tec trim onwards you get rear parking sensors and a reversing camera. These should help you keep your alloys off high kerbs and the bumpers free from small dings and dents. Any buyers lacking confidence in their manoeuvring abilities should add this kit to Acenta models (as part of the Vision Pack) for around £770.
The Intelligent Around View monitor is a 360º parking camera that's very impressive, but feels like overkill. It comes as part of the Vision+ Pack offered on Tekna trim, throwing in a Blind Spot Warning system for £700.
MPG and fuel costs: What does a Nissan Micra cost to run?
"Officially, the most popular petrol will manage just over 50mpg, at least according to the WLTP figures. This makes the Micra pretty average for a small car. Not the thirstiest by any means, but far from the most frugal."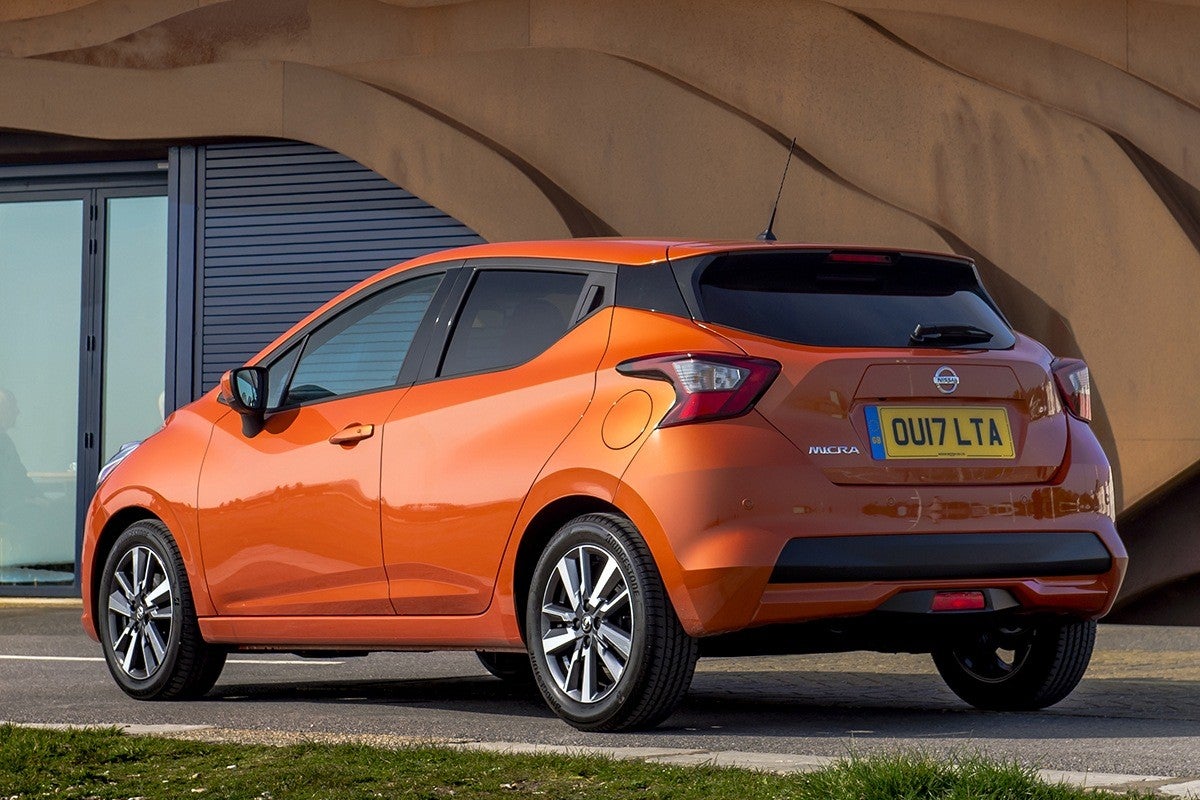 The discontinued 1.5-litre dCi diesel was the only version with seriously miserly consumption. It claimed to return over 88mpg, whereas our Real MPG owners managed an average of 69mpg, still not to be sniffed at.
Predictably, choosing the CVT automatic gearbox or punchier engine will adversely effect what you'll be able to manage in mixed driving conditions, as will upgrading to larger wheels and fancier trims with heavier kit.
Still, none should fall too far below 40mpg, which should mean going at least 400 miles between fill-ups.
How reliable is the Nissan Micra?
There's been one recall issued with the 1.0-litre 117PS engine that corrected a fault that saw the engine stall when idling, though there have been no other common issues reported.
Nissan as a manufacturer doesn't enjoy quite the impressive reputation for reliability as you might expect, finishing in 19th place out of 30 manufacturers in the latest HonestJohn.co.uk Satisfaction Index, behind the likes of Honda and Toyota.
Insurance groups and costs
Its impressive haul of safety equipment means the Micra is one of the most affordable small cars to insure. How cheap you ask? Well, the older 71PS petrol in base Visia trim is in insurance band 1 out of total of 50. Take a look at our guide to the cheapest cars to insure for more.
That puts it on a par with basic versions of the Skoda Fabia, Kia Rio and Volkswagen Polo, making it perfect for any newly qualified drivers, or those who have recently lost their no-claims bonus. The current line-up is not as affordable. Still, with the 100PS model starting in Group 8, and the 117PS version in Group 11, it's not bad.
VED car tax: What is the annual road tax on a Nissan Micra?
Almost all Nissan Micras will be subject to the new road tax rules introduced in April 2017. That means paying £150 to the DVLA every year, regardless of the fuel type, since Nissan does not make a hybrid or electric version of the Micra.
The first-year rate of tax you'll pay if you're buying a brand new car will be pretty reasonable too. Cars fitted with the 100PS engine will cost £175, but the CVT automatic and 1.0 DIG-T 117PS model are both £215.
None of the current range are particularly economical, so not ideal as company cars. The cleanest sit in the 28% BIK bracket, where a hybrid Renault Clio is just 22%, and the Zoe EV will cost you nothing in tax.
How much should you be paying for a used Nissan Micra?
"The Micra has only been on sale for a few years, so prices are yet to fall far. While some crash repaired and low-spec models can be had for below £7,000, we'd pay just above that for an Acenta model in decent nick."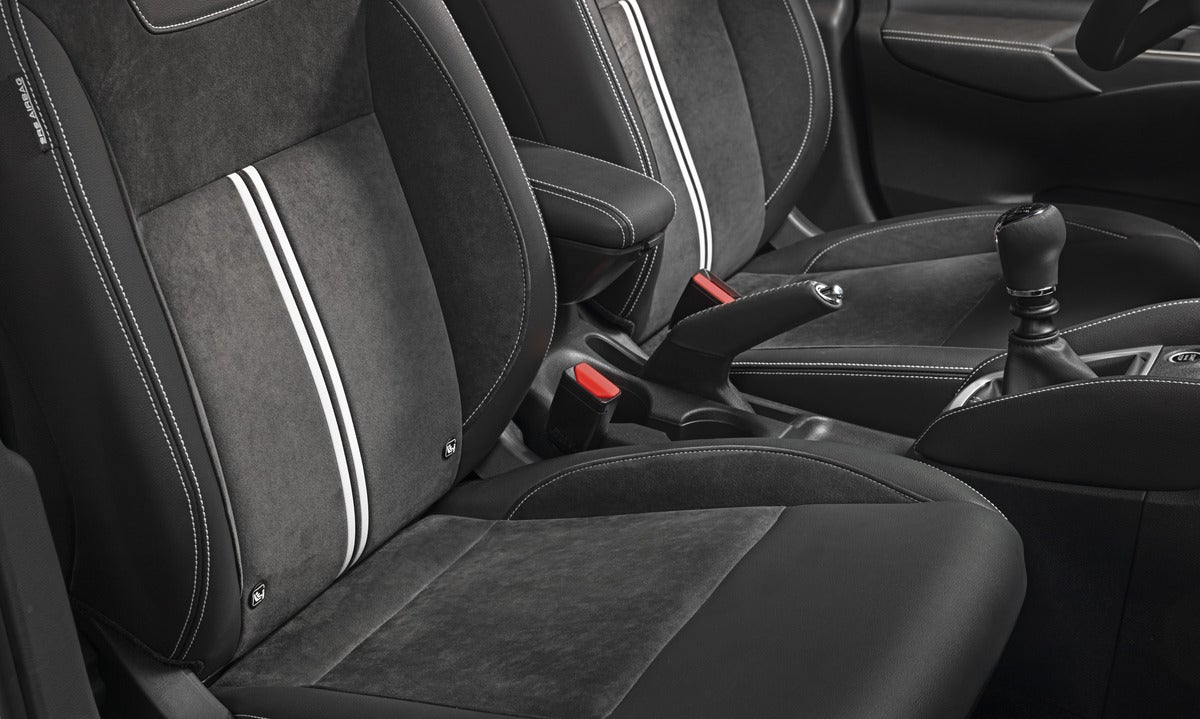 That'll get you into a 90PS version from 2017 with average mileage and a fully stamped service booklet. For buyers after a diesel, you'll need to spend a bit of time trawling the classifieds, but prices start from £8,000.
Most are in desirable N-Connecta spec, which is now discontinued but was stuffed with goodies like sat-nav and climate control. The good news is that the 1.0-litre petrol in similar spec will only cost around £700 more.
Up the budget to between £9,000 and £10,000 to secure yourself a car with less than 10,000 miles covered, and some of the jazzier metallic colour options. Newer 2018 models will be at the top end of that spectrum.
Still, you'll only need to add an extra grand to that total for a delivery miles 2019 example in the Acenta trim.
Trim levels and standard equipment
Cast an eye over the glossy brochure and the Micra looks great. It has a smart cabin, classy materials and lots of features. The price seems temptingly low too, but the basic Visia+ is nothing like the car on the page.
It gets steel wheels, plain black plastic mirror caps, a two-speaker stereo, with Bluetooth, and air-con, but little else. The next step up Acenta is much more like it. This car has a 7.0-inch touchscreen, DAB radio, 16-inch alloys, cruise control, plus Android Auto and Apple CarPlay smartphone connectivity. It covers most of the important bases, but there are odd items missing; no Micra gets electric rear windows for some reason.
Imaginatively titled N-Sport cars liberally sprinkle the Micra with performance enhancing upgrades such as a set of faux-carbon fibre mirror caps, 17-inch alloys, Alcantara and faux-leather seats, keyless entry and start. Alright, so none of that is going to make you go any faster. Still, you do also get a reversing camera and rear parking sensors, which (given the Micra's poor visibility) is arguably going to be a bit more useful day-to-day.
Only the priciest Tekna versions come with a leather steering wheel and gearknob, which feels like a major omission given it comes on even the basic versions of some of its rivals. The top spec Nissan makes for this with the poshest materials, a fancy BOSE driver headrest speaker system, navigation, and climate control.
There's an N-Tec special edition that slots into the range between the Acenta and N-Sport. It gets a few of the visual upgrades from the latter like black 17-inch alloys, but also adds sat-nav, and rear parking sensors.
Nissan limits which options you can fit by trim level too. This means forking out for the Tekna model just for the opportunity to tick the boxes to fit brighter LED headlights (£495) or fancy 360º parking cameras (£700).
Ask the heycar experts:
common questions
What engines does the Nissan Micra use?
The current Micra used to be offered with a 1.5-litre diesel and a (rather slow) 71PS petrol. Now the choice is simpler. A 1.0-litre petrol turbo, with either 99PS or 115PS.

Do the back seats fold down in a Nissan Micra?
Yes. So if you need to cram in more stuff than usual (like when starting university) you can extend the boot in the Micra by dropping the seats, but it's not as practical as some rivals.

Is the new Nissan Micra a good car?
In just one generation the Micra went from a disappointing, dowdy and cheap mess into a desirable small car with a nicely finished interior and grown-up driving manners.

Can I get the Nissan Micra with an automatic gearbox?
When it was launched there was no auto version of the latest Micra, but it's an important option for many small car buyers, so a CVT auto for the 99PS petrol has been introduced.

What happened to the Nissan Micra convertible?
You mean the Micra C-C? Those letters stood for Coupe-Cabriolet and this car (designed and built in the UK) was launched at a time when the industry went nuts for soft-tops. Sadly, the trend was a short-lived fad, and buyers soon went off these strange small convertibles.

Nissan Micra cars for sale on heycar
3,998
Number of cars available
£5K - £23K
Price bracket of these cars
Colours available on heycar
Keep me updated by email with the latest advice, news and offers from heycar
By submitting, you agree to our
privacy policy
.