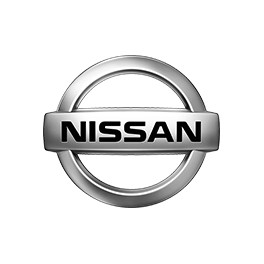 Nissan Navara Review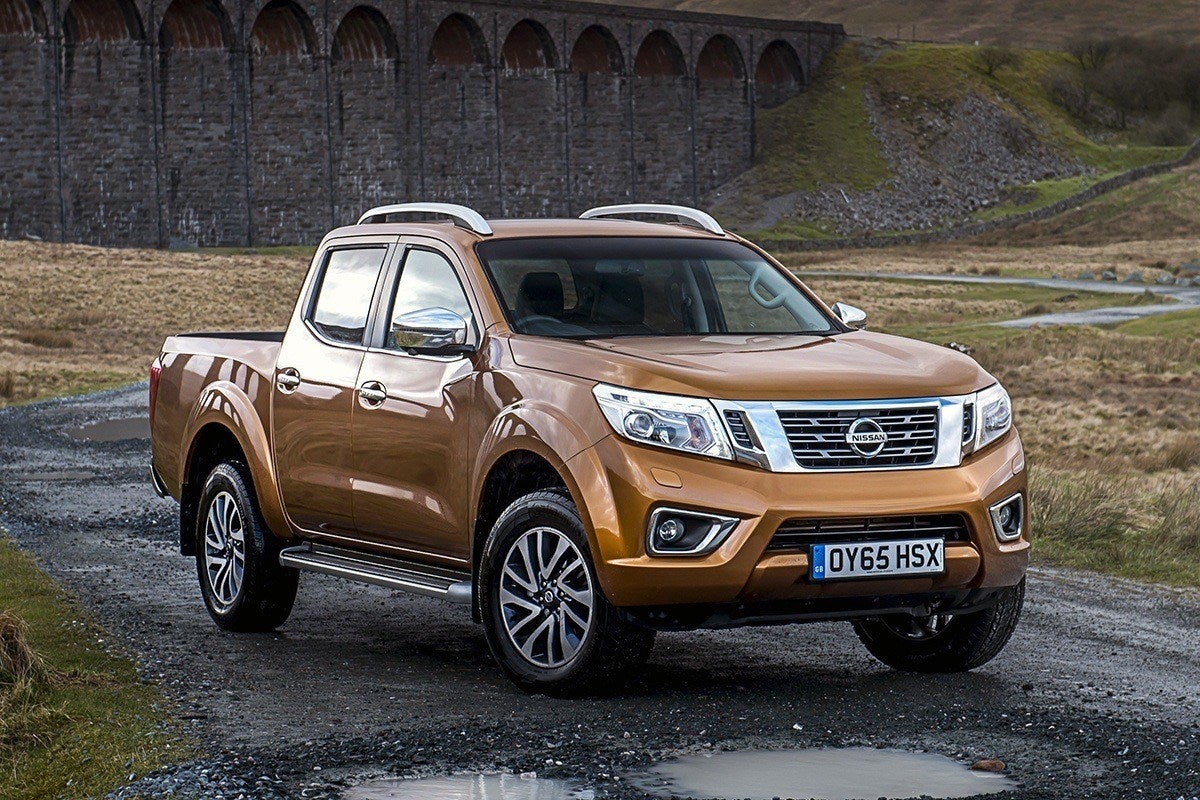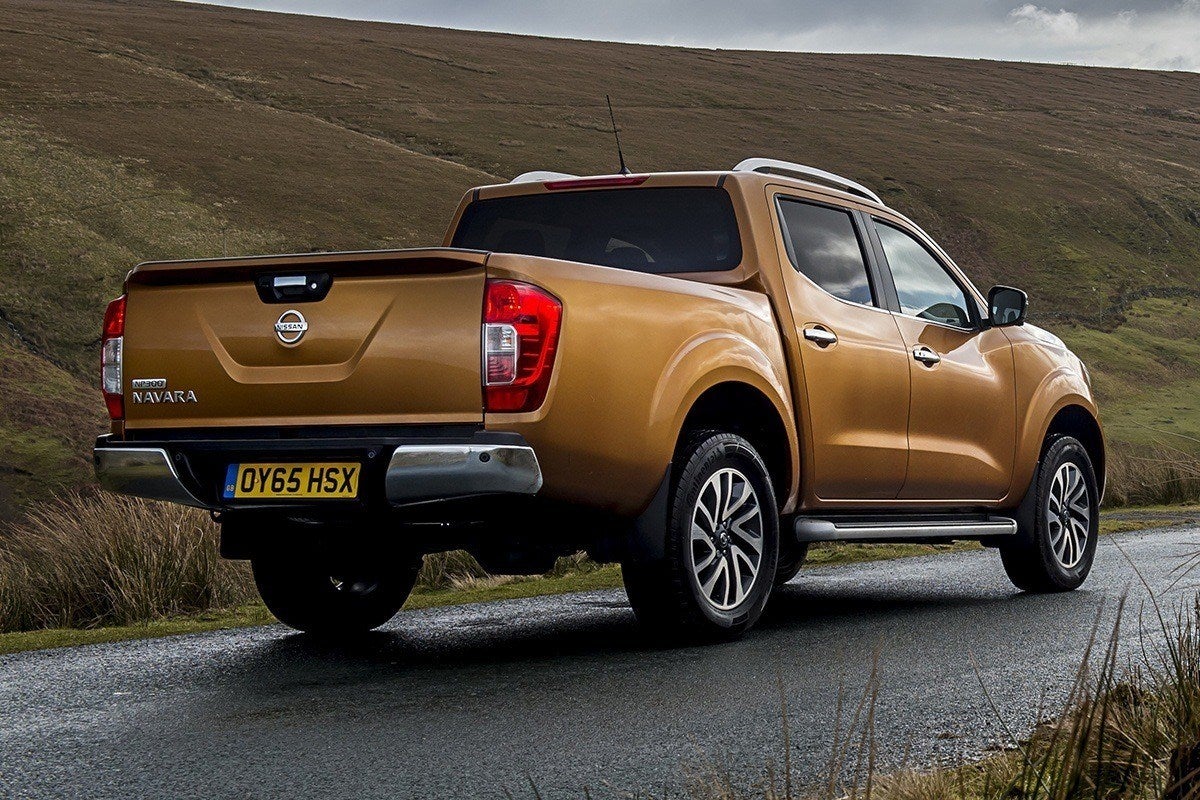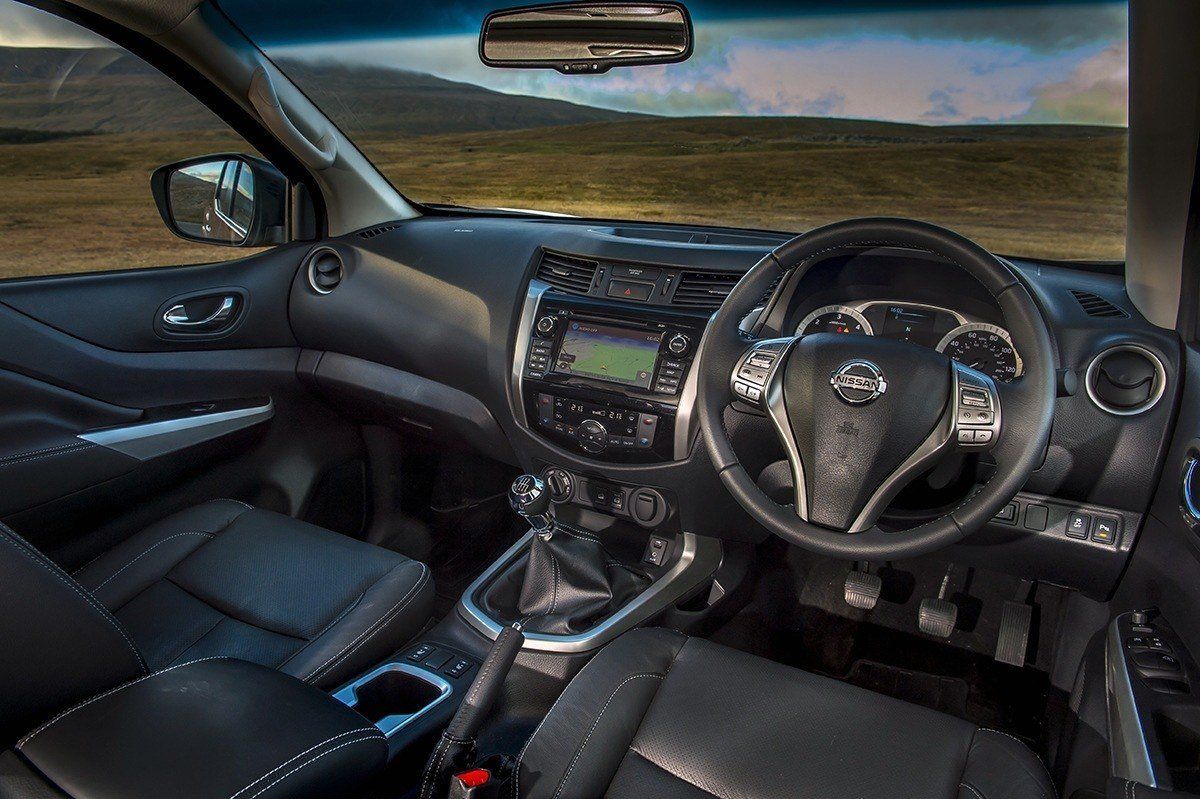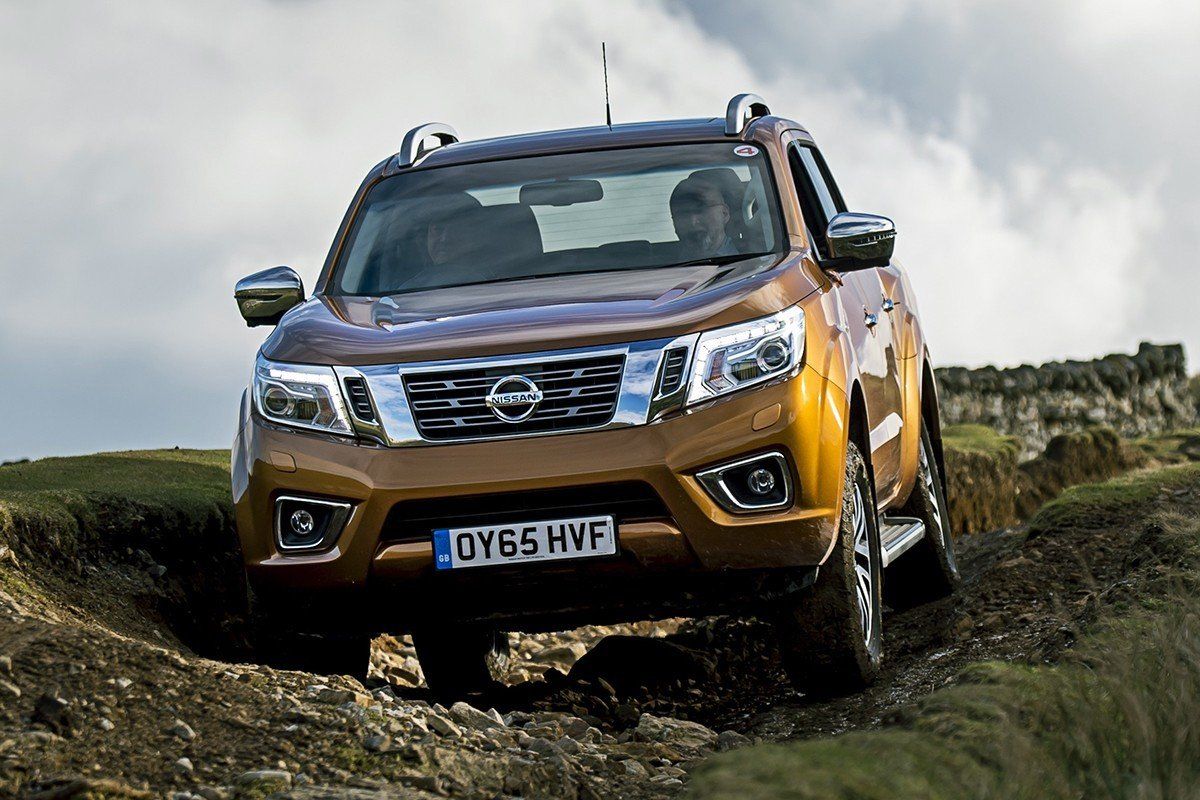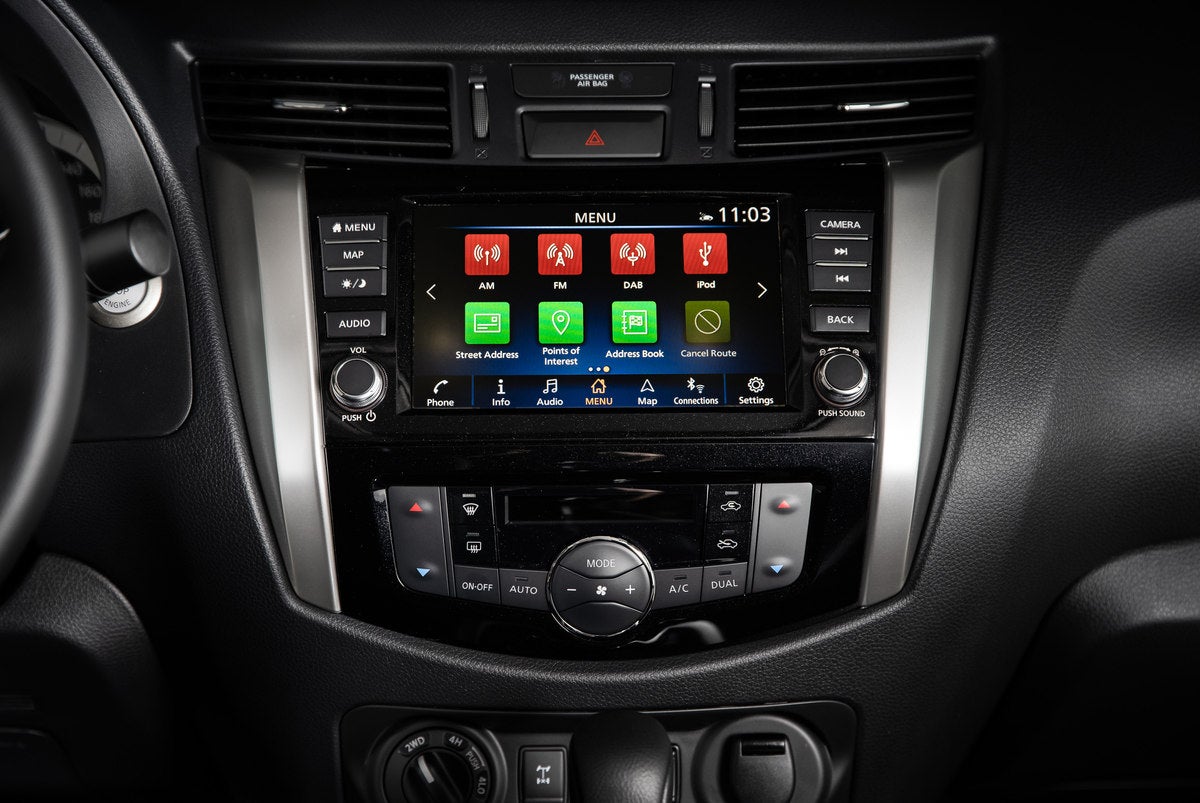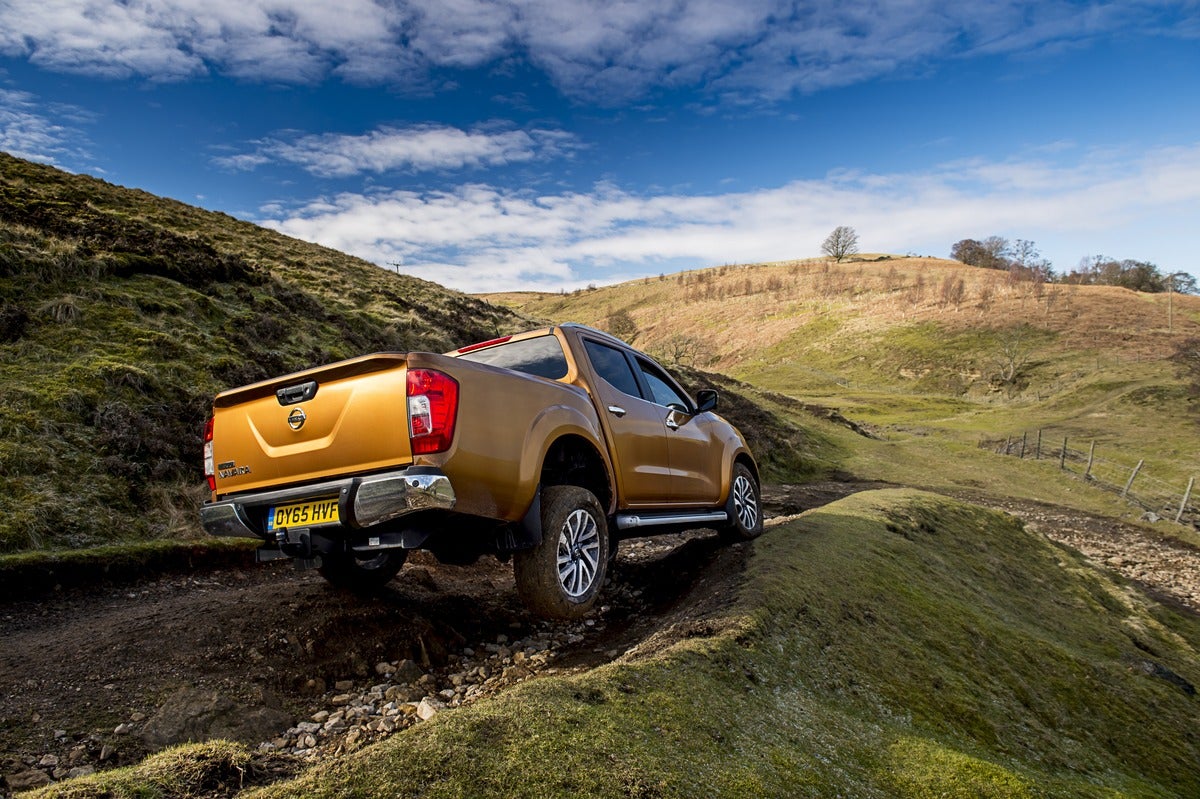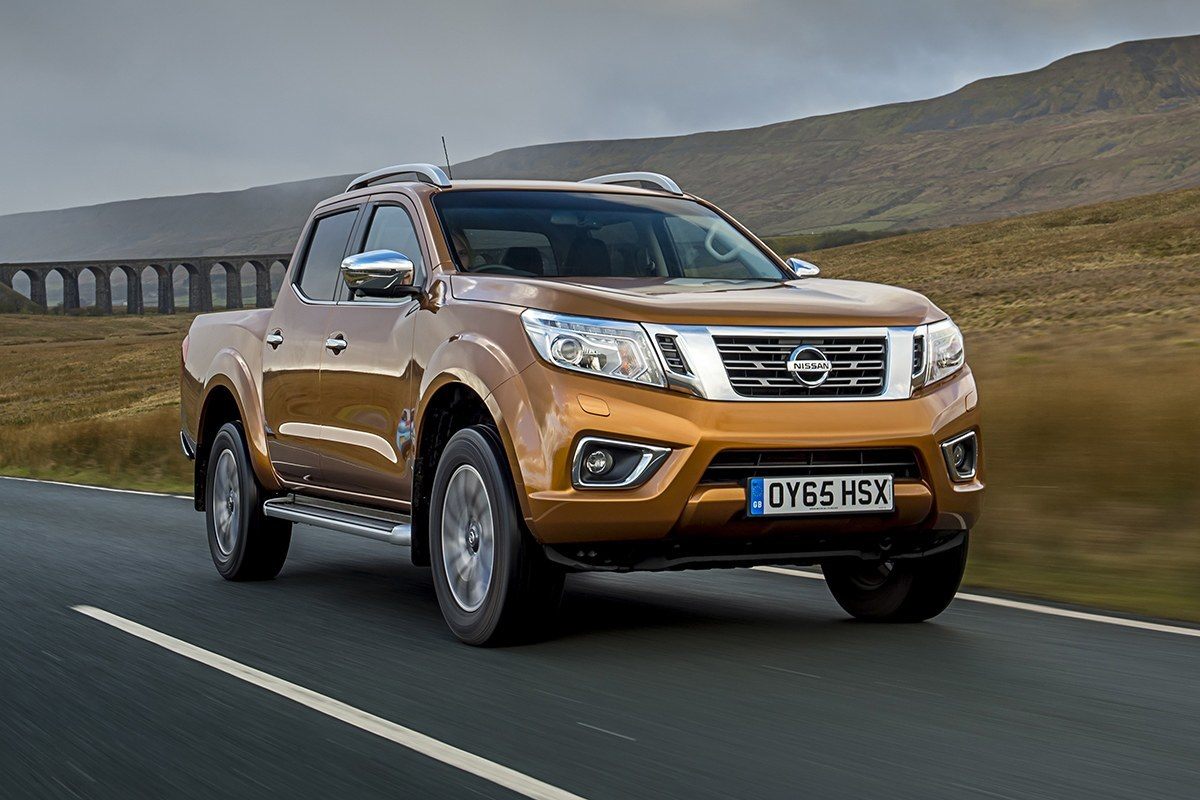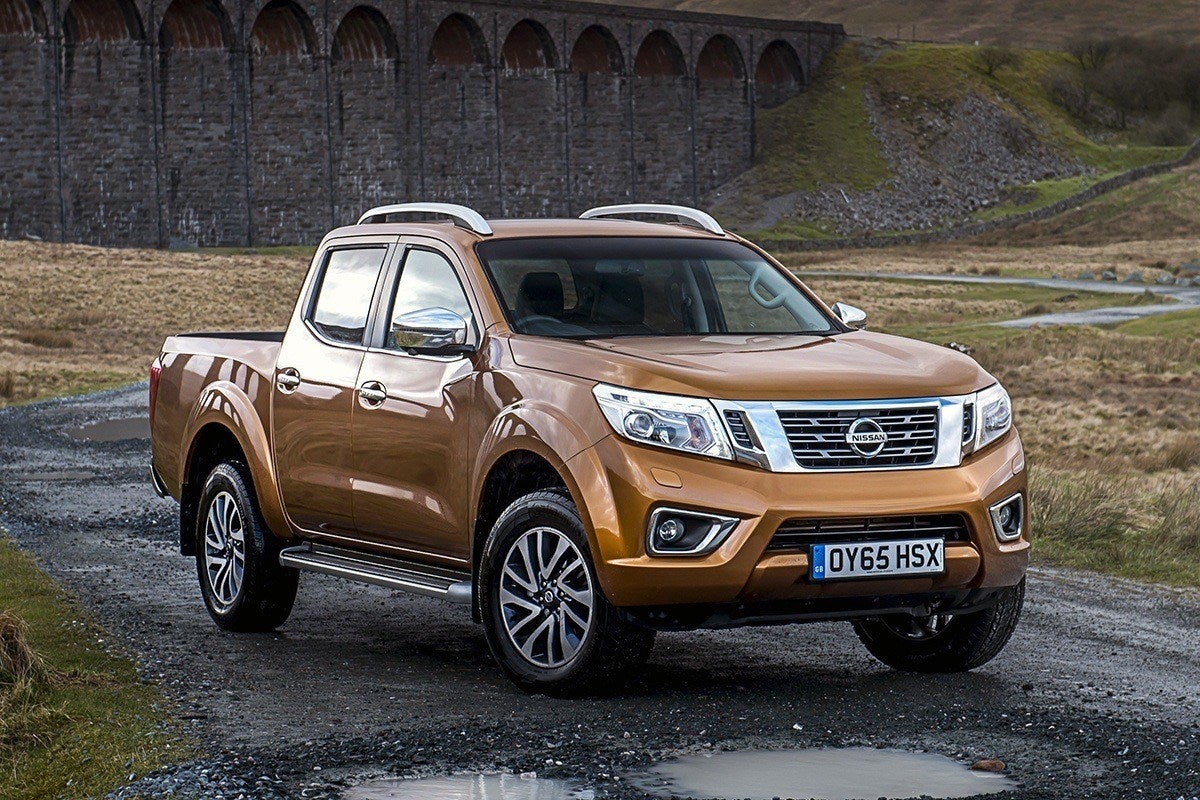 1/7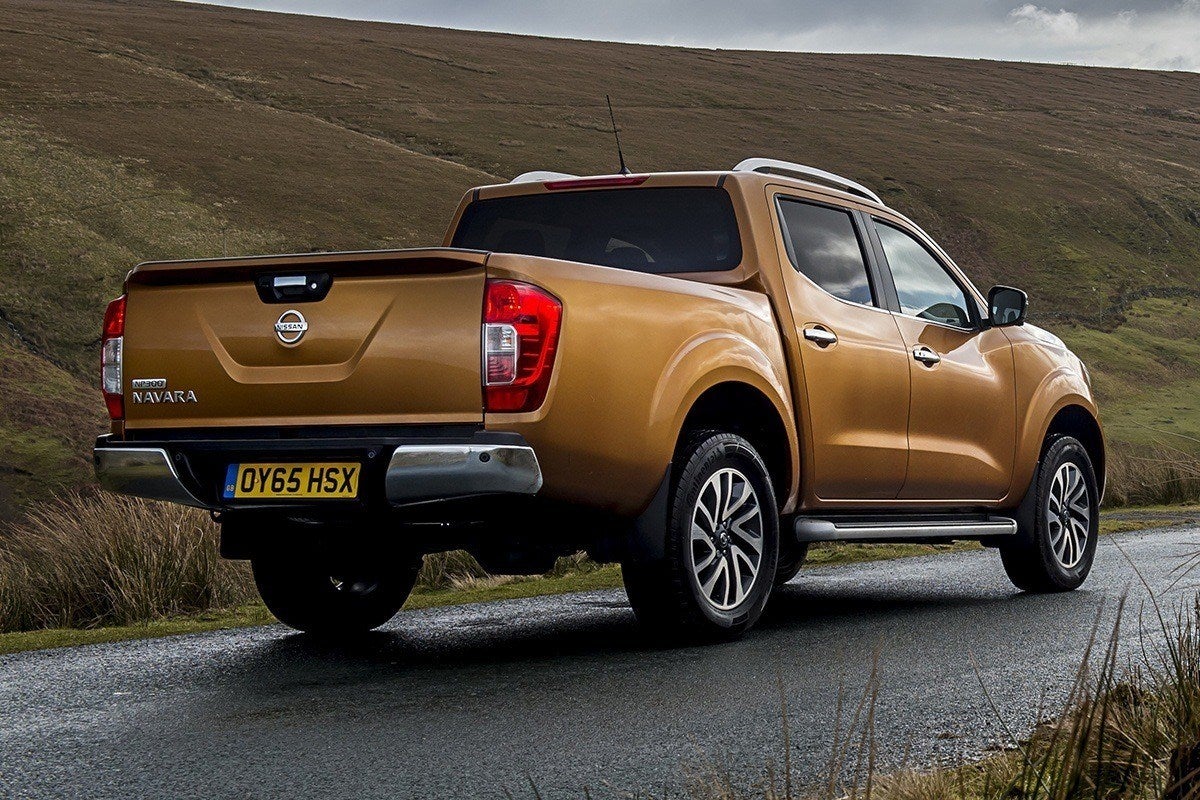 2/7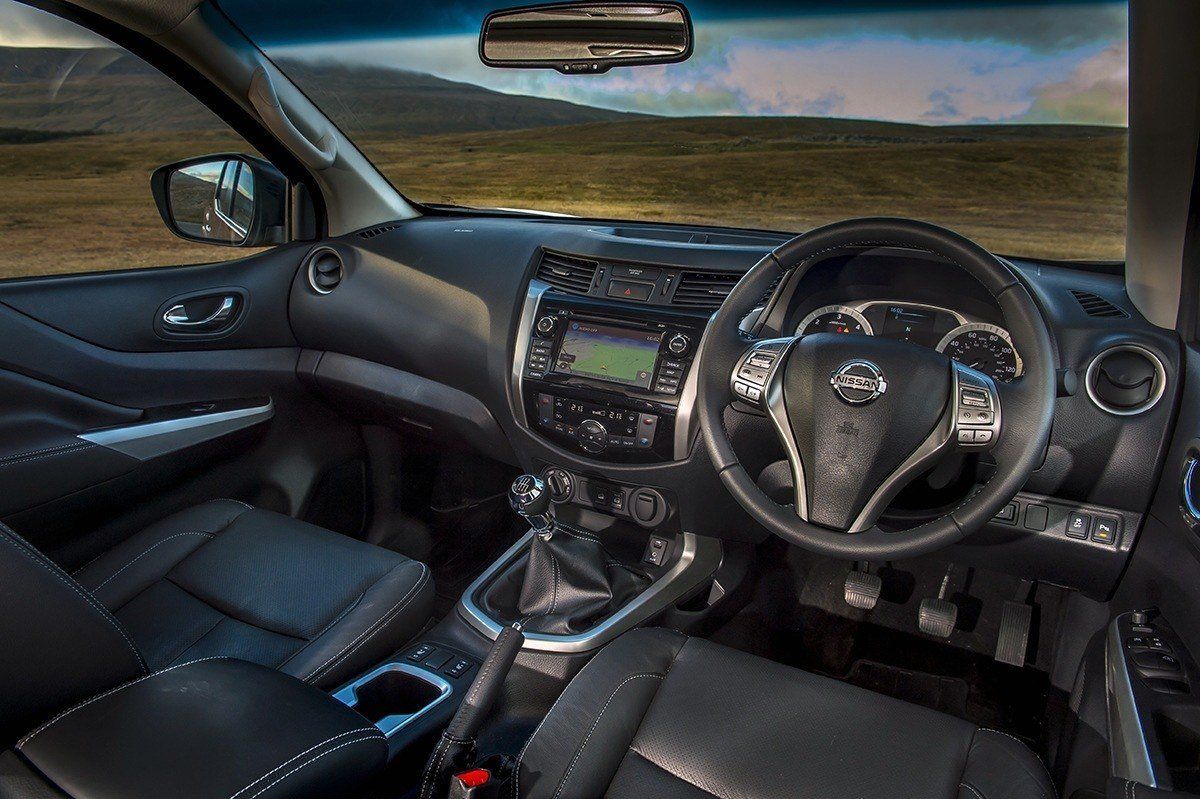 3/7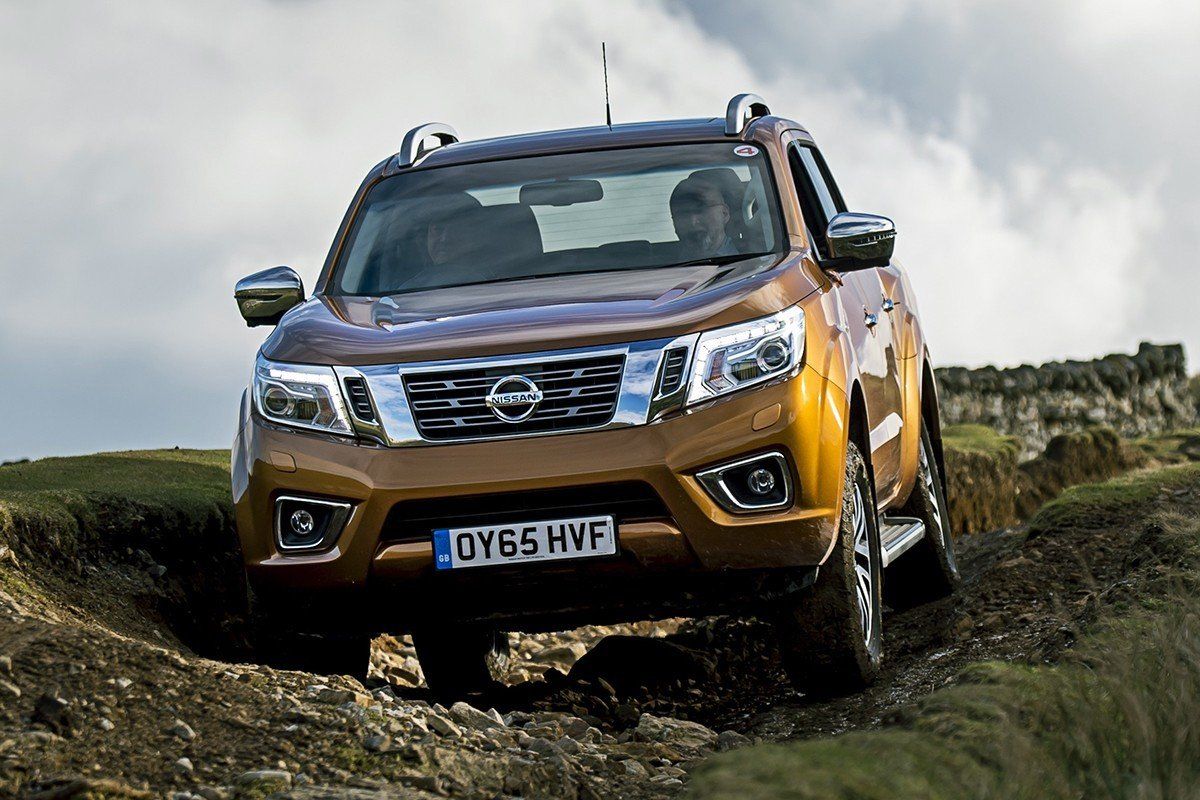 4/7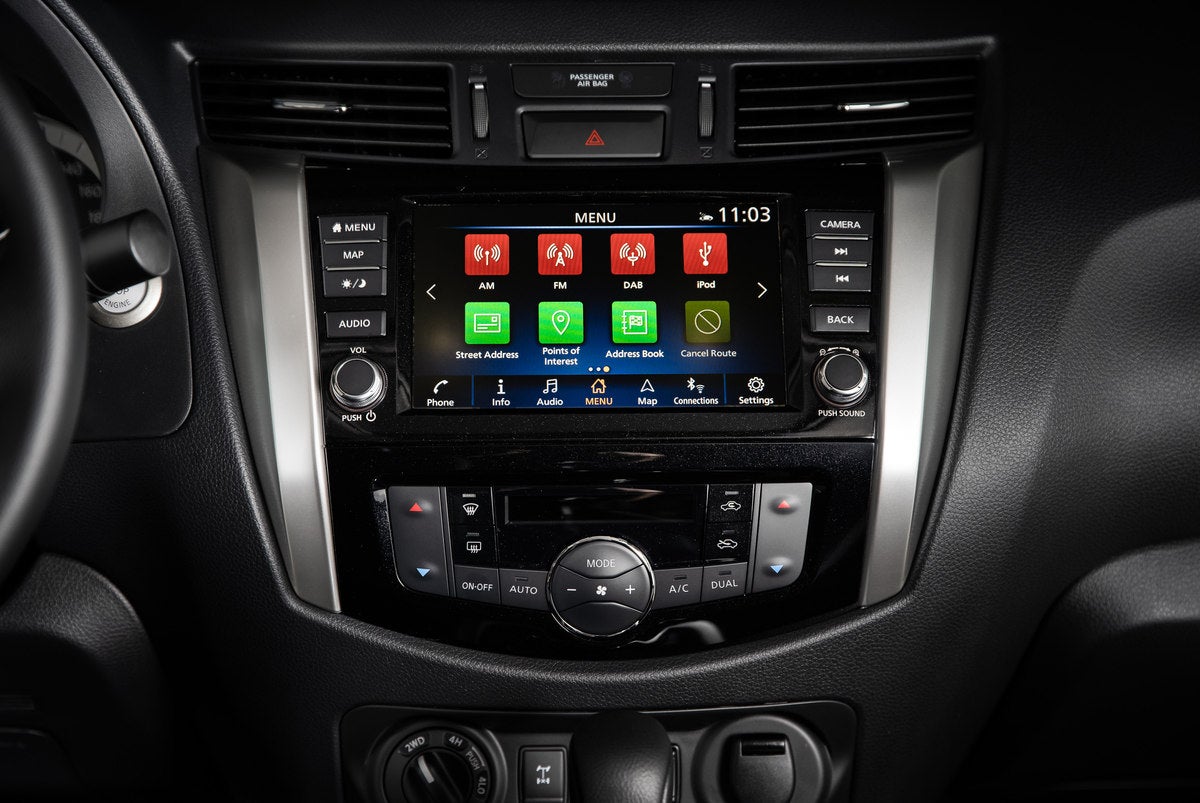 5/7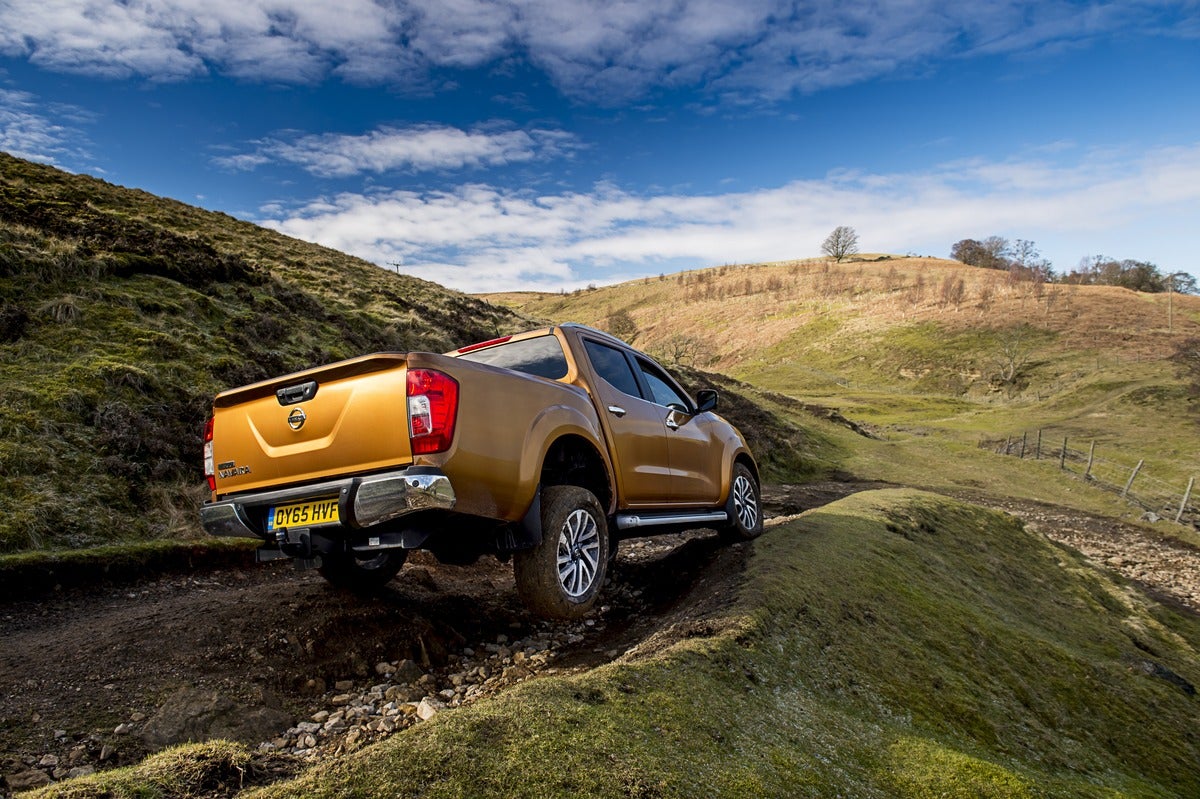 6/7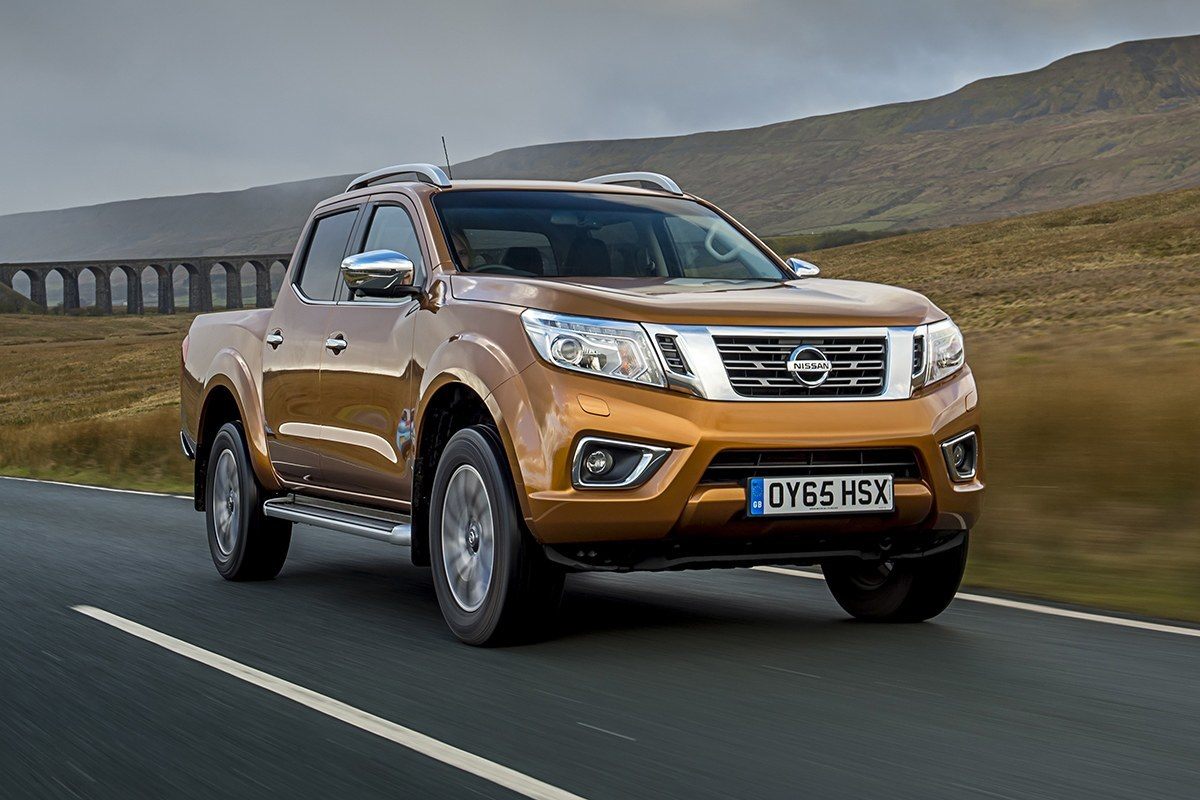 7/7
Launched in 2014

Pick-up

Diesel
Launch year

2014

Body type

Pick-up

Fuel type

Diesel

Written by
heycar editorial team

Best bits
Full 3.5-tonne towing capacity
Excellent ride and comfort for a pick-up
One-tonne payload
Not so great
Some interior plastics feel cheap
King Cab models are not really suitable for four adults
Gearbox notchy at lower speeds
Read by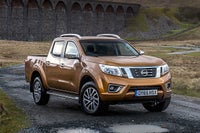 Overall verdict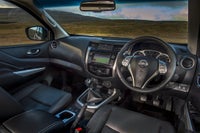 On the inside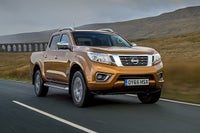 Driving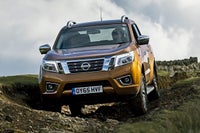 How much does it cost to run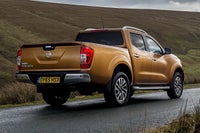 Prices, versions and specification
Overall verdict
"The task facing a pick-up truck is more challenging than it was a decade or so ago – they have to be both rugged and refined enough to perform as a family vehicle, and the Nissan Navara manages both."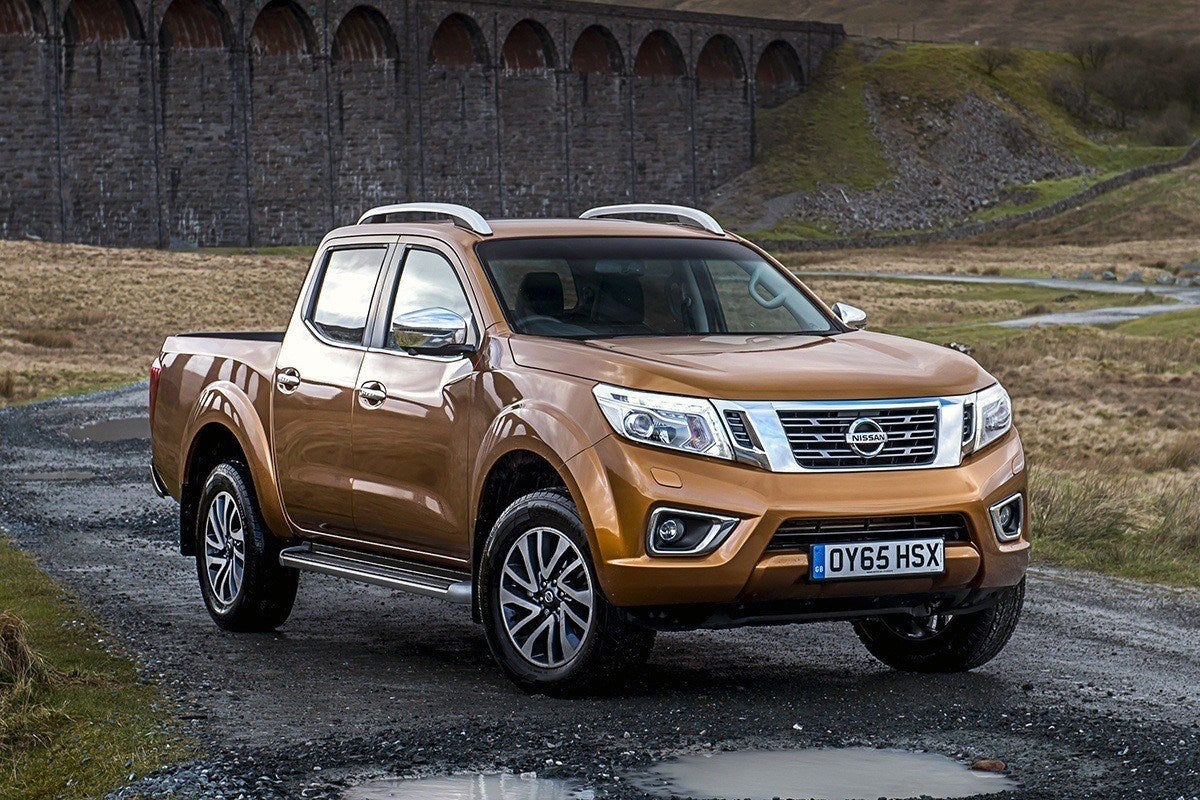 It combines smart styling, practicality and the ability to haul around a huge amount of stuff. It might not be as plush in the cabin as some more lifestyle orientated alternatives like the Volkswagen Amarok or the Mercedes-Benz X-Class, but it more than makes up for it in its general comfort and ease of use.
The Navara stands out from the crowd in a few ways, however one of the biggest differences is one that you won't be able to see. The rear suspension on the Nissan Navara is a five-link setup rather than the traditional and fairly old-fashioned leaf-spring arrangement you get on most pick-up trucks.
This means you get a slightly smoother ride in the Nissan than you do on many rivals, even with an empty rear loading bay. If you are a pick-up traditionalist then there are versions of the Navara around with leaf springs – you could get the King Cab (with two smaller rear seats) with this setup until late 2019. This was then updated so all models come with multi-link suspension as standard from this point on.
Every Navara acquits itself well when it comes to the tougher elements of its job – they are all capable of pulling up to 3.5-tonnes and they have a good amount of low-down torque to help on that front. This level of performance means that the Nissan is an accomplished family vehicle, too. It's relaxed on the motorway and has a responsive steering setup too.
The payload matches up to the expected benchmark that is expected of pick-ups, with at least one-tonne of carrying capacity across all the different models. The King Cab offers more in the way of rear load length, measuring up to 1788mm, while the double cab has a still commendable 1578mm of length available.
The cabin interior is a good size, too, although the double cab is by far and away the one to go for if you want to carry four regularly – space is unsurprisingly tight in the back of the King Cab.
Higher spec models get a good level of equipment, with a seven-inch touch screen and navigation, while you get air conditioning and a full-size spare wheel as standard on every version. One particularly attractive added extra is the five-year/100,000-mile warranty, which is fully transferable.
Pick-ups often claim to be car-like, but few manage to offer a vehicle that can be all things to all users – rugged in the week and refined at the weekend. The Nissan Navara performs better than most, though, with a fantastic ride quality, decent handling and excellent practicality. Others might be more luxurious, or more designed to take a battering, but as an all-rounder sets the mark that others aspire to in the class.
Comfort and design
"The Navara enjoys the regular and expected benefits of any pick-up, with a high seating position that brings you an excellent view of the road all around the cab. Getting into any of the seats requires you to climb up – a task that is made easier by the side steps that are available on the mid-level models and up. "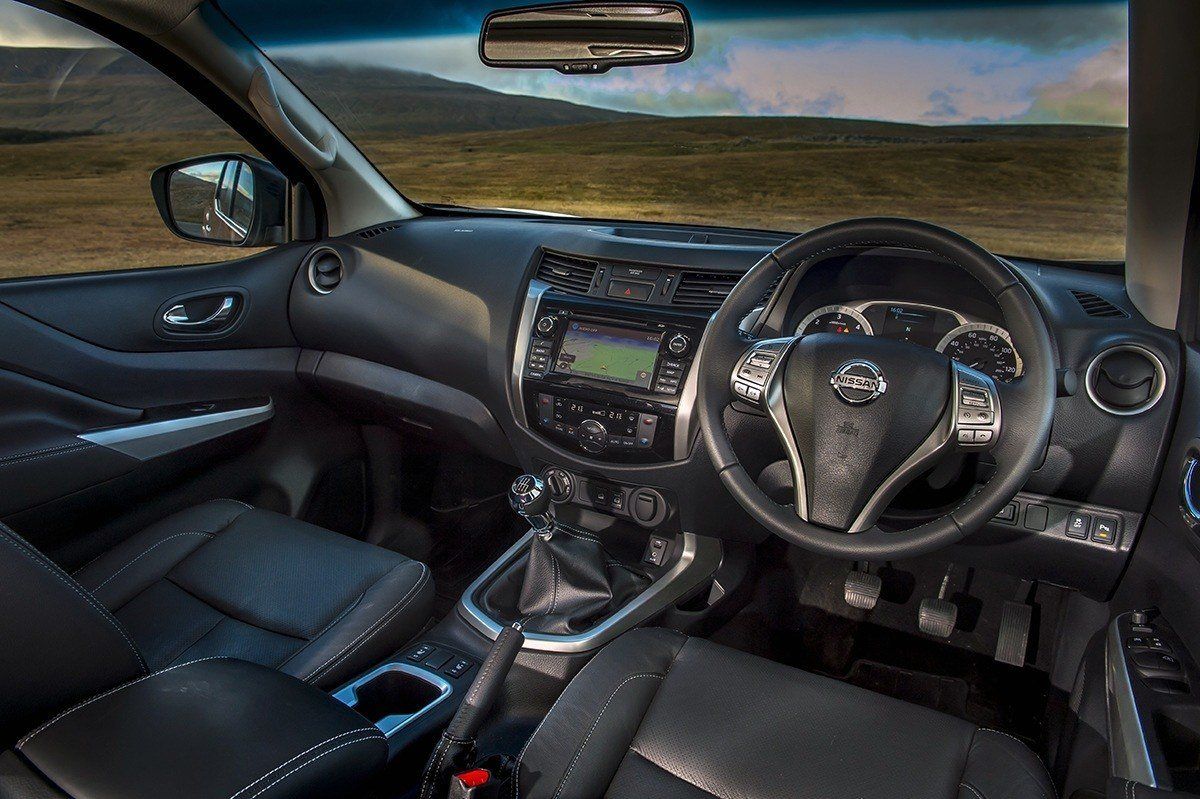 The large cabin means that there is plenty of space to get comfy in the front and, while the standard of fit and finish might not match up to posher pick-ups like the Volkswagen Amarok, every version gets a comfortable pair of front seats. These come covered in cloth in the majority of models, with Tekna and N-Connect versions getting leather upholstery. These versions also up the comfort with heated front seats.
The seats are designed to give better spinal support by wrapping around their occupants. This then gives a greater contact area between seat and your body. If you need to tweak the position further then you can make micro adjustments in eight different directions on Tekna models and above. The front armrest, which doubles as the top of the central console storage, will be welcomed by some, too.
The dashboard layout is simple in design, which means it will be familiar to many. Even if you are jumping in for a quick trip it is easy to find the basic controls.
Handling and ride quality
"The multi-link coil rear suspension that comes as standard on the Navara means that it is an accomplished and comfortable truck to drive with a smoother ride than many other pick-ups. This also makes it easier to drive, as the suspension takes away the bumpy and wallowing ride that you often get with trucks with the more traditional rear leaf spring suspension."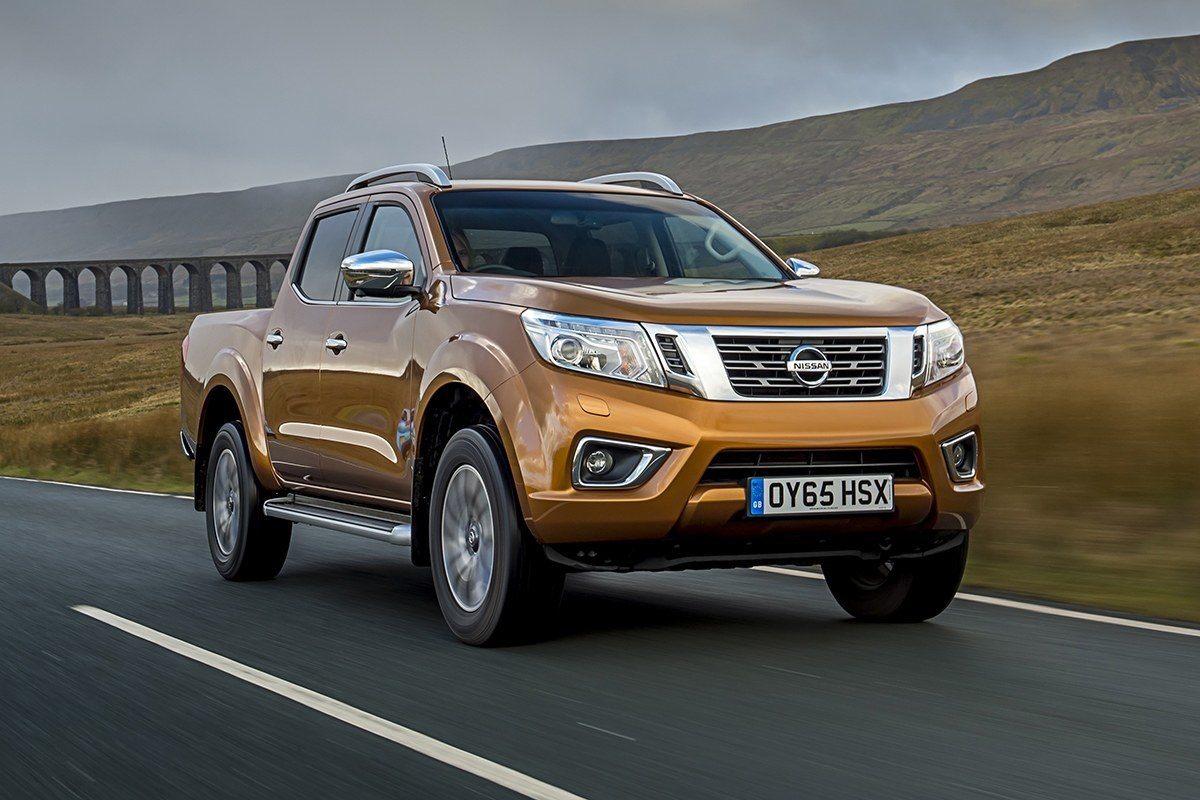 This is particularly the case when it comes to driving on the road, where the Navara is a big step forward over its leaf-sprung rivals. It remains predictable around corners and the ride is settled, even with no load in the back to add weight over the rear axle.
The steering provides a good amount of feedback and firmness, too, which makes it easy to keep the Nissan in its lane at higher speeds and to make mid-corner corrections, if needs be.
How the Navara handles off road will matter just as much to many buyers, and it is competent when faced with all manner of terrain, be it rutted tracks, wet and muddy fields or just snowy conditions. Switching between the different modes is a simple matter thanks to the dial on the central console.
These modes allow you to change between high and low ratios, while the Navara also comes with an easily activated hill-descent control. This comes as standard, which is more than can be said for some pick-ups, meaning you don't have to go up the model range and add a load of luxury kit to get extra off-roading ability as you do on some alternatives.
The towing ability is almost universally excellent, with a 3.5-tonne capacity a full tonne better than the previous generation of Navara.
MPG and fuel costs
"The engine upgrades in 2019 brought about an improvement in fuel economy, with the 2.3-litre diesel claiming an official (NEDC) figure of 40.4mpg. "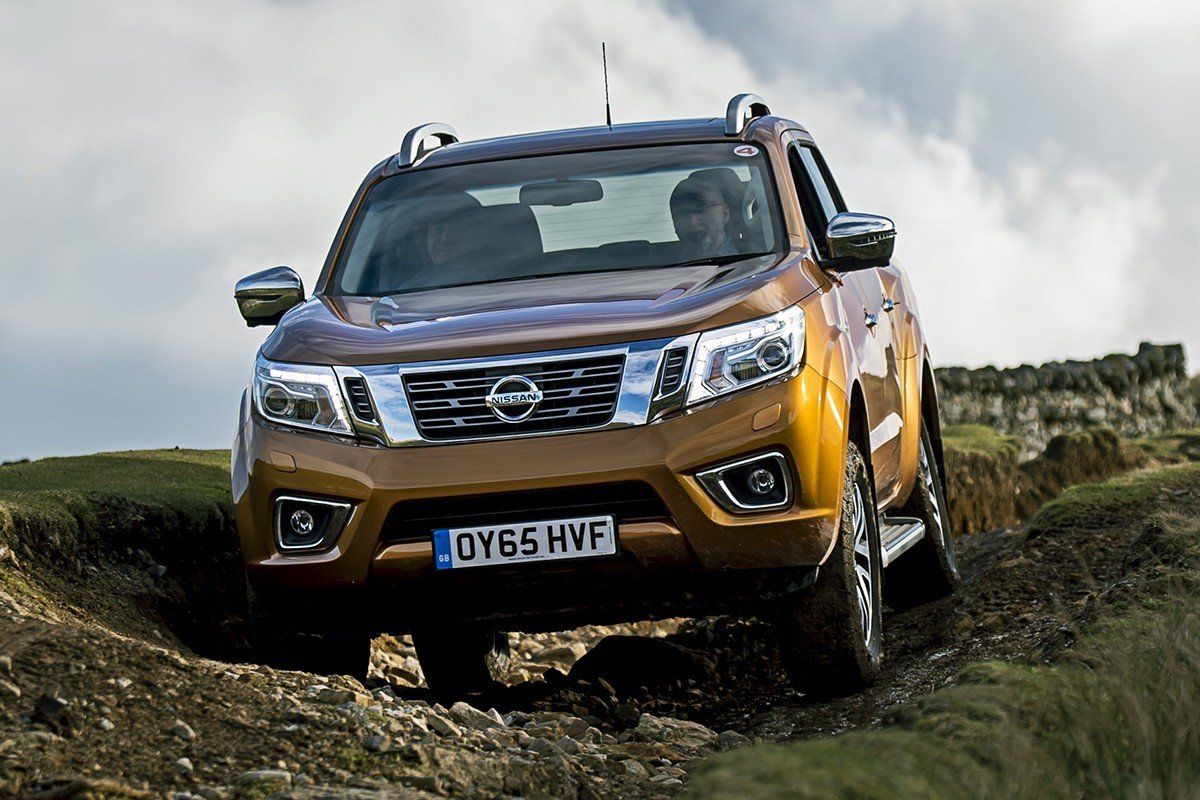 The real-world figures are likely to be slightly shy of that, with somewhere in the 30s a more realistic prospect. The official figure is the same for both King Cab and Double Cab versions, with the only hit to economy coming when you spec the seven-speed automatic gearbox. However, this only knocks just over 2mpg off the official figure, so expect the real-world results to be similar.
You do pay for this improved economy in AdBlue, though, with the 2.3-litre engine getting through 17 litres every 7145 miles. With AdBlue costing about £12-£15 for 10 litres, this won't ruin your cost-per-mile rating too much though.
Ready to get your top quality Nissan Navara?
All cars come with a warranty
Selected dealers only
All quality checked
Nissan Navara
Double Cab Pick Up Tekna 2.3dCi 190 TT 4WD Auto
Lookers Nissan Chester

Cheshire, CH14LQ
HP: £961.45/mo
Representative example: Contract Length: 36 months, 36 Monthly Payments: £961.45, Customer Deposit: £5,444.00, Total Deposit: £5,444.85, Total Charge For Credit: £3,758.05, Total Amount Payable: £40,057.05, Representative APR: 7.9%, Interest Rate (Fixed): 4.06%
Nissan Navara
Double Cab Pick Up Tekna 2.3dCi 190 4WD Auto
Specialist Cars Nissan Aberdeen

Kincardineshire, AB123JG
HP: £644.51/mo
Representative example: Contract Length: 36 months, 36 Monthly Payments: £644.51, Customer Deposit: £3,600.00, Total Deposit: £3,600.00, Total Charge For Credit: £2,802.36, Total Amount Payable: £26,802.36, Representative APR: 8.9%, Interest Rate (Fixed): 8.9%
Is the Nissan Navara right for you?
The Nissan Navara is popular with a wide range of buyers for good reason – it manages to be practical, well equipped and rewarding to drive. Many of its rivals manage one or two of those, but rarely do they manage to offer the full package.
It will allow you to combine work and home life as it is comfortable enough to act as a weekend family vehicle but is dependable and strong enough to be a heavy-duty workhorse for those that need a durable 4x4 machine.
It offers more liveability than more basic alternatives, has a better ride than those trucks that have a similar rear suspension setup and is more resilient than more expensive lifestyle rivals.
What's the best Nissan Navara model/engine to choose?
Standard kit on the Navara is good enough that you won't feel too hard done by on any of the models, but if you want it to fulfil more than one role in its working life then it's worth going up to N-Connecta. This mid-range trim brings kit like a rear-view camera, keyless entry and start, chrome details and the eight-inch touchscreen system.
This comes with navigation too, but you also get Apple Carplay and Android Auto so you can use your phone as an alternative nav too.
Tekna, the top-level trim, only really adds cosmetic features so whether you go for this one is more a matter of personal preference than practicality.
What other cars are similar to the Nissan Navara?
There are several other models at the centre ground of the pick-up market – all-rounders that are suitable for work and family life. The Mitsubishi L200 is one, although its interior is slightly dated versus the Nissan's, and the Navara has a better ride quality. The Ford Ranger is another worth considering if you want a bit of both.
The Isuzu D-Max is a worthy contender if you want to prioritise the working element of a truck, while the Volkswagen Amarok is undoubtedly the one to go for if you want a more luxurious experience and powerful engine.
Quality and finish
The materials over the majority of the Navara's cabin are hard and not very pleasant to the touch, particularly those on the dashboard and door trims which you'll come into regular contact with. That said, what they lack in luxury they make up for in perceived durability as the Nissan feels particularly well screwed together and built to last through a tough working life.
There are no concerning squeaks from the dashboard or those cheap feeling plastics, nor are there any gaps between panels.
The higher up the range you go, the more interior flourishes you get. This starts with the chrome door handles and rear electric windows that join the standard kit list on Acenta, while N-Connecta gets a leather steering wheel, more air outlets in the rear of the cabin and dual zone air conditioning.
There's more leather on the Tekna, on the gear lever and handbrake, while the roof rails and side steps are coloured silver. N-Guard then gets gloss black door handles, leather and cloth seats and bespoke mats with blue stitching and lighting in the foot wells.
Infotainment
There's just the one infotainment screen in the Navara range, and it is available from the N-Connecta model and upwards.
The good news is that all Navaras come with DAB digital radio, Bluetooth and aux and USB sockets with steering-wheel mounted controls. The King Cab isn't one for music lovers as there are just the two speakers, while the Double Cab upgrades this to four.
The higher trim models get an eight-inch touchscreen that is fitted with satellite navigation as standard. From the 2019 model year update, the system also comes equipped with Apple Carplay and Android Auto. The system updates also made the screen faster and clearer than those that had come before.
It also offers connectivity, via the NissanConnect Services app. The built-in 4G device allows data to be shared without a phone connection. This means the maps in the navigation can be updated remotely, while you also get live traffic information, Google Satellite and Street View. The app also lets you locate the car, sound the horn and control the lights remotely.
Space and practicality
There are two body styles of Nissan Navara, the Double Cab and the King Cab. The latter is essentially a two-seater with space to squeeze another pair of colleagues into the second row of folding bench seats. A King Cab isn't something that every pick-up comes with, and what you lose out on in rear passenger space you make up in load-bay room.
The King Cab offers 1788mm of internal loading space in the back, which isn't quite as long as the Club Cab on the Mitsubishi L200. The Double Cab's loading bay has the edge on the L200, though, with 1578mm of room in the back.
Whichever version you go for you get a one-tonne payload – the 2WD model has the highest carrying ability, with around 100kg more than the 4WD models, while there is little to choose between the different engines and gearboxes so all will offer much the same carrying capacity.
The tailgate can be locked separately and, when it drops down, sits flush with the loading bay which makes it easy to slide large and heavy items into the back. You get lashing points as standard, but not protection for the rear window – it can be added as an option though.
The Double Cab offers the best balance of practicality and day-to-day liveability. All the 4WD models have a 3.5-tonne towing capacity (the 2WD manages slightly less at just over 3.0-tonnes), which is the highest you can tow with a standard licence.
The cabin has plenty of space for four adults, with lots of head and leg room for all. There's a good amount of space for two large child seats in the back, too, with the high ride height and side steps making it easy to load both the seats and their occupants in and out.
There's also plenty of storage space dotted around the cabin. The deep door pockets and a large cubby box sat between the two front seats.
Engines and gearboxes
There are two engine options on offer in the Nissan Navara, and two gearboxes. Both engines are different versions of a twin-turbocharged 2.3-litre diesel, with the lower-spec models getting a 163PS power output and the high-end models getting 190PS.
The 163PS power rating makes the Navara more powerful than some of its rivals, such as the L200, and is a strong engine for a basic model thanks to its hefty 403Nm torque rating. The more powerful version comes with even more at 450Nm.
This engine is a modified version of the one that is in the Nissan NV400 large van, which means it is well suited for heavy grunt work. Despite all the power, it is not particularly quick, though. It does its best work at lower revs – getting out of tough spots or towing heavy trailers – and the performance fades as you get close to 4500rpm in the rev range.
The two gearboxes are a six-speed manual and a seven-speed automatic. The manual was upgraded in 2019 and is an improvement over the previous version with slicker shits and longer ratios, meaning you don't have to reach for the lever as often as you do on older models. The seven-speed auto was tuned at the same time, making it more refined and responsive.
Refinement and noise levels
Regardless of which engine you go for, the noise levels are kept impressively in check, particularly at motorway speeds. Inevitably there is a bit of noise at lower speeds and at tickover, but no more than any pick-up with a similarly hefty diesel engine under the bonnet.
What is more noticeable is the road and wind noise that kicks up, especially at higher speeds. This is thanks to the large door mirrors and the 18-inch alloy wheels that come as standard on the majority of the models in the range. The increase in size from 16-inches to 17-inches for the standard alloy wheels on lower grades might help improve the looks, but won't help with the road noise.
As part of the 2019 updates, Nissan made some tweaks to the manual gearbox, which brought in new ratios that is designed to make it quieter at lower speeds. The improvements also lowered the vibration levels. Similar updates were applied to the seven-speed automatic. The noise levels were also improved thanks to the introduction of disc brakes, rather than drums, on the rear wheels.
Safety equipment
A decent amount of safety kit comes as standard on the Nissan Navara, with a wide range of airbags, an alarm and Isofix all included, but you have to upgrade to Acenta trim to get the more modern and intelligent equipment such as the forward emergency braking.
To get anything else you have to go to N-Connecta, which brings a rear-view camera, while Tekna offers the intelligent around view monitor with 360-degree cameras. Oddly you don't get rear parking sensors until you go to N-Guard, though, so you have to rely on the view on the rear screen but have no beeping to help you park in lower trims.
It's a shame that there is no modern kit such as lane-keep assist available, but you do get an Intelligent Trailer Sway Assist, which anticipates the trailer starting to swing and applies minute corrections through the brakes and by reducing the torque sent to the respective wheel to bring it back in line. All versions get a 17-inch steel spare wheel as standard.
The Navara hasn't been crash tested by Euro NCAP since 2015, at which point it managed a four-star score. Given the attention paid to crash avoidance technology in the latest test, it is unlikely that the Navara would improve on this were it to be re-evaluated.
Insurance groups and costs
The Navara enjoys the lowest insurance group rating of the pick-up market, with the cheapest model starting at group 35E. This is for the Visia or Acenta model, and in either King Cab or Double Cab.
N-Connecta and Tekna are a couple of groups higher at around 37 and 38, while even the range-topping models keep things in check, with N-Guard not going any higher than the low 40s.
VED car tax
The Nissan Navara qualifies as a light commercial vehicle (LCV), which means that it also qualifies for the seriously beneficial taxation system that applies to vans. This means a low-rate VED bill that is the same for all LCVs irrespective of how much CO2 they emit.
This also means that you get the flat rate of benefit in kind tax as well, which means that company car tax payers face bills that are a fraction of an SUV with a similar price and CO2 output.
Trim levels and standard equipment
Thankfully you don't have to go up in the Navara range to get the different 4WD equipment, so it is more a case of choosing how much equipment you want to make your life easier or more comfortable.
Arguably the best value in the Navara range can be found at the mid-way point, with the N-Connecta being the trim that first gets the eight-inch touchscreen and side steps. The rear-view camera is a worthy addition as it could well save you a few repair bills. You also get a few nice touches like a leather steering wheel and dual-zone air conditioning.
Learn more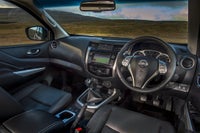 On the inside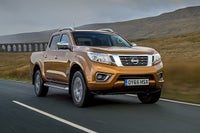 Driving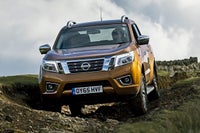 How much does it cost to run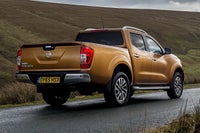 Prices, versions and specification
Reviews of similar cars
Quality checked, all cars less than 8 years old and warranty included
Looking for other Nissan cars?
Quality checked, all cars less than 8 years old and warranty included