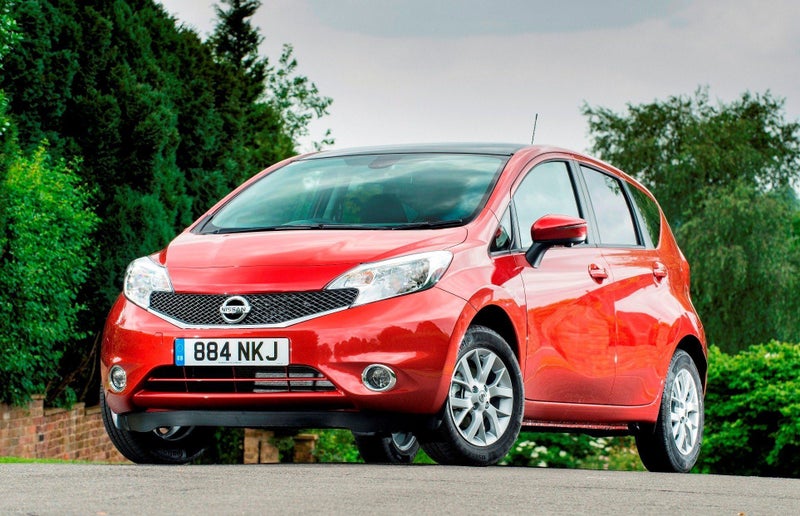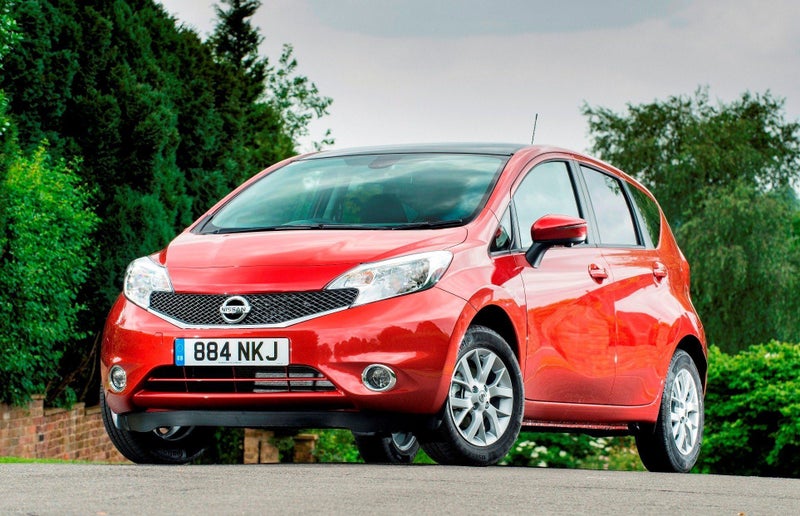 1/10
heycar rating
"Unexciting but versatile little hatchback"
Launched: 2013

Small hatch

Petrol, Diesel
Quick overview
Pros
Usefully big boot
High levels of standard equipment
Low running costs
Cons
Drab interior
Not as good to drive as a Ford Fiesta...
...or as reliable as a Honda Jazz
Overall verdict
On the inside
Driving
Cost to run
Prices and Specs
Common questions
Overall verdict on the Nissan Note
"Nissan had the Ford Fiesta and Volkswagen Polo in its sights with this generation Note. It failed, in some ways, being axed from the range in 2017 – just four years after it went on sale. However, with generous equipment levels and Honda Jazz rivalling practicality, it can make a very sensible used car purchase."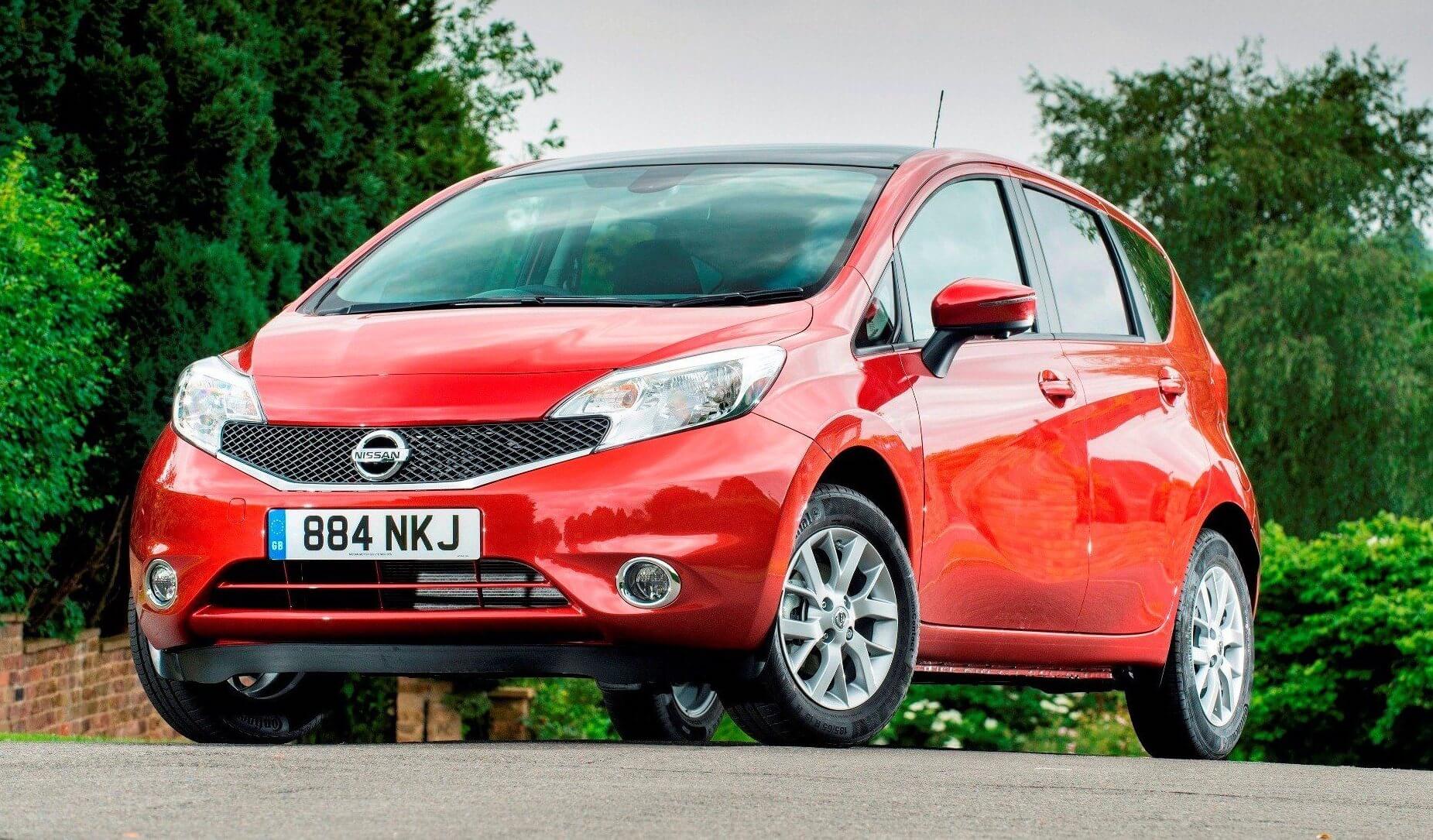 It's surprising that the Nissan Note small car wasn't more successful than it was. It looked much more stylish than the Micra, with a hint of Juke to its styling. Here's what we think in our 2022 Nissan Note review.
The Nissan Note's sloping roofline and the design of the rear windows do give the impression that passengers sitting in the rear might be fighting for head and legroom, but this couldn't be further from the truth. Nissan boasts the Note has more legroom than anything else in its class - the generosity of rear passenger space makes it difficult to disbelieve them. The rear bench, very cleverly, slides forward, to increase boot space, from 325 litres to 411 litres.
Yet despite all its spaciousness, the Nissan Note's cabin is still quite a drab place, not helped by the acres of cheap, scratchy, dark plastics which seem to dominate. The Note's seats, both front and back, are less than comfortable, making a long journey seem even longer. Even scaling-up the trim levels doesn't buy that much more interior colour - or a soft-feel dashboard - or seats covered in unicorn leather, stuffed with fairy dust and stitched together with vine taken from the enchanted forest.
Instead, there are a few more basic niceties like privacy glass and Nissan's new Safety Shield package. This is a clever piece of kit that uses the Note's rear-mounted cameras to umbrella the Blind Spot Warning, Lane Departure Warning and Moving Object Detection into one easy-to-use system.
Not that the Nissan Note Visia, the entry-level model, is lacking in the standard equipment department. Granted, the door mirrors and door handles won't be colour coded, nor will it have front or rear armrests, or air-conditioning, Bluetooth connectivity, that sliding rear bench or and a decent set of 15-inch alloys - these are the preserve of the Note Acenta, Acenta Premium and Tekna.
Nonetheless, the Note Visia gets an acceptable radio/CD player, remote locking and, for the first time, cruise and speed control, plus electric front windows (those in the rear have to revert to the old-fashioned, on-board arm-strengthening method). But, more importantly, it will have six airbags, exactly the same as the rest of the range.
There's a three-engine line-up to choose from and all have eco stop/start. They consist of an 80PS, 1.2-litre three-pot petrol, which is appealing as a starting price point but struggles to adequately shift the Note's bulk. Then there's the DIG-S version of the same engine. It shares the same block and displacement, only this time, and essentially, it has been gifted with a turbocharger to produce 98PS.
There is a noticeable difference in the handling between the two, assisted in part by the DIG-S handling pack, but it's still not the sporty driving machine Nissan billed it as. Even when either is being pushed to their limits, neither feels as though they are ever likely to endanger a clean driving licence.
Then there's the Renault-sourced diesel. Out of the three, it is this 90PS 1.5-litre dCi turbodiesel which is most suited to the Note. It is marginally slower, taking 11.9 seconds to reach 62mph from a standing start (11.7 seconds for the DIG-S). However, being able to dollop-out 200Nm of torque does have its advantages, more so in this car, because the transformation is immediate, disguising its modest output and making it feel much faster than it actually is. The dCi is also the most efficient, emitting just 95g/km of CO2 with official fuel consumption of 78.4mpg.
Irrespective of engine, the Nissan Note's ride is best described as compliant. There's a tautness that keeps it true and level on the motorway straights, yet shows little sign of any prevailing bodyroll through the corners. The centrally-weighted steering is a bit too light, and a bit vague, and never truly communicates with the driver. But is that really important? Probably not.
Most buyers of the Nissan Note won't be too bothered by such trivial matters. They will be swayed by its many other and obvious attributes. Immense practicality, build quality, friendliness towards the family, cheap running cost and Nissan's reputation for reliability.
Is the 2022 Nissan Note right for you?
The Nissan Note isn't a stylish choice but it does represent good value for money. You get more space than other hatchbacks like the popular Ford Fiesta, while it's easier to drive than bigger people carriers or SUVs. It ought to be exceptionally cheap to run, too, thanks to affordable tax bands and very frugal petrol and diesel engines.
What's the best Nissan Note model/engine to choose?
If you're looking for modern creature comforts such as sat-nav, look for a high-spec Nissan Note. Even top-spec Tekna models are relatively affordable on the used market, featuring things like the Around View Monitor and part-leather seats.
In terms of engines, we actually rate the 1.5-litre turbodiesel engine. It's a grunty unit, well up to the job of shifting a fully-loaded Nissan Note. If you don't cover many miles or regularly drive in urban areas, you might want to look for a petrol model, though. Avoid the entry-level unit unless you're on a budget – the supercharged DIG-S is much better.
What other cars are similar to a Nissan Note?
Comfort and design: Nissan Note interior
"While the Nissan Note's interior is surprisingly spacious, it certainly isn't going to win any awards for style. It's a drab but functional affair, with clear dials and a decent 5.8-inch infotainment system on high-spec models."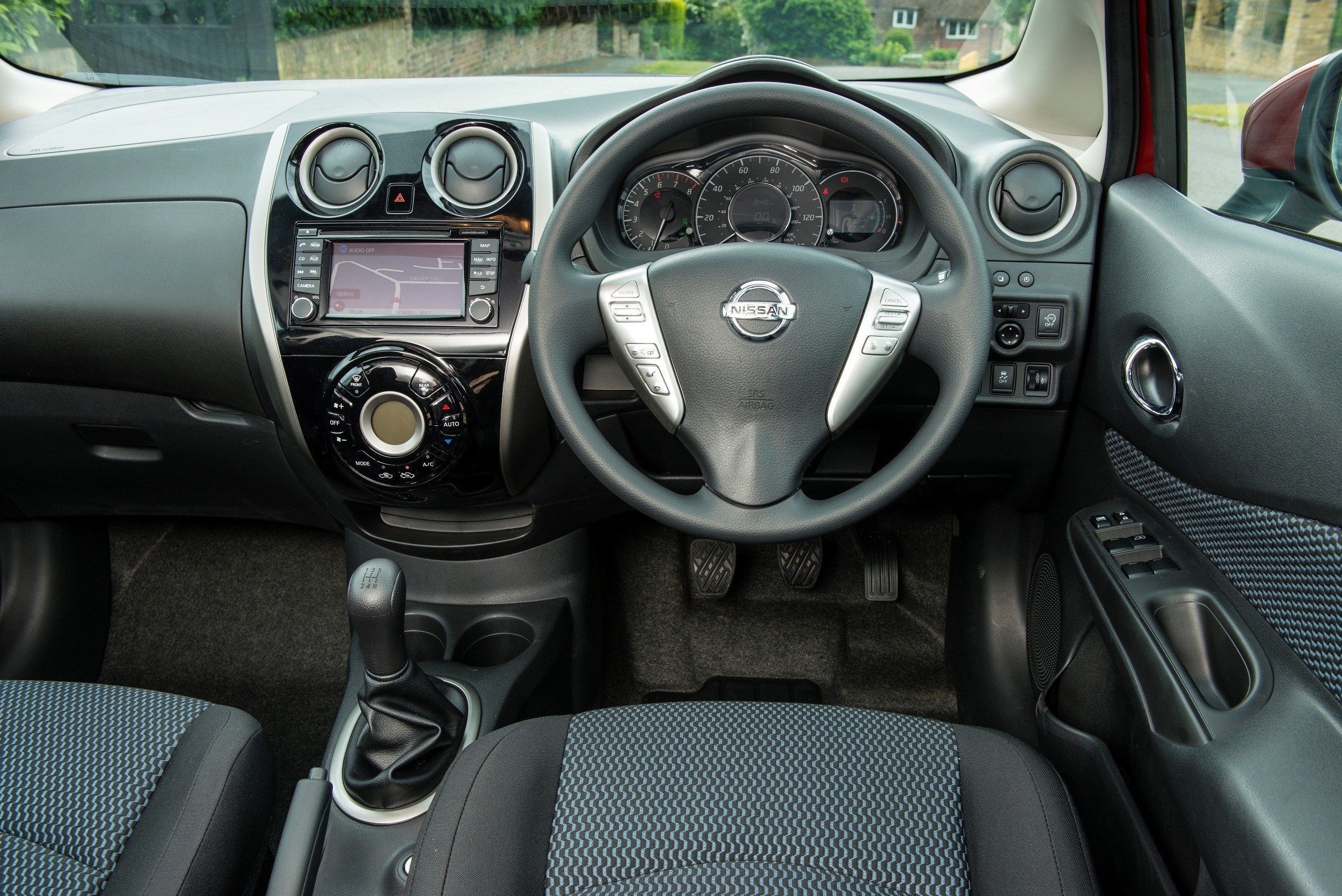 Nissan was a little too reliant on a rather grey colour palette when designing the Note's interior. There are a few silver highlights (on the centre console and steering wheel), but otherwise it's almost offensively bland.
The circular climate control panel does little to lift the cabin, either, but all the switchgear is logically laid out and easy to operate. There are plenty of useful storage areas, too, including cup holders in the centre console.
Large windows and a relatively high seating position provide a good view of what's going on around you, while access is easy. It's not quite as high up as the Nissan Juke or bigger Qashqai, but it's certainly easier to get in and out of than a Micra.
Quality and finish
The Nissan Note's interior isn't particularly fancy, but all those hard plastics and clunky switches mean it feels like it'll stand the test of time. You'll find a few plush materials here and there, but even pricier models don't feel as cosseting as a Volkswagen Polo.
That said, if you hunt out a top-spec Nissan Note Tekna, you will get such luxuries as a leather-wrapped steering wheel and part-leather seats. Not enough to make the Note feel like a cut-price Mercedes, but desirable features nonetheless.
Infotainment: Touchscreen, USB, nav and stereo in the Nissan Note
The most basic Nissan Note models come with a CD player, USB and Aux connectivity as well as Bluetooth. There are four speakers, while the Nissan Note Acenta adds steering wheel mounted audio controls.
Look for a Nissan Note Acenta Premium model or above and you'll get a 5.8 NissanConnect touchscreen navigation system. This'll seem a bit dated compared to more recent infotainment systems (no Apple CarPlay or Android Auto) but it's functional.
Space and practicality: Nissan Note boot space
The Nissan Note's upright cabin provides loads of headroom, while a sliding rear bench (standard on Acenta models and above) lets you choose between rear legroom or boot space.
With the seats slid all the way back, the Nissan Note's boot has a very reasonable 325-litre capacity. Moving them forward increases this to 411 litres, while dropping them provides a generous luggage space of 2011 litres. There's a double load floor, too – with two heights, reducing the loading lip when required.
In terms of dimensions, the Nissan Note measures 4100mm long, 1695mm wide (not including door mirrors) and 1535mm high.
Handling and ride quality: What is the Nissan Note like to drive?
"Believe it or not, Nissan actually pitched the Note as quite a sporty choice. As such, it's got fairly direct steering and it remains more composed than the Honda Jazz in cornering."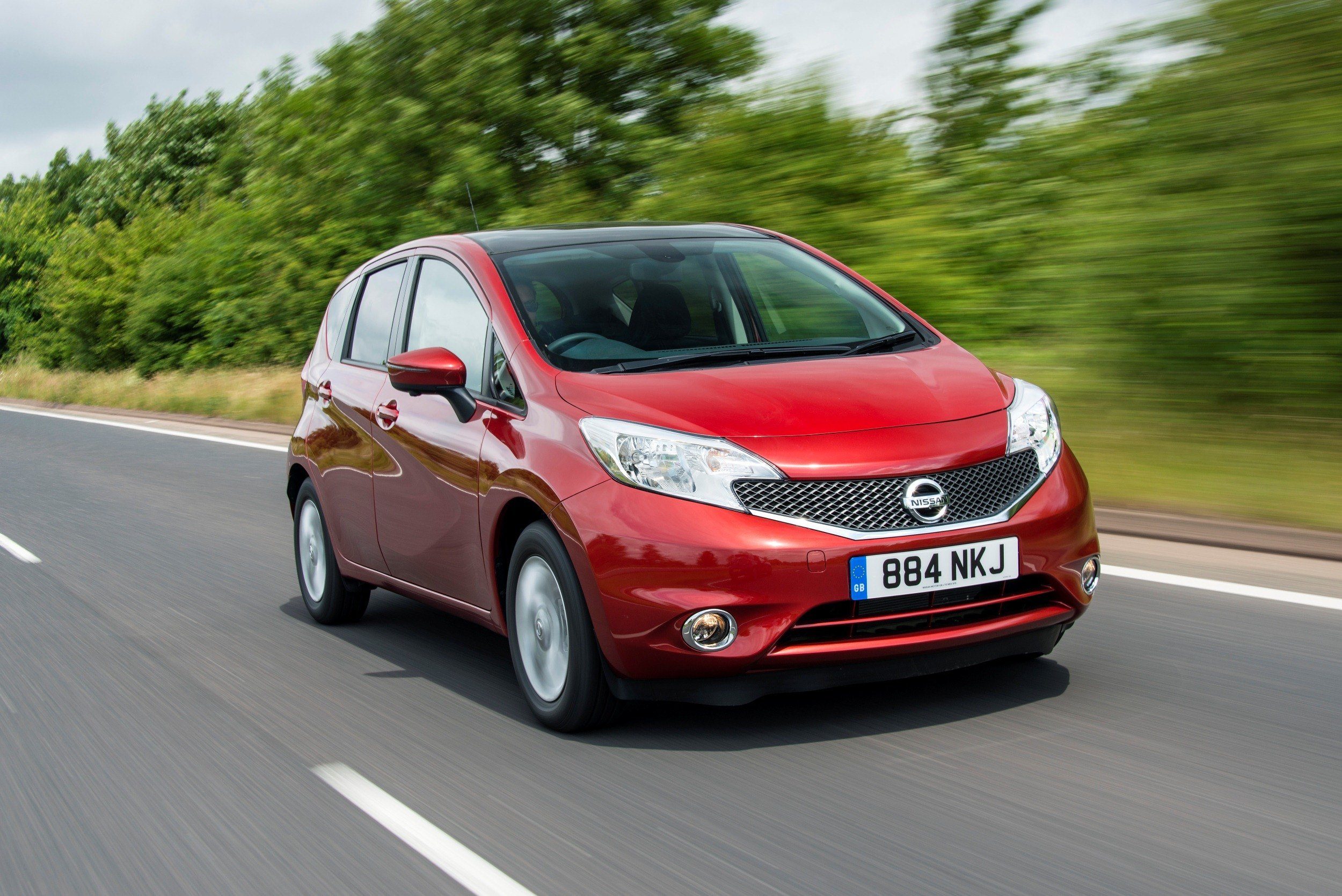 The Nissan Note's certainly not as fun to drive as a Ford Fiesta, but you might be surprised at how fun to drive the Note is. It's easy to drive, too, helped by the brand's clever Around View Monitor. This provides a bird's eye view of the car thanks to a number of cameras installed in the mirrors and bumpers. The display makes it possible to thread the car into small spaces and tight garages with ease and it'll even alert you if a stray pet or person walks into the path of the car.
A downside is the Nissan Note's ride quality. It's quite firm for a car like this, pattering over broken road surfaces and causing some discomfort if you hit a pothole at speed.
What engines and gearboxes are available in the Nissan Note?
There were three main engines offered in the Nissan Note: two petrols and one diesel.
The most affordable petrol was a 1.2-litre three-cylinder unit, which produces a fairly conservative 80PS. There's nothing special about this engine, but it's fine for town driving and its five-speed manual gearbox is easy to operate.
For a bit more shove, this 1.2-litre petrol engine was also available with a supercharger. Badged the DIG-S, this innovative drivetrain produced 98PS and 147Nm of torque. It's still not a rocketship but it's sprightly enough to hold its own in and out of urban areas. As well as being offered with a five-speed manual gearbox, the Nissan Note DIG-S was also available with a CVT automatic gearbox. We wouldn't recommend this unless you really must have an auto transmission.
It's hard to believe today, but the best engine in the Nissan Note was the 1.5-litre diesel. With 200Nm of torque on hand, the diesel Note is easy to drive and has enough punch for motorway driving – even with a full boot or passengers on board.
Refinement and noise levels
The Nissan Note is surprisingly refined for a small car, particularly if you buy one with one of the more powerful engines which require less effort to get the car moving. Sure, you'll notice a bit of a grumble from the diesel engine (particularly when cold), but it builds speed easily so there's no need to pile on the revs – a good thing for refinement.
Wind and road noise are pretty well hushed, too, especially considering the Nissan Note's slightly blocky shape. It's hardly the last word in aerodynamics.
Safety equipment: How safe is the Nissan Note?
In its day, the Nissan Note was actually quite innovative in terms of safety. Nissan's Safety Shield tech included features you'd only usually expect to find on bigger, more expensive cars. This included Blind Spot Warning, Lane Departure Warning and Moving Object Detection to alert the driver to potential hazards. You could also get a fancy Around View Monitor 360-degree camera system, which took some of the peril out of parking.
That being said, Euro NCAP only awarded it four stars out of five when it was crash tested in 2013. Pedestrian safety tech was the Nissan Note's downfall – its MPV-like shape wasn't great in a collision with a pedestrian.
MPG and fuel costs: What does a Nissan Note cost to run?
"The most frugal Nissan Note uses the 1.5 dCi diesel engine, which is officially capable of 78.4mpg."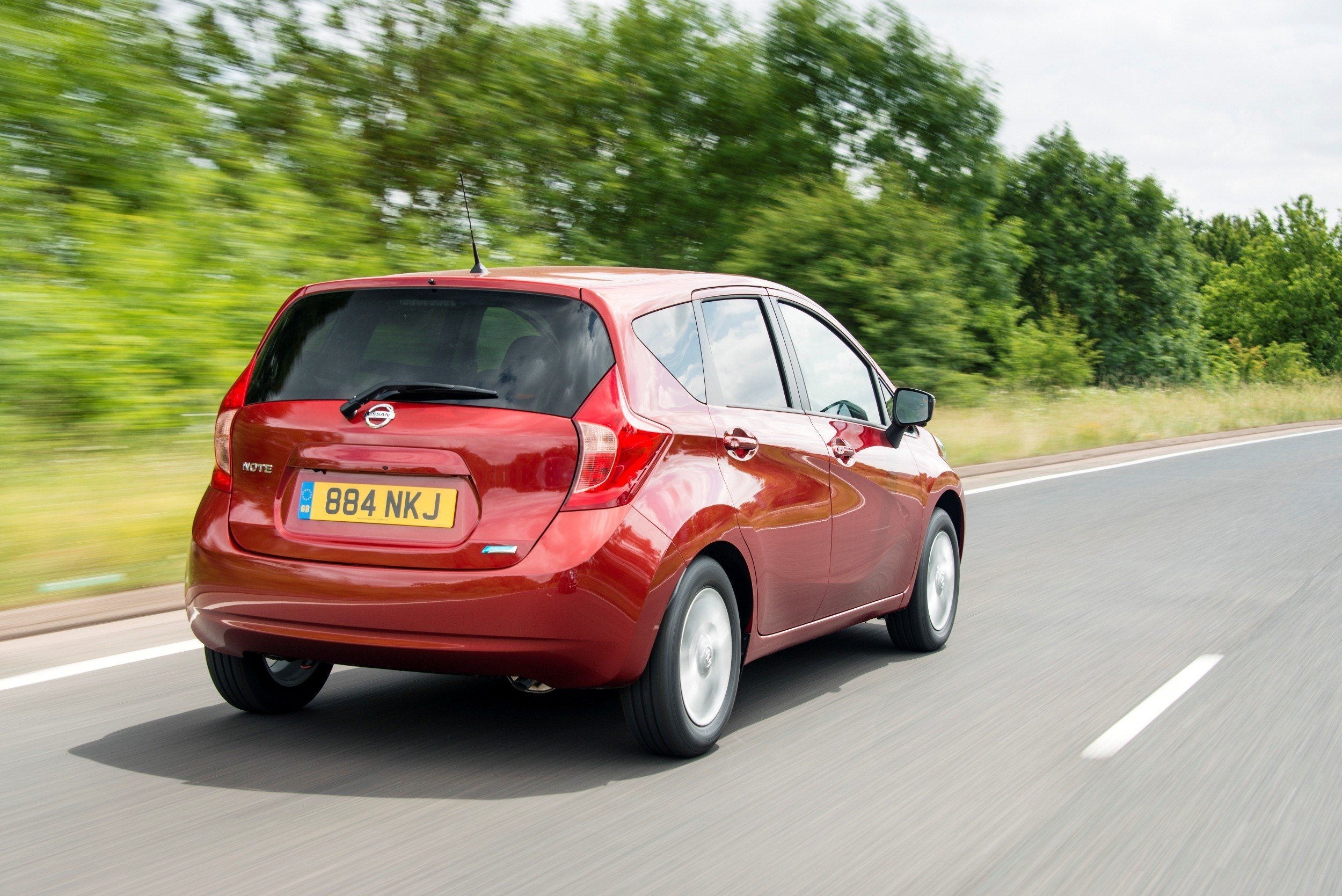 You'll find more petrol models of the Nissan Note on the market, though, and they're hardly going to drain your pockets in terms of running costs, either. The standard 1.2 officially returns 60.1mpg while the supercharged DIG-S is rated at 65.6mpg.
These figures aren't necessarily that achievable in the real world, though. According to HonestJohn.co.uk's Real MPG data, you should be able to see mid-40s mpg from the petrol models, and more than 60mpg from the diesel.
How reliable is a Nissan Note?
Unfortunately, reliability isn't the Nissan Note's strong point. It's certainly not as dependable as its main competitor, the Honda Jazz. Problems are common, especially with the troublesome CVT automatic gearbox which can seemingly fail without warning.
Transmission aside, suspension faults are also frequent, while we've heard of high oil consumption and issues with the air conditioning.
Insurance groups and costs
The Nissan Note should be very affordable to insure and could make an excellent first car for a new or inexperienced driver. Insurance groups start as low as 6E for a Nissan Note with the DIG-S petrol engine.
What is the annual road tax on a Nissan Note?
Unless you find a particularly late example of a Nissan Note, it'll have been registered before the latest VED car tax rules were introduced in April 2017. That means you could pay as little as £0 to tax a Nissan Note for 12 months.
With CO2 emissions below 100g/km, the Nissan Note 1.5 diesel and 1.2 DIG-S petrol are both eligible for free road tax. Buy one with the 80PS 1.2-litre engine and you'll pay £20 a year, while the DIG-S engine combined with the CVT automatic gearbox will cost £30 a year to tax.
How much should you be paying for a used Nissan Note?
"When it was still on sale, just £12,000 could you get you a brand new Nissan Note. Today, depreciation has taken its course and a budget of just £5000 will get you a six-year-old example from a heycar approved dealer."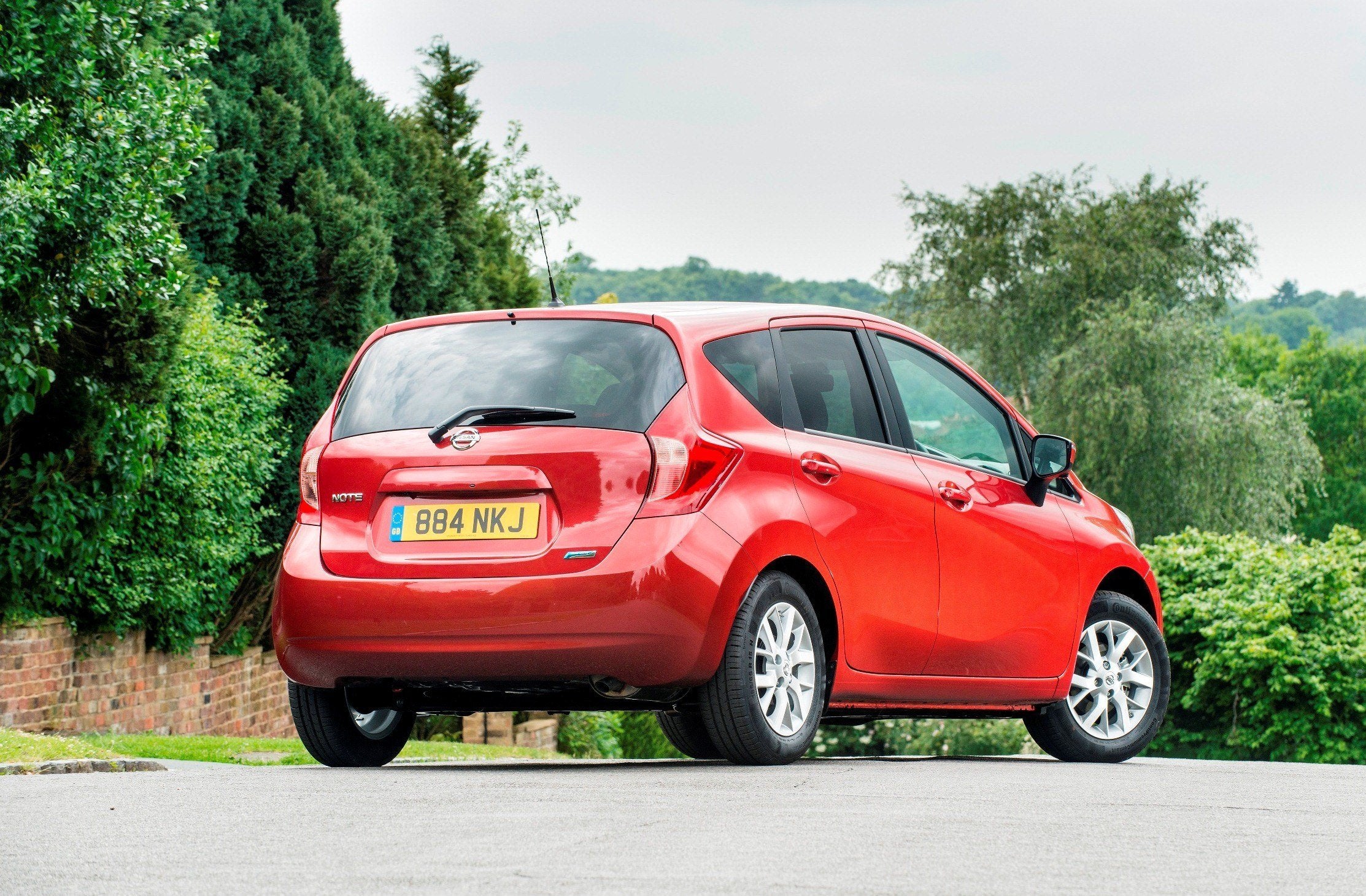 Nissan Note Visia models feature a CD player, USB and Aux connectivity, Bluetooth, electrically adjustable door mirrors, stop/start, cruise control, tyre pressure monitoring, split-fold rear seats, electric front windows, daytime running lights, keyless entry and steel wheels. Air conditioning is a cost option on Visia models.
The Nissan Note Acenta adds steering wheel mounted audio controls, heated door mirrors, electric rear windows, air conditioning, sliding rear bench seat, 15-inch alloy wheels, front and rear armrests, adjustable load area floor, body-coloured exterior details plus rear privacy glass.
Note Acenta Premium models get climate control, automatic headlights and wipers, front foglights plus the Nissan Connect sat nav and touch screen system. Options on this grade include Safety Pack with Around View Monitor and the Comfort pack with glass roof.
The Nissan Note Tekna adds the Around View Monitor, i-Key with keyless start button, improved audio system, blind spot warning, lane departure warning, leather covered steering wheel, part-leather seats and 16-inch alloy wheels. Options include a styling pack with front and rear aprons plus a spoiler.
Ask the heycar experts:
common questions
Is the Nissan Note a good car?
The Nissan Note is a good value small car with more space than conventional alternatives like the Ford Fiesta. It's well-built and generously-equipped for the money.

Has the Nissan Note been discontinued?
Nissan dropped the Note from its range in 2017, saying that its more popular Micra and Juke models would cater for traditional Note buyers.

What engine does a Nissan Note have?
Nissan Note buyers can choose from two 1.2-litre three-cylinder petrol motors or a 1.5 DCi diesel.

Answered by
heycar editorial team
Nissan Note cars for sale on heycar
3,896
Number of cars available
£6.9K - £11K
Price bracket of these cars
Colours available on heycar
Keep me updated by email with the latest advice, news and offers from heycar
By submitting, you agree to our
privacy policy
.