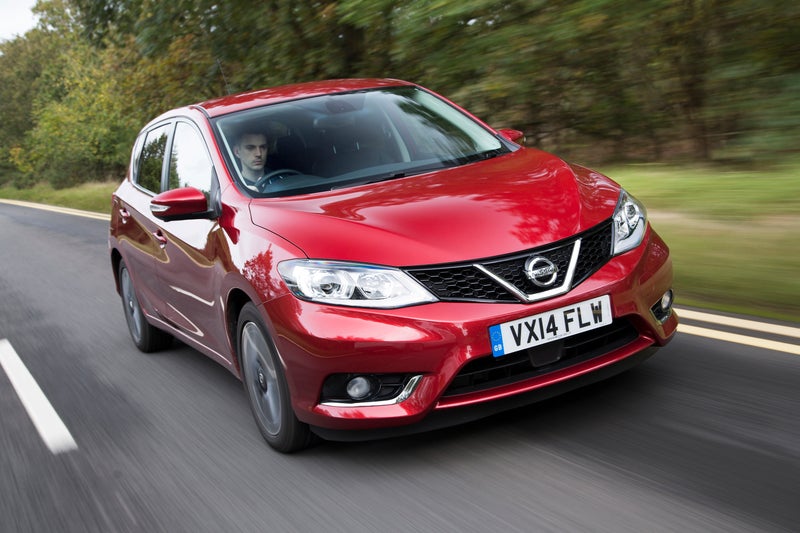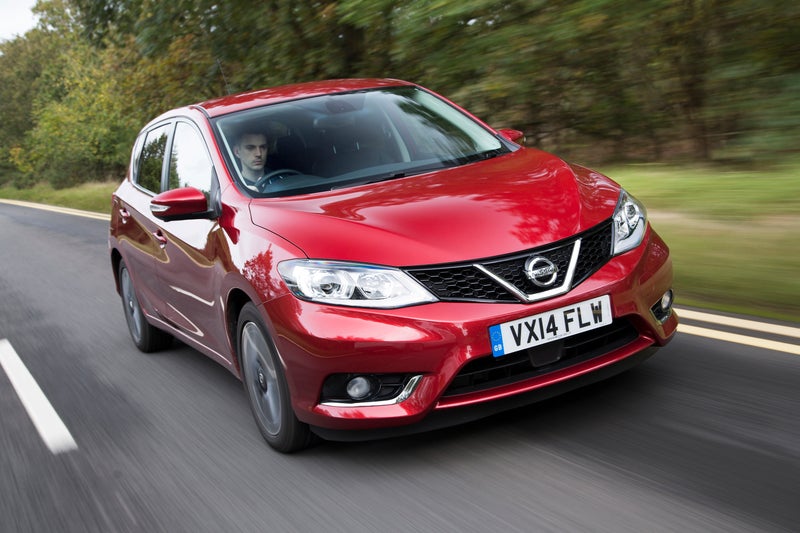 1/10
heycar rating
"Mediocre, conventional Nissan Qashqai alternative"
Launched: 2014

Family hatch

Petrol, Diesel
Quick overview
Pros
Good value
Very roomy
Most models are well-equipped
Cons
Boring design
Dull to drive
Totally forgettable
Overall verdict
On the inside
Driving
Cost to run
Prices and Specs
Common questions
Overall verdict
"You know a car isn't likely to excite when the main reason for buying it is something entirely rudimentary. So it proved with the Nissan Pulsar and its biggest selling point… good rear legroom. You can already imagine buyers checking it out in a showroom, opening the rear door, then shrugging and scuttling quickly back to the Qashqai they were also considering."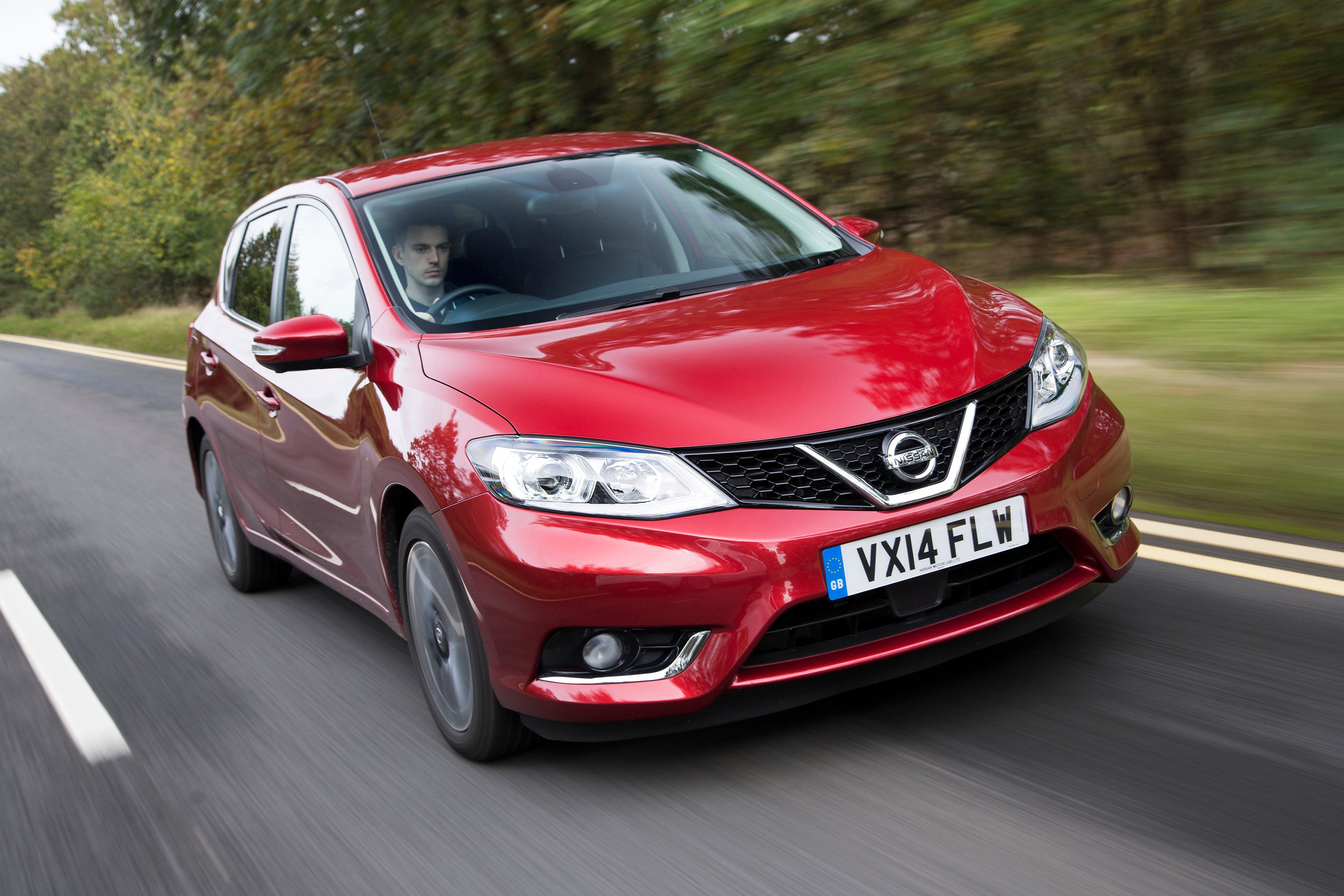 Yes, the Pulsar is a surprisingly half-hearted attempt by Nissan to take on the family hatchback market – a sector that the Volkswagen Golf dominates, the Ford Focus sells strongly in, and where cars such as the Peugeot 308, Renault Megane and Vauxhall Astra are perennial front-runners in. This was not the car to give any of them sleepless nights.
Nissan seemed to have forgotten why it replaced this car's distant predecessor, the Almera, with the Qashqai in 2006: because the company didn't make very interesting family-focused hatchbacks. The arrival of the Pulsar proved it hadn't learnt anything in the intervening eight years. And that's why the dull car lasted only four years on sale before sloping off with its exhaust between its legs.
Perhaps we're being unkind. The Pulsar wasn't a car completely without merit. It used some decent engines, was very well equipped, and a determined focus on comfort meant it was a comfortable cruiser. Then, of course, there's all that rear-seat space. For someone coming from a Renault Megane, it would be a revelation.
That's all rather faint praise, though, and unlikely to help Nissan take on the might of cars such as the Volkswagen Golf – particularly as it wasn't particularly pretty or stylish. Nissan invented the crossover SUV because it didn't know how to make attractive, appealing hatchbacks. The Pulsar showed it still didn't know how to produce them.
Of course, you can only buy a used Pulsar now. And second-hand, it's a different proposition – and a bit more competitive. It's still not class-leading, but at least it's something you can now justify purchasing for more than just the love of Nissan dealers.
That's because it's very affordable. Prices for 2015 cars now start from around £6,000 in the UK, which is not a lot to spend on a car with modern engines, contemporary infotainment and the bragging rights of a reasonably fresh registration plate. Then there's all the equipment Nissan included as standard to make up for its sheer mediocrity.
The Pulsar also has Nissan reliability on its side, which counts for a lot when you're looking at a bargain-priced car such as this. You could buy a brand new Dacia Sandero, but for the same money, you could get a much roomier car with more kit and a punchier line of engines. We're not saying the Pulsar's time has come, but it makes more sense now than when new.
Is the Nissan Pulsar right for you?
If you want a roomy family hatchback that's plenty spacious enough for teenagers and adults in the rear, the Pulsar has a lot going for it. We can't think of any rival that's so roomy in the back – it's actually more accommodating than the Qashqai crossover.
It offers plentiful value for money as well. Considering the price, it has a lot of standard kit. And the turbo petrol and diesel engines are pretty good, too. It's not an exciting car to drive, but it's a competent one, with a quiet and supple ride at speed, meaning it's a good choice for those after affordable, fuss-free motoring.
What's the best Nissan Pulsar model/engine to choose?
Nissan sold the Pulsar in a familiar range of trim lines. We'd avoid the base Visia as it's a bit sparse and variants above it offered much more equipment for the money. Our favourite is N-tec, which has sat-nav, privacy glass, LED headlights and smart-looking 17-inch alloys.
The 1.5-litre dCi diesel engine is still a good bet. It's the same one used in a multitude of Nissans and Renaults, and is reasonably smooth, fairly punchy and extremely fuel efficient. If you prefer petrol instead, go for the 1.2 DIG-T as it's better than the 1.6-litre alternative – the 190PS 1.6 DIG-T never feels anywhere near as fast as its fruity power output suggests.
What other cars are similar to the Nissan Pulsar?
We've named the cars the Nissan Pulsar failed to beat: the Ford Focus and Volkswagen Golf. It also failed to beat the Vauxhall Astra, Mazda3, Toyota Auris, Kia Ceed, Hyundai i30, Peugeot 308, Renault Megane, SEAT Leon and the Skoda Octavia. What have we missed?
There are many similar cars to the Nissan Pulsar, and many better all-rounders, although in terms of value for money and sheer space efficiency, it's still a car with a certain amount of merit.
Comfort and design
"The Nissan Pulsar has a slab-sided, boxy exterior design that makes you wonder if the team of designers behind the Qashqai even caught wind of the project before it was made public. The gulf in exterior appeal between these two cars is stark. And it's a similar story inside."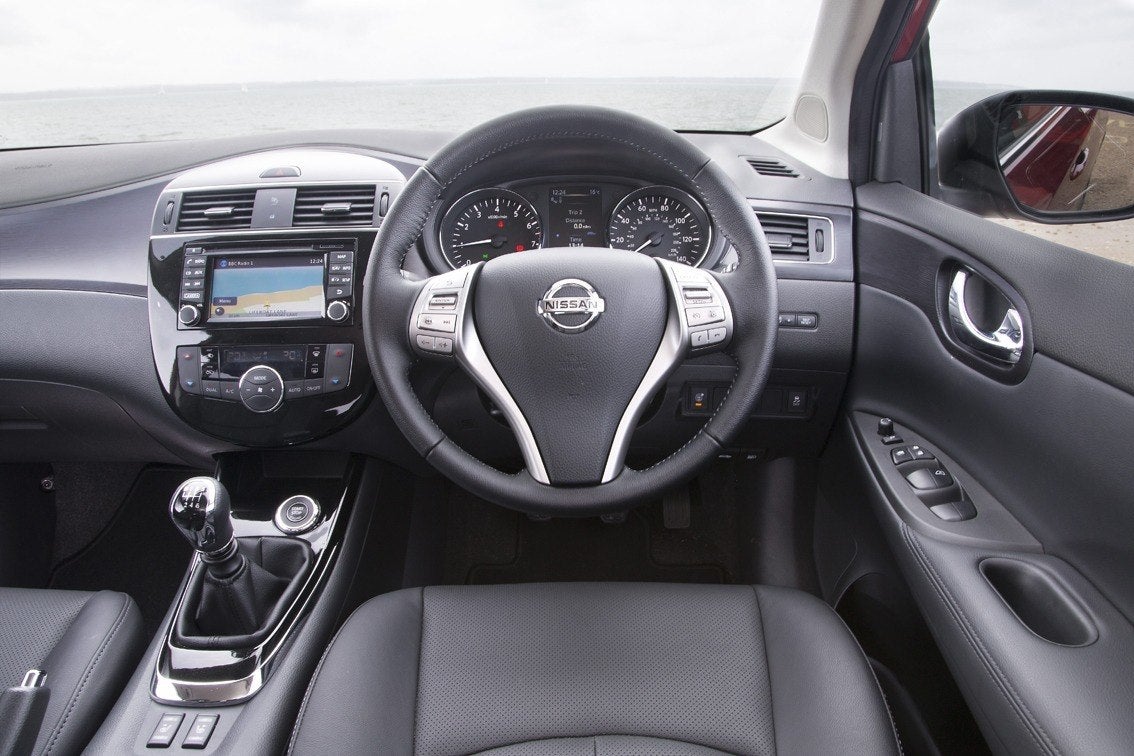 The Qashqai has grown up and today, years after launch, still looks welcoming and feels appealing to sit in. The Pulsar is stark and unusually austere in a way it really didn't need to be as a blank-sheet design. Could Nissan at least not have brought in a few cues from the best-selling, award-winning Qashqai?
Sadly not. So we have a rather apologetic touchscreen mounted in the centre of the dashboard, beneath a set of utilitarian air vents, and above a generic heater control panel. Even the piano black trim of some models fails to lift the interior, and neither can the familiar Nissan dials. Even they look busy and disappointing, despite being identical to those in the Qashqai.
Switchgear is scattered, the design lacks coherence, and it all seems unappealing and unwelcoming. We take you back to the Qashqai buyer in a showroom, wondering what else they could get. They'd get in and then they'd climb straight out again, without giving the Pulsar a second glance.
Quality and finish
Quality is, largely, a given. Nissan builds solid, robust cars, and the Qashqai feels perfectly solid in terms of its construction. The plastics inside are assembled with reasonable precision, seem built to last and, even in early cars, are unlikely to rattle or vibrate on the move.
They're not very nicely finished, though. There is not an overabundance of soft-touch finishes and some of the materials you stare at are rather too shiny and scratchy. There are some nice, high-quality details such as the piano black trim and, er, the gearlever, but the Pulsar otherwise offers little that feels particularly premium or appealing.
Infotainment
Infotainment is lacking in cheaper Pulsars, but as they didn't sell well when new, there isn't a large number on the used market. A tiny screen mounted within the radio-style setup is at least colour, but it's almost comically basic and doesn't offer any sort of useful functionality.
N-tec models get the all-important NissanConnect2 touchscreen sat-nav system. This has a 5.8-inch colour screen, which includes smartphone integration, DAB and the Nissan Around View Monitor 360-degree parking camera. If we're being honest, it's hardly the most up-to-date system, with decade-old graphics and slow, lethargic mapping. But it does bring a semblance of modernity to the Pulsar, and connect up with your smartphone to offer reasonable functionality.
Space and practicality
Front-seat space is perfectly class-competitive. The Pulsar doesn't have particularly memorable seats, but they're accommodating and adjustable, even if they are mounted a bit too high, and the steering wheel is a bit too angled. There's a roomy footwell, the gearlever is positioned close to the driver, and the only awkward part about the driving position could be the handbrake. Its long reach is a bit too 'railway signal box' for a modern car.
You do, however, get nice soft door armrests, amply sized to feel luxurious. And that's not the only surprise the Pulsar has inside.
The car's crowning glory comes in the rear. It has a long wheelbase for a car of this size, which delivers a terrific amount of rear-seat space. At launch, Nissan said it has more space in the back than a BMW 3 Series, which is actually damning it with faint praise, given how famously compact the 3 Series has been over the years. In reality, there's leg-crossing legroom in the back, making it feel more like a car from the sector above.
The long wheelbase means the rear door openings are large, helping taller people get in and out. This also helps parents easily make best use of the Isofix child seat mounts on the outer two rear seats. In this regard, the Pulsar is an extremely practical machine.
It has a big boot – at 385 litres, it's five litres larger than a Volkswagen Golf, the standard-setter in this sector. The boot also has a square shape, but the load sill is a bit high. This does mean there's plenty of height in the boot, but it also makes it tricky to haul things in and out – the Pulsar doesn't have an adjustable-height boot floor.
Folding the seats extends space to 1395 litres, which again shows just how large the rear cabin is. There are no remote seat-fold levers in the boot, though, so you'll have to go around each side and flip the levers on the 60:40-split seat-backs themselves.
Handling and ride quality
"The Nissan Pulsar is a car focused on ride quality and comfort rather than handling excitement. It handles bumps comfortably, soaking up rough roads without too much fuss. It's especially good on more basic models, which have smaller wheels with thicker tyre sidewalls. These take the harshness away from scarred urban streets with some aplomb."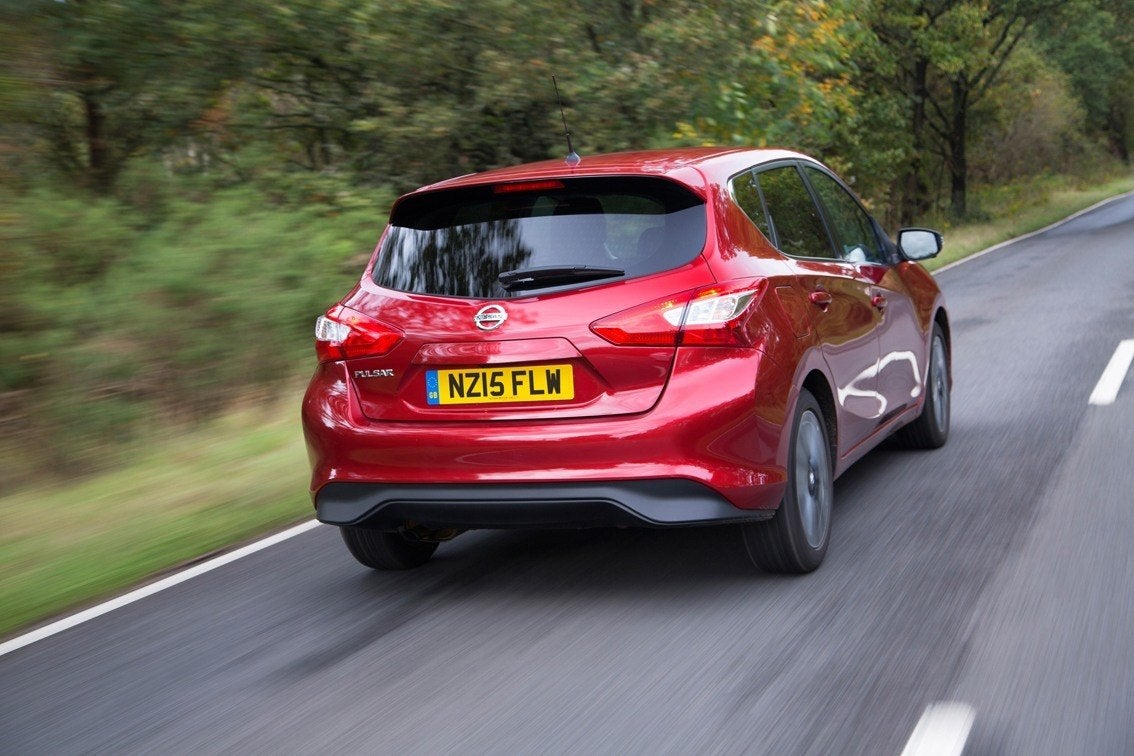 The Pulsar settles down to a comfortable gait on the motorway, too. It's not particularly quick-witted, so is not a car you'll want to let loose and enjoy on a quick A-road. However, it's very good at whiling away the hours on a motorway without too much discomfort.
The pay-off is handling that's on the soft side. It rolls too much in corners, and the front end lacks sharpness, so you'll have to work a bit harder to travel quickly on back roads. The faster you go, the less your passengers will like it, because the car will rock and lean in a way that's likely to induce queasiness in even the strongest stomachs.
The steering isn't particularly precise or direct either. Combined with a lack of grip and bite from the front tyres, that makes the Pulsar an unadventurous and uninterested car to drive. If you want fun behind the wheel, there are any number of alternatives more rewarding than this.
Engines and gearboxes
The Pulsar only offered a limited range of engines, but they're all pretty good. Most impressive is actually the entry-level 1.2-litre DIG-T, a four-cylinder turbo with 115PS and a very strong amount of pulling power from low revs.
It feels responsive and eager in town, punching well above its weight, and it is fairly eager so long as you don't ask too much of it. Despite its diminutive size, it's not bad at motorway speeds either, performing quietly and serenely, although it will struggle if you ask more of it, particularly if you have a few passengers onboard.
That's where you need the 1.5-litre dCi, a familiar Renault-sourced turbodiesel that produces 110PS. It's a strong engine, and a refined one, which is happy to sail along at low revs and still deliver the surge you require. Although it's a diesel, it doesn't vibrate or clatter excessively, making it a good alternative to the smooth little 1.2-litre DIG-T.
You don't really need the 1.6-litre DIG-T. With 190PS, it sounds rather good fun, and it does have punchy acceleration (less than eight seconds to 62mph). But it never gives much more than the other two motors unless you really rev it, and driving it in such a sporty way doesn't suit the Pulsar's demeanour.
The manual gearbox fitted to all cars is light and precise. You can have a CVT automatic on the 1.2-litre version, but the impact on acceleration is pronounced and it also has the 'slipping clutch' effect that so many dislike about single-speed CVT 'boxes.
Refinement and noise levels
Another Nissan Pulsar strength is decent refinement, helped by the car's torquey, low-effort engines. It doesn't encourage you to drive it in a revvy, dynamic manner, so motorists tend to leave it in a higher gear and lug along without too much fuss. Even the diesel isn't too intrusive.
The most annoying engine may be the automatic version of the 1.2-litre DIG-T, which will often spin straight up to higher, louder engine revs when you press the accelerator.
Road noise is surprisingly well isolated, something that's helped by the modest tyre and wheel size. Owners don't get any sort of premium sound system to make the most of it, but it does help people have a conversation at motorway speeds without shouting – important when the rear-seat passengers are positioned so relatively far from those in front.
Safety equipment
If you're buying a used Nissan Pulsar, you'll be reassured to know you're buying a safe car that was awarded a five-star Euro NCAP crash-test score in 2014. The organisation awarded it 84% for adult occupant protection, 81% for child occupant protection, 75% for pedestrian safety and 68% for safety assist features.
Front and side airbags are standard, although, unusually, neither extends to the rear. The seatbelt pretensioners and load limiters are also only for the front seats, but there is a seatbelt reminder device for all five seats. The Pulsar also features stability control and a standard speed limiter, while autonomous emergency braking and a lane-keep assist system are available as options.
N-tec models have a handy 360-degree parking camera that Nissan calls the Around View Monitor. It's fascinatingly effective ‒ and it's the sort of tech that you have no idea how it works. It's certainly useful to have, however.
Top-spec Tekna models come with the Nissan Safety Shield system. This includes a blind-spot warning system that scans beyond the blind-spot, warning you if something is racing up quickly behind.
MPG and fuel costs
"Best for fuel economy is the 1.5-litre dCi diesel Pulsar. Figures of between 74mpg and 79mpg are officially claimed, although these are the earlier, outdated NEDC numbers. In the real world, you'll struggle to get near that, although it does show how relatively efficient the dCi engine is."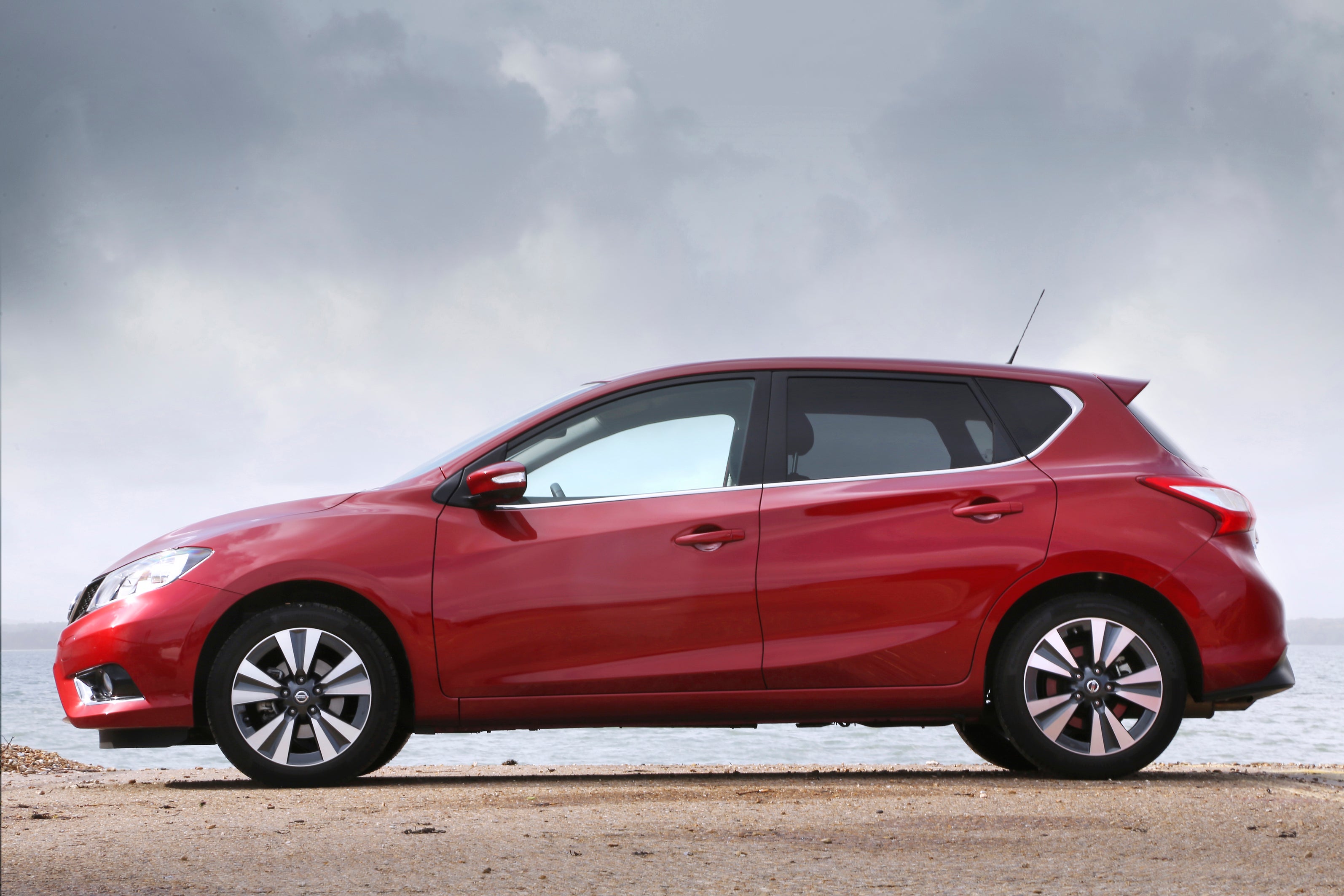 The 1.2-litre DIG-T isn't bad, with claimed economy from 54mpg to 57mpg – and that's for both the manual and automatic. The 1.6-litre DIG-T is less impressive, with combined economy of 37.2mpg.
Insurance groups and costs
The Nissan Pulsar should prove a cost-effective car to insure. Some 1.2-litre versions are down in group 10 (out of 50), which is not bad for a turbocharged, well-equipped family hatch.
A 1.5-litre dCi Acenta is in group 11, meaning it's only the 1.6-litre DIG-T that stands out as being potentially pricey to insure. It falls into group 17 for insurance, or group 18 for the top-spec Tekna version.
VED car tax
Nissan Pulsar tax bands are easy to decipher, as the engine range was so small. For the dCi, if you pick smartly, you'll find you don't have to pay any VED (road tax) whatsoever, while even higher-spec versions with larger alloys will only cost £20 a year.
The 1.2-litre DIG-T costs £30 a year – in both manual and automatic guises – and the 1.6 DIG-T will jump up to £150 a year for VED. Another reason to ignore it, then.
"These days, if you search hard, you'll find early Nissan Pulsars starting from around £6000. These will have slightly above-average miles, but it's a reliable car so this shouldn't necessarily put you off, given the sheer value for money."
"You will find greater choice from around £7000, with both 1.5-litre dCi diesel and 1.2-litre DIG-T petrol engines in reasonably good supply. The most common trims will be Acenta and N-tec: base-spec Visia is actually quite rare, as is the pricier Tekna top-spec grade."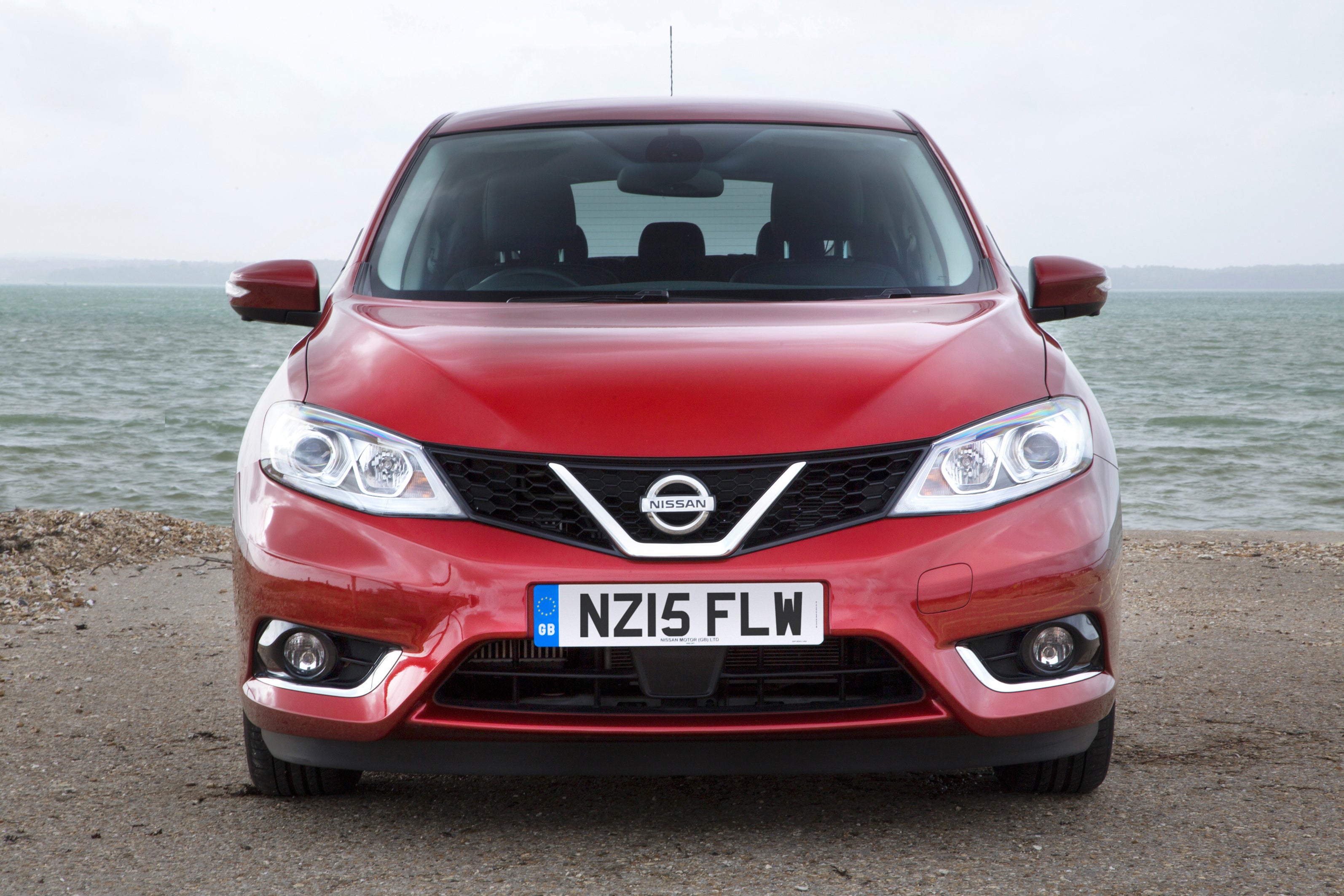 You won't need to spend much more than £10,000, even for a late-model 2017 or 2018 Pulsar. As these cars won't have covered many miles, there will be plenty of life left in them.
Trim levels and standard equipment
The Pulsar uses the familiar trim grades also seen in other Nissan models such as the Qashqai. The range opens with Visia, which is fairly basic, but even this variant is fitted with air-con, Bluetooth, remote stereo controls on the steering wheel and a 5.0-inch colour screen.
Acenta is a better starting point. This has keyless entry, autonomous emergency braking, automatic lights and rain sensitive wipers. Our preferred spec is N-tec, which is fitted with a smart set of 17-inch alloy wheels, privacy glass, LED lights, a colour reversing camera and NissanConnect2 with full smartphone integration and clever Google 'send to car' tech.
Tekna grade is the top-spec version, with features including Nissan Safety Shield. This package encompasses moving-object detection, lane-departure warning and blind-spot warning.
Ask the heycar experts:
common questions
Is the Nissan Pulsar a good car?
It's not the best hatchback on the market but the Nissan Pulsar is a refined and comfortable car, with plenty of rear legroom for carrying children and teenage passengers too. Just don't expect much excitement.

Is the Nissan Pulsar being discontinued?
Nissan only made the Pulsar between 2014 and 2018 so it has now been discontinued after struggling to reach initial sales targets. Instead Nissan is focussing on crossovers and SUVs.

What engine is in a Nissan Pulsar?
The Pulsar was offered with either a 1.2-litre or 1.6-litre petrol engine or a 1.5-litre turbocharged diesel.

Where is the Nissan Pulsar built?
Although the Qashqai is built at Nissan's Sunderland plant, the Pulsar was assembled in Barcelona, Spain.

Nissan Pulsar cars for sale on heycar
3,892
Number of cars available
£6.2K - £12K
Price bracket of these cars
Colours available on heycar
Keep me updated by email with the latest advice, news and offers from heycar
By submitting, you agree to our
privacy policy
.