Nissan Qashqai Review 2022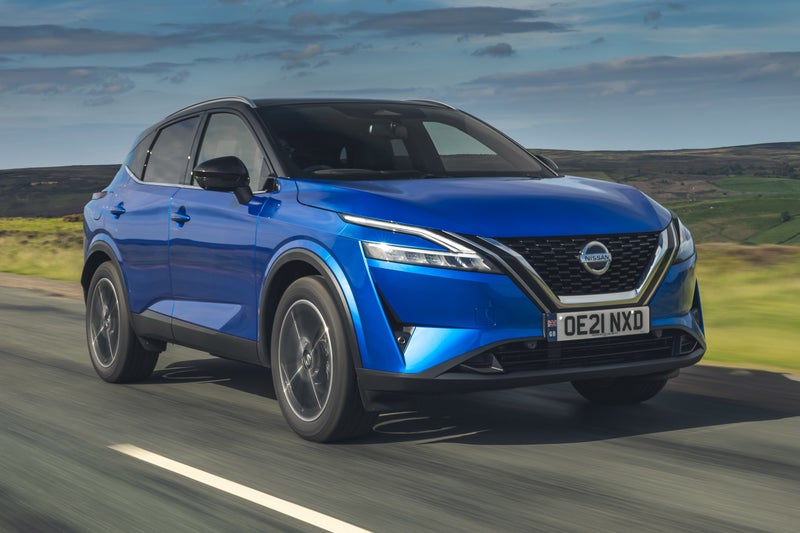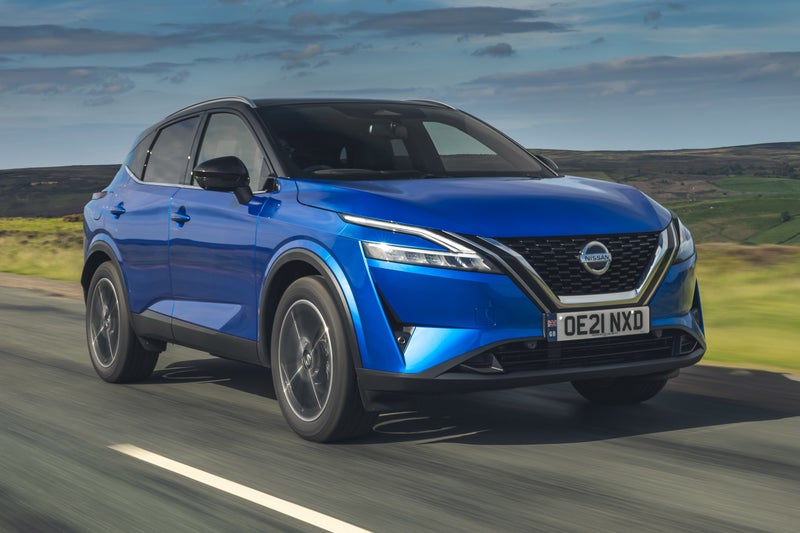 1/10
heycar rating
"Revamped SUV better than ever"
Launched: 2021

SUV

Petrol, Hybrid
Quick overview
Pros
Extremely versatile with big boot, fold-flat rear seats and wide rear door openings
Interior feels considerably posher than before
Innovative new hybrid model on its way
Cons
Lethargic petrol engine
Firm ride on 20-inch alloy wheels
Most desirable models are expensive
Overall verdict
On the inside
Driving
Cost to run
Prices and Specs
Common questions
Overall verdict on the Nissan Qashqai
"The old Nissan Qashqai was way past its best yet its reputation for value for money and versatility meant it continued to sell in huge numbers. Fortunately, the third-generation 2021 model is by far the best Qashqai ever sold, putting it in good stead against hugely competitive rivals like the Skoda Karoq and Peugeot 3008."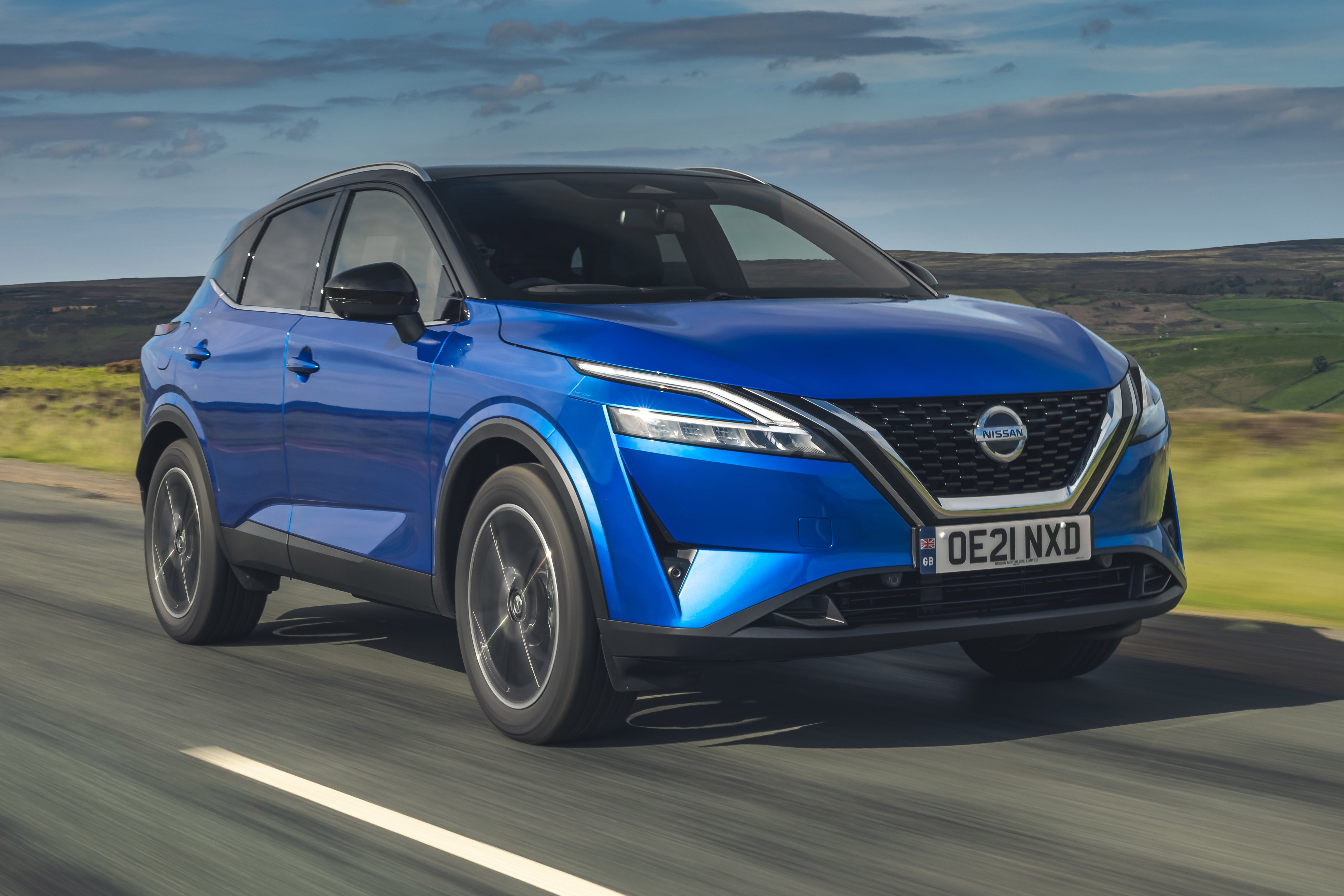 There's been a noticeable move upmarket with the new Nissan Qashqai, with an interior that could almost compete with more premium alternatives like the BMW X1 and Volvo XC40. Emphasis on 'almost', though – and we've only spent time in the top-spec Tekna+ model. This desirable derivative comes fully loaded with quilted leather massage seats, a Bose sound system and a smart eight-inch infotainment system. Oh, and a price tag of more than £36,000. But the Qashqai range is broad (and not as pricey) and we'll explore all trim levels in our 2022 Nissan Qashqai review.
The Nissan Qashqai range kicks off with the £25,500 Visia model – a proper 'hire car spec' car if ever we saw one. The mid-range Acenta Premium has all the kit you'd need, though, including 17-inch alloy wheels, a rear-view camera and an eight-inch media system with Apple CarPlay and Android Auto.
Initially, the 2021 Nissan Qashqai will only be available with a 1.3-litre petrol engine. This has mild-hybrid tech but it's nothing to get excited about – the 12-volt system will do little more than provide a small power boost under acceleration and keep your lights on as you coast to a stop with the engine off. There are two power outputs available, while buyers get the choice of a manual or CVT automatic gearbox and two- or four-wheel drive.
For a truly innovative system, you'll need to wait for the new e-Power unit. It's unusual, even by hybrid standards, as there's no direct link between the petrol engine and the wheels. Instead, it basically acts as a generator for the electric motor, providing all the benefits of electric cars with few of the drawbacks.
The Nissan Qashqai has never been a particularly sporty choice and that remains the case today. Rivals like the Mazda CX-30 and SEAT Ateca are more agile, while the Skoda Karoq is a more comfortable alternative. We've only tried the Qashqai with its 20-inch alloy wheels which, although they look smart, aren't great for ride quality or refinement.
It's practicality where the 2022 Nissan Qashqai shines the most. From the generous stowage areas to the rear seats that fold flat, doors that open incredibly wide and an extensive list of standard safety equipment, there's no doubt that this is a car designed with families in mind. We'd like to spend a bit more time with a more affordable model (on smaller wheels) before forming a true verdict, but the Nissan Qashqai finally offers the competition a true run for its money.
If you're looking for the older version, you need our used Nissan Qashqai (2013-2021) review.
Is the 2022 Nissan Qashqai right for you?
The Nissan Qashqai has long been a popular choice for family buyers, and it's now more versatile than ever. Its interior has been dragged up to date, with fresh technology and a posh finish that almost puts it in-line with much more expensive SUVs. As long as you don't care for sporty handling, the Nissan Qashqai is a very competitive mainstream family SUV.
What's the best Nissan Qashqai model/engine to choose?
It might be worth waiting for the new e-Power hybrid but, for now, we'd recommend the 158PS mild-hybrid with the automatic gearbox. In terms of trim level, avoid basic Visia models, but resist the urge to pay top-whack for a high-spec Tekna or Tekna+ model. The N-Connecta provides a good compromise, while you might find a good deal on a pre-registered Premiere Edition model.
What other cars are similar to the Nissan Qashqai?
Comfort and design: Nissan Qashqai interior
"The Nissan Qashqai has a big-car feel, with chunky front seats positioned high up to give you a feeling of superiority you just won't find with smaller SUVs."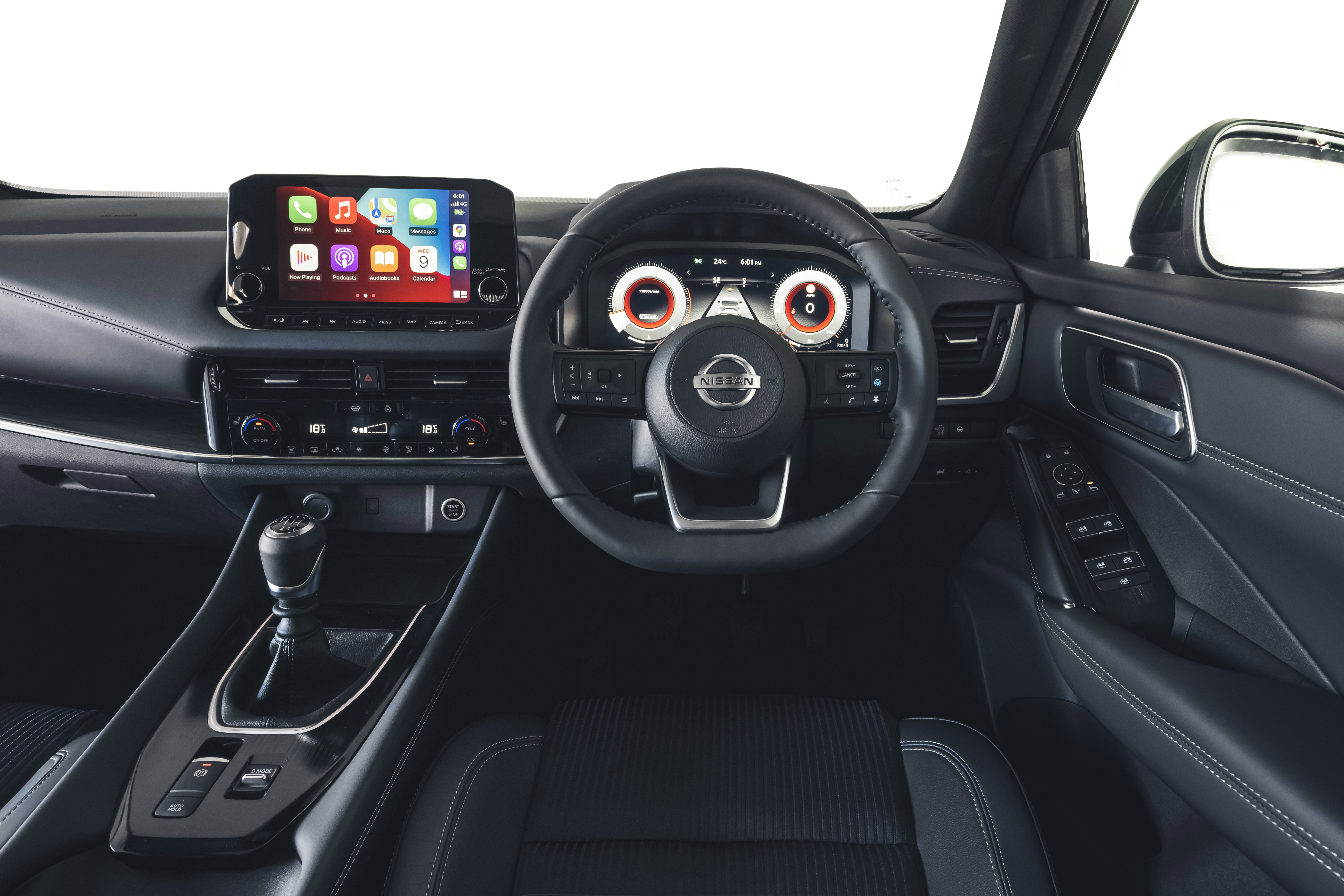 That bulky vibe is aided by a meaty thick-rimmed steering wheel, a wide centre console and knobs that look like they could be controlled while wearing gloves. It's not trying to be a Land Rover, but the latest Nissan Qashqai isn't the last word in petite.
The front seats of the Nissan Qashqai are comfortable enough, while the Tekna+ model comes with fancy massage seats as standard. Our main takeaway is that these are a bit noisy if you're driving without the stereo on. There is no shortage of head or legroom in the rear. You also get two ISOFIX anchor points on the outer rear seats, which means choosing a child seat for your Qashqai should be a simple enough task.
Quality and finish
This is perhaps where the Nissan Qashqai's moved on the most compared to its predecessor. While the old car was unashamedly a bit low-rent in its approach (value for money, wipe clean plastics and all that), the latest third-generation Nissan Qashqai is intending to tempt buyers away from more premium models. Certainly, our top-spec Tekna+ test car felt unashamedly posh, with quilted leather seats, contrast stitching and smooth wood-effect trim on the dashboard.
It's not faultless – there are some hard plastics low down in the cabin (the door bins, for example), and the rotary controls for the nav system feel a bit Fisher Price. It's just as impressive in terms of quality as the Peugeot 3008, though.
Infotainment: Touchscreen, USB, nav and stereo in the Nissan Qashqai
The 12-inch media system (standard on Qashqai N-Connecta models and above) features sharp, bright graphics and is well located for glancing at without causing a distraction. Its mainly touchscreen-operated, although there are buttons underneath acting as convenient shortcuts, as well as toggles on either side for tweaking the volume or zooming in and out of the nav.
It's certainly easier to operate than touchscreen-only systems (and there are separate climate control buttons below), but it's not as user-friendly as devices operated by a touchpad between the seats (such as in the Mazda CX-30).
The infotainment display is easy and logical to use, although its graphics look a bit old-fashioned compared to some competitors (the Volkswagen Tiguan, for example). Apple CarPlay and Android Auto are standard on all but entry-level Visia models, meaning you can use features like Google Maps via your smartphone.
There's a very sophisticated digital instrument cluster behind the steering wheel on the Qashqai, while a fairly chunky head-up display unit is also available. Nissan brags that it's the biggest in its class but we'd argue that size isn't everything... certainly when it comes to distracting text positioned in your eyeline when driving.
Space and practicality: Nissan Qashqai boot space
The dimensions of the Nissan Qashqai haven't changed a great deal over the older model, at just under 4.4m long and a touch over 1.8m wide. That means there's plenty of space in the front of the Qashqai, while it feels like quite a wide car, with a chunky centre console separating the driver and front-seat passenger. There's a (slightly small) glove box in the centre console while the door bins aren't the biggest we've seen.
There's plenty of room in the rear of the Qashqai, although expect complaints from whoever draws the short straw and has to sit in the middle. The middle seat is narrower than the outer seats, while there's a lump in the middle of the floor, hindering foot space. The Citroen C5 Aircross, with its three individual rear seats, is a better choice if you regularly travel with a full complement of passengers in the back.
The rear doors open up to 85-degrees – not great in tight parking spaces, but perfect for strapping children in when space allows. ISOFIX points on the outer rear seats help here, too.
There's 504 litres of boot space in the new Nissan Qashqai which, while not class-leading, is a fair size boot for loading with shopping or child paraphernalia. There's a false boot floor that allows you to reduce the amount of lip, making loading bulky items easier. If you need more space, the rear seats of the Qashqai fold usefully flat, leaving up to 1593 litres of space.
Handling and ride quality: What is the Nissan Qashqai like to drive?
"Nissan says it's tweaked the power steering setup to make it feel a bit more direct and agile. In truth, though, you'd still be better looking at the SEAT Ateca if you want a sporty family SUV."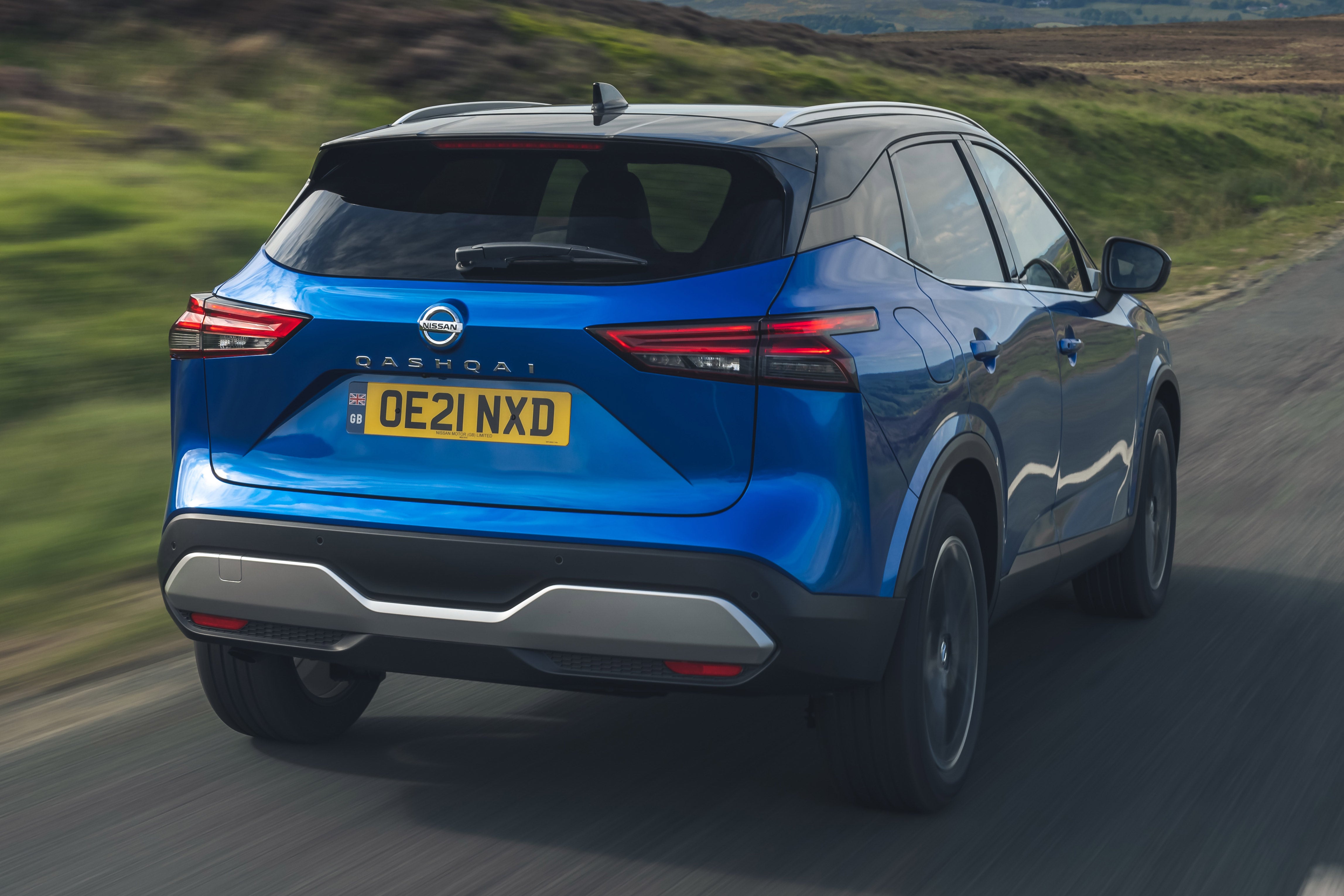 There's plenty of grip, at least, and it doesn't roll about in the corners like an SUV of old. Nissan even offers a 4x4 version, which could be a sensible choice if you're expecting to lug a caravan across muddy fields. You'll be in the minority, though – just 2% of buyers are expected to tick the 4WD box.
Fitting oversized alloy wheels with rubber-band tyres is never a good thing for ride quality. That's why, on models fitted with 20-inch alloy wheels, Nissan has fitted a more advanced rear suspension setup. As a result, it's not bone-shakingly brittle, but it's still firmer than we think is really necessary for a family SUV. We're yet to try examples with smaller wheels but, if it's comfort you're after, look at the Skoda Karoq instead.
What engines and gearboxes are available in the Nissan Qashqai?
The Nissan Qashqai is initially being launched with an updated version of the old 1.3-litre petrol engine. It's available with 140PS or 158PS, while both have 12-volt mild-hybrid technology. This provides a small performance boost, while the engine can turn off sooner as you coast to a halt in traffic.
The lower-powered Qashqai is only offered with a manual gearbox, while the more powerful motor can be paired with a manual or Xtronic CVT automatic gearbox. We've sampled the new Qashqai with the 158PS engine with both the manual and automatic gearbox. It's got quite a narrow torque band, which means you have to be proactive in changing gear in order to build speed. That's quite typical with small turbocharged engines like this, though.
The manual gear change has a slightly springy action but is adequate, with easy operation and a light clutch. If you're happy to splash the cash, the automatic gearbox suits a car like the Qashqai and will take a lot of the pain out of day-to-day driving. The Xtronic responds quickly and, surprisingly, the engine feels considerably sprightlier with it. Acceleration to 62mph takes 9.2 seconds, compared to 9.5 seconds with the manual gearbox.
Interestingly, Nissan is set to launch a hybrid version of the Qashqai. While that's not new in itself, the way it operates is unusual. There's no mechanical link between the wheels and the engine – instead, the Qashqai acts like an electric car with a petrol engine as a generator.
That means you won't have the range concerns of an electric vehicle, but you'll get the desirable characteristics (namely 330Nm of instant torque and Nissan's e-Pedal system, which slows the car down fairly dramatically as soon as you lift off the accelerator).
Refinement and noise levels
As well as upsetting ride quality, the 20-inch alloy wheels fitted to our Qashqai test car aren't great for refinement. There's a considerable amount of road noise, although a model with smaller wheels (and higher-profile tyres) will probably reduce this. We're yet to sample one to find out for sure.
Wind noise is acceptable on the Qashqai, though – it's certainly no worse than most mainstream SUVs of this size, although don't expect it to be as hushed as premium alternatives. The 1.3-litre petrol engine is fairly quiet until you really start working it hard, at which point it predictably becomes a bit thrashy. Don't be fooled by the mild-hybrid element – you're not going to be running around under electric power. Wait for the e-Power if that appeals.
Safety equipment: How safe is the Nissan Qashqai?
The Nissan Qashqai was given a maximum five star crash safety score when it was assessed by Euro NCAP, which included a strong 91% protection for both adults and children.
Nissan's driver-assist technology makes it pretty difficult to have a crash in a Qashqai (not that we'd recommend trying it out). And, best of all, it's standard across the range. Highlights include automatic emergency braking, which can monitor your surroundings and detect other vehicles and pedestrians, applying the brakes if required to help avoid or reduce the severity of a collision.
Rear automatic braking is standard, too – the car will automatically brake if there's a bollard you haven't noticed when reversing, for example. Nissan Qashqai Tekna models and above get adaptive driving beam tech, which splits the high beam into 12 segments, automatically turning select ones off to avoid dazzling oncoming motorists. It's a really nifty feature.
While there's the usual myriad of airbags, there's also a clever new central airbag between the driver and front passenger. This is to prevent you from colliding in the case of a collision.
MPG and fuel costs: What does a Nissan Qashqai cost to run?
"The 1.3-litre petrol engine paired with the manual gearbox officially returns up to 45mpg in official WLTP fuel economy tests while the 4x4 model returns 40mpg."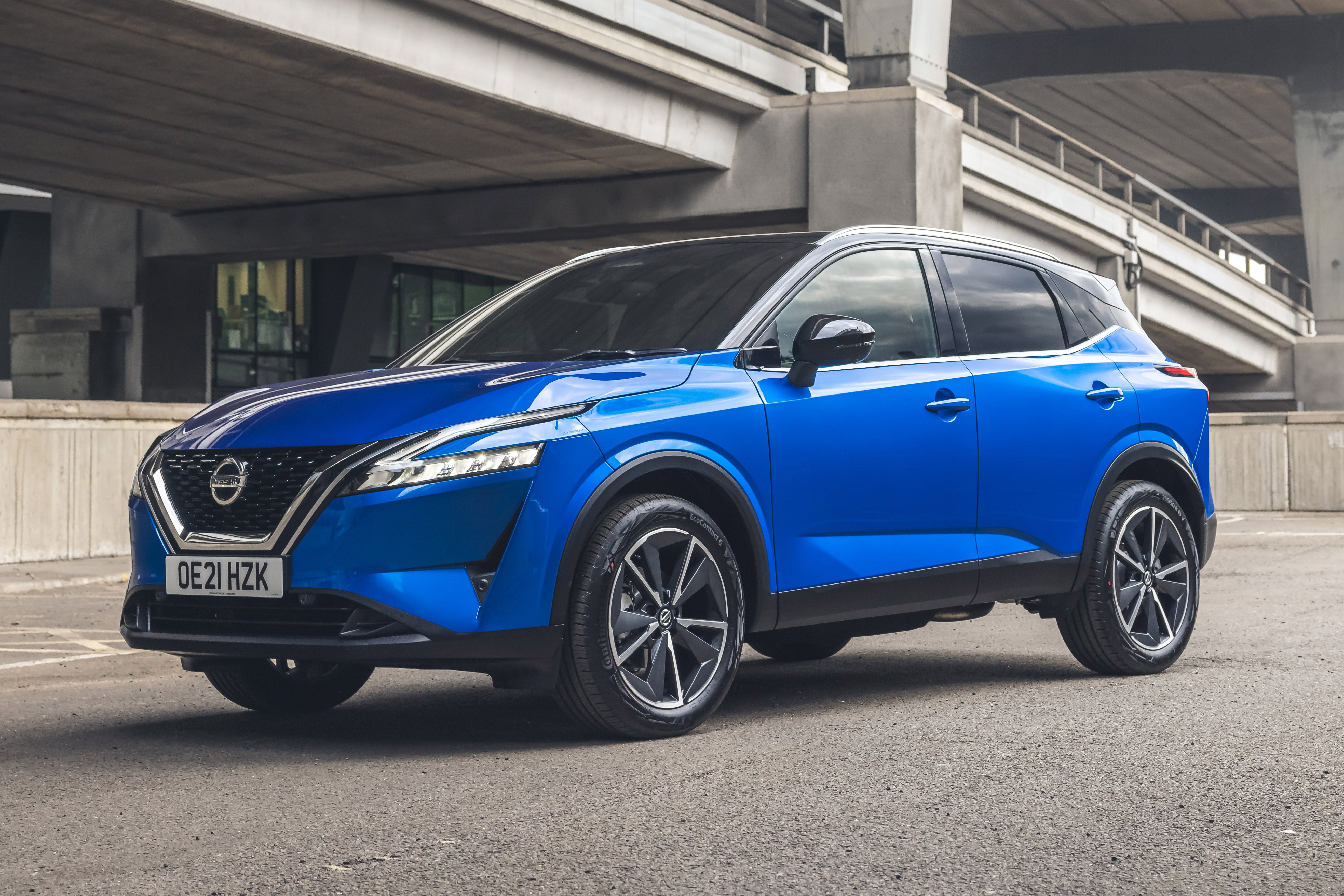 These figures are comparable to rivals although, as ever, will depend on factors like your driving style in the real world. If you want a really efficient Qashqai, wait for the e-Power hybrid. Official fuel economy figures are yet to be announced, but Nissan's making some bold claims about the efficiency benefits.
How reliable is the Nissan Qashqai?
The latest Nissan Qashqai is still very new so any problems are yet to come to light. Nissan as a brand has a fairly good reputation for reliability, although it scored a middling 9.04 out of 10 for reliability in the HonestJohn.co.uk Satisfaction Index.
The old Qashqai was plagued with issues with the CVT transmission, while manual models had a tendency to pop out of gear (particularly in reverse). DPF (diesel particulate filter) issues were also common with diesel models regularly used for short journeys.
Insurance groups and costs
The lower-powered 140PS Qashqai will be the cheapest to insure, with a Visia model falling into group 11E. An Acenta Premium with the more powerful engine and manual gearbox is in group 17E, while the auto transmission places it in group 15E. Depending on factors like your postcode, age and driving experience, you might find the difference in costs is minimal – it's worth shopping around for car insurance quotes, though.
VED car tax: What is the annual road tax on a Nissan Qashqai?
As the Nissan Qashqai's 1.3-litre engine features mild-hybrid tech, it's classed as an 'alternative fuel vehicle' so you'll save £10 a year in road tax, making your annual bill (after the first year) £145. The upcoming Nissan Qashqai e-Power will be the same.
How much should you be paying for a Nissan Qashqai?
"The Nissan Qashqai range starts from £23,535 – but the most desirable models command list prices well in excess of £30,000."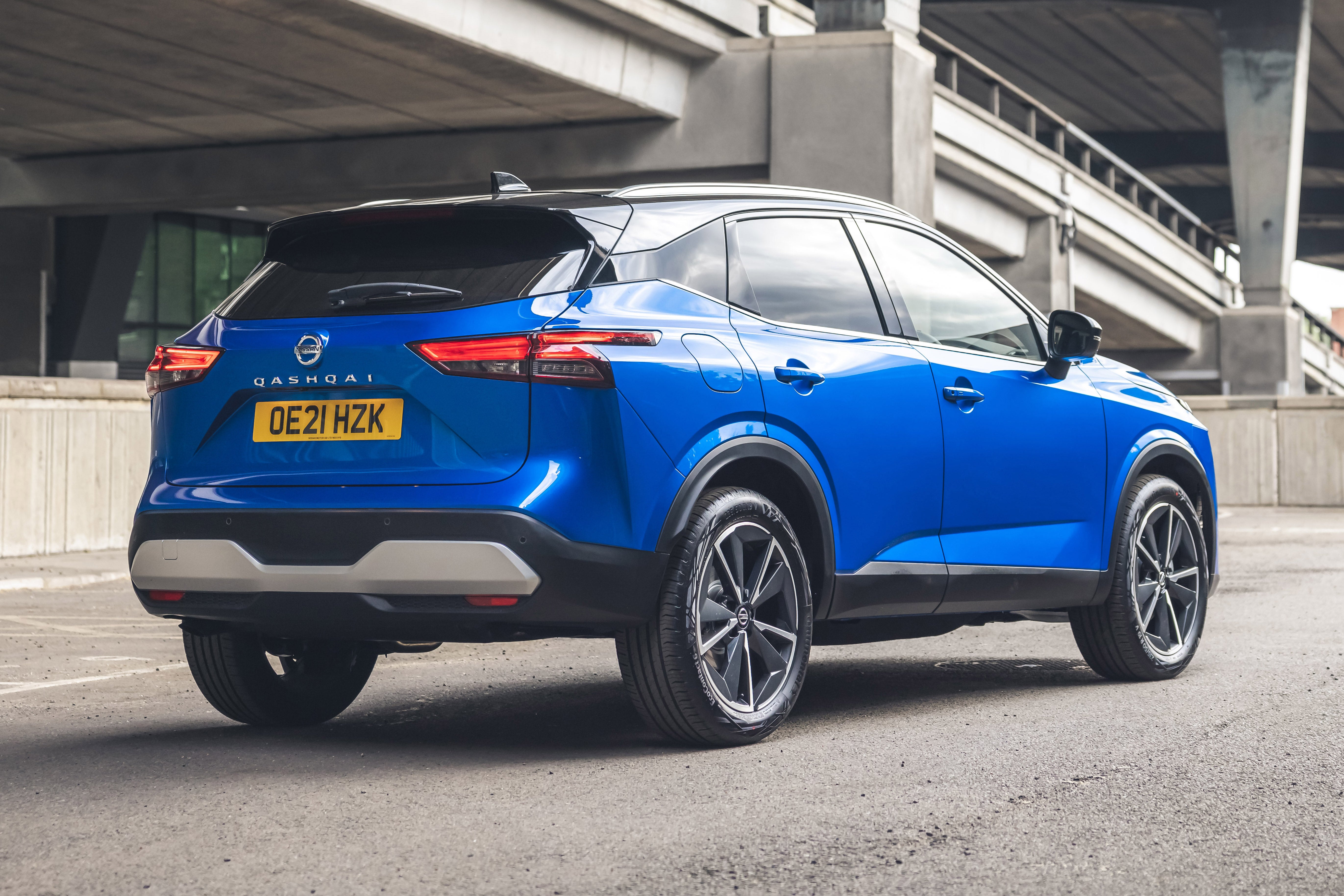 Even though it's still a very new model, there are savings available on as-new pre-registered cars.
We've seen an Qashqai Acenta Premium offered for as little as £23,000 – a saving of more than £3000 compared to new. A similar saving is available on the high-spec Premiere Edition, with nearly-new models available from £26,000.
Trim levels and standard equipment
The Nissan Qashqai range kicks off with the basic Visia model. This is pretty frugally equipped, with standard equipment including front and rear LED lights, intelligent cruise control and rear parking sensors.
The Nissan Qashqai Acenta Premium is a more desirable choice. Standard equipment includes 17-inch alloy wheels, an eight-inch media display (with Apple CarPlay and Android Auto), rear-view camera and dual-zone air conditioning.
The mid-range Nissan Qashqai N-Connecta features 18-inch alloy wheels, a 12.3-inch digital cockpit and a nine-inch media system. Nissan's Around View Monitor 360-degree camera is standard, as well as front parking sensors and interior ambient lighting.
The launch special Premiere Edition is lavishly kitted out. You'll find Nissan's ProPilot (with Drive Assist) system, a 12.3-inch digital TFT instrument cluster, a 10.8-inch head-up display, 18-inch diamond-cut alloy wheels, a panoramic glass sunroof and a wireless charging pad.
The Nissan Qashqai Tekna is similarly well-equipped, with highlights including 19-inch alloy wheels, ProPilot with Navi-Link or Drive Assist, a 10.8-inch head-up display, adaptive LED headlights, a powered tailgate and wireless charging pad.
Topping the range is the plush Nissan Qashqai Tekna+ with its 20-inch alloy wheels, quilted leather seats (with massage function in the front), Advanced i-Key (with driver seat and exterior mirror memory), Bose sound system and tilting mirrors on reverse.
Ask the heycar experts:
common questions
How much does a Nissan Qashqai cost?
A brand new Nissan Qashqai starts from £23,535 in Visia trim, rising to £34,175 in Tekna trim.

What's the best Nissan Qashqai model to choose?
The higher-spec Qashqai models are the most popular, with N-Connecta, Tekna and Tekna+ models expected to account for around 80% of sales in the UK. The Nissan Qashqai N-Connecta is a good mix of affordability and desirable spec, with standard equiment includes 18-inch alloy wheels, the 12.3-inch digital cockpit, a nine-inch infotainment screen and Nissan's Around View Monitor 360-degree camera system.

Which Nissan Qashqai is the most efficient?
Initially, the new Nissan Qashqai is only available with an updated version of the old 1.3-litre mild-hybrid petrol engine. It's available in two power outputs (140PS or 158PS) along with manual or automatic transmissions, and two- or four-wheel drive. All return around 44.1mpg (depending on trim level). If you want a truly efficient Nissan Qashqai, wait for the clever new e-Power hybrid. This can't run on its petrol engine alone – instead, it acts as a generator for the electric motor which drives the front wheels.

Nissan Qashqai cars for sale on heycar
4,600
Number of cars available
£10K - £41K
Price bracket of these cars
Colours available on heycar
Keep me updated by email with the latest advice, news and offers from heycar
By submitting, you agree to our
privacy policy
.