Used Qashqai (2013-2021) Review
Used Nissan Qashqai (2013-2021) Review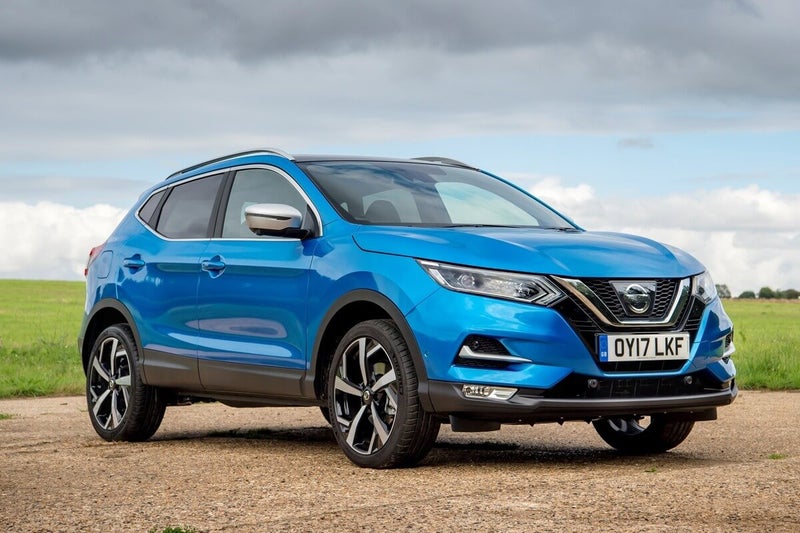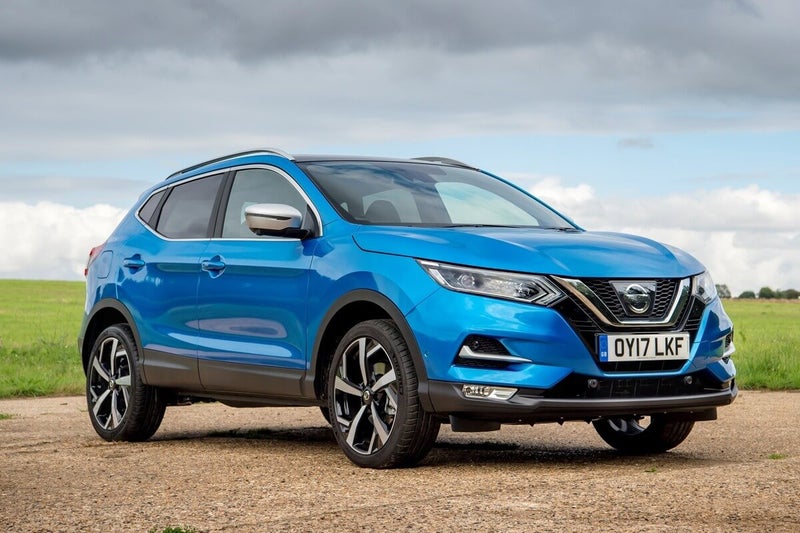 1/10
heycar rating
"Pioneering family SUV still appeals"
Launched: 2013

SUV

Petrol, Diesel
Quick overview
Pros
Appealing SUV styling and stance
Comfortable ride
Fuel-efficient and affordable to own
Cons
Rear-seat space is off the pace
Not a car for driving enthusiasts
Models with big wheels have a stiff ride
Overall verdict
On the inside
Driving
Cost to run
Prices and Specs
Common questions
Overall verdict on a used Nissan Qashqai
"The second generation Nissan Qashqai is still a well-rounded and family-friendly SUV. Its appeal as a second-hand model is growing, though, with plenty to choose from. It's easy to see why it continues to be so popular."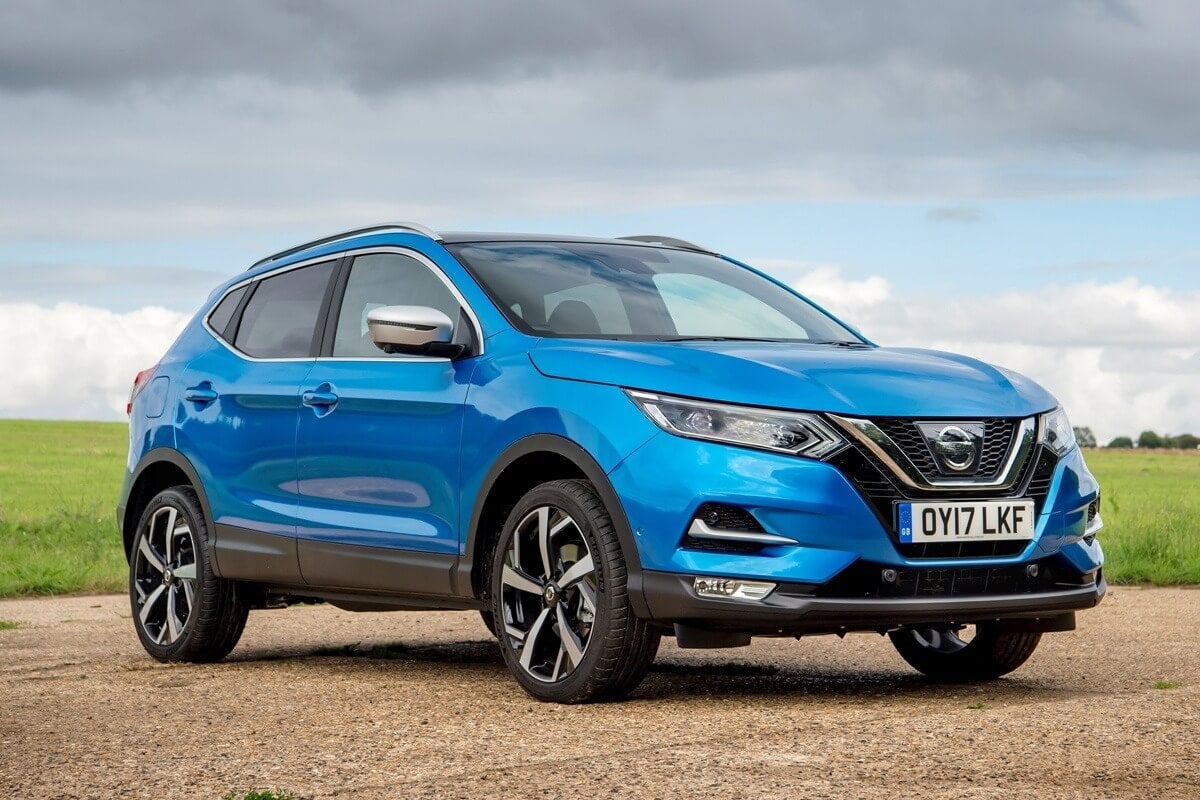 Now replaced by a third-generation Nissan Qashqai, the second generation Qashqai (launched in 2013) was a groundbreaking family SUV. Rarely has a modern car proven so pivotal and changed the marketplace so comprehensively.
Before the Qashqai, the family hatchback had ruled the roost. Nissan showed that buyers could have more, with a car that combined SUV styling and qualities with hatchback dynamics and running costs. It was an instant hit and one of the best SUVs going.
This version of Qashqai further honed the original formula. If anything, it was even chunkier and more SUV-like, with extra curves and styling flourishes. A standout feature were the LED running lights built into the headlights, meaning there was no missing it out on the road.
It also had more space on the inside – by now, SUVs were devouring the MPV market – and was better to drive than the outdated original. Sophisticated new engines broadened the line-up, particularly the new petrol motors, while it was comprehensively made-over inside with a posher dashboard and better (albeit still not class-leading) infotainment.
Back in the mid-2010s, diesel engines still ruled, and Nissan sold a lot of Qashqais fitted with the 1.5-litre dCi and 1.6-litre dCi motors. Both are sourced from its Alliance partner, Renault, and both perform well. We actually prefer the smaller engine, as it's cheaper and better on fuel; the jump to the 1.6-litre isn't that great. The two petrol engines are the 1.2-litre DIG-T and 1.6 DIG-T. The latter is almost a hot hatch-style motor, meaning the 1.2-litre sold best. It's an OK engine, provided you don't demand too much from it.
The British Nissan engineering team at Cranfield was responsible for developing the Qashqai, which is perhaps why it copes so well with rubbish British roads. The ride is generally supple – if you avoid larger alloy wheels – and it is good at shrugging off the worst humps and potholes.
It handles nicely, too. Part of the appeal of the original Qashqai was how car-like it felt to drive when compared with a traditional SUV, and Nissan worked to further enhance that feeling with this one. It is a safe, lithe machine, which doesn't roll too much and rarely feels leaden or uncooperative.
Nissan facelifted the Qashqai in 2017. It was a reasonably comprehensive makeover, with an even more premium-look exterior that further emphasised its SUV-wannabe credentials. The interior was given a lift in quality and infotainment was much-improved. Following customer demand, larger new alloy wheels were offered – from 17 inches right up to 19 inches.
There was a further update in late 2018, when a new 1.3-litre DIG-T petrol engine replaced the older powerplants. With either 140PS or 160PS, it feels responsive, and the fact it is also used in the Mercedes-Benz A-Class (again, thanks to behind-the-scenes deals) helps add kudos. In summer 2019, the Qashqai gained Propilot autonomous driving assistance tech, as first seen in the Nissan Leaf. You can spot these cars from the blue 'circle' button on the steering wheel.
A regular top 10 best-seller in the UK, the Nissan Qashqai continues to be very popular. It achieves this because of its all-round abilities and still-smart looks. Now replaced by a new model, this second generation car still has lots of appeal as a used model, particularly as prices have now dropped to well below £10,000. Let us be your guide to buying a used Nissan Qashqai.
If you're looking for the newer version, you need our Nissan Qashqai review.
Is the Nissan Qashqai right for you?
Hundreds of thousands of family car buyers can't be wrong. A used Nissan Qashqai is a perfect family-focused all-rounder that will grow with the kids and remain useful for a long while until they outgrow it. Inside, it is practical, the boot isn't a bad size, and it feels a cut above a regular family hatchback. You get a sense of justified bragging rights over the neighbours.
It's an affordable car to buy, too. The fact so many were sold to new car buyers means there's a great deal of choice out there when looking for a used Nissan Qashqai – you can afford to wait until the right colour, trim or engine comes along, because it won't be long before it does.
The Qashqai is also safe, reliable, well-equipped and good to drive, with ride and handling that won't offend. You don't even need to spend more on range-topping engines, as the regular ones will do just fine.
What's the best Nissan Qashqai model/engine to choose?
The 1.5-litre dCi is a safe bet for used Nissan Qashqai buyers, as it's good on diesel and has a fair amount of pulling power in reserve. It's by no means quick, but will rarely feel underwhelming, even on longer trips. The 1.6-litre has more go, but not that much more, and it's less economical.
The 1.2-litre DIG-T is a decent engine, but you might prefer the later 1.3-litre DIG-T if you really want a petrol engine and can afford it. The 1.6-litre engines are fine, particularly those paired with an automatic transmission, but they're somehow just a bit disappointing – given the lift in power offered.
The smartly-styled Qashqai looks good even in base-spec guise, and it won't be obvious that you're driving the cheapest model. The extra features of higher-spec trims are novel, though, particularly Acenta and N-tec versions.
What other cars are similar to the Nissan Qashqai?
The Nissan Qashqai started a trend and, by the time this model arrived in 2013, there were no end of alternatives. Popular models include the Ford Kuga, Volkswagen Tiguan, Peugeot 3008, Renault Kadjar, Citroen C5 Aircross, Mazda CX-5, Honda CR-V and Toyota RAV4, plus newer upstarts such as the SEAT Ateca and Skoda Karoq.
The Kia Sportage is another car that sometimes challenges the Qashqai for sales, and is more popular car than its in-house sister car, the Hyundai ix35 (later replaced by the Hyundai Tucson).
There was even an in-house rival for those who needed a more rugged SUV with seven seats: the Nissan X-Trail.
Comfort and design: Nissan Qashqai interior
"This generation of Nissan Qashqai has a smart-looking and grown-up interior."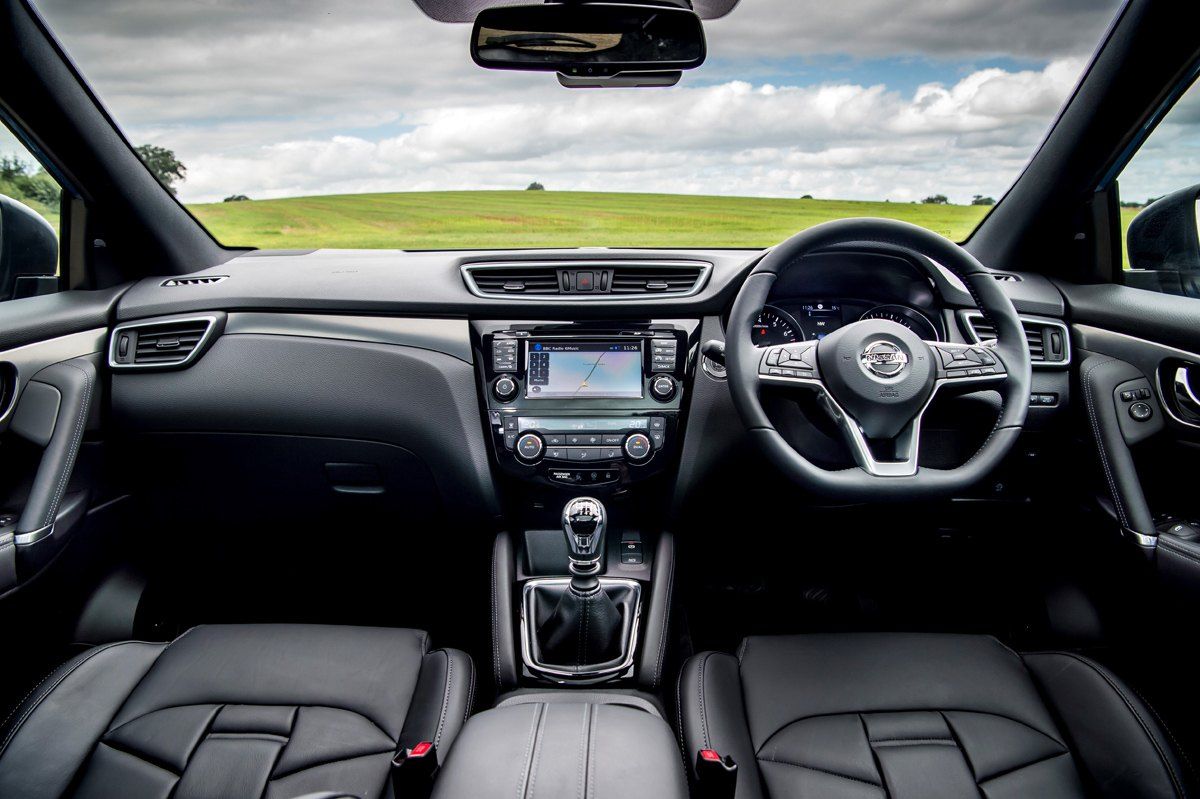 The first model was rather boxy and downmarket, but this is far posher and more premium. It has a flowing feel, with the trim panels in the doors blending neatly into the dashboard and centre console. It looks swoopy and open-plan, and the view over the top of the dashboard is confidence-inspiring.
The location of the infotainment screen does date it a little these days. It's mounted lower down on the dashboard, so needs more of a glance away from the road. The air vents sit above it: you can imagine this arrangement being swapped when the Qashqai is replaced.
There are two big round dials ahead of the driver, with easy-to-read graphics, and located in-between them is a very comprehensive colour display with a multitude of functions. If you 'miss' your menu, you'll be clicking merrily away at the buttons on the steering wheel until it returns, but you can't complain about the amount of information it displays.
Nissan makes a big deal of the Qashqai's seats, which have been ergonomically designed to offer plenty of support over long distances, without seeming too hard and robust during shorter trips. They are certainly comfortable, and they have a good range of adjustment so it's easy to get a comfortable driving position. We particularly like the sporty steering wheel fitted to later models; with its small centre and flat bottom, you could almost be behind the wheel of a Nissan GT-R supercar.
Quality and finish
The Qashqai is a well-built car with a good quality finish inside. The sweeping dashboard top is soft-touch and the rest of the plastics, while not exactly yielding, are low-sheen and look well finished. Nissan displays good attention to detail in the design of areas such as the air vents and trim inlays, which are precision-assembled and premium car-tight.
The well-lit instruments have a quality look and we like the tactile click of the climate control dials. What cheapens the interior is the dated infotainment system, which has a muddy display and diminutive size. It's odd, looking at the sophisticated, tech-packed steering wheel controls, and then glancing across to see something that seems a decade out of date.
Other touchpoints are pleasing. The door handles have a chunky feel and polished metal inlays, while the seat upholstery seems hard-wearing. We particularly like the stitched Nappa leather in range-topping models, which has interesting patterns and a luxurious appearance.
Infotainment: Touchscreen, USB, nav and stereo in the Nissan Qashqai
Choose a lower-grade Qashqai and you don't get any form of infotainment touchscreen, simply a regular radio with big, chunky buttons. On pre-facelift cars, infotainment came on Acenta Premium and Tekna versions. The NissanConnect infotainment system had a standard rear-view camera, plus DAB radio and sat-nav.

It's a rather confusing system to use, with laggy responses and blocky graphics. By today's standards, it certainly doesn't feel modern.

Infotainment was improved somewhat with the 2017 facelift. The display interface was better looking and less confusing, and Nissan updated the entire system to make it snappier to use. Sat-nav directions were called up much more quickly than before, but the rather low-resolution display screen sadly remained.

Want Apple CarPlay or Android Auto connectivity? Be sure to get a 2019-on model: it wasn't available before then.
Space and practicality: Nissan Qashqai boot space
It's in terms of space and practicality that the Nissan Qashqai really appeals to family car buyers. It offers a useful step up over a regular family hatchback, which is why so many are swapping into SUVs.

Right away, it feels good behind the wheel. Nissan invented the raised-up SUV driving position when developing the Qashqai, and further enhanced it here with a flat dashboard top, fairly low shoulders and a deep windscreen. It definitely feels a cut above a hatchback, and is further enhanced with a feelgood driving position that includes a high centre console and closely-positioned gear lever. It feels really safe and secure, which is why front-seat occupants love it.

It's easy to get into the rear, and the back seat is also more comfortable than a normal hatch. The windows are big and there's decent headroom (particularly if you avoid the panoramic glass roof). Where the Qashqai falls off the pace of newer rivals is in terms of rear legroom, which doesn't seem as impressive as it once did. If you compare it to, say, a Kia Sportage, the extra rear space of its rival is obvious.

The boot is practical, but stats show it isn't as good as its competitors here, either. The standard space of 430 litres is bigger than something like a Volkswagen Golf, but some way shy of, yes, the Kia Sportage. The opening is, however, wide and well-shaped, with a split load floor giving either extra space or a flat, slide-in surface. Cleverly, it's two-sided: one side has soft carpeting, while the other has a tough, waterproof plastic covering. You can even use part of the boot floor to divide up the area, so loose items don't slide around.

With the seats down, the boot extends to 1,585 litres, which is more competitive. Again, the flexibility of the space means it's an ideal car for taking loads to the tip. Meanwhile, up front, there's a good array of stowage slots and cubbies, and the use of an electronic parking brake instead of a traditional manual lever frees up space between the front seats.

There are Isofix fittings for child car seats on the rear seats, but not on the front passenger seat. However, there is an airbag cut-off switch.
Handling and ride quality: What is the Nissan Qashqai like to drive?
"It's the fine ride quality of the Nissan Qashqai that characterises its drive. Nissan figured that if it could cope with British roads, it could cope anywhere. And so it proves."
It is pleasingly absorbent around town, where bumps are soaked up without a harsh response. Bumps that look like they'd have you wincing never cause a smash or crash into the Qashqai itself. And at speed, it has a glide-along feel that's stable and compliant. It's only models with the largest 19-inch wheels that can be objectionable, as the wheels can thump heavily into potholes. They're a bit bouncier at motorway speeds as well.
One clever piece of tech is called Active Trace Control. This uses tiny, imperceptible amounts of braking to keep the car on its trajectory. It not only makes it feel more planted on the road, it also smooths out ride quality at slower speeds.
While the Qashqai rides pleasingly, handling is more forgettable. It's a good car, but not a memorable one. The steering is light and easy, but doesn't have much feel, and while it doesn't roll too much through bends, it never really interacts with the driver. Consider it a car-like machine, in pleasing contrast to more traditional SUVs, but not one that will have keen drivers itching to turn off the motorway and take A-roads instead.
What engines and gearboxes are available in the Nissan Qashqai?
Most Qashqai buyers have gone for a diesel over the years. The 1.5-litre dCi is a strong engine. With 110PS, it doesn't sound too great on paper, but it has a good amount of pulling power, so punches above its weight. It is very refined, particularly at lower speeds, and doesn't mind being revved. We prefer it to the 1.6 dCi which, while quicker, doesn't seem to deliver that much extra in everyday driving.
It's only if you frequently drive at higher speeds over long distances that you notice the extra oomph offered by the 1.6 dCi. This version is available with an automatic CVT gearbox called Xtronic. The 1.6-litre dCi also offered an all-wheel-drive option for extra traction.
The earlier petrol alternative, the 1.2 DIG-T, is fine for everyday use around town. It's refined and reasonably punchy, thanks to a responsive turbocharger. Again, though, if you cover longer distances, the extra power of the 1.6 DIG-T might be welcome – if not its extra thirst.
More recently, Nissan has introduced a very impressive 1.3-litre DIG-T turbo petrol engine with either 140PS or 160PS. It is a genuine alternative to diesel in all regards, with decent pace, good refinement and reasonable fuel economy.
The regular manual gearbox is very light and smooth-shifting, and even the large, chunky gear lever is nice to hold. We much prefer it to the Xtronic alternative, which uses a CVT for the familiar 'clutch-slipping' effect that many find so very unusual.
Refinement and noise levels
The second-generation Qashqai is a much more refined car than its predecessor. Nissan put great effort into isolating all forms of noise, and it's particularly good in terms of keeping road roar and suspension crash at bay – with the proviso that models with 19-inch wheels are less impressive in this regard.
Wind noise isn't too excessive at speed, and the engines settle into the background nicely, particularly the 1.5 dCi and newer 1.3 DIG-T. Some higher-grade Qashqais made the most of this with a premium Bose sound system.
The fact most versions have automatic engine stop-start also helps keep in-town noise levels down when you're stopped – as well as saving fuel.
Safety equipment: How safe is the Nissan Qashqai?
Euro NCAP tested the Nissan Qashqai in 2014 and awarded it a full five-star crash safety score. Adult occupant protection was rated 88 percent, child occupant protection was 83 percent, with 69 percent for pedestrian protection and 79 percent for safety assist features.
The latter already impressed Euro NCAP, with a standard speed limiter and stability control, optional lane-keep assist and active emergency city braking. Although it wasn't retested, the Qashqai's safety credentials were further bolstered in 2019 when Nissan Propilot was made available. This is Nissan's autonomous driving tech, and helps keep the car centred in its lane at speed, at a safe distance from the vehicle in front.
It's not an autonomous drive system, but is an extensive driver assistance support tool, which is controlled by a blue button on the steering wheel. At an affordable £595, it's well worth looking out for on used cars, as it makes long journeys less tiring.
Nissan fits front, side and curtain airbags, but misses out on knee airbags, and the seatbelt pretensioners only cover the front occupants. There are, however, seatbelt reminders for all five passengers. A space-saver spare wheel is another useful safety positive.
MPG and fuel costs: What does a Nissan Qashqai cost to run?
"Diesel Qashqais are extremely fuel-efficient. The 1.5-litre dCi is capable of over 74mpg, and the 1.6-litre dCi can do over 64mpg."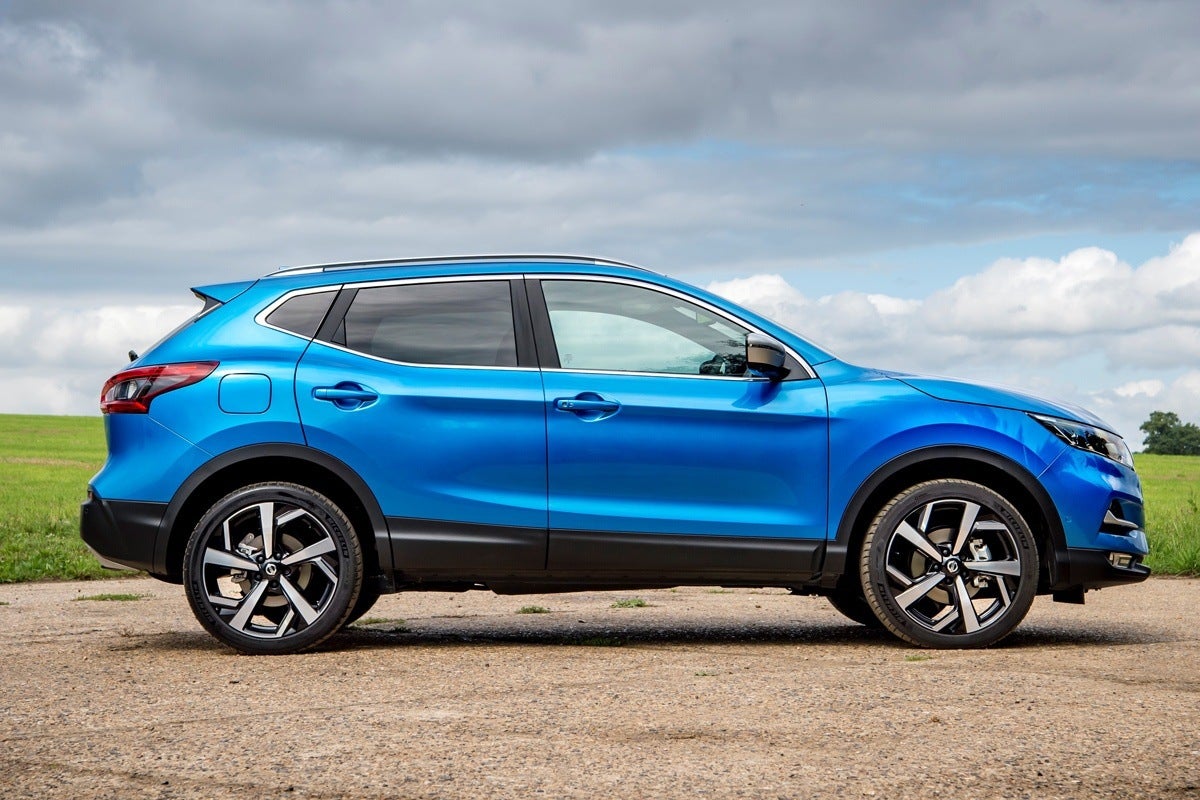 Choosing an Xtronic automatic or, in particular, all-wheel drive does cut back the 1.6-litre diesel's fuel efficiency, though – which will push fuel costs back up.
The 1.2-litre DIG-T petrol manages a creditable 50.4mpg, although even the 1.6 DIG-T is claimed to average 47.1mpg. In reality, none of the engines will get near their official figures, but the diesels will still return more to the gallon. If you really want a fuel-saving petrol engine, you're better off looking for a 1.3 DIG-T 140, which officially averages over 53mpg.
How reliable is the Nissan Qashqai?
The Nissan Qashqai scored a fairly average 8.52 for reliability in the latest HonestJohn.co.uk Satisfaction Index.
Common issues include faulty CVT automatic gearboxes, while the manual transmission can often slip out of reverse gear (requiring a new gearbox to fix). Excessive oil consumption is also a regular issue on the 1.2 DIG-T engine, while a blocked DPF (diesel particulate filter) can occur if you don't cover enough miles in a Qashqai with a dCi unit.
Insurance groups and costs
Insurance groups for the Nissan Qashqai are a little higher than the family hatchback norm, so you might find costs higher as well. The 1.2 DIG-T petrol starts from group 13 (out of 50), with the 1.5-litre dCi jumping up to group 16. It's worth noting that the 1.2's replacement, the 1.3-litre DIG-T, actually starts from group 17, four groups higher than the older car. For that, blame the jump in power from 115PS to 140PS.
The cheapest 1.6-litre dCi diesel begins in group 21 – although there is a (rare) special edition 1.6 dCi called Pilot One, which comes with the Propilot system as standard. The benefit? Its insurance rating falls from group 21 to group 19.
VED car tax: What is the annual road tax on a Nissan Qashqai?
Another draw of the 1.5-litre dCi engine is sub-100g/km CO2 emissions, which gives free VED (road tax). The 1.6-litre dCi isn't bad, though, with emissions of 116g/km placing it in the £30-a-year band. Choosing all-wheel drive will push it up to £125 a year – the same as the 1.2 DIG-T petrol.
A 1.6 DIG-T costs £150 a year. The 1.3 DIG-T is more efficient and also meets the very latest exhaust emissions regulations, for those concerned about city-centre pollution.
How much should you be paying for a used Nissan Qashqai?
"Second-generation Nissan Qashqai prices are coming within reach of more people."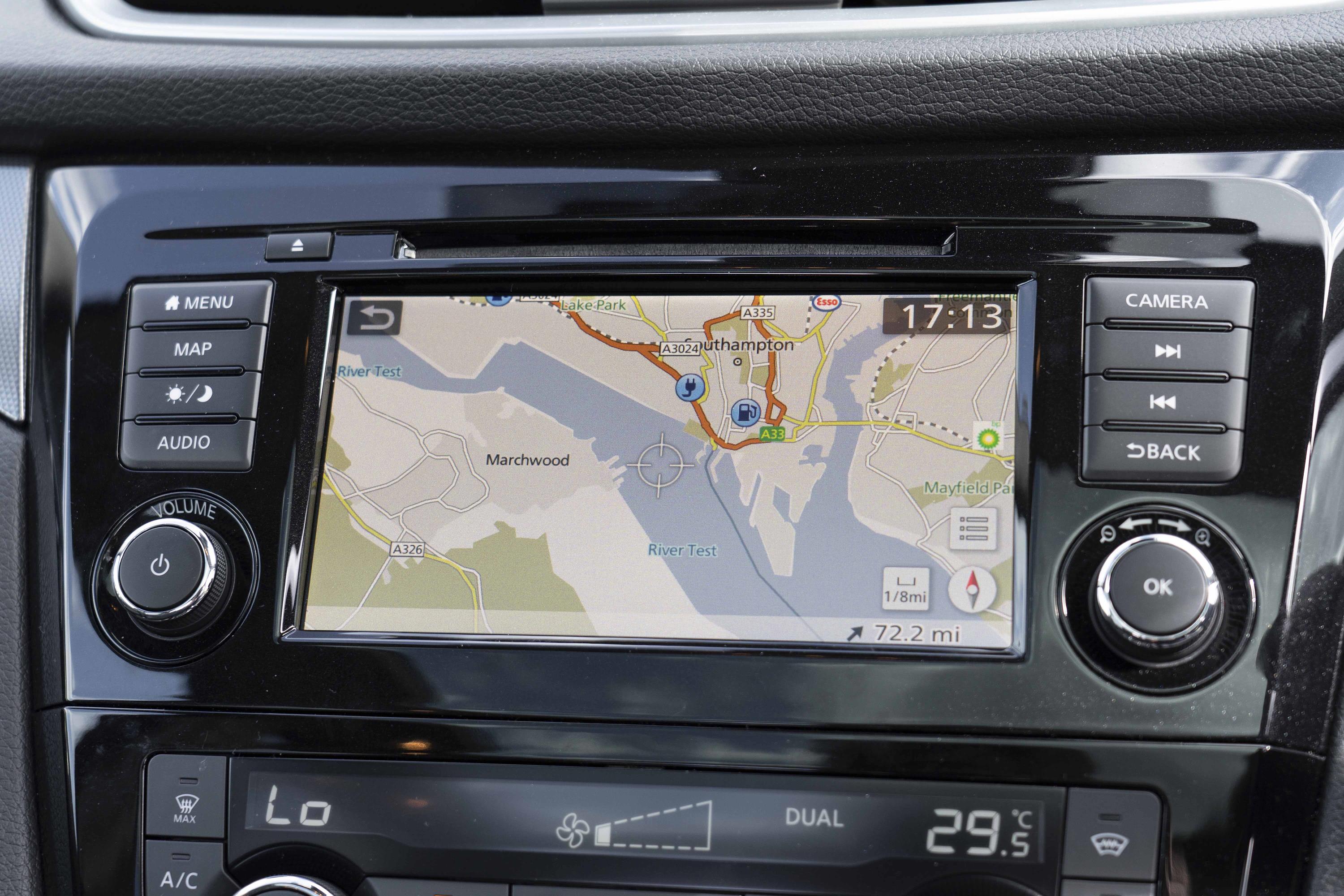 Early 2013 and 2014 cars can now be found for less than £8,000 from reputable dealers. They may have covered above-average miles, but the value offsets this – and besides, Nissans are reliable cars. Such models will either have a 1.2-litre DIG-T petrol engine, or the 1.5 dCi diesel, and most likely be reasonably well-stocked Acenta grade.
Upping your budget to £10,000 gives virtually the pick of pre-facelift Qashqais, with all types of engines, trims and drivetrains. The world's your oyster and there's a fair chance you'll find just the right car for you, located not far from where you live.
Facelifted models – the ones with the bigger and bolder 'V' grille – are now on offer for just under £13,000. By this point, the Qashqai was a really strong seller in the UK, so you can find plenty of choice. Our tip is to look out for a well-priced 1.5 dCi N-Connecta variant.
Trim levels and standard equipment
The Qashqai range opens with the rather basic Visia grade, which you don't really see on the second-hand market, because equipment is on the sparse side. It doesn't even get alloy wheels, running instead on 16-inch steel rims with plastic trims. At least it has the distinctive LED running lights that help set apart this second-generation Qashqai, along with air-con, cruise control, a speed limiter, DAB and Bluetooth.
Acenta grade is the favoured entry point. It has 17-inch alloy wheels, a flat-bottomed steering wheel, climate control, front fog lights, ambient interior lighting and folding door mirrors.
N-Connecta gets a clever high-beam assist gadget and traffic sign recognition system, sports seats, sat-nav, rear privacy glass and a 360-degree parking camera.
Tekna has even larger 19-inch alloys, Bose premium audio, front heated seats and a blind-spot warning system, with Tekna+ adding luxuries such as Nappa leather, a panoramic glass roof, electric seats and gloss silver door mirror caps.
Ask the heycar experts:
common questions
Why is the Nissan Qashqai so popular?
The Nissan Qashqai is a popular car - and for good reason. It's well-built, comfortable, has plenty of space and comes with a range of engines to suit all needs.

Answered by
Georgia Petrie
What is the difference between a Nissan Qashqai and Nissan X-Trail?
The Nissan X-Trail is essentially a larger version of the Qashqai with the option of seven seats.

Is the Nissan Qashqai a good car?
While the Nissan Qashqai has fallen behind its rivals slightly, it's still an excellent family car.

Answered by
heycar editorial team
Keep me updated by email with the latest advice, news and offers from heycar
By submitting, you agree to our
privacy policy
.