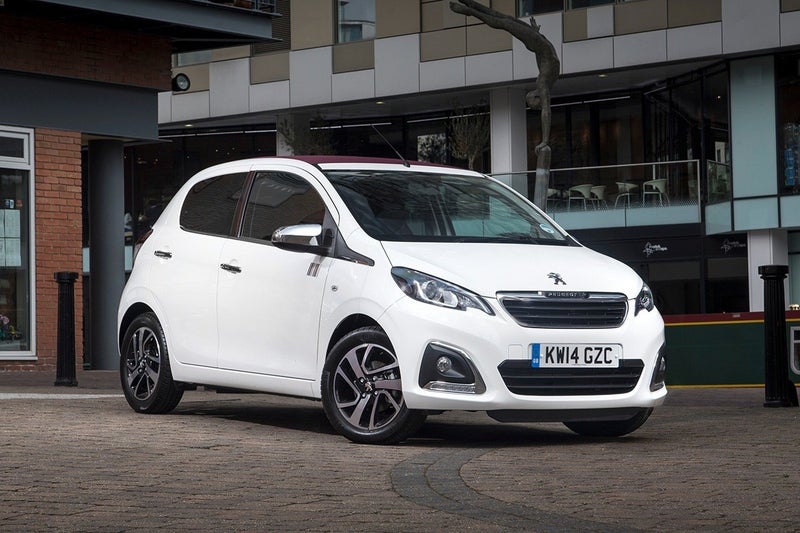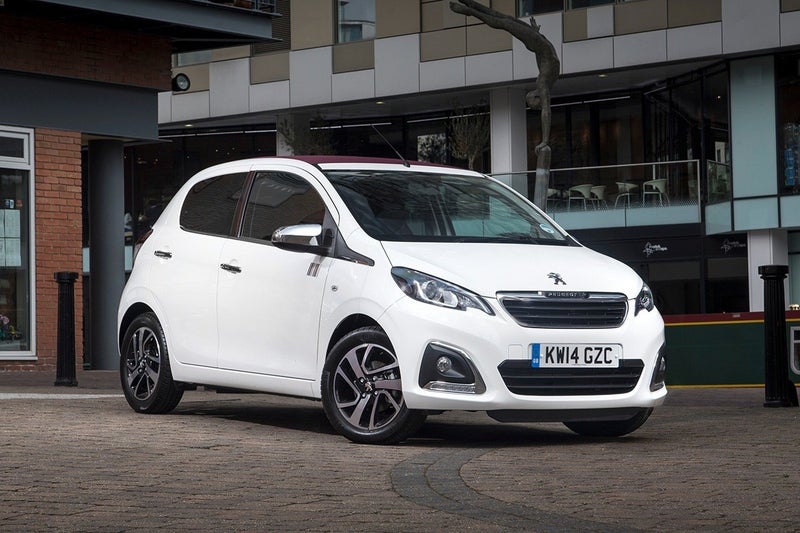 1/8
heycar rating
"Small car, even smaller bills"
Launched: 2014

City car

Petrol
Quick overview
Pros
Cheap to buy and cheap to run
Mature driving experience
Strong specification
Cons
Rear seat space limited
Just one engine option
Ineffective automatic gearbox
Overall verdict
On the inside
Driving
Cost to run
Prices and Specs
Overall verdict
"City cars might be small on the outside and have a price tag to match, but many buyers have outsized expectations for these urban warriors. Not so long ago the cheapest car in a manufacturer's range would be a constant reminder that you were a cheapskate. Today no city car worth consideration comes without the option of touchscreen infotainment, alloy wheels and motorway ability."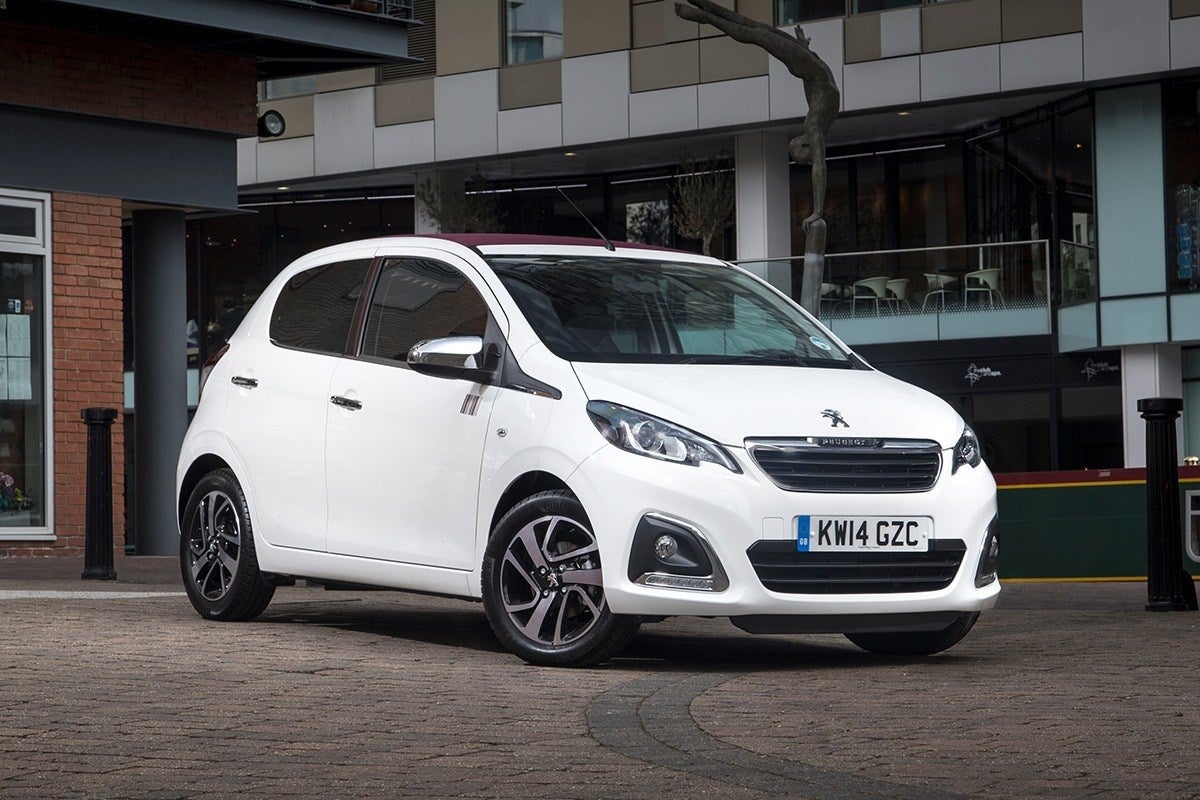 Peugeot has a deserved reputation for producing good small cars stretching back decades, but the current 108 and previous 107 both owe a great deal to partners Toyota and Citroen. All three collaborated on the project, producing three cars that were differentiated only by their badge and looks.
Helping to keep the cost down is a relatively choice-free range. There is a single (petrol) engine option, three- or five-door bodyshells and a choice of one manual and one automatic gearbox. There are other cost savings too, like rear windows that are hinged rather than rolling down, even on five-door models, but money has been spent in the right places - this is an inexpensive car, not a cheap one.
Despite its super-compact exterior dimensions, the space inside might come as a surprise. Up front in particular there is all the room you could reasonably wish for, with plenty of legroom and lots of headroom thanks to the tall body shape. It's a little less impressive in the back of course - you can squeeze a couple of adults in there but they won't be happy about it, while boot space is on a par with key rivals.
The standard specification of the 108 is also a surprise, offering more equipment than you might expect at this price point. Your £12,580 gets you remote central locking, a 7-inch touchscreen infotainment system that includes a DAB radio and Bluetooth as well as screen mirroring, LED, daytime running lights and air conditioning, which is enough to make the 108 feel like something a bit more expensive.
Your £12,000 also pays for the 108's 1.0-litre, three-cylinder engine. Its 72PS might not sound like much, but the 108 weighs a piffling 840kg - a full 120kg less than the bigger 208 - so it's far from underpowered. Wind it all the way up and it will hit 99mph, which as the law says, is more than enough, and the engine's willingness and spirit is a part of the car's charm. It also sips fuel in the process.
The 108 is capable out on the road too. Although clearly best suited to the bumps and tight spaces of city life, it is more than capable of holding its own on quicker open roads and the motorway. The suspension is set to soak up road imperfections - a job it does well - so the price you pay is a fair amount of bodyroll should you take a corner at speed, but it always feels safe and manageable.
It looks smart, is well-specified, is cheap to buy, run and insure and isn't without charm when it comes to the driving experience. There are younger rivals, but the 108 deserves consideration.
Is the Peugeot 108 right for you?
Although the 108 was designed as a city car, it has sufficient breadth of abilities to be a genuine option for a few different kinds of buyer. If you are looking for a low-cost but modern small car just for short journeys, the ease of use, the frugal engine and the strong specification makes the 108 a sensible choice.
At the same time, if you are looking for a first car for you or a family member, the 108 is thoroughly unintimidating to drive and has a good set of safety equipment too. If you have a small family the 108 could do a job, but ultimately the lack of rear space and luggage capacity may cause issues.
The 108 has some strong rivals, notably the Skoda Citigo and SEAT Mii, that feel a little more up to date and of higher quality, but there's little to separate them overall.
What's the best Peugeot 108 model to choose?
With just the one engine option there's no big decisions to be made on that front. There is the option of an automatic gearbox - it's actually an automated manual rather than a true auto - but makes ponderous gear changes and leaves the 108 feeling sluggish, so it's best avoided.
As far as the model choice is concerned, the basic Active version makes a strong case. It might be the cheapest model in the range but it comes with many desirable features as standard, and so is the most sensible option. The Allure and Collection models look smarter thanks to the addition of alloy wheels and other visual changes but they only add a few equipment upgrades.
What other cars are similar to the Peugeot 108?
Because they are so closely related it is worth considering the Toyota Aygo and Peugeot 108, both of which drive in a very similar manner. There's not much to choose between them on price either, other than the Citroen C1 is available in a low-spec Touch trim, costing less than £11,000.
The SEAT Mii and Skoda Citigo are spin-offs of the Volkswagen Up, and bring the solid engineering and efficiency you usually get, just with a smaller price tag than the Volkswagen version. Smart-looking and good to drive, both the Mii and Citigo are attractive options.
The Hyundai i10 is also a strong contender, and although the cheapest model is some way from the cheapest C1, it brings a quality feel and good specification.
Rating
The 108 covers the basics that a city car should - easy to drive, easy to park and cheap to run - but adds in a strong specification and a useful ability outside of the city. It also looks smart and should prove to be reliable too.
Comfort and design
"It's easy to assume that the cabin of a city car like the 108 will be a plain and unwelcoming environment, but in truth it's a good deal better than that."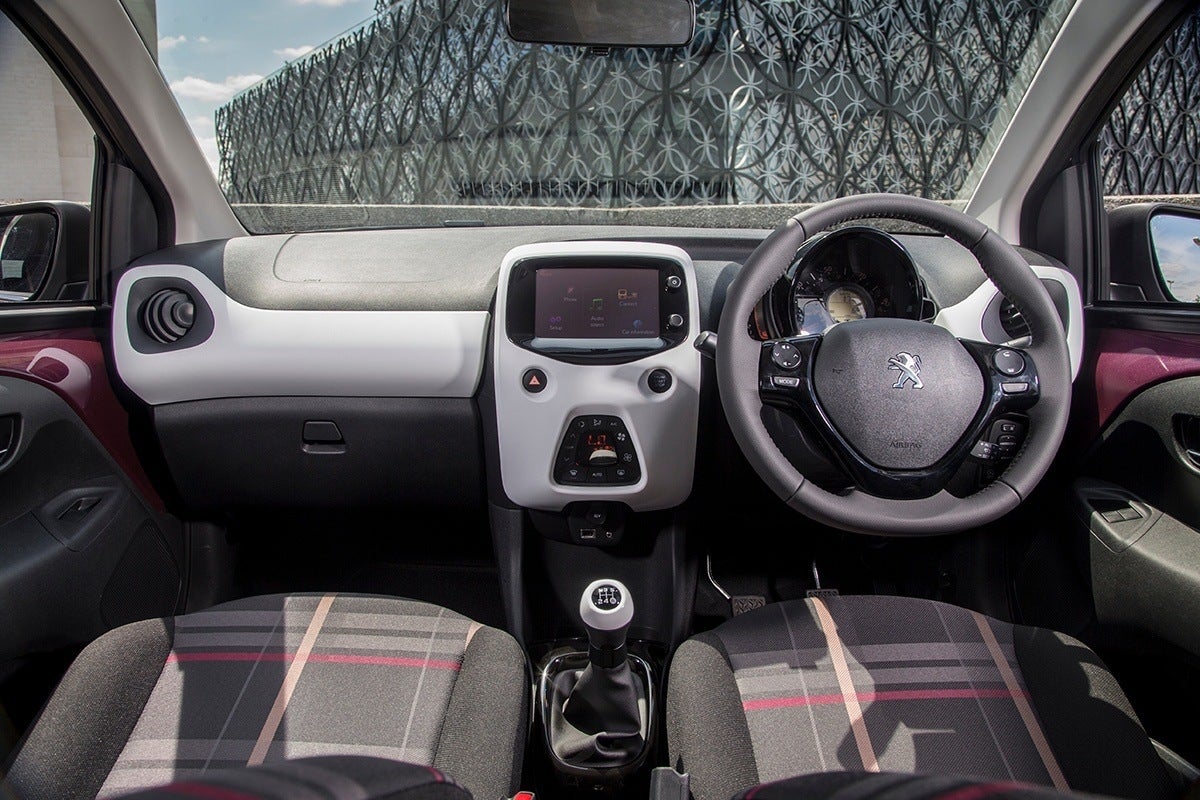 The entry-level Active model doesn't get much in the way of colour other than the flashes of body colour on the door panels, but the cloth trim is attractive. Allure and Collection models get more fancy trim, but the basic design itself is simple and attractive. The touchscreen is nicely integrated into the dashboard and is placed high up where it's easy to see, and what few other controls there are all sit close to the driver.
Getting comfortable won't be an issue for those sat in the front seats either. The driver gets height adjustment as standard, and the seats themselves should be comfortable for a wide range of body types. It is worth noting they do lack a little side support however, which makes its presence felt in higher-speed cornering. The rear seat is a simple bench designed for two people, but is best suited to children rather than adults.
The driving position is good too, helped by the height-adjustable seat and steering wheel, but also thanks to the relationship between the seats and the rest of the car. Both front seats are set relatively high, and with the large glass area gives a good view out even for drivers who are shorter than average.
Quality and finish
The 108 does a good job of illustrating the difference between quality and finish. It is certainly built to a good quality standard, with all the interior fixtures feeling well screwed together, and that they will survive thousands of miles of wear and tear. There's also the added reassurance that Toyota had a hand in the design and construction of this cabin, as they know a thing or two about producing solid interiors that can stand the test of time.
The materials themselves may not be luxurious to the touch, so the level of finish is respectable rather than outstanding, but ultimately this is much less of an issue on a car at this price point. Crucially the main touch points for the driver feel sturdy to the touch, and the buttons and switches operate with reassuring solidity. Venture higher up the model range and the Collection trim gives you flashes of colour on the seats, the gearlever and around the air vents. It helps to break up the areas of grey, whether it makes the cabin feel any smarter is down to the person signing on the dotted line.
Infotainment
Unlike its Citroen C1 relative, the 108 has a single specification infotainment system across the range, which is another reason to plump for the cheapest model. As standard, the 108 comes with a 7-inch touchscreen system that is pretty feature-packed; you get DAB radio, Bluetooth, 3.5mm jack and USB inputs as well as Mirror Screen, so you can operate a number of functions on a compatible smartphone directly through the screen.
The only audio option on the range is the addition of Sat-Nav, but since that removes the Mirror Screen function from the system you end up paying more to arguably get less. Stick with the standard setup and you can use the native app on your phone for navigation instead.
The system works well too, with a screen that feels more sturdy than some of the more delicate-looking offerings you get from other manufacturers. The downside of this is that it might not be 100 per cent accurate all of the time, but for the most part it responds well to inputs. Steering wheel controls are also standard, giving the 108 a setup that wouldn't look out of place on a more expensive car.
Space and practicality
Anyone buying a city car knows that you're not going to be overburdened with space, but it must be able to carry some combination of passengers and luggage to be worth buying in the first place. At a shade over 3.5 metres long the 108 is certainly short, but it sensibly places the emphasis on room for those in the front seats. Getting installed up front is particularly easy on the three-door version, as the long door on each side gives a large aperture for climbing aboard, helped by the height of the roof.
Five-door versions have to pack a pair of doors onto each side on a pretty short car, and in particular getting into the rear isn't as easy as it could be. If anything it's a little more awkward than on the three-door, just because you have to step into a footwell that is relatively small, especially if the front seats are pushed well back.
Tall adults up front enjoy good legroom and plenty of headroom, although the 108's relative narrowness means elbow room is a less generous. Inevitably it is less impressive for those in the rear seats, with legroom in short supply even if you happen to be still in short pants. It's not much better if you're small enough to be in a car seat either, because the extra bulk will put you even closer to the back of the front seats.
Head for the boot and the 108 offers 243 litres of space, significantly more than the Citroen C1 and Toyota Ago and very close to that of the Skoda Citigo and SEAT Mii. An adjustable boot floor gives you a little lower space to play with if need be, while the 50/50 split rear bench means you can have up 868 litres of cargo storage if required.
Storage space within the cabin is useful too, with a decent-sized glovebox and door pockets that are big enough to swallow a reasonable amount of your detritus.
Handling and ride quality
Sensibly the 108 gives priority to ride quality, and a number of significant changes were made over the old 107 version in order to improve its performance in this area.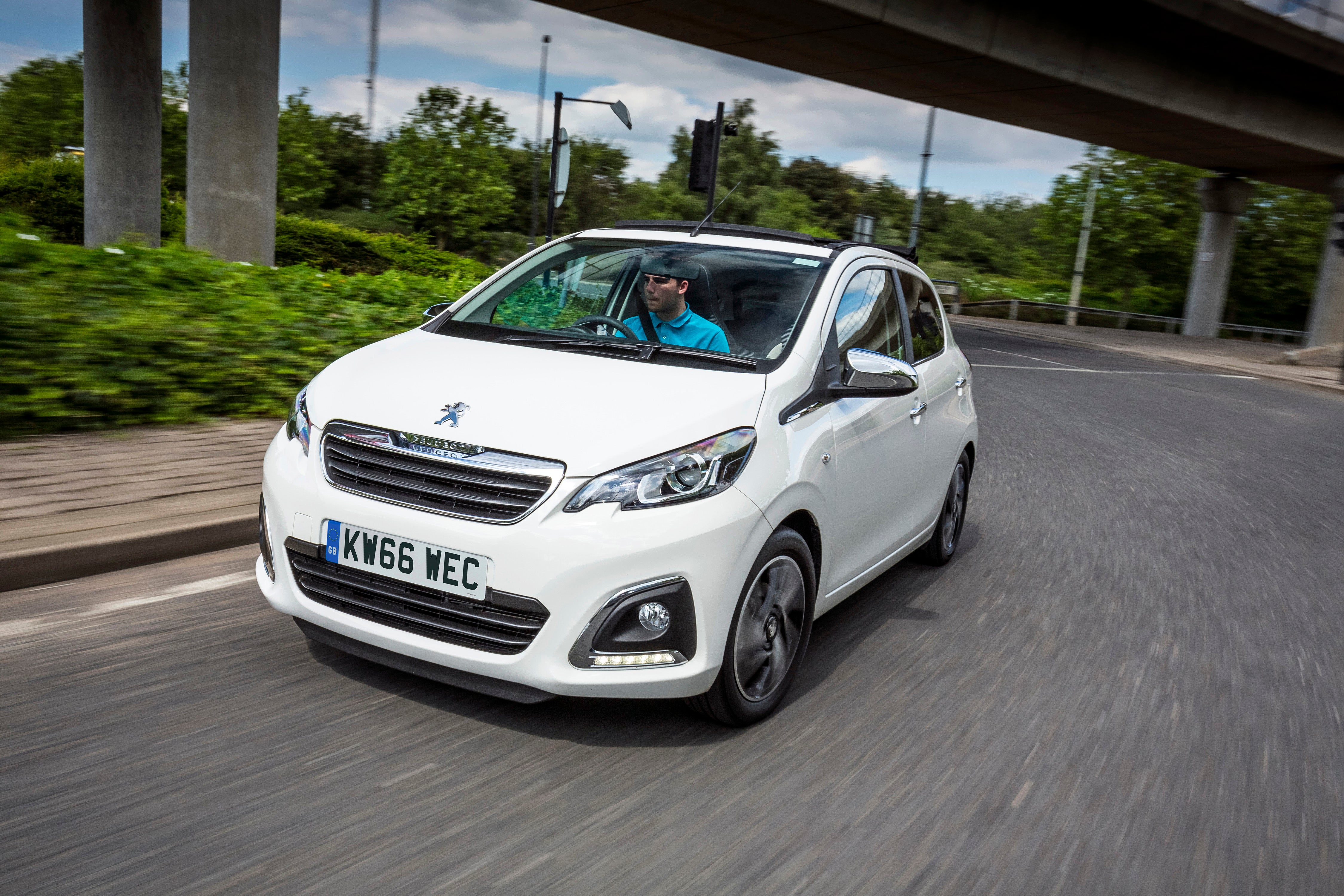 Given that most 108s will spend much of their lives on poorly-surfaced urban roads, the suspension is set up to be relatively soft. It might not be luxury-car standard, but the Peugeot deals with most road imperfections easily - only longer undulations can upset it a little thanks to the short wheelbase. It's also worth noting that the ride quality is a little better up front compared to in the back, as the rear seats sit almost on top of the back axle and so tend to move around a little more over bumps.
The 108 makes no pretence of being a hot hatch and given it is likely to be a popular choice amongst new drivers, it is designed with safe and secure handling in mind. The steering is light at all speeds and offers a useful amount of feel, and it avoids being too sharp or too quick in its responses for the inexperienced. Should you decide to press on a little more the 108 grips well and remains consistent in its responses; even when pushed too hard it stays on your side, helped by the standard ESP system which can intervene in extreme circumstances.
The soft suspension does mean the 108 has some body roll, although this is reduced compared to the outgoing 107 model and rarely intrudes in normal driving. All versions of the 108 ride on 15-inch wheels - steel on Active models and alloy on Allure and Collection - so you can expect the same level of grip and handling whichever model you choose.
Engines and gearboxes
With just one engine and two gearboxes, there's not much to choose from, although if you are looking at a used 108 you should be able to track down the larger capacity engine option.
All new models and the majority of used ones feature a 1.0-litre, three-cylinder engine offering 72PS and 93Nm of torque. While many modern downsized engines feature a turbocharger for extra pulling power, the 108's unit does without, but thanks to the low kerbweight and a generous slug of pulling power, it's a rare occasion that it feels under-powered. If anything, the little 1.0-litre punches above its size, and the three-cylinder arrangement means it revs with enthusiasm and sounds more pleasant than similarly-sized four-cylinder alternatives.
The bigger 1.2-litre offers 81PS and more importantly 118Nm of torque, and while the numbers don't suggest a huge difference the extra torque helps move the 108 along more smartly, and is particularly beneficial on motorways. The difference in fuel consumption is small too, so if you're buying used you might want to consider seeking out the bigger engine, although it is not available on the basic Active model.
The standard manual gearbox has five speeds and offers a reliably accurate shift, even if the action itself feels a little disconnected. The ratios are well-chosen though, and gives the 108 the ability to cruise at sensible motorway speeds. The automatic gearbox option is an automated manual, and the dawdling gear-changes make the 108 feel slower than it really is.
Refinement and noise levels
A low price tag normally means less in the way of refinement and the size of city cars means there is less bodywork to absorb unwanted noises, but the 108 manages to keep its occupants insulated from the worst noises and vibrations. The 1.0-litre engine is relatively vocal, but because it has three cylinders it revs smoothly and doesn't suffer from any nasty vibrations. It also settles into a distant thrum at motorway speeds, so long journeys don't become tiresome. The 1.2-litre engine offers similar noise levels, although the fact that it has a little extra performance means you don't have to work it has hard.
The same goes for external noises. With modestly-sized 15-inch wheels and skinny tyres there's little road noise at normal speeds, although this does increase somewhat on the motorway. Wind noise is well managed - the 108 is relatively aerodynamic for a car so tall, but the compact nose is a big help here, and again it is only at motorway speeds that it is particularly noticeable. The capability of the infotainment system is a help here, as you can always turn up the stereo...
Safety equipment
Like its Toyota and Citroen relations the 108 was tested by Euro NCAP at its launch in 2014, and for a car of this size it scored an impressive four stars overall. It achieved an 80 per cent score for both adult and child protection, a strong performance in any category, while it was awarded 62 per cent for pedestrian mitigation and 56 per cent for safety assist.
The standard safety equipment provision is strong, with even the basic Active model getting ESP, ABS with electronic brakeforce distribution and six airbags. It also comes with Hill Assist, a useful feature uncommon on cars of this size and twin Isofix mounting points on the rear seats. It's also worth noting that the rear seat only has two seat belts, so it is not possible to carry three passengers in the back and have them all safely belted in. A speed limiter is also standard across the range.
Move up to the Allure or Collection models and you also get a reversing camera and automatic headlights, both of which are a small but useful safety boost, while the options list includes Active City Brake with lane departure warning and traffic sign recognition. Although these features are only available on Allure and Collection models it is a sensible upgrade for a small fee.
Allure and Collection models are fitted with a space saver spare wheel as standard, while it is a cost option on the Active model that gets a tyre inflation kit as standard.
MPG and fuel costs
"The good news is that whichever engine, gearbox or trim level you go for, the 108 will not cost much to keep fuelled up."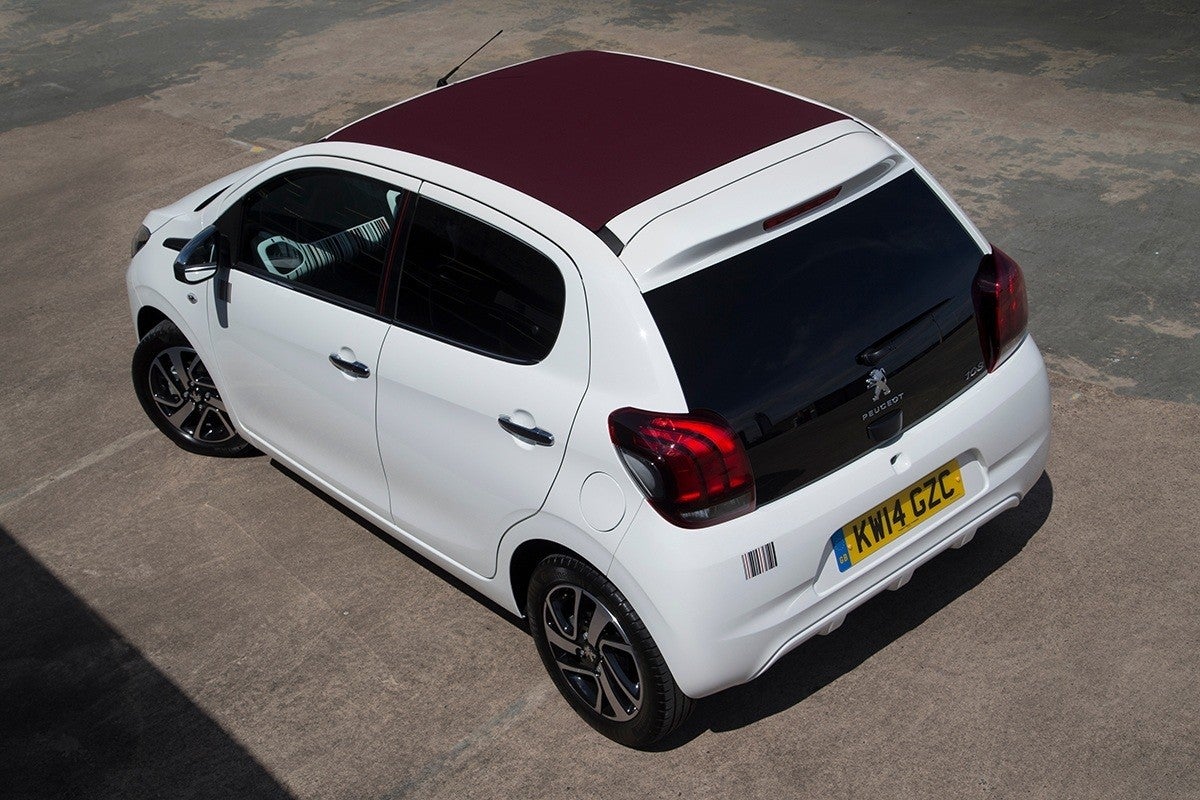 With an official combined figure between 54.8mpg and 58.9mpg for all current 1.0-litre versions, 50mpg should be well within reach in normal driving conditions and you should see over 40mpg even when just driving in town. The older 1.2-litre models only have official fuel consumption figures under the old NEDC rules, but were just a few MPG behind the 1.0-litre so there's no significant penalty for choosing the bigger motor.
Insurance groups and costs
True to the city car rulebook the 108 is right at the lower end of the scale when it comes to insurance costs. All versions of the 108 fall into group 9E, making them one of the cheapest cars to insure. Standard security equipment includes a Thatcham approved immobiliser across the range, while remote central locking on all models is also included.
New drivers will find the 108 one of the easier cars to insure, helped by the high level of standard safety equipment and repair costs which should be relatively low. Meanwhile more experience drivers with plenty of no-claims bonus should find their premiums are very low indeed.
VED
The impressive fuel consumption and emissions performance of the 108 translates into low VED costs, although the actual rate you pay depends a great deal on how old your 108 is. All new versions will pay £155 per year, with £175 payable in the first year. However, if you go for a secondhand example you can end up paying nothing at all.
Whether it's the 1.0-litre or 1.2-litre version, 108s first registered before 1st April 2017 are under 100g/km and therefore qualify for zero VED under the rules at the time. That doesn't guarantee those rules won't change in future, but at present it represents a substantial saving every year.
How much should you be paying for a used 108?
"The good news is that because the 108 has been on sale for a number of years, there are plenty of examples for sale at a variety of prices. It also means you have plenty of examples to choose from, so you can be patient and get the right car for you."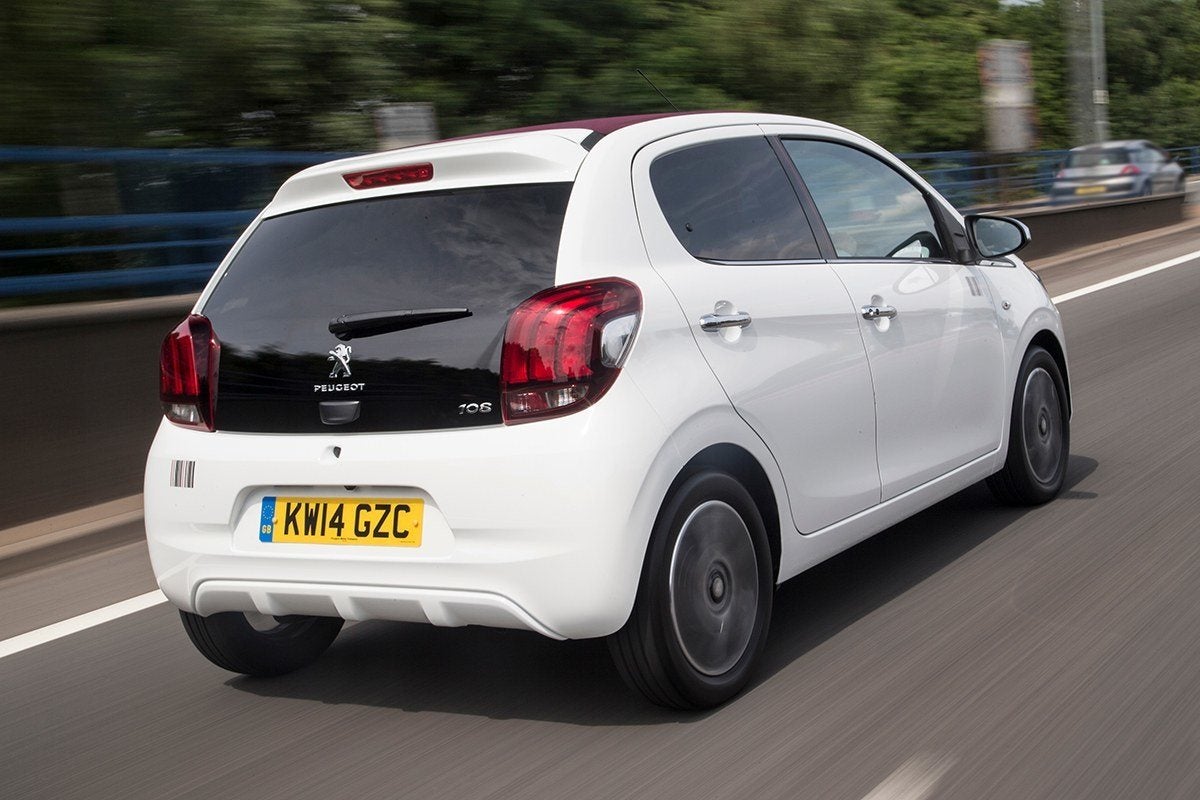 A quick search turned up plenty of pre-registered examples with just delivery mileage on the clock starting at around £10,000, and sometimes less, with many in higher specification Collection trim too. At the other end of the scale, early 2014 examples with higher mileage are below £4,000, with the cheapest example showing 90,000 miles and priced at just £3,100.
Trim levels and standard equipment
Peugeot has kept the 108 range relatively simple, and by loading up the entry-level model with a ton of equipment it makes it a bit of a no-brainer too. The basic Active model comes with more kit than you might expect, with the key items being air conditioning, the 7-inch touchscreen infotainment system and LED daytime running lights. Adding Active City Brake is a worthwhile consideration give it only costs £480 but skip adding sat-nav, as this means you can use Apple Car Play or Android Auto.
Peugeot 108 cars for sale on heycar
2,894
Number of cars available
£4.6K - £14K
Price bracket of these cars
Colours available on heycar
Keep me updated by email with the latest advice, news and offers from heycar
By submitting, you agree to our
privacy policy
.