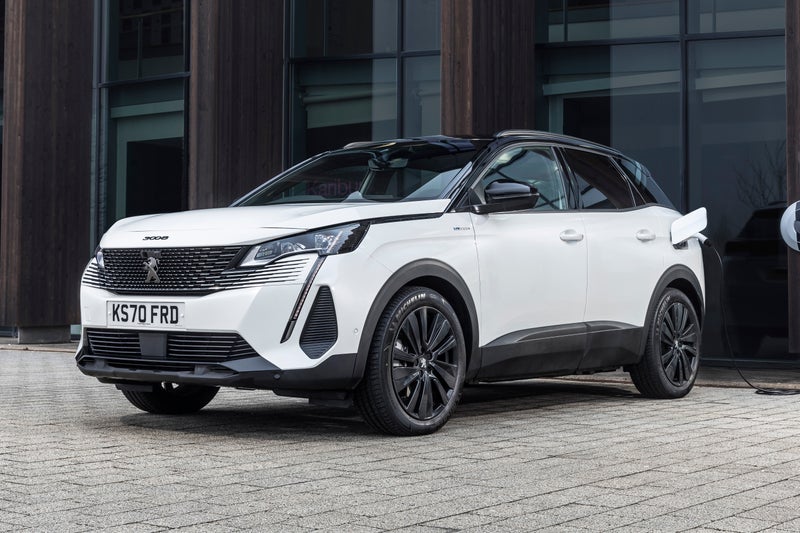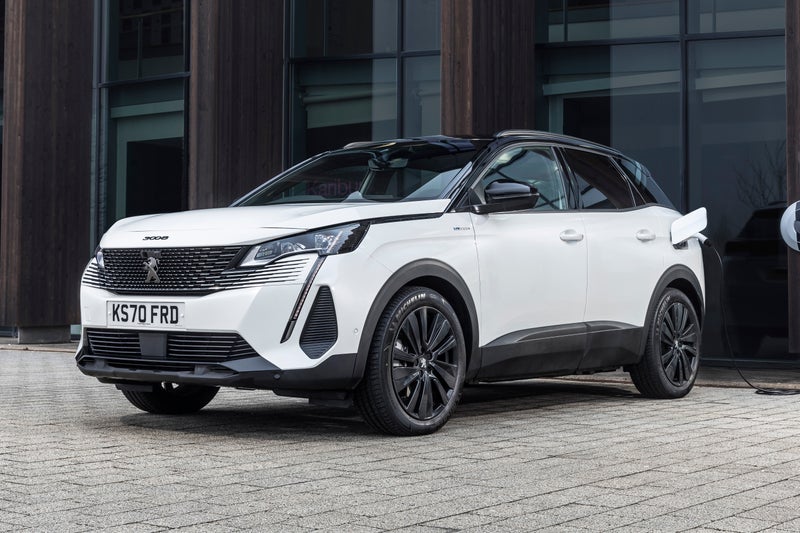 1/9
heycar rating
"One of our favourite SUVs "
Launched: 2017

SUV

Petrol, Diesel, PHEV
Quick overview
Pros
Well-finished, stylish cabin
Well-equipped as standard
Digital instruments on all models
Cons
Not the cheapest family SUV around
Panoramic roof eats into cabin headroom
Driving position won't suit everyone
Overall verdict
On the inside
Driving
Cost to run
Prices and Specs
Common questions
Overall verdict on the Peugeot 3008
"Practical, good to drive, comfortable, packed with high-tech kit… on paper, the Peugeot 3008 has it all. But does it deliver?"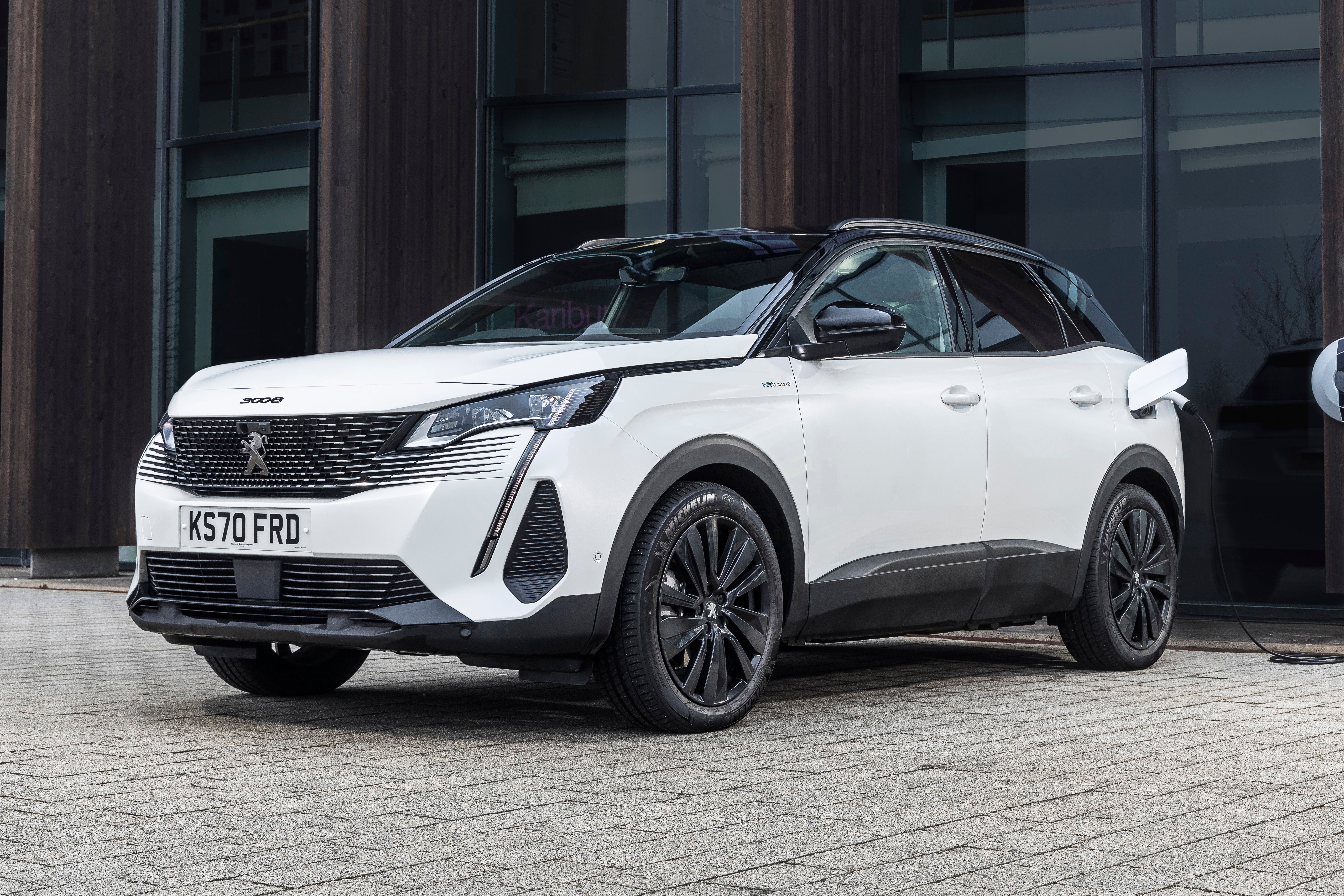 The answer is a resounding 'yes'. In fact, the Peugeot 3008 is one of the best family SUVs on the market, which is saying something considering the strength of the competition. Let's take a closer look with out 2022 Peugeot 3008 review.
Inside, it's stylish and modern. A combination of neat details and high-quality materials give the Peugeot 3008 an upmarket feel. Upfront it's spacious and the rear seats boast plenty of room for adults. It should also be able to cope with most of your demands, thanks to the generous 520-litres of boot space.
If you're not doing many miles, then the Peugeot 3008 with a 1.2 Puretech petrol engine is worth a look. Our pick of the original range, however, is the 1.6-litre BlueHDi 120PS with official fuel economy of 70.6mpg. It's smooth, quiet and powerful enough for all kinds of driving, plus it is available with either a six-speed manual or six-speed auto.
Plug-in petrol-electric hybrid models with two-wheel or four-wheel drive were added to the Peugeot 3008 range in early-2020, giving the 3008 an advertised 217mpg and a pure-electric range of 36 miles. Obviously, you'll need to take these with a pinch of salt as it will depend largely on your driving style and the kind of journeys you do.
On the road, the Peugeot 3008 is impressive. It's quiet in the cabin, the ride is firm without being crashy and the handling is neat - even if the steering lacks feedback. That's a shame because there's actually plenty of grip available and the body roll is well controlled. But, as a driver, you never feel confident exploring its limits in the same way you might a Ford Kuga or SEAT Ateca.
But the Peugeot 3008 is an easy car to live with. The in-car tech gives you plenty of options while features like adaptive cruise control which stops and starts in traffic jams is a nice touch.
Peugeot has foregone the basic Access specification for the Peugeot 3008, instead offering all cars with a generous level of standard equipment, including a fully digital instrument binnacle (like the Audi Virtual Cockpit), plus a touchscreen with Android/Apple smartphone mirroring. Autonomous emergency braking and lane departure warning are also standard.
Prices for the Peugeot 3008 are slightly higher than rivals, but the extra money buys some worthwhile gear – particularly the beautiful, clear digital instrument binnacle. A good level of equipment and stylish cabin make the 3008 stand out, plus the driving dynamics and refinement are excellent.
The Peugeot 3008 is a fantastic family car. Not only is it a great car in its own right, but it's also capable of seeing off some strong competition in perhaps the most congested sector of the market. To beat its rivals takes some doing, but the Peugeot is streets ahead. It's good to drive, looks great, is plenty practical and is loaded with kit. For once, you don't have compromise – the 3008 can do it all.
If you're looking for the previous version, you need our used Peugeot 3008 (2009-2017) review.
Is the 2022 Peugeot 3008 right for you?
If you're in the market for an SUV, then you should definitely consider the Peugeot 3008. Don't be put off by the badge – the interior is a world away from the low-rent fixings in previous Peugeots. Inside the 3008 is a nice place to spend time. There are lots of high-quality plastics and nice touches like the piano key switches.
Those stylish coupe lines are easy on the eye, but they don't compromise the boot space – there are 520-litres here which is more than the ever-popular Nissan Qashqai. Although the styling can make it difficult to spot the car's corners when you're trying to park.
Peugeot has a reputation for electrical faults, and there have been examples of computer glitches causing problems – from faulty massage seats to stop-start systems not working and even first gear not engaging correctly. So a test drive is essential to make sure everything works.
What's the best Peugeot 3008 model/engine to choose?
There is no 'entry-level' model in the Peugeot 3008 range. This raised a few eyebrows when new but, as a used car proposition it means that every model is really well equipped.
That means two-zone climate control, a touchscreen system with smartphone mirroring, DAB radio, an electric parking brake, Bluetooth connectivity, a USB socket, three 12V outputs, autonomous emergency braking – plus a full-colour, digital instrument binnacle. The Peugeot 3008 Allure has pretty much everything you need, including 18-inch alloys (much better looking than the 17s), auto-dimming headlights, reversing camera and blind-spot detection.
Engine-wise, it'll depend on your needs. For just pootling around town the 1.2-litre petrol is fine with the Peugeot 3008, but the 1.6-litre diesel is the best all-rounder. Two power versions are available – don't go for low power 100PS as this is only available in the basic Active trim and only has a five-speed gearbox.
What other cars are similar to the Peugeot 3008?
Comfort and design: Peugeot 3008 interior
"Arguably the best thing about the Peugeot 3008 is its interior. Forget what you know about French cars – gone is the weird driving position with the pedals to close to the seat and the gearstick in the boot. Peugeot has struck gold here."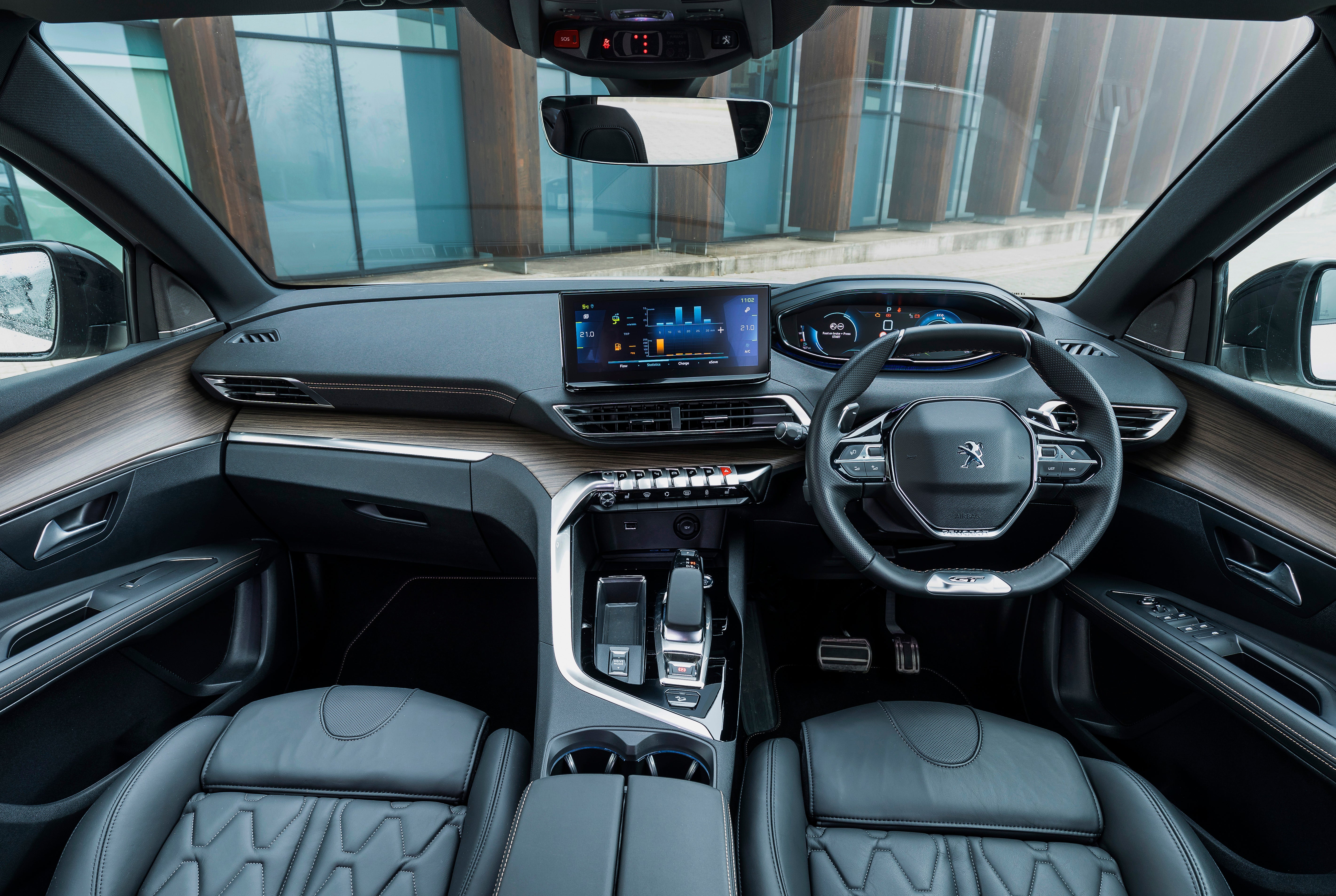 For starters, the centre console is stylish without being guilty of putting form over function. Inspired no doubt by Audi's Virtual Cockpit, all models come with a fully digital dash that offers near endless possibilities for customisation. Peugeot was so proud of it, they even gave it a name. Drum roll… the i-cockpit. Oh dear.
Moving swiftly on, the Peugeot 3008 also uses a small steering that's squared off at the top and bottom. This makes it much easier for the driver to manoeuvre the car, as well as allowing for a decent driving position without obscuring the instruments. In fact, you look at the dashboard over the top of the wheel. We liked it – but it might not be for everyone, so a test drive is essential.
The whole design feels great as it wraps around the driver and offers a sense of comfort and security. Almost all the controls are logically laid out, but there are a few quirks. For example, the cruise control button is tucked away, so it'll take some time to get used to its operation. The heating controls are also part of the infotainment – we'd much prefer a physical button to control this much-used function.
Quality and finish
We know what you're thinking. It's a French car so the interior is going to be flimsy and cheap. Think again. This is an interior that would give premium rivals a scare. Thankfully, the Peugeot still has plenty of character that helps it stand out from its rather drab German rivals.
The Peugeot 3008 is handsome and stylish. The 'piano keys' that sit underneath the infotainment system. These control shortcuts to the most-used menu items: navigation, music, phone… um, hazard warning lights. They're a great idea most of the time. Although you will be faced with the odd situation (mainly at night) where they create a weird 3D effect that messes with your depth perception and you end up jabbing at them and swearing.
But, hey, it's not all bad news. There are cloth inserts on various panels for a classy touch, and that gear knob is chunky and rather satisfying. Even the 8.0-inch touchscreen is impressive.
Infotainment: Touchscreen, USB, nav and stereo in the Peugeot 3008
Do you ever find yourself bored in a traffic jam? Then the Peugeot 3008 is the car for you. The infotainment has an overwhelming array of menus and sub-menus and we guarantee that you will never find what you're looking for in the first attempt. It's either genius or massively frustrating, depending on your point of view. For example, some dashboard configurations are stored in the main vehicle settings menu, while the others are on a button on a stalk. Fun times.
There's other mad stuff, too. Like the optional Amplify button. This is your way of turning the car from mild-mannered Dr Jekyll to the ill-tempered beastly (but still worthy of a gentlemanly prefix) Mr Hyde. Or at least choosing between 'Boost' or 'Relax'. Boost is basically sports mode, so the throttle and steering are sharpened up. And that's not even the best bit. The cabin lights go red and a 'high energy' fragrance is squirted into the cabin to allow you to settle in and really enjoy your new mood.
Other stuff includes Apple CarPlay and Android Auto smartphone mirroring. This allows you to use your smart phone's sat-nav, as well as a limited selection of other apps, via the car's touchscreen. Alternatively, the 3008 comes with a built-in sat-nav if you go for Allure trim or above. Overall, the basic infotainment is fine but perhaps a bit laggy at times.
Space and practicality: Peugeot 3008 boot space
If you get your tape measure out, you'll find that the Peugeot 3008 is 4447mm long, 1841mm wide (not including the door mirrors) and 1620mm (not including the roof rails). That's broadly similar to alternatives like the Nissan Qashqai and Skoda Karoq.
More importantly, when it comes to putting things somewhere, the 3008 is all over it. Well, unless you count the glovebox which is useless because it also houses the fuse box. But wait a minute, what's this? That's right, it's a centre binnacle that is deep enough to store an iPad (other tablets are available). There's even an optional phone storage tray and charger which – shock horror – is actually big enough to store your phone. Don't laugh – it's a serious point. Those pesky smartphones keep getting bigger and bigger.
As you'd expect (hopefully?) for an SUV, the 3008 is a practical car. With the seats up there are 520 litres of boot space. As with most cars, though, you won't be able to use all of it unless you install some kind of cargo net to stop objects flying over the back seat and hitting the driver on the head (new models got a net as standard but you're unlikely to ever see it in a second-hand car).
Pop the seats down and you'll have access to 1670 litres of space. Ikea, here we come. Set the boot floor to its highest point and you'll have a flat load bay – although the car is tall so lifting heavy items in can be tricky.
There's plenty of space for driver and passengers. Well, unless you get the panoramic sunroof. It's great for keeping the kids occupied spotting planes while you're stuck on the M25 – but it does eat into headroom, so taller passengers in the rear might be uncomfortable. If we were being picky, we could do with a touch more rear legroom, but at least the floor is flat, so you're not perched on a bench.
Handling and ride quality: What is the Peugeot 3008 like to drive?
"Before the SEAT Ateca came along, the Peugeot 3008 was one of our favourite SUVs to drive."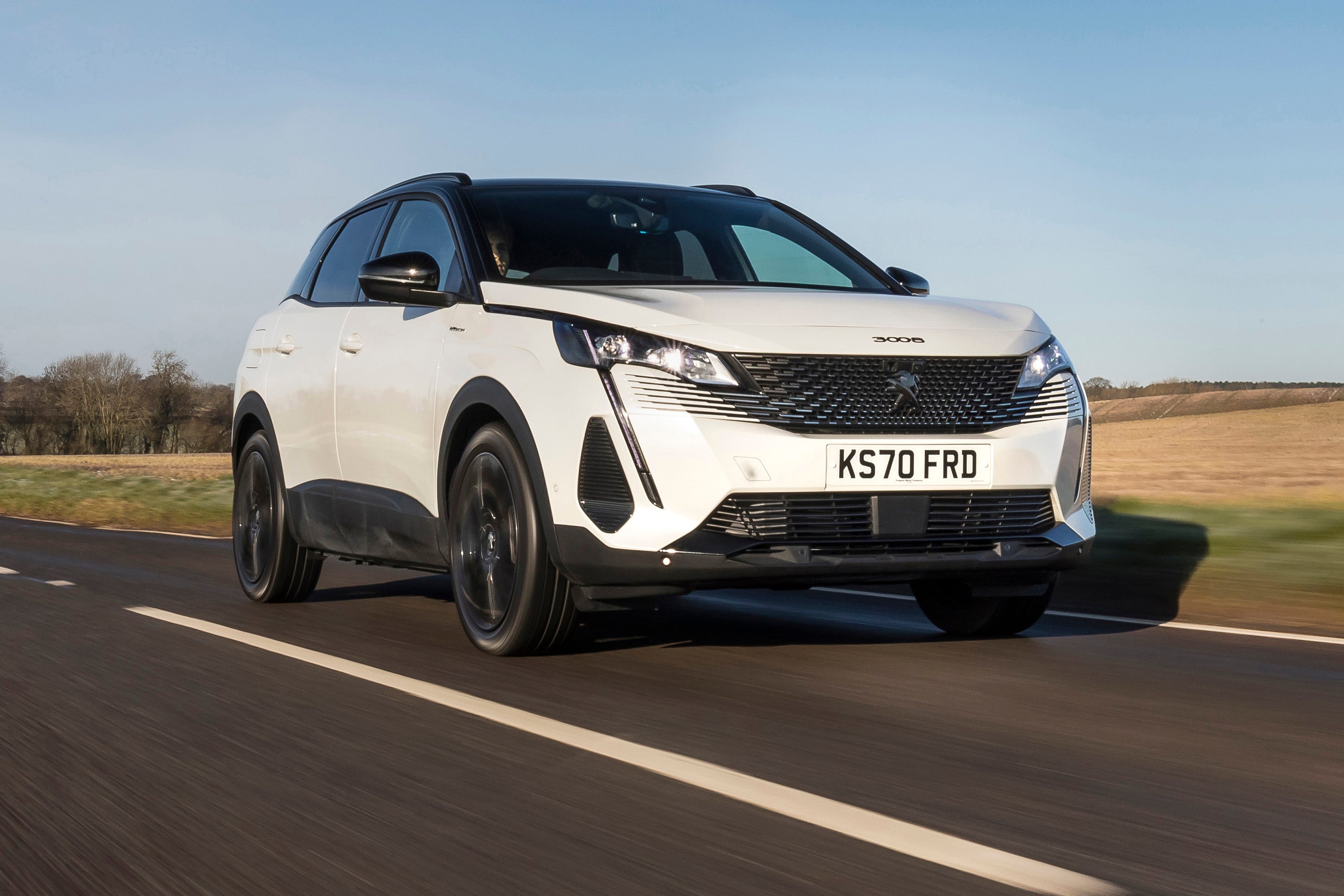 It might not feel sporty from the get-go, but there are a few clues as to the Peugeot 3008's performance pretensions. Take the steering wheel, for example, it's small and that makes the most of the fast, direct steering. Look closely and you'll see the gear lever is about six inches from the wheel. Perfect for quick changes. But while the steering is great, it is guilty of feeling quite dead and offers very little feedback. You'll probably be the last to know if you've exceeded the limit of available grip.
On faster, more challenging B-roads it'll take you a while to build up confidence in the car's handling – if that's your jam. There's a peculiar thing that happens where the more off-centre the steering wheel is, the more aggressive the driven wheels turn.
It can make cornering at speed not particularly smooth and make the car feel a little restless and uneasy as you constantly have to input corrections rather than keep it steady.
But the eager throttle and quick steering do give the Peugeot 3008 a tremendous sense of urgency around town, allowing you to dart about quite nimbly. It also makes it much easier to park. You probably wouldn't think you're in a SUV until you've forgotten how big the car is and dinked the alloys on the kerb.
The ride is a solid seven out of ten. It's okay most of the time. Quite soft and compliant but occasionally it gets a bit thumpy or fails to take a pothole in its stride. It's a shame really – not because it's bad, but because underneath there's probably quite a tidy-handling car here and we'd love to see it.
What engines and gearboxes are available in the Peugeot 3008?
The engine line up has been streamlined quite a bit since the car was first launched, so we'll take you through the various guises – just remember they might not be currently available, but the information is useful if you're looking at used cars.
There are two petrol engines in the range. The smallest is the 1.2-litre PureTech. It's a three-cylinder, but don't let that put you off as it's garnered plenty of awards and praise. It boasts 130PS and can be mated to either the six-speed manual or the eight-speed automatic gearbox. It's turbocharged so it's quiet and it's ideal if most of your driving is done in town.
Next up is the 1.6-litre PureTech petrol. This is more powerful with 180PS but it's only available with the eight-speed auto. That means it's quick but it's also thirsty.
There are also two diesel engines available. The 1.5-litre BlueHDi was available from launch with power outputs of 100PS and 120PS. In newer models, it's only available as a 130PS. This is probably the best choice for most people as they offer a decent combination of power, performance and fuel economy.
The larger 2.0-litre BlueHDi is found in the top of the range model. Currently, it's on sale with a 180PS power output but you can also find it as a 150PS, often in GT-Line trim cars.
Peugeot also added two hybrid variants to the line-up in 2020. These are doing the heavy lifting as the performance models in the range. The four-wheel-drive Hybrid4 model produces 295PS thanks to not one but two electric motors. While the front-wheel-drive Hybrid has 225PS and uses a 180PS petrol along with an 80kW (110PS) electric motor. Both are only available with the eight-speed auto.
Refinement and noise levels
Overall, the 2021 Peugeot 3008 offers decent levels of refinement and low cabin noise. The smaller 1.2-litre three-cylinder is thrummy but that only becomes intrusive as you head towards the redline, which you will find yourself doing to get the best performance from it. As for the diesels, like most oil-burners there's a degree of clatter at start-up, but as they warm through the noise reduces and they're quiet on the go.
One thing to watch out for: the 2.0-litre diesel is noisier than the 1.6-litre diesel. Noticeably noisier. That's not something you'd expect really because the bigger engine is only available in high-spec models… where you're paying extra for comfort, refinement and things like that.
Safety equipment: How safe is the Peugeot 3008?
There's plenty of safety kit and driver aids on the Peugeot 3008. All cars get automatic emergency braking and speed limit sign display. The 3008 was crash tested and awarded five stars by Euro NCAP in 2016.
In the adult occupant section, the car scored 86%, for child occupants it was 85%, and for pedestrian safety it was 67%. The safety assist category was low – just 58%, but this is partly because Euro NCAP only tests the basic models.
So make sure you go for a car with the safety plus pack then you get lane departure warning and driver attention alert. Other options include blind-spot detection and adaptive cruise control.
MPG and fuel costs: What does a Peugeot 3008 cost to run?
"With a variety of petrol and diesel engines with various power outputs, it can be really confusing figuring out running costs."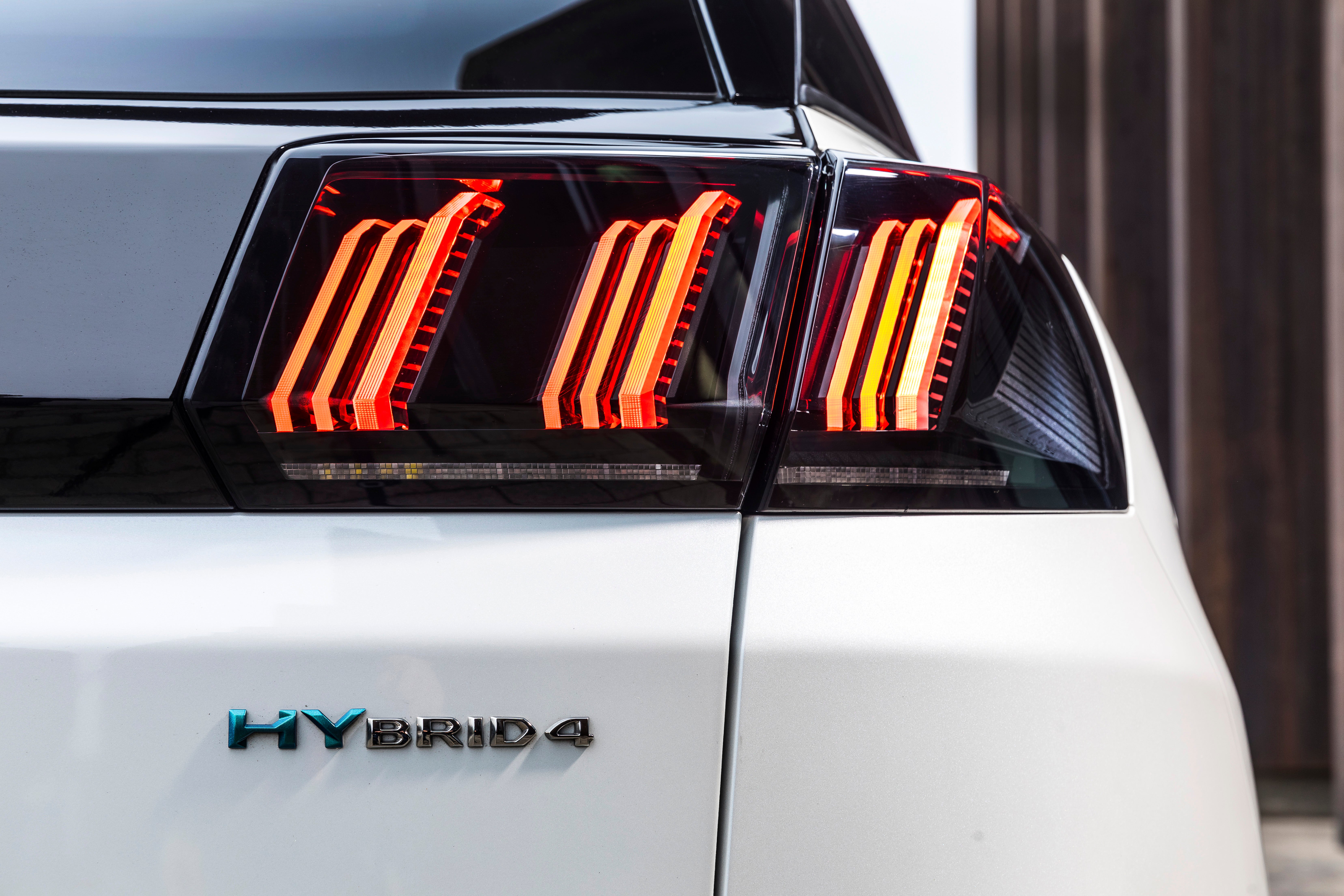 We'll do our best to give you the highlights, starting with the most efficient diesel engine: the 1.6-litre 120PS BlueHDI. Mated to a six-speed manual gearbox, that engine returns 70.6mpg, while that drops to 67.3mpg if you go for an auto. You could also opt for a 1.5-litre diesel – this can also hit 70mpg if you go for the auto.
If you don't do enough miles to warrant a diesel, then the thriftiest petrol variant for the Peugeot 3008 is an early 1.2-litre with 130PS mated to a manual, which could return 55.4mpg. It's been tweaked over the past few years but still returns 54.3mpg, according to the figures.
Get an auto and you can get the 0-62mph to just under ten seconds. If you fancy a bit more power, the 1.6-litre petrol 180PS will get you to 62mph in eight seconds but the mpg will drop to 50.4 for the auto and 48.7 for the manual.
Plug-in petrol hybrid models with two-wheel or four-wheel drive were added to the range in early-2020, giving the 3008 an advertised 217mpg and a pure-electric range of 36 miles. Remember though, these are all laboratory test figures. Expect real-world economy to be quite a bit different.
How reliable is the Peugeot 3008?
While it's easy to dismiss French cars as unreliable, Peugeot actually makes some very dependable cars. The Peugeot 3008 scored an impressive 9.6 out of 10 for reliability in the latest HonestJohn.co.uk Satisfaction Index.
The main issues seem to arise from people using the BlueHDi diesel engines for short journeys – we'd recommend the 1.2-litre Puretech if you're planning to use the 3008 around town. Electrical gremlins can also occur occasionally.
Insurance groups and costs
Insurance groups for the hybrid Peugeot 3008 models aren't available yet, so we can only run you through the petrol and diesel ones. As a reminder, there are 50 groups with number one being the lowest and therefore cheapest to insure and Group 50 being the most expensive.
All petrol and diesel versions of the Peugeot 3008 fall between groups 11 and 24, which is perfectly reasonable. That means the lower spec Active with the 1.2-petrol will be around group 11 while the 2.0-litre diesel with 180PS in range-topping GT or GT-Line trim will be group 24.
VED car tax: What is the annual road tax on a Peugeot 3008?
The Peugeot 3008 was released in late 2017 – after the Government introduced a flat rate of £150 per year for petrol and diesel cars. So you'll need to make sure that with options it doesn't cross the £40k line – otherwise there'll be a surcharge of £325 during years two to six of the car's life. You might think it would be hard to spec a £40k 3008, but current prices for the top of the range models are only one or two grand away. Thankfully, all cars are well spec'd but you never know…
How much should you be paying for a used Peugeot 3008?
"If you were buying a new Peugeot 3008, then prices start at £26,405 for the Active and stretch up to £38,660 for the hybrid GT."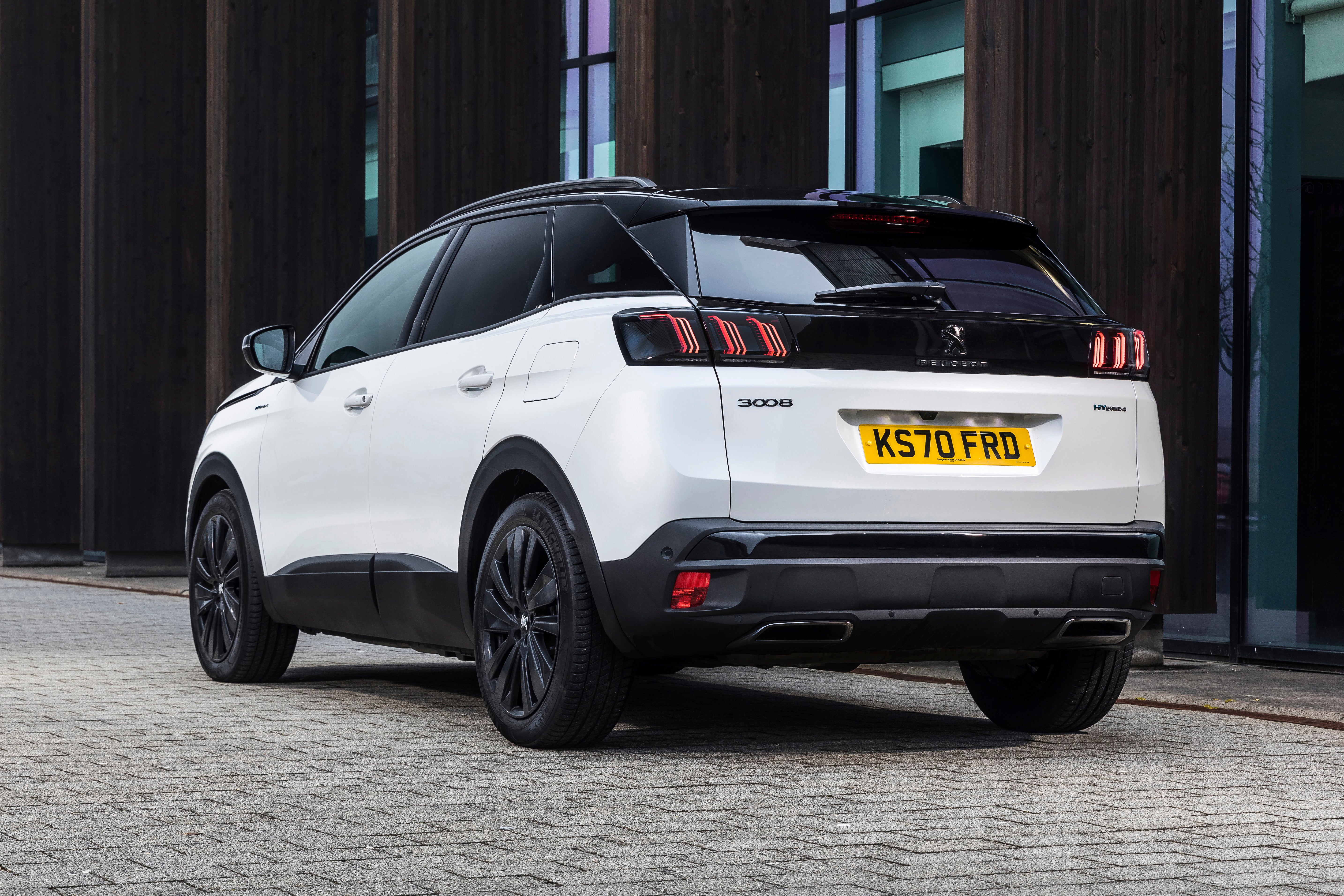 The Peugeot 3008 does look expensive on paper, but that's because there's no entry-level model. Once you compare like for like, the 3008 is pretty much in line with all its rivals.
The biggest thing to be mindful of is that the pre-2017 car is a completely different animal so avoid it. It's some kind of weird MPV-SUV thing. Scanning the Heycar ads, we found an early 2017 1.6-litre diesel in Active trim with 32k on the clock for £14k, with 1.2-litre petrols a similar price.
Trim levels and standard equipment
With no entry-level model, even the most basic version of the Peugeot 3008 comes well-spec'd. The Active has 17-inch alloy wheels, auto lights, auto wipers, auto-dimming rear-view mirror, reversing sensors, lane departure warning, auto emergency braking, touchscreen system, smartphone mirroring, DAB radio, fully-digital instrument binnacle, driver attention alert system, Bluetooth connection, cruise control and a speed limiter.
Step up to the Peugeot 3008 Allure and you get active blind spot detection, lane keep assistance, advanced driver attention alert, auto-dipping headlights, reversing camera, leather effect upholstery, navigation system with TomTom live updates (three-year subscription) voice recognition. Plus 18-inch alloy wheels, which make the car look much better.
After that, it's the Peugeot 3008 GT Line which comes with the "Amplify" mood system (the one with alternate lighting and fragrances), GT Line interior and exterior details, wireless smartphone charger, full-LED headlights and LED scrolling indicators.
Finally, the top-spec Peugeot 3008 GT adds adaptive cruise control, keyless entry and push-button start, smart electric tailgate with hands-free opening, GT interior and exterior details, massaging, electrically adjusted driver's seat, heated front seats, Nappa leather, panoramic glass roof along with 19-inch alloy wheels.
Ask the heycar experts:
common questions
Is the Peugeot 3008 a good car?
The answer is a resounding yes. In fact, the Peugeot 3008 is one of the best SUVs on the market, which is saying something considering the strength of the competition. Stylish, comfortable and with a high quality interior, it's easy to see why it's so popular.

What is the best engine for the Peugeot 3008?
For most buyers, the 1.5-litre BlueHDi is probably the best choice as it offers a decent combination of power, performance and fuel economy. However, we think the turbocharged 1.2 Puretech is the best engine with plenty of character and get up and go.

Is the Peugeot 3008 a 4x4?
The Peugeot 3008 Hybrid4 is a proper 4x4 and the four-wheel-drive mode can be used in 100% electric mode. Other models are available with Peugeot's Advanced Grip Control which combines optimised traction control, specific tyres and Hill Assist Descent Control.

Peugeot 3008 cars for sale on heycar
3,575
Number of cars available
£7.4K - £48K
Price bracket of these cars
Colours available on heycar
Keep me updated by email with the latest advice, news and offers from heycar
By submitting, you agree to our
privacy policy
.