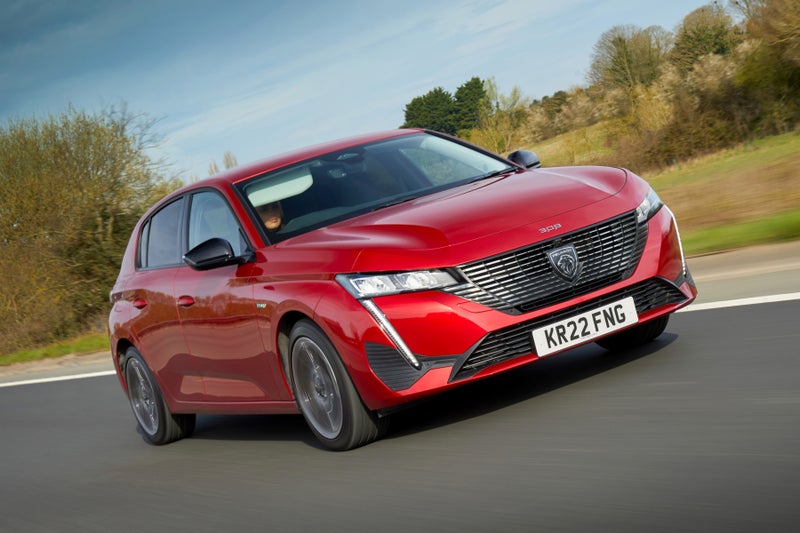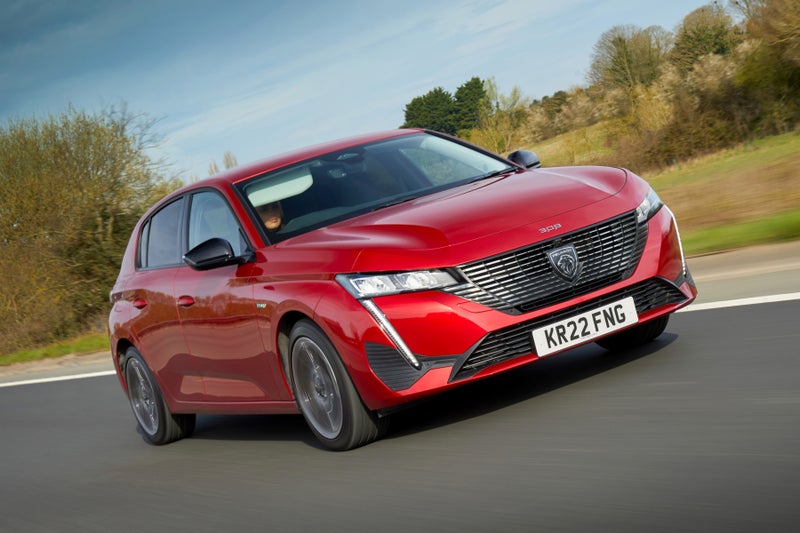 1/9
heycar rating
"Stylish and classy family hatch "
Launched: 2022

Family Hatch

Petrol, Diesel, PHEV
Quick overview
Pros
Attractive and quirky inside and out
Tech is much better than previous 308
Good overall driving experience
Cons
Disappointing rear seat space
Lack of manual gearbox option
Driving position won't suit everyone
Overall verdict
On the inside
Driving
Cost to run
Prices and Specs
Common questions
Overall verdict on the Peugeot 308
"The latest Peugeot 308 proves that settling for a mainstream family hatch doesn't have to mean compromising on style and feel-good factor. Some compromises remain, but with a well-sorted driving experience, punchy engines, a quality feel and greatly improved tech it's a strong choice."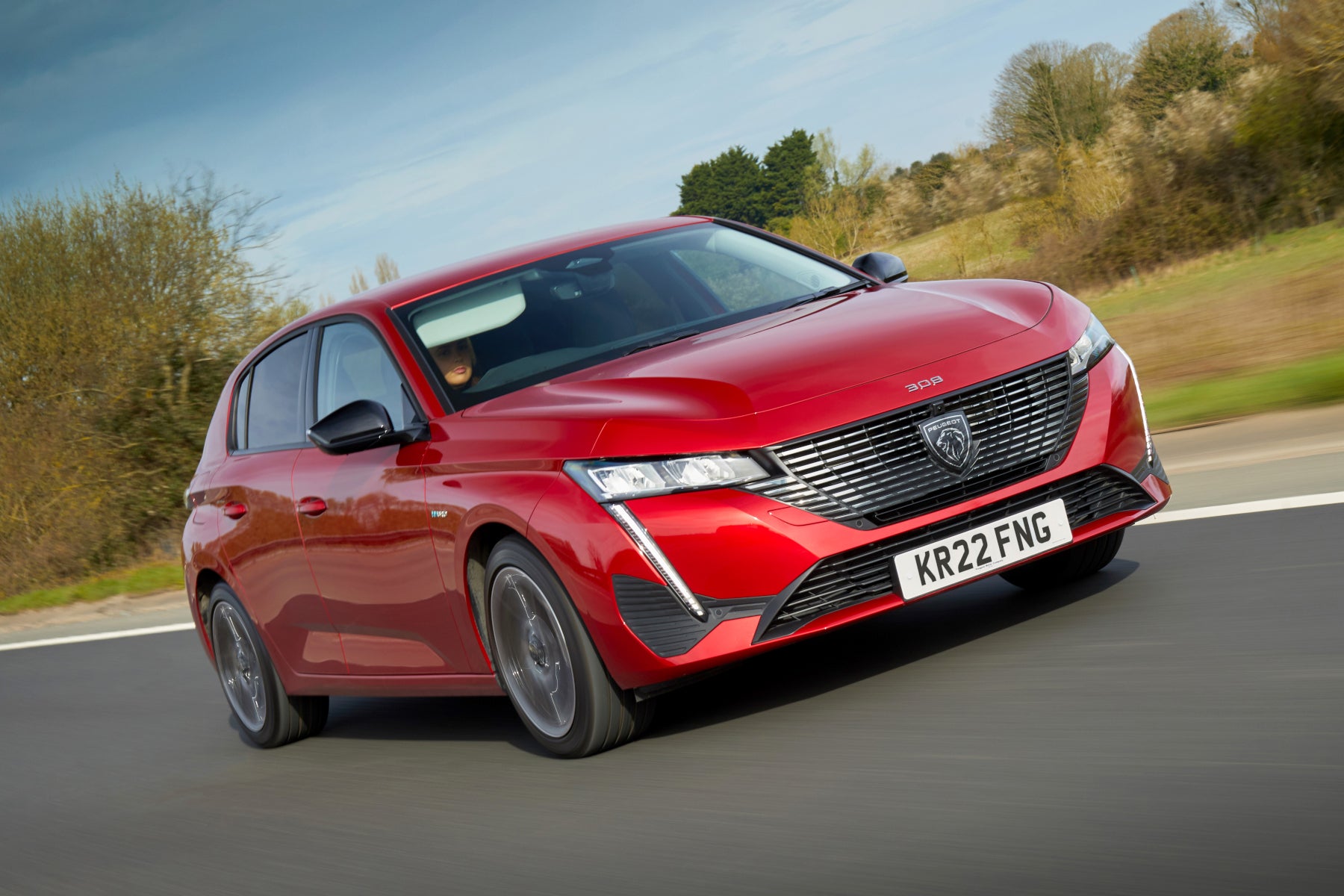 It appears the Peugeot has decided that eight is great, as all of its core models (from the 208 small car to the 5008 seven-seat SUV) have stuck with the same numerical model designation for about a decade now. That means this, the latest Peugeot 308, is the third model from the French brand of the same name. In this review, though, we'll show why eight is great. Or something like that.
Despite the huge popularity of family SUVs these days, hatchbacks such as the 308 are still big business. Standing out from the crowd isn't easy when you're battling fine competitors such as the Volkswagen Golf and SEAT Leon, the Ford Focus, the Toyota Corolla and the Mazda 3, to name just a few.
And, well, the Peugeot's design certainly does just that. It's closely related to the latest Vauxhall Astra, a car that has transformed from worthy but dull to surprisingly stylish. But the new 308 goes a step further still with its dramatic front-end, fang-like LED lights, creased bodywork and shapely rear-end. It's more overtly showy than subtly classy, but that's better than being anonymous.
The interior, too, is an interesting place to sit with its angular shapes and varied surfaces. There's more going on than there is in the Astra, while Peugeot's i-Cockpit cabin design certainly gives it a unique selling point - although it still won't suit drivers of all shapes and sizes. Quality is largely very good, too, with some pretty classy materials.
The old Peugeot 308 also had a surprisingly upmarket feel too, but lagged behind the best when it came to technology and usability. Peugeot has done a good job of rectifying that with its new, much improved infotainment with dual screens and novel customisation to allow easy access to commonly-used features. Indeed, the main downside of the cabin is now the mediocre rear seat space, which is barely better than the old 308 and a fair way behind the class best.
Still, the 308 redeems itself when it comes to the driving experience. We're already very familiar with the base Puretech 130 1.2-litre turbo petrol engine, but it remains a great offering, while Peugeot still offers a diesel engine for mega-mileage drivers. Purists may lament the lack of any manual offering - Peugeot's manual 'boxes were never brilliant, but it's nice to have the choice - although the standard eight-speed automatic does a largely decent job.
Given the majority of Peugeot 308s are sold to fleet buyers, many will be drawn to the two new plug-in hybrid (PHEV) models. With 180 or 225PS they're not short of power, but the real draw is low emissions, low company car tax and (officially at least) the ability to travel up to 40 miles on a charge in electric mode. What's more, a fully electric Peugeot 308 is due next year with a range of 250 miles.
On the road the new Peugeot 308 offers an agile and composed driving experience, managing to be fairly enjoyable to steer around a twisty road while still offering good ride comfort. Granted, a Ford Focus is that bit sharper and more engaging, while a VW Golf is more adept at isolating you from bumpy surfaces, but it strikes a decent balance.
In terms of pricing there's better value family hatchback offerings on the market than the latest Peugeot 308. That's where the cheaper Vauxhall Astra comes in, for example. But it's more affordable than premium offerings such as the BMW 1 Series and Mercedes A-Class while claimed strong residuals for the 308 should mean competitive leasing costs and (for those that buy outright) a car that holds its value.
Put that all together and there's much to like about the new Peugeot 308. There may well be rivals that tick more objective boxes, with practicality a bit of a weak spot. But as a style-focused, good-to-drive hatch with premium appeal it's a worthy addition to the class.
If you're looking for the previous version, you need our used Peugeot 308 (2014-2021) review
Is the 2022 Peugeot 308 right for you?
The new Peugeot 308 is a good car to choose if you want a family hatchback that doesn't look or feel ordinary. It'll stand out in the office car park next to some of the more unexciting offerings, that's for sure.
It'll also be great for long journeys thanks to good comfort and refinement, yet its relatively compact size means it's easy to park and manoeuvre around town. However it might not suit family buyers due to its mediocre rear seat space: something like a SEAT Leon or Skoda Octavia is much better in that respect.
What's the best Peugeot 308 model/engine to choose?
For most people's needs we reckon the entry-level Puretech 130 petrol engine is the best choice in Allure trim. It might be the most affordable model but it certainly doesn't feel slow or lacking in refinement, while it'll also be fairly efficient.
If efficiency matters above all else, though, we'd be looking at one of the plug-in hybrid models. They're not cheap to buy, but if you do lots of driving about town the ability to cruise around on electric power alone makes them super smooth, while you'll be able to recoup the extra outlay in reduced fuel and tax costs if your annual mileage is sufficient.
What other cars are similar to the Peugeot 308?
The Volkswagen Golf and SEAT Leon are both solid competitors for the Peugeot 308, as are the Toyota Corolla, Ford Focus and Honda Civic. There's also the Vauxhall Astra which shares much with the 308, but at a more affordable price.
The 308 is arguably more desirable than some of those, so if style matters the Mazda 3 is a great buy. There's also the Renault Megane with similar French flair, while at the other end of the scale the Kia Ceed and Hyundai i30 are solid if unexciting choices.
We'd also look towards other Peugeot siblings from Citroen and DS. The Citroen C4 is likeable, comfortable and affordable, while the DS 4 has a classy look and upmarket cabin with loads of kit.
Comfort and design: Peugeot 308 interior
"The new Peugeot 308's interior takes everything that was good about the old one - namely the quality feel and design - and adds in much improved technology. Space for rear passengers is disappointing, though."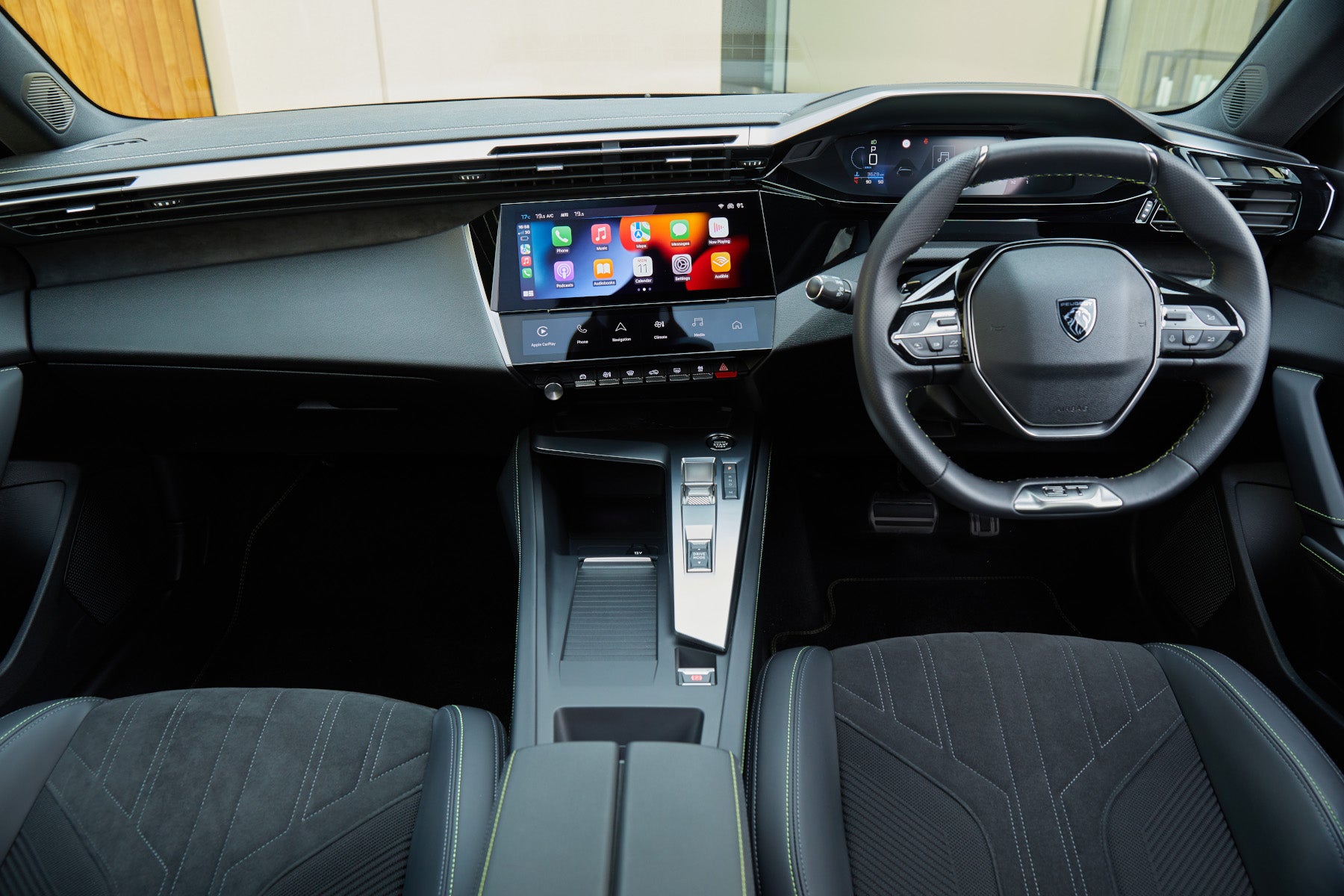 Step inside the Peugeot 308 and it's clear to see that a lot of attention went into the cabin's overall look and feel. It's a cut above cars such as the SEAT Leon and Toyota Corolla, that's for sure.
There's a striking, angular dash design with a nice mixture of materials, almost all of which are soft-touch. Peugeot hasn't covered the entire centre console in gloss black trim, either, meaning only the touchscreen will be a fingerprint magnet. All but the base model gets multi-colour ambient lighting, too. Overall it's even nicer in perceived quality than the old 308.
Peugeot is sticking firm with its 'i-Cockpit' dashboard and driving position combination, which give you a small steering wheel and high-mounted digital dial display that you view by looking over the wheel, rather than through it as in most cars. Most drivers of average size will get on with it, but this 6ft 3in tester still found you have to compromise between seeing the bottom section of the dials without leaning over or having the wheel a bit too low between your knees. It's worth trying it before you buy.
We like the feel of the wheel itself, however, and we welcome Peugeot's decision to stick with physical wheel buttons in the new 308 rather than fiddly touch controls. Speaking of which, there's now some physical toggle 'piano keys' for various features below the touchscreen which makes things a little easier to use on the move.
The main touchscreen is larger than before on all models, with a much crisper display, better responses and reasonably intuitive menus. A novel touch, though, is a second touchscreen panel below the main display that features six customisable shortcut widgets - you can set these to operate the things you use most, such as selecting your favourite radio station or calling a commonly used number. It's a handy way to make things easier to operate while you're driving.
Storage is pretty good, too, helped by there being no manual gearbox on any Peugeot 308s and a more compact shift-by-wire toggle switch for the automatic. The biggest downside? That's to be found when you step into the back, as we'll talk about in the space and practicality section...
Quality and finish
Peugeot really upped its game in perceived quality in the cabin in recent years, and that began with the last- generation 308.
Indeed, it's right up there with the latest VW Golf for fit and finish, and the materials used actually feel better in some areas. We really like the solid-feeling door grab handles, abundance of soft plastics, suede-like trim or leather on the dash and doors, and the overall feeling that you're in something a bit higher-end than your typical family hatch.
Granted, poke around lower reaches of the cabin (such as the door pockets and glovebox lid) and you will find harder, less tactile plastics. But accepting what the Peugeot 308 costs, this really isn't a big deal.
Infotainment: Touchscreen, USB, nav and stereo in the Peugeot 308
Every version of the Peugeot 308 gets a 10in central touchscreen. Its paired with a 10in digital dial display (again standard on all models), with basic voice control on all versions.
Basic Active Premium model is the only one that does without the second screen below the main touchscreen for the shortcut widgets. It also misses out on sat-nav, which on all other models also brings live traffic updates and speed camera alerts. All other trims get a more advanced voice control system (activated by saying 'OK Peugeot).
Step up to Allure trim and above, though, and you get all of these things, plus USB sockets in the rear as well as the front. Wireless phone charging is an option, though it's standard on Allure Premium and above, as is wireless Apple CarPlay and Android Auto (it's wired on the two base trims).
Aside from that the only further upgrade is to the stereo. All models get a six-speaker sound system, but a premium Focal system with extra speakers and better sound is available as an option on GT trim, and standard on GT Premium.
Space and practicality: Peugeot 308 boot space
Get your tape measure out and you'll see that the Peugeot 308 is about par for the course in terms of exterior dimensions, at 4367mm long, 1852mm wide and 1441mm tall. That's over 100mm longer than the old 308, and nearly 50mm wider.
Up front there's plenty of headroom and lots of cabin width, meaning no banging elbows as you fight over the centre armrest. The i-Cockpit driving position isn't suitable for everyone, though - the very tall will find they have to fix the wheel unnaturally close to their legs to fully see the dial display. We wish Peugeot wouldn't mount the pedals so close to the driver, as it would allow long legs to stretch out better.
There's a lot more to complain about for tall adults in the back, though. If a six-footer is sat behind a similarly-sized driver they'll have their knees dug firmly into the seatback, and if they're even taller than that they'll have to splay their legs either side of the seat. What's more, the bulky front seats don't allow you to really slide your feet underneath, while headroom isn't particularly brilliant either. Most hatchback rivals are roomier.
That's a pity, because the same issues afflicted the old 308, and it doesn't feel like a huge improvement has been made. The rear seats themselves are comfortable, though, so smaller adults and children will be fine, while there isn't a big lump in the floor so the middle seat is fairly usable. Of course there's ISOFIX points back there for mounting child seats, too.
Thankfully the Peugeot 308's boot is a much more competitive size. At 412 litres it's actually smaller than the old model, but that's still a greater figure than in the VW Golf and Ford Focus. It's worth noting, though, that in the plug-in hybrids the boot space drops to 361 litres because the battery pack is under the boot floor.
Storage within the cabin is decent, too, with deep door bins in the front, smaller ones in the back and a cubby below the centre armrest. The 308 is also the first Peugeot in decades that doesn't have the fuse box taking up space in the glovebox in right-hand drive cars, meaning there's a much more useable space.
Handling and ride quality: What is the Peugeot 308 like to drive?
"The Peugeot 308 offers a decent blend of comfort and handling to make it pretty enjoyable to drive. It's not quite as plush-riding as a Golf, nor as sharp as a Focus - it's somewhere in the middle."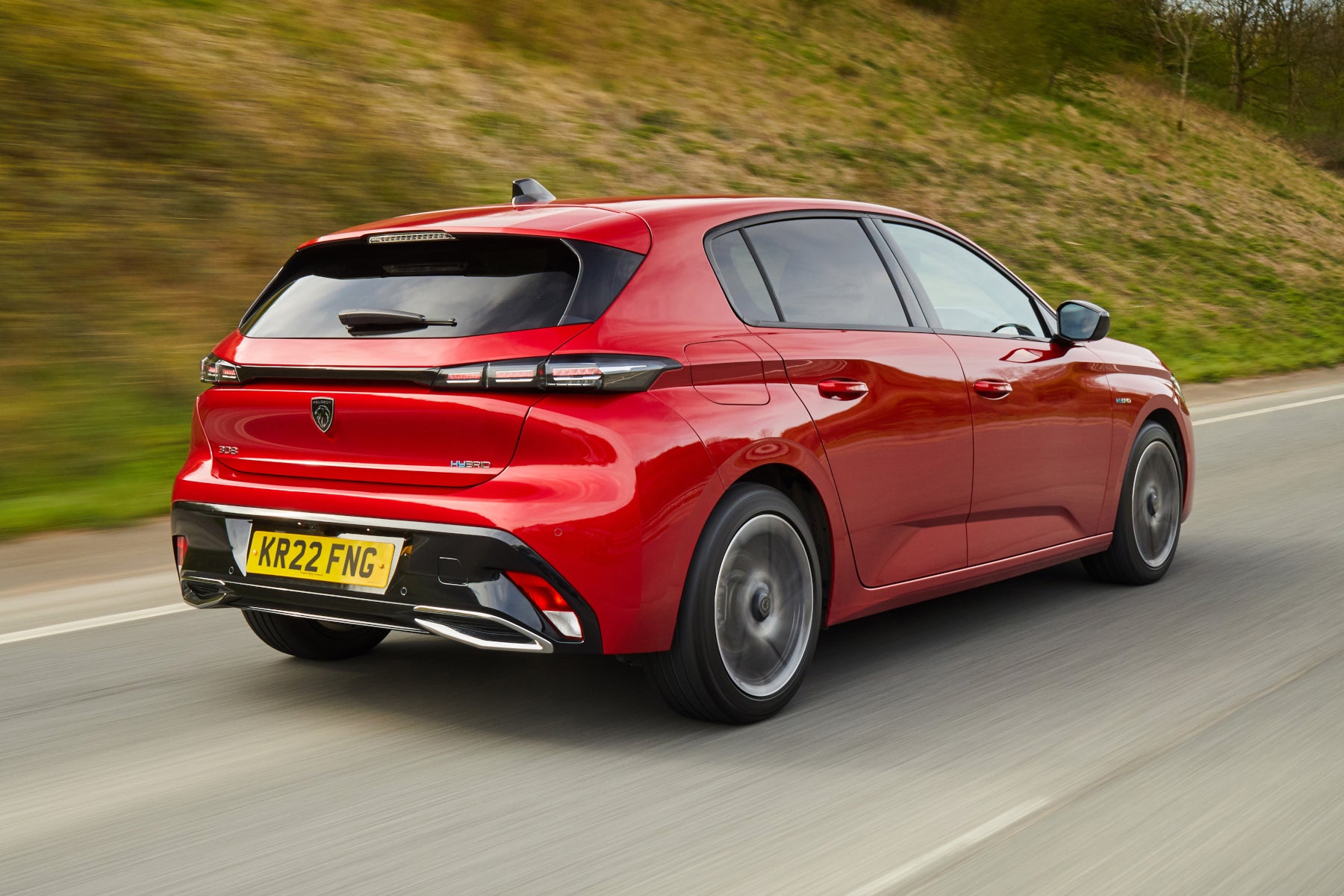 The Peugeot 308 is pretty capable on the road overall. While it perhaps doesn't shine or stand out in any real area, it offers a sorted enough driving experience that it's competitive in the class.
The small steering wheel helps heighten the 308's sense of agility, meaning it feels more eager to turn into bends than some rivals. That, combined with a decent turning circle makes it quite nippy around town. Forward visibility is good, but the rear window is small and the pillars are thick. At least even the base model gets rear parking sensors, while mid-spec models get front sensors and a reversing camera, too. Step up to GT Premium and you get a full 360-degree camera with self-parking assistance.
Out on the open road and there's a reasonable amount of enjoyment to be had, though how agile it actually feels depends on the version. Plump for the pure petrol or diesel model and it turns in nicely, stays pretty well controlled and feels light on its feet. The extra 300kg+ added to the plug-in hybrid models does impact this, but it's not as wallowy as you might think. There's plenty of grip on every model, too.
The 308 excels on the motorway, with ride comfort that gets better the faster you go (it's slightly thumpy on rough roads with the biggest wheels fitted, but pretty good overall and definitely softer than a SEAT Leon) and good overall isolation from wind and road noise.
Overall we don't reckon the new Peugeot 308 breaks any ground when it comes to the driving experience, but its good ride and handling balance means it doesn't do anything that'll put buyers off.
What engines and gearboxes are available in the Peugeot 308?
Peugeot has most of the bases covered with engines in the 308, with one (rather decent) petrol engine, a diesel and a pair of plug-in hybrids. All that's missing is a hot GTI model. Watch this space...
The cheapest available 308 is powered by the 1.2-litre Puretech 130 petrol engine, which makes 130PS and 230Nm. It's actually our favourite version to drive out of the range. 0-62mph comes around in 9.7 seconds, but it feels a bit faster than that thanks to a punchy mid-range, while the rorty engine note encourages you to give it the beans. The Puretech 130 is easily the lightest 308, too, which helps handling.
We also had a brief go in the 1.5-litre BlueHDI diesel engine. It has the same power as the petrol but more torque (up to 300Nm), yet is actually slower from 0-60mph because of the gearing. We've no complaints regarding the performance, though, and it's actually pretty refined overall for a diesel. It's a shame that the fuel is falling out of favour and it won't be a popular choice.
Then comes the two plug-in models - the Hybrid 180 and Hybrid 225 - both of which remain front wheel drive and combined a 1,6-litre four-cylinder turbo petrol engine with a 110PS electric motor. All that changes between the two is the petrol engine gets a higher state of tune in the 225PS variant.
We've only driven the 225PS model so far, which is pretty good but not perfect. For starters it's usefully punchy in electric-only mode, meaning you can pull smartly out of a junction and easily get up to motorway speeds without waking the petrol engine. Combine the two power sources and it's fairly brisk, too, while it's refined when you're cruising around.
However it suffers from the same problem that inflicts many PHEVs, namely that when you stab the throttle to overtake or quickly get up to speed you have to wait for what feels like an age before the gearbox, engine and electric motor have decided between themselves what's needed and deliver full power.
Similarly, another common problem is that by having to blend regenerative braking and normal friction braking in the same pedal, the brakes can be grabby, making it tricky to come to a stop smoothly. It's not a deal-breaker, but it takes some getting used to.
All 308s use the same eight-speed automatic gearbox with paddleshifts to manually select gears. The changes are smooth, and while it's a bit slow to react in the hybrid it delivers fairly swift kickdown in the petrol and diesel models. The manual response is nowhere near as fast as a dual-clutch gearbox, however.
Refinement and noise levels
The 308 is good at isolating you from wind and road noise, and while really rough roads do bring some thumping from the suspension it's pretty quiet overall.
The three-cylinder Puretech 130 doesn't vibrate through the controls like three-cylinder engines of old, either. And while it starts to get noisy when you rev it out, the willing growl is quite a pleasant and endearing one. The diesel, too, doesn't grumble too much even when you rev it out.
The hybrids are, of course, the smoothest of the lot, particularly when in electric mode with no gearchanges or engine noise to worry about. Once the engine does kick in it's pretty quiet under normal throttle inputs, but keep your foot pinned into the top of the rev range and they are a bit boomy.
Safety equipment: How safe is the Peugeot 308?
There's plenty of safety kit and driver aids on the Peugeot 308. All cars get automatic emergency braking with pedestrian detection, but you'll need Allure trim and above for the more advanced system that detects cyclists and works well at night.
Lane keeping assistance is standard across the range, as is speed limit recognition, a driver attention warning and cruise control with a speed limiter. Rear-cross traffic alert is standard on Allure Premium and above, as is adaptive cruise control with stop and go functionality and Blind Spot Detection. GT Premium models get lane positioning assist, which combines with the adaptive cruise for semi-autonomous driving.
The latest 308 has yet to be tested by Euro NCAP, but we'd be surprised if it didn't get the full five star rating.
MPG and fuel costs: What does a Peugeot 308 cost to run?
"No Peugeot 308 is expensive to run, but you'll need to work out if the fuel and tax saving benefits of the plug-in hybrids can be offset by the increased purchase price."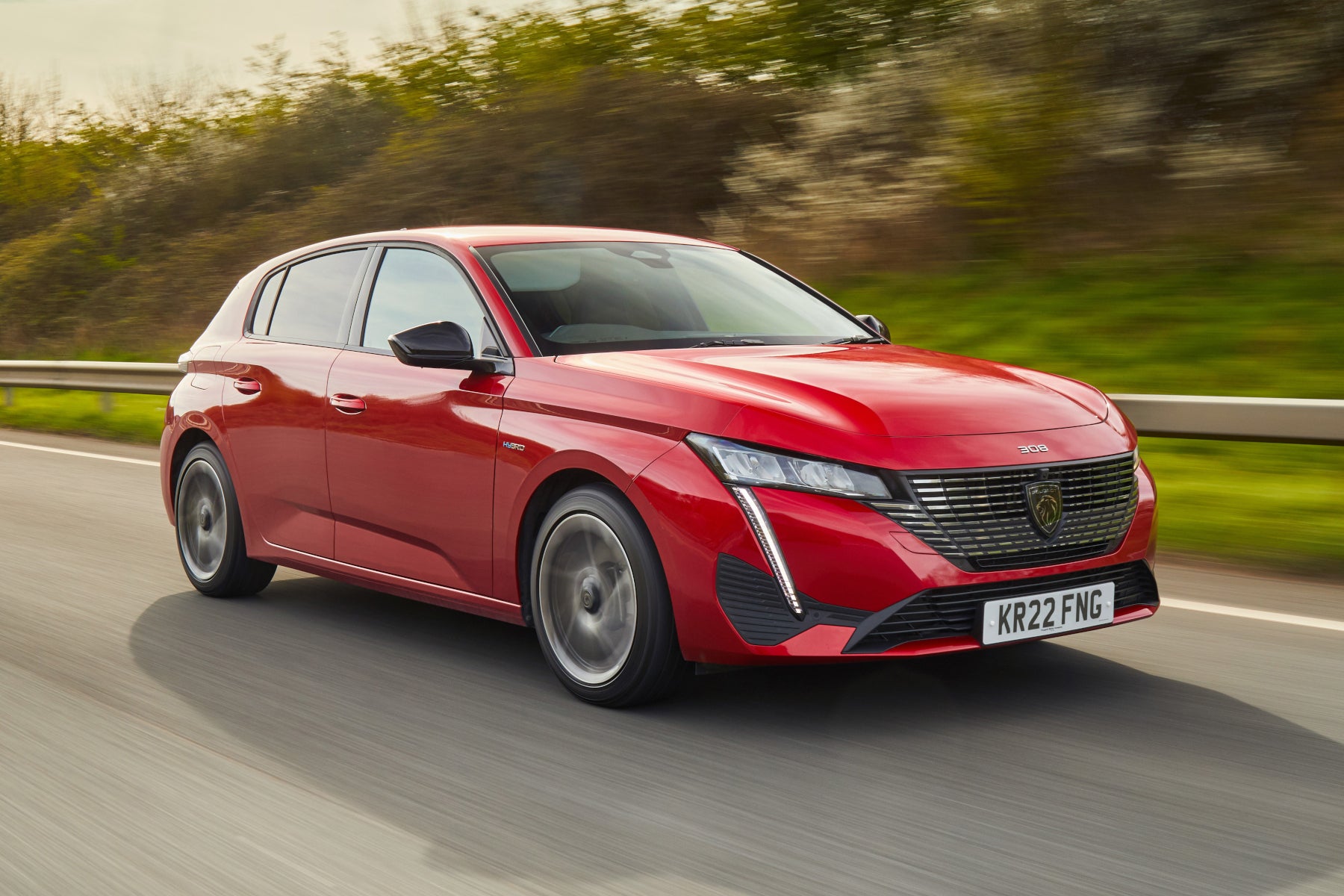 We'll start with the Puretech 130 petrol, which promises between 43.5mpg and 52.1mpg on the WLTP combined cycle. Expect a figure somewhere in between that in mixed driving.
The BlueHDI 130 diesel betters that by 20% or so, managing between 54.1mpg and 65.4mpg combined depending on driving style. It's the best bet for those who do lots of motorway miles.
The plug-in hybrid models both claim fairly similar consumption figures, with the Hybrid 180 managing between 213 and 281mpg and the 225 claiming 213-266mpg. Those figures are simply for comparison to other PHEVs, as you'll only get near that figure on short journeys where you can use electric power the majority of the time. Do longer journeys with a depleted battery and they'll almost certainly be less efficient than the pure petrols and diesels.
If you're a company car user, it's important to note that the lesser-powered hybrid is rated for over 40 miles of electric range, whereas the most powerful manages 39 miles, meaning it's in a higher Benefit-in-Kind tax bracket.
How reliable is the Peugeot 308?
The new Peugeot 308 has just arrived on the market so it's impossible to give an accurate assessment of its reliability. Much of the technology is new, although the engines are all familiar as they have been used elsewhere in Peugeot, Citroen, DS and Vauxhall models.
Peugeot didn't finish particularly highly in the latest Honest John Satisfaction Index, so long-term reliability is difficult to determine. Having said that, modern cars don't generally cause as many issues as they used to.
Insurance groups and costs
Insurance group data for the Peugeot 308 has yet to be released, but we've no reason to believe it'll be dramatically more expensive to insure than the previous-generation model. Expect the plug-in hybrids to be the most expensive on account of their higher list prices, with the 1.2-litre petrol being the cheapest to insure.
VED car tax: What is the annual road tax on a Peugeot 308?
The Peugeot 308's range of efficient engines mean it won't break the bank when it comes to road tax.
The first year rate for the 1.2-litre Puretech petrol is £190, rising to the £165 flat ratew for the years following. The diesel model reduces that first-year rate to £170 because of its lower CO2 emissions.
The plug-in hybrids are noticeably cheaper in the first year, with both commanding a £10 annual rate, rising to the £165 flat rate after. Handily, Peugeot has managed to keep even high-end versions of the 308 below the £40,000 'premium car' tax threshold, avoiding a clobbering from the taxman for the first five years.
How much should you be paying for a Peugeot 308?
"The Peugeot 308 sits in the middle of the family hatch pack when it comes to list prices, commanding a premium over some rivals."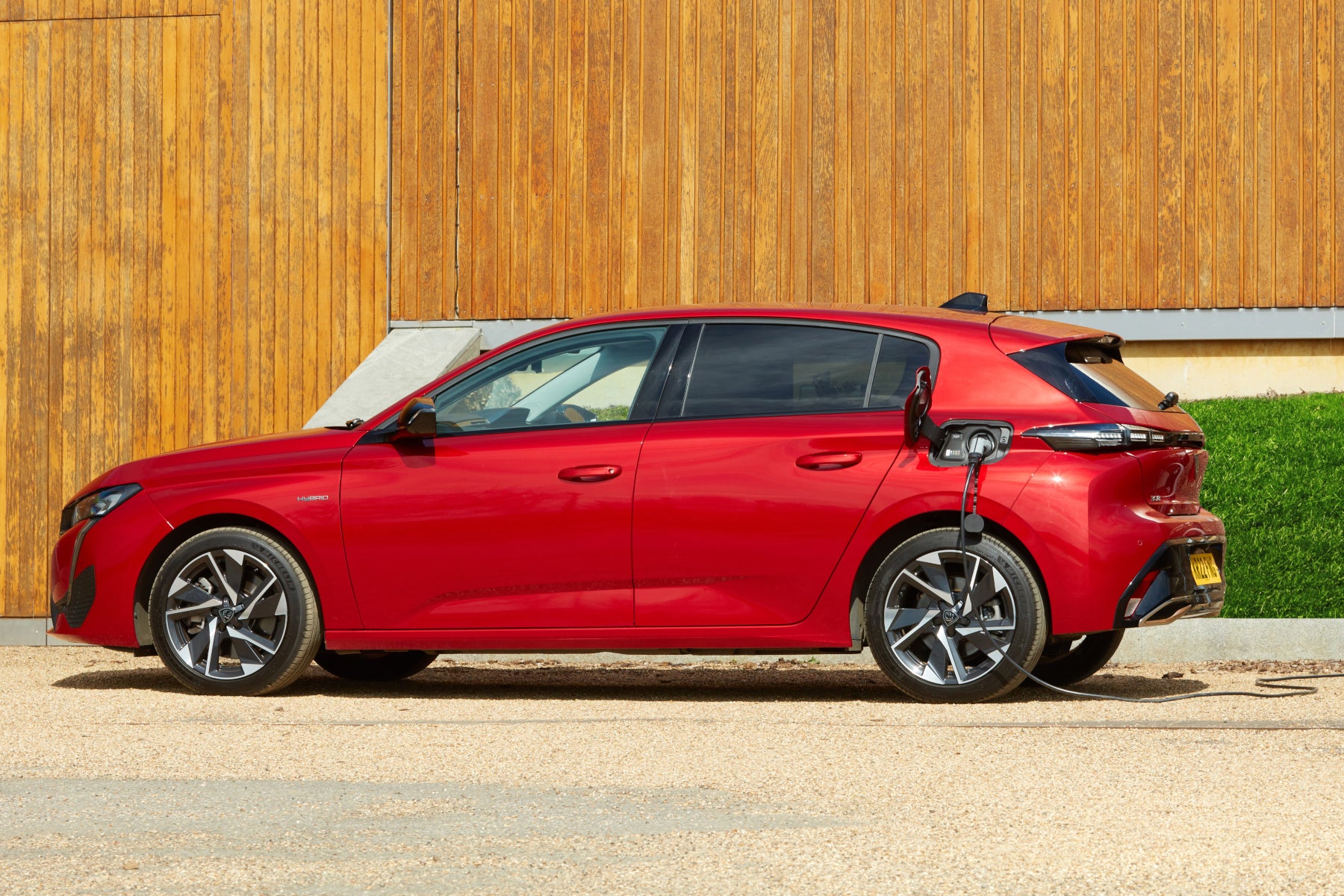 The Peugeot 308 isn't the cheapest family hatchback around, but nor is it the most expensive. And, given it has some desirability and upmarket appeal, we reckon it's decent value.
Prices start at £24,635 for the entry-level Active Premium model with the Puretech 130 engine, with the diesel model commanding a £1,400 premium. You'll need at least £26,485 for an Allure model, and £27,385 for an Allure Premium - we reckon either of these trim levels provide the best combination of equipment and value.
The GT and GT premium trims command a bit of a price jump, starting from £29,285 and £30,885 respectively. Whether that's worth it for the extra style and kit depends on your priorities, but it'll be down to the leasing costs for many.
Spec-for-spec, the 180 Hybrid model commands a pretty punchy £7000 list price premium over the base petrol model, with the 225PS model (only available on GT trim) adding a further £1400. That's quite a price jump, and it'll be reflected in leasing costs, so make sure you'll be able to recoup those savings in fuel and tax costs.
Trim levels and standard equipment
Equipment levels are pretty good across the range, but we reckon either of the Allure models make the most sense for most buyers.
Base-level Active Premium comes with power-folding mirrors, 16-inch alloys, 'EcoLED' headlights and LED rear lights, auto lights and wipers, rear parking sensors, the full infotainment suite and auto emergency braking.
Allure trim upgrades the wheel size to 17-inches, and introduces various other styling detail upgrades. You also get an AQS 3 air quality system, front parking sensors, tinted windows, a reversing camera, a drive mode selector, part faux leather trim, ambient lighting, high beam assist, upgraded LED running lights and sat-nav with live traffic updates. PHEV models get remote pre-heating and cooling, too.
Allure Premium trim adds the Drive Assist Pack with adaptive cruise control, rear-cross traffic alert and blind spot detection, while keyless entry and start, wireless phone charging ansd wireless Apple CarPlay and Android Auto also features.
Step up to GT trim for an enhanced air quality system, 3D digital instruments, a heated steering wheel, the Driver Sport Pack, a green stitched leather steering wheel, Alcantara and faux-leather trim, black headlining, aluminium door sills, exterior styling upgrades, 18-inch alloys, full Matrix LED headlights and upgraded 'Claw Effect' LED rear lights.
Flagship GT Premium trim gets Lane Positioning Assist, two-tone 18-inch alloys, a 360-degree parking camera and self-parking aid, an electric tailgate, upgraded front seats with electric adjustment on the driver's side and heating and massaging for both front seats, electric lumbar adjustment and a Focal Premium sound system.
Ask the heycar experts:
common questions
Is the Peugeot 308 a good car?
The Peugeot 308 is a good family hatchback if you want a car with a bit more desirability and upmarket appeal than something like a Vauxhall Astra. It's nice to drive, loaded with tech and comfortable.

Do Peugeot 308s hold their value?
Peugeot's image has greatly improved in the last few years, and the brand reckons independently rated residual values mean a well-specced 308 will hold its value better than an equivalent Volkswagen Golf.

Answered by
Lawrence Allan
Is the Peugeot 308 reliable?
As this 308 is so new we can't speak confidently on reliability. The previous-generation 308 had its fair share of minor gremlins and issues, however.

Peugeot 308 cars for sale on heycar
2,923
Number of cars available
£6.5K - £30K
Price bracket of these cars
Colours available on heycar
Keep me updated by email with the latest advice, news and offers from heycar
By submitting, you agree to our
privacy policy
.