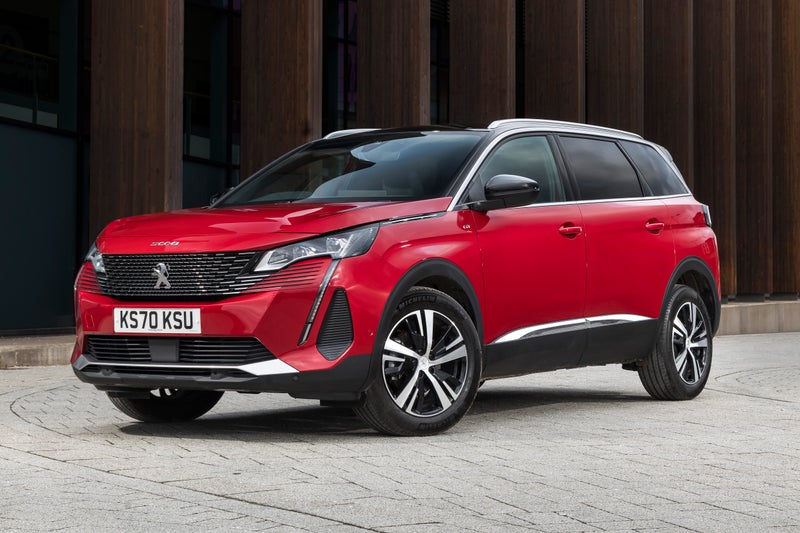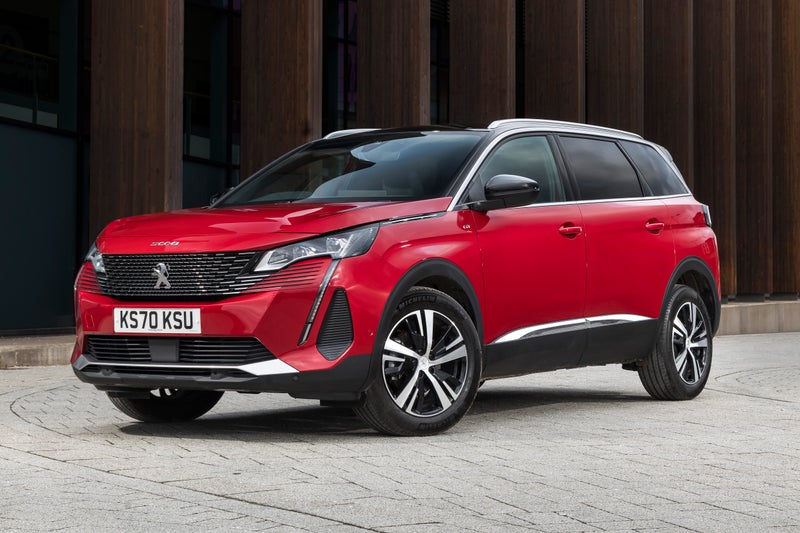 1/10
heycar rating
"Stylish, sophisticated seven-seat SUV"
Launched: 2017

SUV

Petrol, Diesel
Quick overview
Pros
Looks fab inside and out
As practical as any rival
Engines are punchy, refined and efficient
Cons
Infotainment system could be better
Optional sunroof severely reduces headroom
Some key equipment reserved only for range-topper
Overall verdict
On the inside
Driving
Cost to run
Prices and Specs
Common questions
Overall verdict on the Peugeot 5008
"The Peugeot 5008 is undoubtedly one of the best cars of its type. Importantly, it has the practicality and versatility to match any rival, while it's also comfortable, entertaining and refined to drive, and comes well-stocked with luxury and safety kit. Even better, it's more stylish than most rivals and has a jaw-droppingly attractive interior."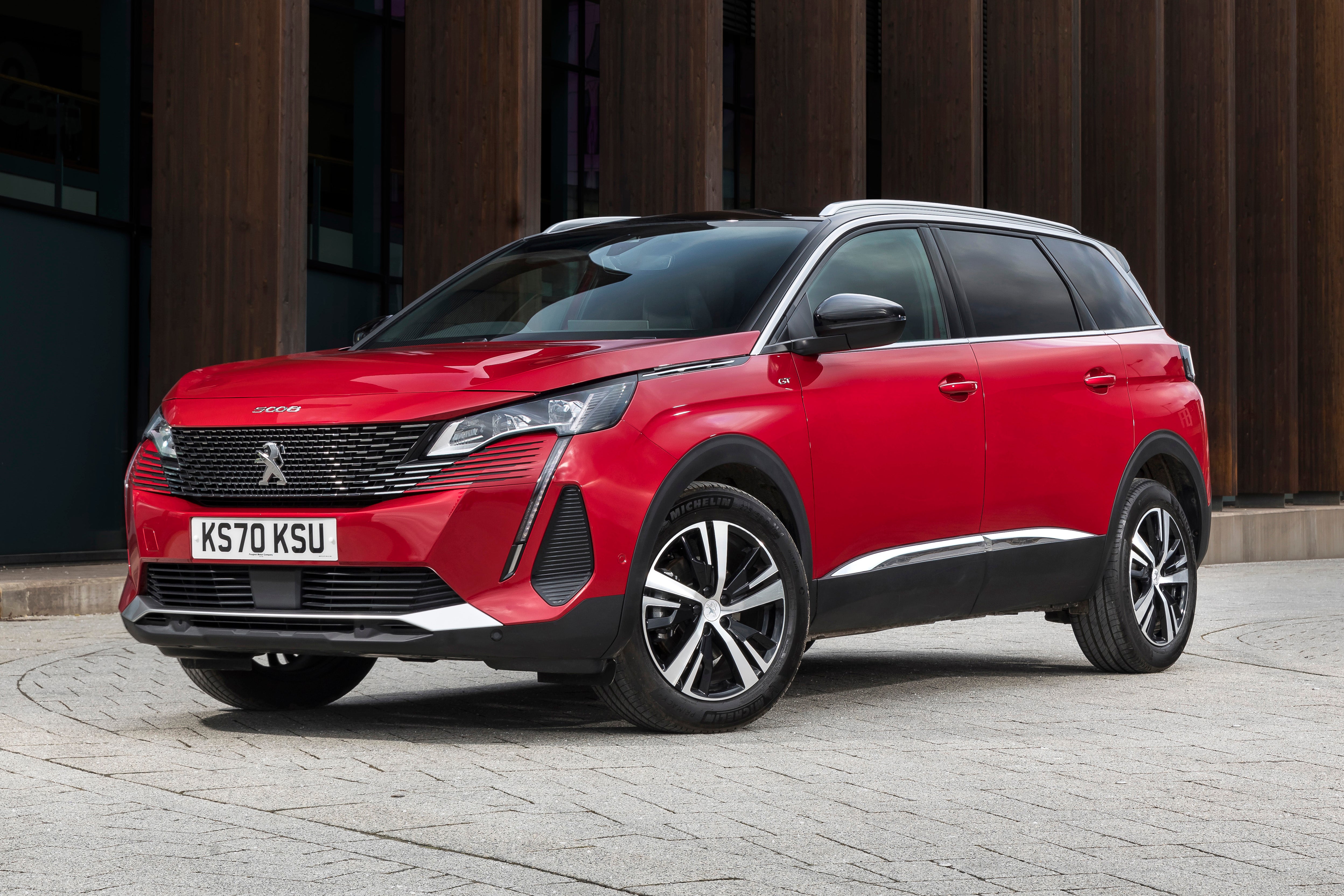 They say good things come to those who wait, and looking at the Peugeot 5008, they may well have a point. You see, it took Peugeot a wee bit of time to get the car right, but we'll find out why it's been worth the wait with our 2022 Peugeot 5008 review.
The first-generation car was good on practicality and everything, but it had some fairly fundamental flaws. The ride was a bit firm, the quality was a bit iffy in places, but most importantly, it looked horrendous. With an MPV shape that Peugeot tried to embellish with a few SUV-style touches, the result was awkward and unattractive. It still did okay sales-wise, so the appetite was certainly there, but it could've been so much more.
Happily, Peugeot learned the lessons when cooking up the latest 5008 incarnation, and the result is unquestionably one of the finest cars of its type. The Peugeot 5008's a proper SUV this time, with no schizophrenia about its styling, and one of the more handsome ones in the class at that thanks to its bold, flamboyant features.
If you really want flamboyant, though, all you need to do is open a door and look inside. The interior in the Peugeot 5008 is like nothing else in the class. With sophisticated design, gorgeous materials and thoughtful, stylish finishes, it feels more comparable to more expensive SUVS from the likes of Audi and Mercedes than it does to the Skodas and SEATs of the world.
What's more, the Peugeot 5008 also has the other important bit of any 7-seat SUV - practicality - nailed, too. One of the roomier cars of its type in any of its seven seats, the Peugeot 5008 is better than most rivals when faced with the task of carrying seven adults. And, with seven individual seats that fold and flip in all sorts of genius ways, it's a versatile load-carrier, too. Yes, one or two key bits of equipment are reserved for the range-topping models, but most versions come with most of what you need for a comfortable family life.
And talking of comfort, the ride that was brittle and unsettled in the first-generation car has become much, much more forgiving in the latest Peugeot 5008. The Peugeot 5008 is now one of the comfiest cars in the class, and in a car that's designed to ferry lots of people around, that's the most important thing. That handling is stable and assured, meanwhile, while even the entry-level petrol and diesel engines provide impressive punch, excellent economy and really good refinement.
Granted, the Peugeot 5008 is not perfect. The infotainment system can be confusing and frustrating to use, even after you've familiarised yourself with its foibles, and if you go for a version with the panoramic roof (standard on the top two trims, optional on most of the others), the amount of headroom you get is absolutely ruined.
Other than that, though, there's very little to complain about, so the Peugeot 5008 is an impressive all-rounder as well as one of the more desirable cars in the class. The Peugeot 5008 is well worthy of anyone's consideration, and one of our favourite SUVs.
Is the 2022 Peugeot 5008 right for you?
There are lots of 7-seater SUV out there on the market these days, and there are even more that can be specified with seven seats as an optional extra. Question is, with such choice on offer, which one do you choose?
Well, let's first look at why people buy SUVs: it's because they provide the practicality that a family needs along with the style that buyers want.
Well, if you're particularly focused on the latter, then the Peugeot 5008 could well be the car for you. It's bold exterior design really stands out when compared with somewhat conservative rivals, and when you climb inside, its interior has the quality, sophistication and glamour to blow the rest away. Even better, it's still got the practicality bit covered, too, as it's one of the roomiest, most versatile cars in the class.
What's the best Peugot 5008 model/engine to choose?
The answer is very simple on the trim front. The entry-level Peugeot 5008 Active comes with most of what you need in your life, but we reckon it's worth spending the extra for Allure trim, which adds front- and rear parking sensors, a reversing camera, part-leather-effect upholstery, a folding front passenger seat (really handy when carrying particularly long items of cargo), sat-nav, lane-keeping assistance and a blind-spot monitor. As a result, we think this is the version that provides the best balance of kit and cost.
On the engine front, it depends what kind of driving you do. Whatever the case, there's very little reason to look beyond the entry-level petrol and diesel options, both of which provide perfectly adequate performance and seriously impressive running costs. If your journeys are short, though, you'll be financially better off with the 1.2 Puretech petrol, but if you regularly do long distances, you'll want the 1.5 BlueHDi diesel.
What other cars are similar to the Peugeot 5008?
Comfort and design: Peugeot 5008 interior
"You might not think that there's much wrong with the conventional way in which a driving position is arranged, but that hasn't stopped Peugeot from trying to completely reinvent it."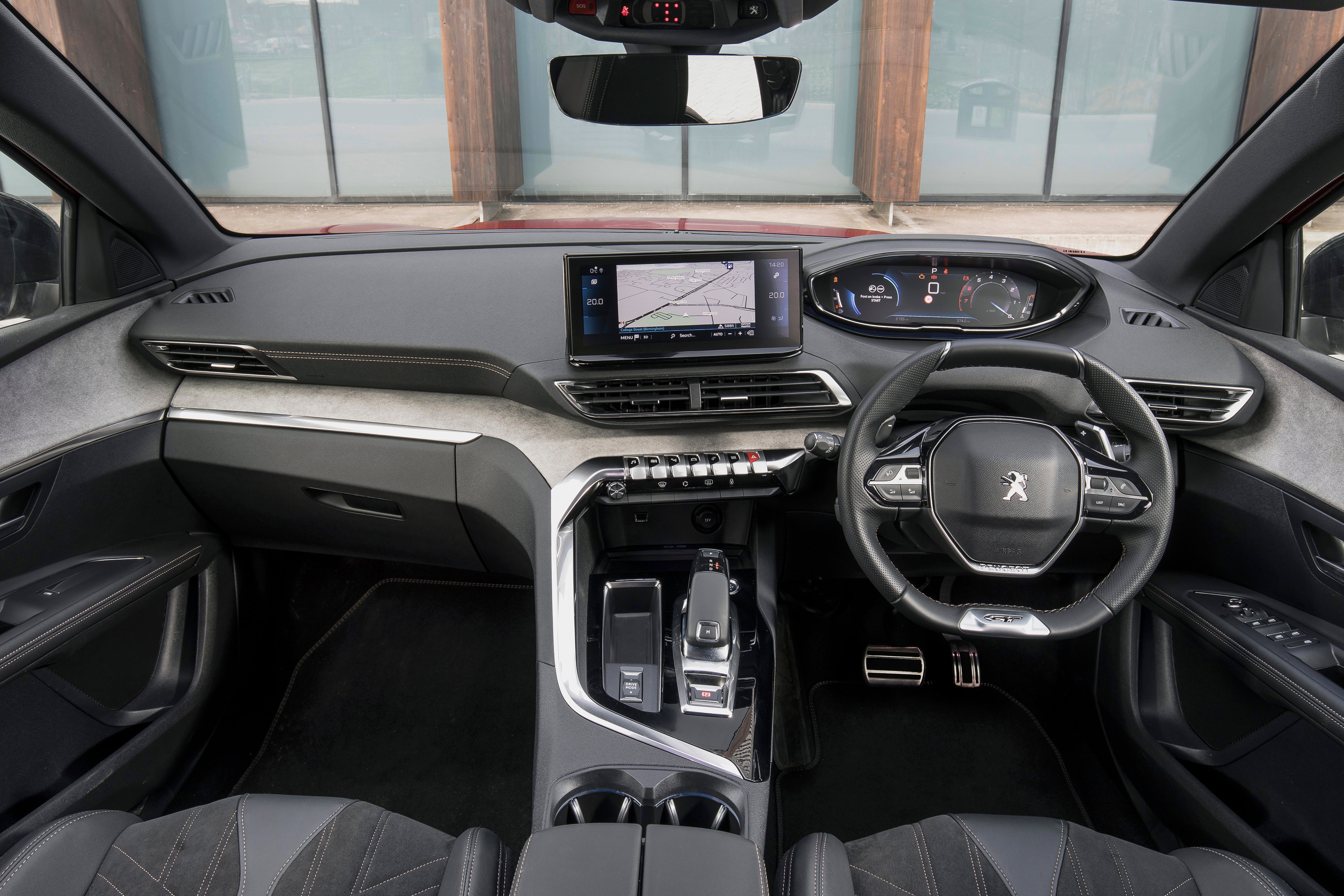 While cars from pretty much every other manufacturer require you to look at your instruments through the steering wheel, in the Peugeot 5008, you peer at them over the top of a shrunken down steering wheel.

Does it work any better? Well, no, frankly. However, at least in the Peugeot 5008, it does work. You start to feel quite at home after a little bit of time at the wheel, where with many other Peugeot models that employ the same approach, the driving position always feels strange and awkward. The Peugeot 5008's seats are very supportive, too, and they have lots of adjustment to help you get comfy, although if you want this adjustment to be electric, you'll have to go for the most expensive GT trim.
The instruments we talked about, though, are fab. All versions get a 12.3-inch screen instead of conventional dials, and you can configure it in a number of ways to prioritise various different bits of information.
It looks great and it's always easy to understand. Otherwise, the dashboard layout is pretty spartan, with a few switches on the centre console and a few more on the steering wheel. What's there is clearly marked and easy to use, but you'll probably yearn for more of them. That's because every time you want to change the cabin temperature, you have to delve into the rubbish infotainment system to use the air-con.
Quality and finish
You could say that this is the Peugeot 5008's party piece because its cabin has a level of glamour and style that no direct rival can match. You'd have to venture up in the realms of much more expensive Audis and Mercs to find an SUV interior with this level of wow-factor. The reason? Well, every surface you see and touch is immaculately finished.
Not only do the materials look effortlessly classy, but the colours and textures on show also have real variety, and the way they've all been blended together has plainly been thought about really, really hard. Yes, there are a few cheaper-looking plastics here and there, but most of them are tucked away out of sight, leaving you to soak up an impressive feeling of quality and sophistication. True, the cabin doesn't feel quite as robust as it does classy, with the odd creak here and the odd flex there, but it's solid enough.
Infotainment: Touchscreen, USB, nav and stereo in the Peugeot 5008
All versions of the 5008 get the same basic infotainment system, which uses an 8.0-inch central touchscreen, although the functionality you get changes from trim to trim.
The basic Peugeot 5008 Active gets Bluetooth, DAB a USB port, six speakers and Apple Carplay/Android Auto, which allows you to use your phone's navigation functionality - along with various other selected apps - through the car's screen. The 5008 Allure adds built-in sat-nav and voice control, while GT Line trim throws in wireless phone charging. The range-topping Peugeot 5008 GT, meanwhile, adds an upgraded Focal sound system.
However, using the system isn't as easy as it might be. For starters, it's a touchscreen, and the amount of attention you need to invest in tapping or swiping just the right bit of the screen inevitably distracts you from the road, more so than a car with a traditional dial controller to scroll through the on-screen menus.
That's another thing: the menus. There are loads of them, and they're convoluted and illogically arranged, so finding your way around the system can be difficult. The worst bit, though, is the software. The graphics look rather dated, and every time you jab the screen to register a command, there's a seemingly endless pause before anything happens and you begin to wonder if your command registered at all.
Space and practicality: Peugeot 5008 boot space
While the Peugeot 5008 is obviously quite a big car, it is slightly smaller than the Skoda Kodiaq. Get your tape measure out and you'll find that it's 4641mm long (5150mm when you've got the boot open), 2098mm wide (including the door mirrors) and 1646mm high (including roof rails). The wheelbase (that's the gap between the front and rear wheels) is 2840mm.
First things first, we'd implore you not to buy a car with a panoramic roof, which is standard on Peugeot 5008 GT Line Premium and GT trims, and optional on most others. It absolutely massacres the amount of headroom you get, to the point where taller folk will feel rather hemmed-in, even in the front seats. Things are even worse in the middle row, because you don't even have to be that tall to feel short-changed.
Live without the glass above your head, though, and the problem goes away completely: front- and rear headroom isn't class-leading, but it's absolutely fine. Legroom is also fine in both rows: not quite as generous as in some rivals, but there's still enough space for long limbs to stretch.
Where the middle row really impresses, though, is when you're carrying three people there. Each member of the trio gets their own identically sized chair (no hard, raised or narrow middle seat here), which also happens to slide and recline individually, and the cabin is wide enough that three sets of adult shoulders will fit side-by-side without feeling too pinched. Even better, the floor is totally flat, so unlike in most rivals, there's no transmission tunnel to rob anyone of foot space.
Even the extra two chairs that fold up out of the boot floor are better than most cars in the class for space. Those in the middle will probably need to donate a bit of space by sliding their seat forward if an adult is going to fit, especially if it's for any significant period of time, but you get a shade more room than you do in a Kodiaq. These rearmost seats don't come with Isofix child seat mounting points, but the three in the middle row do, and there's enough space that you'll have a fighting chance of making use of all three at the same time.
With all seven seats in place, the luggage space you get is better described as a shelf rather than a boot, but a bag-for-life's worth of shopping or two will fit. Peugeot doesn't even quote an official boot capacity with all the seats in use.
Fold the rearmost chairs, and the boot is massive (capable of carrying 952 litres of luggage), with a huge floor, impressive depth and completely flush sides, making it an incredibly useful shape. There's no load lip, either, and the middle seats fold down completely flat and flush for when you need to carry much bigger loads. Go for Allure trim or above, and the front passenger seat does the same, allowing you to carry incredibly long items of cargo.
Handling and ride quality: What is the Peugeot 5008 like to drive?
"In any car designed to carry lots of people for lots of the time, comfort is the most important dynamic aspect, and happily, the 5008 is one of the comfiest cars in its class."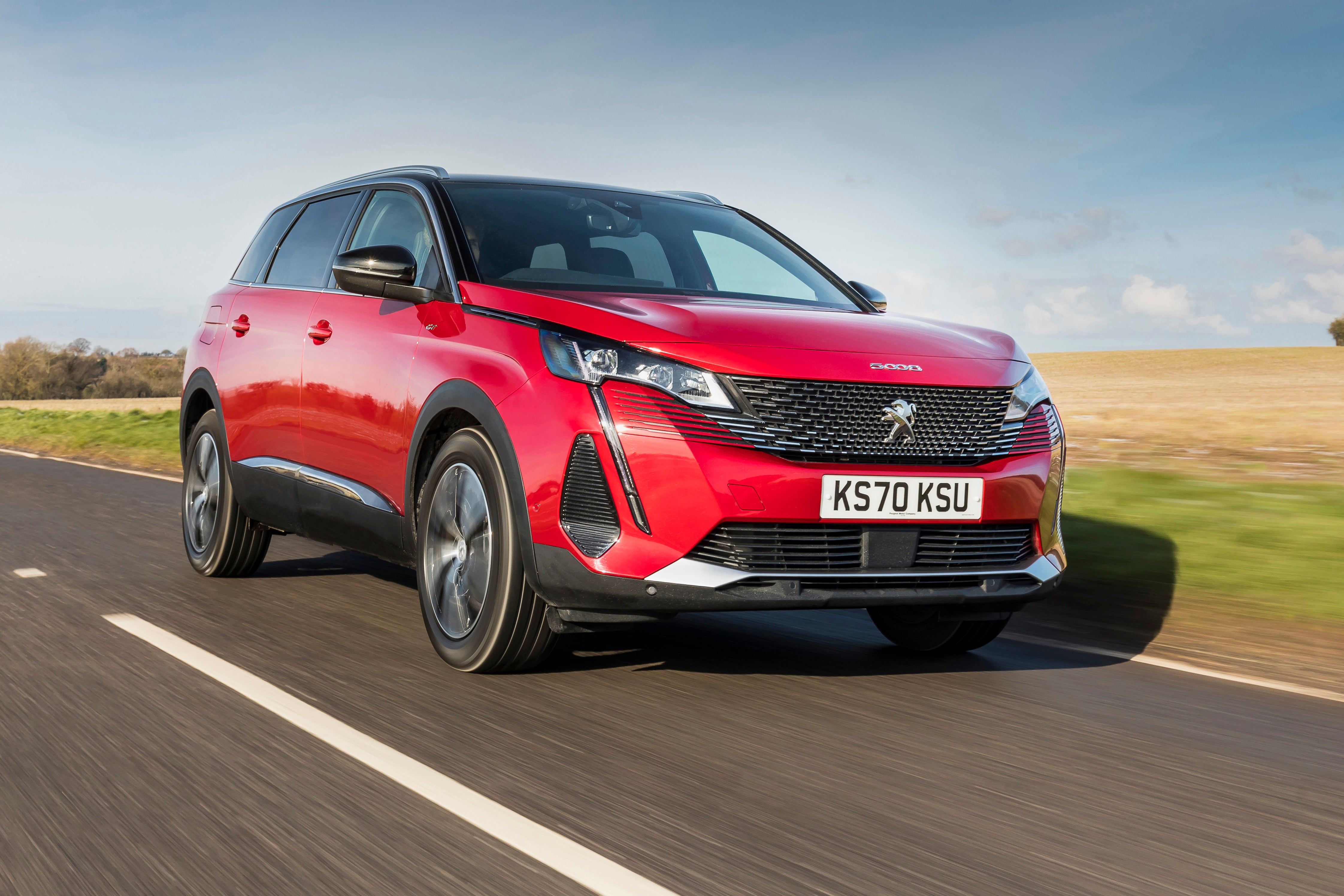 Whatever your speed and whatever the surface you're on, the softly-softly suspension does a great job of mopping up lumps and bumps of all shapes and sizes, and only the largest, sharpest edged potholes will have any chance of sending any shockwaves through to the cabin.

It feels just as at home plodding through town as it does belting up a motorway, making this a comfortable way to get to any destination. The ride quality does dip a bit if you go for a car with the bigger 19-inch wheels - smaller bumps send more of a tremble through the floor - and that's another reason we'd advise against Peugeot 5008 GT Line Premium and GT trims, which get them as standard.
The forgiving nature of the suspension does mean that you feel a shade more body lean than in rivals, meaning that changes of direction don't feel quite as crisp or as agile.
Like we say, though, sharp handling isn't the priority here, and besides, the 5008 feels far from clumsy. There's lots of grip and very predictable responses, so the car always feels stable and assured in bends. The steering takes some getting used to because the tiny wheel makes it feel quicker than it actually is, but it won't take you long to get to grips with.
However, if you want your SUV to be a true 4x4, you'll need to look elsewhere. While most rivals at least offer a four-wheel-drive option, the Peugeot 5008 is front-drive only. A posh, more sophisticated electronic traction control system - known as Grip Control - is optionally available to deputise on all versions, but it's not as good as the real thing when the going gets tough.
What engines and gearboxes are available in the Peugeot 5008?
Four engines are available, two petrol and two diesel. The petrol range begins with a 1.2-litre turbo with 131PS, but if you're worried that this sounds rather weedy in a car the size of the Peugeot 5008, then you needn't. It has loads of urge from low revs and it keeps on pulling as the revs climb higher, so it actually feels amazingly perky and brisk the whole time.
For those who mainly do short journeys, this is definitely the engine to have. There's also a 1.6 turbo petrol with 181PS, which is quite a bit faster on paper, but we haven't tried it yet.
High-mileage drivers will probably be better off with one of the turbodiesels, and for most of them, there's probably no need to look past the entry-level 1.5-litre unit with 131PS.
It's muscular enough in the bottom half of the rev range to pull the car around with reasonable urgency, even though it could never be described as fast, and it runs out of puff a bit when the revs climb higher. The 2.0-litre diesel, offering 177PS, does make the performance a good bit more muscular, but it makes the car a lot pricier. Really, it's only worth considering if you plan to tow heavy trailers, as it'll pull up to 1800kg, much more than other Peugeot 5008s.
The two weaker 131PS engines are available with either a six-speed manual gearbox or an eight-speed automatic, where the pokier engines are auto-only. Neither is ideal: the manual shift is notchy and the clutch pedal feels overly springy, while the auto' can feel a bit jerky when you're manoeuvring. However, both are entirely adequate, so it's just a case of picking the type you prefer.
Refinement and noise levels
You won't have any complaints about the refinement of any of the engines we've had the opportunity to try. Even the three-cylinder 1.2 petrol is really quiet and smooth, even when you work it hard, so it's a really civilised companion at all times. The 1.5 diesel is a bit noisier, but still perfectly acceptable, with only a faint clatter to be heard under acceleration, and while you feel a few more vibrations than with the petrol, it's nothing that ruins the calm. Meanwhile, the 2.0-litre diesel is smoother and quieter still, and by quite a long way, so it's really good in this area.
All the engines we've tried settle to a faint background hum on the motorway, so all is good there, too. What's more, wind- and road noise are really well contained at 70mph, making motorway journeys impressively peaceful.
Safety equipment: How safe is the Peugeot 5008?
Happily, the Peugeot 5008 has already been smashed into various things by the experts at Euro NCAP, and it emerged with several large dents and a five-star crash test rating. That's probably because all versions come with a very useful amount of standard safety kit, including six airbags, automatic emergency braking, lane departure warning and speed limit recognition and display. A space saver is also included on all versions except the most powerful diesel.
However, more is provided as you progress up the trim structure. Allure cars get lane-keeping assistance, blind-spot monitoring and automatic emergency calling, While GT Line cars get brighter LED headlamps and LED cornering fog lamps. The Range-topping GT trim, meanwhile, gets adaptive cruise control with a full stop function.
MPG and fuel costs: What does a Peugeot 5008 cost to run?
"High-mileage drivers will want one of the diesels, and these get cracking economy given the size of the car. The 1.5-litre diesel, regardless of whether it's paired with a manual gearbox or an automatic, will return around 58mpg according to official WLTP figures, while the 2.0-litre has an equivalent figure of 47mpg."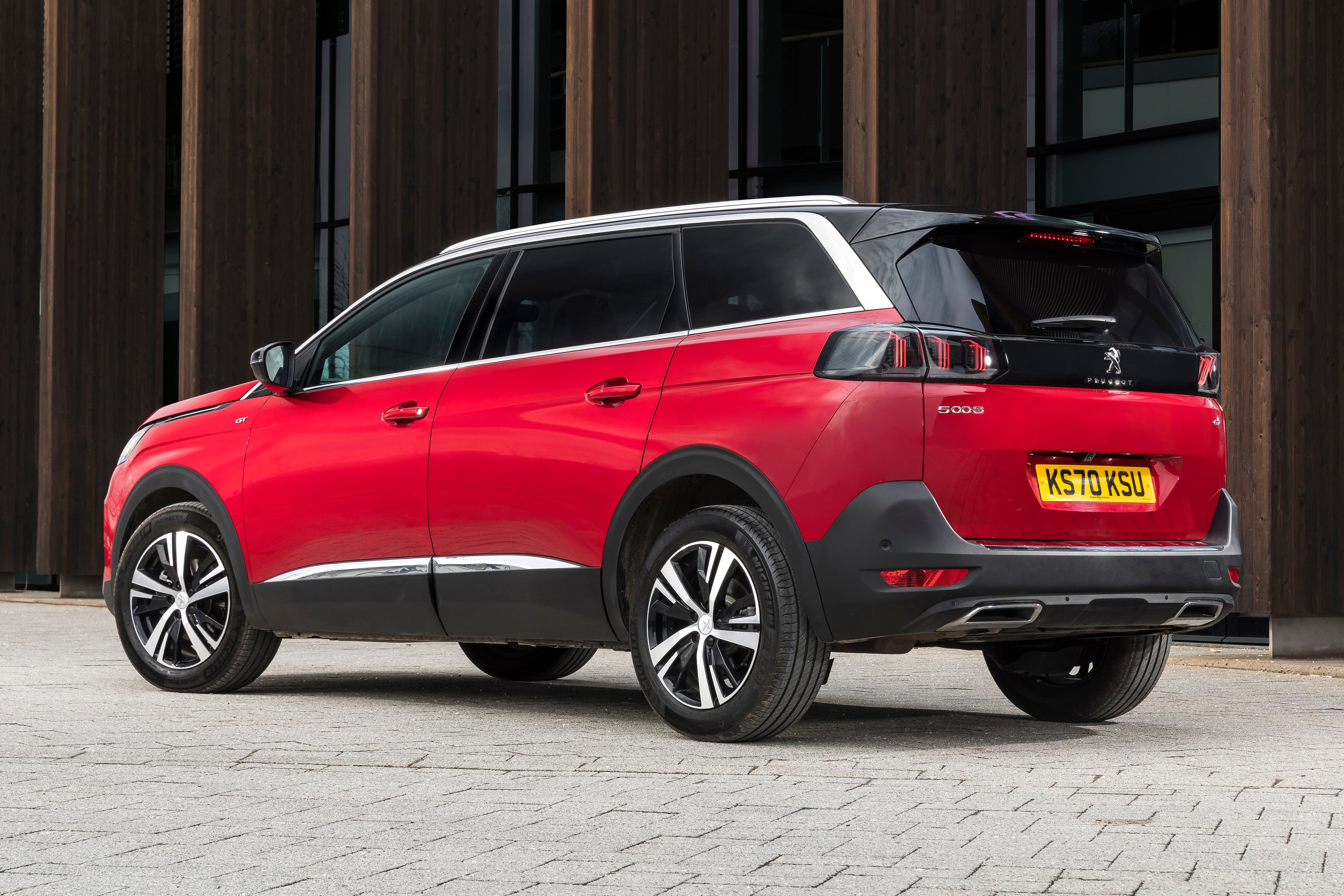 Lower-mileage drivers will probably be more interested in the petrols, the 1.2 especially, and regardless of transmission, this'll give you around 46mpg. The 1.6-litre petrol, meanwhile, falls just shy of 40mpg. Bear in mind, though, that although these latest WLTP figures are designed to be more representative of real-world circumstances than the old NEDC ones, they're still laboratory-tested figures, and should still be taken with a sizeable pinch of salt.
How reliable is a Peugeot 5008?
Peugeot's reliability has improved considerably in recent years, with the brand achieving a score of 8.99 out of 10 for reliability in the HonestJohn.co.uk Satisfaction Index.
Very few owners have reported issues with their Peugeot 5008, while the smaller 3008 is similarly reliable. That said, a few faults have been reported with Peugeot's 1.2-litre petrol engine – something to bear in mind if you're keen to avoid diesel power.
Insurance groups and costs
Insurance groupings for the Peugeot 5008 are about what you'd expect for the class, and premiums should be reasonably affordable. Group 14 (of 50, 50 being the most expensive group) is the lowest classification you'll get, and both the lowered powered petrol and diesel engines sit there or thereabouts, while at the other end of the scale, the priciest version to insure sits in group 25. That's the 1.6 petrol, but the 2.0-litre diesel in only a couple of groups below. Our advice? Keep your choice of engine humble for the lowest premiums.
VED car tax: What is the annual road tax on a Peugeot 5008?
On April 1, 2017, the Government changed the tax rules so that instead of paying VED based on your car's CO2 emissions, all petrol and diesel cars pay a flat rate of £150. The 5008 was released after the given date, so it uses the latter system. One word of caution, though: although the vast majority of owners will pay the £150 annual rate, it's possible you may pay more.
That's because cars that cost over £40,000 when new are subject to an additional charge of £325 between years two and six of the car's life, hiking your annual outlay to £475 over that period. Basically, a price rise in February 2018 too one version, the 2.0-Litre diesel GT over that price threshold, so you'll pay the higher rate on that one (although not on cars registered before the price rise). Also bear in mind that if the car you buy sails close to that threshold, and the original owner added a few optional extras that took it over £40k, then again, you'll be liable for the increased rate.
How much should you be paying for a used Peugot 5008?
"If you were buying your 5008 brand new, then prices would start at around £28,000 for the 1.2 petrol manual in Active trim, and they'd ride to more than £40,000 for the 2.0-litre diesel Peugeot 5008 GT range-topper."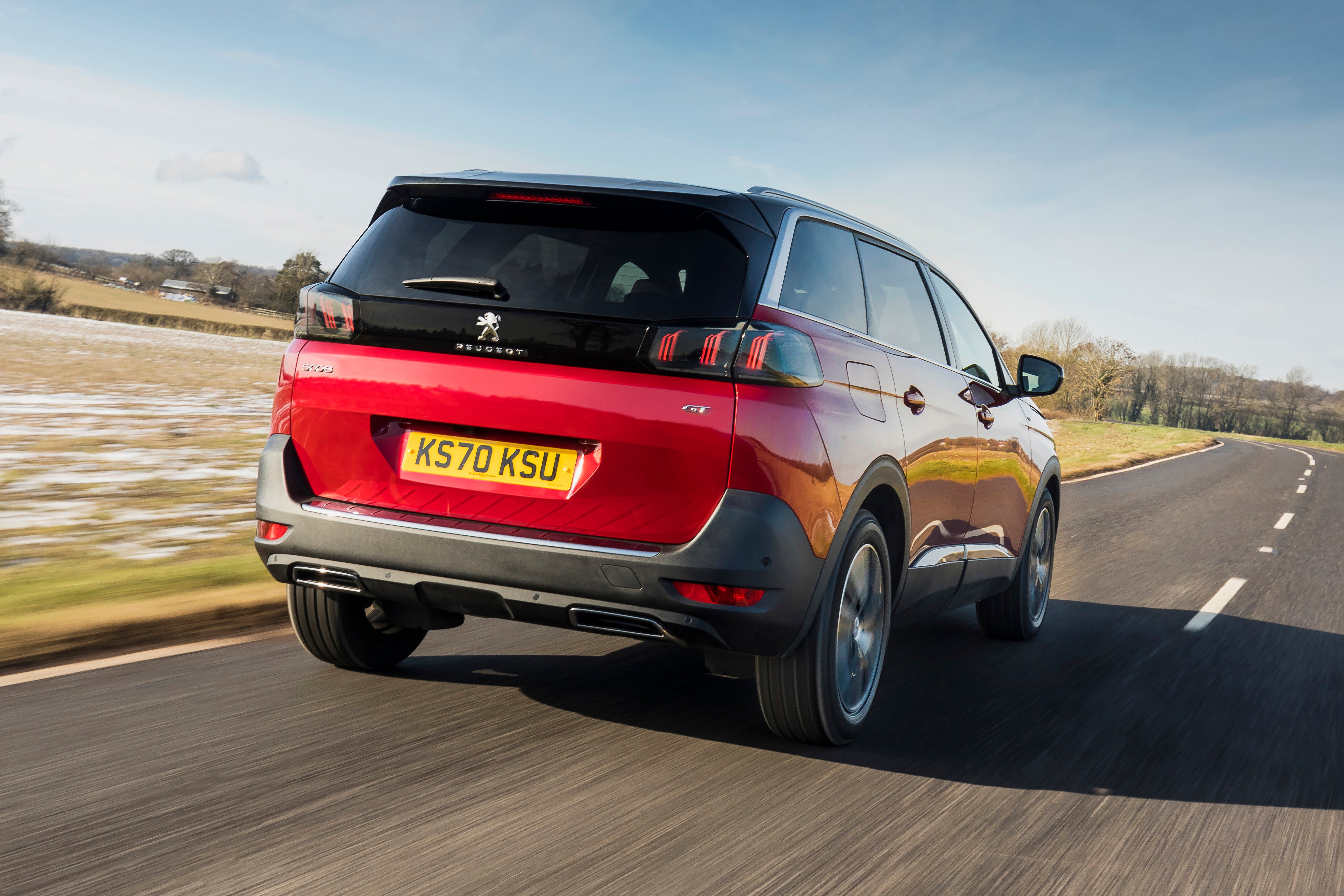 Compare these prices to rivals like the Skoda Kodiaq and SEAT Tarraco, and they're bang-on, while they're a lot more than you pay for a Nissan X-Trail and a lot less than a Volkswagen Tiguan Allspace. Do bear in mind, though, that the Peugeot holds onto its value better than pretty much any of them, so it'll cost you that much more as a used buy, although it should mean you get a shade more back after your tenure is over. Our listings show quite a few examples around the £14,000 mark, and not with crazy mileages, either.
Trim levels and standard equipment
All versions of the 5008 come with a very decent slice of standard equipment. The entry-level 5008 Active has two-zone climate control, remote locking, four powered windows, alloy wheels, automatic lights and wipers and a leather wrapping for the steering wheel. That's on top of all the safety and infotainment gear we discussed earlier.
If you can, though, we'd recommend stepping up to Peugeot 5008 Allure for its front and rear parking sensors and reversing camera, as well as its navigation, its folding front passenger seat and its part-leather-effect upholstery.
GT Line trim adds mainly styling touches inside and out, but you also get wireless phone charging, folding tray tables and retracting sunblinds for the middle row, along with brighter LED headlights. GT Line Premium chucks in a hands-free powered tailgate, keyless go, a panoramic roof and front seats that'll heat up your backside and massage your back.
Good job it's not the other way around. The range-topping Peugeot 5008 GT, meanwhile, throws in a 360-degree parking camera, powered leather seats, the upgraded Focal hi-fi system and adaptive cruise control.
Ask the heycar experts:
common questions
What is a Peugeot 5008?
The Peugeot 5008 is a large SUV with space for seven, an alluring interior design, and sharp looks. It's also comfortable to drive, and has surprisingly low running costs for this type of car too.

Is the Peugeot 5008 a good car?
The Peugeot 5008 is a great car for families with a lot of stuff to move, since the seating and boot flexibility provides lots of options for carrying passengers or luggage. It's one of the best big SUVs around.

Is the Peugeot 5008 a 4x4?
No. If you are planning anything more adventurous than crossing a muddy playing field, then there are better alternatives, since all the current versions of the Peugeot 5008 are front-wheel drive.

Answered by
heycar editorial team
Peugeot 5008 cars for sale on heycar
2,991
Number of cars available
£10K - £40K
Price bracket of these cars
Colours available on heycar
Keep me updated by email with the latest advice, news and offers from heycar
By submitting, you agree to our
privacy policy
.