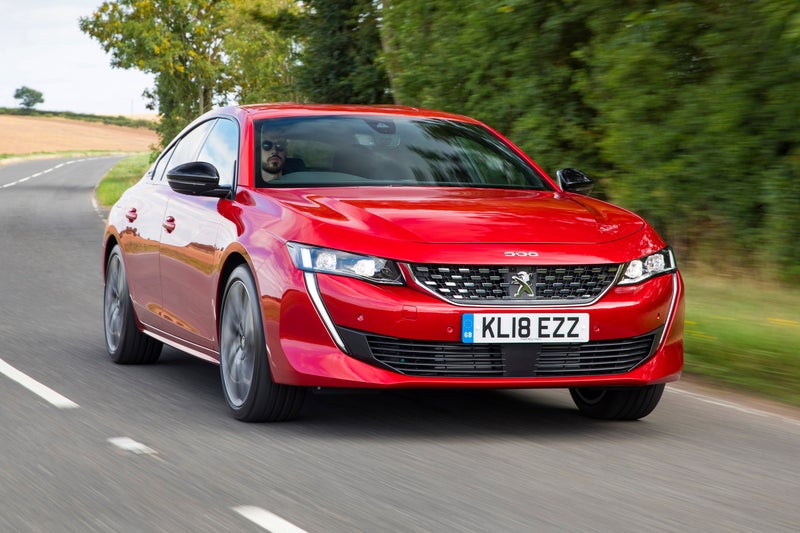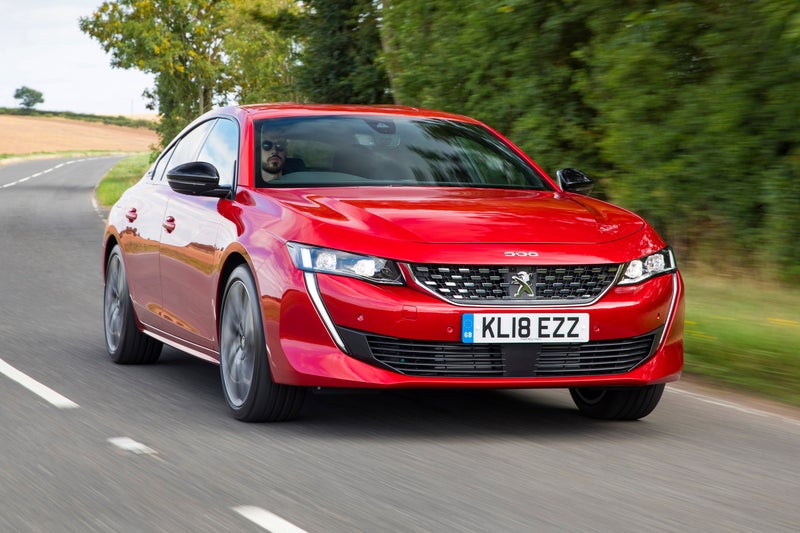 1/10
heycar rating
"Very stylish, not very practical"
Launched: 2018

Large family car

Petrol, Diesel, PHEV
Quick overview
Pros
Looks sensational
Interior wows, too
Decent electric-only range with the plug-in model
Cons
Space compromised by the rakish design
Interior looks good, but there are some low-rent plastics
Touchscreen everything and odd driving position not ideal for everyone
Overall verdict
On the inside
Driving
Cost to run
Prices and Specs
Common questions
Overall verdict on the Peugeot 508
"If the Peugeot 508 was a chair it would be Ame Jacobsen's Egg Chair. Designed in 1959 for the Radisson hotel in Copenhagen it showed that everyday items could be jaw-droppingly stylish if you don't mind sacrificing a little bit of practicality and paying a premium for the privilege."
The Peugeot 508, reviewed here, follows that recipe to the letter. It has a svelte shape on the outside and sporty feel on the inside, yet back seat space has been sacrificed and it also costs a little more than rivals.
In fairness, Peugeot had to try something. The marketplace the 508 competes in has been decimated by cars like the BMW 3 Series, Audi A4 and Mercedes-Benz C-Class. Indeed, many of Peugeot's rivals have simply packed up and left the large family hatchback and saloon marketplace to concentrate on building SUVS.
There are some compromises as a result of Peugeot's ambitious positioning of the 508, as we've said the Peugeot is bettered, significantly in some cases, for interior spaciousness, and for all its expansive equipment, it's not cheap.
There's no denying though that it's one of the sharpest looking cars in the class, with its coupe-like roofline, bold grille and LED lighting and the sort of busy surfacing that make it really stand out. Its relative rarity helps here, too, that certain to be attractive to those saloon and hatchback buyers looking for something different from the premium norm.
Certainly, the 508 has the capacity to wow, the interior, which the company dubs i-Cockpit sees a large touchscreen in the centre of the tiered dashboard, while ahead of the driver is another digital display which offers configurability for your instrumentation.
The engine range is broadly based around turbodiesel offerings, with 1.6-litre and 2.0-litre choices, though there's a 1.6-litre petrol engine offering various outputs and topping the range is a plug-in hybrid that promises the best of both worlds – fine daily economy and the potential for electric-only motoring of between 33-39 miles, and the long-legged ability of conventional propulsion thanks to the petrol engine.
In all but the entry-level turbodiesel shifting gears is taken care of by an eight-speed automatic transmission, and for those wanting a bit more practicality Peugeot offers the 508 as an estate, the Peugeot 508 SW.
A slightly different take on the mainstream family car, then, and in many instances it's a successful one, but the 508 doesn't offer quite the rounded offering of some of its more sober-suited alternatives. Whether that's a pay-off you're prepared to make depends on how you're likely to use it, but if practicality isn't particularly high on your list of priorities, and head-turning looks are, then the Peugeot 508 might make some sacrifices you're willing to live with.
If you're looking for the older version, you need our Peugeot 508 (2011-2018) review.
Is the Peugeot 508 right for you?
It's a brave buyer who diverts away from the upmarket German saloons that have decimated the mainstream models. But then, that's exactly the point, and if you're going to be bold and different then you might as well be noticed for it. And you'll undoubtedly be noticed in the Peugeot 508.
It's a handsome car, with a rakish coupe-like profile and some really neat detailing outside, while the interior too is knock-out in relation to how it looks, even if reality it can be a little bit fiddly to operate.
It's fairly unremarkable to drive by the class standards, its super-light, direct steering bringing some agility, but it's not as sporting as any of those German three, instead it sitting in the middle-ground between them and the most comfortable of the mainstream alternatives. If course if you need more space, there's the Peugeot 508 SW.
What's the best Peugeot 508 model/engine to choose?
The likelihood is you'll be restricted by budget, or the monthly payment via your company car scheme, but it's difficult to ignore the low running costs of the plug-in Hybrid model, which mates a 1.6-litre petrol engine to an electric motor and battery pack. It's available from the Allure trim upwards, and for most buyers the specification it offers will be more than satisfactory, and cost you just shy of £35,000.
Peugeot 508 GT Line trim does add some slightly more overt styling outside – LED rear lights and a chequered front grille - as well things like a perforated leather steering wheel, ambient lighting and a wireless smartphone charging plate, but none of those would be a deal-breaker if we were walking into a Peugeot dealer.
What other cars are similar to the Peugeot 508?
Comfort and design: Peugeot 508 interior
"Peugeot has been pushing its i-Cockpit architecture for a while now, and it's at its best in the 508. Familiarity will lessen that impact, but there's no denying that Peugeot's taking interior design in a different route to its more mundane rivals."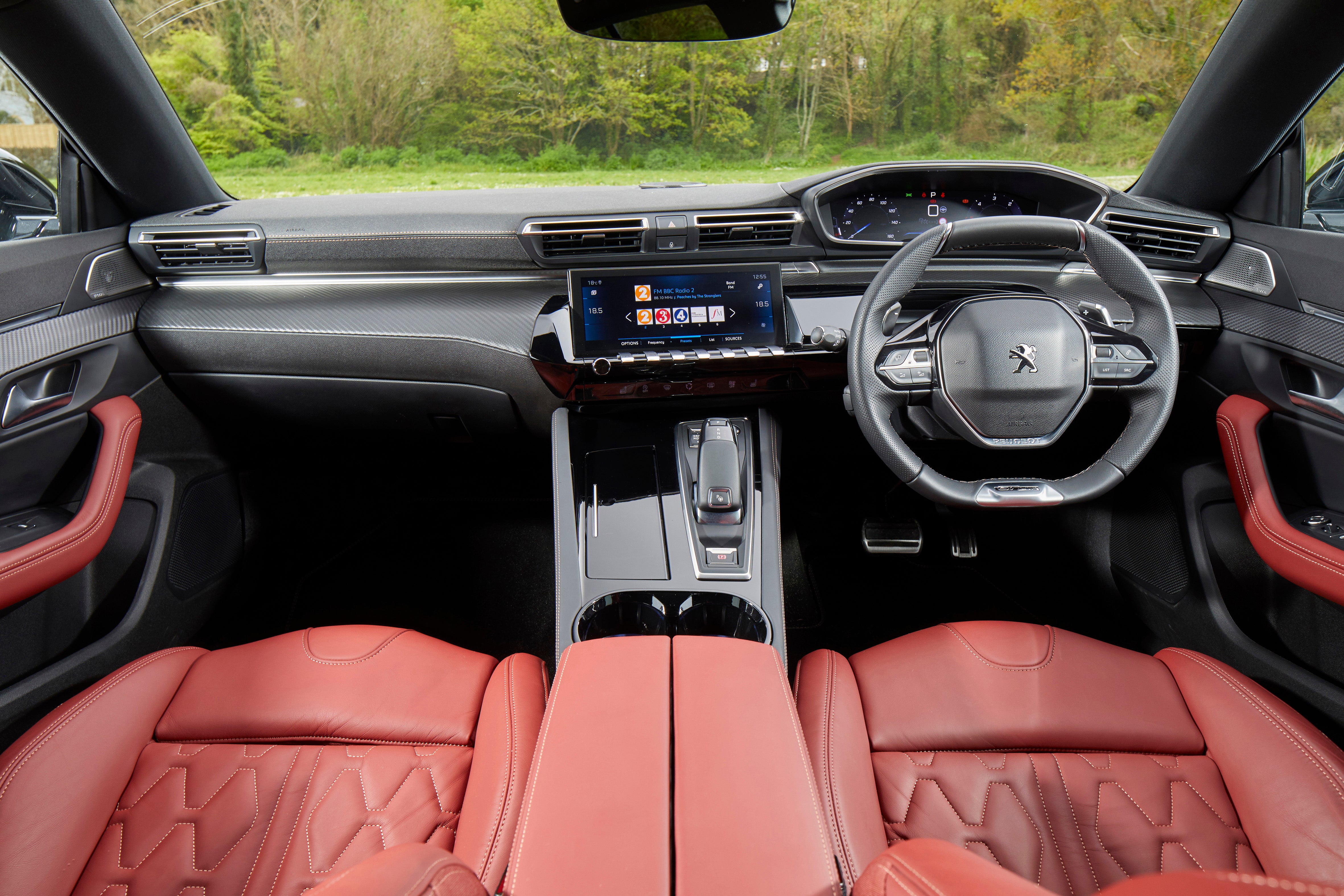 There's a but here, though, because finding a driving position where you can see the instrument screen ahead of you can be problematic, particularly if you prefer your steering wheel in a somewhat conventional position.
That's exacerbated by the tiny, non-round steering wheel, which is so compact you can't see anything through it, which leaves you having it sat low almost on your lap to read the screen behind it. That might not bother some, but for others it's not just inconvenient and unconventional, but uncomfortable.
Even Active entry-level models have dual-zone climate control, push button start, rear ventilation and cruise control with a speed limiter.
Allure trim adds electric lumber adjustment to the front seats as well as heating, and the standard rear parking sensors of the Active are upgraded to front and rear with a 180 degree reversing camera, while there's keyless entry, too.
You'll need range-topping GT trim if you want fully electrical adjustment of the driver and passenger front seats, these also gaining a massage function the GT trim also coming with fully Adaptive Cruise Control with Stop and Go.
Quality and finish
Just opening the doors hints at Peugeot's upmarket goals with the 508. Those doors are frameless, with the glass sitting flush with the bodywork, this a feature more common to coupes and drop-tops than a family hatchback. That impression of quality continues inside, with the 508's cabin a visual treat.
The effect is lessened a bit with a more than a cursory glance though, as for all the fine looks of the interior there is some evidence of lower-quality materials, with some hard scratchy plastics on the lower door trims, while things like the 'piano keys' which provide shortcuts to the touchscreen functions feel a bit insubstantial to operate.
Indeed, all the controls lack the sort of assured precision and weighting that mark out the best cars in the class, the 508's undoubted style needing a bit more weighty exactitude in the operation of its switchgear if it's truly going to make an impact against the premium competition in its class.
Infotainment: Touchscreen, USB, nav and stereo in the Peugeot 508
Every single 508 comes with Peugeot's i-Cockpit, which sees a central touchscreen with those piano key shortcut functions, as well as a screen taking the place of the conventional instruments.
You might find your head craning up to read the instruments behind the incredibly small, oddly-shaped steering wheel. The 12.3-inch screen is configurable, but, really, the classic dials mode is the best, with it configured to show the speed in big numbers between the digital representation of a rev-counter and speedometer.
The infotainment screen is 8-inches with the entry-level Active model, the touchscreen having 3D navigation with TomTom live updates and traffic camera zones, voice activation DAB and a mirror screen system for both Apple CarPlay and Android Auto functions.
With the Peugeot 508 Allure model upwards that central screen becomes 10-inches and high definition and adds a parking camera. The touchscreen menus do need a bit of practice, and it's not the quickest screen to react, and even with the shortcut piano keys beneath it, bundling everything into the touchscreen interface is needlessly fiddly. It makes simple tasks like changing the temperature or fan speed for the ventilation a long-winded, eyes off the road affair, which isn't just frustrating, but potentially dangerous.
The standard stereo has eight speakers, 2 USB sockets and Bluetooth telephone connectivity, with GT Line adding a smartphone charging plate and the range-topping GT models coming with a FOCAL premium stereo upping the speaker count and adding more precise, amplified sound over the standard system.
Space and practicality: Peugeot 508 boot space
In terms of external dimensions, the Peugeot 508 measures 4750mm in length, 1859mm in width and 1403mm in height.
There are inevitably some sacrifices for style and with the 508 that's fairly apparent in the rear seats and boot.
The coupe-like roofline significantly impacts rear headroom (exacerbated with the panoramic sunroof) with it tight for all but the shortest of adults there, and two only – the third, middle seat is too tight to count as a proper seat for anything but the shortest of journeys.
The small rear windows heighten the slightly claustrophobic effect, making it feel cramped – despite decent leg, if not foot, room in the back. Think small, supple kids in the rear, then, who can buckle themselves in, as getting baby seats in is pretty tricky thanks to the small door opening.
There are a pair of Isofix child seat mounts in the rear, as well as one on the front passenger seat. The rear seats fold in a 60/40 split, the seatbacks not folding flat, but offering a respectable, and long loadspace with a maximum capacity of 1537 litres. You get a 487-litre boot with the seats up, which is on a par with cars like the Vauxhall Insignia, and, being a hatchback the space is easily accessed.
Up front there's plenty of cubby storage, with a deep lidded box between the seats, a further lidded recess to the left of the automatic gearlever, some door bins a shallow glovebox and a pair of deep cupholders. In the rear there are map nets on the front seatbacks, a couple of small doorbins and, from Allure up, a folding armrest with a couple of cupholders, Allure models also get a small ski hatch for longer, through loads.
Handling and ride quality: What is the Peugeot 508 like to drive?
"A front-wheel drive car isn't ever going to offer quite the dynamic delights of its premium, rear-wheel drive competition, but the 508 strikes a good balance between agility and comfort."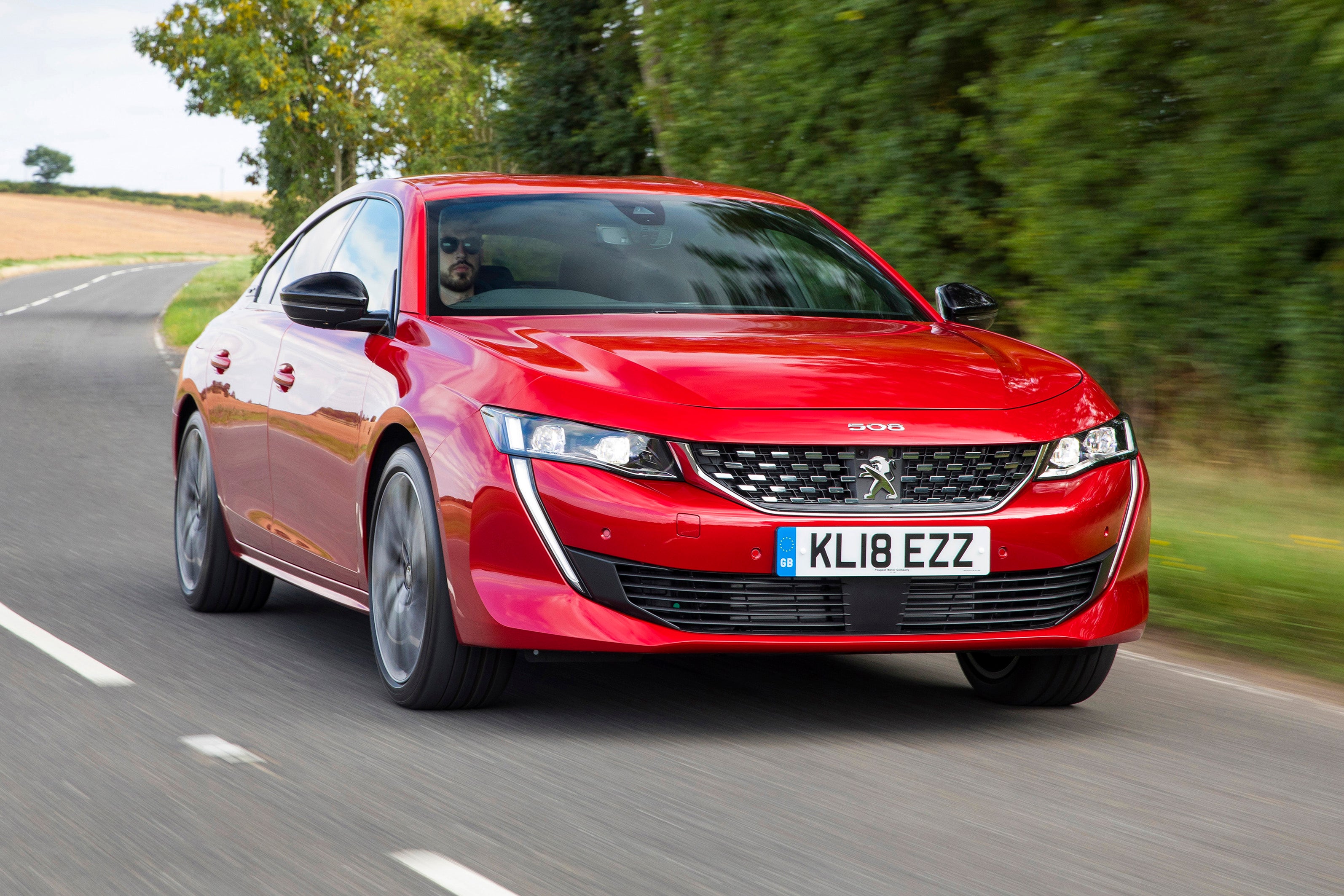 The steering is super light, adding to the sense of agility, grip levels are high, too, though there's precious little feel through the steering wheel to tell you that. All 508s corner convincingly, though, with good body control seeing very little roll, but even so, the 508 feels at its best when it's unhurried. It's a consummate cruiser rather than a back road blaster.
All ride well, with the Peugeot 508 Active and Allure models coming with 17-inch alloy wheels, GT Line and GT getting 18-inch wheels with the GT line. Those bigger wheels don't really impact on the ride quality, which is largely good, only rougher roads seeing the 508 send shudders down its suspension.
The active suspension, offered on that 180PS petrol, or GT flagship models offers a choice of modes, though the differences are slight, and only really add compromise to the ride – be it more float at the softer end of the spectrum or unwanted brittleness to the ride at the more sporting end.
Overall, a competent car in relation to ride and handling, which is the class norm, rather not the exception.
What engines and gearboxes are available in the Peugeot 508?
The mix of engines and transmissions underlines the trends of the current marketplace, with some diesels still making up a good portion of the choice, but with smaller turbocharged petrol engines and a plug-in hybrid heading up the line-up.
The French have always done good diesel engines, and the BlueHDI in the 508 are no exception. The entry-level 1.5-litre turbodiesel offers 131PS, and it's fine if you're not in a hurry. It's offered with a manual transmission, the only model to get one.
The diesel choices are best sampled from 2.0-litres, with the 163PS ample for most buyers, it makes the 177PS version in the GT seem redundant. Particularly as it only shaves 0.1 seconds from the 163's 8.4 second 0-62mph time.
The most powerful engine is the Hybrid, which combines the 1.6-litre petrol engine with an electric motor for a combined output of 225PS. That it's not a performance model is underlined by the fact it only matches the turbodiesel's acceleration, its dual propulsion fitted for economy.
The petrol engines are smooth and responsive, with the 181PS model offering a decent turn of pace,, the 224PS of the highest power petrol doesn't make a huge difference in the real world.
All but that entry diesel come with an eight-speed automatic, which is mostly impressive and smooth, though can get a bit flustered if you're in any way hesitant with the accelerator.
Refinement and noise levels
Good refinement is obvious across the line-up, with the 508 being hushed from wind noise, with only the roughest road surfaces resulting in any sort of road noise. The petrol engines are a little bit quieter than their diesel relations, though the need for revs does make them a bit less easy than the lower rev torque that comes with the diesels.
For the ultimate refinement, the plug-in Hybrid powertrain is the one to go for, with it able to cruise around quietly for up to 30 miles or so, in real world driving, on electricity alone. When the engine does cut in it does so relatively smoothly, though the combination of electric motor and petrol doesn't offer the overall slickness of operation of the Volkswagen Passat GTE and plug-in Skoda Superb.
Safety equipment: How safe is the Peugeot 508?
Crash tested in 2018 by Euro NCAP the Peugeot 508 scored a five-star maximum crash protection score.
The standard safety equipment list is lengthy. There's ABS brakes with EBA (Emergency Brake Assist), Electronic Brake Force Distribution, Electronic Stability Control, a tyre inflation detector, speed limit recognition and recommendation and a drive attention alert system. You get front passenger and driver airbags and thorax airbags, front and rear curtain airbags, three Isofix child seat mounts (two rear, one for the front passenger seat) and an active bonnet.
All come with a Safety Pack too, adding Advanced Automatic Emergency Braking, Distance Alert and Lane Keeping Assist with Road Edge Detection.
Opt for the Allure trim and you also gain the Safety Plus Pack, adding Active Blind Spot Assist and an advanced driver detection system. Range-topping GT trim gets a Drive Assist Pack Plus, which adds ACC Stop and Go adaptive cruise control and Lane positioning assist.
There's an SOS Connect system on all 508s, too, which can be triggered by pressing the button, or it automatically activating – alerting emergency services with your precise location should an airbag be activated.
Maximum EV range in the Peugeot 508
The plug-in Hybrid has an official electric only range of between 33-39 miles from full to flat battery. That's enough for most commutes, though our testing reveals a real-world range of about 25 miles on electric mode alone. Still a useful distance, and there's 3 modes to pick from Eco prioritising range, Normal for daily usage and Sport focussing on performance.
MPG and fuel costs: What does a Peugeot 508 cost to run?
"Charging that plug-in Hybrid will take about 1 hour and 45 minutes from a fast 7kWh wallbox, with a full charge from a domestic three-pin socket taking 7 hours and 10 minutes."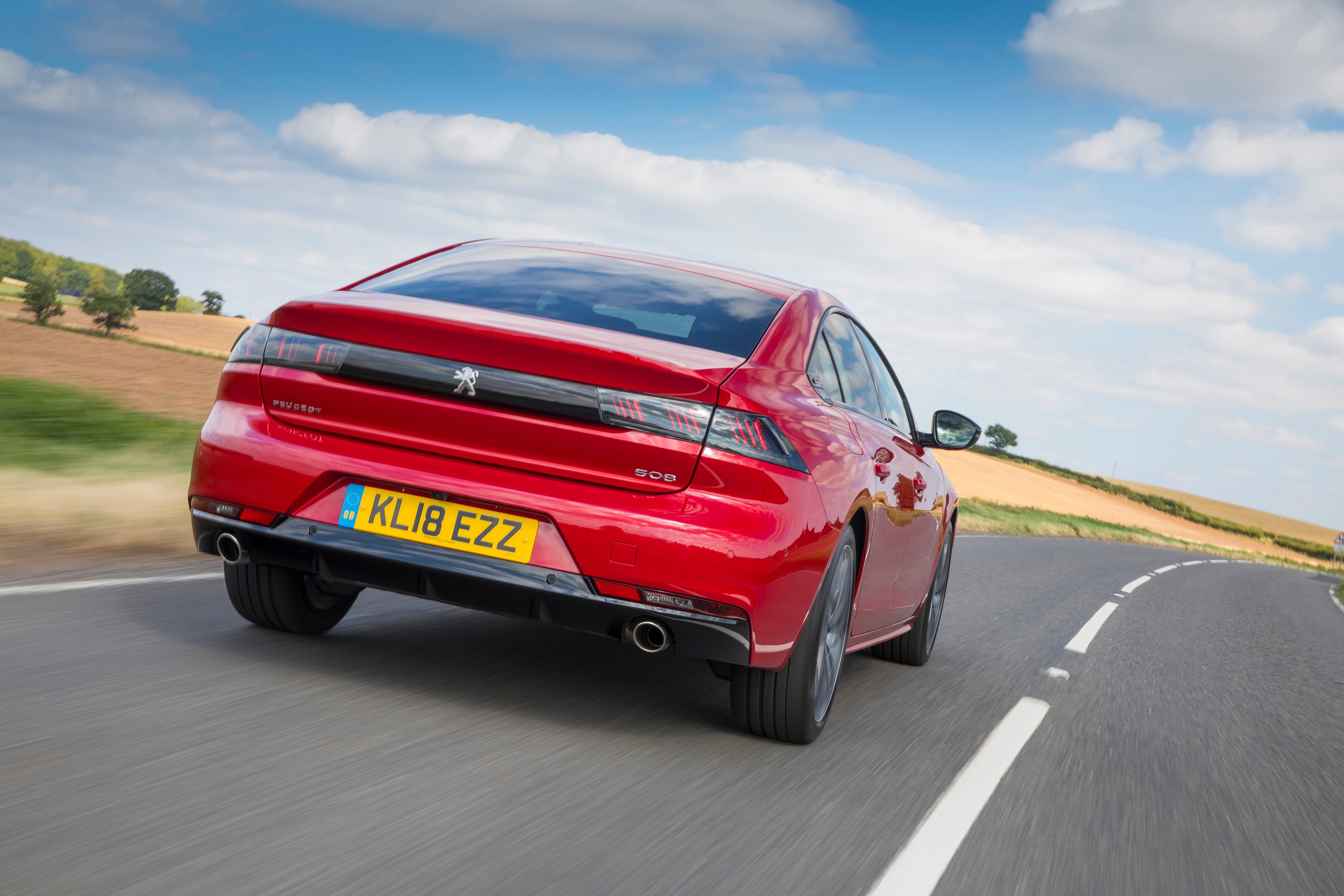 The petrol engines return between 37-45mpg in the official combined consumption cycle – as tested to WLTP standards. That encompasses both power outputs and all trim levels. The manual low power diesel manages btween 53-63mpg, with the auto about 1mpg worse, while the 2.0-litre turbodiesel is between 45-52mpg, with the slightly lower powered version being the more parsimonious of the duo.
The plug-in Hybrid is quoted at between 166-235mpg, which you'll not get, it being a quirk of the testing measurement. After you've depleted the battery in EV mode, over longer journeys think of consumption in the 70-80mpg sphere, unless you're a card-carrying member of the hypermiling club.
Insurance groups and costs
Some of the petrol engines are too new to be listed, but they'll likely be near to their similar power diesel relations, so think 22E-24E for the lower power models, and 29E-32E for higher power models. The plug-in Hybrid is rated at 31E for Allure, 33E for GT Line and 33E for GT. Peugeot offers fixed price servicing, for anywhere between £14-£18 a month depending on the model and duration.
How reliable is a Peugeot 508?
Peugeot needs to work on its reliability record. The brand was second from bottom in the reliability stakes in the latest HonestJohn.co.uk Satisfaction Index. That said, we've heard of very few issues affecting the Peugeot 508.
VED car tax: What is the annual road tax on a Peugeot 508?
Only one 508, before options breaches the £40,000 penalty VED payment, and it's the GT version of the plug-in Hybrid. Avoid that if you don't want to pay the £465 annual charge for the first five years of ownership.
The petrol engines range between 146-171g/km, so you'll pay anywhere from £215-£870 for the first year for those, with the payment being £150 a year afterwards.
The smallest diesel isn't RDE2 compliant, so despite having lower emissions than the 2.0-litre turbodiesel it still attracts the same £215 first year payment. After that you'll pay £150 a year. The first year payment for the Hybrid is £10, after which it's £140, annually (unless you go for the range-topping trim).
How much should you be paying for a used Peugeot 508?
"If you're looking at a used Peugeot 508 you'll need a starting budget of around £17,000, with £20,000 buying you a sub-10,000 mile 2019 model, the engine choices being fairly wide at this level."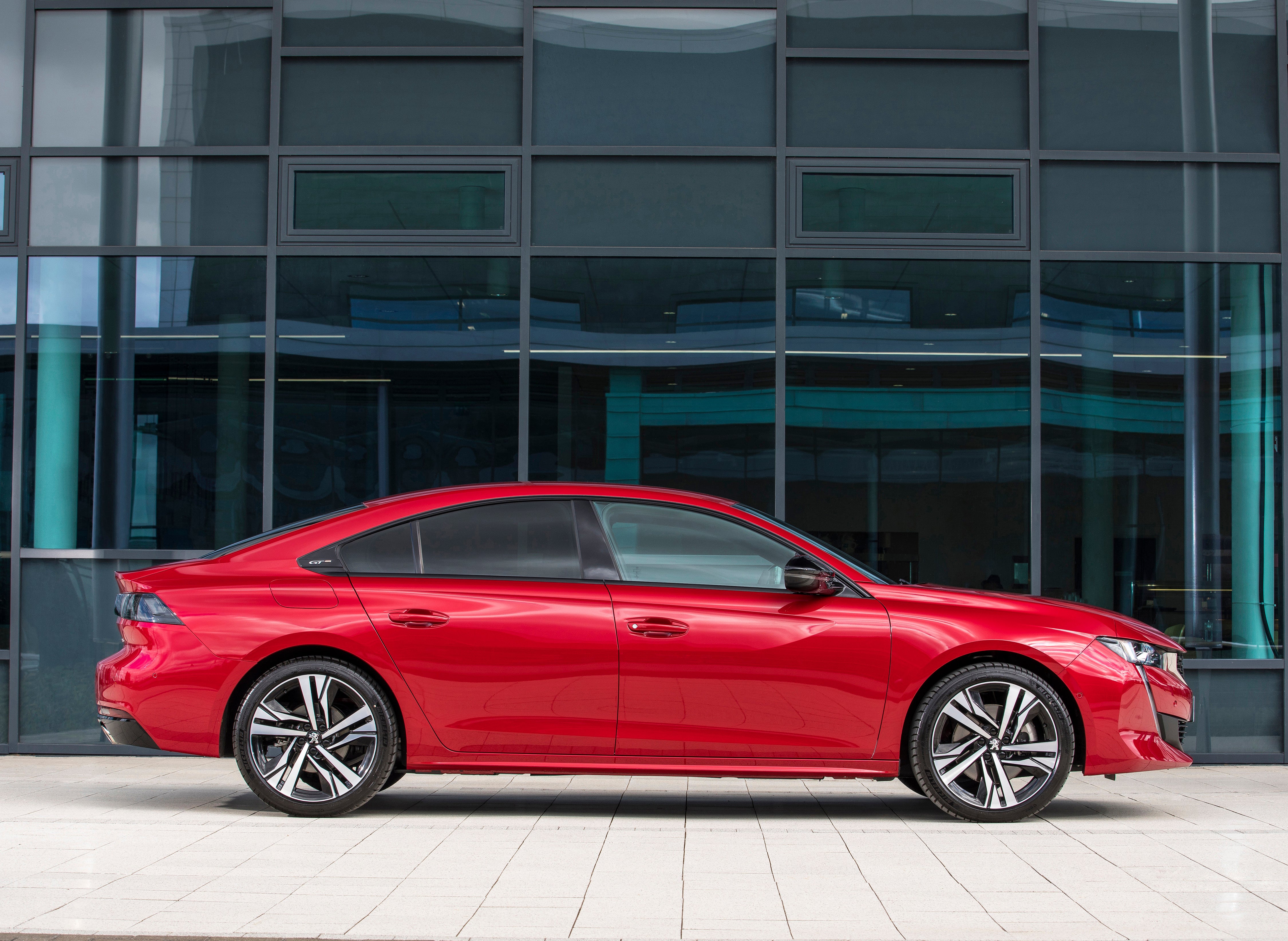 The Peugeot 508 GT Line trim is common, too. Keep increasing the budget to the £25,000 mark and you're into dealer forecourt, delivery mile, pre-registered cars, which make a decent saving over new.
The plug-in Hybrids are more expensive, if you want a used example in 2020, then you'll need a starting budget of around £29,000, that getting you in nearly-new super low mileage models.
Trim levels and standard equipment
Peugeot 508 Active models are the entry point to the range and have 17-inch alloy wheels that look a little small in the 508's large arches.
In terms of equipment, you get dual-zone climate control, rear parking sensors, a leather-trimmed steering wheel, automatic headlights and automatic windscreen wipers. Even the basic infotainment system is decent meaning you get 3D navigation with an 8-inch touchscreen, digital instruments, voice recognition and DAB, Apple CarPlay/Android Auto.
The Peugeot 508 Allure models add to that list with the Active suspension, though you only get it with the 180PS petrol. All models get a 10-inch high-definition touchscreen, keyless entry, front parking sensors, electric lumbar and seat base adjustment and ambient lighting. You also get extra safety kit including a 180-degree parking camera and a blind-spot detection system.
508 GT Line models look more stylish. They get 18-inch alloy wheels and a GT Line body kit, along with LED headlights and tail lights, plus tinted windows. The Driver Sport Pack means you can adjust the car's steering, brakes and throttle reponse to feel more sporty and you also get a wireless charging pad for your compatible smartphone.
Peugeot 508 GT models sit at the top of the range and look just as sporty as GT Line cars. To the kit GT Line cars have, you can add autonomous driving aids, electrically adjusted driver and passenger massaging seats and a powerful Focal hi-fi.
Ask the heycar experts:
common questions
Where is the Peugeot 508 built?
The Peugeot 508 is built in PSA's factory in Rennes, France.

What does SW mean on Peugeot?
SW stands for Station Wagon and refers to the estate versions of Peugeot's family cars.

Who designed the Peugeot 508?
Peugeot Design Director Gilles Vidal styled the eye-catching new 508, which he calls a "two-and-a-half-box" fastback.

How long is a Peugeot 508?
The Peugeot 508 saloon is 4.75 m (187 in) long and has a wheelbase of 2.75m (110 in) – both are slightly smaller than the old 508's measurements.

Answered by
heycar editorial team
Peugeot 508 cars for sale on heycar
3,574
Number of cars available
£10K - £47K
Price bracket of these cars
Colours available on heycar
Keep me updated by email with the latest advice, news and offers from heycar
By submitting, you agree to our
privacy policy
.