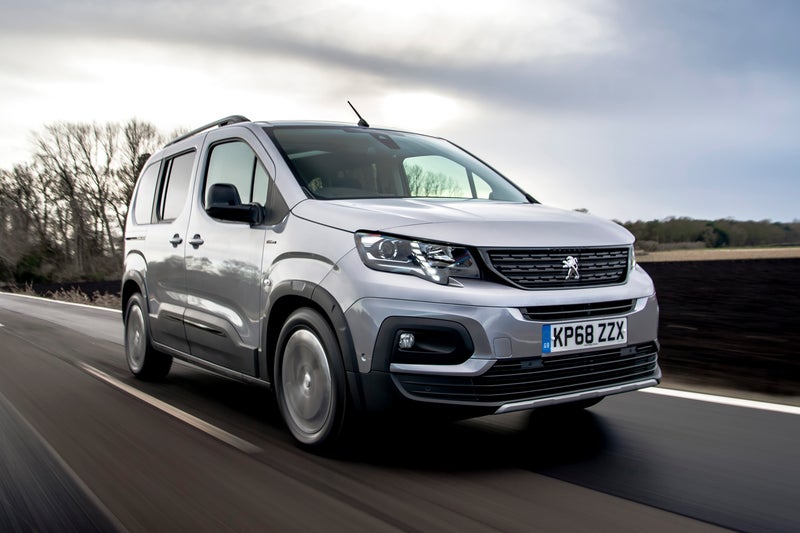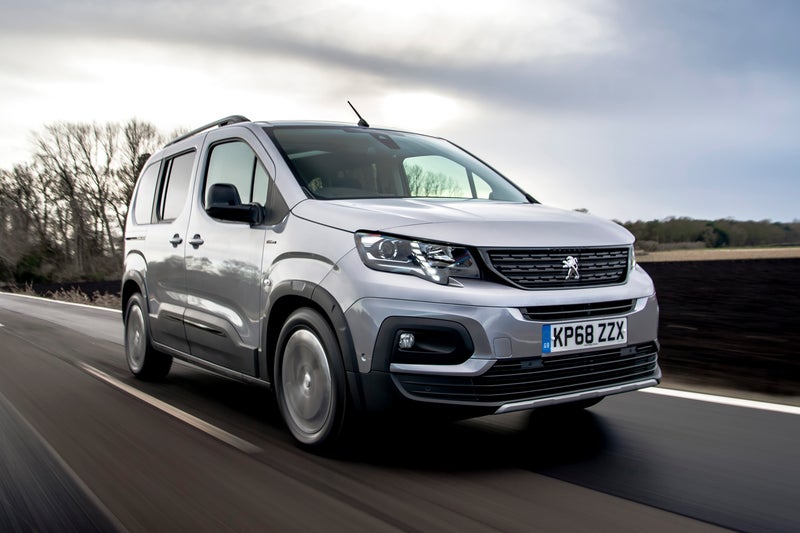 1/10
heycar rating
"Big and spacious family car"
Launched: 2018

MPV

Petrol, Diesel
Quick overview
Pros
Cavernous passenger space
Economical engines
Huge boot
Cons
Boxy van-esque styling
Basic Active models have no infotainment
Wind noise on the motorway
Overall verdict
On the inside
Driving
Cost to run
Prices and Specs
Overall verdict
"If you're shopping for a new family car you've probably considered a Ford Focus or Volkswagen Golf, but what if you could have a lot more space for significantly less money? Well, you can by choosing a van-based model like the Peugeot Rifter."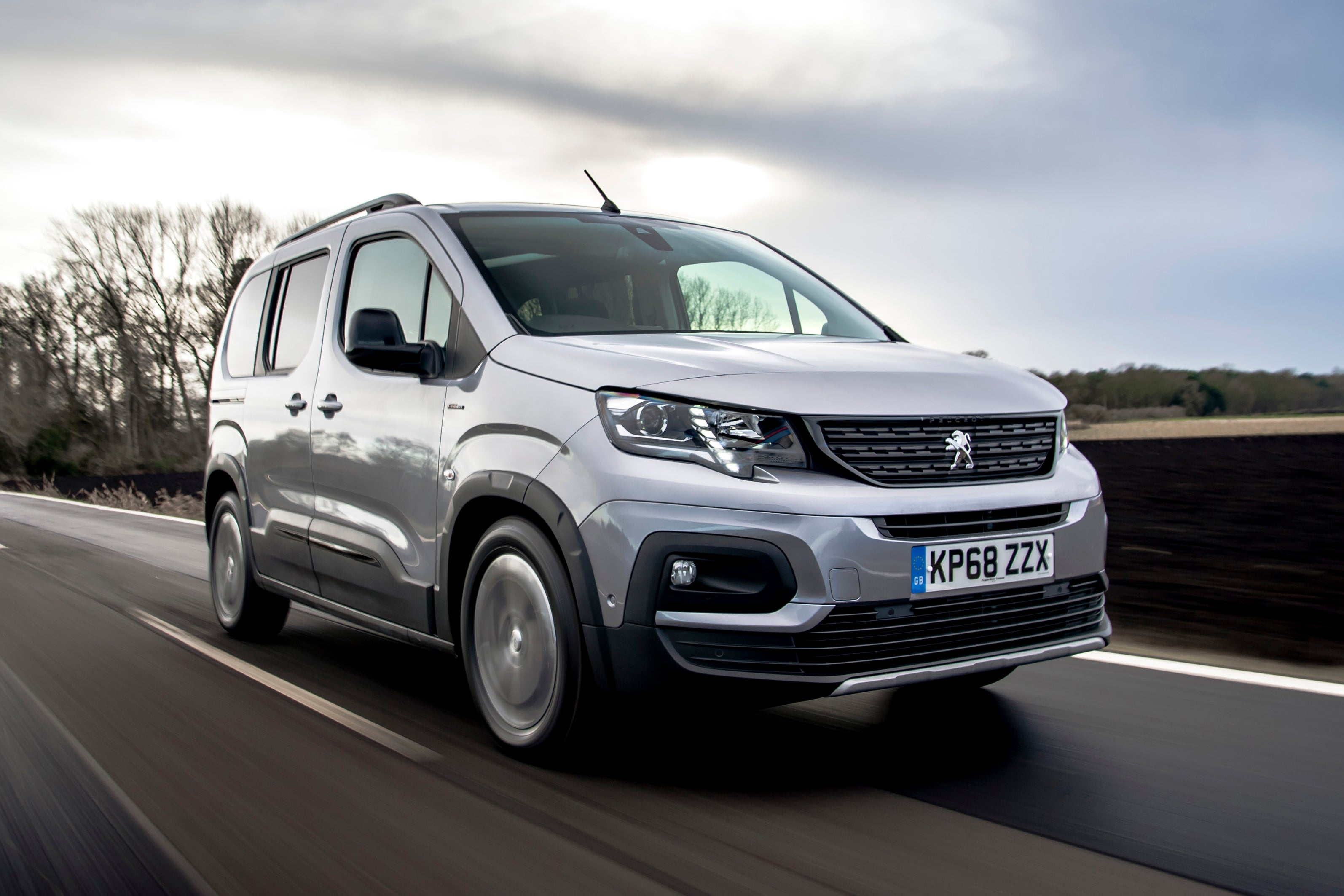 It may be based on a van, but it hides its roots well and deserves to be compared to the tougher competition offered up by Ford and Volkswagen.
Okay, so there's no denying the Peugeot has a boxy shape, but so long as you avoid basic Active models, the Rifter comes with body-coloured bumpers and alloy wheels that make it look smart. Anyway, that boxy shape pays off when you get on the inside. The Rifter's upright shape means you sit higher than in other cars, giving you a great view of the road ahead and making the car easy to manoeuvre on the road.
The big plus is of course space. The Rifter has loads of room for five people and a boot that's even bigger than you'll find in a large and expensive SUV. Want more room? The Long model will do the job, its increased length gives you room for a pair of extra seats in the boot.
In terms of trim levels, we would recommend the Allure model. It gets welcome kit such as Peugeot's eight-inch infotainment screen, rear parking sensors and proper electric rear windows, unlike the pop-out windows fitted to cars lower down the range. Their coloured trims brighten up the interior and, on the outside, you get smart looking alloys and body-coloured bumpers.
Make a move and the Peugeot is an easy car to drive. Its controls are light, the tight turning circle makes negotiating busy streets easy and the car's tall ride height (compared to a hatchback) means it rolls over speed humps without scraping. If you do lots of town driving, you can also have a smooth-shifting eight-speed automatic gearbox.
You can choose from one petrol and two diesel engines, but the top-of-the-range 130PS diesel is the pick of the bunch. It'll heave the car along nicely even at motorway speeds and it copes well if the Rifter is fully loaded. It comes as standard with a six-speed manual gearbox – rather than the five-speed fitted to more basic models – that helps improve fuel economy and keeps the engine quieter at a cruise.
It's on the motorway that the Rifter's van-based roots are most readily felt. Its boxy shape means there's a fair amount of wind noise, but the Rifter is available with all the safety kit you'd expect of a family car.
And that sums the Rifter up nicely. Yes, it's based on a van, but that doesn't come with the compromises it used to – in terms of performance and equipment levels – and when you consider interior space, you'll not find many family cars that offer more.
Is the Peugeot Rifter right for you?
If you're looking for a spacious family car then – absolutely – the Peugeot Rifter is right for you. Okay, so it won't have the posh interior trims you'll find in a Volkswagen Golf, but the Rifter doesn't feel poorly built either and you'll soon stop worrying about interior plastics when you see the sheer space on offer. The Rifter has loads of room for five people – seven if you go for the Long version – and the boot is massive.
It's even easy to drive because you get a great view of the road ahead and light controls that make driving smoothly easy. If you're looking for something more practical than a small family hatchback costing the same price, the Rifter is worth a look.
What's the best Peugeot Rifter model/engine to choose?
If you're going to buy a Peugeot Rifter then it makes sense to buy the Allure model in combination with the 130PS diesel engine. In this specification, you get plenty of interior kit including air-conditioning and an eight-inch infotainment screen that has Apple Carplay and Android Auto. Allure models look smarter than basic versions of the Rifter thanks to their coloured bumpers and alloy wheels.
The 130PS diesel engine, meanwhile, is more punchy than the basic diesel yet delivers similar fuel economy. This engine is also available with an eight-speed automatic gearbox that takes the pain out of driving in town.
What other cars are similar to the Peugeot Rifter?
The Peugeot Rifter transcends standard car classes. It's much bigger inside than the likes of the Volkswagen Golf, yet is cheaper to buy owing to its more basic design and no-frills interior. MPVs like the Volkswagen Touran, meanwhile, can match the Peugeot by offering up to seven seats, but can't compete with the Rifter's ability to carry huge loads and still have room for five people.
To get the same sort of interior space as the Rifter, you'll need to consider a large SUV that'll cost a lot more to buy and run. Or, of course, you could go for the mechanically identical Citroen Berlingo or Vauxhall Combo Life. Alternatively, look at the Ford Tourneo Connect.
Comfort and design
"The Peugeot Rifter's boxy styling might give away its van DNA on the outside, but from the inside, you'd be none the wiser. The Rifter feels positively plush for a large car that costs so little. "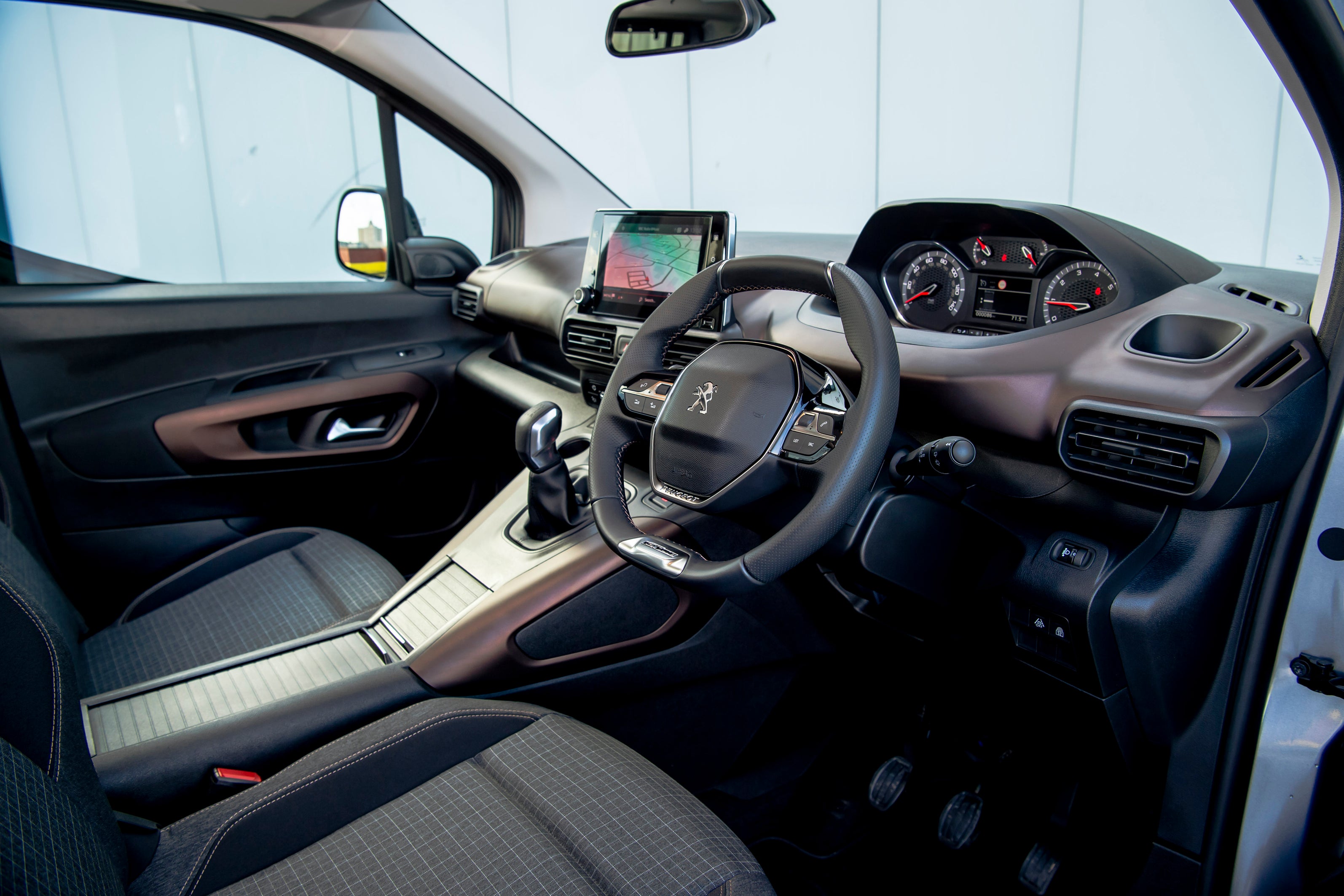 Peugeot's given it a bold design that centres around the company's i-Cockpit interior, which sounds fancy but only means the instrument binnacle sits above the steering wheel rather than behind it. And you know what? It works. The wheel sits neatly below giving you an uninterrupted view of the dials, if only Peugeot could pull off the same trick in its other models.
And there's not much else to complain about. You'll like the brightness the two-tone colour scheme adds to the cabin and the large centre console that makes the car feel substantial and brings the gear shifter right to your hand.
Sure the driver's seat hasn't got much lateral support – it's more of a comfy armchair – and it doesn't drop low enough to give you a sporty driving position but, let's face it, nothing about the Rifter is designed to be sporty. What the seat does do is crank up high enough to give you an SUV-like all-seeing view of the road ahead. Even the leather-trimmed steering wheel moves for reach and height.
Set off for a drive and you'll also notice the infotainment screen sits proud of the centre of the dash right in your view, you get a volume knob for the stereo and proper buttons for the ventilation system – all this makes the Rifter a car you won't find yourself endlessly fiddling with when driving.
Quality and finish
If you lower yourself into the Rifter's driving seat expecting to find loads of soft-touch plastics, pretty trim pieces and fancy mood lighting, you're in for a shock – it has none of that. But what you do get reflects its very reasonable price and how canny Peugeot has been with its design budget.
It's not posh, but there's nothing in the cabin that looks horrendously nasty and there's none of the exposed metalwork you used to get in van-based cars like this. There's even something wonderfully Gallic about the fabric on the inner doors and the patterns on the cloth seats.
Okay, cards on the table, if you want to experience the Rifter's cabin in its best light, you'd best avoid the entry-level Active model. It's the only one not to get a proper infotainment screen and the tiny LCD and cluster of buttons seem to have been inspired by a cheap 1990s MIDI system. Also, while you do get a two-tone coloured interior, grey and slightly less grey doesn't really cut it.
The Picasso blue finish you get in one-step-up Allure models is just the ticket though and the seats are finished in matching 'Puma' cloth with blue stitching.
GT Line models are next in line. They get a Quente Brown (let's call it bronze) and 'Casual' checked cloth seats. No Rifter feels dark inside, but the GT Line model is even brighter thanks to its panoramic glass roof.
Infotainment
As mentioned, the infotainment system in basic Active versions doesn't amount to a great deal, it has an LCD, a DAB digital radio and – thank heaven for small mercies – a USB and Bluetooth connection. So you can charge your phone, make calls through the car's stereo and play music wirelessly.
Step up to the Allure models and the infotainment screen is pretty darn good. Its eight-inch display is big enough to make sat-nav directions clear and easy to follow, and it's reasonably colourful.
Sure, the menus aren't super intuitive and the screen's not the most responsive, but neither of those things matter because Apple CarPlay and Android Auto are fitted as standard. Because of that, you can use your smartphone's intuitive menus or skip the whole process in favour of its voice activation system.
It's such a good base, the upgraded infotainment on GT Line models is largely redundant. It adds factory-fit sat-nav (that is worse than what's on your phone) and an SOS button which you can use to call for assistance in an emergency.
Space and practicality
Space and practicality will top your priority list if you're in the market for a Rifter and, needless to say, it majors on both. Even basic Active models get wide and squidgy front seats that feel more like they belong in a living room, not a car, and the driver also gets a separate armrest.
The seat's set high, so it does feel a bit like your legs are dangling over the edge, but you soon get used to it and it does mean you get loads of space. Meanwhile, the Rifter's upright roof means there is acres of headroom.
Upgrade to an Allure model and your front-seat passenger gets an armrest, too, while the driver's seat adds lumbar support and both chairs get a storage bin hidden below them. Hop in the back and you'll see there's plenty of room even for tall adults, though not everyone will be a fan of the upright backrests.
Active models live up to their basic roots by only having pop-out rear windows that barely let in any air, but upgrading to Allure trim gets them swapped out for electric versions that open properly and the jump in trim also gets you picnic tables on the backs of the front seats, and a rear air vent.
GT Line models move things a step further. Instead of having a rear bench split 60/40, GT Line cars give your three back-seat passengers their own individual seats so you don't have to worry about kids fighting for space.
And you won't have to worry about hauling all their gear along either because the Rifter's boot is massive – its 775-litre capacity comfortably outshining the boot capacity you get in a large family estate like the Skoda Octavia (640 litres).
Seat-down capacity is even more impressive. Allure and GT Line models' front passenger seats fold flat allowing you to carry loads up to 3m long and total capacity sits at a mind-blowing 4,000 litres.
The Rifter's huge boot lid leaves a load opening that a cross channel ferry would be proud of, the only problem being that the door's so big you won't be able to open it if you park the rear of the car tight against a wall. GT Line models get around this by adding an opening rear windscreen, allowing you to drop smaller items into the boot through the opening.
The Rifter's relentless attack on this practicality section continues when you start to talk about storage spaces because, depending on model, it has up to 186 litres worth of smaller storage areas. That's just 10 litres short of the boot capacity in a Peugeot 108 city car. You'll find those extra litres in hidden cubbies under the floor, in the glove box and doors pockets and, in GT Line models, in the ledges around the panoramic sunroof.
Even fitting a child seat is easy. The sliding rear door might look and (with their hollow metallic vibrations) sound a little utilitarian, but they give you excellent access to the back row and its three Isofix points. There's loads of room to get a baby seat into position and the Rifter's height means you don't have to bend you back leaning in as much as you do in a low down family car.
There's one more trick up the Rifter's sleeve, though, and that's the Long version. That's right, the Rifter is also available as a 4.75m-long seven-seater (up from the 4.4m standard car) with two spacious extra seats located in the boot.
Handling and ride quality
"Hit the road in town and you won't find the Peugeot Rifter tricky to drive. All its controls are light and while the small steering wheel's slow responses feel a touch counterintuitive, it won't take long to get used to. "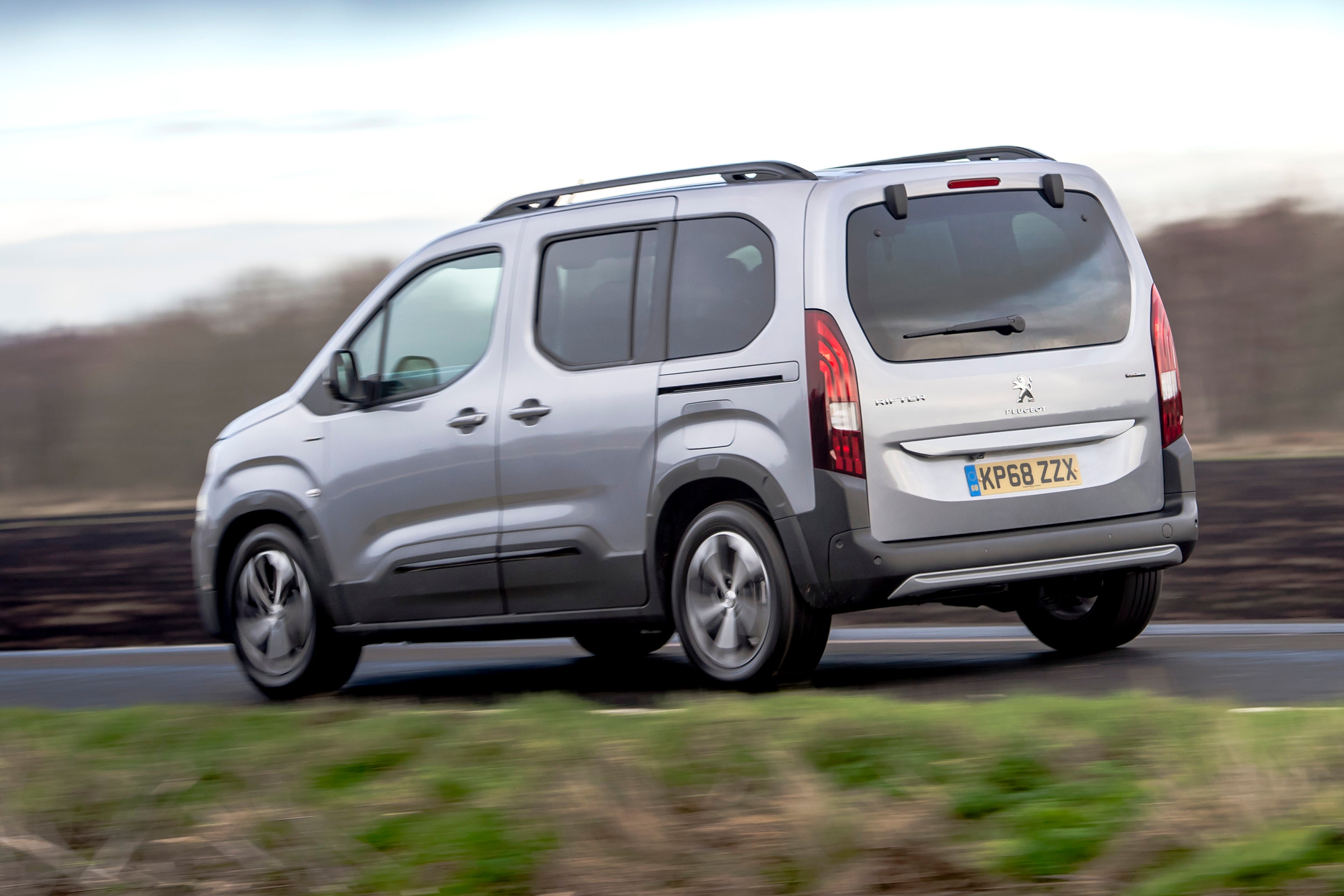 If you'll be doing lots of town driving then the eight-speed automatic gearbox is worth considering. It's a touch slow to engage when you make off, but once you're moving it changes gear smoothly and has a negligible effect on performance.
Low-speed manoeuvring is easy thanks to the Peugeot's tight turning circle and the flat rear end makes it easy to judge the car's extremities when you're reversing.
Want some added peace of mind? Well, Allure models get rear parking sensors as standard and all cars can be optioned with a reversing camera. It's actually pretty clever, filming the area around the car as you manoeuvre, piecing the images together and then augmenting the result on the car's big screen.
Or you can go another step further and pay for optional auto park so the car can steer itself into bays and perpendicular parking spaces while you operate the pedals.
Out on the motorway, the Rifter's somewhat bouncy town ride settles down, though for best results avoid GT Line models which have 17-inch wheels an inch bigger than those on other cars. Go for the automatic gearbox and you can also have active cruise control that can accelerate and brake the car for you to match the speed of traffic.
So the Peugeot can handle normal driving, but it's also versatile enough to deal with pretty much anything a family can throw at it.
Okay, so it's not four-wheel drive but Peugeot's clever Advanced Grip Control traction system is on the options list. It has Snow, Mud and Sand settings that stop the Peugeot getting bogged down on tricky surfaces – in fact, the Rifter's surprisingly good at tackling rough tracks helped by its relatively tall ride height and short overhangs.
Want to tow a trailer? Well, you're in luck, Peugeot's factory-fit towbar comes with a Trailer Sway Mitigation System that can detect when a trailer gets unruly and apply the car's brakes to bring it back under control. That said, the Rifter can't match the towing capacity of a four-wheel-drive SUV, but the 130PS diesel can tow up to 1500kg.
Engines and gearboxes
You get three engines to choose from in the Rifter range – one petrol and two diesels. The 110PS 1.2-litre PureTech three-cylinder petrol offers nippy performance in town and comes with a six-speed manual gearbox as standard, which offers greater flexibility than the five-speed manual fitted to the entry-level 100PS 1.5 BlueHDi diesel.
That said, in a car like a Rifter that's likely to be loaded up with people and stuff, the extra chug of a diesel engine makes sense, which is why your best bet is the top-of-the-range 130PS 1.5-litre four-cylinder BlueHDi.
It comes as standard with a six-speed manual gearbox which makes it a more relaxed cruiser than the basic diesel and it's also smoother getting up to speed than the petrol model.
It's far from a rocketship – getting from 0-62mph in 10.4 seconds – but it offers plenty of mid-range punch for overtaking slower traffic and getting up to speed when joining the motorway. The 130 diesel is also the only model available with Peugeot's smooth-shifting eight-speed automatic gearbox.
Refinement and noise levels
Refinement is one area you will notice a difference between a Rifter and a normal family like, say, a Volkswagen Golf. The Peugeot's boxy shape generates noticeable wind noise at higher speeds and you also get a little bit of whistle from the large, square wing mirrors. It's also more prone to getting caught out by crosswinds than a family car that sits lower to the ground.
Having such a huge interior also has its downsides. The massive cavity tends to reverberate thumps through the cabin as you go over bumps, though that's less of an issue at speed where the Rifter's suspension copes better with lumps on the road.
Again, the 130PS diesel makes a strong case for itself. Not only does its extra power mean it's less stressed at cruising speeds, its sixth gear also helps keep the engine quiet and, if you want to push the boat out, the optional eight-speed automatic is even better in this respect.
Safety equipment
The Peugeot Rifter was awarded four-stars when it was crash tested by Euro NCAP though most popular family cars – such as the Ford Focus and Volkswagen Golf – got five stars under the same testing procedures.
This is still a safe car though. All models come fitted with a full complement of airbags and have powerful disc brakes on all four wheels. Automatic emergency brakes are fitted as standard, so the Rifter can warn of an imminent front end collision and, if you do nothing about it, apply the brakes hard to avoid or limit the collision. This system works with other vehicles as well as people.
Also on the standard equipment list is lane-keeping assistance. It detects and warns if you're drifting out of your lane on the motorway and can make steering corrections to avoid you straying over the white line.
Head to the options list and you'll find kit such as traffic sign recognition. It reads signs and displays the information on the car's centre infotainment screen so it's easy to keep track of speed limits. Auto dipping headlights are another handy feature which means your finger don't have to hover over the headlight stalk like a cowboy's itchy trigger finger. A camera in the windscreen senses other vehicles and dips your lights accordingly.
That said, the Rifter's halogen headlights produce a weak yellow light that's pretty feeble next to the kind of multi-LED systems now available on a family hatchback such as the Ford Focus.
Finally, there's the Driver Attention Alert system. It monitors the car's position on the road at speeds of more than 40mph and, if it senses you're wandering in lane, will warn you that it might be an idea to take a break.
MPG fuel costs
"No Peugeot Rifter will drill you into the ground with running costs, but the diesel models are the cheapest of the lot to run. "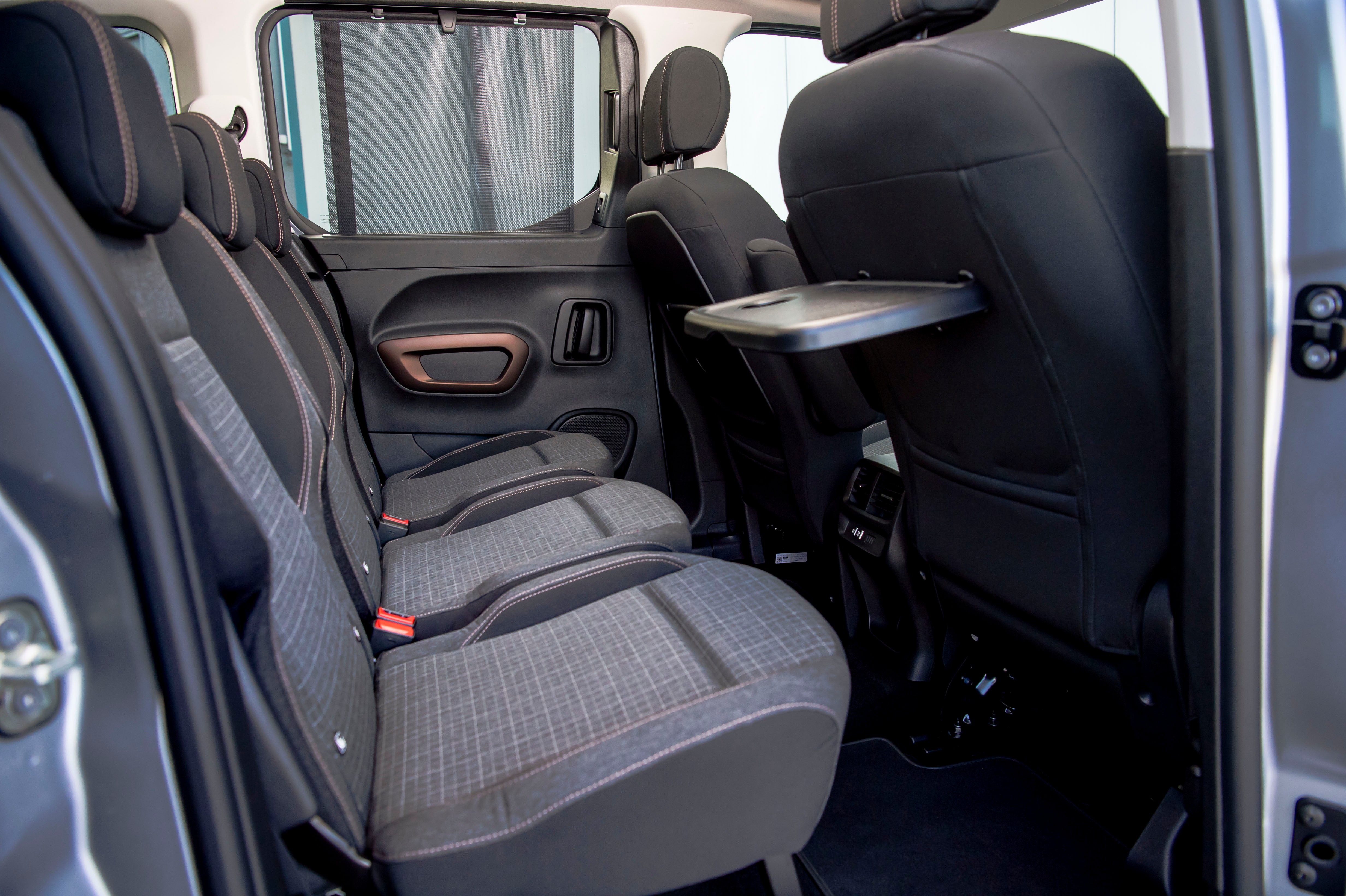 The 110PS petrol claims fuel economy of up to 43.5mpg in tough real-world testing, which means high-30s fuel economy should be readily attainable.
The 100PS diesel, meanwhile, manages up to 55mpg officially and there's barely any penalty in going for the more powerful 130PS diesel. Both should get 50mpg in the real world.
The 130PS diesel is the only model that can be paired with Peugeot's eight-speed automatic gearbox and doing so has a negligible effect on fuel economy. It's a similar decrease as you get if you trade up to a GT Line model with the larger 17-inch alloy wheels. Interestingly, choosing the Long seven-seater Rifter over the Standard car makes no difference to fuel economy.
Insurance groups and costs
The Peugeot Rifter's humble van origins mean it is cheap to repair and its insurance is cheaper than a normal family hatchback's as a result. Factor in the car's standard automatic emergency brakes – which limit the chance of having a low-speed shunt – and it's easy to see why cover won't cost you a fortune.
Both the 110PS petrol and 100PS diesel qualify for group 11 insurance irrespective of trim level. While the same goes for the 130PS diesel – it has group 14 insurance no matter how you specify it.
By comparison, a Volkswagen Golf with a 130PS petrol engine sits in insurance group 17 and the diesel models are even more expensive.
VED
Taxing the Peugeot Rifter won't break the bank because all models comply with tough new regulations. Cheapest of the lot are the diesels which both cost £215 in the first year and £150 thereafter, irrespective of whether Peugeot's eight-speed auto is fitted.
Petrol models' higher CO2 emissions mean they'll cost £540 to tax in the first year and £150 thereafter. A quirk of the seven-seater 130PS diesel automatic is that it just nudges into the higher tax bracket, meaning it shares its tax costs with petrol Rifters.
How much should you be paying for a Peugeot Rifter?
"The Peugeot Rifter costs from about £22,000 on the road for a 110PS petrol in Active trim, rising to just less than £30,000 for a Long body seven-seater version in top-of-the-range Allure trim with the 130PS diesel engine and an eight-speed automatic gearbox."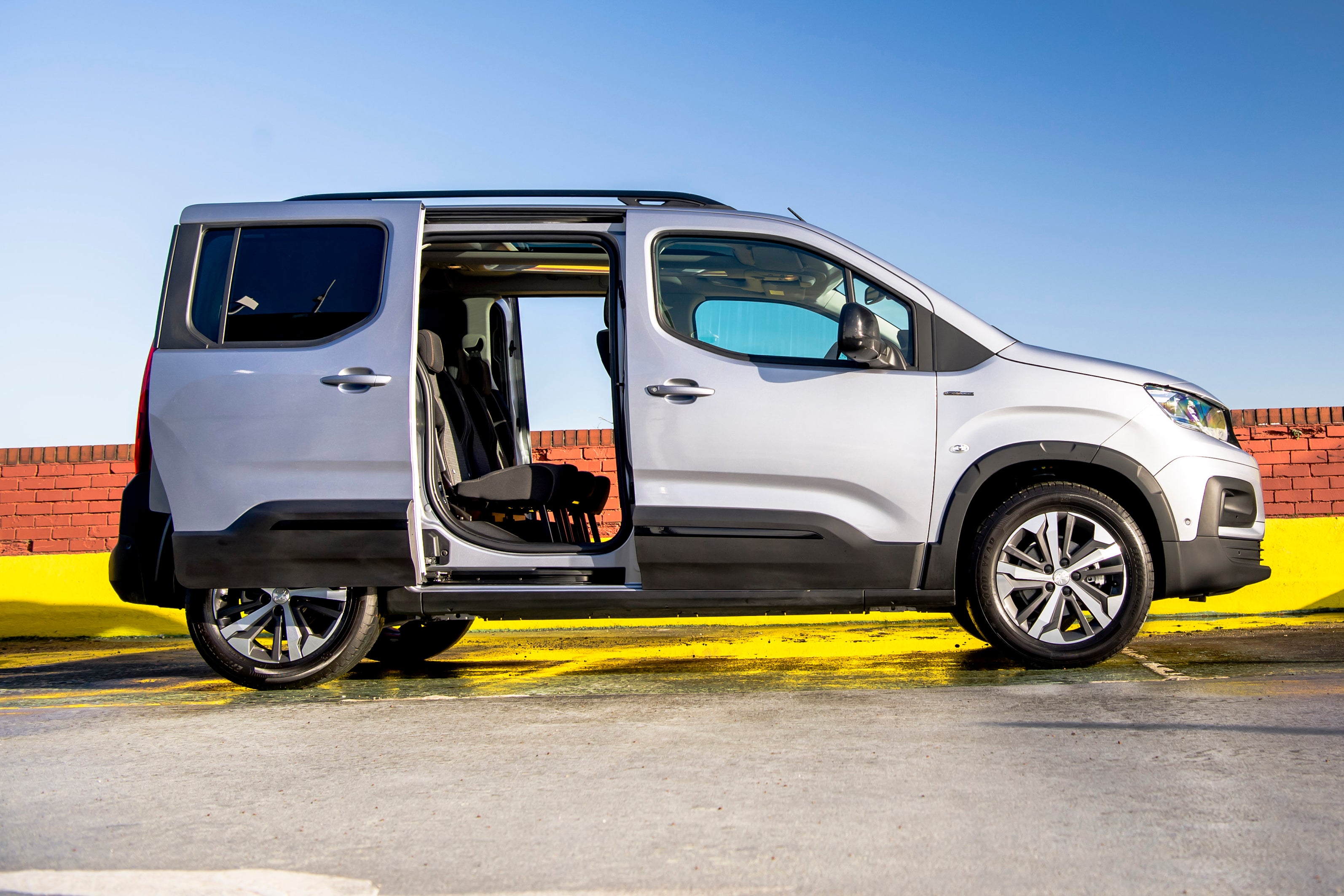 The most popular version is the Standard five-seater in mid-range Allure trim combined with the 130PS diesel engine and Peugeot's six-speed manual gearbox, which comes in at less than £24,000. It adds useful kit over the basic car, most notably an eight-inch colour touchscreen.
Stick with the same engine and gearbox, but specify up to GT Line trim and the price increases to £26,000. Sure, GT Line adds extra kit, but a lot of your money also goes on making the Peugeot look sporty – a largely futile exercise in a car as overtly unsporty as the Rifter.
Bargains are aplenty on the used market. We found a 2019 standard-size model – with less than 3,000 miles in Allure trim and fitted with the 130PS diesel engine and manual gearbox – for just £15,500.
Trim levels and standard equipment
The Peugeot Rifter is available in three trim levels – Active, Allure and GT Line. There's no denying that Active models are pretty basic and worth avoiding for this reason. Their black bumpers and plastic wheel trims don't exactly endear you to the outside and it's the same story when you get inside.
Instead of getting the bright coloured trims in the rest of the range, Active models make do with a mixture of grey and greyer plastics, compounded by the fact that you also have to do without a colour infotainment screen. At least you get air-conditioning.
Allure models look a lot sharper because they get 16-inch alloys and body-coloured bumpers, while this model's roof bars make it easier to fit a bike or storage box.
They feel much nicer inside, too, thanks to their blue plastic trims and posher seat upholstery, and they're more practical. You get a front passenger seat that folds flat for carrying long loads, picnic tables on the backs of the front seats and an air vent for the rear passenger compartment.
Allure models also get proper electric rear windows – not the pop-out types fitted to Active cars – rear parking sensors and Peugeot's eight-inch infotainment screen.
GT Line cars look smartest of the lot thanks to their body kit and 17-inch alloy wheels. Inside they have a bronze plastic finish and checked upholstery. They add to Allure models' kit with three separate rear seats that give your passengers more room to themselves and you also get a glass roof with lots of extra storage areas hidden around it.
GT Line models get the same infotainment screen as Allure cars, but with built-in sat-nav, and you also get keyless entry, power-folding door mirrors, dual-zone climate control with a temperature settings for you and your front-seat passenger, and a rear window that opens so you can quickly chuck small luggage in the boot.
Peugeot Rifter cars for sale on heycar
3,575
Number of cars available
£15K - £31K
Price bracket of these cars
Colours available on heycar
Keep me updated by email with the latest advice, news and offers from heycar
By submitting, you agree to our
privacy policy
.