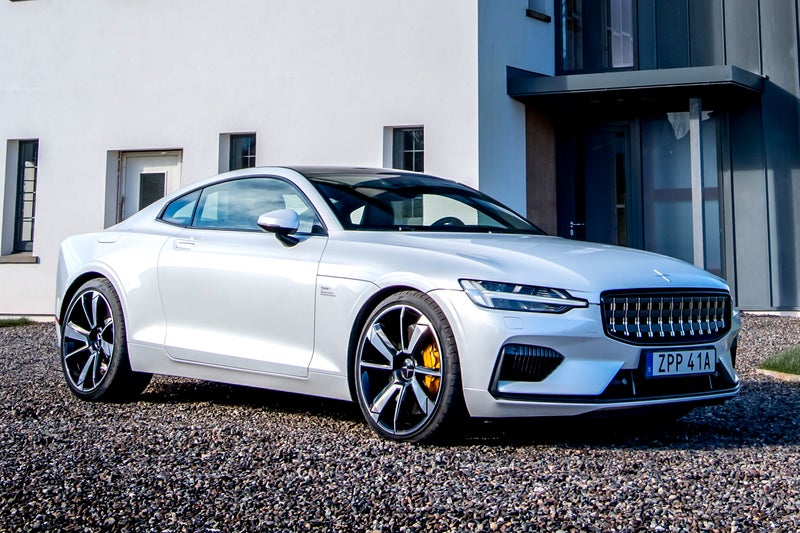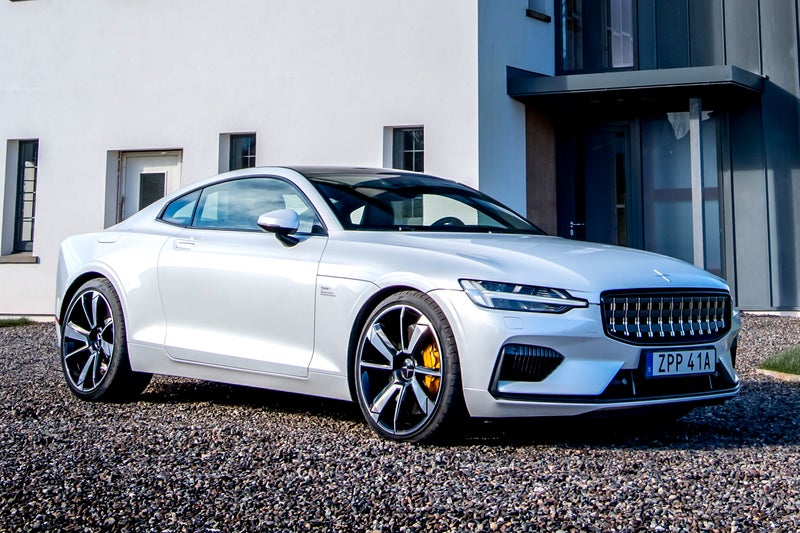 1/9
heycar rating
"Swedish Tesla is rather good"
Quick overview
Pros
Exceptional performance
Innovative power train
Exclusivity assured
Cons
Rear seats are for kids only
Limited boot space
Left-hand drive only
Overall verdict
On the inside
Driving
Cost to run
Prices and Specs
Overall verdict
"The plug-in hybrid Polestar P1 coupe is the first model from the Swedish manufacturer that's a spin-off from Volvo. Some people may recognise the name and that's because until 2017 it was the name that the 'hot' versions of Volvos - like the V60 and XC 60 - were badged with."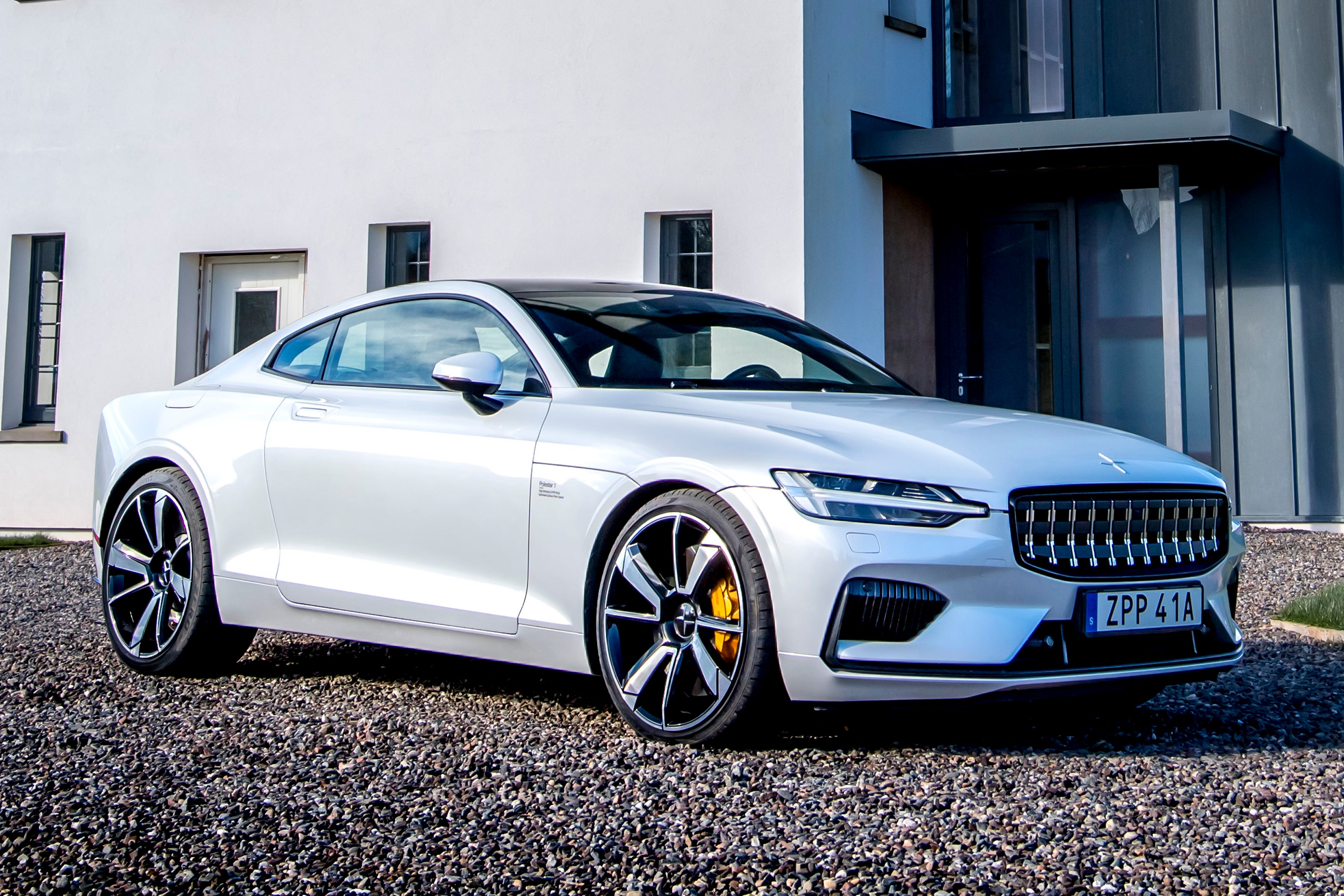 But, the Polestar P1 is something entirely different. It's the first model from a brand that will build nothing but high-end hybrid and electric cars - think of it as a Swedish Tesla. It sees itself as being a rival for the Bentley Continental GT, Mercedes-Benz S-Class Coupe and even the Porsche 911.
Plus, its rarity means its exclusivity is assured. Just 1500 cars will be built (all as left-hand drive only), which should keep values high, as the demand will far outstrip supply. The Polestar 1 is the starting gun on a series of models in coming years, next up is the Polestar 2, which, as a family-sized car will be more affordable and more practical.
Power comes from a combination of a 2.0-litre four-cylinder turbocharged and supercharged petrol engine with 310PS that works hand-in-glove with two electric motors, each producing 85kW of power.
That equates to 235PS in electric power. Combined, the two offer an impressive package, with 610PS on offer and 1,000Nm of torque Depending on which drive mode is selected, the Polestar 1 can run in electric mode only with a total range of up to 78 miles, which is more than any other plug-in hybrid. Alternatively, this mode can deliver superb performance with 0-62mph achieved in 4.2 seconds and a top speed of 155mph.
The picture isn't quite so revolutionary on the inside of the Polestar 1, where much of the dashboard fixture and fittings are taken from the more conventional (but still highly impressive) Volvo S60 and V60, including the digital instruments, portrait-style centre touchscreen, and three-spoke steering wheel.
As you'd expect for a car with this kind of price tag, quality is very good indeed - there's a real focus on it in the Polestar P1. The frameless doors and absence of side pillars give the cabin a light and airy feel. That Volvo signature - comfortable, supportive seats - has been carried across too. But, don't get any ideas about the seats in the back.This is strictly a 2+2 rather than a proper four-seater - those seats in the back are better for kids or bags than adults.
The boot is similarly lacking. On the face of it, that's a bit of a surprise for a car of this size. But, you have to consider that half of it is given over to the battery and attendant electronic controls. And, rather than hide it away, Polestar makes a real feature of the car's electronics, presenting them behind a clear annotated panel. Most other manufacturers bury this away.
Is the Polestar 1 right for you?
The Polestar 1 makes a case for itself as a bit of a toy and a supplement to your everyday car. Alternatively, if you can afford it and space isn't an issue, it is comfortable enough and has the range to be regularly used.
What's the best Polestar 1 model/engine to choose?
A limited production run of 1500 for the Polestar 1 and only one drivetrain (the turbocharged petrol engine linked to two electric motors), means there's no choice at all with engine/trim.
What other cars are similar to the Polestar 1?
Comfort and design
"Inside, you can instantly tell that the Polestar 1 is related to a Volvo. That's both good and bad. On the plus side, you'll appreciate the widely adjustable and incredibly comfortable front seats, which are as supportive on twisty B Roads as they are for soaking up motorway miles."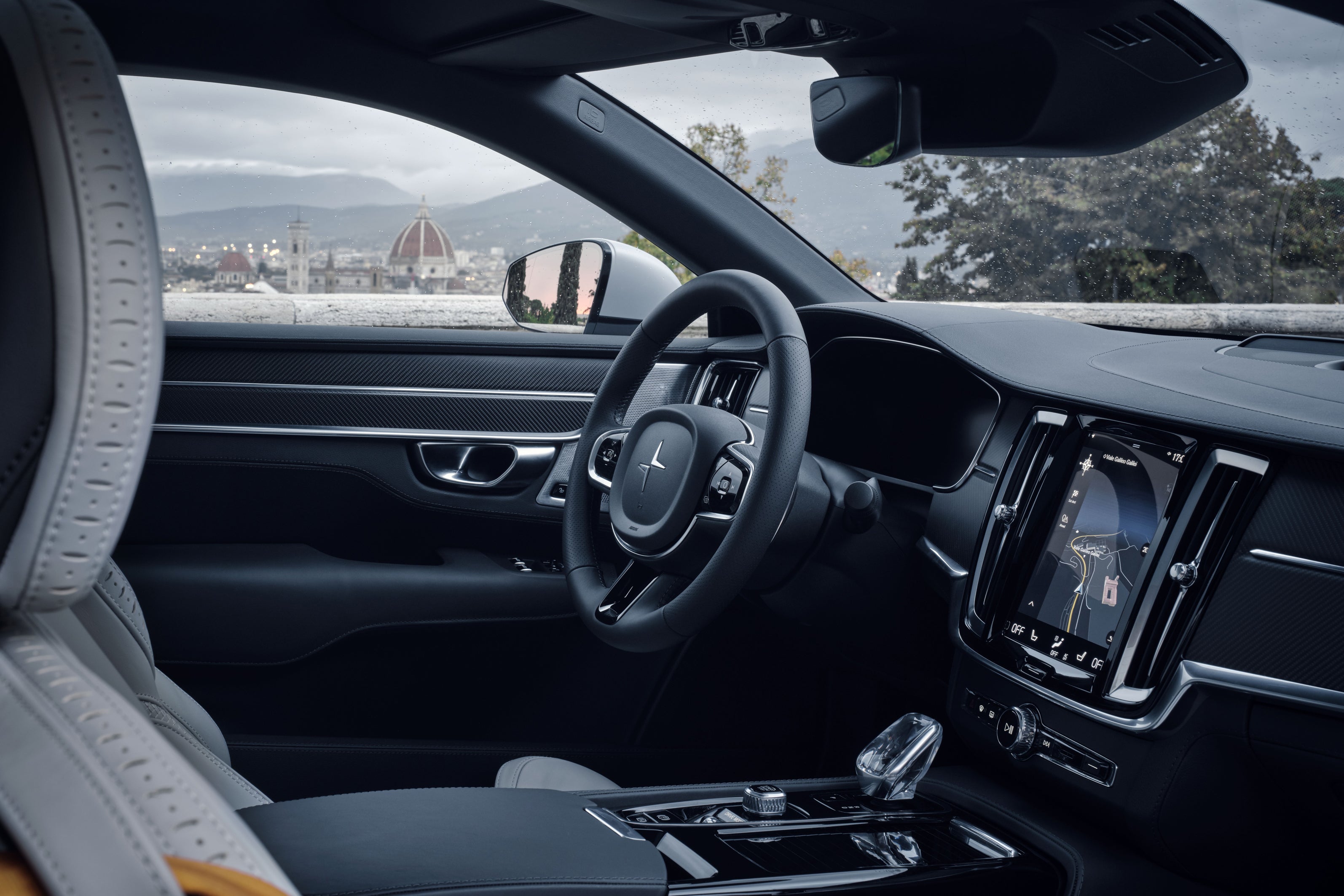 There's also well finished genuine carbon fibre trim, upmarket metal detailing and full leather. But, for this kind of money, you might expect something a bit more bespoke. Polestar may have done its best to adapt it, but this is clearly a Volvo dashboard, Volvo switchgear and Volvo steering wheel. There's nothing wrong with that and, if you haven't driven a Volvo recently, you may not even notice.
Quality and finish
The Polestar 1 is very well finished indeed - exactly as you would expect from Volvo.
Infotainment
The Polestar 1's infotainment system is the same that you get in the V90 and XC90. The 9-inch portrait-oriented touchscreen gets Apple CarPlay and Android Auto as standard along with a seriously powerful Bowers and Wilkins 15 speaker stereo. We like the system's responsive interface, though the number of menus could be cut down.
Space and practicality
Good front space, but the rear of the Polestar 1 is suitable for children only. The boot is compromised by the car's electrical systems. The Polestar 1 should be considered to be a comfortable two-seater in practice.
Handling and ride quality
"This being a GT, the hybrid powertrain offers a good option for long distance cruising."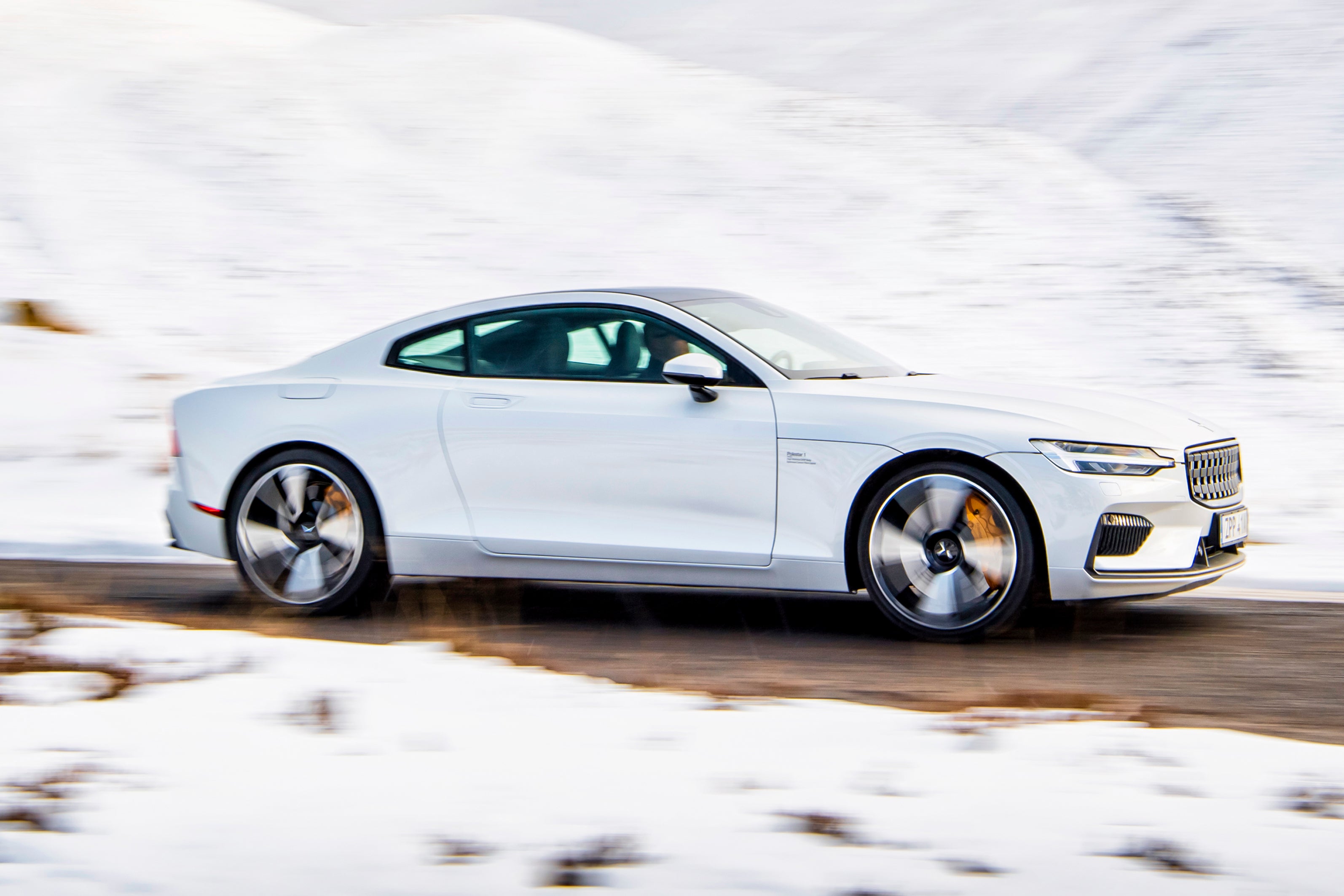 Two 85 kW electric motors on the rear axle give Polestar 1 a total of 170 kW, or 232 hp, of pure electric power. In everyday scenarios Polestar 1 can be driven as a fully electric vehicle, the 480 Nm (354 lb-ft) of instant electric torque enabling brisk acceleration without the need to introduce the combustion engine, even at full throttle.
When necessary or desired, the 2.0-litre turbocharged and supercharged petrol engine at the front adds its own contribution with 309PS and 435Nm. Together this system provides the ultimate mix of torque, power and cruising range.
Each rear wheel has its own electric motor and planetary gear set that enables real torque vectoring – a specialised method of allowing for both acceleration and stability when tackling a curve. Instead of slowing the inner wheel to improve accuracy in a curve, the outer wheel is accelerated to compensate for the difference in curve radii between both wheels.
This allows the driver to apply power earlier in the corner while maintaining stability and accuracy. Polestar 1 has two battery packs. One is located between the front seats in the traditional 'transmission tunnel', the other above the rear axle.
The unique battery pack positioning enables an ideal 48/52 overall weight distribution for the car. Total battery capacity is 34 kWh – enough to provide the Polestar 1 with up to 77 miles of electric driving range on the WLTP cycle. This outperforms any plug-in hybrid on the market and gives the Polestar 1 its unique ability to be used effectively as an electric car.
Engines and gearboxes
The powertrain in the Polestar 1 is probably its most unique attribute. Electric first and combustion second, this hybrid drivetrain favours electric power from a double electric rear axle configuration, supported by an internal combustion engine on the front axle.
Polestar 1 can be driven at speeds up to 100 mph on electric power alone. The immediacy and high output of the electric torque also makes the car's electric performance both fun and practical. The combined electric and combustion powertrain produces a total of 609 hp and a maximum of 1000 Nm (738 lb-ft) of torque.
With the immediacy of the electric torque at the rear and the long legs provided by the petrol engine at the front, power delivery is always smooth and seamless – and the resulting performance is excellent. 0-62 mph takes just 4.2 seconds. Perhaps most impressive is the 50-75 mph rolling acceleration time of just 2.3 seconds, the electric drive providing instant response when on the move especially. Top speed is limited to 155 mph, or 100 mph in electric-only mode. An active rear spoiler is featured on the Polestar 1, rising automatically at 62 mph and retracting at 44 mph. It can also be manually adjusted.
Refinement and noise levels
The Polestar 1 offers a quiet and refined drive, as befits a large GT coupe.
Safety equipment
Safety is a hallmark of the Volvo Car Group and another element of performance for Polestar.
The Polestar 1 has been tested thoroughly not only in computer simulations, but also in the crash lab in Sweden. In fact, the Polestar 1 was the first-ever crash test of a carbon fibre-bodied car for the Volvo Car Group.
In doing so, crash safety engineers were able to experiment with the new material to gain an elevated understanding of how its behaviour differs from conventional steel. In contrast to a steel body, where bending helps the integrated crumple zones reduce the amount of crash energy that reaches the vehicle's occupants, carbon fibre dissipates energy by cracking and shattering. Close attention was paid to the way the carbon fibre body reacted to the extreme forces involved in the impact.
The engineers also focused on how the underlying steel body structure and carbon fibre 'dragonfly,' which strengthens it, managed the forces. Most of the energy was absorbed by the car's crash structure, with the remaining energy mitigated by the carbon fibre body panels into the body structure.
These panels remained rigid and did not show signs of bending or misalignment after the crash. All available safety aids and driver assistance features are also included as standard in the Polestar 1 – including Pilot Assist which allows for a relaxed drive over long distances and especially in traffic jams. Seven airbags are fitted as standard.
MPG and fuel costs
"Plan correctly and you'll only need to use the petrol engine for much longer trips."
The Polestar 1 has enough range to deal with commuting (especially so if you have a charge point at your place of work) and will easily deal with driving around town. If you also generate your own renewable electricity through wind or solar, you may find the running costs for the Polestar 1 (or any electric car or plug-in hybrid) very cheap indeed.
Insurance groups and costs
Don't expect cheap insurance for the Polestar 1. Its rarity and cutting-edge powertrain means that if you were to have an accident, it would be expensive to repair. This is not your average Ford Focus and will require specialists. As a result, insurance premiums will be high.
VED car tax
If you can afford a Polestar 1, then the chances are that road tax VED is only a minor concern. Plug-in hybrids, like the Polestar 1, benefit from much-reduced road tax. With emissions of just 15g/km, costs of annual VED will be just £15/year.
How much should you be paying for a used Polestar 1?
Exclusivity means that prices will be firm and that demand will outstrip supply for the Polestar 1.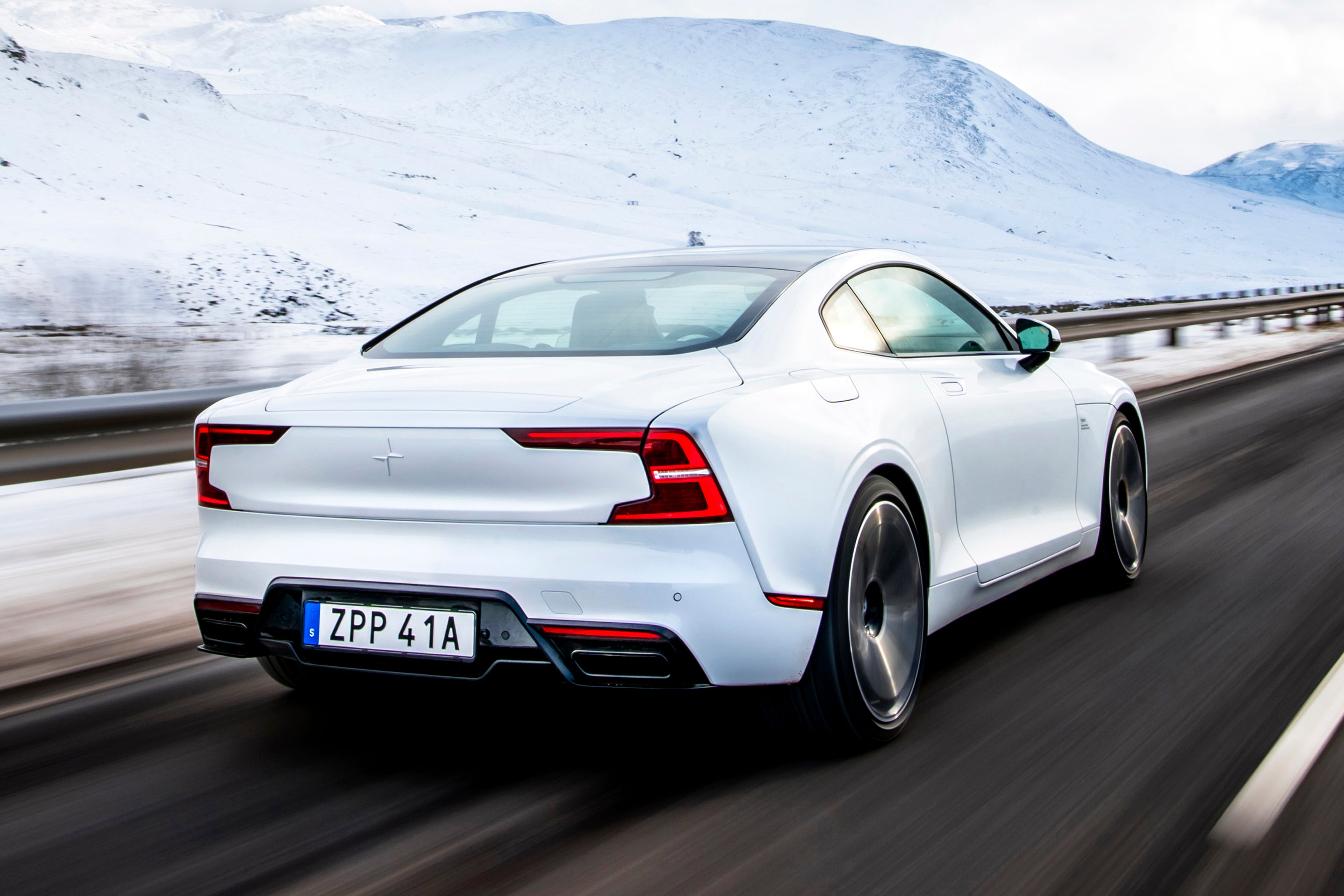 With a list price of £140,000 when new, there are few used bargains to be had.
Trim levels and standard equipment
Polestar likes to keep things simple, so the Polestar 1 doesn't come in 'base model' guise. It also doesn't have an extensive options list. It is produced with the best equipment all fitted as standard. Polestar offers a simplified matrix of colours and materials that allows customers to make an easy, hassle-free purchase.
Five exterior colours are available in either a gloss or matte metallic finish. The Polestar emblems on the front and rear of the car match the exterior body paint colour in a matte finish, adding a subtle, elegant touch. Three wheel finishes are available – diamond cut, matte black or glossy black – along with a choice of either chrome or glossy black brightwork, and Charcoal or Zinc Nappa leather for the front seats. That's it. All available equipment is fitted as standard and all the above items are no-cost options, with the exception of matte paint.
Keep me updated by email with the latest advice, news and offers from heycar
By submitting, you agree to our
privacy policy
.
Popular models
Similar models