Written by
heycar editorial team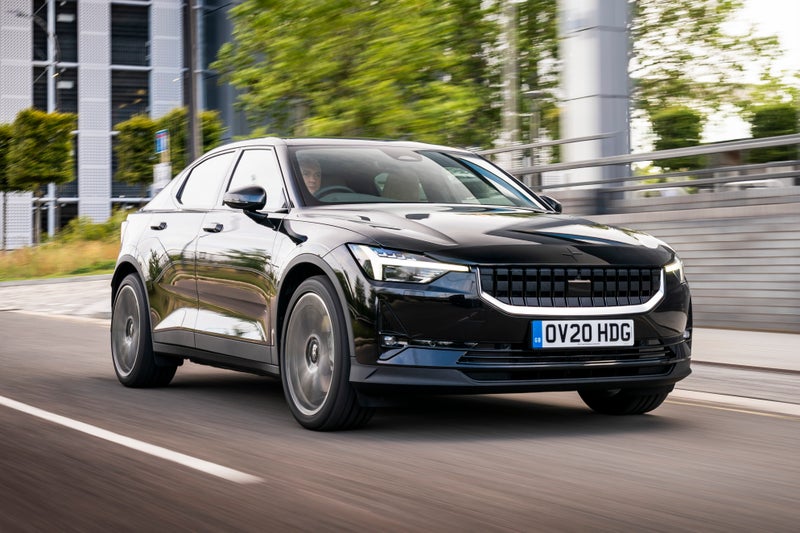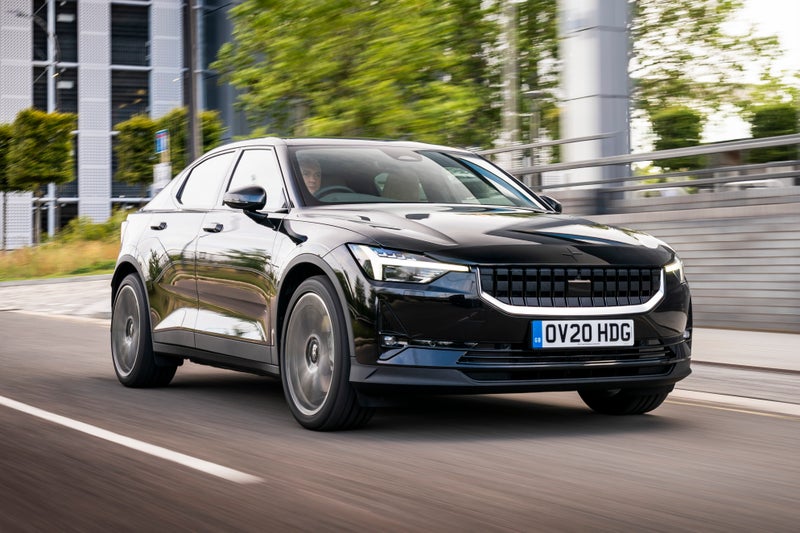 1/10
heycar rating
"Easy to love Scandi-cool EV"
Launched: 2020

Family hatch

EV
Quick overview
Pros
Minimalist Scandi-cool design
Decent build quality
Easy to live with
Cons
No Apple CarPlay
Tesla Model 3 is quicker and has better range
Lack of on/off button will be unsettling for some
Overall verdict
On the inside
Driving
Cost to run
Prices and Specs
Common questions
Overall verdict on the Polestar 2
"Fancy a family-focussed electric vehicle with a sporty edge? Then the Polestar 2 could be just what you're after. This mid-size five-door hatchback has 291 miles of range, loads of space and – best of all – feels like a proper car."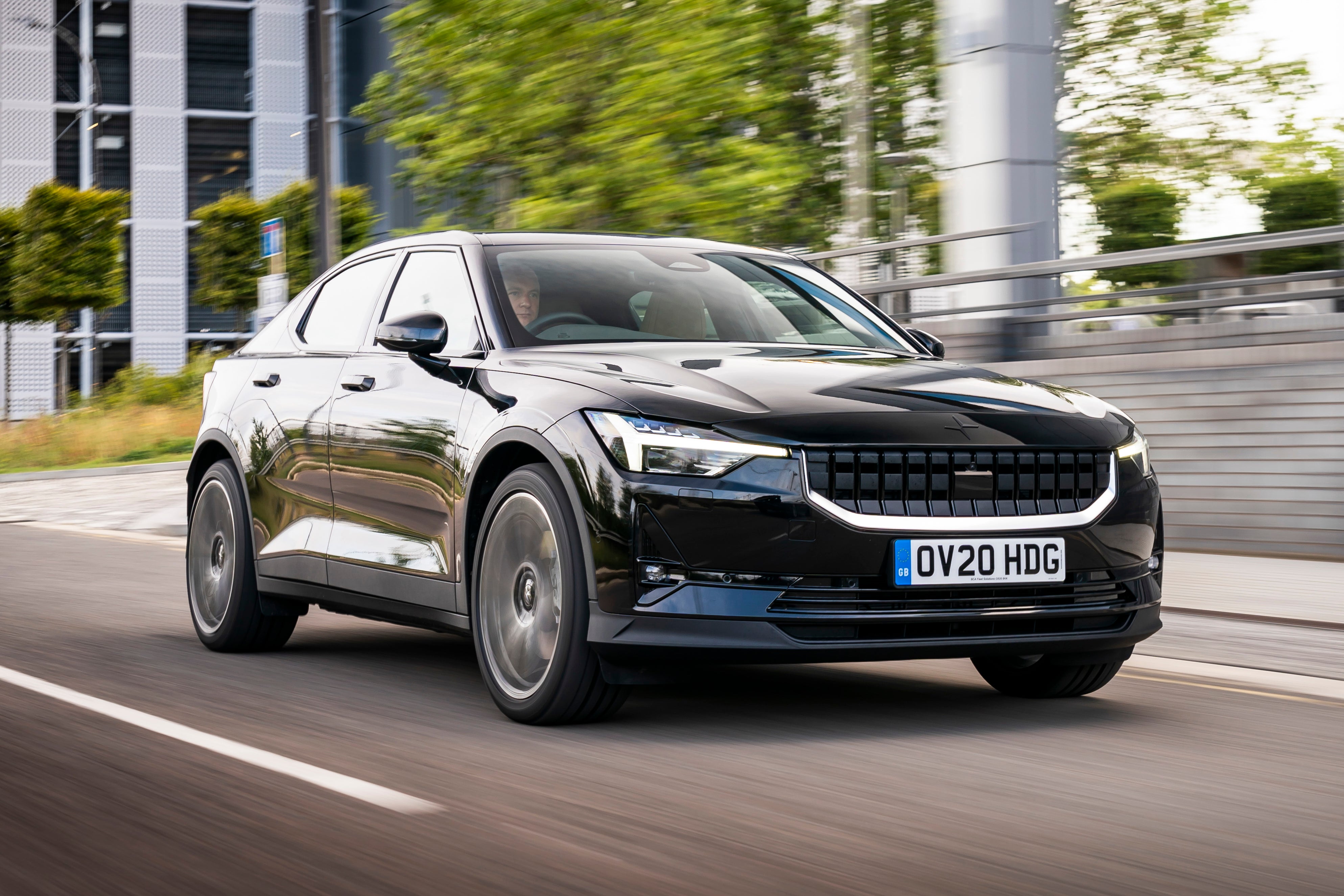 That's because the Polestar 2 has been put together by the same company that owns Volvo. Why does that matter? Well, whether you love or hate the Tesla Model 3, one thing that you can't argue with is the below-par build quality. A Model 3 might be the electric car to have right now, but the panel gaps are terrible, there's usually condensation in the lights, and we haven't even mentioned the fact that it doesn't have a proper dashboard…
So if you want to spend your day twisting your head to look at an iPad glued to the centre of a dash to find out your speed, go for it. Personally, we're more a fan of cars that don't give you neck ache, so the Polestar 2's digital dials are welcome. And also very cool.
A lot of EVs struggle with their design. They either try to look like a boring normal car or some messed up vision of the future. Polestar have got a good balance with the Polestar 2's Swedish minimalistic vibe definitely standing out against the – er – 'roundness' of the Model 3. Although the Polestar 2's coupe-esque lines do mean a slight compromise when it comes to rear headroom for taller adults.
Where the Polestar 2 can't quite compete with the Model 3 is on battery performance and range. The Tesla is quicker from 0-62mph and offers more miles per charge. But depending on the amount of miles you do, you could argue that once you've got a battery that's good for 250 miles, range isn't so much of an issue. Few drivers will clock up more than 300 miles a day, and those that do will rightly still be in diesels. So if you have a home charger, any EV that offers you 250 real-world miles shouldn't cause you too much of a headache.
From launch, Polestar's kept things nice and simple and only offers the in one trim level, though there are now three 'Packs' to pick from (Pilot Lite, Plus and Performance) that bring a number of extra features that allow you to tailor the car to your needs.
Both the Tesla and Polestar handle brilliantly, but while the Tesla has the edge in a straight line, the Polestar 2 feels much better through the bends. Both cars are heavy, so which one you like driving best will likely come down to personal preference and how you use your car.
While it wasn't available at launch, the Polestar 2 now gets Apple CarPlay support, while there's also Android Auto, which makes using voice commands to turn on the air con as simple as it always should've been.
Is the Polestar 2 right for you?
If you've had an eye on an EV for a while, but wasn't that impressed with the build quality or user experience of the Tesla Model 3, then the Polestar 2 will suit you. Sure, the Model 3 might be a bit quicker and offer a few more miles, but this is a decent rival that's built like a proper car.
What's the best Polestar 2 model/engine to choose?
The Polestar 2 was initially launched with one trim level that was powered by a dual motor that delivered a range of up to 299 miles and a 0-60mph time of just 4.5 seconds.
Since then though Polestar's also launched a single motor option available in two flavours - a long range model with a range up to 336 miles and a standard range model with a WLTP range up to 294 miles. Both variants accelerate to 60mph in 7 seconds.
The single trim level available with the Polestar 2 means that to customise it via one of the three packs available (or select all three if you've got deep pockets). The Pilot lite pack (at £2,150) includes things like a 360-degree camera and adaptive cruise controls, while the Plus pack (£4,000) includes luxuries like a panoramic roof and a Harman Kardon premium sound system.
The Performance pack (£5,000) does want it says on the tin and beefs up performance (though only available with the Dual motor version), with a software upgrade that sees the 0-60mph time drop to 4.2 seconds and power increased to 475PS (up from 407PS).
For many buyers, range will be more important that performance, so we reckon the single long range motor Polestar 2 is the one to go for with the Plus pack added.
What other cars are similar to the Polestar 2?
The electric car landscape has changed quite a bit since the Polestar 2 arrived. If you're looking for an affordable tried and tested family electric car, then the Nissan Leaf is better value for money and there are lots around on the used market. However, it's not in the same league as the Polestar 2.
You could splash out and pick up one of the more premium offerings like the Jaguar I-Pace, Audi e-tron or Mercedes EQC. Also look at the Volkswagen ID.4 and its Skoda stablemate the Skoda Enyaq iV. If you like the Scandi design, Volvo has its own EV in the shape of the Volvo XC40 Recharge. And how could we forget the electric Kia EV6 and Hyundai Ioniq 5 - possible the most complete electric cars to date.
Comfort and design: Polestar 2 interior
"Inside, the Polestar 2 is a really relaxing place to spend time – as long as you don't mind the expanse of black and charcoal. The seats are comfortable and supporting while all the controls are logically laid out."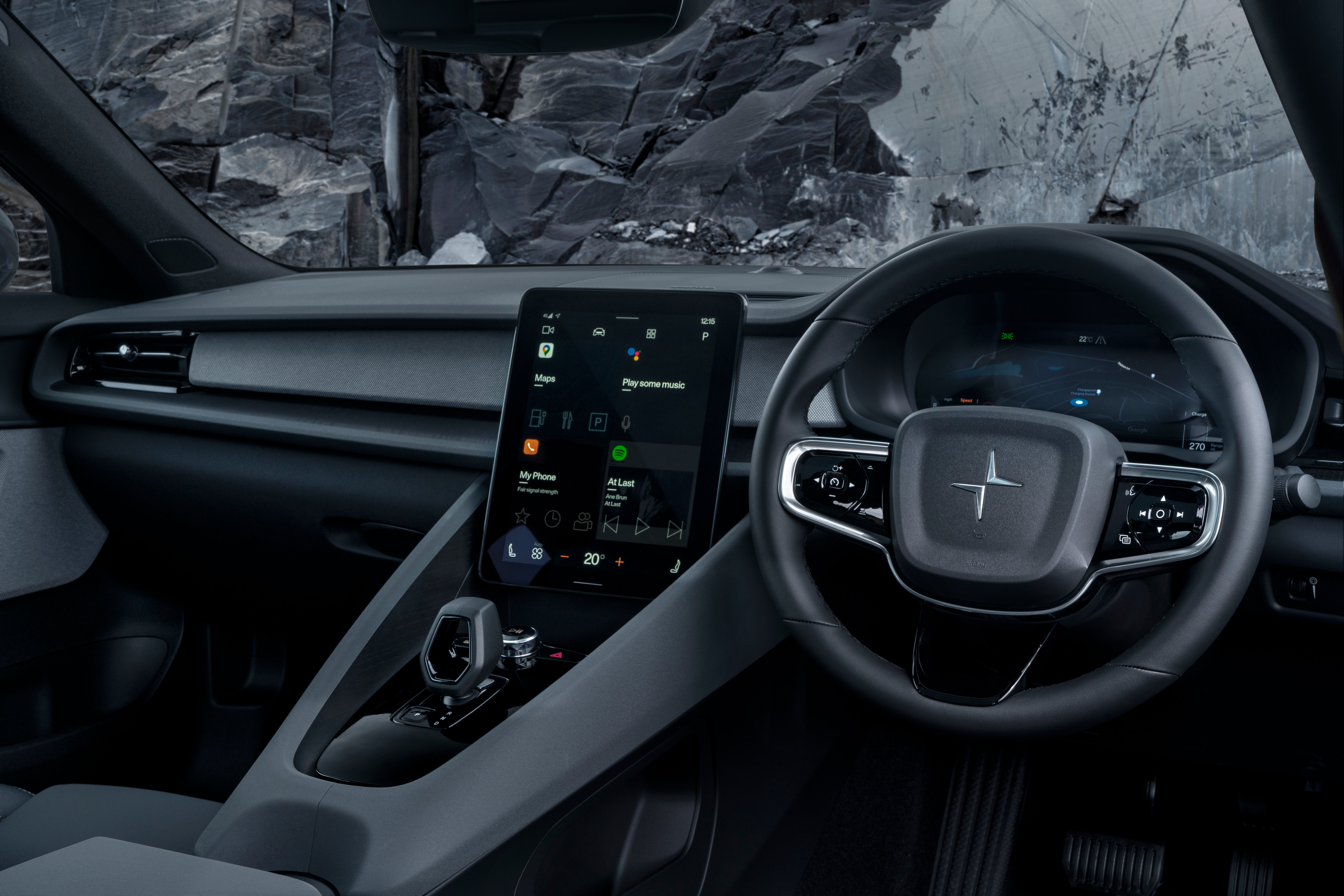 One big difference to regular cars is the lack of a start button with the Polestar 2. You pull the door handle to unlock the car and the car 'wakes up' as soon as you sit in the driver's seat. From there, just select a gear (drive or reverse) and off you go. It's the same procedure in reverse to stop the car… which can take some getting used to.
There are some neat design touches, too. Most noticeable are the Polestar 2's gold seatbelts, which can be accented with gold brake callipers and gold dust caps on the tyres. Other highlights include the 'Thor's Hammer' daytime running lights and the rear taillight that stretches across the boot and wraps around the car.
Then there are the frameless door mirrors, which means that when you adjust the mirrors the whole unit moves. The theme is continued inside with the frameless rear-view mirror.
The design team have gone out of the way to make the Polestar 2 'feel' safe. Which is a curious psychological trick that involves huge A-pillars and dashboard that reaches quite a long way into the cabin, hampering visibility. Thankfully, there's a 360-degree camera – pretty much essential as visibility out the rear window is poor.
As is the key, which is best described as a horrible square piece of plastic. But with a digital key on the way (where you can use your smartphone to unlock the car) presumably, it will be confined to the drawer of lost things never to be seen again.
Which is a shame, as overall we think the design of the Polestar 2 is a good balance of modern lines with a refreshing lack of showiness. One plus point is the lack of panel gaps (often a criticism of some of the Polestar 2's tech start-up rivals).
Quality and finish
When it comes to the interior of electric cars, it can be a mixed bag. The Nissan Leaf, for example, has great seats but is let down by an infotainment system that feels like it's from the past century. While the Tesla Model 3 struggles to provide a quality interior that matches the price tag.
The Polestar 2, however, has almost got it right. For a start, there's plenty of good quality plastics and it's not until you reach the car's lower echelons that you find some lower grade plastic.
The company has clearly benefited from its relationship with Volvo as the steering wheel and switchgear are straight out of the Swedish company's cars. There are lots of nice touches like a vegan interior (although a leather one is available) and an illuminated Polestar badge that sits in the sunroof.
In all, it's a really good effort – but there some niggles. The wipers need to be recalibrated so they don't hit the A-pillar, while the side air vents on the dash feel very cheap.
Infotainment: Touchscreen, USB, nav and stereo in the Polestar 2
As you'd expect from any would be Tesla rival, the infotainment system in the Polestar 2 is dominated by a 11-inch tablet that sits in the centre console. It's from here that you'll access all of the key functions: navigation, music, phone and settings.
Thankfully, there are still some physical buttons such as a rear boot release, front and rear window defrost and hazard warning lights, but anything else is on the touchscreen. This includes the heating controls which are available on the home screen. We'd prefer they were 'always there' occupying the space at the bottom of the tablet, but they do disappear.
This is where Google's Android Automotive comes in. Different to Android Auto, Android Automotive allows you to use voice commands to change the car's settings. For example, you can say: 'Hey Google, set the cabin temperature 20 degrees.' And it does so with incredible reliability, allowing you to turn the rear screen heaters on and all manner of things. If you already use a Google Android-driven device, the interface 'knows' your voice so it should work even better.
And, of course, if you're a paid-up member of the Android ecosystem then you'll be familiar with Google Maps as your navigation tool while you can access your Spotify to stream music or access the music on your smartphone via Bluetooth.
Apple CarPlay wasn't available with the Polestar 2 initially, but the good news is that this has now been resolved.
The location of the screen in your peripheral vision means it's not quite as intrusive as some other systems. However, the Polestar 2's interface does need a tweak as some of the menu icons are far too small to jab at with your finger when you're on the move. We'd always advocate the use of a separate control – it's so much safer.
Space and practicality: Polestar 2 boot space
The Polestar 2 has been designed with families in mind. There are 405 litres of rear boot space that's easily accessible via the hatchback. This can be accessed hands-free and the sensor claims to be 'extra wide' – we certainly had no trouble getting it to open.
There is a slim boot lip, but you have plenty of options for storing items. There are cargo nets and tethering points, while half the boot floor folds up – handy if you need to separate items or stop your shopping bags rolling about.
If you need a bit more space, there's a ski hatch to help you carry long items or you can take advantage of the 60/40 rear seat split. Be warned though, they don't fold completely flat.
Storage in the front trunk (or 'frunk'...) is pretty minimal. It's where you'll keep the charging lead and find the car's jack and tyre kit (there's no spare wheel). According to the specs, there are 35 litres available but really you're not going to be doing more than stashing a medium backpack in it.
There's plenty of rear legroom and shoulder room for rear-seat passengers, but the central tunnel means that sitting three across the back won't be comfortable for long periods of time. Taller passengers may also have to shrink down in their seat as well because the car's coupe-like lines eat into rear headroom. There are no such problems up front, though, with plenty of space for driver and passenger.
There's also some decent storage space, with door bins for larger items and two cup holder located in the centre armrest. One of those is for very short drinks, however, because the armrest slides over the top of it. You won't be putting a bottle of Evian in there, that's for sure. Other mineral water brands are available.
If you've got young children to carry, you'll find Isofix points in the rear and front passenger seats (the airbag can be deactivated if you've got a rear-facing child seat). And entrance in and out the car isn't too bad – although again those coupe lines make the door aperture a little tight.
Handling and ride quality: What is the Polestar 2 like to drive?
"There's no other way of putting it – the Polestar 2 is sensational to drive. Everything about it inspires driver confidence in a way that many EVs never quite seem to get right."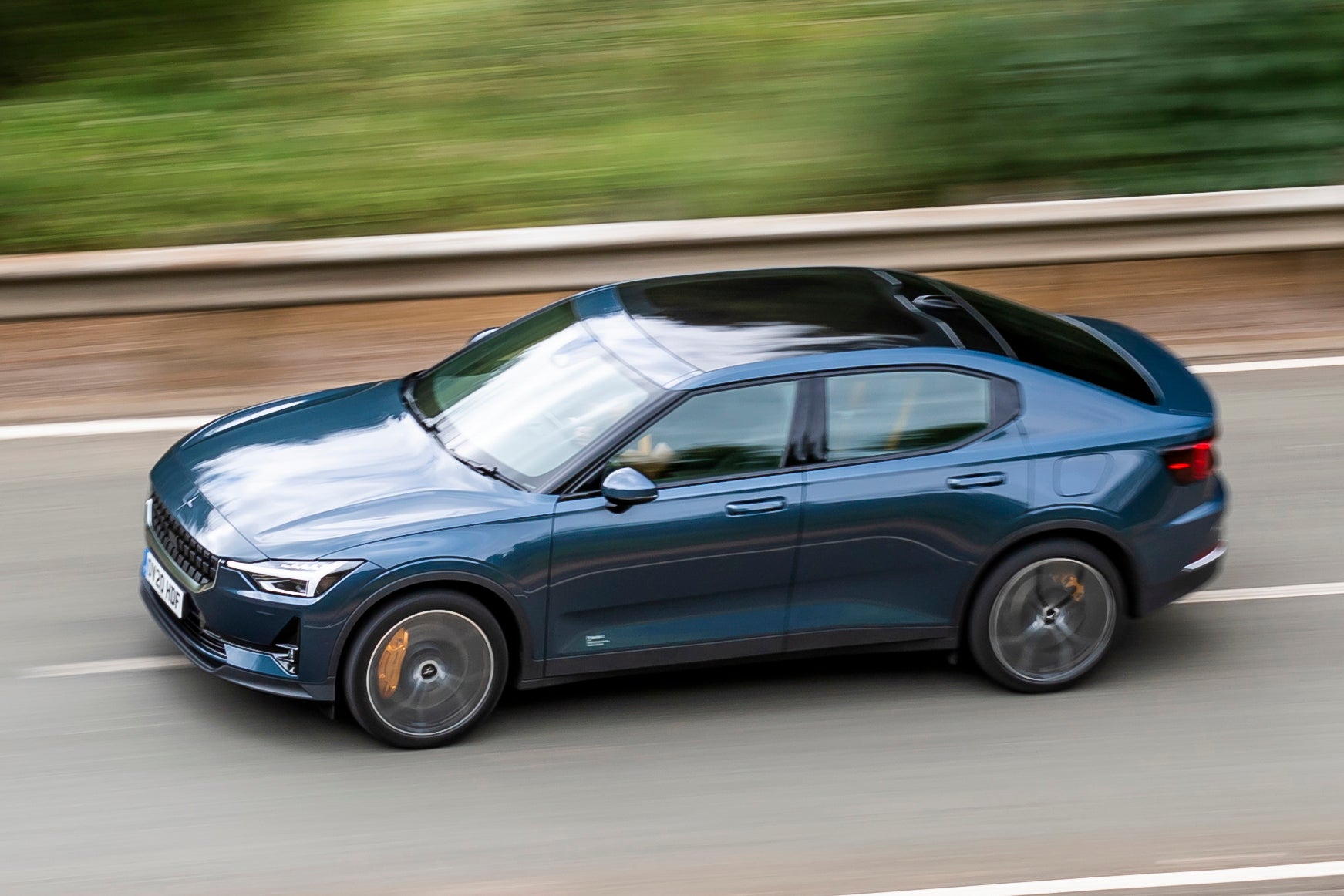 Teslas, for example, are great in a straight line but you'd never want to push them too hard through the bends. A big part of that is how the car communicates information to the driver.
As with all modern cars, EVs use electric steering which can be hard to get right. The very worst systems are numb, completely lacking feel and often carry a 'dead zone' in the centre where steering inputs seem to have little consequence. Of course, this is to make driving around town feel easy, but as speed increases the dead zone must be dialled out. On the whole, the Polestar 2 gets this mostly right – but don't expect any feedback if the wheels start to lose grip.
One thing that can't be mitigated is the car's heaviness. Again, all EVs are heavy thanks to the weight of the battery packs they have to carry around. Here, the Polestar 2 uses that weight to its advantage to deliver a sense of firmness and stability. The steering has three adjustment levels, but some drivers used to smaller vehicles may find that it takes some getting used to.
Standard cars get 19-inch wheels, but go for the Performance Pack (an extra £5k and you get 20-inch wheels, gold Brembo brake callipers and manually adjustable dampers).
It's not an upgrade we'd recommend. While the brakes are excellent, the 20-inch wheels simply increase the road roar. And then there's the high-performance manually adjustable dampers. That's right – manually adjustable.
Whereas premium rivals like BMW and Audi offer various damper settings from within the car, if you want to make any adjustments to the Ohlins suspension fitted here, you'll need to take the car to a dealer...
Over poor road surfaces you might find yourself cursing the high-spec suspension as it's often a case of too much information. The chassis remains fidget-free, though, but we certainly wished for a way of calming the dampers down, especially on poorly surfaced motorways.
Of course, the payoff is that out on the open road you are free to explore the car's sure-footed handling. That said, we'd much prefer an adjustable suspension system that allows you to select 'comfort' or 'sport' from the driver's seat.
What engines and gearboxes are available in the Polestar 2?
The dual motor Polestar 2 comes with a 78kWh battery and offers a WLTP range of 299 miles but expect to see anywhere between 250-270 miles under real world driving conditions, depending on the kind of driving you do. Hopefully, that should be enough to cover most daily journeys. If you're doing more miles, chances are you'll be stopping at a motorway services for lunch so can charge the car up while you get a coffee.
The arrival of a single motor Polestar 2 brings with it more choice, with the entry-level standard car almost matching the range of the dual motor car at 294 miles and some £6,000 less than the dual motor car, with prices starting at £41,900. Splash out a further £3,000 and the long range single motor Polestar 2 has an official range of up to 336 miles.
Overnight charging from an 11kW wall box will take roughly eight hours – just enough time for you to get some sleep before you hit the road again. Sure, it's not as impressive as say a long-range Model 3, but being able to offer 250 real-world miles a day seems to be the point where most drivers stop experiencing range anxiety.
Of course, what's really going to win buyers over is the performance. With no engine revs to chase, turbos to spool up, or manual shifts to crunch, the power and torque is ready to go whenever you need it. The dual motor Polestar 2 packs 407PS and 660Nm… or about the same as a Mercedes-AMG C63, with the single motor Polestar 2 producing 331PS.
The official 0-60mph time is 4.5 seconds of the dual motor car, but it definitely feels quicker. And, of course, all that is readily available in the crucial 30-60mph range, which makes light work of nipping past a truck or overtaking a caravan going uphill on a crawler lane.
Out on the motorway, the car has plenty of power available with a top speed of 127mph. What that means is that the Polestar 2 doesn't struggle at motorway speeds, unlike some other EVs which seem to run out of steam after you get to 70mph.
Maximum EV range in the Polestar 2
The dual motor Polestar 2 has a WLTP range of 299 miles. That's more than its main rival, the Tesla Model 3 (although the long-range Model 3 boasts 353 miles on a charge), but down on newer rivals like the Kia EV6, with the all-wheel drive car delivering an impressive range of 416 miles.
It's a similar story for the single motor long range Polestar 2. Range is good at 336 miles, but again the (albeit less powerful) rear-wheel drive EV6 able to go for up to 459 miles between charges.
During our time with the dual motor Polestar 2, we charged the battery to full and it offered a range of about 277, which feels about right. Of course, this will vary depending on the weather conditions and the type of driving you do.
For example, you can expect this to fall to 211 during motorway drives in colder months, while warm days nipping around town should see you easily get 260 miles.
Refinement and noise levels
When it comes to refinement, all electric vehicles have the same problem – there's no internal combustion engine to drown out the various rattles and shakes. Thankfully, manufacturers have made great steps to tackle this in the form of improved soundproofing and offering high-end stereos to make the most of the aural atmosphere.
Some manufacturers have worked to provide a nice electric car soundtrack, but this is conspicuously absent from the Polestar 2. We could probably live without the 'woosh' noise when accelerating but overall EVs must announce their presence to pedestrians. A silent EV is a huge potential problem for passers-by that are hard of hearing.
From the driver's seat, the Polestar 2 is quite refined with a little road roar. But we can't help but feel its rather un-aerodynamic nose creates a bit more wind noise than some of its rivals.
Cars fitted with the Performance Pack get 20-inch wheels which increase the tyre noise and firm-up the ride, but the Polestar 2's build quality is more than able to cope.
Another welcome refinement is the car's ability to offer 'one-pedal' driving. Taking your foot off the throttle in an EV causes the car to coast along but 'one-pedal' systems apply the brakes as you lift off to harvest some energy. It might sound cumbersome, but it's an excellent system and there are options to vary the amount of stopping power (or turn it off completely).
Safety equipment: How safe is the Polestar 2?
As you'd expect from a brand with such strong links to Volvo, the Polestar is well-equipped when it comes to safety.
For a start, you get gold-trimmed seatbelts. These aren't necessarily any safer, but they do remind you that it was Volvo which invented the three-point safety belt. And they look amazing.
There's lane-keeping assistance and driver attention monitoring, as well as various pre-collision warnings and interventions. That means if the system detects a collision is imminent (both front and rear) it can intervene with steering and braking.
On top of that you also get a multi-function 360-degree camera. This detects other vehicles, pedestrians and cyclists, informing the front and rear parking sensors. But it also reads road signs and displays them on the 12.3-inch driver display.
There's also a full range of airbags, including inner-side airbags designed to protect the driver and passenger from a side impact. Other safety equipment includes auto-dipping headlights that follow the road to improve visibility on twisty bends and turning in dimly lit areas.
Charging times: how much does it cost to charge the Polestar 2?
"As a rough guide, fully charging a Polestar 2 will add about £8.50 to your electricity bill each time."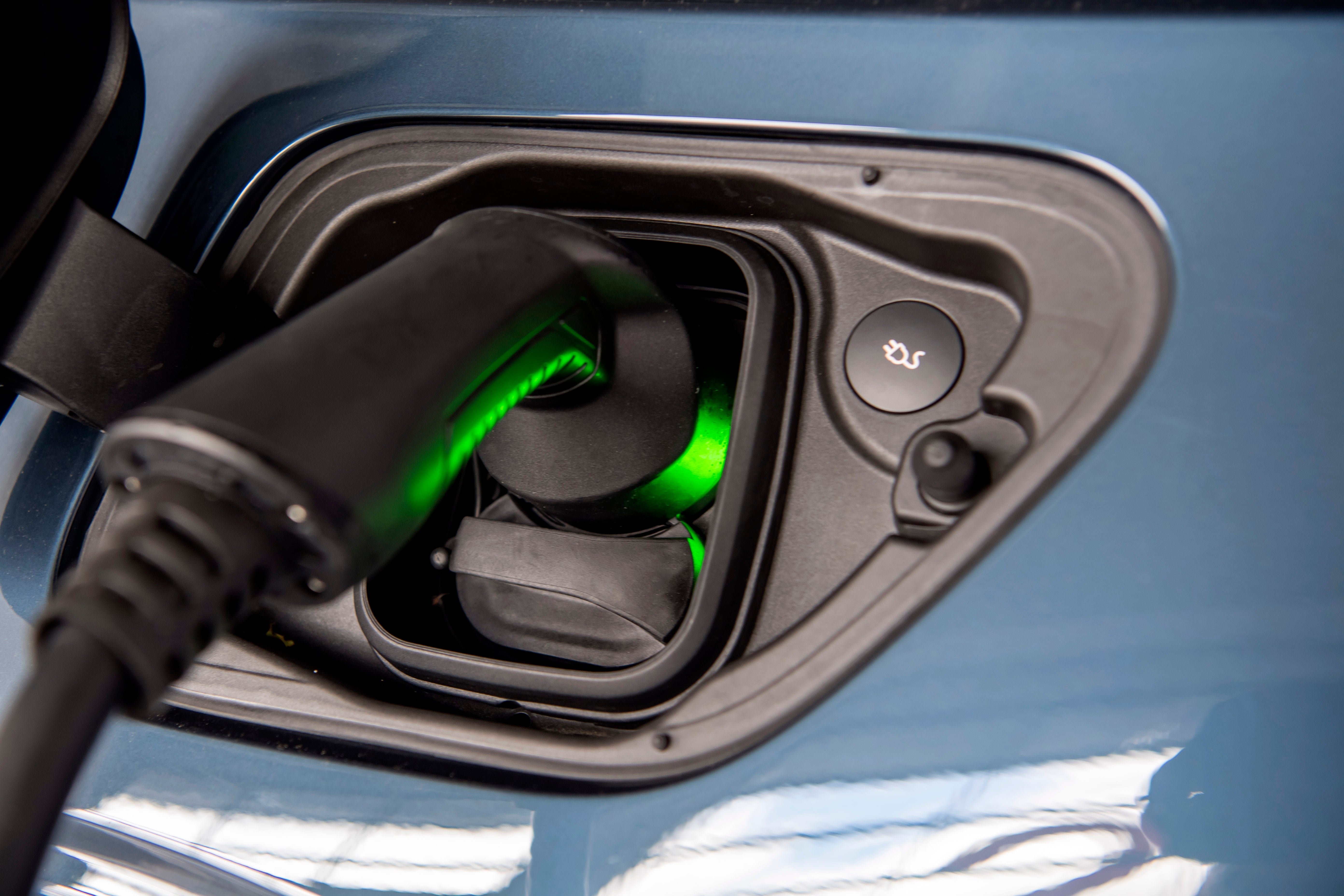 This makes it a lot cheaper than putting petrol or diesel in your tank. And while some people might consider it a bit of a hassle to charge a car, it's really very simple – just plug it in when you park up for the night.
Of course, as EV batteries are able to offer more power and range, that means they do need more juice. So it'll take 40 hours to charge the car from a 220v supply or 24 hours from a 3.7kw. If you've got an 11kw wall box charger (and we always recommend you do), you're looking at cool eight hours. Plug in at a 100kW quick charger (like the ones you see at motorway service stations) and you'll be looking at a charge of 0-80% in about 35-40 mins.
In reality, if you cover 1000 miles a month or 250 miles a week, then you'll only need to charge it once a week.
Insurance groups and cost
Insuring a Polestar costs a little more than a rival premium executive car. While non-premium EVs such as the Nissan Leaf start in Group 21, the dual motor Polestar 2 is in group 46.
That's pretty much on par with this end of the market. Other cars in the group 46 band include the Audi RS6, the BMW 7 Series, Range Rover and, er, Jeep Cherokee.
That means the best way to keep the insurance cost down is to be able to garage the car, live in a low-crime area, and possess a clean licence. Easier said than done, but if you can afford just shy of £50k for a Polestar 2, you're probably not too fussed.
However, the arrival of the single motor Polestar 2 means insurance has got better, with the lowest insurance group a much more palatable 34.
VED car tax: What is the annual road tax on a Polestar 2?
Like all zero-emissions vehicles, the Polestar 2 is exempt from paying road tax. The government has promised that this status is guaranteed to last until 31 March 2025, so during that time you'll be saving yourself quite a tidy little sum.
If you live in London, the Polestar 2 will also be Congestion Charge and Ultra-Low Emissions Zone exempt, so you can drive it freely into the heart of the city without needing to pay (as long as you've registered the car first).
It's similarly kind to your wallet as a company car. It costs you nothing in salary contributions for the first year, making it one of the cheapest ways to handle daily commuting.
How much should you be paying for a used Polestar 2?
"Despite being such a strong contender, Polestar is expecting sales volumes of the 2 to be quite modest."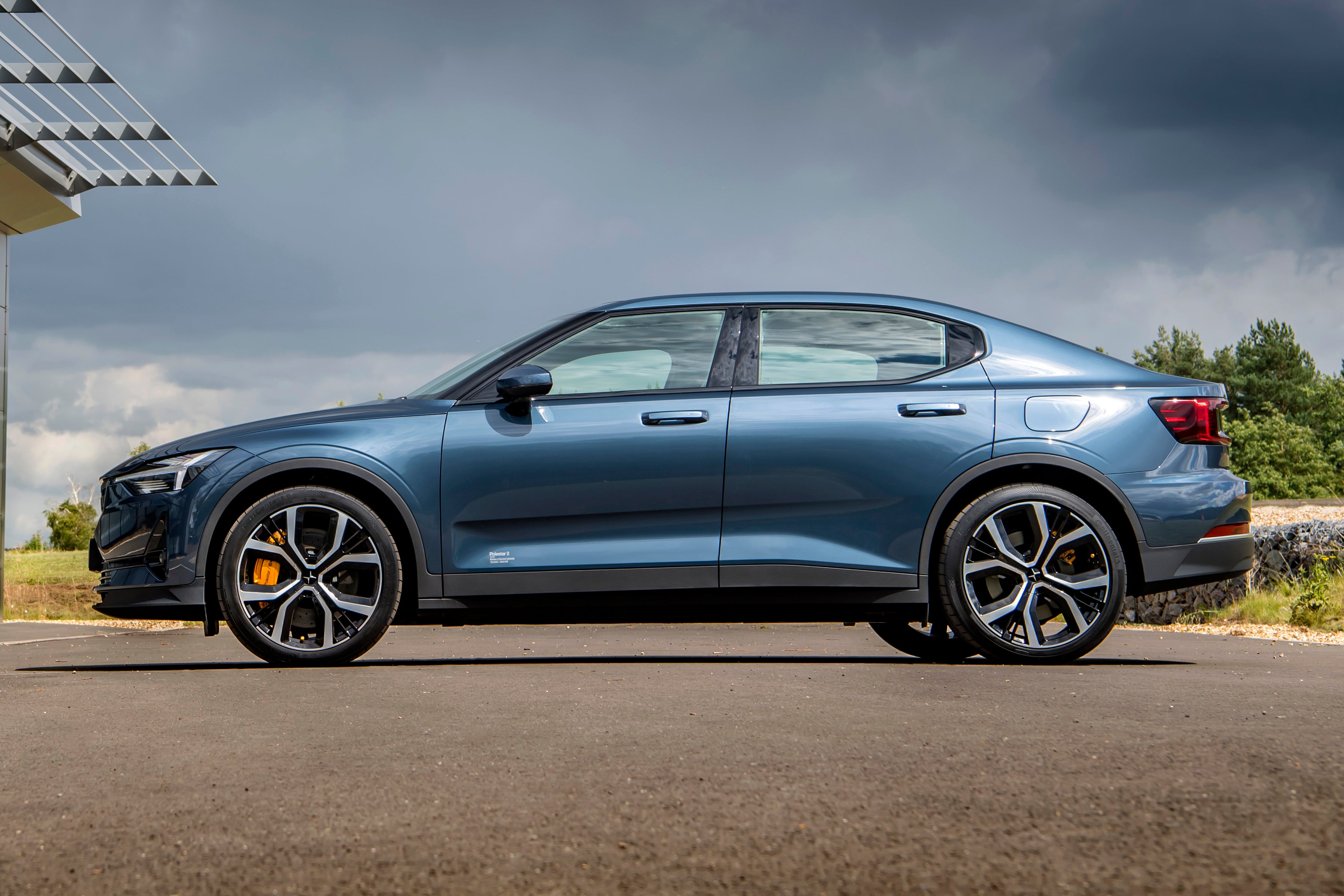 Prices for a new Polestar 2 start at £41,900 for the standard single motor car, rising to 44,900 for the long range single motor car and hitting £47,900 for the dual motor Polestar 2. That's all before options and packs though.
Used Polestar 2s car still in short supply, while prices for a second hand example starting at around £45,000 for a nearly-new single motor example.
Trim levels and standard equipment
There is only one trim level available, so let's take a look at what comes as standard with the Polestar 2.
Whatever Polestar 2 you plump for, it comes with a decent set of features as standard. This includes Google Built-in (including Google Maps, Google Assistant and Google Play), an 8-speaker stereo system, dual-zone climate control, 4 USB-C connectors, a rear view camera, LED headlights, heated front seats, rain sensors, an electric tailgate and keyless entry and start. 19-inch alloy wheels are also standard.
If you want more, you'll have to choose from one of the three 'packs'. Pilot lite includes a 360-degree camera, adaptive cruise control, Pilot Assist, Blind Spot Monitoring and Rear Collision Warning.
The Plus pack includes a panoramic sunroof, Harman Kardon sound system, full electric seats with 4-way lumbar support, heated rear seats and tinted rear window.
The Performance pack (only available on the dual motor Polestar 2) gets a performance software upgrade (boosting power to 475PS and reducing the 0-60mph time to just 4.2 seconds), 20-inch alloy wheels, gold Brembo front brake calipers, Ohlins shock aborbers and gold valve caps.
Ask the heycar experts:
common questions
Who makes the Polestar 2 car?
The Polestar 2 is made at the Luqiao factory in China, which is owned by Geely Holdings but run by Volvo (and which also makes the XC40).

Answered by
Lawrence Allan
Is Polestar a Volvo?
Volvo bought Polestar in 2015 to be its specialist performance arm - a bit like AMG is to Mercedes or the M-Division is to BMW. Polestar is now jointly owned by Volvo Cars and Geely Holding Group.

What is a Polestar 2?
The Polestar 2 is an all-electric five-door hatchback that goes head-to-head with the Tesla Model 3.

Keep me updated by email with the latest advice, news and offers from heycar
By submitting, you agree to our
privacy policy
.
Popular models
Similar models