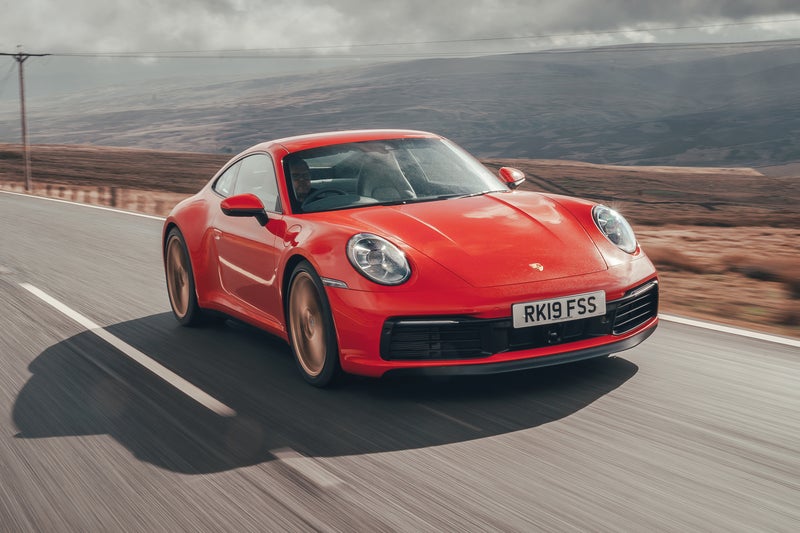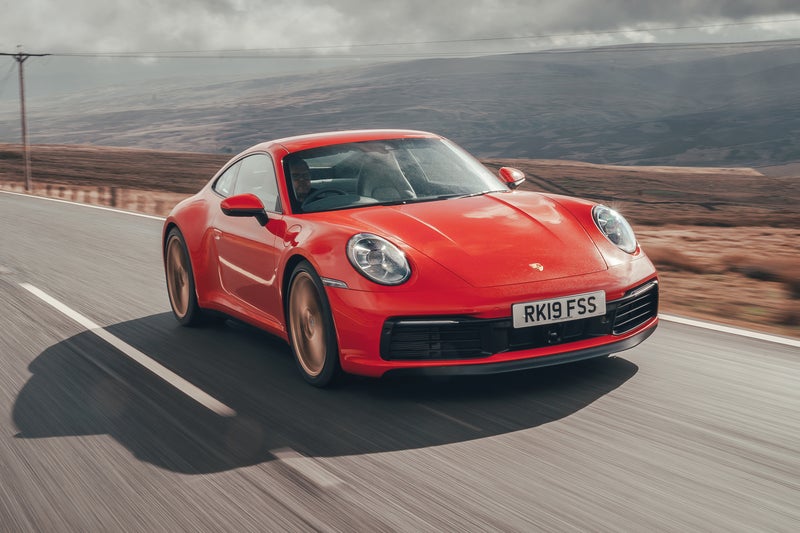 1/10
heycar rating
" Enduring, iconic useable sports car"
Launched: 2019

Performance

Petrol
Quick overview
Pros
An incredibly capable all-round sports car
Instantly recognisable and hugely desirable
Its usability doesn't come at the expense of driver engagement, it still among the best there is
Cons
With every generation it's gotten ever-bigger, this one feels it on the road
If you're an Android user you'll need to buy an iPhone, Porsche only does Apple CarPlay
Extensive and expensive options are required to make it as brilliant as it can be
Overall verdict
On the inside
Driving
Cost to run
Prices and Specs
Common questions
Overall verdict
"The Porsche 911 is the world's most enduring and recognisable sports car."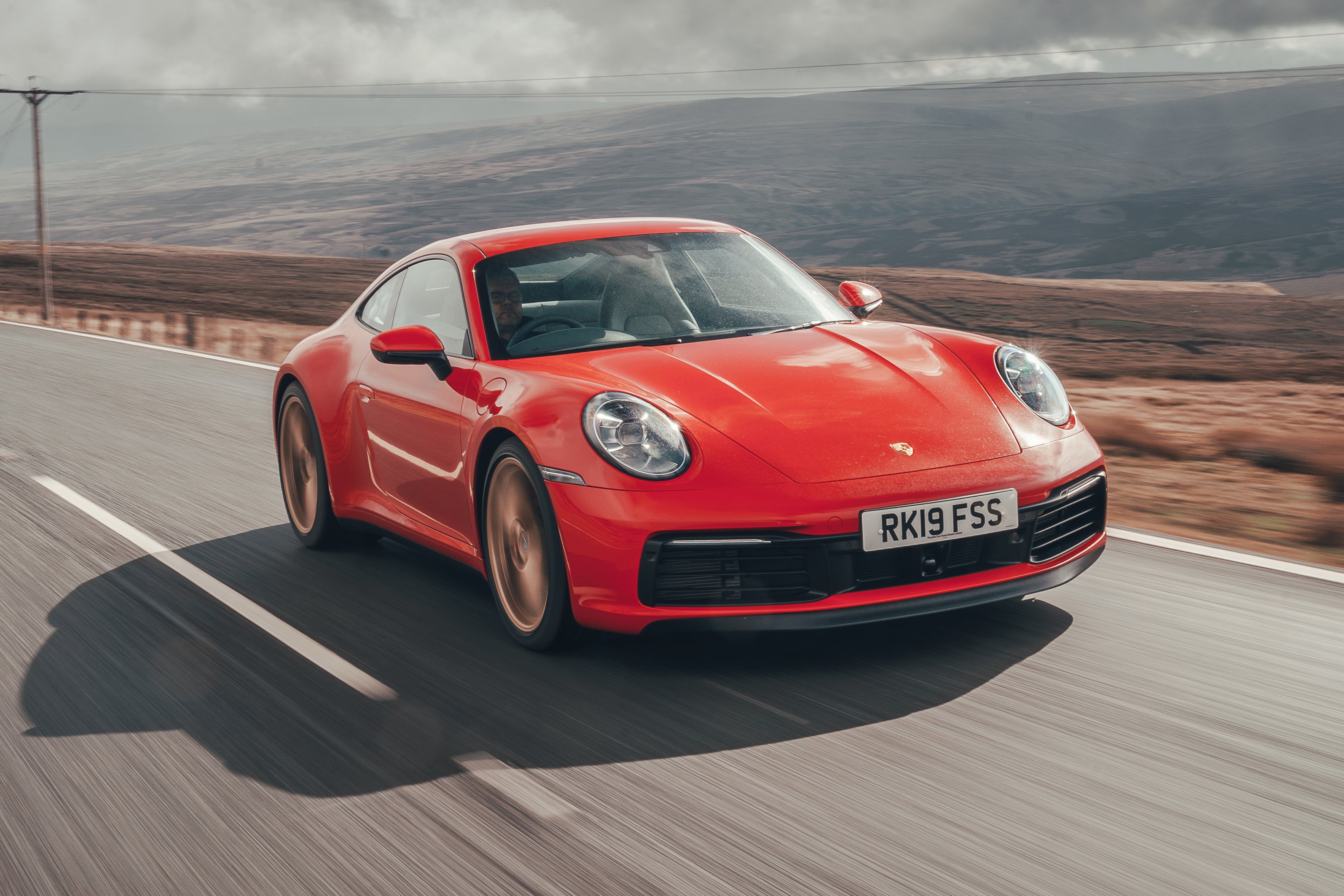 It has been around since 1963, Porsche continually evolving its evergreen sports car, not just for the road, but for racetracks globally, where it's won in every category it's ever been raced in. From Le Mans to Daytona, to your garage then, the Carrera name itself means race in Spanish, while the Targa badge – affixed to the folding hardtop version – celebrates Porsche's success with the 911 in the legendary Targa Florio race in the 1970s.
Its success hasn't just been on the race track, the 911 having sold over 1 million examples since the 60s, with the current 911 Carrera, described as the 992 model, having been introduced in 2019. It's the eighth generation of 911, and like its predecessors it's offered in a variety of guises, in coupe, cabriolet and Targa body styles, with rear- or four-wheel drive, in standard Carrera, Carrera S or range-topping Turbo S forms.
To that already extensive line-up Porsche will add a GTS trim, as well as more focussed track-biased models from its Motorsport division, badged GT3 and GT3 RS – these different enough to warrant their own review. On occasion Porsche produces other special editions and models, too, celebrating significant anniversaries, dropping weight, adding power and all sating collectors' desires for low volume, often numbered models.
The latest special is the Targa 4S Heritage Edition, but history is littered with evocative 911 badges like R, T, Sport Classic, Speedster and GT2 RS among others, which Porsche occasionally re-visits and re-invents.
To the standard myriad of possibilities the Carrera S can be had with a manual transmission, other options across the line-up sharpening up further how your 911 drives, with cost options like the Sport Chrono Package, Sports Chassis, PCCB (Porsche Carbon Ceramic Brakes), PDCC (Porsche Dynamic Chassis Control) all allowing you to tailor your 911 to however you want it.
Power for the standard 911 Carrera is 385PS, from a turbocharged 3.0-litre flat-six engine, with the Carrera S upping that output to 450PS. At the top end of the 911 pile is the Turbo S, which has a 3.8-litre turbocharged engine that delivers an incredible 650PS output and levels of performance that was once the exclusive preserve of hypercars.
Even with that surfeit of power, the Turbo S retains the usability of its Carrera relations, the 911's enduring success largely down to its unusual usefulness against its sports car contemporaries. A 2+2, with a pair of, admittedly small, rear seats you can get children in the back seats, of fold the seatbacks and use the space for additional luggage capacity.
The 911's engine configuration of being a flat, boxer unit, and its positioning in the rear, behind the rear wheels facilitates that good-sized cabin, as well as allowing a deep luggage compartment under the front bonnet.
That unusual engine position did, with early 911s, make them tricky, demanding cars to drive quickly, earning the 911 a reputation as a proper, exciting drivers' car, which took talent to exploit its performance. With every generation Porsche's engineers have made it ever easier to drive and more surefooted and predictable, but they've done so without sacrificing the core driver appeal that makes the 911, any 911 an absolute joy to drive.
The consummate all-rounder, the Porsche 911's enduring appeal is largely thanks to its huge bandwidth, not just in performance and capability, but also its usability. And that's rare in this class. It's not only one of the best sports cars you can buy, but one with GT and supercar genes in the mix, it driving exceptionally, looking sensational and being beautifully built, too.
If you're looking for the older version, you need our Porsche 911 (2015-2019) review.
Is the Porsche 911 right for you?
The 911's enduring success is in no part because it's right for you, and for everyone else. There really is a 911 to suit anyone, from the most basic Carrera right up to the awesome performance offered by the Turbo S, be it closed in coupe form, open as a conventional cabriolet, or as a Targa – the Targa not offered in range-topping Turbo (capital T, all 911s being turbocharged these days) form.
There's the Carrera 4 if you want your 911 a bit more surefooted, rear-wheel drive if you're more of a purist, likewise the availability of a manual with the Carrera S, Most buyers go for the ease and speed of Porsche's PDK paddle-shifted eight-speed automatic transmission, though.
The Turbo and Turbo S are all four-wheel drive and PDK, and for all the sensational performance on offer from all the comfortable, connected, upmarket interior makes the 911 a consummate GT car, or a practical, easy daily driver.
What's the best Porsche 911 model/engine to choose?
With performance ranging from spectacular, to other-worldly in that Turbo S, it's down to your expectations and, ultimately budget. Prices range from Just over £80,000 for a 911 Carrera to nearly double that for the Turbo S. That's before any options, of which there are plenty to pick from, this level of sports car buying very much in the same vein as bespoke tailoring, so you can easily add 10-20%, or even more, to your 911's price by adding options.
For the purest driving experience then a Carrera S with a manual gearbox and sports chassis is absolutely sublime while for head-turning looks and the choice of open or closed the Targa is difficult to beat. A Carrera 4 or 4S with a ski rack on the roof is the perfect shuttle for your ski trips, while if you want rock-solid high-speed stability and eye-widening acceleration then the Turbo S will take you to 200mph and beyond with impunity. All are very good at everything though, but just how good depends entirely on how you specify it.
What other cars are similar to the Porsche 911?
The 911 model line-up has such breadth you really can pitch it against anything from things like the higher performance Jaguar F-Types for the Carreras, right up to V12 Ferraris and Lamborghinis in its fastest 911 Turbo S form.
Obvious rivals include the Aston Martin Vantage, any of the V8 Ferraris, McLaren 540/570C and McLaren 600LT to the Lamborghini Huracan. To that lot you can add the Nissan GT-R and things like Audi R8s, Mercedes AMG GT,the Honda NSX and plenty more.
Indeed, the 911's range of ability pitches it against some more grand touring cars, too, so you might have one instead of a Bentley Continental GT or something like a BMW M8. Much to every other manufacturer's chagrin with the 911 Porsche pretty much has an answer to any sports/GT/super car question.
Comfort and design
"Instantly recognisable outside the interior of the 911 shares many styling cues with its predecessors, too"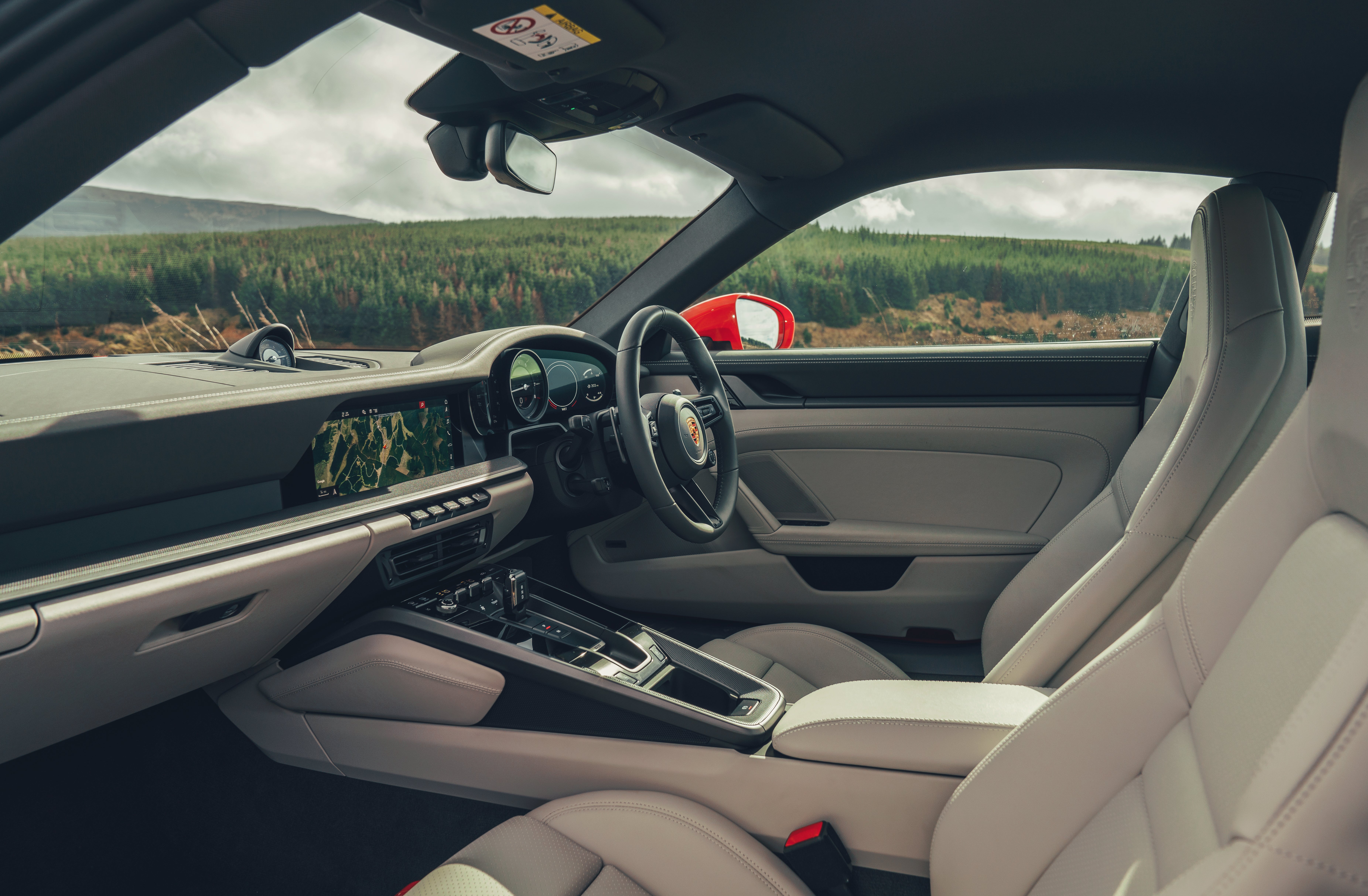 What's immediately familiar is the instrument pack ahead of you. A large rev-counter dominates your view ahead, it remaining analogue, with two screens either side aping the shape of the remaining four round instruments of classic 911s, but being configurable to display one of the many mapping, drive or entertainment functions.
t's modern then, but very closely linked visually to all the 911s before it. There's a small shelved edge spanning the dashboard too, its design a nod to the 993 series 911 from the 1990s, while everything, from the 911 typography – nodding to 70's and 80's cars – to the steering wheel design has a reverential link to Porsche's history."
It's cleverly done, too, as while it's clearly very Porsche and driver-centric, the overall look and feel is modern and functional. Standard seats vary depending on the model, but the Sports seats will suit most drivers, it possible to add greater electrical adjustment over the standard 4 way electrical movement, as well as heating and ventilation.
Tick the box for Sports Seats Plus for greater bolstering and a tighter embrace, while Sports Bucket Seats, optional as you climb the range, gain even tighter support if you're planning on taking your 911 to the odd track day. The view out is great, the driving position excellent, which is a good thing, as driving it is core to the 911's appeal.
We'll give Porsche a pass for the silly little gear selector on the PDK, but it's definitely one that needs looking at for the eventual facelift.
Quality and finish
The 911 is a premium car, priced accordingly, and there's some expectation that along with its performance it'll feel luxuriously appointed inside, too. That's true here, gone are the days of 911s with old-looking, if robust interiors, the modern 911 is a car that mixes excellent performance with a very high quality, beautifully finished materials in its cabin.
To get the very best look and feel you do admittedly have to start ticking some options, with the extended leather trim to cover the dashboard top and door tops/trims an absolute must-have extra, while things like contrasting stictching colours, and coloured seatbelts help make it feel even more special inside, too.
There's plenty of opportunity to choose your finishes inside, from soft leather and Alcantara to metal, carbon fibre and even wood trims in a variety of colours and finishes to your choice, and if they're not on the configurator, Porsche's Exclusiv (sic) department can fulfil almost any wish – at a price – covering everything from the steering column to the air vents in leather. Alternatively you can just option the cool Heritage Design Package or Exclusive Manufaktur leather interior, the latter coming as standard with the Turbo.
Infotainment
The entertainment is in the drive, but the 911's breadth of ability makes it a very accomplished daily driver, so the infotainment offering is important. It's all centred around a large 10.9-inch touchscreen in the middle of the dash. You can swipe an pinch for the nav, there's app connectivity, Apple CarPlay – no Android Auto, Porsche customers are apparently Apple customers says Porsche – 8 speakers, DAB, Bluetooth connectivity, a pair of USB connectors and voice control activation.
The menu system takes a bit of learning, but is configurable, with it possible to programme shortcut buttons for favourite functions, while a good deal of the operation is replicated via the steering wheel controls and small right hand screen within the instruments. Thankfully, unlike the Panamera, Porsche has kept the ventilation and heating controls independent of the touchscreen control, with physical buttons in the transmission tunnel, that a very good thing indeed.
Obviously there's the possibility to have higher grade audio added, with the BOSE upgrade a worthwhile spend at £1,000, it being a 12 speaker set-up with 570 watts, though if you really love your music, the optional Burmester system comes with 13 speakers and 855 watts of power, adding a whole new level of sound to your listening experience – it's not cheap, though.
Space and practicality
The most practical of sports cars, the 911 is genuinely a car that can be driven every day to the office, then spend the weekend thrashing around a track. A good deal of that is down to its spacious interior, the 911 a 2+2, with a pair of small, but not entirely useless rear seats in the back.
You can squeeze a couple of kids back there in their car seats (clipped into standard ISOFIX mounts), and, if you really need to four adults will fit, if those in the back are small, flexible and friendly, and those in the front are prepared to drive/sit with their knees perilously close to, or touching the dashboard. We'd not recommend it, then, but it is possible.

Use those seats for children then, or as additional luggage space to supplement the deep 132 litre front boot, that volume enough to take a couple of carry-on bags and a couple of small soft bags. If they're not occupied, the seat backs fold to provide a flat ledge that's better suited to popping luggage on, while also protecting the seat's upholstery.
If that's not enough space, there are roof rack mounts if you want to carry bikes, skis or anything else, Porsche offering mounts for all of these, and people genuinely do use their 911s like they might an ordinary family car as a result.
That's a good part of the 911's appeal, because it's weekend car you can enjoy all week, without most of the compromises associated with its rivals, in the super or sports car sphere. Oddment storage throughout is decent, too, with a lidded compartment between the front seats, decent-sized door bins and a glovebox, as well as a pair of cupholders in the dashboard.
Handling and ride quality
"With nearly six decades of engineering having gone into it, the 911 has all but removed the problems caused by its somewhat unusual rear-engined layout, while maximising the advantages it brings – notably traction."
The handling in all remains characteristically 911 in how it drives with that weight in the rear inevitably coming into play, but it's easier to exploit, and hugely enjoyable, and with limits so high that you'll never be breaching them on the road.
All come with PASM (Porsche Active Suspension Management) a variable damper system that allows a choice between damper modes, with extra control of these if you opt for a Sport Chrono package. The body control in all is exemplary, it cornering flatly, the steering response excellent from the base Carreras right up to the Turbo S.
Four-wheel drive in the Carrera 4s adds to the surefootedness, particularly in the wet, but all 911s have an electronic drive system that recognises if the road's wet and adjust the driver aids (WET mode changing the traction control, stability control, brakes and even how the gearbox shifts and throttle mapping) accordingly to allow safe progress.
There's masses of grip, huge traction and the brakes in all, whether standard, or the optional PCCB (Porsche Carbon Ceramic Brakes) are incredible. It feels resolute on the road, allowing you to enjoy its performance at any speed, the detailed feel, feedback and responses it gives being key to its driver appeal, and what marks it out from its many rivals. The coupes are a bit purer to drive than the cabriolets, while the Targa, only offered with four-wheel drive 4 form, is the heaviest, and feels it on the road – in comparison.
As ever there are ways of making it faster and more engaging still, with options like a lowered Sport Chassis, rear-wheel steering, Porsche Torque Vectoring Plus, PDCC (Porsche Dynamic Chassis Control) coming either optionally, or are added to the standard kit as you climb the model range. All these only work to enhance the 911's capabilities further still, but in honestly a base 911 Carrera doesn't feel like you're missing out on anything, but then the Turbo S is little short of incredible. The ride is firm in all, but it's not so uncompromising to be an issue, and entirely worth it for the agility and poise on offer from all.
Engines and gearboxes
The 911's engine placement is unusual, and so too is its configuration. Only a handful of manufacturers make boxer engines (Subaru another of note) where the cylinders are laid out in a flat configuration. That allows the 911's engine to be as compact as possible, which is necessary given where it's located. All are turbocharged, forced induction not now exclusively for the range-topping Turbo S model, with the Carreras 3.0-litre flat-six petrol engine having a pair of turbochargers on it.
In the Carrera that delivers 385PS and 450Nm of torque, enough to get it to 62mph in 4.2 seconds (or 4.0 with the Sport Chrono pack) and a 182mph top speed. Choose the Carrera 4 or the Cabriolet/Targa and you gain a couple of tenths to those times and lose a couple of mph off the top speed.
The Carrera S gains another 65Hp from the same base engine for a 450PS and 530Nm, it seeing its top speed rise to 191mph and its 0-62mph drop to 3.7 secs in the best configuration, with it again rising slightly with the Cabriolet/Targa models and depending on whether or not you've optioned Sport Chrono – which really should be a default tick-box option on all.
Go for the range-topping Turbo S (the Turbo following soon with slightly less power) and the flat-six gains 800cc for 3.8-litres and gets faster-acting, more sophisticated turbocharging to deliver a faintly ridiculous 650PS and 800Nm of torque.
That's enough to rocket the Turbo S to 62mph in 2.7 seconds and on to a 205mph top speed in coupe guise, with the cabriolet taking 2.8 seconds and still topping out at 205mph. Those figures are conservative, Porsche always erring on the cautious side, with all being a little bit faster in perfect conditions.
The Carrera and Carrera S models are rear-wheel drive, the 4s are, unsurprisingly four-wheel drive, as are the Targa and Turbo models. All come with a PDK eight-speed automatic with paddle-shifters, with the Carrera S models offered as a seven-speed manual – which ups the interaction more, but all but a handful of buyers pick it, instead preferring the ease of the PDK.
All 911s are quick, their turbocharged nature making them even more so, more of the time, with huge flexibility from lower revs, but still with the incentive to rev them out if the road/track ahead is clear…
Refinement and noise levels
Typically, the 911's Achilles heel is refinement, particularly in relation to road/tyre noise. It's better in this 992 version of the 911 than it's ever been, but the combination of focussed suspension and huge rubber contact patches with the road does still mean on poorer surfaces you'll hear some tyre noise.
It's at its worst on combed concrete, and expansion joins on motorways can result in some slap through the suspension, but, in fairness, it's not markedly worse than most of its similarly focussed, high performance competition in this regard, after all, there has to be some compromises somewhere.
In relation to other sounds, if anything the 911 is too quiet, particularly around its engine, meaning you'll need to pay more for the switchable sports exhaust, which really should be standard on a car like this. Wind noise, even at the high speeds the 911 is so easily capable of, is nicely hushed.
Safety equipment
The 911 might be a high performance sports car, but it's a safe one. Along with excellent brakes, stability and traction control system, the 911 actually recognises if the road is wet, and changes the characteristics of the drivetrain to suit.
In addition to the sophisticated drive settings there's an emergency call system (in the EU) full-sized, two stage front airbags, Porsche Side Impact Protection with a head/thorax airbag for the driver and passenger, brake assist and ISOFIX mounting points for a pair of child seats in the rear, or an optional ISOFIX mount in the front passenger seat. There's tyre pressure monitoring in all, too.
Front and rear park assist is standard, with Porsche's more sophisticated driver aids all being on the options list. Porsche InnoDrive adds adaptive cruise control with predictive speed adjustment to the equipment for £1800, while there's a night view system, Lane Change Assist and Lane Keeping Assist systems all in the cost options if you want them, too.
MPG and fuel costs
"The Carrera models, whether standard, S, Cabriolet, 4 or Targa – or a mix of them – all deliver an official combined economy figure of between 25-27mpg."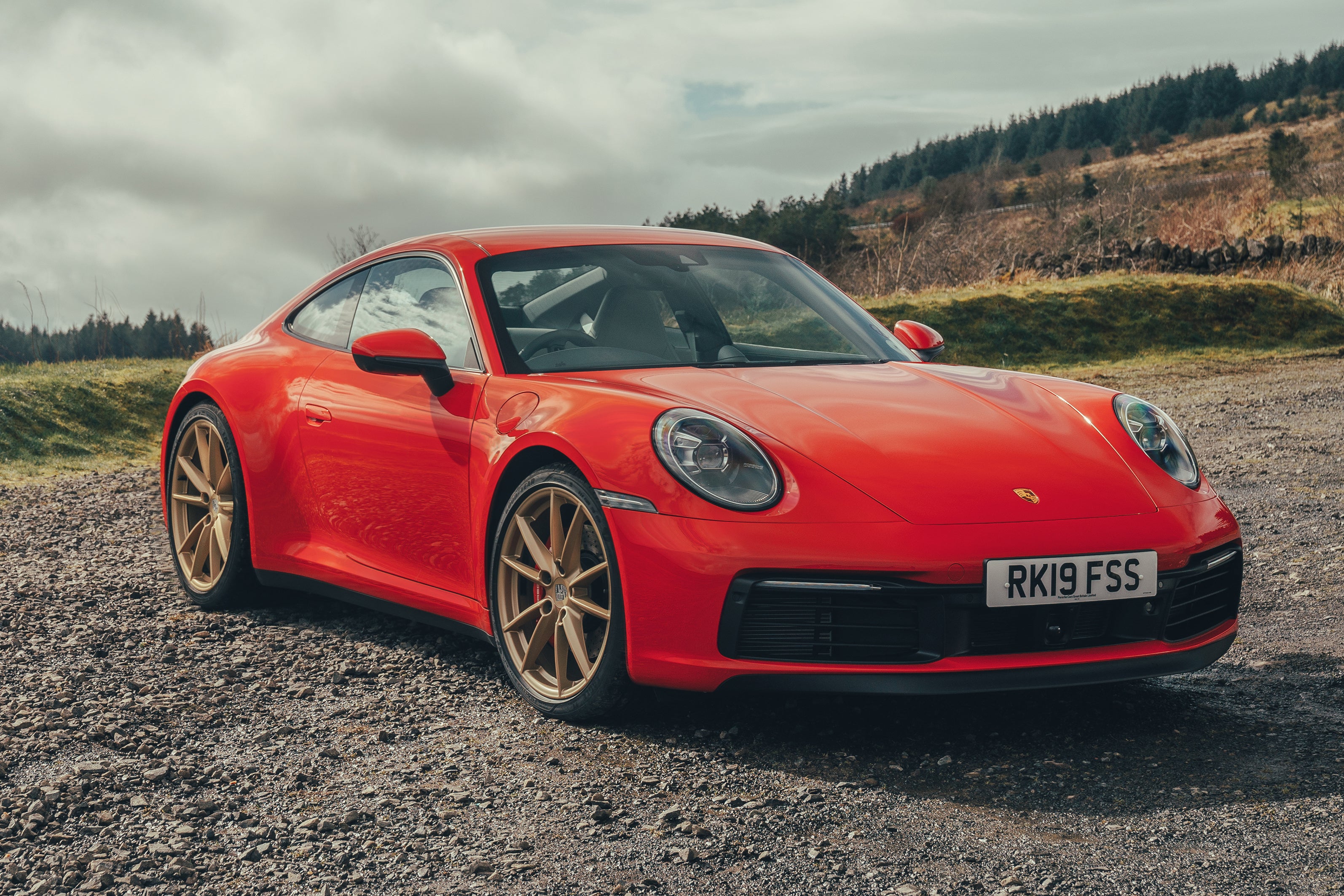 That figure is actually achievable and can be surpassed on a longer run. No hybrids to assist that, yet, but Porsche is said to be working on one. The Turbo S drops that to around 23mpg, and, like the rest of the range, significantly less if you're using all its performance.
Insurance groups and costs
In its base form the 911 is a hugely fast sports car, so you can expect to pay handsomely to insure it. Group 49/50 is a certainty then, though you're unlikely to be new to sports cars, so your insurance broker should be able to find you a good deal.
VED car tax
At its very best a standard Carrera emits 233g/km of CO2 which means a first year VED charge of £1,850, the rest of the Carrera range – all models – able to just sneak in under the 255g/km top payment barrier. None are less than £40,000 new, so you'll pay £475 a year for the first five years of ownership, before it reverts to £150 annually, unless, of course, that changes in the next five years – as is entirely possible.
How much should you be paying for a used Porsche 911?
"The 992 series Porsche is, in 2020, only a year old, so while there are used models out there don't expect too much choice."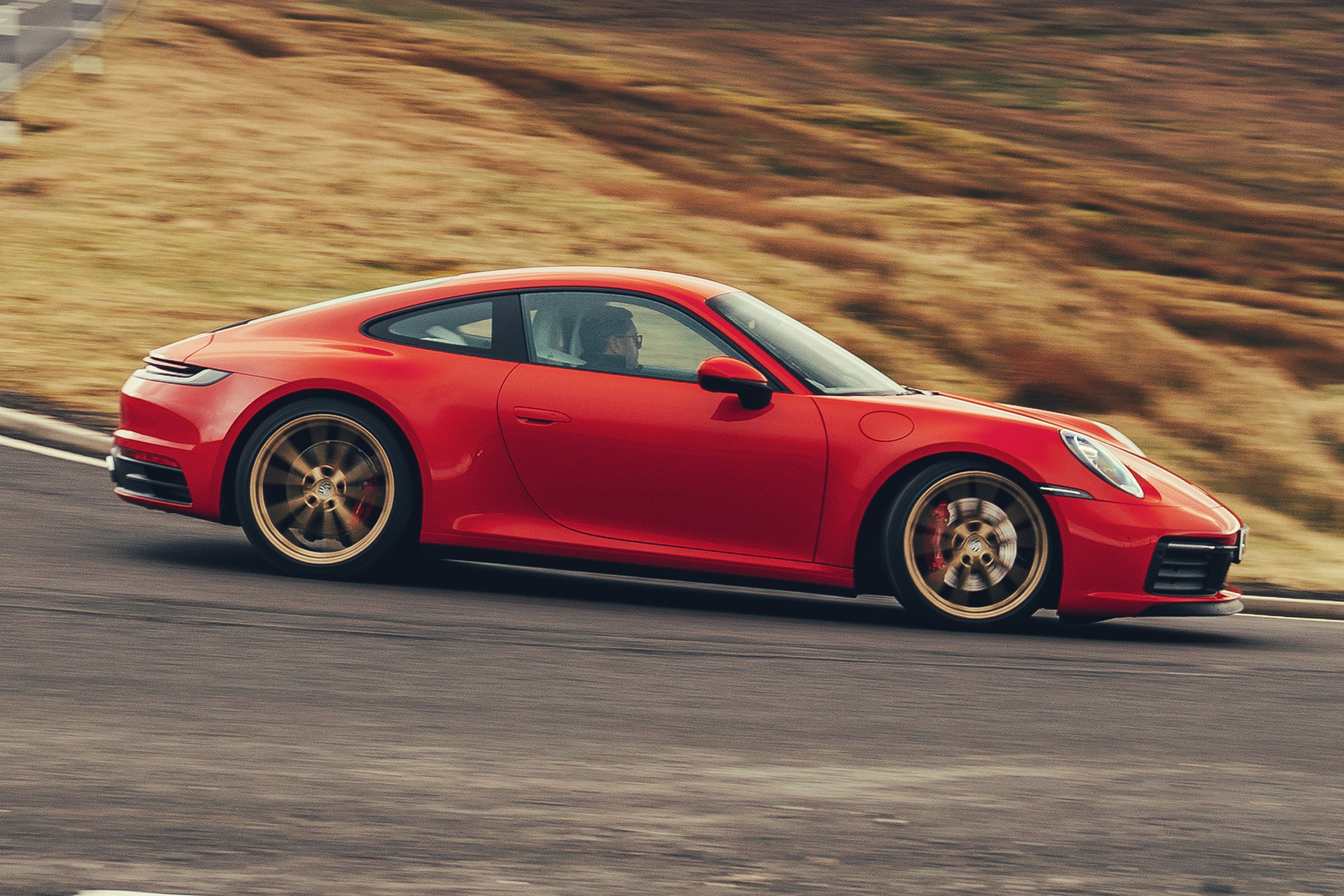 Prices start from about £85,000, for a Carrera with a few thousand miles and a respectable specification, with Porsche dealers having the widest choice of used examples, most with near delivery mileage and prices reflecting that, and their immediate availability/comprehensive extras added on. Don't expect any bargains, then, at least not for a few years.
Trim levels and standard equipment
Carrera – 19-inch front 20-inch rear alloy wheels, DAB, Bluetooth, Apple CarPlay, PASM, LED running lights, 2-zone automatic climate control, heated Sports Seats, leather upholstery, multifunction steering wheel, cruise control and a 10.9 inch centre display
Carrera S – over Carrera – 20-inch front 21-inch rear alloy wheels, six-piston red painted brake callipers with larger discs, Porsche Torque Vectoring with differential lock
Turbo S – over Carrera S – all-wheel drive, Porsche Dynamic Chassis Control, PCCB brakes with yellow painted 10-piston callipers, Sport Chrono Package, Track Precision App, Turbo styling, Porsche Dynamic Lighting Plus, 18-way electrically adjustable seats with Driver Memory Package, two-tone leather and BOSE audio
Carrera 4, Cabriolet and Targa models all feature the same equipment as their coupe alternatives.
Ask the heycar experts:
common questions
How many different body styles are there of the 911?
Although the 911 started its life as a two-door coupe, Porsche soon capitalised on its success by introducing a targa (with a removal roof section and glass rear screen) and then a cabriolet version in 1983, and it has sold 911 convertibles ever since.

Answered by
heycar editorial team
Which is the best version of the 911?
This question really depends on what you want from your sports car. The standard Carrera is a brilliant all-rounder. For track drivers, the motorsport-inspired GT3 is the ultimate 911, and limited edition versions like the 911R are excellent investments.

What does the 911 in the name stand for?
Originally, Porsche wanted to call its 911 the 901 - its internal codename - but French brand Peugeot protested that it owned the rights to that name. Rather than rebrand for just one market, Porsche swapped a number and an icon was born.

Porsche 911 cars for sale on heycar
284
Number of cars available
£78K - £280K
Price bracket of these cars
Colours available on heycar
Keep me updated by email with the latest advice, news and offers from heycar
By submitting, you agree to our
privacy policy
.