Porsche 911 (2015-2019) Review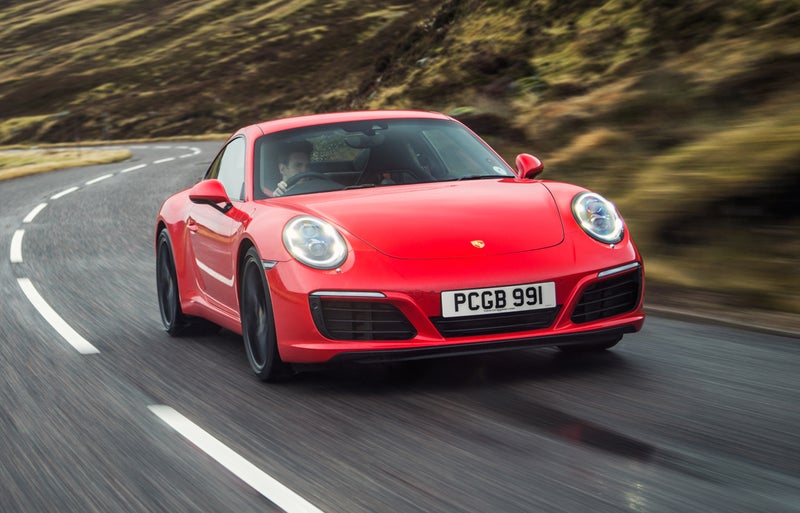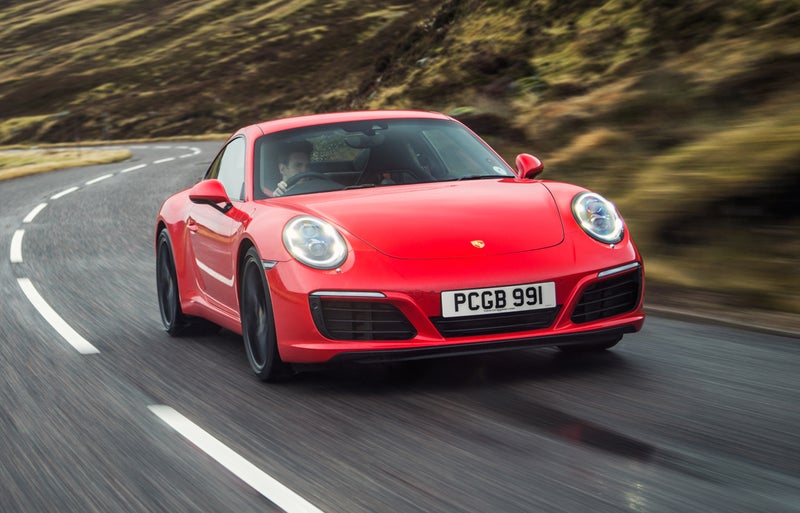 1/10
heycar rating
"The definitive every day sports car"
Launched: 2015

Performance

Petrol
Quick overview
Pros
Incredible performance in all models
Surprisingly composed and practical
Class-leading handling and agility
Cons
Very expensive, yet lacks basic kit
Punitive servicing and maintenance costs
Rear seats are only for kids
Overall verdict
On the inside
Driving
Cost to run
Prices and Specs
Overall verdict
"No matter which version you choose, the 911 is a thrilling sports car that is stunning to drive and feels beautifully made. It's one of a handful of high-performance cars that you could easily drive every day, although the cabin and infotainment system are showing their age. The only real drawbacks on the driving side are the noisy rumble of the tyres, and of course its high price; especially compared with rival sports cars."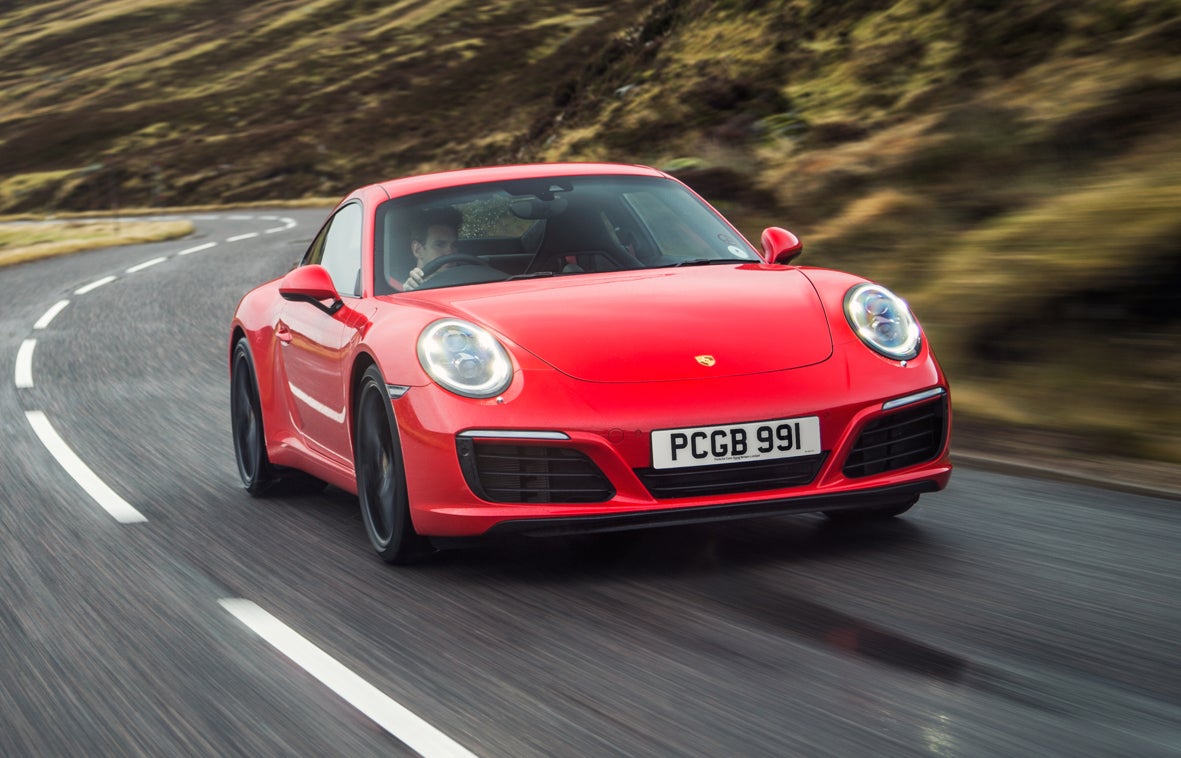 The Porsche 911 has been sold continuously for almost six decades, and in that time it has become the default and best sports car. It sets the blueprint all new sports cars must measure up to, thanks to its staggering performance, an incredibly varied model line-up, and a surprisingly practicality interior for this type of car.
The seventh generation (known as the 991 generation) was launched in 2012, but just like every 911 since 1963, it comes with a highly unusual rear-engined layout, with a 'flat' six-cylinder motor stuck in the back end. It was given a major facelift in 2015, which is when turbocharged engines were introduced across the range.
The evolutionary changes included a much more modern infotainment system (which still feels pretty old hat compared to the triple-screen, all digital setup in its replacement, the 992 generation) and better standard kit.
For the first time, Porsche offered its buyers sat-nav, DAB radio and climate control, although heated seats, a range of safety systems, and cruise control are reserved for its near-encyclopaedic optional equipment list.
Still, you don't buy a 911 because it's good value, and the flawlessly finished interior, outrageous turn of pace and stunning handling poise go a long way towards making up for its inexcusably stingy spec sheet. Porsche may have a reputation for gouging its buyers, but it's also known for building a fantastically useable sports car.
It comes with a choice of three six-cylinder petrol engines in a range of different power outputs and with the choice of either two or four-wheel drive, and three body styles; coupe, cabriolet, and folding Targa hard-top.
Starting off with the rear-wheel drive 911 Carrera, which uses a 3.0-litre twin-turbo engine with 370PS. Step up to the faster Carrera S and it produces 420PS and over 500Nm, and you can add four-wheel drive to either model in the Carrera 4 and 4S. Unlike the current version, which all look the same, the latter models mean getting a wide-body design, with broader rear wheel arches and a wider track for better cornering grip.
The most track-focused variants get their own badges, the GT3 and GT2 RS, while the hugely powerful 'Turbo' badged versions are the grand tourers of the range, with impressive gadgets to increase their agility.
The majority of the line-up comes with a seven-speed manual with very tall gears, which means the driver feel very engaged in the mechanical process, but the optional dual-clutch automatic will suit most buyers far better.
With a set of rear seats suitable for kids, decent luggage capacity (more than 400 litres in the standard car) and just enough cabin stowage to be comfortable on a road trip, it has a practical edge over two-seat rivals.
It's also remarkably easy to park and drive, considering its performance potential, with a very composed ride, well-weighted controls, and excellent cruising refinement that's only spoiled by the rumbling of its wide tyres.
If you wanted to, you could drive this car every single day, and plenty of owners do exactly that - not a claim we can make about many other models with the potential to reach over 200mph on a long enough runway.
Make no mistake, this is still a serious performance car, it's just one that happens to be very docile and easy to live with, and it's this split-personality that sealed its popularity and status as the go-to choice in this class.
If you're looking for the newer version, you need our Porsche 911 (2019-) review.
Is the Porsche 911 right for you?
It's pretty simple really. If you want a sports car, then you should be looking to try one of these. This is the benchmark used to measure all other cars of this type. It's been consistently excellent for several decades.
However, it didn't reach this lofty status by accident but merit. It's every bit as thrilling to drive in its standard guise as some cars that cost twice as much, with lots of attention paid to the mechanical feel of its oily bits.
So it's great to drive, but it also fits seamlessly in your life - thereby justifying its place in your garage - by having useable luggage space, reasonable economy for this type of car, a composed ride and subtle styling.
Having a set of rear seats also gives it a clear advantage over two-seat rivals. A trump card that means the kids can come along for the (white-knuckle) ride if you want, and you can carry three mates in a real pinch.
What's the best Porsche 911 model/engine to choose?
While it's easy to get lost in the myriad (more than 22 at last count) different versions of the 911, that old adage of simple being best rings once again here. The rear-wheel Carrera S is fast enough for any road we care to think of, and its popularity means it's easy to track one down, and it'll hold its value when it's time to sell.
We would pair its 3.0-litre engine with the dual-clutch PDK automatic gearbox, as it's better suited to dealing with the peaky character of the turbocharger. The tall ratios in the manual car mean driving it everywhere in second gear, and it's slower and less economical, which is enough for us to justify the premium of the auto.
Of course, should you live somewhere with snowy winters, the four-wheel drive models are a brilliant option. The glamour of the cabriolet in summer months can't be overstated, but we'd want the security of the Coupe.
Read the spec sheet of any potential purchase carefully, and ensure it has important extras like heated seats and cruise control, and ideally some of the choice luxuries like the Sport Chrono Pack and Sports exhaust.
What other cars are similar to the Porsche 911?
The 911 has steadily evolved over the years, and now the range is so broad that it takes on sports cars at the low end of its line-up, luxurious two-door GT cars in the middle, and rabid supercars at the very top end.
So if you're just looking for an attractive car with decent performance - similar to the Carrera - you might also have the svelte new Jaguar F-Type or futuristic Lexus LC 500 in your sights. Each is available in coupe or soft-top guises, just like the Porsche, although the latter is more of a luxurious tourer than thrilling driver's car.
For a bit less than any of these (but with impressive performance) are the raucous Audi RS5 coupe and the BMW M4. They can match the Porsche for speed and everyday usability, but lack the 'wow' factor of the 911.
If you're shopping for a track-weapon or continent crushing hyper GT in the mould of the Turbo or Turbo S, a McLaren 570S, Aston Martin Vantage, or Audi R8 offer varying degrees of mad performance and exotic style.
Comfort and design
"The 911's exterior is a subtle blend of classic cues with a few modern twists. The cabin follows suit, with a very traditional layout, button-heavy centre console, and only a few nods towards on-board technology included."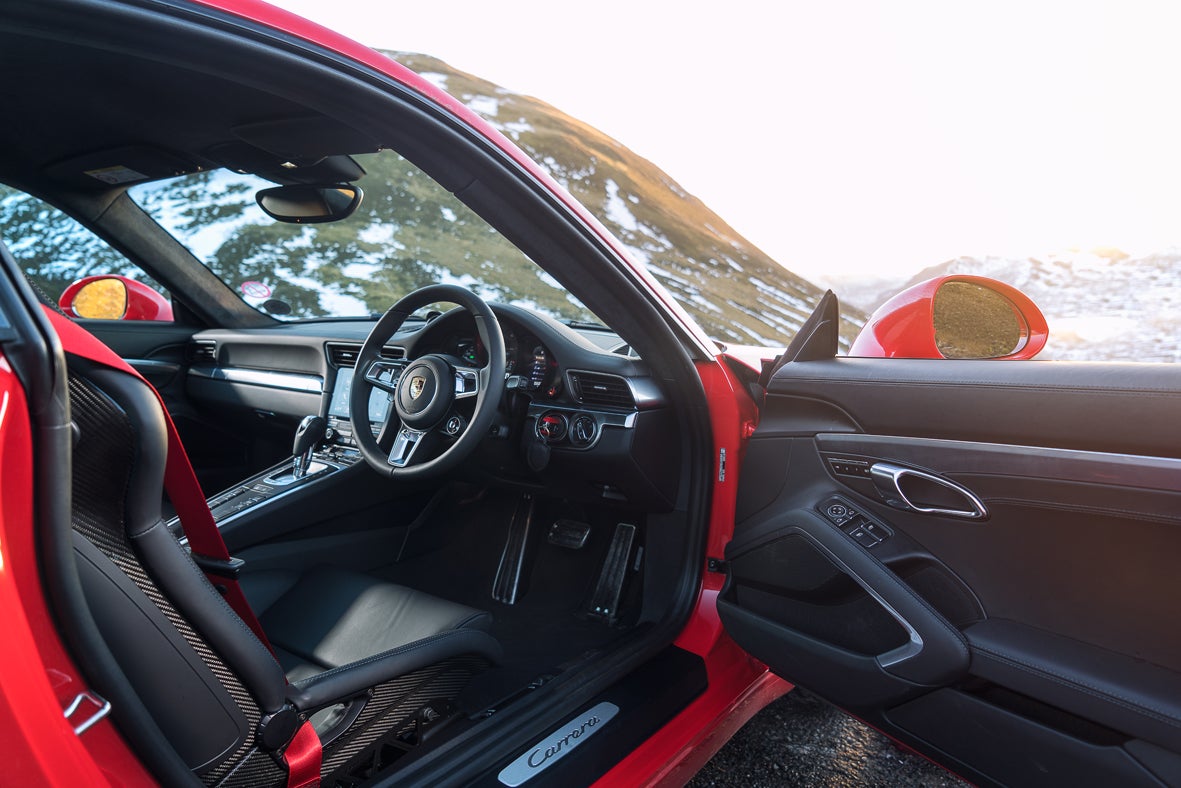 The dials - with five individual pods and an oversized central rev counter - are the same as you'd find on any 1960s 911, the only real exception being that one has a neat built-in screen for sat-nav and trip information.
Your main interface with the infotainment system is the 7.0-inch touchscreen in the centre of the dash. There are no controls of any kind on the elegant steering wheel and a few too many on the centre console. The lack of real estate means they're all quite small, and reaching a button obscured by the gear lever can be a stretch.
Still, we can't fault the logic of the layout. Switches to alter the way the car drives (adaptive dampers, sports exhaust, stability control) are located right next to your left elbow. The media system has a full set of shortcut keys and rotary selector dial, so those who would rather avoid smudging up the screen with fingerprints, can.
The driving position is near-perfect, with the seat mounted low to the ground, and the pedals lining up nicely with the steering wheel. The sports seats are some of the best in any car we've tried; wonderfully supportive and comfy on long drives, but also holding you firmly in place in tight corners when drive with greater intent.
Visibility is not as quite good as in the McLaren 570S though, and you'll need the optional acoustic parking sensors in tight spaces to be able to judge the extremities, instead of waiting to hear a sickening 'crunch'.
Quality and finish
Peerless build quality has been a standout feature of the 911 since the older 997 generation was introduced. This model feels on another level entirely, both in terms of the fit-and-finish, and luxuriousness of the interior.
Impeccable high-grade materials, panels that overlap with millimetre precision, and a weightiness to all the major controls and buttons give it a feeling of solidity that nothing this side of a Bentley can match. It really is that good; even the pop-out cupholders hidden neatly inside the dash feel thoroughly engineered and sturdy.
Almost every large surface is covered in soft leather, including both the top and underside of the dashboard, and no amount of rummaging in the cabin will unearth any signs of cost-cutting or nastier plastics. Key touchpoints feature real metal that's cold to the touch, and even the plastic buttons feel nicely damped and clicky.
The only thing we can really criticise is the driving mode select dial on the steering wheel that comes as part of the Sport Chrono Pack. It's a plasticky item but only stands out because everything else inside is so plush.
Still, this bundle includes a stunning analogue stopwatch set into the dash, so we won't complain too much.
Infotainment
Porsche describes its communication management system (that's media screen to you and me) as 'your gateway to the digital world' which is a fantastic piece of whimsy, but slightly overselling the 7.0-inch display.
Nevertheless, it was big news when it was introduced, and a vast improvement on what came before, finally adding a slice of modernity to this wilfully traditional sports car, albeit not without an interesting quirk or two.
The screen has been sandwiched into a centre console that was never really designed for it, but sits flush, and is easy enough to reach. The menus and graphics are monotone grey by design, which is clean and subtle, helping to avoid distraction, but looks very plain, and can make it harder to read in bright sunlight.
Still, the specification is reasonable, with a sat-nav, on-board Wi-Fi, an eight-speaker stereo, Bluetooth and USB and AUX connectivity. Controversially, Porsche only offered Apple CarPlay smartphone mirroring. So if you have an iPhone you can use voice control, apps like Waze and Spotify, but not if you're an Android user.
Using the navigation system is straightforward, and it comes with live traffic updates and adaptive mapping to steer you around jams, but we'd still trust third-party apps more if you want to save time on the commute.
Music lovers have two choices to enhance their listening experience (apart from the sports exhaust button) with a BOSE system with 12 speakers and over three times the power of the standard setup, or an incredible Burmester stereo that's remarkable both for its stunningly rich sound quality and its shockingly high price tag.
Space and practicality
Apart from its impressive performance potential, the 911 is known for its everyday usability. That's because unlike many of its rivals, it has four seats, and those rear two both have ISOFIX points for fitting a child seat.
Now some people will take one look at the cramped space in the back and scoff at this 'practical' sports car, but honestly, having extra space to throw a jacket, bag or give someone a short life makes a huge difference. That instantly makes the 911 a more practical than strict two-seaters such as the Audi R8 or Jaguar F-Type.
Yes, the rear seats are strictly for kids, or adults willing to fold themselves neatly in half to clamber in, before wedging their heads under the sloped rear screen, but you can just fold them down to use as a luggage rack.
At least in the coupe, both the Targa and Cabriolet versions ditch the back seats to make room for their roof. Stowing the hood on the latter takes just 13 seconds, and can be done on the move, at least below 30mph.
Do so and you create a 260-litre space, which combined with the deep-but-narrow 145-litre luggage area in the nose means you can fit more in the Porsche than you can in many family hatchbacks, if you're creative. Be aware that this space under the bonnet shrinks down to 125 litres in models fitted with four-wheel drive.
Of course, it's a two-door sports car, and the restrictive shape of these stowage areas means you are limited in the type of cargo it can carry (think soft weekend bags, not hard shell cases) and need to pack light. Cars such as the Audi RS5 that have a more conventional boot and longer wheelbase) will still beat it for space.
Up front, things are mixed. There's just enough storage space, but it's at a real premium. For example, there is room under the armrest for one phone, two cupholders, and narrow door pockets that are tricky to access. Headroom is decent, so even taller drivers won't mess up their hairdo on the roof liner, but it's definitely snug.
For family buyers who don't want the faff of trying to wrestle a child seat into the cramped space behind the seats, Porsche offers the option to add mounting points and a Top Tether to the front passenger spot instead.
Handling and ride quality
"The magic of the modern 911 is not just that it's thrilling to drive - which is certainly is - but that it combines the desirable sports car qualities of agility, balance and grip with a remarkably docile nature in normal driving."
It's relatively narrow compared to say, a Mercedes-AMG GT or Audi R8, making it easier to weave in and out of city traffic, with good visibility and controls that are light enough that you won't get a workout while parking.
These sound like small things, but combine them with its wonderfully supple ride, and the Porsche gives you no excuses not to take it out for a drive, as it won't tire you out or irritate you like some highly-strung coupes.
One option is a rear-wheel steering system that makes the precise, communicative steering even sharper to respond, especially at low speed, where it reduces the turning circle, making those quick U-turns a breeze.
All 911s come with the brand's adaptive suspension setup as standard, with two driving modes; normal and sport. It constantly monitors the road surfaces and adjusts itself to keep the car composed, working brilliantly.
In its 'Normal' setting the big wheels won't crash or shudder when they meet a pothole, and it can absorb impacts that would make you wince in some of its rivals without missing a beat. Naturally, the sportier and track-focused models are less pliant, with thinner tyres and larger wheels, but even these feel nicely judged.
There's an optional sports suspension setup that sits 20mm lower than the standard for a more planted feel, but you honestly don't need it. The basic model generates exceptional grip from its fat tyres, and despite its rear-wheel drive layout, it stays glued to the road even through challenging corners and in slippery weather.
Open it up on the right stretch of road, and the tight body control, agile responses and immense traction give its driver total confidence to exploit the powerful engines. Standard cars never feel scary, and flow down the road in a natural, connected way that makes you want to seek out more back routes and hairpins to enjoy.
The highly polished GT3 and GT2 RS models take these characteristics and elevate them to supercar levels, and will feel equally at home on a racing circuit as they do tackling the B676 to Melton Mowbray with vigour.
Engines and gearboxes
This generation of 911 was controversial because the entry-level models became turbocharged for the first time, undermining the fact that until now, only the faster and more luxurious versions wore a 'Turbo' badge.
There are three engines to choose from, with varying power outputs depending on the trim you choose. All of them have six-cylinders, are mounted right out behind its rear wheels, and run on super unleaded. Most 911s come with an unusual seven-speed manual gearbox as standard, with a dual-clutch automatic as an option.
Porsche calls its automatic transmission 'PDK' for short, and it's really impressive, with rapid-fire shifts if you use the steering wheel paddles, but smooth, low-key changes when you leave it to its own devices in auto. The manual is precise, with a positive action, but the clutch is fairly heavy and it can be hard work in traffic.
The Carrera and Carrera S use a 3.0-litre twin-turbo with 370PS and 420PS, respectively, and feel very fast. Unlike their predecessors, you don't need to wring it out to the redline to extract every ounce of performance, and once up into their stride, they feel much quicker in the mid-range, and generally more accessible to drive.
Honestly, either of these models will be more than quick enough for most buyers, and if you need the added security of four-wheel drive, then the Carrera 4 and 4S have identical power outputs, but additional traction.
For those after truly ludicrous acceleration, the Turbo and Turbo S have a larger 3.8-litre engine, putting out some very senior numbers - with over 500PS and 700Nm of torque - and feel shockingly rapid point-to-point.
The motorsport-inspired 'GT' models (and hardcore RS versions) are more about handling delicacy than the sledgehammer pace served up by the Turbo, with the GT3 getting its own 4.0-litre naturally-aspirated motor.
It makes you work a lot harder to access the full range of its repertoire, but as it comes on song it feels truly ferocious, like an angry full-blooded racing car. It totally dominates the driving experience (in the best way).
Refinement and noise levels
Considering how brutally fast and raw it feels when you put the wind up it, this generation of 911 is also remarkably mild-mannered on the type of long, arduous and dull journeys that are a necessary part of life.
It doesn't matter if you've got the manual or smooth-shifting PDK automatic, at a leisurely cruise the newer engines are very refined - almost sedate in fact - the revs stay low and you can forget you're in a sports car. Even the soft-top versions don't generate much wind rush, thanks to a triple layer roof design that's sturdy.
Wind noise stays impressively low too, helped no doubt by the car's slippery aerodynamic shape, but there is one rather large intruder into the otherwise peaceful cabin - road roar generated by the enormous wide tyres.
Unfortunately, there's not much you can do about it, and the constant drone created by the big wheels can make it more wearing than some rivals. It gets bad enough on poor surfaces you'll need to raise your voice. This problem is worse on the Carrera T, which is stripped out to shed extra weight, so is noisier at all speeds.
What about when you do want to fill the cabin with sound? Well, as long as you go for the optional sports exhaust even the least powerful engine sounds tuneful, with a characteristic flat-six howl at higher revs. Go for one of the non-turbo high-performance models and you'll be treated to a truly spine-tingling exhaust note.
Safety equipment
This generation of the Porsche 911 has not been crash-tested by the safety experts at Euro NCAP, but that's mainly due to its rarity and price, and neither have many of its competitors. For what it's worth, of the brand's cars that have undergone these tests (Cayenne, Macan, Taycan) have achieved the maximum five stars.
It has a strong crash protection structure, six airbags as standard, plus all the mandatory items required of all new cars; including stability and traction control, tyre pressure monitors, and an electronic parking brake.
However, much of the preventative safety gear that buyers in this price range would reasonably expect to find are missing entirely (such as a lane keep assistant or driver fatigue monitor) or only offered as options.
These include cruise control, blind-spot monitors to warn you if someone is following too close (Porsche calls this Lane Change Assist for some reason) a traffic sign reader, parking sensors and a reversing camera. Not all of that is essential of course, but when most rivals offer at least three out of five, it does feel a bit miserly.
If you want to splash out, it's possible to fit adaptive cruise control, which comes bundled with the Porsche version of autonomous emergency braking (called Active Safe) but irritatingly, it's only available with PDK.
This system can follow the car in front at your chosen speed to take the stress out of motorway schlepping, but will scan the road ahead for potential obstacles, issuing an audio warning before hitting the brakes to try and prevent a crash. While optional, it does have an impressively wide operating range, from 18 to 130mph.
MPG and fuel costs
"The whole reason Porsche switched to smaller, turbocharged engines with this generation of 911 was to cut its CO2 emissions, but the 3.0-litre turbo isn't any more efficient day-to-day than the older 3.4 and 3.6 were."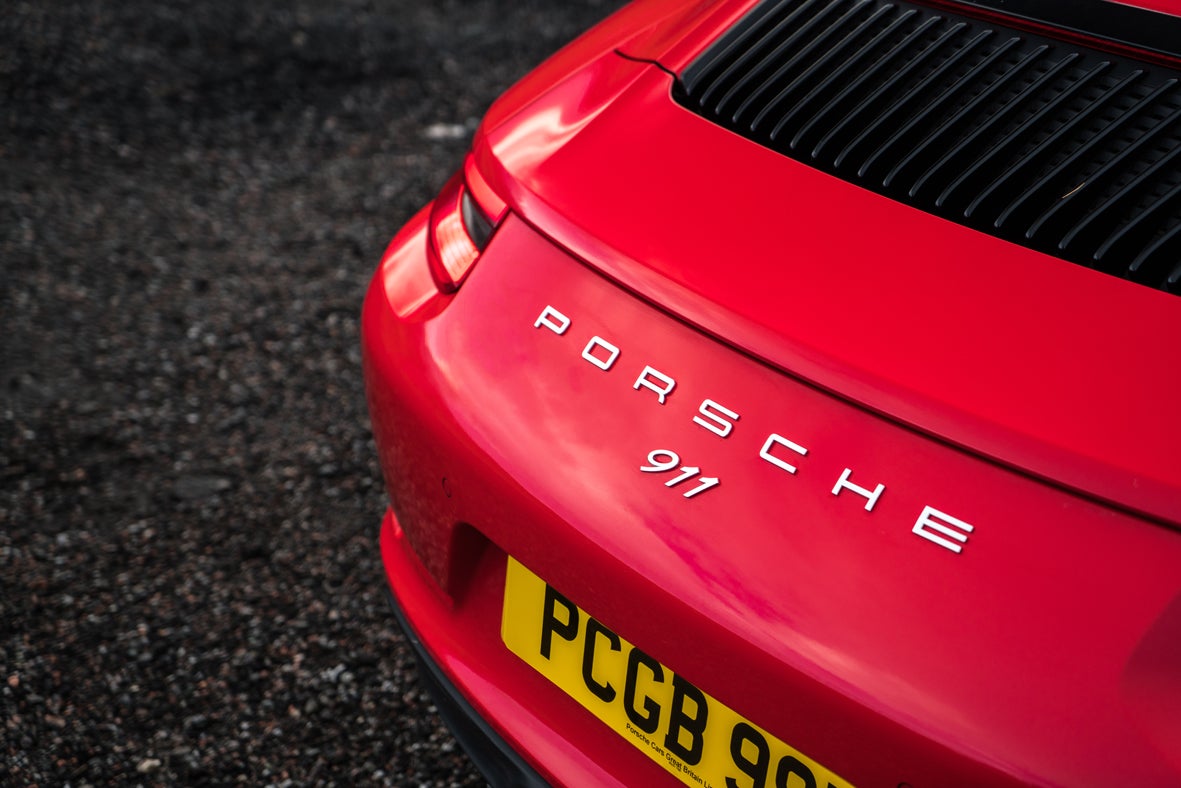 Having said that, a claimed figure of over 30mpg for both the Carrera and Carrera S is impressive given the performance on offer. Our experience suggests you'll match those numbers... if you drive gently enough.
Picking the PDK automatic gearbox helps it to achieve these figures, manual cars are not quite as efficient.
Of course, driving gently is not really what this car is all about, and once you press on economy will drop into the low teens especially in the faster versions. It'll guzzle down its 64-litre tank in around 200 miles at speed.
Insurance groups and costs
The 911 might be one of the most useable sports cars on the market, but with supercar performance and its high price, it'll attract similar insurance premiums to supercars from brands like McLaren and Lamborghini.
Buyers who want to draw a small sting out of the cost should go for a cooking Carrera 2, which is still up in Group 47 (out of 50) while the Carrera S is one band higher, almost everything quicker is the highest group.
That means the Porsche will cost a similar amount to rivals such as the Lexus LC, Mercedes-AMG GT and a fraction less than supercars like the Audi R8 and Honda NSX. The Jaguar F-type starts in Group 42 though.
VED car tax
Annual bills for cars registered after April 2017 will be fairly low. You'll pay the same £150 charge applied to all newer petrol and diesel cars, plus a £325 'luxury' surcharge payable over the first five years of ownership.
That extra cost applies to all models costing over £40,000 when new, and since list prices for the 911 start at nearly double that (before options) you're likely to feel less aggrieved by this than your average SUV buyer.
Cars registered before that cutoff pay a variable amount of tax based on their CO2 emissions, so you'll part with anything from £240 for a standard Carrera, to £580 every year for the fruiter naturally-aspirated models.
At the time they were introduced, the drop in CO2 from the new turbo engines saw a huge fall in BIK tax for business users, but if you were to use them as company cars today, you'll be paying the maximum 37% rate.
How much should you be paying for a used Porsche 911?
"Prices for a new 911 have always been expensive (they hold their value well, and are rare enough that there are no discounts) but this undeniable desirability means it's tricky to find anything you'll call a 'bargain' used."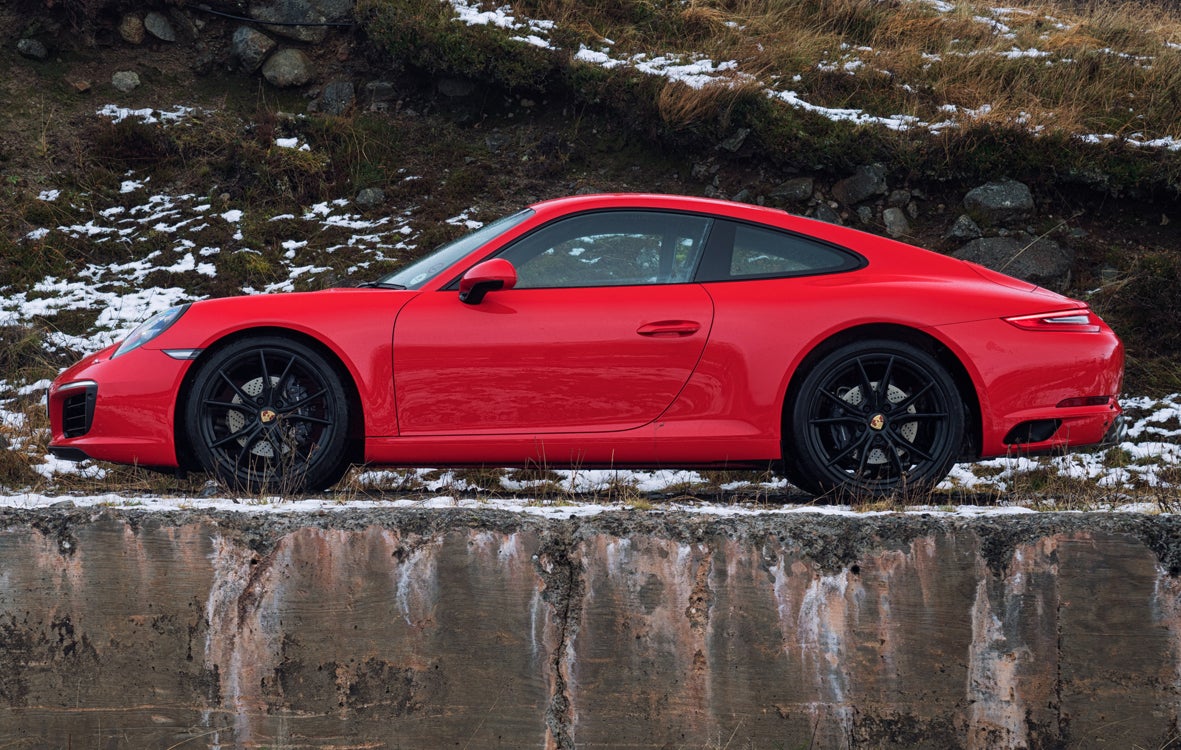 The purchase cost is only half the story. Porsche has such a stingy equipment list that the specification fitted to a used example as important as the trim; cars with heated seats, cruise and parking sensors are a must. Most classifieds will supply a full list of the extras included, but study them carefully before taking the plunge.
You'll still require at least £52,000 to get yourself behind the wheel of an early 2015 coupe with the 3.0-litre turbo engine, PDK gearbox, average mileage for the year, and a fully stamped service book in the glovebox.
That sum will creep closer to the £60,000 mark once you track down a faster Carrera S with a few choice option boxes ticked, which is the level that prices for the open-top models kick-off as well. For sought after versions such as the Carrera T and four-wheel drive Carrera 4, that number will probably start with a seven.
Meanwhile, a lightly used Turbo will cost as much a new Carrera (over £90,000) and you'll be looking at well over six figures for any of the high-performance 'GT' models, a Turbo S, or anything with 'RS' on its badge.
Trim levels and standard equipment
Porsche separates its cars by power and engine layout, but these act as de facto trim levels, since faster and more complicated versions also come with more gadgets. Still, you may be surprised by what's not included.
All models come with leather upholstery, sports seats with electric backrest and height adjust, navigation, a set of Xenon headlights, adaptive suspension, 19-inch alloys, dual-zone climate control, and Apple CarPlay.
In other words, just about enough to prevent buyers creating an uproar. They still needed to fork out extra for basics like heated seats, cruise control, parking sensors, a rear rain wiper, or some brighter LED headlights. Those are items you can now find in a top-end city car, let alone an £80,000 sports car from an iconic brand.
The range kicks off with the Carrera, a rear-wheel drive car with the lowest output of 370PS. Next up is the Carrera S, followed by the Carrera 4, 4 S, Turbo, Turbo S, and finally limited specials like the GT3, GT2 RS. Moving up the range brings more power, style, and scope for personalisation with the design and technology.
The standard level of equipment on this version was higher than ever before, but most of the desirable options will still add thousands of pounds to the purchase price. From the carbon ceramic brakes, to the sports exhaust, an uprated stereo, or parking cameras, it's was easy to push the price beyond £100,000.
We would search for a used model fitted with the everyday creature comforts we listed above as 'missing in action' as a bare minimum. Other desirable extras include the Sport Chrono Package, which adds a stylish analogue stopwatch in the centre of the dash, launch control, and a driving mode switch set into the wheel.
If you can, look for cars with the 14-way fully electric seats with memory function, and Front-axle lift, which stops you scraped the low nose on the entrance ramps to underground carparks or swanky hotel lobbies.
Keep me updated by email with the latest advice, news and offers from heycar
By submitting, you agree to our
privacy policy
.