Porsche 718 Boxster Review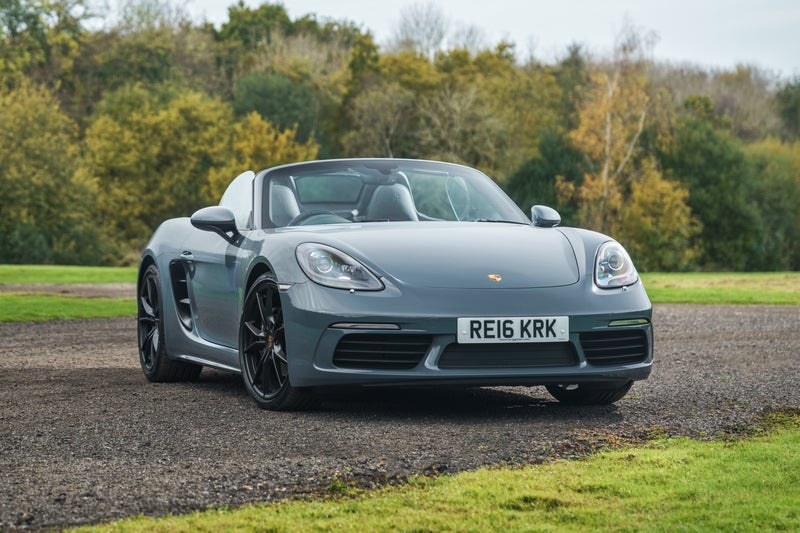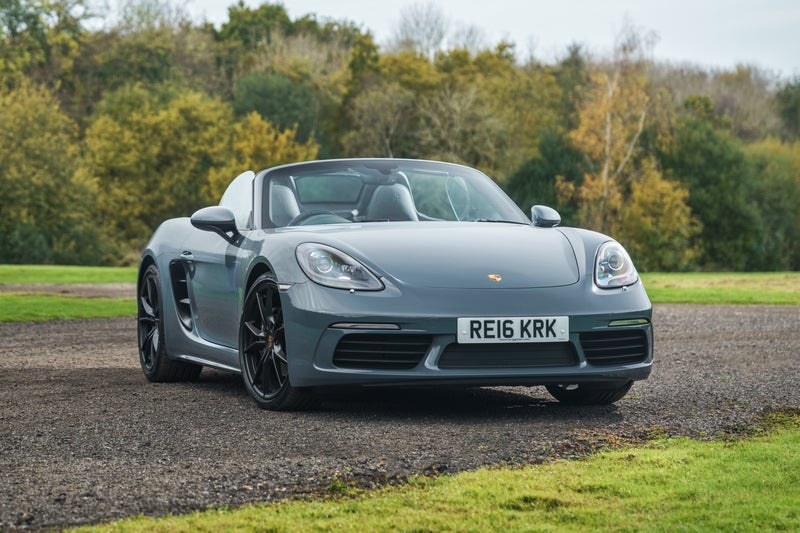 1/10
heycar rating
"Near perfect sportscar from Porsche"
Launched: 2016

Performance

Petrol
Quick overview
Pros
Superb chassis with real agility, poise and engagement
The 4.0-litre flat-six engine in the GTS is incredible, with huge performance and massive character
All feel beautifully built and look sensational, while they're relatively practical too
Cons
Fast and flexible as the turbocharged engines are, they don't sound particularly appealing
The price is just a starting point, as there are a lot of options needing ticking
If you've an eye on re-sale value, you need to option the PDK automatic
Overall verdict
On the inside
Driving
Cost to run
Prices and Specs
Overall verdict
"Good looking, supremely agile and fun, the 718 Boxster is a fantastic sports car, that's as good to drive, and better, than cars costing many multiples of its price. If we're gushing here it's because the 718 Boxster deserves all the praise heaped upon it, yes, even with the less special turbocharged flat-four engines in them. It remains the car by which all others are judged, and rightly so."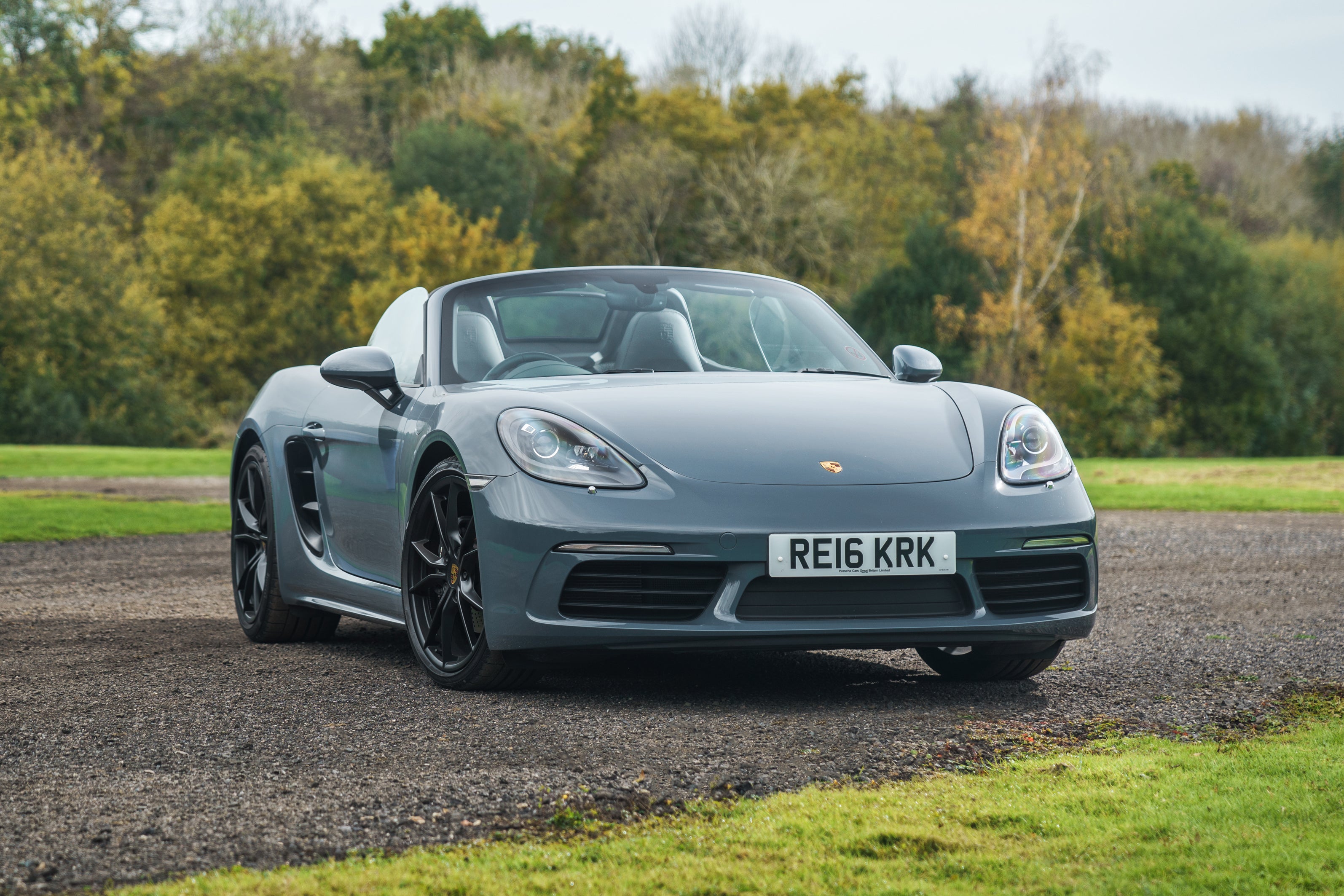 "The Porsche Boxster has been Porsche's entry-level sportscar since 1997, the current 718 Boxster having been around since 2016 and added the 718 badge alongside familiar Boxster name."
You might hear Porsche fans refer to it as the 982, which is its internal model designation at Porsche, with previous Boxster models being the original 986 from 1997-2004, 987 from 2005-2012 and the 981 from 2012-2016. Since that original arrived the Boxster has been the sportscar by which all rivals are judged, as it really is a phenomenal car to drive, whatever one you pick. It's certainly up there as one of the best sports cars you can buy.
The introduction of that 718 badge was telling, though, at least if you're a Porsche history buff, as it nods back to a successful line of Porsche race cars powered by four-cylinder engines.
Porsche's Boxster, and its Cayman coupe relation, followed suit, Porsche bowing to the pressures of emissions and consumption regulations in 2016 and swapped out the six-cylinder engines that had powered the Boxster before, and added a 2.0 and 2.5-litre turbocharged four-cylinder engines. That move might have upset a good few Porsche enthusiasts, but, ultimately, it hasn't impacted heavily on the 718 Boxster's appeal to a wider audience.
Those engines remained 'flat' or 'boxer' units, indeed, the name Boxster is an amalgam of boxer and roadster, and the engine retains it mid-mounted position in the 718 Boxster's chassis. That engine location is instrumental in how the 718 Boxster drives, it being low and centred to provide near-perfect weight distribution and a low centre of gravity, both factors being to the enormous benefit of agility.
The engines may have lost a pair of cylinders to become the 718 Boxster, but they didn't see any corresponding drop in power. Indeed, thanks to turbocharging, the 718 Boxster's 2.0-litre and 2.5-litre engines offer 300PS and 350PS respectively, while their low- and mid-range flexibility was also significantly boosted.
That makes them easier day-to-day cars, needing less work to make progress than you did in the previous Boxsters. Even so, in a not entirely unsurprising U-turn, Porsche has re- introduced naturally-aspirated (no turbo) flat-six engines back into the Boxster line-up, with the range-topping GTS model getting slightly detuned, to 400PS, it being a version of the 4.0-litre engine that's fitted to the 718 Boxster Spyder and Cayman GT4 – those more specialist models different enough to be worthy of their own review.
Like all the models in the 718 Boxster line up, that GTS is offered with either a six-speed manual transmission, or a paddle-shifted, seven-speed PDK automatic gearbox, PDK being a German abbreviation of Doppelkupplung, which means double clutch. The model line-up follows the familiar 718 Boxster, 718 Boxster T, 718 Boxster S and 718 Boxster GTS price and performance walk, with the base and T models powered by that 2.0-litre engine, the S gaining the 2.5-litre unit and the GTS that glorious 4.0-litre flat-six.
As ever the 718 Boxster has considerable badge appeal, good looks and is usefully practical too, at least in open-topped sports car terms, and if you want all that but in coupe form, there's the option of the slightly cheaper 718 Cayman.
Is the Porsche 718 Boxster right for you?
If you're even contemplating a two-seat roadster and have a budget starting around £50,000 then it'd be remiss not to include the 718 Boxster on your list of potential purchases. The 718 Boxster has to be one of the best convertible cars going and a car by which all cars in its class are judged. While rivals are good, none offer such a rounded proposition as the popular Porsche. It is an incredible driver's car while also being a credible daily car and even, thanks to two luggage compartments, usefully practical – by the standards of the class.
The Boxster's success underlines that it's not just right for you, but right for lots of people, and justifiably so, even if there remains a bit of snobbery among some that it's somehow a 'poor persons' Porsche as it's not a 911. We really don't subscribe to that, as from £50,000 upwards it's not cheap, and it's arguably better to drive than its iconic 911 relation.
What's the best Porsche 718 Boxster model/engine to choose?
The 718 Boxster range encompasses a decent spread of models, and each has their own character and appeal. The base model is quick, looks fantastic and drives beautifully, if that's all your budget can manage you'll not feel short-changed or any less special driving it. The S adds some power and equipment, most of which you could live without, but, likewise, are nice to have.
The T is a bit more specialist, being an amalgam of the base model's engine and GTS model's suspension, aimed at more demanding drivers. It's a hugely fun car, without any real compromises over its relations despite its sharper focus.
The GTS's 4.0-litre 400PS engine is a hugely compelling reason to buy it, and if budget's not such an issue, it's the one we'd unreservedly choose. With any Porsche the sweet-shifting manual is so good we'd always prefer it, but, similarly, if you want your mid-engined Porsche with the ease, and the greater performance that the PDK paddle-shifted automatic brings, you'd not be wrong, either.
What other cars are similar to the 718 Boxster?
The premium roadster marketplace has four rivals that fit pretty much the same brief as the 718 Boxster, albeit all a little bit less convincingly.
Mercedes-Benz offers the SLC though it's getting very old now, BMW can bring its BMW Z4 along to a roadster shoot out, Audi its TT Roadster and Jaguar its F-Type Convertible. All have merit, but the 718 Boxster outshines them all on the road, and, arguably forbrand appeal, too. It's not unlikely that potential 718 Boxster buyers might be looking at used Porsche 911 Cabriolets too.
Comfort and design
"As a two-seater roadster, there are some expectations of compromises over regular cars, but in reality they really are few."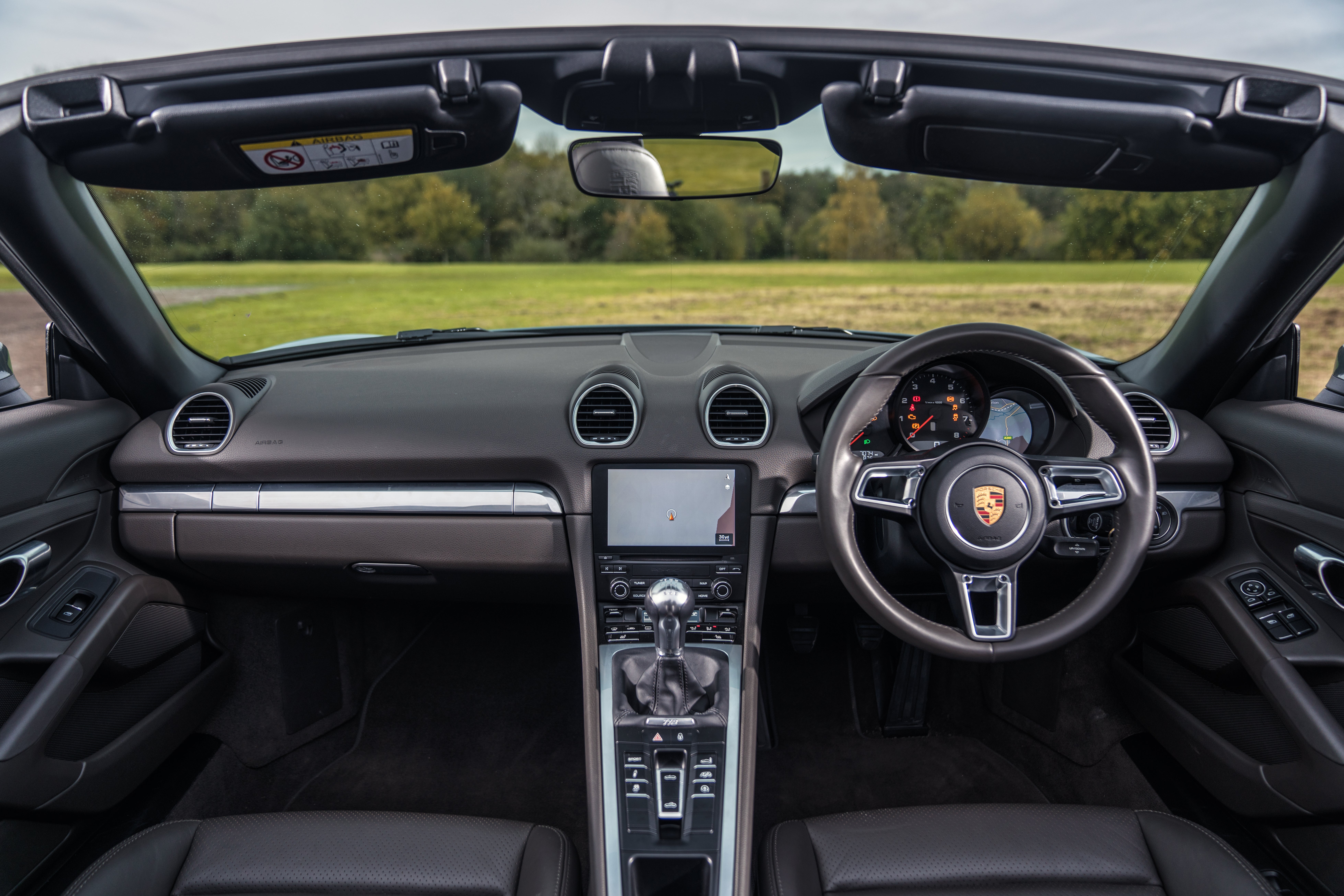 As standard the 718 Boxster, 718 Boxster T and 718 Boxster S feature Sports seats with two-way electric adjustment. It's possible to upgrade these to 18-way electric adjustment, or opt for Sports Seats Plus – with deeper bolstering and shoulder support – again offered with the choice of two or 18 way electric adjustment.
Above that there's the option of lightweight Sports Bucket Seats, or, even lighter, Full Bucket Seats, the latter, more focussed seats only offered with the T and GTS models. Choose either of the bucket seat options and you lose the ability to carry a child seat in the passenger side.
The GTS gets Sports Seats Plus with two-way adjustment as standard, but with all you'll find the seats hugely comfortable and supportive, and while clambering into the optional buckets is trickier, once in they hold you tight, are comfortable, and increase the connected feel with the car.
The steering column adjusts for both rake and reach, while the seat's range of adjustment means even taller drivers can get comfortable. Seat heating, ventilation, a heated steering wheel are options, as is two-zone climate control. You'll get used to ticking option boxes to increase comfort, then, but fundamentally the interior design remains the same, and it's pleasingly styled and all relatively easy to operate.
Quality and finish
With every iteration of the Boxster Porsche has improved its interiors, and with the 718 Boxster line-up it's reached a point where it's the equal, and better than, the majority of its rivals. An Audi TT might wow a bit more initially, and you need to spend a fair bit extra on interior trim materials and finishes to have your 718 Boxster looking its best, but, fundamentally, the interior build and finish is excellent throughout.
The materials all feel high quality, particularly the control surfaces and switches, which all have a solid feel and pleasing action. Only the cup holders let the side down a bit, popping out from a slot above the glovebox, precariously housing one drink above the centre console and the buttons within it, and feeling pretty insubstantial.
Don't pop your morning mocha-choca-double-shot-latte from Costarbucknero in there, then, as a spillage could prove costly. There's some hard, scratchy plastics surrounding the load area under the bonnet, but that's forgivable, as apart from when you're under there, they're out of sight.
Infotainment
All 718 Boxsters come with a 7-inch screen which Porsche dubs Porsche Communication Management, it containing a navigation module, mobile phone preparation, audio interfaces and a voice control system.
A lot of services are bundled under the Porsche Connect banner, it a subscription service that includes Carfinder, a system that allows remote vehicle status, services and vehicle tracking. Porsche supports Apple CarPlay alone, not offering Android Auto on its cars, saying the majority of its customers use Apple products.
The standard audio system is Porsche's Sound Package Plus, a 110 watt set-up with six speakers and DAB digital radio. Optionally there's a BOSE surround sound stereo package which has 10 speakers and 505 watts, or, if you've money to burn at a touch under £3,000, an 821 watt 12-speaker Burmester high end surround sound system.
Operation of the touchscreen is simple enough with practice, with shortcut buttons beneath it speeding access to certain functions. There's a second small screen in the instruments for the on board computer, though if you want to control the audio functions from the steering wheel you need to add the heated multifunction wheel to your specification, as it's a cost option.
As standard the T comes without a stereo as part of its weight-saving measures, but it's a no-cost option to have it added back – you'd be mad not to.
Space and practicality
There's plenty of space inside for two adults, even if they're at the taller end of the height scale. It's a two-seater only, so there's no space behind the rear seats for chucking a bag of coat.
Oddment storage inside is limited to the glovebox and a small lidded compartment between the seats. The door bins have useful pull out sides to ease access, but they only offer a shallow small area behind them. There's the no-cost, surprisingly useful, option of a storage net on the transmission tunnel footwell of the passenger side, that's well worth having.
For bigger luggage the 718 Boxster is surprisingly accommodating as there are two boots. One is up front under the bonnet, the deep rectangular shape offering 150 litres of space, it enough for a couple of carry-on sized suitcases.
The rear boot offers an additional 125 litre, its greater width useful for longer items, but it's not brilliantly proportioned, meaning it's better suited for squashy bags rather than hard cases. Forget about putting golf clubs in either. Still, with careful packing you'll be able to squeeze a lot in a 718 Boxster, certainly enough for a week away.
Amazingly, Porsche used to offer a roof rack system for the Boxster, but it seems this has been discontinued for the current model. There's the option of a child seat ISOFIX mount on the passenger seat, it coming with an airbag cut off switch, though that ISOFIX mount isn't possible on all seat options.
For a two-seater open-top sportscar the 718 Boxster is surprisingly useful and useable, its skill-set not just limited to enjoying drives on fun roads or tracks, it a genuine day-to-day proposition.
Handling and ride quality
"As standard the 718 Boxster comes with 18-inch wheels, using a passive suspension system. The S sees the standard wheel choice increase to 19-inches, but retains the standard suspension. Choose the T and its more focussed driver specification sees those wheels increase to 20-inches as standard and you gain PASM (Porsche Active Suspension Management) which sharpens up the chassis and lowers the ride height by 20mm."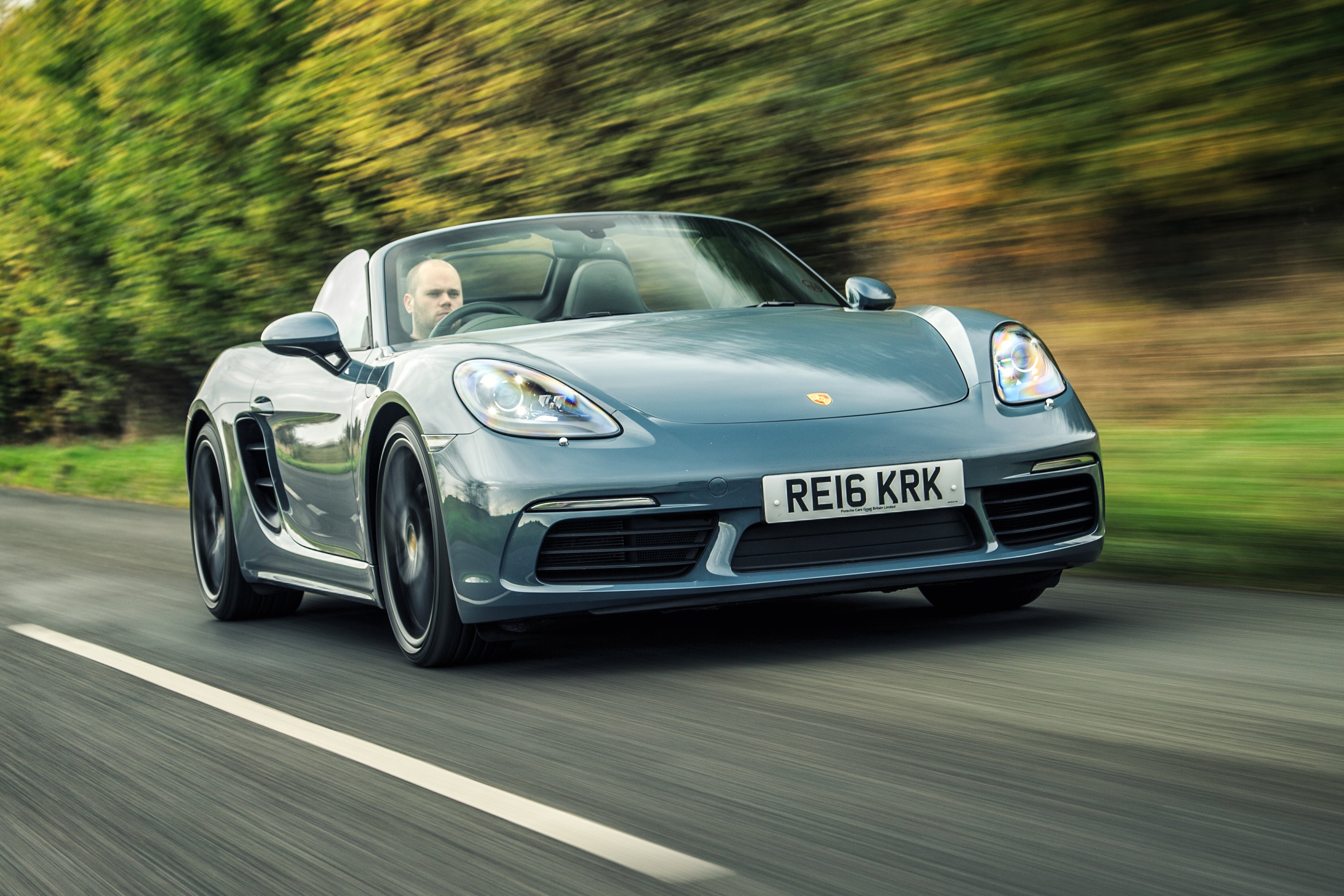 PASM offers the choice of Normal or Sport settings for the suspension, accessed via switch in the cabin. The T also benefits from a mechanical locking differential with Porsche Torque Vectoring, being added to the standard equipment, both PASM and that differential being on the options list for the 718 Boxster and 718 Boxster S. The GTS shares its chassis with the T, though gains the most powerful, 4.0-litre flat-six engine to better exploit it.
If anything, the Boxster's transformation from six- to four-cylinders only further underlined how exceptional the car's dynamics are. The engine previously played a more dominant role in the driving experience, but with those turbocharged engines fitted, the handling really came to the fore.
All, even the base 718 Boxster handle beautifully, with a degree of body and wheel control that allows real agility, allied to fine ride quality. The steering response is crisp and direct, the weighting good, the sensation that the car is pivoting under you is palpable, the limits of the chassis very predictable and easily read, allowing the 718 Boxster to connect you to the drive in a way that none of its rivals can do so convincingly.
They get better incrementally as you climb the model line up. The S adds more grip to exploit its greater power, while the T shifts the focus entirely to the chassis, and it's truly wonderful, being a real sweet spot in the line-up if you're really into your driving. The GTS only builds on that, it having the same incredible poise and balance as the T, only honed even more to enjoy its significantly greater power.
Engines and gearboxes
If there's a contentious issue in relation to the 718 Boxster it's entirely centred around the engines. In isolation the turbocharged four-cylinder engines are great, 300PS and 350PS plenty power, any Boxster a 170mph and above capable car.
The 718 Boxster can reach 62mph in 5.3 seconds, that dropping to 4.9 seconds with the PDK transmission and by a further 0.2 seconds to 4.7seconds if you've opted for PDK in combination with Porsche's Sport Chrono pack. Move up to the 718 Boxster S and those numbers are 4.9 seconds, 4.4 seconds and 4.2 seconds and 7mph onto that top speed.
The GTS isn't much faster, indeed, thanks to its manual only specification, a PDK promised late 2020, 62mph arrives in 4.5 seconds and it'll run out of go at 182mph. The difference with the GTS is how it produces its performance. Being naturally aspirated, bigger capacity and six-cylinder it's a high revving screamer, with its performance in the upper rev range.
Indeed, jump out of one of the smaller capacity four-cylinder cars and you'll wonder where all the low rev urgency has gone, the turbo engines offering greater low rev torque and, hence easier flexibility. But easy isn't necessarily better, and that's certainly the case here, the GTS is wonderful car, it all the sports car you could ever want.
For all the criticism of the four-cylinder units they do deliver great performance, and for daily driving the extra flexibility is genuinely useful. Whatever engine you pick the manual would be our choice, its crisp, quick action making it one of the best manual transmissions available today. The PDK is great, too, if you want finger-flipping instantaneous shifts and the ability to pop it into auto in traffic you'll love it, but if driving really matters to you, you'll love the manual more.
Refinement and noise levels
Roadsters used to mean a whole lot of additional pay offs for the ability to open up the top to the sun above, but modern convertible cars have moved on, significantly. The 718 Boxster's hood is a tight fit and well insulated, meaning it's a proper all-year-round proposition.
That insulation means it's quiet, too, the 718 Boxster only marginally less refined in relation to wind noise than its coupe Cayman relation. Drop the roof, at speeds up to 31mph and in just 9 seconds and the interior remains impressively draught free, thanks to a wind deflector behind you.
Drop that roof and you'll better hear the engines, the four-cylinder turbo units lacking the howl of the GTS's six-cylinder, but having their own, not entirely unpleasant character. You'll need to specify the optional sports exhaust in all to really enjoy the sound from any of the engines, it adding some aural thrills to the driving mix.
There's a bit of tyre noise, more obvious with larger wheel and tyre combinations with tauter suspension set-ups, but in this respect it's no worse than its direct rivals, and only really noticeable on rougher sections of road.
Safety equipment
The 718 Boxster hasn't been independently crash tested by Euro NCAP, but it should protect you well in the event that an accident is unavoidable. There are full-sized airbags for the driver and passenger, Porsche Side Impact Protection comprising of side impact protection elements in each door, thorax airbags in the seat side and head airbags for both the driver and passenger, too. The Boxster has a fixed roll-over bar, too.
Helping you avoid an accident in the first place is its inherent agility, as well as its electronic traction and stability aids. There's ABS acting on brakes that offer superb stopping power, while there's a tyre pressure monitoring system. LED headlights and daylight driving lights are also standard. What the 718 Boxster is lacking is the sort of advanced driver assistance systems that are creeping into competitor's specification sheets.
Adaptive Cruise Control is offered optionally (only with the PDK) there's the option of parking sensors or a full ParkAssist system that adds a parking camera, Porsche also offering a camera-based system for traffic sign recognition, it highlighting speed limits and no-overtaking zones. Lane Change Assist is also on the options list, it a worthwhile addition.
MPG and fuel costs
"Porsche might have added those four-cylinder engines for economy, but drive them hard and you'll not see a great benefit over the engines they replaced. The 718 Boxster's WLTP tested combined consumption figure is 31.4-32.5mpg, with CO2 being between 198g/km and 205g/km, the T being the same."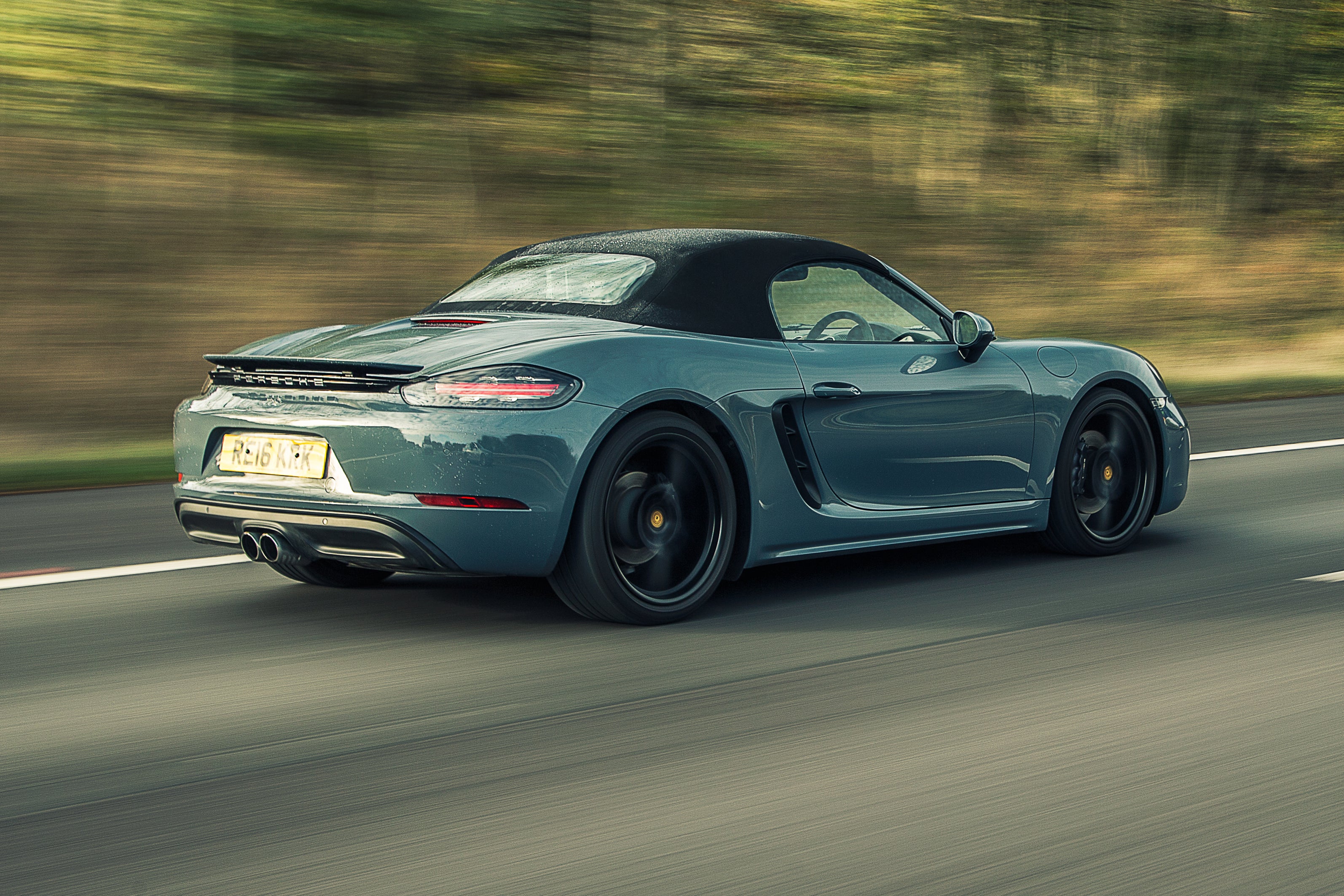 Porsche might have added those four-cylinder engines for economy, but drive them hard and you'll not see a great benefit over the engines they replaced.
The 718 Boxster's WLTP tested combined consumption figure is 31.4-32.5mpg, with CO2 being between 198g/km and 205g/km, the T being the same. The S model manages a combined consumption figure of 29.1mpg and 222g/km, while the GTS returns 25.9mpg and emits 247g/km. All will require super unleaded, so you'll spend a little bit more every time at the pumps, too.
Insurance groups and costs
You're insuring a Porsche, so it's unrealistic to think that it's going to be inexpensive. The standard 718 Boxster sits in insurance group 44, while the S will be higher, in 46, with the GTS certain to be higher again. Servicing costs won't be cheap, either, with tyres brake pads costing a lot to replace, and Porsche dealers charge a sizeable hourly rate. There are plenty of specialists who can service it for you, once it's a few years old and you're less worried about main dealer stamps.
VED car tax
Every model is in excess of the £40,000 list price VED penalty charge, so you'll pay an additional £325 a year – so £475 annually – for the first five years of ownership, after that it'll be £150 a year. The first year payment in all the four-cylinder cars is £1,305 with the GTS costing £1,850.
How much should you be paying for a used Porsche 718 Boxster
"Around £30,000 will be enough to start your hunt for a used 718 Boxster, the cars at that price typically 2016 718 Boxsters with anywhere from 20,000 miles and up on their odometers. If you're after a manual you'll be looking hard, as PDKs dominate the classifieds."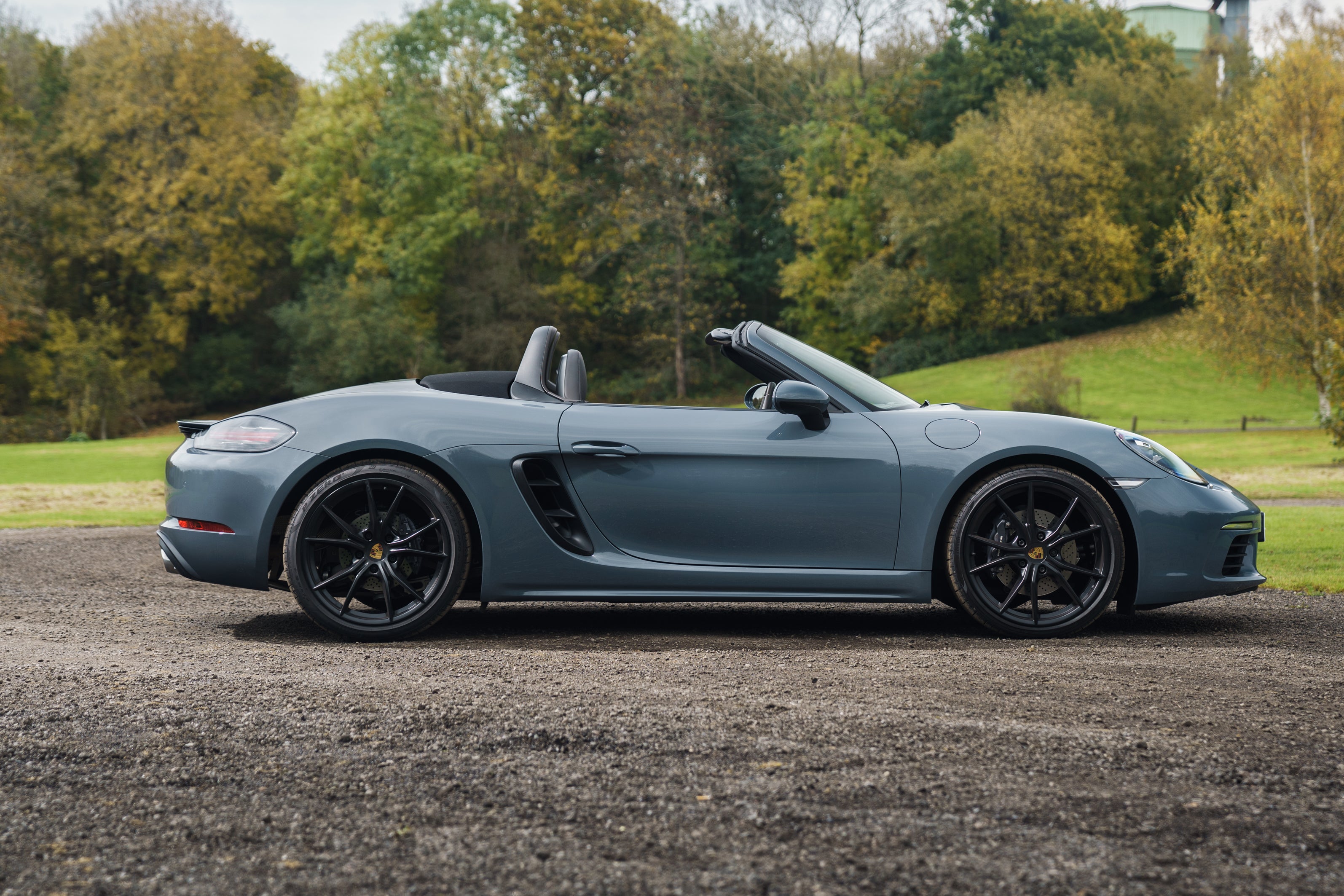 For an S model you'll need to add about £5,000 to your budget, with prices rising as you browse the adverts to the point where you'll find nearly new, delivery mileage examples at Porsche dealerships.
Around £30,000 will be enough to start your hunt for a used 718 Boxster, the cars at that price typically 2016 718 Boxsters with anywhere from 20,000 miles and up on their odometers. If you're after a manual you'll be looking hard, as PDKs dominate the classifieds.
For an S model you'll need to add about £5,000 to your budget, with prices rising as you browse the adverts to the point where you'll find nearly new, delivery mileage examples at Porsche dealerships.
It's important to note that the GTS model didn't get the 4.0-litre six-cylinder engine until 2020, with GTS trim prior to that being based off the 2.5-litre four-cylinder turbo that also features in the S. Look out for cars with the Sports Exhaust and upgraded Bose stereo and Park Assist.
Trim levels and standard equipment
The 718 Boxster and 718 Boxster T are fitted with a 2.0-litre 300PS turbo engine. The 718 Boxster S has a 2.5-litre turbo engine with 350PS
The 718 Boxster GTS has a 4.0-litre flat-six engine with 400PS, it currently only with a manual transmission. Standard equipment in all models includes Porsche's PCM infotainment system, alloy wheels, air conditioning, a manual transmission, electrically powered folding roof, sports seats and LED head and driving lights.
Porsche Boxster cars for sale on heycar
223
Number of cars available
£38K - £98K
Price bracket of these cars
Colours available on heycar
Keep me updated by email with the latest advice, news and offers from heycar
By submitting, you agree to our
privacy policy
.