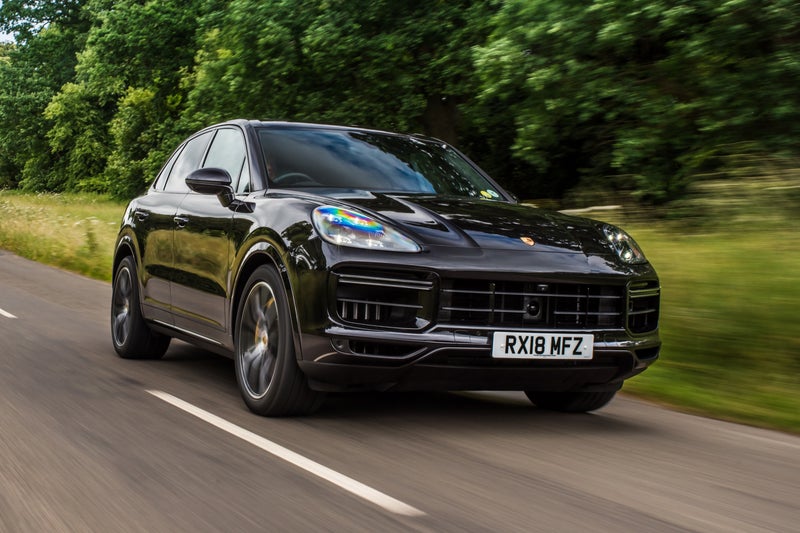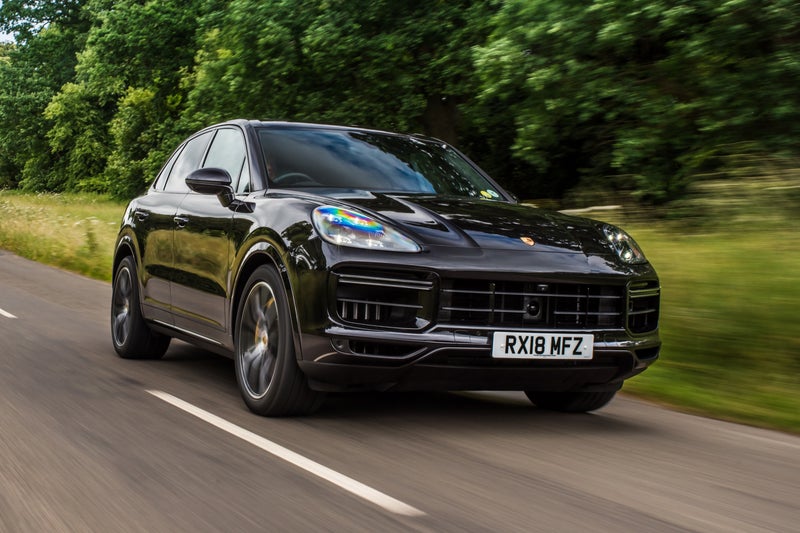 1/10
heycar rating
" A convincingly sporting luxury SUV "
Launched: 2017

SUV

Petrol, PHEV
Quick overview
Pros
genuinely luxurious premium SUV
Brilliant interior
Outstanding performance – and electric drive ability of E-Hybrid
Cons
Expensive to buy
Very big to manoeuvre and park
Costly to run (even the E-Hybrid)
Overall verdict
On the inside
Driving
Cost to run
Prices and Specs
Common questions
Overall verdict
"This generation of Cayenne is the most convincing yet. Now we've got over the shock of Porsche making a luxury SUV, it's somehow more acceptable, and the genuinely luxurious feel of this model really does tick the right boxes – even before you consider the brilliant driving experience. That it's even offered in clever plug-in hybrid guise adds further weight to its cause."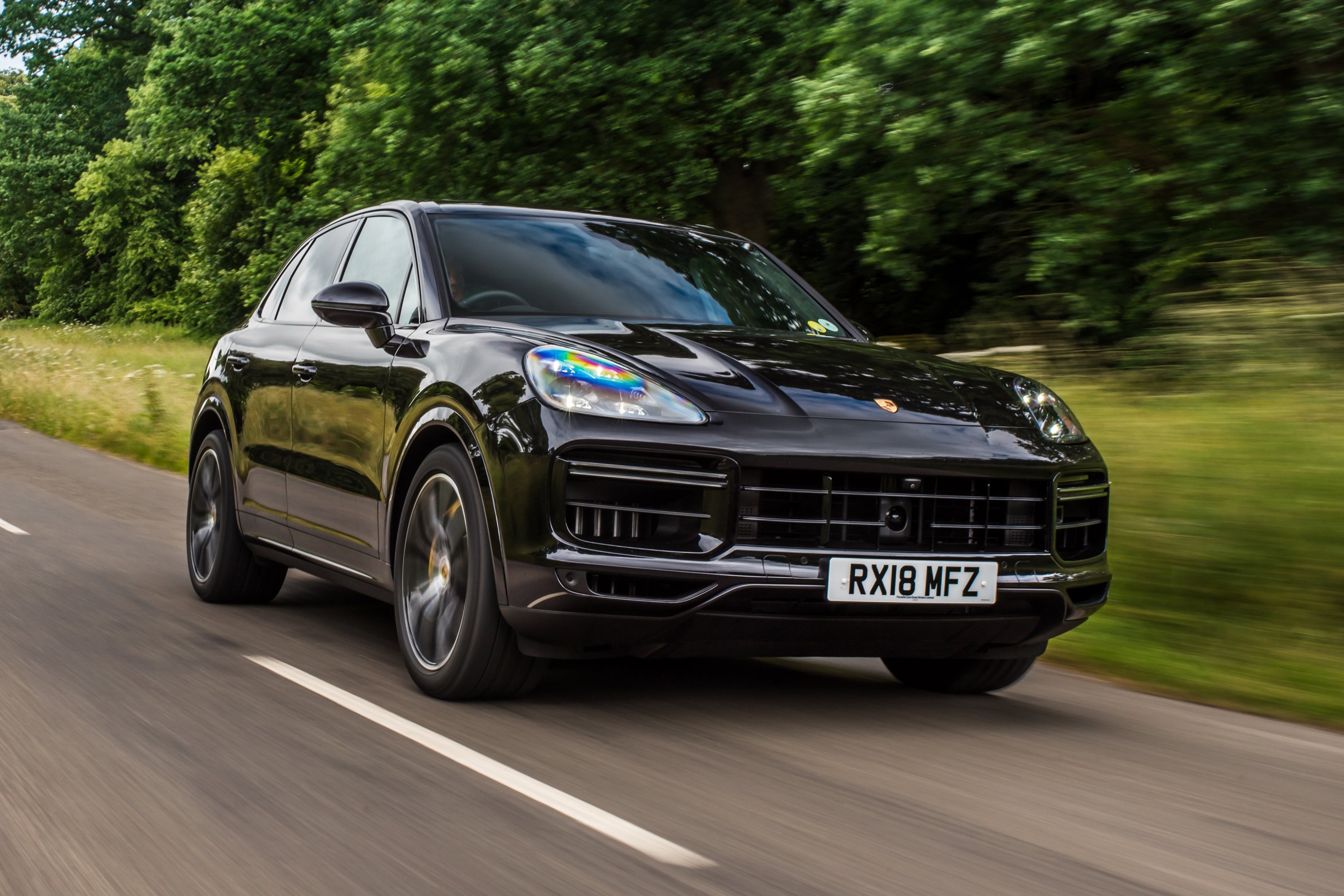 Porsche's pioneering luxury performance SUV has enjoyed several decades of putting up the hackles of diehard sports car enthusiasts. 'Porsche shouldn't be making a large, heavy SUV,' they exclaimed when it was launched. Yet today, the Cayenne outsells every Porsche sports car by a comfortable margin – and its smaller SUV sibling, the Macan, sells even more still.
The Cayenne has been a real success story that has made the company a fortune. And that allows Porsche to continue investing in the sports cars that enthusiasts only have eyes for. Because it's such a profitable car, Porsche has continued to develop the Cayenne, too. This latest model, introduced in 2017, is easily the most advanced and convincing version yet.
For starters, doesn't it look good? Now we're used to the idea of a mammoth Porsche SUV, we can appreciate how the German brand has refined the look of the Cayenne. It seems longer, more elegant and less bulky, while the broad, powerful front end is far more stylish than anything that's gone before. No, it's not a natural beauty, but no SUV is (except, maybe, the Range Rover Velar). This is, however, a sophisticated and modern-looking machine, with plenty of head-turning appeal.
The latest Cayenne is genuinely luxury-grade inside, too. Many of the advanced high-end luxury features first seen in the Panamera GT car have been carried across, including its fascinating touchscreen displays and cutting-edge controls. It's very high tech and will be an endless talking point for passengers.
When they've stopped gawping at the various screens and touch-sensitive controls, they may well notice what a comfortable machine it is, too. The seats are truly indulgent, with armchair-like qualities and plenty of space all around. Porsche hasn't bothered to make the Cayenne into a seven-seater (that would certainly be a step too far for the diehards), but has instead optimised it for five people – or, better still, just four.
It's a good job the interior is so refined and relaxing, given the amount of performance the driver has available. Even a standard V6 petrol will easily alarm people on board with its speed, and the Cayenne Turbo S E-Hybrid is truly boundary-pushing, with 680PS summoning up 0-62mph in just 3.8 seconds. It also has an extra eco trick up its sleeve thanks to plug-in hybrid technology.
Porsche is now rolling out even more focused Cayenne variants, with the sports-tuned GTS model the latest to go on sale. There won't, however, be another diesel model. Porsche has ruled out ever making a diesel again. If you want to save fuel, you'll need to go with the plug-in hybrid.
Since being launched in 2017, the latest Porsche Cayenne has sold well. There's a very rich mix of manufacturer-approved used examples out there, offering an entry into latest-generation Porsche luxury for a fair bit less than you'll pay new. Read on to find out why the Porsche Cayenne deserves your enthusiasm.
If you're looking for the coupe version, you need our Porsche Cayenne Coupe (2019-) review.
Is the Porsche Cayenne right for you?
You need a healthy bank balance to even begin considering the Porsche Cayenne. The latest models effectively start from £60,000 once you've added a few important extras, and the E-Hybrid version you're likely to err towards costs from £69,000. The reality is, few Cayennes are sold with a price tag less of than £75,000.
Although this is a lot of money, the car now really justifies it. The Cayenne is a genuine luxury-grade machine, which can go head-to-head with alternatives such as the Range Rover Sport. It looks more upmarket than ever before, so if you want to show the world you've arrived, it may well be for you.
The green credentials of the E-Hybrid versions also out-eco most rivals, making the Cayenne a relatively (and surprisingly) environmentally-friendly choice as well.
What's the best Porsche Cayenne model/engine to choose?
While the base Cayenne is itself fast, the extra attitude of the Cayenne S somehow seems more convincing. It's surprisingly easy to justify the extra expenditure. Same goes for the E-hybrid, which isn't hugely more than the base car, but is both more technically interesting and socially acceptable.
We like the new GTS version, the most focused latest-generation Cayenne yet, and think it's a more interesting choice than the Turbo. The range-topping Cayenne is the most ludicrous, with colossal power, a wild £125k price tag, yet also some semblance of eco-consciousness. It really is quite a beast, the Cayenne Turbo S E-Hybrid.
What other cars are similar to the Porsche Cayenne?
Comfort and design
"The Porsche Cayenne has a quite magnificent interior that is dominated by a beautifully crisp ultra-wide touchscreen in the centre. This has touch-sensitive controls below, plus a broad, Porsche 911-style instrument cluster with a central rev counter flanked by two more high-res displays."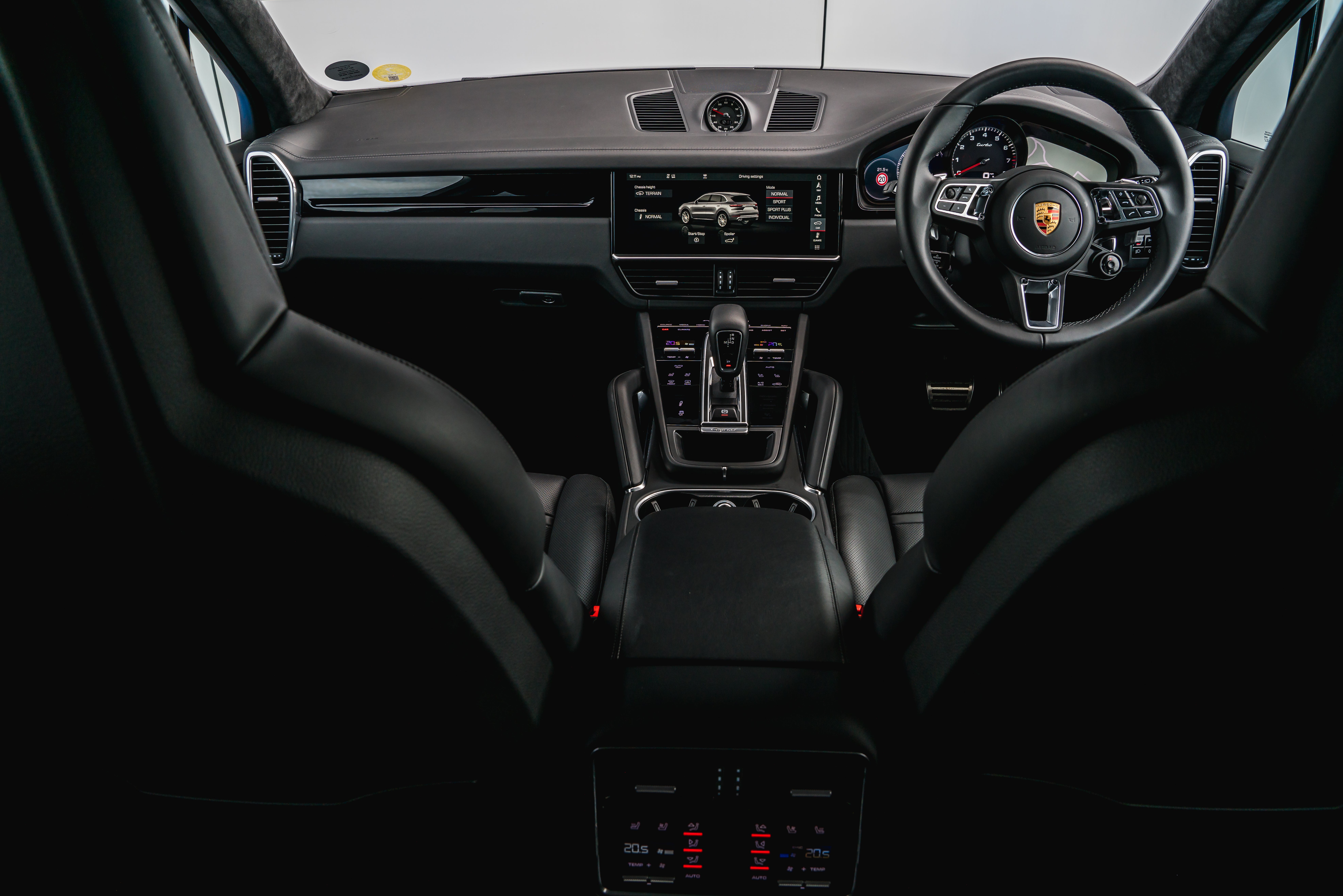 It all looks extraordinary, particularly at night where it all illuminates in an incredibly sophisticated and premium manner – like driving along in a giant Apple computer. The sheer configurability of it all means the design is endlessly fascinating – we particularly like the animations in the centre console, which you'll never tire of watching as you adjust various parameters and settings.
The seats are wonderful. They feel sporting, in an authentically Porsche way, but they're also comfortable and supple enough for long-distance motoring. You wonder why all luxury car seats can't be like this – they have just the right level of support without feeling like you're sitting on a park bench. As you move up the range, the seats become even more indulgent – we particularly like the sportier (but not too sporty) chairs in the GTS.
The design is fully customisable in terms of colours, colour splits and trim inlays. Porsche lets you configure almost every aspect – at a price, of course – meaning that whatever you want the design to say, it can say it. Porsche Exclusive Manufaktur is ready and waiting to cater to your every whim.
We must also mention the steering wheel, which feels just like that in a 911. It may seem incongruous to grab a sports car steering wheel in a luxury SUV, but it's actually a lovely design detail that feels special each time you climb behind it. It even has the same suspension controller dial (if the optional Sport Chrono pack is specified) as a 911, for added authenticity.
Quality and finish
Quality is impeccable. While the first generation Cayenne may have let the side down in a few key areas, the company is absolutely back to its very best with this latest 2017-on model.
Everything is fantastic to the touch. Most of the interior is lined in leather, and the parts that aren't either use the richest, softest-touch plastics, or are clad with impeccably well-finished trim panels. It's less like a car and more like a luxury hotel.
Even the switchgear is gorgeous, with tiny silver controls clicking beautifully and feeling almost jewel-like. Yet it's the clarity of the displays that dominate the interior which really give the Cayenne a modern, high-end look. It's all so crisp and cool, and incredibly classy. All the luxury that's built into the latest Panamera is in evidence here – and how.
Infotainment
The 12.3-inch touchscreen is a joy to use. It's like you're operating a really expensive tablet, so responsive and tactile does it feel. There's not a hint of lag or delay, and the system responds swiftly to even the lightest finger-touch. This latest-generation Porsche Communication Management is fitted with Porsche Connect Plus for online services and navigation. It's fully personalisable and up to six profiles can be configured, ready to use at the press of a button.
Functions that aren't controlled through the touchscreen itself are operated via a smartphone-like glass touch surface, which gives acoustic and haptic clicks in response to a finger jab. It's all very space-age and sophisticated. Needless to say, a 4G modem, wi-fi hotspot and full Porsche Connect services are fitted as standard.
The instruments use tech called the Porsche Advanced Cockpit, comprising a central rev counter and dual 7.0-inch HD displays. These are fully configurable as well, displaying features such as the optional Night Vision Assist, which uses an infra-red camera to 'see in the dark'.
Space and practicality
The latest Porsche Cayenne is a seriously imposing car: over 4.9 metres long and almost two metres wide (and that's with the door mirrors folded in). It's also nearly 1.7 metres tall and, yes, it's heavy – weighing two tonnes even in base-spec guise (the E-Hybrid is over 2.3 tonnes).
It's therefore fittingly spacious on the inside. In the front, it feels palatial. You step up high into it, climbing into a wide cabin with a huge centre console that seems to position you far away from your fellow front-seat passenger. With your right arm on the wide windowsill and left elbow on the adjustable armrest, you'll feel like the king of the road.
It's vast in the rear, too. This is a no-compromise machine, with a rear seat that isn't compromised by the need to get a third row of passengers into the rear. It's very roomy, with plenty of width for three adults, loads of headroom, leg-crossing kneeroom and enough foot space to stretch back and relax. The middle-seat passenger might not quite feel as comfortable as the outer two, but that's only because the other seats are so comfortable and nicely shaped. With big windows to stare out of and a plethora of air vents to control the rear-seat climate, it's a real haven back there.
The boot is, you won't be surprised to hear, mammoth. At its largest, seats-up space stretches to 770 litres – that's truly enormous, and around 100 litres bigger than even its predecessor. Folding the seats down extends the space to 1,710 litres, which is on a par with the very largest estate cars. The Panamera is a hugely practical and spacious machine and easily justifies itself for the flexibility it delivers. Just note that if you do pick the E-Hybrid version, boot space will shrink by 100 litres, due to the batteries in the back.
As for child seats, there are Isofix mountings on the outer two rear seats, but Porsche chose not to utilise the Cayenne's extra width to fit a third Isofix seat mount. There isn't an Isofix mount on the front passenger seat either, although you will find an airbag cut-off switch.
Handling and ride quality
"Right from the very first Cayenne, Porsche's luxury SUV wowed the world with just how genuinely sporting and satisfying it is to drive. It shouldn't be possible for such a large and heavy machine to handle in quite such a satisfying way, but that's without factoring in the unique Porsche magic. It's even possible to get the Cayenne drifting around a racetrack if you really want to (we did). That's how unexpectedly lithe and agile it can be."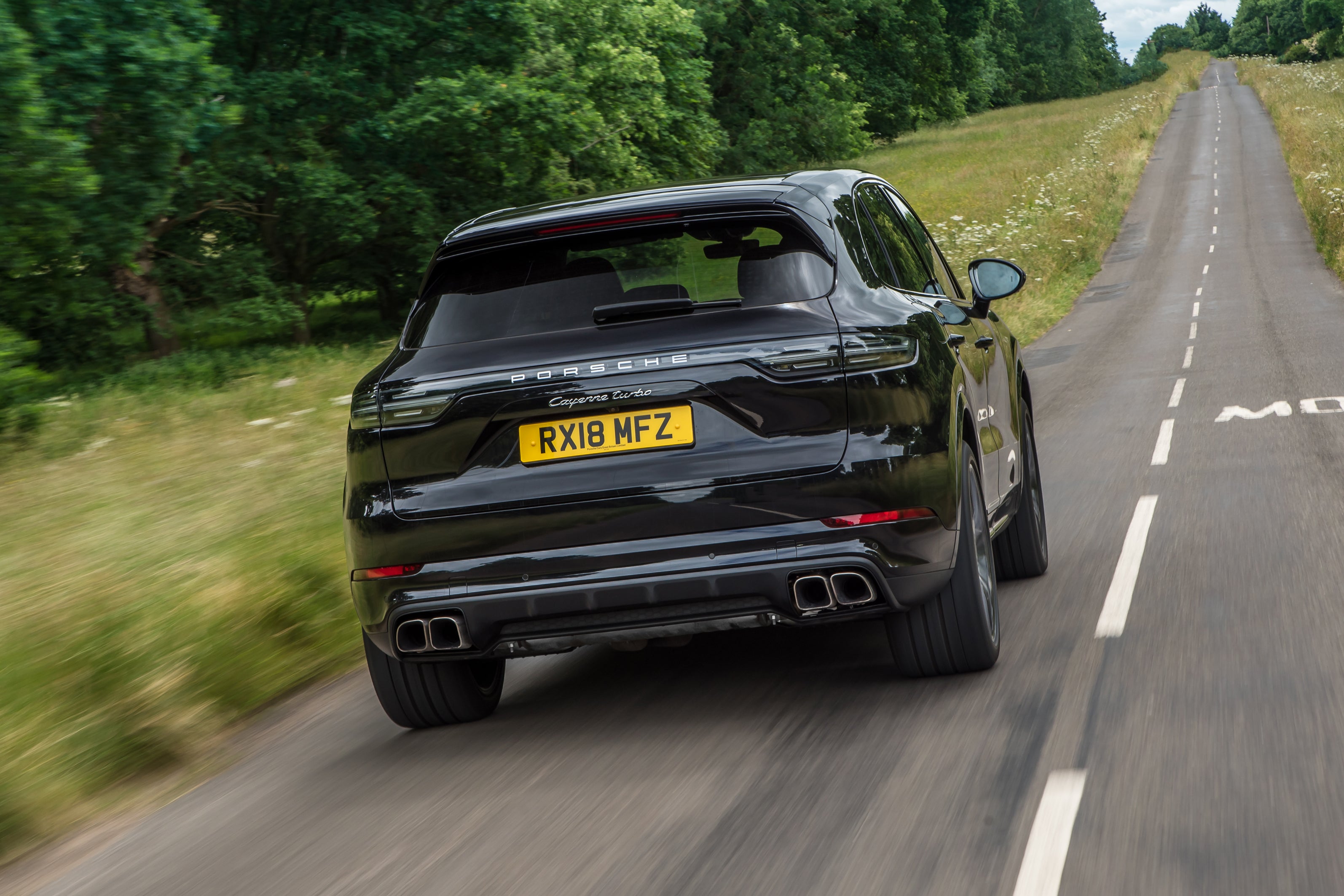 Steering feel is particularly good, with a really tight, sharp setup. It's flickable and further enhanced by how well-positioned the steering wheel is – it sits in your lap and feels completely intuitive. Once again, more like a 911 than an SUV.
The Cayenne has a plethora of suspension options, masterminded by 4D Chassis Control networking. S models get adaptive PASM dampers, while adaptive air suspension with three-chamber technology enhances both the sportiness and the luxury car ride. Buyers can also choose electric rear axle steering, Porsche Dynamic Chassis Control with active anti-roll, and even tungsten carbide-coated disc brakes. That's if you can't quite justify spending thousands on the PCCB ceramic brakes.
Porsche hasn't made a glorified rally car, though. The ride is as plush and luxurious as you'd expect, with fine isolation in standard mode. And it only improves as you move up through the various suspension options. For the best ride, stick with the 19-inch alloys, but things don't degenerate significantly even with 21-inch rims.
There's an extra sports car-related factoid that owners might also like to throw into conversation. For the first time, the Cayenne has mixed tyres: wider at the rear than the front. Name another car with mixed tyres? Yep, the Porsche 911.
Engines and gearboxes
Even the 'slowest' Porsche Cayenne has 340PS from its 3.0-litre V6 turbo engine, which is good for 152mph all-out and 0-62mph in 6.2 seconds. The more potent Cayenne S produces 440PS from, bizarrely, a different 2.9-litre V6 turbo engine, rushing from 0-62mph in 5.2 seconds.
Unless you really want a sportier focus, we think you're better off with the Cayenne E-Hybrid, which switches back to a 3.0-litre V6 and adds a 136PS electric motor, for a total output of 462PS and 0-62mph in 5.0 seconds.
Then it's onto the 4.0-litre V8 versions. The focused, rorty GTS makes the most authentically burbly V8 sound effects, producing 460PS for 0-62mph in 4.8 seconds. The Turbo is more sophisticated, and a lot faster, with 550PS taking it from 0-62mph in 4.1 seconds.
And if you think that's fast, at the top of the range sits the mighty Cayenne Turbo S E-Hybrid. This combines the most potent V8 turbo with that 136PS electric motor, for a colossal total output of 680PS, 0-62mph in 3.8 seconds and a top speed of 183mph. And it does all this while having the capacity to run for almost 20 miles as a silent, zero-emissions EV. Incredible.
All Cayennes use an automatic gearbox: the fast and smooth-shifting eight-speed Tiptronic S transmission.
Refinement and noise levels
The Cayenne is a beautifully refined machine, with its enormous structure being packed with insulation and the most intricate measures to eradicate noise. Remember, the base platform is also used by Bentley in the luxurious Bentayga, so refinement will have been prioritised from the outset.
Despite the steamroller wheels, tyre noise isn't too intrusive, and double glazing will keep wind noise at bay. The ability of E-Hybrid models to operate as silent-running EVs further enhances this incredible refinement. If you don't want the Cayenne quite so silent, pick a GTS to enjoy a bit more exhaust rort.
The calm, serene interior is the perfect place to enjoy some high-end audio, with Porsche offering systems from Bose and Burmeister, depending on your budget and how 'concert hall' you want things.
Safety equipment
It's not often that expensive, luxurious cars such as the Porsche Cayenne are crash-tested by Euro NCAP. The honour was carried out in 2017, though, where it perhaps unsurprisingly scored five stars (imagine the shock if it hadn't). Adult occupant protection is outstanding, at 95 percent, and child occupant protection was rated at 80 percent. The Cayenne also scored 73 percent for pedestrian safety and 62 percent for safety assist systems.
An active pop-up bonnet helps pedestrian safety by reducing the risk of heads coming into contact with anything hard in the engine bay. Porsche also fits autonomous emergency braking that detects pedestrians and other obstacles such as cyclists at city-centre speeds, while the cruise control has a speed limiter built in. Surprisingly, though, a lane-keep assist system is only optional.
There's a full suite of airbags, including knee airbags for both front occupants – but again, it's odd that side chest airbags are left on the options list for rear passengers.
Optional safety tech includes adaptive cruise control, the aforementioned night vision display, a lane-change camera, traffic sign recognition and a 360-degree parking camera.
MPG and fuel costs
"The Porsche Cayenne looks to be a very thirsty car on paper, but remember, it is assessed to the latest, much stricter WLTP fuel economy standard. MPG is low, but at least you're unlikely to have any nasty surprises in everyday use. The range opens with the Cayenne, which averages 22.2mpg-24.1mpg. the swifter Cayenne S dips slightly, to 21.9mpg-23.9mpg. Despite its 550PS performance, the Turbo averages just under 21mpg."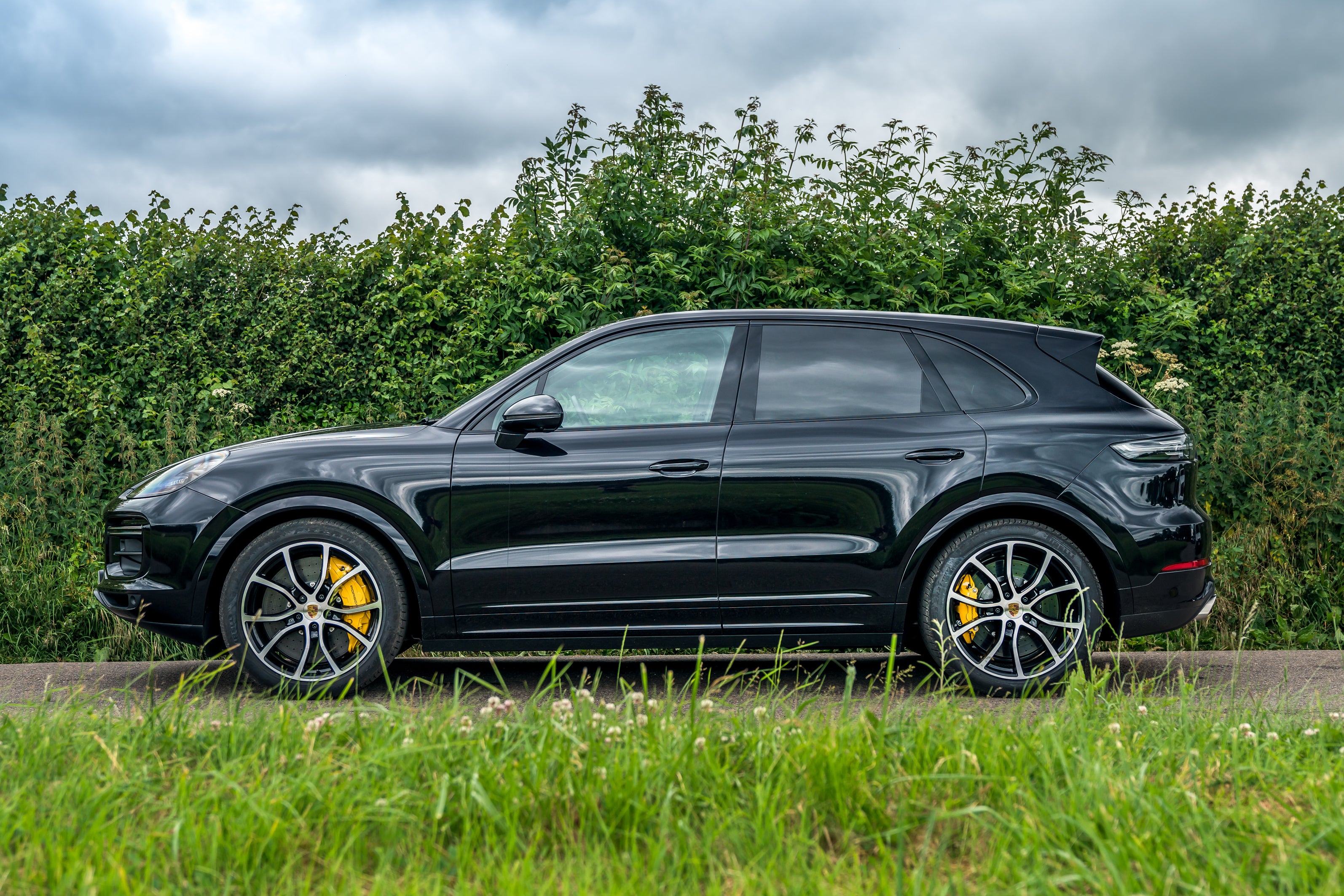 The two plug-in hybrids look to offer much more on paper, due to how the tests are conducted. Most impressive is the E-Hybrid, which returns 60.1mpg-72.4mpg, and will run for around 21 miles as a pure EV, thanks to power from a 14.1kWh battery. The mighty Turbo S E-Hybrid has a 19-mile driving range and official economy of 52.3mpg-58.9mpg.
For the plug-ins, they'll basically consume no fuel if you're able to keep the batteries charged, but be little more efficient than a normal Cayenne if you don't.
Insurance groups and costs
It goes without saying that the Porsche Cayenne is going to be a costly machine to insure. Not only is it a desirable SUV, it's one wearing a sports car badge on the nose. Saying that, not every model drops into the highest insurance group 50. The standard Cayenne, which seems a good blend of performance and relative affordability, is group 44. Things quickly rise, though – the Cayenne S is group 48 and even the standard E-Hybrid is group 50.
VED car tax
Even the hybrids can't escape the punitive 'expensive car' tax premium that sees VED (road tax) costs rise to £475 a year between years two to six. But they do cost much less up front for the first year, courtesy of much lower CO2 emissions.
The E-Hybrid emits as little as 89g/km, which means it costs vastly less than even the base Cayenne, whose 265g/km CO2 means a first-year VED bill of £2,175.
How much should you be paying for a used Porsche Cayenne?
"If you don't wish to fork out for a new Cayenne, then add on four figures-worth of options, the used car market is the place for you. There aren't a huge number of cars out there yet, but the ones that are generally enjoy the full support of the Porsche manufacturer-approved sales scheme, and generally quite low mileage."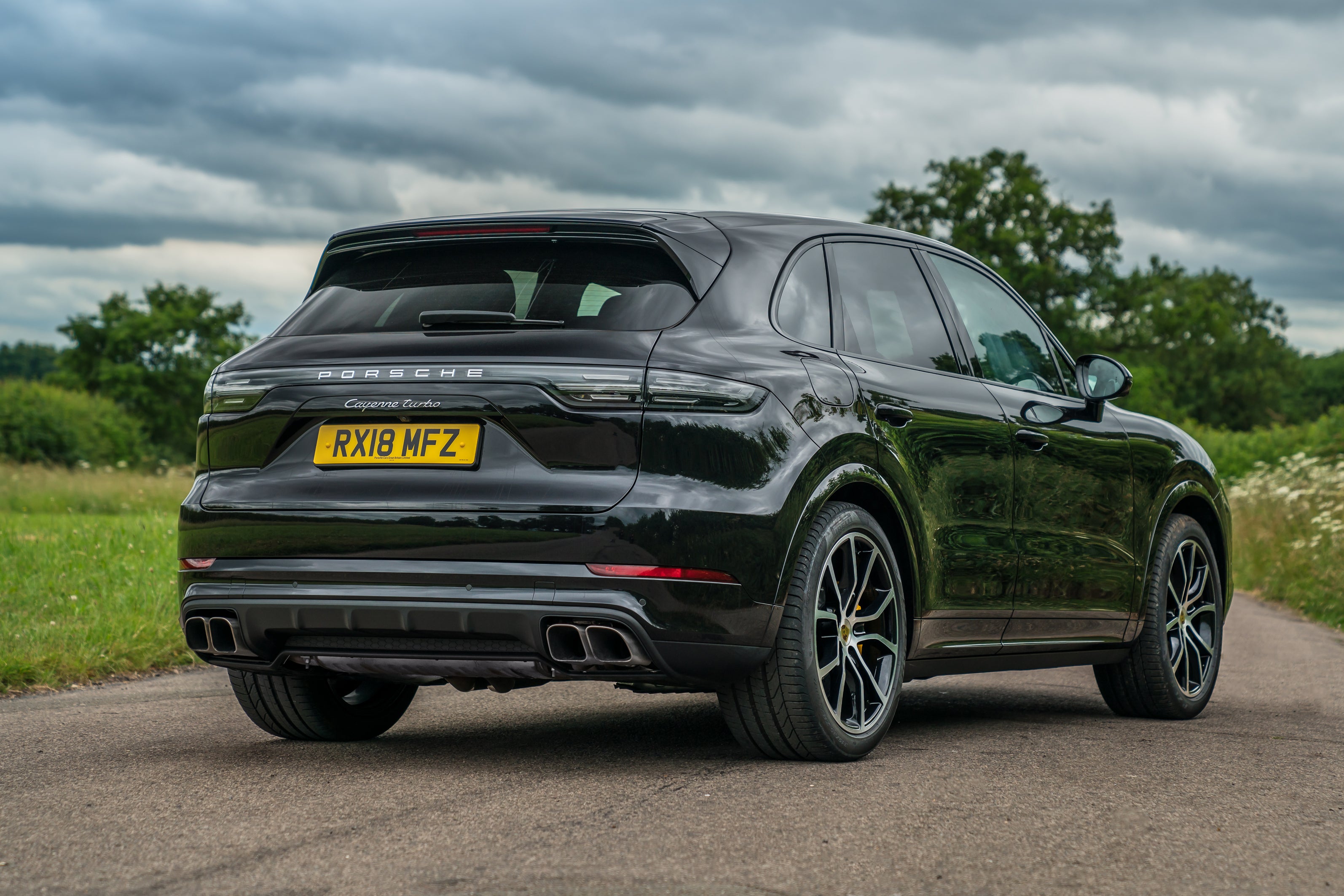 A Cayenne S starts from just under £60,000, with the fuel-saving E-Hybrid versions on the market for around £65,000. These two versions seem to be the most frequently advertised, certainly at the more affordable end of the range. The extreme price of new Turbo and Turbo S E-Hybrid means they're a very rare sight, and yet to drop into the realms of five-figure affordability.
Trim levels and standard equipment
As a luxury car, the Cayenne has all the essentials you'd expect. The Porsche Advanced Cockpit comes even on the base model, for example, as does that beautiful 12.3-inch touchscreen centre display, eight-speed Tiptronic S gearbox, multi-zone climate control and a good haul of active safety features.
The Cayenne S has a sportier focus, enhanced further in the Cayenne GTS. The Turbo is all about six-figure luxury and indulgence, while the E-Hybrid is comparable with a regular Cayenne and the Turbo S E-Hybrid is the absolute range-topper of the Cayenne range.
Few buyers stop with a stock order. The array of options is vast, as we've discussed, with multiple types of suspension, interior trim, premium audio, wheels, paint colours... you name it.
This is what makes buying a new Cayenne so involved, and what makes searching for a used one so exciting.
Ask the heycar experts:
common questions
What is the fastest Porsche Cayenne?
Right now the range topper is the Turbo S E-Hybrid, with a combined petrol-electric powertrain that allows it to sprint from 0-62mph in just 3.8 seconds.

Is the Cayenne a reliable car?
The latest Cayenne is a very complicated piece of kit, but its predecessor has a very good reputation for both engine and gearbox durability, two of the most expensive parts of the car.

Does the Porsche Cayenne have PDK?
No. Unlike its smaller brother the Macan, which does benefit from Porsche's incredibly fast and precise dual-clutch gearbox (what PDK stands for) the Cayenne has a slightly slower and smoother Tiptronic automatic that is better equipped to handle its high torque output.

Is the Cayenne a real Porsche?
Absolutely. The Cayenne might not look much like a Porsche, but it's engineered with the same attention to detail, and the handling is tuned with the same passion for driving as the 911. Drive one and you'll be amazed how a two-tonne SUV can corner and brake so well.

Answered by
heycar editorial team
Porsche Cayenne cars for sale on heycar
223
Number of cars available
£34K - £130K
Price bracket of these cars
Colours available on heycar
Keep me updated by email with the latest advice, news and offers from heycar
By submitting, you agree to our
privacy policy
.