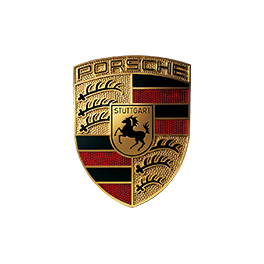 Porsche Cayenne Coupe Review

Written by
heycar editorial team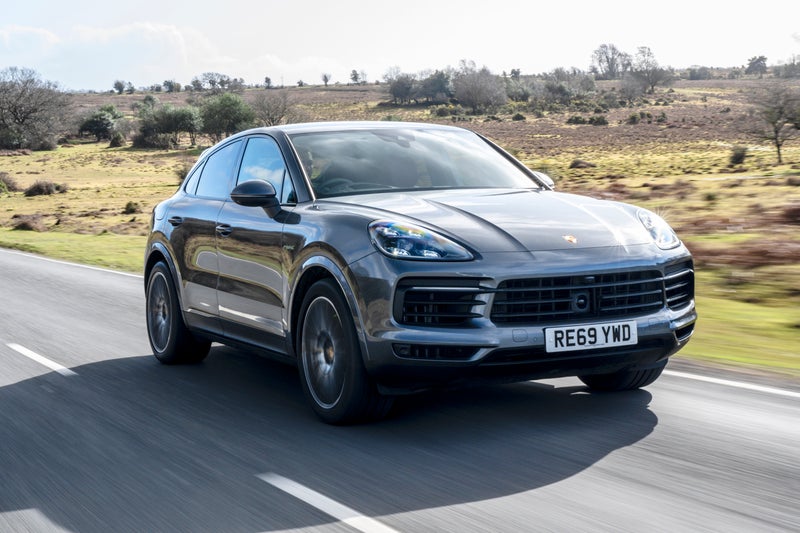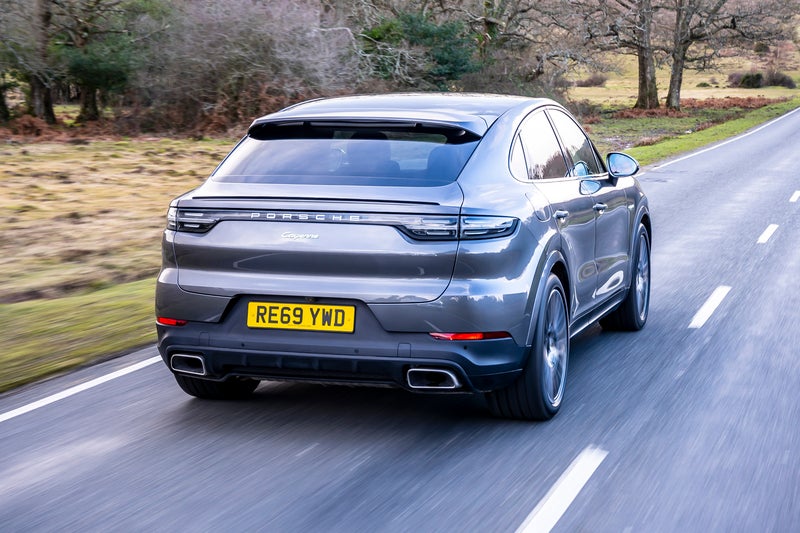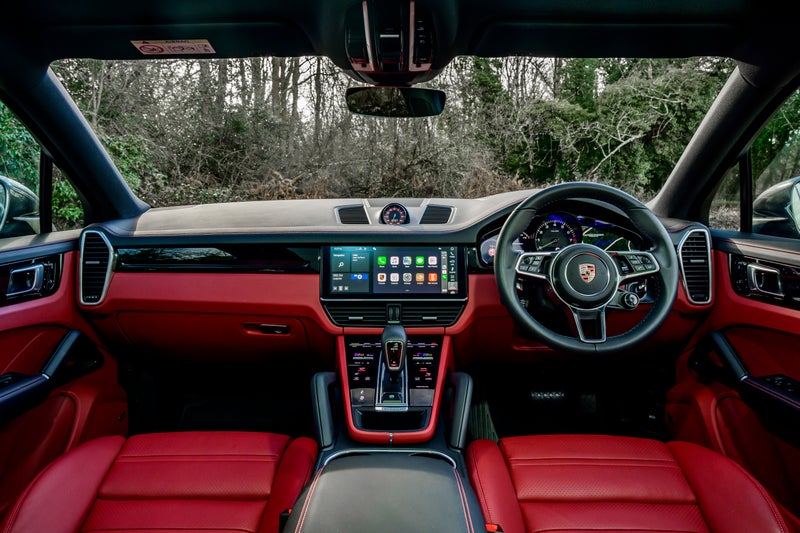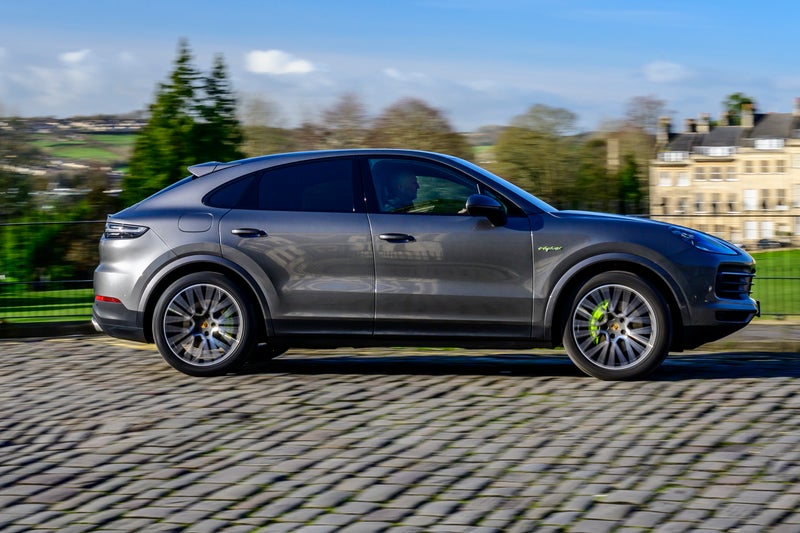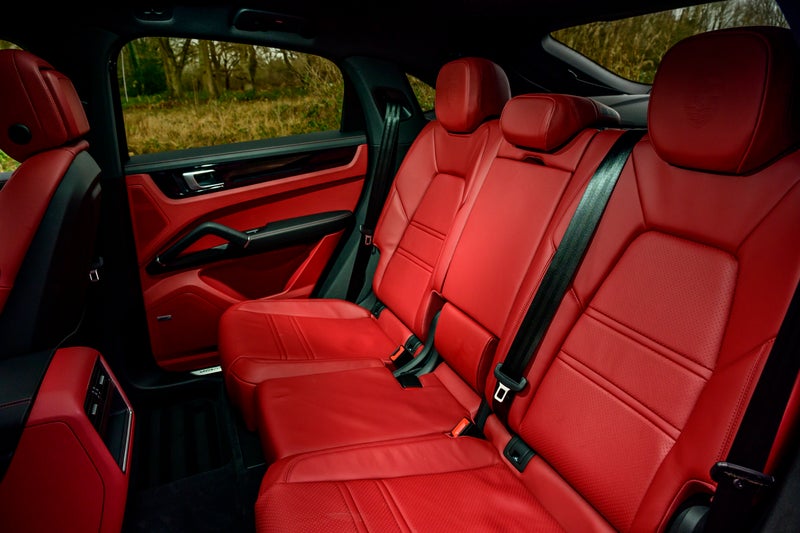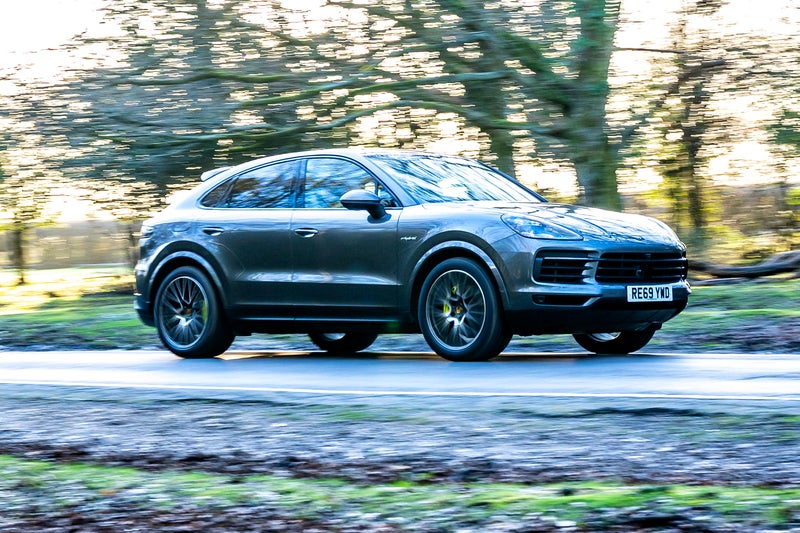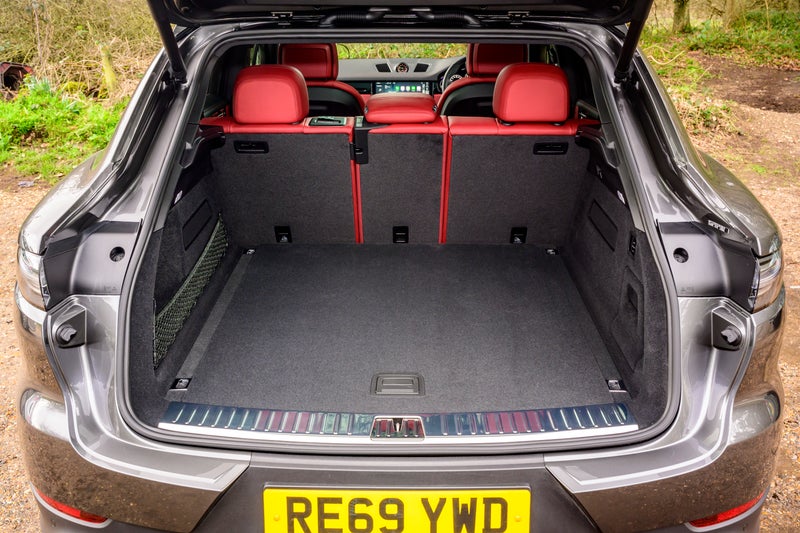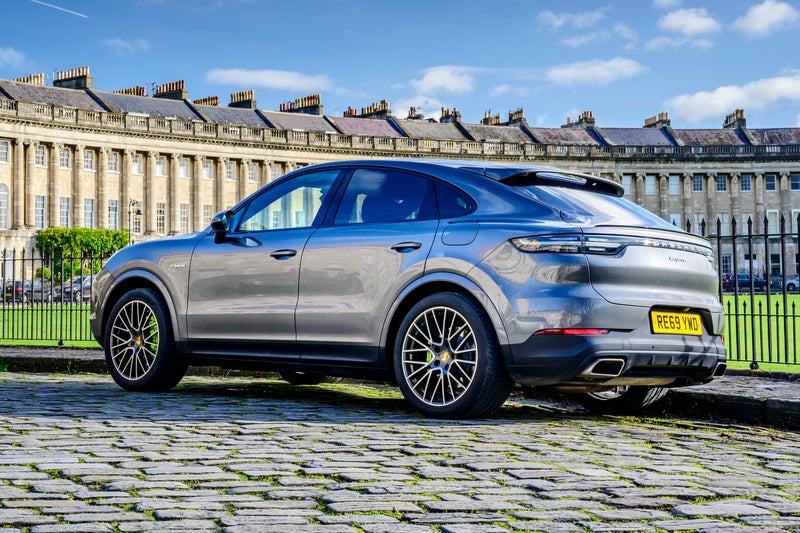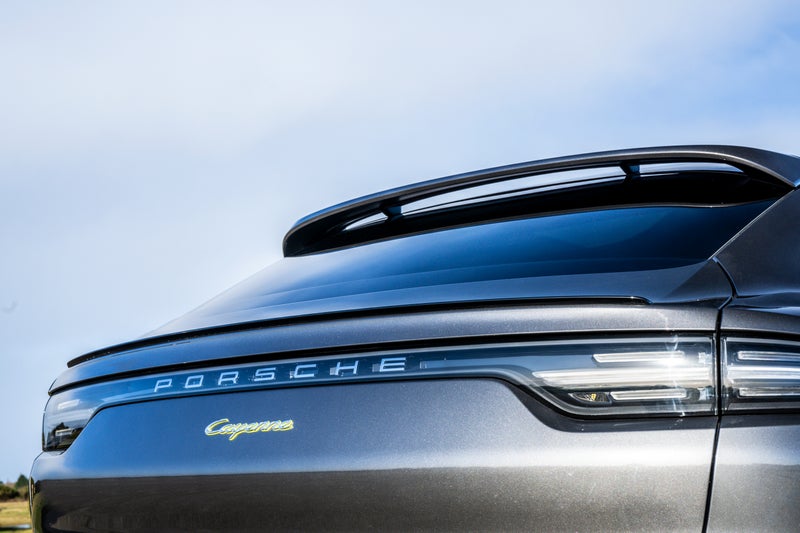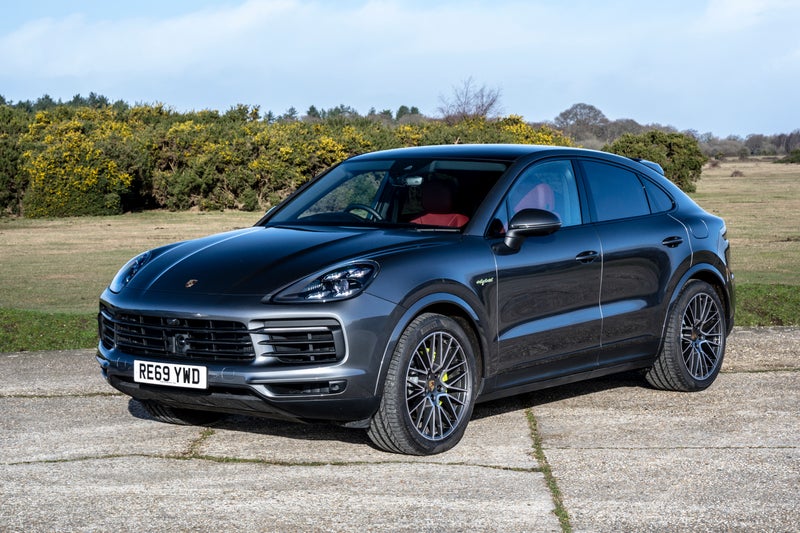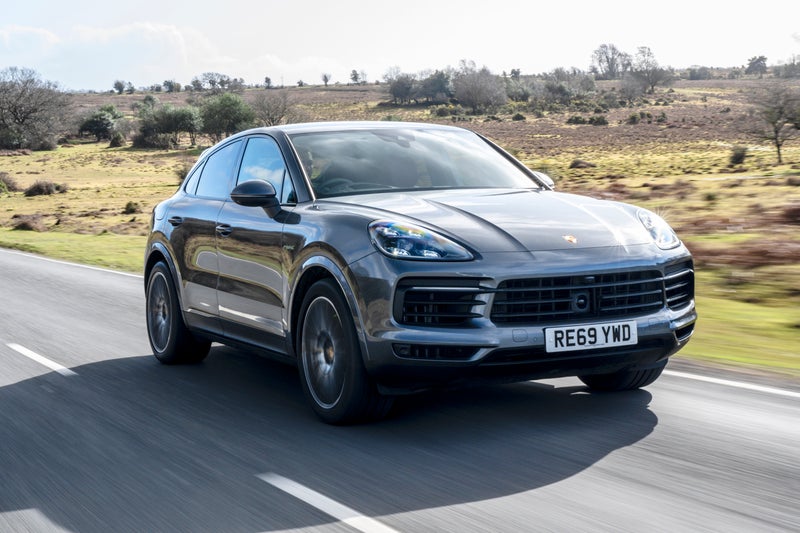 1/10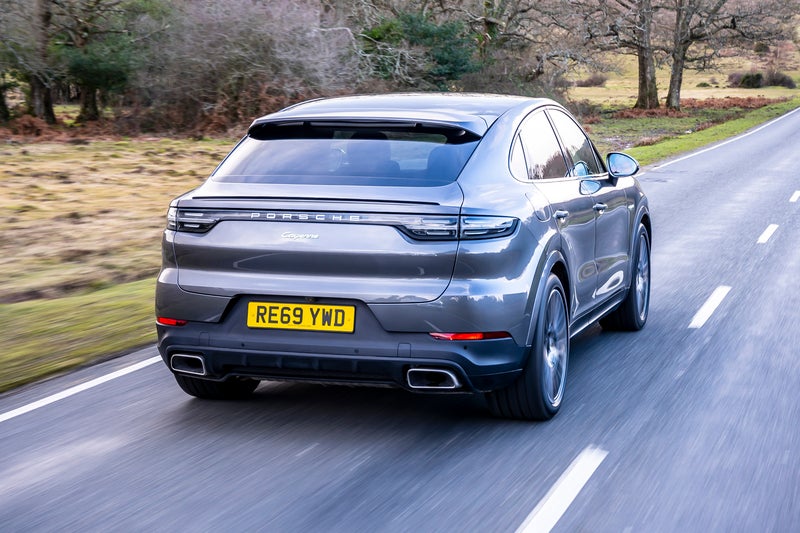 2/10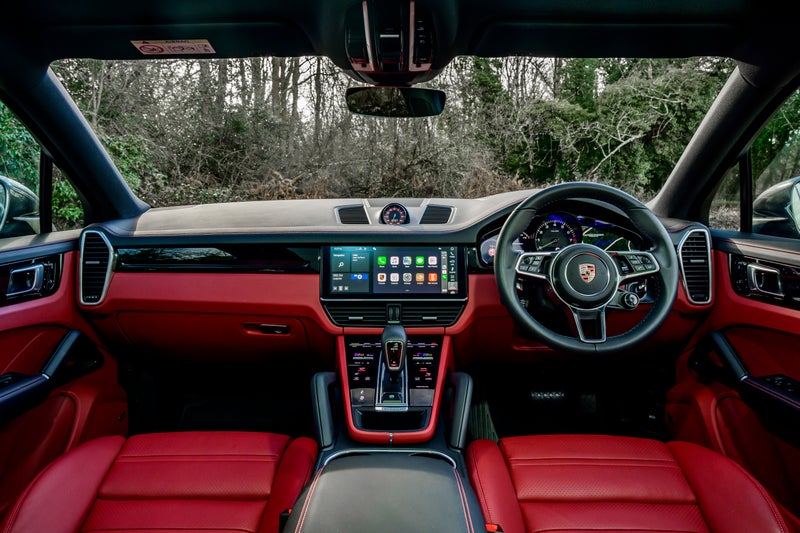 3/10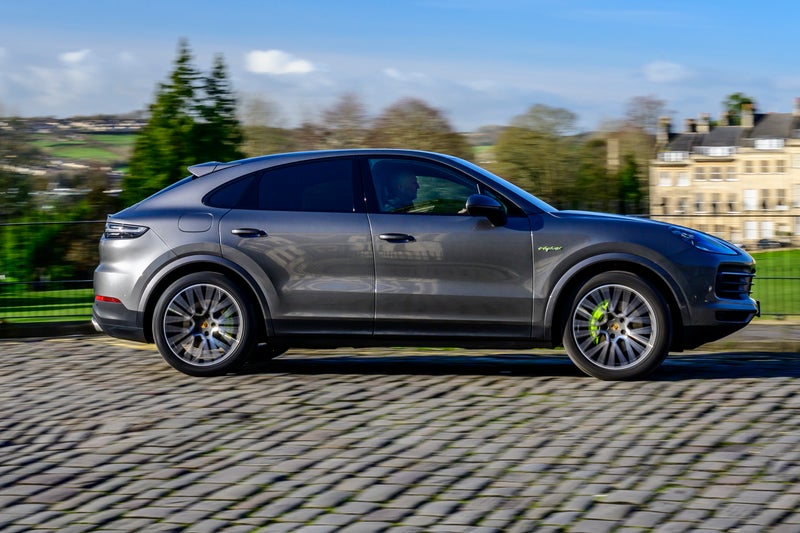 4/10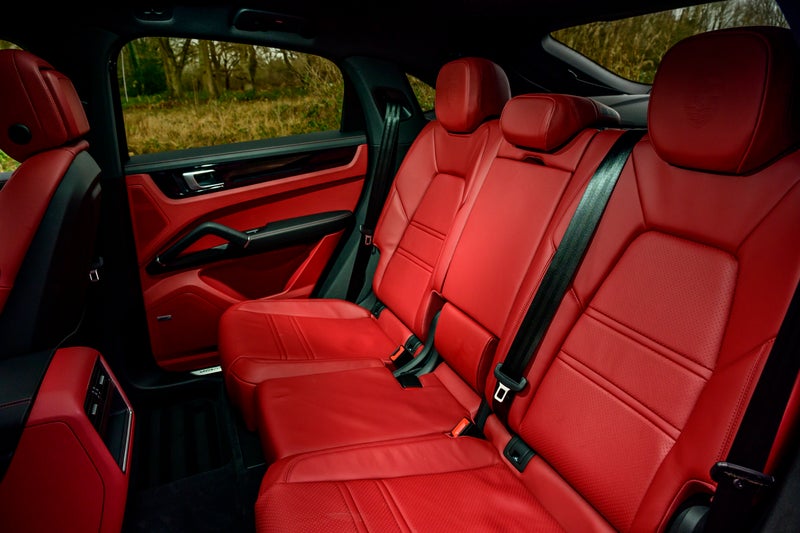 5/10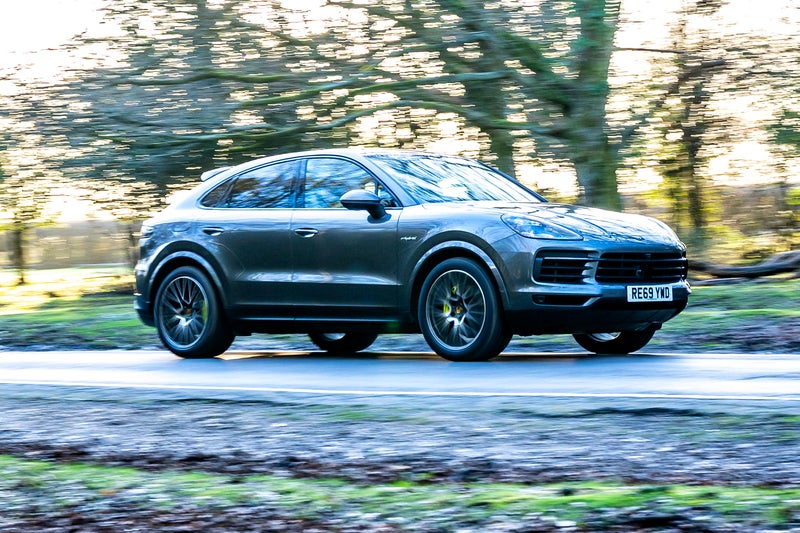 6/10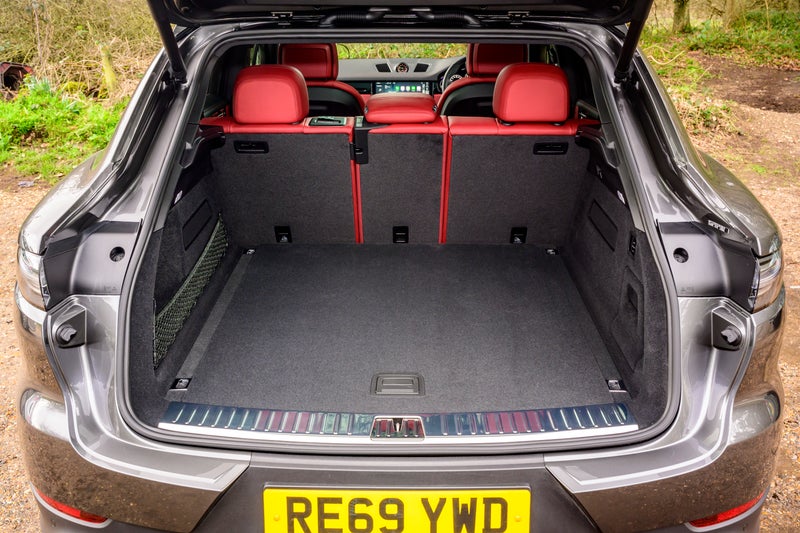 7/10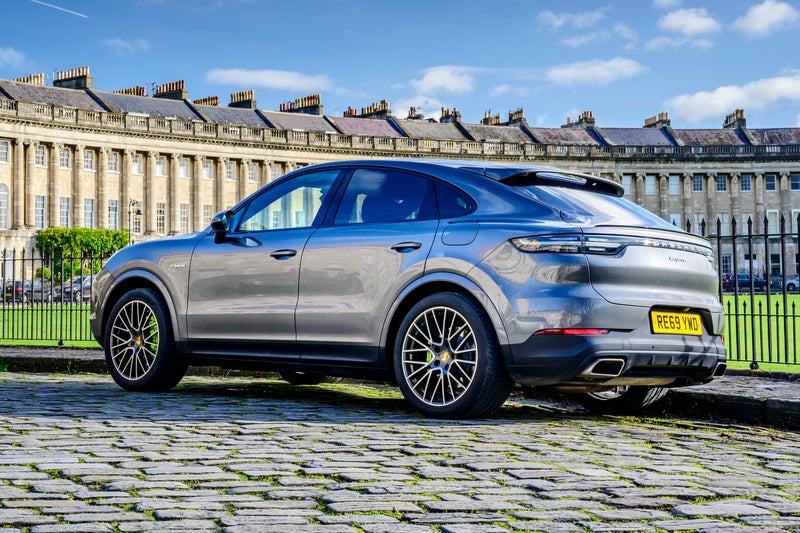 8/10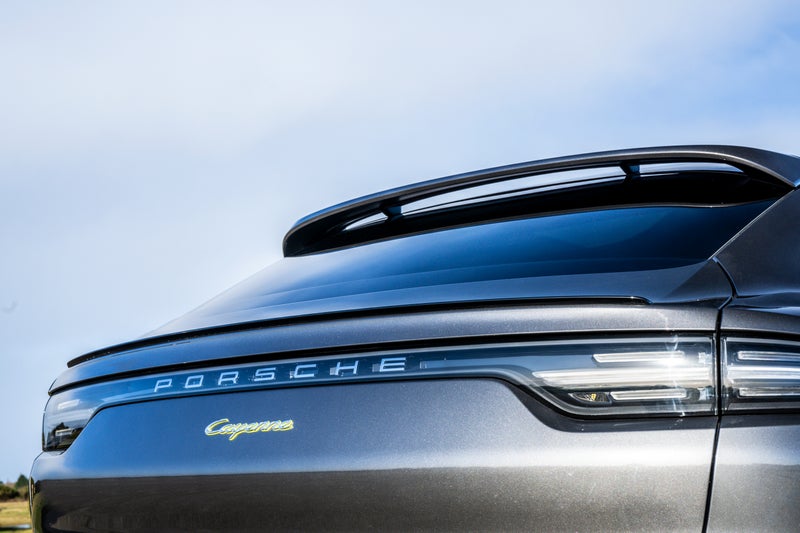 9/10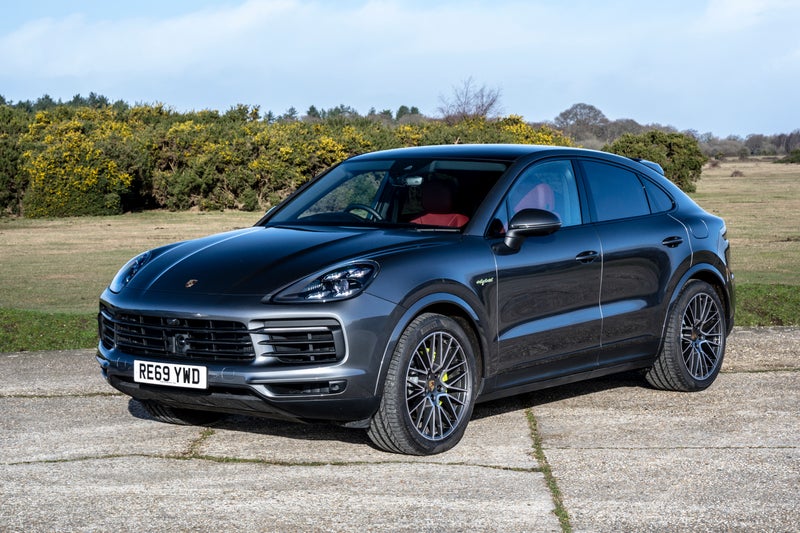 10/10

heycar rating
"Stylish, practical SUV – Turbo's quick"
Quick overview
Pros
Top-end models offer staggering performance
Impressively agile for such a hulking great SUV
The posh interior is spacious and practical
Cons
Non-hybrid models cost a fortune to run
You can't have Android Auto
Basic petrol engine lacks the power to excite
Read by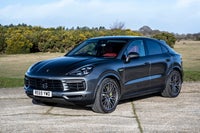 Overall verdict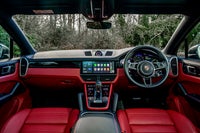 On the inside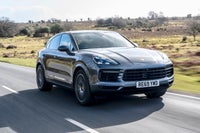 Driving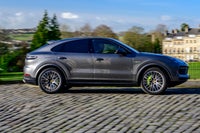 Cost to run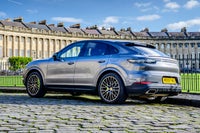 Prices and Specs
Overall verdict
"The Porsche Cayenne Coupe uses the standard Cayenne as a base to offer you a car that's a gnat's breath more stylish looking, ever so slightly sharper to drive while being just a tad less practical."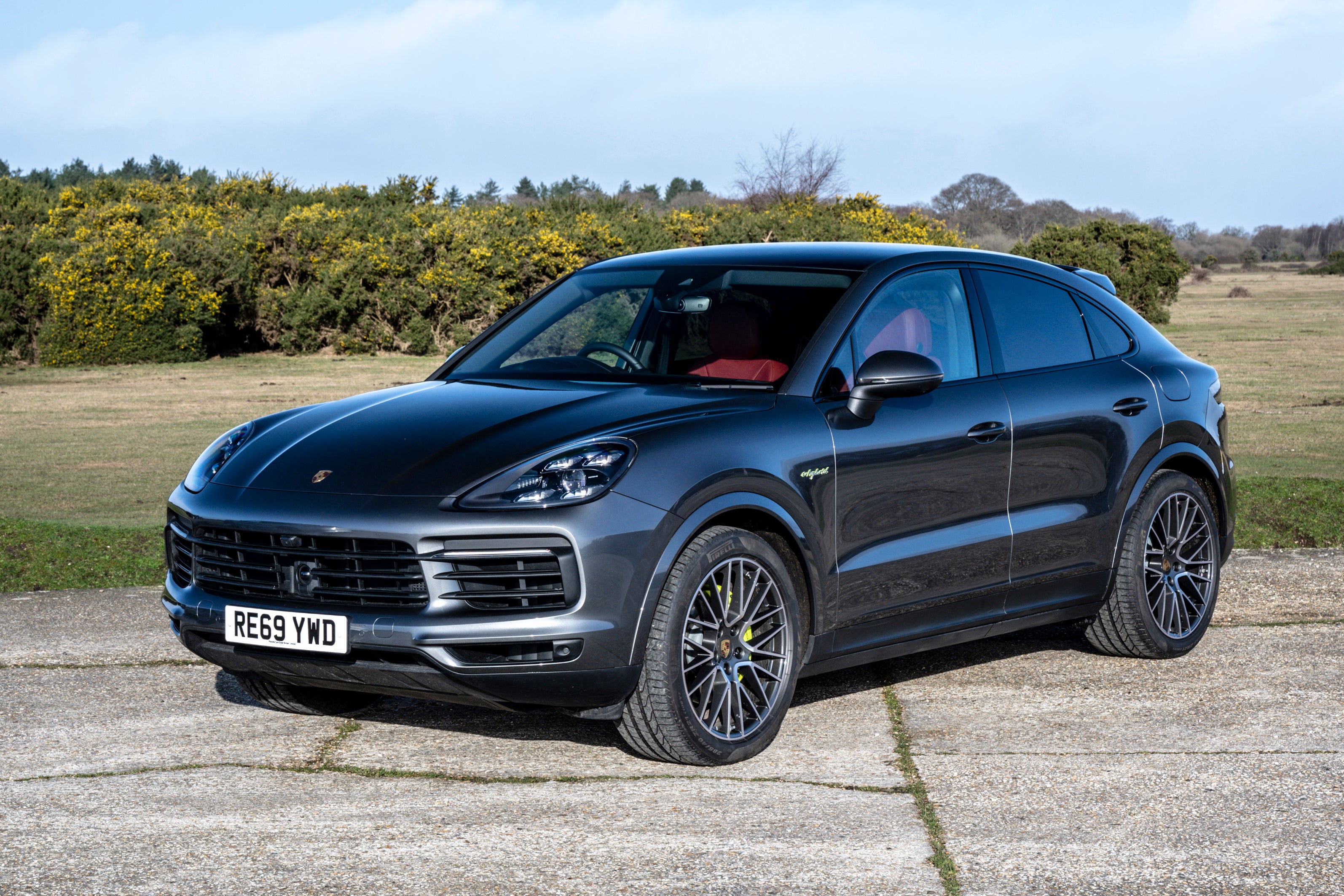 So what's changed? In truth, not a huge amount, the sloping roof being a highlight, it makes the Cayenne Coupe look, well, like a Coupe, albeit a very large one. You also get a wider stance and a retractable spoiler just like on a Porsche 911. That's about all that's changed. Viewed dead on, the Cayenne Coupe is almost identical to the full-sized SUV it's based upon.
And Porsche has managed to give you these looks, without causing too much of a dent to practicality. There's loads of room up front, plenty of space in the back for adults and you get a boot that, while slightly smaller than the standard Cayenne's, is still double the size of an average family car's load bay.
Interior quality is also exactly what you'd expect of a Porsche. General plastics feel excellent and you can spec pretty much any kind of trim you like from carbon fibre to wood and metal finishes, Porsche has got the lot, so long as your pockets are deep enough to pay for it.
The driving position itself is great, the tall transmission tunnel and sporty dials making it feel like you're driving a 911 on stilts. Even the infotainment is excellent, you get a huge screen with clear and colourful graphics and an intuitive layout. Apple CarPlay comes as standard, but there's no Android Auto so you won't be able to link your Android phone up to the car's big screen.
You don't buy a Cayenne Coupe because it'll link easily to your smartphone, though, you buy it because it's surprisingly good to drive. Yes, the ride might be high, but this sporty SUV can claim genuine Porsche DNA. While most cars like this dull your senses, the Porsche's steering communicates surface and camber changes, weighs up as you steer into a corner and goes light when you start to lose grip, it's not as good as the steering you get in a 911's but it's a lot better than you get in any other SUV.
Factor in the huge grip generated by the Cayenne Coupe's large tyres and suspension that filters out road imperfections while staving off body lean in tight bends, and you've got yourself one accomplished SUV.
And you get the performance to thoroughly test this ability. Even the basic Cayenne Coupe has 340PS and performance to keep most sports cars honest and you get four more power plants to choose from culminating in the 680PS Cayenne Turbo S E-Hybrid Coupe. It'll get from 0-62mph in 3.8 seconds – a second quicker than a Volkswagen Golf R – and doesn't stop pulling until it hits 183mph.
It would all be a bit silly if it wasn't so seriously good. The Cayenne Coupe is supposed to drive like a Porsche while being as practical as an SUV and a tiny bit more stylish and it hits that brief down to a T. The Porsche Cayenne Coupe gives you the performance and feel of a Porsche, in an SUV body that'll have no issues fitting into your family life.
If you're looking for the standard version, you need our Porsche Cayenne (2017-) review.
Comfort and design
"The Porsche Cayenne Coupe adds what we like about Porsche's sportier models to an upright and more practical body. As a result, you get a small sporty steering wheel and raised centre console between the two front seats."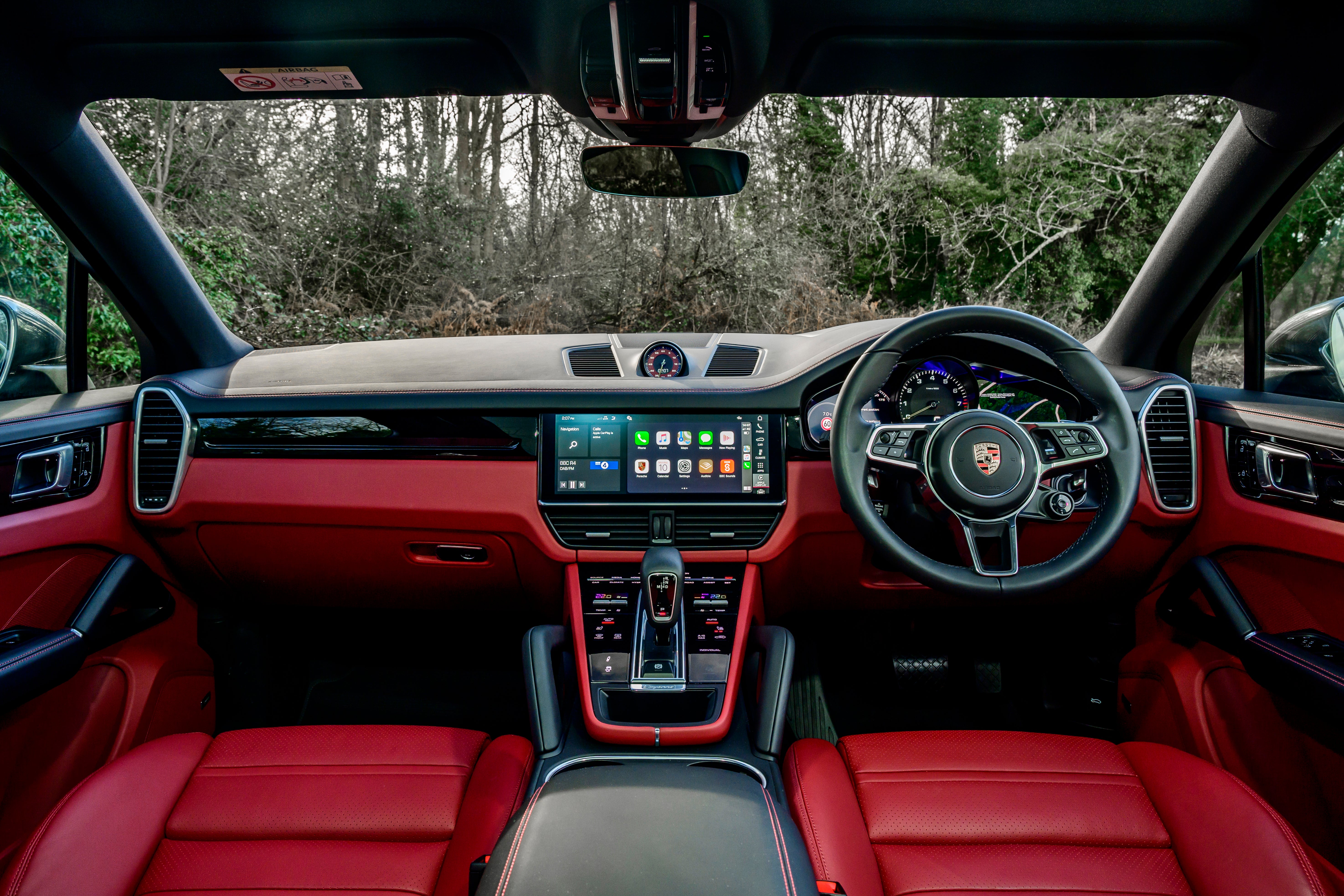 The Porsche Cayenne Coupe might have a sloping roof, but it's still a huge SUV with a cavernous interior. All models get a height-adjustable driver's seat and a steering wheel that moves for rake and reach so getting comfortable behind the wheel is never difficult.
Handling and ride quality
"All Porsche Cayenne Coupes handle in a way that belies their size, although the lighter non-hybrid model feels the most willing of the lot."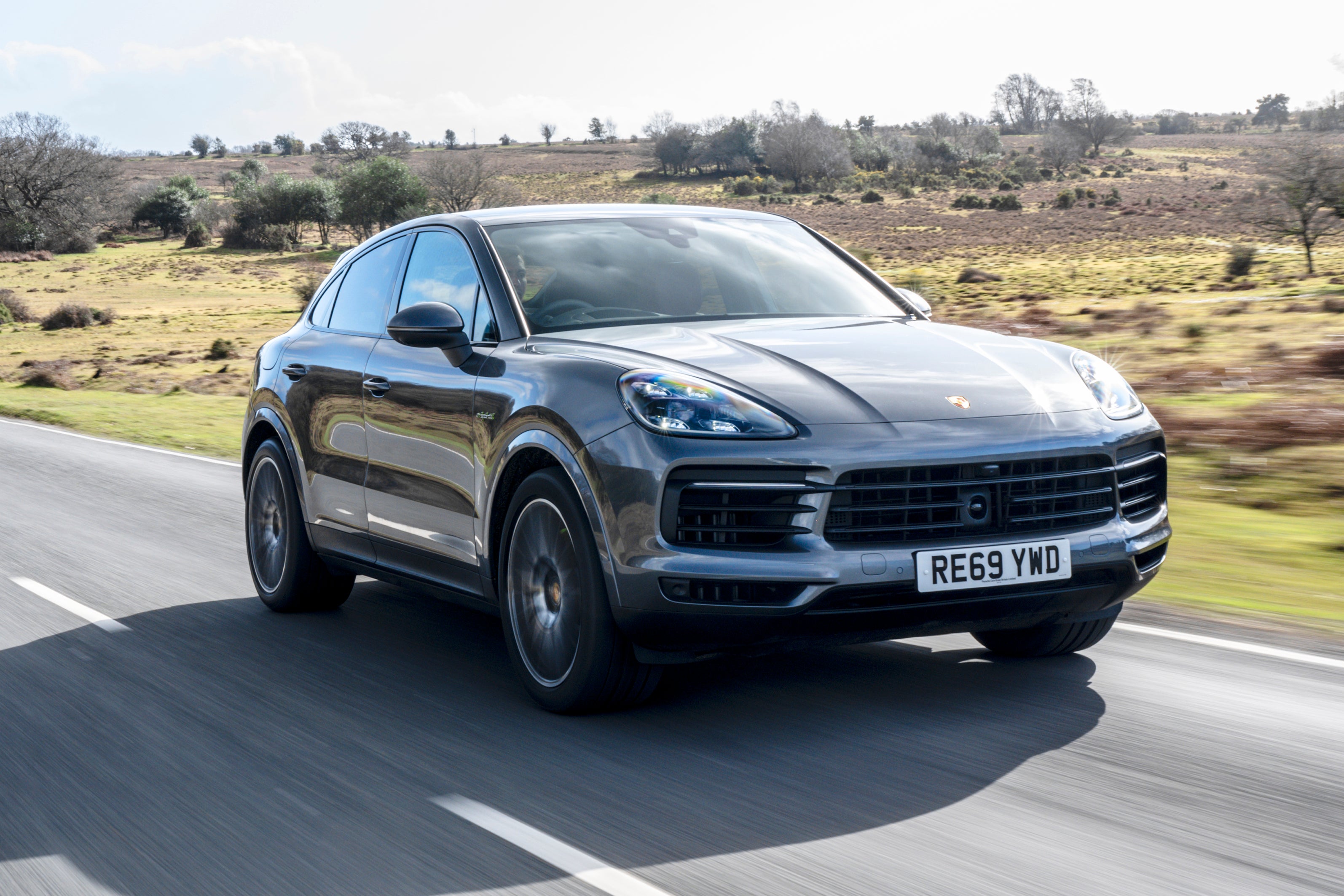 The optional rear-wheel steering makes the Cayenne Coupe shrink around you like it's a fast hatchback, not a lumbering SUV and if you want added comfort, get the optional air suspension.
MPG and fuel costs
"Fuel economy ranges massively depending on what model you go for. So, while the E-Hybrid is capable of up to 72.4mpg and the Turbo S E-Hybrid can get up to 60mpg"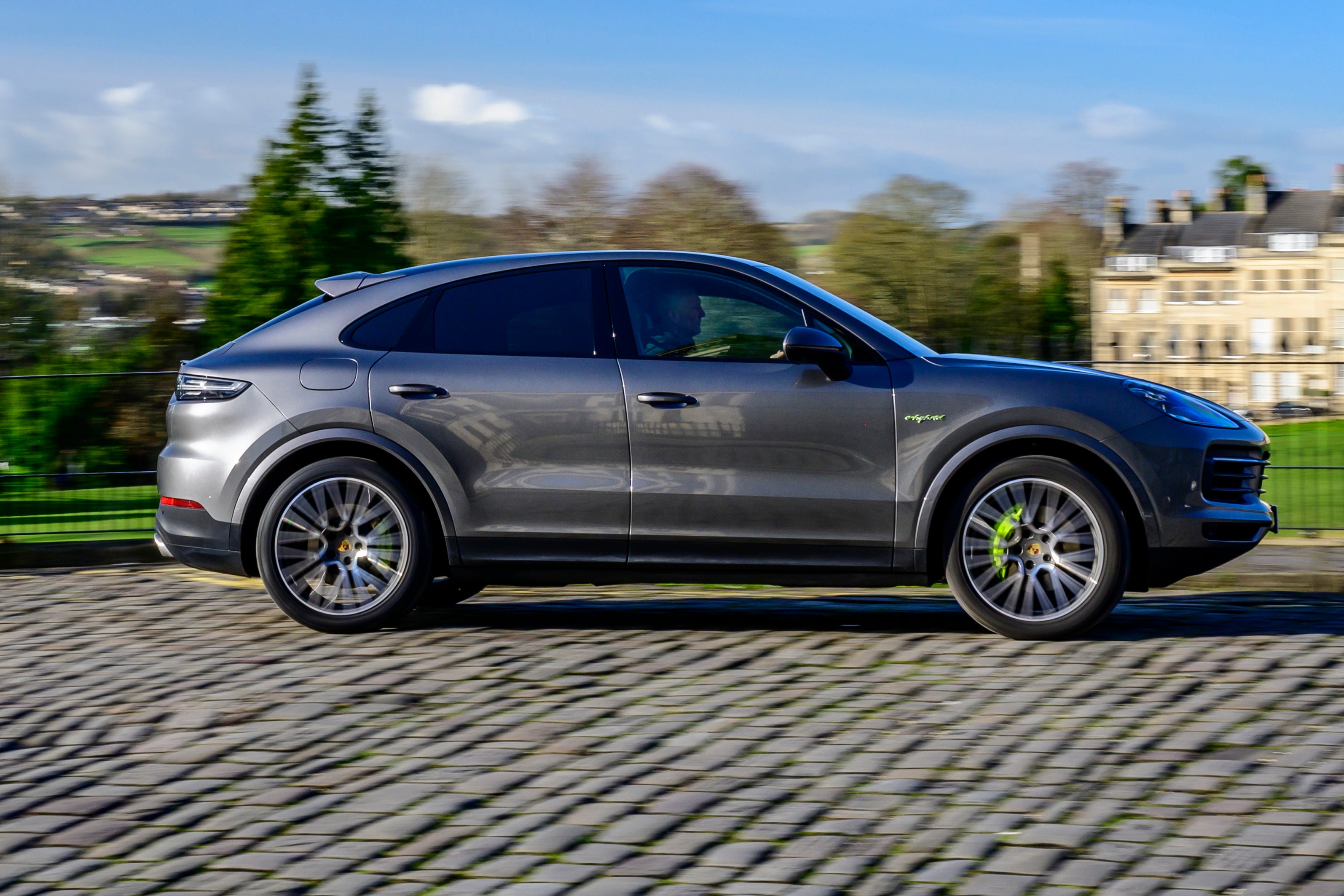 You will be lucky to get much more than 20mpg out of the regular Cayenne Coupe, S, GTS and Turbo models.
How much should you be paying for a Porsche Cayenne Coupe?
"The Porsche Cayenne Coupe starts from £61,000 for a basic 340PS model, going up to more than £126,000 for the Turbo S E-Hybrid with 680PS."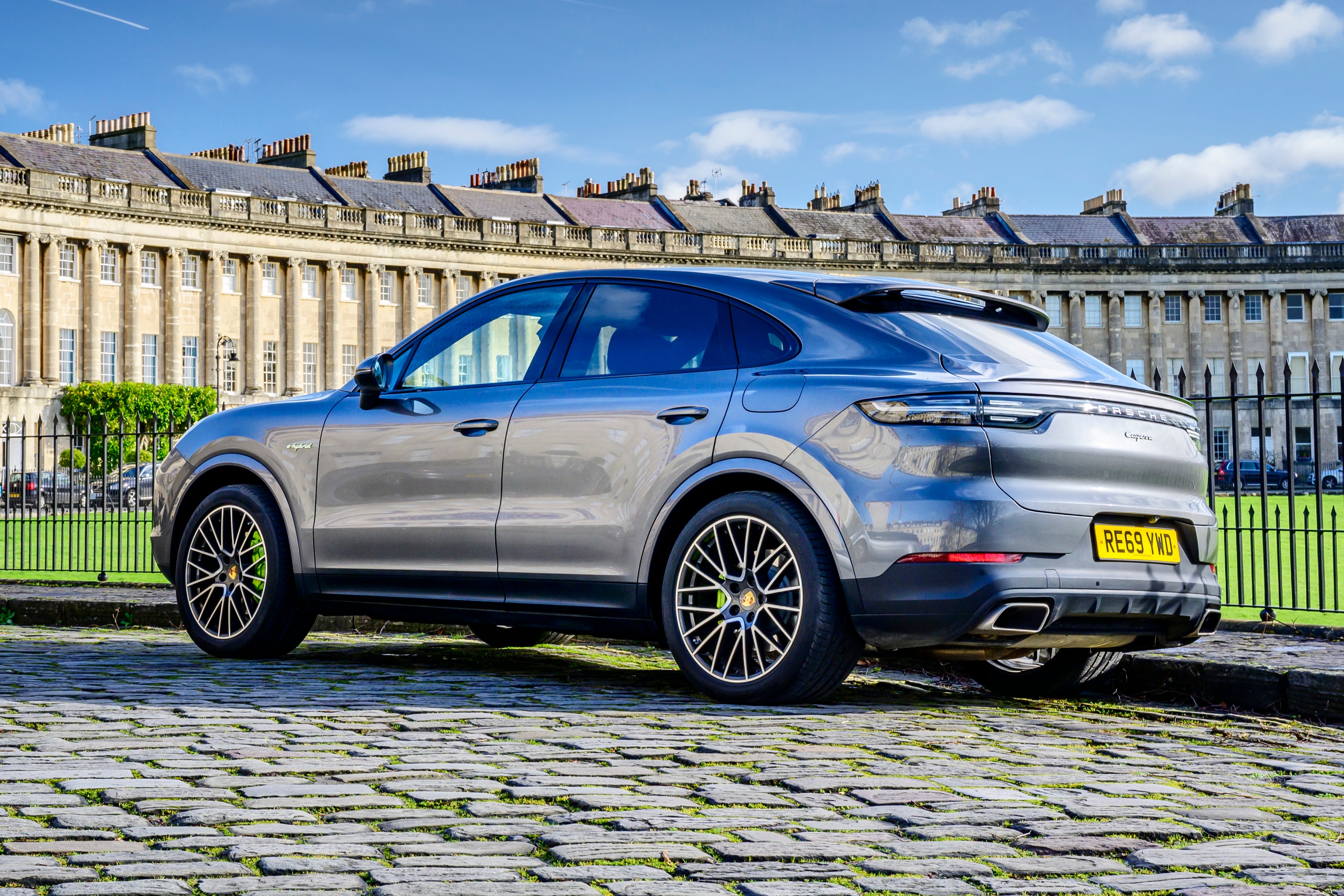 Sadly, you'll not save much money buying a nearly new example with less than 5000 miles – demand, and the fact most cars get fitted with numerous options, keeps prices high.
Is the Porsche Cayenne Coupe right for you?
The Porsche Cayenne Coupe is right for you if you want a practical SUV that looks great and goes even better. It's one of the true SUV heavyweights when it comes to outright performance. It's also one of the best sporty SUVs when it comes to handling.
What's the best Porsche Cayenne Coupe model/engine to choose?
Most people choose the basic Cayenne Coupe. Its turbocharged 3.0-litre engine produces 340PS giving the Cayenne the feel of a supersized hot hatch. Want more performance? Then the S model is in with a shout – it shares its 440PS 2.9-litre twin-turbo V6 with the Audi RS4. Want to go even faster? Then there's always the 550PS Turbo. Need to combine stonking performance with vastly improved in-town fuel economy? Then, it's worth giving one of the hybrid models a look.
What other cars are similar to the Porsche Cayenne Coupe?
Quality and finish
Almost all the plastics in the Porsche Cayenne Coupe feel expensive, and you can choose from a wealth of optional trim levels that range from sporty to luxurious. The cabin finish is first-class, too, with an impeccable attention to detail. Everything is covered in smooth, soft, high quality materials. The build quality is high too, which means you're unlikely to hear a worrisome squeak or creak from any of the interior fittings when you travel over a speed hump or navigate a bend in the road.
Infotainment
The Cayenne Coupe's huge infotainment screen has high-def graphics and a logical layout which means you won't be cursing every time you use it. That's good news if you're an Android phone user because Porsche has decided not to bother fitting Android Auto to the Cayenne, but Apple users do get Apple CarPlay.
Space and practicality
There's loads of room up front and, while the individual back seats mean there's only space for two people, you can change it for a rear bench with three seats at no extra cost. Fitting a child seat is easy thanks to the space you have to manoeuvre and the car's big doors.
The boot is massive. It has a 625-litre capacity although it is worth remembering hybrid models get a slightly smaller 598-litre boot.
Engines and gearboxes
All Cayenne Coupes feel quick because even the basic models have a turbocharged 3.0-litre V6 with 340PS, but for the feel of a proper performance car, it's worth considering the twin-turbo 440PS 2.9-litre S model. It gets from 0-62mph in around five seconds – a second quicker than the basic car. The 462PS E-Hybrid model, meanwhile, is just as quick but feels heavier in corners thanks to the extra weight of its hybrid tech and batteries.
If you want the performance to match a supercar, you'll want one of the Turbo models. Both the standard 550PS Turbo and the top-of-the-range Turbo S E-Hybrid coupe get from 0-62mph in under four seconds and suck up straight pieces of the road like you're engaging warp drive on the Starship Enterprise
Refinement and noise levels
The Cayenne Coupe is a quiet car, particularly if you choose the E-Hybrid model that can drive for up to 18 miles on silent electric power. All models are quiet at cruising speeds on the motorway and sound great under hard acceleration – standard, S and GTS models emit a six-cylinder howl, while the Turbo models have a V8 rumble.
Safety equipment
The Porsche Cayenne Coupe hasn't been Euro NCAP crash-tested for safety but you can expect it to perform as well as the standard Cayenne which was awarded five-stars in 2017.
All models of Cayenne Coupe come with automatic emergency brakes as standard and you can specify a range of additional safety options that means the car can accelerate, brake and steer itself on the motorway to take the strain out of long motorway journeys.
Insurance groups and costs
No Cayenne Coupe is cheap to insure. The standard model sits in group 44 while the Turbo sits in Group 50 – the highest insurance group possible.
VED car tax
Tax is another high cost in the Cayenne. Both the S and Turbo models cost a massive £2175 to tax in the first year and will cost another £475 a year after that. However, when the Cayenne reaches six years of age, the £40,000 premium car tax is dropped and this lowers the annual VED to £150.
Trim levels and standard equipment
The Cayenne Coupe is organised by engines rather than trim levels. All models come with 20-inch alloy wheels, Park Assist at the front and rear including reversing camera, Porsche Active Suspension Management adjustable dampers, and the Sport Chrono Package that includes launch control and a stopwatch on the centre of the dashboard.
From there you need to choose whether to go for the standard Cayenne Coupe, the S, GTS, E-Hybrid, Turbo or Turbo S E-Hybrid model. Adding equipment is simply a matter of going on the options list where you can select everything from larger wheels (up to 22-inches in size) to rear-wheel steering and powerful carbon-ceramic disc brakes.
Learn more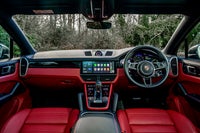 On the inside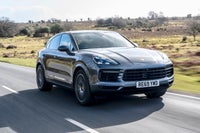 Driving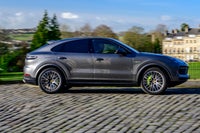 Cost to run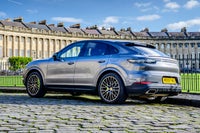 Prices and Specs
Reviews of similar cars
Quality checked, all cars less than 8 years old and warranty included
Looking for other Porsche cars?
Quality checked, all cars less than 8 years old and warranty included
Keep me updated by email with the latest advice, news and offers from heycar
By submitting, you agree to our
privacy policy
.