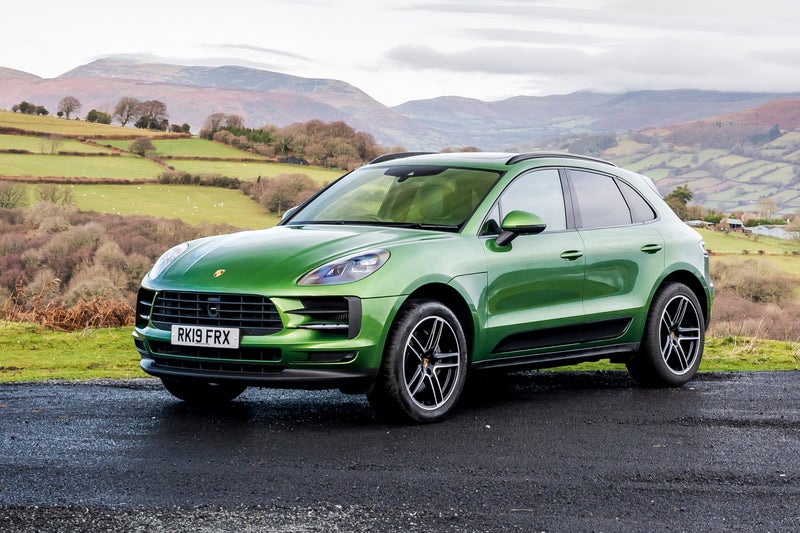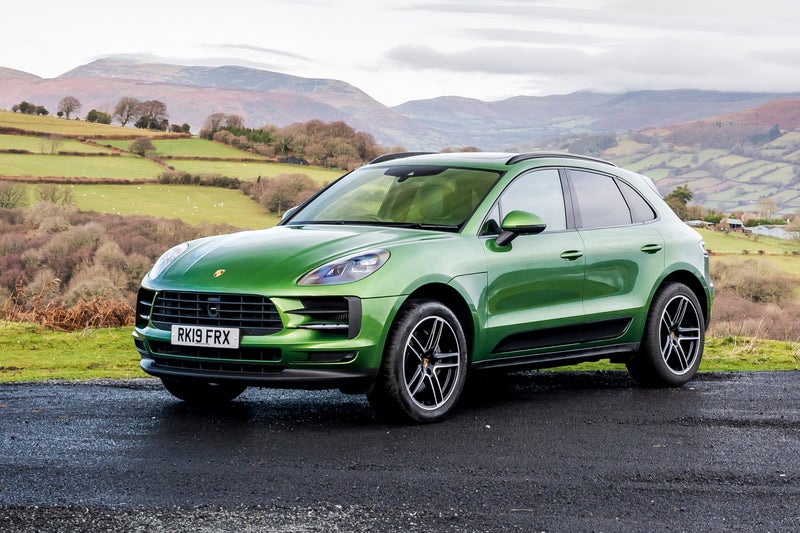 1/10
heycar rating
"The sportiest SUV there is"
Launched: 2014

Crossover

Petrol, Diesel
Quick overview
Pros
The best car of its type to drive, hands down
Plush-feeling interior
Great engines and a fabulous automatic gearbox
Cons
Rivals are considerably more practical…
...not to mention considerably cheaper
Some key equipment is optional, including automatic emergency braking
Overall verdict
On the inside
Driving
Cost to run
Prices and Specs
Overall verdict
"If you want your sporty SUV to be as sporty as it can possibly be, the Porsche Macan is the only choice. It drives with a level of polish that no rival can even come close to matching, making it terrifically enjoyable and hugely desirable. You do pay penalties in terms of practicality and standard equipment, though."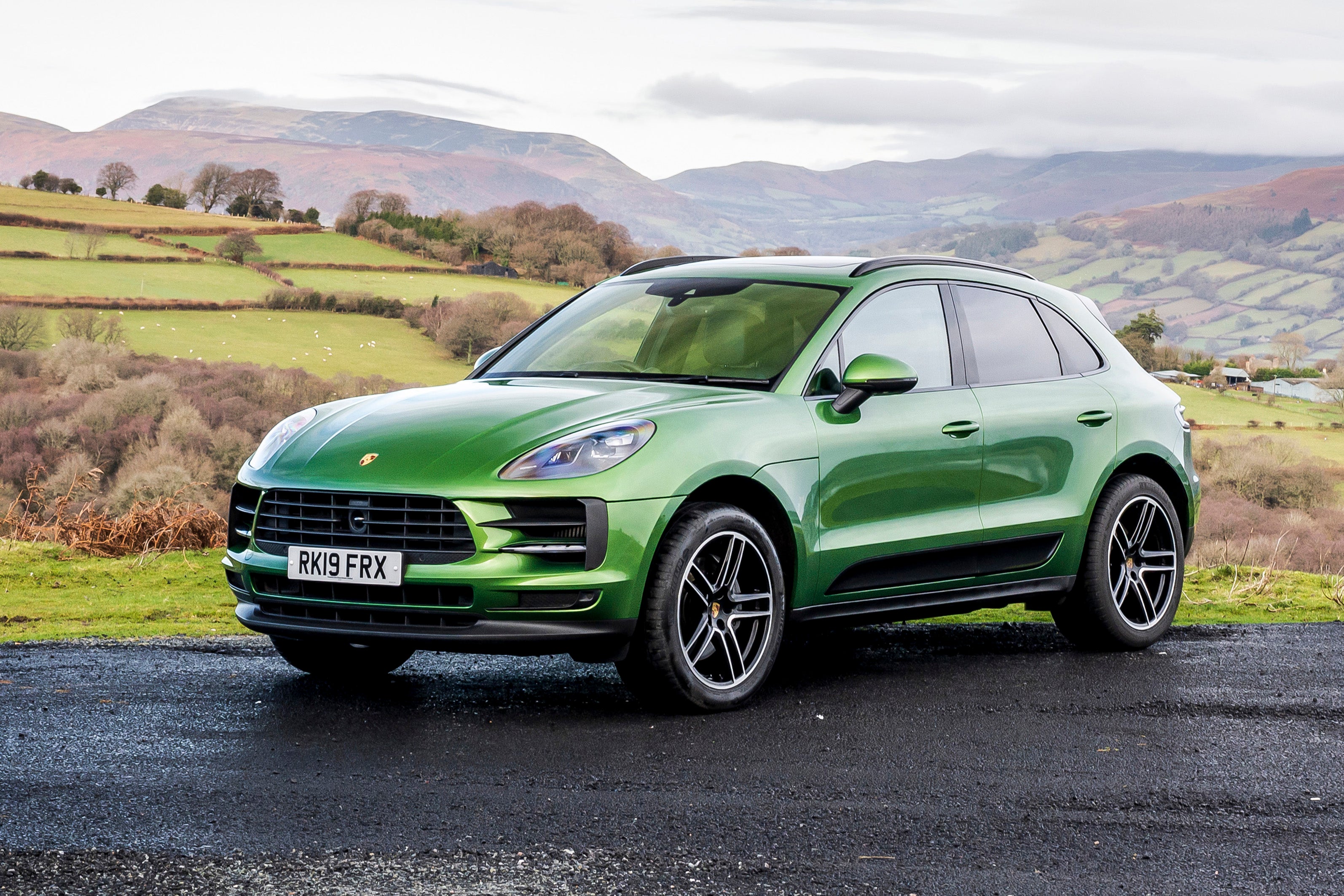 Cynicism is a funny old thing. The cynic in you might suspect that the Macan is nothing more than Porsche being, well, cynical. After all, SUVs - especially small ones, and especially ones with prestige badges - have been flying out of showrooms for a number of years now. So surely, the Macan is nothing more than Porsche attempting to cash in on this success and get a bigger slice of the pie than the larger Cayenne can get on its own, right?
Well, maybe, maybe not. But whatever the case, that doesn't stop the Macan being a proper Porsche. As we'll discover, the Macan isn't perfect by any means, but at doing the things that Porsche is famous for, it's pretty much flawless.
Obviously, there's one area above all others where a Porsche has to deliver, and that's in how it drives. And on that score, the Macan is nothing short of sublime.
It displays physics-defying levels of body control when you change direction, and with massive grip and wonderful balance from a rear-biased four-wheel drive system, it'll simply drive away from any rival along a twisty road, putting a broad grin on your face as it does so. Even better is the steering, which just like all the best Porsches, immerses you in the action every step of the way.
What's more the ride is comfortable enough for family car duties, and refinement is good enough to make long stints at the wheel an absolute pleasure. All the engines punch hard, with more and more punch as you progress up the range, so performance levels are easily worthy of the Porsche badge. All in all, this thing isn't just great to drive by SUV standards, it's great to drive by any standard.
The other area in which a Porsche must dazzle is quality: after all, if you're going to pay so much for a car, you want it to feel worth it. The Macan might be one of Porsche's most affordable models, but it doesn't feel like a poor relation, with a sumptuously trimmed and substantially built interior.
In fairness, there are a fair few areas in which the Macan isn't quite so dazzling. As we've said, it's pricey compared with most rivals, and most of those rivals are considerably roomier, considerably more practical and considerably better equipped, particularly when it comes to safety (automatic emergency braking isn't provided as standard, which defies belief at this money).
However, if the areas that are important to you are the areas in which the Macan does well, or you simply want to know that your family SUV is the sharpest-driving SUV on the face of the planet, the the Macan is your only choice.
Is the Porsche Macan right for you?
If you buy an SUV, chances are that you have a family. After all, if you didn't, you could get away with driving a Cayman or a Boxster instead. However, if you want a car that'll get as close as possible to true-blue thoroughbred sports cars like those, but still have room for 2.4 children and a family labrador, then the Macan is your best bet.
Yes, rivals like the Audi Q5, BMW X3 and Mercedes GLC are more practical, and they're also really good to drive, but on the latter score, the Macan simply leaves everything else for dust. This is a car that can drop your kids at school and your labrador to the dog-sitter's, and then thrills your socks off on the way to work. Performance SUVs are nothing unusual these days, but in terms of pure driving thrills, this is the best of the lot.
What's the best Porsche Macan model/engine to choose?
That much depends what you're after, and what your budget is. If you want your Macan to go for as far as possible between fill-ups, and you're happy to settle for an older car, then you'll want the diesel. It's more than fast enough to let you enjoy the Macan's sublime driving manners, and it's reasonably refined, too.
However, the diesel was discontinued in 2018, so if you're after a newer example, it'll have to be a petrol. The entry-level 2.0-litre is fine, but in the scheme of things, it hardly costs anything to upgrade to the S, which is faster and sounds much better. The GTS and Turbo are better still on those fronts, but there is quite a price jump to those models. For that reason, the S gets the nod from us.
What other cars are similar to the Porsche Macan?
Sporty SUVs were something of a rarity once upon a time, but not any more. Audi, BMW and Mercedes all offer powerful, performance-focused versions of the Audi Q5, BMW X3 (and BMW X4) and Mercedes GLC, respectively, so they will all have a say in where your money goes.
Jaguar Land Rover might also have a say with the Jaguar F-Pace and the Range Rover Velar, while the Alfa Romeo Stelvio Quadrifoglio might tempt you with its flamboyant styling and its nutcase of an engine. There are cheaper options on offer, too, such as the Cupra Ateca, which gives you lots of performance and handling ability for a fraction of the price of the rest.
Comfort and design
"Traditionally, Porsche's interior designers have always believed in having one button for every function, and at a time when every other manufacturer is rushing to cut down on the amount of switchgear by incorporating functions into touchscreen systems instead, this really goes against the grain. We'd urge Porsche to stick to its guns."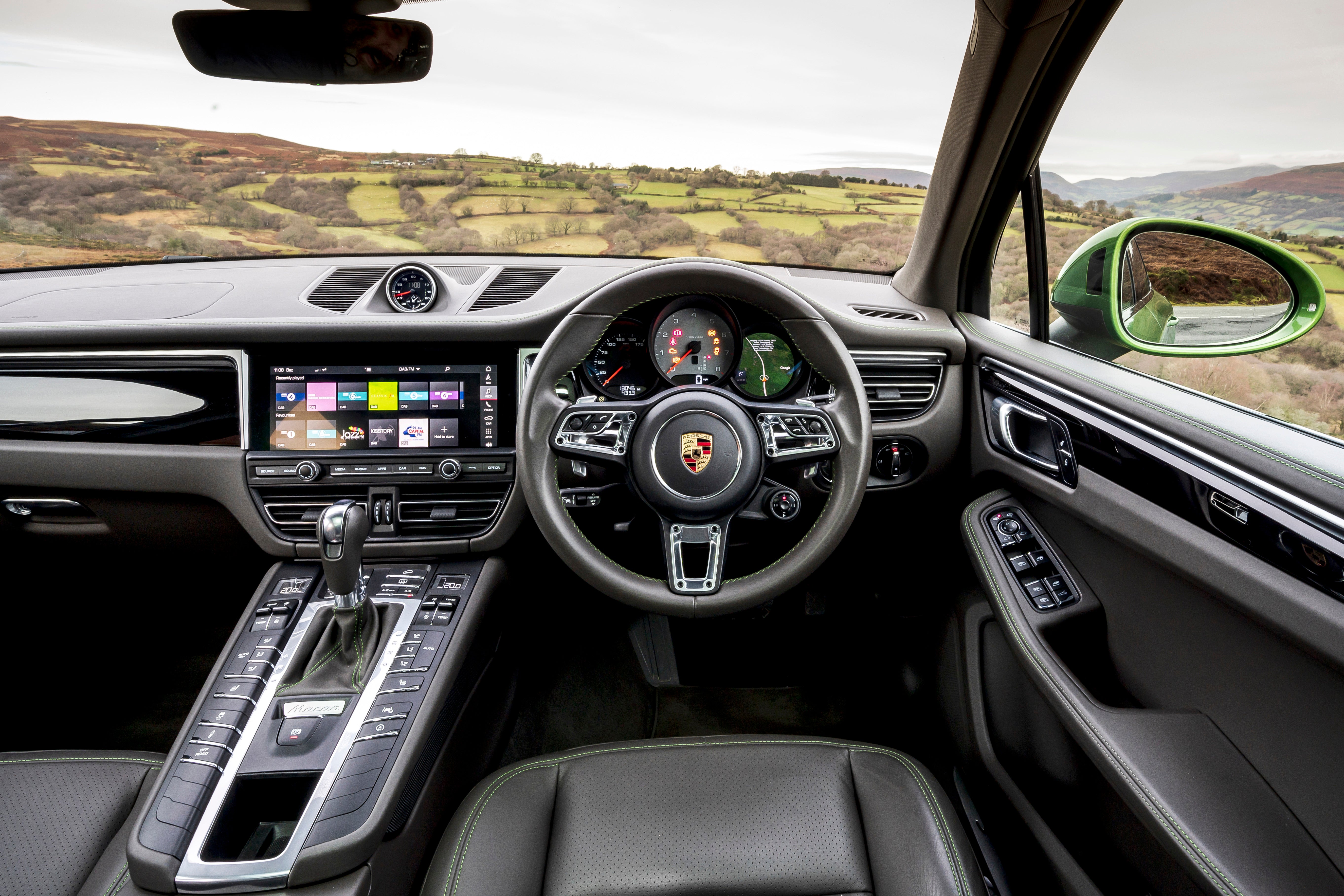 Yes, when you first climb into the Macan, you might well double-take at the sheer amount of buttons and switches on the central partition between the driver and front passenger. However, they're logically arranged and clearly marked, and it doesn't take long before you're familiar with what everything does. What's more, finding the right button is far easier and less distracting than messing about with a screen.
The Macan's heavily bolstered sports seats are incredibly supportive, and all come with electric adjustment to help you find a comfortable driving position.
There's plenty of manual adjustment in the steering column, too. Your seat has the ability to go lower than it does in most SUVs, which might horrify SUV fans who tend to favour a loftier position, but you can always crank your chair up a bit if you like. Forward visibility is fine, but the Macan's curvy rear end results in one or two blind spots immediately behind you. Good thing front- and rear parking sensors are standard-fit, then.
Quality and finish
You'd expect a Porsche's interior to impress here, and the Macan's obliges in fine style. The materials on show look and feel suitably plush, with touchy-feely cushioned surfaces sprinkled liberally all over the cabin, giving a very sophisticated feel. You won't find many panels that fall below that standard, and those that do are all tucked away well out of sight.
The assembly feels just as solid and as sturdy, too, giving you the feeling that the Macan will last the test of time. Sure, an Audi Q5 and BMW X3 are just as plush and just as solid, but the Macan lacks nothing in comparison.
The standard upholstery in most versions is a part-synthetic-leather-part-synthetic-suede affair, and it makes the cabin feel posh enough without need for an optional upgrade. That said, the Turbo comes with full leather and a suede-effect headliner as standard, and this does feel appreciably posher.
Infotainment
Early Macans were rather disappointing in this area. All versions got a rather diddy 7.2-inch touchscreen system, meaning that the on-screen icons were rather small and tricky to hit first time without concentrating super-hard, distracting you from the road ahead. What's more, early Macans required customers to pay extra for a whole heap of things, and so unless the original buyer stumped up a few quid, your system will be missing some key functionality. Even a Bluetooth phone connection isn't standard.
The 2019 facelift, however, brought in a new infotainment system that was much more like it. This utilises a bigger 10.9-inch touchscreen, making the icons easier to pick out, while the graphics are much sharper and the responses to inputs were quicker. A few of the menus are rather convoluted, but it's still a big improvement. So is the functionality on offer, as Bluetooth, a DAB radio and sat-nav are all provided as standard. So is Apple Carplay, but Android Auto isn't supported.
Space and practicality
If you're looking for the most practical car of this type, then the Macan isn't it. The front seats are fine for space, but in the back, headroom and headroom are quite a bit tighter than they are in most rivals, particularly the latter. You should fit okay if you fall short of the six-foot mark, but anyone taller might struggle.
You won't want to try fitting three people in the back on a regular basis, either. The cabin is rather on the narrow side and a bulky central transmission tunnel robs the middleman of foot space. What's more, while many rivals off rear seats that slide, recline and all sorts of other clever stuff, there's none of that in the Porsche.
The boot is a decent size, big enough for buggies and a few bags, and it's a useful square shape with no load lip to negotiate when lobbing heavy items in. However, rivals like the Audi Q5 and BMW X3 offer considerably more in the way of capacity. That said, the Macan does give you rear seats that fold in a 40-20-40 arrangement, giving you extra versatility when carrying large loads.
Handling and ride quality
"Any Porsche has to seriously dazzle when faced with twists and turns, but even so, you might be surprised by just how dazzling the Macan is in this regard. Most versions come with a passive suspension as standard, where the pricier versions get an adaptive setup (this is optional on other versions) that varies its stiffness according to which of the various driving modes you select. Air suspension can also be specified across the board."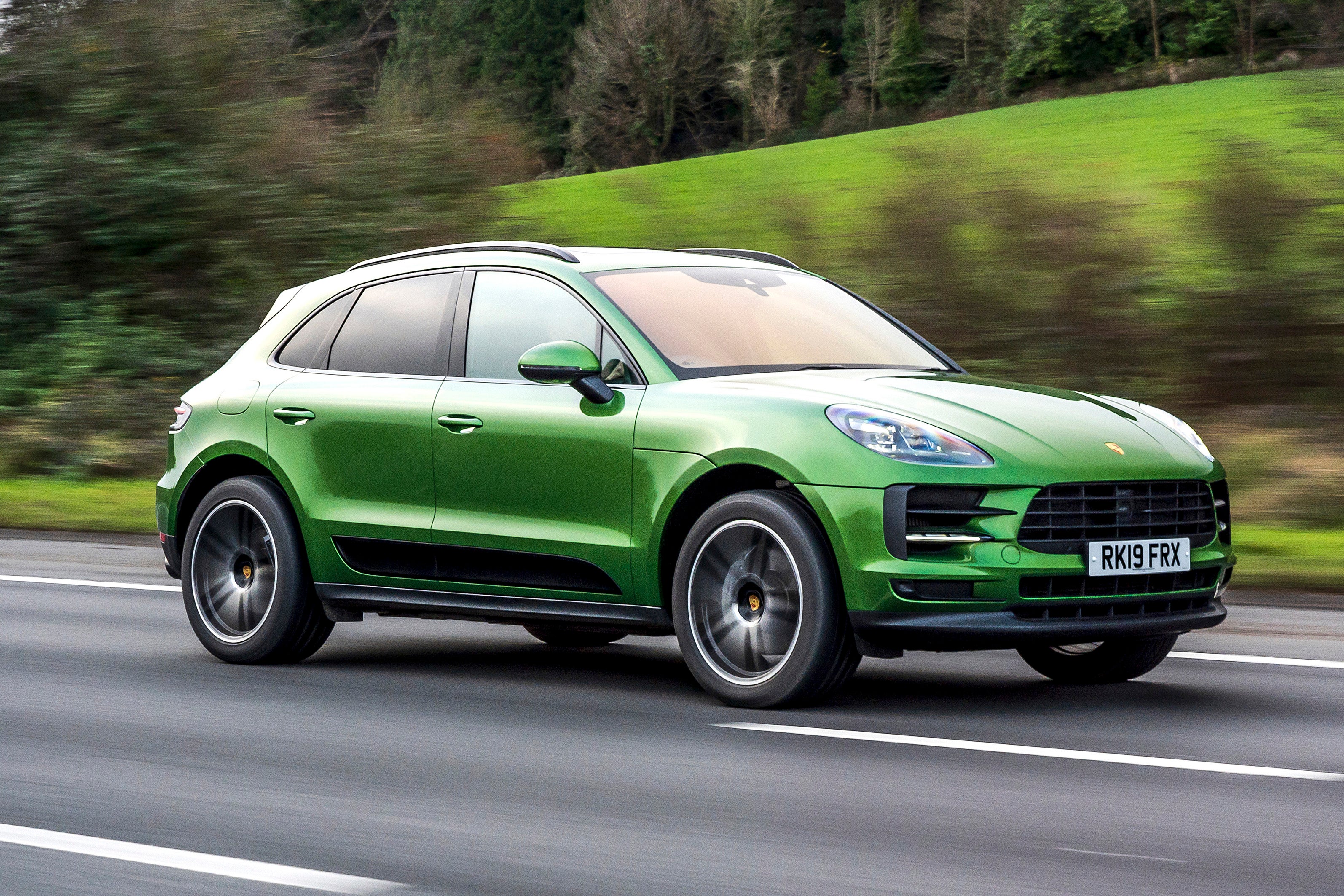 Even on the standard suspension, the Macan has a level of handling finesse that can easily see off any rival. Body movements are so well controlled that you'd swear you were in a hatchback rather than a high-riding SUV, while there's bags of grip and traction, not to mention wonderful balance from the Macan's rear-biased four-wheel drive system. The steering is the really special bit, though, because it's responsive, precise, beautifully weighted and packed with confidence-inspiring feel.
Cars with the adaptive- and air suspensions control their body movements a fraction better in corners, too, but the real benefit is noticed in the area of ride comfort.
Even cars on the standard springs are fine on this score, not quite as cosseting as the Audi Q5 on which it's based, perhaps, but forgiving enough to keep you comfortable in the vast majority of situations. The more complex arrangements - particularly the air suspension - do shield you a little better from the pitter-patter of grainy road surfaces, and are a little better at taking the sting out of potholes.
That means they feel a little more plush for more of the time, but whatever Macan you pick, you'll have no cause for complaint about the way it drives. This is as enjoyable as SUVs get.
Engines and gearboxes
The engine you get in your Macan will depend on the version you buy, obviously, but also when it was made. Porsche made tweaks to the engine lineup through the car's life, so there are quite a few small variations in the precise figures involved. All you really need to know is that all of them are very fast, it's just a question of how fast.
The entry-level Macan received a few tweaks, but it always had a 2.0-litre turbocharged petrol engine with somewhere in the region of 250PS. It feels lively, eager and keen to rev, and will see off the benchmark 0-62mph dash in a little over six seconds.
The Macan S, meanwhile, has a twin-turbocharged 3.0-litre V6 petrol with around 340PS, which cuts that dash to around five-and-a-half, although the precise figures will depend not only on the age of your car, but also whether the optional Sport Chrono Package (which makes it a shade quicker) is fitted. It feels a good bit quicker than the entry car, and makes for an appreciably more frenetic experience behind the wheel. The GTS version uses a 360PS version of the same engine for a fraction more freneticism.
For the most frenetic experience of all, you'll want the Macan Turbo. Early ones had a 3.6-litre twin-turbo V6 with 400PS, while post facelift Turbo swap this out for a 2.9-litre twin-turbo V6 with 440PS. Both are dazzlingly fast, searing from 0-62mph in less than five seconds, and because there's effortless pull from anywhere on the rev range, this blistering performance is only ever a flex of your right ankle away.
If you want your Macan to combine its strong performance with decent real-world fuel economy, you can even have a diesel version, although it's worth noting that this engine was discontinued in 2018 after diesel fuel became evil in the eyes of environmentalists. It's a 3.0-litre V6 unit with a very useful 258PS, so it's easily quick enough to let you make the most of the car's thrilling handling. It's impressively flexible, too, with bags of low-end urge.
All Macans come fitted with a seven-speed twin-clutch gearbox, which is nothing short of fabulous. Changes are smooth and unobtrusive when you want them to be, yet brisk and businesslike when you're getting a move-on, and it always seems to select the correct ratio at the first time of asking.
Refinement and noise levels
Mostly, Porsche has got its engines spot-on here. Bung a few revs on the dial, and they sound as throaty and as melodic as you expect as you pile on the speed, the Turbo especially. And then, once you're up to speed and you ease off, they fade away neatly into the background, with only the merest hint of noise and vibration making their way into the cabin. Even the diesel is pretty good on that score.
The exception is the entry-level petrol. It's fine in isolation, but compared with the rest, it sounds a little bit buzzy and breathless when you're picking up speed. It still stays hushed at 70mph, though.
Wind noise is also really well contained at motorway cruising speeds, and although you do hear a bit of road noise being kicked up by the fat tyres, it's nothing that's going to spoil the calm. Yes, the Macan is at its best in twists and turns, but this is also a very civilised way to much through motorway miles.
Safety equipment
The Macan has been crash tested by Euro NCAP, and achieved the full five stars. However, that was way back in 2014, and because the standards and thresholds of these tests get tougher year on year, we're not sure the result would be the same if it were tested today.
Why? Well, because there's a key piece of equipment missing from the Macan's roster of standard safety kit: automatic emergency braking. It's available, but buyers are required to pay extra for it, and very few bothered. This is a system that's commonplace on most hatchbacks these days, and for it to cost extra on a car as expensive as the Macan is, in our opinion, really cheeky. Lane-keeping assistance and blindspot monitoring also live on the options list.
The standard roster does include lane departure warning, though, along with six airbags, electronic traction and stability systems and a system that locks on the brakes in the event of a smash to help prevent further impacts.
MPG and fuel costs?
"What with all the chopping and changing with engines over the Macan's lifetime, there's been a similar amount of variation in fuel economy figures over time. According to old-school NEDC figures you can expect around 46mpg from the diesel, around 34mpg from the entry-level petrol and around 30mpg from the rest, broadly speaking. "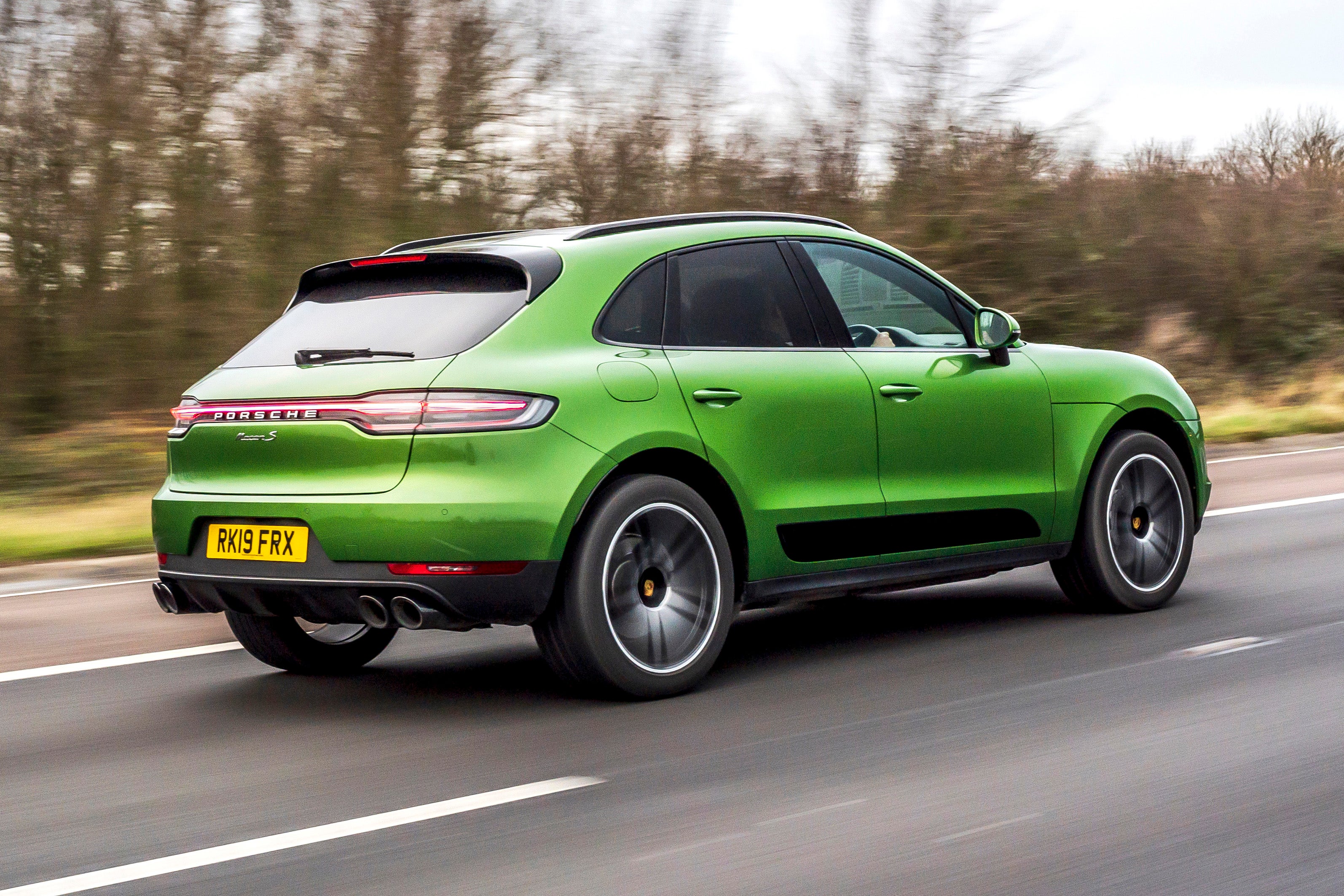 Bear in mind, though, that these NEDC figures are more optimistic than later WLTP figures that are supposed to be more representative of real-world driving, and the WLTP figures are pretty optimistic themselves. Suffice it to say that whatever Macan you pick, you'll be putting a lot of fuel in it, but that'll come as no surprise. To minimise your costs, however, go for the diesel.
Insurance groups and costs
You wouldn't expect premiums to be a snip on any Porsche, even one that's relatively small and affordable as the Macan is. And indeed they aren't. Insurance groupings sit between 35 and 47 (of 50, with 50 being the most expensive) depending on which version you go for. Even so, it's still a little surprising they're not even higher considering the power they have, especially the versions at the top of the range.
VED car tax
Buy a Macan registered after April 1st 2017, and you'll pay the flat rate of £150 every year, and between years two and six of the car's life, you'll also pay an additional £325 surcharge on top. That's because all Macans cost more than £40,000 when new. Cars registered before that date pay VED based on their CO2 emissions. You'll pay £205 per year on the diesel and £240 per year on the 2.0-litre petrol, while on all other versions, you'll pay an annual fee of £330.
How much should you be paying for a used Porsche Macan?
"At the time of writing, prices for brand new versions of the Macan started at around £47,000 for the most basic model, while the S didn't cost a whole lot more at £49,000. The GTS was far pricier at £59,000, though, and the Turbo pricier still at £68,000. The diesel, meanwhile, had long since gone off sale, but when it was available, it was priced within a few quid of the S."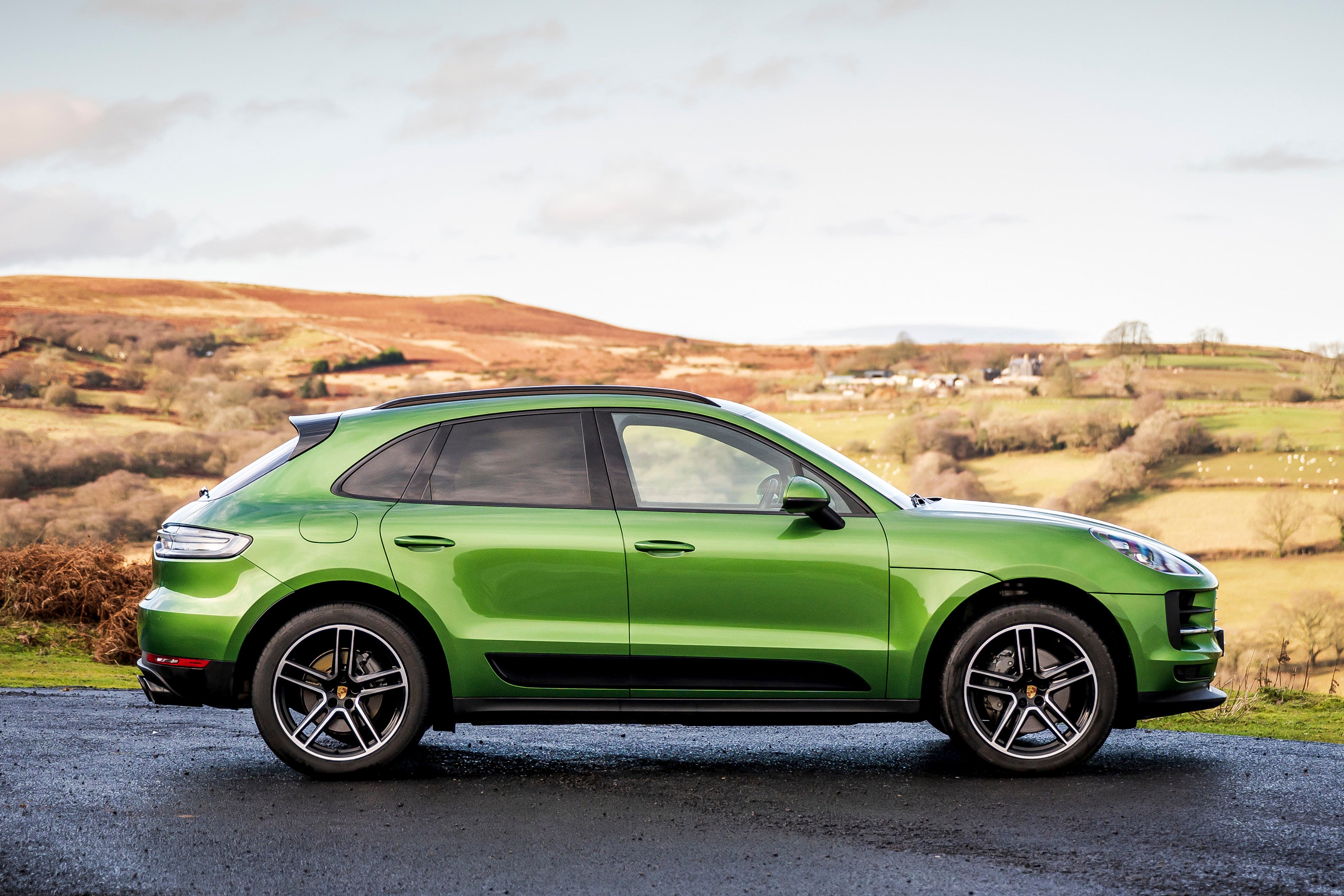 The Macan is considerably more expensive than rivals from Audi and BMW, then, and because it also holds its value extremely well, used examples will be that much pricier, too. Looking on the bright side, though, the car has been on sale since 2014, so lots of used examples are available and early ones have had plenty of time for their value to drop. Our listings show the cheapest examples coming in at around £30,000, and these are mainly diesels.
Trim levels and standard equipment
The Macan doesn't really have trim levels as such, with each version differing mostly by the engine that's under the bonnet. The pricier models do add a few items of extra kit, but it's mainly stuff aimed at either enhancing the styling of the car (the pricer you Macan is, the sportier it looks), or enhancing its dynamic performance (various suspension systems, exhausts, etc).
The precise amount of luxury kit you get with your Macan will depend on how old your car is. Post facelift models all came with three-zone climate control, front and rear parking sensors, alloy wheels, a powered tailgate, cruise control, part-Alcantara seats, LED headlights, power-folding door mirrors and automatic lights and wipers. Bear in mind, though, that earlier cars came with a lot less as standard, requiring buyers to add items as optional extras, so used examples will probably have fewer features.
Porsche Macan cars for sale on heycar
224
Number of cars available
£27K - £89K
Price bracket of these cars
Colours available on heycar
Keep me updated by email with the latest advice, news and offers from heycar
By submitting, you agree to our
privacy policy
.