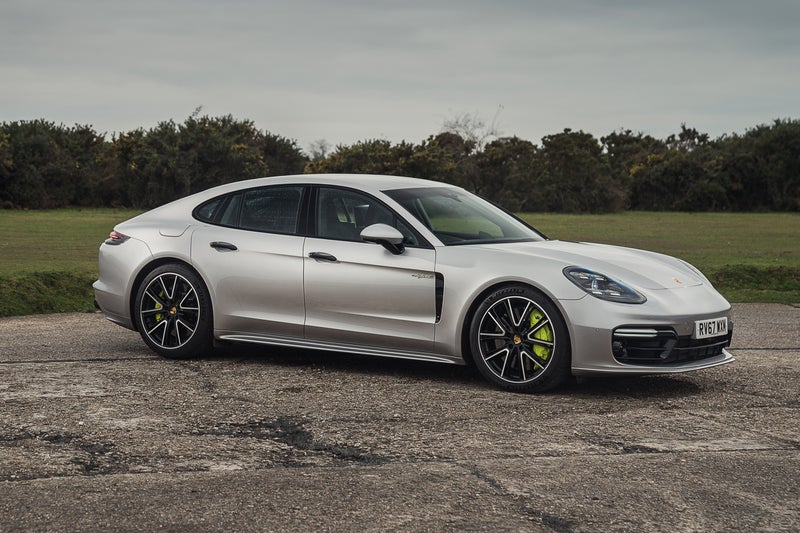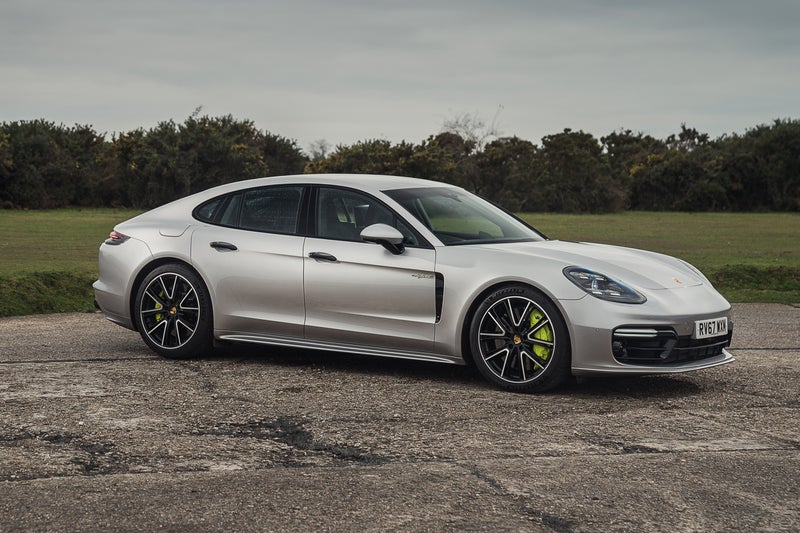 1/10
heycar rating
"Porsche's fast, capable luxury car "
Launched: 2016

Luxury

Petrol, Diesel, Hybrid
Quick overview
Pros
Very enjoyable and rewarding to drive, all are fast, the some being incredibly so
The interior is beautifully finished
Plug-in hybrids offer useful electric-only range
Cons
Still a design that splits opinion
The ventilation control via a touchscreen is needlessly complicated
The list price is just the start, you need to spend a lot on optional equipment
Overall verdict
On the inside
Driving
Cost to run
Prices and Specs
Overall verdict
"Porsche describes the Panamera as a sports car, and behind the wheel there's credibility to that claim, with all having a clearly defined driver focus. They're more multi-dimensional at the same time, too, with real ability as a big grand tourer, and those plug-in hybrids offer useful electric-only range to salve your environmental conscience, and, being honest here, slashing your tax bills."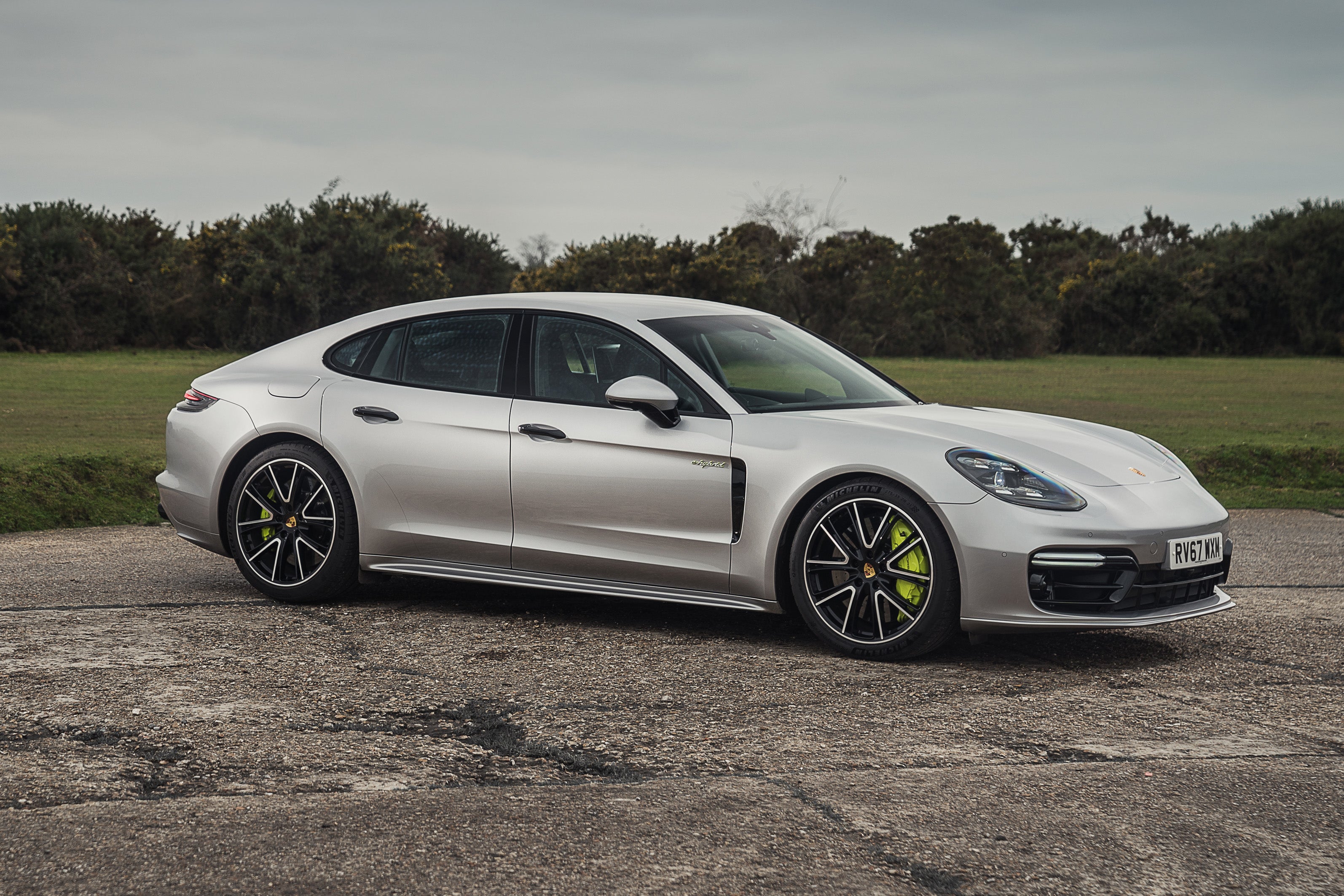 The Porsche Panamera is Porsche's take on a luxury sporting saloon, the sports car company adding the Panamera to its showrooms in 2009, alongside the Cayenne SUV, Boxster and 911 model line-ups. The current Porsche Panamera is the second series and arrived in 2017.
Unsurprisingly, it's a more sporting spin on the luxury saloon, with its large hatchback opening it's not, technically, a saloon, instead more of a fastback.
That, and its obvious driver focus, does mean it's a difficult model to pigeonhole, as the Panamera's breadth of ability covers everything from conventional luxury saloons like the BMW 7 Series or Mercedes-Benz S-Class, while also offering performance alternatives to sporting saloons and four-door coupes like the BMW M5, Mercedes-AMG E63S, Maserati Quattroporte, Mercedes-AMG CLS 63 and Audi RS7 Sportback. Since 2017 Porsche has offered the Panamera as a Sport Turismo, or estate to use normal parlance.
A diesel was offered in the line-up, but that was quietly dropped, leaving all current Panamera models to feature petrol engines. For the more environmentally conflicted Porsche owners out there there's a pair of Panameras that are plug-in hybrids, these offer not just the potential for moderate range electric-only driving, but a significant boost to the petrol engine's performance. Indeed, the range-topping, fastest model in the Panamera range is a Turbo S E-hybrid, which has a combined output of 680PS from its 4.0-litre twin-turbocharged V8 petrol and electric motor.
That flagship might offer the mightiest performance, but no Panamera is slow, with even the entry-level Panamera 4 able to offer excellent pace. That Panamera 4 is, as the number suggests, four-wheel drive, all Panameras driving all four wheels. It's not just the Panamera's ability to gather speed that's appealing, either, but its means of exploiting it, the Panamera driving very well, with an agile, engaging chassis that'll appeal to more demanding drivers than many of its rivals.
There are compromises as a result, it's not as cosseting and wafting as the best of its luxury saloon rivals, while space in the rear is nowhere near as generous – the UK no longer offered the Executive model, which stretched the wheelbase by 150mm – but on the right road, the Panamera, in any form, is an incredibly capable, high-performance car.
In its current form it's been around since 2017, and there'll be a range of mid-life revisions to the Panamera coming in 2020. Expect improvements in engine performance, in relation to both economy and emissions, as well as power, as well are revisions to standard equipment and a moderately refreshed style.
Porsche also offers an 'estate' as such, with the Porsche Panamera Sport Turismo.
Is the Porsche Panamera right for you?
There's a Panamera for every type of buyer in the luxury and sports saloon marketplace, with the possible exception of someone after a car to be chauffeured in – it's not hugely accommodating in the back seats.
There's plenty of space for children, though, so if you've grown out of trying to squeeze the kids into your 911 Carrera then the Panamera represents the next best option for you. It really does live up to Porsche's sports car billing, too, with big performance from all, allied to real driver engagement, so if you're the type of driver who now needs more space than a sports car, but doesn't really want any compromises behind the wheel, then the Panamera is a very compelling buy indeed.
What's the best Porsche Panamera model/engine to choose?
They're all very good, but some models are a little bit better in particular areas than others, which would impact our recommendation. The GTS is a good-looking, more driver-focussed and equipped model that's a little bit less outrageous in its performance compared to the Turbo.
Being the 'entry' level Panamera that 4 is the least expensive model, with prices starting from around £73,000, it's quick, understated and fun, so you'd not feel in any way short-changed by it.
Above that there's the 440PS 4S model, while the Panamera 4 E-Hybrid delivers near GTS levels of performance allied to a useful electric-only driving range of, in real-world use, about 15 miles, which makes it a fine, all-rounder if you live in the city and have a shortish commute. That plug-in hybrid does lose some of its ultimate driver appeal thanks to the weight of the hybrid system, but it's marginal, so it's the one we'd happily live with either it, or that GTS.
What other cars are similar to the Porsche Panamera?
The spread of potential rivals for the Panamera is wide, and varied, with everything from Mercedes-Benz S-Class in its more moderately powered forms, to the plug-in hybrids and AMG models.
The Mercedes-AMG E63 S and the CLS 63 S are also credible alternatives to the highest performance Panameras, as are cars like the BMW M5 and Maserati's Quattroporte. You might choose an Audi A8 or A7 Sportback or its Audi RS7 alternative, while a Bentley Flying Spur might also be on your list of potential buys instead of a Panamera. The Aston Martin Rapide fills much the same brief as the Panamera, too, though it's recently finished production, as do many plug-in saloons like the BMW 5 Series, BMW 7 Series, Mercedes-Benz E-Class and more besides.
Comfort and design
"You sit low in the Panamera, its driving position deliberately reminiscent of that of Porsche's iconic 911 sports car."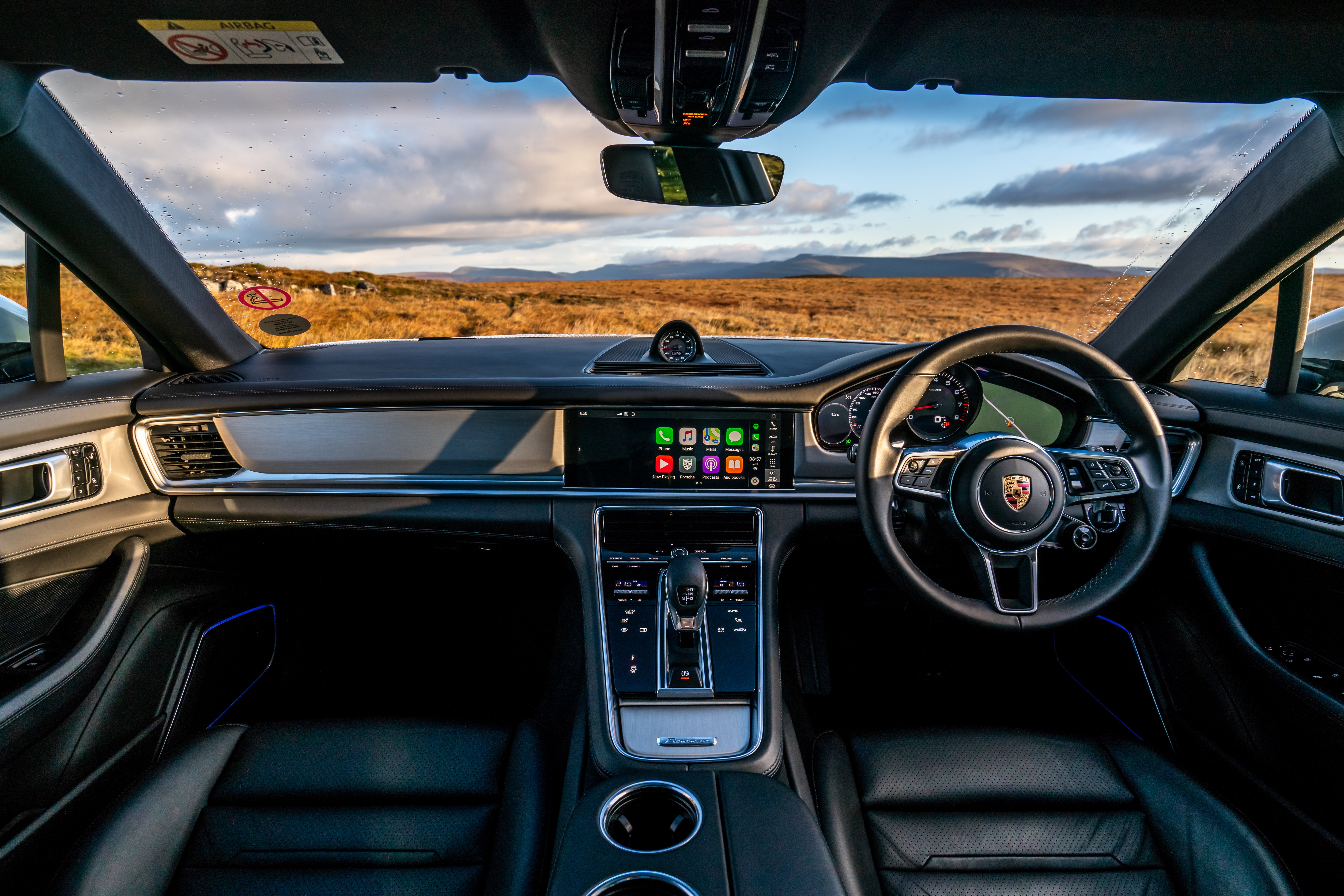 Ahead of you in the instrument binnacle the focus on driving is further reinforced by the prominent, central position of the rev counter, that the same as all Porsche models, while the cockpit feel is redoubled by the height and width of the centre console between the driver and passenger seat up front, and, depending on how you've specified it, in the rear.
As a minimum, the Panamera 4 and 4S comes with 8-way electrically adjusted comfort front seats, with 14-way adjustment an option, or 18-way electrically adjustable sports seats also on the options list."
To that you can add a memory package, seat heating and ventilation to both the front and rear, massaging seats in the front – depending on seat choice – a heated steering wheel, as well as a huge variety of leather and stitching colours and combinations to suit your exact tastes.
There's two-zone climate control as standard, but, optionally, you can add a four-zone system. You'll get used to ticking options, as there are plenty, though the standard equipment does get a little bit more generous as you climb the range, the Panamera 4 10 Years Edition, for example gaining those 14 way Comfort Seats with memory package as standard, the GTS getting the 18-way electrically adjusted Sports Seats with its equipment.
The Turbo and Turbo SE Hybrid makes do with the 14-way powered seats as standard. It pays to spend a lot of time (and money) on the Porsche configurator, then, but the Panamera offers plenty of comfort as standard, and a cabin that's very visually appealing, too.
Quality and finish
The Panamera's cabin doesn't just look good, but it feels it, too. The material quality is fitting for a car that commands a starting price in the early £70,000 region and easily doubles that with the upper models. As standard, you're unlikely to be disappointed with the Panamera's interior, but the expectation is you'll spend a bit on extras to make it even more luxurious. As a minimum, we'd option one of the interior leather packages, not least the dashboard trim one, as it brings a more sophisticated feel to the cabin.
Porsche isn't alone in offering such personalisation in the luxury sports saloon sphere, and the choice is extensive, with wood, carbon or metal interior trims all selectable, likewise stitching colours, the seatbelt colour, headlining material and colour and more all being able to be personalised.
There's the ability to emboss the leather seats with Porsche crests, Porsche even able to cover the steering column and interior grab handles with leather if you so choose. If that choice isn't wide, or wild, enough Porsche Exclusiv Manufaktur, will fulfil your every wish, depending, of course, on the depth of your pockets.
Infotainment
The standard infotainment offering in the Panamera 4 entry model comprises Porsche Communication Management with an online navigation module, mobile phone connection, voice control and a 12.3-inch central touchscreen with supplementary screen to the right of the instruments displaying a variety of configurable functions. All come with Apple CarPlay as standard – Porsche not fitting Android Auto as it says all its customers use Apple devices – there's DAB radio and a 10-speaker system, Bluetooth connection and a pair of USB sockets in the rear compartment.
Somewhat unsurprisingly there are plentiful options to upgrade the infotainment, with 14-speaker BOSE surround sound offered (and standard on some), likewise a six-disc CD/DVD autochanger, or if you love your Hi-Fi, a high-end Burmester 3D surround sound system is available.
That top-spec system sounds absolutely incredible, but so it should do at £5063. There's the option of rear-seat entertainment with two 10-inch touchscreens with wireless headphones and streaming services and more besides. The standard touchscreen works well for entertainment and information functions, but Porsche's decision to put the ventilation controls within the touchscreen's menus is a rare moment of madness, it frustratingly fiddly to operate, even with familiarity, we can only hope the 2020 revisions address this.
Space and practicality
Sat in the front you'll have plenty of space, the Panamera's wide cabin being accommodating, even if, being a low sports saloon does mean getting in might be tricky for some. There's a good selection of oddment space throughout the interior, with deep, usefully shaped door bins up front, as well as a similarly useful, lidded cubby in the centre console. The glovebox is a good size, while a pair of large cupholders are usefully positioned, again in the centre console.
Where the Panamera feels a little bit less generous in space is in the rear. It's tight back there, though Porsche has mined out as much space in the back by putting the seats low and far back as possible, but there's only so much it can do here. It's cosy, then, but not to the point of being uncomfortable, just don't expect to stretch out like you can in something like a Mercedes-Benz S-Class. In reality, it's not a car you'll be buying with the expectation of having a driver drive you, those rear seats likely to be occupied by your offspring, or friends, and for that purpose it's more than up to the task.
The Panamera has traditionally been billed as a four-seater, but with the introduction of the Sport Turismo (click here to read about that) Porsche did concede and begin to offer a 2+1 rear seat package. Select that and it adds a seatbelt to the rear middle, but otherwise it makes few other concessions to that +1 rear seat passenger - the cushion still being positioned high between the recessed outer seats, and there's a sizeable transmission tunnel eating into foot space, too. Occasional use only, then, but useful to have.
The boot space varies depending on model, with the hybrid models losing 95 litres of capacity over the 500 litres of the conventionally powered cars.
The load area is flat and wide, and accessed easily by the large hatchback. Fold the seats and the Panamera can offer as much as 1340 litres of luggage volume, this slightly variable depending on specification, with things like your audio choice impacting on ultimate space. If you select, or have the electrically adjusted rear seats as standard, you lose the option to fold them, too. The outer rear seats come with IsofixX mounts, with a further option available to have Isofix fitted to the front passenger seat – depending on front seat options.
Handling and ride quality
"Porsche pitches its Panamera at the sporting end of the luxury car marketplace, and you'll appreciate why when you get behind the wheel."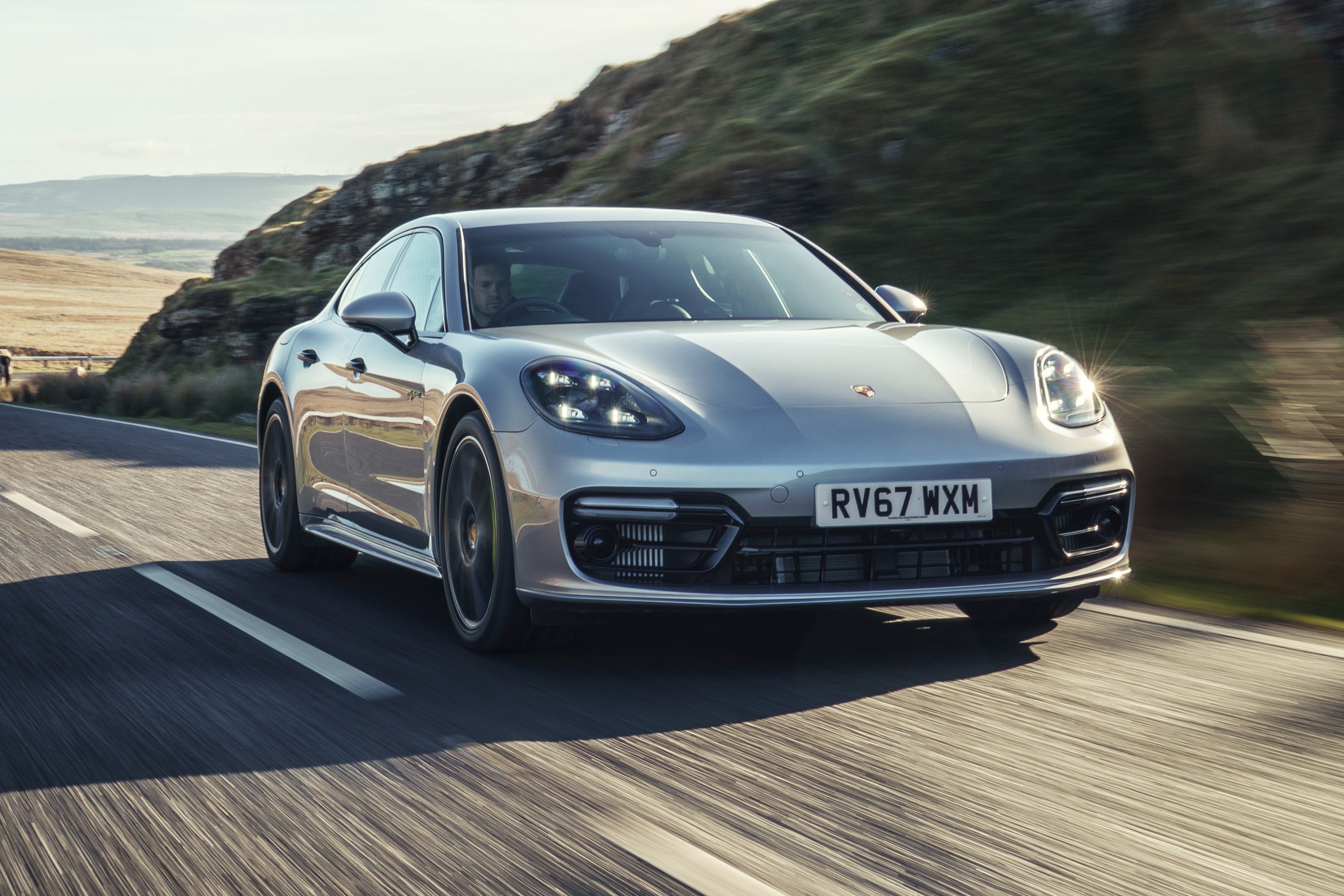 The way it drives is more sports car that any of its rivals, with even the Panamera 4 and 4S models, with steel springs, the Panamera's response and precision is very impressive. Above those Panamera 4 models all Panameras come with air springs as standard, which allows Porsche greater ability to balance the tough mix of ride comfort allied with control, something it achieves here admirably.
All come with PASM (Porsche Active Suspension Management) which gives you a choice of damper modes, and all models other than that 4, come with air springs. They're all four-wheel drive, too, bringing excellent traction and grip, almost regardless of conditions.

Standard wheel sizes start at 19-inches, rising to 21-inches, and while PASM does mitigate the usual ride comfort compromises with ever-bigger wheel sizes, if you want the finest ride comfort the smaller wheels are still the better option. Some models won't be available with smaller wheels, due to the size of their brakes, which in all are mighty, the Panamera able to stop as well as it goes – and, of course, there's options to improve that further.
That's true of the chassis, too, as there are options to make the already incisive handling even sharper, via things like Porsche Dynamic Chassis Control Sport which includes Porsche Torque Vectoring Plus. The option of rear axle steering on all is worth having, too, as it effectively shortens the Panamera's wheelbase for greater turn-in speed and accuracy, as well as aiding stability in high-speed manoeuvres. Conveniently, too, it also reduces the turning circle.

All, then offer dynamic prowess that puts the Panamera, justifiably, at the top of the sports saloon class. They all ride well, corner flatly and having good steering feel and weighting, and adding options to that only elevates that ability to even greater levels.
A PDCC and rear-wheel steering equipped Panamera genuinely having the sort of agility to shame many sports cars. All are able to control their ample bulk – most Panameras nearly two tons in weight – with incredible composure and precision, though the hybrids do lose out a little bit in this respect, with the normally powered cars feeling a bit more natural behind the wheel, with a little less weight to manage.
Engines and gearboxes
The engine line-up encompasses a 2.9-litre V6 and 4.0-litre V8s, all being twin-turbocharged, and both additionally being offered with electrical assistance in E-Hybrid models. The power all those engine choices brings spans from 330PS in the Panamera 4, 440PS in the Panamera 4S, 460PS in the GTS, 462PS in the Panamera 4 E-Hybrid and 550PS in the Turbo.
At the top of the range, the Panamera Turbo S E-Hybrid model more than doubles the output of the Panamera 4, with a combined 680PS from its electrically assisted 4.0-litre twin-turbo powertrain. All drive all four-wheels and all are fitted with an eight-speed PDK automatic transmission.
You're unlikely to be surprised to learn that all are fast, the Panamera 4 able to reach 62mph in 5.5 seconds and a top speed of 162mph and that range-topping Turbo S E-Hybrid doing the same sprint in 3.4 seconds and managing a top speed of 192mph. Depending on the model, the option of Sport Chrono can improve that sprinting ability, as along with additional driving modes it offers a launch control function. The V6 is a good engine in the Panamera 4, but it needs working pretty hard in comparison to the rest of the engine line-up to produce its performance, the 4S an improvement here.
The 4 E-Hybrid adds to the 4 V6's performance, with the electrical assistance filing in and adding immediacy, yet able to transition smoothly to electric only mode on demand.
The V8s are impressive, their flexibility greater than that entry V6, the GTS and Turbo being quick anywhere, while the range-topping Turbo S E-Hybrid is mind-alteringly quick at times, yet civilised and easy when you're not in a hurry. No real weak spots in the range, though the PDK automatic can sometimes be a bit flustered, it working best if you shift it yourself via the steering wheel-mounted paddle-shifters.
Refinement and noise levels
Porsche might bill the Panamera as a sports saloon, but it's also in the luxury sphere, and there's a corresponding expectation among buyers for refinement.
The Panamera delivers here, with a hushed cabin at speed, wind and road noise nicely damped, and all engines quietening to a muted background sound when they're not being pressed. The hybrids exemplify the Panamera's refinement, as both are able to run on electricity alone at speeds up to 86mph, and are serenely hushed when doing so.
Obviously the combination of large wheels and the sizeable contact patches of rubber attached to them, does mean there's some occasional tyre slap on sharper crests and cracks on road surfaces, and a bit of hum on poor surfaces, but the Panamera is no worse in this regard than any of its more focussed rivals – customers unlikely to be looking for Mercedes-Benz levels of refinement inside, however close it might actually come.
In many you might want more sounds, with Porsche having a Sports Exhaust on the options list for most, and it's an option worth picking, it upping the character of the engine's notes, crackling and fizzing, giving the Panamera the aural signature to match its engaging dynamic, driver-focussed character.
Safety equipment
Along with the Porsche Stability Management there's ABS brakes, traction control, that standard four-wheel drive and brakes that, in all, offer incredible stopping power. All come with Porsche Side Impact Protection System (POSIP) with side impact protection elements in the doors and thorax airbags integrated into the side bolster of each front seat. It's a shame that Porsche leaves side airbags in the outer rear seats on the options list (costing £308), but there are the usual driver and passenger front and side airbags, as well as a full-length curtain airbag, with a knee airbag for the driver and front passenger, too.
There's an active bonnet to help protect pedestrians, while a pair of ISOFIX child seat mounts are standard on the rear outer seats, with a third possible optionally in the front passenger seat. There are a number of assistance systems available optionally, with various parking options – the Panamera coming with sensors as standard – Lane Keeping Assist, Adaptive Cruise Control, Porsche InnoDrive (including that Adaptive Cruise Control), a head-up display and Night View Assist all offered on the options list across the entire line-up.
Maximum EV range
Two plug-in hybrid choices with the Panamera, with the Panamera 4 E-Hybrid and the range-topping Turbo S E-Hybrid offering twin-turbocharged V6 and V8 power mated to an electric motor. They're performance as much as economy aids, boosting power significantly, but also aiding mpg, and adding electric only range of as much as 22-27 miles in the 4 E-Hybrid and between 20-24 miles in the Turbo S E-Hybrid. Around 15-20 miles is genuinely possible in either, if you're sensible, both able to drive in electric only mode at speeds up to 86mph, and defaulting to E-Mode on start-up, too.
MPG and fuel costs
"As a minimum, the Panamera is powered by a twin-turbocharged petrol V6 with 330PS and 0-62mph in 5.5 second capability. It's also nearly two tons in weight, so economy isn't likely to be brilliant. You'll get 27.2mpg officially from that Panamera 4 (25.9mpg with the Panamera 4S), though, and it should be achievable on a long run."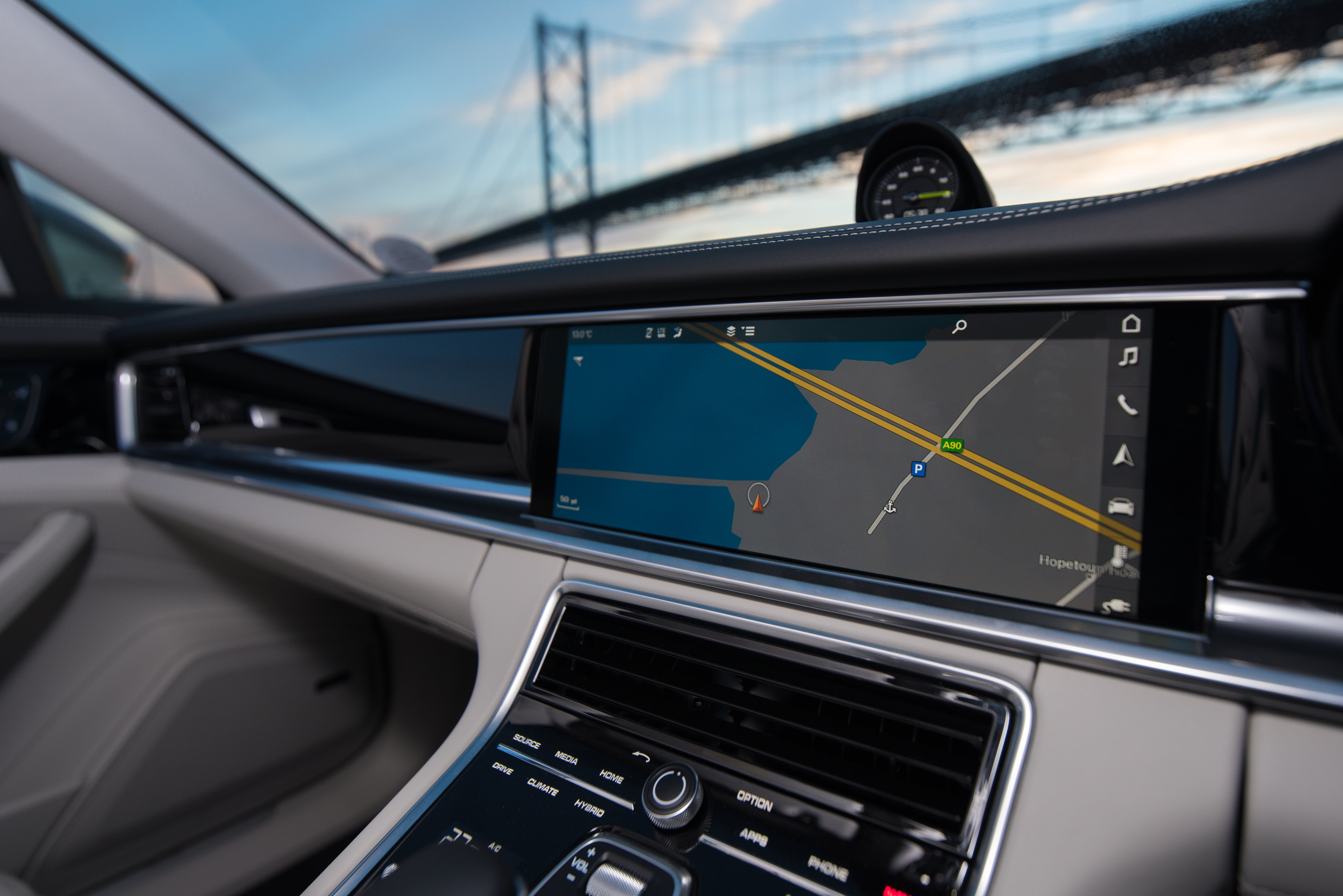 The plug-in hybrids offer the best compromise, with excellent performance mated to good potential economy, the Panamera 4 E-Hybrid quoted at 97.4mpg, and the Turbo S E-Hybrid at 80.7mpg. In reality, both will be a good deal less, but use its battery power wisely and you'll get an excellent economy, particularly when you consider the performance on offer.
Insurance groups and costs
The Panamera in any guise is expensive and fast, so the insurance groups are correspondingly high. Even the Panamera 4 is up in group 49, with every other model in top group 50. You'll be more than au-fait with this though, it likely you'll have other, similarly expensive, or more expensive cars to insure, too.
VED car tax
All are high emitting and above the £40,000 VED threshold, with the exception of the plug-in hybrids, which emit 74g/km and 80g/km respectively for the 4 E-Hybrid and Turbo S E-Hybrid. They'll be your most tax-efficient choices, then, particularly, as is likely, you'll have your, and that means your own, company paying the bills for it.
How much should you be paying for a used Porsche Panamera?
"Used prices for the Panamera start from around £52,000 in the classifieds for a 2017 and onwards V6 model, with around 10,000-15,000 miles on the odometer. Higher mileage hybrids can be bought from this price, too, while you'll also find some of the now discontinued turbodiesel models."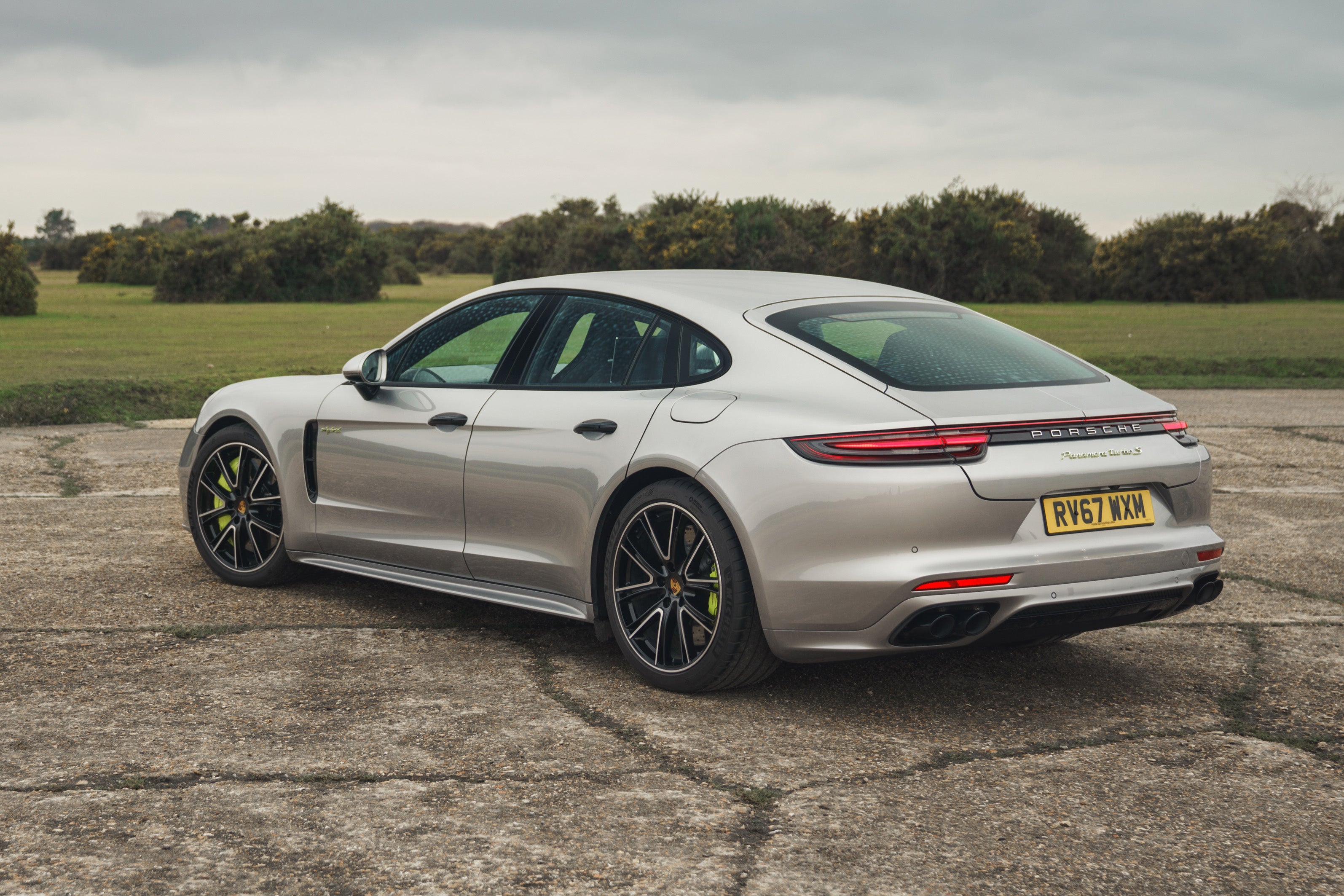 It's still new, and expensive enough to feature on Porsche's own forecourts, as well as a number of specialist, high-end dealers, with prices rising up to nearly-new delivery miles models with a small, but worthwhile discount over new.
Trim levels and standard equipment
Panamera 4 has an eight-speed DSG automatic, 19-inch alloy wheels, DAB, partial leather upholstery, 2-zone climate control sat-nav, Apple CarPlay, Park Assist, Cruise Control and heated electrically adjusted comfort seats while the Panamera 4 S adds a full leather upholstery.
The Panamera GTS, in addition to Panamera 4S, gets 20-inch alloy wheels, Sport Chrono Plus, Electrically adjusted sports seats, adaptive air suspension and GTS styling. The Panamera 4 E-Hybrid gets the Sport Chrono package with E-Drive and adaptive air suspension.
Panamera Turbo models have 20-inch alloy wheels, 14-way powered, heated front seats with memory package, heated rear seats, and a BOSE Surround sound stereo. Panamera Turbo S E-Hybrid versions come with Porsche Dynamic Chassis Control (PDCC Sport) including Porsche Torque vectoring Plus, 21-inch alloy wheels and Porsche Ceramic Composite Brakes (PCCB).
Porsche Panamera cars for sale on heycar
223
Number of cars available
£56K - £109K
Price bracket of these cars
Colours available on heycar
Keep me updated by email with the latest advice, news and offers from heycar
By submitting, you agree to our
privacy policy
.