Porsche Taycan Review 2022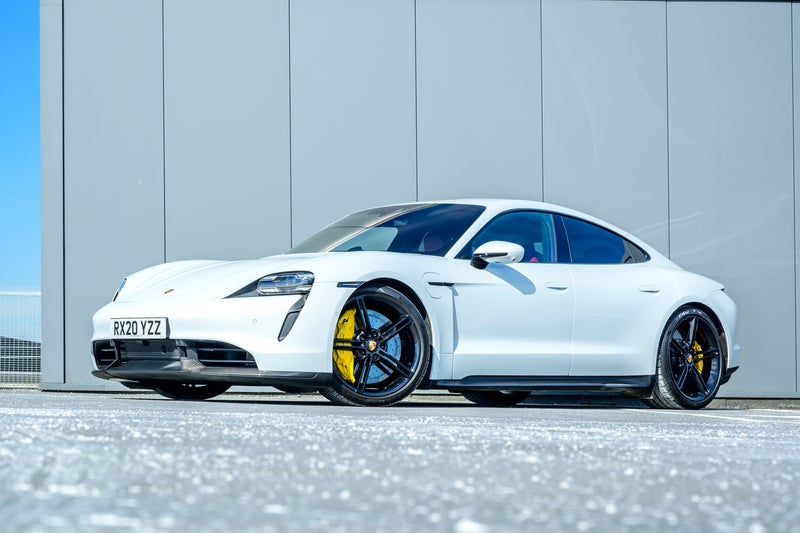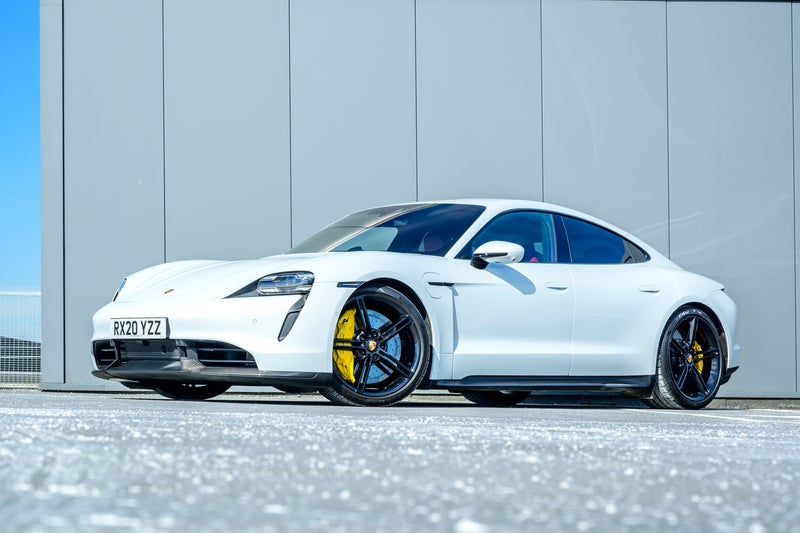 1/10
heycar rating
"Porsche first, electric car second"
Launched: 2019

Performance

EV
Quick overview
Pros
Incredible performance and agility, regardless of which model you buy
Fast charging capability with the correct chargers and usable, real-world range
Feels like a true Porsche, regardless of what's powering it
Cons
It's hardly an electric car for the masses, with prices starting from £70,000
That price is only the starting point, you'll pay handsomely for options
As good as its potential range is, it's still bettered in that respect by Tesla
Overall verdict
On the inside
Driving
Cost to run
Prices and Specs
Common questions
Overall verdict on the Porsche Taycan
"The Porsche Taycan feels so revolutionary among its EV contemporaries because it feels like it's been engineered first as a conventional car, rather than having its electric drivetrain dominate. It drives beautifully, is easy to use and its charging time and, crucially, range are impressive enough that they're no longer compromises, or at least not such significant ones. Fast, beautiful, fun to drive and electric, the charging network needs to speed up to catch up with the Porsche Taycan, but if this is the future, bring it on."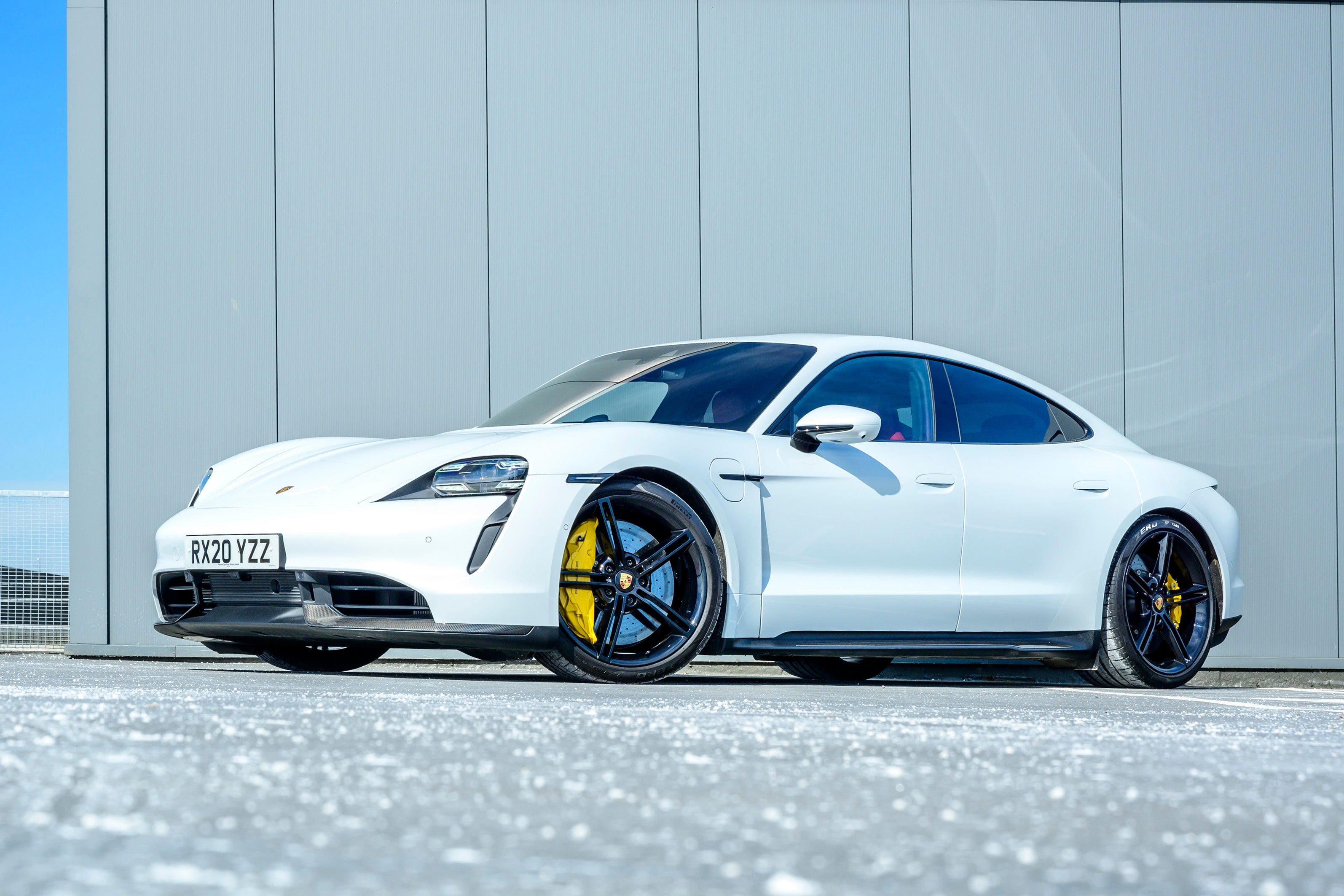 As events in Porsche's history go, and indeed the evolution and arrival of the electric car, then the Taycan will inevitably be recorded as a significant one. How significant? We'll find out in our 2022 Porsche Taycan review.
The first manufacturer to truly take on upstart electric car maker, Tesla, head-on, the Taycan is a very Porsche take on an electric car. While Tesla's been building its ground-breaking electric car since 2012, Porsche only got around to signalling its intent to join the EV (Electric Vehicle) marketplace back in 2015 with its Mission E concept.
Porsche made some bold promises as to the performance and range back then, promises that, with the arrival of the production cars late 2019 have largely been achieved. All new, though borrowing elements of its style from Porsches past and present, the Taycan eschews EV convention, using not just 800V electronics, most rivals using 400V, but also adding a two-gear transmission to allow the Taycan not just breathtaking performance and acceleration, but also help it achieve its economy goals.
While other EV contenders like the Audi e-tron, Jaguar I-Pace and Mercedes-Benz EQC have all lazily bowed to the fashion for electric SUVs with their models, Porsche's Taycan is a saloon.
The Porsche Taycan is also the first electric car to feel entirely like it's been built to legacy car manufacturing principles first, with the electric powertrain an aside. It very much feels a Porsche first, then, as the company promised, which just happens to be powered by a revolutionary powertrain, which doesn't really surprise given how obsessive Porsche's engineers are.
Before it arrived everyone at Porsche was saying they had been referencing the 911 as a benchmark opposed to the more likely Panamera, and that rings true when you drive the Taycan. That means it drives beautifully, masking its inevitable weight superbly, while feeling utterly conventional behind the wheel for most of the time, while still being able to reduce you into a state of utter befuddlement if you choose to demonstrate its incredible accelerative abilities.
Porsche's typically engineering-led, performance-based approach has paid dividends with it then. However, there's an elephant in the room relating to the accelerative ability of the range-topping Turbo S model. The Tesla Model S, if configured correctly, is able to better the Porsche's 0-62mph time, but Porsche cites repeatability, saying the Taycan can do its stopwatch testing trick until it breaks you, not the car, while you'll be doing well to achieve that ludicrous mode party trick more than once in the Tesla. Either way, the Porsche Taycan is certainly one of the fastest electric cars.
What's perhaps more relevant, is that the 800V system Porsche has specified allows it to charge at rates that even Tesla cannot manage, it's able to fill its batteries from 5% up to 80% in 22.5 minutes, assuming you've got a 270kW charger to hand.
The likelihood is you won't currently, there's only a handful around, but they're coming at a rapid pace, and the Taycan is ready to use them. Even on more typical lower output chargers that 800V system is advantageous, while Porsche's engineers could spend hours telling you how and why the Taycan's electric motors are better than the competition, and we're not about to disagree with them.
It might have taken a while to arrive, but now it's here it's hugely impressive, regardless of whether you opt for the Taycan, 4S, Turbo or Turbo S model, though, unsurprisingly, none are cheap.
Is the 2022 Porsche Taycan right for you?
If you've been waiting for the point where electric vehicles, other than that Tesla, can provide a genuine 200-mile maximum range, then, yes, the Taycan is for you.
That's assuming, of course, you can afford it, this is a Porsche after all, so it's not cheap. Electric cars aren't new to the automotive world, but they've required a good number of compromises up until now. Undeniably, that remains true here, but the Porsche Taycan's range, allied to the potential to charge it so speedily does at least significantly lessen the traditional EV car compromises.
We'd be amazed if any Porsche Taycan buyer hasn't at least another Porsche in the garage – and likely several. Likewise, we doubt Tesla owners will be buying the Taycan in big numbers, either, such is the brand loyalty towards their chosen EV. Ignoring the huge price, if that's possible, the Taycan could be for everyone, it being among the first EVs that feels like a car first, and an EV second, and that's what makes it so significant.
What's the best Porsche Taycan model/engine to choose?
The Porsche Taycan range currently encompasses the Taycan RWD, Taycan 4S, Taycan Turbo and the Taycan Turbo S. We'll not get embroiled in the debate on the Turbo name being used on an electric car, Porsche simply saying it's a conventional and recognisable means of defining its product line.
Those Turbos are the fastest then, with the 4S still hugely quick, if not quite in the mind-bending category of those Turbos. There will be others in time – we'd be amazed if there's not a GTS model.
For now, it's difficult not to get out of the Taycan 4S with your mind blown by its performance and capability, which makes spending around 50% more to reduce the 0-62mph time and add a touch more range over its genuine circa 200 mile potential for a Turbo seem more than a little bit unnecessary, and the leap to a Turbo S even more so.
If you're not that fussed about performance, the entry-level rear-wheel-drive Taycan is a very lovely car. But who buys a Porsche to be beaten away from the lights by a Tesla?
What other cars are similar to the Porsche Taycan?
The choice of electric cars used to be sparse, and in the Taycan's performance sphere, limited to one – that Tesla Model S. Other manufacturers have finally cottoned on to the fact that EVs are now a thing, that people actually want, while, in time, the expectation is they'll end up replacing conventional cars.
Premium manufacturers are finally catching up, though the three offerings from Mercedes-Benz, Audi and Jaguar, the Mercedes EQC, Audi e-tron and Jaguar I-Pace respectively are all SUV-proportioned, unlike the saloon of the Taycan and its key, direct rival. None of them drive like the Taycan, though, which isn't just rocketship quick, but incredibly agile too.
Comfort and design: Porsche Taycan interior
"The cabin design pulls off the neat trick of not just being familiarly Porsche in its layout and design, but achieves that while resolutely bringing the future to the interior. "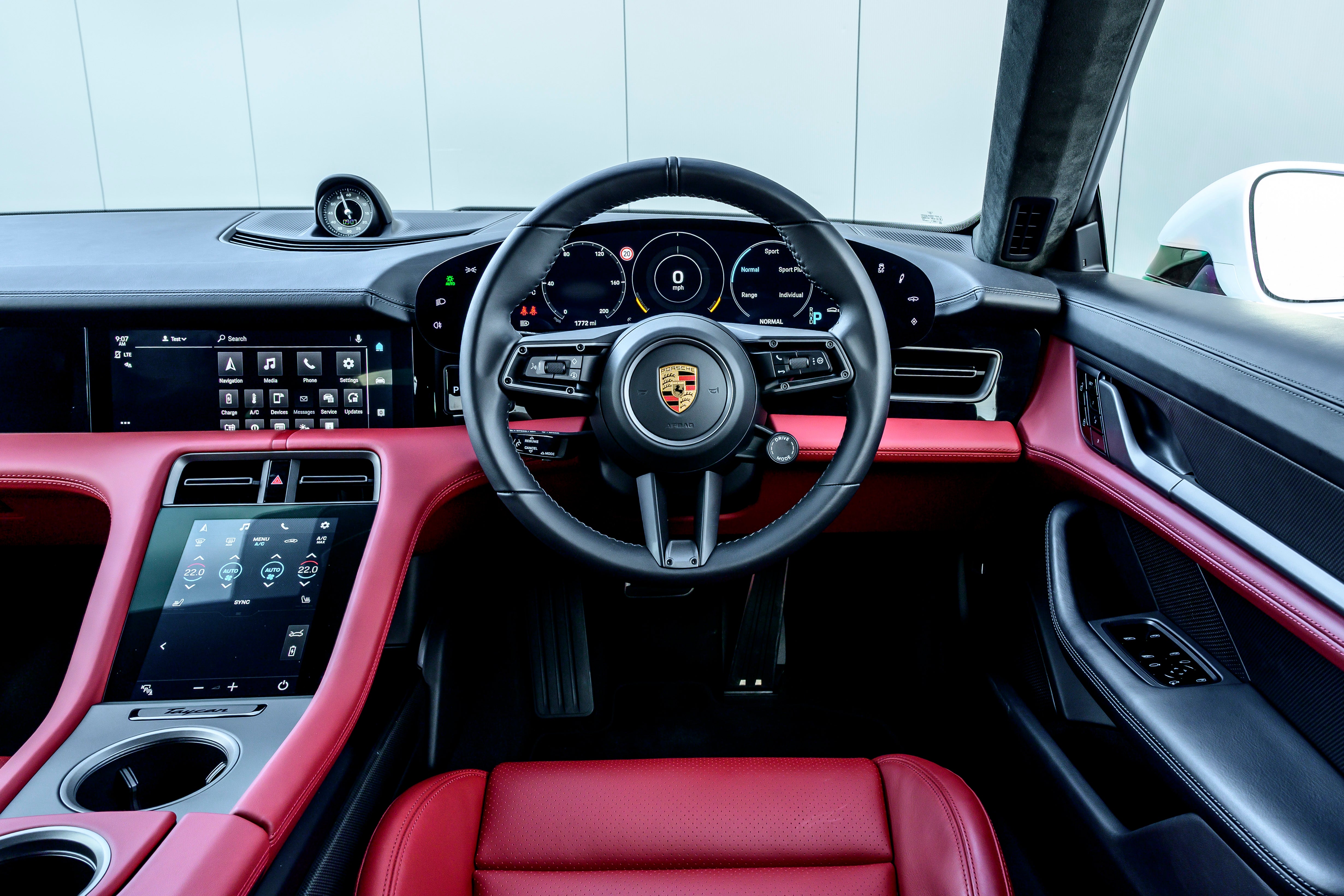 Porsche made a lot of noise about it being the sportiest car to sit in alongside the 911 when the Taycan was launched, and while that might sound like marketing-led drivel, it actually transpires to be true in reality. You sit low, in excellent 8-way electrically adjustable comfort seats as standard on the 4S (14-way electrically adjustable in the Turbo) or, the Adaptive Sports Seats in the Turbo S, which feature a memory function to set up your favoured driving position.
There's plenty of options you'll need to tick for the ultimate in comfort, with seat heating and ventilation optional, massaging seats available too. Likewise, you can pay to have the steering wheel heated. The ventilation is good, but using it needs a bit of practice, Porsche, in an unusual own-goal, putting the controls for the ventilation within a lower touchscreen, which makes it fiddly and awkward to set up, particularly on the move.
It feels inside, very much like a driver's car, from that low position, to the cockpit feel created by that high centre console which contains one of the many touchscreens to feature in the Taycan's cabin. The instruments are replaced by a screen, but Porsche has cleverly adopted the shape of the instrument cowl of its conventionally powered cars, to retain that family look, it said to be inspired by the 993-generation 911.
That it all manages to feel and look familiar, but sophisticated, classy and futuristic at the same time is a very impressive design trick, and makes it feel like it's worth the not insignificant sum you need to pay for the privilege of sitting in the driver's seat.
Quality and finish
The interior of the Porsche Taycan doesn't just look sensational, but it feels it, too. Indeed, in this respect it's right at the top of its class, bettering even Audi's e-tron here, and making the Tesla Model S feel downright shoddy in places in comparison. That solidity and fine material choice is apparent everywhere, with all the surfaces you touch feeling substantial but tactile at the same time, Porsche not scrimping on materials that are out of sight, either. In short, the Taycan, in any specification feels very special inside, but at the price Porsche asks for it, then it really should.
Infotainment: Touchscreen, USB, nav and stereo in the Porsche Taycan
There are more screens in the Taycan than NASA's mission control room, with the instrument panel, top centre dash and lower dash all having screens. Those on the centre console are haptic touchscreens and might be familiar to you if you're already a Panamera or 911 owner, the Taycan borrowing, but building on the infotainment from its relations.
The digital instruments are particularly neat, being configurable, offering a choice of displays covering anything from dials aping that of which will be familiar to any Porsche driver, to mapping and the EV drivetrain status.
If the standard three screen set-up isn't quite enough screens for you, there's the option of an additional 10.9-inch touchscreen in front of the passenger, in case your passenger is incapable of stretching to touch that central one – it's a little bit superfluous, and the £725 extra it costs, ridiculous.
The operation of those screens is relatively simple, though we do concede that Porsche's obsession with removing buttons and switches isn't entirely successful, changing things like ventilation and temperature being needlessly fiddly. For the actual infotainment itself though it's agreeable enough, and relatively easy.
Porsche bundles it all under the Porsche Communication Management header, it containing online navigation, mobile phone preparation and voice control, DAB, a ten-speaker audio system and Porsche Connect with Apple CarPlay. Android Auto users? Forget it. Apparently Porsche reckons all its customers use Apple products… Turbo and Turbo S get a BOSE 14-speaker system, and there's the option of a Burmester premium audio package if you want 21 speakers, 3D sound and the mightiest output for your music.
Space and practicality: Porsche Taycan boot space
The Taycan might adopt a cockpit-like, low down driving position like its sports car relations in the Porsche line-up but it also shares another of their facets.
There are two luggage compartments, one in the front, and another conventional one in the rear. That front (frunk if you like) boot, offers 81-litres of luggage space, which is enough for a decent-sized squashy bag, though it is more likely to be used to store charging cables etc, leaving the rear boot free, and cleaner, for luggage.
There's 407 litres of space in the rear boot of the RWD and 4S Taycan models, with the Turbo and Turbo S losing a bit of boot space with a 366 litre compartment. The back seats do fold down in a 60/40 split if you need more space, or for longer loads, and don't need the space for passengers. It's practical enough then, if not as spacious as that Model S from Tesla.

The Porsche Taycan has dimensions of 4963mm long and 1966mm wide, so it's a big car. That said, you're snug in the front. However, that's not due to a lack of space, just that connection with the car. It's also pretty snug in the rear, but that's more to do with less space back there.
Porsche has gone as far as mining some recesses out of the battery to provide foot space for rear-seat passengers, but if you're taller than 5ft 10 you'll find it pretty cramped back there. It's absolutely fine for children, though, and there's ISOFIX mounts on the outer rear seats too. As standard there's seating for four, with Porsche offering an optional 2+1 rear seat package, which squeezes another seat belt between the rear seats.
It's tight back there if you do pick that, but it does add the advantageous 40/20/40 rear seat back split if you want to drop the middle and sling skis or suchlike through the cabin. There are a pair of large cup holders, a lidded cubby in the centre console, a good-sized glove box and door bins in all four doors, making the Taycan a genuine day-to-day proposition.
Handling and ride quality: What is the Porsche Taycan like to drive?
"Most Taycan models are four-wheel drive, while a myriad of options to make the handling even sharper, mean any Taycan will impress in relation to handling."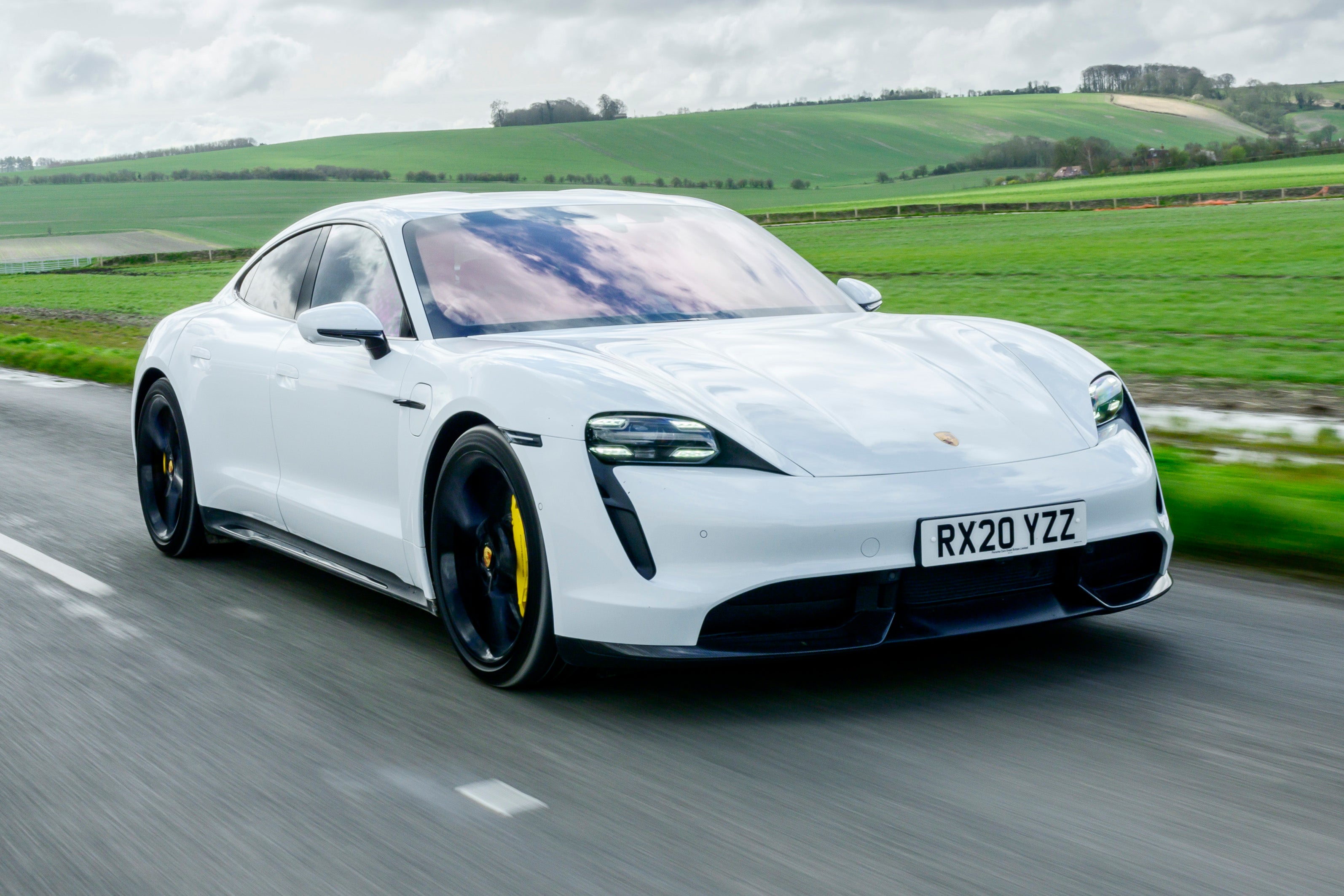 The Taycan's electric drivetrain allows Porsche's engineers some additional immediacy to aid agility – even the entry-level and 4S models, without some of the more specialist equipment relating to dynamics, have an agility that belies their not insubstantial bulk. The low centre of gravity helps, thanks to the positioning of the Taycan's battery low under the floor and between the axles, it feeling more sports car than sports saloon.
Enthusiastic drivers might be tempted by the standard Taycan solely for its rear-drive layout. It's certainly nimble and – if you drive it back-to-back with the four-wheel-drive models – you might argue that it's slightly keener to turn in than its peers. It feels reassuringly planted, though, with an enormous amount of grip on offer. We tried on snowy British B-roads and hardly felt like it was trying to stick us in a hedge at every opportunity.
The Turbo builds on the already incredible poise, stability and surefooted handling of the 4S, that thanks to the addition of Porsche Torque Vectoring Plus into the dynamic mix, that clever system shuffling torque around the four wheels to where it's best put to use. The Turbo S utilises rear-wheel steering as standard, it virtually shortening the wheelbase to allow the Turbo S to feel even more direct at turn in, and more stable during high-speed manoeuvres, this available optionally on the Turbo and 4S models.
All come with 4D Chassis Control, which manages the various systems in the Taycan's dynamic arsenal. Among which there's Porsche Stability Management and Adaptive Air Suspension, while optional systems like active roll stabilisation, dubbed PDCC Sport, are also managed by that 4D system, if fitted. The Sport Chrono pack also allows a degree of configuration of these driving modes too, though the Taycan, in any form rides with real composure, it's agility genuinely in the realm of other-worldly, yet being fun and engaging at the same time.
It feels surprisingly natural to drive, that particularly true in relation to the brakes, which despite regenerating, do feel good under foot, with assured response. That fluidity, the natural feel to the Taycan is what links it to Porsche's other models, and makes it distinct from its EV rivals. Indeed, the Taycan feels, and is, every bit a driver's car first, and an EV second, though it uses its drivetrain to its advantage to produce that engagement behind the wheel.
What engines and gearboxes are available in the Porsche Taycan?
The base Taycan has a single electric motor which produces a relatively conservative 330PS, although an 'overboost' function increases this to 408PS for brief periods of time (great for overtaking, for example). Just to confuse matters, you can also get the entry-level car with the upgraded Performance Battery Plus, which increases power to 380PS (or 476PS when overboost kicks in).
We've driven the standard Taycan with the bigger battery and it's certainly rapid, if a smidge underwhelming. This is partly because the Taycan's so refined – if it had the aural soundtrack of a large petrol engine, it'd probably feel quicker. Still, 0-62mph in 5.4 seconds is plenty quick enough for fast getaways – even if it doesn't shove you back in your seat like a Tesla.
In the Taycan 4S the output is 435PS, the Turbo having 625PS and Turbo S 625PS, too. Confusing things is the overboost function, that upping the power of each, briefly, to 530PS in the 4S, 680PS in the Turbo and 761PS in the Turbo S, that overboost output being the one most often quoted in relation to the models. Torque is similarly affected in overboost, launch control mode with everything primed, the 4S having 640Nm, the Turbo 850Nm and the Turbo S 1050Nm.
All that translates to 0-62mph times of 4.0 seconds, 3.2 seconds and 2.8 seconds, respectively, and that's likely to be conservative given Porsche's focus on the repeatability of its performance statistics. Top speeds range from 155-161mph, it's not the top speed that'll blow you away, but the way the Taycan can change velocity on the move.
For overtaking it's in the near incomprehensible levels of quickness, the response immediate, and variably ferocious depending on which of the driving modes you've got it in, the choices being Range, Normal, Sport and Sport+. Range works out the best strategy for managing the battery on a journey, so you need to get in the habit of putting your destination in the sat nav, as it works at its best if it knows your destination. Normal feels exactly that, with Sport and Sport+ in particular feeling like the Taycan has had an afterburner strapped to its roof.
Maximum EV range in the Porsche Taycan
Range varies across the model line-up, with the entry-level car officially capable of travelling for up to 268 miles between charges, or 300 miles with the bigger battery pack. The 4S is quoted as having a range of 253 miles, 280 for the Turbo, and 257 miles for the Turbo S. In the real world, all should manage 200 miles, or even on a longer drive covering mixed, and a portion of motorway driving.
Refinement and noise levels
The lack of pistons hammering away in a big metal block while spewing out hot gasses and sucking in air to feed it makes electric vehicles incredibly quiet compared to normal cars. Indeed, it's unnerving at first, especially if you pin the accelerator to the floor, the resulting catapult performance not being accompanied by a cacophony of sounds.
There are the faintest electrical notes, and, if you've optioned Porsche's Electric Sport Sound Generator, a synthesised approximation of a performance sound, that's unusual but not unpleasant, and switchable if you want the serenity of silence.
Wind and tyre noise become a real headache for EV engineers, as there's nothing else to mask them with, but, impressively, the Taycan manages to keep both under control – at least at regular speeds and on finer surfaced roads. At town speeds the Taycan is a paragon of refinement, which is a sizeable part of its appeal.
Safety equipment: How safe is the Porsche Taycan?
Besides the Taycan's incredible agility being useful in helping you avoid an accident in the first place, Porsche has loaded it with a sizeable standard safety equipment list. There are full-sized driver and passenger front and knee airbags, front side airbags, curtain airbags with roll-over detection, ABS, traction and stability control, tyre pressure monitoring, multi collision braking and hill hold assist with all models.
There's a pop-up bonnet for pedestrian protection too. Standard assistance systems include Lane Keeping Assist with traffic sign recognition, Collision and Brake Assist and Park Assist. All that meant that in the latest round of Euro NCAP crash tests the Taycan was awarded a 5 star maximum rating.
Additionally, there's the option of Adaptive Cruise Control, Night View Assist, Porsche Innodrive with Active Lane Keeping, Emergency Steer Assist and Intersection Assist.
Charging times: How much does it cost to charge the Porsche Taycan?
"With its 800V electronics the Taycan can be charged quicker than any of its contemporaries, though you do need to pay extra for the 150kW DC on board charger. "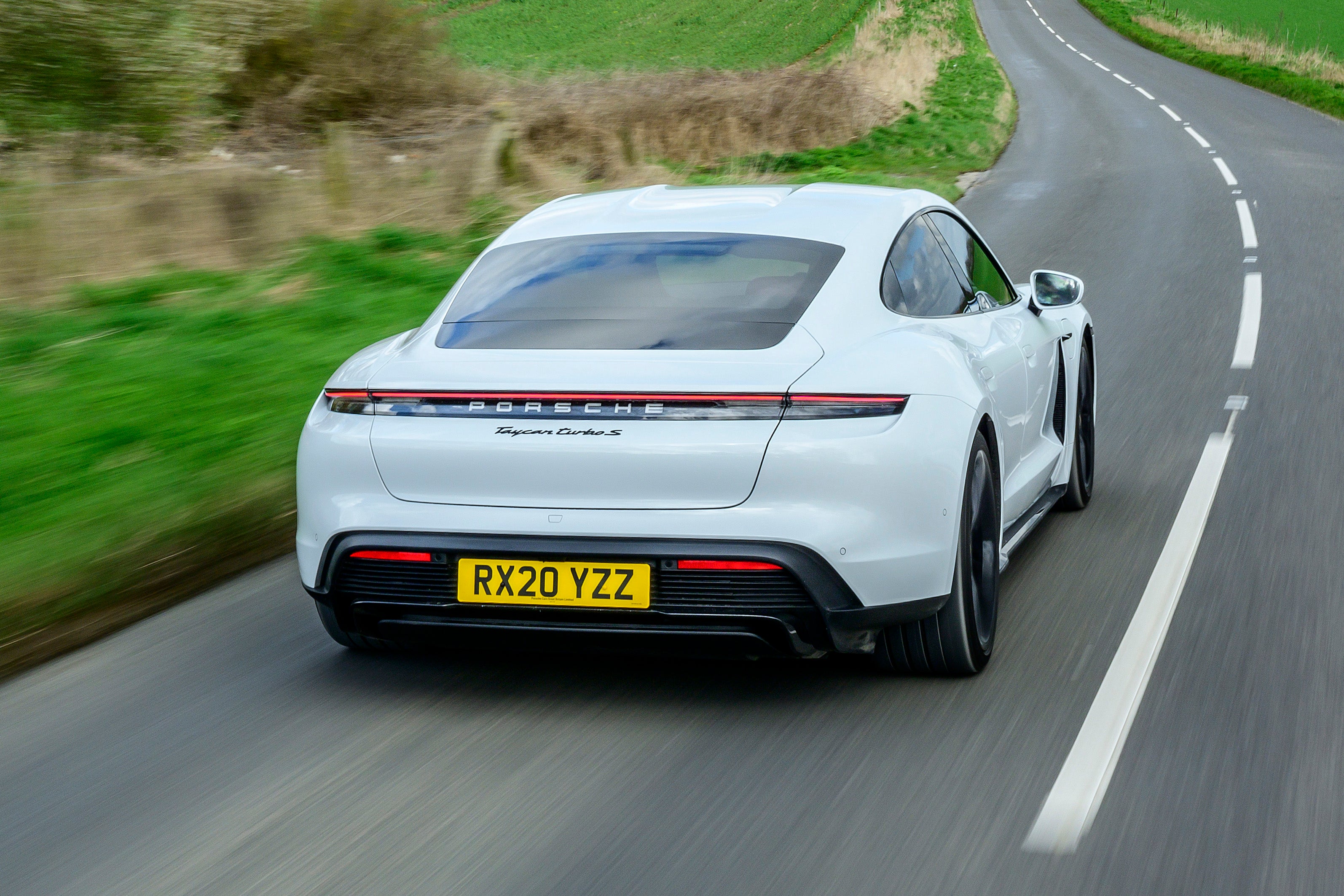 Indeed, there's a number of cost options relating to cables and charging that really should be standard. Find a 270kW public charger and you can boost your battery from 5% to 80% charge in as little as 22.5 minutes, but those chargers are scarce presently. The same charge on a 50kW public chargers will take about 90 minutes, while an 11kW home charger will take 9 hours or more.
How reliable is a Porsche Taycan?
The Porsche Taycan is still a very new are so it's pretty soon to be talking about reliability. However, Porsche's always enjoyed a good reputation among sports car makers for reliability. Backing this up is the fact that Porsche was ranked 7th in HonestJohn.co.uk's Satisfaction Index 2020 with a Satisfaction Index Score of 87.4%.
Insurance groups and costs
It won't be cheap to insure, but if you're in the league of Taycan ownership that's not likely to be a surprise, nor be in any way an issue.
VED car tax: What is the annual road tax on a Porsche Taycan?
The Porsche Taycan's zero emissions drivetrain make it incredibly tax efficient to run as a business vehicle, while VED charges are zero.
How much should you be paying for a used Porsche Taycan?
"It's so new that used stock is very much in the nearly new, dealer demonstrator sphere, so you'll be doing well to get any discount off the list price at all."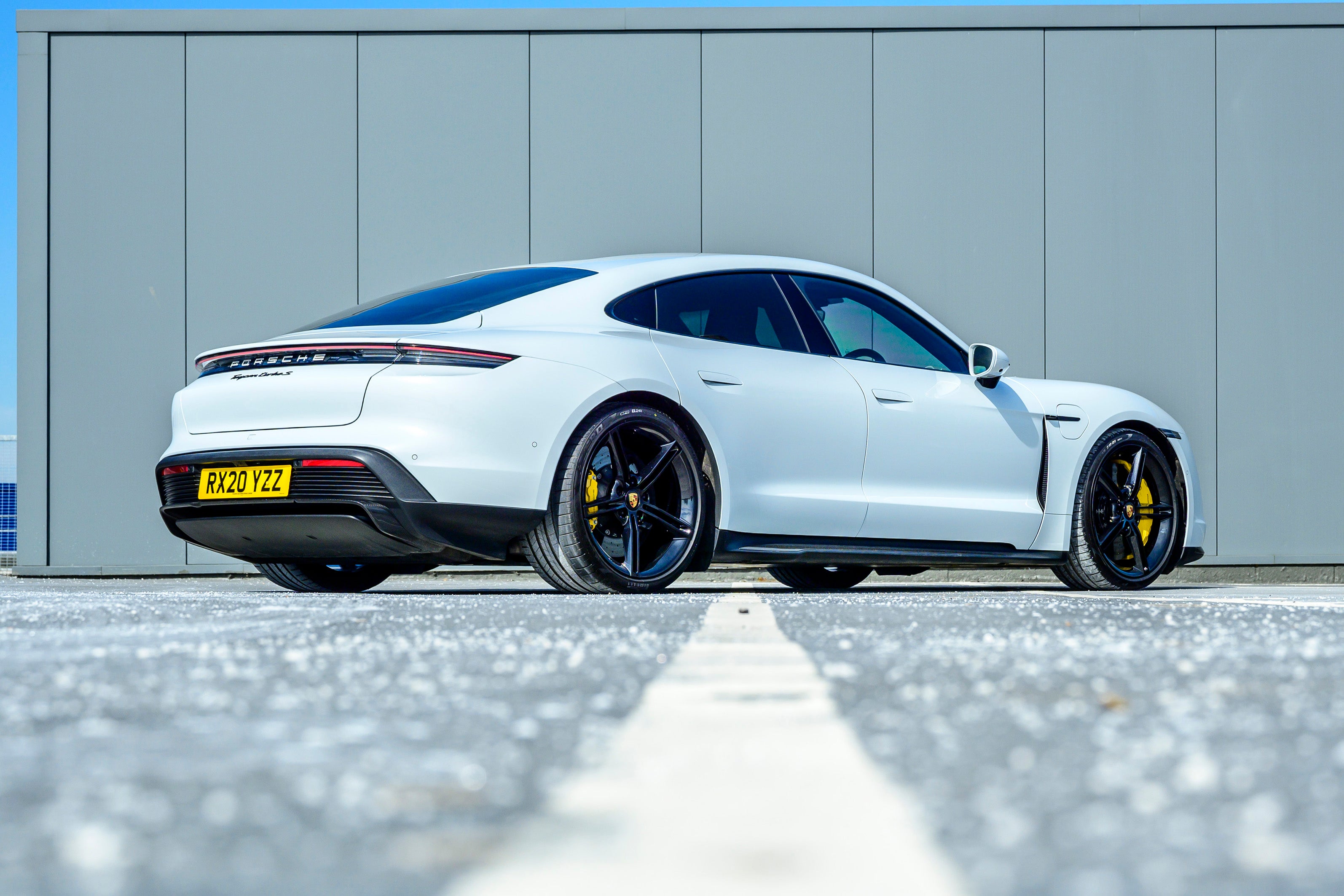 Indeed, you'd be lucky to pick up any Taycan for less than £100,000, with buyers happy to pay a premium to skip the waiting list.
Trim levels and standard equipment
Standard equipment on the Taycan includes two-zone climate control, electric front seats, LED interior lighting, LED headlights, a 16.8-inch curved media display, partial leather interior and 19-inch alloy wheels. The Taycan 4S adds air suspension.
Taycan Turbo adds Porsche Torque vectoring, Porsche Surface Coated Brakes, 14-way electrically adjusted comfort seats, leather interior, BOSE audio.
Taycan Turbo S features rear axle steering, Porsche Ceramic Composite Brakes, Adaptive 18-way electric Sports Seats, two-tone leather free interior.
Ask the heycar experts:
common questions
Is the Porsche Taycan the best electric car?
While the best electric car will come down to your specific needs, the Porsche Taycan is certainly one of the best electric cars you can buy right now. It might not be as practical or affordable as some other electric cars, but the Taycan is fast, comfy, luxurious and desirable.

Which Porsche Taycan has the longest range?
You'll need to opt for the Performance Battery Plus variant if you want the longest range Taycan, which will be able to travel up to a claimed 301 miles before it needs to be recharged. The standard battery model will have a range of up to 268 miles.

Is the Porsche Taycan fully electric?
Yes, the Porsche Taycan is fully electric. Porsche's first all electric car, the Taycan has been built from the ground up as a performance electric car. The battery is based around a 800V architecture compared to 400V, which sees the quickest Taycan Turbo S model hit 60mph in 2.8 seconds!

Porsche Taycan cars for sale on heycar
283
Number of cars available
£95K - £150K
Price bracket of these cars
Colours available on heycar
Keep me updated by email with the latest advice, news and offers from heycar
By submitting, you agree to our
privacy policy
.