Renault Arkana Review 2022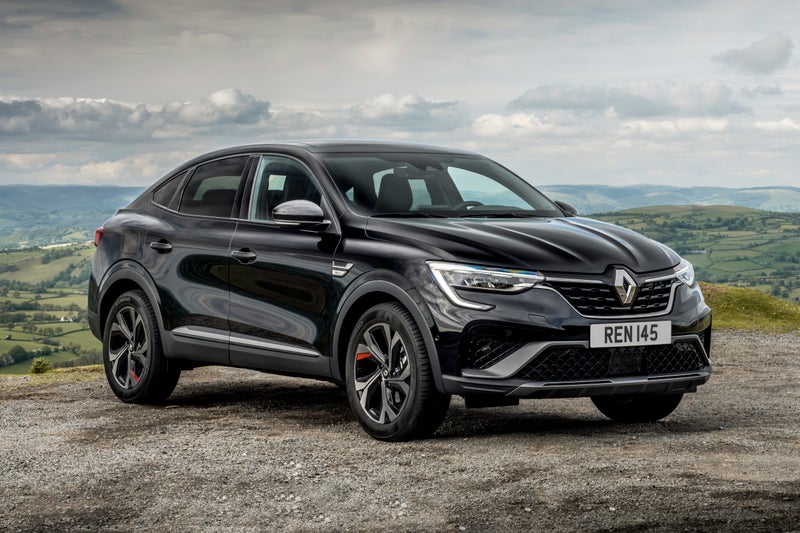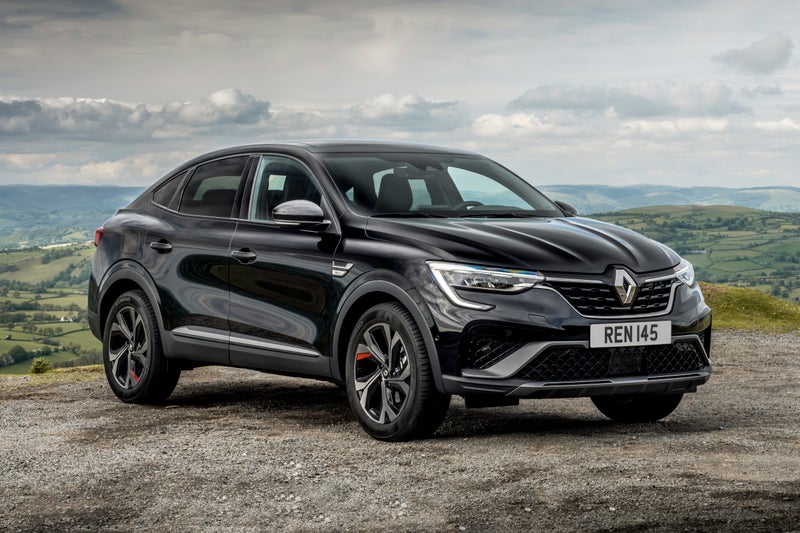 1/10
heycar rating
"Coupe SUV lacks driver appeal"
Launched: 2021

SUV

Mild hybrid, Hybrid
Quick overview
Pros
Design-led crossover SUV
Efficient hybrid and mild-hybrid engines
Spacious and comfortable interior
Cons
Hybrid is unrefined and frustrating to drive
Crashy ride and so-so handling
Rear visibility isn't great
Overall verdict
On the inside
Driving
Cost to run
Prices and Specs
Common questions
Overall verdict on the Renault Arkana
"The Renault Arkana turns on the style but it doesn't quite match this with substance. It's efficient and fairly practical, but as you'll see in this review the hybrid model is far from smooth, the ride is unsettled at all speeds and it's not much fun to drive at all."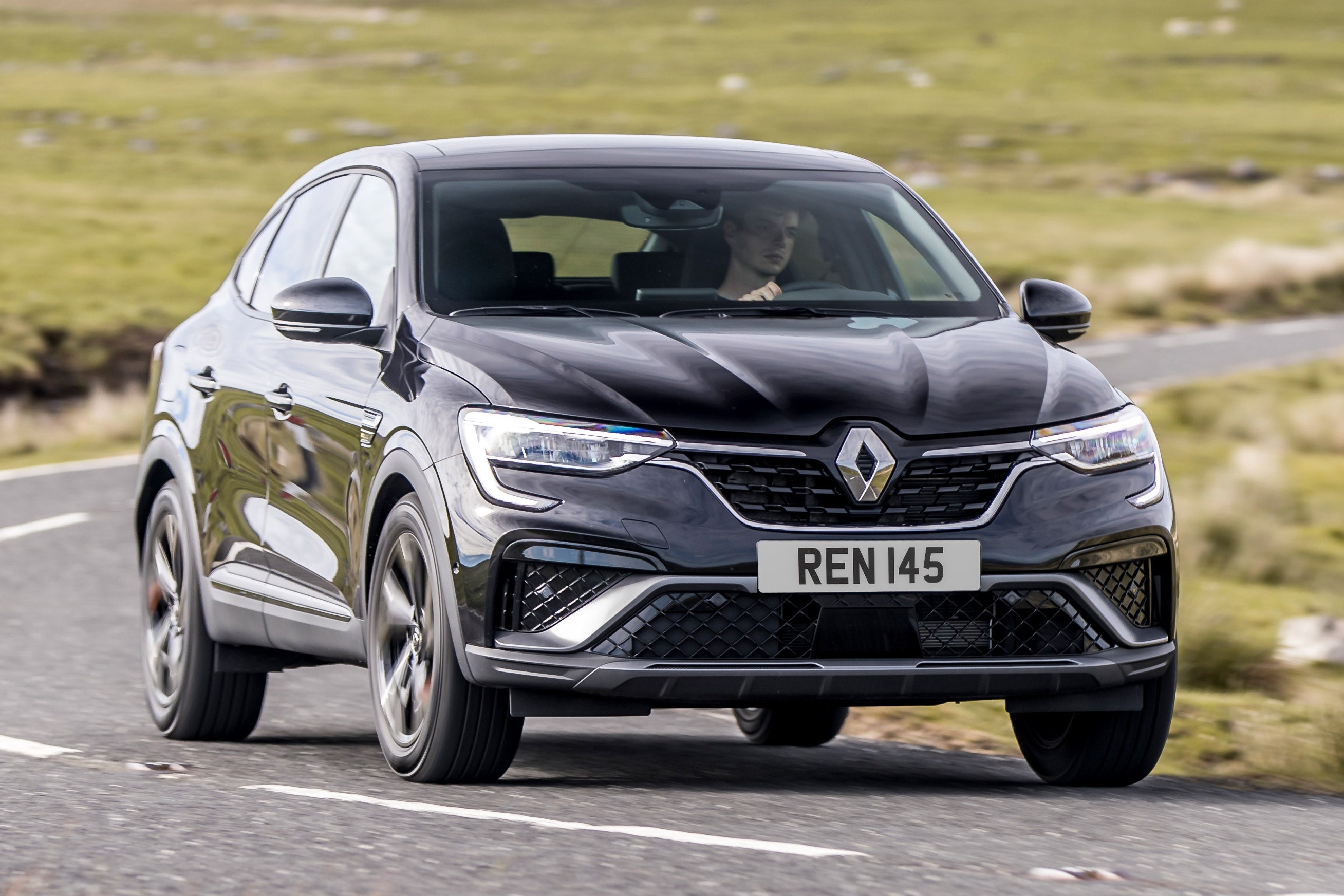 The Renault Arkana is part of a growing crop of SUVs shaped like coupes. It's a craze that BMW started over a decade ago with the X6, but now almost everyone's at it as the family SUV segment becomes ever more popular and diverse.
Strangely, although the Arkana is similar in size to Renault's own Kadjar SUV, it's actually a longer version of the Captur underneath. It doesn't directly replace the Kadjar, then, instead offering a more svelte and affordable alternative.
It sits in between two sectors of the market, being larger and roomier than a Ford Puma and Peugeot 2008, but cheaper and more compact than the Kia Sportage or SEAT Ateca. As such, key rivals include the also stylish Mazda CX-30, alongside the hybrid-only Honda HR-V and Toyota C-HR.
Being longer than the Captur on which it's based is good news for the Arkana's interior space. Legroom is pretty good, and that sloping roofline doesn't eat into rear headroom as much as you might think. As such, the Renault Arkana is practical enough to use as your main family car.
You might have noticed that diesel engines are very much out of fashion and, as such, the Renault Arkana is available solely with a 1.3-litre mild-hybrid petrol motor or a 1.6-litre self-charging hybrid. The latter is expected to be the big seller, with an impressive 58.9mpg combined economy figure.
While it might be impressive in terms of fuel economy, the hybrid Renault Arkana is lacking both refinement and performance. With an unusual clutchless gearbox it seems to keep revs oddly high around town (unless you're gentle enough to keep it in EV mode), yet when you need to get up to speed out of town it refuses to kick down and takes it time to build up the pace. It's a fair way off the best hybrid alternatives, then.
The lacklustre performance means the Renault Arkana R.S. Line writes cheques it can't cash, while the thumping, bouncy ride quality is a long way off the comfortable Citroen C4's. In terms of handling, the Renault Arkana feels solid and reassuring, although it's nowhere near as fun to drive as the Cupra Formentor thanks to rather stodgy steering, grabby brakes and pronounced body lean.
There are three trim levels to choose from, namely the Arkana Iconic, S Edition and R.S. Line. Standard equipment is pretty generous on all trim levels, which makes the pricier models difficult to justify. Even the entry-level Renault Arkana Iconic comes with a seven-inch media system (with Android Auto and Apple CarPlay), LED headlights and 17-inch alloy wheels. There's also a whole host of driver-assist features, including cruise control (with speed limiter), lane departure warning and lane-keep assist.
The mid-range Renault Arkana S Edition adds a bigger 9.3-inch portrait navigation screen, as well as a seven-inch TFT driver's information display, 18-inch diamond-cut alloy wheels, auto-dipping headlights and adaptive cruise control.
Sitting at the top of the range is the Arkana R.S. Line, which looks rather sporty with its diamond-cut 18-inch alloy wheels, bespoke front bumper and gloss black door mirrors. Inside, you'll find part-leather seats with imitation suede, aluminium sports pedals and a leather steering wheel. There are even red strips on the seat belts and a carbon-look trim on the dashboard.
While list prices of the Renault Arkana look a bit high for what it is, the brand's quoting a headline finance figure of £249 a month. If you want to skip the waiting list, dealers are offering big savings on nearly-new or pre-registered models.
Is the Renault Arkana right for you?
If you want something that looks a little more special than a Renault Captur but don't want to stretch to a premium alternative like the BMW X2, the Renault Arkana could be a good choice. Its hybrid engines mean it'll be cheap to run, while you get a lot of standard equipment for your money.
The Arkana's list prices are quite strong when new but – even though it's still a very new car – there are some decent savings available on the used market. Just remember that it's not a car that you'll particularly enjoy driving, especially in hybrid form.
What's the best Renault Arkana model/engine to choose?
The majority of buyers are expected to choose the Renault Arkana E-Tech hybrid model, which means there'll be more available on the used market. It should prove cheaper to run, but while it'll run at low speeds on electric power alone for short periods as soon as the engine is woken up it's unrefined.
We actually reckon those who choose the mild-hybrid petrol will be getting an Arkana that's nicer to drive as a result, with a traditional six-speed gearbox and fairly punchy turbo motor. It's cheaper to buy, too.
In terms of trim levels, all are well equipped. We'd probably avoid the top-spec Arkana R.S. Line as it's quite expensive and, if you really must have a sporty SUV, you'd be better looking at the Cupra Formentor. The mid-spec Arkana S Edition comes with a lengthy list of desirable kit, including the seven-inch portrait navigation system.
What other cars are similar to the Renault Arkana?
The Toyota C-HR is probably the Renault Arkana's key rival, sold exclusively as a hybrid model. You might also be considering the stylish (and sporty) Cupra Formentor, while the new hybrid Honda HR-V should also be on your radar.
The Ford Puma is an excellent small SUV with a party piece in the form of a 'megabox' in the boot, while the Volkswagen T-Roc is another desirable choice. We'd also recommend looking at the Mazda CX-30 and the very comfortable Citroen C4, while family buyers should also look at bigger yet similarly priced SUVs like the Nissan Qashqai and Hyundai Tucson.
Comfort and design: Renault Arkana interior
"While the Renault Arkana's exterior will turn heads, there's nothing surprising about the interior. It looks just like the cabin of a Renault Clio or Captur, with piano-key buttons on the dash and – on high-spec models – a portrait infotainment screen."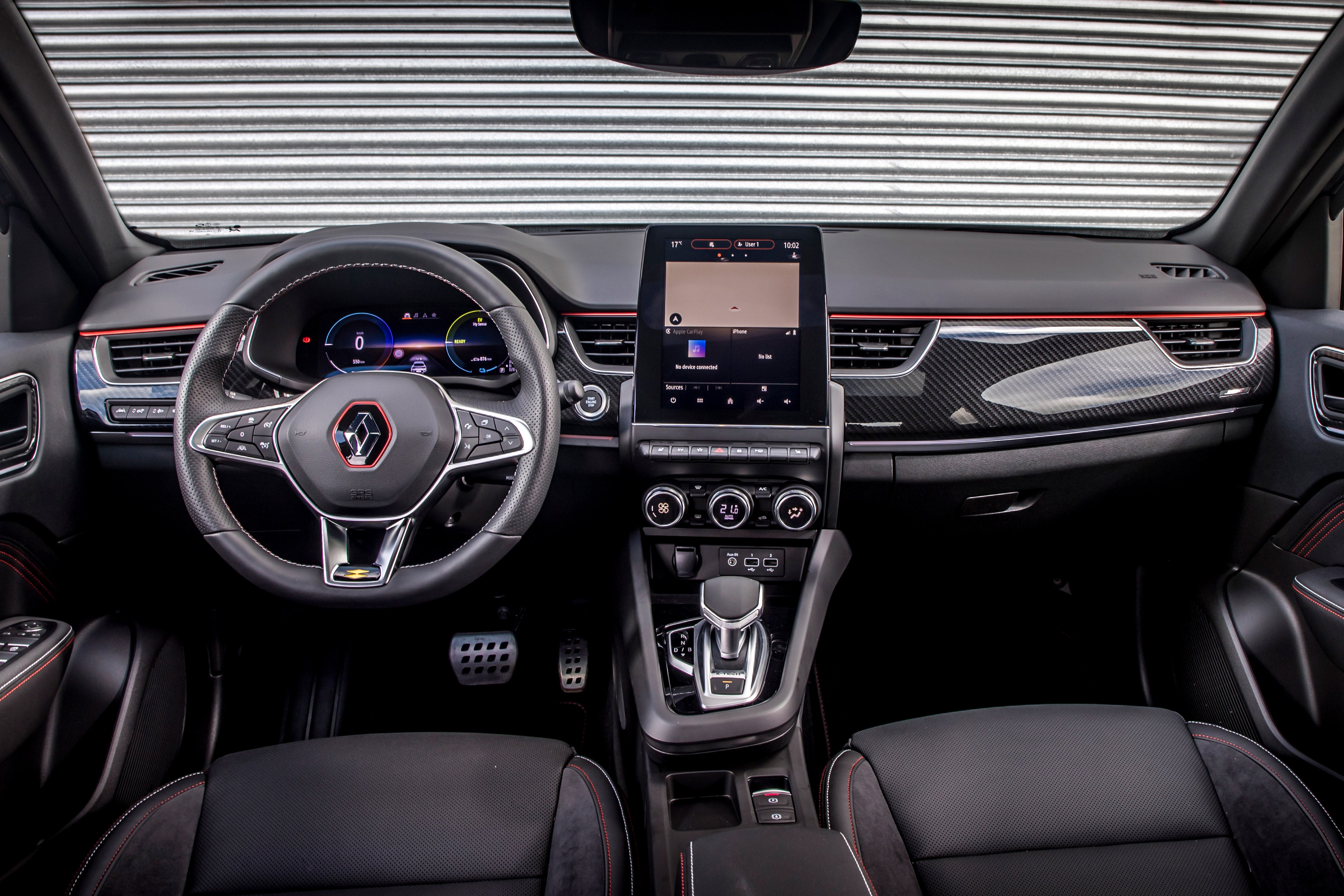 Your impressions of the new Renault Arkana will depend a little on which model you sit in. Fancy ambient lighting is standard on Arkana S Edition and R.S. Line models, as well as illuminated strips along the doors and dash panel. You can tweak the colour of these via the infotainment system.
With its red and black theme inside, the Renault Arkana R.S. Line does feel a bit sportier than lesser models. Highlights include sports seats upholstered in leather and suede-effect with red stitching and details, as well as a carbon-effect dash panel and a perforated leather steering wheel.
Whichever Renault Arkana trim level you buy, you'll find it easy to get comfortable. Iconic and S Edition models come with manually adjustable seats which can be cranked up to provide a lofty driving position (or down for increased headroom), while there's a decent amount of legroom in the front. An electric driver's seat (with adjustable lumbar support) is standard on the R.S. Line, or as part of the leather pack on S Edition models.
The design is smart and the tech works pretty well for the most part. But in some areas the material quality and finish feels more small SUV than larger family SUV, which is probably because it's a similar interior to the Renault Clio and Captur.
Quality and finish
The Renault Arkana's interior isn't exactly plush – certainly not in the same league as something like a BMW X2. It feels relatively well-finished, though, and you'll find a few more soft-touch finishes than in something like a SEAT Arona.
Part of the issue comes down to that similarity with the Clio that we've mentioned above. While buyers of small hatchbacks are willing to overlook some flimsy plastics, it's a bit harder to stomach when you're splashing close to £30,000 (or more) on an SUV.
Infotainment: Touchscreen, USB, nav and stereo in the Renault Arkana
The entry-level Renault Arkana Iconic features a seven-inch media system with Android Auto and Apple CarPlay, while Arkana S Edition and R.S. Line models come with a bigger portrait 9.3-inch display, also featuring navigation.
We've only tried the bigger screen and it's fine, if a bit laggy to use at times. Our early test car's glitchy infotainment system also felt the need to reboot itself at a few inopportune moments – something we'll put down to it being an early production model. Later versions we've tried haven't had this issue, and generally it's decent enough to use.
While the media system is a bit slow to respond to touch inputs, we like that there are a few shortcuts buttons for features like the volume control and to the home screen. It's a shame that the Arkana doesn't go a step further and provide a physical rotary controller like you get in the BMW X2 and Mazda CX-30.
Only certain trim levels on the Arkana get a fully digital instrument display, whereas others get a combination of a digital centre display and analogue dials.
Space and practicality: Renault Arkana boot space
Coupe SUVs usually represent a compromise in terms of practicality, but the Renault Arkana performs pretty well here. The amount of stuff you'll cram into the boot depends on whether you opt for the Arkana E-Tech 145 hybrid or TCe 140 mild-hybrid, as the former sacrifices some boot space to create room for the batteries under the boot floor.
With 480 litres of boot space, even the hybrid Renault Arkana can carry more luggage than a Toyota C-HR, Cupra Formentor and Honda HR-V, although more conventional family SUVs like the Nissan Qashqai and Skoda Karoq are more practical. All Renault Arkana models come with a split-level boot floor, meaning you can reduce the loading lip and hide items away if necessary.
Despite the sloping roofline, there's enough space in the back for tall teenagers, while USB ports in the rear should keep them happy too. Up front is also pleasingly spacious, while plenty of adjustment in the seats means you should get comfortable without too much of a fuss. There are various storage cubbies dotted around the cabin, as well some useful storage under the central armrest and generously large door bins.
In terms of dimensions, the Renault Arkana is bigger in some ways than the Qashqai-rivalling Kadjar. It measures 4568mm long, 2034mm wide (including door mirrors) and 1576mm tall. Its wheelbase (that's the space between the front and rear wheels) is a lengthy 2720mm, which explains why it's surprisingly roomy inside.
Handling and ride quality: What is the Renault Arkana like to drive?
"This is the most disappointing area of the Arkana. The ride is crashy over most surfaces, the handling doesn't make up for that and the hybrid version is frustrating to drive even slowly. The brakes are grabby, too - there's much better-to-drive cars in this class. "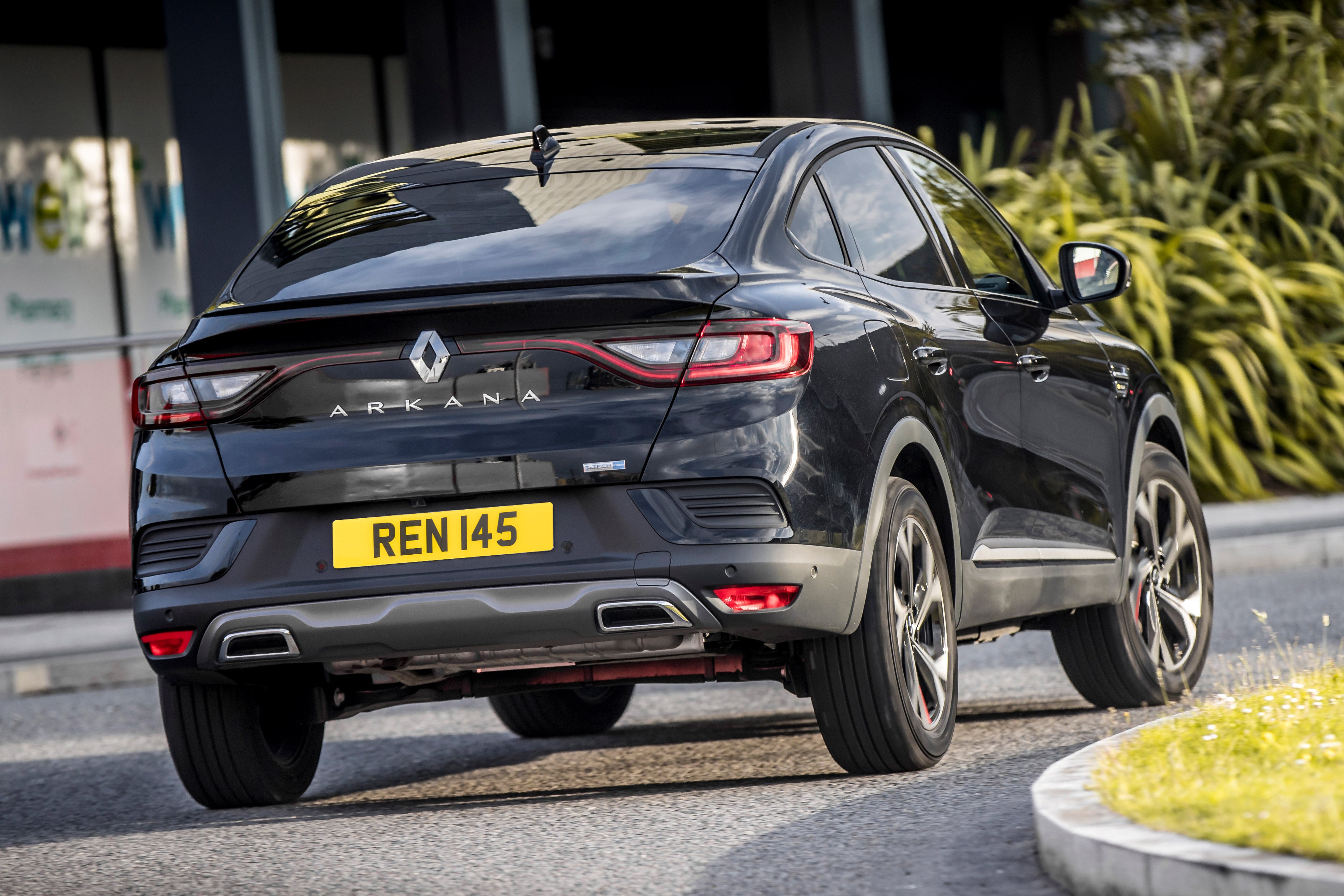 The Renault Arkana would feel largely like a Captur to drive had Renault not decided the driving experience needed to be more sporty. Sadly, it hasn't succeeded in that respect, while comfort is lacking too.
The Arkana's ride is far from the best in this class of car. It's unsettled and harsh at town speeds, where potholes and manhole covers are translated into the cabin with a noticeable thump or crash. This is also the case with some sportier SUV rivals, but they usually make up for that with composed, agile handling.
Sadly, out of town the ride never really settles, with pronounced body movements. There isn't too much body lean, but it's still noticeable thanks to the weight (particularly of the hybrid model) and high body, and while the steering isn't too light or vague it's very lifeless, and isn't as confidence-inspiring as many rivals.
We've only sampled the Arkana on 18-inch wheels – it might be worth hunting out a basic Arkana Iconic with its 17-inch wheels if you want to give the suspension a better chance of smoothing out imperfections. Really, though, it's off the pace, particular when you compare it to the agile feel and fluid ride of something like a Mazda CX-30.
On the plus side, the Renault Arkana is not particularly intimidating to drive. You sit higher up than in a Cupra Formentor and, while visibility is hampered slightly by the stylish coupe roofline, all models feature front and rear parking sensors as well as a reversing camera as standard.
What engines and gearboxes are available in the Renault Arkana?
The majority of Renault Arkana models hitting the used market will be powered by a hybrid setup. Badged the Renault Arkana E-Tech hybrid, this combines a 1.6-litre petrol engine with a 1.2kWh battery powering two electric motors. Producing 145PS, this hybrid Arkana will cover 0-62mph 10.8 seconds.
Unlike plug-in hybrid models, this is a 'self-charging' unit that should return impressive fuel economy without the hassle of regular charging. You can read more about the difference between conventional and plug-in hybrid models here.
The Arkana hybrid is well suited to town driving, where the engine can switch off for short periods. With the help of the electric motor, the Arkana is always ready to accelerate from a standstill – meaning there's no awkward pause while the engine starts up when the traffic lights change to green.
However, once that engine kicks in (you'll struggle to get above 30mph without it doing so) things start to go wrong. The engine itself isn't that noisy, it's the gearbox that's the issue: Renault claims it has six gears but our example felt like it had about three, which results in it running oddly high revs between 30-35mph even in Eco mode.
That droning, revving motor doesn't then translate to keen performance, though. The hybrid Arkana just will not kick down gears when you apply full throttle, seeming to hold one gear from about 30mph to over 70mph. Once it gets going performance is okay, but the weird calibration of the gearbox hampers both performance and refinement.
Sold in smaller numbers is the Renault Arkana TCe 140, which is predominantly a 1.3-litre petrol engine albeit combined with mild-hybrid technology to provide small boosts in performance and economy. With a 12-volt starter-generator on hand, the mild-hybrid Arkana is able to switch the engine off as the car coasts to a standstill, while there's a minor power boost during acceleration. We're yet to sample the mild-hybrid Arkana, but Renault quotes a 0-62mph time of 9.8 seconds – marginally quicker than the hybrid model.
Refinement and noise levels
As we've mentioned above, the hybrid Renault Arkana is at home in the city, where it'll set off and come to a halt in silence.
You'll notice when the petrol engine kicks in, though, because it'll randomly hold revs at certain speeds. but there's more of a ruckus when you attempt to accelerate up to motorway speeds. The engine isn't the quietest and once you do eventually get it higher up the rev range, it's fairly intrusive.
This is a trait of most hybrid cars, though – the new Honda HR-V is especially loud, while the Toyota C-HR isn't exactly mute on the motorway, although the CVT gearbox in those cars is actually smoother and more predictable than Renault's solution. Engine noise aside, there's quite a significant amount of roar from the Arkana's tyres, and its coupe-SUV shape does little to suppress wind noise.
Safety equipment: How safe is the Renault Arkana?
Renault has a strong safety record, so it's no surprise that the new Arkana has been awarded five stars by crash test experts Euro NCAP. Standard safety equipment across the range includes an active emergency braking system with pedestrian and cyclist detection, as well as a lane keep assist system. There's also a safety distancing warning on hand (to advise if you're getting too close to the car in front), and an emergency call button which can alert the emergency services in the case of an accident.
There's also the usual mix of airbags, as well as a tyre pressure monitoring system and Isofix child seat mounting points on the outer rear seats and front passenger seat.
Renault Arkana S Edition models and above also get blind spot warning and rear traffic warning systems, as well as traffic sign recognition with speed alert, adaptive cruise control with speed limiter and automatic main/dipped beam headlight activation. The top-spec Renault Arkana R.S. Line features Easy Part Assist (handsfree parking).
MPG and fuel costs: What does a Renault Arkana cost to run?
"With a choice of hybrid motors, the Renault Arkana won't require too many trips to the petrol station. You can't buy a plug-in hybrid or pure-electric version, though, so don't expect to travel a significant distance under electric power."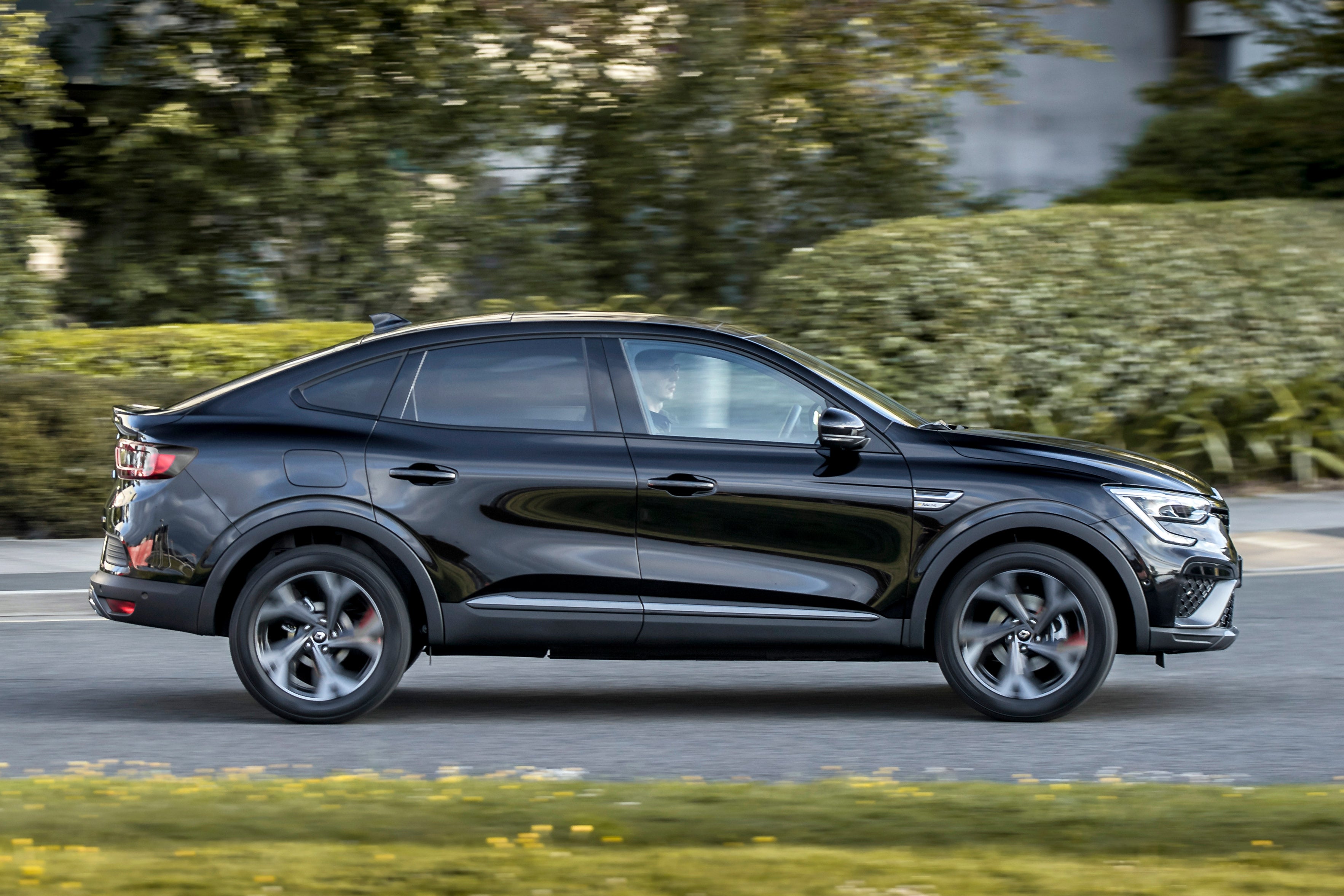 Thanks to a 12-volt electrical system helping out the 1.3-litre petrol engine, the mild-hybrid Arkana officially returns up to 49.6mpg in WLTP fuel economy tests.
With a bigger battery and two electric motors, the full hybrid Arkana is more efficient – returning up to 58.9mpg in tests. That's pretty impressive for a car of this size, narrowly beating similar hybrid models like the Toyota C-HR and Honda HR-V.
In practice, though, its efficiency can vary - once that revvy engine and weird gearbox are doing their thing economy can fall.
How reliable is a Renault Arkana?
It's fair to say that Renault doesn't enjoy the best long-term reliability record, while the brand performed pretty poorly in the latest HonestJohn.co.uk Satisfaction Index.
Anecdotally, though, we're hearing of fewer issues affecting the latest Renault models, and there seems to have been a push within the brand to improve quality in recent years. A five-year, 100,000-mile warranty should help put your mind at rest, too.
Insurance groups and costs
The cheapest Renault Arkana to insure will be the hybrid model. This has been placed into insurance groups 15E to 20E, depending on which trim level you choose. The sprightlier performance of the mild-hybrid Arkana means it could be slightly pricier to insure, positioned in groups 18E and 19E.
As ever, for a realistic idea of what the Renault Arkana will cost to insure, we'd recommend shopping around for insurance quotes. Factors like your age, driving experience, location and even your job title will affect the Renault Arkana's insurance costs – but consider checking out our top 10 tips to get cheap car insurance.
VED car tax: What is the annual road tax on a Renault Arkana?
As all Renault Arkana models feature hybrid or mild-hybrid power, they're classed as 'alternative fuel' vehicles when it comes to road tax. Don't get too excited, though – that doesn't mean you'll enjoy free VED (you'll need a pure-electric vehicle for that); rather, you'll save £10 a year off your annual bill. That brings it down to £145, which is the same as you'll pay to tax hybrid alternatives like the Toyota C-HR and new Honda HR-V.
How much should you be paying for a used Renault Arkana?
"The Renault Arkana is a brand new model that's proving to be ultra desirable – yet you can still bag a bargain by looking for a nearly-new or pre-registered car."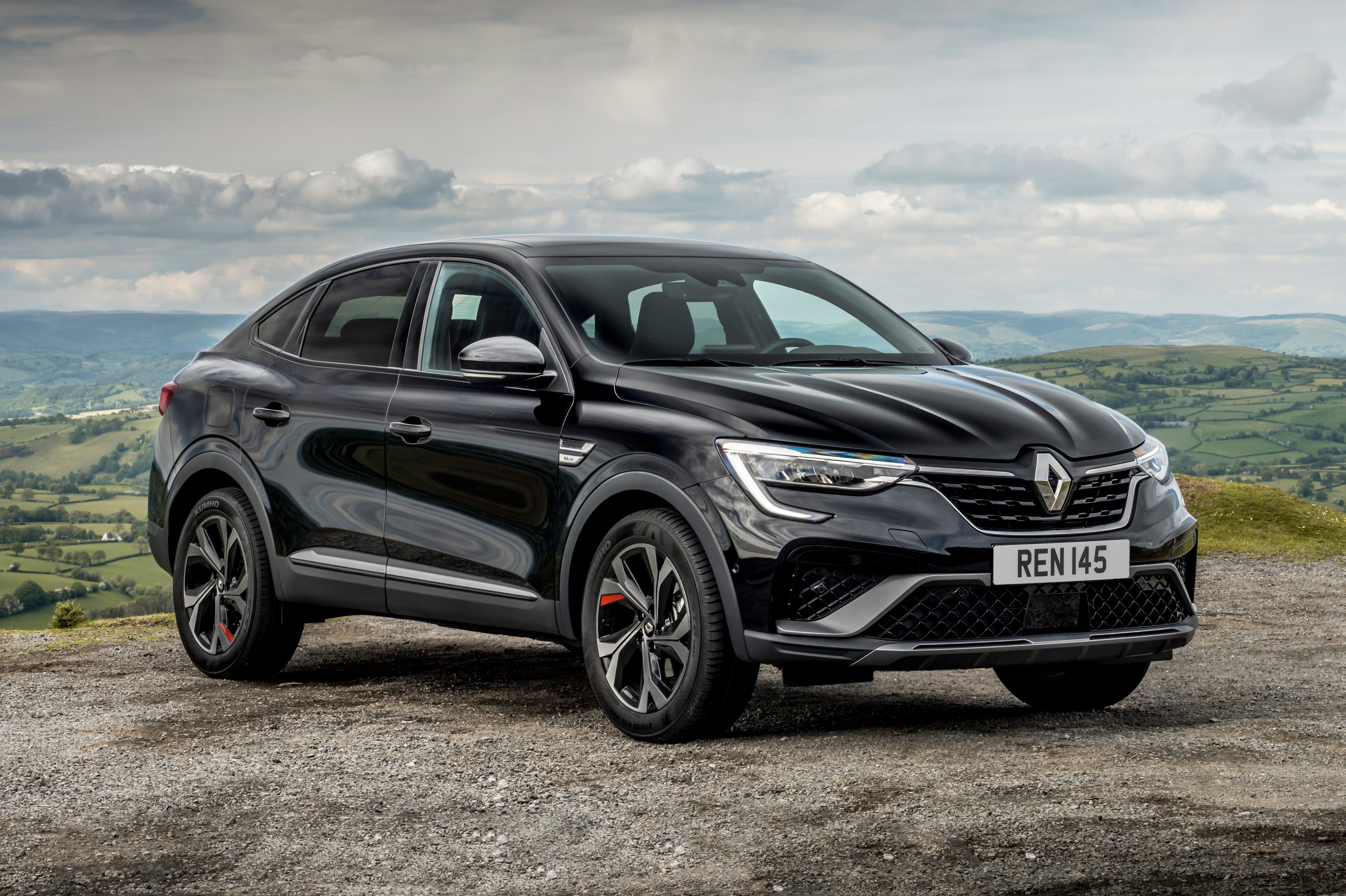 Order a factory-fresh Renault Arkana Iconic with the TCe 140 mild-hybrid petrol engine and you'll pay around £25,300. Alternatively, you can skip the waiting list by buying a pre-registered model for around £24,000 – a generous saving for such a new car.
A hybrid model in the same trim ordered from a Renault dealer starts from £26,300, yet we've seen as-new examples on forecourts for less than £25,000.
A Renault Arkana S Edition TCe 140 costs around £27,600 new, while the S Edition E-Tech hybrid starts from around £28,600. The top-spec Arkana R.S. Line starts from £29,900 for the mild-hybrid model, rising to £30,900 for the full hybrid. As with other models, though, you can save cash by looking at ex-demonstrators vehicles.
Trim levels and standard equipment
The line-up kicks off with the Renault Arkana Iconic. On the outside, the entry-level trim features 17-inch 'Bahamas' alloy wheels in a diamond-cut finish, LED lights, tinted windows and dark grey front and rear skid plates. Electrically adjustable door mirrors are standard, along with front and rear parking sensors as well as a reversing camera. Automatic lights and wipers, an electronic parking brake with hill start assist and cruise control also make life easier on the move.
Inside, the Renault Arkana Iconic features black and grey cloth upholstery, automatic air conditioning, front and rear electric windows, a 7.0-inch TFT colour Driver Information Display (4.2-inch on the mild-hybrid version) and 7.0-inch infotainment screen featuring DAB, Bluetooth, USB sockets and Apple CarPlay and Android Auto. Standard safety equipment includes Active Emergency Braking System, Traffic Sign Recognition, Lane Departure Warning and Lane Keep Assist.
The Renault Arkana S Edition adds 18-inch 'Pasadena' diamond-cut alloy wheels, chrome exterior trim detailing, grey front and rear skid plates and extra tinted rear windows. On the inside, the S Edition features a 9.3-inch navigation system (with Google search, traffic and weather information), as well as a 7.0-inch display ahead of the driver. A leather steering wheel as standard, as well as combined cloth and synthetic leather upholstery. Multi-sense modes allow the driver to flick between a variety of drive modes, as well as tweak the interior ambience with a choice of eight ambient lighting options.
Further standard kit on the Arkana S Edition includes automatic high and low beam for the LED headlights, an auto-hold function for the electronic parking brake and an automatically dimming rear-view mirror, while extra driver assistance technology includes Adaptive Cruise Control, Blind Spot Warning and Rear Cross Traffic Alert.
The range-topping Renault Arkana R.S. Line features a more aggressive front bumper along with a honeycomb grille and gun metal skid plates which are replicated at the back. You'll find further black exterior detailing, as well as 18-inch 'Silverstone' alloy wheels feature a diamond-cut finish with a red element on one of the spokes. R.S. Line models are further identified by double chrome exhaust tailpipes.
Inside the Renault Arkana R.S. Line, you'll find leather and suede sports seats featuring red stitching that also extends to the central armrest, seat belts, gear lever and perforated leather steering wheel. The black and red theme extends to the dashboard with a carbon-effect panel complemented by a red strip running the width of the dashboard, that also extends to the door panels.
Black headlining and aluminium pedals are standard on the Arkana R.S. Line, as well as electric front seat adjustment, heated front seats and seering wheel, plus a frameless rear-view mirror and Easy Park Assist that offers drivers a hands-free automatic parking system.
Ask the heycar experts:
common questions
What is the Renault Arkana?
The Renault Arkana is a coupe-SUV that rivals the Toyota C-HR and Cupra Formentor. It's based on the same platform as the Renault Clio and Captur, but it's closer in size to the Kadjar crossover SUV.

How much does a Renault Arkana cost?
Renault Arkana prices start from £25,300 for an Iconic model with the TCe 140 petrol engine. The hybrid starts from £26,300 on-the-road, while the S Edition is priced from £27,600. The range tops out with the R.S. Line Hybrid which is priced from £30,900.

Is the Renault Arkana a good car?
There's a lot to like about the Renault Arkana. It looks kinda cool, with a coupe-SUV profile. You also get a high driving position and more interior space than you might expect. It's efficient, too, but fundamentally it's pretty poor to drive when compared to the best rivals.

Renault Arkana cars for sale on heycar
2,621
Number of cars available
£22K - £34K
Price bracket of these cars
Colours available on heycar
Keep me updated by email with the latest advice, news and offers from heycar
By submitting, you agree to our
privacy policy
.