Renault Captur Review 2022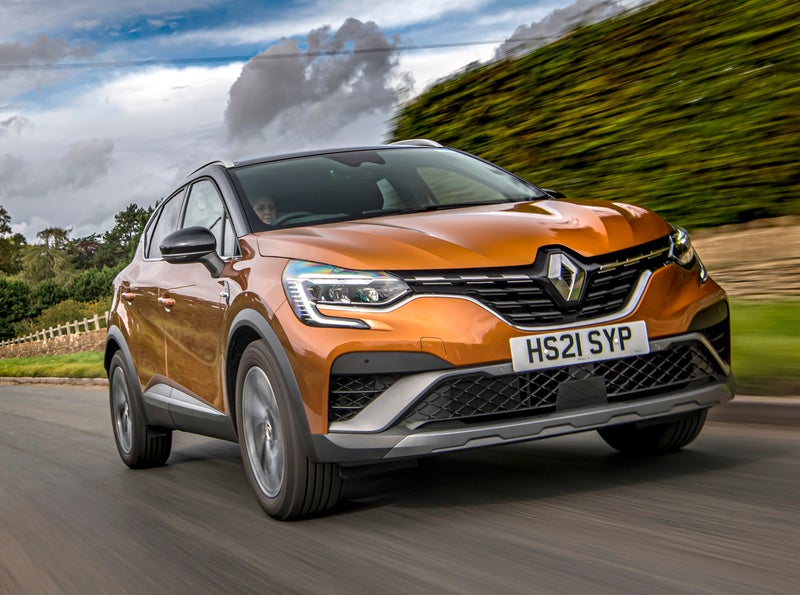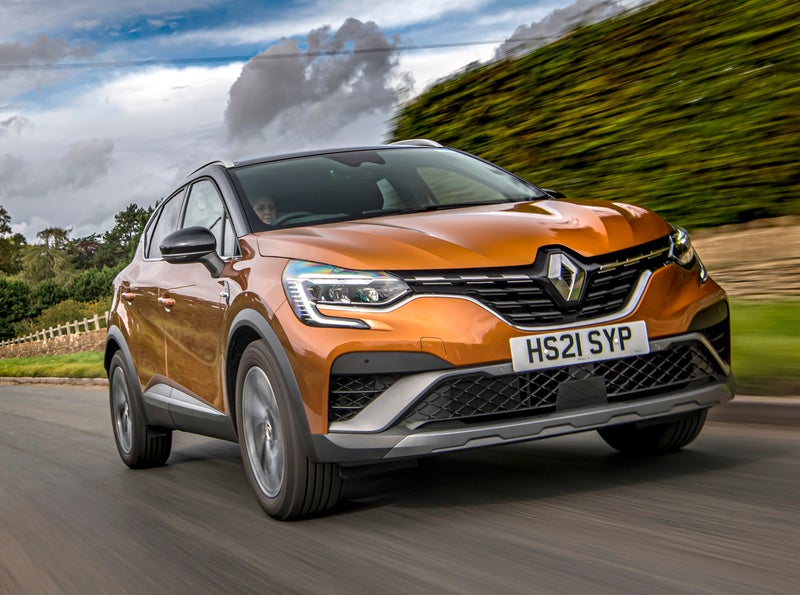 1/10
heycar rating
"Versatile and affordable small SUV"
Launched: 2020

Small SUV

Petrol, Diesel, PHEV
Quick overview
Pros
Excellent value for money (especially nearly-new)
Bright and spacious interior
Wide range of efficient petrol, diesel and hybrid engines
Cons
Stodgy to drive compared to the SEAT Arona and Ford Puma
Media system is a bit laggy
Rear space isn't that great
Overall verdict
On the inside
Driving
Cost to run
Prices and Specs
Common questions
Overall verdict on the Renault Captur
"The Renault Captur is a feel-good small SUV with a bright cabin and plenty of customisation options. Like its predecessor, it might not be the most fun car to drive, but it's comfortable, good value for money and cheap to run."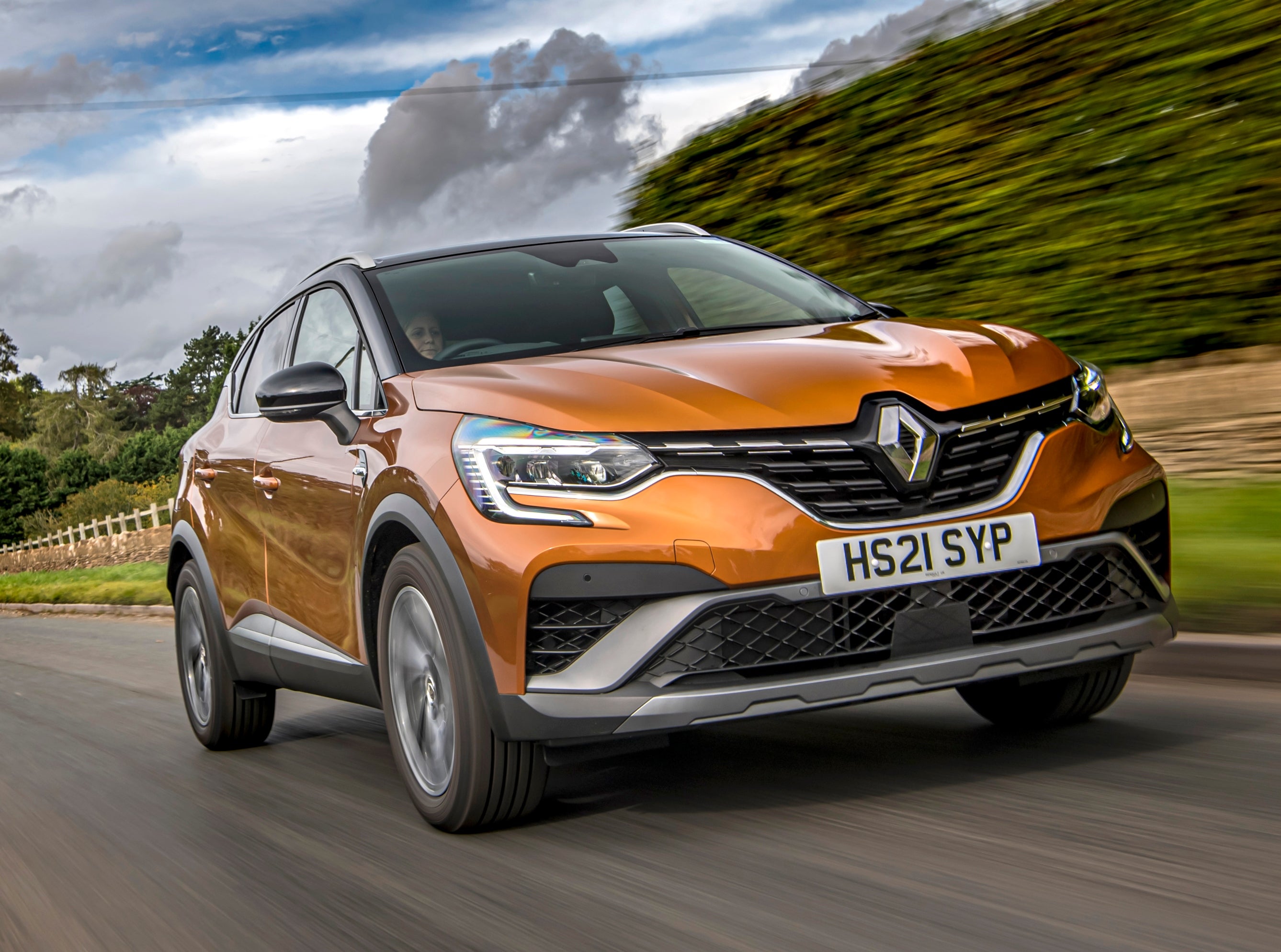 The 2021 Renault Captur enter's a very competitive small SUV market. The popular Nissan Juke has recently been replaced, while the Skoda Kamiq offers extraordinary value for money. The Peugeot 2008 is a more fashionable option, while the Ford Puma is fun to drive and comes loaded to the rafters with kit. Our Renault Captur review will see how this latest model stacks up.
There's certainly more choice now than when the original Renault Captur went on sale in 2013. So, to tackle the class-leaders head on, Renault has made the Captur bigger with more room inside and given it a wider range of engines including a plug-in hybrid.
While some of the Renault Captur's rivals have fairly drab cabins, the plucky little Renault is awash with soft-touch materials and clever features. All models come with a media system featuring Apple CarPlay and Android Auto, while optional colour packs add a touch of fun that you won't find in a SEAT Arona. Indeed, the Captur's well-equipped as standard, with even the most basic trim levels featuring LED headlights, electric windows (in the front and rear ) and air conditioning.
Adults in the front of the Renault Captur get plenty of space, helped by a relatively wide body which also means good shoulder room. Things are decent in the back too and you get a sliding rear bench. With it in its most forward position, there's a huge amount of boot space and access is easy.
The Renault Captur's easy to drive, with its relatively high seating giving you a good view of the road ahead. Rear visibility isn't great, but reversing sensors (standard on most models) help while a reversing camera is available on high-spec trim levels.
Most Renault Capturs are powered by the very good TCe 130 engine, which is a turbocharged petrol unit that combines decent performance with impressive fuel economy. But there's also a more affordable TCe 100, as well as a two diesels (the dCi 95 and 115).
At the top of the range, you'll find the 160PS PHEV (badged the E-Tech). It uses a combination of two electric motors and a 1.6-litre petrol engine, and can travel up to 30 miles on electricity alone. It's perfect if you do lots of short drives and have somewhere to charge it at home.
The light steering which is great around town is quick and direct on the open open road, although the soft suspension means the Renault doesn't exactly feel tied down if you give it the beans. Still, it's civilised enough on the motorway, providing you avoid the TCe 100 which only comes with a five-speed manual gearbox.
Although the Renault Captur isn't strong enough to claim to be top of the class, it's a competent all-rounder that offers very good value for money, practicality and comfort. Despite being relatively new, there are some really good deals available on nearly-new models, with dealers slashing thousands of pounds off compared to retail price. That makes it a very tempting proposition.
If you're looking for the older version, you need our used Renault Captur (2013-2019) review.
Is the 2022 Renault Captur right for you?
Anyone in the market for a stylish and versatile small SUV that won't break the bank will find that the Renault Captur ticks all the boxes. It's value for money makes it very appealing here. True there are alternatives that are better to drive, while others are more practical. But there are some excellent deals available on the Captur.
What makes it stand out is the fact a PHEV version is available. There are no small SUVs similar in size that come as a plug-in hybrid and it means that if you're not doing many miles (and have a home charger) you will be barely using any fuel, the Captur running on EV power instead.
What's the best Renault Captur model/engine to choose?
Most buyers will find the TCe 130 is the best engine choice in the Renault Captur. The 1.3-litre petrol is punchy enough around town yet civilised on the open road. It's well worth the extra cash over the TCe 100. One of the diesels will appeal if you cover a lot of motorway miles, while company car drivers will find the tax advantages of the plug-in hybrid E-Tech appealing.
The mid-range Renault Captur Iconic is more desirable than the Play model and won't cost a great deal more on the used market. If you're after a bit of luxury, look for a Captur S Edition.
What other cars are similar to the Renault Captur?
Comfort and design: Renault Captur interior
"The Renault Captur's cabin feels quirky and interesting, making the SEAT Arona's look drab in comparison. It's very trim dependent, though - an optioned-up S Edition has a much brighter interior than an entry-level Play."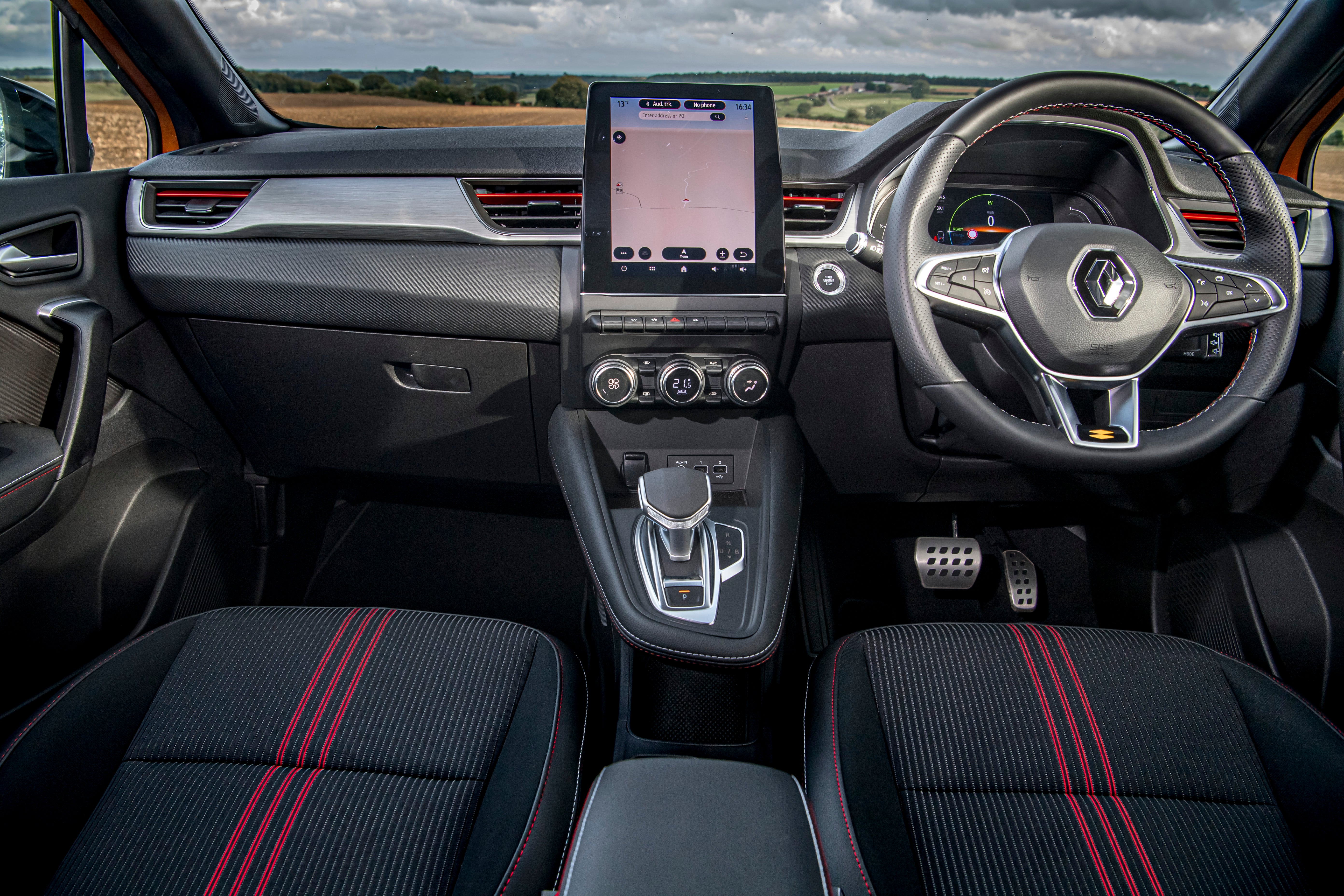 We particularly like the orange interior colour pack on the Renault Captur (which adds grey and orange cloth upholstery as well as orange inserts on the dashboard and orange armrests), but cars with this fitted are in the minority. It's only offered when new as an optional extra on S Edition models. There's also a blue or red interior colour pack available on Renault Captur Iconic or S Edition models.
Most Renault Capturs are fitted with fairly ordinary black and grey cloth seats, while S Edition and E-Tech Launch Edition models come with added synthetic leather. The seats are comfortable enough - you sit higher than in some small SUVs like the Skoda Kamiq, meaning you get a better view of the road ahead and a more natural seating position.
Unfortunately, there's no adjustable lumbar support available in the Captur, but there's plenty of manual adjustment otherwise, including height adjustment for the driver's seat.
Pleasingly, the Renault Captur's cabin isn't too reliant on the below-par media system, we'll come onto that in a moment. There are toggles on the dash for things like turning off the lane assist feature, while there are physical controls for the climate control system. The audio control stalk behind the steering wheel feels like an afterthought but it's hardly offensive.
Quality and finish
While the Renault Captur doesn't exactly carry the banner for interior quality, it's no worse than an equivalent SEAT Arona or Ford Puma.
Up front, you get soft-surfaced doors and everything around your eye line is perfectly presentable. It's only when you get in the back seats that the materials are predominantly hard and scratchy.
All models come with a soft-touch dashboard which looks and feels surprisingly premium, while high-spec models feel significantly better finished with extra leather as standard.
Only time will tell how well the Captur copes with day-to-day family life but, under first impressions, we doubt the Captur's cabin will have too many creaks or rattles a few years down the line.
Infotainment: Touchscreen, USB, nav and stereo in the Renault Captur
Even the most affordable Renault Captur comes with a seven-inch media system with Bluetooth, DAB radio, USB ports and Apple CarPlay/Android Auto. There's no navigation on the Play model but that shouldn't be an issue for the smartphone generation - connect your phone and use your one of your navigation apps instead. The Iconic trim level uses the same system but with navigation as standard.
Upgrade to the Renault Captur S Edition and you'll get a portrait 9.3-inch touchscreen system. No matter which screen size is fitted to your Captur of choice, it's well-positioned for glancing at while on the move. It does feel a bit dated, though, with frustratingly slow responses and slightly naff looking graphics. And you can only operate it via touch - there isn't a rotary controller positioned between the front seats.
For the ultimate in fancy infotainment, look for a Renault Captur S Edition with its fancy seven-inch digital driver display instead of conventional dials, or a plug-in hybrid E-Tech with a 10-inch display. Both come with a wireless phone charger too, while a Bose premium sound system is a desirable optional extra.
Space and practicality: Renault Captur boot space
For a relatively small car, the Renault Captur is surprisingly spacious. The Renault Captur measures just over 4.2m long and a little under 1.8m wide. It's noticeably roomier than the Renault Clio and, indeed, the previous Captur. That's especially true in the front, where you'll find generous headroom and plenty of shoulder room. There's loads of storage, too, including large door bins and somewhere to place your phone in front of the gear lever. There's also a useful cubby under the centre armrest.
The Captur's party piece is its sliding rear bench. This means you can prioritise space for rear-seat passengers or the boot. With it in its most forward position, it's pretty cramped in the back, although kids ought to be happy enough. Slide it back and there's way more room and, although taller adults may still need to negotiate some extra room from those upfront, there's plenty of space for four.
Although three adults will be rubbing shoulders in the back, a fairly flat floor means the middle passenger won't be straddling a transmission tunnel and the middle seat is more comfortable than most.
With the bench as far forward possible, the Renault Captur's boot space can accommodate a huge 536 litres of luggage. That drops to a still-competitive 422 litres with it slid backwards, slightly less than a Volkswagen T-Cross, Ford Puma or Peugeot 2008 - although it needn't be a deal-breaker. Access is easy, thanks to a wide opening and an adjustable boot floor with some extra storage underneath.
Handling and ride quality: What is the Renault Captur like to drive?
"With light steering and a relatively high seating position, the Renault Captur's at its best around town. All models come with rear parking sensors, while a reversing camera is available across most of the range"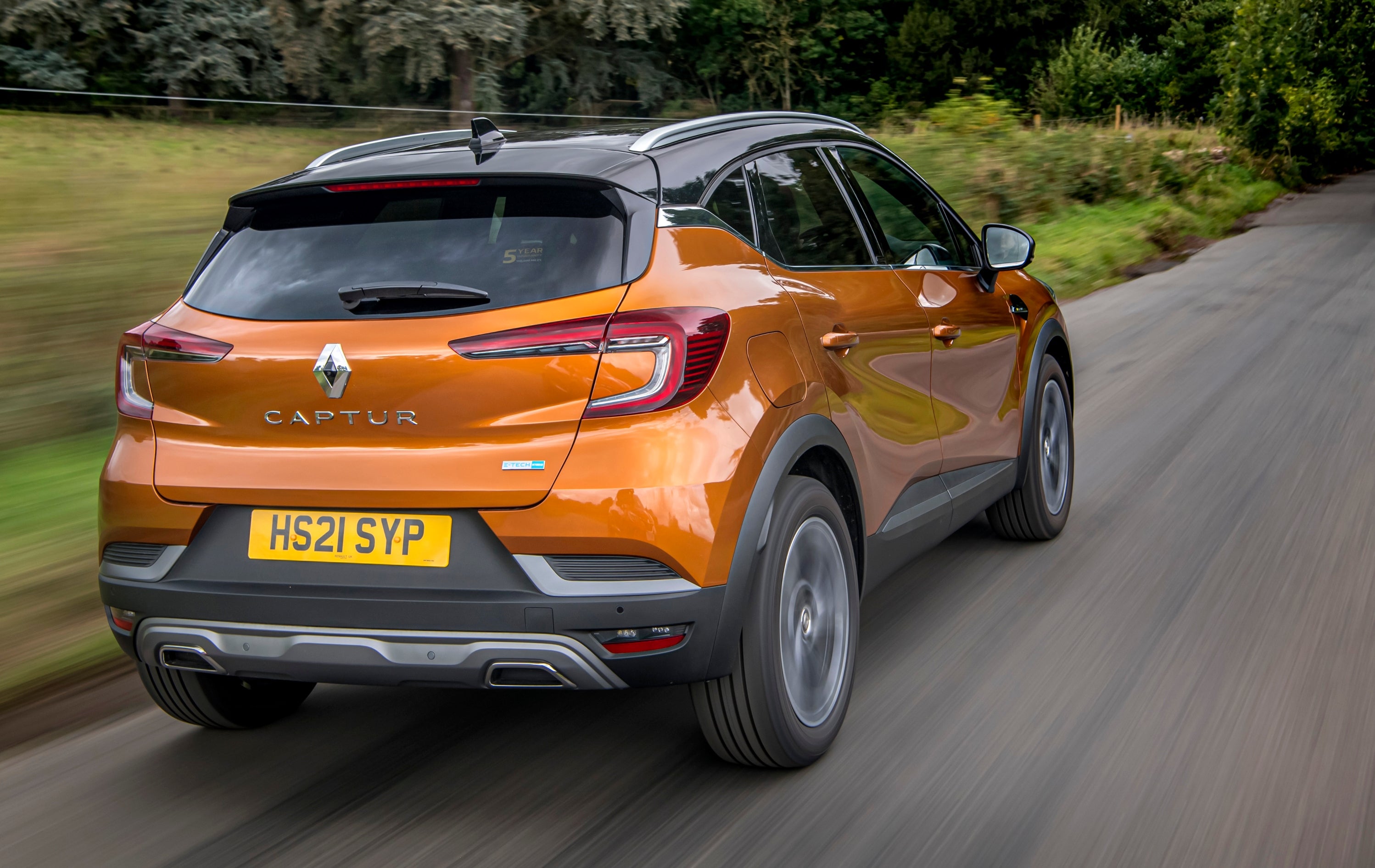 The turning circle on the Renault Captur is a little more boat-like than we'd expect for a compact SUV but, that aside, the Captur's a fun little car for tackling city centres.
Things aren't quite so great out of town. It has a soft suspension set-up, which pads out bumpy roads but means it doesn't feel as composed as rivals. It's not as enjoyable to drive as a Ford Puma or SEAT Arona - the steering remains light even at speed and you'll notice its increased centre of gravity compared to the Clio in the corners.
Despite the extra weight it carries in the form of batteries and electric motors, the Renault Captur E-Tech doesn't seem to dwell on broken road surfaces any more than petrol models. That said, you'll soon start to notice the extra mass if you attempt to chuck it into a bend on a rural road.
That said, the 160PS plug-in hybrid (PHEV) model's ability to hit motorway speeds on electric power makes it very relaxing and, through the infotainment screen, you can hold its charge for town driving to save fuel. Its regenerative brakes means you can almost drive the PHEV Captur using one pedal, as it automatically slows when you take your foot off the accelerator, although even in its strongest setting (there are two to choose from) it doesn't slow the car as quickly as other systems.
What engines and gearboxes are available in the Renault Captur?
The Renault Captur comes with a broad range of engines: petrol, diesel and plug-in hybrid power ensures there's a choice for almost everyone.
The most affordable models are powered by a tiny little 1.0-litre three-cylinder petrol badged the TCe 100. With just 100PS and 160Nm of torque, it's not the nippiest of choices, accelerating from a standstill to 62mph in a leisurely 13.3 seconds. It's fine around town, though, with enough eagerness to allow you to dart in and out of traffic. You can't buy this engine with an automatic gearbox, unfortunately - it's paired only with a five-speed manual transmission.
We reckon the TCe 130 engine represents the sweet spot in the Captur's engine line-up. This is a 1.3-litre four-cylinder turbocharged petrol engine with, as its name suggests, 130PS. It's offered with a six-speed manual or seven-speed automatic gearbox, the former covering 0-62mph in 10.6 seconds and the latter a sprightly 9.6 seconds.
There are two 1.5-litre diesel motors: the dCi 95 and dCi 115. Both are paired with a six-speed manual gearbox, covering 0-62mph in 14.4 and 11.9 seconds respectively.
The most interesting model is the PHEV, badged the Renault Captur E-Tech Plug-in Hybrid 160. This pairs a 1.6-litre petrol engine with two electric motors (one powering the front wheels, the other recuperating energy as part of a starter/generator system). A combined power output of 160PS sounds promising and it delivers decent initial acceleration, even if 0-62mph in 10.1 seconds is nothing to write home about. Read our guide to the best hybrid SUVs for more info.
Despite the Captur's rugged looks, all models are exclusively front-wheel drive. If you need a four-wheel-drive, you'd be better looking at alternatives like the Dacia Duster or Suzuki Vitara.
Refinement and noise levels
If refinement is high up in your list of priorities, it's worth avoiding the TCe 100 engine with the Renault Captur. The entry-level motor is particularly uncivilised: you'll notice a fair bit of vibration from the three-cylinder engine at a standstill and there's a distinctive thrum during acceleration. It only comes with a five-speed manual gearbox, too, meaning it's running at around 3000rpm at motorway speeds. If you regularly venture out of town, you are better looking at a more powerful model.
The TCe 130 is the most refined of the bunch. It's a 1.3-litre four-cylinder unit that's very quiet, while its six-speed manual (or seven-speed auto) transmission helps keep the revs down at high speeds.
We're yet to drive the latest Renault Captur with a diesel engine but the plug-in hybrid E-Tech is a fairly refined choice. When the battery's fully charged, it happily bimbles around town under electric power. Stick it in Sport mode or floor the accelerator and the petrol engine kicks in without too much of a fuss.
Engines aside, the Renault Captur does a fairly decent job of isolating passengers from wind and road noise. Its upright shape means you'll notice a little more wind noise than in a Clio but it's nothing that won't be drowned out by the radio.
Safety equipment: How safe is the Renault Captur?
There's plenty of safety equipment available on the Renault Captur and - pleasingly - most of it is standard across the range. Highlights include a lane departure Warning and lane keep assist (which nudges the steering if you start to stray from your lane), while automatic headlights will never leave you driving in the dark. There's a blind-spot warning system, too, but this is only available on high-spec models including the Captur S Edition and E-Tech Launch Edition.
ISOFIX child seat fixing points are fitted as standard on the outer rear seats, while Renault's E-Call system will automatically call the emergency services in the case of an incident.
All models come with a tyre inflation kit as standard but a space-saver spare wheel is available as an optional extra. Euro NCAP awarded the Renault Captur a five-star safety rating including a 96% score for adult occupants and 83% for children.
MPG and fuel costs: What does a Renault Captur cost to run?
"No matter whether you buy your Renault Captur with a petrol, diesel or plug-in hybrid engine, it won't cost a fortune to run."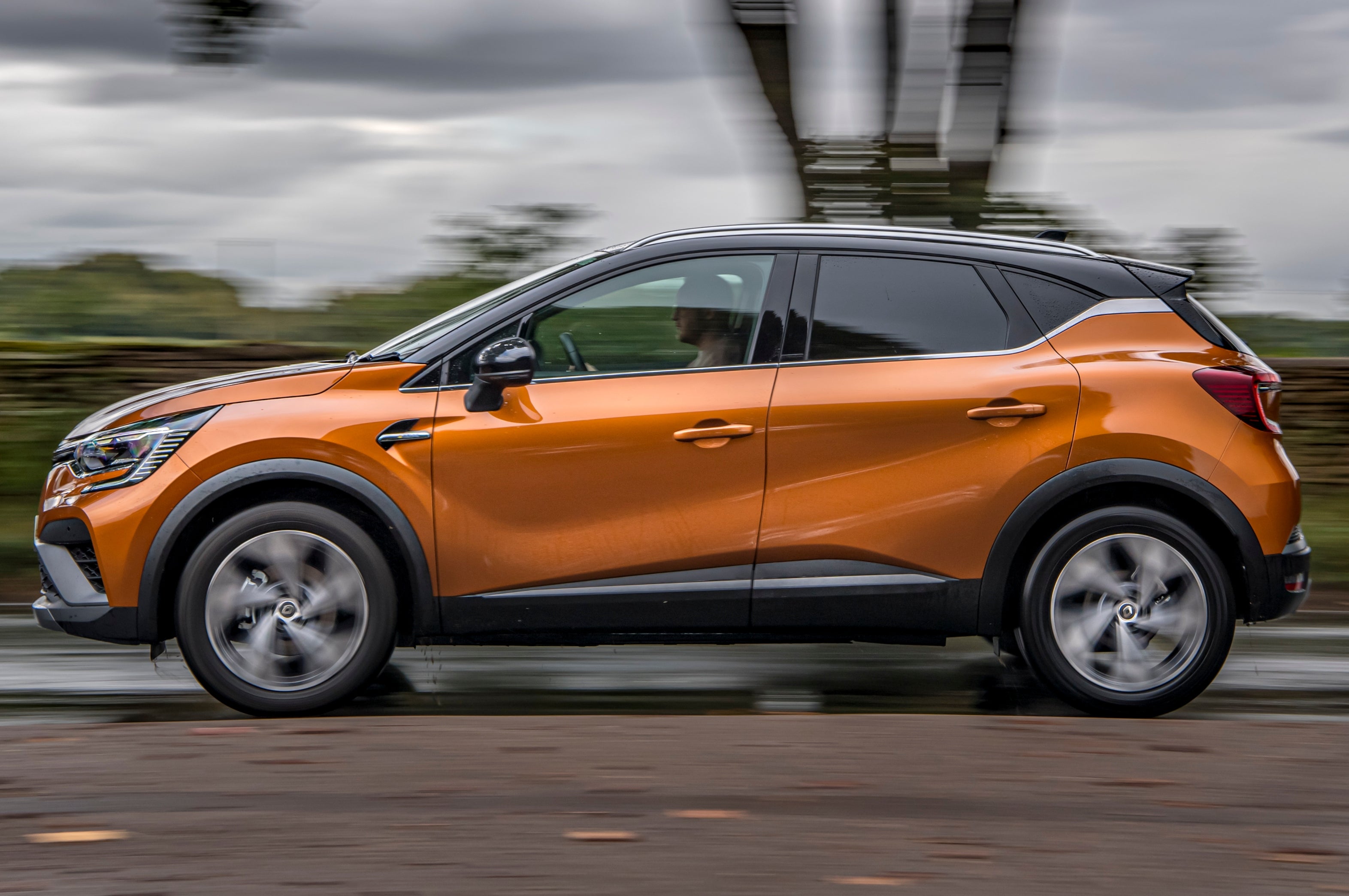 Even though 'diesel' is a naughty word these days, the Captur's 1.5-litre dCi diesel engine could be the choice for you if you cover a lot of miles. In official WLTP fuel economy tests, it returns 58.9mpg (no matter which power output you choose) - an impressive figure that ought to be fairly achievable in reality.
That said, the petrol models are hardly going to need a loyalty card at your local filling station. The TCe 100 is the most frugal, capable of up to 47.1mpg, while the 130 will show up to 44.1mpg on its trip computer (44.8mpg with the automatic gearbox).
Then there's the plug-in hybrid E-Tech model. When it's fully charged, this can cover up to 30 miles under electric power alone, with the petrol engine only kicking in when you ask too much of the electric motor. Official figures are almost unbelievable (up to 188.3mpg) but they're heavily dependent on your use - if you charge it regularly and only cover short journeys, a tank of petrol will last forever. If you plan to travel back and forth from Land's End to John O'Groats... well, it won't be quite so efficient.
How reliable is the Renault Captur?
The latest Renault Captur is still a relatively new model so any common issues are yet to come to light. A five-year warranty ought to put your mind at rest, though, and Renault's reliability record seems to have improved considerably in recent years.
The old Renault Captur scored a middling 9.17 out of 10 in the HonestJohn.co.uk Satisfaction Index.
Insurance groups and costs
Insurance costs for the Renault Captur ought to be pretty reasonable. The cheapest Captur models to insure are those powered by the TCe 100 petrol engine, which fall into group 8. The 130 is a little more expensive to insure, banding into category 14 or 15 depending on the trim level and gearbox.
Diesel models range from groups 11 to 14, while the plug-in hybrid falls into group 15. As usual, it's worth shopping around for quotes if you think insurance might be expensive for you (if you're a relatively new driver, for example). The Captur shouldn't be any more expensive than rivals to insure, however.
VED car tax: What is the annual road tax on a Renault Captur?
The first year's car tax is based on CO2 emissions and forms part of the 'on the road' of the car. That means, even if you're buying brand new, it's not a real concern. If you're buying a nearly-new example, it will have been paid when the car was registered.
After this, like most cars, the Captur will attract a flat-rate of £150 a year in VED. The exception is the plug-in hybrid E-Tech Plug-in Hybrid which will qualify for a £10 reduction.
How much should you be paying for a used Renault Captur?
"Prices for a new Renault Captur start in the region of £19,000. There are lots available on the used market, however, and you can save £4000 just by looking for a pre-reg or ex-demonstrator example."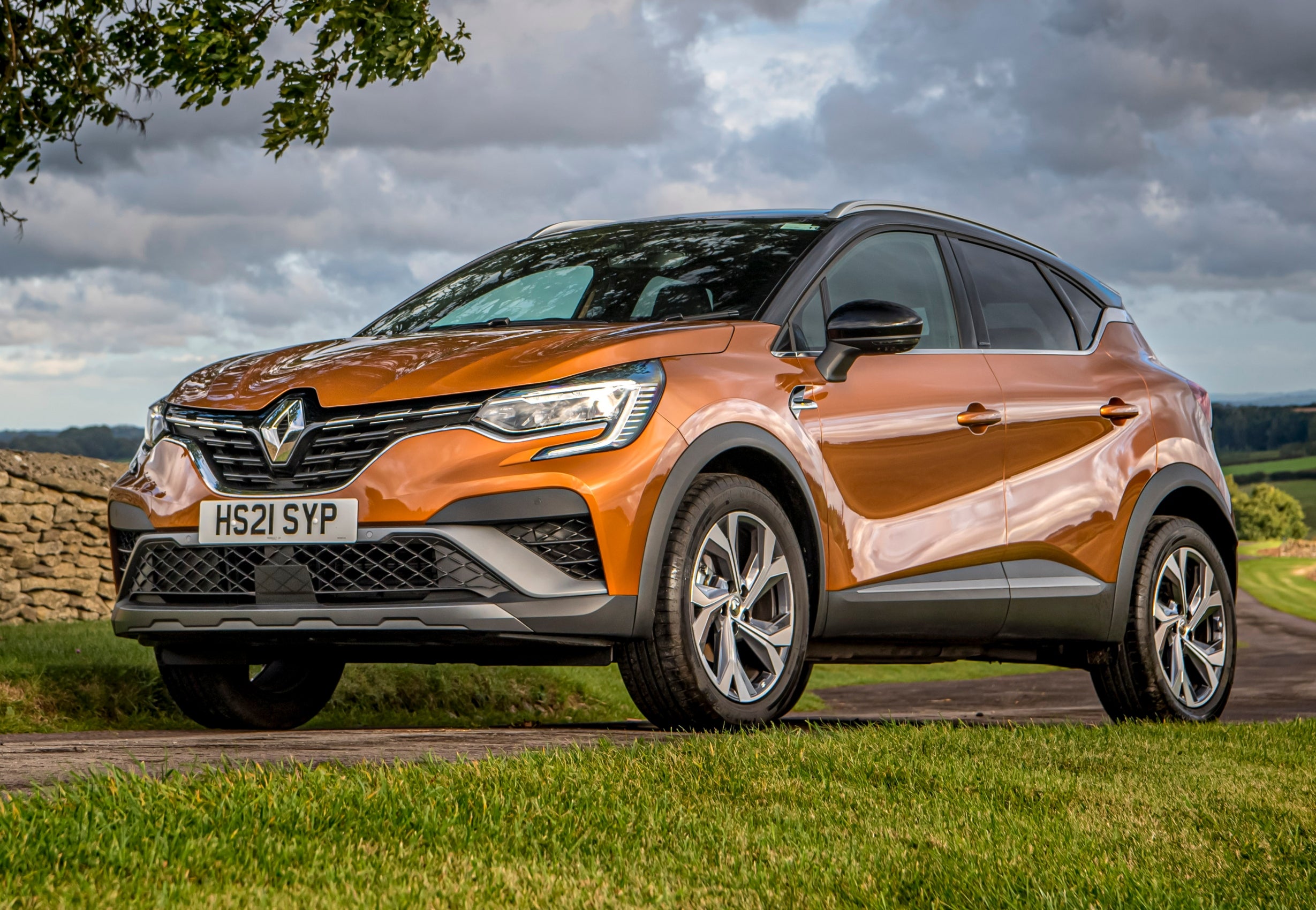 While the latest Captur hasn't been on sale for long, there are still plenty of dealers offering as-new examples with little more than delivery miles on the clock. We've seen mid-range Renault Captur Iconic models on sale for £15,500 (compared to their £20,595 list price), while a nearly-new Captur S Edition can be bought for around £17,500 (£4500 below list).
There are savings available on plug-in hybrid Renault Captur E-Tech models, too. Bargain hunters can pick up an S-Edition with less than 500 miles on the clock for around £28,500 - a saving of around £2500.
Trim levels and standard equipment
Despite being the entry-level model, the Renault Captur Play isn't particularly basic. Sure, it comes with steel wheels (albeit with some natty wheel trims) and cloth seats, but it also features automatic air conditioning, electric windows (in the back, too) and LED lights. You won't find a tape player, either - instead, there's a seven-inch touchscreen media system with Bluetooth, DAB radio and Android Auto/Apple CarPlay connectivity.
Unless you're on a really strict budget, we'd look for a Captur Iconic. This mid-range model adds desirable features like rear parking sensors, 17-inch alloy wheels, roof bars and two-tone colour paint. The media system gets an upgrade with navigation, too.
Topping the range is the Renault Captur S Edition, which looks quite a bit fancier thanks to its C-shaped front LED signature lighting, automatic high-beam headlights and diamond-cut alloy wheels. There are front and rear parking sensors with a rear-view camera, an auto-dimming rear-view mirror, Blind Spot warning and an electronic parking brake with auto-hold function. The black and grey cloth upholstery also gets some synthetic leather and grey stitching, while ambient lighting adds to the classy interior. You also get the seven-inch driver information display, a wireless phone charger and a bigger 9.3-inch navigation system.
Available exclusively on PHEV models, the Renault Captur E-Tech Launch Edition features 18-inch diamond-cut alloy wheels, blue and cooper exterior highlights, grey cloth seats with blue stitching and a white centre console. It also gets illuminated door sills.
Ask the heycar experts:
common questions
Does the Renault Captur have parking sensors?
Although the entry-level Renault Captur Play doesn't come with parking sensors, they're standard on more expensive models. The Renault Captur Iconic features rear parking sensors, while the S Edition comes with front and rear parking sensors as well as a rear-view camera.

Is the Renault Captur an SUV?
The Renault Captur is a small SUV. It's similar to the Renault Clio in size (itself a small hatchback alternative to the Ford Fiesta and Vauxhall Corsa). As a small SUV, it has a higher ride height than the Clio, and a slightly more practical cabin.

Is the Renault Captur a good car?
The Renault Captur represents good value for money. It's a comfortable alternative to other affordable small SUVs like the Skoda Kamiq, Ford Puma and Peugeot 2008.

Renault Captur cars for sale on heycar
2,723
Number of cars available
£6.8K - £30K
Price bracket of these cars
Colours available on heycar
Keep me updated by email with the latest advice, news and offers from heycar
By submitting, you agree to our
privacy policy
.