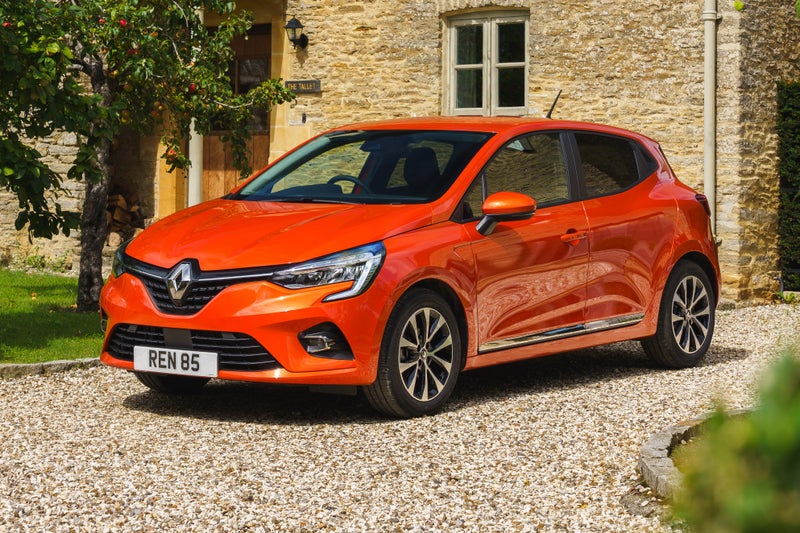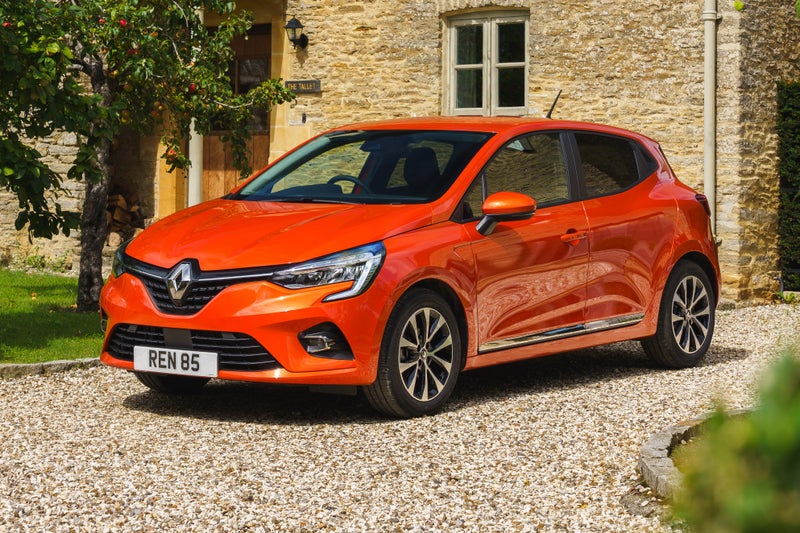 1/10
heycar rating
"Stylish and affordable little car"
Launched: 2019

Small hatch

Petrol, Diesel, Hybrid
Quick overview
Pros
Lots of useful tech in most models
Cabin space is among the best in class
Hybrid capable of impressive 64.2mpg
Cons
Manual transmission has only five gears
Bigger wheels make ride too firm
Not as fun to drive as a Ford Fiesta
Overall verdict
On the inside
Driving
Cost to run
Prices and Specs
Common questions
Overall verdict on the Renault Clio
"The Renault Clio has always been a fashionable alternative to small hatchbacks like the Ford Fiesta, Vauxhall Corsa and SEAT Ibiza."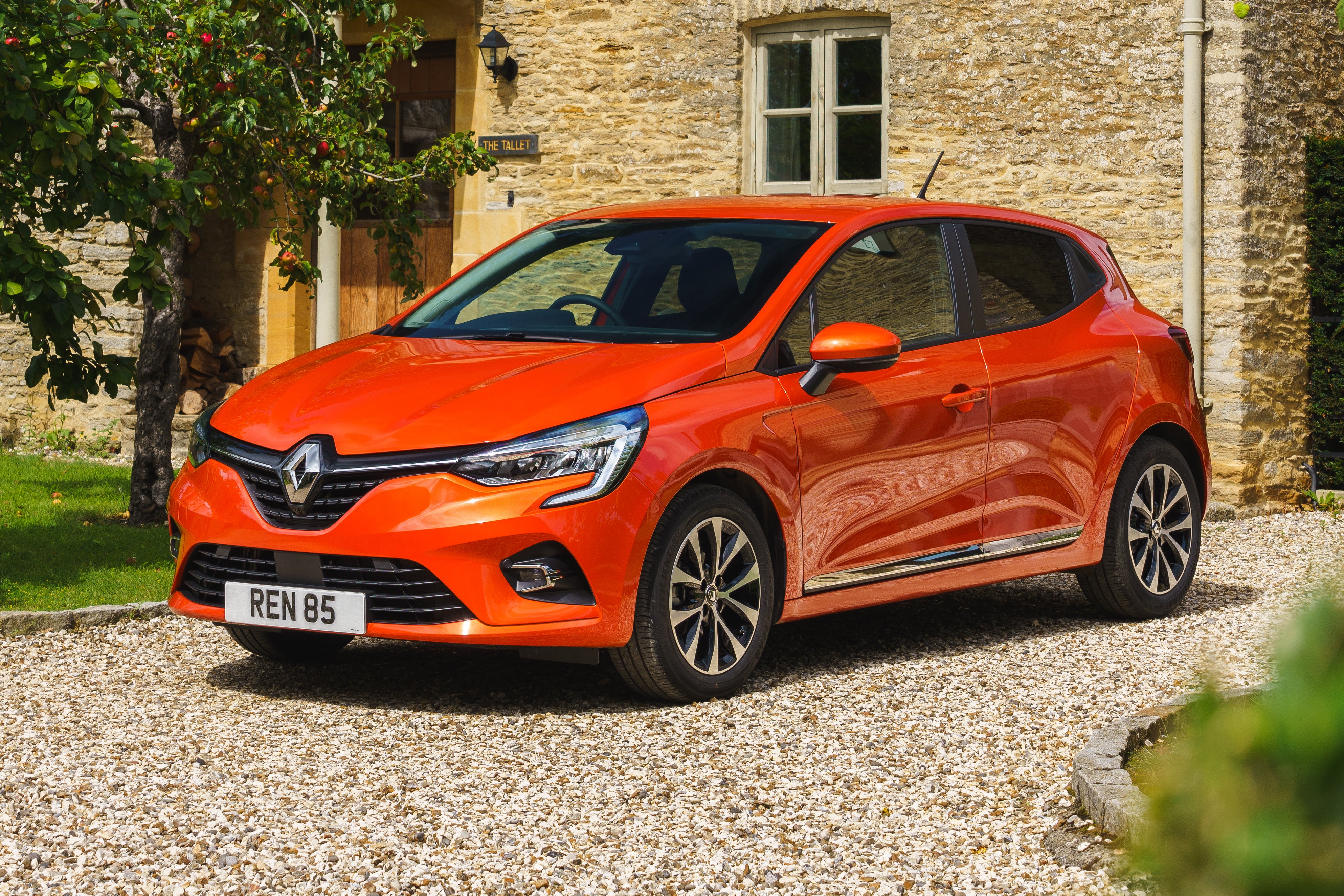 The fifth-generation remains true to form, with a much-improved interior, new engines and, since 2020, a hybrid model. We'll explore all this and more in our 2022 Renault Clio review.
Renault has resisted the urge to tamper with the previous generation's looks too much. Instead, it has stuck to the style that so many previous buyers liked. The Renault Clio is the best-selling small car in Europe, so why risk upsetting a loyal fanbase by messing with its design too much? The Clio an entirely new car, though, based on a new platform with no panels carried over from the old model and slightly more compact dimensions. So, the same but different.
While you could be forgiven for struggling to spot the differences on the outside, the interior of the latest Renault Clio has taken a noticeable shift upmarket. There are lots of soft-touch materials, particularly on more expensive models, and the amount of technology on offer has taken a large step forward. There's a new 9.3-inch touchscreen media system available, as well as a 10-inch digital instrument cluster.
Although the Renault Clio's exterior dimensions are smaller than before (now measuring 4050mm long and 1798mm wide), Renault's engineers have been working hard to make it a more practical choice. It certainly feels roomy enough, with plenty of space for taller drivers while the Clio's boot space is now a generous 391-litres. The boot access is wider, too, although there is a hefty lip for lifting heavy items over.
Engine choices include a naturally-aspirated 1.0-litre petrol with 75PS, a turbocharged version of the same engine with 100PS, or a 1.3-litre turbo with 130PS. There's also a 1.5-litre dCi diesel producing 85PS.
Unlike the Peugeot 208, there isn't an all-electric option, but you can get the Clio with a 1.6-litre hybrid. While this uses tech influenced by the Renault F1 team, it produces a combined 140PS and is more about frugality than performance. You might like our guide to the best small hybrid cars if you're looking to save money at the pumps.
The majority of buyers will opt for the mid-level TCe 100 petrol, which offers plentiful performance and can be paired with a five-speed manual or seven-speed automatic transmission. There's also a sporty R.S. Line model - a replacement for the former GT-Line. This takes a similar approach to the Ford Fiesta ST-Line, combining Renault Sport looks with affordable running costs.
The most popular engine will be the 1.0-litre 100PS TCe engine, which offers adequate performance. This comes as standard with a five-speed manual gearbox and requires working hard out of town. No matter which engine you choose, the Clio isn't as fun to drive as a Fiesta, and the ride is quite firm.
While the Volkswagen Polo and Ford Fiesta continue to lead the pack, the latest Renault Clio is more deserving than ever of its status as a fashionable small car. Its interior is hugely improved and it's fairly practical, while it scores well on the value for money front.
If you're looking for the older version, you need our used Renault Clio (2013-2019) review.
Is the 2022 Renault Clio right for you?
The small hatchback market is crammed to bursting with talented cars, so the Renault Clio has its work cut out to make a mark. It does this by offering snappy looks and a cabin that offers plenty of space and tech compared to most rivals.
While the looks and style are unlikely to sway many away from a MINI or Audi A1, the Renault Clio certainly has lots to commend it. This latest Clio is slightly smaller on the outside than its predecessor, so it's easy to park in town. However, there's more room inside for people and luggage that makes it one of the most practical cars in its sector.
A choice of petrol, diesel and hybrid engines gives buyers plenty of variety, though the 100PS 1.0-litre turbo petrol will be the best option for most drivers. It's just nippy enough, but those looking for a bit of entertainment in their daily drive will find the Clio is not on a par with the Ford Fiesta or Mazda 2.
 What's the best Renault Clio model/engine to choose?
City dwellers would do well to check out the Renault Clio with the E-Tech hybrid power option. With an electric motor and 1.6-litre petrol engine, Renault says 80 per cent of town driving can be achieved in EV mode with no tailpipe emissions. The E-Tech hybrid does command a price premium and some may feel its claimed 64.2mpg doesn't quite do enough to justify the extra.
Most buyers, though, will lean towards the 1.0-litre TCe 100PS turbo petrol. It's a well-rounded choice thanks to lively performance in town and just enough performance to deal with motorway work. It would be good to see an extra gear for added refinement and economy when cruising rather than the five-speed 'box that Renault fits. Alternatively, you could opt for the seven-speed automatic gearbox.
With four trims to pick from, we'd head for the mid-level Iconic as you get plenty of luxury kit, the 7-inch infotainment screen and other touches such as 16-inch alloy wheels and rear privacy glass.
What other cars are similar to the Renault Clio?
Comfort and design: Renault Clio interior
"There's a minimalist approach to the design of the fifth generation Renault Clio's dash and interior that hits the right notes."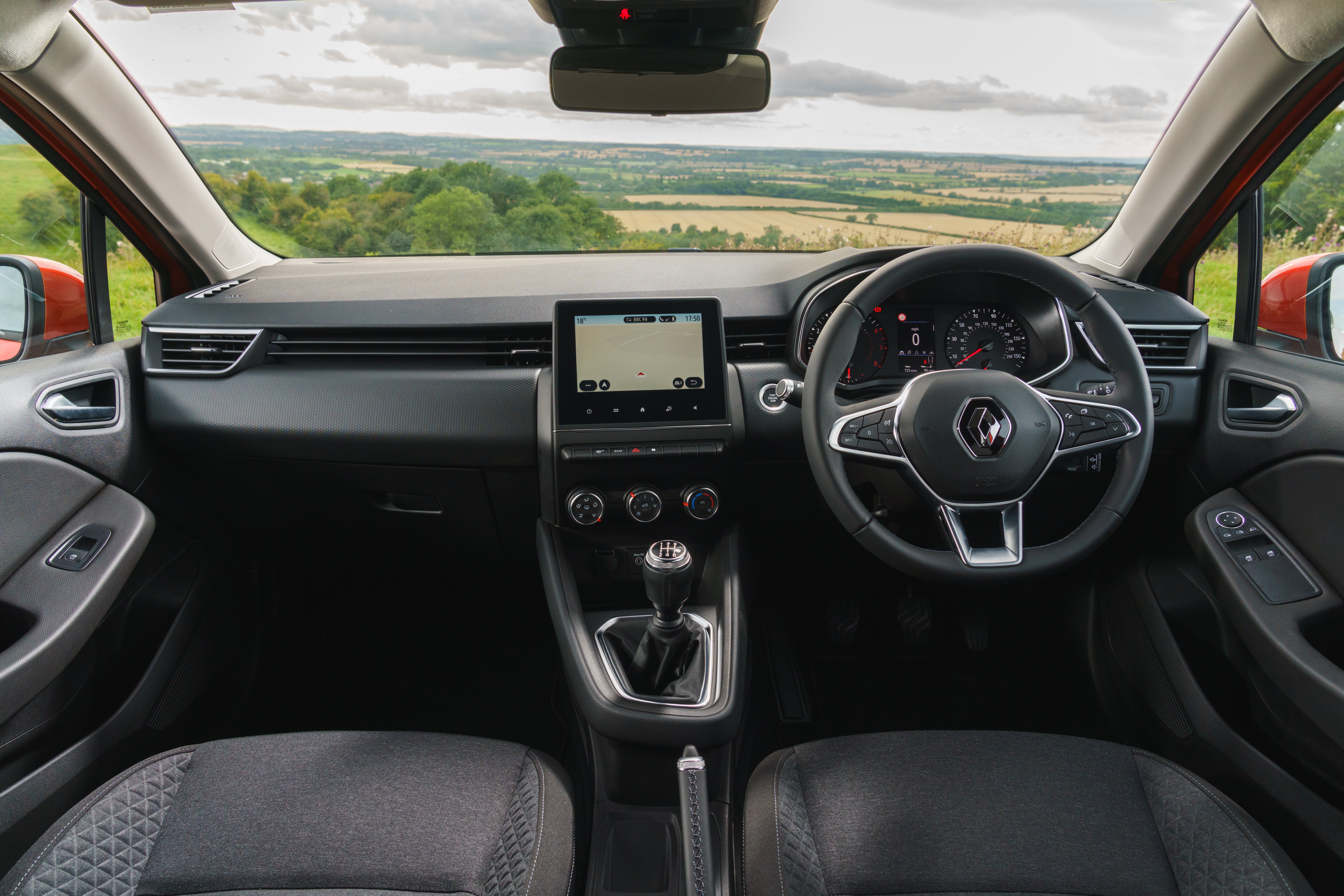 The Renault Clio's interior is not sparse or utilitarian, just uncluttered and this is typified by the large horizontal air vent that runs across the sweep of the dash. There's also the central infotainment screen that helps to do away with most buttons, though Renault wisely retains rotary controls for the ventilation to give intuitive adjustment of the heating and fan speed.
The gear lever sits in a raised surround, so it feels close and snug to the driver, yet there is more than ample space for your head, legs and shoulders. A height adjustable driver's seat combines with the reach and rake movement for the steering wheel to serve up an ideal position for drivers of all forms.
Just the right thickness of rim for the steering wheel is a welcome touch, along with far more soft-touch and high quality materials all around the Renault Clio's cabin compared to the previous model. The main dials are easy to read thanks to a simple white-on-black design and the onboard information display set between the rev counter and speedo conveys all you need to know at a glance.
Our only negative as far as the driver's environment is concerned is the poor vision over your left shoulder due to the broad rear pillar and upswept window line. Together, they limit the view when checking as you change lane or back the Renault Clio into a parallel parking space.
Quality and finish
Renault deserves a big pat on the back for listening to its customers and coming up with a new model that addresses the questions raised over the previous generation car's cabin plastics. Where the old car suffered from some iffy finishes, this latest Clio is a strong contender for best in class construction alongside the Volkswagen Polo or SEAT Ibiza.
Everywhere your hand comes into contact with in the Renault Clio, there are soft-touch materials and plastics that feel they are sturdy. This impression remains even when you feel further into the door pockets or seat bases where the edges are smooth, so you won't snag a finger when reaching for your water bottle from the door bin.
With the higher trim levels of Renault Clio, the feeling of quality is further enhanced by the mix of colours on offer. This brightens up the cabin, while the infotainment screen in the centre of the dash also adds to the general air of the Renault being one of the better made, more solid cars in this sector.
Infotainment: Touchscreen, USB, nav and stereo in the Renault Clio
The entry-point Play version of the Renault Clio comes with a 4.2-inch infotainment screen. It offers simple pairing to your smartphone using Renault's Easy Connect system so you have access to hands-free calls and your contacts list. However, for a more advanced set-up, you need the 7-inch touchscreen of the Iconic trim, which gives you satellite navigation, full smartphone integration and it works with Apple CarPlay and Android Auto. It can suffer from the odd moment of hesitation when browsing through the menus but is easy to use with a clear display and crisp graphics.
With the higher spec S Edition and R.S. Line models, you get the full 9.3-inch touchscreen that looks much like an iPad. It has all of the same functions as the Iconic's set-up with a bigger, clearer display. You also get Easy Link Navigation that lets you search for a destination using just two or three key words even if you don't know the exact location. This version of the Clio's infotainment also comes with upgraded speakers for the stereo and the monitor also doubles as a screen for the reversing camera.
The two upper trims also come with a 7-inch Driver Information display in the main dash pod. It can be configured to show various bits of information, including a large digital speedo that works well when you just need to glance down to make sure you're within the appropriate limit on any road.
Space and practicality: Renault Clio boot space
Renault has made a trade-off in this fifth generation of Clio over its predecessor. This is to sacrifice a little rear legroom in favour of a much larger boot. Compare the 391-litre load space to other small hatches and it easily beats them and the Clio even has the Volkswagen Golf dusted when it comes to cargo carrying capacity. Hybrid models have just 300 litres, with the battery unit taking up valuable storage space under the load floor.
The load sill means you have to heave bigger items up and over to get them into the boot, but it's worth the effort for how easily they stash in there.
Unlike with some small hatches that require you to jiggle a pushchair in to fit, the Renault Clio just swallows it whole with room to spare. You can also boost the amount of boot room by dropping the 60/40 split and tip back seat to free up as much as 1069-litres of cargo volume. The diesel is slightly smaller due to its fuel tank, giving a maximum of 1054-litres with the seats dropped and 366-litres with them raised.
Whichever engine is fitted, this generosity of load space means there's less room for adult knees in the back of the Clio. This is a calculated move on Renault's part, working on the assumption few adults will spend much time back here so it's better to have a boot where you can pack in all of the kids' paraphernalia with ease. It's a gamble we reckon most Clio customers will agree with as there's still decent room for two or even three kids in the back.
Access to these seats is better in this Clio too, thanks to a better shaped aperture when the rear doors are opened. This means there is less intrusion into the gap from the wheelarch.
Renault fits two ISOFIX child seat mounts on the two outer rear seats and all three rear occupants have a three-point seat belt and headrest. As for storage in the rear, there are small door bins and pockets in the front seat backs.
Handling and ride quality: What is the Renault Clio like to drive?
"The Clio may be a small hatch but Renault has managed to inject the feeling of a bigger car into the way it behaves on the road."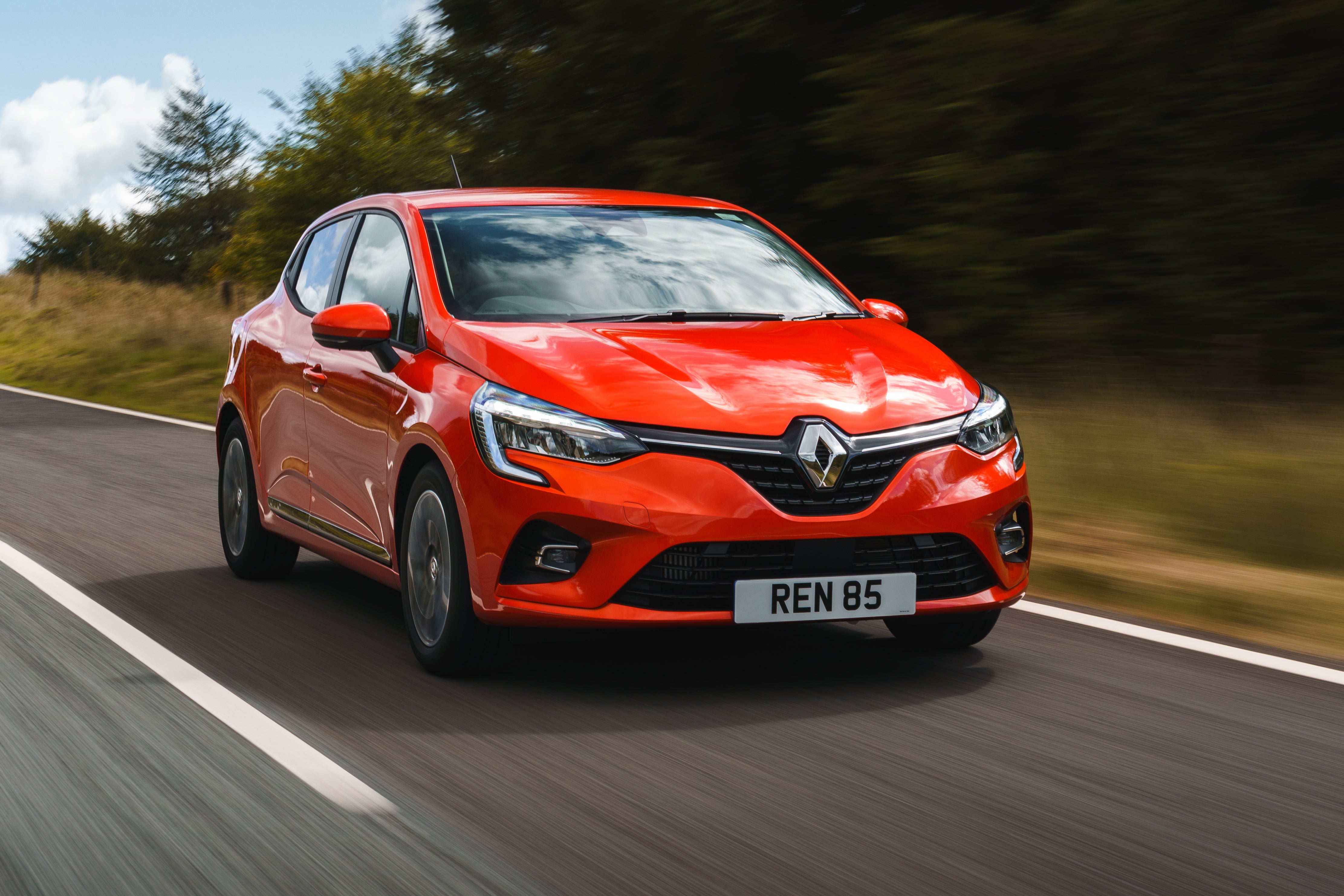 For some, this will come as a happy improvement over the previous model, while others will mourn the loss of some of the past version's agility and French flavour.
That French-ness that once marked out the comfy ride of Renault Clios past has now, well, passed. In its place arrives a firmer suspension set-up aimed at moving the Clio closer to the way the Ford Fiesta deals with lumpy roads. So, the Renault Clio is not quite as gently absorbing over ruts and potholes, resulting in the car jigging a little too much for our taste when it should be caressing its way over surfaces.
The flipside of this is the Clio now handles with greater accuracy and control in this latest model. You get steering with quicker inputs, though not any more feel, while cornering grip is right up there with the Fiesta's. Even so, the Clio is not quite a match for the Fiesta as the Renault doesn't manage to blend everything together with the same fluency as its chief rival.
All of this comes as a bit of a disappointment during the vast majority of driving time in the Clio. While it's great fun to point down a country lane for a bit of old fashioned hatchback enjoyment, it's not as plush or cosseting on city streets or motorways as the previous Clio. There's too much emphasis on the sporty side and not enough on comfort.
What engines and gearboxes are available in the Renault Clio?
Renault gets the Clio range started with the non-turbo 1.0-litre SCe 75PS petrol engine. Even if you will never drive beyond the city limits, we'd advise ignoring this motor and heading to the TCe 100 1.0-litre three-cylinder engine as it is a much more able, rounded choice.
Where the SCe 75 feels sluggish to the point of sloth, the TCe 100 delivers performance on a par with its key rivals from Ford and Volkswagen. It's not brisk and the five-speed manual gearbox that is standard is not the most pleasurable to use, as well as missing a sixth gear that would make it better to drive on the motorway.
For this reason, we'd recommend ticking the box for the seven-speed automatic gearbox with the 100PS TCe engine. It helps improve performance very slightly but also comes with smooth shifts that sidestep the notchy feel of the manual transmission. However, beware of the increased fuel consumption and emissions of this combination.
That leads us to the 1.3-litre TCe 130 petrol turbo engine that is only offered with the automatic. It provides economy and emissions much the same as the 1.0-litre auto yet feels much swifter and more refined, and it has enough performance for the Clio to be entertaining on a quiet country lane when you're in the mood.
Renault bucks the trend in small hatchbacks by continuing to offer a diesel and the 1.5-litre Blue dCi 85 does a good job of cruising along multi-lane roads. However, it is hampered by slow acceleration, so only the very economy minded will choose this motor.
More Clio customers are likely to take the E-Tech Hybrid option with its electric motors and 1.6-litre petrol engine with 140PS. It has an automatic gearbox and the choice of hybrid or EV-only driving, with the energy optimisation and brake regeneration being influenced by Renault's F1 team tech.
The hybrid is by far the smoothest of the Clio's powertrain offerings. It switches seamlessly from petrol to electric power and you can travel one or two miles on pure electricity, up to speeds of 27mph, which makes it perfect for whirring around town.
Refinement and noise levels
The Renault Clio marked out this territory as one of its key strengths in previous generations. With this evolution of the species, Renault has traded some of the cabin's refinement in favour of sharper handling by firming up the suspension. It's a balance we're not convinced by as more road noise can be heard inside the Clio than in many rivals, notably the Volkswagen Polo.
When you move up to the Clio trims with larger wheels the level of road noise strays into becoming intrusive, this is most notable on the 1.6 hybrid at low speeds.
Countering this is very little wind disturbance, even at motorway pace. Renault has also made a thorough job of isolating engine noise from the cabin, so even when working the smaller capacity engines hard they remain pleasantly quiet. You will have to rev these motors on occasion to get decent acceleration from them, such as when joining a dual carriageway for instance.
While only having five gears is not a barrier to the engine's refinement, the gear shift itself is not the smoothest. There's a slight resistance between gears that makes you wish for the slick shift of a Ford Fiesta.
Safety equipment: How safe is the Renault Clio?
Renault prides itself on the safety performance of its cars and this Clio shows that with an impressive Euro NCAP performance. It notches up a 96% score of adult occupant safety and 89% for child safety.
Every Clio comes with twin front, side and curtain airbags, as well as ESP traction and stability control and ABS anti-lock brakes. A tyre pressure monitoring system is fitted with a warning light, though Renault only supplies a puncture repair kit in place of a spare wheel.
However, you do get a lane departure warning in every version of the Clio, along with lane keep assist to guide the car back on to its intended course if the driver's concentrations lapses. More safety kit comes in the shape of a traffic sign recognition system to tell the driver of changes in speed limit, while a speed limiter can be set to avoid creeping over the legal maximum on any given stretch of road.
Renault also supplies a distance warning alert to tell if you are too close to the vehicle in front, while hill start assist stops the car rolling backwards as you pull away on inclines.
Frustratingly, only the TCe 130 R.S. Line trim is offered with the option of the Traffic and Motorway Assistance Pack. This adds blind spot warning, auto hold for the electronic parking brake, and Traffic Jam Companion with adaptive cruise control and lane centring.
Maximum EV range with the Renault Clio E-Tech Hybrid
The Renault Clio E-Tech Hybrid is not a battery-only electric car, but it can run on battery power alone. How far this can be depends on your driving style, speed and traffic conditions.
During our road tests we found two miles to be the limit. The E-Tech Hybrid can be used in EV mode up to 27mph, at which point the 1.6-litre petrol engine will come into action for faster driving. Below that speed, Renault claims the hybrid can be driven for up to 80 per cent of urban journeys in EV mode.
The E-Tech Hybrid has two levels of brake regeneration. In standard setting, it's quite mild. Select the second mode and you don't need to touch the brake pedal very often for city driving, with the added benefit of topping up the battery as you go.
MPG and fuel costs: What does a Renault Clio cost to run?
"Easiest of all the Clio range on fuel is the 1.5-litre Blue dCi 85 turbodiesel-powered models."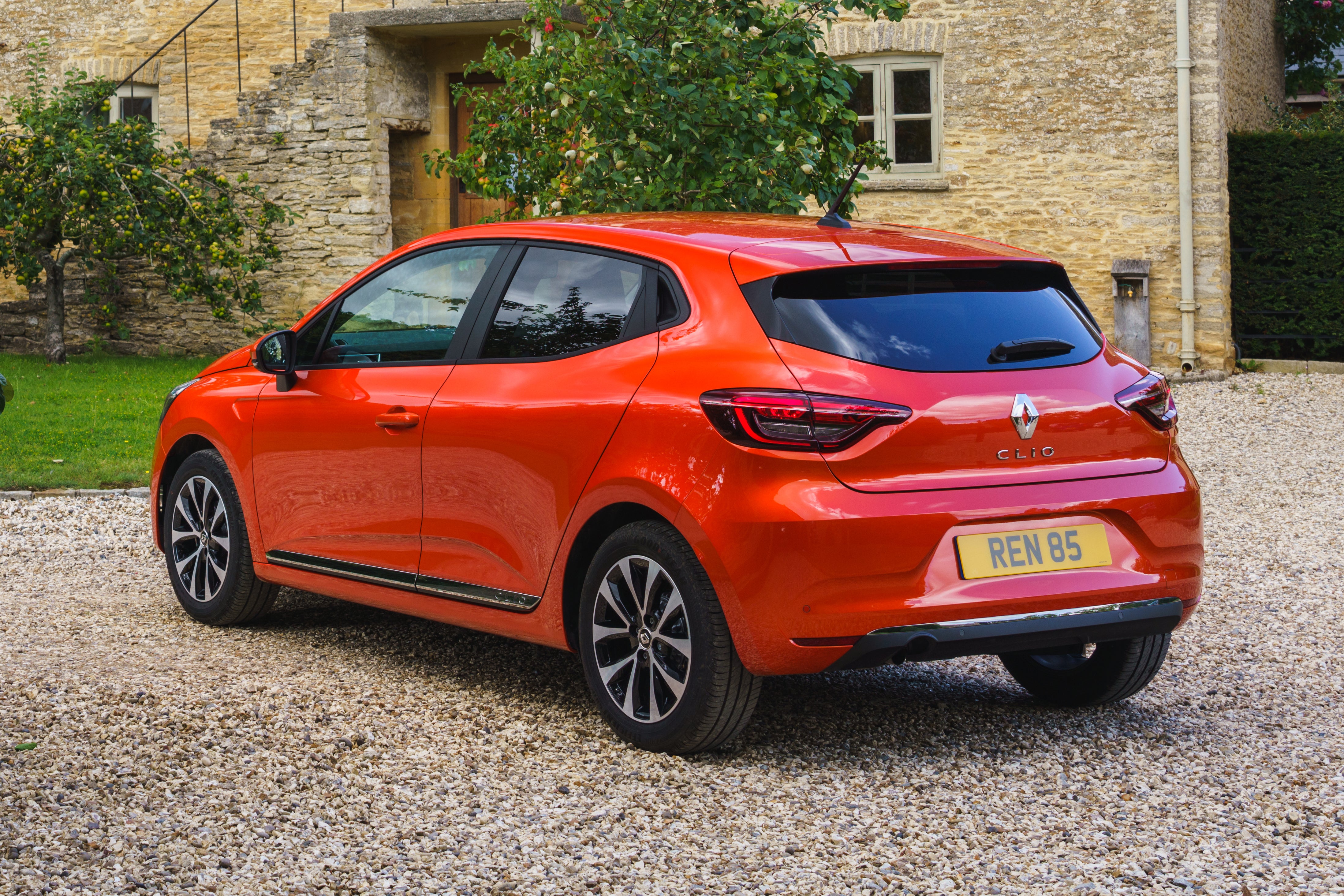 They offer 67.2mpg combined economy which, with a 42-litre fuel tank allows a possible range of a little more than 600 miles.

However, most Clio buyers will choose the TCe 100 turbo petrol. Handily, this is the most efficient non-hybrid petrol choice and comes with an official average consumption of 54.3mpg. Achieve that figure and you could cover up to 500 miles on each fill of the tank. The 1.6-litre E-Tech Hybrid returns up to an official 64.2mpg.
How reliable is the Renault Clio?
While Renault doesn't have the best reliability record, things appear to be improving, while a five-year warranty ought to put your mind at rest.
The old Renault Clio scored a pretty decent 9.15 out of 10 in the HonestJohn.co.uk Satisfaction Index, and while the latest car is still relatively new, there doesn't appear to be any common problems that should be a concern.
Insurance groups and costs
Cheapest of all the Renault Clios to get cover for is the SCe 75 model that falls into group 3 in both Play and Iconic trims. Next up are Clios powered by the TCe 100 petrol and 1.5-litre Blue dCi 85 turbodiesel that all sit in group 10 regardless of which trim level you pick.
That leaves the 1.3-litre TCe 130 petrol used in the S Edition and R.S. Line models. It jumps up to a group 16 rating, so its premiums will be noticeably higher than other Clios in the line-up. Check out our guide to the cheapest cars to insure for more affordable cars to get insurance quotes on.
VED car tax: What is the annual road tax on a Renault Clio?
First year road tax for the Renault Clio is most affordable for the diesel-powered model, though it's hardly a bargain at £155 thanks to 109-110g/km carbon dioxide emissions depending on which trim you choose. The hybrid isn't much better at 99g/km at £125 for the first year and £145 for each year after.
For the petrols, the cheapest bet is the TCe 100 with manual gearbox that attracts a first year road tax levy of £175. Take this engine with auto 'box in the S Edition or R.S. Line trims and it tips into the £215 banding alongside the TCe 130 1.3-litre petrol motor.
How much should you be paying for a used Renault Clio?
"The Renault Clio range starts at £14,895 and comes with a strong five-year, 100,000-mile warranty."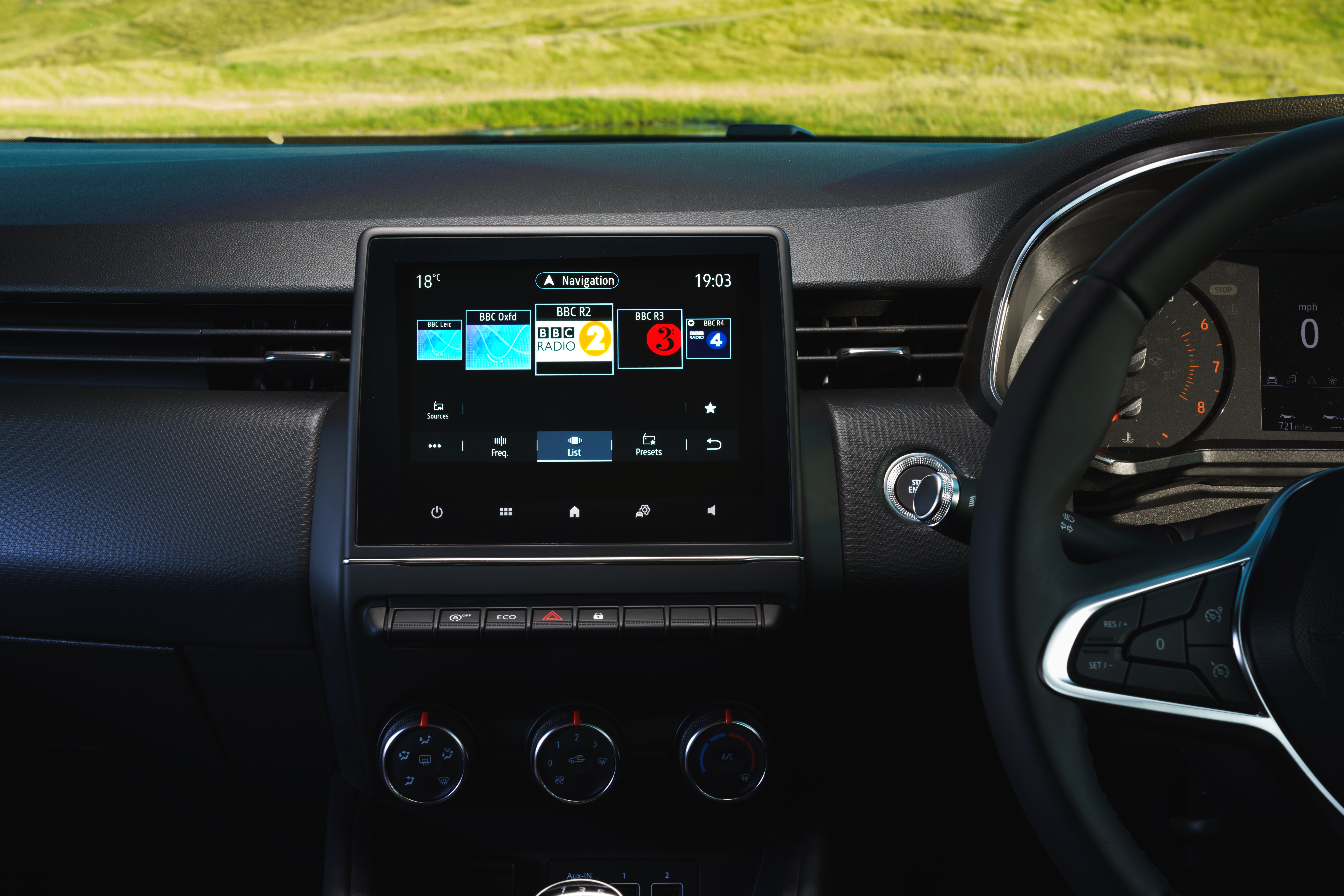 Upgrading through each trim level adds approximately £1000 with each move. Nearly new and pre-registered Clios are on offer from Renault dealers from £13,000 for a 1.0 TCe 100 Play. That's for a car with delivery mileage only, so it's a substantial saving over the list price.
New prices for the hybrid started at £19,595 when it was launched in 2020, which means used models tend to command a hefty premium.
Trim levels and standard equipment
Renault starts the Clio range with the Play trim that includes LED headlights, lane departure warning and lane keep assist, 16-inch steel wheels, and cruise control. You also get air conditioning, Bluetooth connection, electric front windows and a 4.2-inch infotainment screen.
Move to the Iconic model and you get a 7-inch infotainment screen with navigation, Apple CarPlay and Android Auto. This model also comes with keyless entry, rear parking sensors and privacy glass, and 16-inch alloy wheels.
The S Edition adds 17-inch alloys, automatic headlights and wipers, climate control, and a 9.3-inch touchscreen for the infotainment. You also get a 7-inch display for the main instrument cluster. On top of this, the R.S. Line has unique alloy wheels, Multi Sense driving modes, front parking sensors and rear-view camera. The R.S. Line Bose Edition gains nine speakers and an updated Bose stereo system.
Ask the heycar experts:
common questions
Is the Renault Clio a plug-in hybrid?
Along with the choice of petrol and diesel options, there's also a hybrid Renault Clio. However, it's not a plug-in hybrid (or PHEV), but a self-charging hybrid engine that marries a 1.6-litre four-cylinder petrol engine with two electric motors.

Is the Renault Clio a good car?
If you're looking for a stylish and spacious small car, then the Renault Clio is a great choice. We'd favour the hybrid Clio E-Tech that delivers 60+mpg, making it cheap to run for those doing regular short trips. There's also plenty of space inside, with just about enough space for a couple of adults in the back if needed.

Is there an electric version of the Renault Clio?
At the moment, there are no plans for a Renault Clio Electric, with both the Zoe and forthcoming Renault 5 Electric offering battery-only power in the Renault range.

Renault Clio cars for sale on heycar
2,789
Number of cars available
£6.5K - £26K
Price bracket of these cars
Colours available on heycar
Keep me updated by email with the latest advice, news and offers from heycar
By submitting, you agree to our
privacy policy
.