Renault Kadjar Review 2022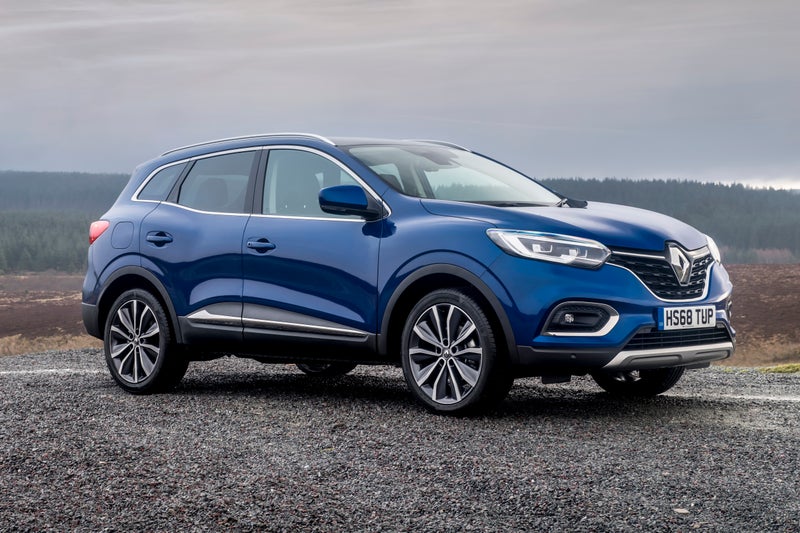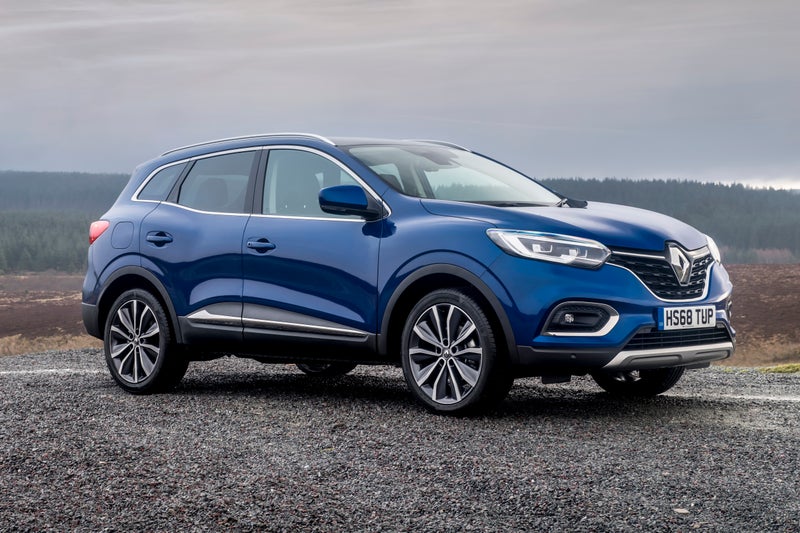 1/10
heycar rating
"Spacious and affordable family SUV "
Launched: 2015

SUV

Petrol, Diesel
Quick overview
Pros
Shapely styling is more attractive than many rival SUVs
Both diesel and petrol engines are economical
Standard equipment is good (apart from base models)
Cons
Rear visibility is poor without the reversing camera
Interior quality could be better
Not a rewarding car to drive
Overall verdict
On the inside
Driving
Cost to run
Prices and Specs
Common questions
Overall verdict on the Renault Kadjar
"The rapid rise of the SUV is obvious to even the most casual observer, with seemingly every other car on the road now a high-riding machine made for families. But with practical benefits and affordable pricing, it's easy to see why they hold appeal."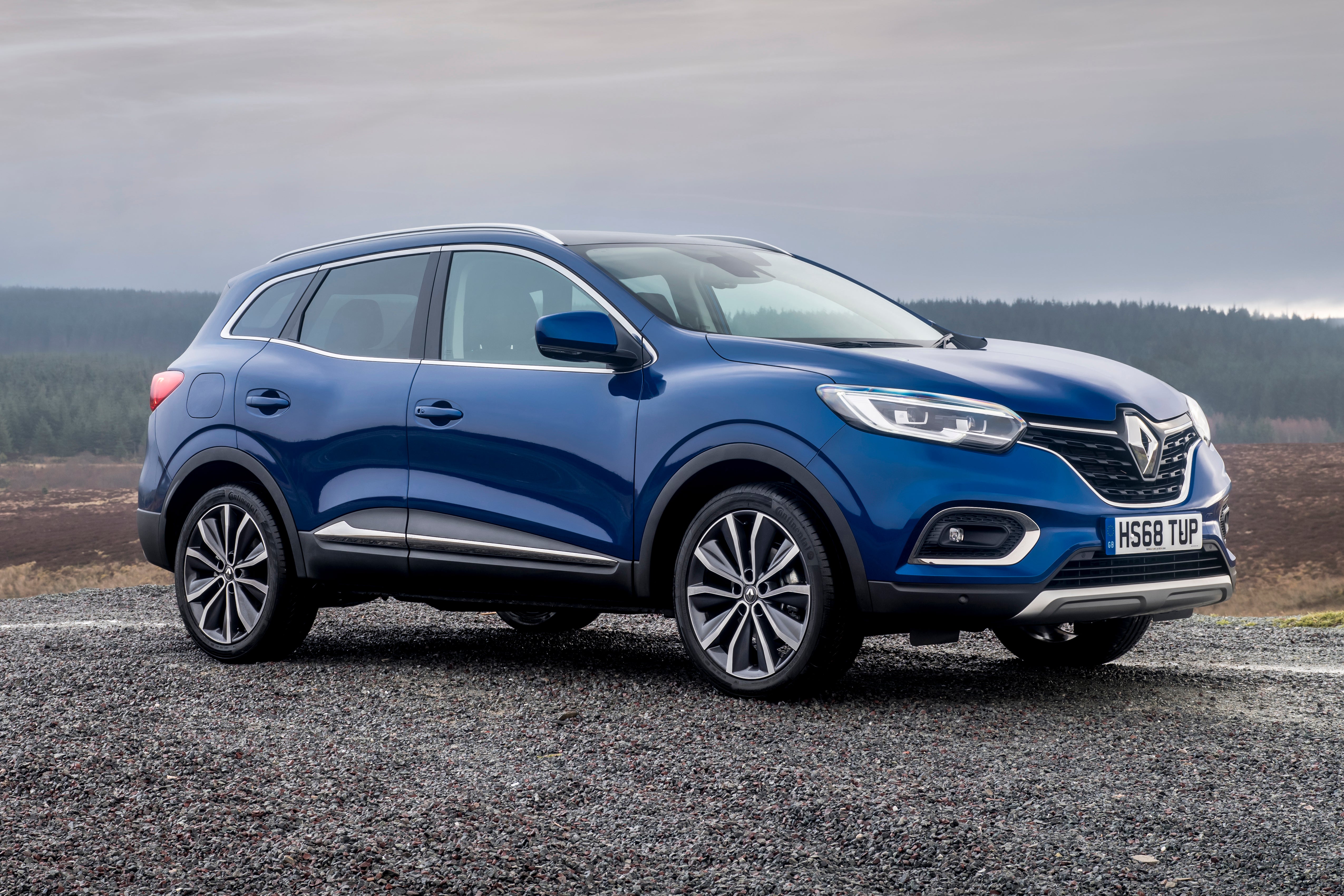 With a growing pool of competitors, the Renault Kadjar aims to take a slice of the SUV pie by offering distinctive styling, combined with an interior that's as useful as it is spacious. Being related to the popular Nissan Qashqai is a strong starting point, but Renault adds its own Gallic twist to the recipe. Here's our 2022 Renault Kadjar review.
Central to the allure of the Renault Kadjar is its exterior styling. With a bold grille, shapely flanks and plenty of chrome detailing, it certainly stands out in a sea of SUVs. The brightest paint colours will liven up dull days, even if the interior is more monochromatic.
Unlike the outside, the Renault Kadjar's cabin is a sensible affair. Expect plenty of black and grey plastic, with a smattering of chrome details. Features like a digital speedometer with changeable colours help, but the Kadjar is very much 'party on the outside, business on the inside'. Some of the trim plastics also feel a little flimsy, and rattles from the dashboard are not unheard of.
Where the Renault Kadjar certainly does deliver the goods is space for those in the rear. The back bench can accommodate three children with ease, or be perfectly acceptable for two adults. There should be no complaints about headroom or legroom, and the rear seats are surprisingly well padded.
The Renault's boot also manages to outdo the Nissan Qashqai for space and usability. A 472-litre boot capacity is 42 litres larger than the Nissan, and places the Kadjar closer to class-leading rivals like the SEAT Ateca and Peugeot 3008. Clever storage solutions include a split-level boot on fancier versions, and rear seats that fold at the pull of a boot lever.
Standard equipment in the Renault Kadjar is generous, with all models gaining air conditioning, cruise control, a DAB radio and Bluetooth mobile phone connectivity. More expensive models have features like leather seats and a powerful Bose sound system.
Renault offers a wide range of petrol and diesel engines, with a focus on fuel economy rather than outright performance. You won't be setting land-speed records in the Renault Kadjar, but you should avoid regular trips to the petrol station. Handling is acceptable for a family SUV, but the ride quality can border on stiff for models fitted with 19-inch alloy wheels.
The Renault Kadjar is available with an optional four-wheel-drive system, allowing it to venture further off the beaten track. However, the reality is that the Kadjar makes more sense on tarmac, acting as a faithful part of a family.
This isn't the most exciting SUV to buy or drive, but the Renault Kadjar will deliver on all the domestic chores you throw at it.
Is the 2022 Renault Kadjar right for you?
If you need an affordable and spacious SUV for a burgeoning family, the Renault Kadjar could be a perfect fit.
While the Nissan Qashqai has become the default choice in this sector, not everyone wants to follow the herd. The Kadjar takes some of the best bits of the Nissan, and adds extra space and practicality to the package. Standard equipment levels for the Renault are generous, too.
Throw in the benefits of economical engines and interesting exterior styling, and it should hold appeal for those who need versatile transportation.
Ultimately what the Renault Kadjar offers is a family-friendly SUV, making it well suited to daily life. It will not be the most exciting or engaging vehicle to park on your driveway, but that isn't what it was made for.
What's the best Renault Kadjar model/engine to choose?
One of the core strengths of the Renault Kadjar range is that almost all trim levels are generously equipped. The main proviso is to avoid the entry-level models: Expression+ on pre-facelift cars, and Play on post-update models. It is also worth giving the largest 19-inch alloy wheels the swerve, as these can spoil ride comfort.
As such, the pre-facelift Renault Kadjar Dynamique Nav offers features like satellite navigation, dual-zone climate control, and additional safety equipment. After the 2018 update, the Iconic model brings plenty of equipment, but does feature 19-inch wheels.
Around town, the 140PS 1.3-litre TCe engine delivers more than enough power, while still retaining reasonable economy. Of the popular diesel engines, the 1.5-litre dCi will be sufficient for longer commutes, and delivers the best fuel economy.
Avoid paying extra for a model with four-wheel drive unless you are certain you need it.
What other cars are similar to the Renault Kadjar?
The family SUV market continues to snowball, meaning there are numerous competitors to the Kadjar. Nissan's Qashqai, which shares a platform and engines with the Renault, is the most obvious rival. It has a higher-quality cabin, but less interior space.
Other affordable options include the SEAT Ateca and Peugeot 3008, both of which have bigger boots than the Kadjar. The Ford Kuga, Skoda Karoq and Volkswagen Tiguan add to the growing cluster of rivals. Alternatively, the Renault Megane Sport Tourer offers a bigger boot than the Kadjar, but in an estate car package.
Comfort and design: Renault Kadjar interior
"With an affordable price tag, and a mission to deliver practicality for family buyers, an inspiring interior was perhaps low on Renault's list of priorities. Borrowing elements from the Nissan Qashqai, the cabin of the Kadjar is best described as functional in appearance."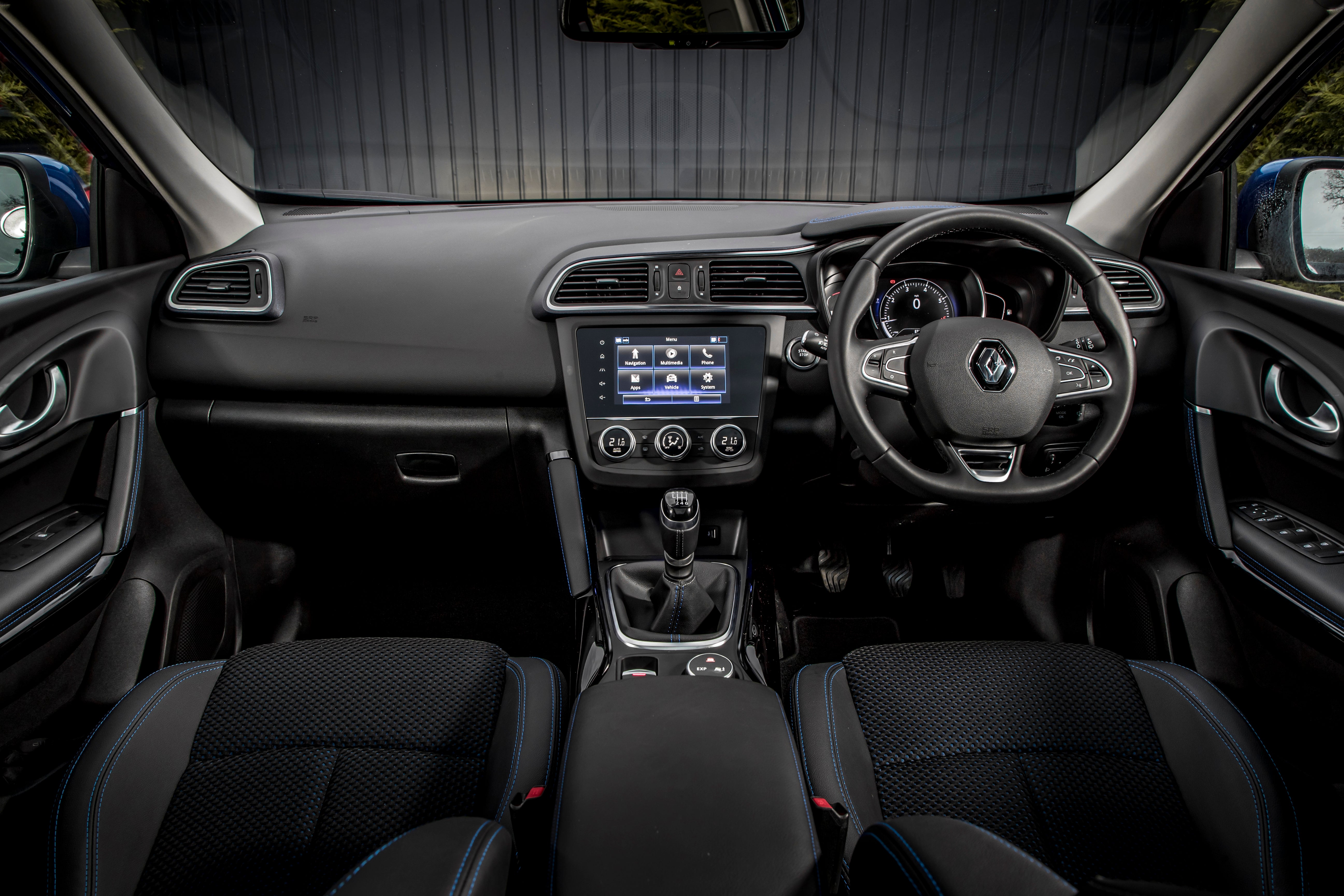 There is plenty of black and grey plastic, although a lighter-coloured headlining does add some brightness. The panoramic glass sunroof on higher-spec models also makes a difference, bathing the cabin with extra sunlight. On the instrument panel for all models is a digital speedometer, with the driver able to change the colour scheme.
While it may not be exciting, the interior of the Renault Kadjar is comfortable. Some of the design ideas feel mildly baffling though. The switches for the heated seats, for example, which are standard on range-topping models, are found down near the armrest on the centre console. The same goes for the cruise control buttons, which lurk near the electronic parking brake switch.
Basic Renault Kadjars come with manual seat height adjustment for the driver only, with the next trim level offering manual lumbar settings. Dive further into the model range and electrically adjustable front seats become available, featuring heating elements on cars with leather trim.
Regardless of adjustment, the seats in both the front and rear of the Renault Kadjar are comfortable on long journeys. Facelifted models from Iconic trim upwards see air vents and USB sockets added for rear-seat passengers.
Quality and finish
At first glance, the interior of the Renault Kadjar looks like it is made from high-quality materials and prime components. However, digging around reveals that corners have been cut in places to keep costs low.
In particular, the plastics used on the dashboard around the multimedia screen feel cheap and scratchy, as do those used for the internal door handle surrounds. The 2018 facelift did a lot to remedy this, replacing these items with higher-quality materials.
On the move, there can be squeaks and rattles from the cabin, although this is primarily an issue for Kadjars with the larger 19-inch alloy wheels. The stiffer ride seems to result in extra stresses being placed on trim pieces. Aside from this, the interior should be robust in the long run, and stand up to abuse from children.
Cloth seats are standard on lower-specification Kadjars, with mid-range models having a combination of artificial leather and cloth trim. This works better than it sounds, but you will need a range-topping Renault Kadjar Signature S Nav or GT Line to gain full (genuine) leather upholstery. Moving up the range changes little in terms of trim details, with grey and black plastic the order of the day.
Infotainment: Touchscreen, USB, nav and stereo in the Renault Kadjar
Whether it is navigating your way to a new holiday destination, or enduring traffic on the school run, infotainment is important in SUVs like the Kadjar.
Sidestep the Renault Kadjar Expression+ on the pre-facelift car, as this comes with a basic DAB radio set-up with limited functionality. Instead, go for at least the Kadjar Dynamique Nav, which brings the R-Link 2 multimedia system with a 7.0-inch touchscreen.
Incorporated into this system is satellite navigation with maps by TomTom, plus DAB radio, Bluetooth music streaming and voice commands for certain functions. Controlling this is mostly done via the touchscreen itself, along with audio controls on the steering column.
'Functional' is the best way to describe the R-Link 2 system. It is not the most attractive media system to look at, and can frustrate with how long it takes to load different menus. The 2018 facelift introduced a new flush-mounted screen, but like earlier models it remains relatively low down on the dashboard, and only 7.0 inches in size.
However, the 2018 facelift did make Apple CarPlay and Android Auto connectivity standard across the range, meaning how R-Link 2 looks becomes less of an issue.
Top-spec Renault Kadjar models get an uprated Bose sound system, with seven speakers and a boot-mounted subwoofer. It sounds good, but the sub removes any chance of carrying a spare wheel.
Space and practicality: Renault Kadjar boot space
A family SUV like the Renault Kadjar lives and dies on practicality and, fortunately, this is one area where it really delivers.
What helps the Kadjar from the off is that it's bigger than the Nissan Qashqai it shares a platform with. The Renault Kadjar measures 4489mm in length, 2058mm wide (including door mirrors) and 1607mm high. That translates into more cabin space, along with extra room for luggage in the boot compared to its closest rival.
Those in the front of the Renault Kadjar should feel well accommodated, aided by a cabin that feels wide. It means there should be no bashing elbows with the front-seat passenger on the centre armrest, while the manually adjustable seats offer a decent amount of legroom.
The centre console houses a spacious storage cubby and the door bins are also a useful size. There are also two cupholders on the centre console, but they can make reaching the electronic parking brake a pain when filled with cups.
Room in the back is considerable, with the rear bench able to easily accommodate two adults in comfort. Alternatively, carrying three children could see the central fifth seat used, with a transmission tunnel not affecting legroom. The optional panoramic sunroof does eat into headroom, but this should only affect the very tallest passengers.
Compared with the Qashqai, the Kadjar's boot is 40 litres larger, with a maximum capacity of 472 litres. This is still smaller than a Peugeot 3008, but is enough for family use.
On higher trim levels, the Kadjar benefits from a pair of handy features. The first is a clever adjustable boot floor that creates additional storage space that is hidden away. It can also be used as a boot divider, keeping items in place and stopping them from rolling around. Top models also have rear seats that can be folded by pulling a lever just inside the boot opening.
With the rear seats dropped, total storage space increases to 1478 litres. The rear bench splits 60:40 on all models, making it easy to carry bigger items.
All of these measurements are based upon models without a spare wheel. Renault supplies a tyre inflation kit as standard, with a spare offered as an option on some earlier models.
Handling and ride quality: What is the Renault Kadjar like to drive
"Think 'large French car' and the instant stereotype may be a big saloon with a pillowy ride. The Renault Kadjar goes some way towards fulfilling that cliche, but ride quality is very much dependent on which version you pick."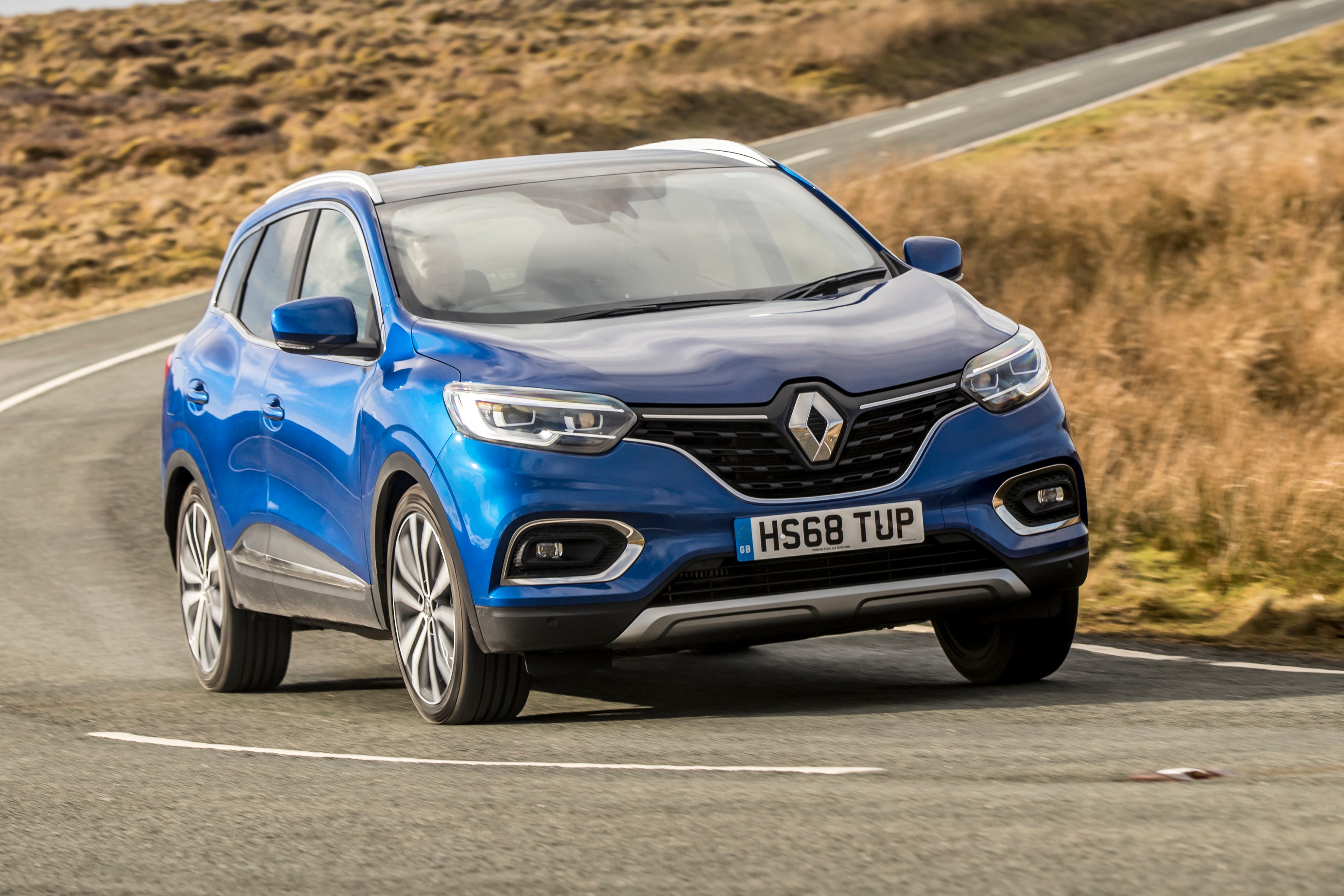 Renault makes no bones about who the Kadjar is aimed at. There is no overtly sporty model in the range, with the emphasis being on comfort and go-anywhere ability. It means the suspension is intended to be calm and relaxing, rather than sporty and dynamic.
For the most part, the Kadjar achieves the aim of being a comfortable family vehicle. The ride is compliant around town and on the motorway, with only the roughest surfaces causing discomfort. Compared with the Nissan Qashqai, it feels slightly firmer, but never jarring.
The only provision is that you should avoid Kadjars with the largest 19-inch wheels. These have a much busier ride, transmitting imperfections in the road back to the cabin. While there is no denying the visual appeal they add, they don't suit the laid-back nature of the Kadjar.
Reinforcing the comfortable ethos is the Kadjar's steering. Expect a degree of body-roll in corners should you push too hard, with the steering also lacking in feel. At least the steering is accurate, and light enough to make maneuvering around town a doddle.
There is nothing fundamentally wrong with the Kadjar's handling. It is just not likely to be a vehicle that you wake up early to drive. Unless it's to take the kids to school...
Versions with optional four-wheel drive do have extra grip in wintry conditions, and can venture a little further into the rough. Don't expect to be climbing rocks in a 4WD Kadjar, but it will handle wet grass and gravel tracks.
What engines and gearboxes are available in the Renault Kadjar?
Renault has changed the Kadjar's engine range since launch, but the formula follows a relatively set pattern. Launch petrol options were limited to the 1.2-litre TCe four-cylinder producing 130PS. A manual gearbox was standard, with a six-speed EDC dual-clutch manual on the options list. It was joined by a more powerful 165PS version in 2017.
The 2018 update replaced the previous petrol engines with a new 1.2-litre four-cylinder turbo. Offered with 140PS and 160PS, the new motor is more modern and refined. A seven-speed EDC dual-clutch automatic gearbox is only available with the 140PS version.
Pre-2018 facelift diesels consisted of the 1.5-litre dCi four-cylinder with 110PS and a 1.6-litre dCi four-cylinder with 130PS. Only the 1.5-litre unit could be ordered with the EDC automatic, while the 1.6-litre had the option of four-wheel drive. All other Kadjars are front-wheel drive.
After 2018, the diesel range underwent an overhaul, seeing the 1.6 replaced with a new 1.7 dCi four-cylinder engine. As its name suggests, the Blue dCi 150 has a power output of 150PS, along with a useful amount of torque. It is offered with two- or four-wheel drive, and only with a six-speed manual gearbox.
The smaller 1.5-litre diesel was also modified, with power increased from 110PS to 115PS. It still retains the option of the EDC dual-clutch automatic, but now with seven speeds.
Performance across the range is respectable, rather than rapid. The 1.2-litre TCe 140PS is quickest, accelerating from 0-62mph in 9.6 seconds with the EDC transmission.
Refinement and noise levels
Manage your expectations and the Renault Kadjar will deliver reasonable levels of refinement behind the wheel. At an affordable price, it clearly will not have a cabin as quiet as a Rolls-Royce, but the Kadjar should not cause any complaints either.
Wind noise in the Kadjar is generally well muffled, but does become more noticeable as you pick up the pace. Road noise from the tyres is a bigger concern, especially with the spacious cabin acting as an echo chamber on the move.
Models fitted with the larger 19-inch alloy wheels are the worst culprits, but fashion usually demands some form of sacrifice. At least the engines fitted to the Kadjar present little issue when it comes to refinement. The petrol engines are notably quiet, only making themselves heard if you really rev them hard. Keep the revs low, make use of the plentiful torque, and things will be fine.
Compared with the related Nissan Qashqai, the 1.5-litre diesel feels a little noisier when installed in the Kadjar. It won't be loud enough to put buyers off, but is coarser than the larger diesels. The 1.6-litre diesel, and later 1.7 unit, transmit fewer vibrations back to the cabin under load.
Safety equipment: How safe is the Renault Kadjar?
Renault has a reputation for safety, becoming one of the first companies with multiple vehicles carrying the maximum five-star rating from Euro NCAP. The Kadjar does not let the side down, as it was also awarded five stars when crash-tested.
All versions come with six airbags, including full-length curtain airbags. The front-seat passenger airbag can also be deactivated, should you want to fit a rear-facing child seat there. Alternatively, the two outer rear seats come with Isofix child seat anchor points on all versions.
ABS braking with Electronic Brakeforce Distribution and Emergency Brake Assist is standard, along with stability control and traction control. The Kadjar also features Understeer Logic Control, which aims to stop drivers running wide on corners.
Cruise control with a speed limiter function can be found on all Kadjars, but there is no radar cruise control option – as found on key rivals. At least all models have LED daytime running lights fitted, with full LED headlights available on top trim levels.
Front and rear parking sensors are fitted to all Kadjars beyond the base Expression+ or Play models. Before the 2018 facelift, a reversing camera could only be found on the range-topping Signature S Nav version. However, the newer models have this feature on Iconic trim and up. Given the chunky rear pillars, it's a real boon for visibility.
A space-saver spare wheel could be added to early Kadjars as an option, but Renault supplies a tyre inflation kit as standard. All versions come with tyre pressure monitoring.
MPG and fuel costs: What does a Renault Kadjar cost to run?
"Renault understands the Kadjar is likely to be bought by families, for whom saving money on fuel will be a welcome bonus. The engines listed below are the most impressive in official WLTP fuel economy tests."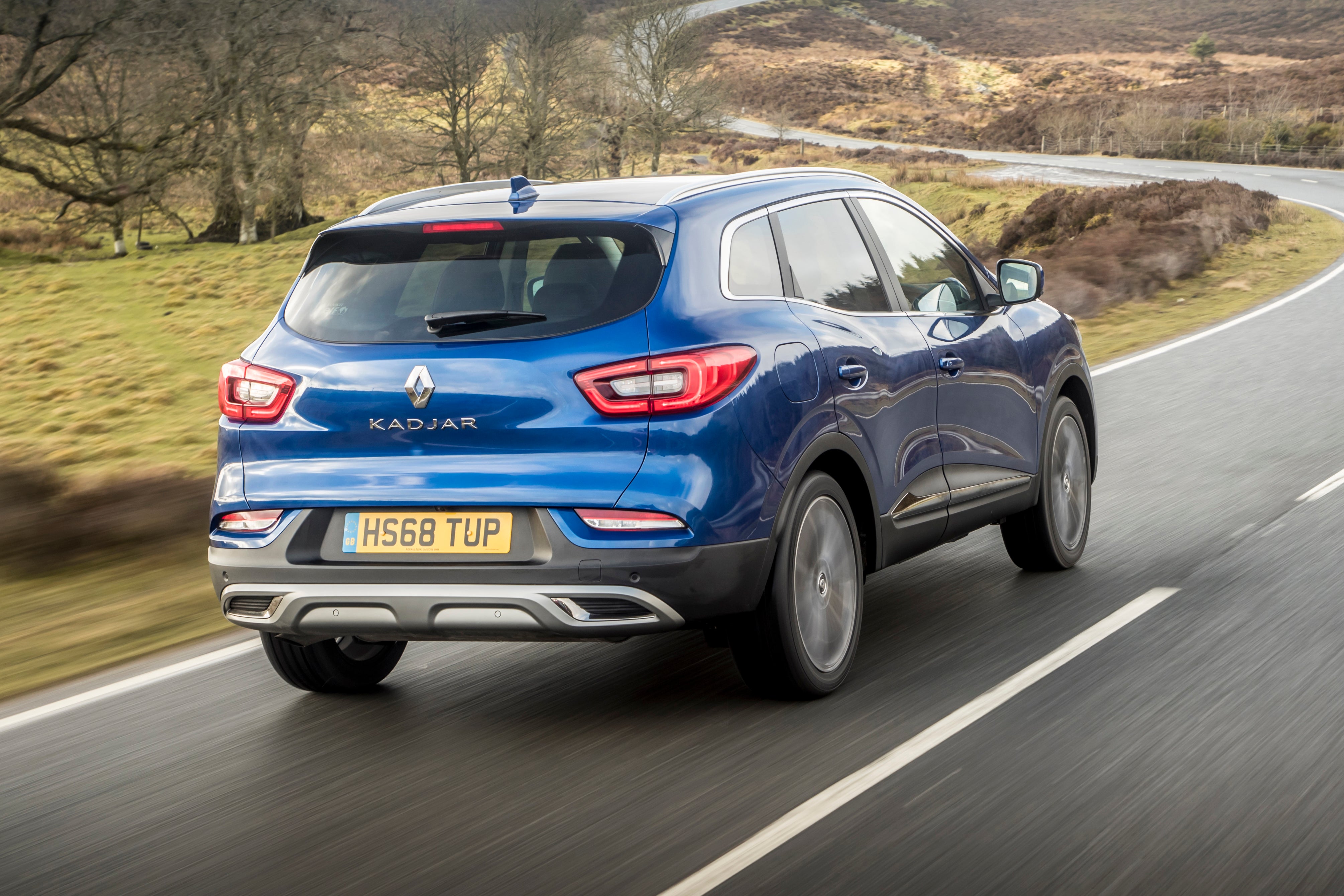 Offering the best fuel economy of all is the 1.5-litre dCi diesel in 115PS form. Fitted with the EDC dual-clutch gearbox, it achieves up to 57.7mpg. With a manual gearbox, it can manage 56.5mpg.
Petrol versions are not much worse when it comes to efficiency. The 1.2-litre petrol TCe with 140PS and the EDC transmission is capable of 43.5mpg. Going for a manual drops this to 42.8mpg.
How reliable is a Renault Kadjar?
Renault doesn't have the best reliability record, while the Nissan Qashqai (on which the Kadjar is based) isn't the most well-built SUV on the market.
Common issues include electrical gremlins (particularly with the infotainment system), while the EDC automatic transmission isn't the most robust. It should be more dependable than the Qashqai's CVT gearbox, though.
Insurance groups and costs
As a family-friendly SUV, the Renault Kadjar manages to be relatively affordable when it comes to insurance. It may be a little large for novice drivers, but most should have no problem finding reasonable premiums.
The 1.5 dCi diesel-powered Kadjar in Expression+, Dynamique Nav or Dynamique Nav S trim is rated in insurance group 14 (out of 50). At the other end of the scale, the GT Line Kadjar with the 1.5 dCi 150 diesel engine and four-wheel drive is group 25.
VED car tax: What is the annual road tax on a Renault Kadjar?
The Renault Kadjar crosses different VED (road tax) regimes, meaning the same model can incur different fees based on when it was first registered.
This is demonstrated by the 1.5-litre dCi diesel Kadjar in Expression+ or Dynamique Nav trim. For models registered before April 2017, it costs nothing to tax each year. However, the same model hitting the road after April 2017 will be charged £150 per annum.
For those considering a Kadjar as a company car, benefit-in-kind rates start at 29 percent for the Play petrol TCe 140. They top out with the diesel dCi GT Line with four-wheel drive at 35 percent.
How much should you be paying for a used Renault Kadjar?
"Given the popularity of SUVs, finding a Renault Kadjar in the used marketplace should not be a big challenge. Renault franchises and used car dealerships should have a good supply of nearly-new examples, meaning you should take your time and be fussy about spec."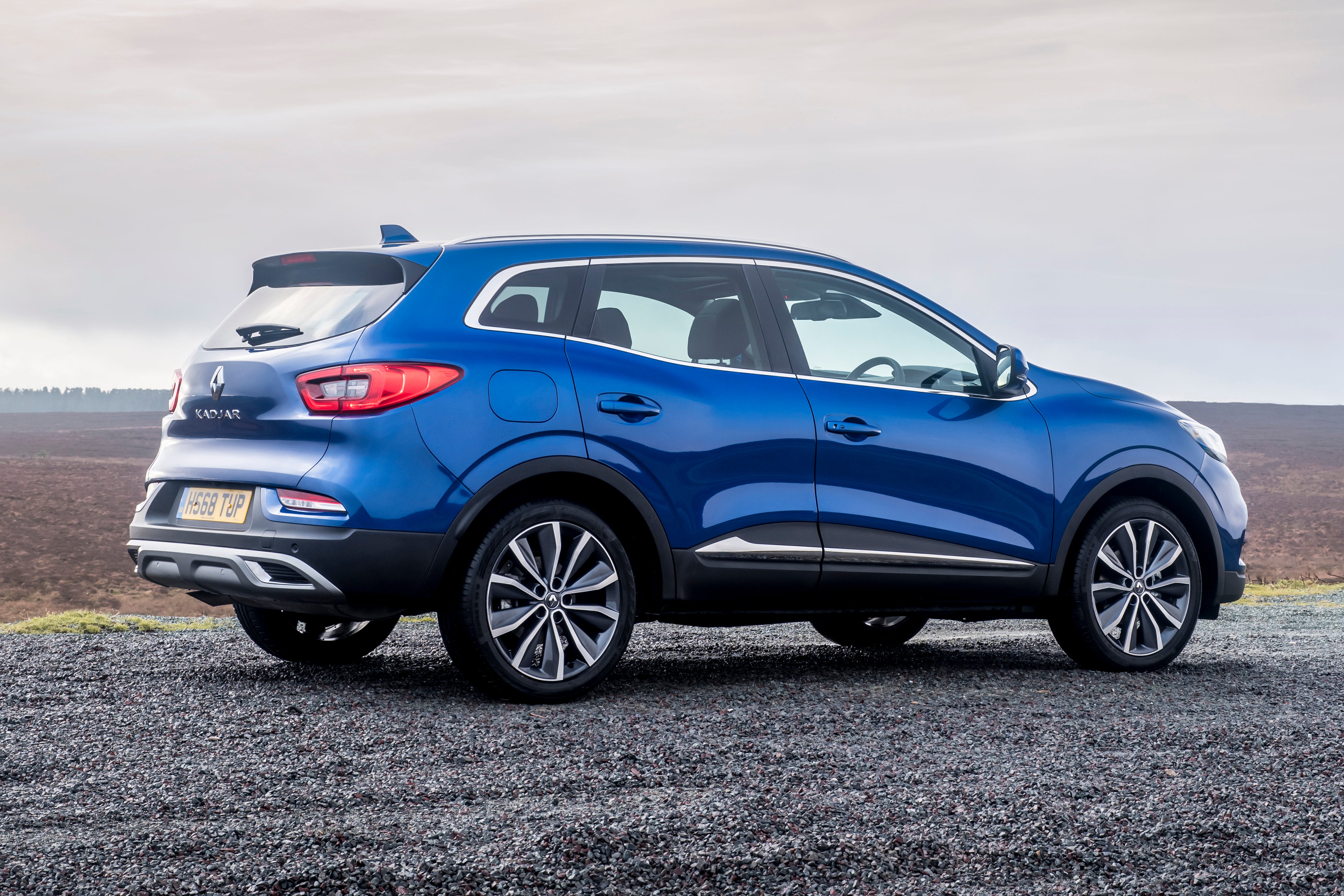 A nearly-new Renault Kadjar S Edition with the popular 1.3 TCe 140 petrol engine could be yours for just £15,000. Versions with the EDC dual-clutch automatic gearbox are slightly more expensive, with prices starting from £18,000.
While diesel-engined Kadjars have decreased in overall popularity, they will still appeal to those doing higher mileages. Opting for a Kadjar S Edition with the 1.5 dCI engine will cost from as little as £16,000 for a manual version.
If you want to go all-out, the range-topping Renault Kadjar GT Line dips below the £17,000 mark with a 1.3-litre petrol engine and manual gearbox.
Trim levels and standard equipment
The trim levels for the Kadjar are relatively easy to understand, but were rebranded as part of the 2018 update.
Pre-facelift models begin with the basic Expression+ trim. These cars come with 16-inch steel wheels, manual air conditioning, tinted windows and a DAB radio with Bluetooth connectivity.
The Renault Kadjar Dynamique Nav adds 17-inch alloy wheels, dual-zone climate control, keyless entry and a 7.0-inch touchscreen with satellite navigation. Dynamique S Nav goes further, with fancy 19-inch wheels, front and rear parking sensors, and part-synthetic leather seats.
The Kadjar Signature Nav includes LED headlights and a panoramic sunroof, while Signature S Nav adds full-leather seats and a rear parking camera.
After the 2018 update, the Renault Kadjar Play became the base model with 17-inch alloy wheels, dual-zone climate control and touchscreen satellite navigation.
The Kadjar Iconic takes this and adds bigger 19-inch alloy wheels, a reversing camera and part-synthetic leather seats. S Edition upgrades things with LED headlights and a fixed panoramic sunroof.
Topping the facelifted range is the Renault Kadjar GT Line, with heated full-leather seats, a Bose sound system and a front grille with added chrome trim. All models above Expression+ offer a decent range of kit, with Dynamique S Nav a sweet spot for pre-2018 Kadjars.
Ask the heycar experts:
common questions
Is the Renault Kadjar any good?
The Renault Kadjar is a stylish, good to drive and keenly priced SUV. In some ways, it's better than the Nissan Qashqai on which it's based. It's not fun to drive, though, while newer alternatives have better interiors.

Answered by
Georgia Petrie
What does Kadjar mean?
Like many car names, Kadjar is a made-up word. Kad is inspired by 'quad' - the go-anywhere four-wheeled vehicles, while Jar supposedly recalls the French word 'agile'. Yeah, we're not convinced either.

Answered by
heycar editorial team
Is the Renault Kadjar a seven-seater?
The Kadjar is a five-seater - there is no seven-seat option. If you need seven seats, you'd be better looking at bigger SUVs like the Peugeot 5008 and Skoda Kodiaq.

Is the Renault Kadjar a 4x4?
The Renault Kadjar is an SUV that's available with two- or four-wheel drive.

Renault Kadjar cars for sale on heycar
3,076
Number of cars available
£9.8K - £30K
Price bracket of these cars
Colours available on heycar
Keep me updated by email with the latest advice, news and offers from heycar
By submitting, you agree to our
privacy policy
.