Renault Megane Review 2021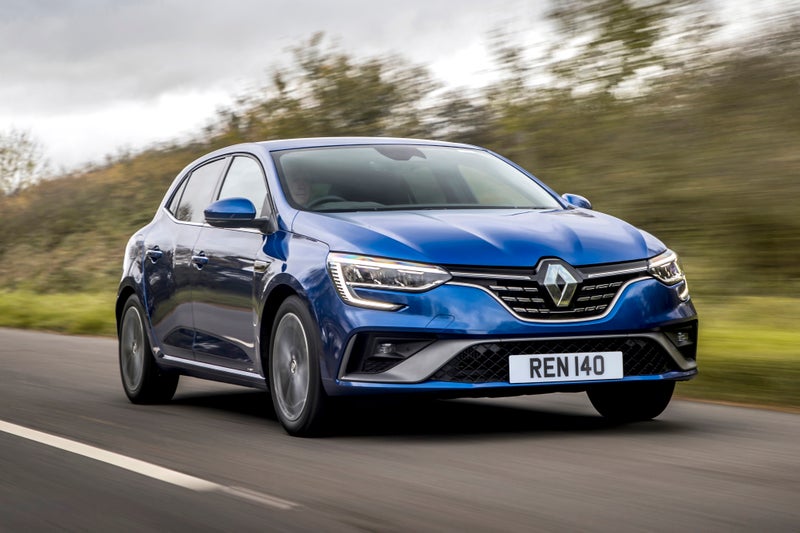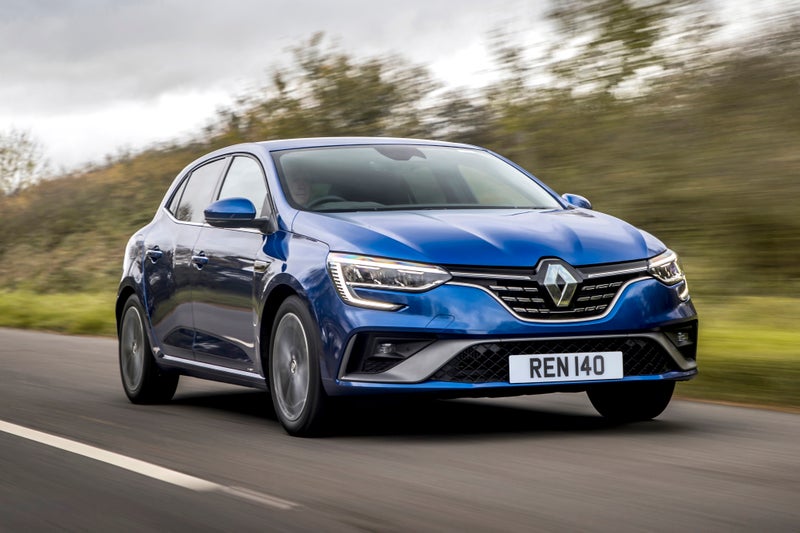 1/10
heycar rating
" Comfortable, quiet, but cramped hatch"
Launched: 2016

Family hatch

Petrol, Diesel, Plug-in Hybrid
Quick overview
Pros
Strong refinement and comfort
Stylish exterior design
Low running costs on diesel models
Cons
A bit sloppy in corners
Dual-clutch gearbox hesitant
Fiddly infotainment
Overall verdict
On the inside
Driving
Cost to run
Prices and Specs
Common questions
Overall verdict on the Renault Megane
"The Renault Megane is a handsome family hatch with a good level of standard equipment, temptingly low prices and a plush, comfortable ride. It's relaxing to drive, without displaying any real wow-factor. Still, its narrow engine line-up, so-so cabin quality, mediocre practicality and sloppy body control make it an also-ran in this class."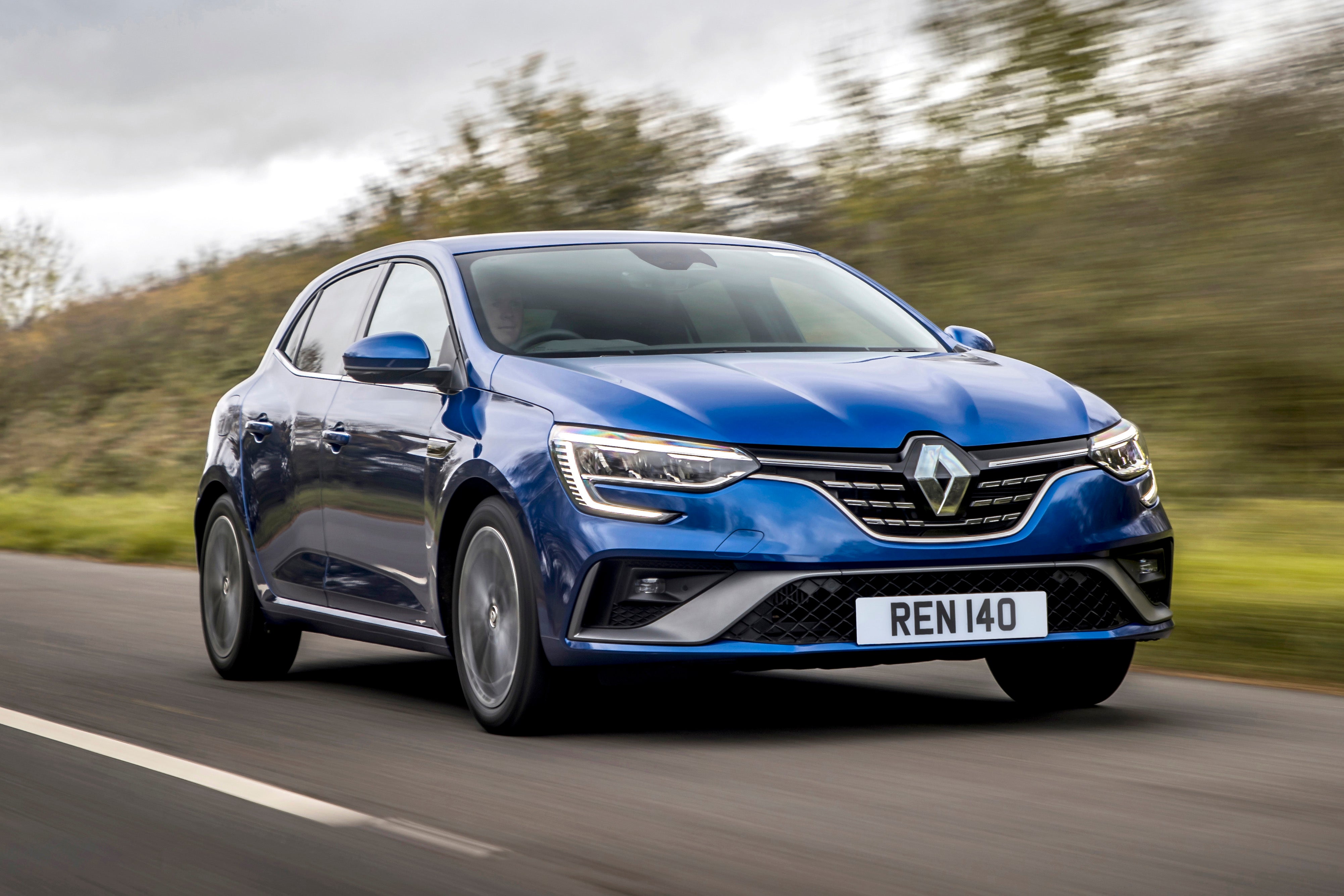 In fact, it feels stuck in the past, as a car that was built to take on a two-generation old Volkswagen Golf – by offering a solid feel and a very comfortable ride. Sadly, as you'll read in this Renault Megane review, things have moved on significantly.
It was originally launched back in 2016, given an update in 2018 and revised again in 2020. The latest version gets full LED headlight, C-shaped front indicators and scrolling rear indicators, while it also brought with it the R.S. Line trim, which essentially makes it look like a Renaultsport model, but without the performance or high runnings costs – think Ford Focus ST-Line or Volkswagen Golf R-Line.
As before comes in three different body styles, but we only get the five-door hatchback and the roomier Megane Sport Tourer estate – which can now be had as a plug-in hybrid – in the UK. When it first arrived on our shores, the Megane had three diesel and two petrol engines for buyers to pick from, but now the line-up has slimmed significantly, with just one of each fuel type available.
The TCe turbo petrol has a 1.3-litre capacity and 140PS output, while the Blue dCi diesel is a 1.5-litre with 115PS, and both come with a six-speed manual as standard. Buyers can add a dual-clutch 'EDC' automatic transmission to either engine, with a small hit to fuel economy, but a noticeable increase in their acceleration.
Unless you plan on covering epic mileages, the TCe would be our pick. It's a smooth and (at low speeds, anyway) gutsy engine with just as much poke as the diesel car, but a broader power band, so it feels more relaxing to drive in most settings. It'll manage mid-forties mpg at a steady cruise too, which is not bad considering the performance it provides.
However, the diesel is also impressively refined on the motorway, and will manage over 60mpg, putting it up there with the most frugal cars in this class. Both engines suit the Renault's relaxed character. It has soft suspension that's great at soaking up bumpy roads, but does start to wallow about if you push it too hard – the Ford Focus and SEAT Leon almost feel like sports cars by comparison.
The quick steering doesn't help – it feels like you turn the wheel and wait for the rest of the body to catch up , while the steering resembles stirring a bowl of thick soup, rather than actually telling you what the front wheels are up to. It's also surprisingly easy to spin up the tyres powering out of corners. In fairness, the brakes are easy to use smoothly and the gear shift is reasonably tight and precise, but it's not enough to make the Megane any better than average to drive.
The original range kicked off with Expression, then Dynamique and Signature trims, plus GT and GT Line, the 2018 facelift scaled that back to Play, Iconic and GT Line models, and the 2020 model year trimmed the line-up down further to just two models – Iconic and the aforementioned R.S. Line.
In fairness to the Megane, it feels expensive inside with plenty of soft touch plastics, metal ventilation knobs and a glassy finish to the centre console. The trouble is, the media system feels like the missing link between cars from a decade ago, and the slick, all-digital driving environments you'll find in the latest Volkswagen Golf or Skoda Octavia.
Both of the cars we've just mentioned can play the role of family transporter better than the Megane, too, as the French car has some questionable ergonomics up front, a back seat that's very cramped and a boot that's not particularly easy to load.
That's the trouble with the Megane – it feels like a car that has to take on the new Volkswagen Golf armed with 10-year-old Golf technology.
Is the Renault Megane right for you?
There is no denying that the curvaceous design of the Megane will come as a welcome tonic to buyers sick of the same incredibly conservative designs pumped out by Hyundai, Volkswagen, and Ford year after year.
However anyone enamoured with the exterior might feel a tad disappointed by posh feeling interior's standard infotainment system that's feeling its age, especially compared with the sleek, almost button-free cabins of the new Seat Leon, Skoda Octavia, and Volkswagen Golf. It's not a car for tech-savvy business users.
What the Megane does do well is offer a quiet life behind the wheel. It's calm and relaxing in most driving scenarios, with quiet engines, a frugal diesel option, and a surprisingly low price considering the kit on offer. It'll suit buyers on a budget who want a family car with a bit of panache. Be warned though, that it's not the most spacious or practical choice.
What's the best Renault Megane model/engine to choose?
If you're buying a used Megane then look out for the discontinued engines, especially the powerful 1.6-litre TCe 205 turbo petrol. This engine was only offered on the sporty GT Nav trim, but it's a quick, affordable car.
Similarly, the older 1.6 dCi 130 is less parsimonious than its 115PS relation, but a better all-rounder thanks to its greater pulling power and still respectable running costs, with a real world 60mpg figure entirely possible.
From the current range, the TCe petrol is our pick, because the Megane weighs more than other cars in this class, and it needs the additional performance this engine brings over the diesel, and it's cheaper to buy too.
Neither gearbox is particularly impressive, so unless you really need an automatic, we'd avoid the hesitant dual-clutch transmission in favour of the six-speed manual, purely on the basis of saving a few extra quid.
All Meganes come well equipped, so it's hard to go wrong with any of the trims, but we'd nudge you towards the mid-range Iconic (earlier cars ) for its additional safety features, built-in sat-nav and larger wheels.
What other cars are similar to the Renault Megane?
Family buyers are spoilt for choice, whether looking for a five-door hatchback like the Megane, or a raised-up SUV sat on the same platform. For those after the former, it all depends on what your priorities are going in.
Company car buyers keen to cut their bills should check out the Toyota Corolla. It's as quiet and cosseting as the Megane, but its hybrid system means it will cost a lot less in BIK - under £100 in the cheapest Icon trim. Anyone who needs a huge interior and massive boot should look no further than a Skoda Octavia, while the closely-related SEAT Leon offers a sportier drive, and the new Volkswagen Golf is impressively hi-tech inside.

Those on a tighter budget should check out entry-level versions of the Kia Ceed and Vauxhall Astra. Keener drivers will get more satisfaction behind the wheel of the Ford Focus and Mazda 3 than in the heavy Renault.
As we mentioned above, there's an army of high-riding SUVs that do a similar job, but offer an upright driving position, and greater versatility. These include Renault's own Kadjar, the Nissan Qashqai and Skoda Karoq.
Comfort and design: Renault Megane interior
"It's a shame that the styling verve of the Megane's exterior all seems to evaporate once you step inside. The layout is straightforward, so there's nothing to befuddle you, but it won't excite your senses very much either. You get the sense it was designed to mirror an old Volkswagen Golf for quality"
That's because there are plenty of soft touch plastics on the insides of the front doors and the dashboard, plus the front doors have padded armrests and the ventilation controls – which sit on a glassy panel – have metal bezels. The looks completed with a smattering of metal look plastic trims and chrome highlights. All models also come with selectable interior ambient lighting with a choice of eight colours that light up the doors and a strip on the passenger side of the dashboard.
The front seats are mounted unusually low, which gives you quite a sporty feeling driving position, although long-legged drivers might find the infotainment screen hard to reach when the have the seat far back enough to stretch their legs.
All Meganes get seat height adjustment and the wheel moves far enough up and down, and towards you so that most drivers will be able to get comfortable, but it's the shame the front seats lack lower back support and lumbar adjustment that could solve the problem.
Quality and finish
Previous versions of the Megane have fallen apart in this area (both literally and figuratively) but the initial impression from sitting in this fourth generation car is that Renault finally started to turn a corner on quality. Colourful LED mood lighting and an electronic handbrake help modernise the design.
There is certainly a lot of dark trim in here, but material quality on major touch points is good, and the upper sections of the the dash are squidgy and pleasant to handle. The current version ups interior quality significanlty.
Iconic models come with a mixture of cloth and artificial leather seat upholstery, while R.S. Line cars get one-piece sports with Alcantara like upholstery.
Infotainment: Touchscreen, USB, nav and stereo in the Renault
If you're looking at an earlier version of the Megane, you may be shocked by the presence of a dot-matrix radio and naff buttons that look like they're off a nineties mobile. That's the setup in the old Expression+ trim.
Luckily, even basic models now get a 7.0-inch touchscreen, with built-in sat-nav, Bluetooth, DAB digital radio, USB and AUX connectivity, and compatibility with Apple CarPlay and Android Auto to use your phone's apps.
R.S. Line versions are better, with a larger 9.3-inch touchscreen, arranged in a portrait orientation that is unusual for this class, and bigger on-screen buttons that are easier to see and hit accurately while driving. This model has a TomTom sat-nav with live traffic alerts that is feeling its age. This upgraded setup looked fresh when the Megane was launched, but is now well below par for the class.
Meanwhile, sound quality from the standard system is disappointingly weak, and you can only upgrade to the richer-sounding, bassy optional BOSE system on the top-spec models. It'll add £600 to the price of your car.
Space and practicality: Renault Megane boot space
The Volkswagen Golf tends to be the yardstick by which most family hatchbacks are measured for usability. In fact, Volkswagen even made an advert mocking this very phenomenon. Sadly for Renault, the Megane is not 'just like a Golf' when it comes to cabin space, with a cramped rear bench that puts it at a serious disadvantage.
Taller passengers travelling in the back and sat behind an equally rangy driver will find their knees pushed up against the front seat backs, and the low-set chairs mean you can't slide your feet under to stretch out a little. It's not as cramped as a Peugeot 308 in the back, but Ford's Focus and the Skoda Octavia are much bigger.
Headroom is stingy too, and if you're trying to fit three across the back, whoever is unlucky enough to get the short straw for the middle spot is in for a seriously uncomfortable ride. Although the doors swing wide open, the flimsy plastic covers for the ISOFIX mounts are a real faff to use, making fitting a child seat tiresome. Group 1/2/3 and iSize seats will all work, but the latter will be a squeeze.
Rough going for anyone cooped up in the back on a long journey then, but what about those sat in the front? Things definitely improve, with a greater provision of space, and some useful storage cubbies. The door bins are deep enough to hold a two litre bottle, and there's a set of covered cupholders, but the glovebox is titchy.
At 384 litres, boot space is average for the class, and even with the rear seats folded down (leaving a large ridge in the loading bay) this only expands to 1,180 litres, some 400 litres down on the Skoda Octavia hatch. The tall load lip makes hoisting heavy luggage into place a pain, too.
It lacks the functionality of the best family cars too, with no false floor to store the parcel shelf under and the bog standard 60:40 two-way split for the folding seat backs.
In a class full of practical cars that feature clever touches to make life easier, the Renault feels pretty poor.
If you're planning to fit the Renault Megane in your garage, you'll want to take note of its exterior dimensions. It measures 4359mm in length, 1814mm in width (with the door mirrors folded) and 1445mm in height.
Handling and ride quality: What is the Renault Megane like to drive?
"Few bumps you'll encounter on the road will unsettle the Megane. It features a softer setup than its sportier competitors, so it simply wafts over imperfections, shrugging off poor surfaces with true Gallic nonchalance."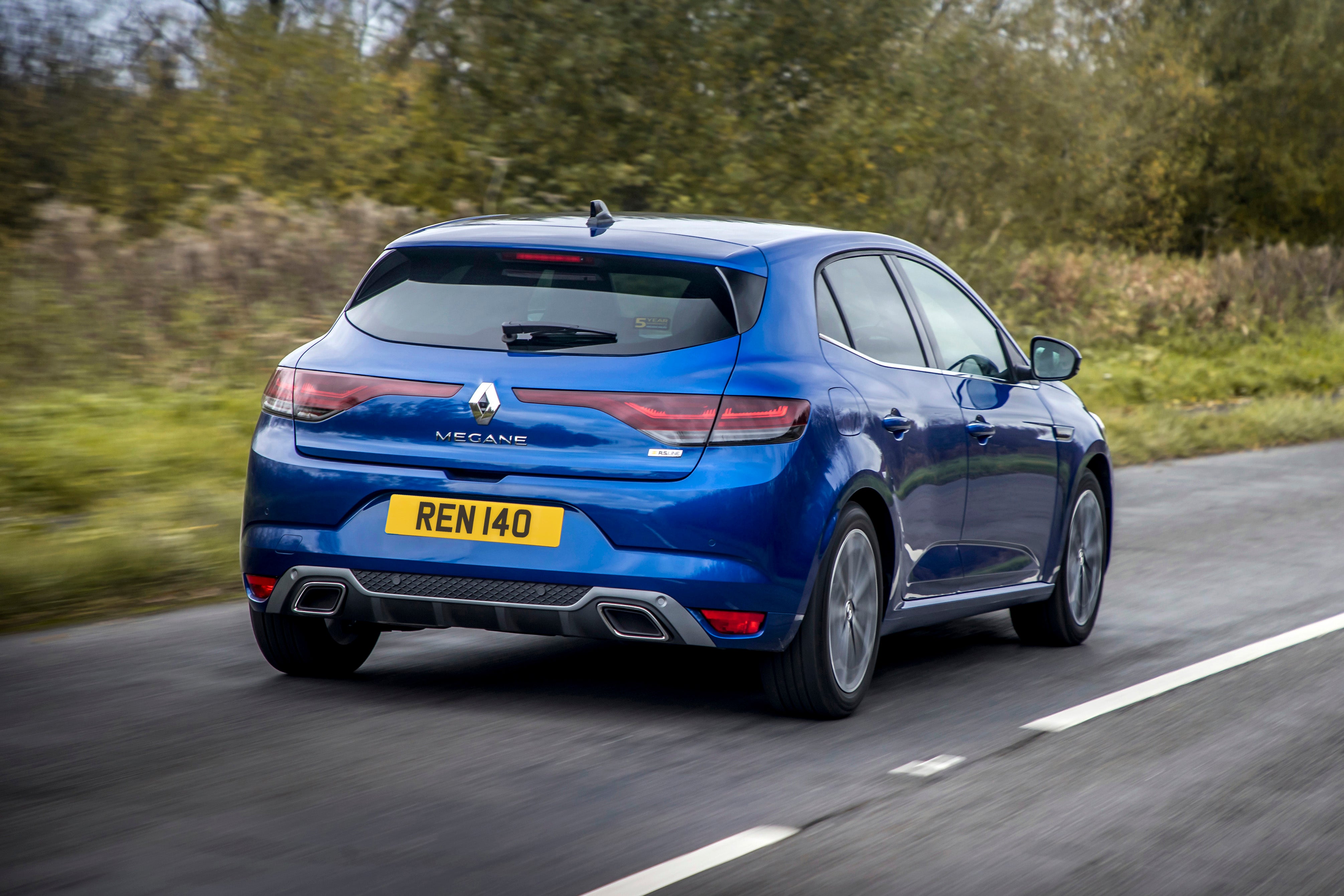 Only really knotty roads will expose your passengers to any discomfort, so although there are no adaptive dampers to help vary the stiffness of the springs, there isn't much call for them either. Its mature composure is a major asset, helping the Renault feel stable and secure, and making it a relaxing motorway cruiser too.
All models come with three driving modes that alter the amount of steering resistance, along with the throttle sensitivity, but it doesn't make the Megane any nicer to drive, no matter which setting you go for. It rolls and wallows in corners in a way that can feel quite unsettling and you'll feel the body squirm underneath you if you hit a bump mid corner.
Choosing to target ride comfort has affected other areas though. The Megane occasionally gets loose and floaty over big bumps and can feel quite lose if you try to gallop down a country road at speed.
What engines and gearboxes are available in the Renault Megane?
Most of the Renault Megane's rivals offer you a wider range of engines, with just a single petrol and diesel to pick from. Both come with a six-speed manual gearbox as standard, with the option of a seven-speed dual-clutch auto.
It's the 1.3-litre four-cylinder petrol turbo in the TCe 140 that will appeal to most buyers. As the name implies it produces a healthy 140PS and 240Nm of torque, giving it decent get-up-and-go, and strong in-gear pace, although its responds best to being worked in its mid-range.
With an extra cylinder to play with, it's feels more refined than three-cylinder versions of its rivals, with a less vocal character and fewer vibrations from the transmission, although you do feel a faint wobble when you're sitting at the lights. It completes the benchmark 0-62mph sprint well under the ten second mark, and feels even nippier when paired with the automatic gearbox. It's not quite as brisk as the 1.5-litre in the latest Volkswagen Golf or Seat Leon and you feel the Renault's power quickly fades once you're past its mid range.
The 1.5-litre diesel feels considerably slower, so the only reason to pay extra to get it over the TCe will be if you do a lot of motorway journeys, where its frugality will be a real boon.
When it was launched, the line-up was broader, starting off with a 130PS 1.2-litre petrol, and a diesel with the same capacity but a little bit less power than the current motor. In the mid-range you got a 1.6-litre diesel that came with either one turbocharger (and 130PS) or two (165PS) plus a fairly rapid 1.6 petrol with over 200PS.
Those last two were only available in the sportiest GT Nav trim though, and the petrol never quite lived up to its junior hot hatch billing, with slightly laboured performance, and nowhere near the pace of say, a Golf GTI. They also came fitted with an older six-speed auto, which isn't as well sorted as the (still sluggish) new one.
Renault is poised to introduce a plug-in hybrid version with a 1.6-litre petrol engine and electric motor capable of travelling up to 30 miles on battery power alone, however we're yet to test this engine.
Refinement and noise levels
One of the Renault's strongest qualities is the hushed and relaxed manner in which it flows down the road. It generates little wind flutter or road noise from the tyres, even at motorway speeds, so it's stress-free to drive. Although, it's at its best on the motorway when fitted with the £1000 Motorway Pack (only an option on R.S. Line models) which can accelerate and brake the car automatically in stop-go and flowing traffic.
Both of the current engines are muted performers too. There's a surprisingly lack of noise from the 1.5-litre diesel, which considering its size and output you might reasonably expect to be as smooth as a JCB digger.
Of course the 1.3-litre petrol is even quieter around town, but does requires a bit more work on the part of its driver (and more revs) to keep your momentum up on faster roads. Most of the older engines are quiet too, with the exception of the high-powered 1.6-litre petrol in the GT Nav, which sounds laboured when worked.
Unfortunately, some of the basic control weights let the side down. The six-speed manual gearbox has a precise shift action that's let down by a rather abrupt clutch pedal.
While the dual-clutch transmission gets around this issue, it can feel indecisive, even when you're using the paddles mounted on the steering wheel, pausing for a moment or two before selecting the next forward ratio.
Safety equipment: How safe is the Renault Megane?
Renault has a strong reputation for building safe cars. So as you would expect, the Megane got a maximum five-star rating from independent crash testers Euro NCAP when it was first certified, right at the end of 2015.
A closer examination of the individual categories paints a slightly different picture though. It outshines some rivals, including the Hyundai i30 and Vauxhall Astra, but newer cars like the Ford Focus and Volkswagen Golf provide a better level of adult, child and pedestrian protection. Like the Megane, the all feature auto-emergency braking as standard.
This system has a lot of different names, but helps drivers avoid low-speed accidents by scanning the road in front of the car for obstacles, waring the driver of potential collisions, and slamming on the brakes if required.
Every Megane also has cruise control with a speed limiter, front, rear, and curtain airbags on both sides, and a hill start assistant that can be a little too keen to hold onto the brakes.
Every model gets a foam tyre repair kit for taking care of punctures - a space saver spare wheel is a £200 option.
MPG and fuel costs: What does a Renault Megane cost to run?
"Obviously, the Blue dCi engine is the best option if you're keeping a careful eye on your monthly outgoings. It doesn't provide class-leading fuel economy, but an official WLTP figure of over 60mpg is not to be sniffed at."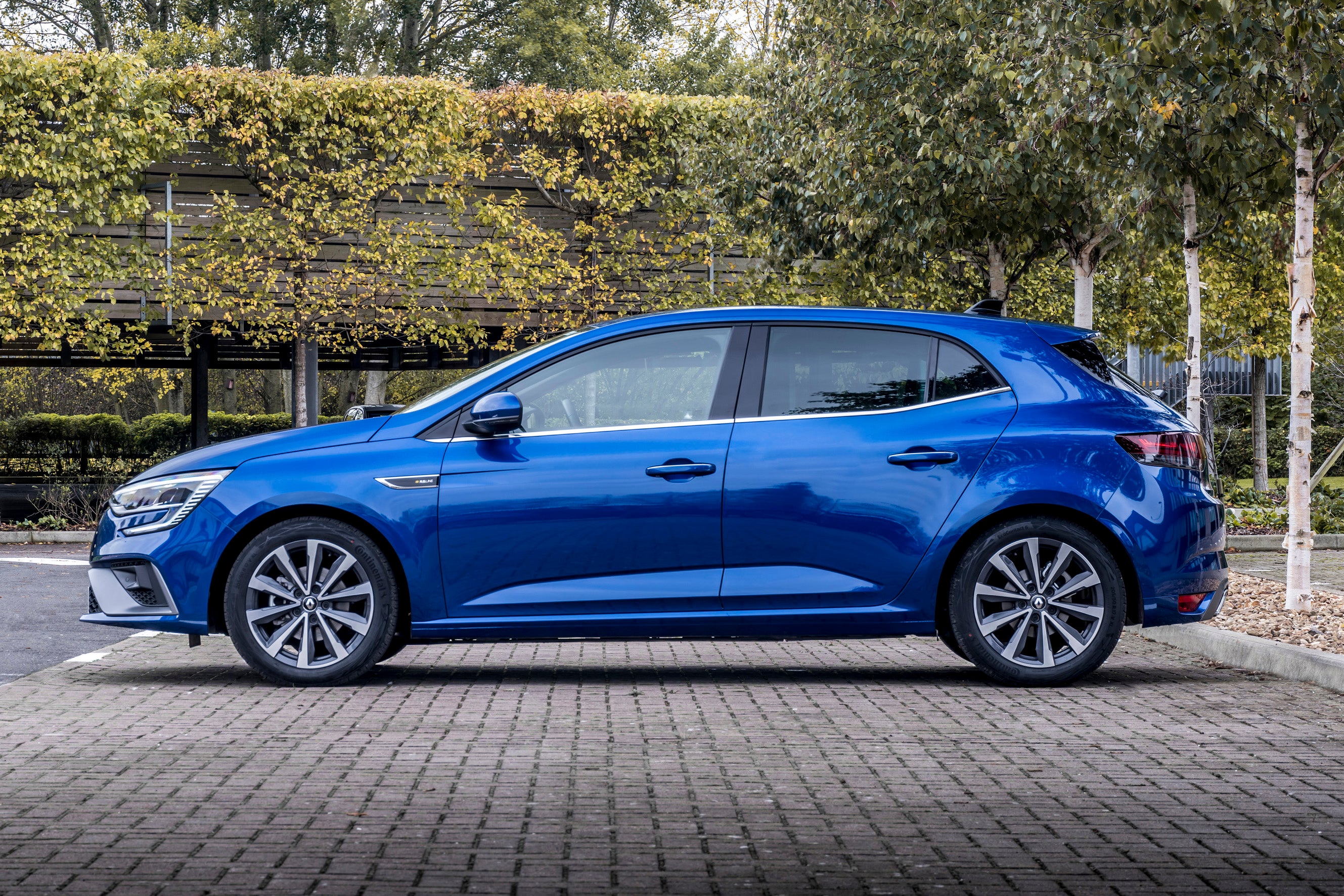 Equip it with the EDC automatic transmission and those figures drop to high fifties, and owners reporting to our Real MPG checker got a realistic 53.8mpg for the older 110PS version of this engine in real world driving.
Petrol buyers shouldn't fret though. The older 1.2 TCe could be quite thirsty, but the newer 1.3-litre should be able to return around 45mpg when driven gently and equipped with a manual gearbox - not bad with 140PS.
That means you should expect to go over 500 miles on a tank, compared with over 600 in the diesel version.
How reliable is a Renault Megane?
Renault doesn't enjoy the best reputation for reliability but it seems to have improved in recent years. It certainly isn't the worst performer in the HonestJohn.co.uk Satisfaction Index, and we've not heard of many issues with the Megane. It's unlikely to be any less reliable than a Volkswagen Golf, for example.
Insurance groups and costs
Where many of its rivals come with a broader spread of engines (including some 1.0-litre tiddlers) to help lower the price of entry and insurance premiums, the least powerful Megane has 115PS, and is Group 16.
That's eight groups higher than the most affordable version of the Kia Ceed and Hyundai i30. Things get even more expensive in the petrol model, which starts in Group 18, so it's not great for insuring new drivers.
The best way around this is to go for the older version with the 1.2-litre engine. This has a bit less power and drops four insurance bands, bringing it closer in line with its mainstream rivals from Ford, Vauxhall and Volkswagen.
VED car tax: What is the annual road tax on a Renault Megane?
Whether you go for a petrol or diesel version of the latest Megane you'll pay £215 to tax the car in year one and £150 every year thereafter.
Any Meganes registered before April 2017 will be taxed under the old system, according to their CO2 output. The good news is that low tailpipe emissions across the board mean most versions cost less than £30 in tax.
The only exception is the sportier 1.6-litre petrol GT Nav, which will put a £150 dent in your pocket each year. Incidentally, that's exactly what you'll pay for newer models, under the current flat-rate for petrols and diesels.
From the current range, neither fuel choice is especially financially attractive for company car users. Play trim qualifies for the 32% BIK bracket, which is why Renault is about to introduce a plug-in hybrid that'll cost less.
How much should you be paying for a used Renault Megane?
"Buying a used Megane is a fantastic way to pick up one of the punchier engines that are no longer offered. It costs just £7,000 or so to secure yourself an early 2016 model with a higher mileage, even in the GT Line trim."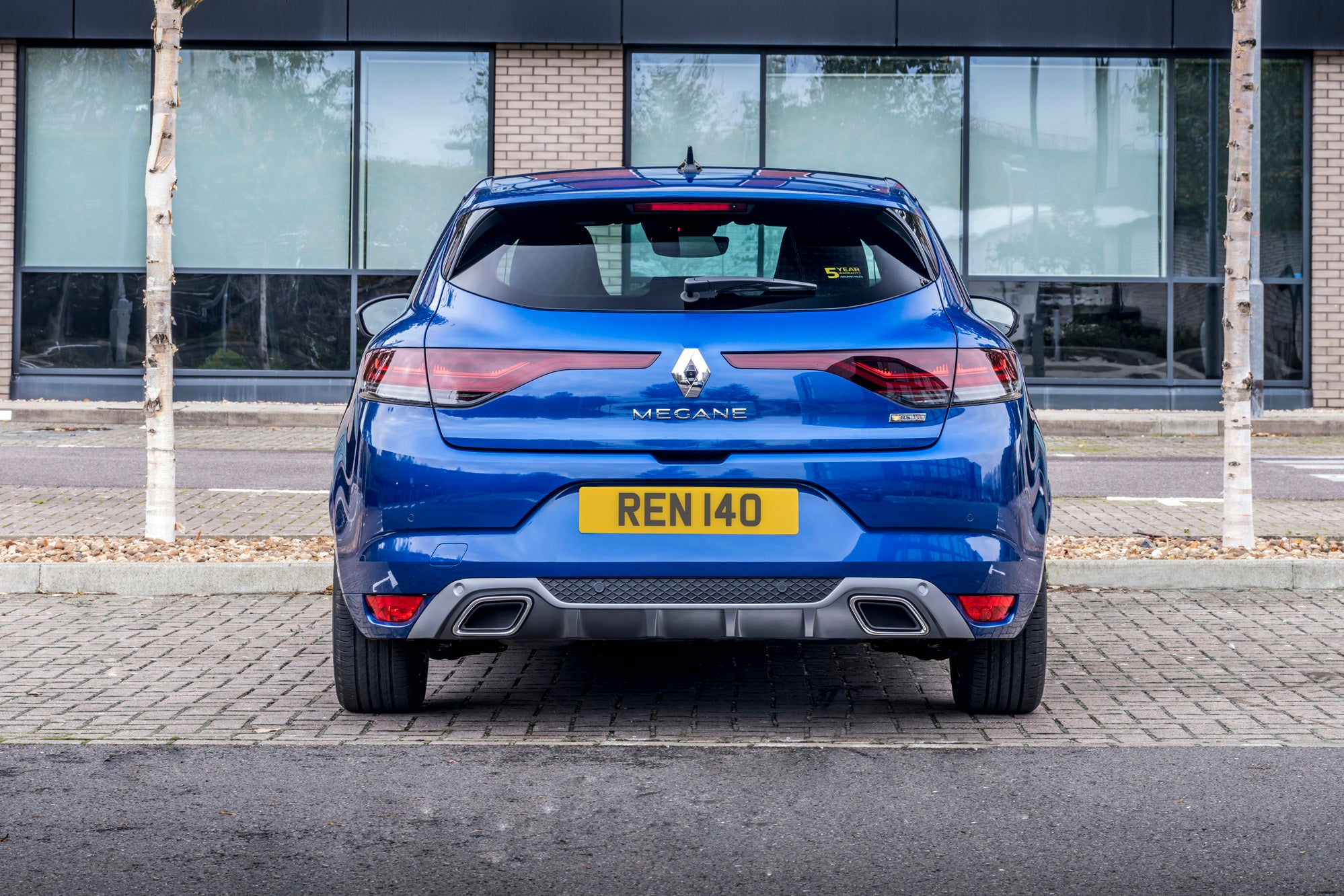 That'll be for a 1.5-litre dCi with six figures on the clock though, and upping the budget by just £500 to £1000, it's possible to get behind the wheel of a much fresher car, with the same engine but half the recorded miles.
However the price jumps up quite steeply if you want the 1.2 TCe petrol instead. Good ones will set you back at least £9,000, but again pushing the boat out by another grand nets you one with under 10,000 miles on it.
You'll part with over £10,000 for a petrol or diesel car fitted with the dual-clutch automatic gearbox, while the GT Nav 'warm hatch' 1.6-litre model with 205PS and the same transmission can be yours for just £12,000.
At the time of writing, the 2020 version has just entered showrooms but you can expect hefty discounts to follow in its wake.
Trim levels and standard equipment
At launch, trying to pick the right Megane for you was harder than choosing two of the best flavours for your ice-cream cone at the gelateria, far too many flavours, and not enough information on what each contains.
Luckily, there was no plain 'Vanilla', and even the cheapest Renault Megane Expression+ came with all-round electric windows, Bluetooth, a leather steering wheel, air-con, and even adjustable lumbar support in the front seats.
From the previous range, we recommend going for the clumsily titled Megane Dynamique S Nav, since this model is the most affordable to feature the upgraded 8.7-inch portrait style infotainment screen. It also comes with a decent haul of safety assistance systems, all-round parking sensors, a reversing camera, plus keyless go.
The standalone Renault Megane GT Nav used to be the top of the range, with a sportier setup and styling cues, and Renault's innovative 4Control four-wheel steering system, full LED headlights, stiffer suspension and stripy sport seats.
Renault has now seen the light, trimming the range to three models - Play, Iconic and GT Line. Once again, it offers a generous number of creature comforts across the range. All newer Meganes have at least a 7.0-inch touchscreen, compatibility for Apple CarPlay and Android Auto, climate control, keyless entry and alloy rims.
In 2020 the brand replaced the sportiest version with a new trim, called Renault Megane R.S. Line, cribbing the looks and the interior details of the high-performance hot hatch version, and a larger, much slicker 9.3-inch central display.
Bright LED headlights are now standard in the two model range, with entry level Iconic cars getting a seven-inch infotainment screen, sat-nav and interior ambient lighting, front and rear parking sensors.
Ask the heycar experts:
common questions
Are Renault Megane cars reliable?
This generation of Renault Megane feels solid and owners report fewer problems than with the old model. Watch out for clogged DPF filters on diesel models and automatic gearboxes are reported to be more fragile than manuals.

How good is a Renault Megane?
The Renault Megane is alright if you want a car that's comfortable and solid, but its back seat is unforgivably tight and it doesn't feel very reassuring in corners.

Where is Renault Megane manufactured?
The current version of the Renault Megane is built in Renault's car plant in Palencia, Spain.

Answered by
heycar editorial team
When is the cam belt change on a Renault Megane?
Renault recommends timing belt change for the Megane to be every 72,000 miles or five years whichever comes first.

Renault Megane cars for sale on heycar
3,044
Number of cars available
£7.7K - £27K
Price bracket of these cars
Colours available on heycar
Keep me updated by email with the latest advice, news and offers from heycar
By submitting, you agree to our
privacy policy
.