SEAT Alhambra Review 2022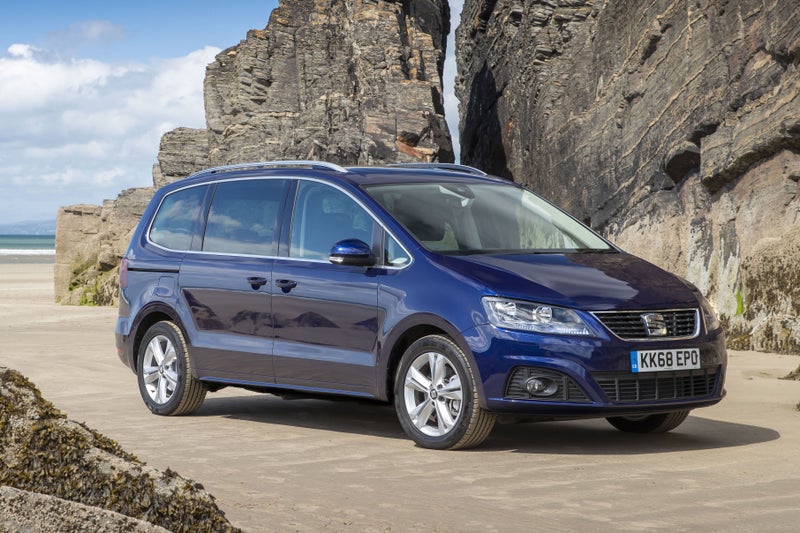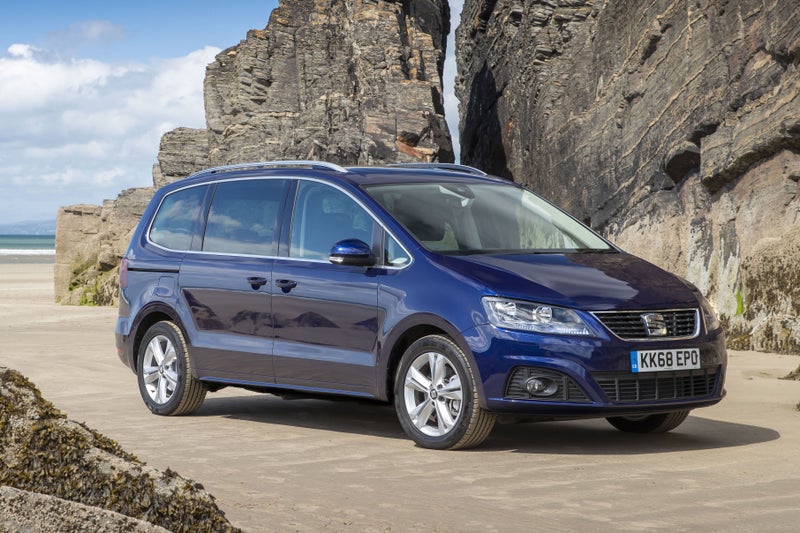 1/10
heycar rating
"Family-friendly transport for seven"
Launched: 2010

MPV

Petrol, Diesel
Quick overview
Pros
Can seat seven adults in comfort
Practical and spacious, even with all seven seats in use
Sliding doors, which are electric on some versions
Cons
Drab, van-like styling
Lacks the latest passive and active safety systems
Infotainment system is a generation behind modern units
Overall verdict
On the inside
Driving
Cost to run
Prices and Specs
Common questions
Overall verdict on the SEAT Alhambra
"Judged on the basis of seven-seat practicality, the SEAT Alhambra would score top marks. Few cars offer such a compelling blend of space, flexibility and car-like dynamics. However, it's showing its age, so has to be marked down in terms of safety and connectivity."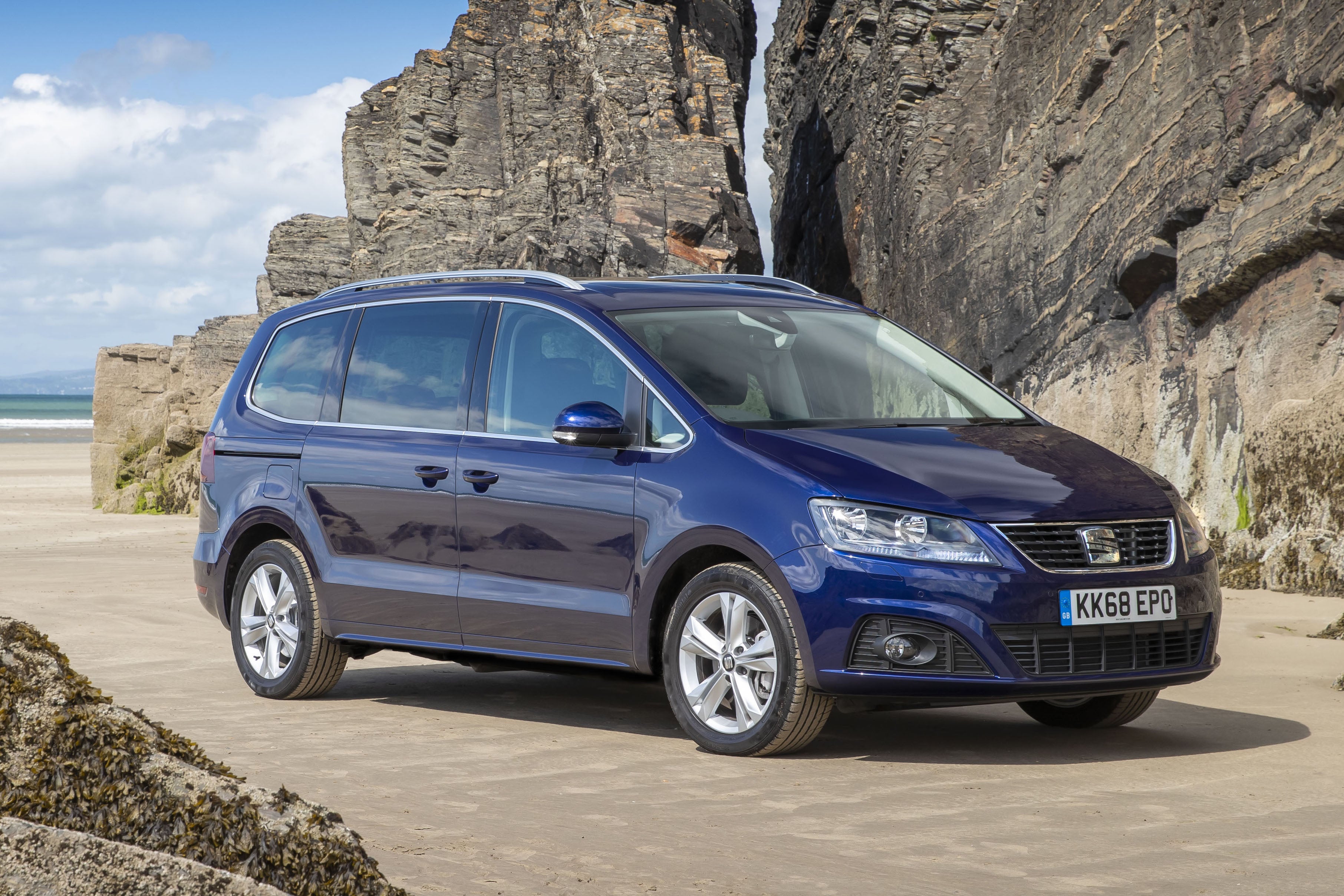 To enjoy a 10-year production run, a car must be doing something right. Launched in 2010, and only put out to pasture in 2020, the SEAT Alhambra is one of the best MPVs you can buy. We'll explain all in our SEAT Alhambra review.
The SEAT Alhambra shares its body and oily bits with the Volkswagen Sharan, but thanks to a cheaper price and marginally nicer aesthetics, the SEAT Alhambra always felt a cut above its Volkswagen stablemate. We use the word 'aesthetics' with caution, because a seven-seat MPV is unlikely to set your heart racing.
Besides, if you're in the market for a people carrier, you're probably done with all that romantic nonsense. You're looking forward to a life of nappies, toilet breaks, mornings at the soft play centre, and cries of "Are we there yet?".
That's why you'll find the SEAT Alhambra so appealing. Unlike the vast majority of the seven-seat SUVs available, it offers genuine seating for seven. That's seven in comfort, not five plus two in the back row squeezed in like sardines.
It gets better, because if you don't require the third row of seats, you can fold them away to reveal a massive 658 litres of luggage space. The SEAT Alhambra will even swallow 2,297 litres with all five seats folded down, but your children might not thank you for leaving them behind. The fact is, the Alhambra is properly practical.
You also get a pair of sliding rear doors – electrically operated on some models – which make it easier to load children in tight parking spaces. Open both doors and you can play frisbee or football through the car. Don't ask us how we know this.
Predictably for an MPV, there are plenty of storage boxes in the SEAT Alhambra, pockets and cubbies throughout the cabin. There are even hidden boxes below the floor, so you can play hide and seek with your partner's iPad. That's a game they will really enjoy.
It's also worth noting that the third row gets a pair of cupholders, a storage compartment, a pair of air vents and roof-mounted lights. Remember when the cool kids sat at the back of the school bus? Things are the same in the Alhambra.
So far, so practical. But there's more to the SEAT Alhambra than space for pushchairs, storage bins and the occasional game of frisbee with your dog – it's actually pretty good to drive. Because it's based on a Volkswagen car platform, rather than van underpinnings like some MPVs, it's not the yawn-fest you'd expect.
There's also a good range of engines, including a surprisingly rapid turbocharged petrol that is perfect for the school run. The torquey diesels that are great for long journeys, or when travelling seven-up.
Opt for the Xcellence trim level and the SEAT Alhambra could even pass for a premium car. You might want a seven-seat SUV, but trust on this: you need a seven-seat MPV. The SEAT Alhambra is one of the best of the breed.
Is the SEAT Alhambra right for you?
The seven-seat SEAT Tarraco might look better and be nicer to drive, but it can't match the SEAT Alhambra when it comes to space and practicality. Thanks to seven individual seats, it offers the kind of flexibility an SUV can only dream about.
You won't win any style points in the SEAT Alhambra, but while your friends are using their Tetris skills to cram children and luggage into their SUV, you'll be off your driveway faster than you can say: "The last one to the seaside is cotton-headed ninny muggins." Other insults are available.
It's not perfect. The SEAT Alhambra lacks the latest safety systems and smartphone connectivity, so modern tech is one reason why your head might be turned by the Tarraco. Aside from that, you'll love the frugal engines and the fuss-free approach to motoring.
Trust us: as your children get older, anything fuss-free is a bonus. The SEAT Alhambra will slot into family life like that golden retriever you promised your kids.
What's the best SEAT Alhambra model/engine to choose?
An updated SEAT Alhambra went on sale in October 2015. Highlights included more efficient diesel engines, an improved cabin, subtle tweaks to the styling, an updated infotainment system and enhanced safety equipment.
Even the basic SE trim level offers a generous level of kit, but it's worth upgrading to the SE L for the electric sliding doors and tailgate, rear-view camera and heated seats. The SE L is the range sweet-spot, but the Xcellence gets a brilliant electric panoramic sunroof.
The 1.4-litre TSI petrol engine is surprisingly good and could be ideal if you spend most of your time in the city. But it can't hold a candle to the 2.0-litre TDI, which offers a terrific blend of performance and economy.
We'd recommend the 177PS version over the 150PS unit, as the extra pace is welcome and you should achieve around 40mpg on a good run.
What other cars are similar to the SEAT Alhambra?
The seven-seat MPV is a dying breed, as buyers flock to the perceived prestige and glamour of the SUV. The Alhambra is mechanically identical to the Volkswagen Sharan, but you'll pay more for the Volkswagen badge.
Elsewhere, the Citroen Grand C4 Picasso is an excellent alternative, while the Ford Galaxy and S-MAX are worthy contenders. The BMW 2 Series Gran Tourer is worth a look if you require a posh badge, while the Citroen Berlingo is the MPV to buy if you're after something with space to rival an Amazon warehouse.
If you fancy a seven-seat SEAT, the SEAT Tarraco is a stylish alternative to the Alhambra, but the platform-sharing Skoda Kodiaq offers better value for money.
Comfort and design: SEAT Alhambra interior
"We've spent a lot of time focusing on the rear seats, but what's it like up front? After all, this is where you'll be when the children are squabbling, or the six-a-side football team you coach are reflecting on yet another inglorious defeat."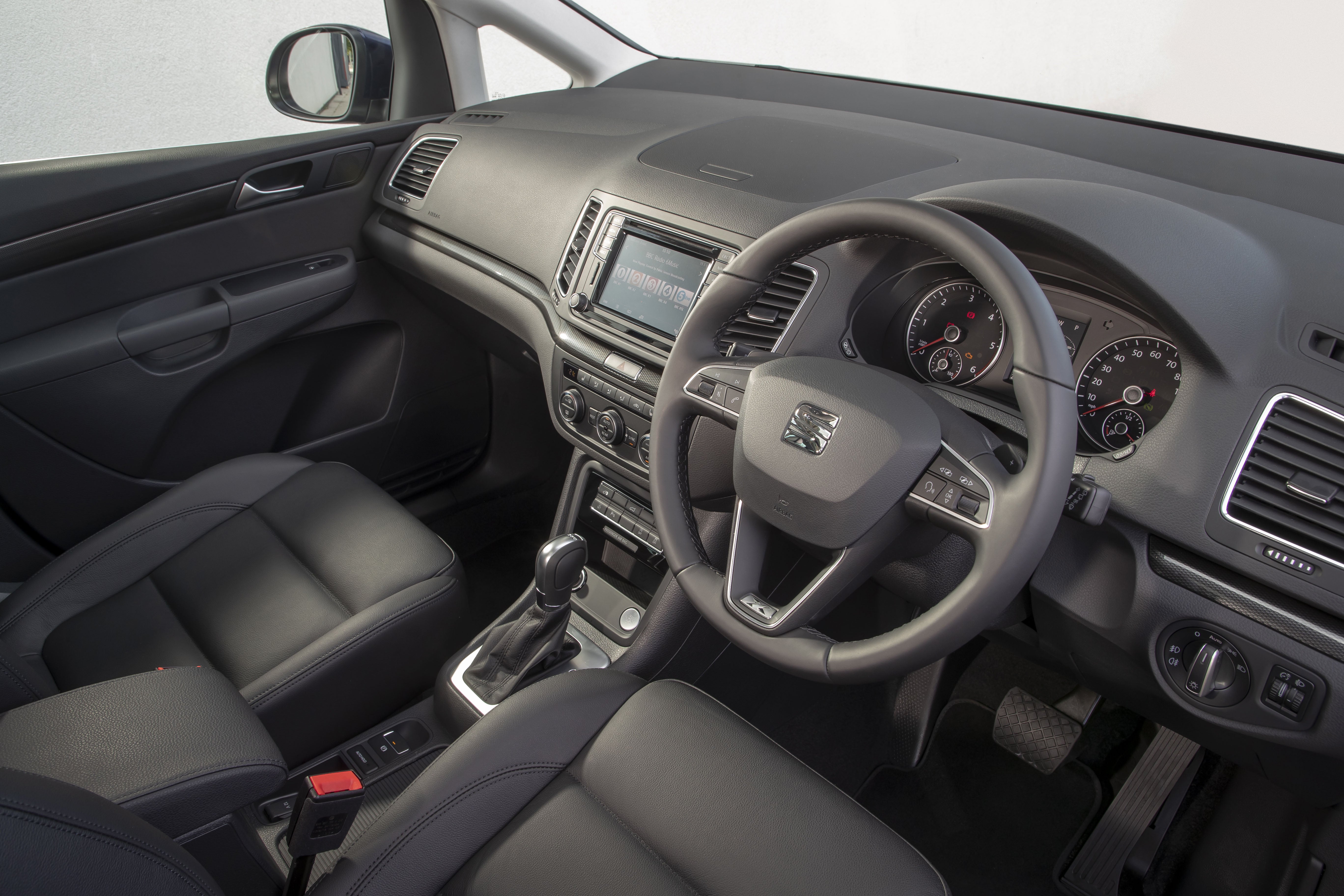 The SEAT Alhambra is certainly more comfortable and lavish than the dugout. You get the same commanding driving position you'll find in an off-roader, with all versions boasting front seats with manual height adjustment, plus electric backrest and lumbar adjustment. Getting comfortable won't be a problem.
We recommend upgrading to a model with sports-style leather seats, as these provide more support and comfort on longer journeys. All-round visibility is good, but the rear-view camera is useful when your mirror is obscured by six despondent footballers.
Being critical, the dashboard design is a little sombre, but in a world of digital dials and touchscreen confusion, there's something refreshingly simple about the Alhambra. The dials are clear and concise, while the air conditioning controls are logical and easy to use. The 6.5-inch display is a little on the small side, but the buttons either side make it easy to navigate your way through the settings.
In the back, there are folding tables with cupholders on the front seat backrests, along with integrated sunblinds in the rear side doors. Unfortunately for you, there's no partition between the front seats and the rear of the Alhambra. We'd suggest turning up the stereo if the squabbling gets a little too much for you.
Quality and finish
Considering it dates back to 2010, the quality and finish of the SEAT Alhambra is very good. This is hardly surprising considering it's essentially a German MPV with the lightest of Spanish makeovers.
The front doors shut with a reassuring 'thud', while the sliding doors and tailgate open and close with an action that would please Alan Partridge. It's clear that a great deal of thought has gone into what families want from a vehicle, right down to the ease with which the rear seats slide and fold away.
Although the base-spec SEAT Alhambra is well-equipped, it can feel a bit 'rental' or airport taxi without the leather upholstery of other trim levels. It's also worth noting that the top trim adds door and dashboard inserts, plus chrome door sills, which helps lift an otherwise sombre cabin.
As we said earlier, the quality extends to the second- and third-row seats. LED interior illumination, three-zone climate control and dark tinted windows simply add to the feeling of quality.
Overall, there's a sense that the SEAT Alhambra is more than up to the challenge of coping with family life. Years of Happy Meals, seaside adventures, dog walks in the forest and trips to after-school clubs are unlikely to leave their mark on its cabin. We can't promise you won't have a few grey hairs, mind.
Infotainment: Touchscreen, USB, nav and stereo in the SEAT Alhambra
The 6.5-inch colour touchscreen infotainment system is fine, but feels a bit small by today's standards. It's definitely worth opting for a facelifted Alhambra, as the pre-2016 media system is even more dated. The screen looks like that mobile phone you ditched a decade ago.
The new screen is mounted high on the dashboard so you won't have to take your eyes off the road for long. Key options can be accessed via the eight buttons positioned either side of the screen. These are: radio, media, phone, voice, eject, nav, traffic and menu.
We also appreciate the rotary dials at the bottom of the screen, one of which controls the audio volume – a useful touch. Many of the functions can be accessed via voice control, although the results can be a bit hit-and-miss. More positive is the navigation, which includes dynamic route guidance to avoid traffic jams.
The infotainment system can also be controlled by the steering wheel controls, while Apple CarPlay and Android Auto compatibility is available via the USB port. You even get a CD player, which is a surprisingly retro feature in 2020.
Space and practicality: SEAT Alhambra boot space
This is the area in which the SEAT Alhambra excels. With the seats folded away, it offers a van-rivalling level of space, which will make you incredibly popular when friends and family have some furniture that needs moving. If you're interested, the SEAT Alhambra has dimensions that measure 4854mm long and 1904mm wide.
In the front, there's enough headroom for you and your better half to arrive at a fancy dress party wearing an Abraham Lincoln hat or a Marge Simpson hairdo. There's also a storage box atop the dashboard, a storage bin between the front seats, a pair of cupholders and a space in the centre console for your phone.
You even get a refrigerated glovebox, but the really cool details can be found in the back.
In the second row, all three seats slide forwards and backwards independently, with ample space for three adults. There's an ISOFIX point child car seat mounting point on each seat, and because the seats move independently, it's possible to fit three child seats at the same time.
Getting in and out is easy thanks to the wide opening created by the sliding doors: useful when you're trying to load a child into a car seat. It's worth noting that the electric versions of the sliding doors can be operated in three ways: via the key fob, a button on the dashboard, or via a switch on the car's B-pillar.
Climbing into the third row can be a struggle, but once there you will find plenty of legroom and headroom, even with the second row of seats in their rearmost position.
With the rear seats in place, the boot of the SEAT Alhambra offers 267 litres of luggage space, which is two litres more than you'll find in a Suzuki Swift supermini. Not enough for a family holiday, but adequate for a day-trip to the seaside.
Fold away the rear seats of the SEAT Alhambra and you're left with 2,297 litres of luggage space, which is more than most seven-seat SUVs can muster. The fact that the floor is perfectly flat is a bonus – still want that weekend rental van?
Finally, you won't require a degree in origami to master the various seating configurations. The seats are light, easy to operate and a doddle to fold away. You won't even require the operating instructions.
Handling and ride quality: What is the SEAT Alhambra like to drive?
"Does the SEAT Alhambra look like it will corner on rails, change direction like a bluebottle and fly out of the traps like a greyhound chasing a fake rabbit? Of course it doesn't, but that's hardly the point of a seven-seat MPV."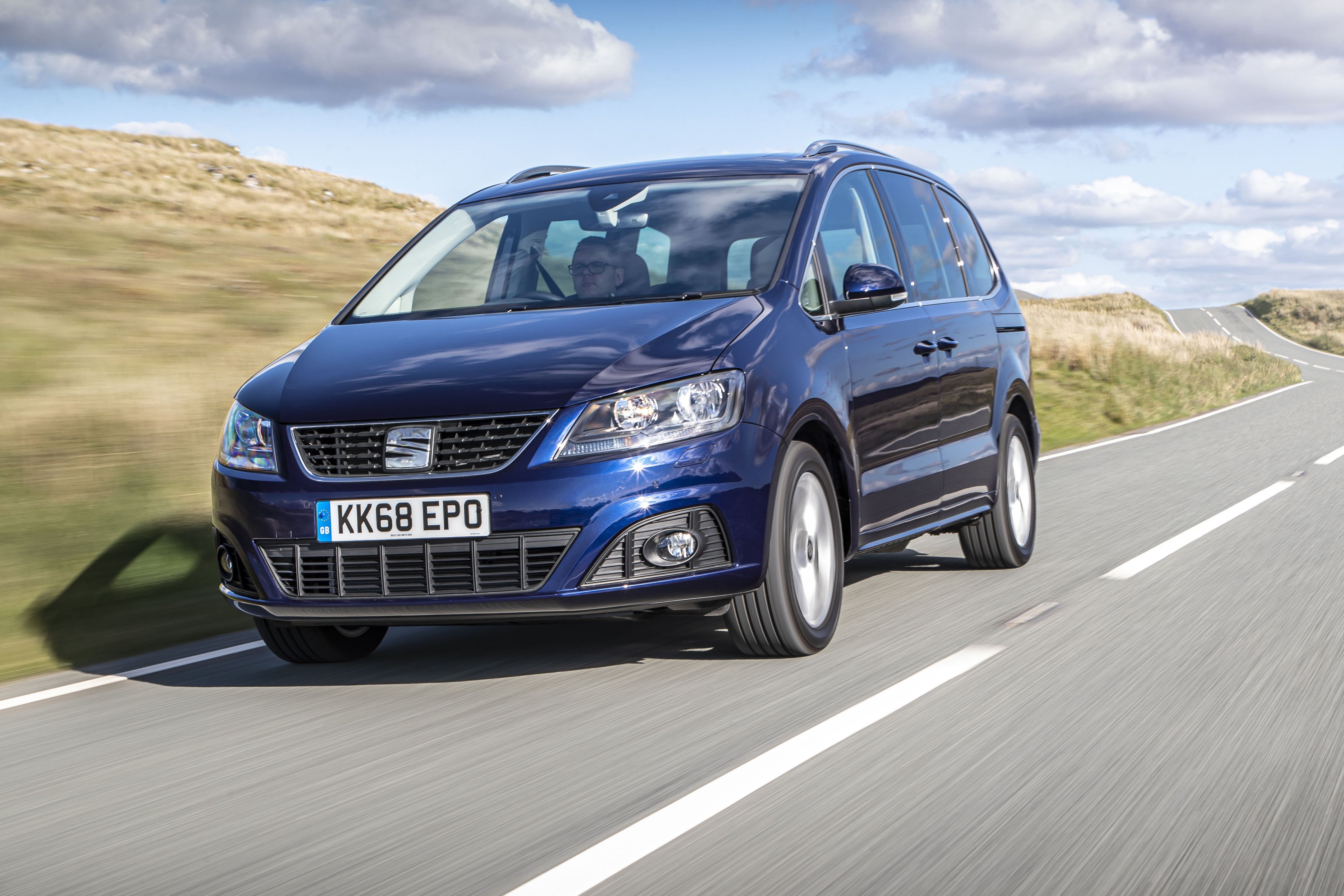 Even if it did offer the precision of a Lotus Elise and the performance of a Ford Focus RS, your passengers wouldn't thank you for driving like a Formula One driver at contract renewal time. The last time we looked, sick bags weren't an optional extra on the SEAT Alhambra.
Without wishing to damn the SEAT Alhambra with faint praise, however, it's nowhere near as bad as it looks. While some MPVs are based on commercial vehicles, the SEAT Alhambra has the underpinnings of a car, which helps to deliver a car-like driving experience.
Its steering is nicely weighted and there's a surprising lack of body-roll when cornering. You'll never forget that you're driving a relatively tall, slab-sided vehicle, but it feels like you're at the wheel of a car rather than a delivery van – and there's a lot to be said for this.
If anything, ride quality is a little on the firm side, especially if you opt for a model with 'sport' suspension. It certainly handles better, but the trade-off is a firmer ride. It's up to you to decide what's more important.
Overall, the SEAT Alhambra delivers a sense of confidence and reassurance, which are arguably two of the most important qualities in a family MPV.
What engines and gearboxes are available in the SEAT Alhambra?
The SEAT Alhambra was launched in 2010 with a choice of turbocharged and fuel-injected petrol and diesel engines. The 1.4-litre TSI was the sole petrol unit, while the 2.0-litre TDI diesel was available in three outputs.
A six-speed manual gearbox was fitted as standard, but a seven-speed DSG transmission was available on all but the lowliest output diesel engine. The latter is more suitable to the relaxed nature of an MPV, but can be a little hesitant at low speeds and when pulling away from junctions.
In October 2015, the diesel engines were modified to meet Euro 6 emissions standards. This means all cars from the 2016 model-year onwards require AdBlue additive, but this is offset by a 15 percent improvement in fuel efficiency.
The smallest 2.0-litre TDI engine was dropped towards the end of the Alhambra's production run, leaving the 150PS and the 177PS versions as the only diesel engines available. We'd recommend these over the 1.4-litre petrol, as the additional torque comes in handy when travelling with a full load.
Of the two diesels, we'd prefer the 177PS unit, but the cheaper and slightly more economical 150PS is up to most challenges. As mentioned earlier, the DSG auto transmission is recommended, even if it can be a frustrating experience.
Refinement and noise levels
Refinement is an area in which the petrol engine in the SEAT Alhambra claws back some points, as it's more refined than the diesel. It's quieter unless you're working it really hard, which is something you might have to do when going uphill when seven-up.
The 2.0-litre TDI is less refined, sounding too vocal on start-up and when pressing on. This is another reason to opt for the more powerful version, as it requires less work to make swift progress.
Another factor working in the SEAT Alhambra's favour is a low drag coefficient of 0.29, which means wind noise is kept to a minimum on the motorway. Notice the slippery shape of the SEAT Alhambra – that's aerodynamics at work. This is something your chunky SUV-owning friends might appreciate. Even tyre noise is kept to a minimum, which is another factor working in the SEAT Alhambra's favour.
Safety equipment: How safe is the SEAT Alhambra?
The SEAT Alhambra achieved a maximum five-star Euro NCAP safety rating when it was tested in 2010. Highlights included a 96 percent rating for adult occupant protection and 80 percent for child occupant protection.
Nine years later, the SEAT Alhambra was tested again. This time it was awarded a four-star rating, with adult and child occupant protection dropping to 89 and 78 percent respectively. The test is more stringent than it was in 2010, with more emphasis placed on driver assist technologies.
Early cars came with brake assist, trailer stabilisation, tyre pressure monitoring, lane assist, traffic sign recognition, automatic headlights and tiredness detection. Blind-spot recognition was added as part of the 2016 model-year facelift.
There are seven airbags: driver and front passenger, front side, curtain airbags (front, second and third row) and driver's knee. The passenger seat airbag can be deactivated. There are also three ISOFIX points across the middle row.
MPG and fuel costs: What does a SEAT Alhambra cost to run?
"All models are reasonably economical, but travelling with a full load will put a dent in your wallet. The 1.4-litre TSI could deliver 34.0mpg to 36.2mpg on a combined cycle, but low 30s is a more realistic figure."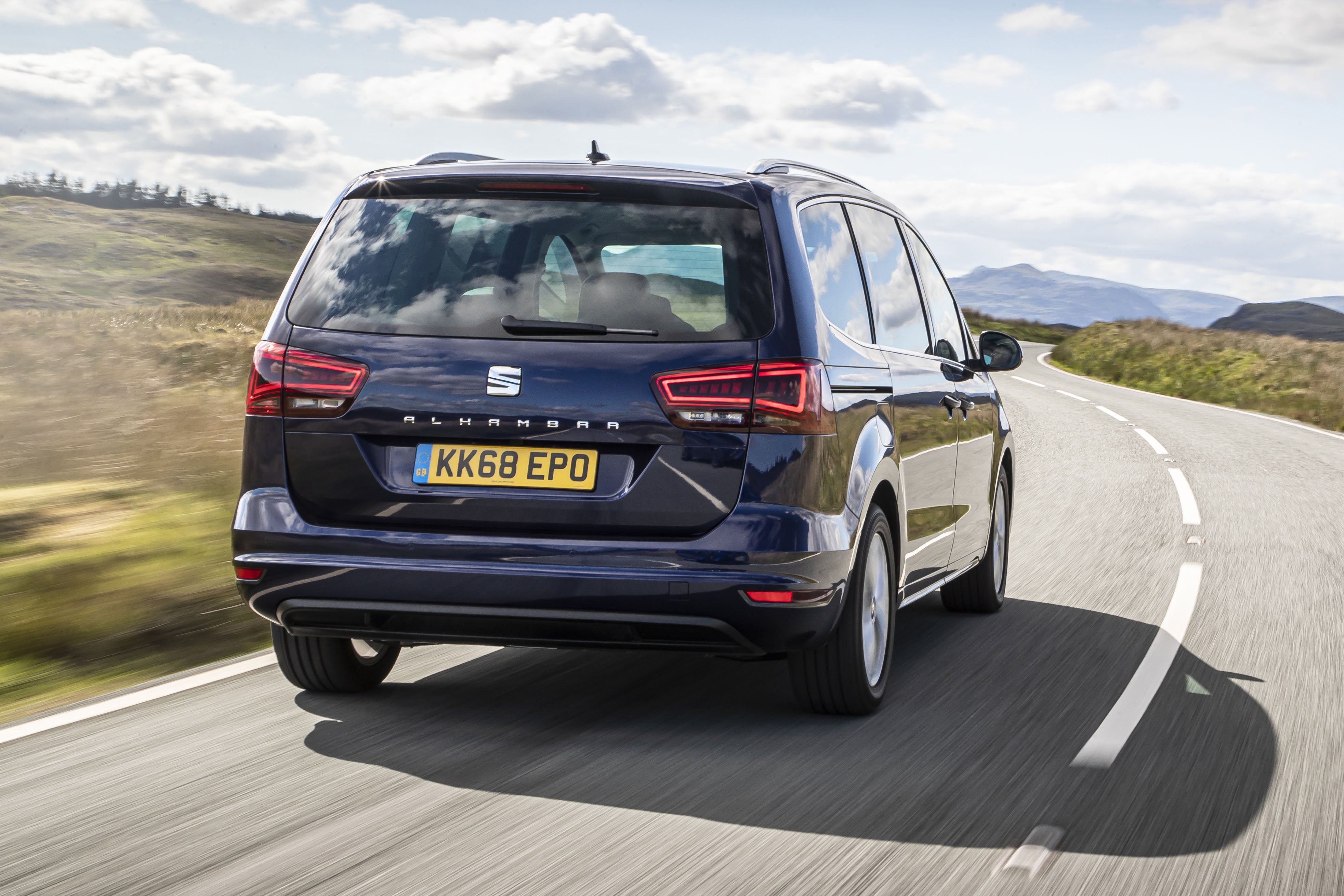 All models are reasonably economical, but travelling with a full load will put a dent in your wallet. The 1.4-litre TSI could deliver 34.0mpg to 36.2mpg on a combined cycle, but low 30s is a more realistic figure.
The 150PS 2.0 diesel unit is the most frugal, offering a claimed 41.5mpg to 44.1mpg on a combined cycle, dropping to 39.2mpg to 41.5mpg with the DSG transmission. The 177PS unit offers 38.7mpg to 40.4mpg with the DSG 'box (a manual isn't available).
BIK (benefit-in-kind) tax rates range from 35 percent for the 1.4 SE to 37 percent for the 2.0 Xcellence.
How reliable is the SEAT Alhambra?
The SEAT Alhambra scored an impressive 9.13 out of 10 for reliability in the recent HonestJohn.co.uk Satisfaction Index, while there have been no common issues reported.
SEAT as a manufacturer came in 20th in the HonestJohn.co.uk Satisfaction Index, with a satisfaction score of 85.9%.
Insurance groups and costs
Insurance groups for the SEAT Alhambra range from 20 to 22, depending on the engine size. The 1.4 TSI falls into group 20, regardless of trim level. The 150PS version of the 2.0 TDI slots into group 20 in SE trim, or 21 in SE L and Xcellence trim. The 177PS version is the only Alhambra to receive a 22 group rating.
For some context, the insurance groups for the SEAT Tarraco range from 19 to 30, so the Alhambra should be cheaper to insure.
VED car tax: What is the annual road tax on a SEAT Alhambra?
You'll pay £150 a year for a SEAT Alhambra registered from 1 April 2017 to 31 March 2020. For cars registered before 31 March 2017, the rate is £150 to £205, depending on the CO2 emissions. It's worth noting that pre-facelift cars before the engine modifications cost £165 to £285 a year, so it's definitely worth buying a later Alhambra.
How much should you be paying for a used SEAT Alhambra?
"It's no longer possible to order a new SEAT Alhambra, but you will find some unsold stock in the dealer network. Some of the cars might be unregistered, while others will be registered to the supplying dealer."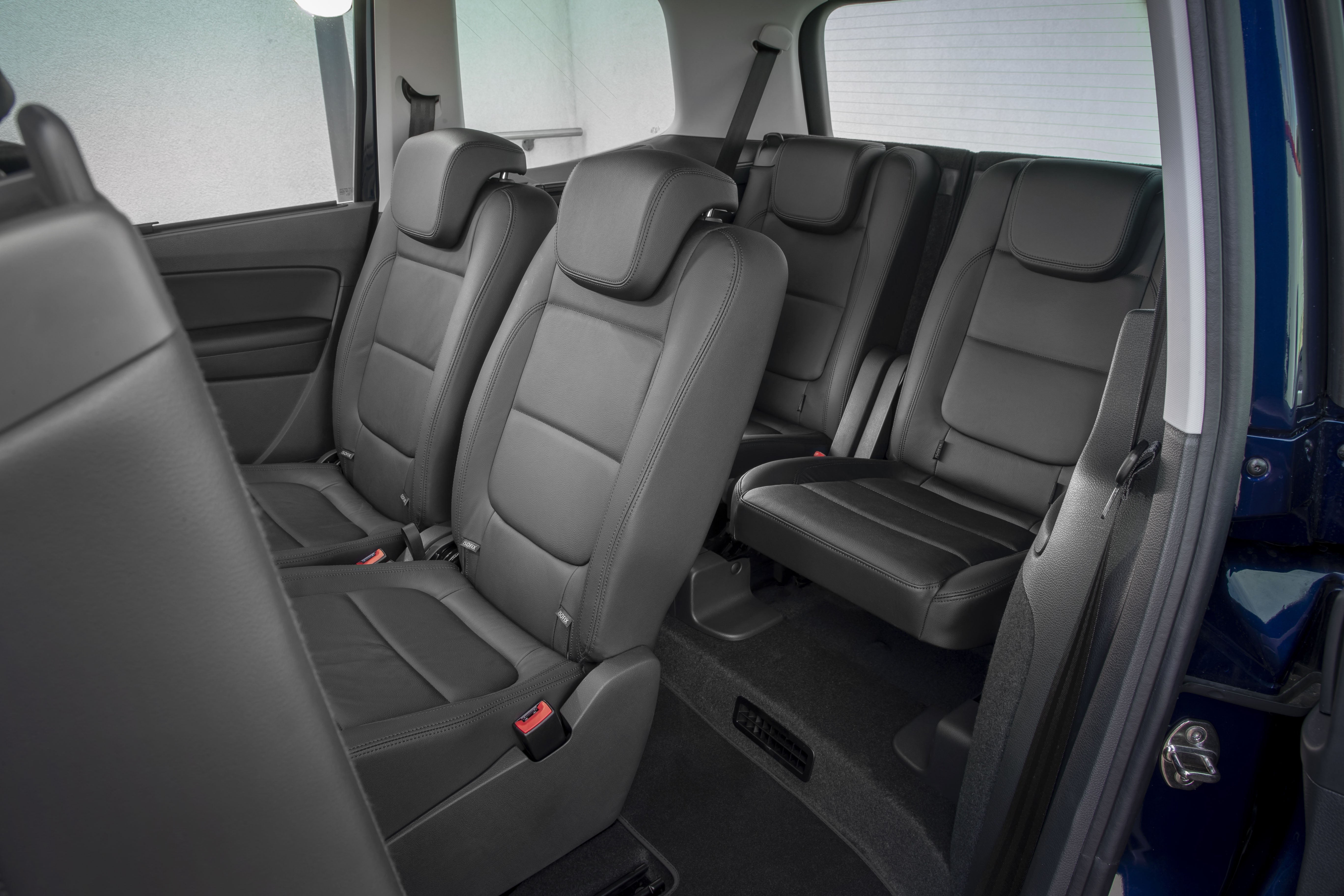 The SEAT Alhambra was an expensive car when new, with the final models costing between £30,500 and £38,500, depending on the engine and trim. Finding an unregistered example with a discount of £5000 shouldn't be a problem, with further savings available after some haggling.
You can expect to pay upwards of £6000 for an early example with a history as an airport-run taxi, while prices of the post-facelift Alhambra start at around £11,000.
Trim levels and standard equipment
The SEAT Alhambra in SE trim offers everything you need, including 17-inch alloy wheels, automatic headlights, a 6.5-inch touchscreen, Apple CarPlay, Android Auto, integrated sunblinds, cruise control, front and rear parking sensors and three-zone climate control.
However, we'd recommend the SE L, if only for the electric sliding doors and rear-view camera. You'll also be grateful for the heated seats when the temperature drops during the winter months.
The SEAT Alhambra in Xcellence trim is arguably a touch OTT, but the electric sunroof and keyless entry and go are welcome touches. Given the discounts we've seen on the Xcellence models, maybe the lavish route is the way to go.
Ask the heycar experts:
common questions
Is the SEAT Alhambra being discontinued?
Yes, after an impressive 10 year lifespan, the SEAT Alhambra was discontinued in 2020.

Is the SEAT Alhambra the same as the Volkswagen Sharan?
The SEAT Alhambra and Volkswagen Sharan are mechanically identical, but we favour the sharp looks of the Alhambra. It's also the bit more affordable as well.

Is the SEAT Alhambra being replaced?
The SEAT Alhambra isn't being directly replaced, though SEAT hopes those looking for a larger 7-seater family car will pick the Tarraco SUV.

SEAT Alhambra cars for sale on heycar
3,511
Number of cars available
£18K - £29K
Price bracket of these cars
Colours available on heycar
Keep me updated by email with the latest advice, news and offers from heycar
By submitting, you agree to our
privacy policy
.
Popular models
Similar models