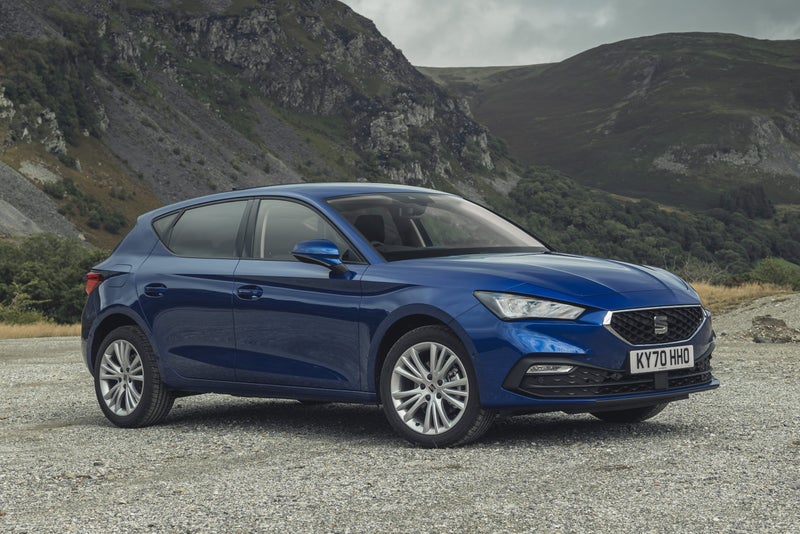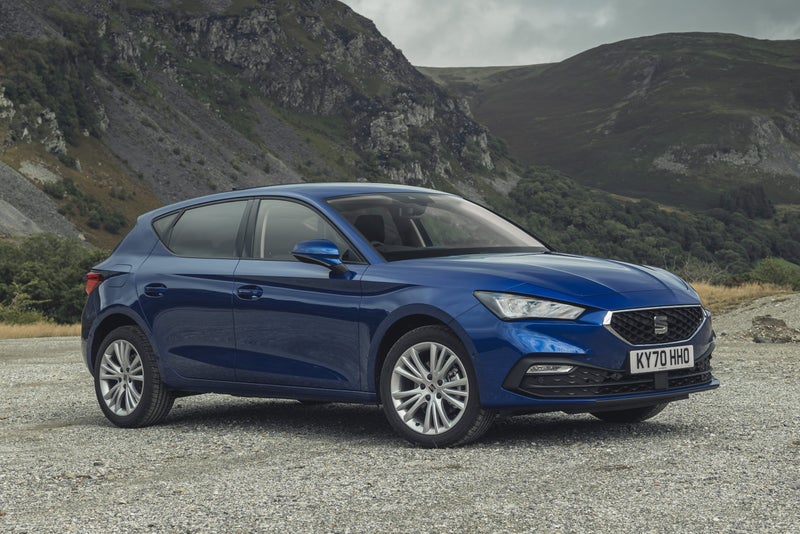 1/10
heycar rating
"Sporty alternative to a Golf"
Launched: 2020

Family hatch

Petrol, Diesel, PHEV
Quick overview
Pros
Wide range of refined petrol, diesel and plug-in hybrid engines
Interior is stylish and loaded with standard equipment
Easy and enjoyable to drive
Cons
Ride comfort is on the firm side
Not as practical as a Skoda Octavia
Annoying touch-sensitive climate control buttons
Overall verdict
On the inside
Driving
Cost to run
Prices and Specs
Common questions
Overall verdict on the SEAT Leon
"The SEAT Leon is a stylish family hatch that will appeal to buyers looking for something a little sportier than a Volkswagen Golf. It's great to drive, comes with a wide range of efficient engines and the interior is leagues ahead of the old model."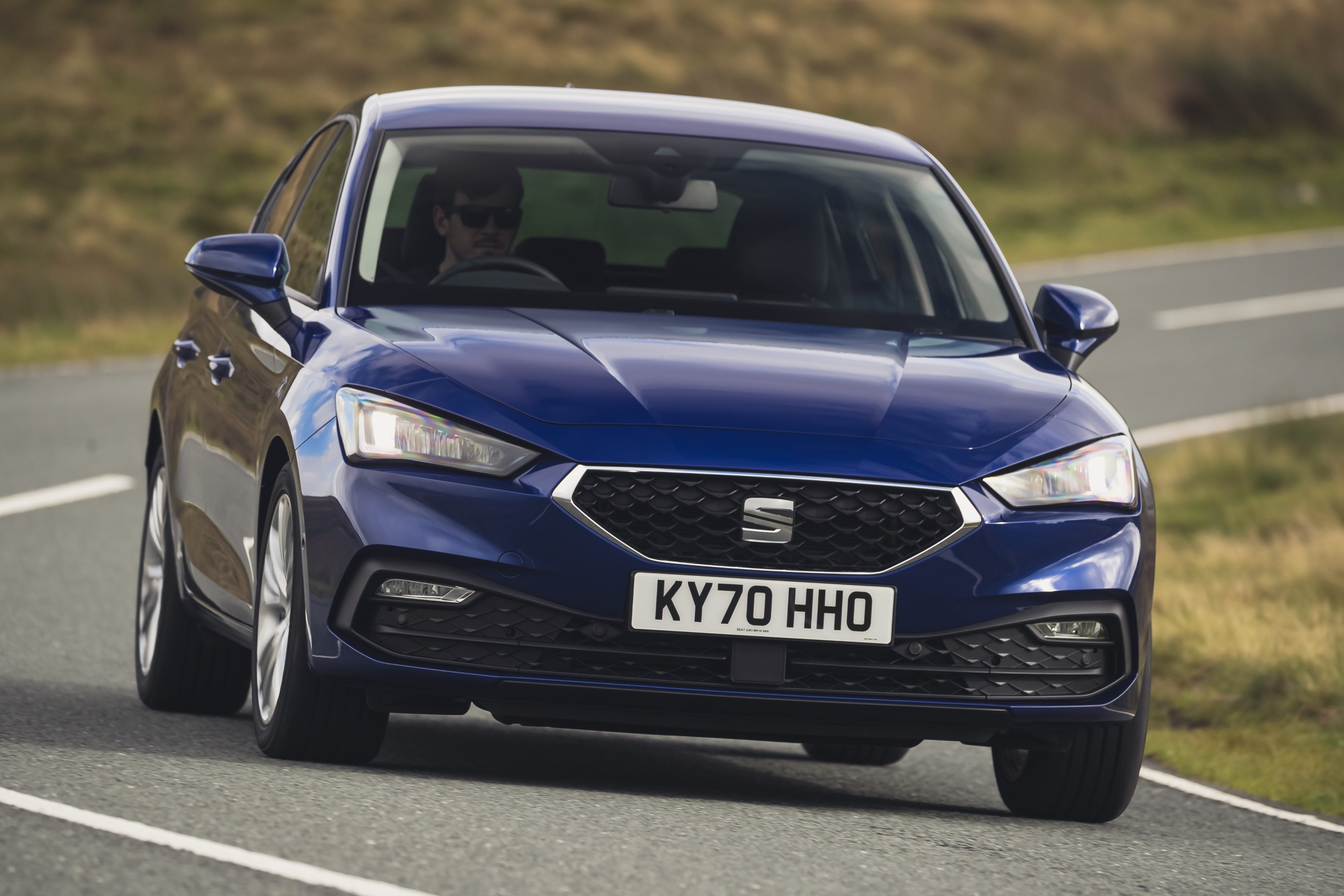 While it might seem that the entire world wants a small SUV, the humble SEAT Leon-sized family hatch remains a really good choice if you don't need a huge amount of practicality and just want something that'll get you from A to B in comfort. Cars like the Toyota Corolla and Mazda 3 really deserve to sell in bigger numbers than they do – can the same be said for the Leon? Read our full 2022 SEAT Leon review to find out.
It shares its mechanicals with the latest Volkswagen Golf, meaning you can choose from a number of petrol, diesel and hybrid engines. The majority of buyers will go for the 1.5-litre petrol, which is efficient yet eager enough to cope with out-of-town driving. A number of engines (those paired with automatic gearboxes and sporting 'eTSI' badges) come with mild-hybrid technology. That doesn't mean a great deal in the real world, apart from slightly improved fuel economy.
If you really want a true hybrid, you'll need the Leon e-Hybrid. This is actually a plug-in hybrid, meaning you'll have to charge it regularly to make the most of it (just like an electric car). Unlike an EV though, it has the back up of a 1.4-litre petrol engine, for those times when you wish to travel further than its 40-mile electric range.
All SEAT Leon models are good to drive - slightly tauter than a Golf and competing with the likes of the Mazda 3 and Ford Focus in terms of driving dynamics. You sit low down, which adds to the sporting feel, while the suspension is noticeably on the firm side. It's not uncomfortable, though, providing you avoid FR-spec models with their sports suspension. These are a bit eager to pass bumps into the cabin, especially if you also buy one with 18-inch alloy wheels.
Inside, even low-spec Leon models feel surprisingly posh. There's a lot of chrome, while the toggle gear selector on DSG automatic models is a neat touch. Most models come with ambient lighting, which looks pretty swish, but we're not so keen on the wraparound lighting which is a little distracting when driving in the dark (although you can reduce the brightness). Fortunately, this is only available on select trim levels.
There's more space inside than before, with loads of room for tall drivers to get comfortable (helped by plenty of adjustment in the driver's seat and steering wheel). An extended wheelbase compared to the old Leon means there's a decent amount of room in the back, but the boot isn't anything to write home about. If writing home about boots is your thing, you'd be better looking at the Skoda Octavia or even the estate version of the Leon.
The best thing about the Leon is the value for money it offers. It doesn't feel like a budget offering – and it isn't, not really – yet you can pick up as-new examples for considerably under list price. An ex-demonstrator model can be picked up for the price of a Ford Fiesta, and SEAT's 'no options' policy means all trim levels are well-equipped.
If you're looking for the estate version, you need our SEAT Leon Estate review.
Is the 2022 SEAT Leon right for you?
If you want a stylish hatchback that's a bit of a left-field choice, the SEAT Leon could be a really solid purchase. It's stylish, fairly spacious, cheap to run and great to drive.
What's the best SEAT Leon model/engine to choose?
While there's a range of petrol, diesel and plug-in hybrid engines available, the majority of buyers will be well catered for with one of the petrol units. We rate the entry-level 1.0-litre unit, but you might want the extra power of the 1.5 if you regularly drive out of town. In terms of trim level, none are particularly poorly equipped. The SEAT Leon SE Dynamic strikes a sweet spot of value for money and standard equipment – a 10-inch nav system is standard, as well as 17-inch alloy wheels and parking sensors. It does without the firm suspension of the SEAT Leon FR, though.
What other cars are similar to the SEAT Leon?
There are lots of very good family hatchbacks on the market that are worthy of your attention. For a start, the Volkswagen Golf and Skoda Octavia share engines and other mechanical bits with the Leon, so should definitely be on your shortlist. Then there's the uber-popular Ford Focus which, like the Leon, is brilliant to drive.
We'd also chuck the slightly left-field Mazda 3 into the mix for its superb interior. Then there's the excellent Toyota Corolla, which is sold as a conventional hybrid model. You could also look at premium alternatives like the BMW 1 Series, Mercedes A-Class and Audi A3 – or crossover SUVs like the SEAT Ateca, Peugeot 3008 and Kia Sportage.
Comfort and design: SEAT Leon interior
"The SEAT Leon's relatively low-down driving position adds to its sporty vibe. It's a refreshing change when everything else aspires to be an SUV."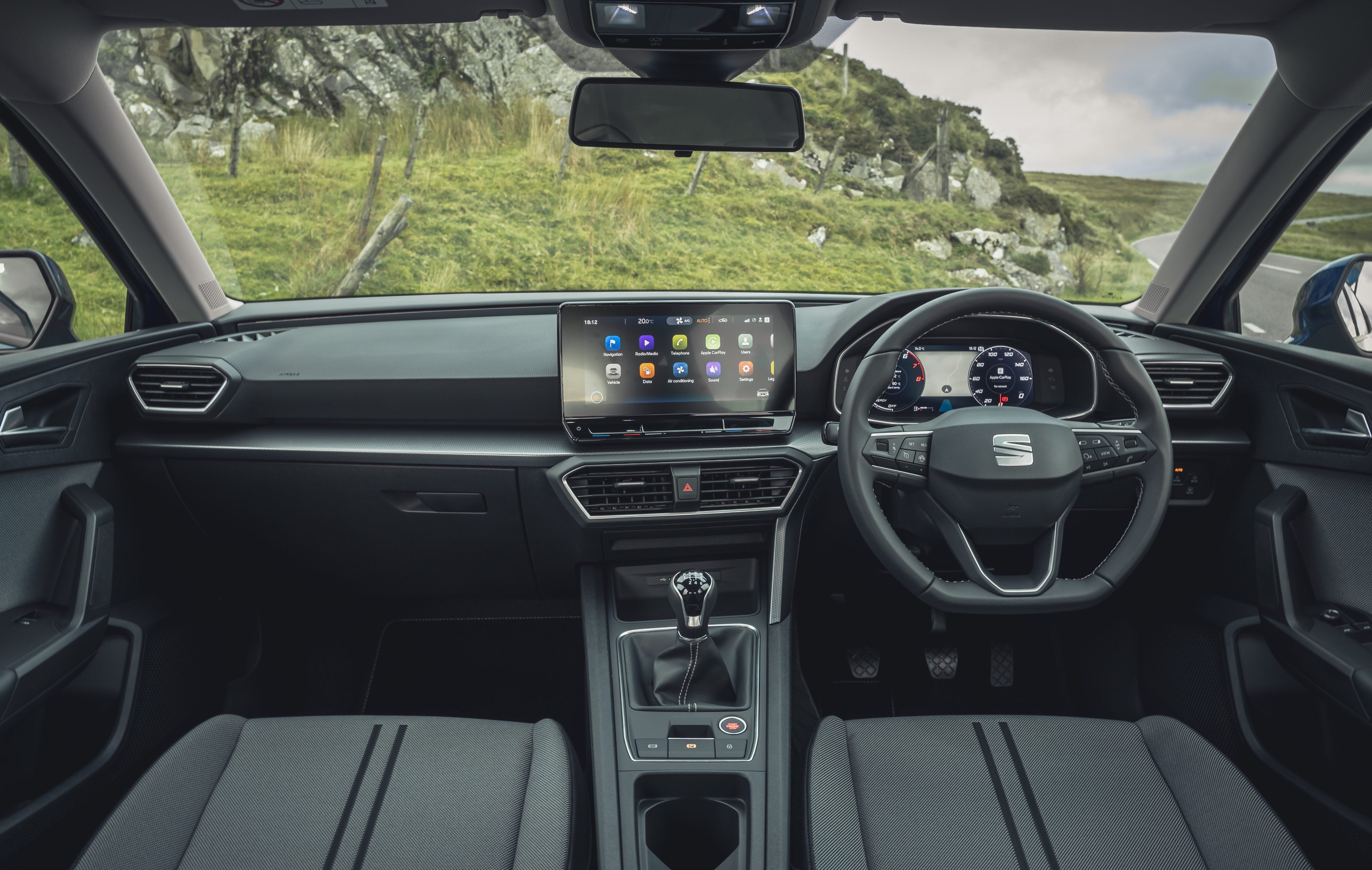 It's easy to get comfortable, though. The steering wheel goes up and down as well as in and out, while the seats provide plenty of adjustment (electrically on posh Xcellence models). While you're not going to be looking down on other motorists, few will find issue with the seating position in the Leon.
The interior looks stylish and upmarket, with an abundance of chrome finishes and stylish angular shapes (the hexagonal air vents for example).
On cars fitted with the DSG automatic gearbox, you select drive using a little toggle on the centre console. Not only does this look fancier than an old-fashioned gear selector, it also saves space, as does the standard electronic parking brake.
One issue we have, though, is the lack of buttons for performing simple tasks. Maybe we're stuck in the past, but touch-sensitive pads for adjusting the climate control or turning on the headlights feel like a backwards step. With no haptic feedback, they can actually be quite distracting to use, especially on the move.
Quality and finish
The SEAT Leon isn't exactly as plush as an Audi A3 in terms of interior quality, but it's certainly closer to the Volkswagen Golf than it's ever been before. Even the most affordable models feel well-finished, with plenty of soft-touch fabrics and classy finishing touches.
You'll find a few hard plastics here and there, they're mainly positioned low down in areas that you're not going to be touching on a daily basis. One exception is the handle for the glove box which feels a bit flimsy to us. Probably not something that should be enough of an issue to influence your buying decision, though.
Infotainment: Touchscreen, USB, nav and stereo in the SEAT Leon
We're yet to try the 8.25-inch media system in the basic SEAT Leon SE, but most models come with the bigger 10-inch display. This looks the part, perched high up on the dash with clear graphics and fast responses. It does everything you'd expect from such a system, including mapping with online updates, DAB radio and Apple CarPlay/Android Auto (the former without wires). We don't think it's the most intuitive system to use but you'll soon learn your way around the various menus.
While everything's controlled via the touchscreen display (we prefer the Mazda 3's rotary controller infotainment), you can use SEAT's in-car voice control system. This is a bit like Siri or Alexa, only you shout 'Hola, Hola' followed by a command. Make sure you've got your windows closed first – you'll look a bit silly shouting at your sat nav otherwise.
All models but the Leon SE also come with a digital instrument cluster behind the steering wheel. This does a brilliant job of lifting the cabin, making it look ultra-modern and a little bit premium. While it's not as customisable as a similar system used in the Audi A3, there are a variety of displays to choose from and it looks crystal clear with sharp graphics.
Space and practicality: SEAT Leon boot space
The SEAT Leon's boot space is best described as 'adequate'. It can lug up to 380 litres of shopping, dropping to just 270 litres in the plug-in hybrid model. That's comparable with the Golf and Focus, although you'd be much better looking at the Octavia (or the estate version of the Leon) if you're looking for a big boot. Access is easy enough as you don't have to lift items as high as you would in SUV alternatives, although SEAT doesn't offer an adjustable boot floor. That means there's quite a lip for hoisting things over.
There's a decent amount for passengers. Those in the front will find loads of headroom, while the seats can be moved back far enough to provide enough legroom for the tallest of passengers and drivers. The cabin is significantly more spacious than the old Leon, especially for rear passengers, who will also find head and legroom aplenty.
Three adults can be squeezed into the back, although the middle passenger will draw the short straw slightly – mainly because of a lump in the floor leaving limited space for their feet. Access is easy, thanks to doors that open usefully wide, and there are Isofix points on the outer rear seats.
If you're hoping to fit the SEAT Leon in your garage, you'll be pleased to know that its exterior dimensions are smaller than the Skoda Octavia's. It measures 4368mm in length, 1991mm wide (including door mirrors) and 1456mm in height.
Handling and ride quality: What is the SEAT Leon like to drive?
"The SEAT Leon is really rather fun to drive, with direct steering and a confidence-inspiring amount of grip. Only the Ford Focus betters it in this respect."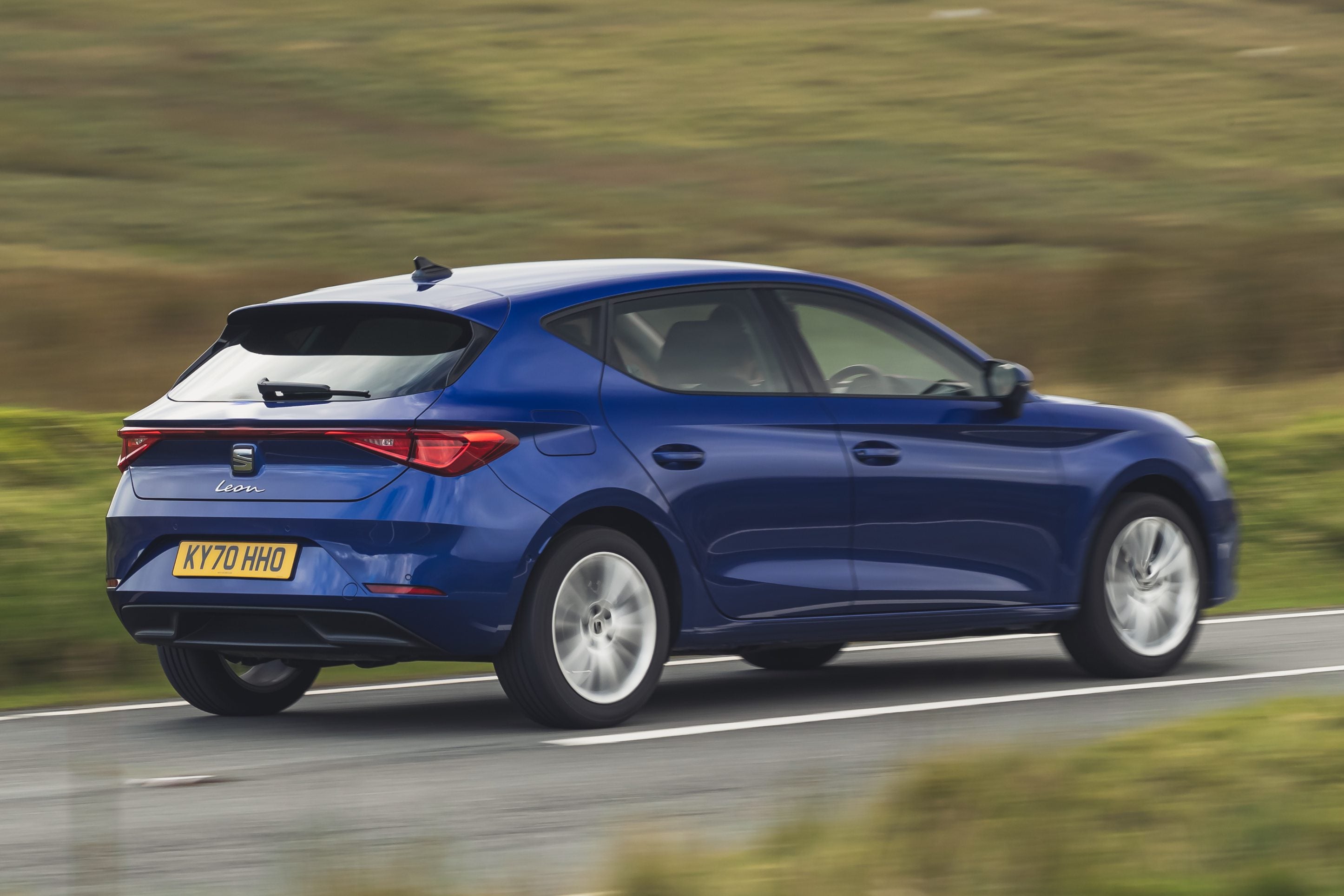 Unlike a lot of sportier cars, you're not going to notice too much of a trade-off in comfort, either. Most models ride pretty well, although you should avoid the FR or FR Sport trim if you're after a magic carpet ride. That's because these come with sports suspension as standard, which means lumps and bumps in the road are more likely to be felt in the cabin. That's especially true in the FR Sport model, which also comes with bigger 18-inch alloy wheels, but the harshest riding is the e-Hybrid model. This has the extra weight of the batteries to cope with, which doesn't bode well for ride comfort.
Whether you cover a lot of motorway miles, spend most of your time on rural roads or see yourself as a city slicker, the SEAT Leon does everything pretty well. It's easy to squeeze in and out of town traffic, and parking's a piece of cake. Front and rear parking sensors are standard on all but the cheapest SE model, while high-spec models get a reversing camera.
What engines and gearboxes are available in the SEAT Leon?
You'll notice that the majority of SEAT Leons on sale are powered by a 1.5-litre TSI petrol engine. This is a popular Volkswagen Group engine and it works well in the Leon, providing plenty of poke for out-of-town driving (even the lower-powered 130PS version). The 150PS model is available with a six-speed manual or seven-speed DSG automatic gearbox – go for the latter and it'll come with mild-hybrid technology to improve fuel economy. It's not a full hybrid so don't expect to travel under electric power alone, but it ought to be fairly efficient.
There's also a little three-cylinder 1.0-litre unit available, also offered with a choice of manual or DSG automatic gearbox. Don't be put off by its size, this is actually quite a punchy little unit, more than capable of keeping up with traffic and even overtaking the odd Sunday driver. Sure, the 1.5 is a better option for motorway driving, but the 1.0-litre will accelerate to 62mph in 10.9 seconds (or 10.8 seconds with the auto gearbox).
A plug-in hybrid model, badged the e-Hybrid, combines a 1.4-litre petrol engine with an electric motor to produce a surprising 204PS. It's not as quick as you might expect (it's also quite heavy) but, if you can charge a car at home and cover a lot of local journeys, it could be a good option for you.
Then there's the diesel option – a 2.0 TDI producing 115PS. While diesels are out of favour with car buyers these days, it could still make a lot of sense if you cover a lot of motorway journeys. This is offered exclusively with a six-speed manual gearbox.
Refinement and noise levels
You'll find little to complain about in terms of refinement. The SEAT Leon does a good impression of a much bigger, more premium car in terms of noise and vibration levels. Even the little 1.0-litre petrol feels surprisingly grown-up – indeed, it's much more relaxing than similar three-cylinder petrol engines used in alternatives.
The e-Hybrid can bimble around town in silence (provided it's fully charged), but will make a bit of a din if you try to hurry it along out on the open road. That's par for the course with plug-in hybrids, though.
Opt for one of the FR models and the sports suspension, as well as upsetting ride quality, does also create a little more noise – especially when paired with big wheels and rubber-band tyres.
Safety equipment: How safe is the SEAT Leon?
Euro NCAP crash tested the SEAT Leon in 2020 and awarded it a maximum five-star safety rating, which means it's a very safe car for transporting your family in.
There are a wide range of safety systems designed to prevent you being involved in a crash in the first place. Pleasingly, most of these are standard across the range. Highlights include the Front Assist system, which can apply the brakes if it detects a potential collision with another car, pedestrian or cyclist. The Lane Keeping feature will nudge the steering if you stray out of your lane on the motorway, while all models feature cruise control with a speed limiter (so you can set the maximum speed you wish to travel).
There are a range of Safety and Driving Packs available too, adding things like Automatic High Beam Assist, Predictive Cruise control and Dynamic Road Sign Display.
MPG and fuel costs: What does a SEAT Leon cost to run?
"The e-Hybrid officially returns up to 235.4mpg – a figure so impressive that it's almost unbelievable..."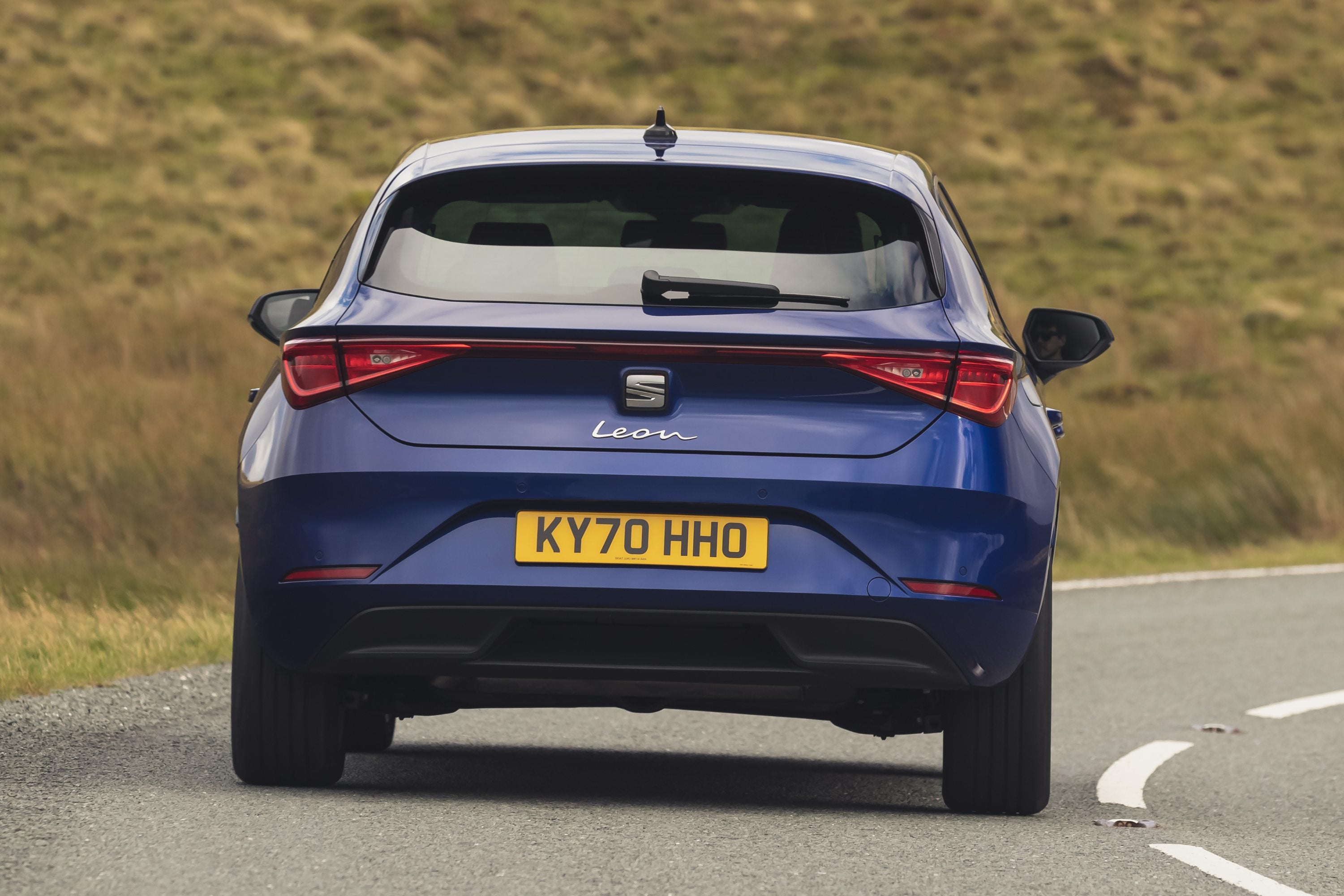 That's because it's a plug-in hybrid that can travel for up to 40 miles under electric power when fully charged. Keep it up topped up and, in theory, you'll be able to glide around town without the petrol engine ever kicking in. Venture further afield, though, and it'll soon become a great deal thirstier once it's out of electricity.
Fancy PHEV aside, the regular SEAT Leon models will be fairly cheap to run too. The 1.0 TSI returns up to 52.3mpg with the manual gearbox and 51.4mpg with the DSG transmission and mild-hybrid tech, while the 1.5 130 is officially good for 51.4mpg. The 150 version of the same engine is capable of up to 48.7mpg while the mild-hybrid auto increases this to 49.6mpg.
The ultra-efficient diesel officially returns up to 67.3mpg under WLTP fuel economy tests.
How reliable is a SEAT Leon?
The SEAT Leon shares its mechanical bits with a wide range of Volkswagen Group models, so it ought to be pretty reliable. Curiously, SEAT tends to be outperformed by sister brand Skoda in the annual HonestJohn.co.uk Satisfaction Index. We don't expect the new SEAT Leon to be a particularly troublesome car, though.
Insurance groups and costs
If you're a new driver or have a licence that your mother wouldn't be proud of, go for the 1.0-litre model. This falls into insurance group 15. Otherwise, no SEAT Leon will cost a fortune to insure. The e-Hybrid model is the priciest, sitting in insurance group 27.
VED car tax: What is the annual road tax on a SEAT Leon?
The annual VED car tax bill on most SEAT Leons will be a flat rate of £150/year. Mild-hybrid and plug-in hybrid models will bring that down to £140/year. This'll be the same as rival cars – if you're after free car tax, you'll need to look at an electric vehicle like the Volkswagen ID.3.
How much should you be paying for a used SEAT Leon?
"There was a time when the SEAT Leon was a budget alternative to a Volkswagen Golf, but that's no longer the case. A new Leon will cost you pretty much the same as a Golf – and more than budget rivals like the Skoda Scala and Vauxhall Astra."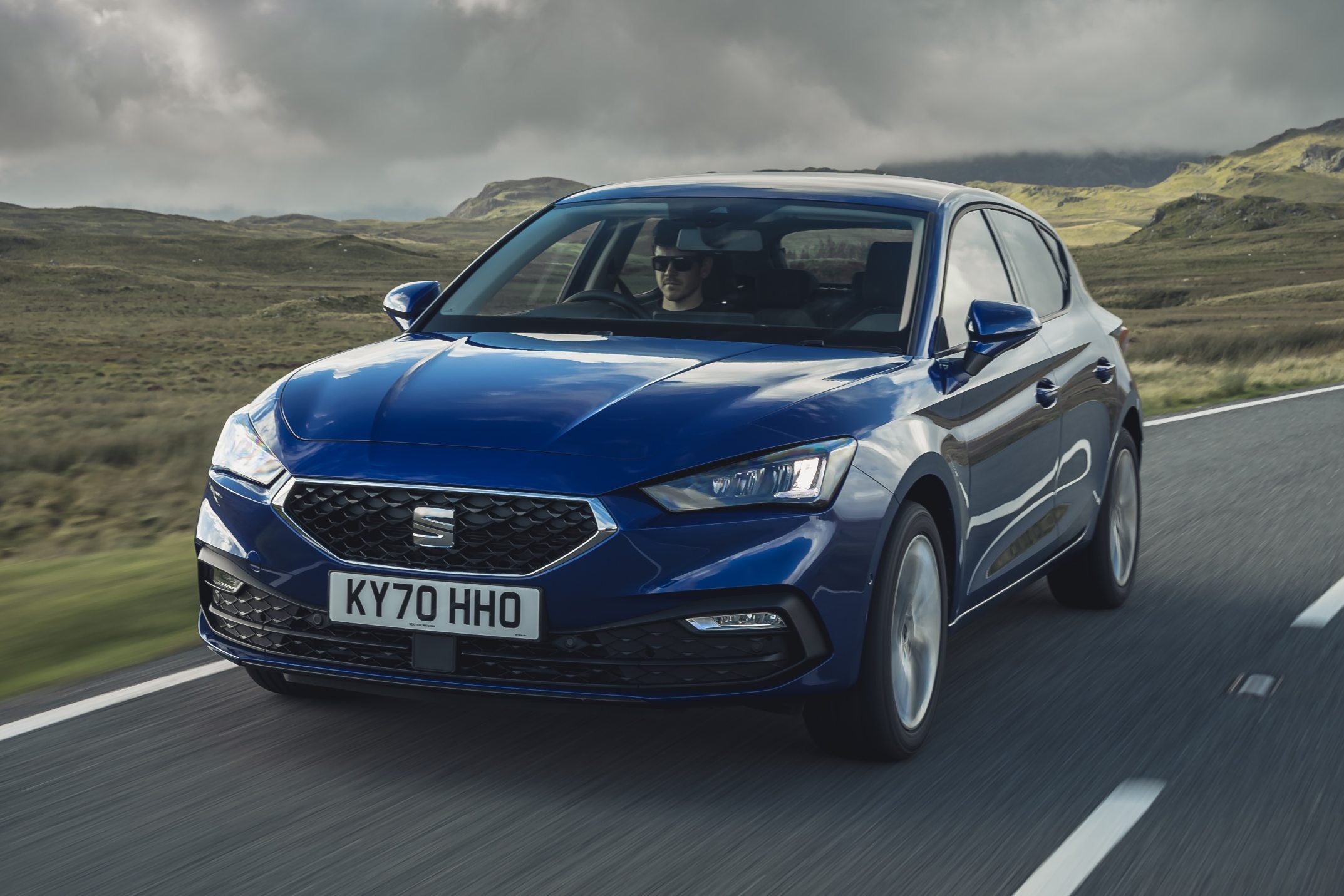 Of course, you can save a huge amount of wedge by looking for a lightly-used example. A budget of just £17,000 will buy an ex-demonstrator SEAT Leon SE Dynamic with the 1.0 TSI engine (a saving of £4500 compared to list price). Stretch the budget by a few hundred quid and you'll find a 1.5 TSI model, while a sporty Leon FR can be found for just £19,000.
Trim levels and standard equipment
SEAT doesn't really go big on options, so all trim levels are pretty well equipped. The SEAT Leon SE is the most basic model, with standard equipment including 16-inch alloy wheels, LED headlights and metallic paint. Inside, there's an 8.25-inch infotainment system (including Apple CarPlay, Android Auto, DAB radio and Bluetooth connectivity), as well as chrome interior detailing and electric windows in the front and rear. Cruise control is standard, as well as safety features such as SEAT's Front Assist system, Lane Keeping and Isofix points for chilld seats.
We'd recommend looking for a SEAT Leon SE Dynamic as this brings with it quite a lot of desirable kit including 17-inch alloy wheels, a 10-inch navigation system and digital cockpit. Front and rear parking sensors are standard, too.
The stylish SEAT Leon FR features LED headlights with dynamic turn signals (like off an Audi), rain-sensing wipers and bespoke front bumpers. A wireless phone charger is a useful accessory inside, while ambient lighting gives off a premium vibe. You'll also find three-zone climate control, selectable drive modes and sports suspension.
The Leon FR Sport builds on this spec with 18-inch alloy wheels, interior wraparound lighting, heated front seats (as well as a heated steering wheel), microsuede upholstery and electric seat adjustment.
The SEAT Leon Xcellence will appeal to buyers looking for a bit of luxury. Standard equipment includes 17-inch alloy wheels, a rear-view camera and keyless start/entry. The Xcellence Lux adds 18-inch alloy wheels, leather seats and the Safety and Driving Pack (with features including high-beam assist and predictive cruise control).
Ask the heycar experts:
common questions
Is the SEAT Leon a good car?
Yes, the SEAT Leon's an excellent family hatch that competes with the Volkswagen Golf, Ford Focus and Vauxhall Astra. It's fun to drive, has a superb interior and a wide range of very efficient engines.

Is the SEAT Leon the same as the Volkswagen Golf?
The SEAT Leon shares a platform and engines with the Volkswagen Golf. While it's very similar, it definitely has its own unique style. It's arguably a more stylish and sporty choice than the Golf, with a more youthful image.

Is the SEAT Leon better than the Ibiza?
The SEAT Leon is bigger than the Ibiza, competing with cars like the Ford Focus and Volkswagen Golf. The SEAT Ibiza is a small hatchback that rivals the Ford Fiesta and Volkswagen Polo. Which one is better depends on your requirements – they're both very good at what they set out to do.

Answered by
Georgia Petrie
What is a SEAT Leon FR?
The SEAT Leon FR is the sporty model in the Leon line-up. Standard equipment includes sports suspension, bespoke bumpers and 17-inch alloy wheels. The SEAT Leon FR Sport builds on this with 18-inch alloy wheels, Microsuede upholstery and heated front seats.

SEAT Leon cars for sale on heycar
2,657
Number of cars available
£8K - £43K
Price bracket of these cars
Colours available on heycar
Keep me updated by email with the latest advice, news and offers from heycar
By submitting, you agree to our
privacy policy
.
Popular models
Similar models