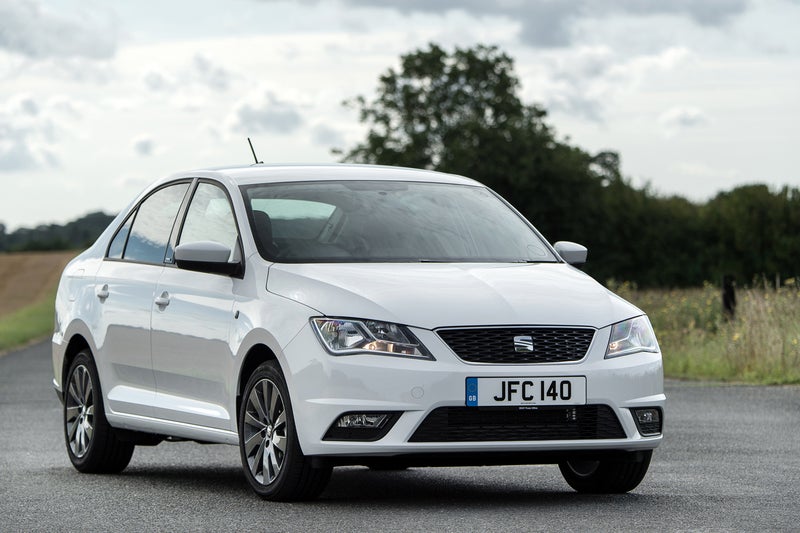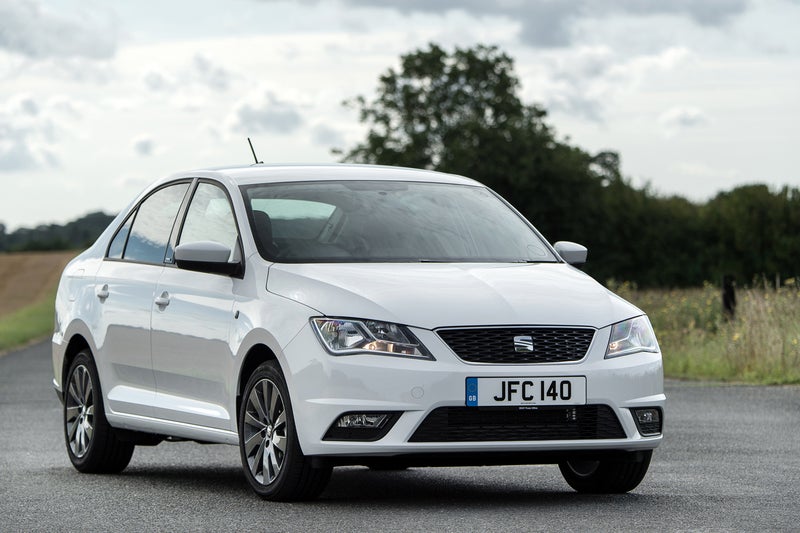 1/10
heycar rating
"Deceptively spacious and good value "
Launched: 2012

Small hatch

Petrol, Diesel
Quick overview
Pros
Deceptively spacious with an enormous boot
Cheap to run and good value for money
Five-star Euro NCAP rating
Cons
Drab and forgettable looks
Interior feels cheap with scratchy plastics
1.4 TDI is noisy and slow
Overall verdict
On the inside
Driving
Cost to run
Prices and Specs
Overall verdict
"It may be the small family car you've never heard of but the SEAT Toledo offers a deceptive amount of space for a small car. Despite the styling, it's not actually a saloon but a hatchback - and that means a huge boot. In fact, it can carry almost as much as a BMW 5 Series Touring. In other words a lot."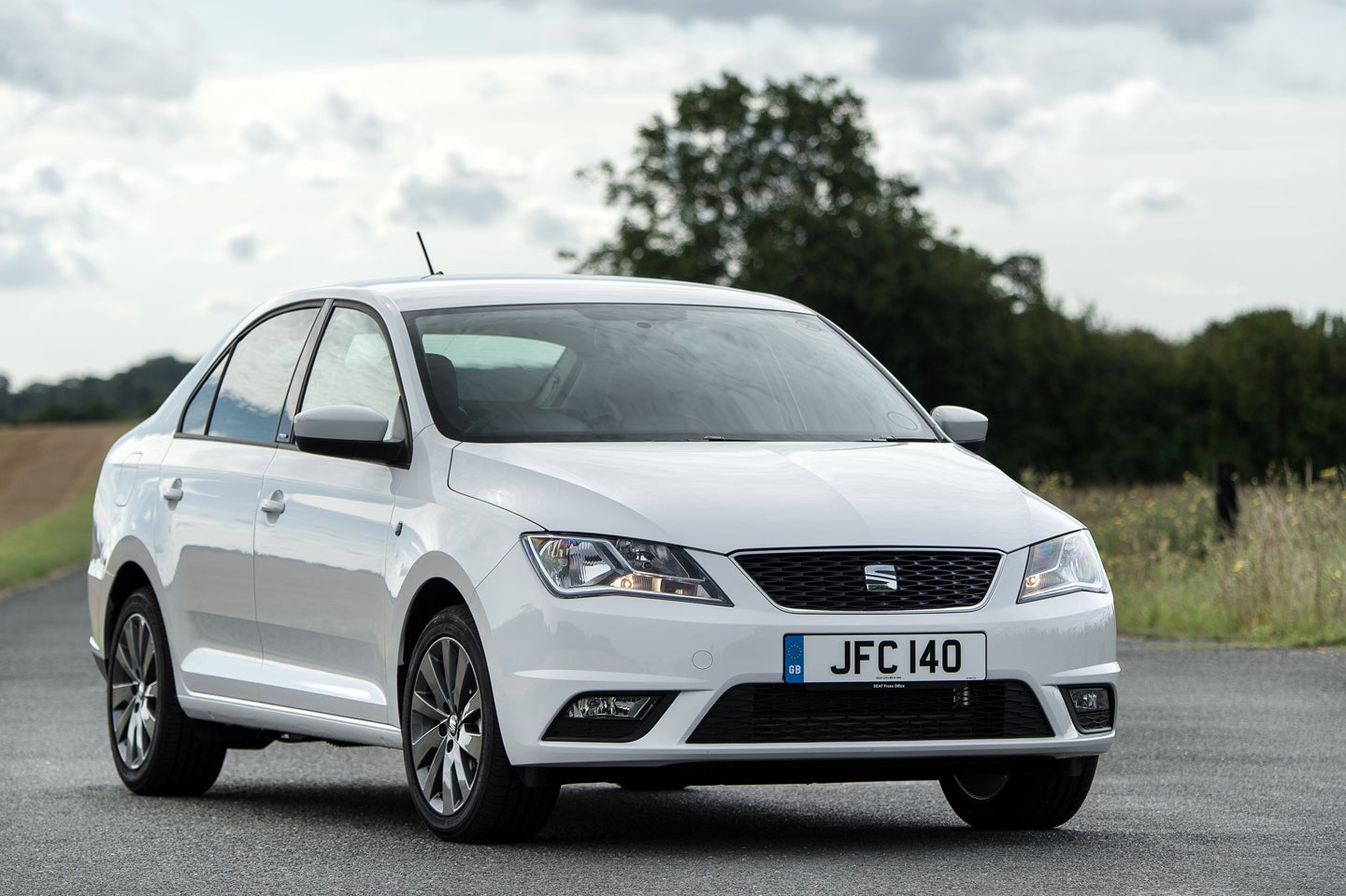 But before we go any further you won't be surprised by two things. Firstly, the Toledo is basically the same car as the Skoda Rapid (not the Spaceback which is slightly different) just with a different badge and grille. But everything else such as interior, engines and the like, mirror each other.
Secondly, the Toledo is based on the SEAT Ibiza. Only with a longer body and more room. Sit in the front and it's very much like an Ibiza. Sadly it's also not brilliant. The design of the interior is good enough but there are cheap and scratchy plastics everywhere and it feels like a cheap car. Higher spec models do at least get a leather steering wheel and gear lever.
But what the Toledo does offer is space, not only in the boot for those in the back. There's enough room for actual grown-ups, even the front seats moved all the way back. True, you're unlikely to be carrying four adults in a Toledo (unless you're buying this as a minicab), but this extra space is a godsend if you have children in car seats, especially rear-facing.
The engines include the usual small Volkswagen Group suspects with the 1.2 TSI the pick of the bunch. It was later replaced by the 1.0 TSI. There are also diesels (a rarity in small cars these days) with the 1.6 TDI proving very economical if you're covering lots of motorway miles.
And speaking of motorways, the Toledo is very happy at a 70mph cruise, feeling composed and comfortable. It's not so good around town or on rougher roads as the firm suspension set-up means a far from comfortable ride. On the plus side, the handling is predictable and it's good in corners.
There aren't huge numbers around on the used market, a result of it never being that popular in the first place, but it does represent good value with a lot more space than your average hatch like the Hyundai i30 or Kia Cee'd.
The Toledo is certainly not a car that will set the pulse racing, but it's a decent buy that's cheap to run and gives you a spacious and practical hatch for not too much money.
Is the SEAT Toledo right for you?
If you're buying a car with your head rather than your heart, the Toledo makes a lot of sense. It offers a lot of space in a small package and you'll be surprised at how much room there is in the back and how big the boot is.
Yes it looks like a saloon but it's actually a hatchback so doesn't lose any practicality. In fact, the boot is so big it can carry more than the considerably larger Ford Mondeo.
As well as being good value, the Toledo is also cheap to run with low insurance ratings and economical engines. Think of it as a smaller alternative to the Skoda Octavia, with that same ethos of giving you more car for your money. So it's an ideal choice if you don't want a big car but want more practicality and space than your standard small Focus-sized hatchback offers.
What's the best SEAT Toledo model/engine to choose?
The basic 1.2 E is best avoided unless you particularly hate mod cons and any sort of acceleration. It's also expensive to tax. Unless you're doing big mileages and spend a lot of time on the motorway, petrol is the better choice here.
The 1.2 TSI is a great little engine and the later 1.0 TSI is another one to look out for. There are differing versions but all give a decent bit of get up and go when needed. If you do want a diesel, then avoid the 1.4 TDI as it's sloooow. The 1.6 TDI is far more common and the best choice for economy.
The Xcellence trim comes with pretty much all you'll need or if you're looking at older models, SE or I-Tech are the best equipped versions. Avoid any with the DSG automatic as it's prone to problems on smaller engines.
What other cars are similar to the SEAT Toledo?
Well you won't be surprised that we mention the Skoda Rapid here. It is essentially the same car, only with a different badge and grille on the front. That's the joy of the Volkswagen Group for you. It has the same space, engines and interior - in other words it is near identical. There's also the Skoda Rapid Spaceback - a more conventional-looking hatchback. SEAT never made its own version.
If you're after a spacious hatchback that's good value, you should also look at the Hyundai i30 and Kia Ceed which are both better inside with nicer materials. The Honda Civic is another practical choice, but you'll get a newer Toledo for the same money. If you want a budget offering, the Suzuki Baleno is a capable and cheap to buy hatchback.
Comfort and design
"Like the rest of the Toledo, the interior is focussed on functionality rather than design. There's nothing adventurous here, but it does the job and it does it well. The Toledo is based on the SEAT Ibiza so it's no surprise to find lots of similarities between the two."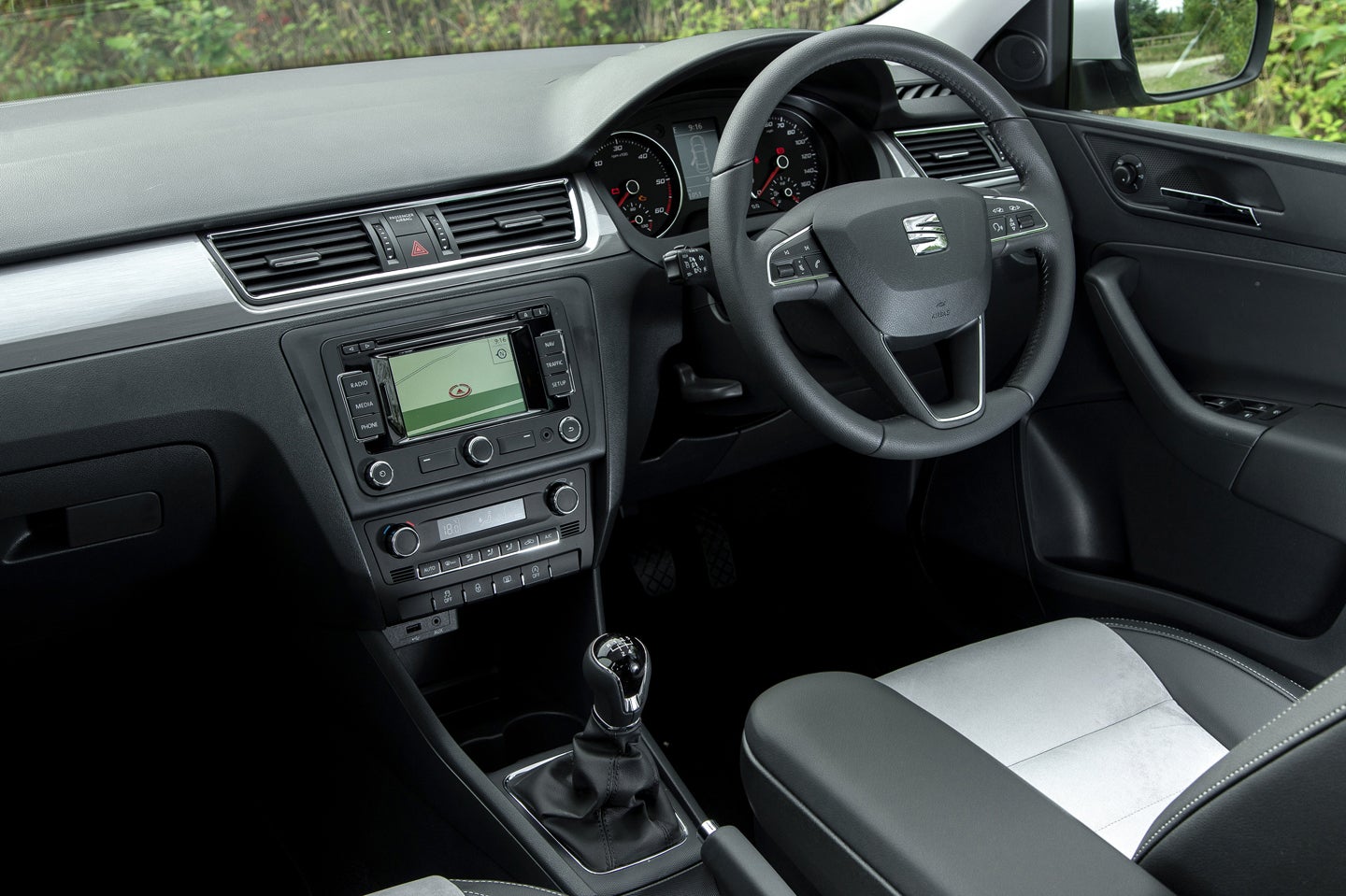 What it lacks in panache it makes up for in practicality. All the key things are easy to work out as soon as you get behind the wheel with simple air-con and stereo controls along with nice clear to read dials. Does it feel a bit like a hire car you'd end up with on holiday? Yes. But there's not too much here to criticise.
That said, driver's of the tall persuasion will find the driving position doesn't adjust low enough. It's also not the kind of car you'll want to spend all day driving. The seats are narrow and there's no adjustable lumbar support. You can at least stretch your left leg out and there's even an off-clutch footrest but if it's long-distance comfort you want, look at the larger Skoda Octavia.
Quality and finish
The Toledo was a cheap car when new and nowhere is this more evident than inside. There are lots of hard and often scratchy plastics that don't feel pleasant to touch. It's more Uber than upmarket. The plastics are hard wearing but they also scuff easily so after a few years of use, it's unlikely to look particularly good.
That said, the interior is solid and well screwed together so while it's clear this was a car built to a price, it's not flimsy inside. The doors close with a reassuring clunk while models with leather steering wheels feel a lot nicer inside than those with the basic plastic. While the interior coverings are hard and scratchy, there are at least no bare metals on show.
Infotainment
It's fair to say infotainment is pretty limited in the Toledo. This section may as well just say 'radio'. Basic models come with a standard CD stereo with a black and white display. It is at least easy to use and fine if all you need is Radio 4 and to listen to the cricket in the summer.
It's worth looking for models with the SEAT Media System which has navigation, a colour touchscreen, DAB and Bluetooth audio streaming. This was originally an option but was made standard on SE models from 2013.
The navigation isn't much to write home about. In fact, it's distinctly archaic but modern standard, but it does at least have a colour touchscreen. Again, it's far from modern and looks piddly and low res compared to the huge screens on most modern cars, but it works well enough and is pretty intuitive to use.
The one thing that isn't available is Apple CarPlay and Android Auto - hardly surprising on a car of this age. There is at least the option of streaming music from your phone via Bluetooth.
Space and practicality
What the SEAT Toledo may lack in interior quality and modern tech, it makes up for space. And lots of it. This may be a car based on the SEAT Ibiza, but it is deceptively big inside. In fact, it's not that far short of offering similar space to the bigger Skoda Octavia.
Few cars this size offer as much space in the back. Even with the front seats moved all the way back for taller drivers, there is more than enough room for those behind. The wide-opening doors make getting in and out simple too plus it's also easy to get youngsters in and out of their child seats. If you have a rear-facing car seat for your little one, this extra space will make all the difference.
The boot is another area where the Toledo excels. While this may look like a saloon (perhaps part of the reason it was never very popular in the UK) it is, in fact, a hatchback. And with a big opening boot, there's a vast cargo area of 550 litres, which isn't far short of a BMW 5 Series Touring, a vastly bigger car.
Despite the rather prominent load lip, the wide opening and squared-off shape of the boot itself make maximising that space easy. You can easily get a hefty pushchair in there and still have room for odds and sods around it. It's far bigger than most cars of this size.
Handling and ride quality
"Like the rest of the car, the handling in the SEAT Toledo is okay but nothing spectacular. It's safe and composed but the steering has little feel, although it is at least light to make parking easy. "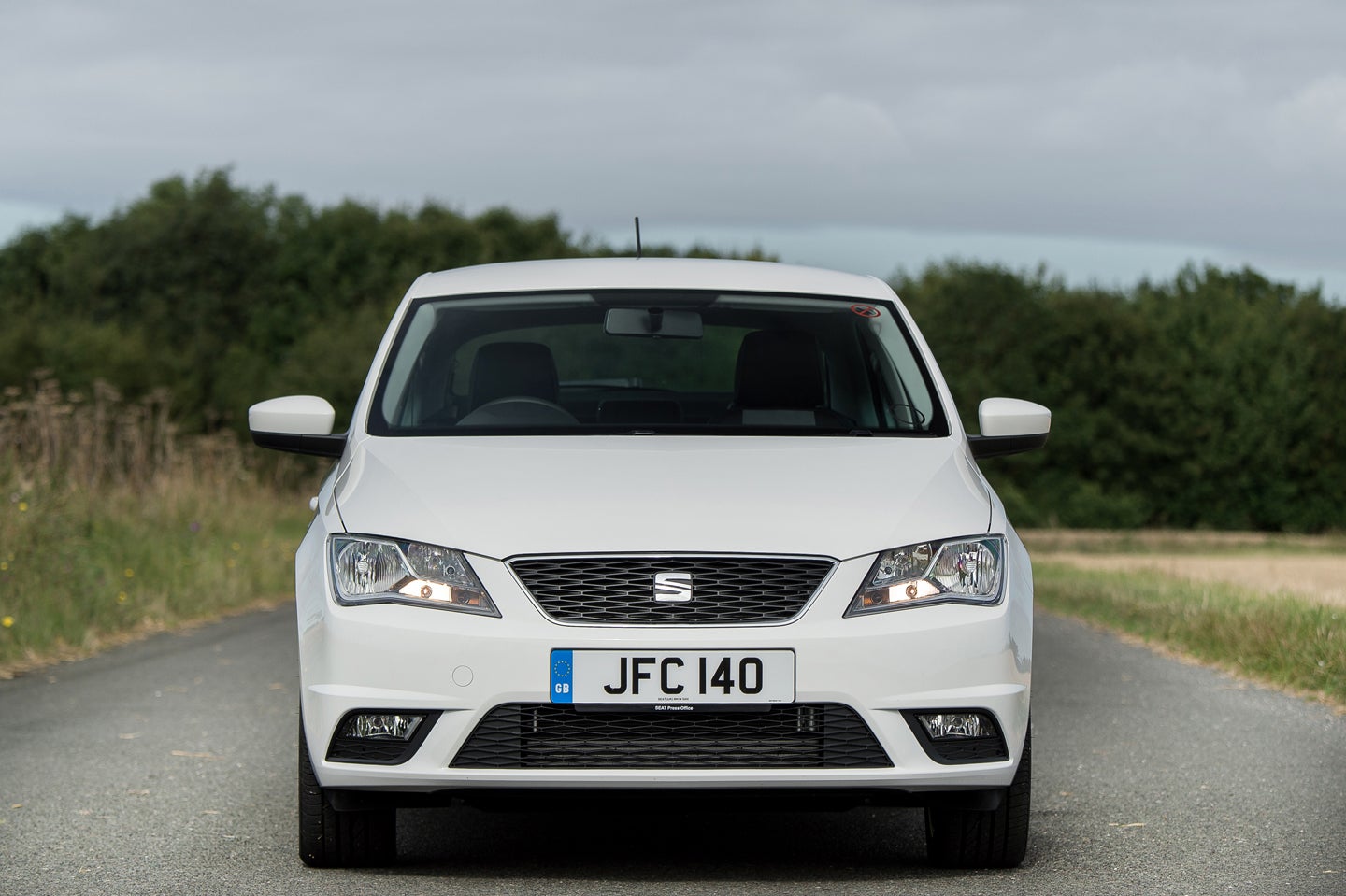 Parking sensors aren't standard though so you do have to watch you don't scrape the rear end which isn't easy with the awkward visibility out the rear.
In corners, the Toledo is more than accomplished and there's not too much in the way of body roll while the front tyres provide good grip. You can actually make rapid progress.
The downside is that while SEAT has tightened things up to aid the handling, it has come at the expense of ride comfort. It has a firm set-up which means it doesn't take much to become bouncy and unsettled, while it crashes unpleasantly over potholes. Like the interior, the ride feels like that of a cheap car.
Engines and gearboxes
With a long production run, there have been various changes to the Toledo engine range so if you're looking at used models, it can be quite a minefield trying to work out what was what.
The Toledo was launched with 1.2 TSI and 1.4 TSI petrol engines. The smaller unit came in two versions - either 86PS or 105PS while the 1.4-litre came with a DSG only and is very rare. There's also a 1.2 12V which is slow and best avoided.
All the TSI petrol are smooth four-cylinder engines that provide a lot more performance than their small size would suggest. Don't be put off by the 1.2 TSI. It is, in fact, the best engine in the range, especially the more powerful version which is a very enjoyable engine to drive. Remember that the T in TSI means it's turbocharged.
Around town, the 1.2 TSI has very good pick-up, even the lower-powered model, yet it's still quiet and refined. Hence why we suggest it. Most models get a five-speed manual gearbox that's easy to use with a nicely positive shift. The more powerful 1.2 TSI gets a six-speed gearbox, so it's quieter and more relaxed at speed.
Later in its life, the 1.2 TSI in the Toledo was replaced by a three-cylinder 1.0 TSI. It's not as smooth but does have a bit more character and gusto at low revs. It's the same engine you'll find in the Volkswagen Golf among many others.
The TDI diesels are certainly economical but they're also noisy and lack refinement. They're fine once up to speed but clatter at low revs and when cold. That said, on the motorway they give decent pulling power and cruise along happily. Just don't expect much in the way of excitement.
Refinement and noise levels
The rather stiff suspension set-up of the Toledo means it's not very refined over poor surfaces, thumping over potholes. It's better on a smooth motorway where the Toledo actually feels more at home and makes for a surprisingly relaxed drive at 70mph.
At these speeds, wind and road noise are kept to acceptably low levels and the engines aren't too intrusive either. The diesels are barely working and are well suited to cruising along without creating a racket.
There is, however, a lot of vibration through the pedals and gear lever in TDI models while the three-cylinder 1.0 TSI also suffers from the same, although it's not quite as bad. That said, the 1.0 TSI is still smoother than many three-cylinder engines and feels more sporty than coarse.
Safety equipment
The Toledo (well the identical Skoda Rapid) was tested by Euro NCAP in 2012 and impressively received the maximum five-star rating for crash safety with a very high 94% rating for adult occupant safety while child safety was rated 80%.
The crash test showed good protection of the knees and femurs, plus it showed that a similar level of protection would be available to occupants of different sizes and to those sat in different positions.
ESC stability control is standard on all models along with driver and front-seat passenger airbags, head airbags and side airbags for front passengers. Basically, a lot of airbags. There are also Isofix mounts on the two outer rear seats.
MPG fuel costs
"Both the 1.4 TDI and 1.6 TDI models will return around 60mpg in real world driving making them genuinely economical. With a 55-litre tank it means you could, in theory, cover something like 725 miles on a tank."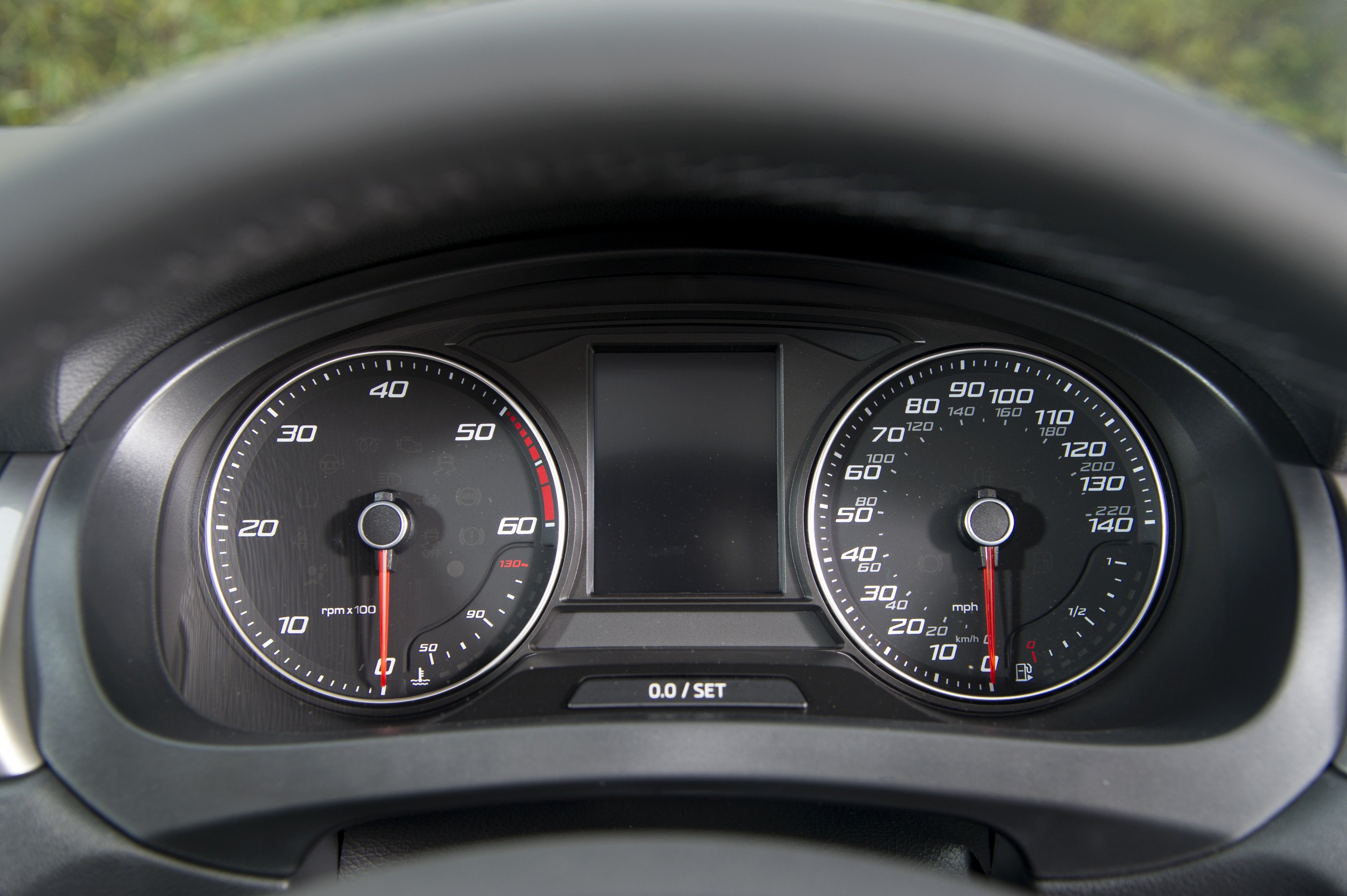 There's not that much difference in economy between the two though which is why you're better going for the 1.6 TDI if you do want a diesel. The petrols are still cheap to run around town and the 1.2 TSI should return close to 50mpg and that's in practice rather than simply a theoretical figure. It's the same story with the newer 1.0 TSI which is just as good on fuel.
Insurance groups and costs
Cheap to buy and run, the Toledo makes a good choice if you're looking for budget motoring. It's the same story for insurance with most 1.2 TSI models around group 16 (remember this is out of a maximum of 50 groups). Avoid the DSG automatics as they are more expensive to insure and can suffer from reliability problems.
The Xcellence ZE models are very well equipped but they are also the most to insure, sitting in group 20. It's interesting to note though that the identical Skoda Rapid is generally one or two insurance groups lower, which will mean slightly cheaper insurance premiums.
VED
The Toledo soldiered on until 2018 but the vast majority of models in the classifieds will fall under the pre-2017 VED system. This was based on CO2 emissions so the lower the CO2 rating, the cheaper the annual tax.
If you want to be paying no annual VED, go for a 1.4 TDI model which will cost you a big fat nothing thanks to emissions below 100g/km. It is slow though. The 1.6 TDI is a much better engine and still only Band B, so won't break the bank at £20 a year. It's the same story for the newer 1.0 TSI
The 1.2 E is inefficient and surprisingly expensive to tax in Band E at £150 a year. Give it a swerve. The 1.2 TSI which we recommend is Band C so a very reasonable £30 a year for VED.
How much should you be paying?
"High mileage SEAT Toledo diesels start at under £3000 so if you want a budget motorway car that will use very little diesel, you'll get plenty of Toledo for your money."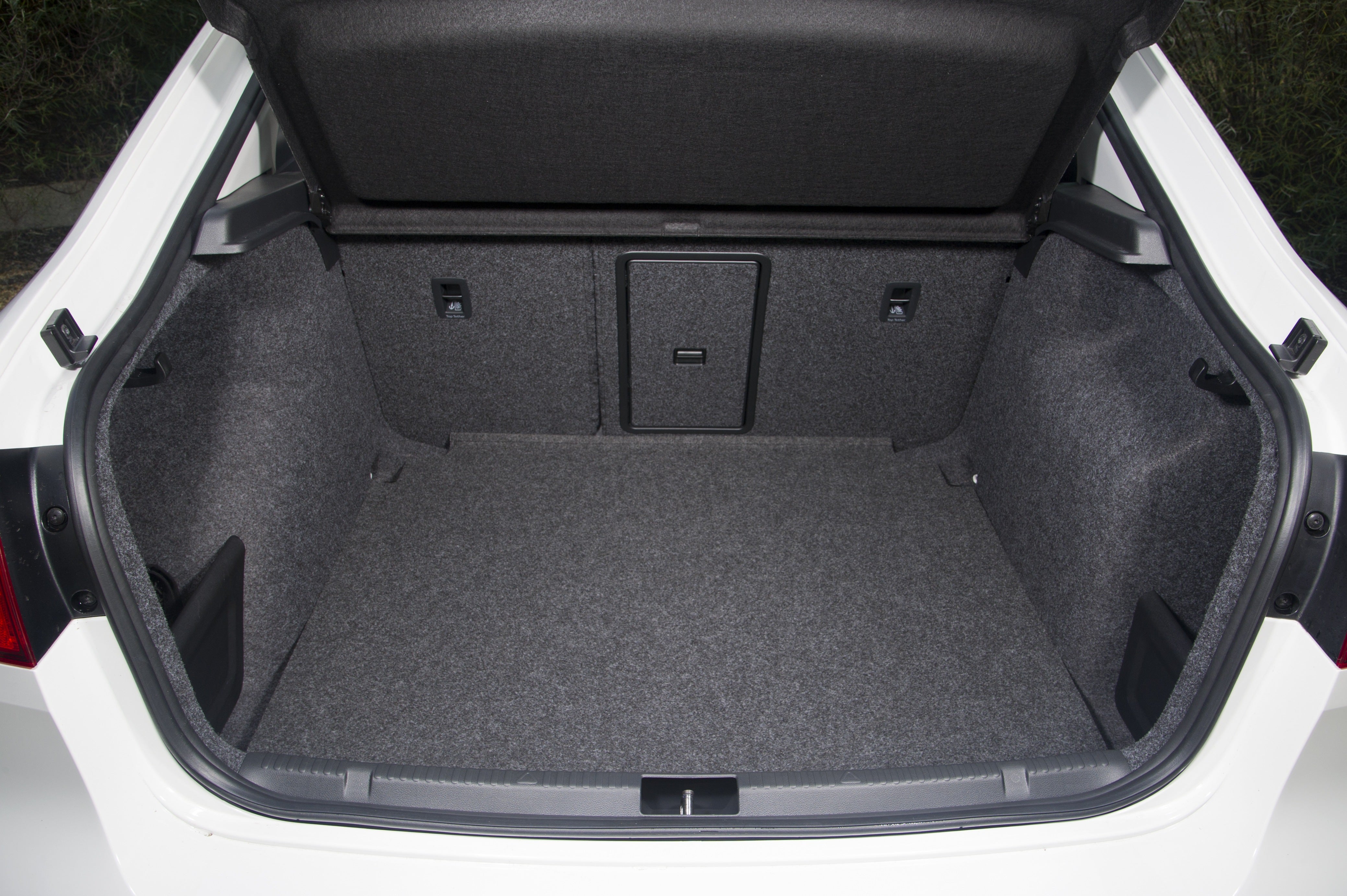 But we'd recommend a TSI petrol for most buyers and you'll find 1.2 TSI SE models from about £5000. Avoid the basic E, although you'll be hard pressed to find one.
There aren't many Toledo models around on the used market but as the Skoda Rapid is essentially the same car so you can include those to broaden your choice. The good news is that there's not much demand for the slightly unloved Toledo so you should be able to negotiate a decent discount on the window price.
Trim levels and standard equipment
E models were the original entry-level model but are best described as back to basics. You get steel wheels, manual mirrors and black door handles but there is at least a CD player and electric windows in the front. The S at least makes an effort with air-con, Bluetooth, a trip computer, heated and electric mirrors plus the luxury of a rear windscreen wiper.
SE is the one to go for and has 16-inch alloys, climate control, electric windows in the back, a leather steering wheel and even a refrigerated glove box. Look for models fitted with the optional SEAT Media System which has navigation, a colour touchscreen, DAB and Bluetooth audio streaming. This became standard on SE models from 2013.
Later the trims were changed with Style models introduced and later the Xcellence as the top trim. I-Tech models are well equipped too with 16-inch alloys, Alcantara and fake leather seats and metallic dashboard trim.
SEAT Toledo cars for sale on heycar
2,606
Number of cars available
£6.4K - £10K
Price bracket of these cars
Colours available on heycar
Keep me updated by email with the latest advice, news and offers from heycar
By submitting, you agree to our
privacy policy
.
Popular models
Similar models