Skoda Citigo-e iV Review 2022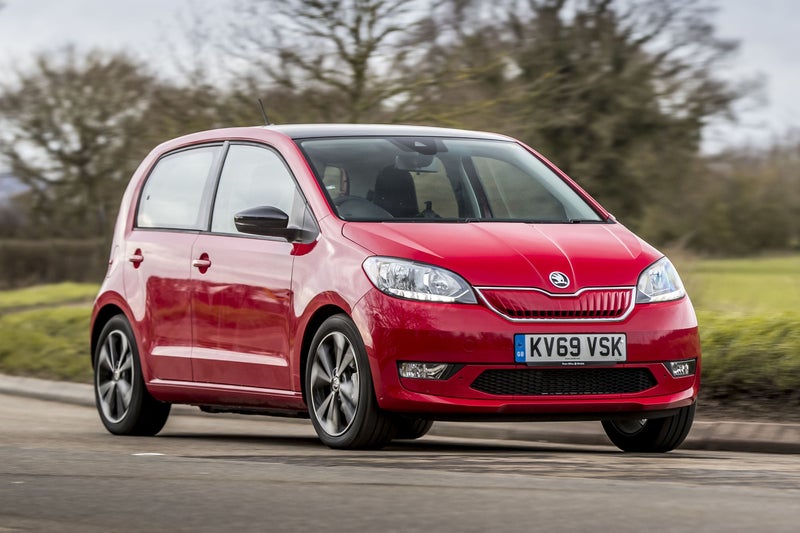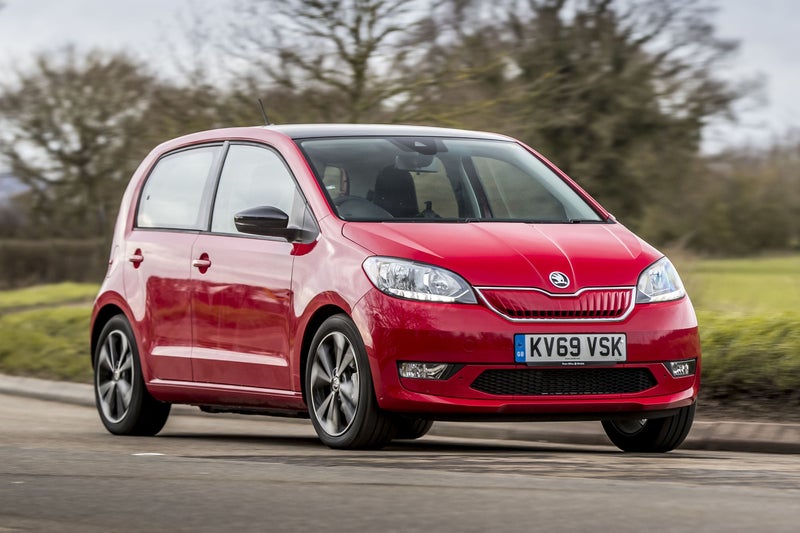 1/10
heycar rating
"Small car with electric brilliance"
Quick overview
Pros
Driving experience is enhanced by electric power
Should provide super-low running costs
Beats petrol if you're driving in the city
Cons
Range is slightly lower than key rivals
A bit dull inside
Fast-charge system costs extra
Overall verdict
On the inside
Driving
Cost to run
Prices and Specs
Common questions
Overall verdict on the Skoda Citigo-e iV
"Some aspects of the Skoda Citigo-e iV are showing their age, but on balance it proves that modern electric cars are as capable as petrol-powered equivalents, and are better still in many aspects. It still requires a sizeable financial commitment but should reward that investment with low running costs."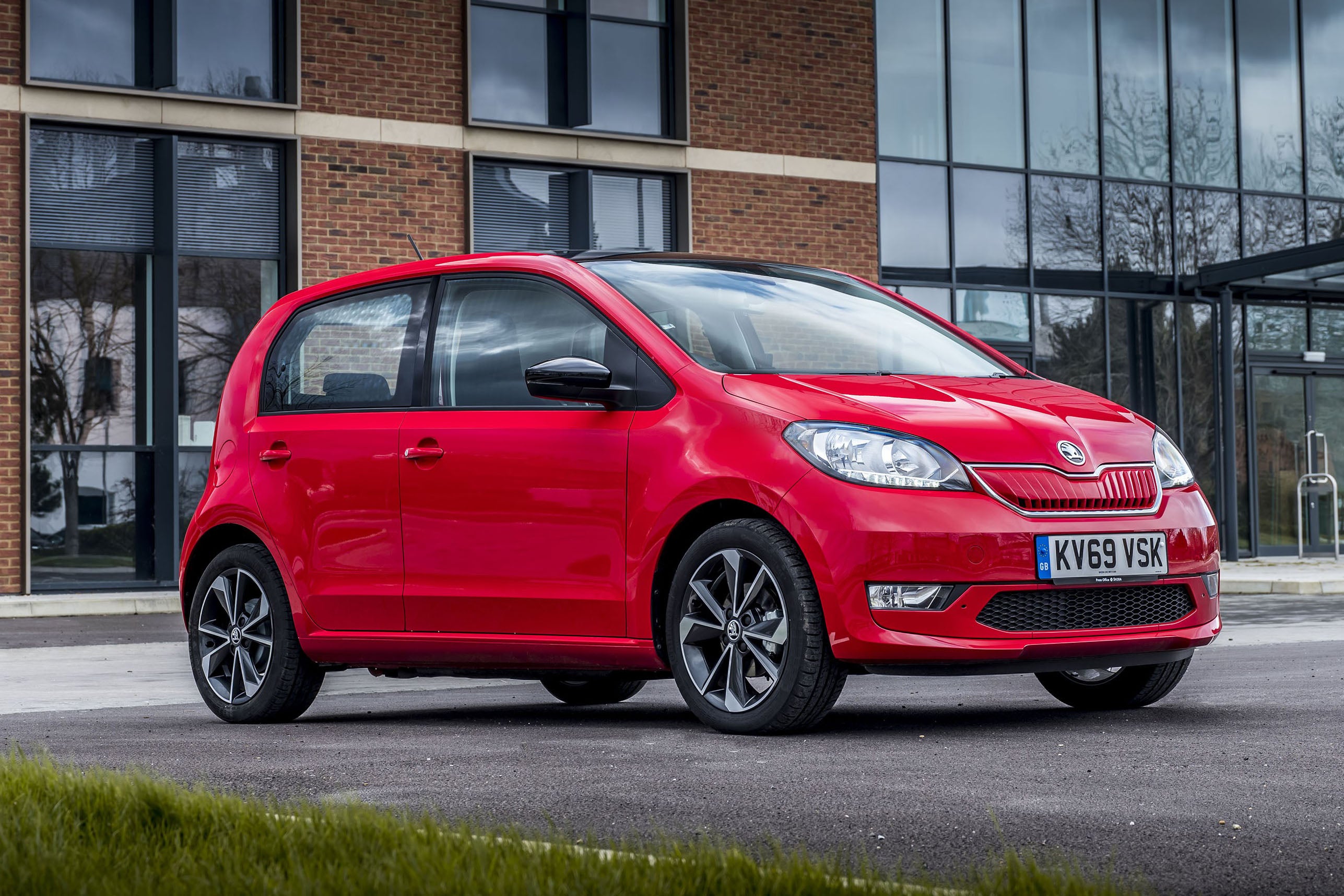 There's a good chance you're already familiar with the Skoda Citigo - at least in its past life. First introduced in 2012 and then discontinued in 2019, the Citigo was Skoda's entry into the city car class. It was successful too, bringing a lot of quality to the segment alongside its near-identical Volkswagen and SEAT sister cars, the Up and the Mii. But how does that success switch to electric power? Read our full Skoda Citigo-e iV review to find out.
When Skoda's parent company Volkswagen made a big switch to EVs, it took all its brands with it. The Skoda Citigo and the SEAT Mii have ceased production as petrol-powered cars and have been reintroduced as pure electric cars, while the Up continues with the option of petrol power alongside the electric version.
Visually there's not much to distinguish the Citigo-e iV (to give it its full name) from the regular Citigo, save for the front grille which is almost completely blanked off and some discreet badges. It remains a design based on getting as much interior space as possible, which means a boxy body with very short overhangs, a short bonnet and an almost vertical tailgate. It's aged very well, considering the basic shape is approaching ten years old, and particularly in a higher specification it looks quite fresh.
There are few surprises when you get inside too, as the vast majority of the cabin is carried over from the outgoing Citigo. There's still a large glazed area that helps the feeling of space and gives good visibility, helped by the slim dashboard. All the major controls are grouped closely together in the centre, but the Citigo e does without a central touchscreen like you get in some EV rivals, so you have to use your smartphone to make phone calls and stream music on the move.
There is a single drivetrain choice for the Citigo-e iV, an electric motor providing up to 83PS and 212Nm of torque, with a continuous power output of 55PS through a single-speed automatic gearbox driving the front wheels. The battery pack is 36.8kWh, which gives the Citigo-e iV a WLTP range of 161 miles.
Driving the Citigo-e iV is everything you could wish for from an electric car; there's lots of torque for quick acceleration from low speeds, and you can adjust the amount of regenerative braking so you can use the brake pedal less. The rest of the driving experience is barely distinguishable from the original Citigo, but arguably better. It's quieter, just as comfortable and even more relaxing - as well as being cheaper to run.
As an overall package, the Citigo-e iV is even more impressive than the original petrol car. It offers the same space efficiency and sense of quality, but adds zero emissions, lower running costs, and is arguably more fun to drive. If you can live with the purchase price it's a great way to get into EV ownership.
Is the Skoda Citigo-e iV right for you?
The Skoda Citigo-e iV is a breeze to drive, while the low noise levels and brisk urban performance are backed up by quick steering and a comfortable ride to make it an ideal choice for city dwellers. Low running costs are a big plus too, once you get past the initial purchase price. Anyone looking for a near-perfect city car should give it serious consideration, even if you do have to undertake longer journeys on occasion.
As for rivals, its in-house competition from the Volkswagen e-Up and the SEAT Mii Electric are different only on price and looks, while the Renault Zoe is a little bigger and more expensive, but offers a more grown-up cabin, better performance and increased range, making it suitable for a wider audience.
What's the best Citigo-e iV model to choose?
Unlike the Mii Electric, the Citigo-e iV is available in two specifications. The basic trim is the Skoda Citigo-e iV SE, and comes with climate control, a height-adjustable driver's seat and a DAB radio with touchscreen display. The more expensive SE L version adds better seat fabric, a smarter dashboard panel as well as automatic headlights and windscreen wipers.
Most crucially, however, the Skoda Citigo-e iV SE L comes with Combined Charging System as standard - only an option on the SE - which means you can use public fast-charging points and get an 80% charge in an hour. It's £700 to upgrade the SE to the CCS system, but we would say it is an essential piece of kit however you spec your Citigo-e iV.
What other cars are similar to the Citigo-e iV?
Look no further than the SEAT Mii Electric and Volkswagen e-Up if it's similarity you're looking for, so consider all three before making a choice at the bare minimum. The Mii Electric and e-Up are single-model ranges unlike the Citigo, so it's easy to compare price and specification before taking the plunge.
The other main rival in the small EV sector is Renault's Zoe, and although it is a slightly bigger car and therefore more expensive, it comes in a choice of two power outputs, two charging modes, and three trim levels, so it's easier to pick the car you need.
Comfort and design: Skoda Citigo-e iV interior
"It might be nudging ten years old, but the basic design of the Citigo has stood the test of time. Cleverly, the notion of it running on electric power was designed in from the beginning, so the transformation hasn't resulted in lots of compromises to make the additional electric hardware fit."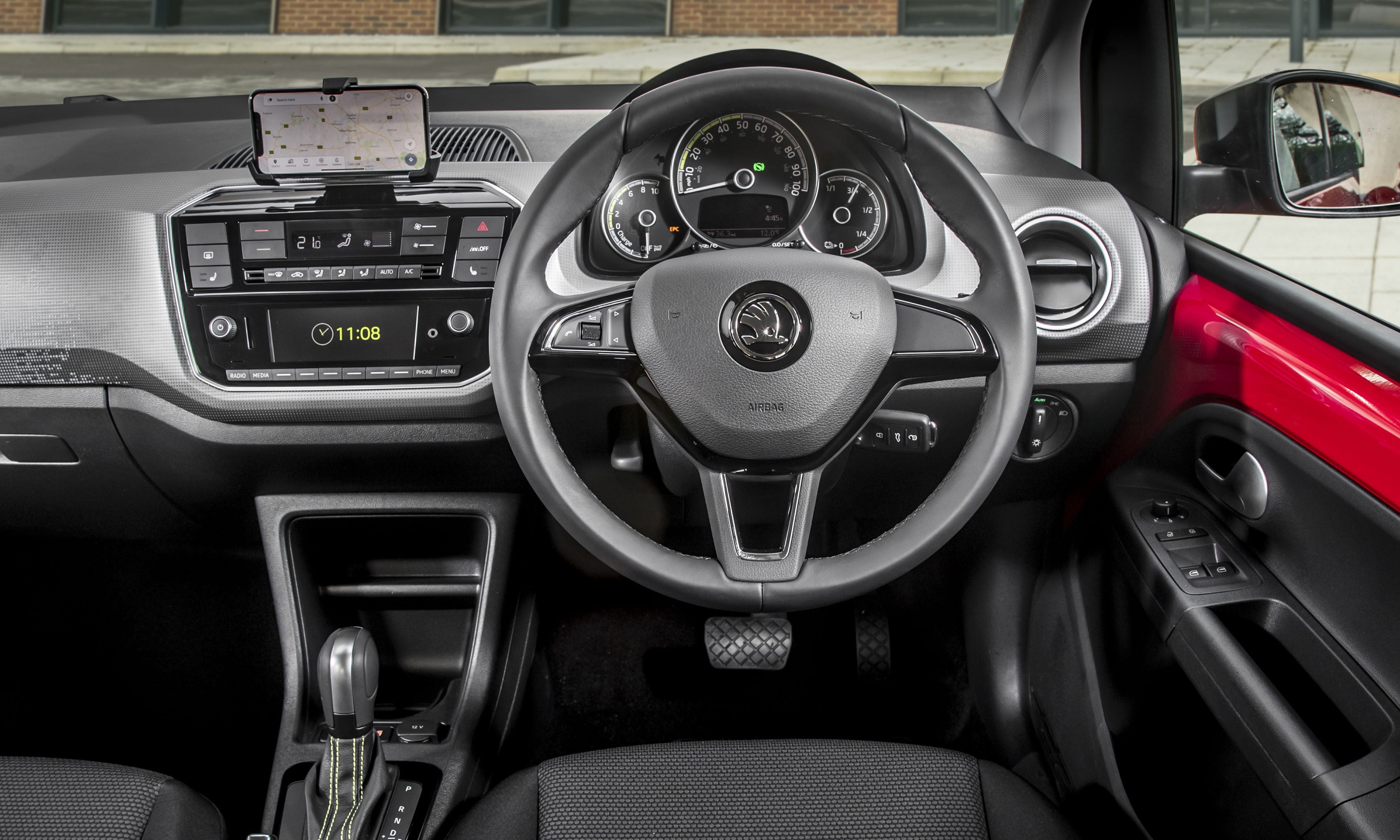 There's plenty of welcome familiarities when you climb aboard. The driving position is excellent, with plenty of adjustment in the seats - height adjustment is standard for the driver. The squared-off exterior pays dividends for the driver too, providing a good view out all round, and the near-vertical rear window makes it easy to judge where the back of the car is when reversing.
The dashboard is as simple as they come, which dates it a little compared to the modern touchscreens that are commonplace these days. The control layout is simple and easy to understand though, with all the major controls grouped neatly and high up on the dashboard where it's easy for driver and passenger to access them.
The same goes for the instrument display, which has a large central speedometer and supplementary dials keeping you informed on the amount of battery charge remaining and how much power is being used on the move. You can get in and understand how it all works and where everything is within a matter of seconds, which is a testament to the quality of the design.
Quality and finish
Although it's no spring chicken, the Citigo-e iV stands comparison with newer rivals in some aspects of its quality and finish. It's based on a city car, so the relatively sparse cabin feels quite stripped back compared to some rivals. Some of the materials feel hard to the touch but appear tough rather than cheap, and you still get a reassuring click when operating the controls, giving off strong vibes that this is a quality product.
There is a sizeable step in how luxurious the Skoda Citigo-e iV SE feels in comparison to the more expensive Citigo-e SE L. The amount of dark coloured trim and fabrics is a reminder that you're in the basic version, and although the SE L isn't much brighter there is a bit more flair in terms of the design on the seats and the dashboard.
It's also helped by leather on the steering wheel and gearlever as the main contact points. Unfortunately, there's also nothing on the options list to add to the interior other than practical features, so you'll need to go for a bright exterior colour if you want a bit more life in the cabin.
Infotainment: Touchscreen, USB, nav and stereo in the Skoda Citigo-e iV
As standard both versions of the Skoda Citigo-e iV get a DAB radio with touchscreen operation and six speakers, and a smartphone cradle which connects via Bluetooth to give you phone operation and audio streaming, as well as a host of other features through the Fun&Move app, available for both Android and iOS devices.
The Fun&Move app adds a great deal of functionality to the Skoda Citigo-e iV, and is even more useful with an electric motor. It includes a car finder so you can recall the location of your car as well as the address and time you parked, remote charging operation and control of the air conditioning and also a remote departure timer, so you can ensure your car is charged and even warmed up or cooled down ready for you to drive away. It even allows you to defrost your windscreen on cold days so you can leave when you want to on a frosty morning.
As an option, the Skoda Citigo-e iV is also available with a multimedia holder, an adjustable case for tablets that allows rear seat passengers to view the screens hands-free.
Space and practicality: Skoda Citigo-e iV boot space
The Skoda Citigo-e iV has almost no changes to the bodywork in its conversion to electric power, so it remains a design that has interior space as a number one priority - hence the squared-off looks and chunky proportions. It's also important to note that ditching the engine for electric hardware hasn't impacted the space a great deal either; the batteries are under the rear seat, which is 5cm higher than before, but that has little impact on overall headroom.
Even though it is an old design now, it's still impressive to witness just how much space is available in the front seats. A driver of any height can get comfortable behind the wheel, even though the steering only adjusts for reach, with plenty of head and legroom. Shoulder room is decent too, despite the Skoda Citigo-e iV not being particularly wide. The feeling of space is helped by the relatively stripped-back interior and the large glazed area, all of which maximises the amount of light coming into the cabin.
Rear seat space is less generous, but it's more than acceptable given the exterior dimensions. The rear seats are mounted 5cm higher than those in the front, so there's a fraction less headroom, while legroom is understandably less plentiful.
Still, there's enough space here to accommodate willing adults for shorter journeys, and for most sizes of child you shouldn't have any problems. All Skoda Citigo-e iV models are five-doors only, unlike the three-door option of the previous petrol models, but it is also a strict four-seater, with a rear bench designed for two and a pair of seatbelts rather than three, unlike rivals like the Renault Zoe.
Despite the addition of electrical hardware, the boot space on offer is impressive and exactly the same as the petrol version with 251 litres on offer. Fold the rear seats and this can be expanded to a massive 959 litres, and there's an adjustable boot floor too so you can stash precious items away from prying eyes.
There's a useful amount of storage space in the cabin too, including decently-sized door bins that can hold a 1-litre bottle, a dinky cubby ahead of the gearlever - with a removable insert designed to hold a smartphone if you wish - plus a larger than average glovebox add up to a practical cabin. A tyre repair kit is standard, and a spare wheel of any variety is not available as an option.
If you're looking for an electric car that can be squeezed into your garage, you'll want to know the Skoda Citigo-e iV's exterior dimensions. It's 3597mm long, 1645mm wide and 1481mm high.
Handling and ride quality: What is the Skoda Citigo-e iV like to drive?
"The Skoda Citigo-e iV may be an electric car based on a humble city car, but neither of those factors should impact on its capabilities outside as well as inside the city."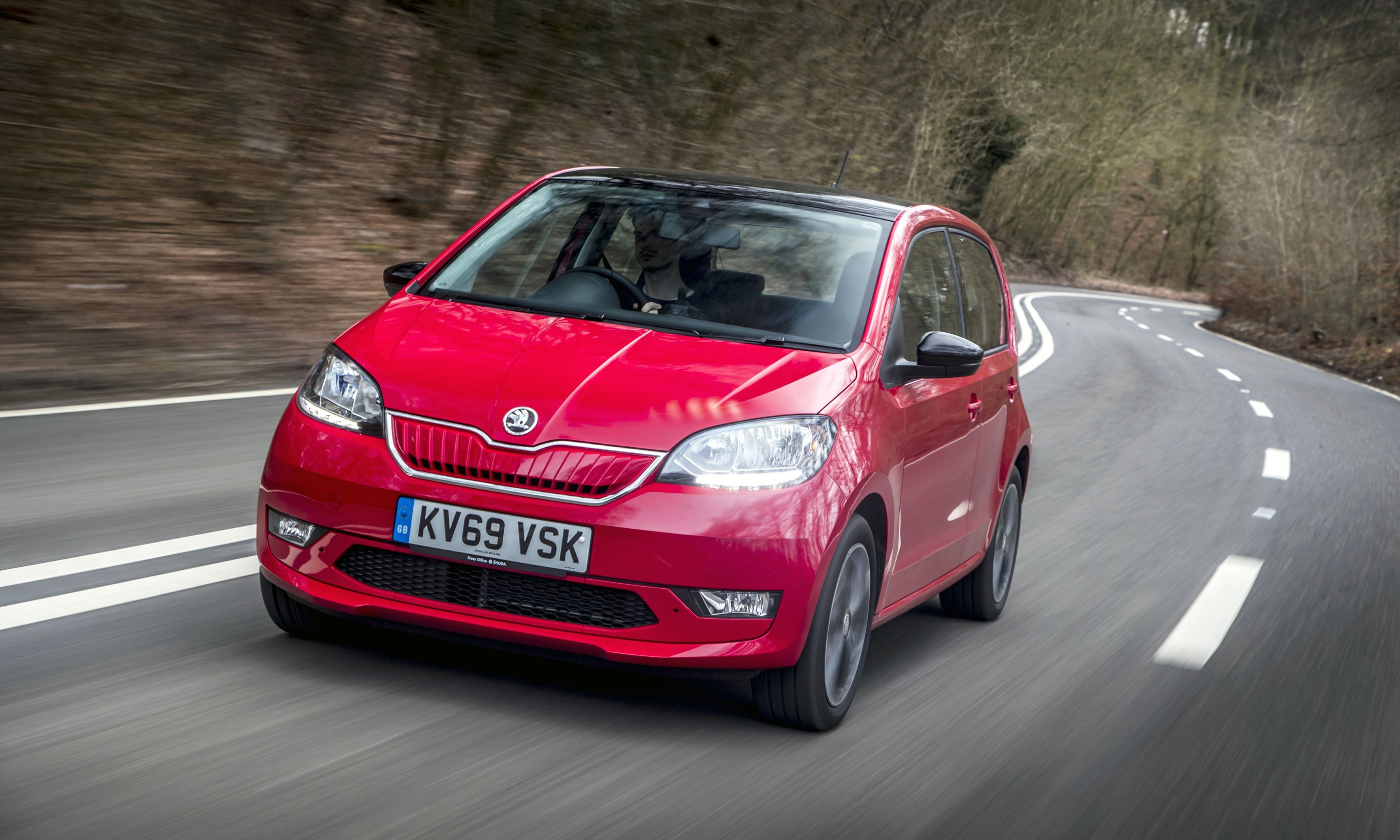 The good news is that it is impressively adept whatever the conditions, and demonstrates a level of composure and fun that you wouldn't necessarily expect from a car like this. It takes just a few moments to discover that the Skoda Citigo-e iV feels like a big car in the way it behaves, never feeling out of its depth regardless of the kind of road it's on.
The steering remains a pleasure to use, being light enough but not overly so at all speeds and satisfyingly accurate, so you know exactly what is happening down at the front wheels. Whether you're cruising on the motorway or battling your way through a traffic jam, the Mii makes you feel like you have full control and is confidence-inspiring as a result.
Another plus is that the ride quality is composed and refined for a car of this size. It makes short work of soaking up imperfections regardless of size and severity, which is of particular use when in the city and having to negotiate roads that are more commonly in a poor state.
In some respects, the Skoda Citigo-e iV is even more fun to drive than the regular Citigo when the mood takes you. The accuracy of the steering keeps you fully informed about how much grip there is, and because performance at lower speeds is plentiful, it's quick enough to get you between the corners at speed.
Body roll is kept well in check - helped by the fact that the heavy batteries are low down in the body - and there's definitely something about an electric car being so much fun to drive that it feels like you're beating the system. If you have the idea that electric cars are boring, try this first.
What engines and gearboxes are available in the Skoda Citigo-e iV?
There's just one motor and battery pack option for the Skoda Citigo-e iV - a single motor driving the front wheels that offers a continuous output of 55PS (for cruising) with a maximum output of 83PS for short bursts of acceleration. More crucial to the driving experience is the 212Nm of torque, which contributes to the surprisingly strong acceleration, especially from lower speeds.
This is still a relatively lightweight car at 1235kg - about the same as a Ford Fiesta - and with maximum torque from standstill the Skoda Citigo-e iV can jump away from traffic lights with surprising alacrity. If you're not careful, you'll feel the wheels spin before the traction control kicks in. Around town, this boundless thrust at lower speeds makes it huge fun to drive.
Get out of the city and the Skoda Citigo-e iV is less at ease. It can manage motorway speeds and be wound all the way up to 81mph, but acceleration at these speeds is much slower and the battery is depleted far more quickly at these speeds, too. Better to go a little slower and save the range for later. To help you with that, the Citigo-e iV comes with three drive modes - Normal, Eco and Eco+. The latter two modes restrict the amount of power delivered to the wheels to improve the range, with Eco+ also switching off the air-con.
The gearbox is a simple automatic with Park, Drive and Neutral, although you also have the option to adjust the strength of the regenerative braking that feeds energy back into the battery. Using this instead of the actual brakes helps to improve the range, and with it set to the highest level you can almost drive everywhere without touching the brakes.
Refinement and noise levels
The previous generation Skoda Citigo is a relatively refined car given its cost and city car status, but the switch to electric power has improved its performance still further. It's solidly-built from the ground up, and you feel that from the way the doors slam and the way it behaves out on the road; it shrugs off lumps and bumps in the road comfortably, which is a welcome bonus in a car this size.
Better yet, the near-silence of the electric powertrain means that at low speeds the Citigo-e iV is comfortably quieter than cars costing thousands more. Below 20mph all you can hear is a distant whine from the motor - far quieter than any combustion engine - and it enhances the driving experience a great deal.
At higher speeds wind and tyre noise begin to make themselves known, but this is partly because they are thrown into sharper relief as there is no petrol engine to drown them out. The reality is that, at out of town and motorway speeds, the noises all blend into each other, so you get general white noise accompaniment which is still preferable to the drone of an exhaust pipe.
Safety equipment: How safe is the Skoda Citigo-e iV?
Overall, the Skoda Citigo-e iV scored three stars from Euro NCAP, with strong scores of 81% rating for adult protection, 83% for child protection. Less impressive were the scores for pedestrians at 46% and 55% for safety assist.
Standard equipment includes driver and passenger front airbags, side airbags covering front and rear seats, seat belt pre-tensioners and load limiters front and rear and Isofix child seat mounting points. The Skoda Citigo-e iV also comes with electronic stability control, hill-hold assist and lane assist all as standard, with tyre-pressure monitoring and traffic-sign recognition also included.
One of the reasons for the Skoda Citigo-e iV's lower score in the Euro NCAP test compared to the original petrol version tested in 2011 is that Automatic Emergency Braking is not available as standard or as an option, something that was far less common back in 2011. Another feature that is not available on the Citigo-e iV is an automatic sound generator, a system which emits a faint noise to warn pedestrians that the vehicle is in motion, something which may be desirable if you spend a lot of time in the city.
Maximum EV range in the Skoda Citigo-e iV
The quoted range for the Skoda Citigo-e iV under the latest WLTP criteria is 161 miles, which is less than rivals like the Renault Zoe but more than some older electric cars that are still on the market. The reality is that for many drivers considering an electric vehicle this will be enough - 130 miles or more should be easily achievable on a full charge, so even a commute of 50 miles or more each way every day would still be possible without having to charge during the day.
Charging times and cost: How much does it cost to charge the Skoda Citigo-e iV?
"The beauty of an electric car is the running costs are significantly lower than any petrol or diesel car on the market, and generally speaking an electric car is more efficient in town at lower speeds than at a constant speed on a major road, unlike a conventionally-engined car."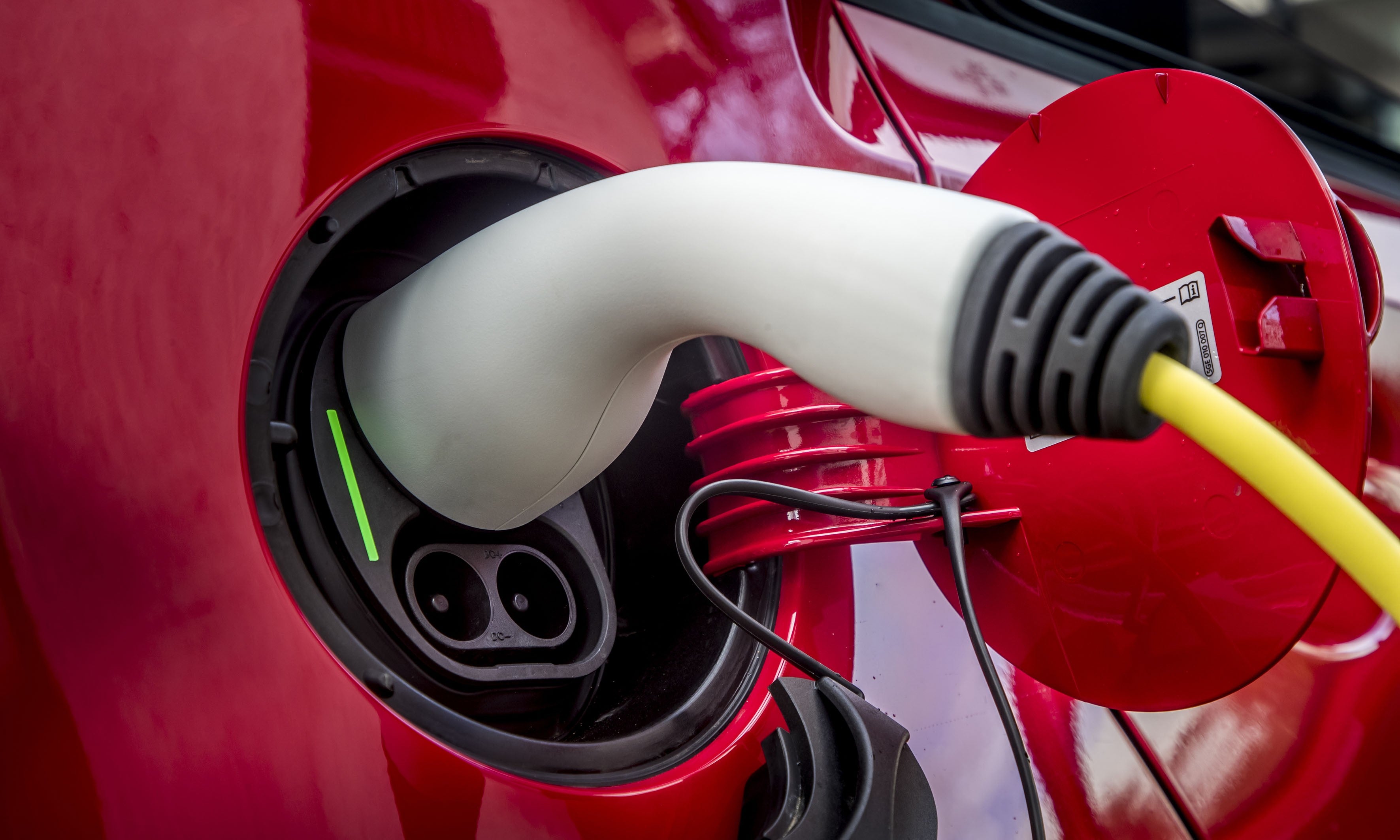 The beauty of an electric car is the running costs are significantly lower than any petrol or diesel car on the market, and generally speaking an electric car is more efficient in town at lower speeds than at a constant speed on a major road, unlike a conventionally-engined car.
Expect to pay as little as £6 for an overnight charge at home on a cheap tariff. Higher-speed charging at public will cost more, but a 40kW DC charge can take the Skoda Citigo-e iV from zero to 80% charge in one hour - but only if you choose a Skoda Citigo-e iV SE L or add CCS charging as an option on the SE model.
How reliable is a Skoda Citigo-e iV?
Electric cars are generally very reliable, with fewer mechanical parts than petrol or diesel models. The Skoda Citigo-e iV is no exception – we've heard of very few reports of issues.
Insurance groups and costs
Compared to the standard Skoda Citigo-e iV, the electric version unfortunately comes in at a significantly higher insurance bracket. Both models fall into group 11E, several groups higher than some versions of the Citigo but not untypical for an electric car. It's also a few groups lower than the comparable Renault Zoe too. Given the purchase price, insurance premiums are relatively high for a city car, but not for an electric car - with a decent few years of no-claims bonus the Citigo-e iV compares favourably with small cars like the Fiesta or Polo.
VED car tax: What is the annual road tax on a Skoda Citigo-e iV?
After fuel, the biggest saving you'll enjoy by choosing the Skoda Citigo-e iV is the zero rate VED. Even if the Government decides to changes the rules again, the zero rate is likely to stay for some years to come as it designed to encourage people to choose zero-emission vehicles. It costs more to buy in the first place, but you'll save £150 a year on VED alone compared to the most recent regular Citigo. It's also important to remember that you'll pay £55 in the first year of registration.
How much should you be paying for a used Skoda Citigo-e iV?
"The Skoda Citigo-e iV is still very new, so there are limited used examples on the market, although you will find a mix of pre-reg and nearly-new models if you look hard enough."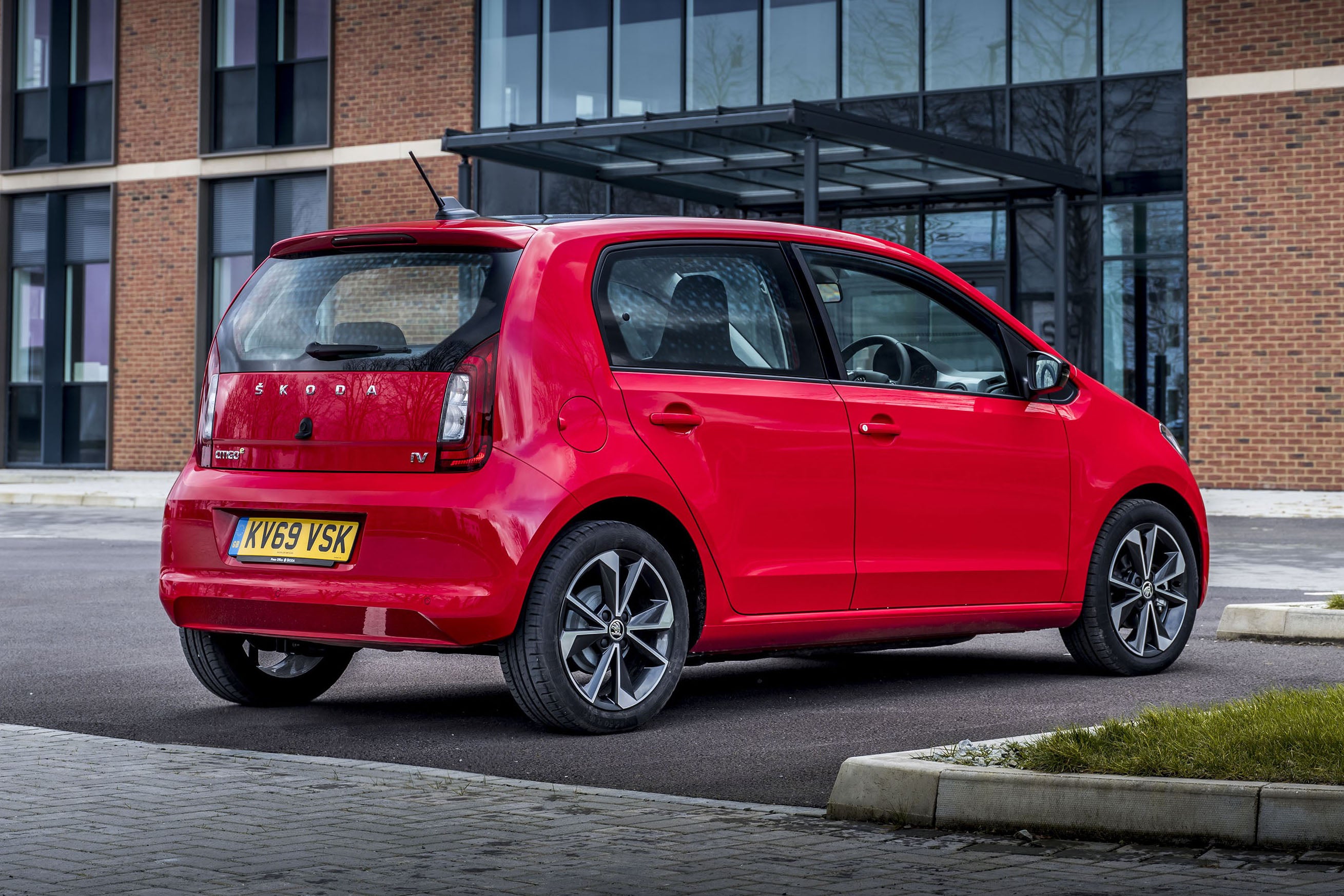 A quick browse through the classifieds brought up a few delivery-mileage examples for around £19,000, as well as some slightly older cars with less than 10,000 miles for closer to £17,000.
Expect the supply of Skoda Citigo-e iV models to increase substantially towards the end of the year as the first batch of cars turn a year old and come onto the used market. It's also worthwhile comparing cars across the country, as the take up of electric cars is higher in bigger urban areas such as London, increasing demand and raising prices.
Trim levels and standard equipment
With just two versions of the Skoda Citigo-e iV available, it shouldn't take long to decide between the two. The standard specification on the SE model is good, with essentials like climate control and Bluetooth so you can connect up the Move&Fun app. However, the fast charge CCS system is an essential, so you either need to pay the £700 to upgrade a Skoda Citigo-e iV SE with this feature or move up to the SE L model.
The Skoda Citigo-e iV SE L adds bigger alloy wheels, heated seats and mirrors, automatic wipers and headlights plus some visual upgrades to the exterior and interior, but doesn't include features like cruise control. If you go for a Citigo-e iV SE L we'd also suggest adding the winter pack, which adds a heated windscreen.
Ask the heycar experts:
common questions
What is the electric range of the Skoda Citigo-e iV?
With a 36.8kWh battery pack, the Skoda Citigo-e iV has an official range of 161 miles according to WLTP tests. As with any electric car, this'll depend on real-world factors like how it's driven and the weather conditions.

Has the Skoda Citigo-e iV been discontinued?
The Skoda Citigo-e iV is no longer on sale in the UK, with the brand concentrating on bigger (and more profitable) electric vehicles like the Skoda Enyaq iV. You can still buy a new SEAT Mii Electric or Volkswagen e-Up.

How expensive is a Skoda Citigo-e iV?
When it was new, the Skoda Citigo-e iV was priced from around £17,000 (after the government's plug-in car grant). Used values are strong – expect to pay around £20,000 for a nearly-new model.

Keep me updated by email with the latest advice, news and offers from heycar
By submitting, you agree to our
privacy policy
.